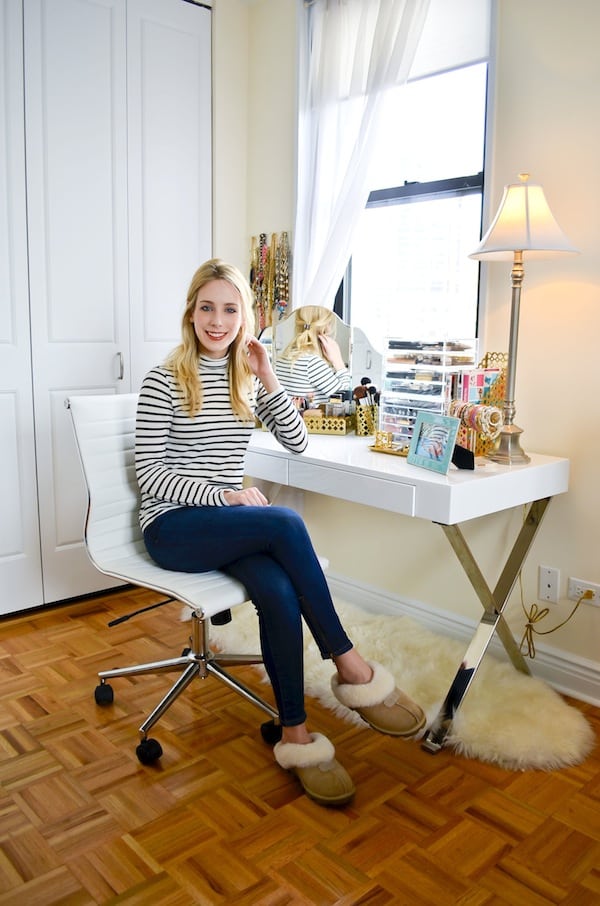 I couldn't be happier to have fully completed one very important place in our apartment: my desk and vanity. During our apartment search, it was an absolute must-have that our new place have enough room for a desk. In our old apartment my "office" consisted of a spot on the couch, while I was resigned to standing at our bedroom dresser to put on my makeup. It wasn't the most ideal situation, but after experiencing it for 2.5 years I'm so much more grateful for what I'm fortunate enough to have now.

Check out the video above for a comprehensive tour of my desk, makeup and jewelry collection! If you haven't already, please make sure to subscribe to my YouTube channel. Click the jump below for more photos and product details!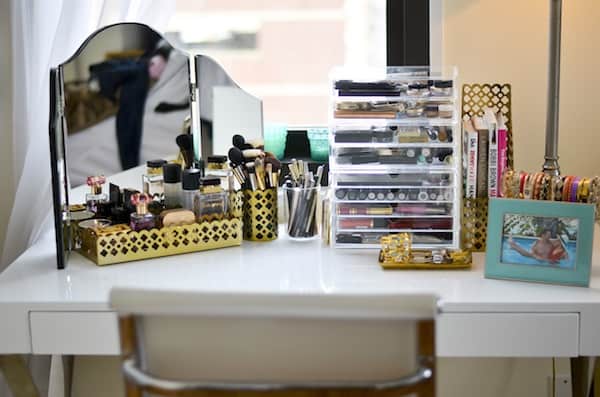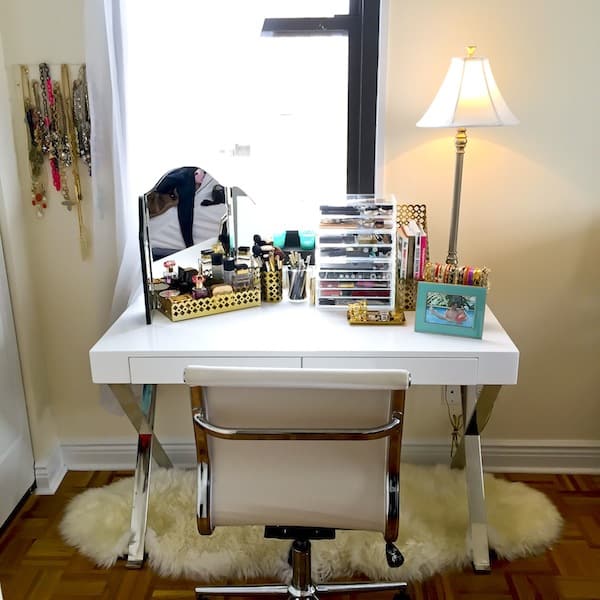 My desk is by Pangea Home from AllModern.com. I love the all-white lacquer top and the x-shaped silver legs. It adds a fun modern element to our bedroom and just looks really pretty (LOL). It's actually on sale for 61% off if you're interested…
I found my chair on Amazon.com – so comfortable and affordable. Also snagged my rug from Amazon.com as well.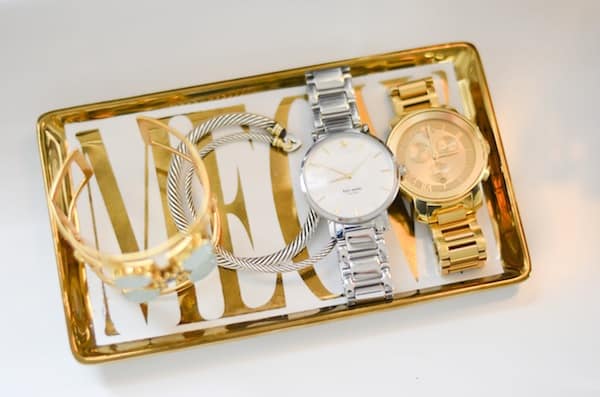 The cutest tray to hold the baubles I wear everyday from PBteen.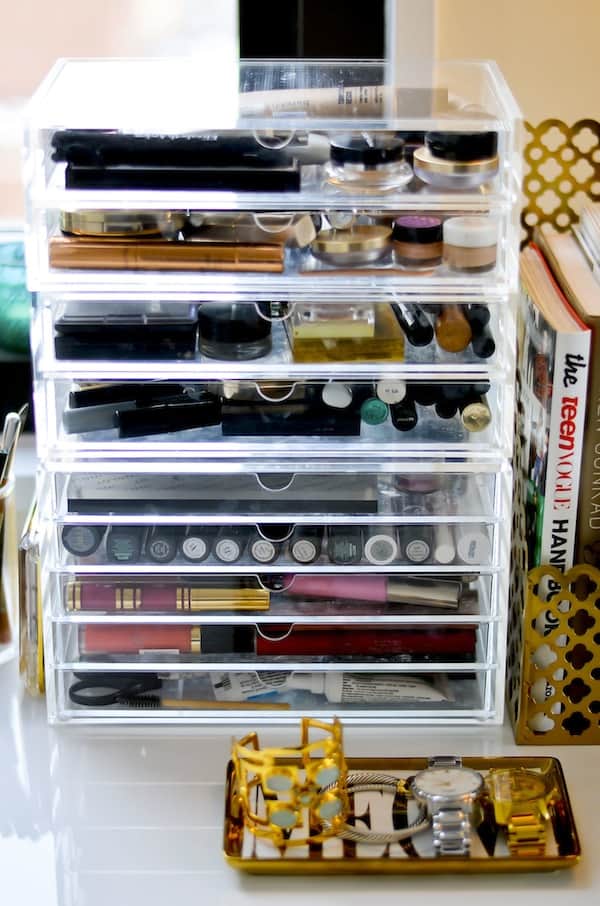 I've had these stackable acrylic makeup drawers for a few years now and I love them! They keep me so organized and my makeup hoarding to a minimum.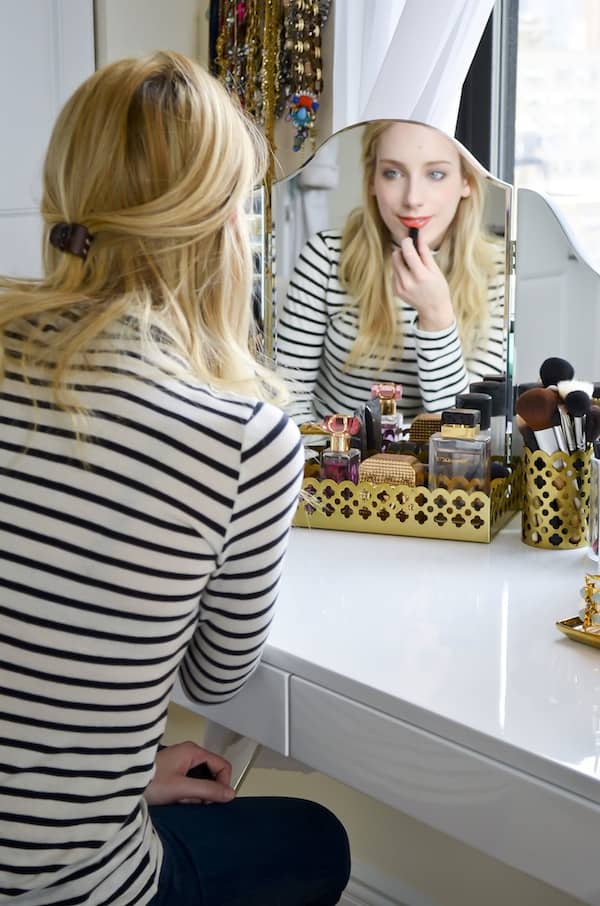 Since my desk is against is a window, I had to get a mirror that sat on the top of my desk as opposed to having one lean against the wall (like I had in our old apartment). This PBteen tri-fold mirror is so elegant and turns my desk into an actual vanity.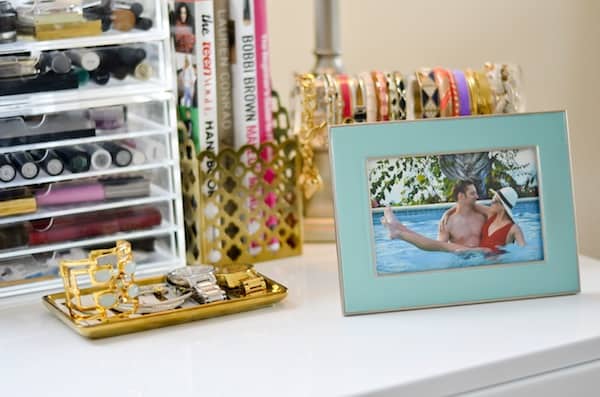 I'm really trying my best to keep my new desk uncluttered. I have one personal touch – a photo of Nick and I in Jamaica, this life-changing acrylic bracelet holder and then books stay held in place with PBteen gold desk organizers.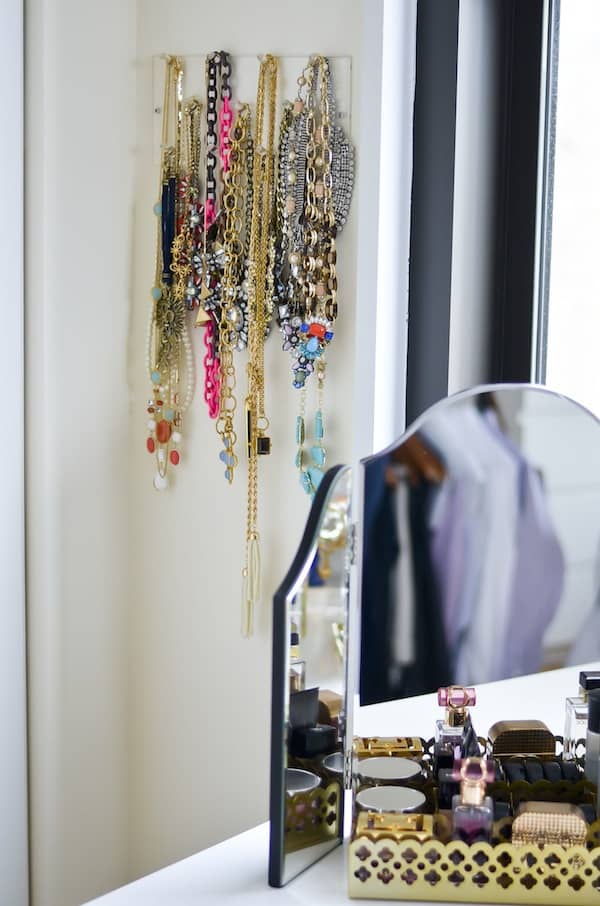 If my necklaces weren't visible I probably would never wear them, so I have them hanging to the left of my desk on this acrylic wall mount.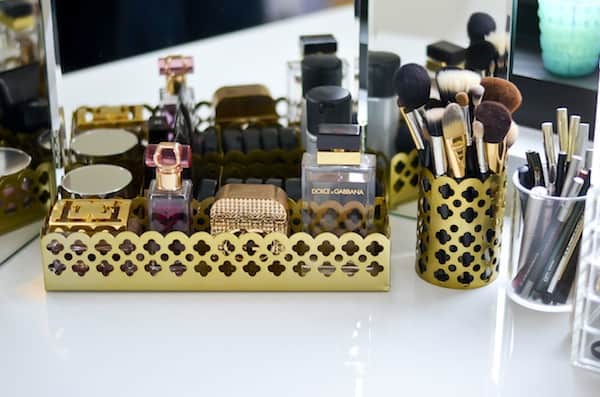 Makeup brushes and fragrances stay organized in more gold desk organizers from PBteen.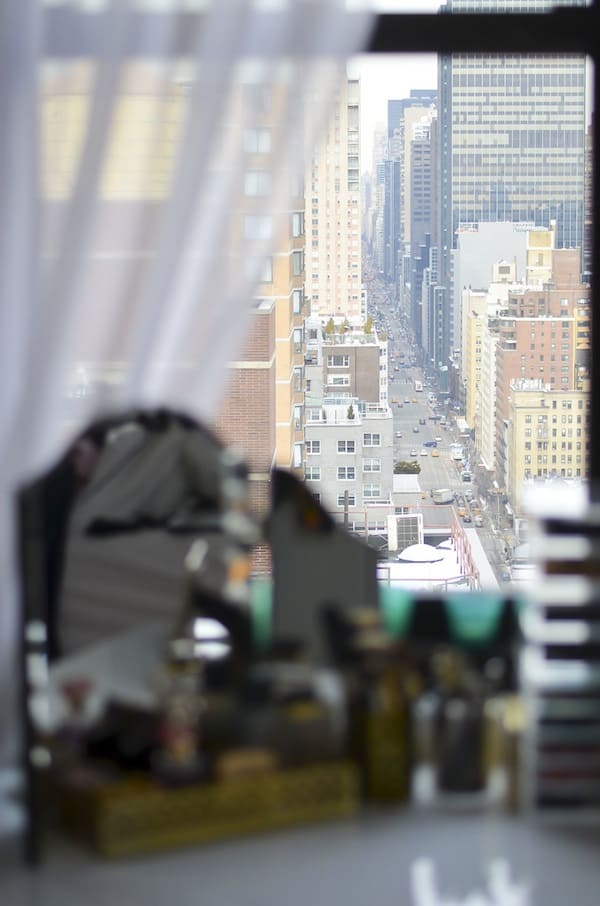 Last but not least, had to show you guys the view! I tried to get a photo of the Empire State Building (seen to the right) but it wasn't turning, so check out the video because you can see it there 🙂
Items Mentioned:
AllModern Desk | Chair | Rug | PBteen mirror | PBteen gold desk accessories | Acrylic makeup drawers | PBteen tray | Acrylic bracelet stand | Acrylic necklace wall mount
- Katie