Thank you to Target for sponsoring this post.
Over the course of two weeks I had the opportunity to test four styles of Target's recently relaunched denim line. Jeans play a big part in my everyday wardrobe and I'm lucky enough to have a casual dress code at my job where wearing jeans any day of the week is acceptable. The pairs I received vary in style and fit, but one of the aspects I love most about denim is how versatile it is.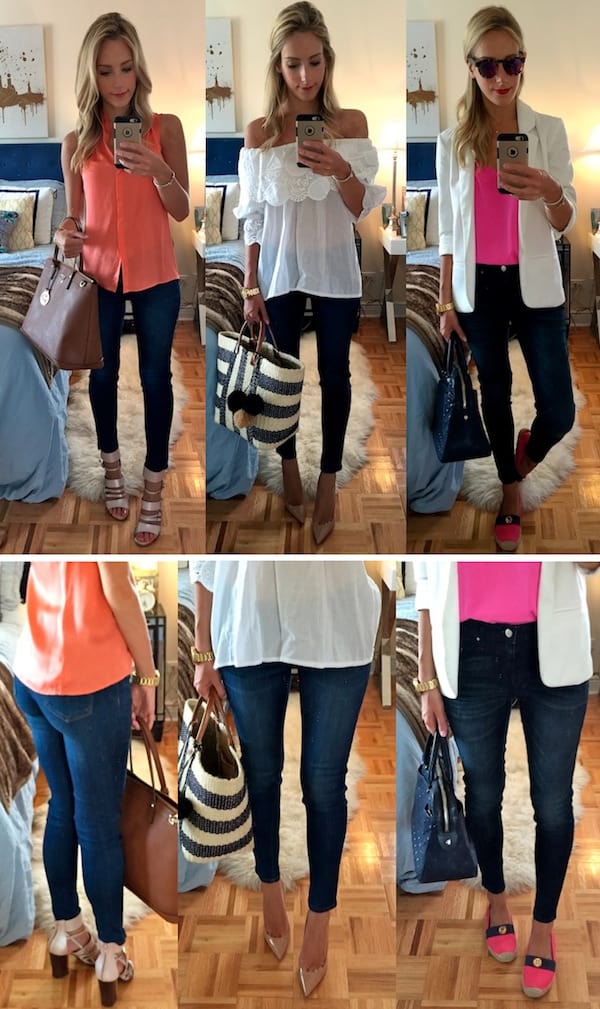 Look 1: Coral blouse |Camel satchel | Strappy sandals
Look 2: Off shoulder top | Market tote | Christian Louboutin pumps
Look 3: Pink blouse | White blazer | Navy satchel | Pink espadrilles
Let's start with Skinny! This was my favorite style, not only because I always gravitate towards skinny jeans, but because of the stretchy mid-rise fit. I always prefer jeans to rise above the belly button and these fit my body perfectly. I've noticed with a few other brands their skinny jeans on me will be tight on the legs but then saggy in the booty area. Definitely not the case with these! As you can see, Target skinny jeans can be dressed up with heels and then casually with flats.
Check out the rest of the post to read my review of the other three styles I received – two of which pushed me out of my comfort zone!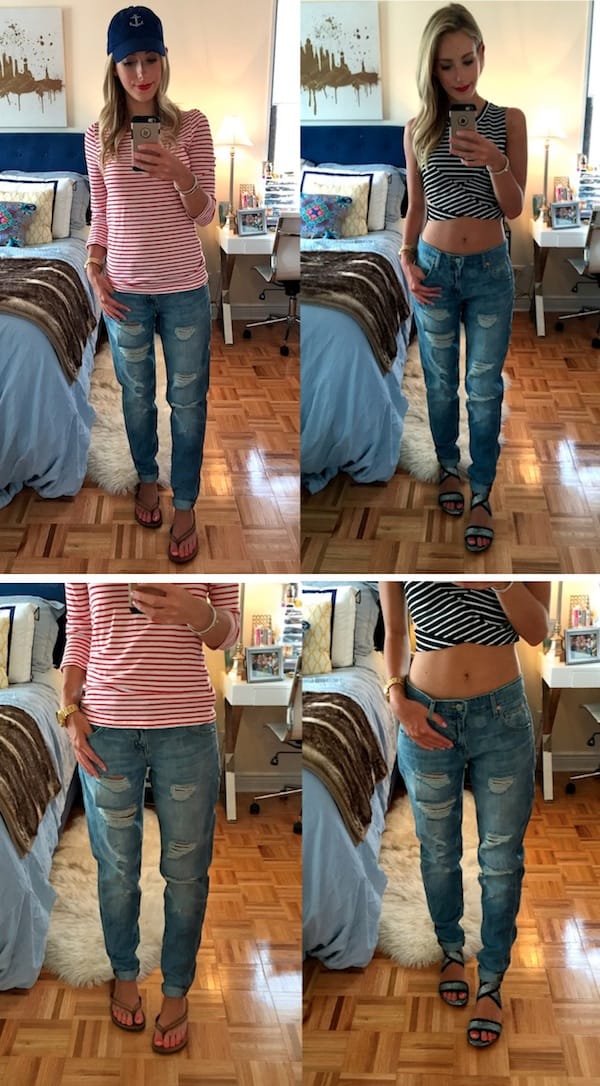 Look 1: Stripe shirt | Baseball cap | Flip flops
Look 2: Crop top | Sandals
Now let's talk about Boyfriend. I don't own many pairs of distressed denim but I love the details of the style I received. Rips and tears + a super relaxed fit is a little out of my comfort zone and while I definitely would not wear this pair to the office, I had fun putting together these two casual looks. One for running errands and another for drinks at a neighborhood bar. I'm a size 2/26 and the fit on these is super relaxed with a low-rise waist. So keep in mind you may want to size down if you prefer a higher rise or a snugger fit.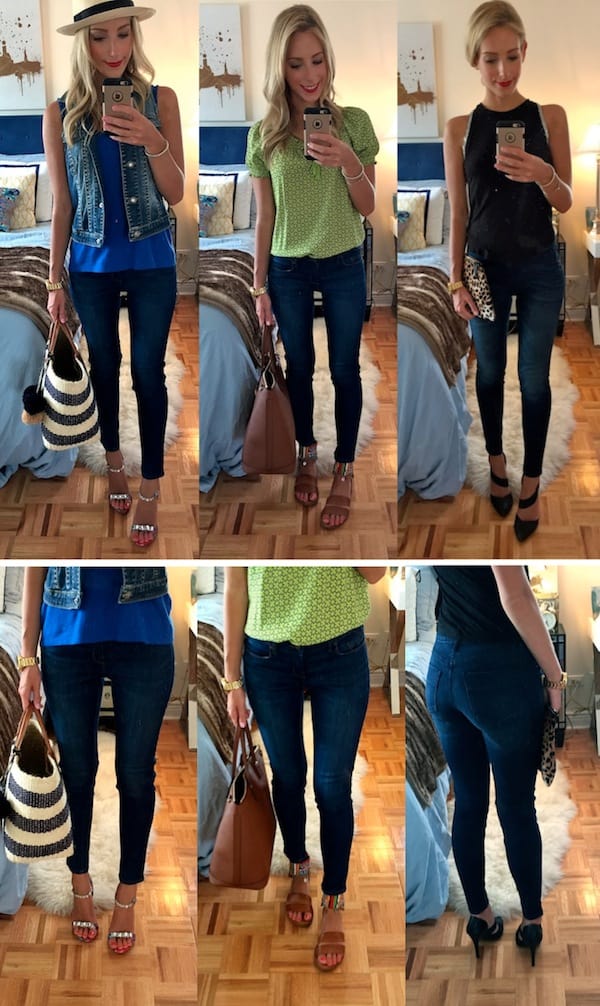 Look 1: Tank | Denim vest | Panama hat | Embellished sandals | Market tote
Look 2: Sandals | Silk top | Camel satchel
Look 3: Top | Leopard clutch | Black pumps
Jeggings are another favorite of mine. Again, I love tight fitting jeans because they hold everything in place. The dark wash on this pair is an extra plus – dark jeans always feel more formal to me. I wore this pair for a variety of occasions including sightseeing on the weekend (look 1), to work (look 2) and for a night out (look 3). I have to note the quality of the fabric on these is very comparable to some of the higher end denim I own.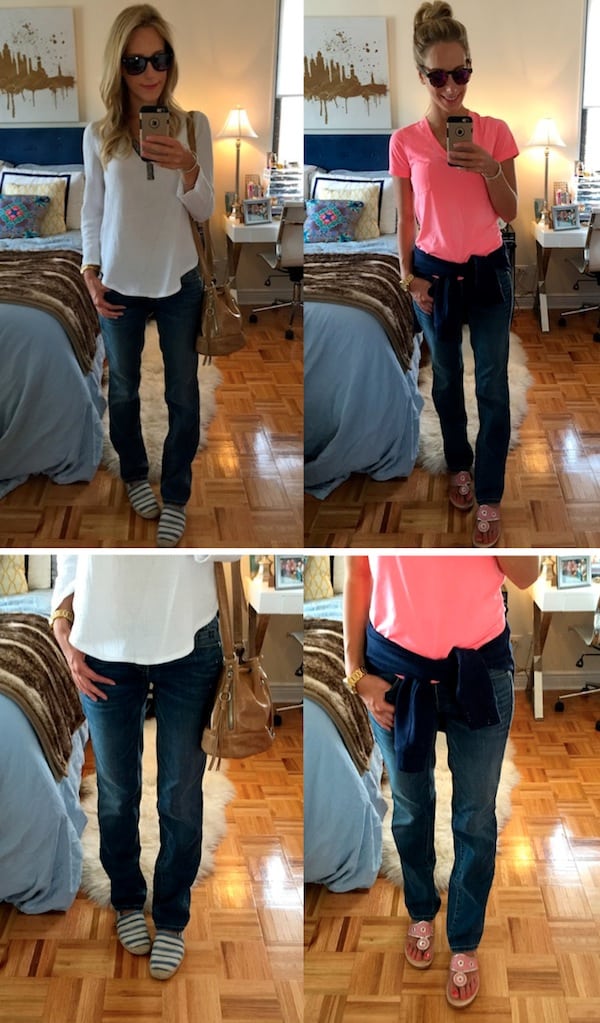 Look 1: Espadrilles | White tunic | Sunglasses | Bucket bag
Look 2: Pink t-shirt | Sunglasses | Jack Rogers sandals
Last but not least: Bootcut! Before receiving this style, I had never owned a pair of relaxed fit jeans quite like these. This pair is a bit out of my comfort zone – falling low on the hips and with a wide leg, so it made the most sense for me to style them casually on the weekend with a t-shirt and a tunic. I wouldn't wear these to work, but literally these jeans are so comfortable and are great to throw on when lounging around the apartment or running errands.
Target denim can be purchased at Target stores and online. Jeans retail for under $40 so definitely a good budget buy. Starting July 26th, you can try on Target denim in the store to receive $10 off – perfect if you plan to shop for fall or back to school.
Have you tried Target denim before? What is your favorite style of jean?
Find your style @targetstyle

- Katie