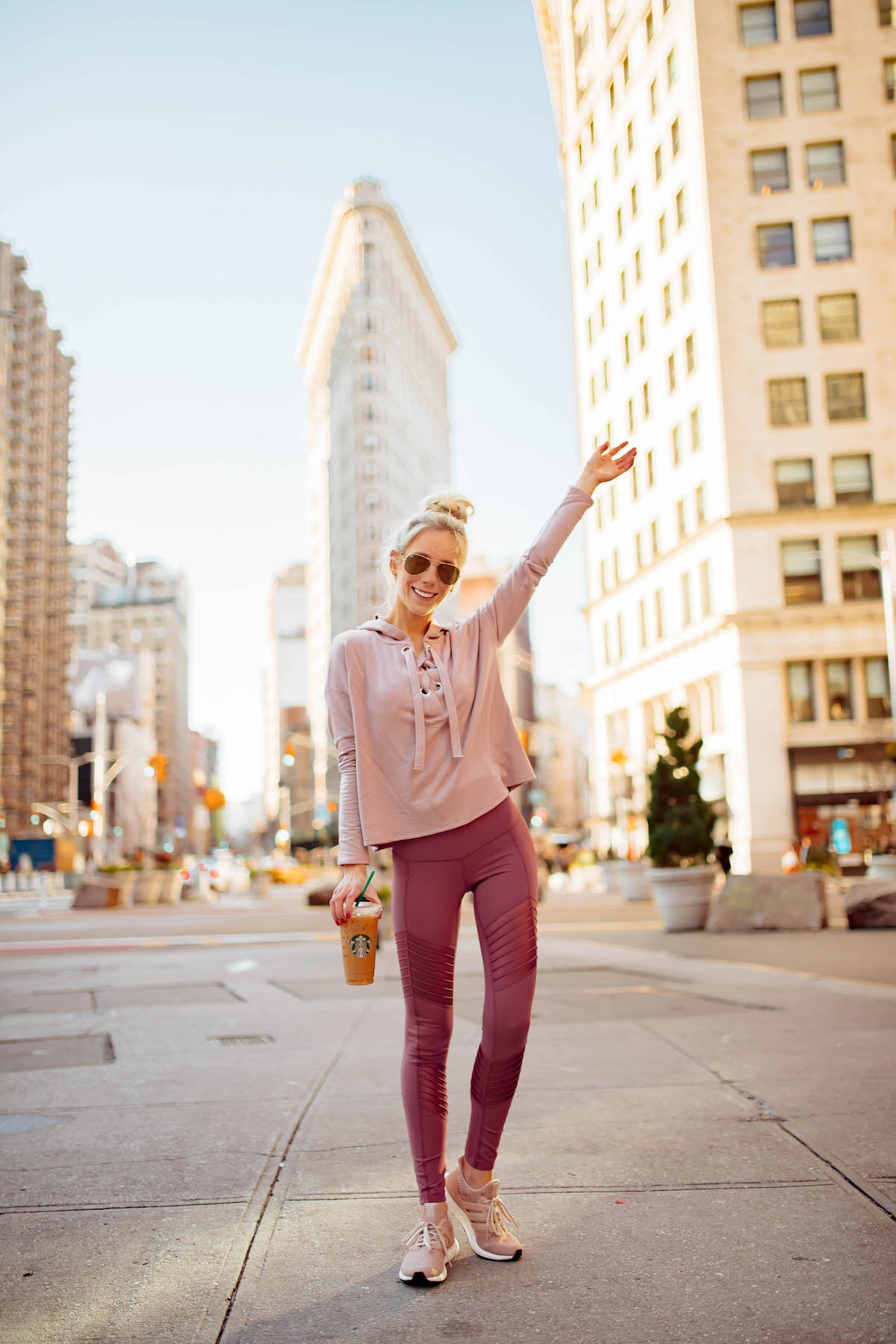 It's a little ironic that the week I decide I'm going to put together an activewear shopping guide, I end up stuck on the couch with a sprained foot. OUCH is an understatement. I wish I had a cool story or could attribute the injury to a work out, but NOPE last Wednesday I just missed a step walking out of Chipotle of all places. Dang those taco cravings will get ya! Thankfully it's not too bad of a sprain and I'm bummed that I have to press pause on my workouts, but I'm hopeful I'll be back on my feet within a week or so and trying not to let it get me down.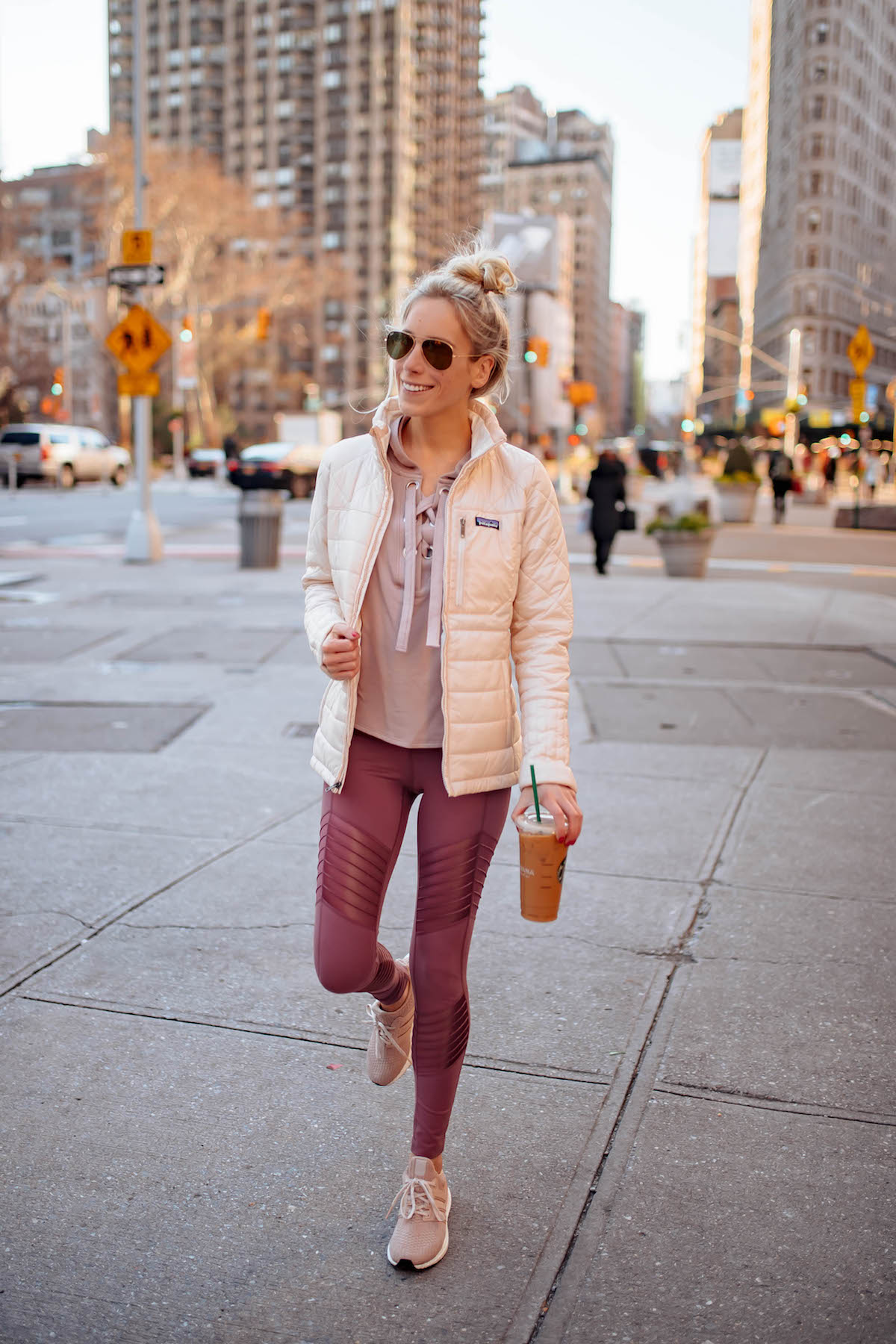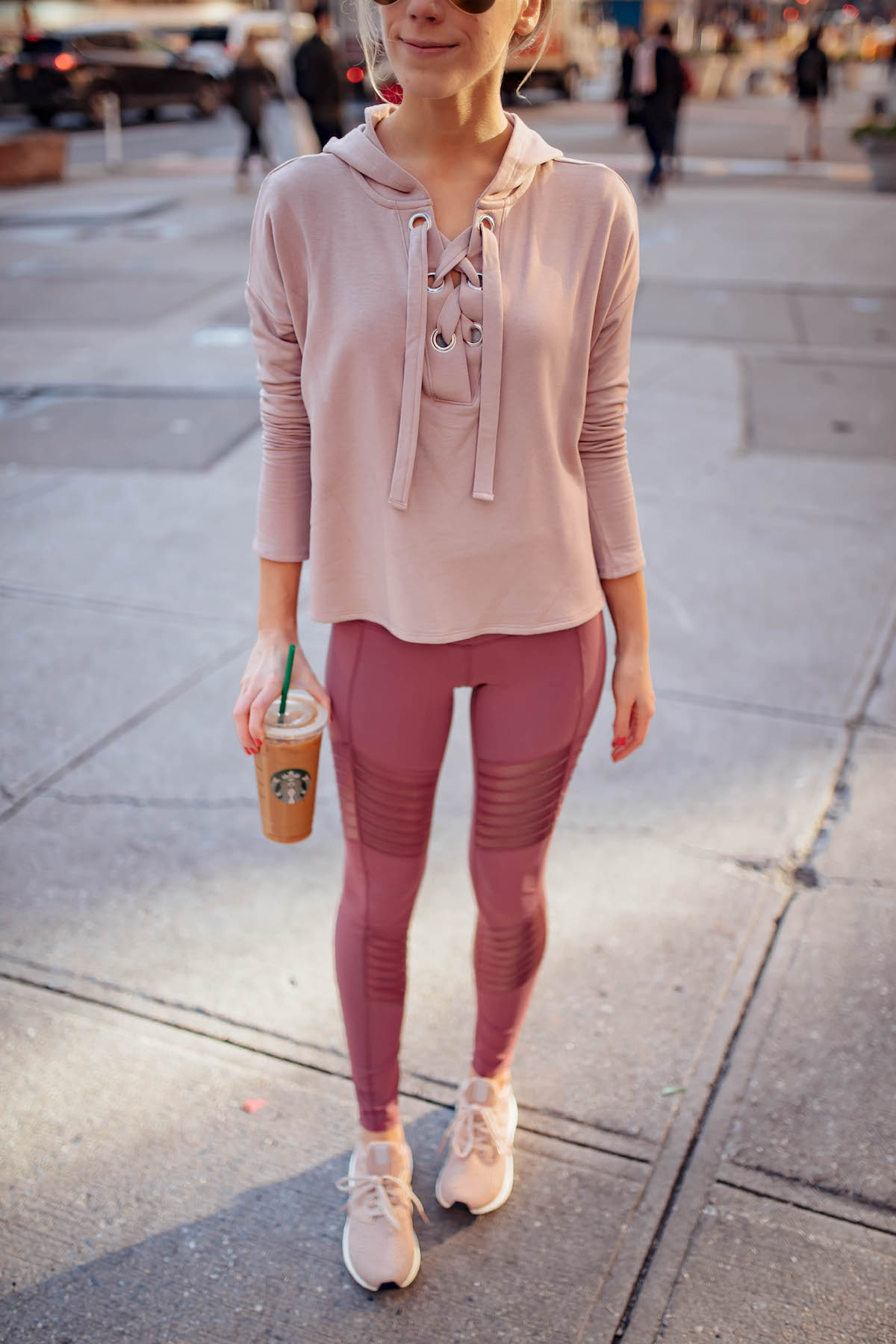 OUTFIT DETAILS // Insulated Jacket | Lace Up Hoodie | High Waist Leggings | Adidas UltraBoost Sneakers | Aviators
Okay so let's talk activewear! In the spirt of 2019 and new year's resolutions, I thought it would be fitting to share what I like to wear for workouts and some recommendations for those of you building your activewear wardrobe or looking to replace old gym clothes.
Activewear Shopping Guide
LEGGINGS & GYM SHORTS
I primarily wear leggings when I work out. I like having my legs covered and the feeling of just having everything tight and sucked in (LOL.) After trying a number of styles from different brands over the years, I can definitely tell you some leggings are made WAY better than others. I personally go for high-waist styles that come up over my belly button (again, I like things sucked in :P) and won't sag or droop in the booty and crotch. There is nothing worse then going to a workout in a pair of leggings that you constantly have to pull up or adjust. Another important factor to me is the fabric: it NEEDS to be soft, stretchy and hold up in the laundry.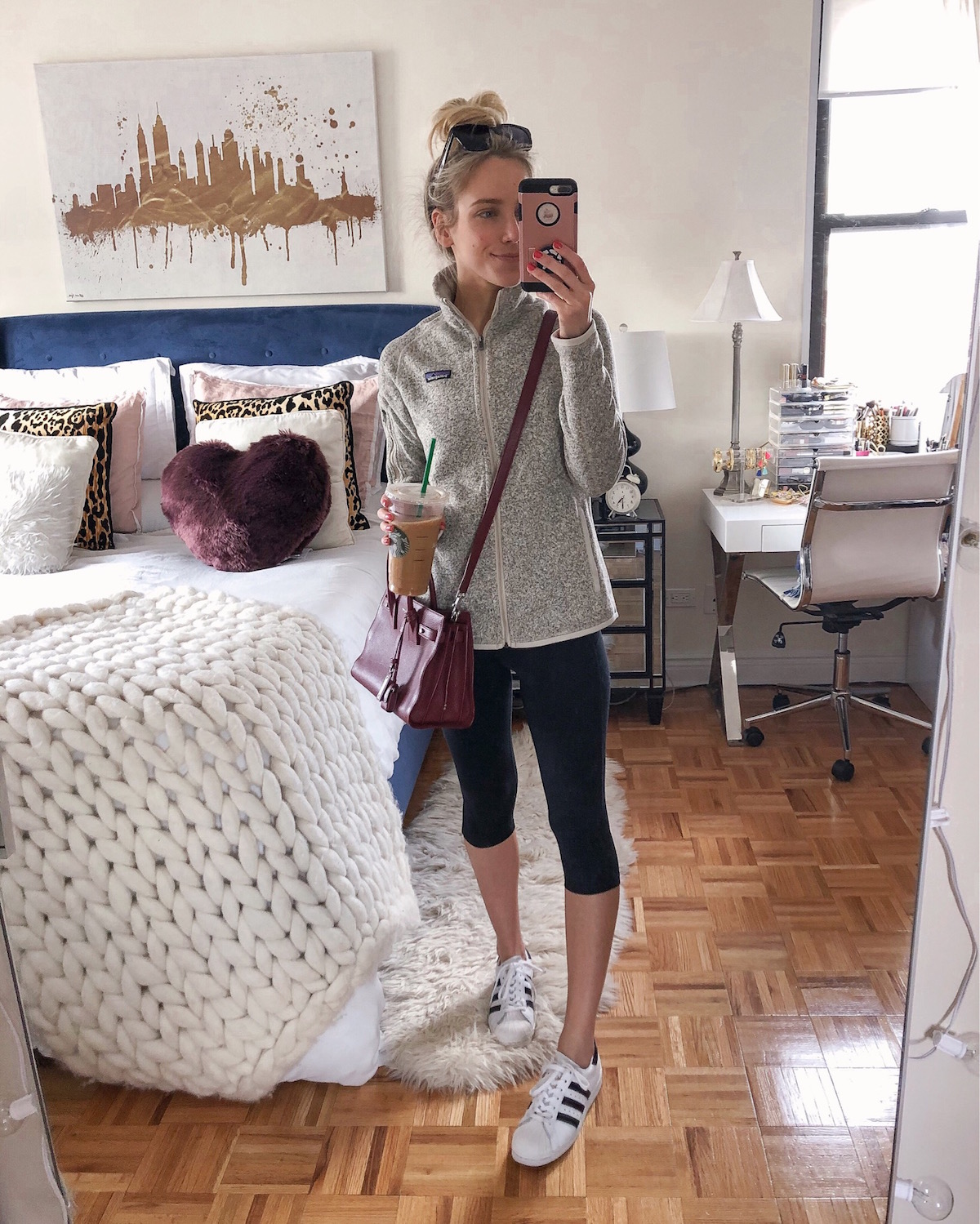 OUTFIT DETAILS // Sweaty Betty Leggings | Fleece Jacket | Saint Laurent Bag | Sneakers | Sunglasses
My #1 absolute favorite leggings are the Sweaty Betty contour leggings. I don't have any other leggings that compare to these! So soft so comfortable and they mold to my body like a glove. I own 4-5 pairs in various prints and lengths (there's a full pant and cropped ankle version!) and every pair is still in excellent condition after countless washes. 100% worth the money!
I also love the Alo high waist moto leggings (come in so many colors!!) and the styles I've tried from Zella, Outdoor Voices and Onzie. Old Navy makes great budget-friendly leggings too!

TOPS & TANKS
I personally don't think it's necessary to spend a lot of money on tops and tanks when shopping for activewear. I often will take off my tank and just work out in a sports bra in my pilates classes, so tops are pretty low priority for me when it comes to what I wear for workouts. If I do buy something new I like to pinch my pennies and opt for the sale find, versus paying full price for something from a high-end activewear brand.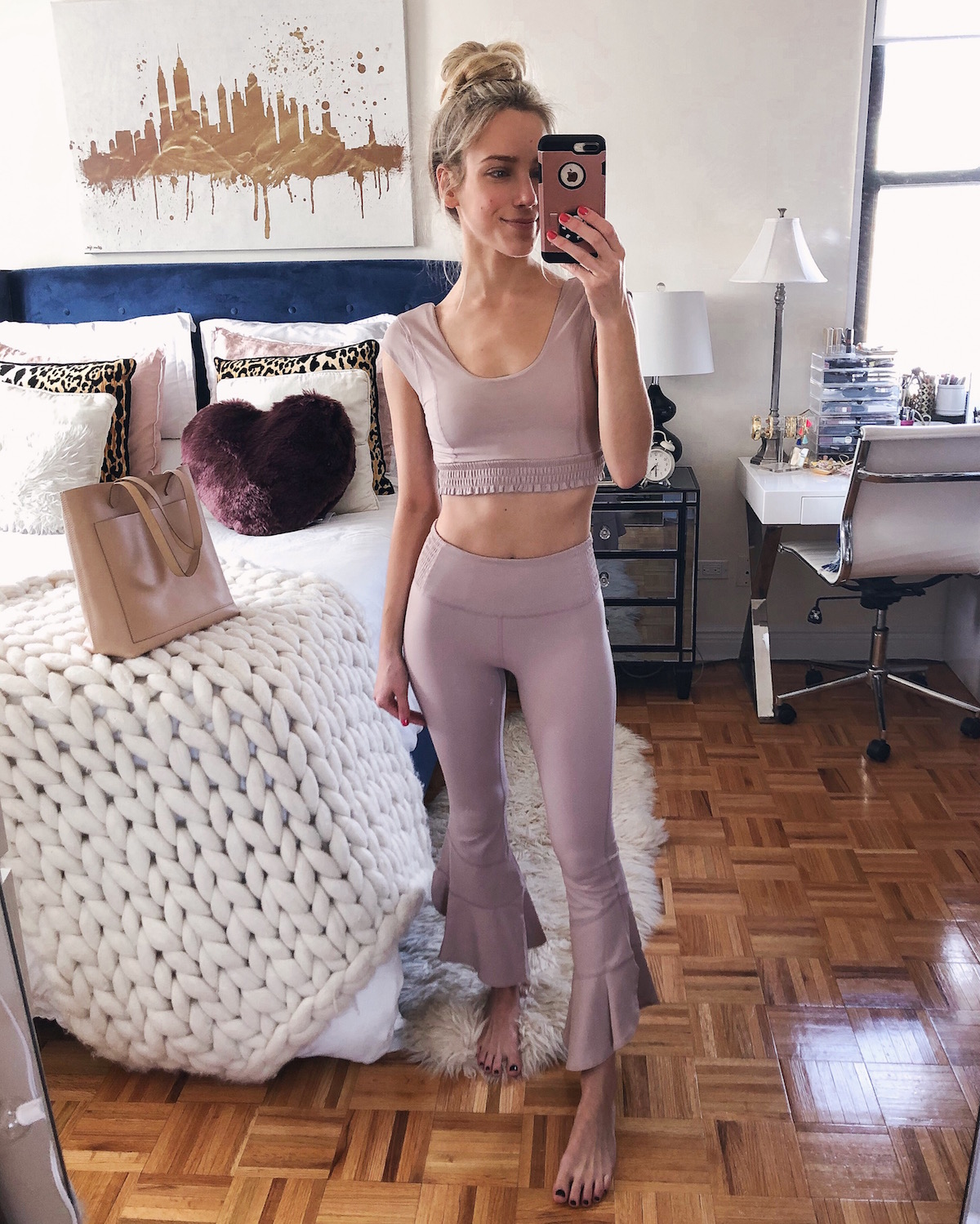 OUTFIT DETAILS // Crop Top | Leggings
Also keep in mind that your gym tee is likely going to be the dirtiest item on your body after a workout (well maybe besides your underwear…) and repeatedly put through the wash– is that kind of thing something you really want to splurge on? Most of the ones I have were sale finds (I have a lot from Adidas) but here are a bunch of in-stock affordable options!

SPORTS BRAS
One of the benefits of having a small chest is you don't have to be as particular when it comes to sports bras. I'm probably not the best authority on them #smallboobs, but I will say there definitely is a noticeable difference between highly supportive sports bras and styles meant for low-impact workouts. I made the mistake once of going for a run in one of my old college-era sports bras (basically it was a stretched out training bra) and despite being basically flat-chested, my boobs HURT!!!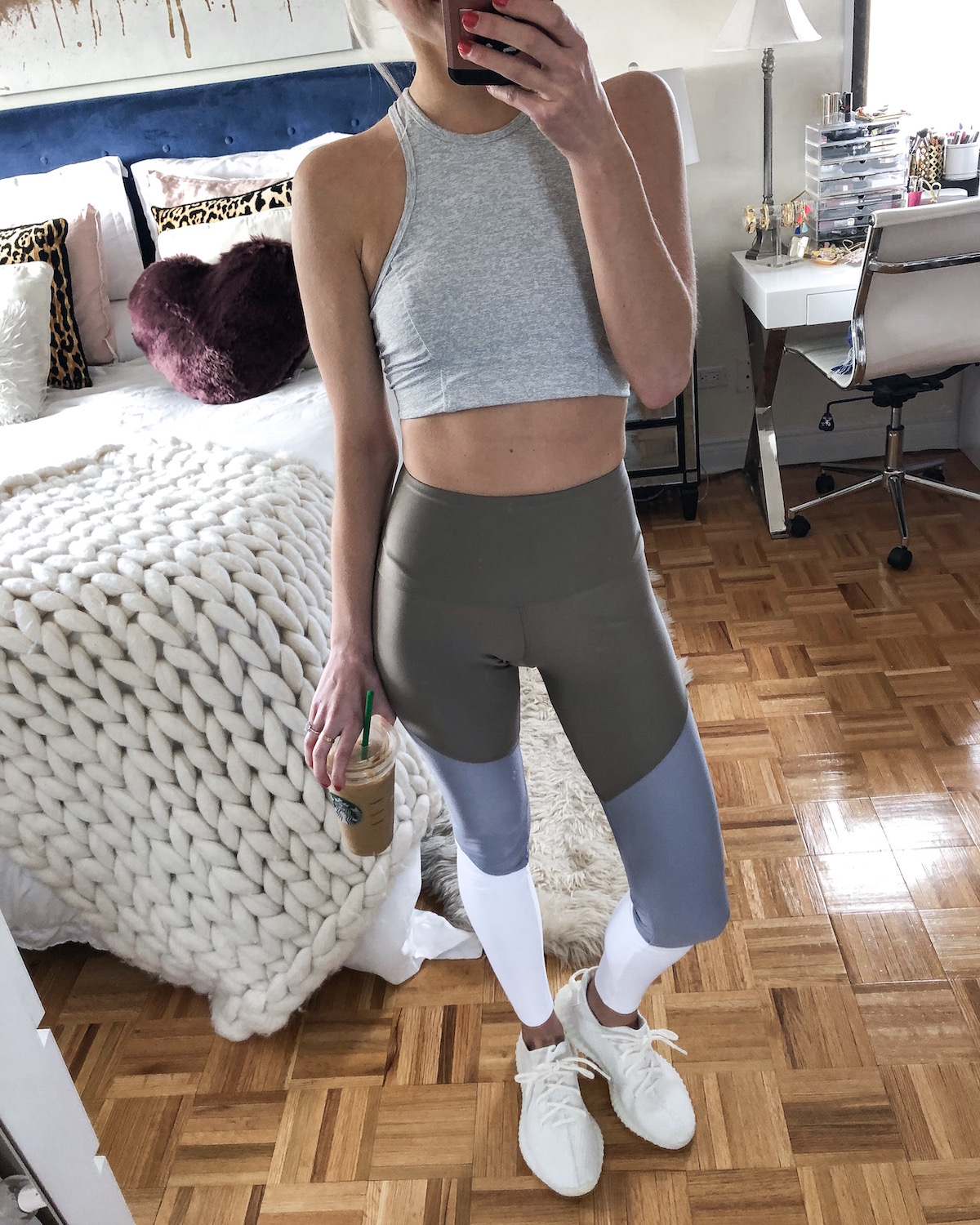 OUTFIT DETAILS // Colorblock Leggings | Sports Bra | Adidas Yeezy Boost 350 Sneakers
From that point on I started paying attention to what bras I was wearing to certain workouts. Any time you plan on running, jumping or moving around quickly you're gonna want something with support. I personally like the longer crop-top length sports bras for those types of work outs because they really keep everything tight and together. For pilates, yoga or anything else I'll opt for the cute sports bra with light support.

HOODIES, ZIP UP JACKETS & OUTERWEAR
I often rock athleisure on a daily basis so I love shopping for light layers that I can wear to the gym/pilates classes AND casually around the city. Since it's so cold right now I have no choice but to bundle up in my down parka any time I leave my apartment, so a hoodie or zip up jacket is a great barrier between sweaty workout clothes and your nice winter coat. My favorite brands for light casual layers that will last forever are Patagonia and The North Face. I've also seen really cute stuff from Free People and Zella!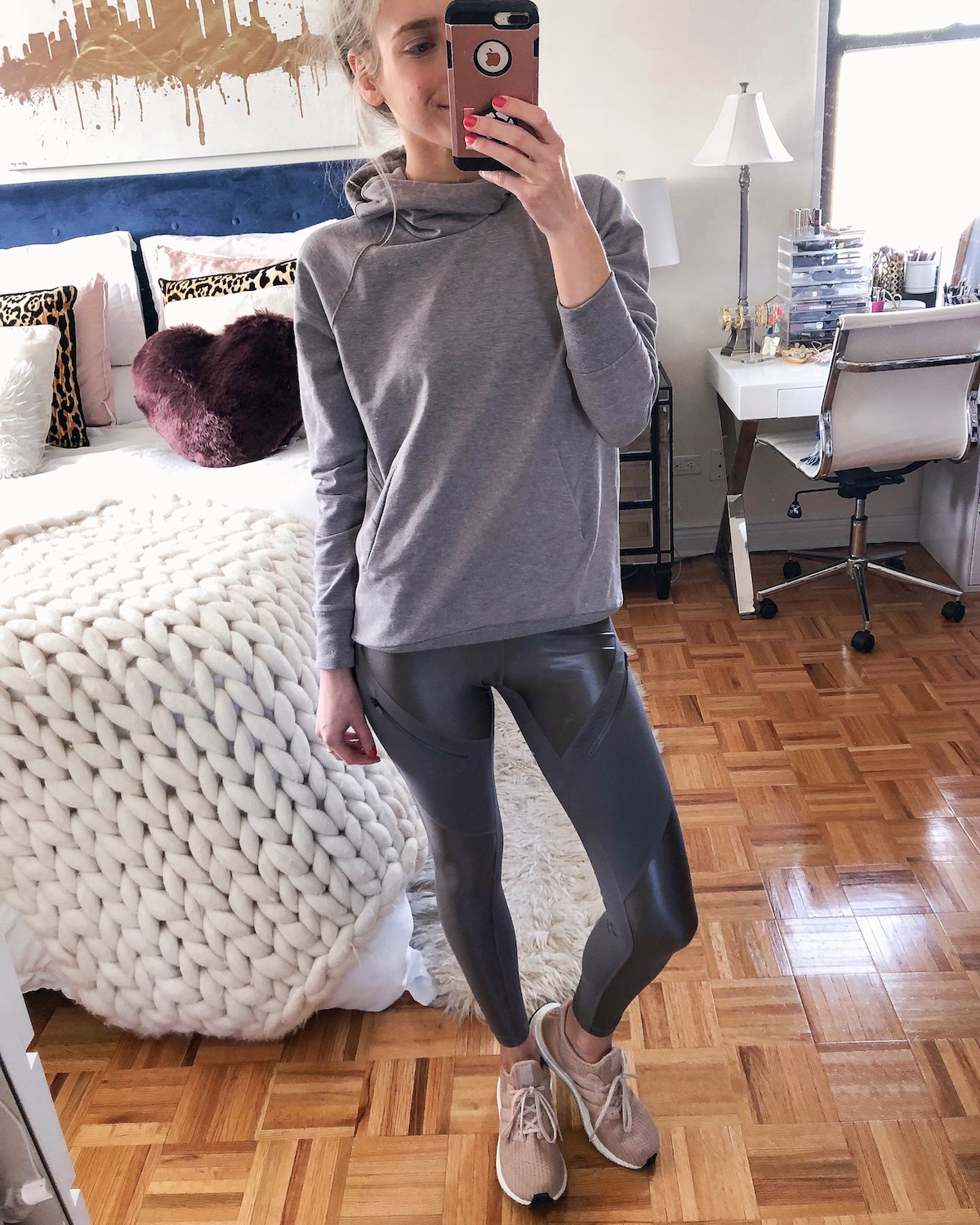 OUTFIT DETAILS // Leggings | Pullover | Adidas UltraBoost Sneakers

SNEAKERS
I never really paid attention to what sneakers I wore for workouts until I started running. After hearing Nick rave about his Adidas UltraBoost sneakers for months, I decided to order a pair for myself and from there it was pretty much love at first step.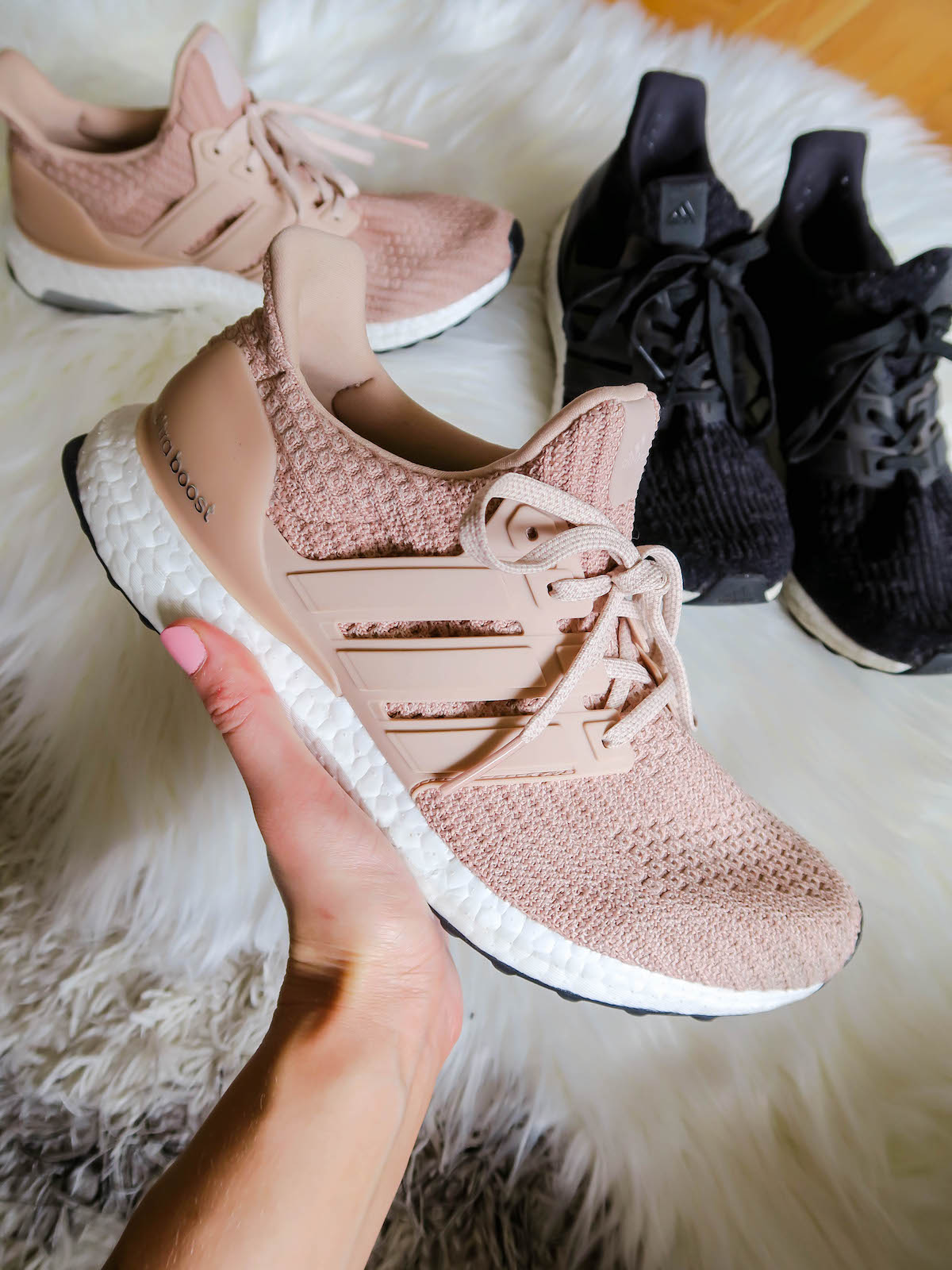 Adidas UltraBoost sneakers = best shoes EVER
You guys have heard me talk about these many times (see why I love them for traveling here) and I can't express enough how incredible the comfort level is with these sneaks. Every step is like walking on a bouncy marshmallow cloud! I love 'em so much I have a pair in black and pink that I wear at least 4-5x a week for running, weight-lifting, traveling or just when I'm out and about around the city. Best footwear investment I've made in the last two years!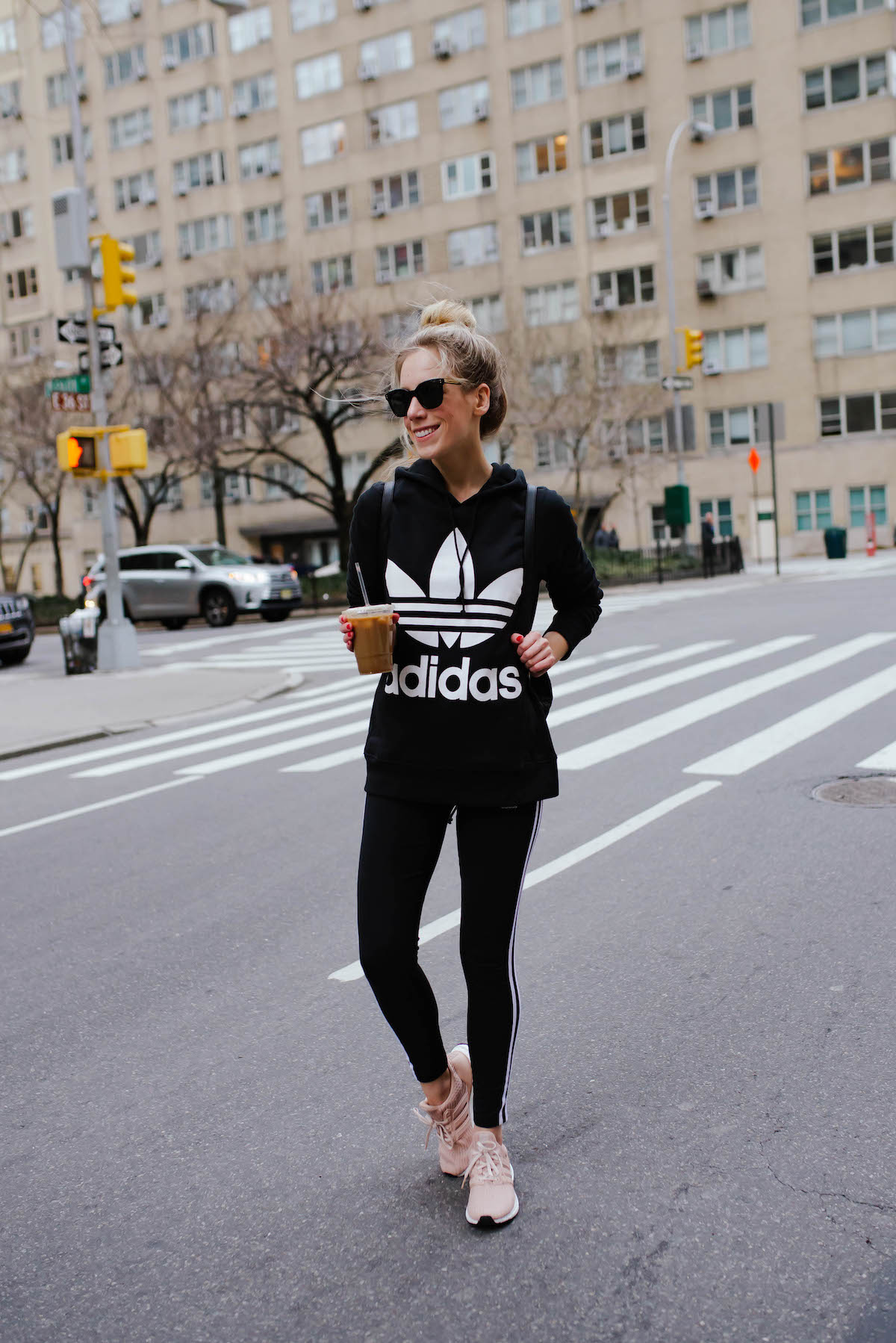 OUTFIT DETAILS // Hoodie | Leggings | Adidas UltraBoost Sneakers | Similar Backpack | Similar Sunglasses
ACCESSORIES
Other than clothing, my other fitness must-haves are a S'well water bottle, grippy socks (required for my pilates classes) and a backpack for carrying everything to and from the gym. I linked up a bunch of these essentials and more below!

What are your favorite activewear brands? Any stores or new brands I need to check out? 
- Katie