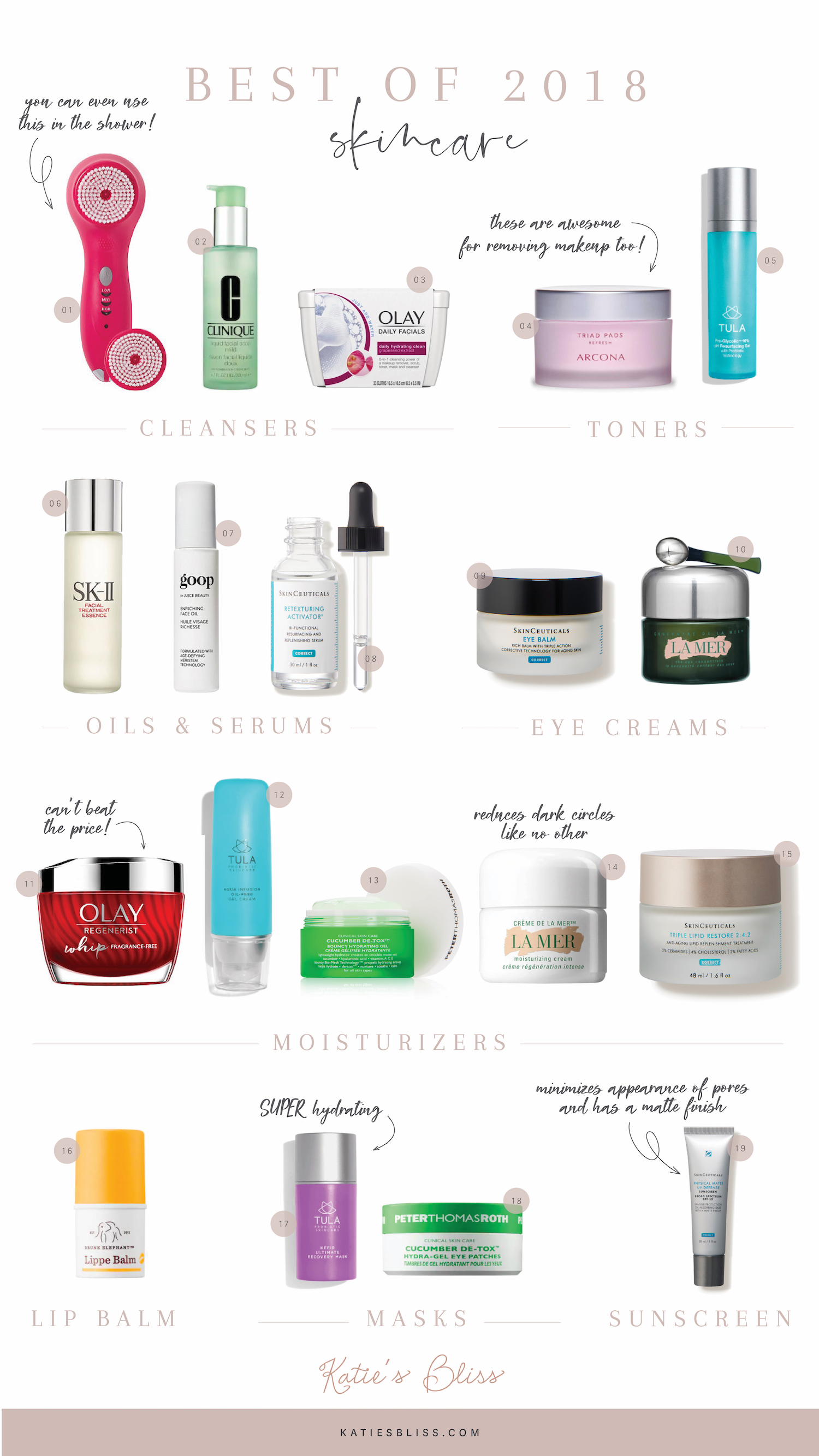 1. Conair Facial Brush | 2. Clinique Facial Soap | 3. Olay Cleansing Cloths | 4. Arcona Toner Pads | 5.  Tula pH Resurfacing Gel | 6. SK-II Facial Treatment Essence | 7. goop Face Oil | 8. SkinCeuticals Retexturing Activator | 9. SkinCeuticals Eye Balm | 10. La Mer The Eye Concentrate | 11. Olay Regernerist Whip Moisturizer | 12. Tula Gel Cream | 13. Peter Thomas Roth Hydrating Gel | 14. La Mer Moisturizing Cream | 15. SkinCeuticals Cream | 16. Drunk Elephant Lippe Balm | 17. Tula Ultimate Recovery Mask | 18. Peter Thomas Roth Eye Patches | 19. SkinCeuticals SPF 50 Sunscreen
I'm back and so pumped to share with ya'll the second installment in my 'Best of Beauty' series, where I'm revealing all my tried-and-true bath, skin, cosmetic and hair products. Today's post is all about SKINCARE, which happens to be my favorite niche in the beauty-sphere. If someone put a curse on me where I could only purchase products from one beauty aisle for the rest of my life, I'd 100% choose skincare. I can go days without wearing makeup or doing my hair, but when it comes to taking care of the skin on my face? That's a part of my daily routine I will never skip.
I want to say it was around age 21 when I really started getting passionate about skincare. I had just graduated, moved to New York and I was stressed. You gals know my history with eczema (I've had it since childhood) and while I'd previously had red itchy flare ups on my body, it wasn't until my early 20s that I started getting them on my face. It was awful and needless to say a BIG wake up call that I needed to start paying more attention to my skin and the products I was using. PS if you wanna see a what a flare up looks like, I included a photo of one of my worst ones in this post. #yikes
Luckily I've now found a great prescription cream that I use when I have eczema flare up (which are thankfully now few and far between,) but during that time when I was having bad skin struggles I discovered just how much I love trying new products in the skincare aisle. Serums, moisturizers, toners, eye creams, masks– I'm alllllll for 'em!
If I had to describe my skin I'd say I'm prone to dryness. I don't get oily and if I do get a pimple, it's always a result of a product that doesn't agree with me, normally a serum or serum-based foundation. While dealing with my eczema has certainly sucked at times, I'm very grateful to have never had acne or any serious issues with blemishes.
Ah this intro got a little long, but what can I say? I love talking about skin 😛 Okay I'll stop now before I start sounds creepy… Mini reviews of all my favorite products can be found below!
1. Conair True Glow Sonic Facial Brush | Cleansing is the first step in any skincare routine and this electric facial brush is the bomb! I actually posted about it a few times on Instagram and everything I said there still rings true! On days when I've worn a full face of makeup or if I'm feeling like I could use a little extra exfoliation, this brush is my go-to. I just apply a cleanser to the brush head and go to town using the lowest setting (I do this out of caution since my skin is sensitive/prone to redness.) You can even use it in the shower too!
2. Clinique Liquid Facial Soap | Gentlest liquid cleanser ever. While it's suitable for all skin types, I've found it's amazing for dryness and won't leave your skin feeling "stripped" if that makes sense? I also very much appreciate a cleanser with a pump! It makes my evening routine incredibly easy because I just pump out a few drop on to the head of my facial brush or in the palm of my hand.
3. Olay Daily Facials Hydrating Cleansing Cloths | Here's another product that received it's own review because I loved it so much. If you're looking for a way to cut down time in you're routine then these are for you. Basically these cloths combine makeup removal, cleansing and exfoliating all into one step. Since the cleanser is already incorporated into the cloth, all you have to do is add a little bit of warm and boom, you're ready to do you're own at home facial. I love using these on days when I don't have a lot of time or when I'm traveling.
4.  Arcona Triad Toner Pads | This is another great on-the-go product that combines a few steps of my skincare routine into one! I continually reach for these pads to 1) remove stubborn makeup 2) tone my skin 3) hydrate and refresh. If you don't have a lot of time to do a deep cleansing routine, these are a great option. On days when I'm only wearing a little concealer, I'll use these so I don't have to waste a full makeup wipe. The pads are textured too so I always feel like I'm giving my skin a treat when I use one!
5. Tula Pro-Glycolic pH Resurfacing Gel | For YEARS I was scared of using toners because I thought they were bad for dry skin types. Totally wrong. There are a lot of great alcohol-free toners and this one from Tula has become a staple in my routine! It's formulated with probiotics, glycolic acid, and beetroot extract to gently exfoliate the skin and is safe for all skin types. I apply with a cotton ball after cleansing and it leaves my skin feeling smooth and hydrated. Feel free to use code KATIESBLISS for 20% off your Tula order 🙂
6. SK-II Facial Treatment Essence | I was really skeptical about the claims of this essence prior to using it, but wow did it prove me wrong! This is one of the rare products that truly will give you results if you use it consistently. For me it was the diminished appearance of fine lines between my eyebrows and on my forehead. Check out this post for a full review!
7. goop by Juice Beauty Enriching Face Oil | This face oil is definitely one of the more decadent products in my arsenal. I use it more as a special treat for my skin, versus an every day serum. It's 100% organic (as you'd expect from a Gwenyth Paltrow-backed product) and can be used on it's own (so yep, you can skip moisturizer) or layered underneath your face cream (just give it time to absorb!) I like to use it in my evening routine so in the morning I wake up with super hydrated glowy skin 🙂
8. SkinCeuticals Retexturing Activator | One of my holy grail serums! After cleansing and toning, I apply a few drops of this all over my face and neck. This serum does multiple things: it diminishes the appearance of lines, gently exfoliates by breaking down dead skin cells, refines skin texture, balances moisture levels and reinforces overall skin health.
9. SkinCeuticals Eye Balm | If you aren't using an eye cream, I BEG you to start now. The eye area is so delicate and needs it's own product to prevent signs of aging. I've regularly used an eye cream 2x daily since I was about 20 and I already can tell that it's paying off for me. While I've started to notice fine lines in my forehead (there was no preventing that thanks to my lifelong habit of scrunching my face when I concentrate) I have yet to notice any drooping or lines around or under my eyes. This anti-aging eye cream is one of my favorites! It's ultra creamy, boosts collagen production, reduces puffiness and works to leave the skin around your eyes looking more youthful and bright.
10. La Mer The Eye Concentrate | If you want to take eye area care to the next level then you need the La Mer eye concentrate. La Mer products are an investment, but if you're going to spend on one area of your beauty routine it should be for your skin and these products are truly the best money can buy. This eye cream will noticeably diminish the appearance of dark circles and soften the appearance of lines and wrinkles.
11. Olay Regernerist Whip Moisturizer | I don't use a lot of drugstore skincare products, but when I do it's likely something from Olay. I'm a big fan of the Olay Regenerist line and was so thrilled when a fragrance-free version of the cult-favorite Regenerist moisturizer launched late last year. I don't mind scented products, but if the option is there I always will go for fragrance free. This one is great for wearing under makeup! It has a matte finish so you can skip using a primer. For more info you can read my review here.
12. Tula Aqua Infusion Oil-Free Gel Cream | This is one my favorite morning moisturizers because it's incredibly lightweight and dewy, yet still super hydrating and great for wearing under makeup. The formula is oil-free and contains ingredients to reduce redness and irritation, so it's a great product especially for sensitive skin types. Remember to use code KATIESBLISS for 20% off your Tula order 🙂
13. Peter Thomas Roth Cucumber De-Tox Hydrating Gel | This is the moisturizer I turn to first whenever my skin decides not the behave. I use it a lot during the winter when I feel like my skin can't escape the elements. It's hard to describe, but when I use it I feel like I'm wearing a protective hydrating matte veil. Even if I have an eczema patch or I'm suffering from extreme dryness, I can trust this moisturizer to work in tandem with my prescription cream to heal my skin and infuse with TONS of moisture and vitamins.
14. La Mer Moisturizing Cream | Another one of my favorite La Mer products! It's the thickest most decadent moisturizer I've ever used and a product I reserve for my evening routine. And when I say thick, I mean THICK. I warm a small amount in my fingertips first to activate the MiracleBroth (La Mer's signature ingredient) and then I gently pat it on to my face. If you're serious about anti-aging, this is one of the best face creams you can use!
15. SkinCeuticals Triple Lipid Restore Cream | If you're not ready to spend on La Mer or you're looking for a slightly less thick moisturizer that you can use both morning and night, then I highly recommend this cream. It's packed full of anti-aging benefits and super moisturizing! 
16. Drunk Elephant Lippe Balm | Signs of aging can appear at the mouth too, so make sure you're giving your lips some love! This isn't just your average lip balm. The formula is enriched with peptides and sea fern algae, to help plump and better define the lip line. It's also full of antioxidant-rich green tea leaf and vitamin C that work to neutralize free radicals and fight the environmental elements that can age the lips. I used this only as lip balm, but it actually can be used on the eye area too!
17. Tula Kefir Ultimate Recovery Mask | Whenever my skin is feeling parched or like it could use a dose of hydration, I turn to this mask. It's so rich and creamy, plus it's simple to put on and not messy like some other masks. I like to use it for 10 minutes 2-3x a week before hopping in the shower. I love the pump applicator too! Remember to use code KATIESBLISS for 20% off your Tula order 🙂
18. Peter Thomas Roth Cucumber De-Tox Hydra-Gel Eye Patches | When I'm in the mood to pamper myself or just wanna give my eye area a little extra love, I immediately reach for these gel eye patches. They're super easy to use and leave the skin under my eyes looking bright and hydrated. The effect and feeling is similar to putting fresh cucumber over your eyes at a spa!
19. SkinCeuticals Physical Matte UV Defense SPF 50 Sunscreen | I never really paid attention to facial sunscreens until I tried this one. It just blows all others suncare products for the face out of the water. I won't go on a warm weather vacation without it! For starters, it lasts all day, even if you're in and out of the water. On top of that, it dries matte and has a slight tint removing the need for foundation or tinted moisturizer.
Whew! That was a longgggg one, but I really hope you enjoyed hearing all about my skincare loves 🙂 If you have any questions don't hesitate to give me a shout. I'll be back next week chatting HAIR! xo
- Katie