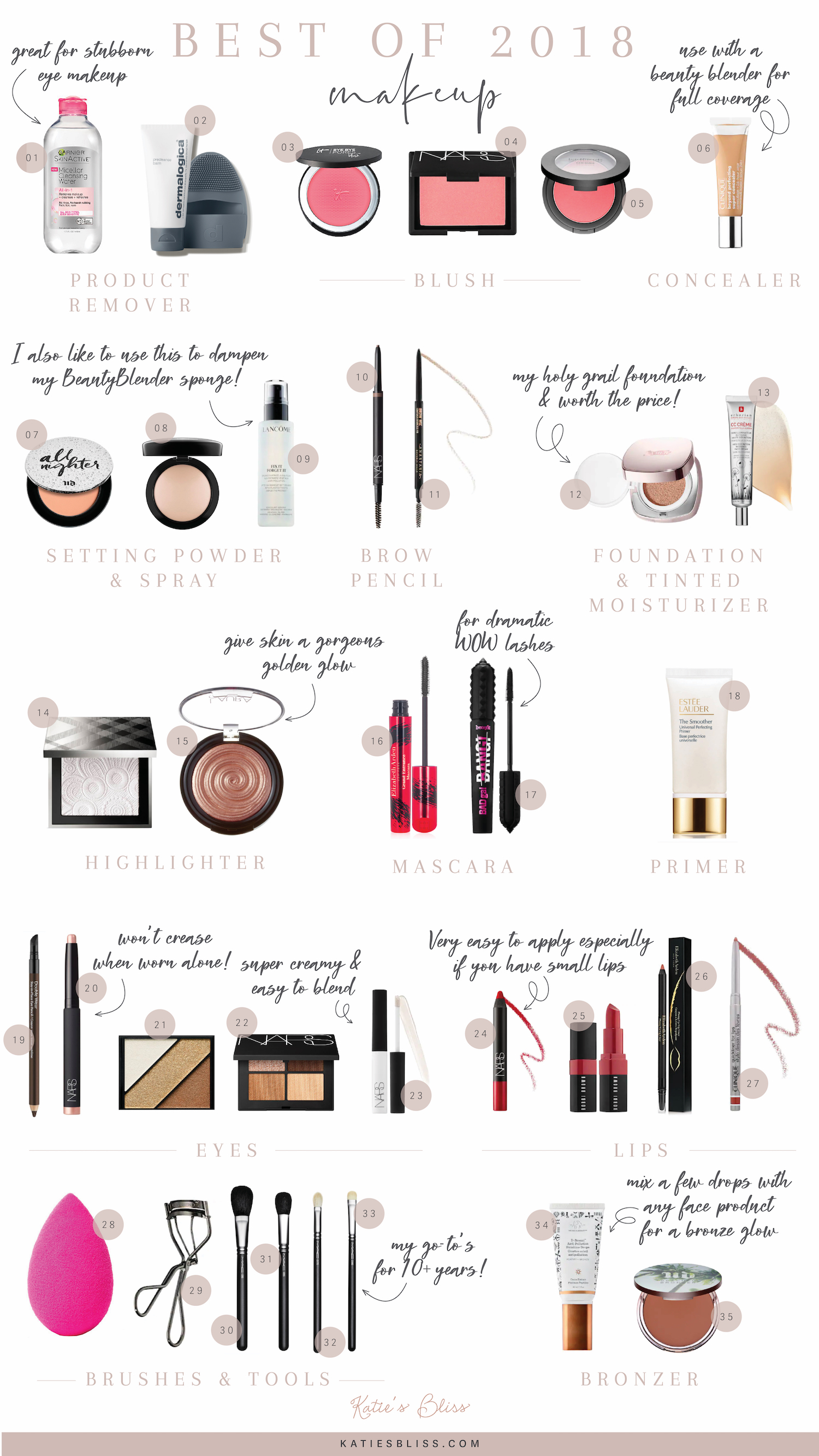 1. Garnier Micellar Water | 2. dermalogica precleanse balm | 3. it Cosmetics Blush | 4. NARS Blush  | 5. bareminerals Blush | 6. Clinique Concealer | 7. Urban Decay Setting Spray | 8. MAC Mineralize Skinfinish | 9. Lancome Setting Spray | 10. NARS Brow Perfector | 11. Anastasia Brow Wiz | 12. La Mer Cushion Foundation  | 13. erborian CC Creme | 14. Burberry Highlighter | 15. Laura Geller Baked Illuminator | 16. Elizabeth Arden Mascara | 17. Benefit BAD gal Mascara | 18. Estee Lauder Primer | 19. Estee Lauder Eye Pencil | 20. NARS Shadow Stick  | 21. Elizabeth Arden Eyeshadow Trio | 22. NARS Eye Shadow Quad  | 23. NARS Shadow Base  | 24. NARS Matte Lip Pencils  | 25. Bobbi Brown Crushed Lip Colors | 26. Elizabeth Arden Lip Liners | 27. Clinique Quickliner | 28. BeautyBlender  | 29. Shiseido Lash Curler| 30-33. MAC Brushes | 34. Drunk Elephant Sunshine Drops | 35. Urban Decay Bronzer
I'll be honest. I'm not a big makeup girl. It's funny because I used to be obsessed with cosmetics and during my college years. I would obsessively follow all the new MAC collections and would spend hours watching YouTube tutorials. That passion grew to the point where I was inspired to start my own channel (anyone remember my YouTube beauty days???) and Katie's Bliss 🙂
It's not that I no longer like makeup. I enjoy trying new products and the overall process of putting it on, but my philosophy has definitely changed. In the past it gave me such a rush having a huge variety of products. I was always adding to my makeup collection (because a neon pink eyeshadow is totally necessary…) and I regularly would play around with different looks.
Once I moved to New York that mindset changed. Not only did I have to find a way to store my aggressively large amount of makeup in a small space, but I was also working full time and on an entry-level PR salary. I had to change my shopping habits and filming YouTube tutorials had to take a back seat. Eventually the allure of makeup began to fade. Instead of a desire to constantly buy new things that I would only use a few times, I started focusing on figuring out the products that truly worked best for me.
It's been an evolution for sure and it's crazy to look back at the amount of makeup I used to own and compare it to what I have today. The products listed here are what I use every single day and rarely do I stray from this routine. Nowadays I'm all about quality over quantity and you can trust me that these have all been heavily tested. I used to always try and force myself to try new things, but now I'd rather just stick to what I like 🙂 Ya feel me?
MAKEUP REMOVAL PRODUCTS
1. Garnier SkinActive Micellar Cleansing Water | Awesome makeup remover that's great at tackling stubborn eye makeup and is gentle on the skin and lashes!
2. dermalogica precleanse balm | This stuff is great for when you really want a deep cleanse while removing makeup! It comes with a textured rubber mitt you can wear over your hand to massage the balm into your skin.
PRIMER
18. Estee Lauder The Smoother Universal Perfecting Primer | This is one of the few primers I've tried that hasn't broken me out. It's clear, lightweight and diffuses the look of any imperfections– basically it helps create a smooth canvas for applying foundation and the rest of your face makeup.
FOUNDATION
12. La Mer The Luminous Lifting Cushion Foundation in Petal 21 | Ever since I discovered this foundation it's the only one I'll use and 100% my holy grail. For years I searched for a lightweight  foundation with medium coverage that I could wear all day without feeling like I had product painted all over my face. This foundation honestly leaves my skin looking AND feeling flawless. I don't even notice it once I have it on because it's so light and gentle. The liquid formula is non-drying, won't irritate the skin and is filled with all those good ingredients found in La Mer skincare products. It's worth the money!!!
13. erborian CC Creme | I love wearing this cc cream, especially during the summer! It doesn't offer a lot of coverage, but the formula does color correct uneven tones, reduce redness and leave skin looking radiant all with SPF25. It's a great face product to wear when you're going for that "no makeup" look.
CONCEALER
6. Clinique Beyond Perfecting Super Concealer in Moderately Fair | This is an awesome build-able concealer. You can wear as little or as much as you want depending on how much coverage you need. I primarily use this to cover any little red spots and then under my eyes for dark circle. I'll apply a small amount to the tip of BeautyBlender sponge and then lightly dab+blend the product on to any problem areas.
BLUSH
3. it Bye Bye Pores Blush in Sweet Cheeks | Prettiest shimmery peach blush! You only need to smallest swipe for natural flush of color.
4. NARS Blush in Orgasm | One of my all-time favorite blushes for 10+ years now! It's the perfect combination of peachy pink with the slightest amount of shimmer. This is a blush you can wear everyday for any occasion!
5. bareminerals Gen Nude Powder Blush in Call My Blush | This is my favorite light rosy pink blush and the one I wear most often. I feel like it perfectly matches the natural flush or skin tone and love how it last al day without fading.
BRONZER
34. Drunk Elephant D-Bronzi Anti-Pollution Sunshine Drops | If I'm feeling like I want a little extra glow, I'll mix a drop or two of these into a tinted moisturizer or cc cream. These drops give the face a really pretty luminous boost of color, while also infusing skin with antioxidants. If you're sensitive to self tanning products this is a good one to try because it's vegan and totally free of essential oils, fragrance, silicone, and gluten.
35. Urban Decay Beached Bronzer in Sun-Kissed | Amazing powder bronzer and the only one I've used over the last few months. It's super soft, easy to blend, has a matte finish and lasts all day!
HIGHLIGHTER
14. Burberry Fresh Glow Highlighter in Rose Gold | Prettiest everyday highlighter that you can use on the cheeks, nose, eyes– pretty much anywhere! It's definitely a splurge, but will last forever. I've had it for over six months and feel like it still looks brand new.
15. Laura Geller Baked Illuminator in Gilded Honey | My go-to highlighter in the summer months or when I'm on a tropical vacation. This gives the cheeks the most gorgeous golden glow! I even will use it on my eyes too.
BROWS
10. NARS Brow Perfector | Super precise brow pencil that won't smudge and is available in a wide range of colors. I love that it's retractable so you don't have to worry about sharpening.
11. Anastasia Brow Wiz in Taupe | I've used this brow pencil since high school! Not much to say other than it looks very natural and matches the color of my brows perfectly.
EYES
19. Estee Lauder Double Wear Stay-In-Place Eye Pencil | Best blendable eyeliners and so creamy! I'm awful at applying liner in a precise line, so I usually will smudge this on my top lash line and then blend it out with a eyeshadow brush for a smokey effect.
20. Cool NARS Velvet Shadow Stick in Goddess | If you're looking for a one step shadow routine then look no further than these shadow sticks. All you have to do is swipe it on and you're done! No brushes involved and the formula won't crease. These are also great for using as a primer underneath power shadows.
21. Elizabeth Arden Eyeshadow Trio in Not So Nude 09 | One of my favorite neutral shadow palettes. You can create an awesome dark smokey eye with all three colors or just use the one middle shade for an everyday-appropriate shimmer.
22. NARS Eye Shadow Quad in Mojave | I'm pretty confident that if I was only allowed to use one eyeshadow quad for the rest of my life that I'd be perfectly fine with this one. It has four gorgeous neutral colors that can be used to achieve a range looks for daytime or evening. Each color is pigmented enough to be beautifully worn alone or combined together to create a look that's more dramatic. I love that the finishes of each shadow are different: two are shimmery, one matte and one powder with pearl sheen.
23. NARS Pro-Prime Eyeshadow Base | Best translucent shadow base! It goes on super creamy and white, but quickly blends clear. Applying this before eyeshadow will prevent colors from creasing and fading throughout the day.
MASCARA
16. Elizabeth Arden Grand Entrance Mascara | I'm obsessed with the skinny wand on this mascara. It's incredible for getting those short hard to reach lashes on the lower lid. The formula is super smooth and won't clump or flake!
17. Benefit BAD gal Bigger Badder Volumizing Mascara | This is the only mascara I've been using the last 2-3 months. I does everything a mascara should giving lashes length and major volume. I can wear it all day and never have I noticed any flaking or clumping. It's AWESOME.
LIPS
24. NARS Velvet Matte Lip Pencils | I'm not big on wearing lip products in general, but when I do it's usually a NARS lip pencil. These are easy to apply and perfect if you have smaller lips like me. I love the matte finish (looks great in photos) and the pigmentation is incredible and lasts for hours. The formula is also super creamy and won't dry out your lips!
25. Bobbi Brown Crushed Lip Colors | One of the most hydrating lip products I've ever used! These look and wear like a traditional lipstick, but the formula is much closer to a balm. I also can't get enough of the super pigmented colors and matte finish. So long-lasting!
26. Elizabeth Arden Plump Up Lip Liners | These are the creamiest lip liners I've used! I find these really easy to apply and blend with my lipsticks.
27. Clinique Quickliner For Lips | No sharpening required! Love how these lip liners are twistable (great for on-the-go) and the pencil is super skinny making application easy for thin-lipped gals like me 🙂
SETTING POWDER & SPRAY
7. Urban Decay All Nighter Waterproof Setting Powder | This setting powder is a recent discover that I'm loving! It's completely translucent, waterproof and it lasts for 24 hours. This is an awesome product to have in your travel makeup bag or if you're going to be out in warm weather. I also love that it has a matte finish!
8. MAC Mineralize Skinfinish in Medium | This has been one of my favorite setting powders for close to ten years. Since I like to use as minimal face makeup as possible, I really only will apply this lightly over the areas of my face that I'm wearing concealer like my nose, chin and under eyes. It's pigmented, yet super lightweight so it doesn't ever feel heavy or cake-y.
9. Lancome Fit It Forget It Setting Spray | My go-to setting spray! I also use this to lightly dampen my BeautyBlender before applying my concealer and blending my foundation.
BRUSHES & TOOLS
30. BeautyBlender Sponge | My life changed once I discovered this sponge. For years I had been applying my foundation with my fingers and blending it with a brush, only to be left worrying about streaks and lines. I've now ditched all my foundation brushes in favor of this sponge to blend in my foundation and also apply concealer. It's amazing at giving skin that flawless airbrushed look– just remember to lightly dampen it first with a beauty spray or water before using!
31. Shiseido Eye Lash Curler | I've tried a number of lash curlers over the years and feel like this is the only one that really grabs on to every single lash and gives a long-lasting curl.
30-33. MAC Brushes | No joke I've had my MAC brushes since HIGH SCHOOL. That's 10+ years! Seriously these are the best you can get and such a worthwhile investment. I use the 239 and 217 brushes for eyeshadow, the 109 brush for bronzer and the 116 brush for blush.
Don't forget to check out my first 3 Best Of Beauty Guides!
Best Of Body Care | My Favorites Lotions, Self Tanners, Deodorants & More
Best Of Skincare | My Favorites Moisturizes, Eye Creams, Serums & More
Best Of Haircare | My Favorite Shampoos, Treatments, Tools & More
- Katie