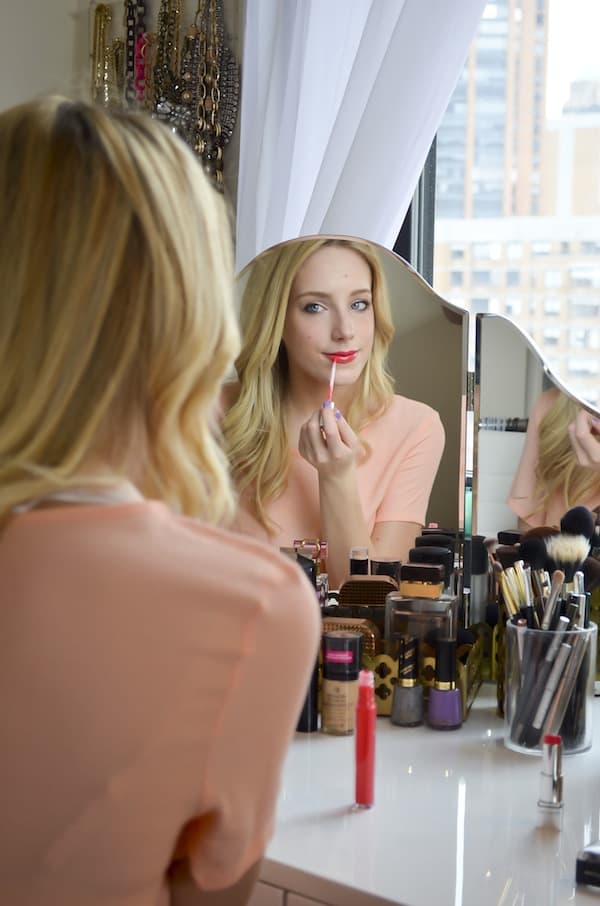 As promised, this week I am sharing my everyday makeup products! While skincare is the main focus of my beauty routine, I do enjoy wearing makeup and on a daily basis I at least wear a tinted moisturizer and mascara.
One thing I've learned since falling in love with cosmetics in college is that less is more. I used to really be into experimenting with dramatic eye looks and crazy lips, but I'm now at a point where I just re-wear what I know looks best on me. I'm fortunate to have been able to test a lot of products over the past few years (perk to being a publicist and a blogger!) and the below are all ones I have used regularly for at least six months or more!
MY EVERYDAY MAKEUP PRODUCTS
Face Essentials

Tinted Moisturizers | Jouer 'Luminizing' Tinted Moisturizer and bareMinerals 'Complexion Rescue™' Tinted Gel Cream – I always prefer to wear a light tinted moisturizer instead of a heavy foundation. These two are my favorite for toning down redness and any imperfections.
Face Powder | MAC Mineralize Skinfinish Natural – I've used this for years to set my foundation and concealer. It's a great all over mineral face powder that never looks cakey.
Concealer | bareMinerals 'bareSkin®' Complete Coverage Concealer – I started using this concealer a few months ago and I love the coverage. All you need is the tiniest amount and it will smooth over dark circles, pimples, etc.
Liquid Bronzer | Urban Decay 'Naked Skin' Bronzing Beauty Balm – This saved my life over the summer! Instead of buying new foundation when I started getting tan, I mixed this in with whatever I was using to deepen the shade. It gives the perfect sun kissed glow!
Bronzer | Cargo Water Resistant Bronzer – This is another bronzer I've used for years! It blends well and never looks 'dirty.'
Bronzer/Blush/Highlight Palette | Urban Decay 'Naked Flushed' Palette – I love this palette for traveling. It has everything I need all in one and the shades are compatible with any look.
Blushes | MAC Powder Blush and NARS Orgasm Blush – These have been my favorite blushes since college. Both blend well and last all day!
Highlighter | Chantecaille Liquid Lumière Highlighting Fluid – When I use a highlighter this is my go-to product. It isn't too harsh or striking like some other liquid highlighters. It gives a perfect subtle shimmery glow that doesn't fade.
Eye Essentials

Mascara | CoverGirl LashBlast Super Sizer Mascara – I always use a drugstore mascara since I dispose of them after a few months of use. In my opinion CoverGirl makes the best ones! The new LashBlast gives my lashes volume and length. I also love the shape of the brush too, it's perfect for reaching tiny lower lashes. 
Eyeliner | Estee Lauder 'Double Wear' Eye Pencil – I have this liner in a few different shades — it's all I use. It is SO smooth and blends incredibly easily. If I'm in a rush I'll just blend my liner up on to my lid and just skip eyeshadow. It goes on so gently and I never feel like I'm tugging on my lash line.
Liquid Eyeliner | Stila Waterproof Eyeliner – If I wear liquid eyeliner this is the one I tend to grab. I've tried a few different brands and I find this is the easiest to handle for getting a precise line.
Eyeshadow Palettes| Estee Lauder 'Pure Color Envy' Sculpting Eyeshadow Palette and Buxom May Contain Nudity™ Eyeshadow Palette – When I do wear eyeshadow I really enjoy these nude palettes. The colors are versatile and perfect for everyday wear.
Brows | Glossier Boy Brow – I was so happy when I was introduced to Glossier Boy Brow! It holds my sometimes unruly brows in place while also giving them definition to frame my face.

Lip Essentials
Lipsticks | Estee Lauder 'Pure Color Envy' Matte Lipstick and Clinique 'Pop Lip' Color – I have tried a lot of lipsticks and these work the best for me! I have tiny lips so application isn't always easy. These are hydrating, have great pigmentation and look really nice when worn in photos. I use them with in combination with a lip brush and lip liner!
Lip Foundation | Buxom® True Nude Lip Foundation – This was a total surprise love for me. Don't judge, but I kinda like the whole Kylie Jenner nude lip look and this is perfect for achieving a similar result. I wear it completely on its own!
Lip Stains | Julep Matte Lip Mousse and YSL 'Baby Doll' Kiss & Blush – Over the past year I've fallen in love with stains! I've noticed the wands are easier for me to use when applying directly to my lips. I don't even need a lip liner or brush. These are both long-lasting and don't dry my lips!
Lip Liner | Dolce & Gabbana Precision Lip Liner – Been using these for the past few years! I have a few liners in different shades that I use anytime I wear a lipstick.
What are your favorite makeup products? Anything new I need to try?
- Katie