A few of you have asked for my advice on the best travel shoes, so I wanted to put together a little guide to my favorite pairs of comfortable sneakers, flats and heels. Living in a city where my primary mode of transportation is my own feet, I have a bit of an advantage when it comes to testing footwear. Since I walk everywhere, almost right away I can tell if a shoe can be trusted for hours of pavement-pounding or just makes sense to pull out for special occasions.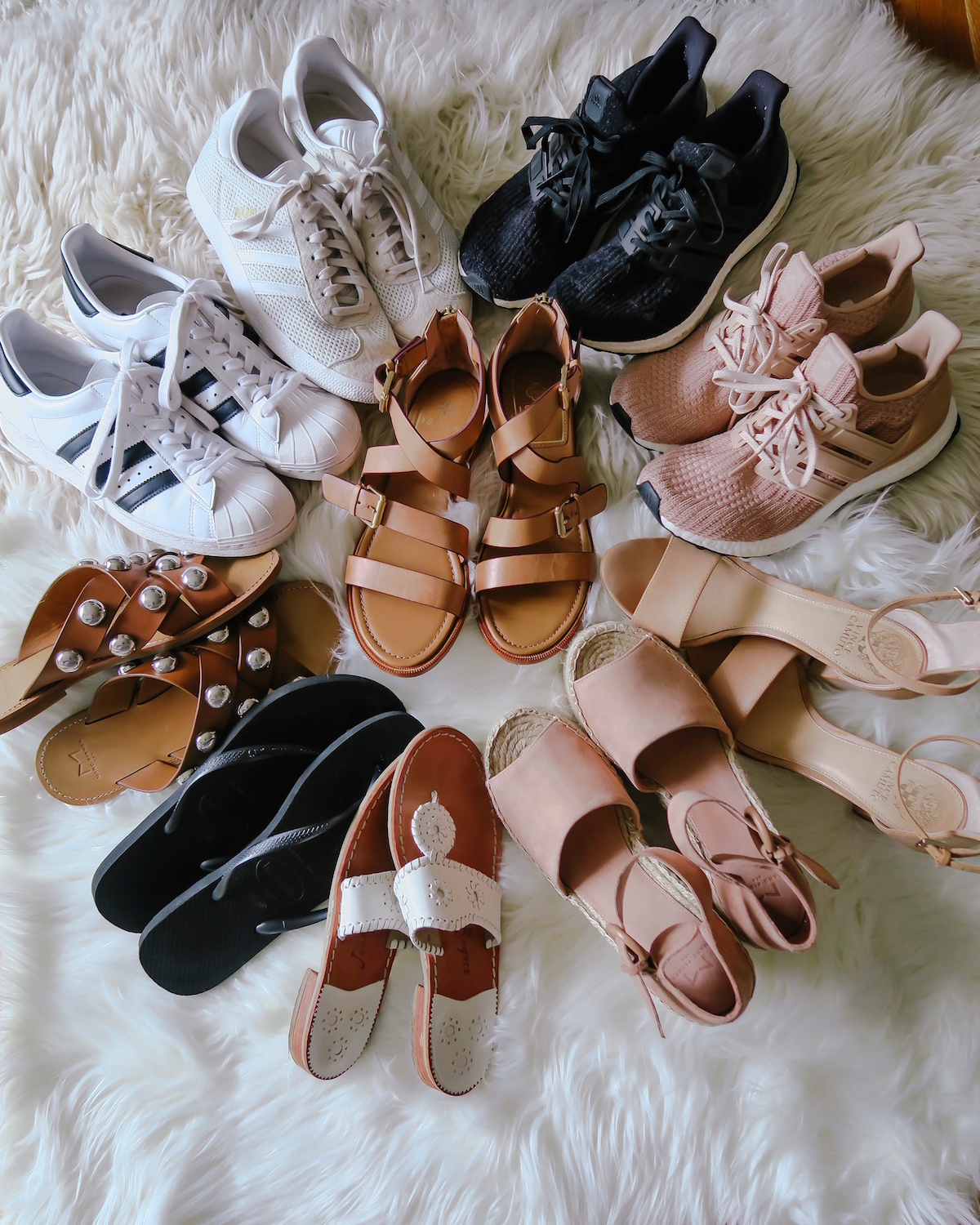 I'll also admit. I'm a big baby when it comes to shoes and have absolutely no issues sacrificing style for comfort. Literally by the end of our last trip to Europe I only was wearing these sneakers, despite the fact I'd packed a ton of cute boots and heels. I know, not very "fashion blogger" of me, but hey I'd rather look goofy then be in pain! We leave for Italy on Friday and while I'm still trying to figure out ten days of outfits (wish me luck…) I pretty much already know what shoes I'll be bringing with me. Gotta start somewhere!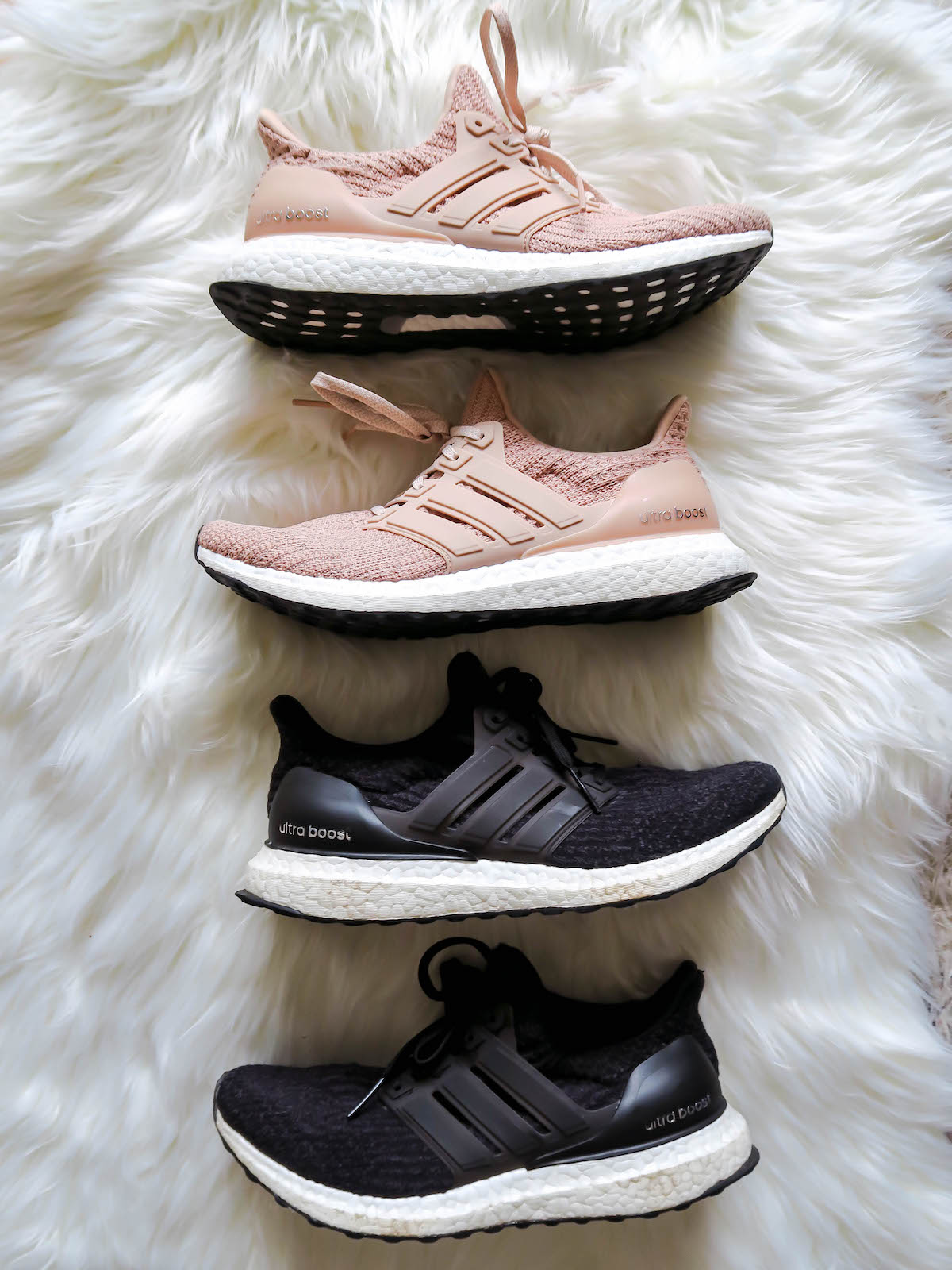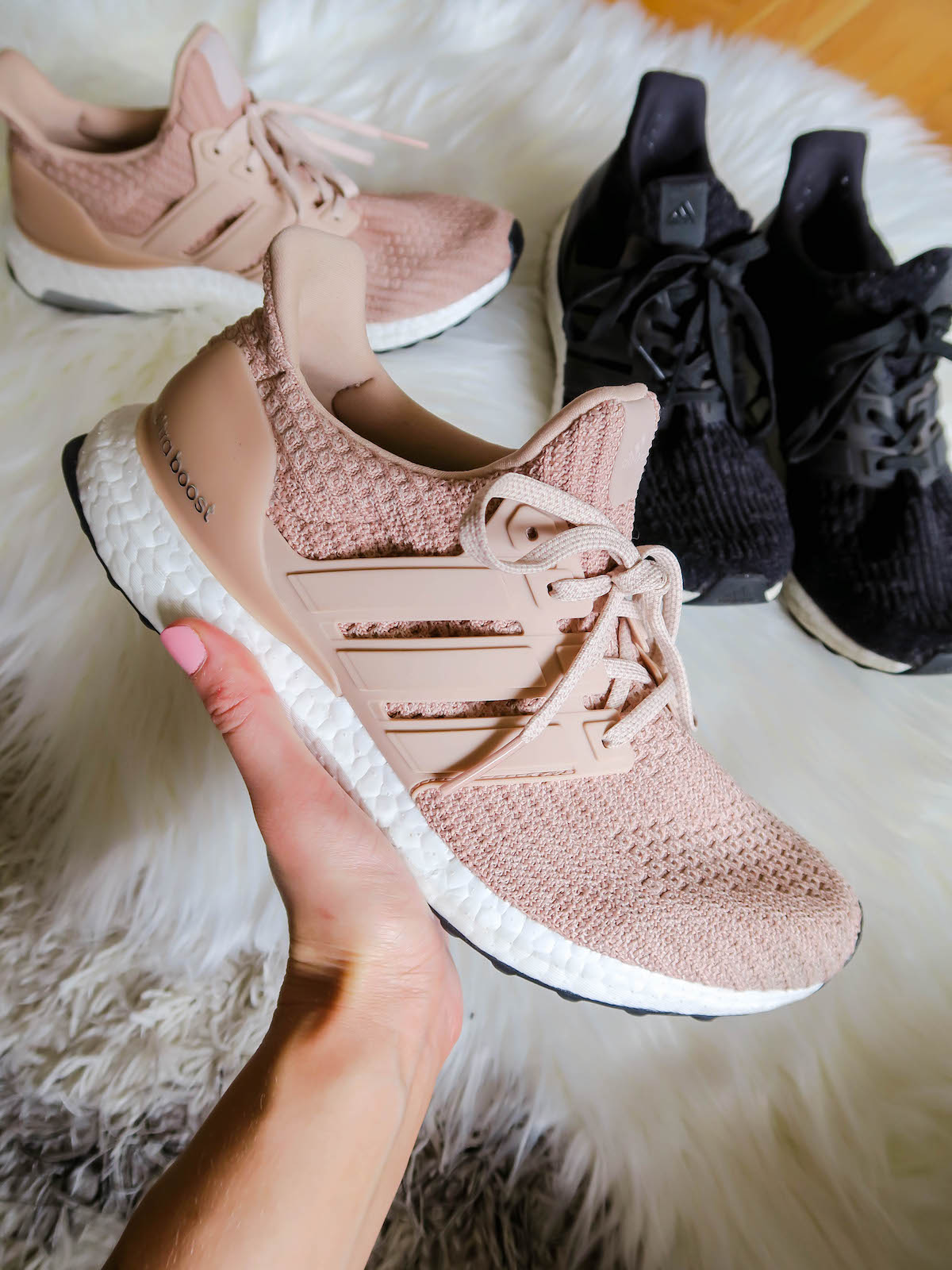 SNEAKERS | I'm not exaggerating when I say that Adidas UltraBoost sneakers are the most comfortable pairs of shoes I've ever put on my feet. I know I've gone on and on about them before, but truly these sneakers are worth the investment. Not only do I wear them to the gym and for running, but on any trip these are my go-to airport and walking shoe. Every step is like walking on a cloud! They aren't clunky either– super lightweight and easy to pack. After falling in love with my black pair on our last trip to Europe, I got a second pair in pink 😛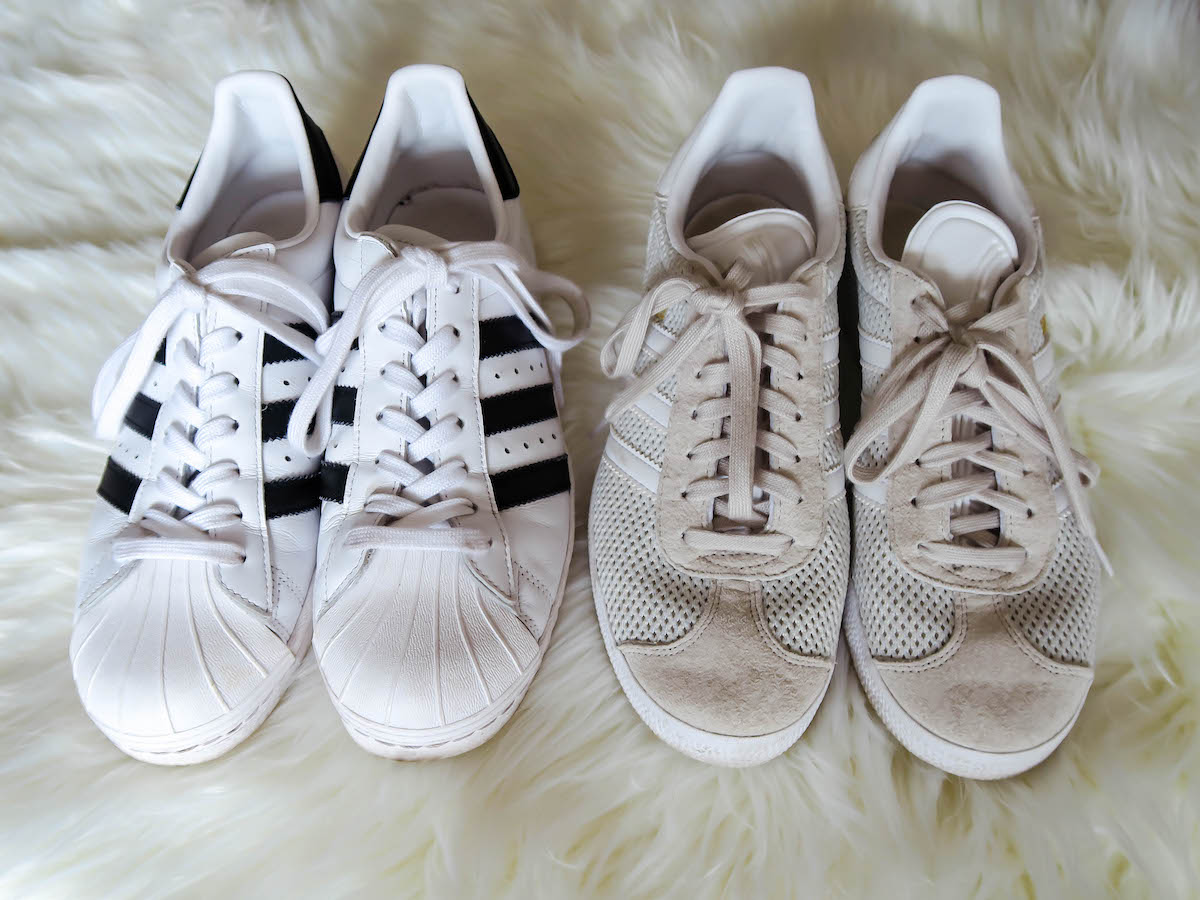 Adidas Superstar Sneakers | Adidas Gazelle Sneakers
If you're truly against the idea of wearing an athletic-style shoe with all your cute vacation outfits, then consider a low top sneaker. Here are two of my go-to pairs that have never failed me. I wear these all the time for errands and also have packed them for a number of trips! Espadrilles are also a great comfortable non-sneaker option.

Alright, now let's talk sandals!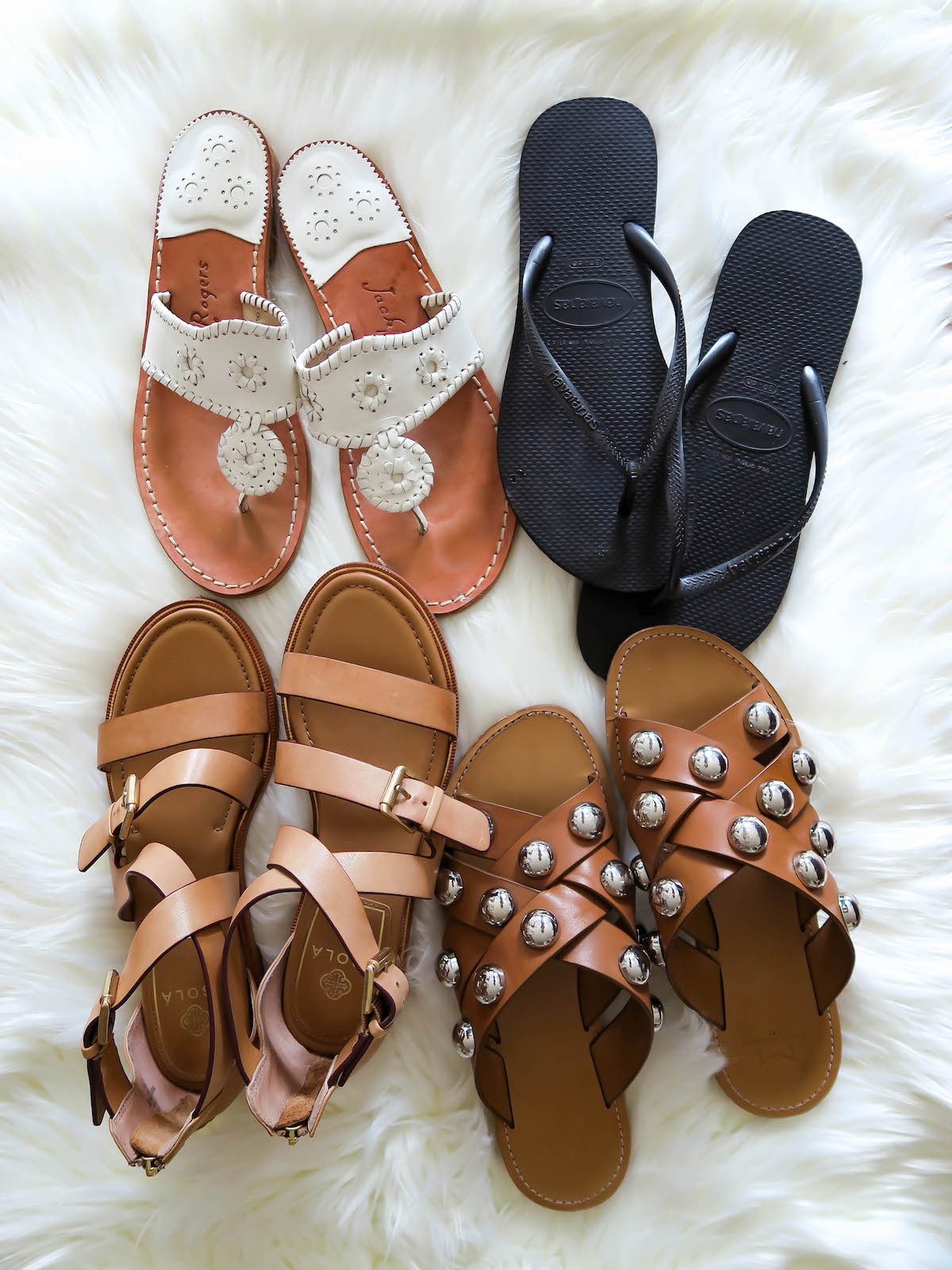 FLIP FLOPS | I've been a big fan of Havaianas flip flops since I was teen! Havaianas come in almost every color of the rainbow and are made from the most comfortable squishy rubber that's super durable. If you're heading on a beach vacay or plan to be on boat, make sure you bring a pair. They make them in mens and kids sizes too!
JACK ROGERS | Okay, so I actually find Jack Rogers to be really comfortable and have worn my flip slop-style sandals for hours when walking on trips. That said, I have friends who think these are the most uncomfortable sandals in the world! My best advice would be to test a pair out at home before deciding to rely on them as your go-to flat travel sandal.
GLADIATOR SANDALS | I really like gladiator-style sandals for traveling. These are great because they stay secure on the foot either with a zipper or buckle. I'm definitely bringing this strappy pair with me to Italy! The brown leather will match with everything and the padded footbed is soooo comfortable.
SLIDES | I didn't expect to like this pair of studded slides as much as I do, but all spring they've been my #1 throw-on-and-go sandal. Surprisingly comfortable!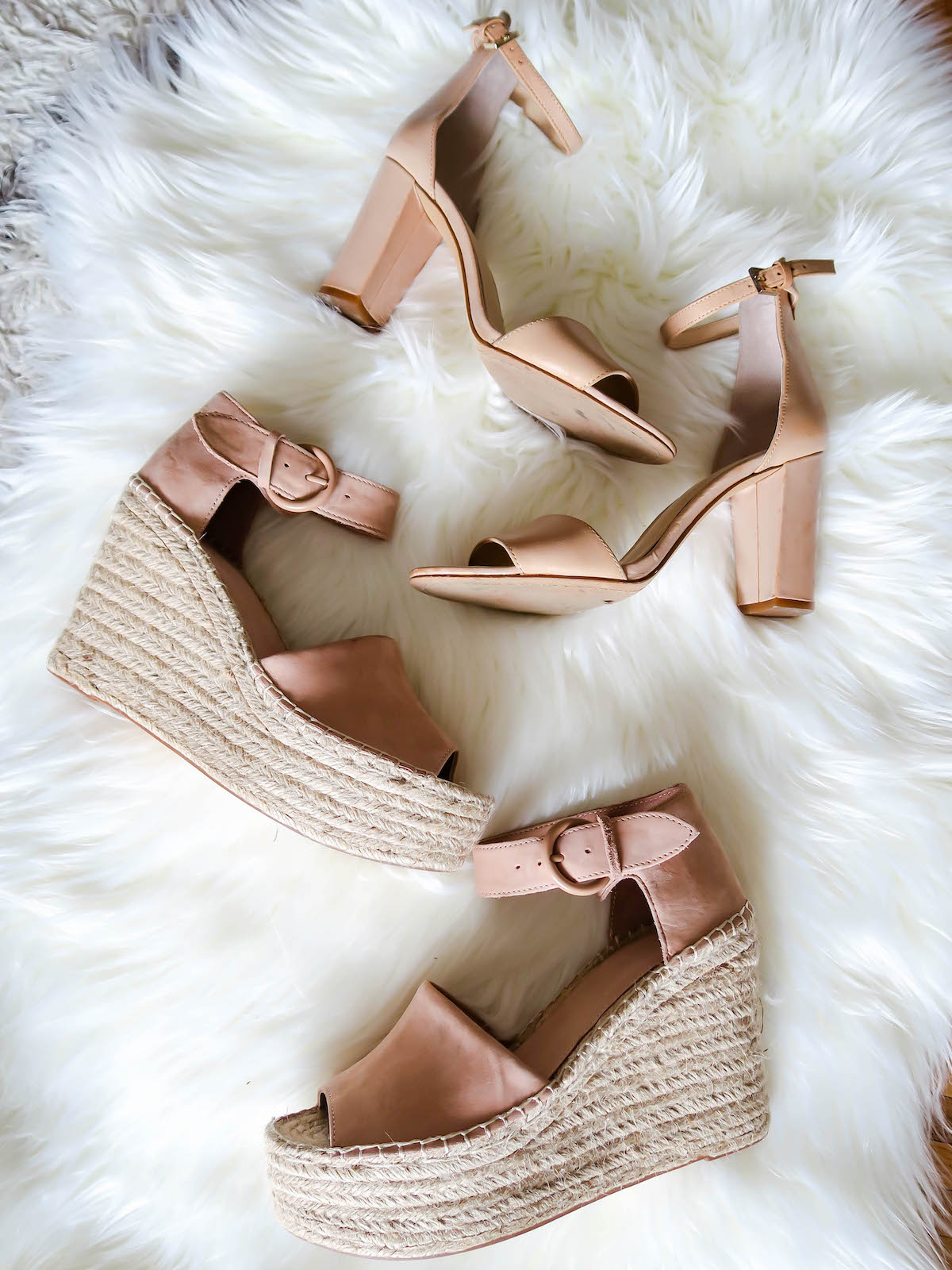 Ankle Strap Sandals (under $100) | Espadrille Platform Wedges
HEELS | Now I can't end this guide without touching on heels. I 100% always stick to sneakers or sandals during the daytime when I travel, but if we have a nice dinner planned usually that means a shower and outfit change into something nicer back at the hotel. I'd personally recommend leaving stilettos or anything patent leather at home (the last thing you wanna do is step in a crack or get scuffs) and opt for wedges or something with a chunky heel. I like these platform espadrilles— very comfortable, easy to walk in and available in a ton of colors! You guys are also no stranger to these under $100 strappy sandals. I've worn them a ton here on the blog over the last few months– definitely a pair you could walk to dinner and back in with no discomfort.

- Katie