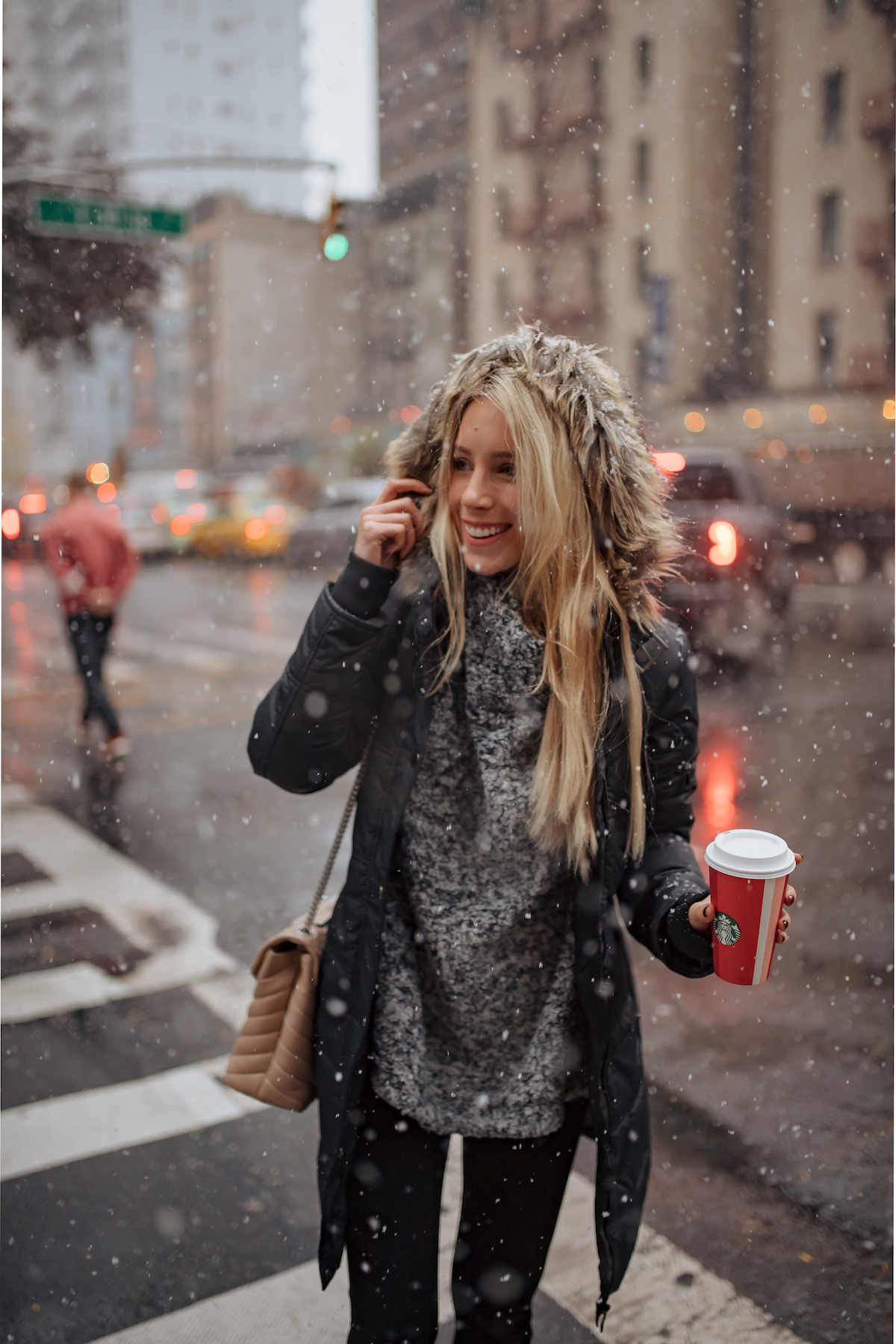 Around this time every year I always get a ton of messages asking for advice on what clothing to pack for a December trip to New York. Winter is an amazing time to visit Manhattan, especially at the holidays when the city is decorated. It's absolutely magical! PS click here to read my Ultimate New York City Holiday Travel Guide.
What To Wear To New York City In Winter (& At The Holidays!)
I'll tell you right now it's always best to plan for bundling up! Chances are that you're going to be spending some time outside whether that's exploring Central Park or walking from dinner to your hotel so you're going to need a very warm coat.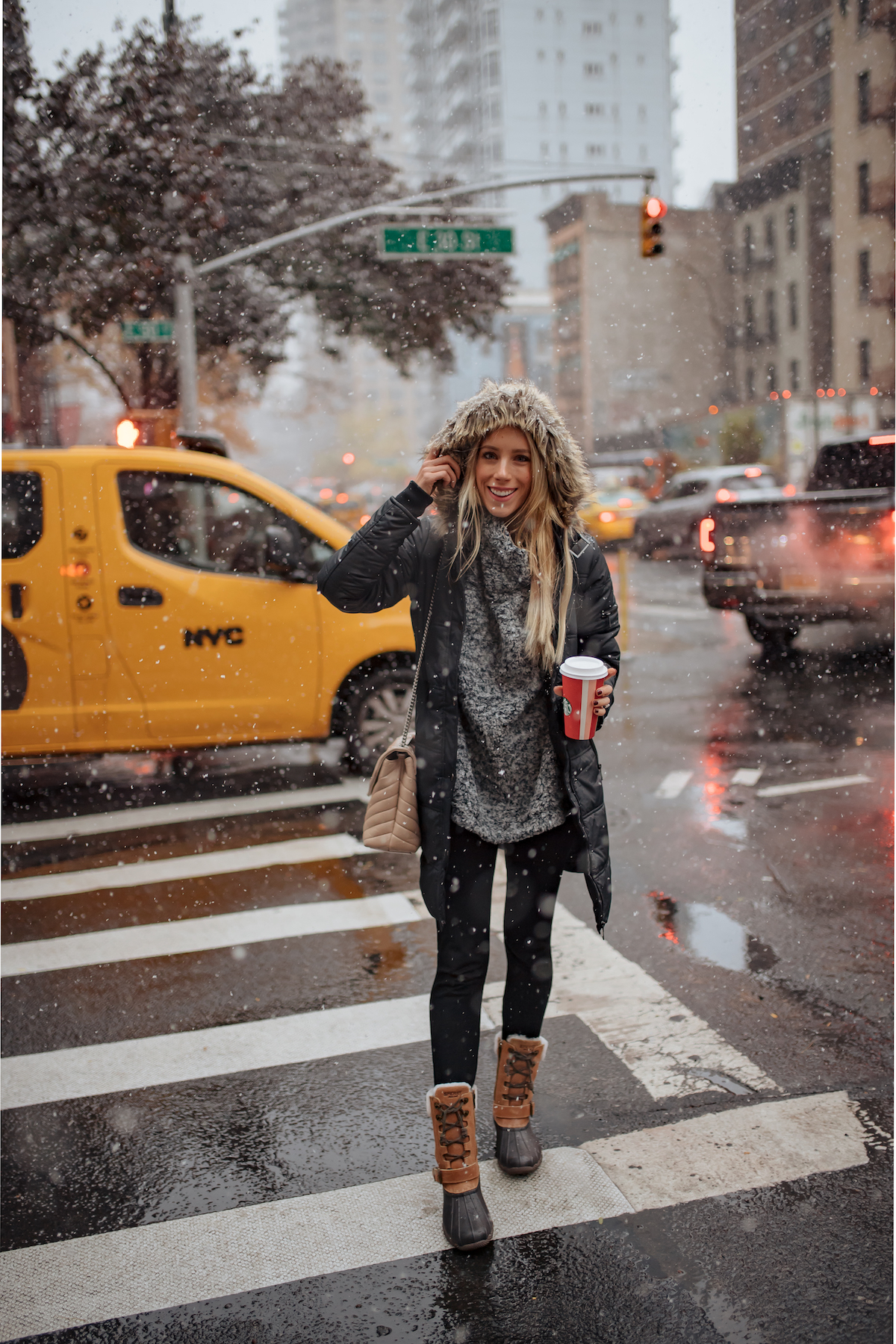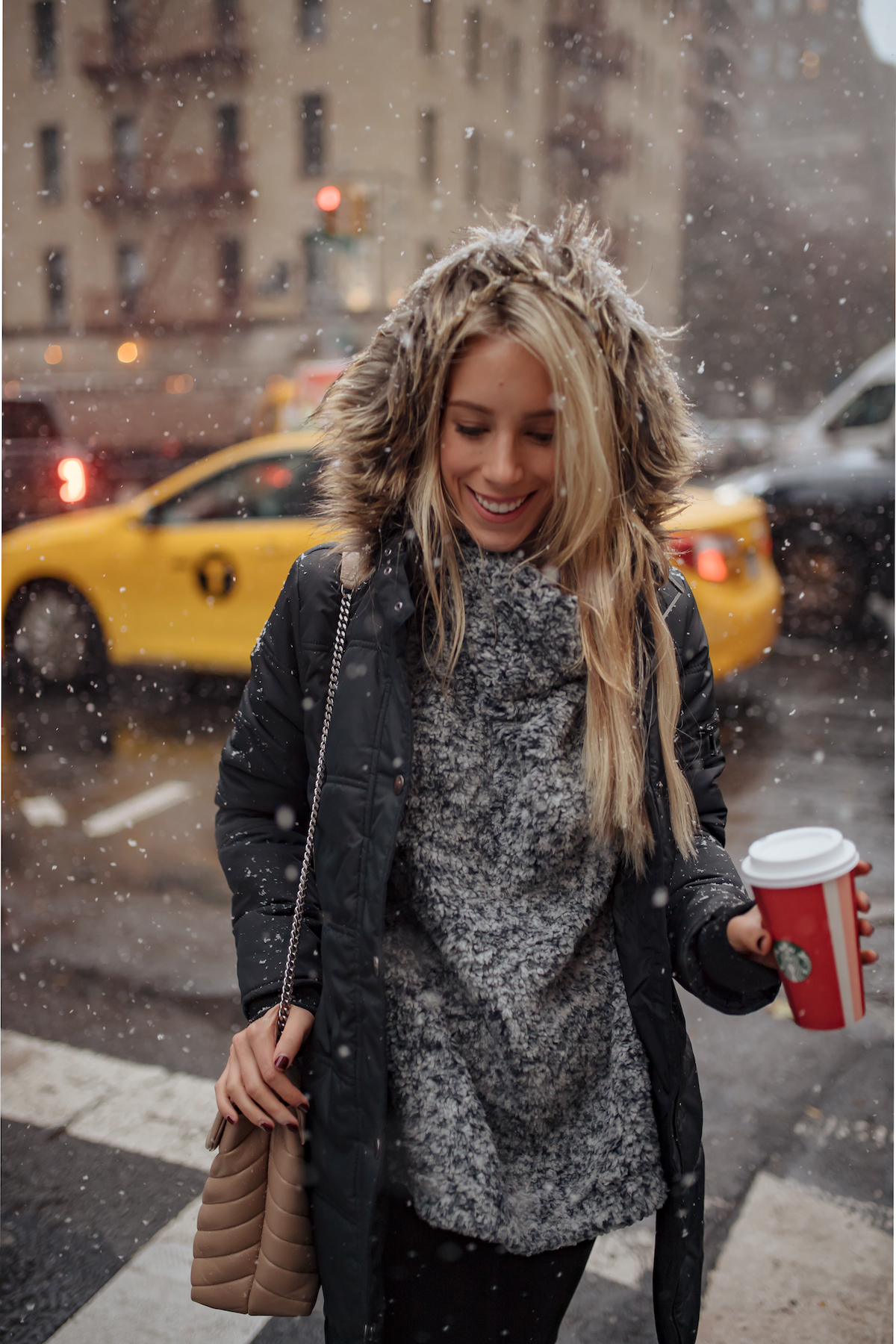 OUTFIT DETAILS // Weather-Resistant Down Coat (under $100!) | Similar Sperry Snow Boots | Similar Fleece Pullover
I have a few different winter coats that I interchange depending on the temperature and where I'm going. I'm a BIG baby in the cold so if the temperature falls lower that 40 degrees I'm 100% in a down parka. I scored the wallet-friendly puffer coats I'm wearing here from Nordstrom— both would be perfect to pack for a cold winter trip to New York! If you're looking for a coat that's a little more heavy duty (NYC winter can feel like the arctic at times…) I highly suggest Canada Goose down parkas.
SHOP MORE DOWN PUFFER COATS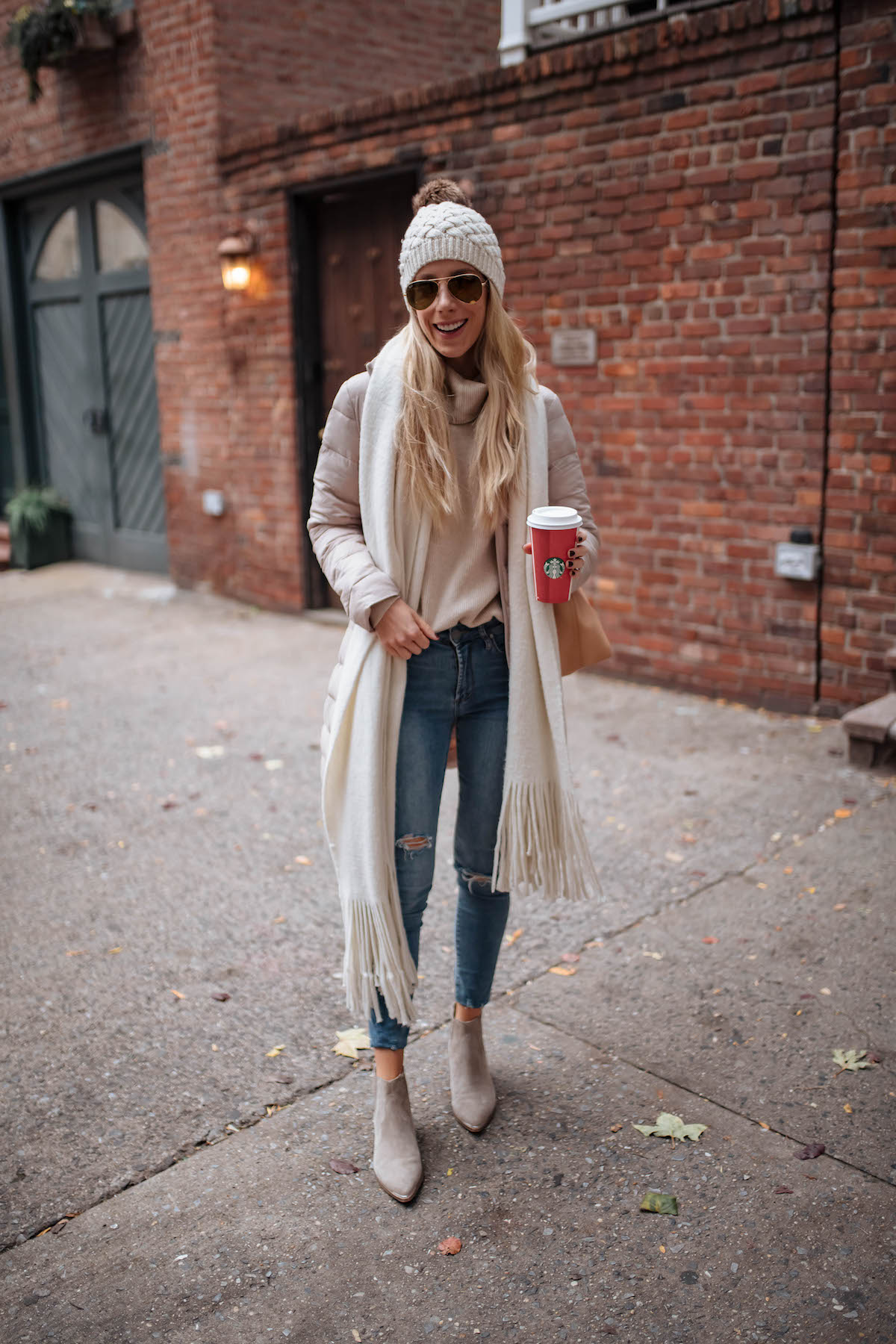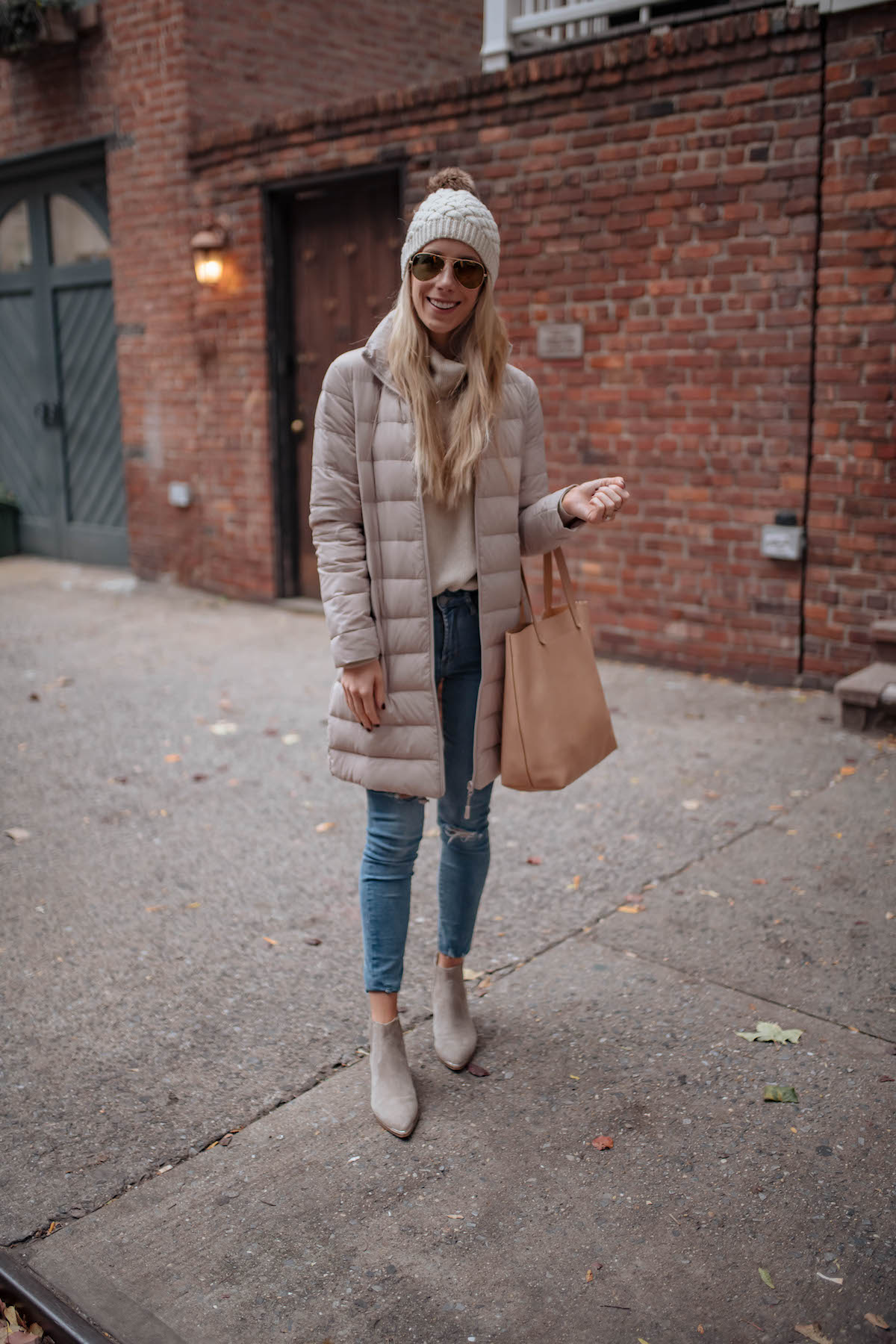 OUTFIT DETAILS // Long Down Puffer Coat | Fringe Scarf | Suede Booties | Skinny Jeans | Pom Pom Pom Beanie | Aviators
Finding a casual down puffer jacket is easy, but deciding on a coat to wear over a nice dress or formal outfit can be trickier. If you have plans to see a Broadway show or dinner reservations at a nice restaurant then you're likely not going to want to show up looking like the Michelin man– I've been there! Faux fur or long wool coats are always my go-to for cold evenings in the city. Styles like these are super warm and look stylish when paired with formal outfits.
SHOP FAUX FUR COATS + FORMAL JACKETS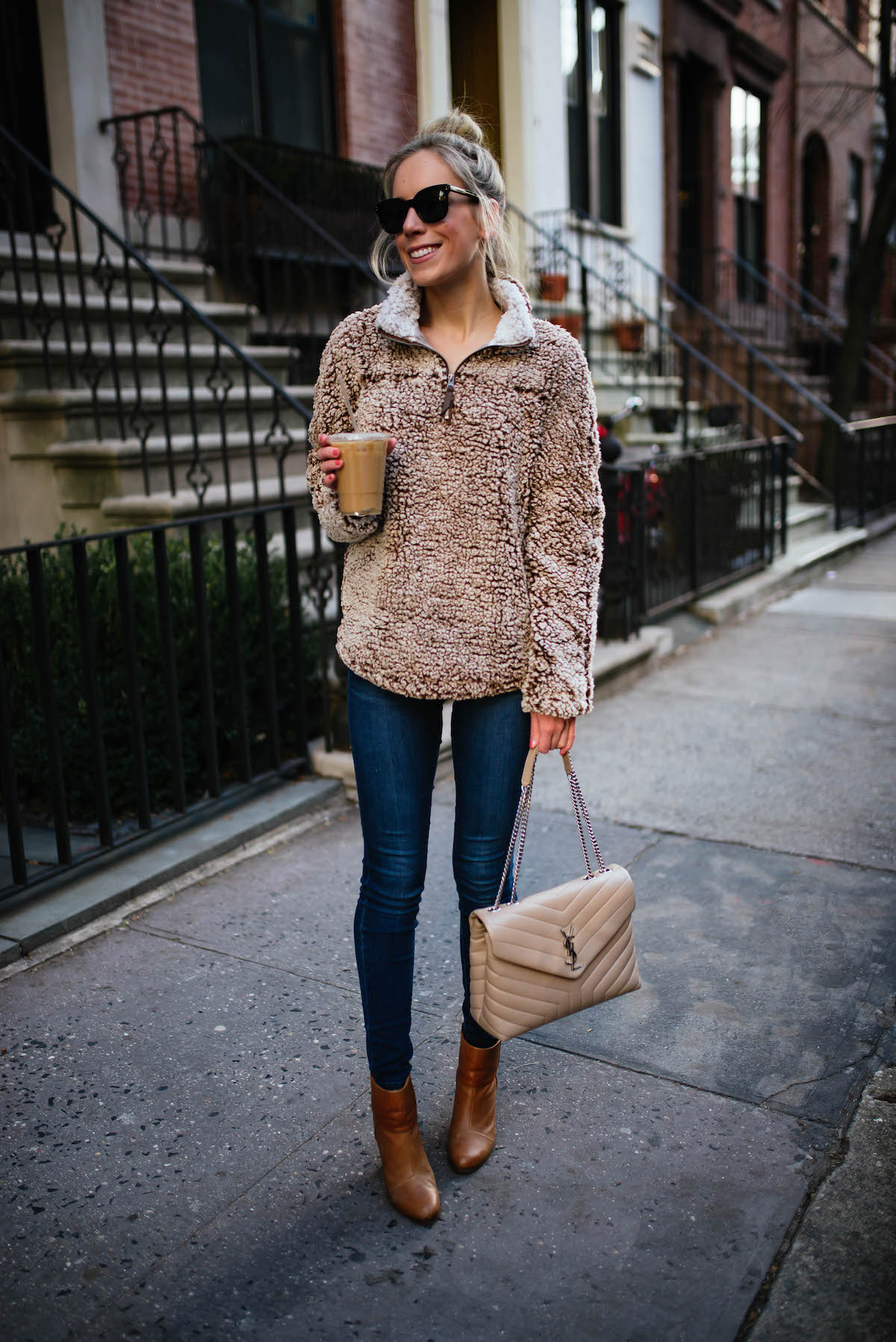 This is my FAVORITE fleece pullover! It comes in a few colors and is on sale too.
If you're visiting New York City in winter you're 100% going to want to pack layers and all the cold weather accessories like a hat, gloves, and a scarf. Even if your coat has a hood, I would still suggest having earmuffs or beanie to keep your ears warm because city wind tunnels are NO joke. Trust me, even just a few five minute walk on a really cold day can be incredibly painful when you don't have anything covering your ears and neck.
COLD WEATHER ACCESSORIES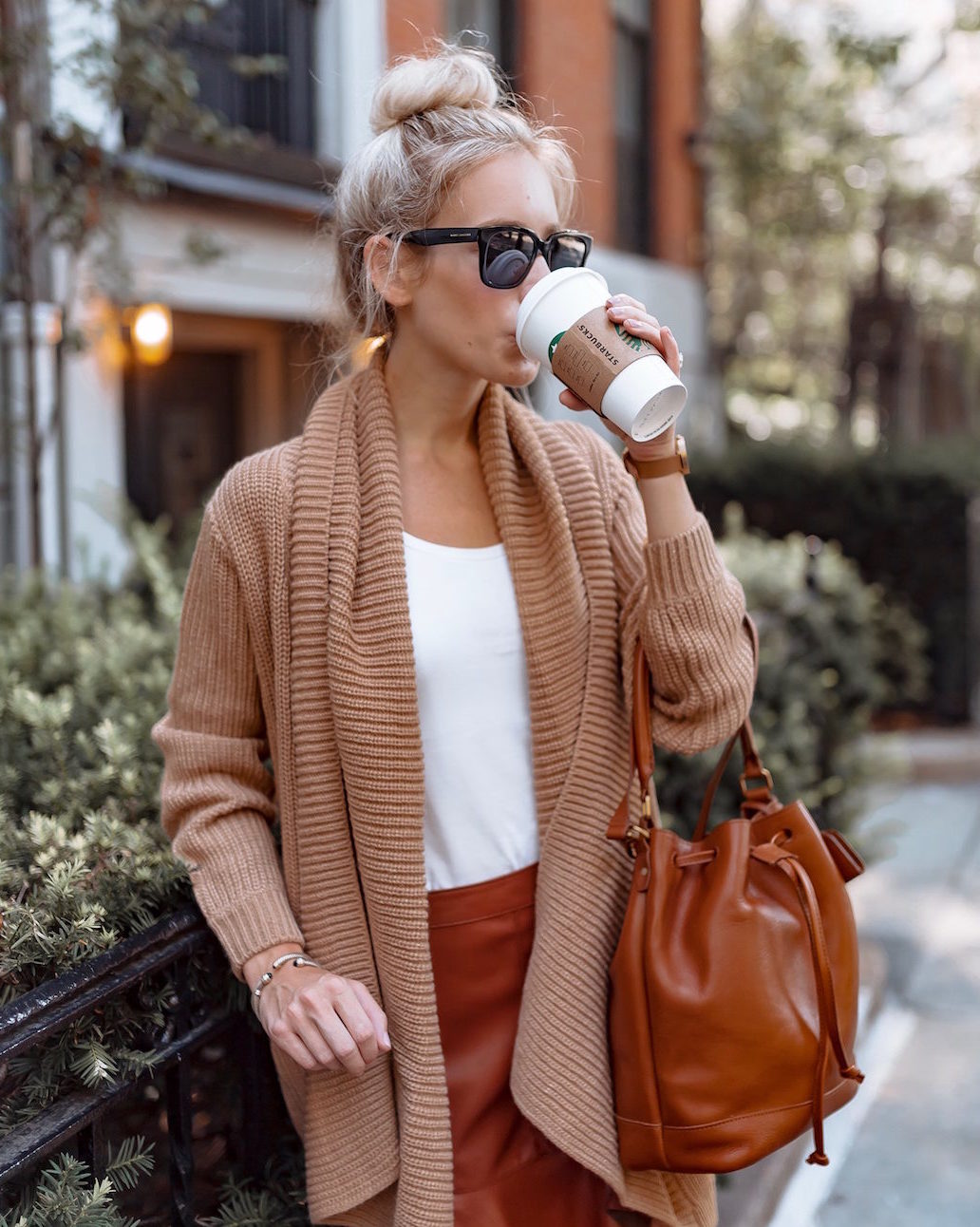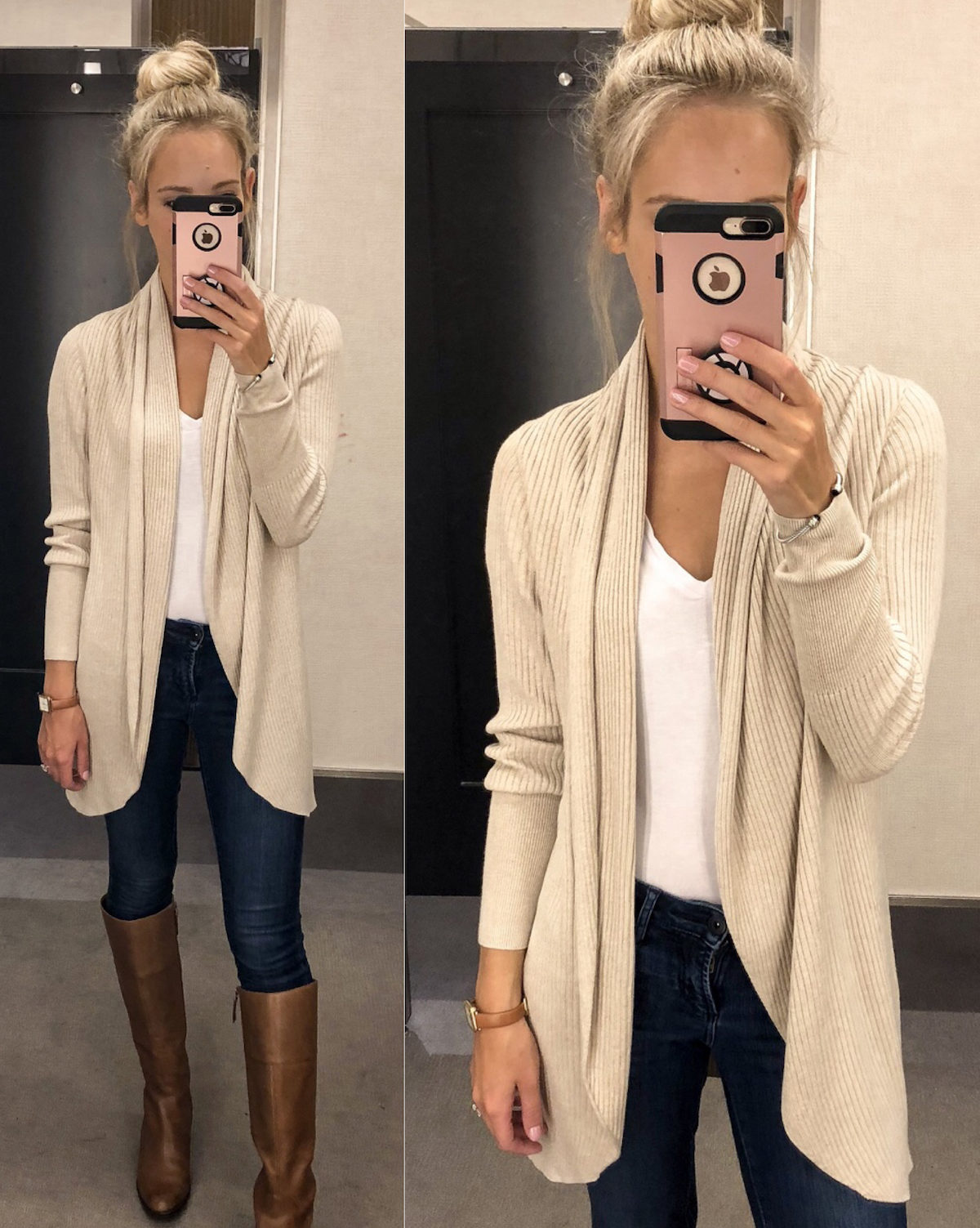 (Left) Chunky Brown Cardigan (now on sale!) | (Right) Ribbed Cocoon Cardigan
Also make sure you pack a few sweaters you can mix and match along with a cozy fleece pullover or thick cardigan!
For footwear you have a few different options. If snow, rain or freezing temps are in the forecast, then I suggest bringing a pair of weather-resistant boots that you know you can walk in. If you're blessed with sunny skies on your trip, then you can definitely get away with wearing sneakers. These are my personal favorite errand/walking/travel/everyday sneaker that I wear year round– I even wear them to the gym and get so many compliments!
SHOP WINTER BOOTS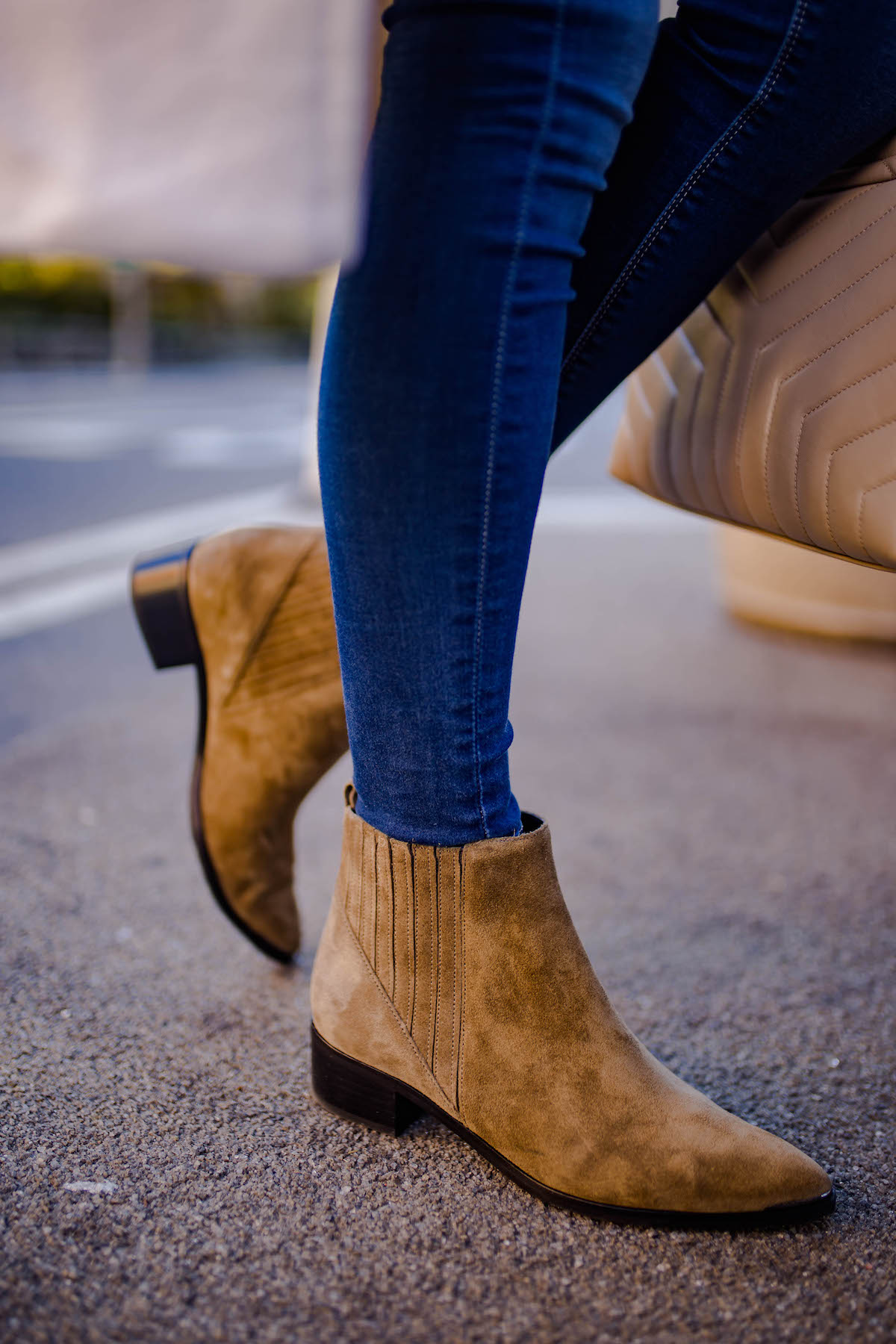 These are my go-to short suede booties! You can snag 'em now in a few different colors.
Besides sneakers, two of my other go-to winter shoe styles are short booties and over the knee boots. If I need to wear heels somewhere then I usually opt for a tall heeled boot. These are much easier to walk in and more durable that a dainty pump, which can easily get stuck in a sidewalk crack or subway grate (yes, it's happened.)
STYLISH SHORT BOOTIES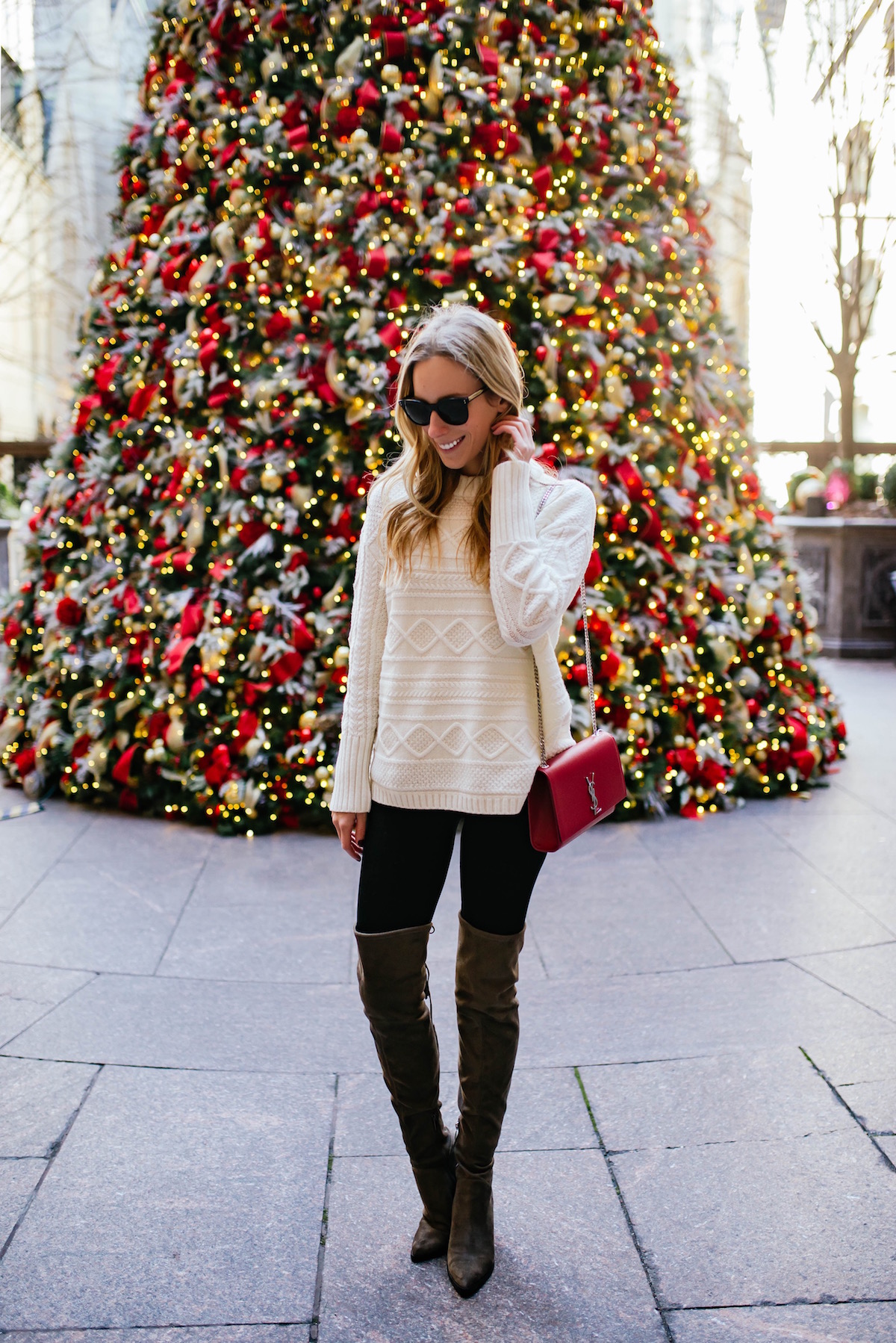 I highly suggest investing in a pair of over the knee boots— I wear these on repeat during the colder months!
If you follow this guide when packing you shouldn't have anything to worry about on your trip to New York. The great thing about visiting a big city is that even if the weather changes or you forget something, there are a ton of fabulous stores steps away. Nothing wrong with adding a little retail therapy into your itinerary 😛
Big thank you to Nordstrom for sponsoring this post!

- Katie