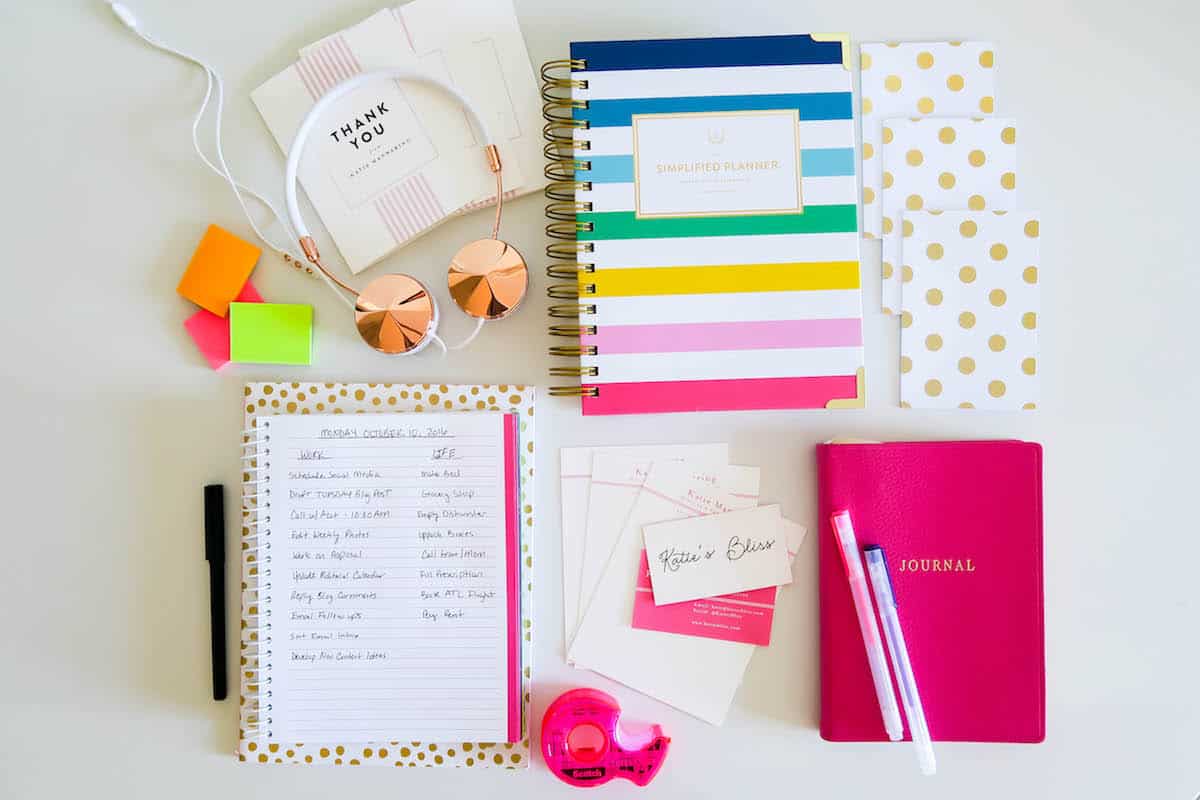 I never thought I would enjoy working out of my home as much as I do. Reflecting back on when I graduated college and my first year in the workforce, I never could've done it successfully — I didn't have the self-discipline! I think that I've matured professionally over the past four years (or maybe it's just my apartment — who knew natural light could be so motivating?), because the days when I get to be my own boss are my absolute favorite.
It's taken me a few years to really master how to wisely use my time and stick to a routine. In an office environment Ithrive on my coworkers' energy and the feeling of being in a professional setting. At home it's much easier to become your own worst enemy and get distracted by personal tasks. I never thought I could be so tempted to clean… I swear, sometimes I have to stop myself! 
In today's post, I'm excited to team up with the Paper & Packaging Board to share my tips for working from home and how I like to use paper products to maximize my productivity. There really is something to be said for putting to pen to paper – I wouldn't survive without my lists, planner and monthly calendar!  Anyone else feel the same way? Keep on reading for more!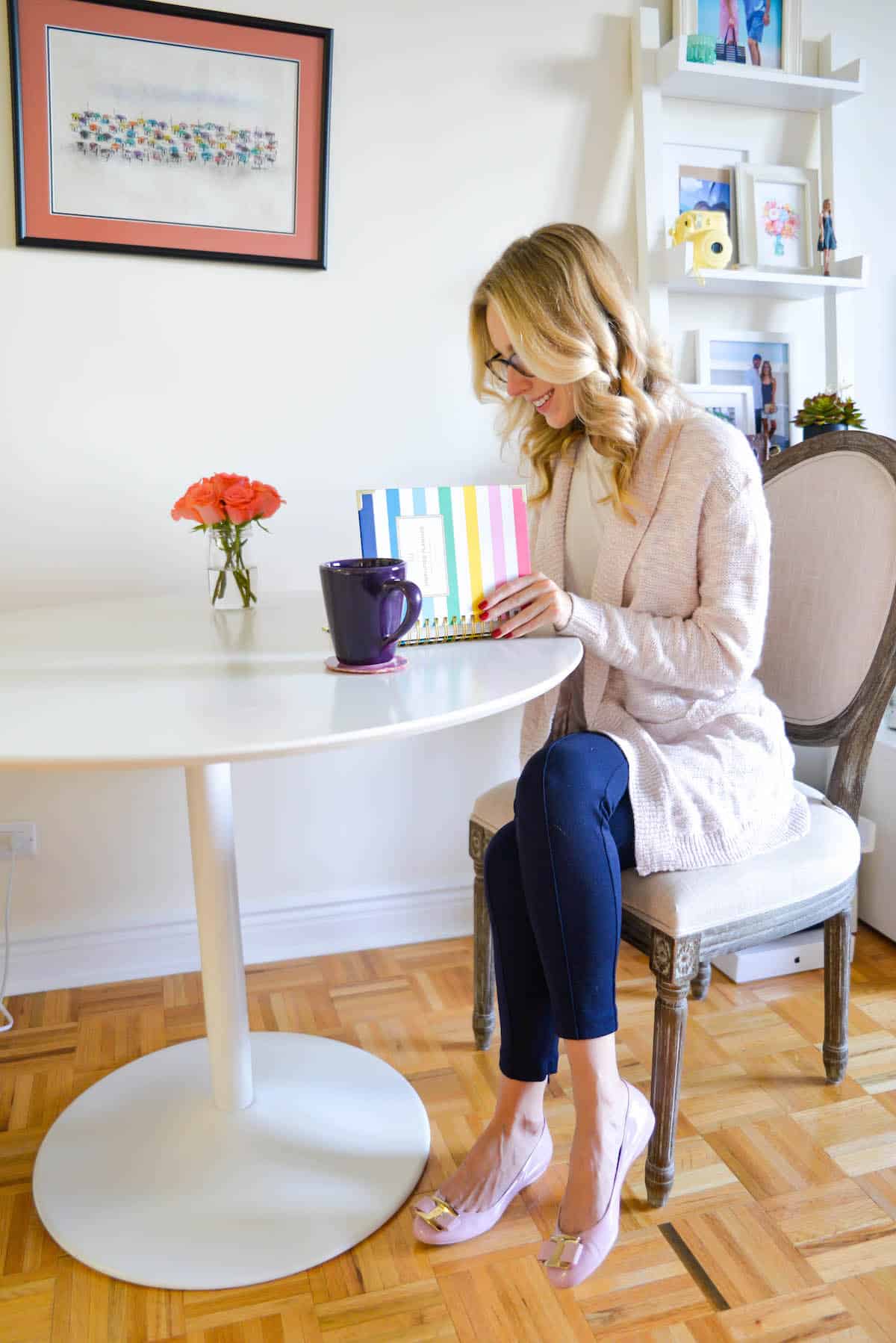 10 TIPS TO MAXIMIZE PRODUCTIVITY WHEN WORKING FROM HOME
Create Separate, Daily To-Do Lists. This is by far the tactic that aids me most when working from home. Every morning I put pen to paper and create two lists – one for work and one for life. In the work column, I write out all the assignments I need to finish, the specific emails that require a thoughtful response and the times of any conference calls and meetings. Then in my life column I include all my household tasks and personal obligations (i.e. pick up groceries, call my Grandma). I'll even add something as small as making the bed to my list because if I don't write it down, it will completely slip my mind. I get the best rush every time I can highlight something I've completed off of my list.
Maintain a Paper Planner. I love seeing my commitments visually written out in My Simplified Planner because I can include extra notes and color code with pens. Since I can't always carry my planner with me, I also the times of meetings, events, fitness classes, plans with friends and all my travel to my iPhone.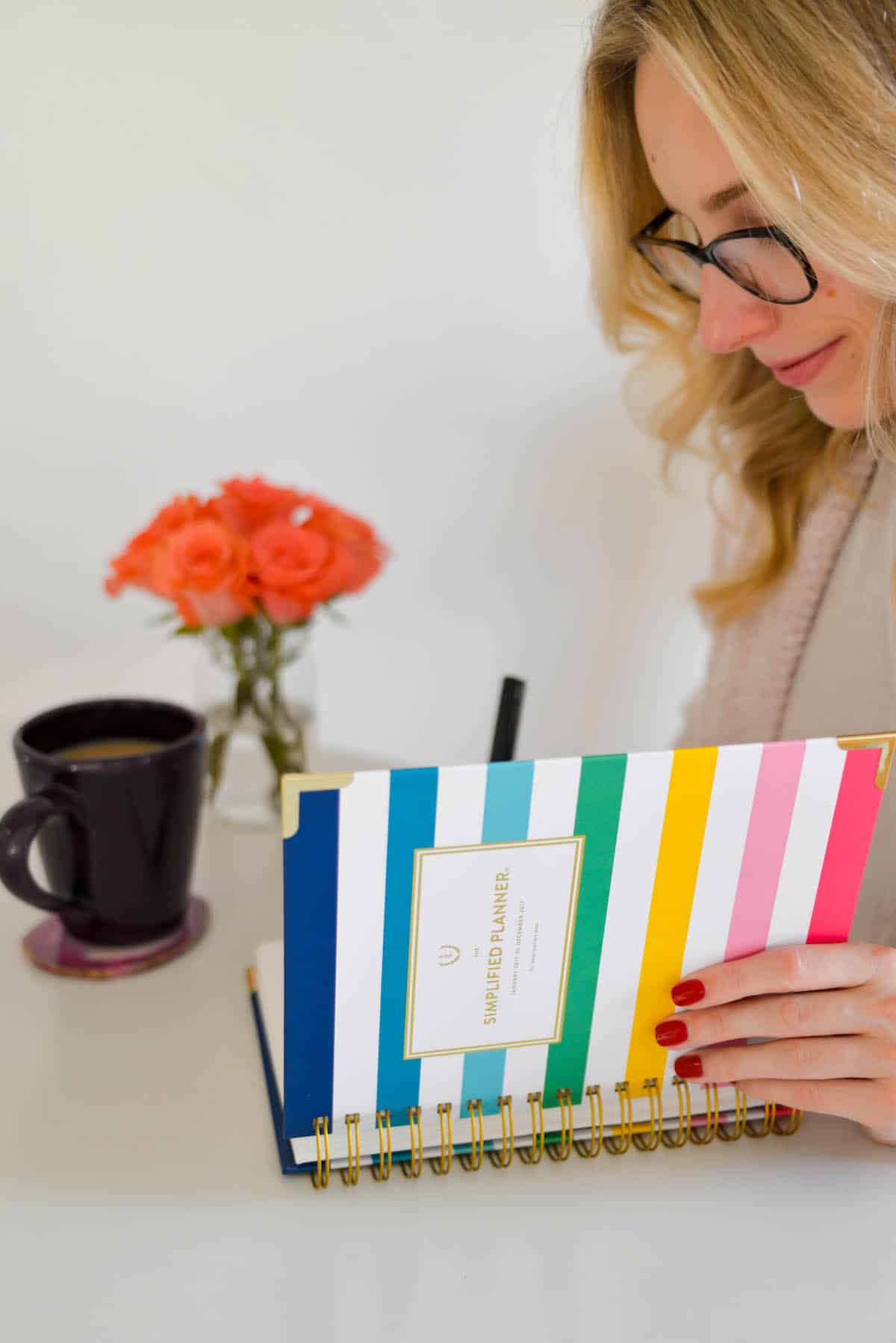 Use a Large Printed Monthly Calendar. As a blogger, I maintain an editorial calendar where I schedule and plan out my blog posts. Having a printed monthly calendar where showing all four weeks of planned content has helped immensely. I have a bad habit of biting off more than I can chew, so seeing my calendar in front of me helps me set deadlines and maintain a realistic workload. I love this printed wall calendar I personalized for myself.!
Get Personalized Stationery, Business Cards and Thank You Notes. You guys know I'm a big proponent of sending handwritten notes and thank you cards, which is why I love having personalized stationery. If you don't work for yourself or your company doesn't provide business cards, you can inexpensively design your own. You never know who you are going to meet at an alumni networking event or in line at the coffee shop, so it's worth having something to hand them that lists your email, cell and online portfolio (or blog). I designed all my own stationery and business cards.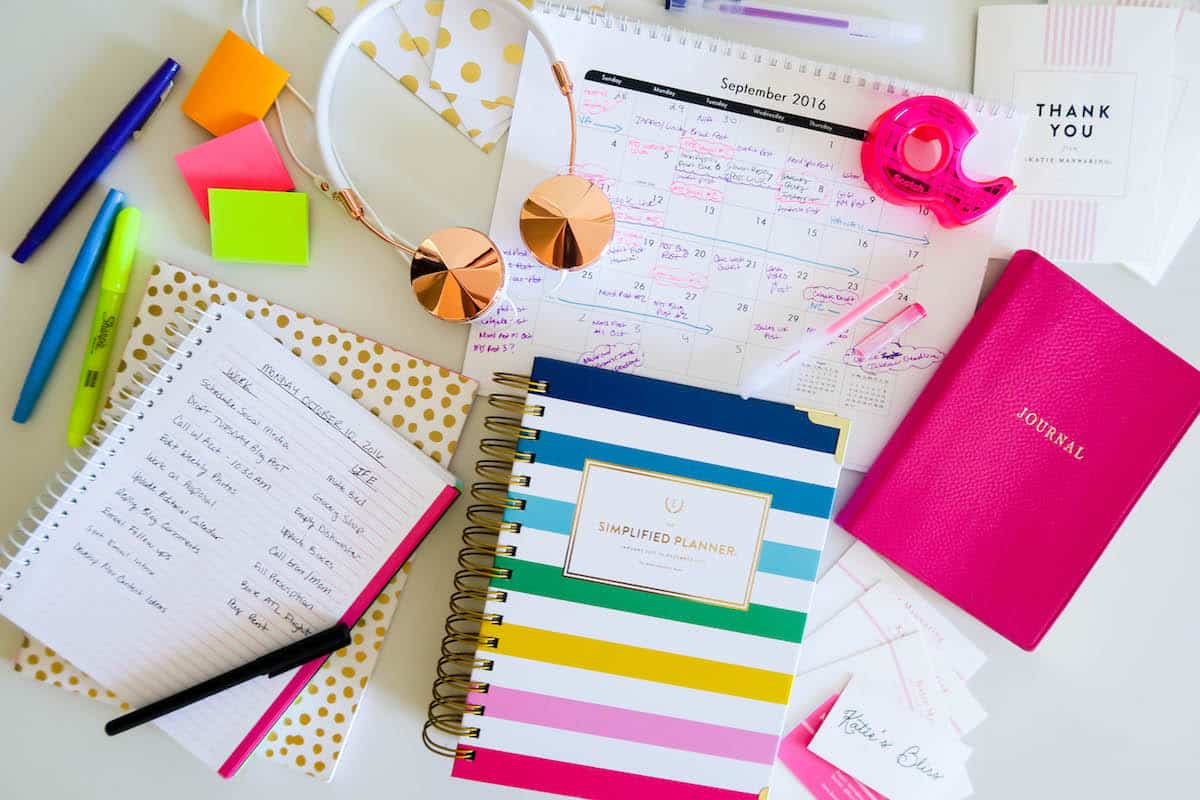 Have a Dedicated Work Space. While I wish I could say I have my own home office, for now our kitchen table has become my dedicated space. I love my desk and vanity, but it was too small of a space. At our table I can really spread out my work, including my calendar, notebooks and to-do lists.
Always Get Dressed. It's crazy how much more productive I am at home when I get dressed as opposed to staying in my pajamas. I just feel better about myself when I'm 'put together' and it gives me more motivation to get things done.
Get Out at Least Once During The Day. I always try and schedule at least one meeting or event every afternoon to get myself out of my apartment on days when I work from home. I'll slot in a midday Pilates class, take a break to go to the grocery store or run another errand. My energy level always dips after lunch and getting outside gives me a second wind when I return back to work.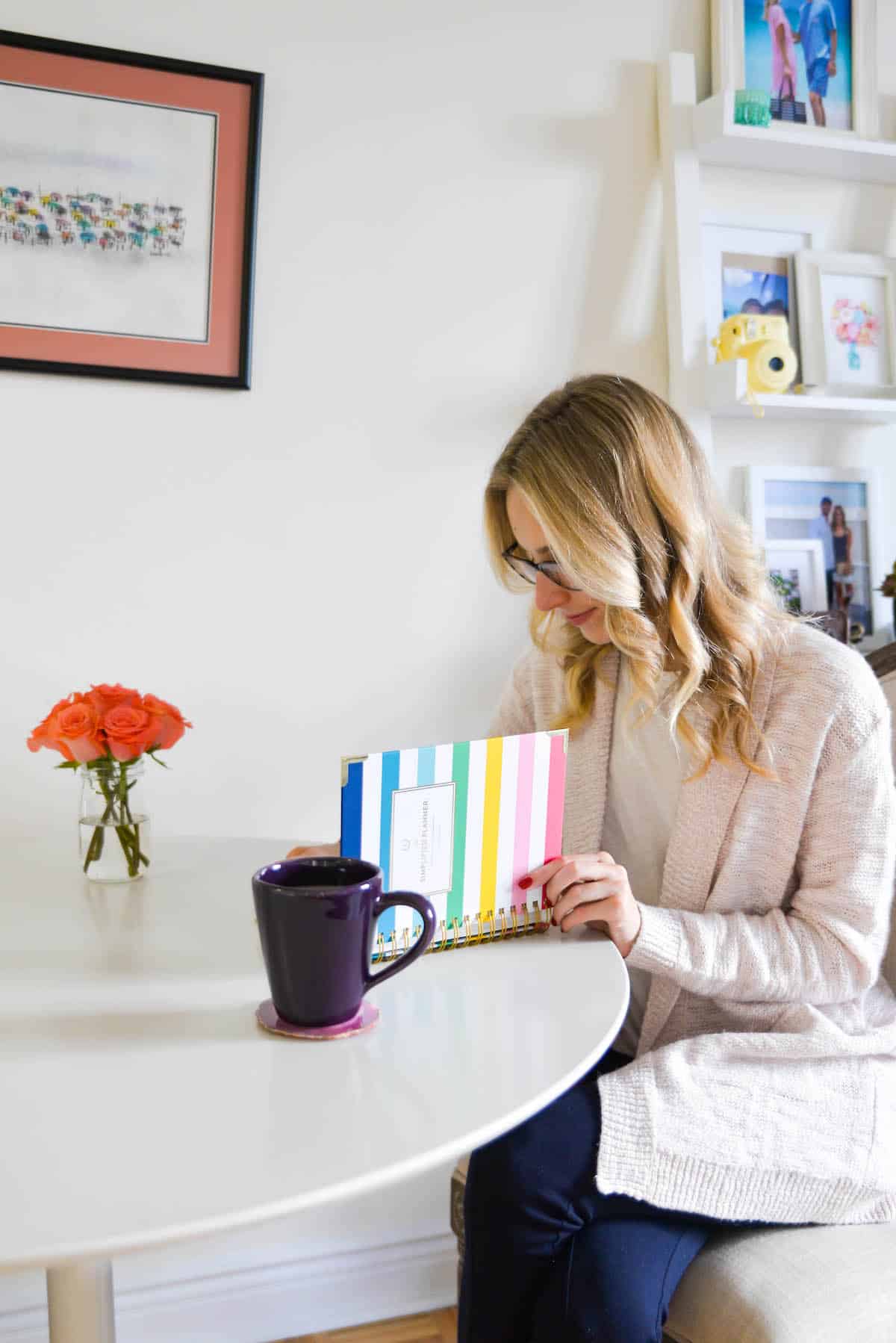 Save Tough Work for When You're Most Productive. It took me a few years post-college to really grasp how to maximize my own productivity. I finally realized I'm a morning person and get my best work done before noon every day. Now I try and crank out all of my writing and projects that require the most thought first thing and save my 'easier' obligations for the afternoon when my motivation starts to decrease.
Surround Yourself & Focus On Things That Inspire You. No matter if you run your own business or work for a company, it's important to identify who and what brings you the most joy and inspiration. It took me a few years to really develop a great core group of friends who work in PR, but also blog too. Spending time with them every week is a constant source of inspiration and motivation for me. I also get a lot of joy from color, which is why you always see me wearing brights and why I decorated my apartment the way I did. I keep a notebook that I always carry with me where I write down little quotes or things I notice that inspires me.
Tidy Your Workspace Every Night Before Bed. Every evening I always like to clean up our living room and put away any clutter that accumulated throughout the day. It makes a world of difference waking up to an organized space!
How are do you stay organized and remain productive when working from home? What are your favorite places to shop for cute paper products?
Have You Seen These Posts?
5 Tips to Get Organized For Fall
10 Everyday Life Hacks to Save Time & Money
5 Easy & Inexpensive Home Décor Hacks
Big thank you to The Paper & Packaging – How Life Unfolds ™ campaign for sponsoring this post!
- Katie