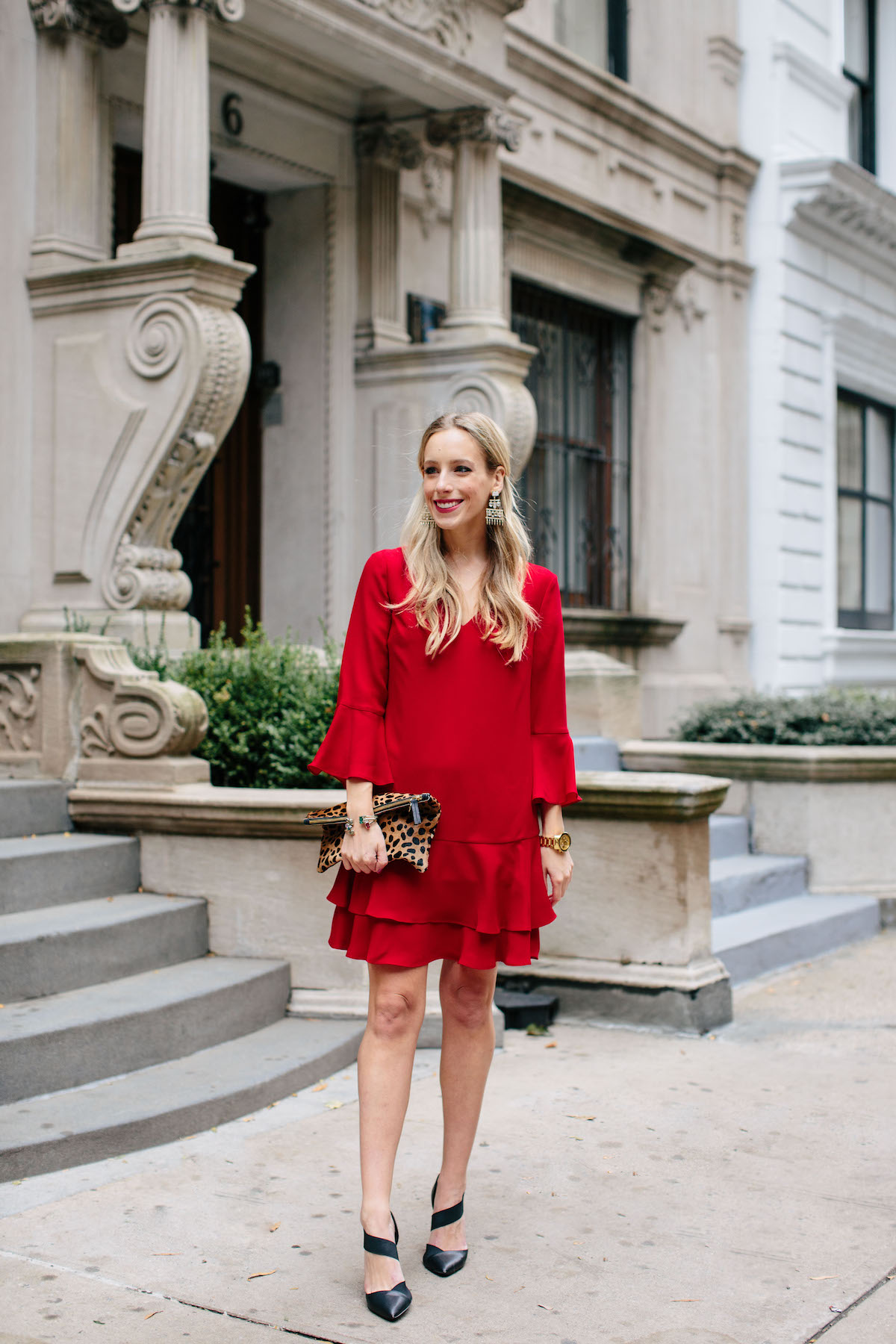 Holiday party season is officially here! Cue the bubbly and bells! I dunno about you guys, but cocktail dresses and heels aren't staples in my everyday wardrobe. I keep things pretty casual (aka jeans and sweaters most days) so it's a treat having a reason to get dressed up and indulge in a little fun.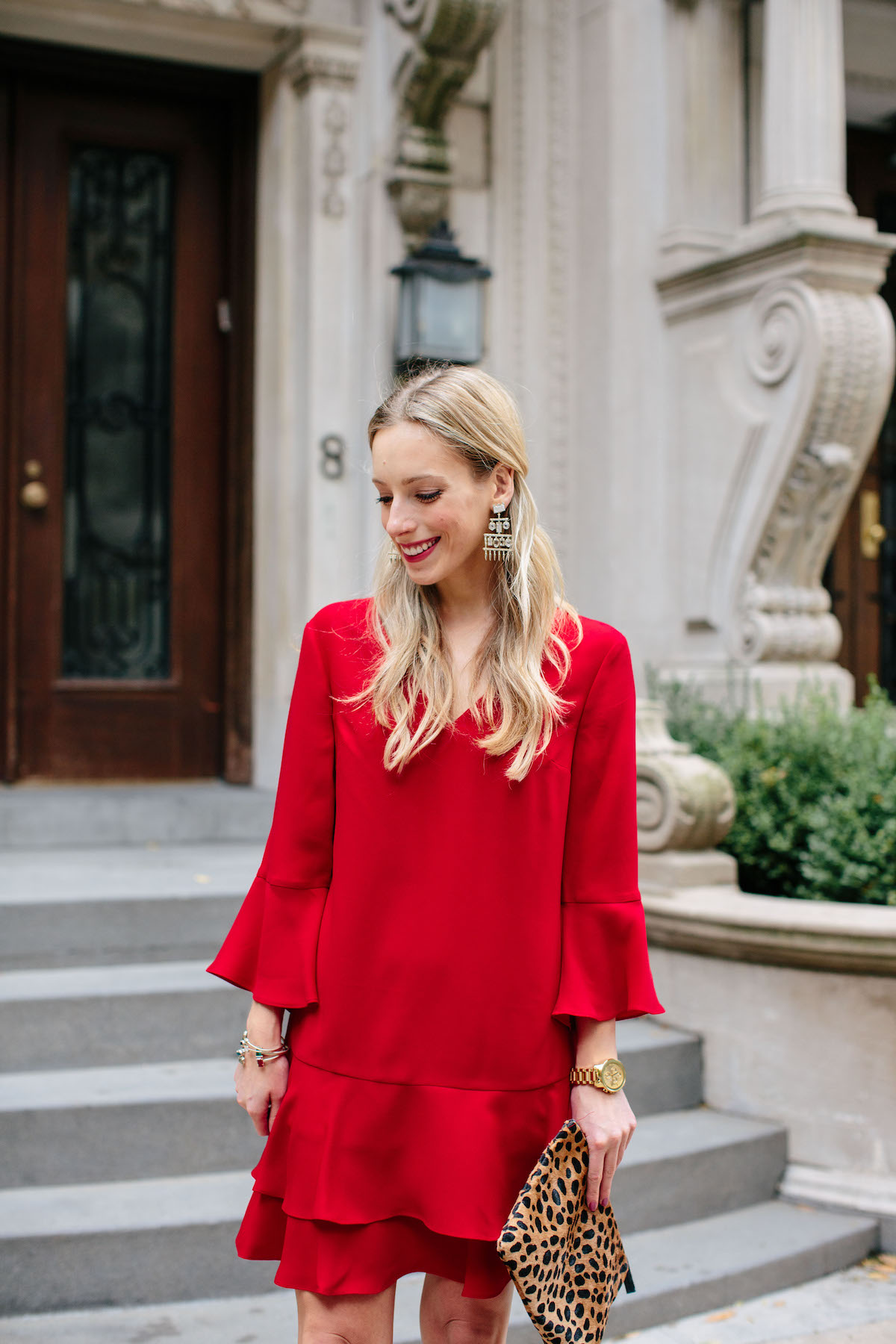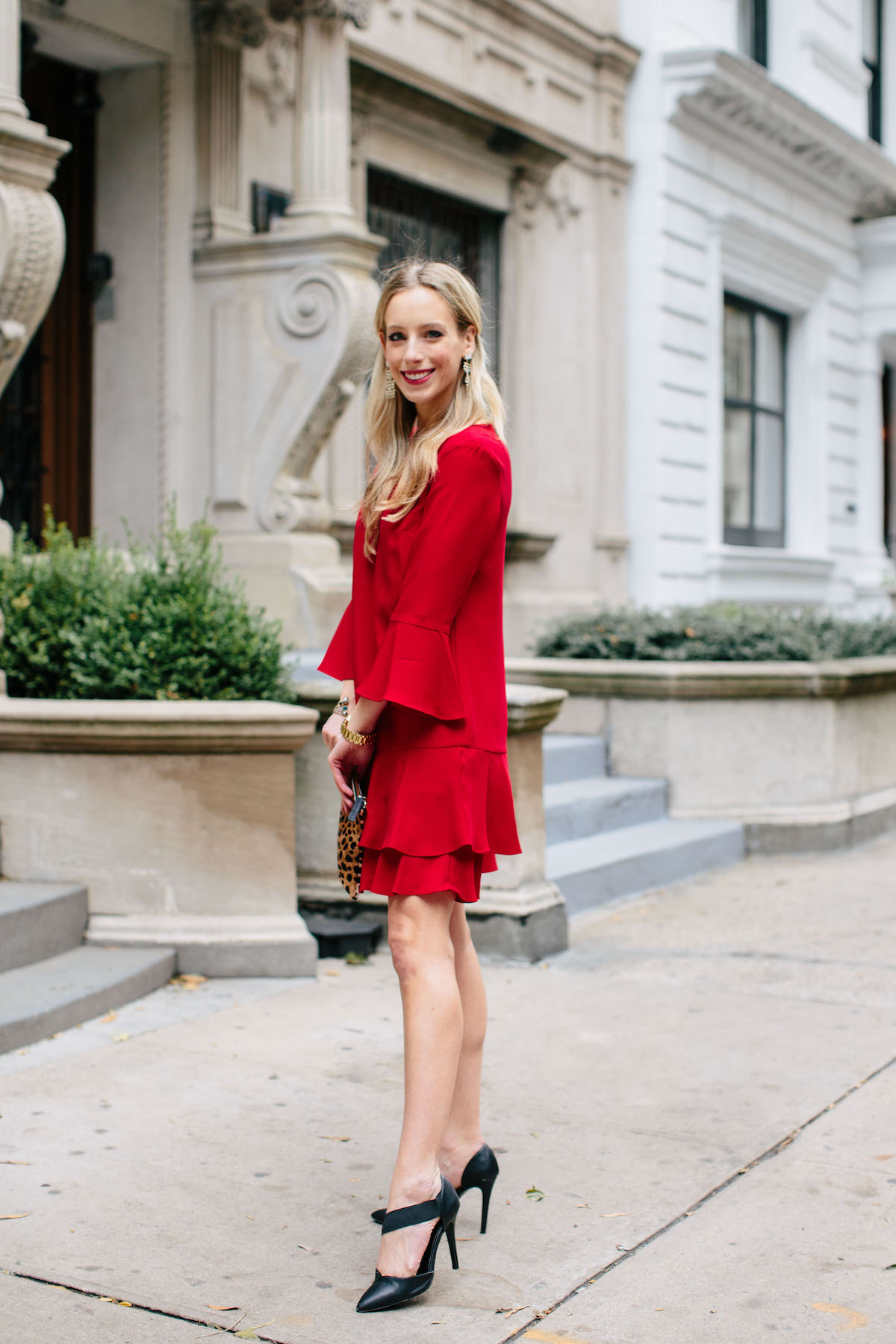 Red Ruffle Shift Dress (under $150!) | Leopard Clutch (get 30% off w/ code MORE17) | Kendra Scott Earrings c/o | Kendra Scott Bracelets c/o | Similar Gold Watch | Similar Heels
That said, it can be overwhelming deciding on the perfect party look. When you factor in the weather, the length of time you're going to be on your feet and if pictures are going to be taken– the decision-making process can get stressful if you don't already have a closet full of formal wear. We've all been there.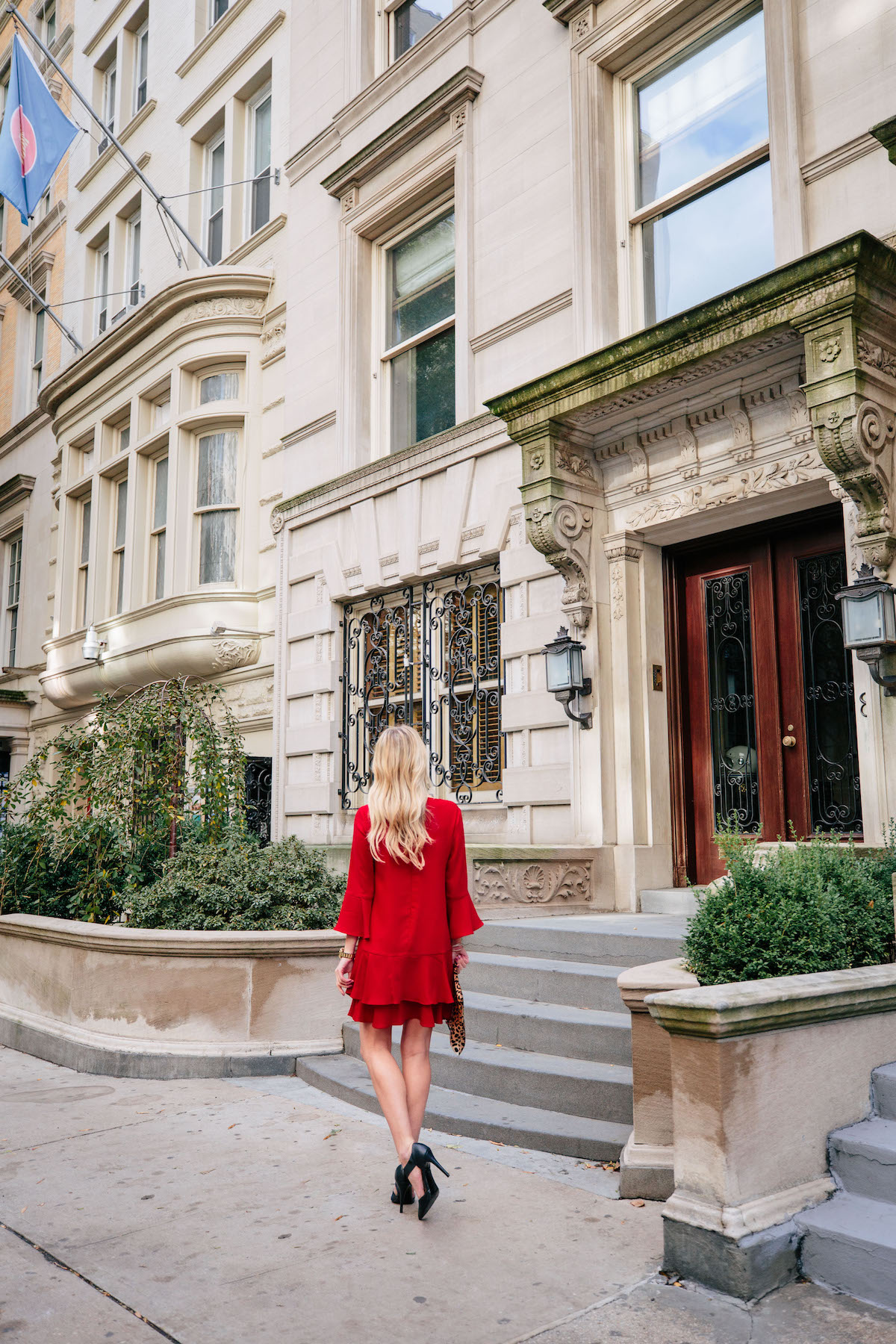 You can't go wrong with wearing a little red dress to a holiday party. It's the hue of the season and easily pairs with any black or neutral accessories that you already have in your closet. I picked up this red ruffle number and love the forgiving loose shift fit— it's a great option if you know there's going to be yummy food at the party your attending. I think it would be fun for dancing in too!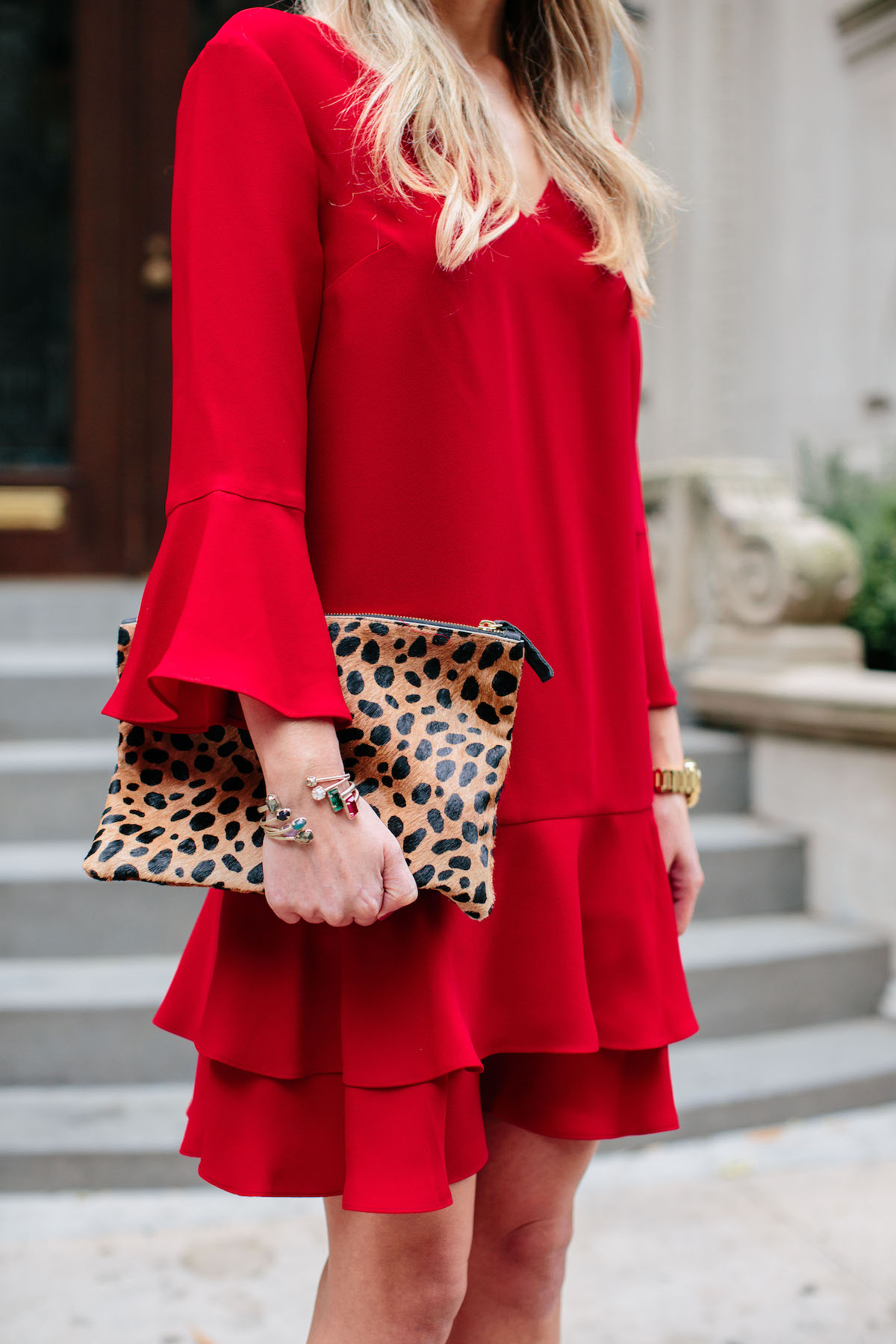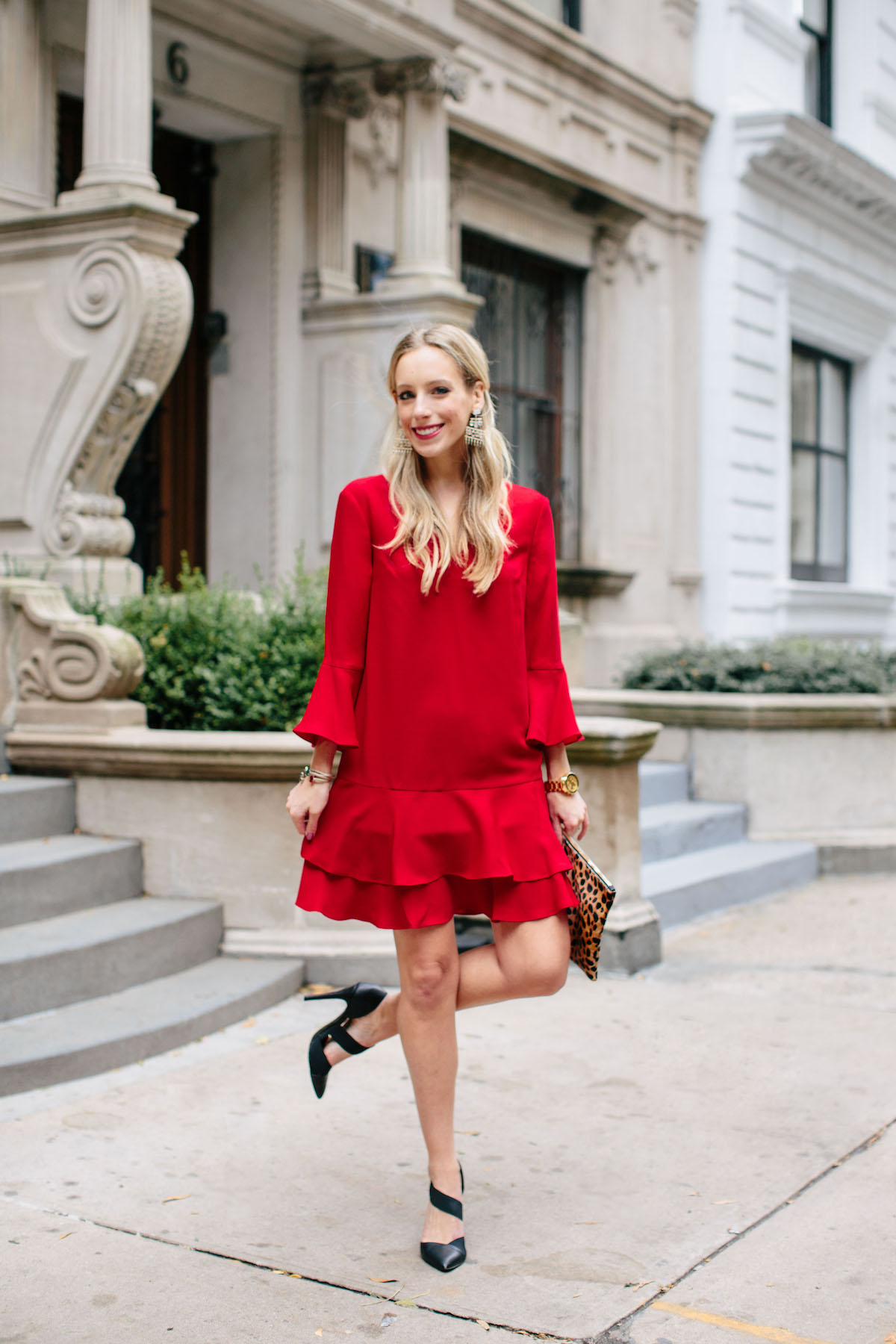 My leopard clutch is 30% off with code MORE17! I surprisingly get a lot of use out of it because it matches with any outfit that's a solid color.  Evening bags and clutches can be quite tiny, so I like how this one easily fits all my essentials like my wallet, phone, keys, and lipsticks.
MORE RED DRESSES UNDER $200…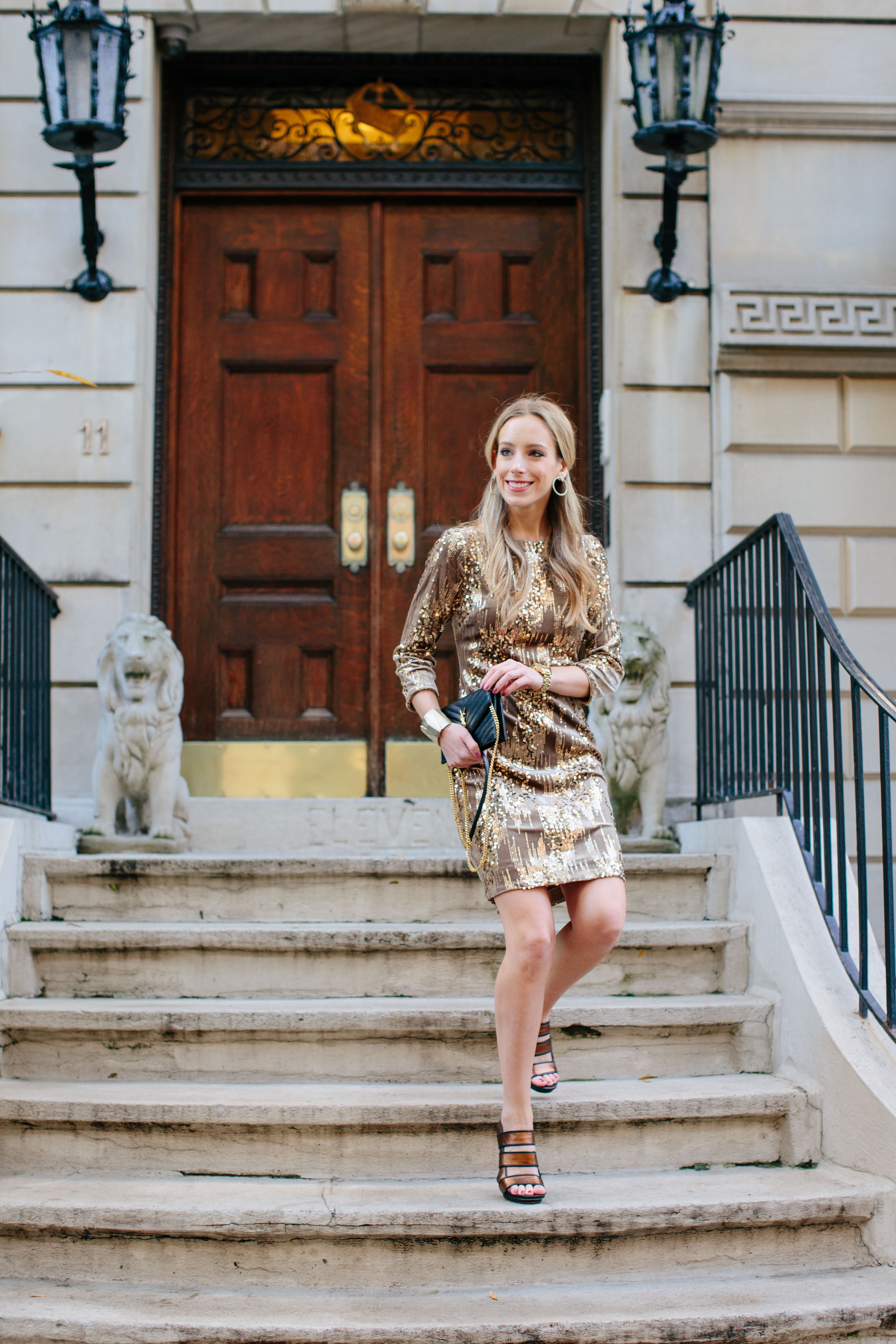 Sequins were my jam in college. It was always a plus in my book if something was covered in sequins. I was like a magpie when it came to sparkly things. While I've definitely moved away from my sequin obsession in recent years, I still love a good embellished moment during the holidays. I mean, when else is it appropriate to walk around looking like a disco ball?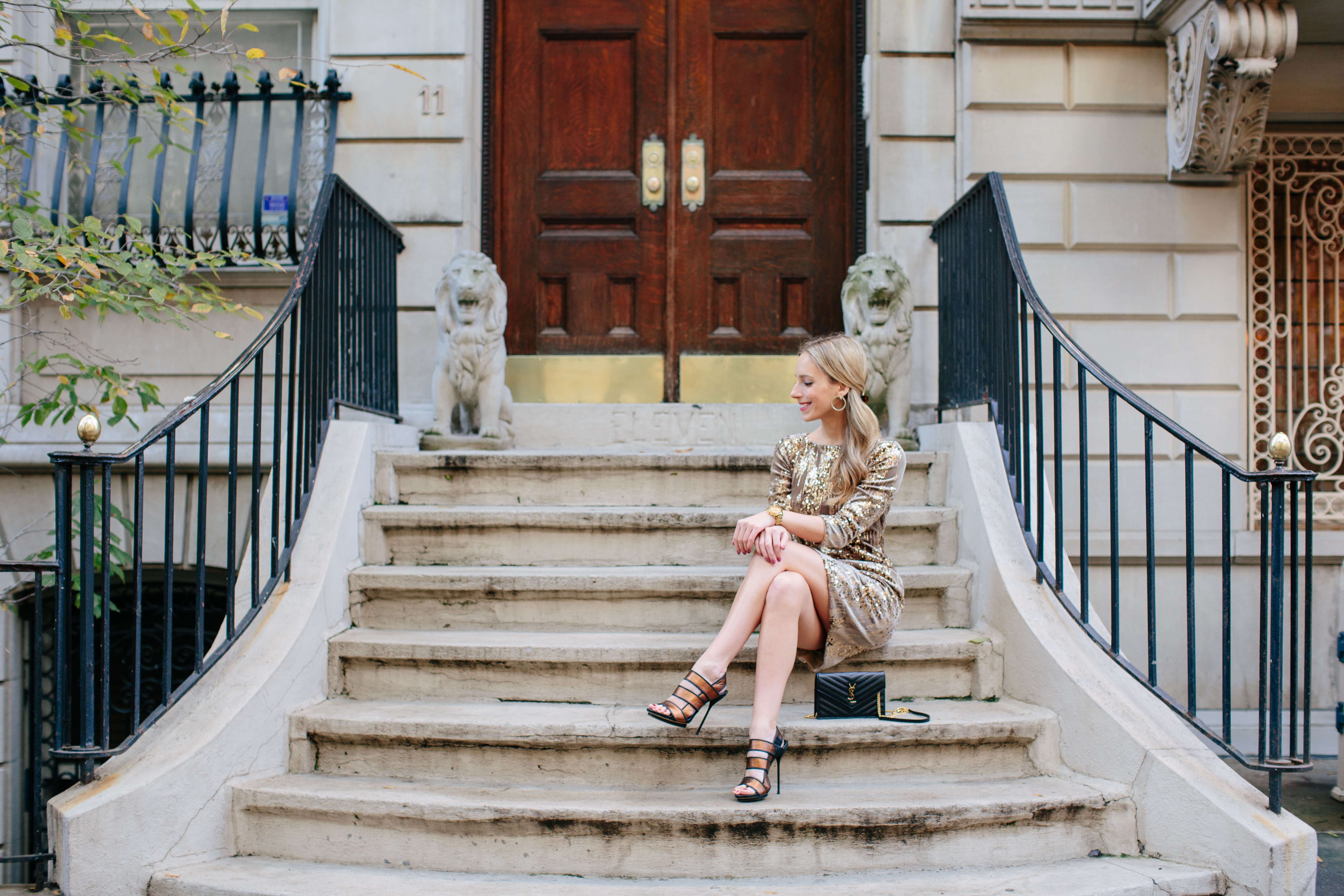 Oh just me casually sitting on the stoop of my future Upper East Side townhouse 😂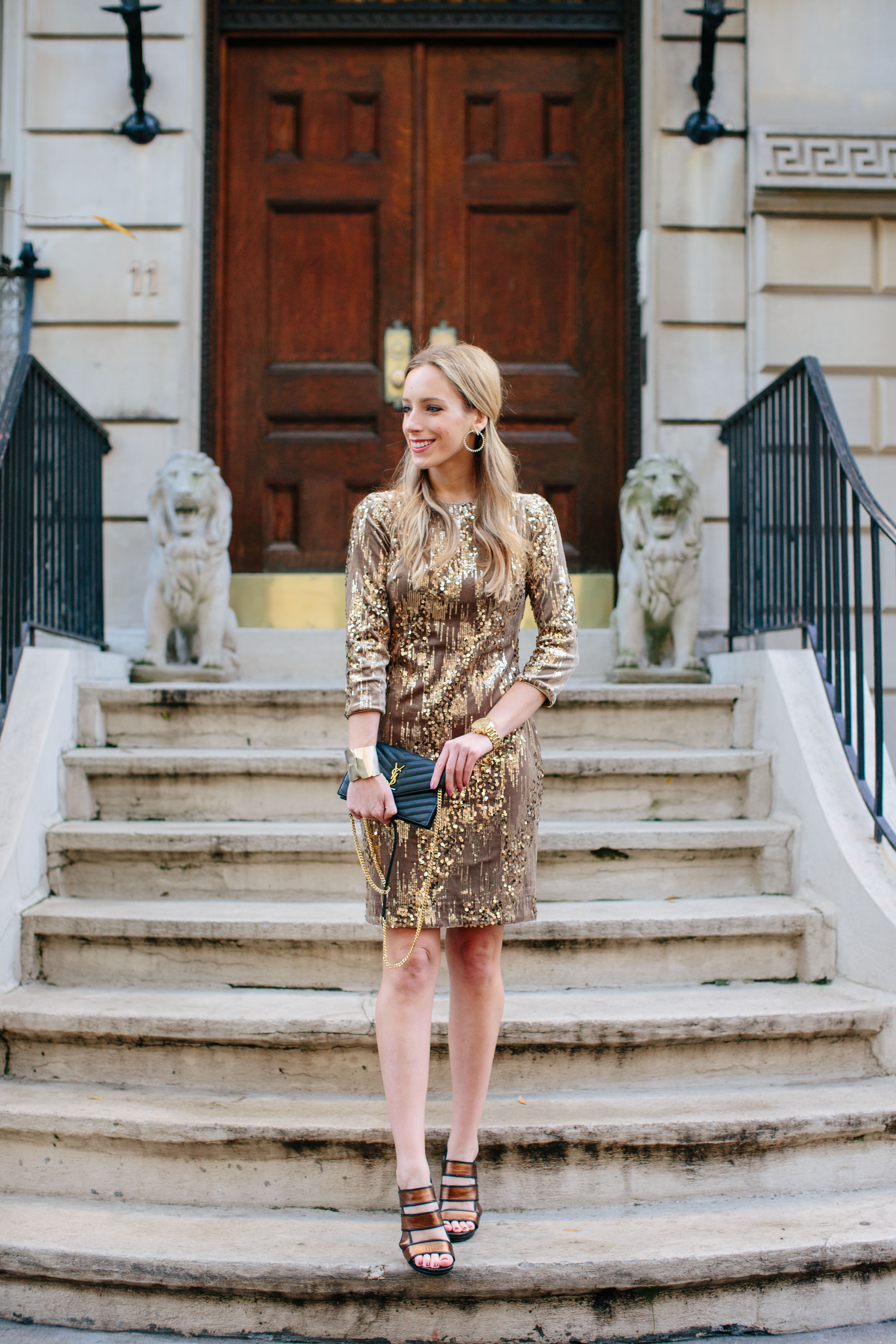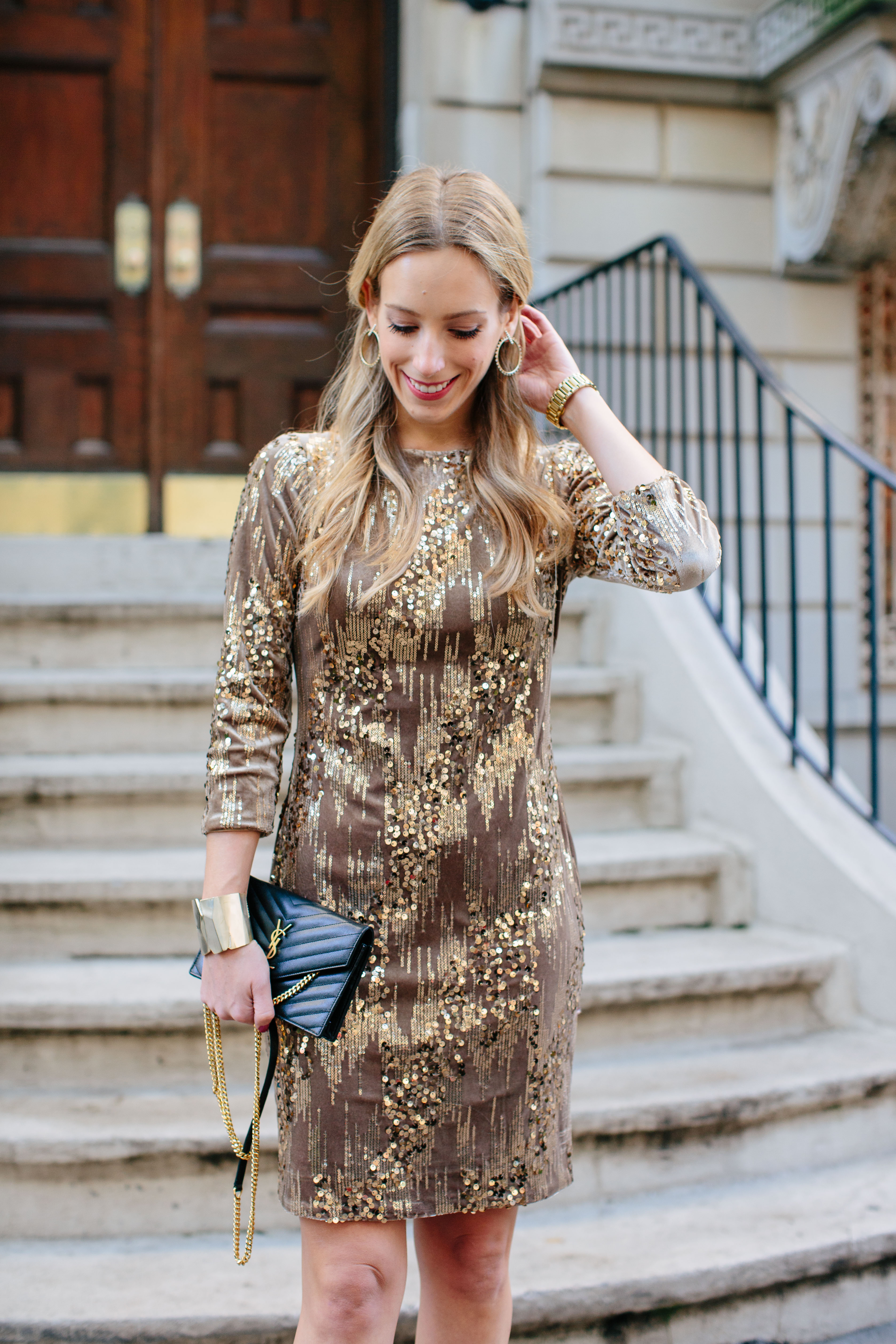 Eliza J Sequin & Velvet Dress (under $150!) c/o | Saint Laurent Wallet On A Chain | Kendra Scott Earrings c/o | Similar Gold Cuff | Similar Gold Watch | Strappy Sandals
I wasn't expecting to like this sequin & velvet sheath dress as much as I do. It's way more impressive on and in-person than how it looks on the website. Unlike my red ruffle dress, it's a bit more form-fitting however the knee-length cut and long sleeves keep things chic and office party appropriate. I'm normally not into tight sheath dresses, so I appreciate how the scattered embellishments on this one distract away from the stomach and thighs.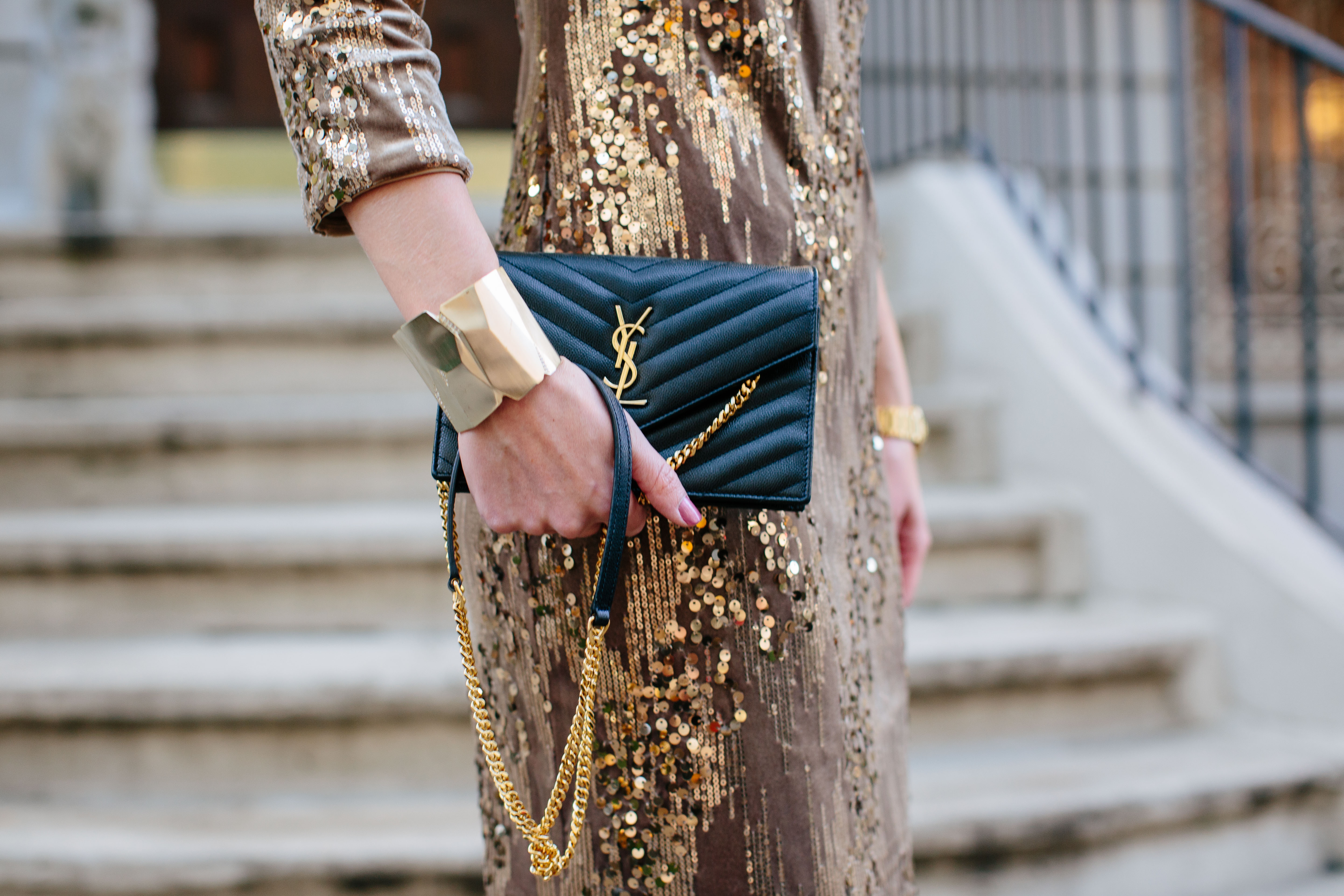 Love a good reason to take this bag out of a spin!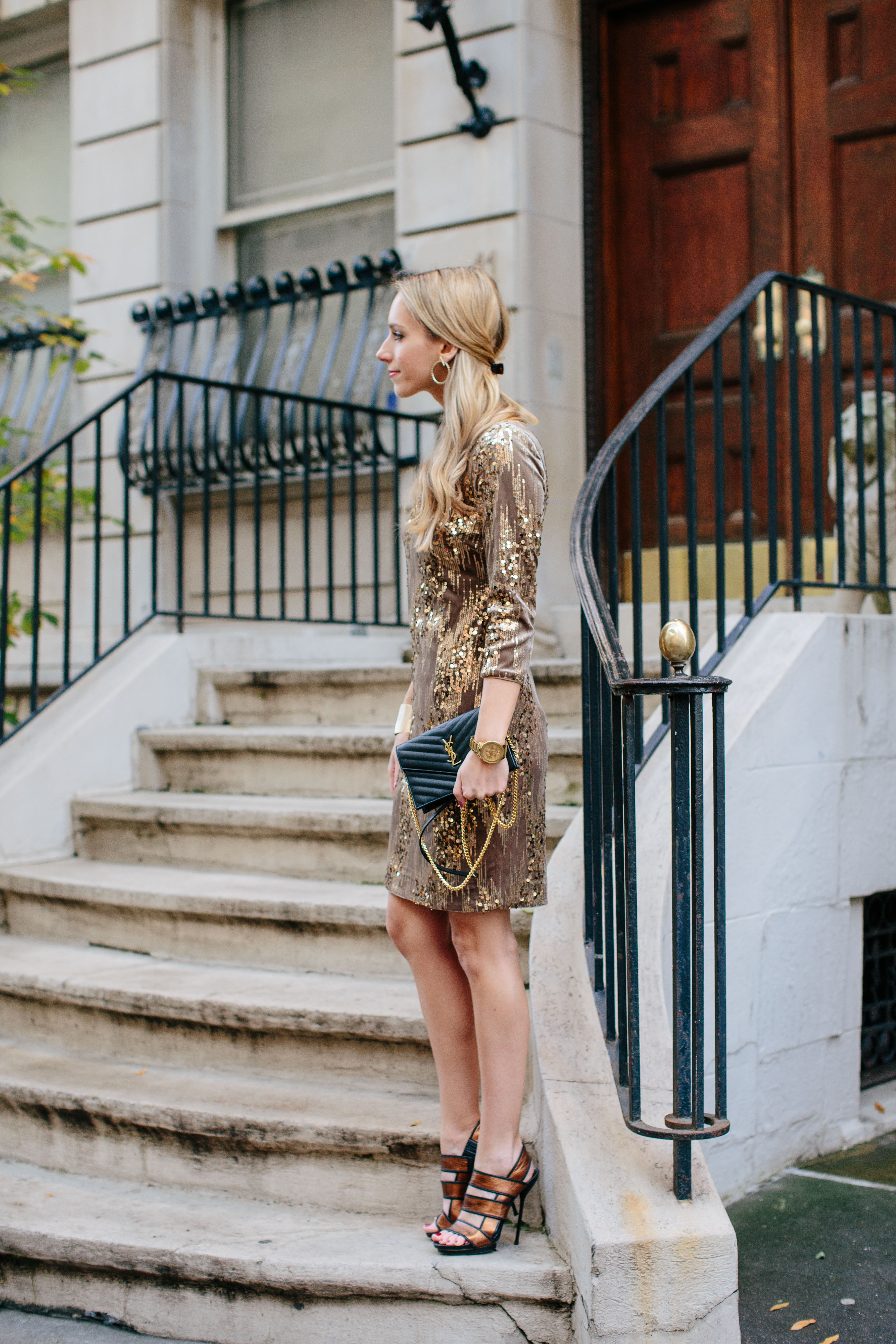 MORE SPARKLY DRESSES UNDER $200…


So are you a red dress girl or a sparkly dress girl? Either way your options are endless and you're sure to have some luck shopping this week. PS have you seen that a few sales have started? Nordstrom has a ton of great markdowns and Shopbop launched their huge sale a few days early…
- Katie