After a whirlwind three days in Paris, we set off to our second European destination: the charming northern Belgian town of Bruges. Nick and I both agreed that our two days in Bruges were our favorite of our entire seven day trip. Hands down.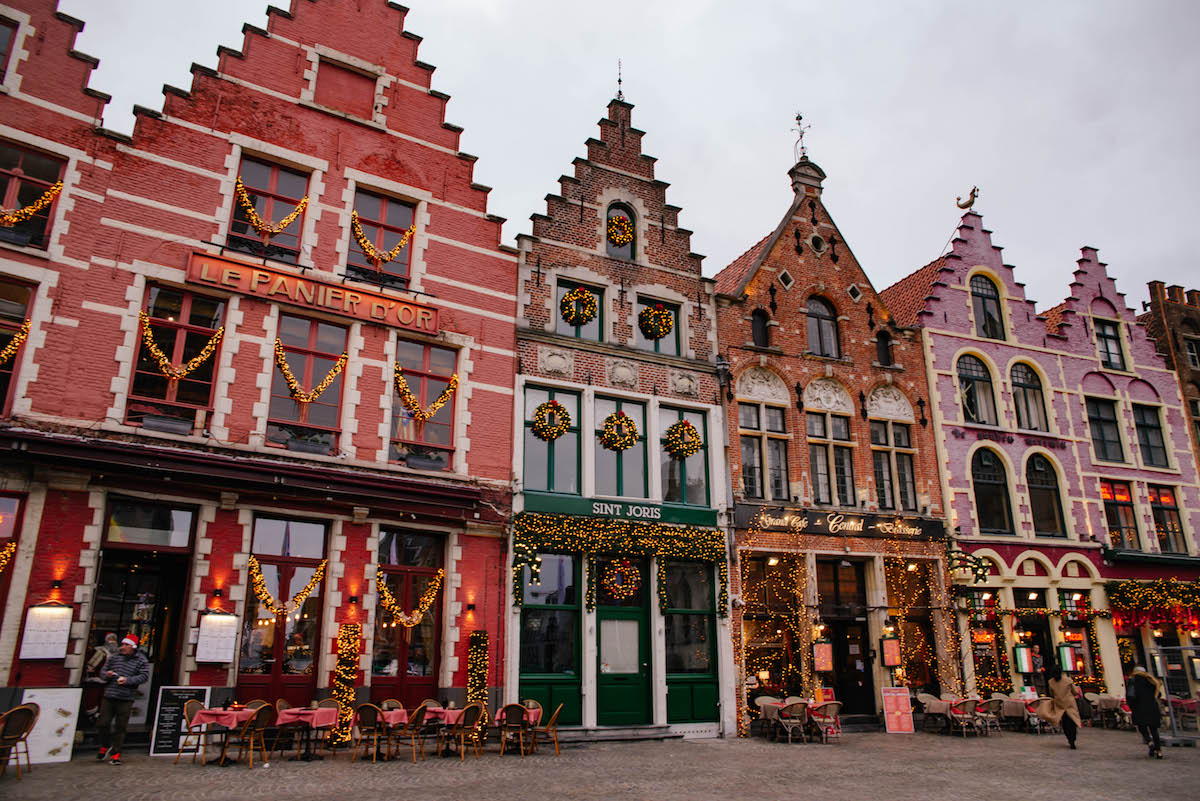 Arriving in Bruges is like stepping back in time or into a children's book of fairytales. Don't get me wrong. We loved Paris, but as first time visitors we definitely felt like we were rushing around trying to check everything off our must-do list. Paris was wonderful, but large and overwhelming. It's definitely a place you need to visit multiple times or for a long period of time to feel like you even experienced a fraction of what the city has to offer.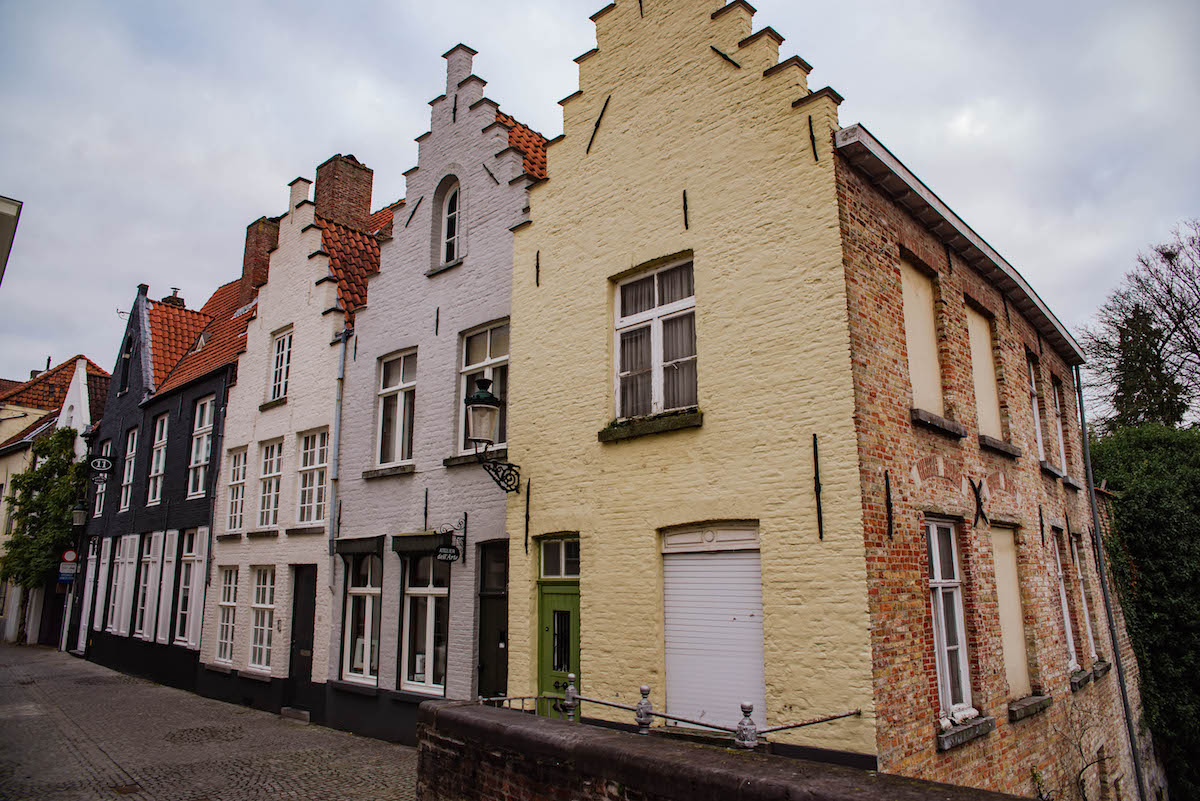 By the third day of our trip were exhausted, so we were really looking forward to moving on to a more manageable destination. Bruges isn't a large city– it's far from it. It honestly felt more like a village. There are absolutely no tall buildings or streets with two lanes (at least that we noticed.) We hardly saw any cars because most residents bike everywhere #adorable. You could also probably walk from one far end of Bruges to the other in less than thirty minutes.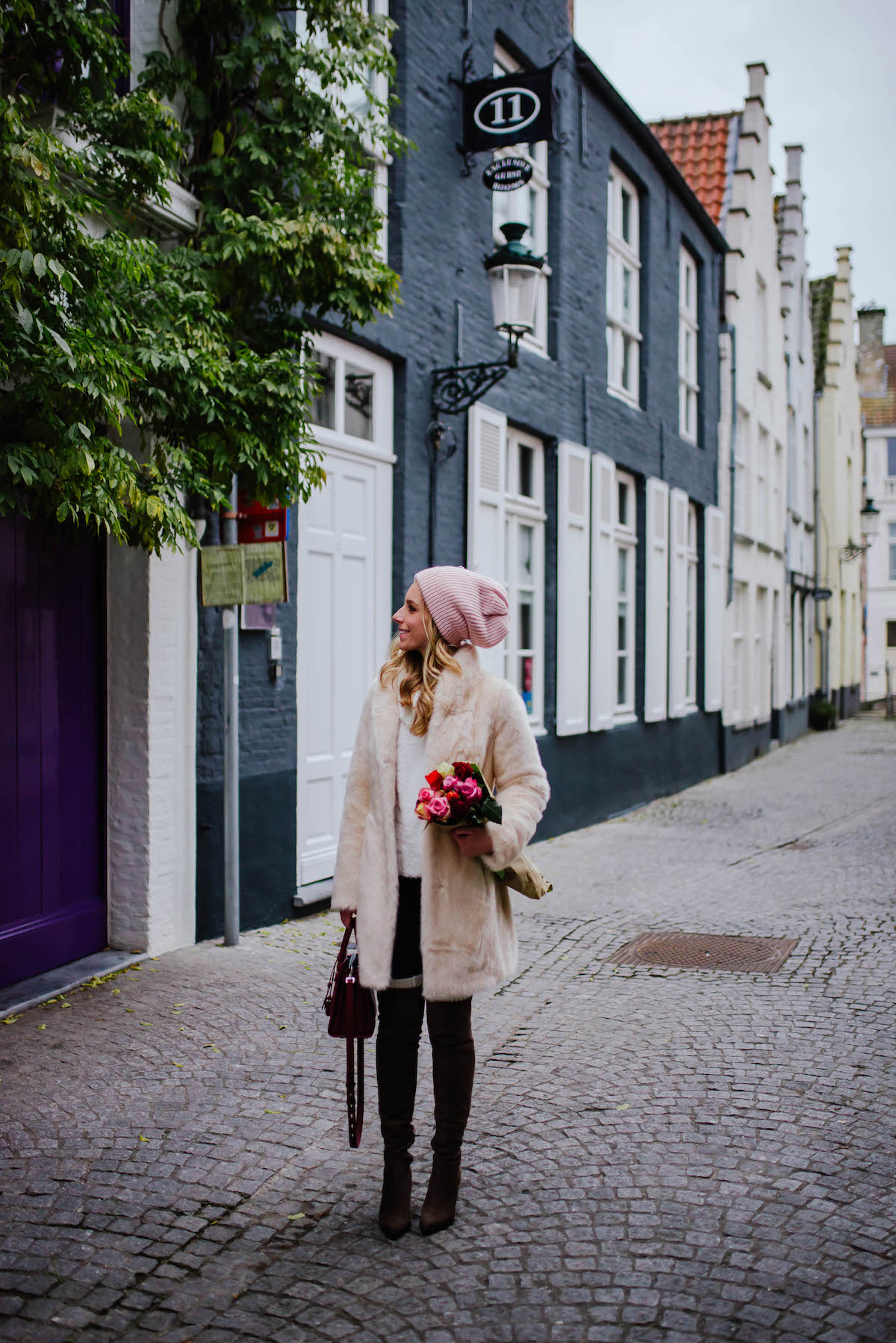 How did we get there?
Before I get into our full recap, let me fill you guys in on just how we made our way from Paris to Bruges. Everyone I spoke to said that a train would be our best option, so a few weeks prior to our trip I bought one-way reserved tickets online from Thalys (a major rail operator in France) leaving from Paris' Gare du Nord station.
We were a little worried we'd get confused or there wouldn't be signs in English, but honestly the process of getting on the train was really easy. We just made sure to give ourselves enough time before our departure in case we had to ask for help. What was nice about taking Thalys is that we had reserved seat numbers on our tickets so we knew exactly where to go once we boarded. The train ride itself was really nice and comfortable– Nick snoozed and I was able to plug into the free wifi and get some work done 🙂
Since there are no direct trains from Paris to Bruges, we went straight to Brussels where we then switched to a local train to Bruges. PS the fare for the local train was included in our Thalys ticket so we didn't have to purchase anything additional. This was a little bit stressful because the gate signs don't update until a few minutes before the train departs. At first we couldn't figure out where to go for our next train, but luckily everyone speaks English in Belgium so it wasn't hard finding someone who could point us in the right direction. In total it was about a three hour journey– 1.5 hours from Paris to Brussels and another 1.5 for the second leg to Bruges. Once we arrived there was a line of taxis outside the station and we easily were able to grab one to take us to our bed and breakfast.
number 11 exclusive guesthouse
Since Bruges is such a small town, there really aren't any big hotels. When I was doing my research I browsed lots of boutique hotels and bed & breakfasts before ultimately deciding on Number 11 Exclusive Guesthouse.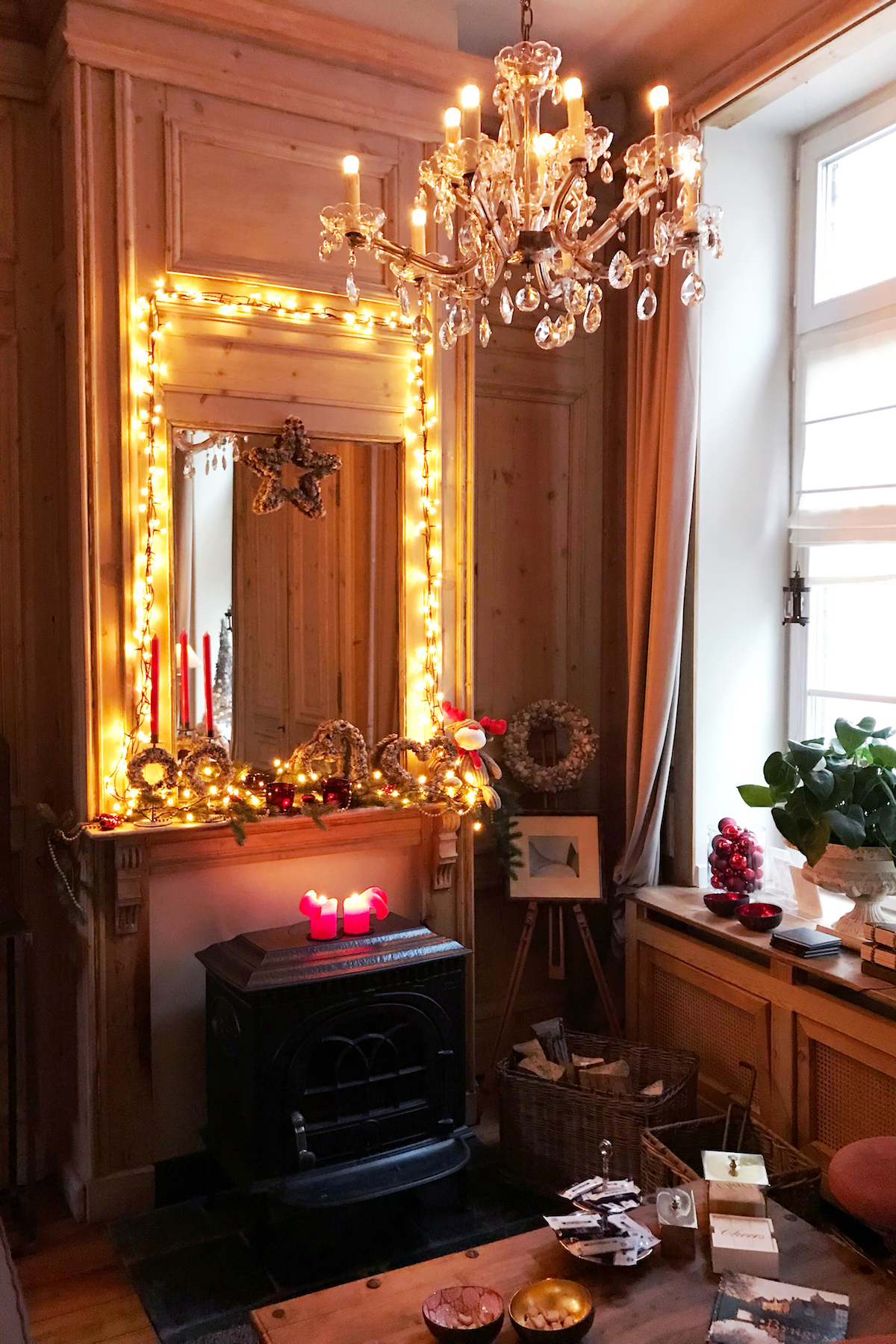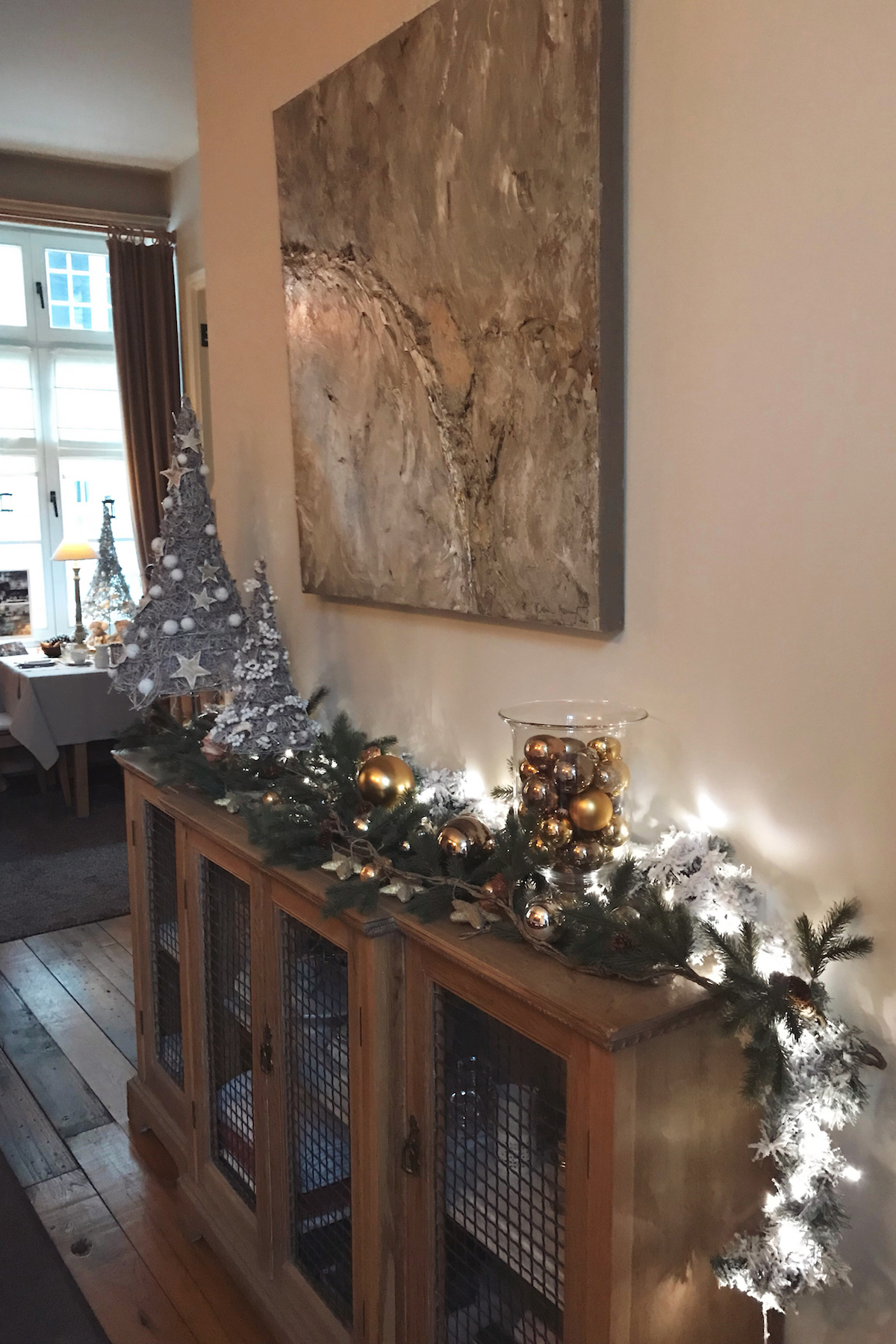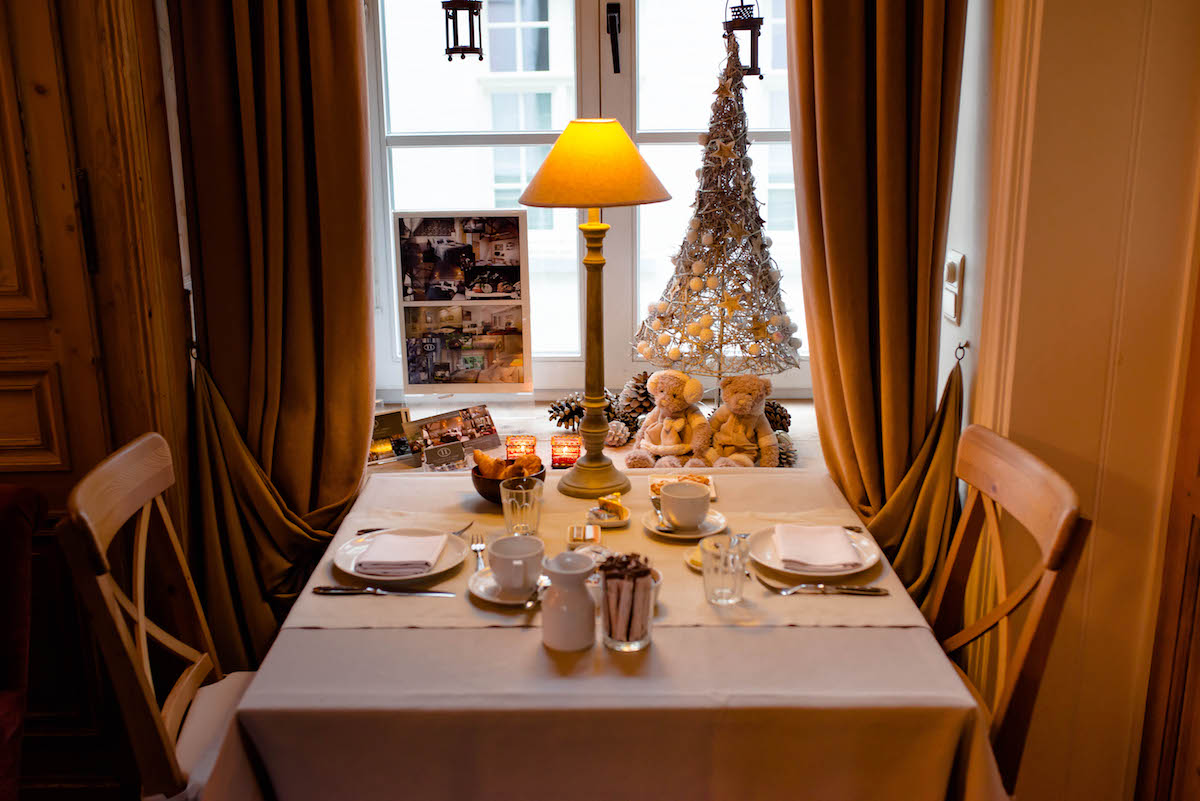 Nick and I just adored our stay at this historic four-room bed & breakfast steps away from Bruges' main square and attractions. Coming from busy Paris, it was a breath of fresh air stepping into such a quaint and peaceful space. The guesthouse is impeccably maintained and features a wood-burning fireplace, cozy living and dining area, a private walled garden and lots of charming decorative elements that make you feel like you are staying at a local resident's beautiful home.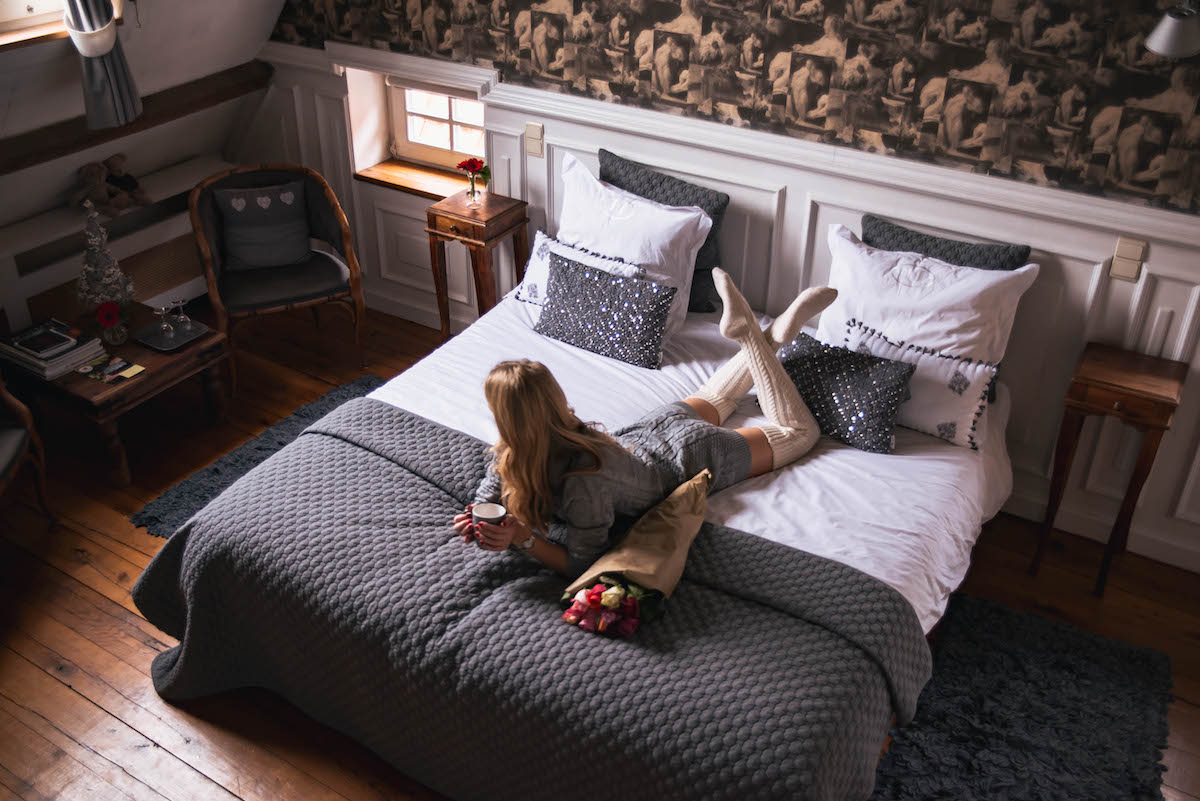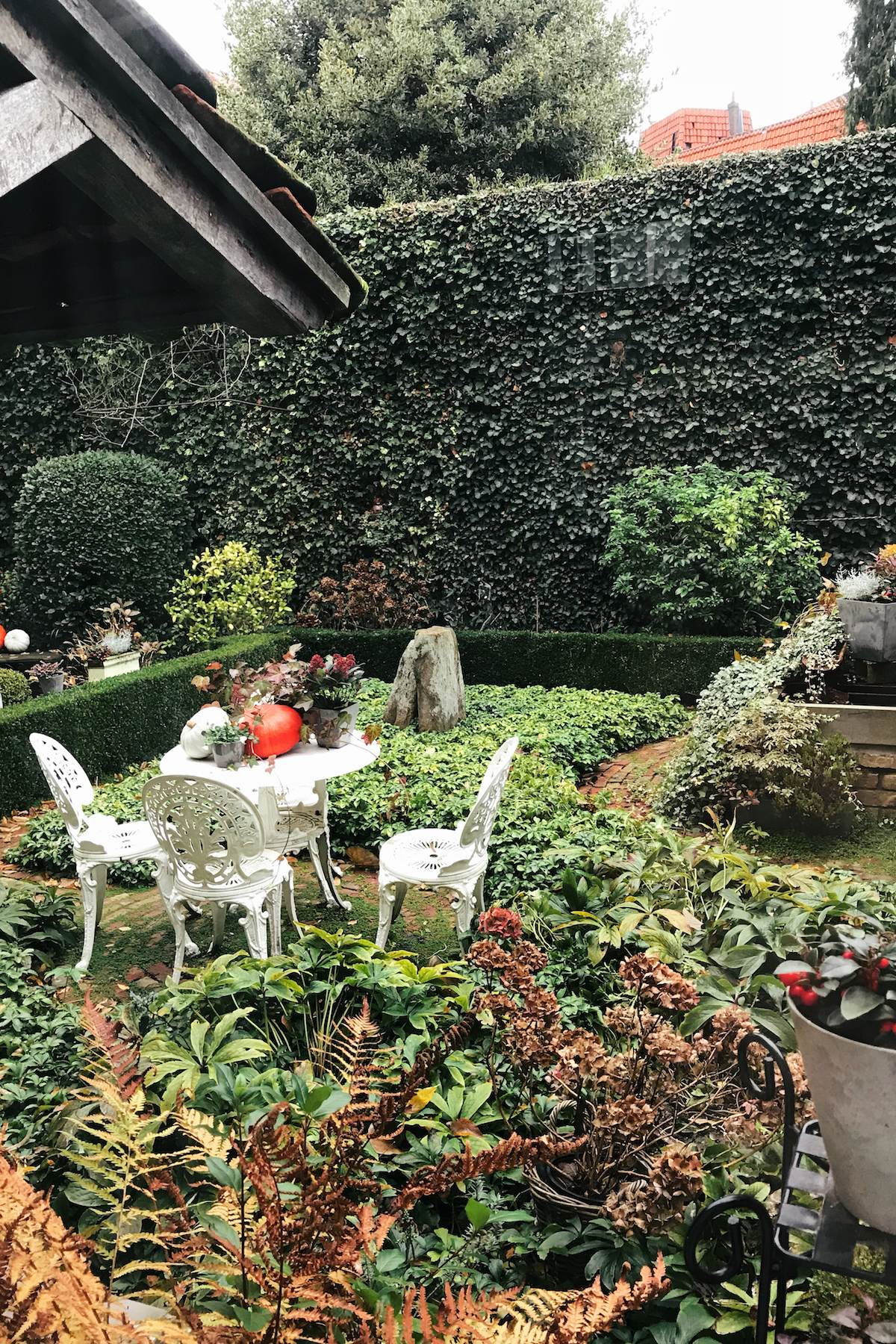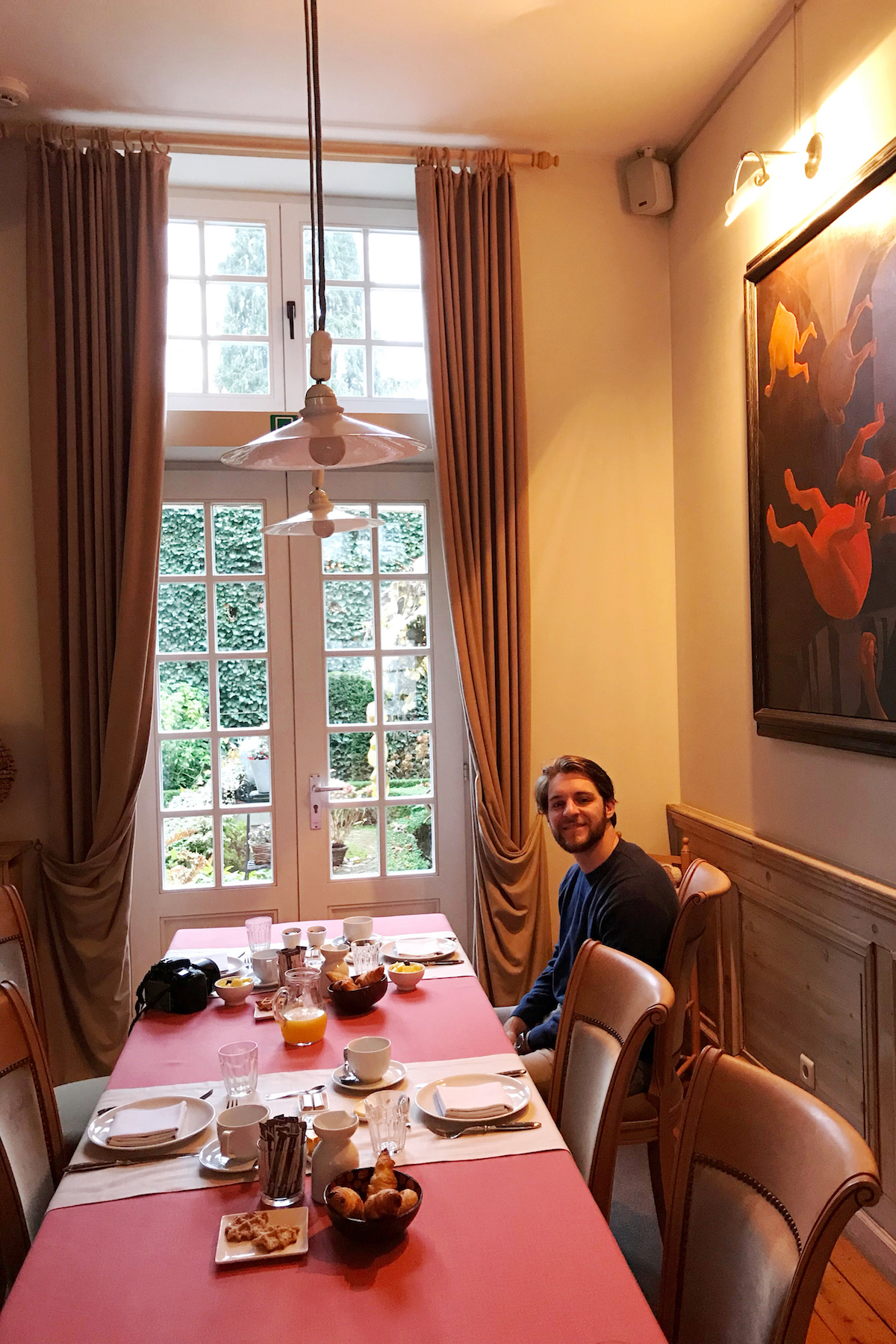 We stayed in the Grey-White Room which was located on the third floor of the home. It was such a cool space and even had an extra sleeping space and bed accessed by a ladder. I was pleasantly surprised by the spacious size of the room, bathroom and closet. We also loved the beamed ceilings and wooden floors.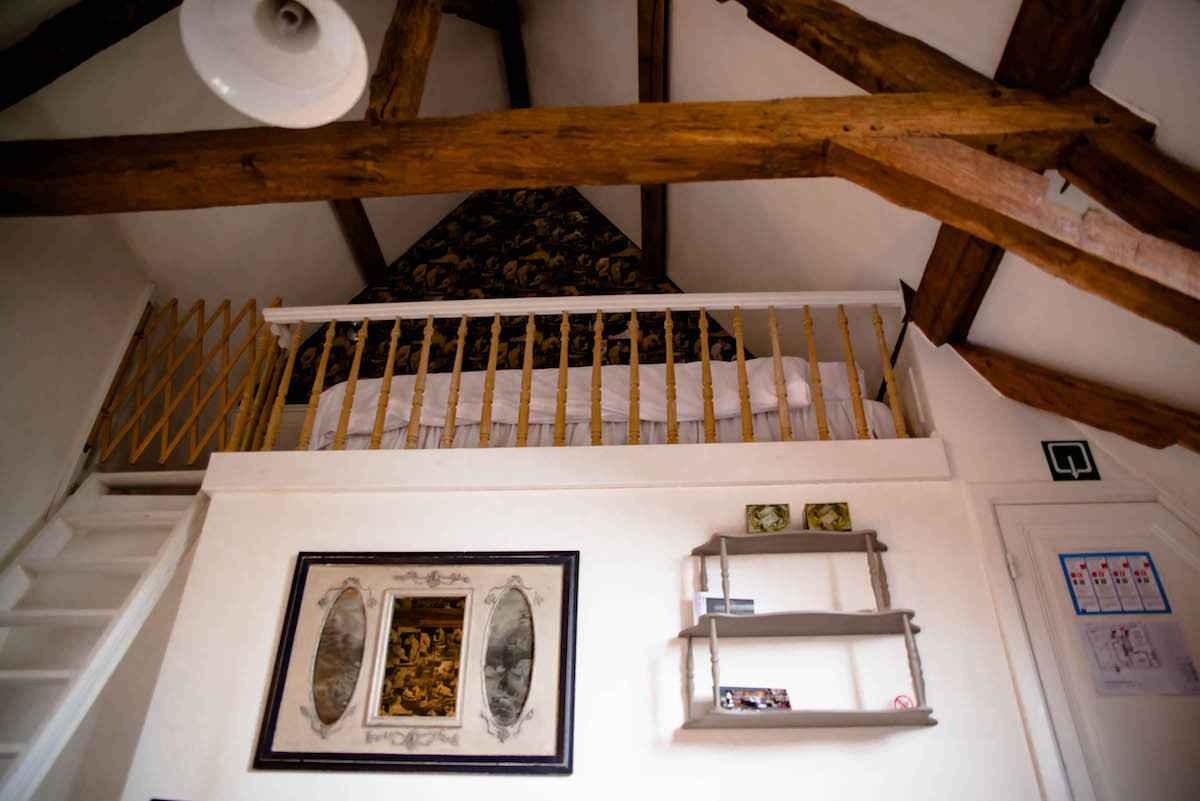 Breakfast was included in our stay and both mornings we were treated to hot french press coffee, fresh-squeezed orange juice, pastries and fruit along with eggs made to our liking by the very friendly and helpful manager of the property, Tania. Sidenote: before our arrival Tania and Carine (the owner of Number 11) were very gracious in answering all my questions about the train and helping make our dinner reservations for both nights.
If you are considering a visit to Bruges and are looking for accommodations that are more intimate and peaceful, I definitely would recommend Number 11. Staying in a historic home versus a hotel really made our time feel that much more authentic.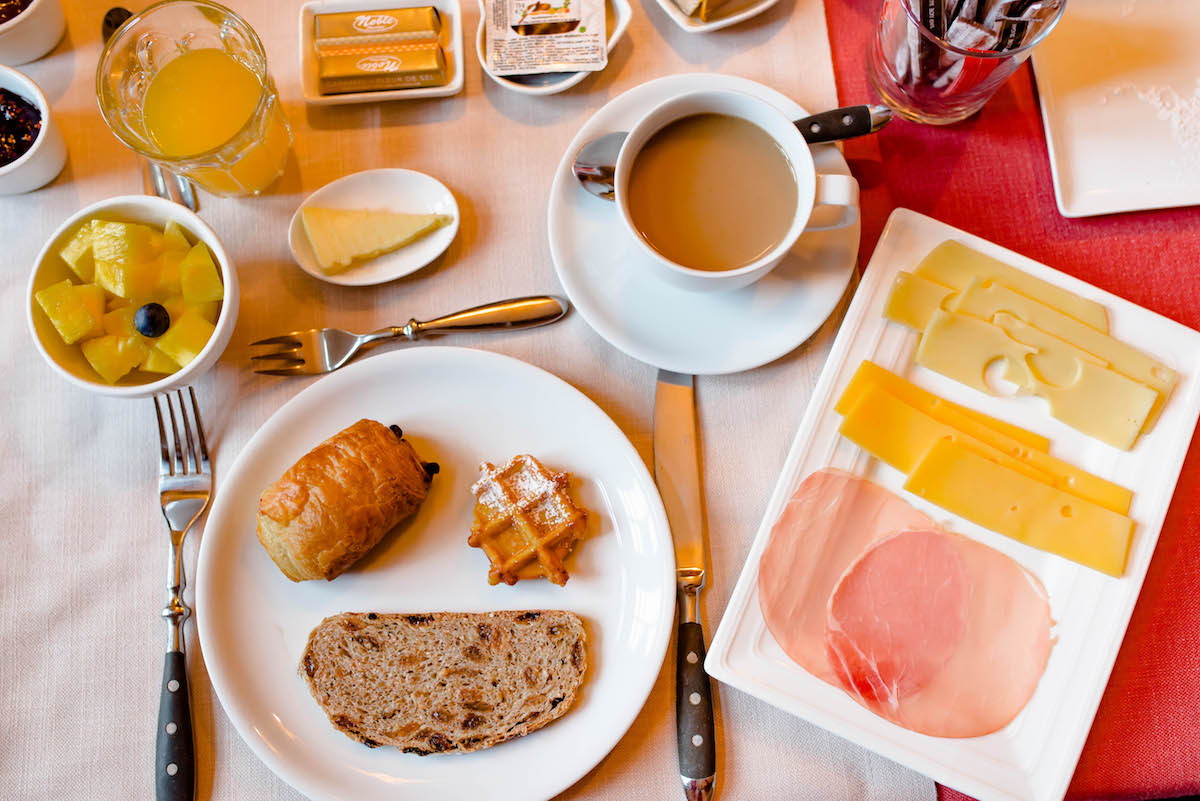 Bruges Belgium December Itinerary | day 1
Since we arrived in the late afternoon, our first day in Bruges really didn't begin until the evening. So after checking in to Number 11, we headed straight out to explore the cobblestone streets where we peeked in shop windows and admired all the magical Christmas lights literally lighting up the entire town. That's one thing I loved about Bruges– the entire town was decked out, not just one street or main square.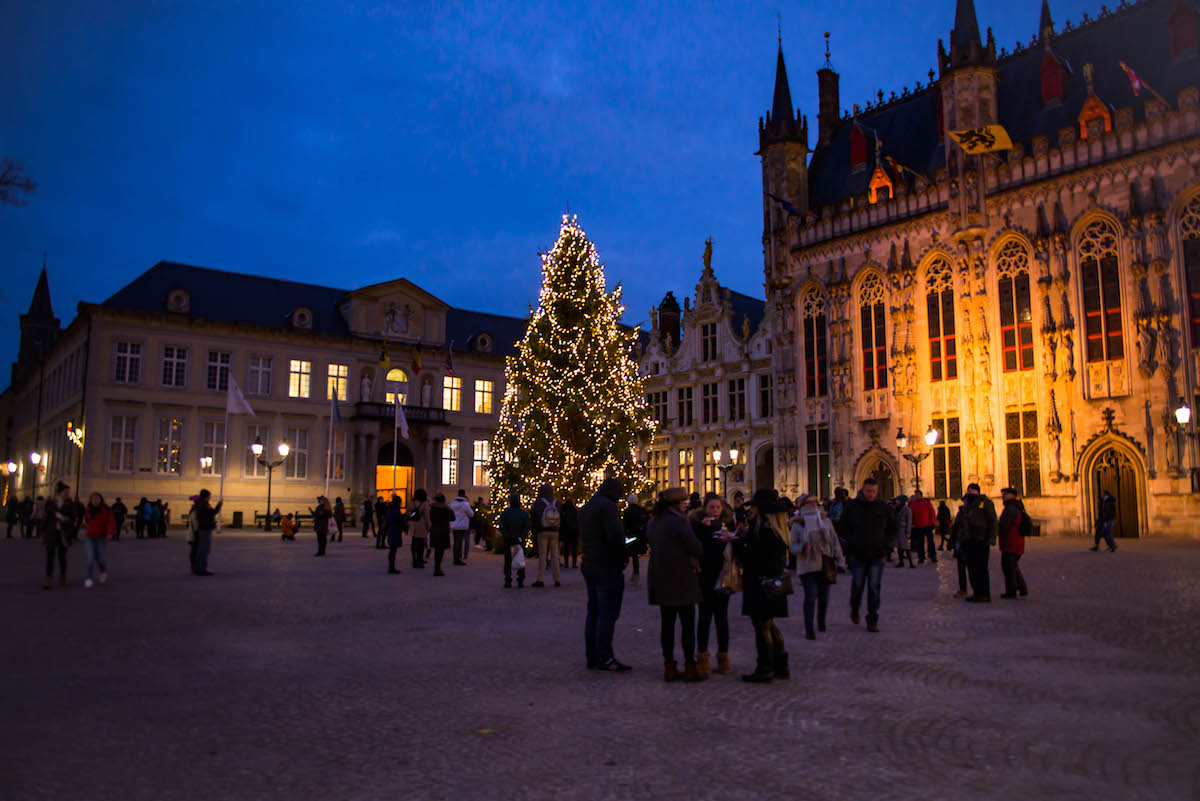 Immediately Nick and I felt such a cheerful and positive energy walking around with all the locals and fellow tourists. Like I said, it's a very on-foot city. Everyone either walks or is on bikes. We even saw a few horse-drawn carriages taking folks around on private tours.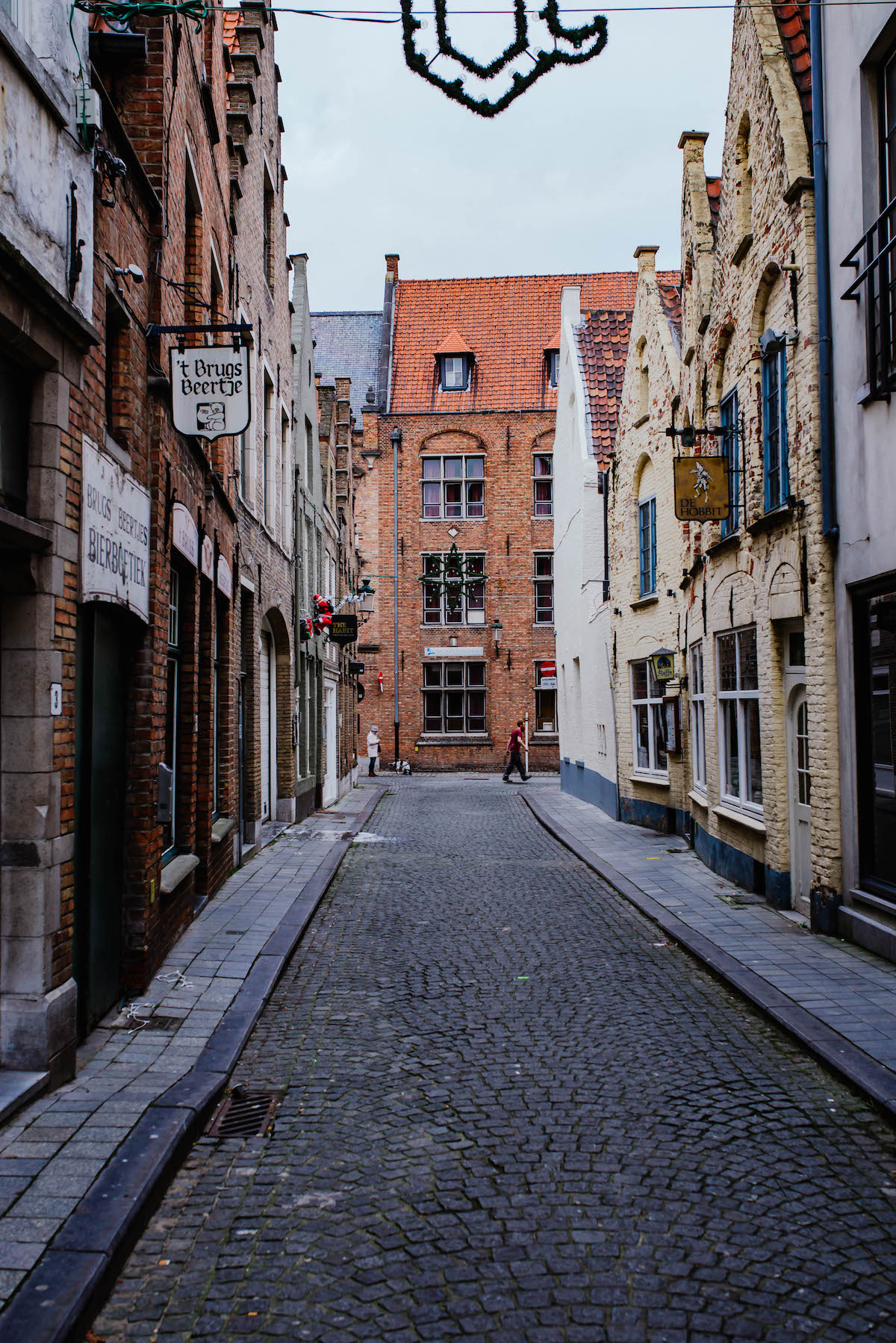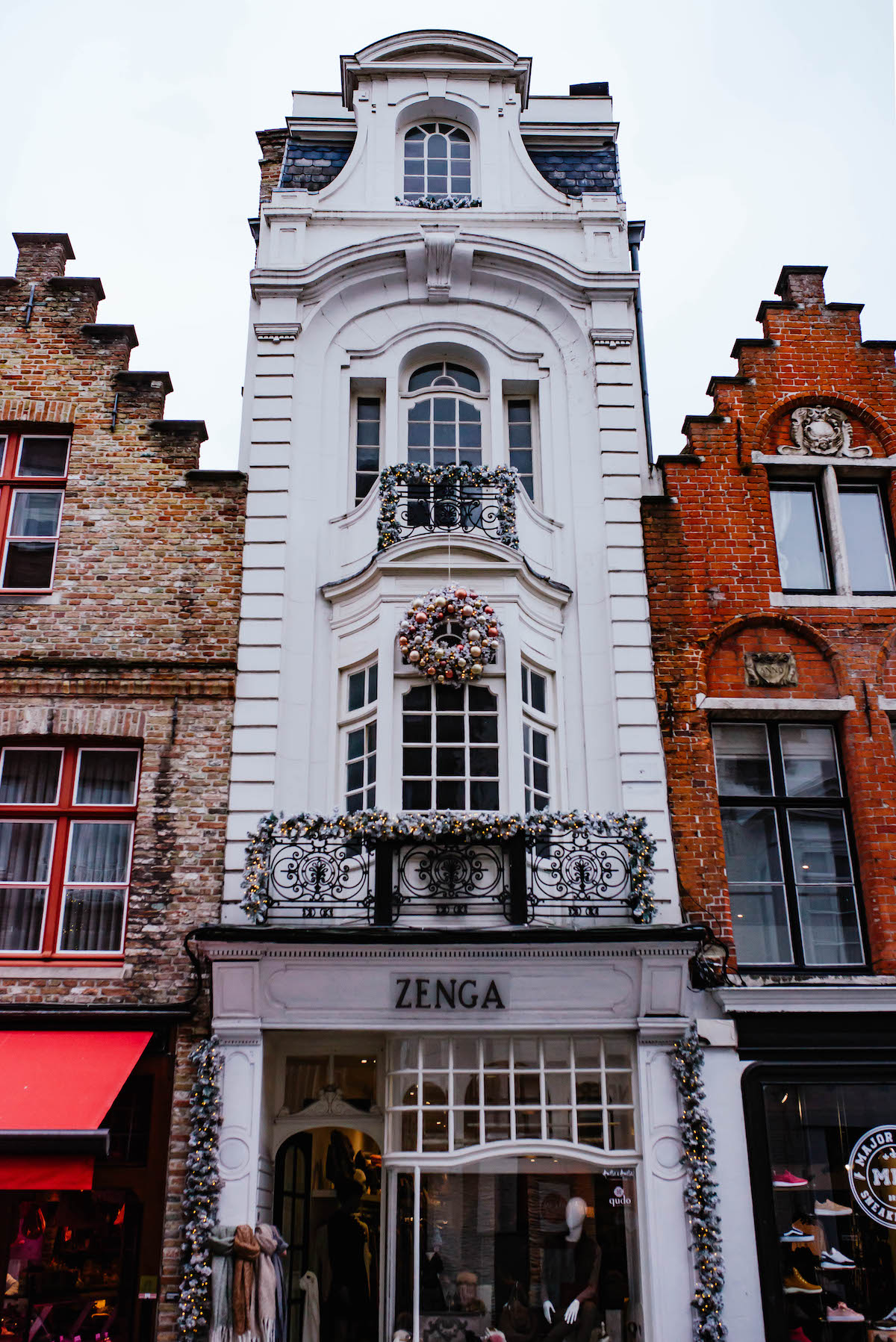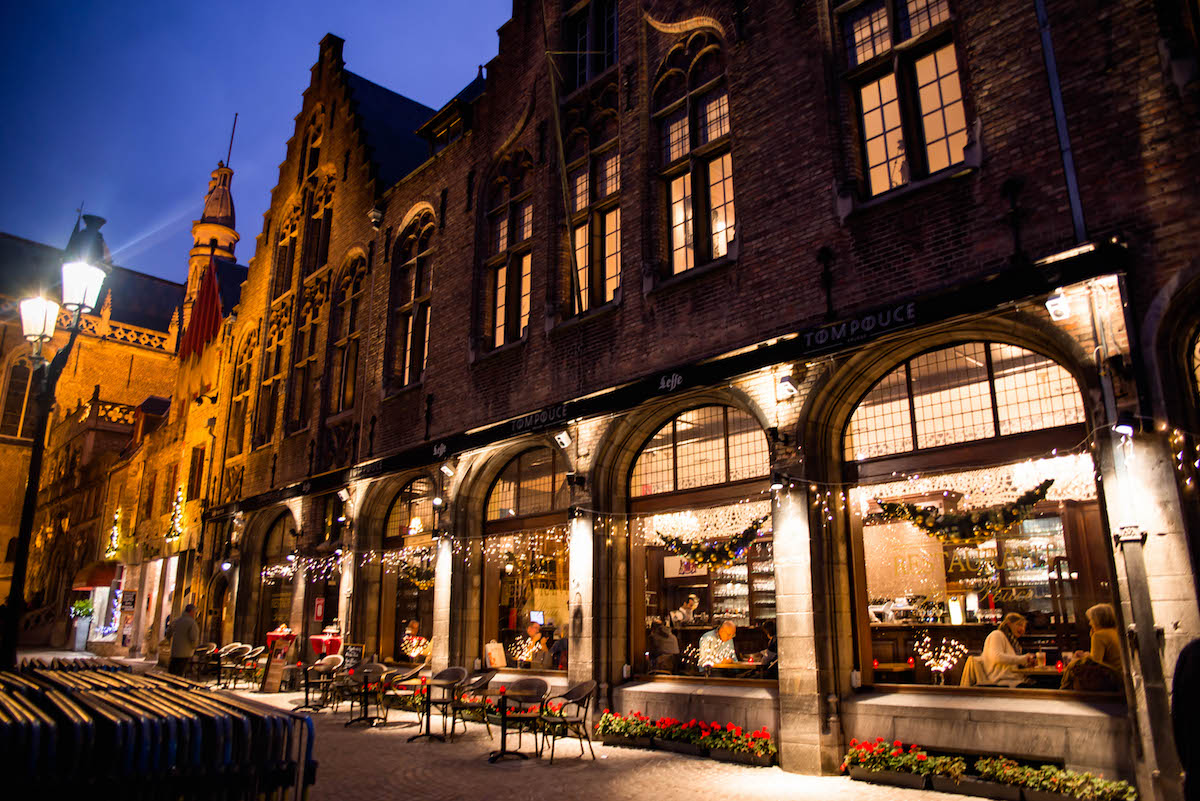 Eventually we made our way to Brasserie Raymond, a French-Belgian eatery located just a few steps away from The Markt of Bruges (aka the main square of the city.) Immediately we ordered two tall glasses of Belgian beer and appetizers of shrimp croquettes and a prosciutto tomato toast. For my main I ordered the chicken and mushroom vol-au-vent, which was basically a creamy chicken dish served over a fresh baked puff pastry. SO good. Nick went for the equally delicious seafood stew. It was such a rich satisfying meal and the perfect start to our Bruges experience.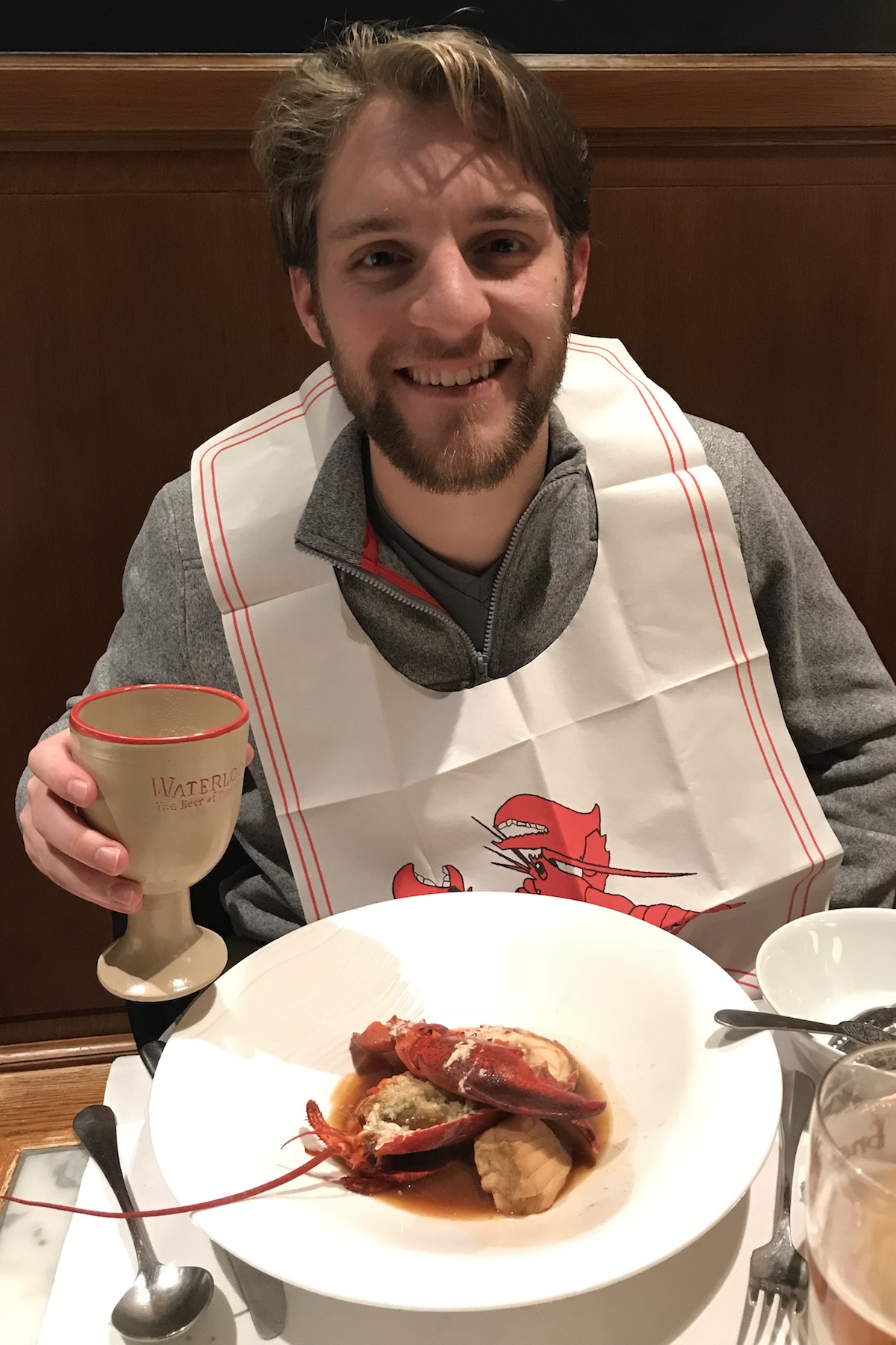 We were pretty tired after dinner, but before heading back to Number 11 we decided to walk around a little more to get a lay of the land. On our way we passed two Christmas markets and a pop-up ice skating rink where folks were enjoying the night with hot chocolate or a beer in-hand.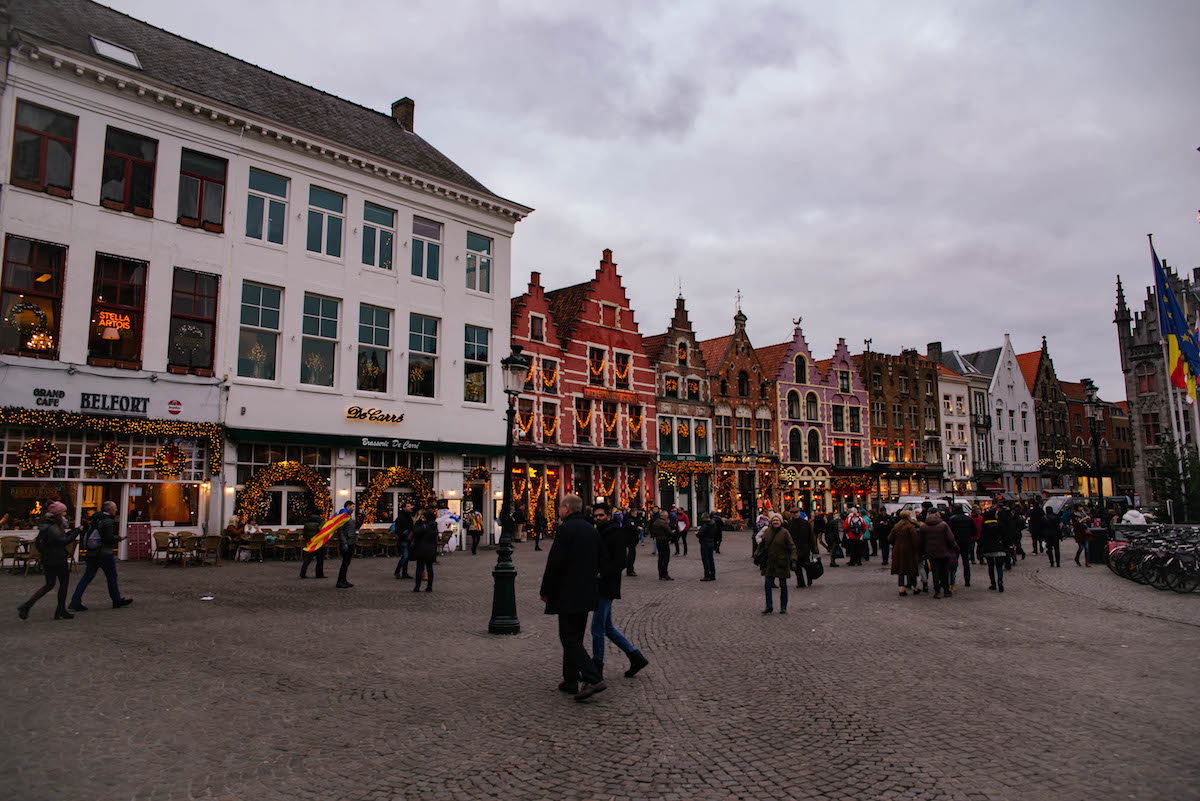 Bruges Belgium December Itinerary | Day 2
After a yummy light breakfast at Number 11, we set out to do our tourist thing and check out some of Bruges' most notable historic sites including the Belfry of Bruges Bell Tower and Church of Our Lady. It makes sense that Bruges is a UNESCO World Heritage Site because as you can see from my photos the town itself is such a treasure.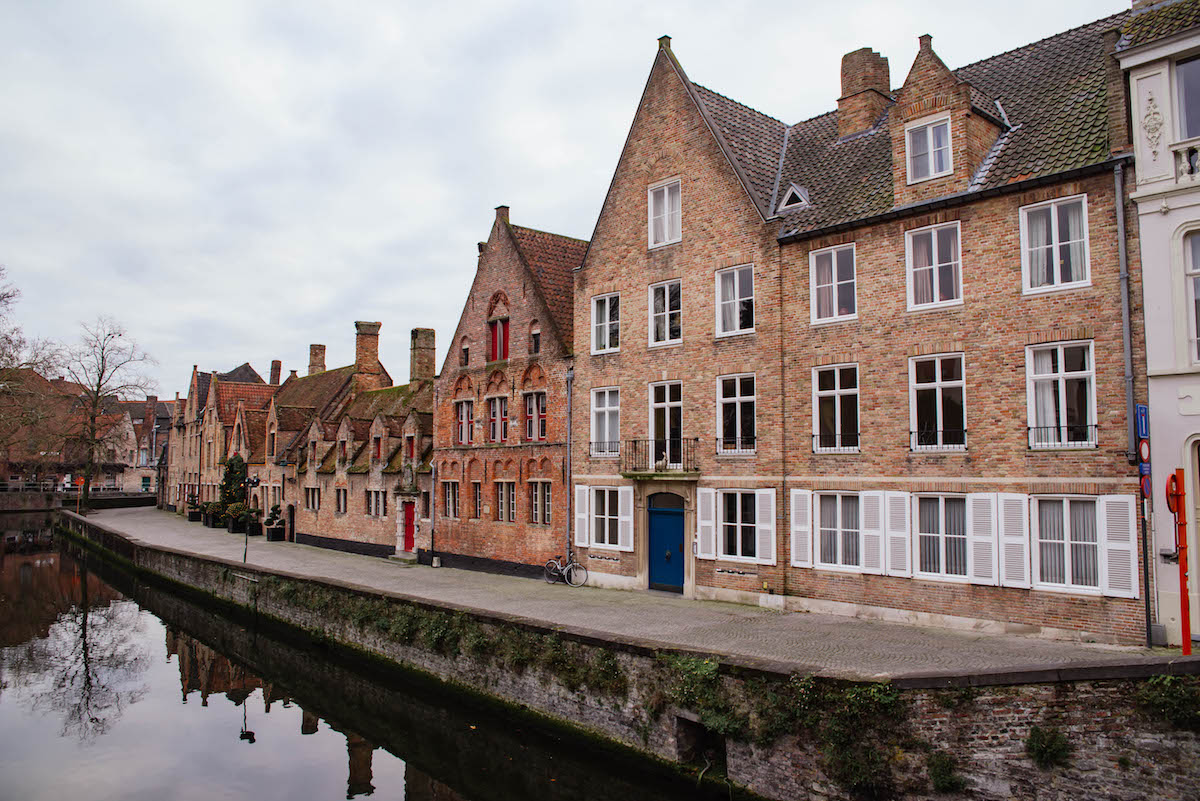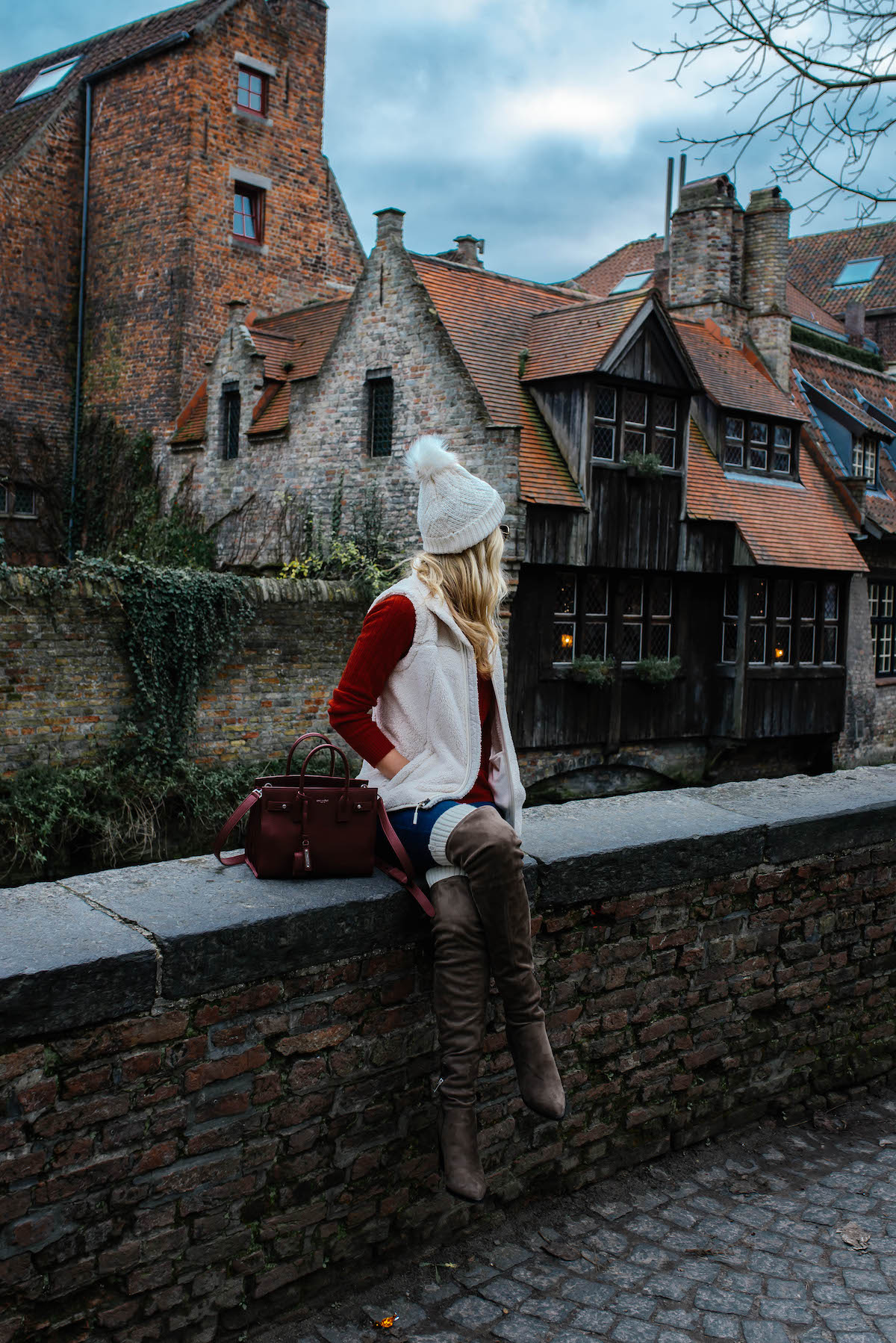 We learned that Bruges is often referred to a the "Venice of the North" due to it's winding canals and that much of the town's original 12th century medieval architecture is still intact. Bruges is honestly the most architecturally photogenic place I've ever visited. The entire town is simply immaculate and so clean.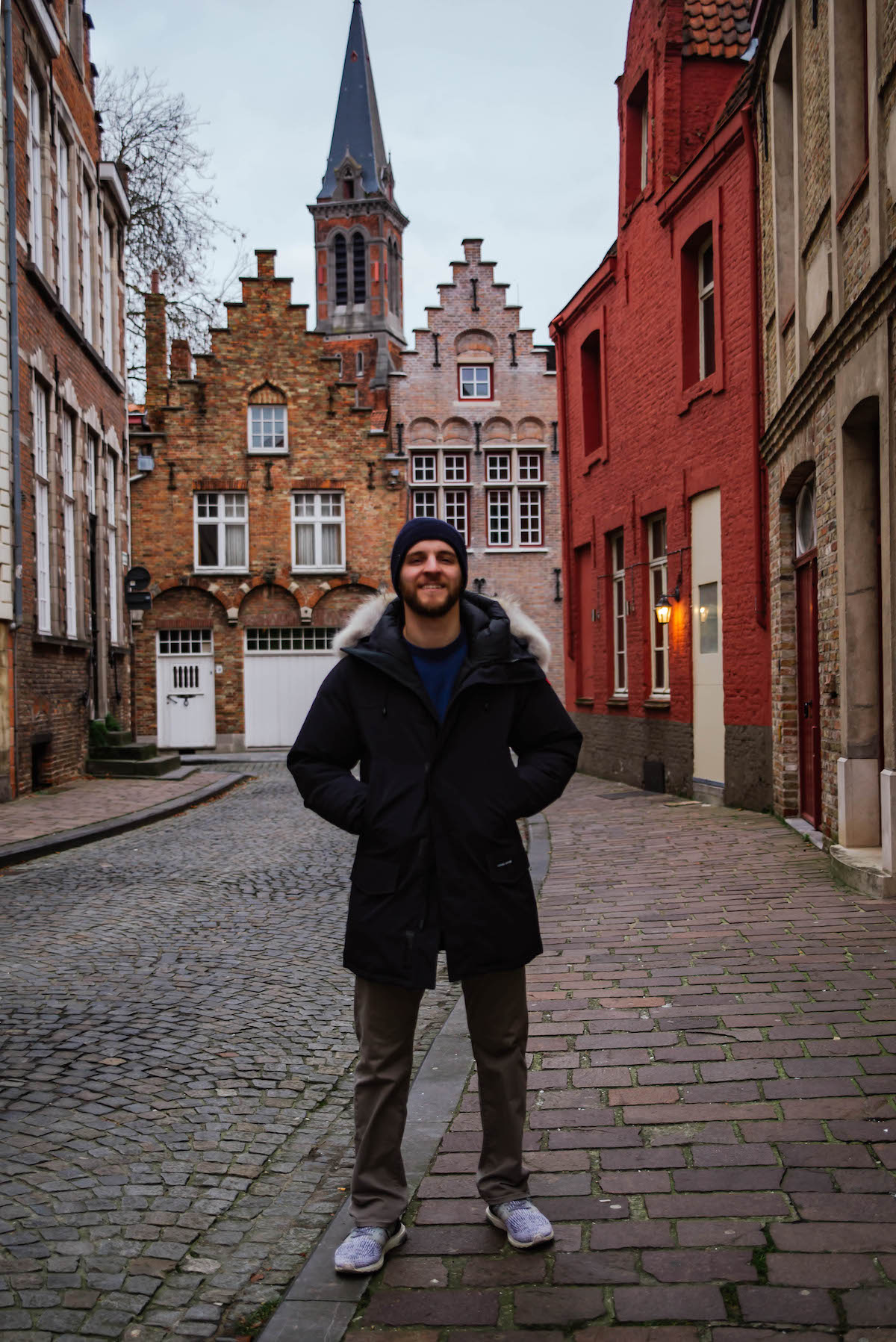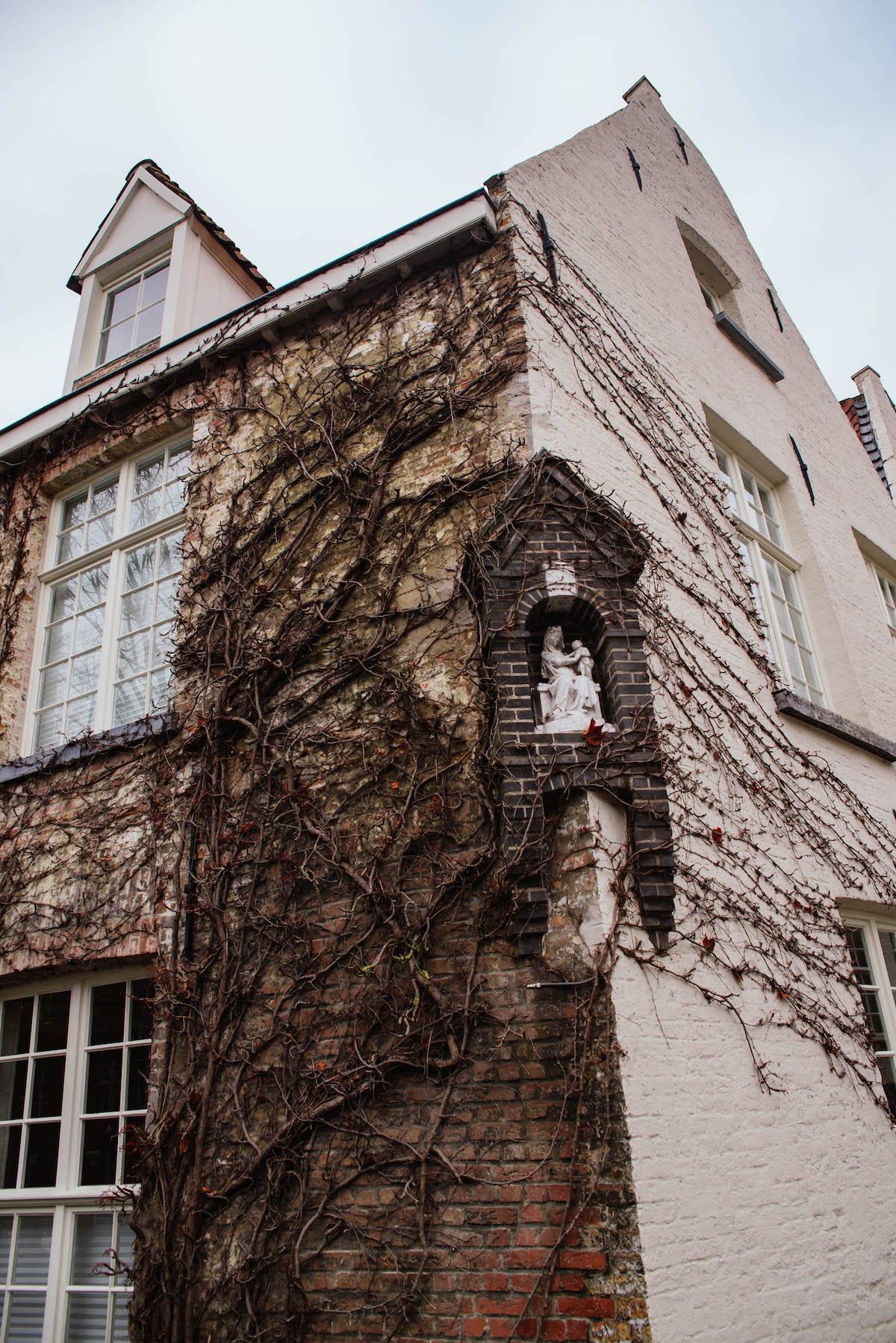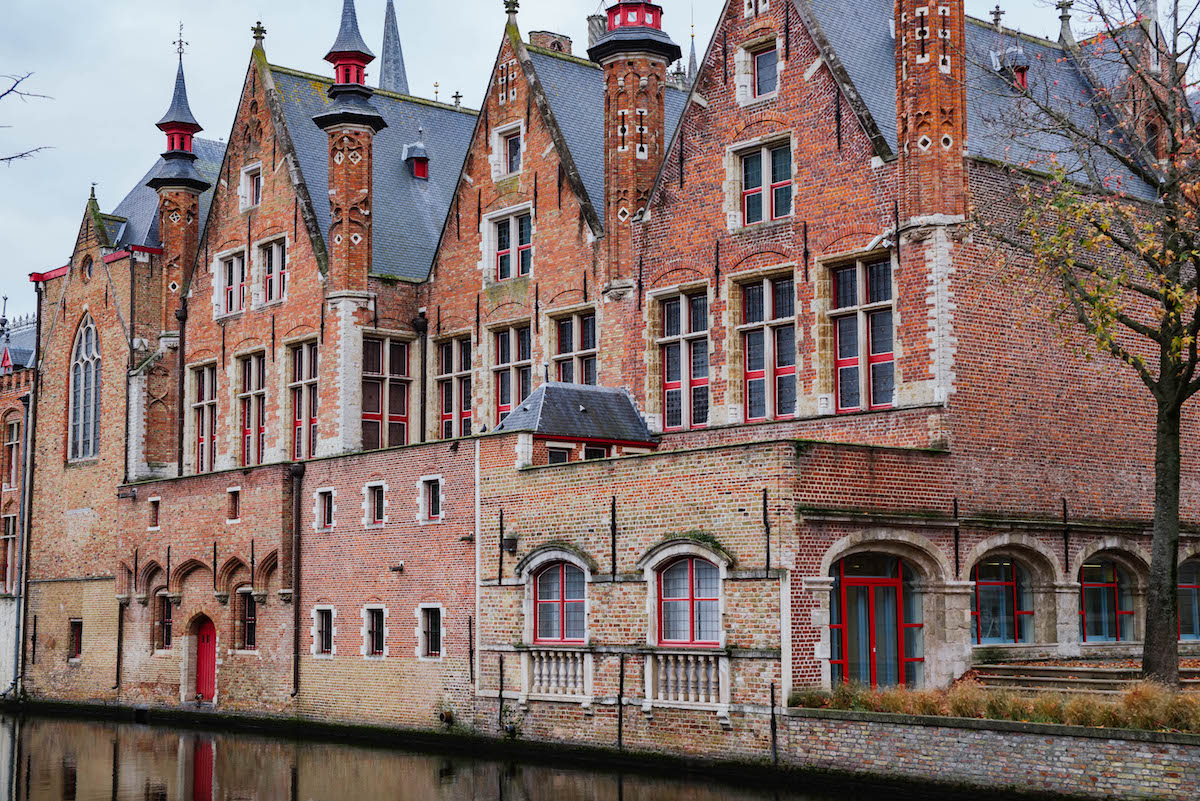 Just walking around and admiring the homes, stores, restaurants and Christmas markets was such a treat for me. We spent about two hours taking photos and shopping for chocolate (some for us but mostly for our families :P) before deciding it was time to get off our feet for a bit.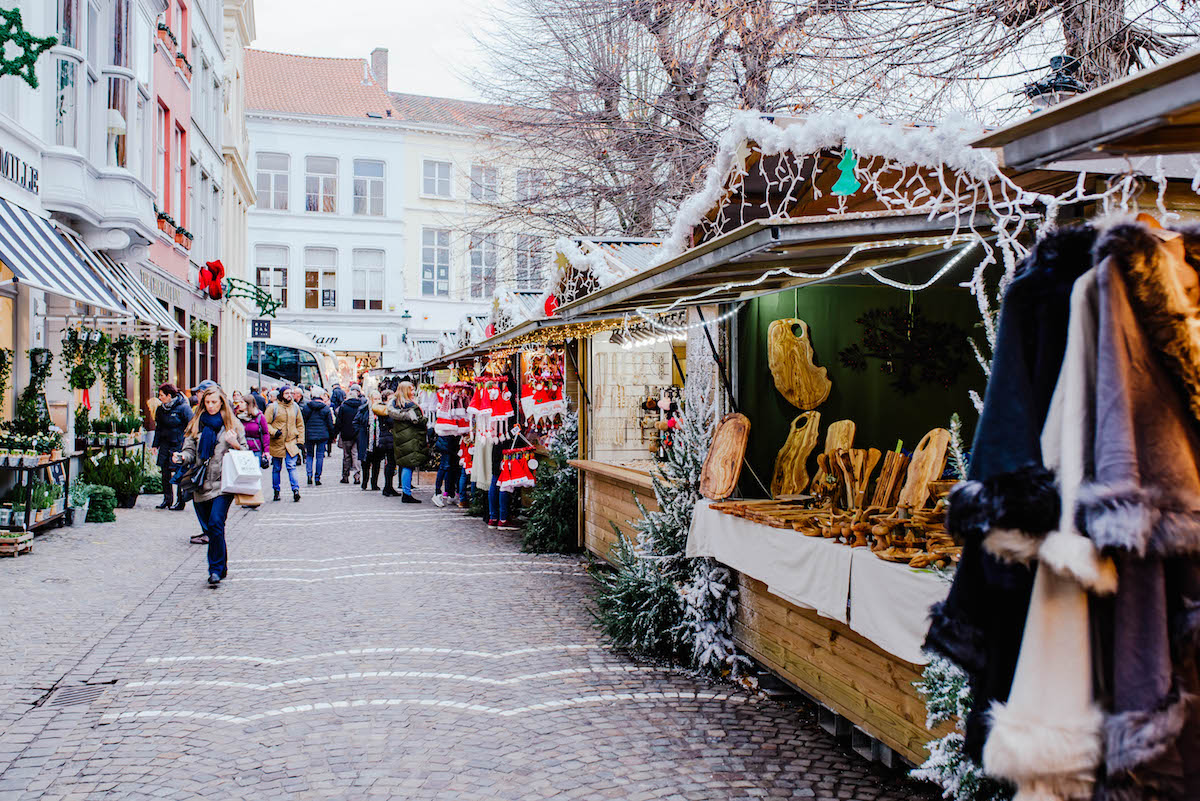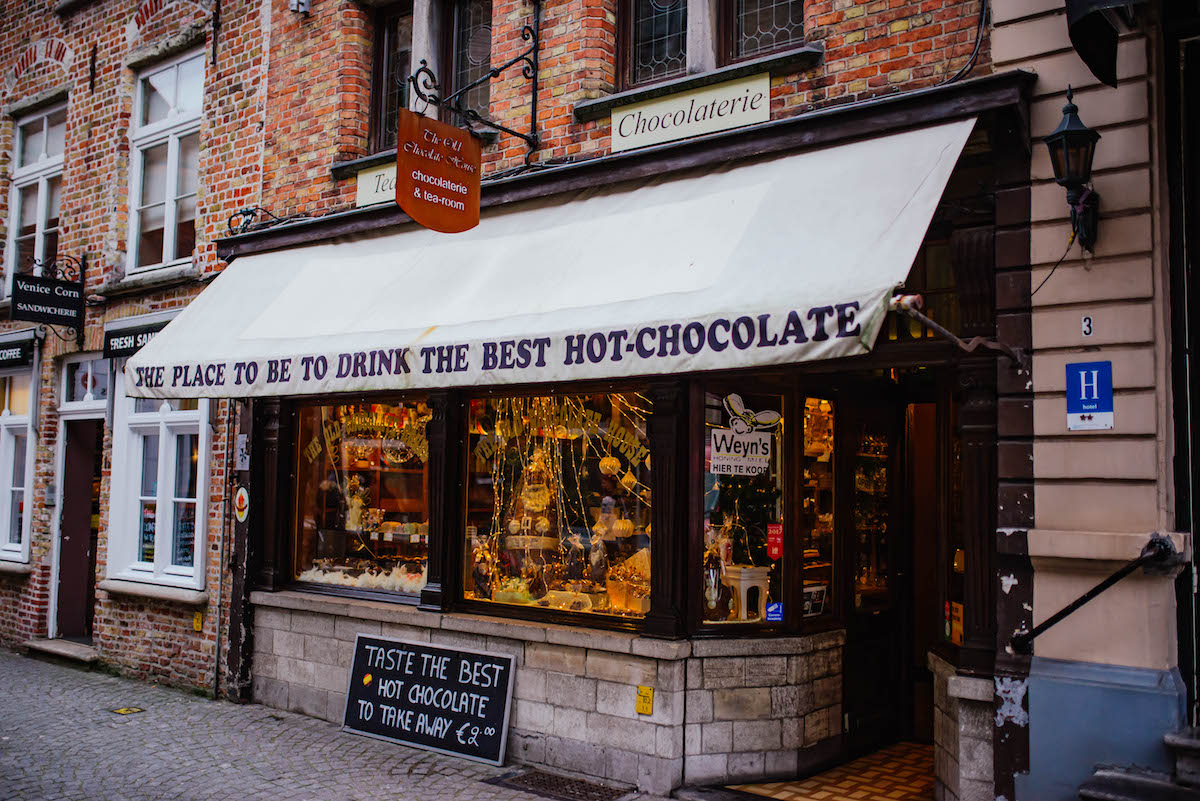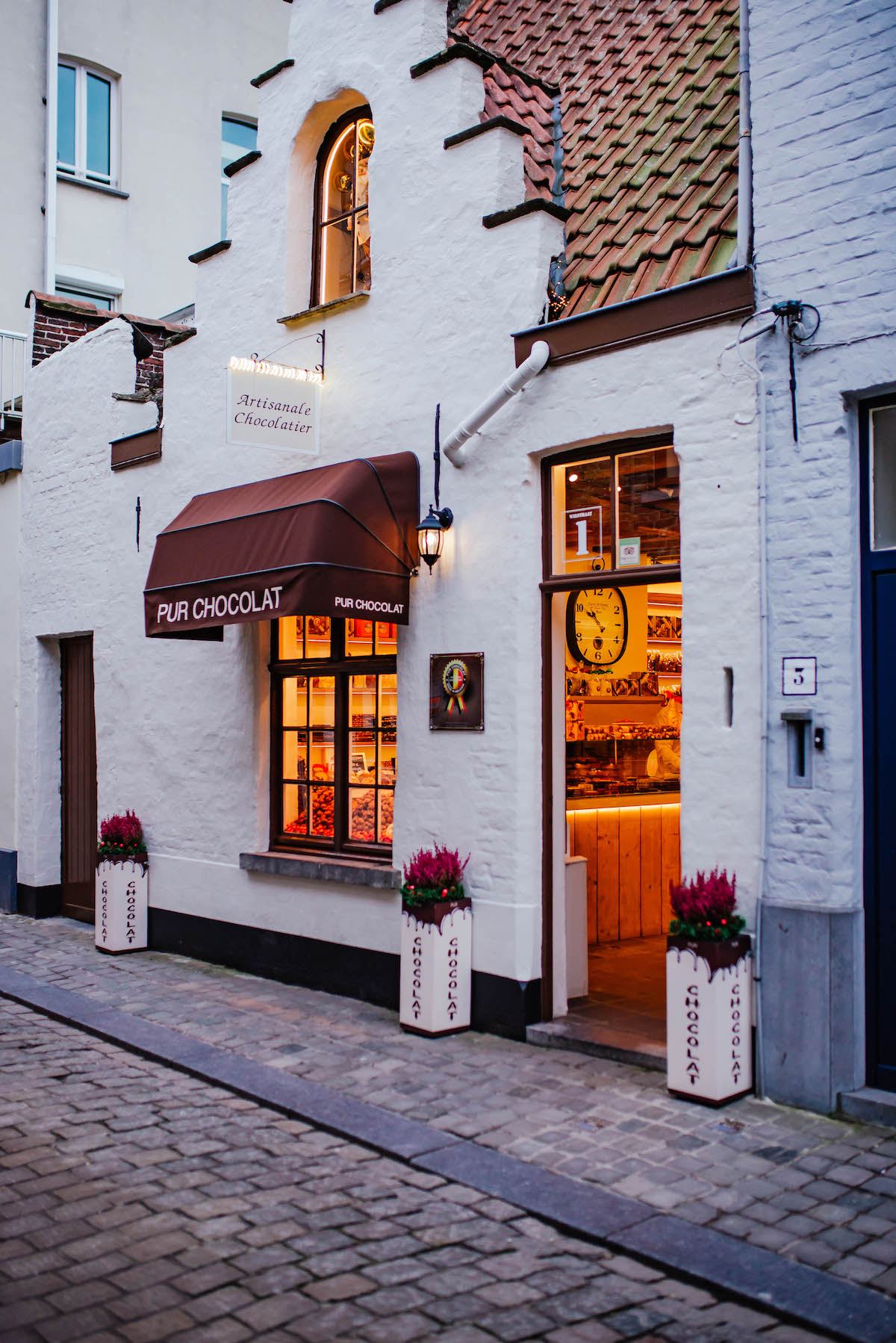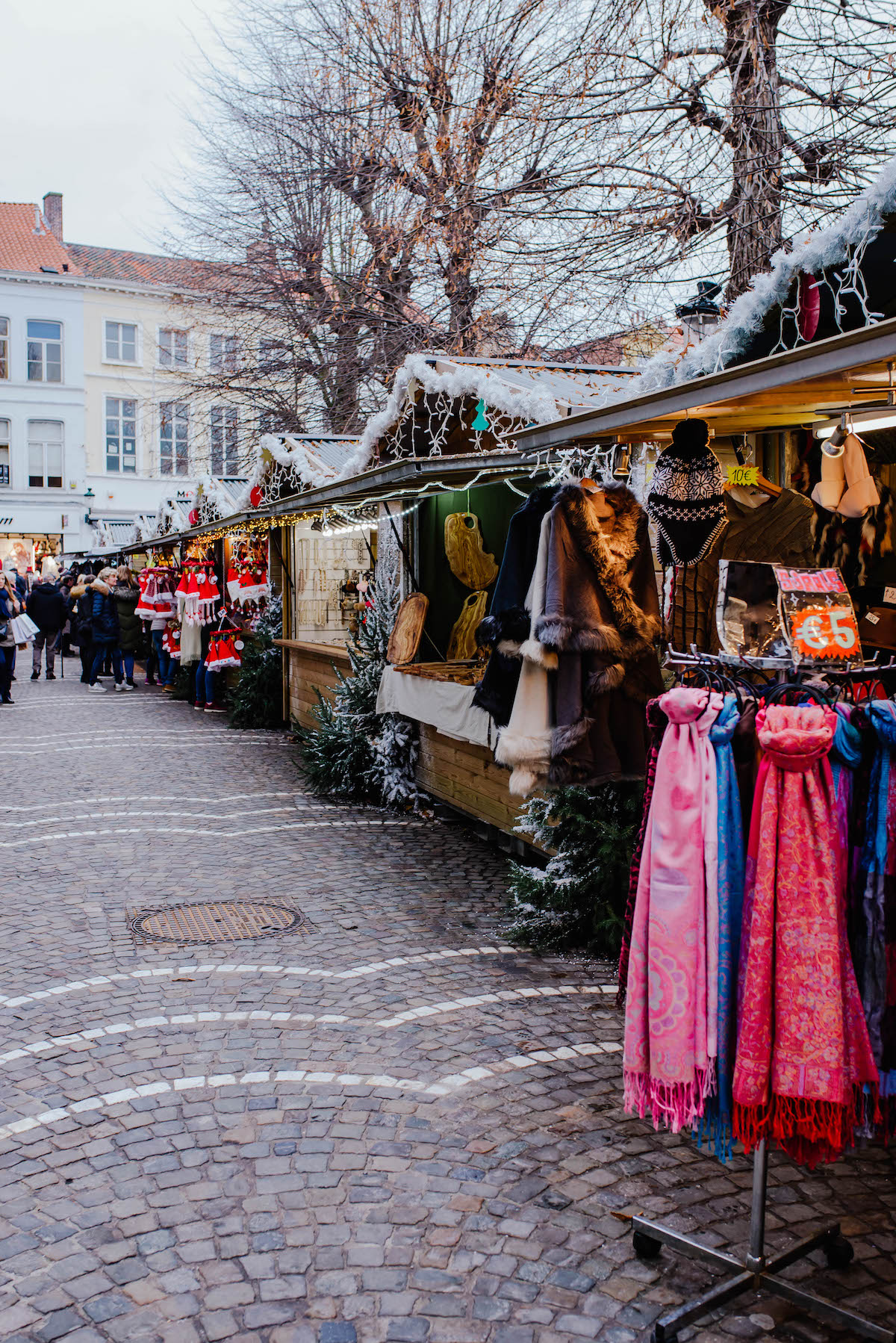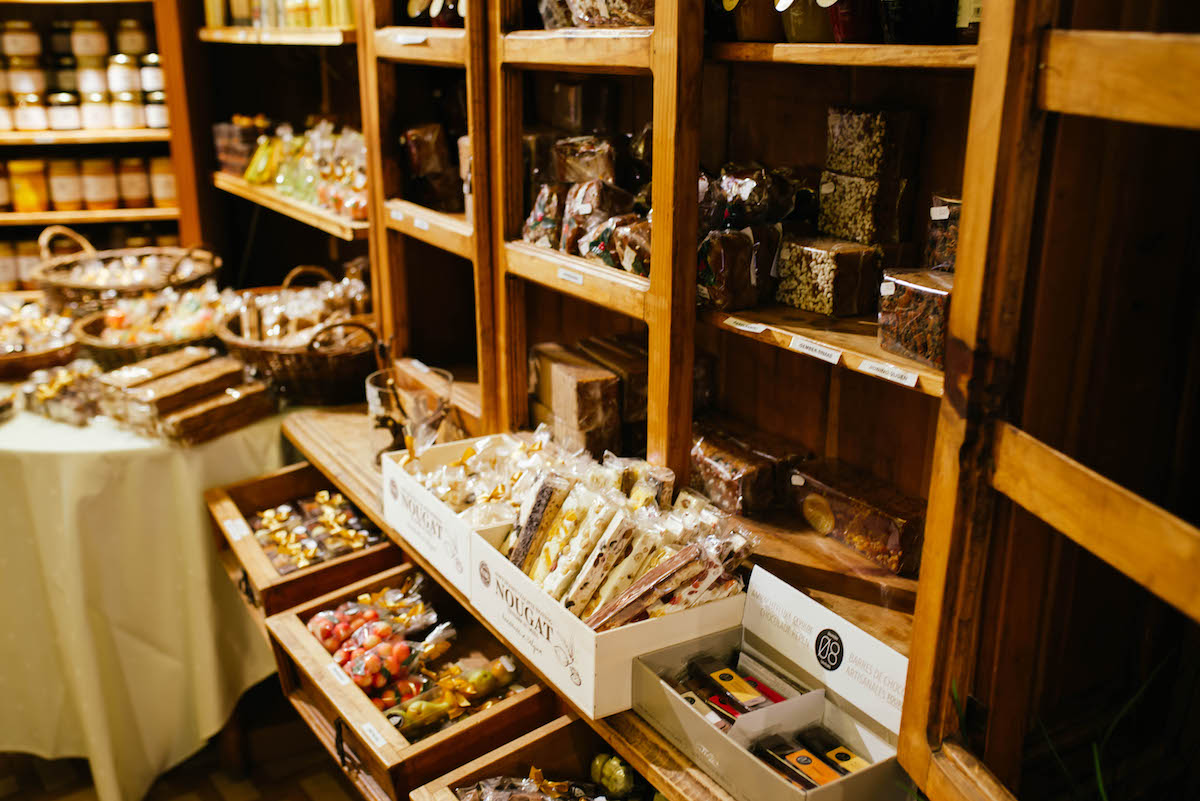 Christmas Markets & Chocolate Shops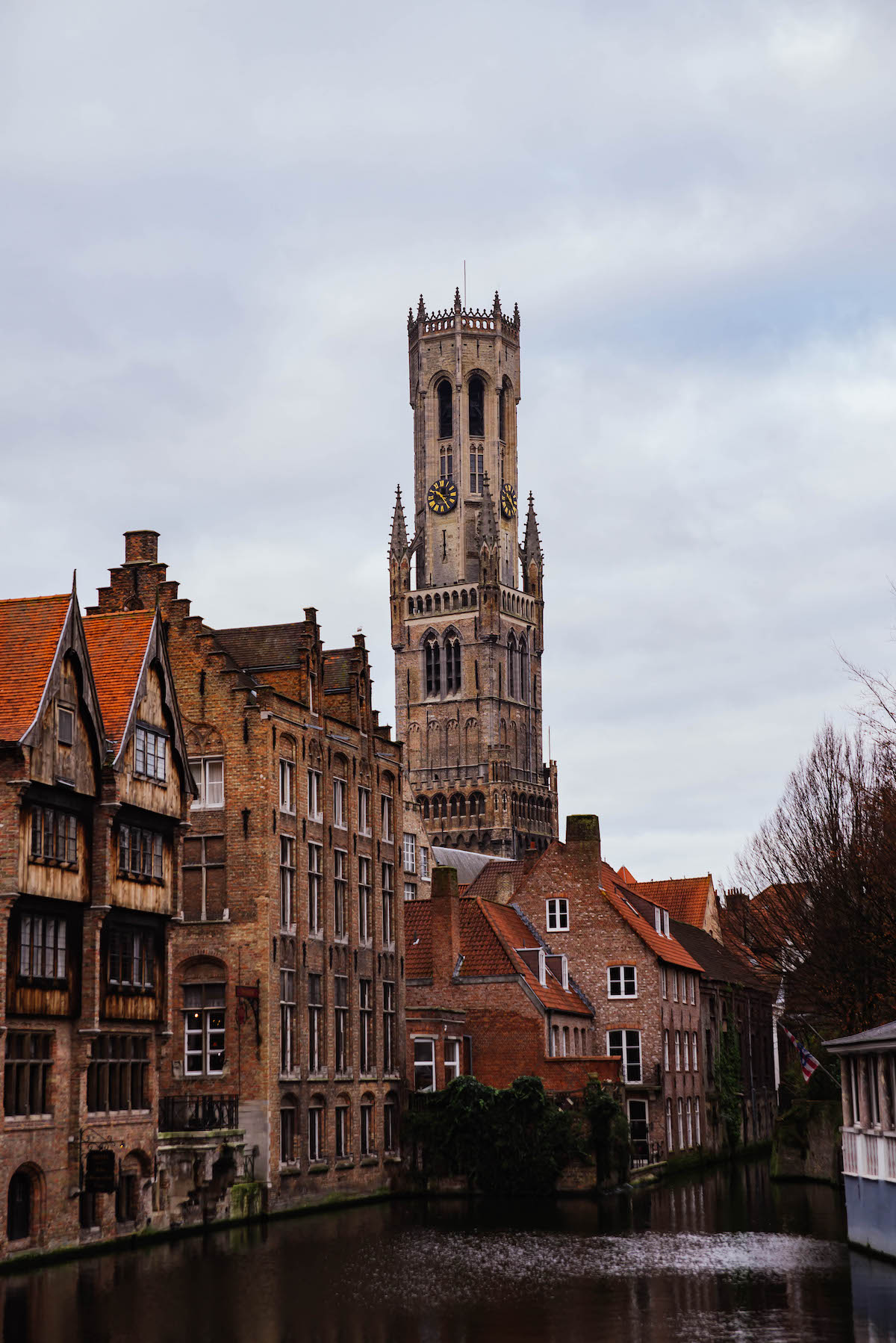 Belfry of Bruges Bell Tower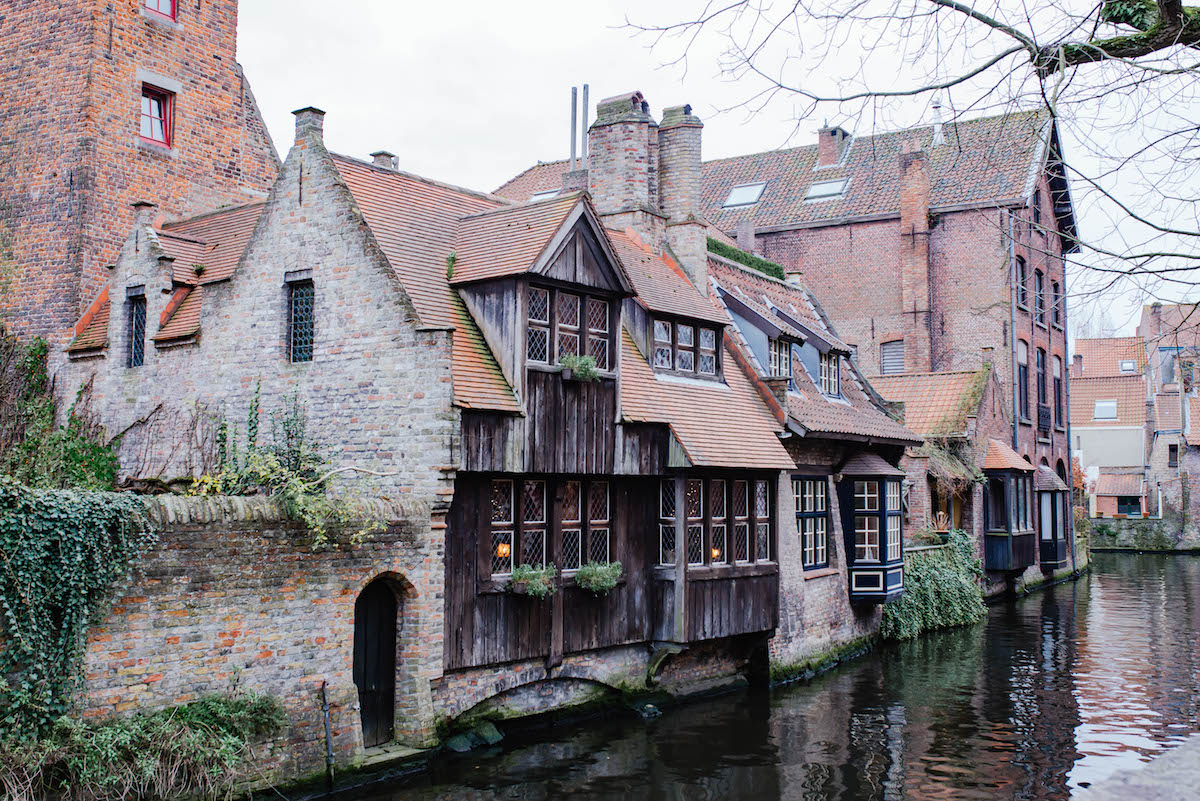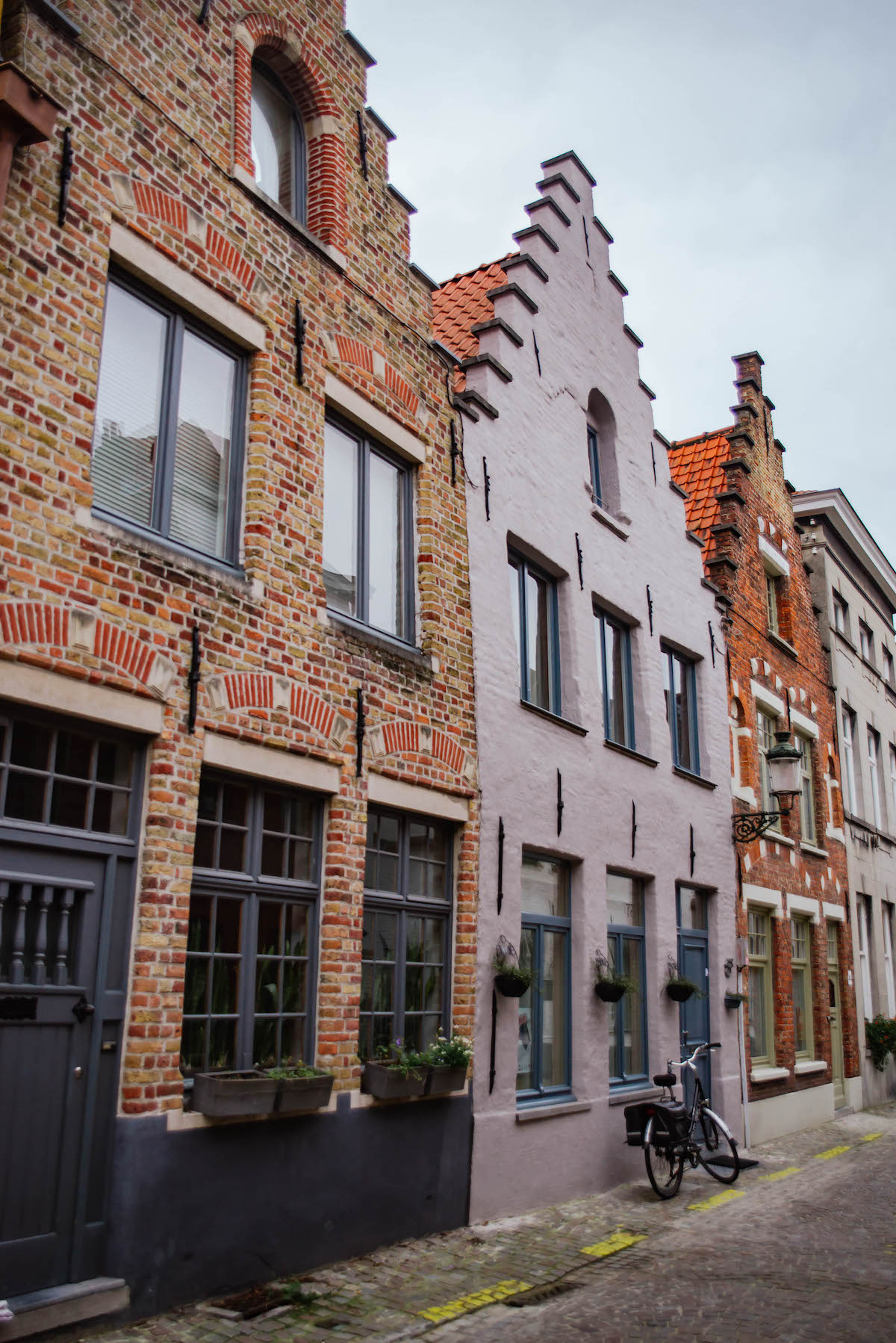 Historic Canal Homes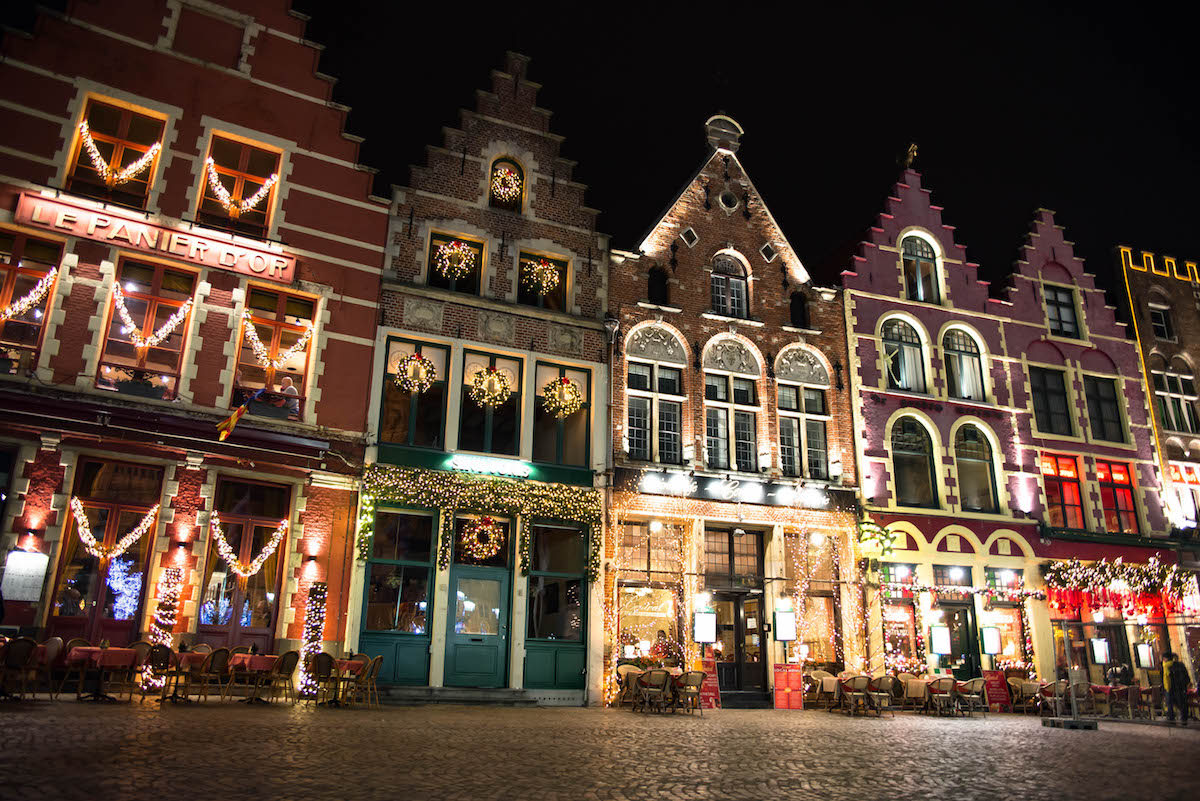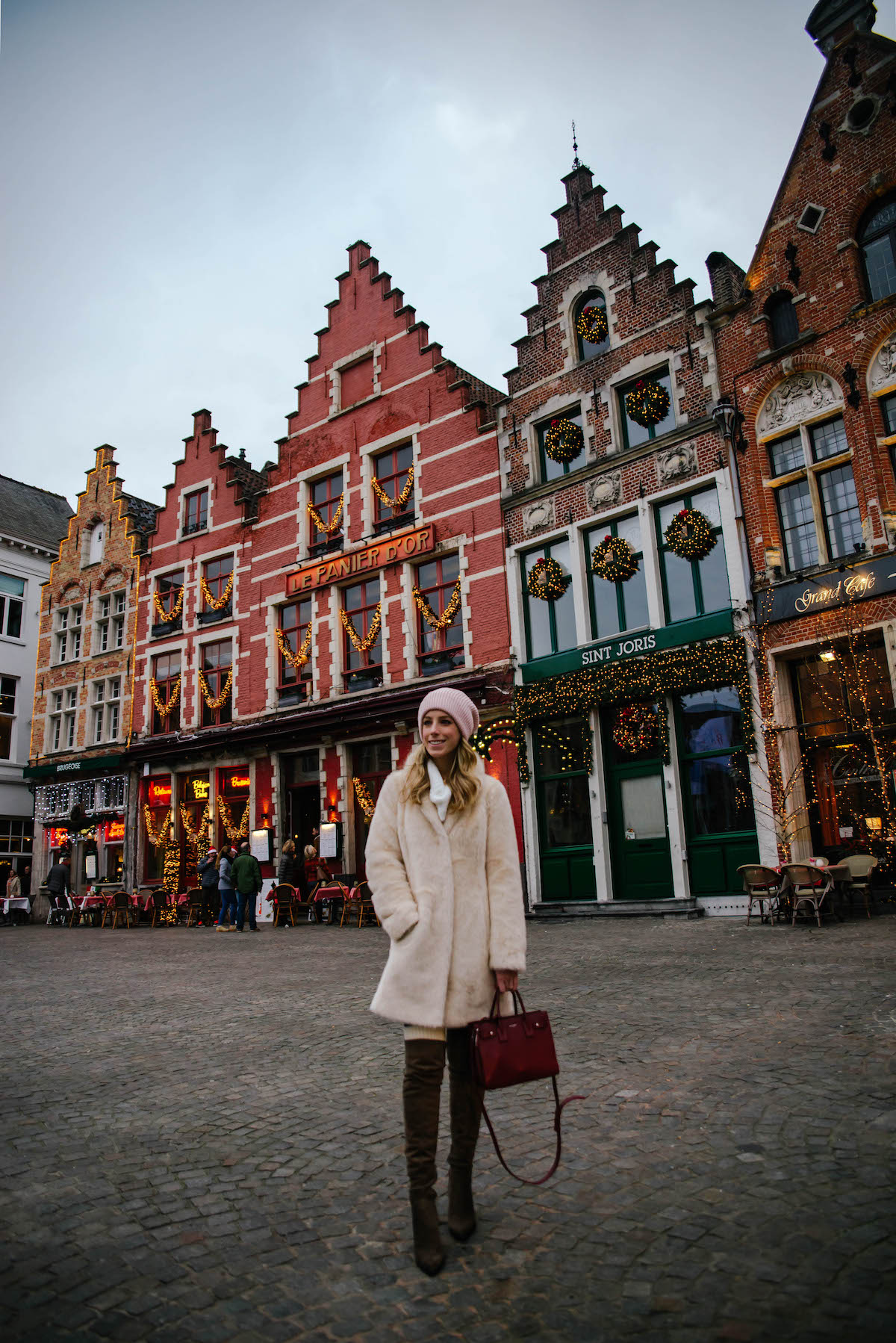 The Markt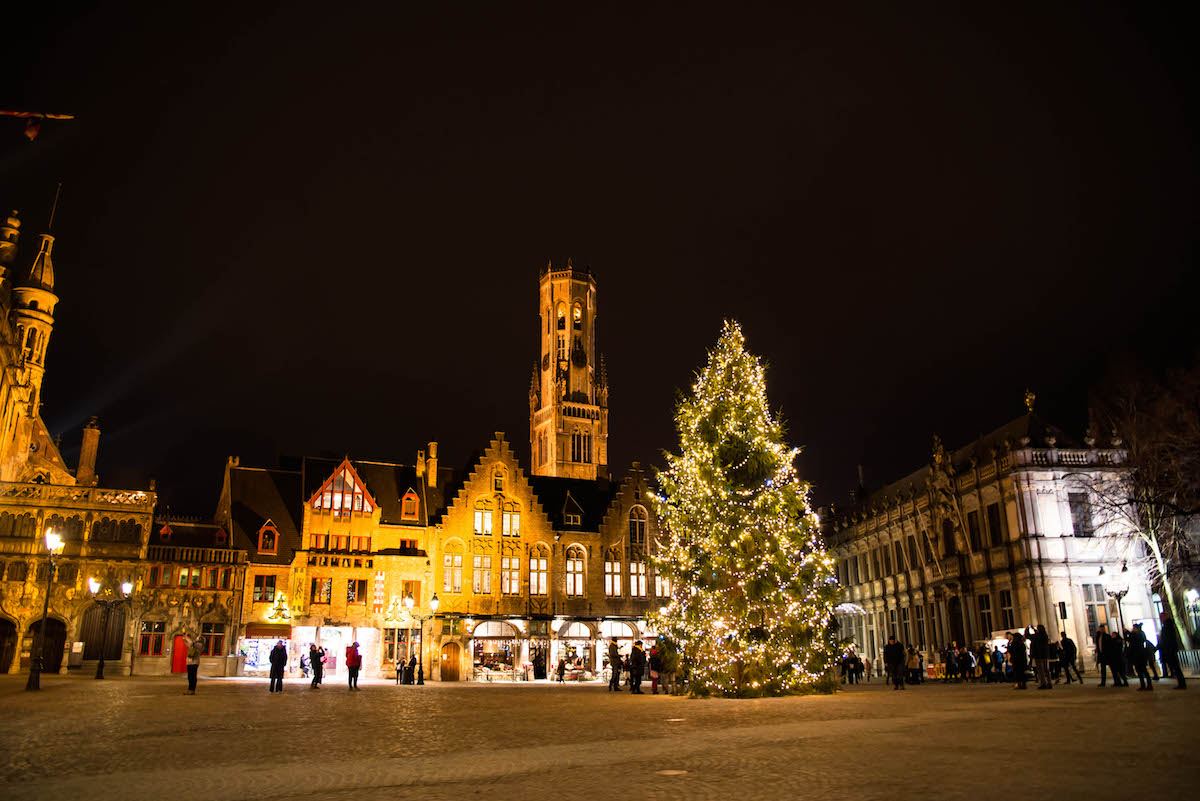 Burg Square
We weren't ready for lunch yet, so we decided to stop in for some light bites at That's Toast. I had stumbled across a few very delicious-looking avocado toast pictures on Instagram before our trip and since we were looking for something light, it was the perfect destination. Nick and I each ordered bloody marys and a toast–him banana with peanut butter and for me salmon and avocado. Ugh, it was so yummy. I wish I could eat what we had for lunch everyday. It felt great eating something healthy and light after four days of non-stop rich heavy food.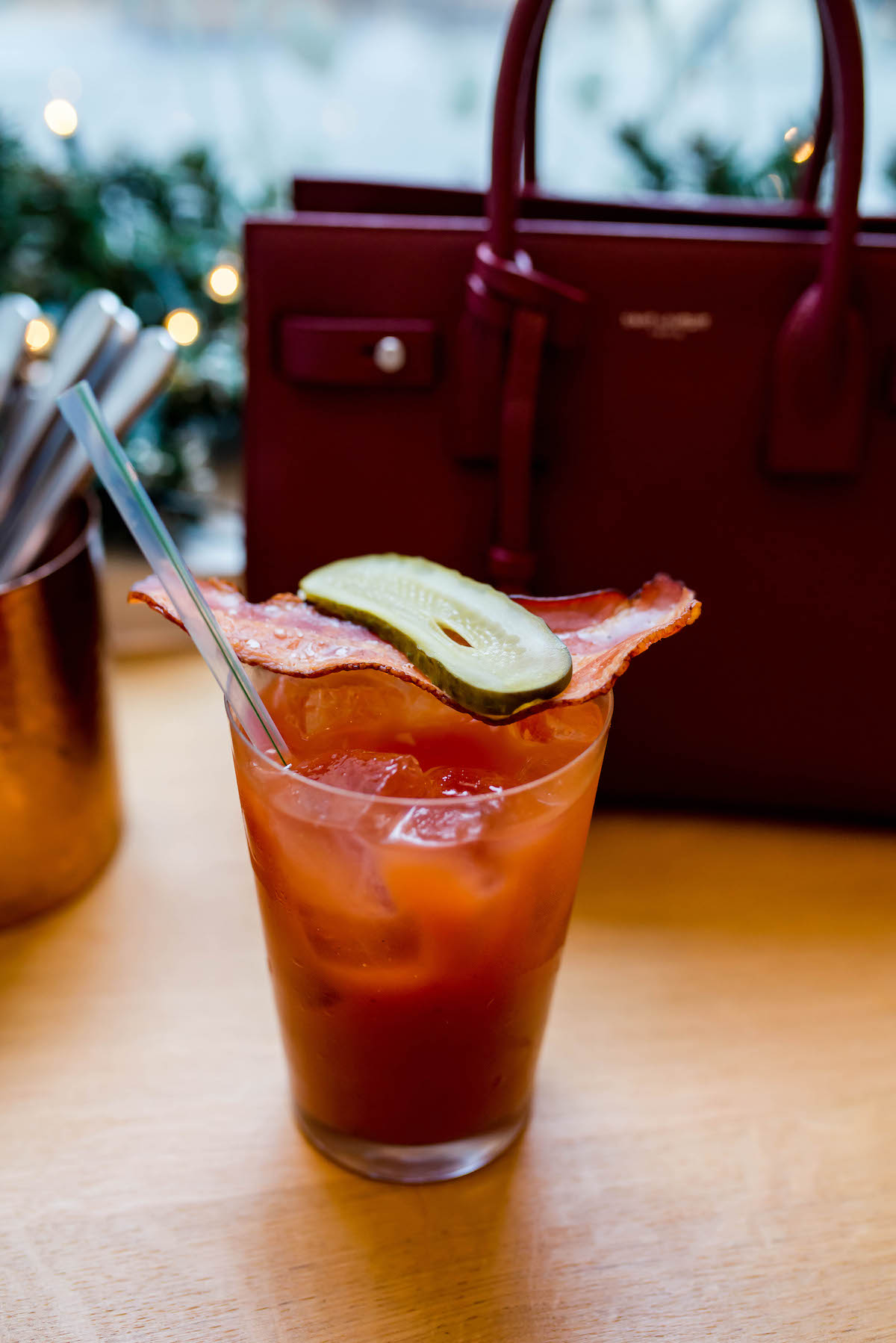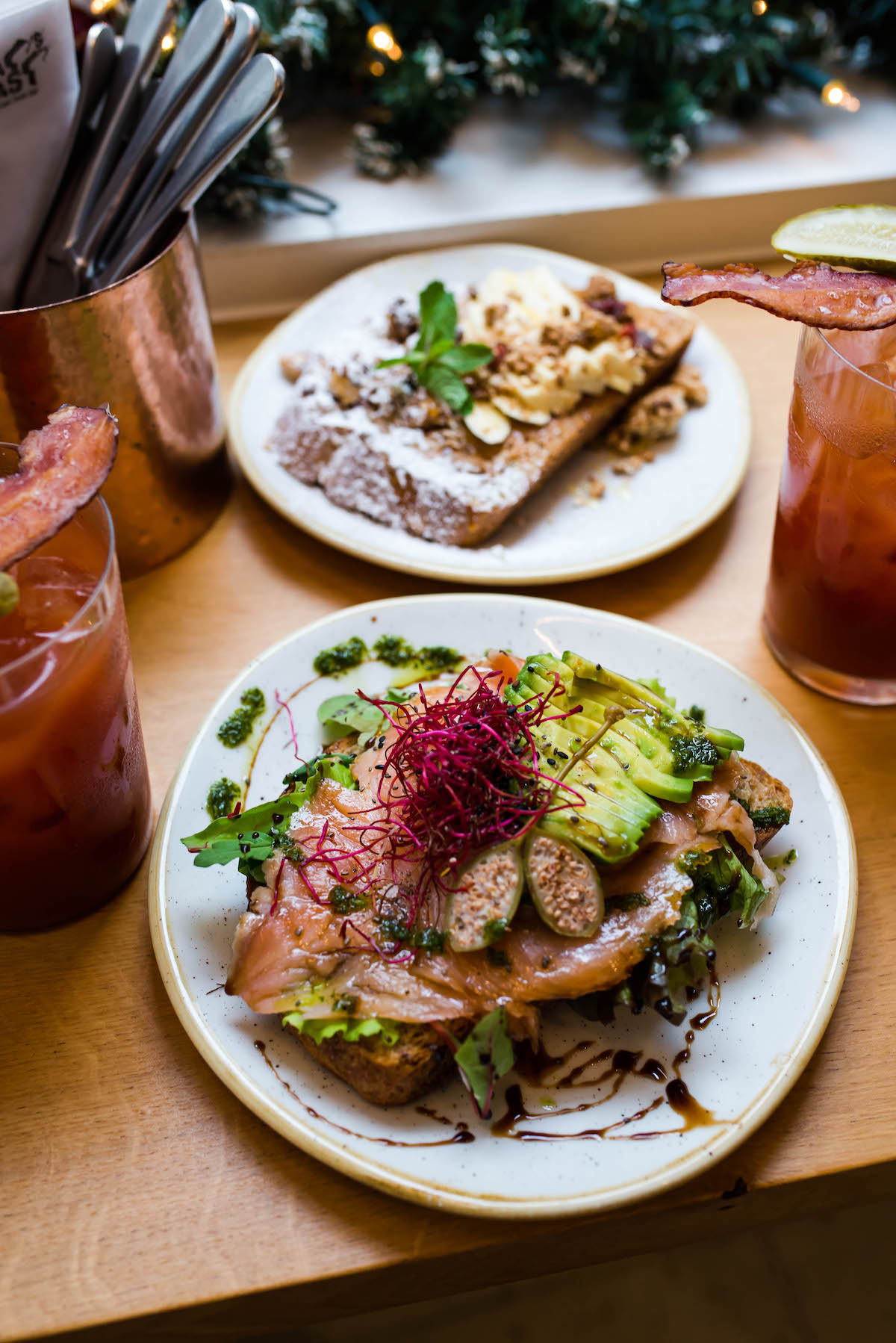 After lunch we explored a bit more lazily in the direction of Number 11. On the way we ran into a weekly farmer's market (happens every Wednesday) and I couldn't resist picking up a bouquet of roses. They were just so pretty! We only popped in to Number 11 for a few minutes to wash up and change into more comfortable shoes (cobblestones are rough on the feet my friends.)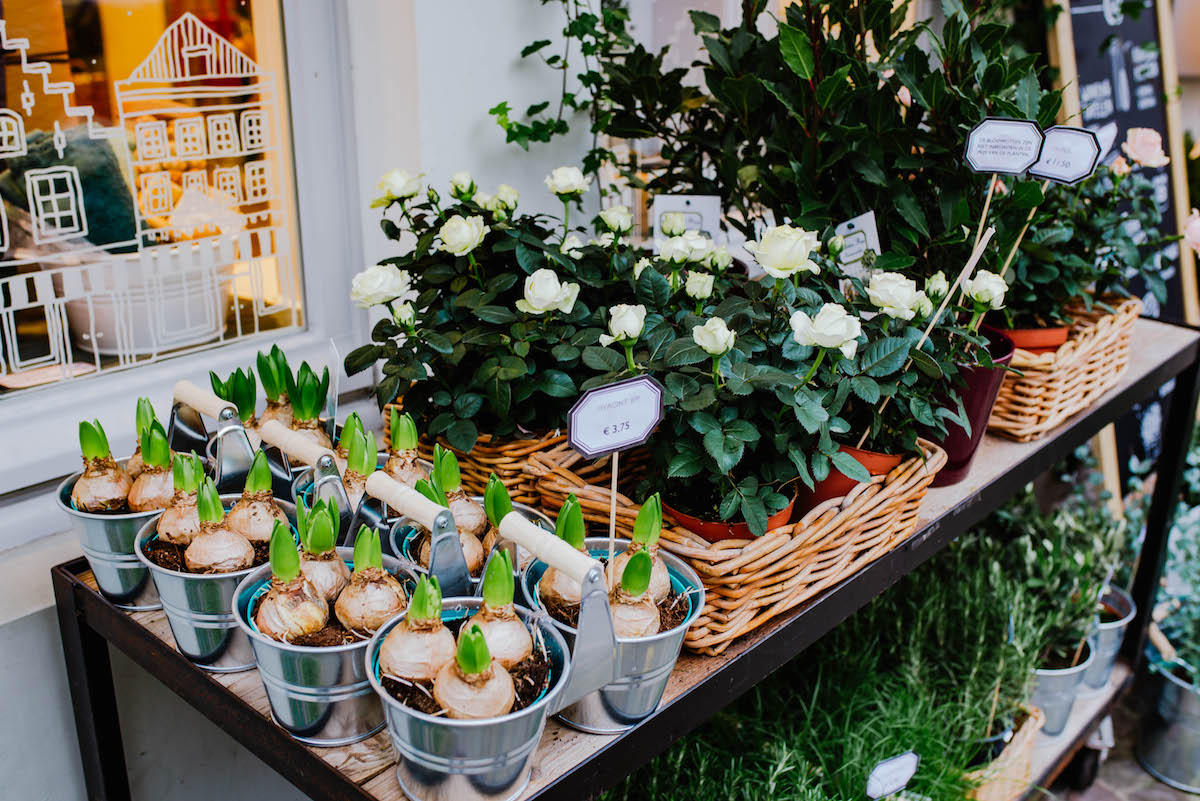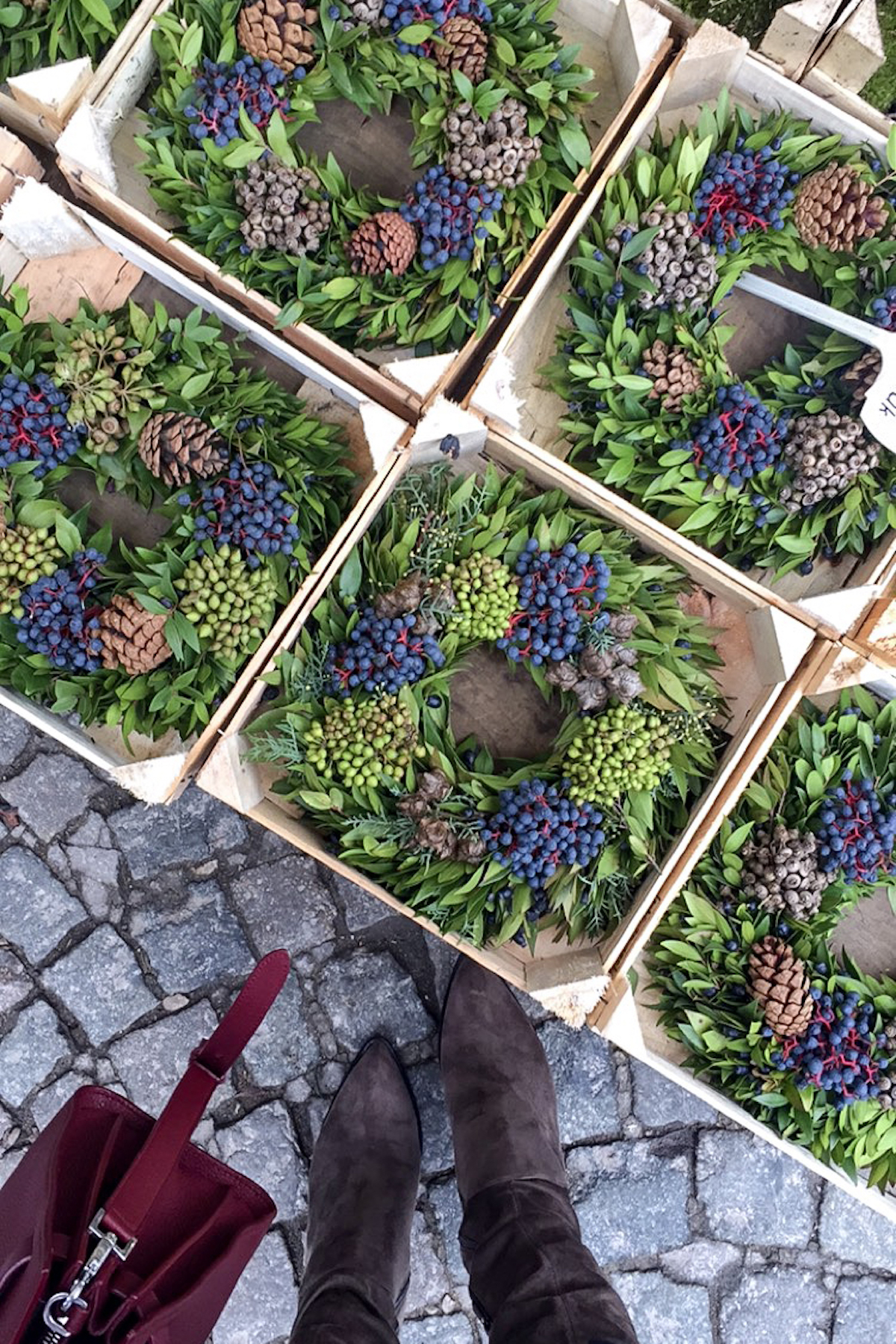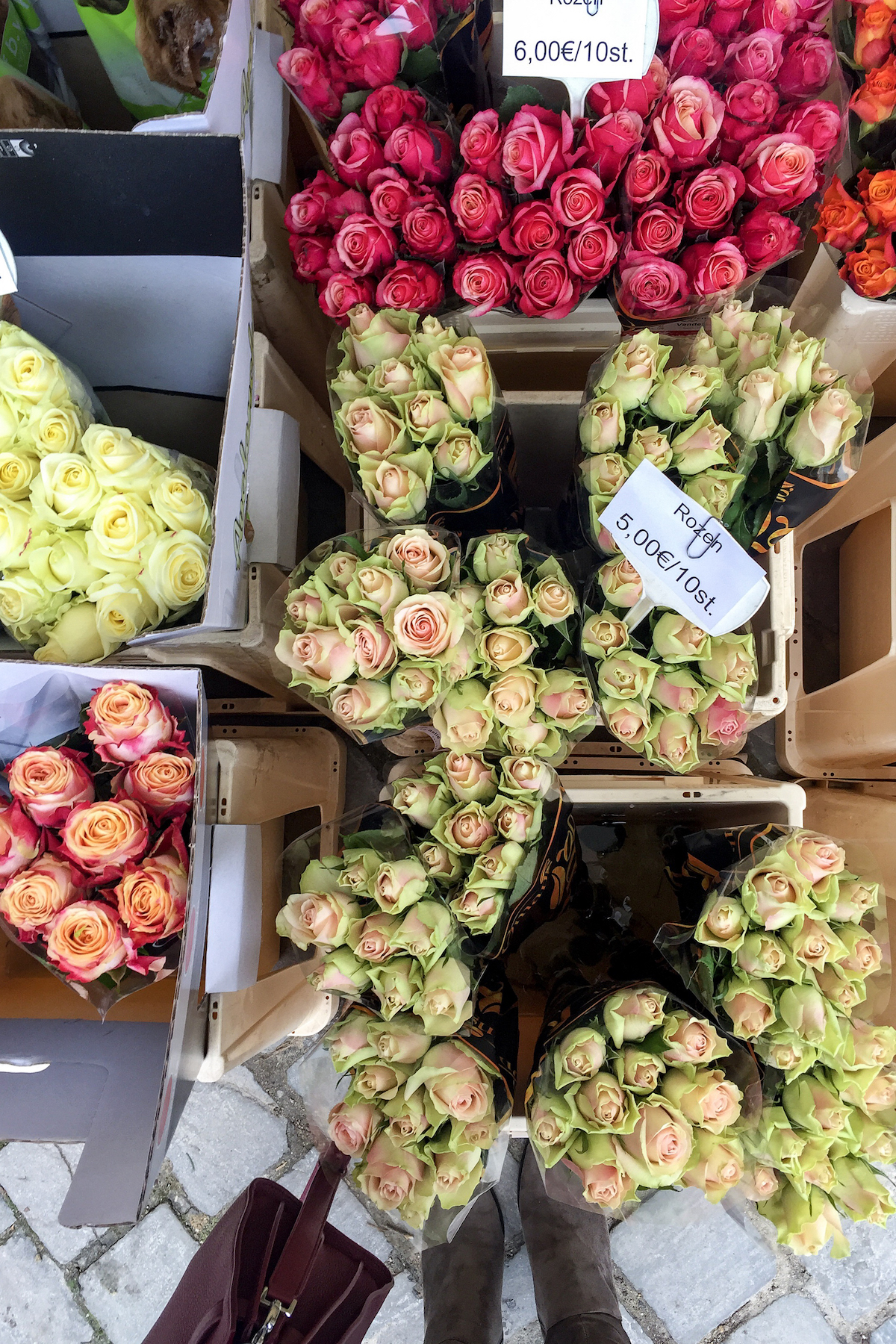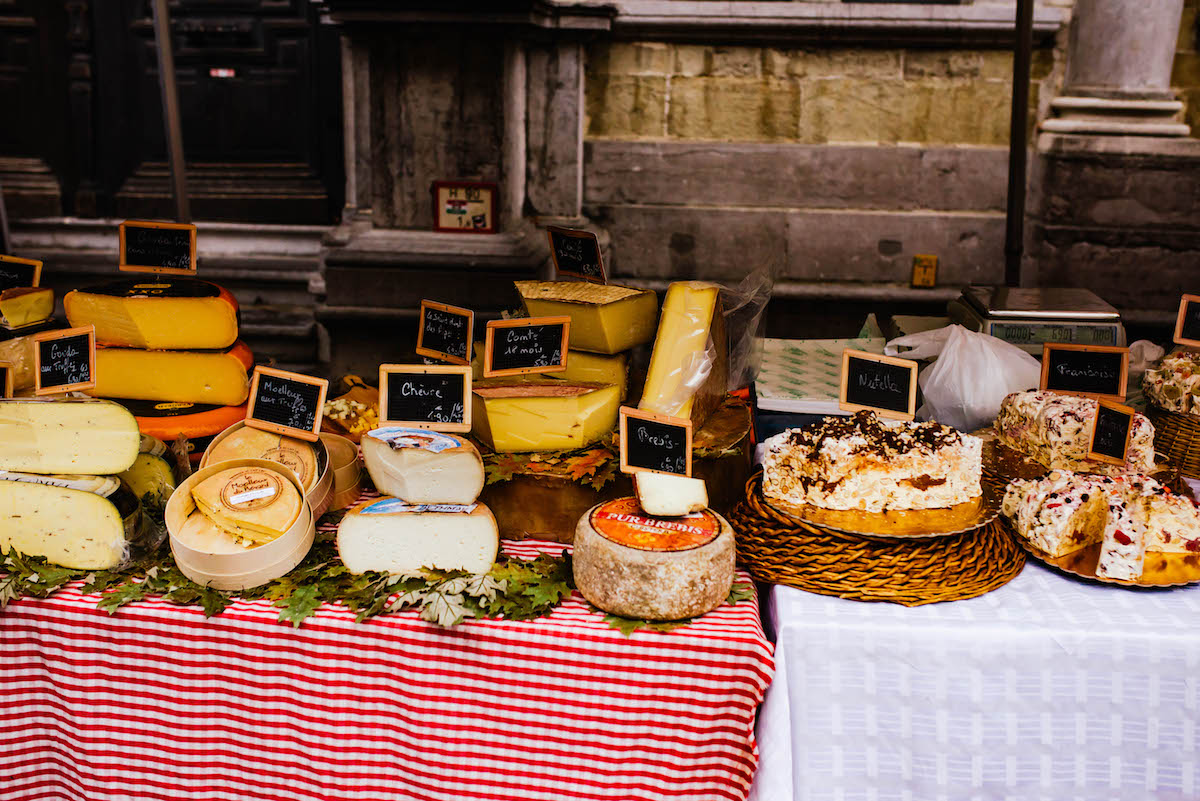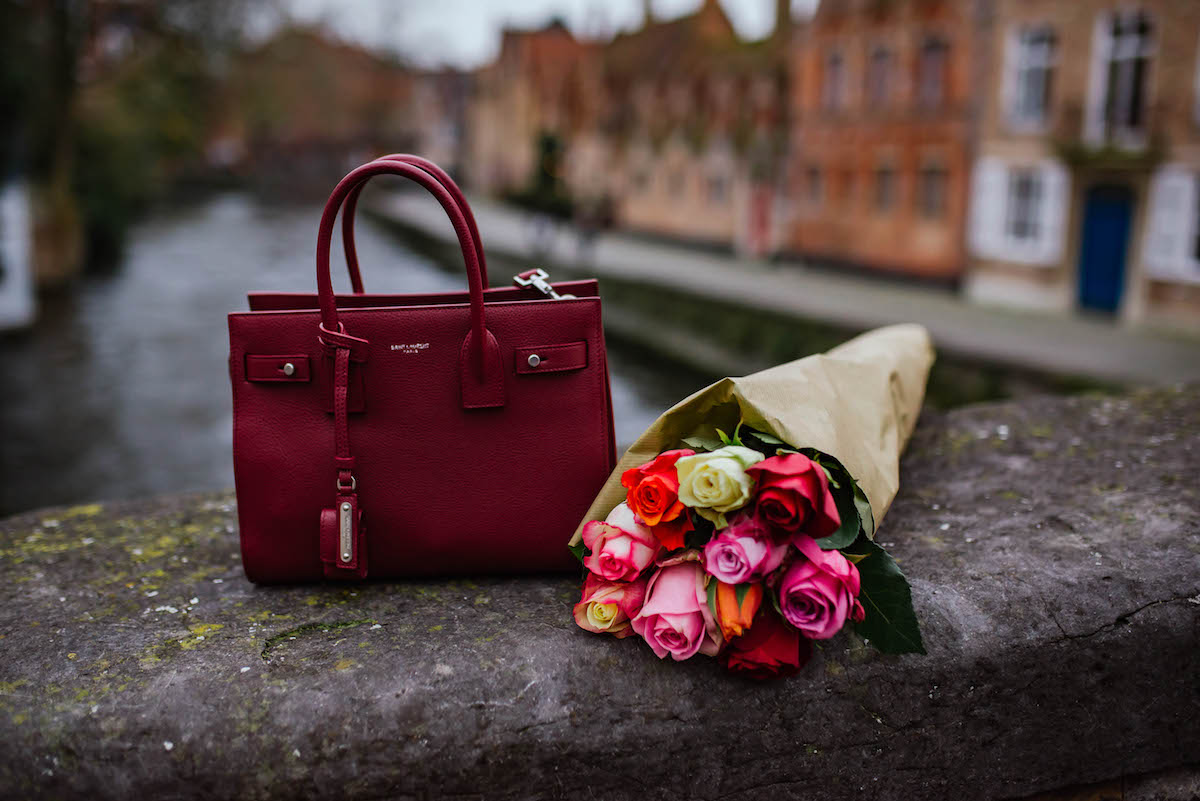 PS I gave this bouquet to Tania as a gift since we were leaving the next day 🙂
Belgium is known for beer so of course we had to visit a brewery. Next we headed off towards Bruges' most notable (and I think maybe the only?) brewery, De Halve Maan to try some of the local sips. We weren't in the mood to do a tour, so we just sat down at a table and ordered off the menu. It was crowded, but right away we were greeted by a server who brought us our beer and a Belgian waffle with chocolate sauce (for me.)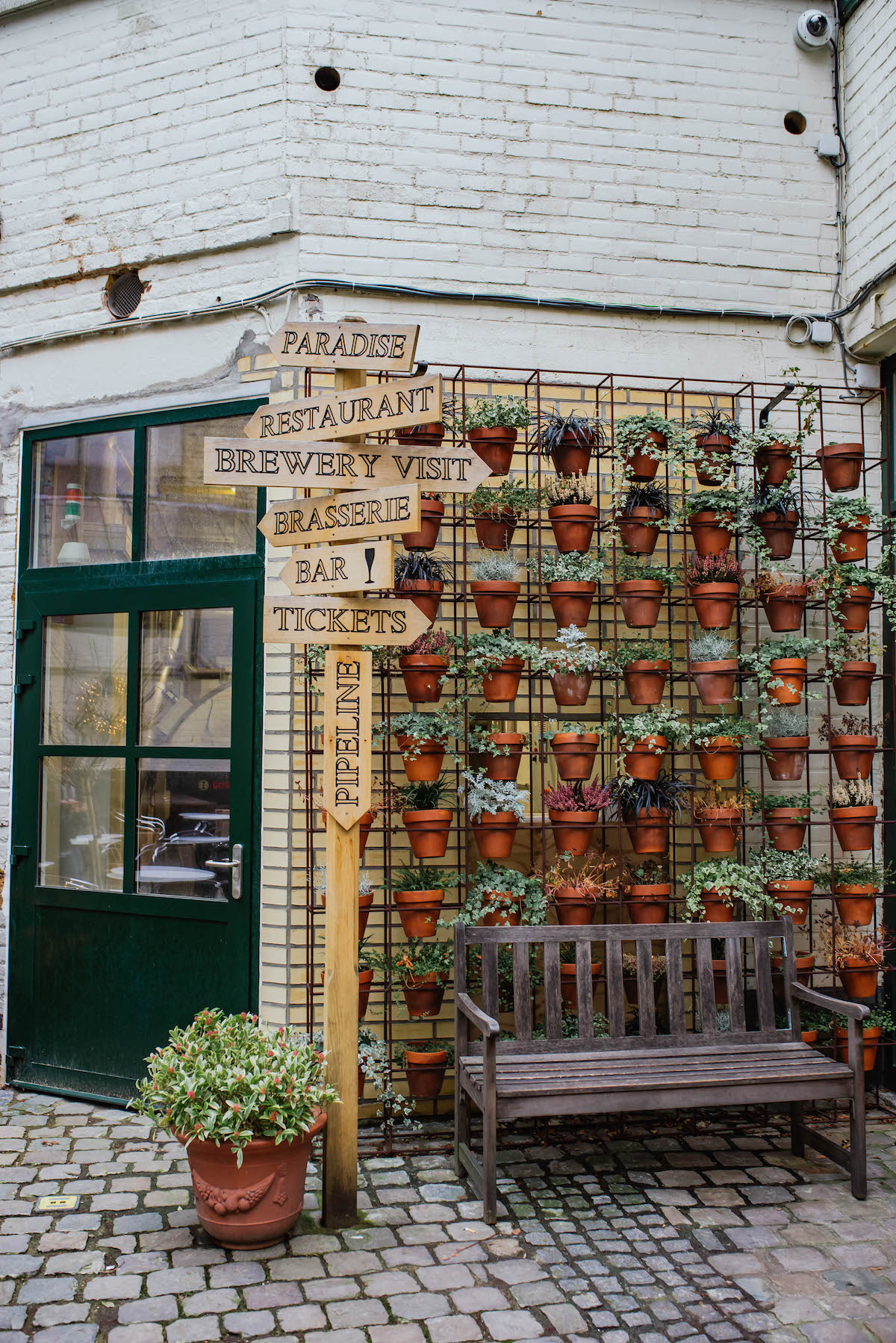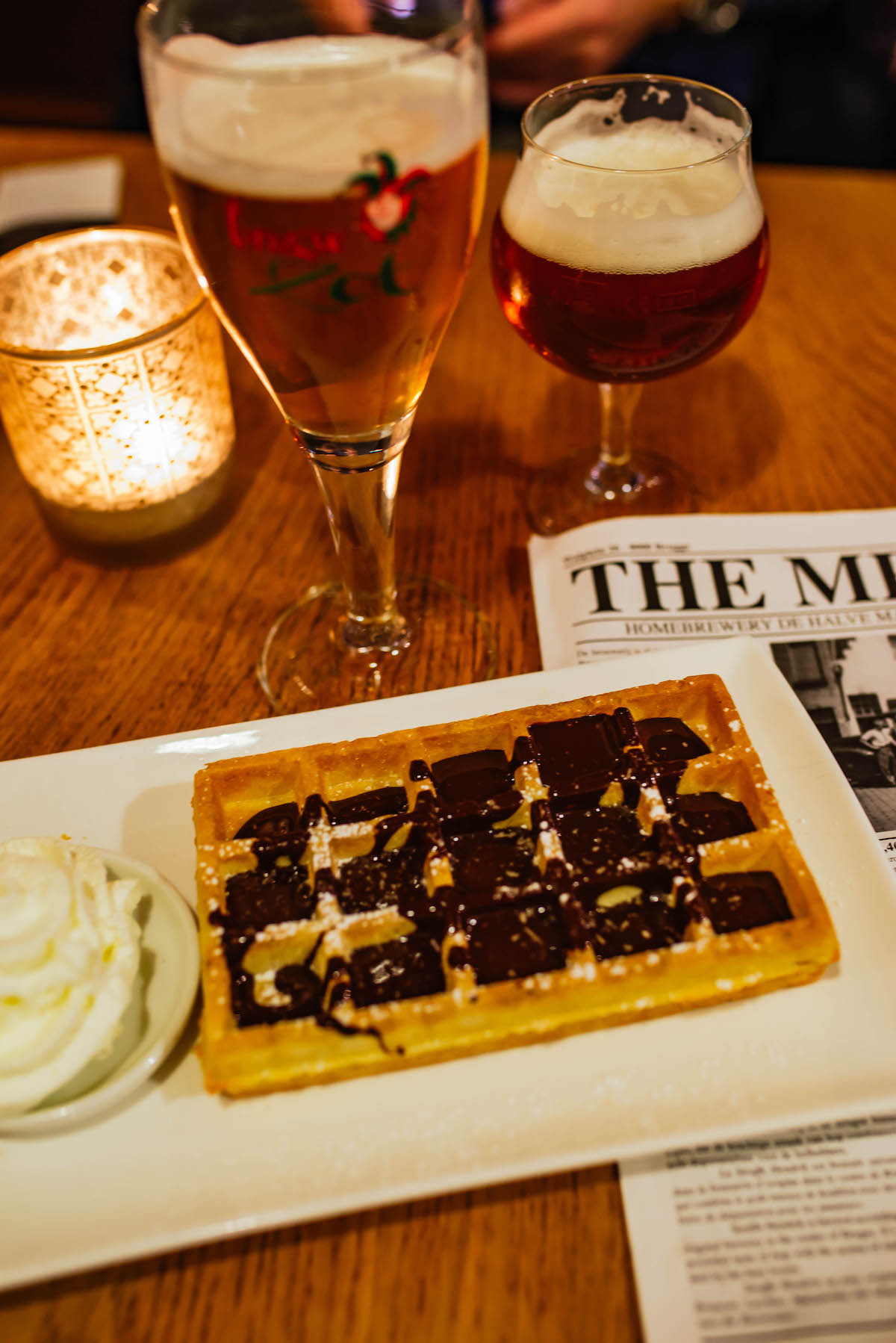 To be completely honest we weren't that impressed with the brewery. The beer and food was great, but the decor and atmosphere felt like it could've been any restaurant in the U.S. There was nothing "special" about it if that makes sense? After one drink we left in hopes of finding another bar with more of an authentic vibe.
Eventually we ended up at Bar Des Amis (of course I got distracted along the way by more pretty shops and Christmas decorations) where we enjoyed another brew each in a spot that was much more pub-like and Belgian– just what I wanted. After getting our beer fill we ventured off to The Markt and checked out Bruges' main Christmas market before heading to an early dinner at Restaurant Debottelier.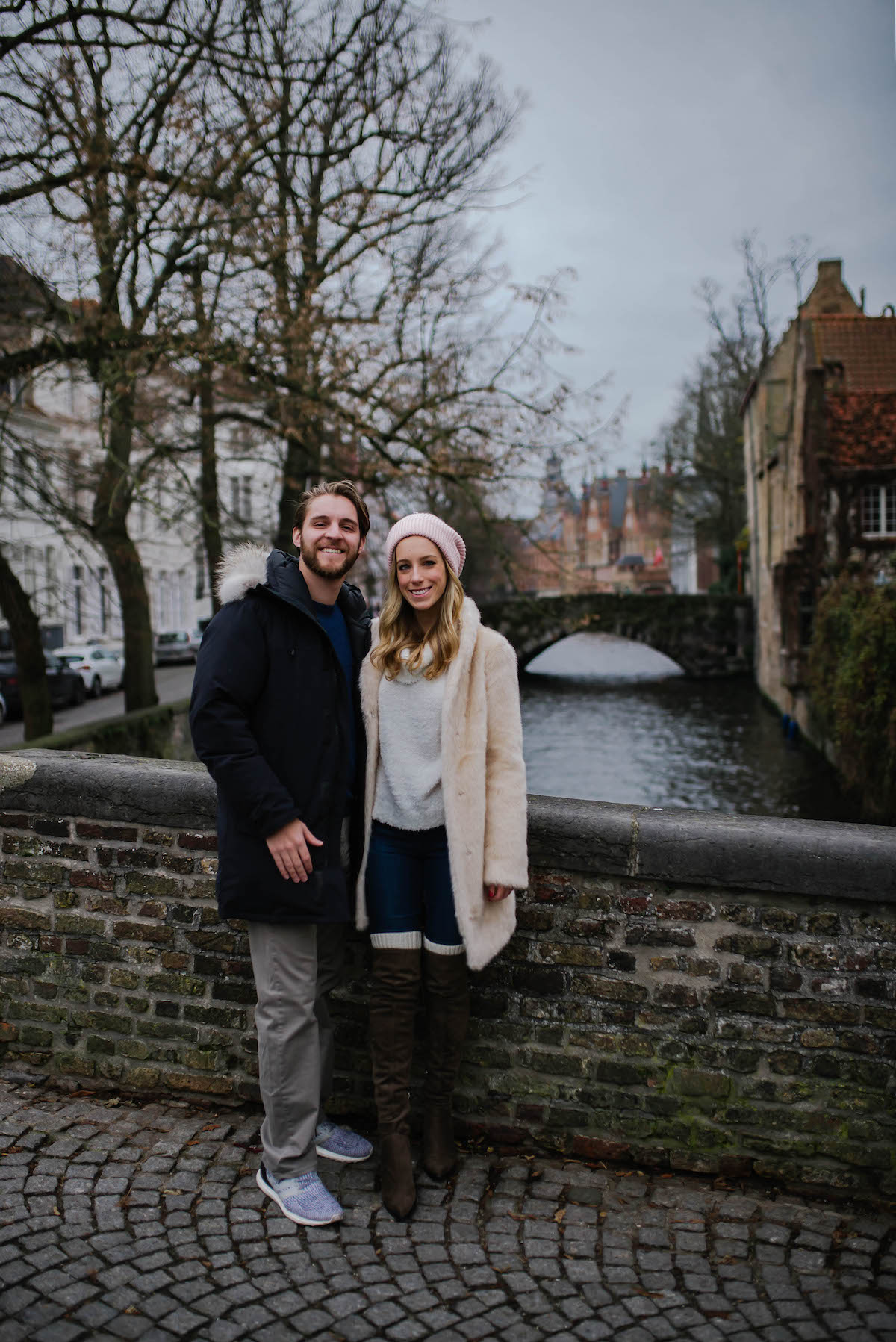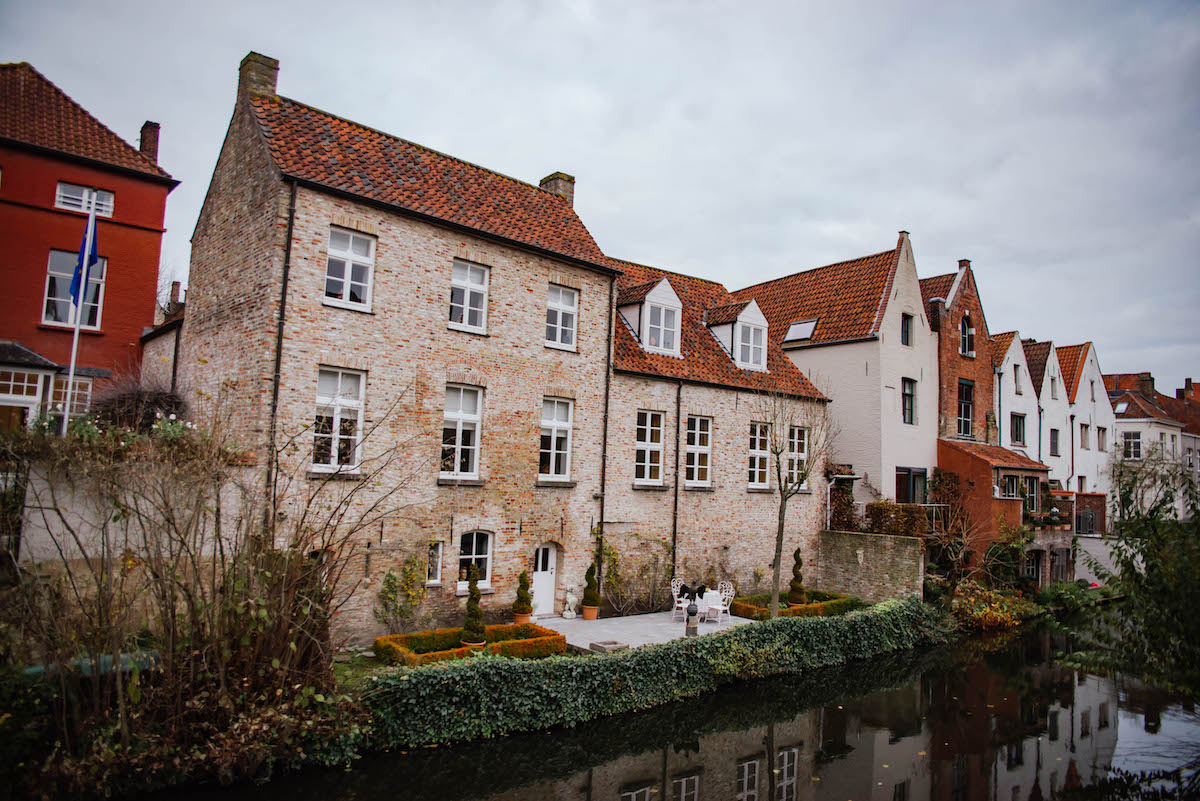 The restaurant is located in a sweet little home adjacent to the canal (we accidentally walked past it at first!) and upon stepping inside you'll find thousands of clocks and hats decorating the walls. It was really fun and quirky.
So I didn't think it would be possible to beat our dinner from the previous night, but we ended up loving our meal at Restaurant Debottelier even more. Nick ordered filet mignon, while I went for the goat cheese and sun-dried tomato lasagna. Throughout our dinner we talked a bit with the owner who told us he runs the restaurant with his wife. She does all the cooking and he does the serving. Talk about cute. 🙂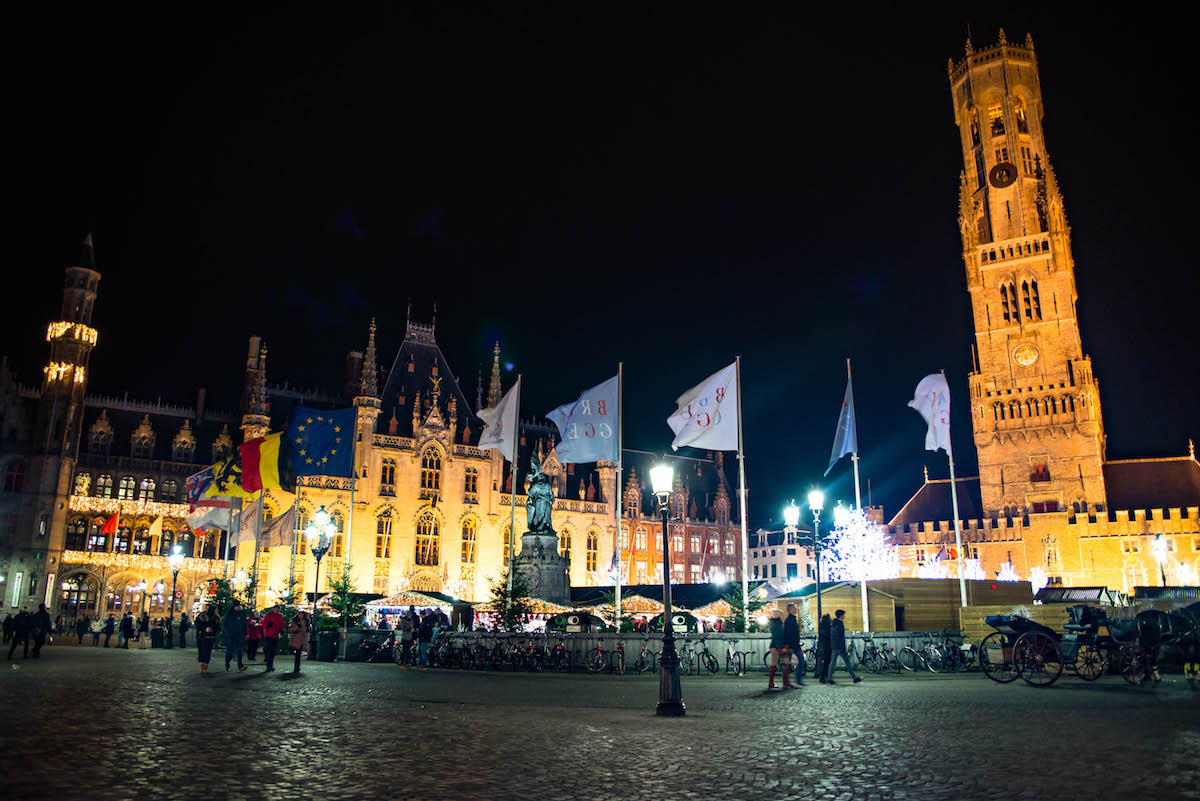 Since we had so much fun shooting at night in Paris, we decided to try our luck again in Bruges. We were a little bit tipsy after dinner (when in Belgium :P) so I'm pretty impressed with what we were able to capture. The towering Christmas trees in ever square and the lights adorning all the gingerbread-like houses were absolutely magical.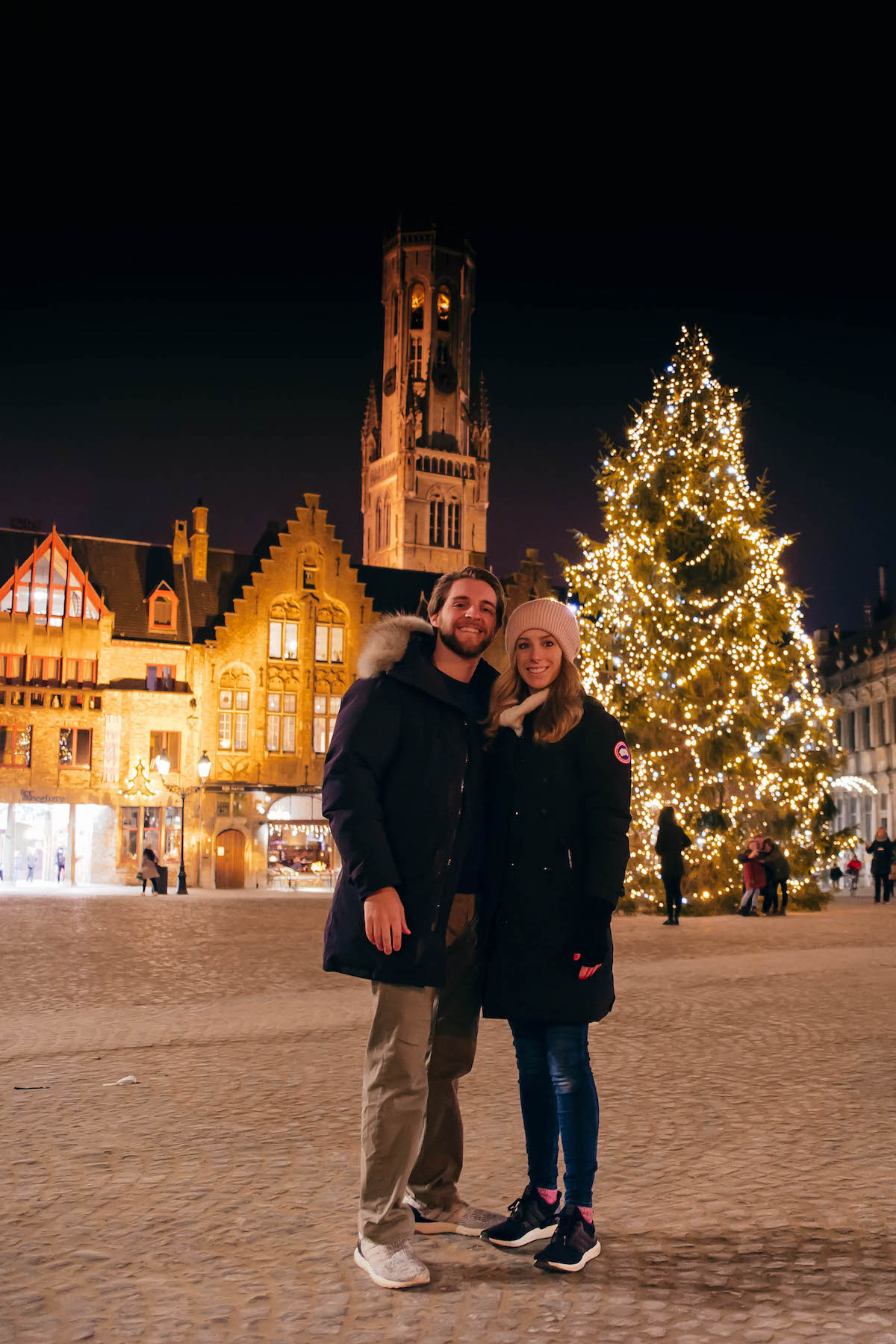 The entire day had us feeling on cloud 9 so even as exhaustion started creeping up on us, we didn't want the night to end. So after getting our photo fill we set off in search of Bruges' most secretive bar: De Garre. I had received a few messages telling me this was a place we couldn't miss and everyone was right. Now when I say secretive, I truly mean this bar is hard to find. Literally it's located in a Diagon Alley-like corridor off that you have to walk through in single file. Once in the alleyway, there's hardly any signage. Nick and I almost turned around because we were unsure what door was the bar.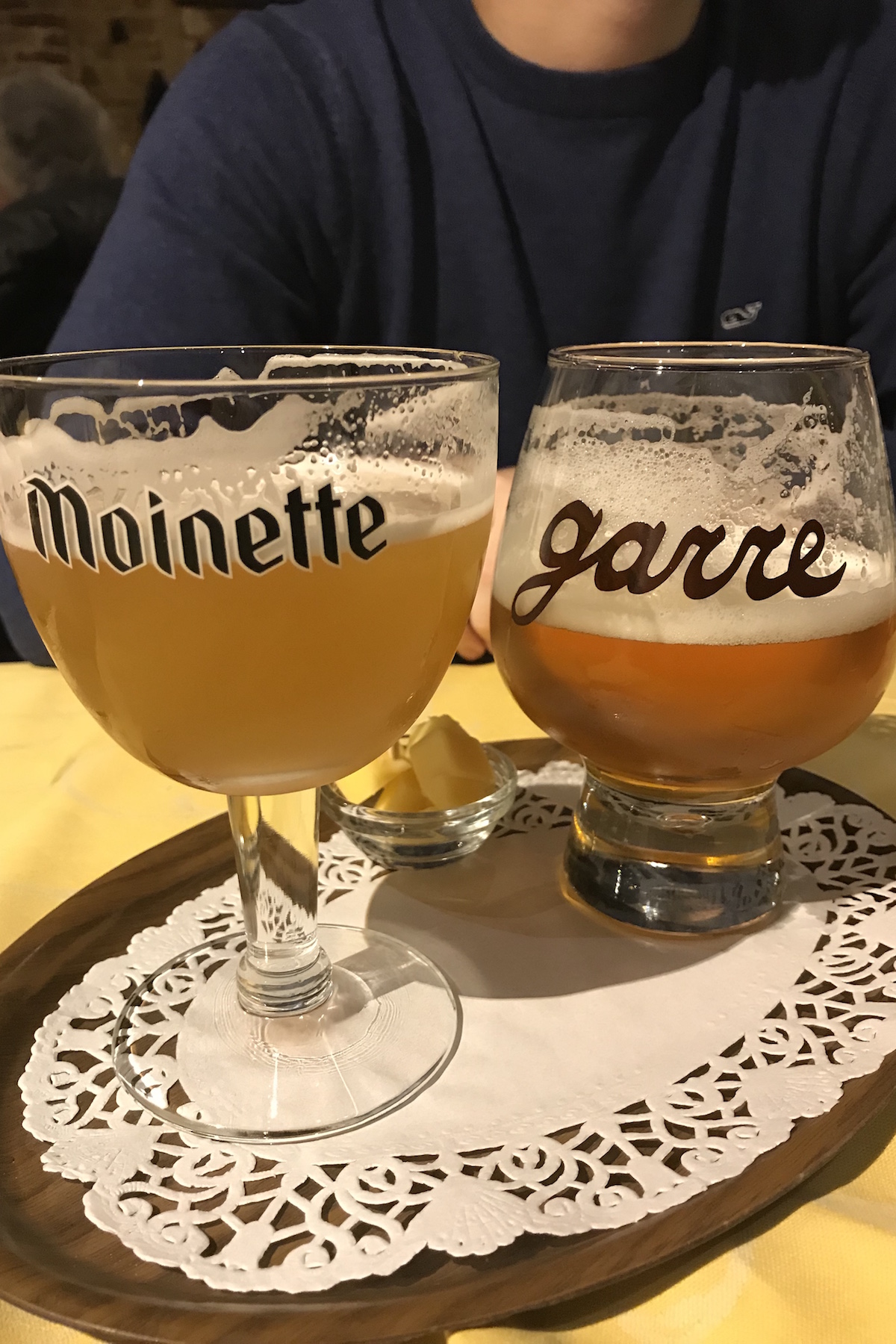 Eventually we found the entrance and upon walking in we found a surprisingly large bar full of cheerful tourists and locals alike. Though we probably didn't need anymore brews, Nick and I still indulged in two glasses of De Garre's famous house beer (they only sell it in the bar– nowhere else) and spent another two hours drunkenly detailing to one other what our business plan would be if we were to open our own bar and restaurant. The entire conversation was ridiculous and so over-the-top, but that's what I love about my relationship with Nick. We're the goofiest people we know and always have fun together no matter setting. Somehow we made it back to Number 11 for a much-needed sleep before heading off in the morning to the final city of our Eurotrip: Amsterdam.
Oh Bruges, you were fantastic and magical. Thank you for making my dreams of living a real life fairytale come true! If you find yourself in western Europe please please please try and find a way to visit Bruges. You won't regret it! 🙂
- Katie