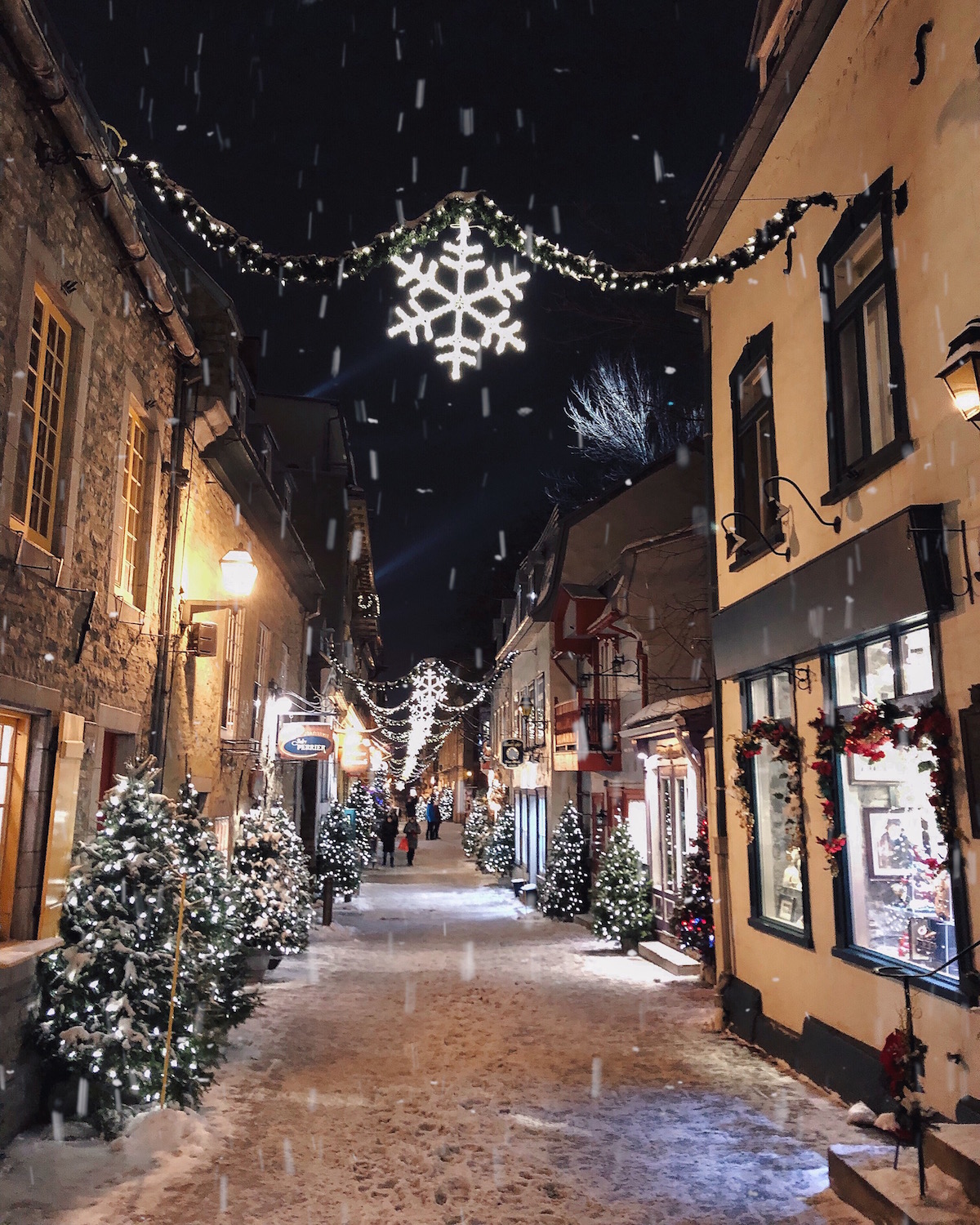 Oh Quebec City! I'd had this magical place on my bucket list for a few years and I'm happy to say that it 100% lived up to my expectations. Talk about a winter wonderland! Carter and I took a little holiday-themed girl's trip last week and had the best time staying at the beautiful Fairmont Le Château Frontenac and exploring Old Quebec City. It was a short and sweet two night trip, but we still left feeling like we saw so much and got a major fill of Christmas cheer. If you're looking for a charming winter destination to visit on your next trip, I highly recommend Quebec City!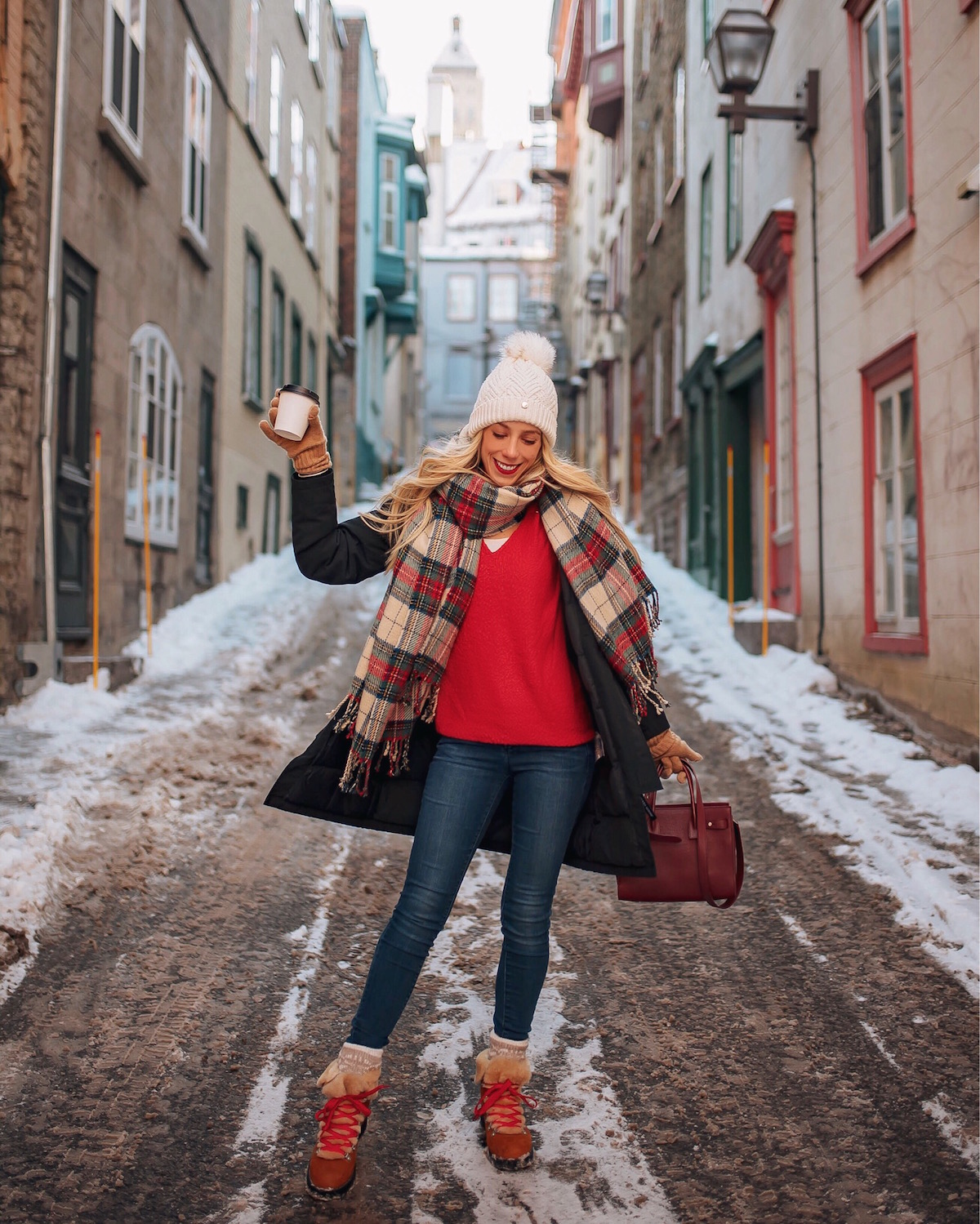 OUTFIT DETAILS // Down Parka | Sweater | Skinny Jeans | Boots | Plaid Scarf | Saint Laurent Bag | Similar Beanie | Knit Socks | Gloves
QUEBEC CITY DECEMBER TRAVEL GUIDE
what to pack
If you're planning a trip to Quebec City in the winter you need to pack warm clothing. I repeat. You need you pack warm clothing. The essentials absolutely include a down parka and weatherproof snow boots that are suitable for below freezing temperatures. It was in the 20s my first day in Quebec City, but by the next morning it had dropped down to the 10s and the following day was a balmy 7 degrees.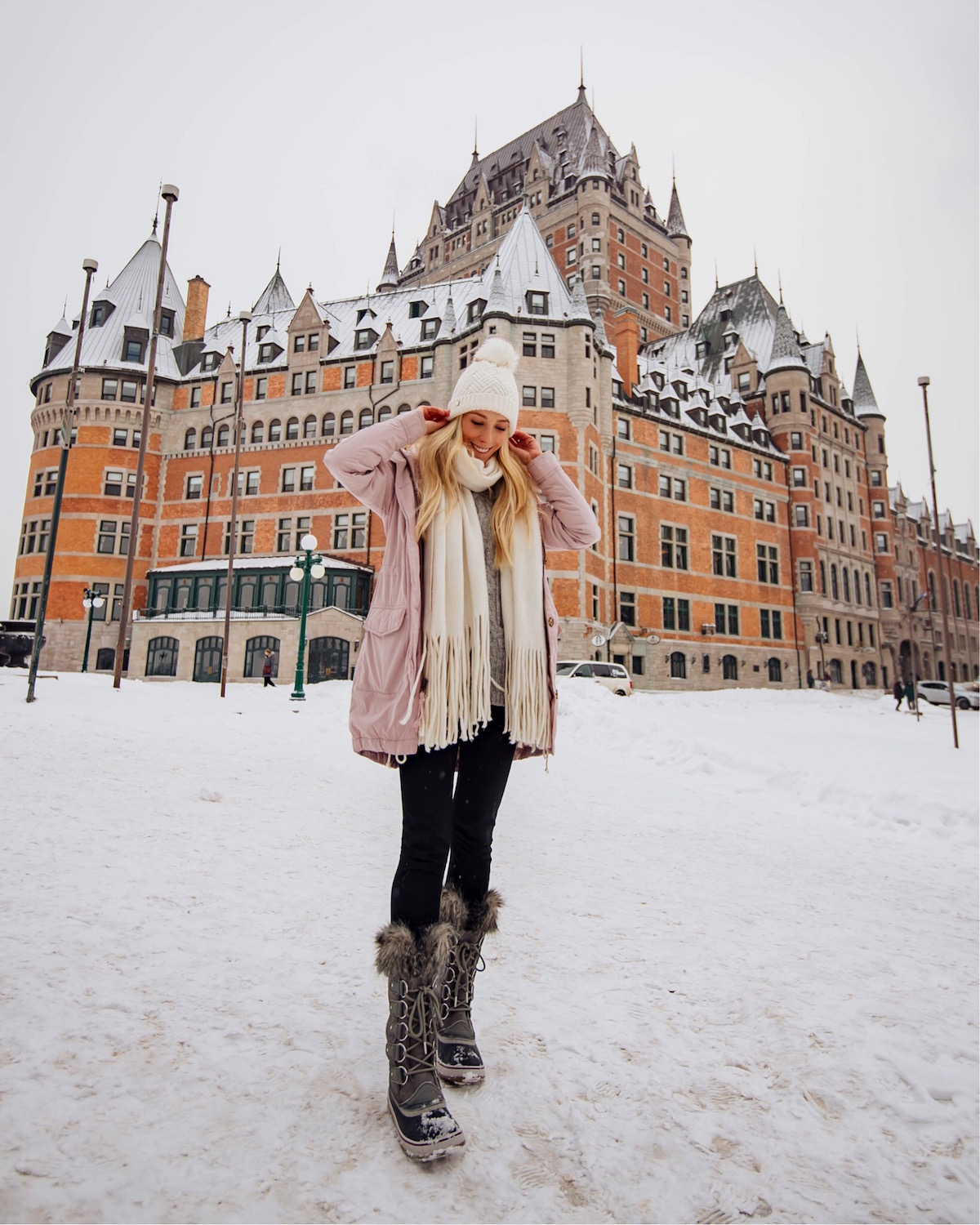 OUTFIT DETAILS // Abercrombie Sherpa Parka | Grey Sweater | Leggings | Sorel Boots | Similar Beanie | Fringe Scarf
Beyond a coat and boots you'll need all the winter accessories: a warm hat that covers your ears, gloves, scarf and very thick socks (I layered 2 pairs and my toes were still cold!) I included details on a few of the exact outfits I wore later on in the post, but below you'll find some of my cold weather clothing recommendations. These are the boots I wore most of the trip and I can't recommend them enough! I also am obsessed with my down winter parka.
WINTER PARKAS

SNOW BOOTS

COLD WEATHER ACCESSORIES

SWEATERS & PANTS

where to stay
FAIRMONT LE CHATEAU FRONTENAC
If you're visiting Quebec City there's no way you can miss the Fairmont Le Château Frontenac. This gorgeous castle-like hotel is conveniently located within the city walls of Old Quebec making it the perfect place to stay if you plan to explore on foot. While the hotel has historic roots, it's been completely restored so you can expect all the modern amenities and level of service you'd find at any 4-star luxury resort. Carter and I shared a Deluxe City View room and could not have been more comfortable. I don't think I've ever slept in such a cozy hotel bed!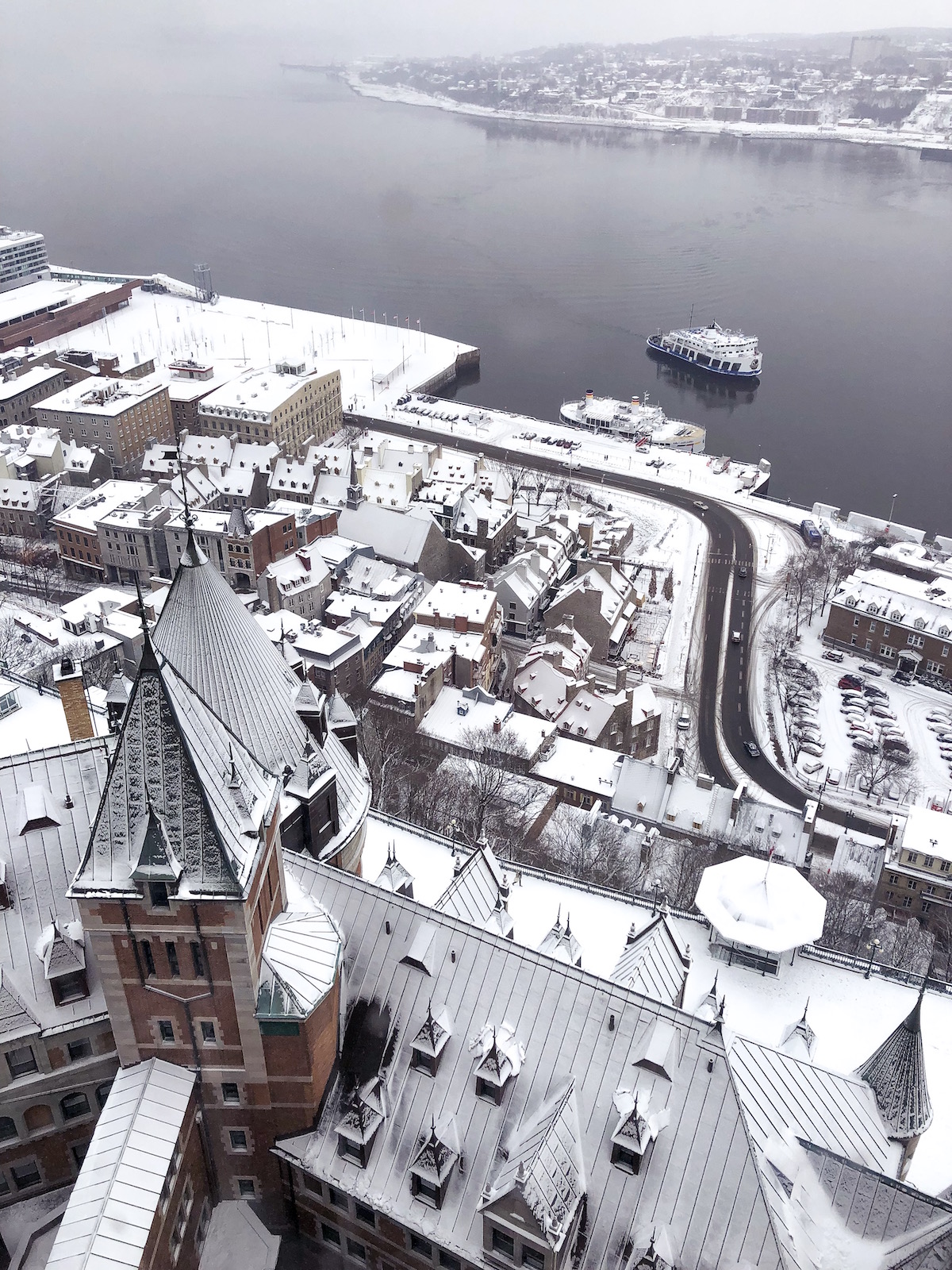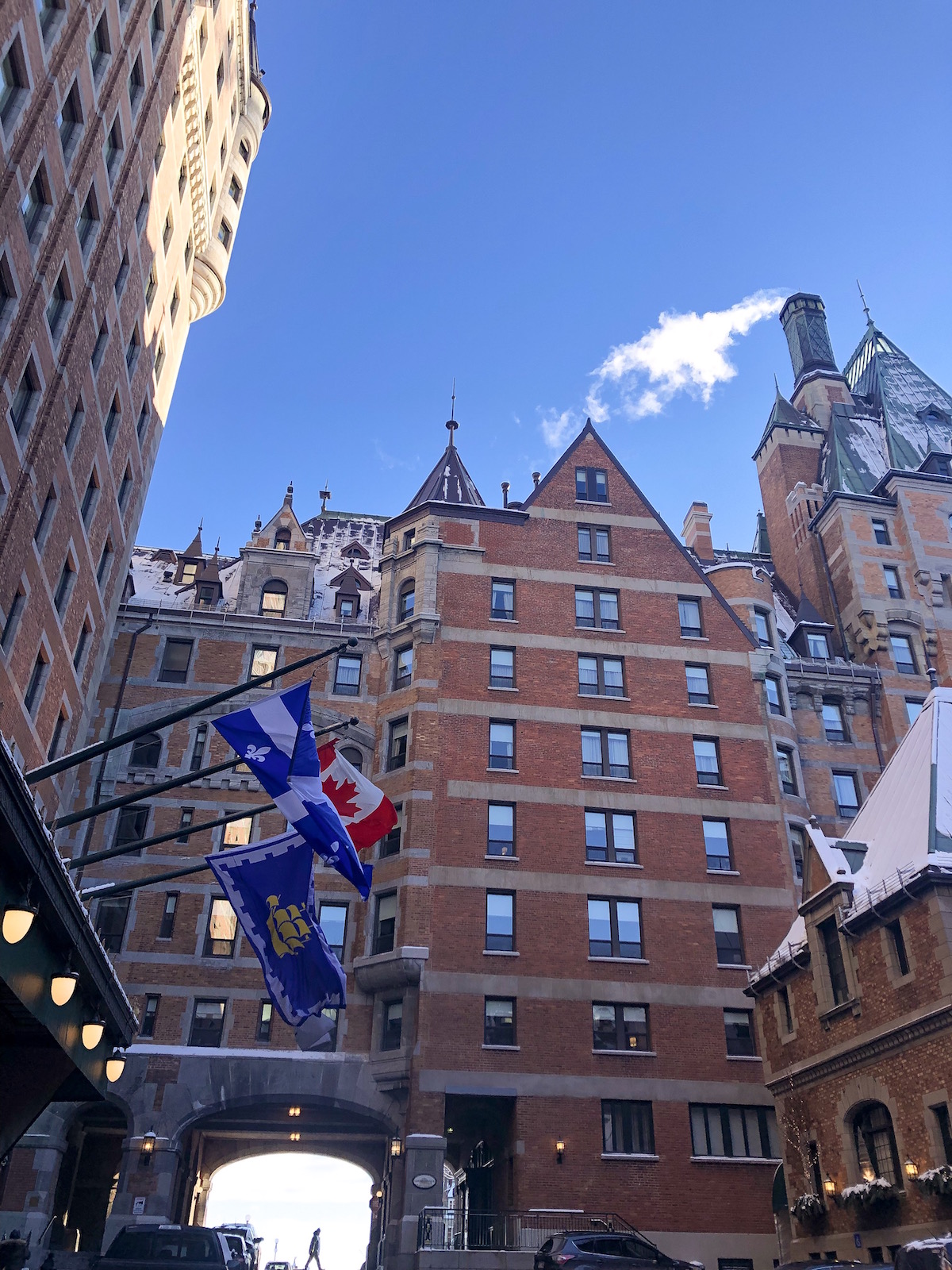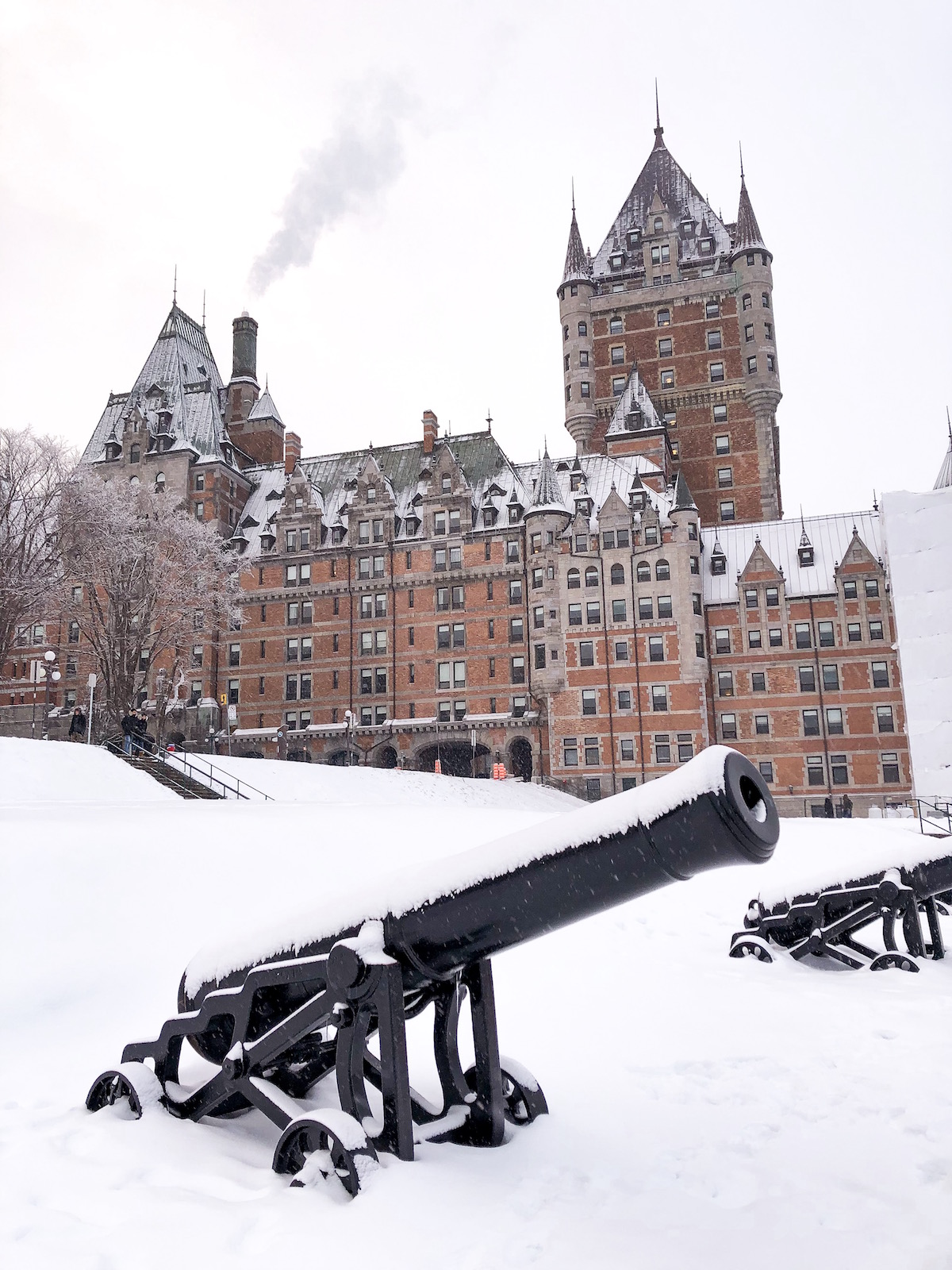 The Fairmont Le Château Frontenac is BIG. There are over 600 guest rooms so you truly feel like you're staying in a large castle (or you're a student at Hogwarts :P) As December is one of the most popular months for tourism in Quebec City, the hotel was at full capacity while we were there, but it really didn't feel crowded or congested. To be honest I actually enjoyed seeing so many other travelers and families visiting for holiday-themed trips with their kiddos.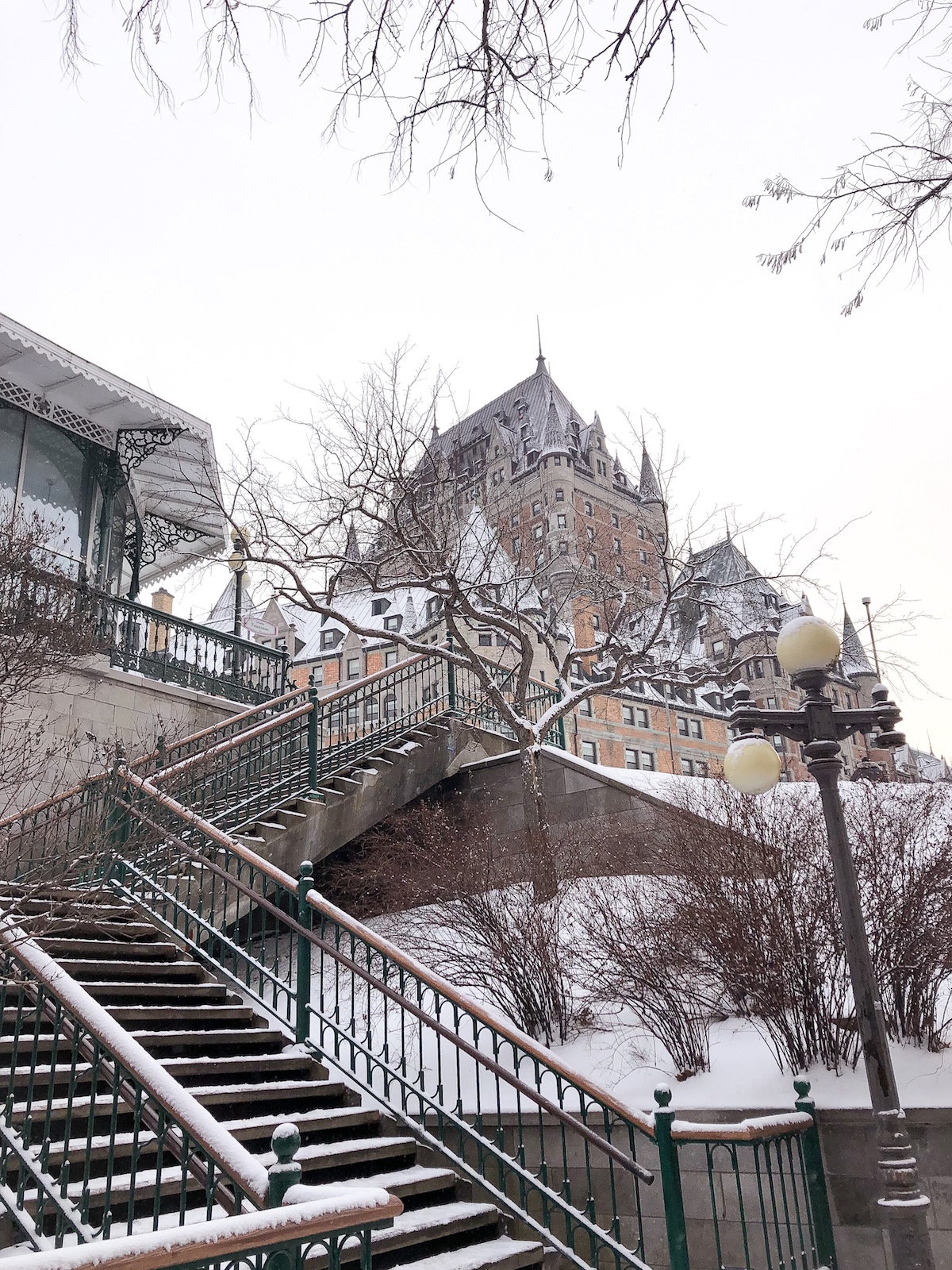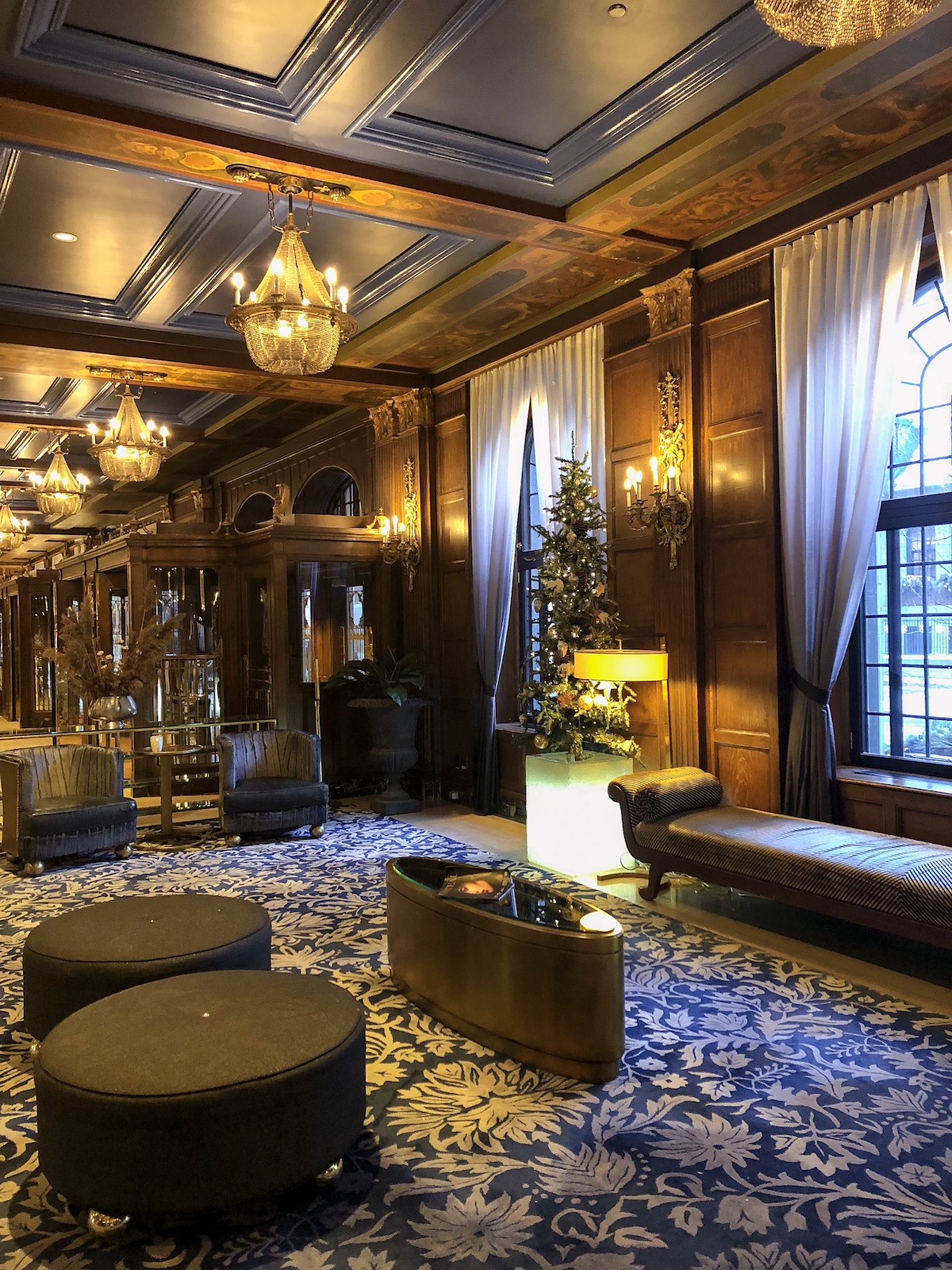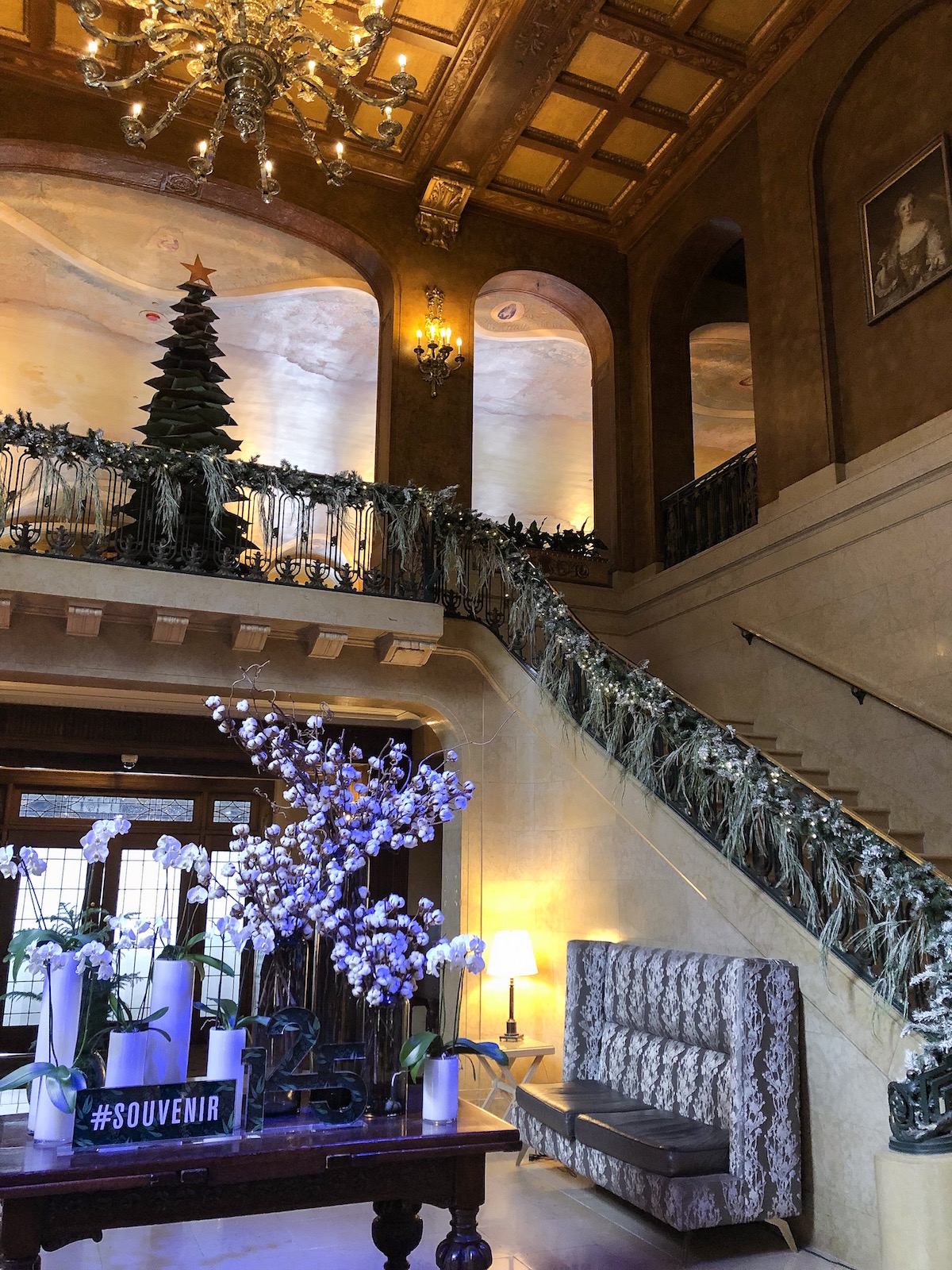 As you can see from my photos, everything about the hotel was so enchanting from the outer architecture to the elegant interiors seen in the lobby and restaurants. It's elevated setting also makes for some incredible views of the surrounding city and St. Lawrence River. Can you imagine living here?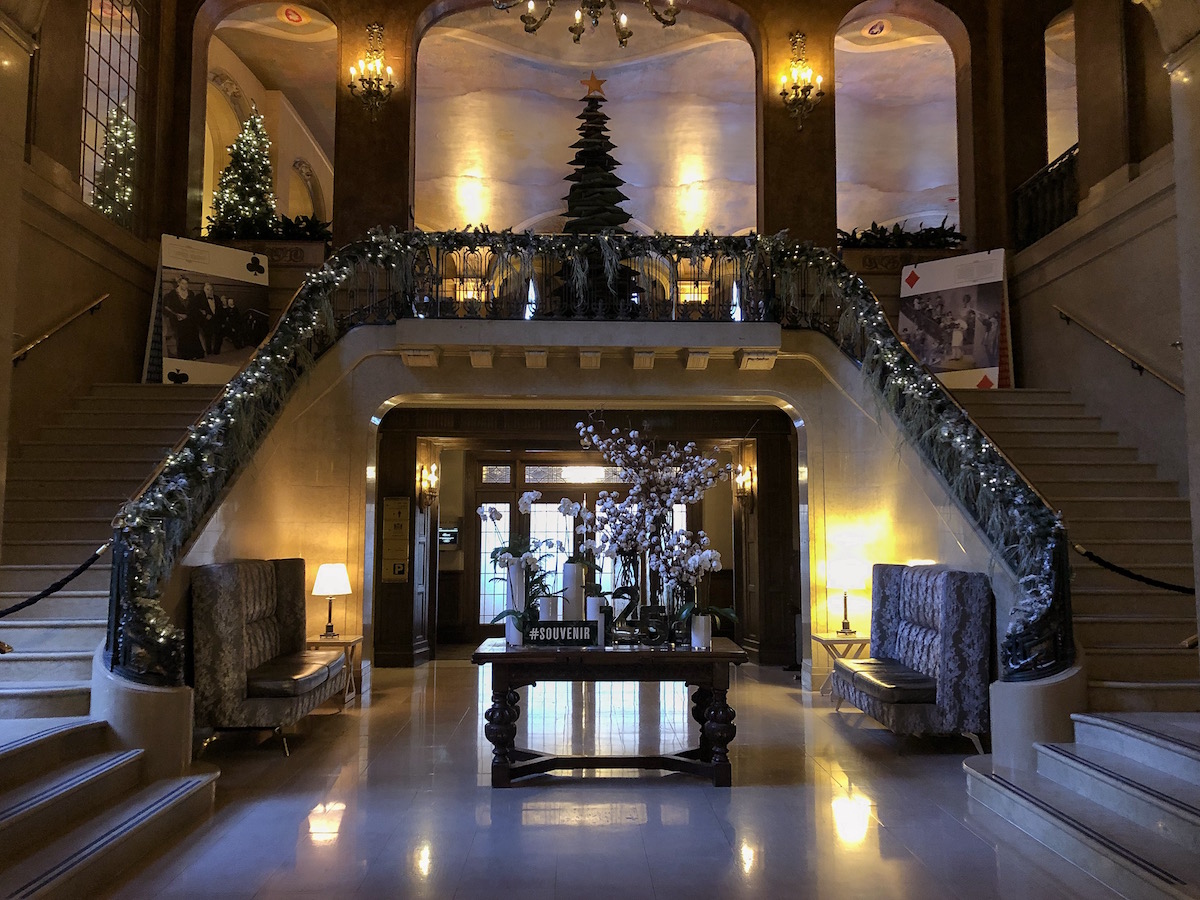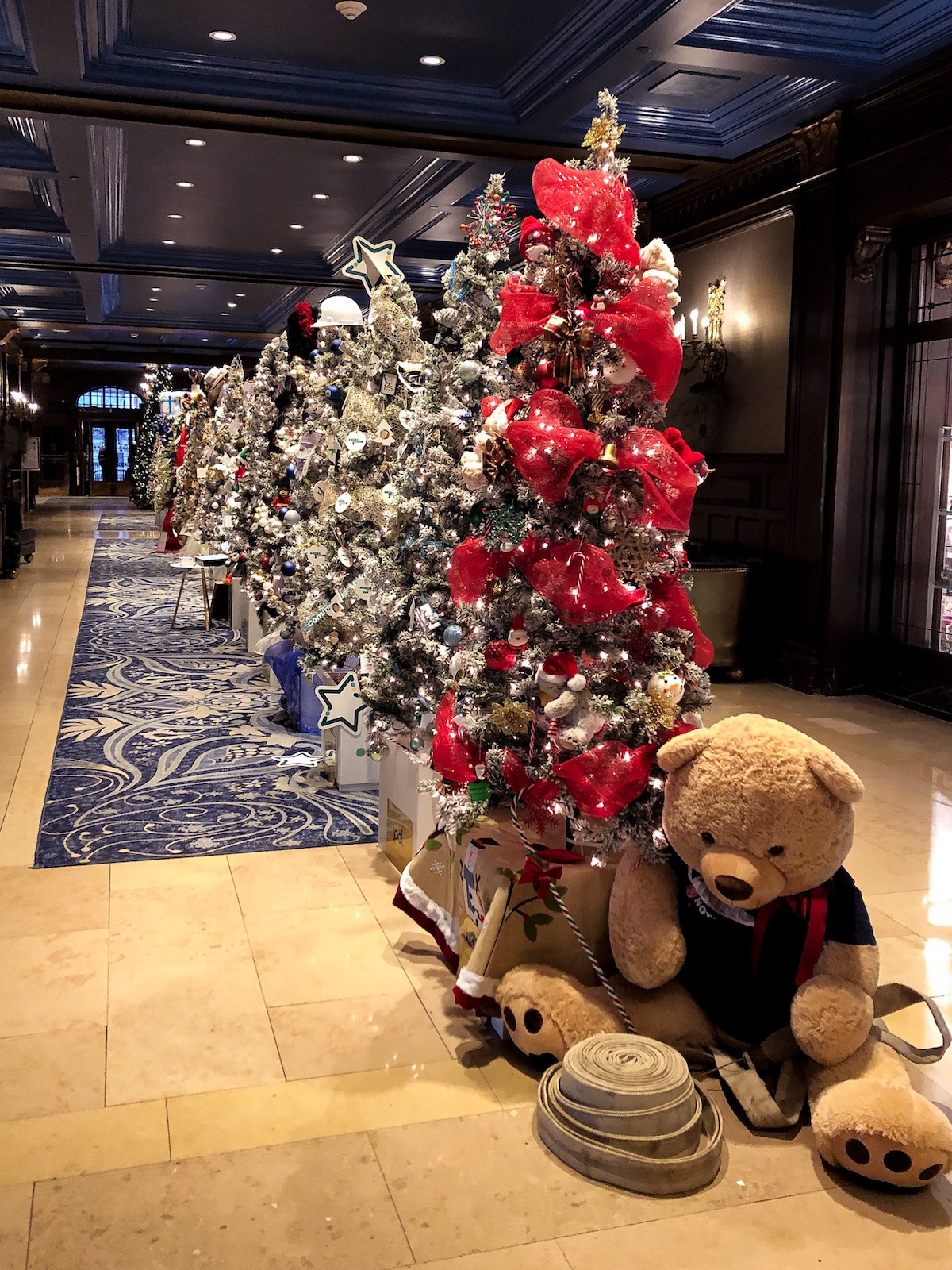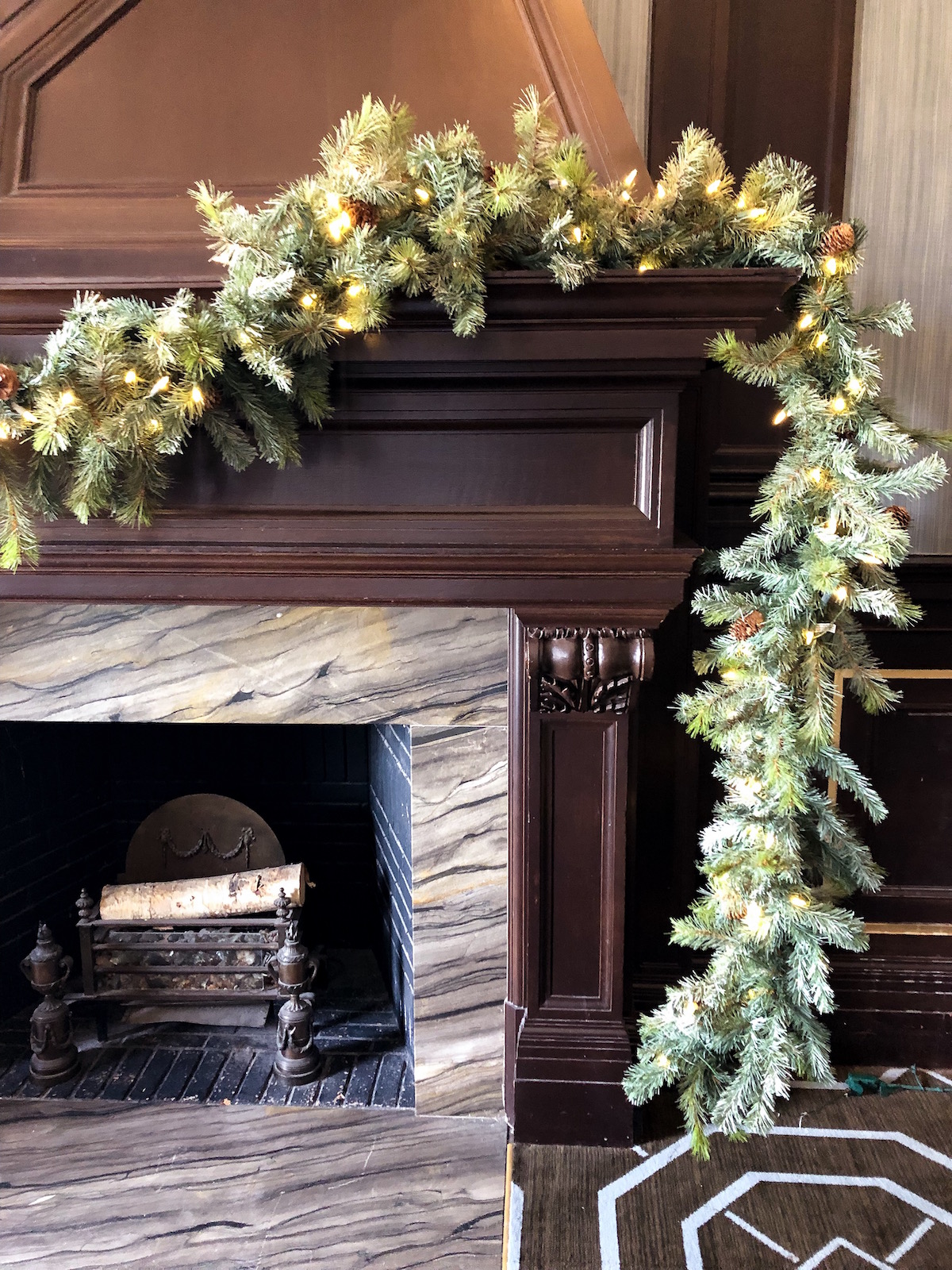 Other than the Uber we took to and from the airport, we didn't have any need for a vehicle during our time in Quebec City. It's very walkable and there are many shops, restaurants and Christmas markets within a 5-10 minute walk of the hotel. I would just note that since the hotel is located in an elevated area of Old Quebec, you will have to tackle walking up and down a significant amount of stairs to reach Quartier Petit Champlain and some of the other areas of Old Quebec near the river. If that doesn't sound too appealing to you or you're traveling with a grandparent or kiddos, there is the Funicular (a cable car) that you can ride up and down the hill for $3 one way.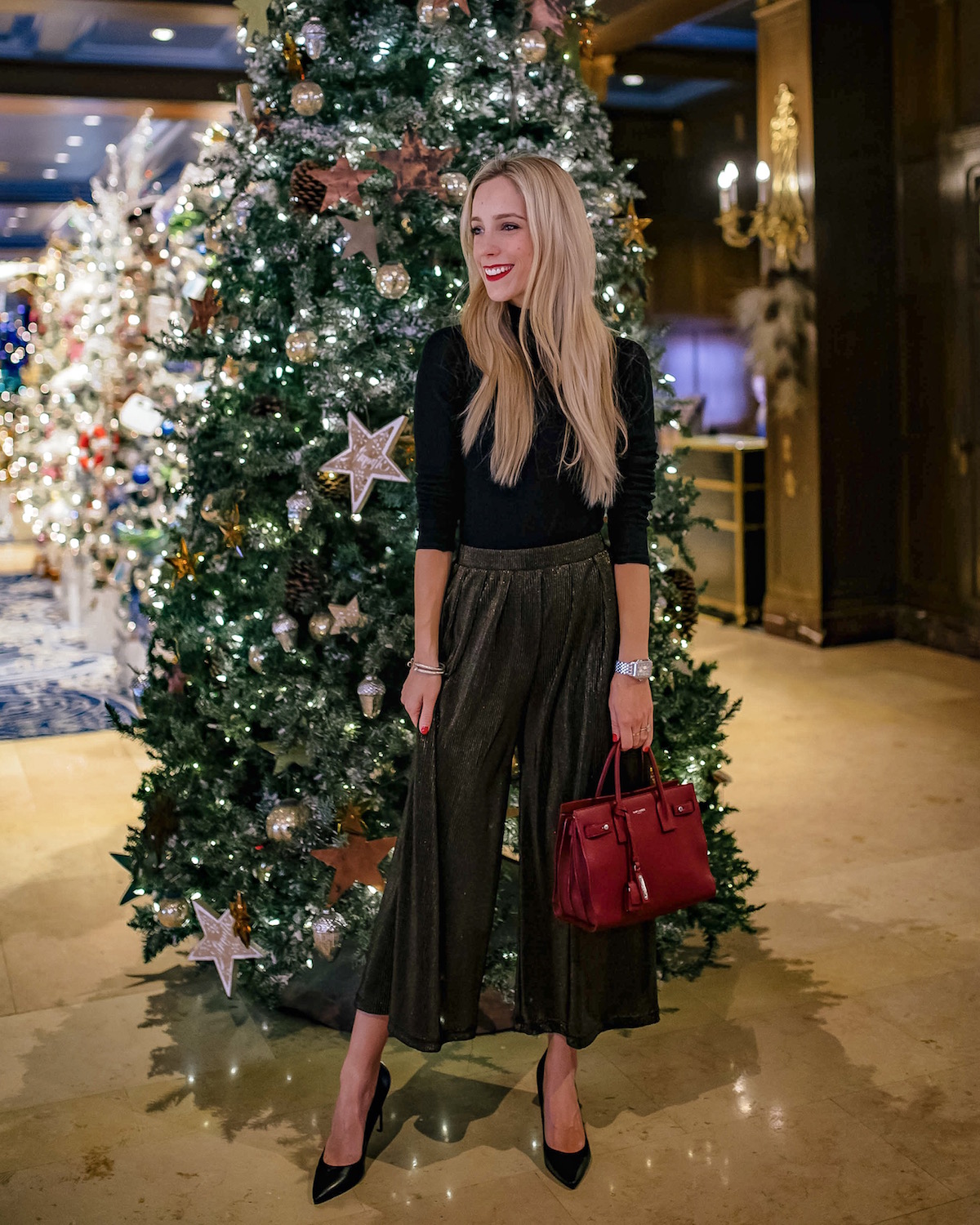 OUTFIT DETAILS // Wide Leg Pants | Knit Bodysuit | Black Pumps | Saint Laurent Bag | Watch | David Yurman Bracelets | Lipstick
day 1 itinerary
LUNCH:
La Buche
DINNER:
Lapin Sauté
SIGHTSEEING:
Quartier Petit Champlain
Quebec City toboggan slide
Quebec City boardwalk
Rue Sous le Fort (street for good photo opp)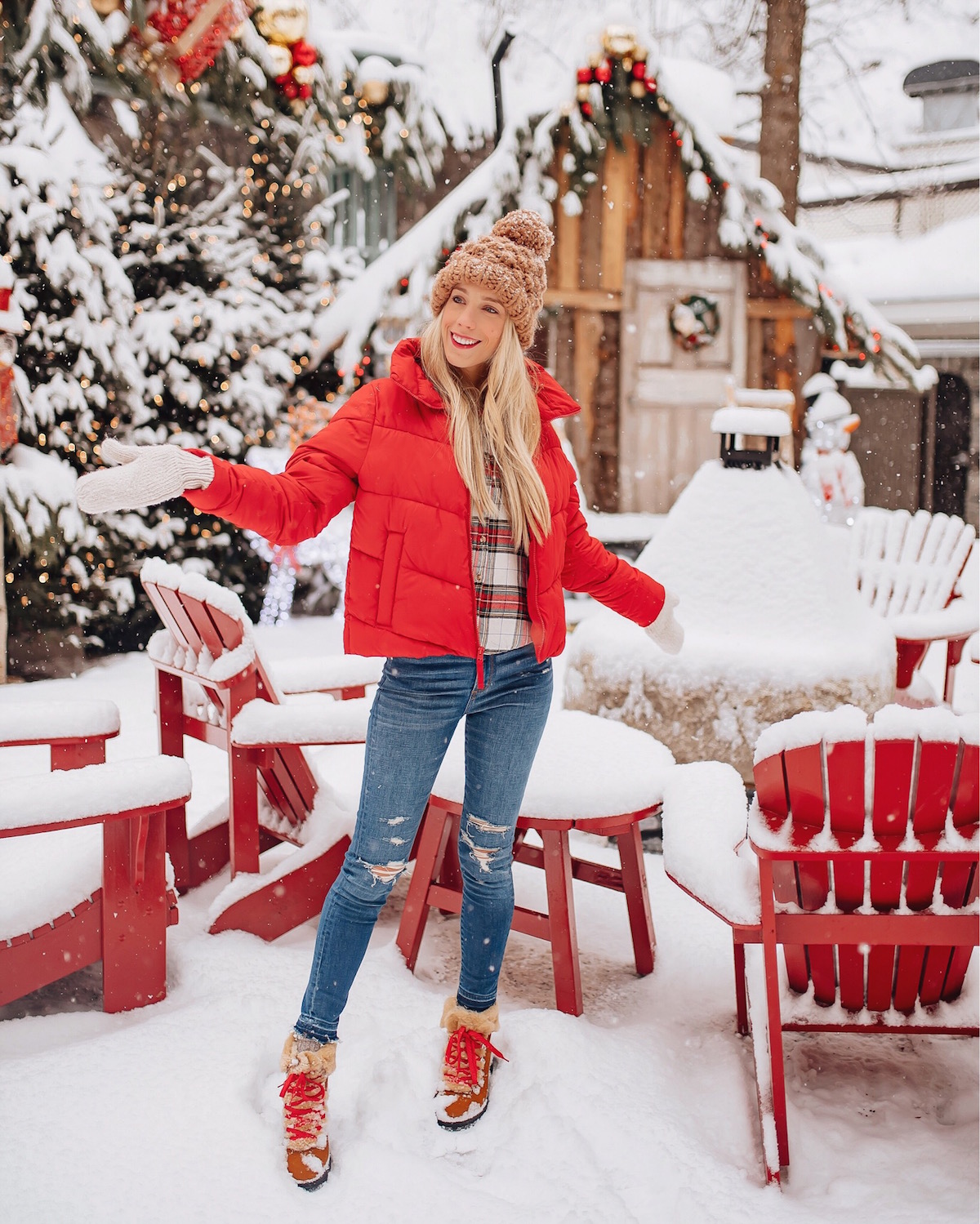 OUTFIT DETAILS // Abercrombie Puffer Coat | Plaid Shirt | Distressed Jeans | Boots | Beanie | Mittens
We wanted to make the most of our first day, so we booked an early morning flight that got us to Quebec City and checked into our room by noon. We had a connection Montreal, but other than it was super easy getting there from New York. We were famished by the time we settled in so the first thing we did was head straight to lunch at La Buche. It was just down the street from the hotel and we ordered all the fried things. I also couldn't resist trying La Buche's famous bloody mary. SO tasty.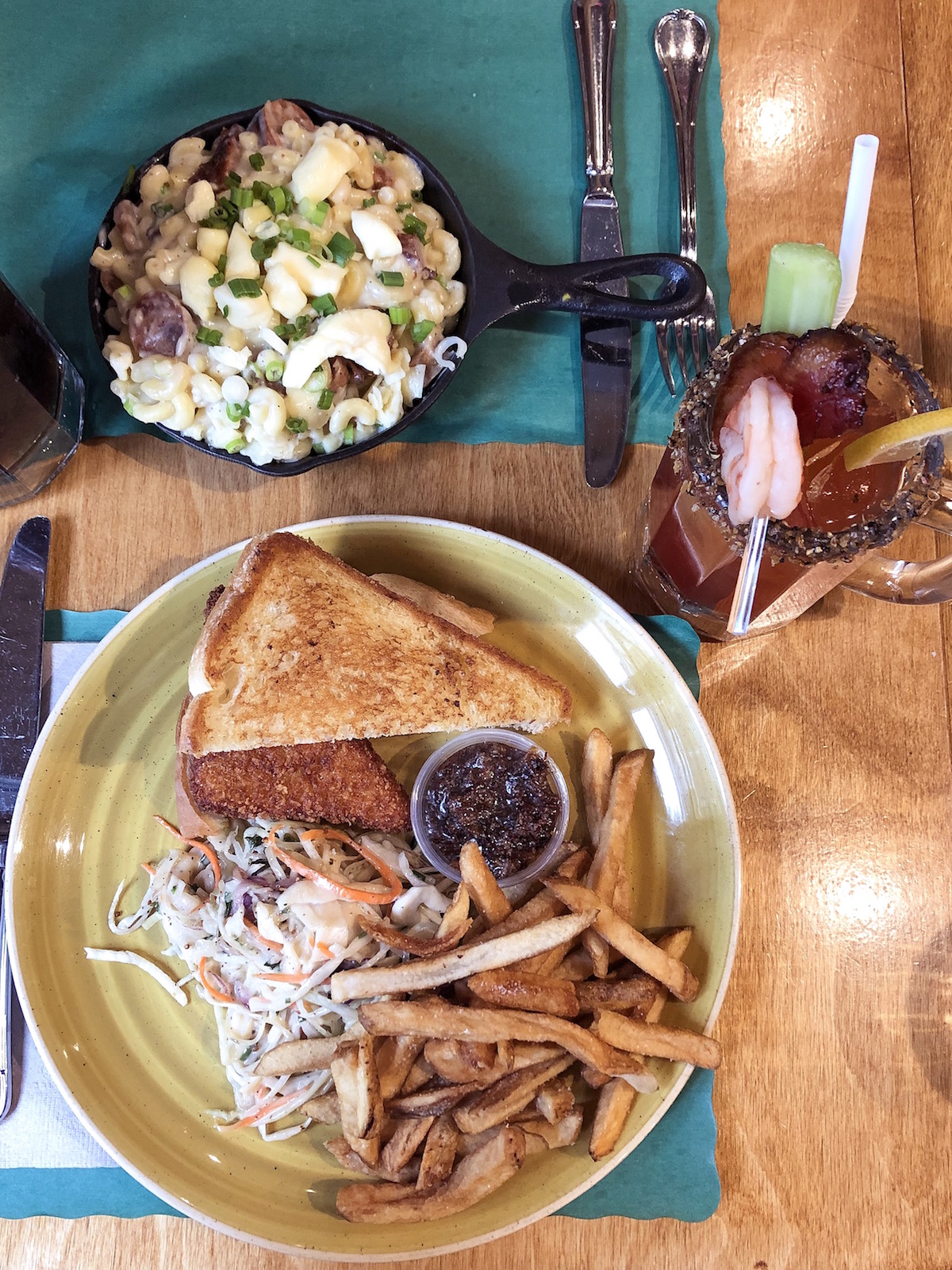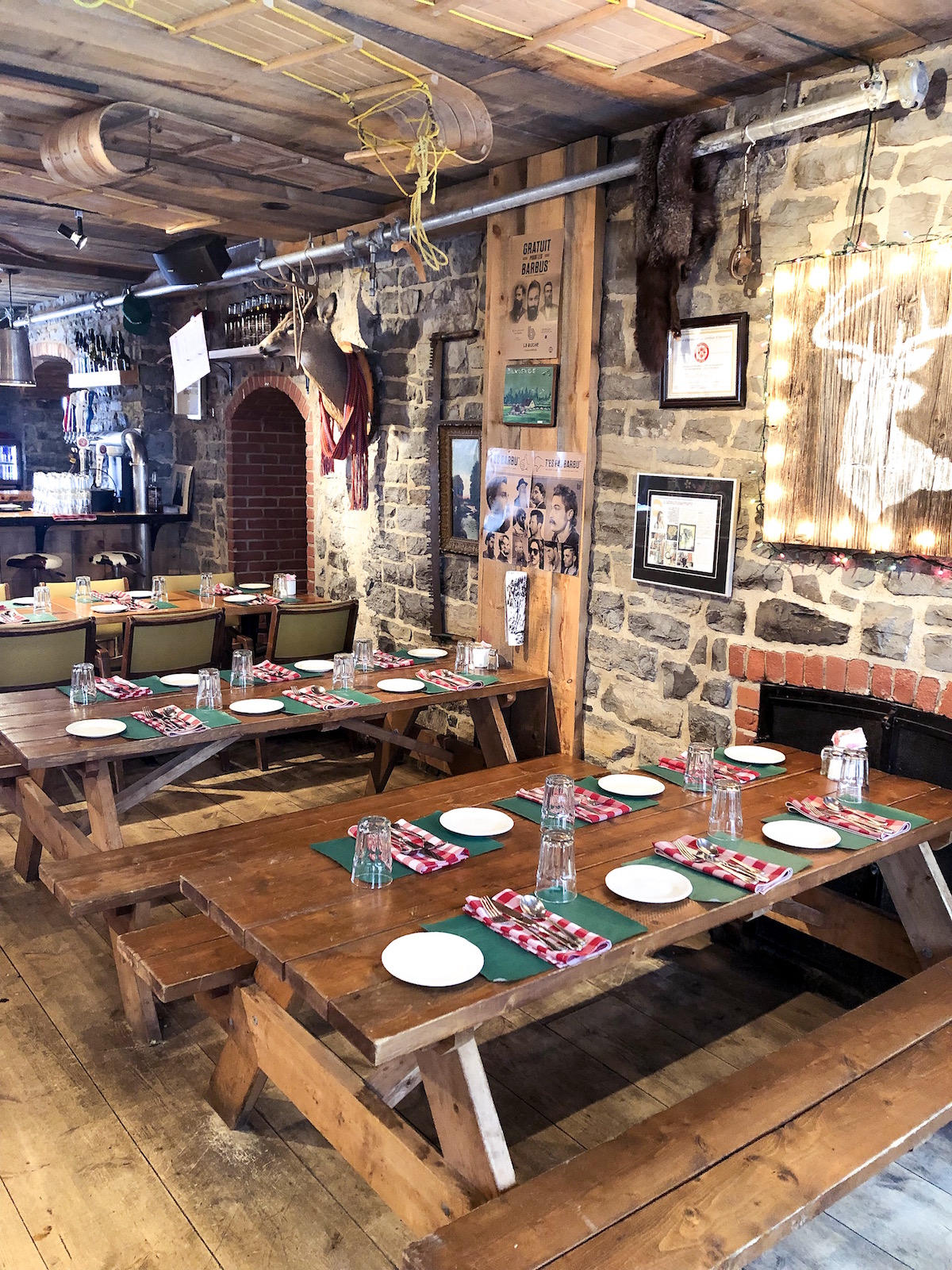 From there we spent the rest of the afternoon walking around the hotel grounds checking out the shops and streets in Quartier Petit Champlain, the Quebec City boardwalk and the city's epic Quebec City toboggan slide (that sadly wasn't open for the season yet.) Everywhere you looked was decorated with garland and Christmas lights so we were fully entertained just walking for a few hours taking pictures.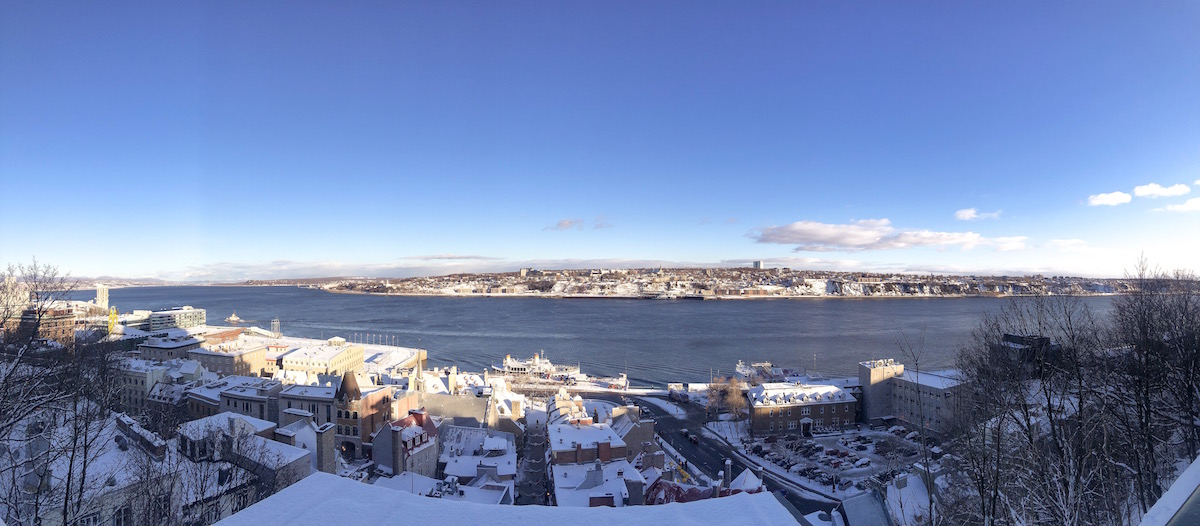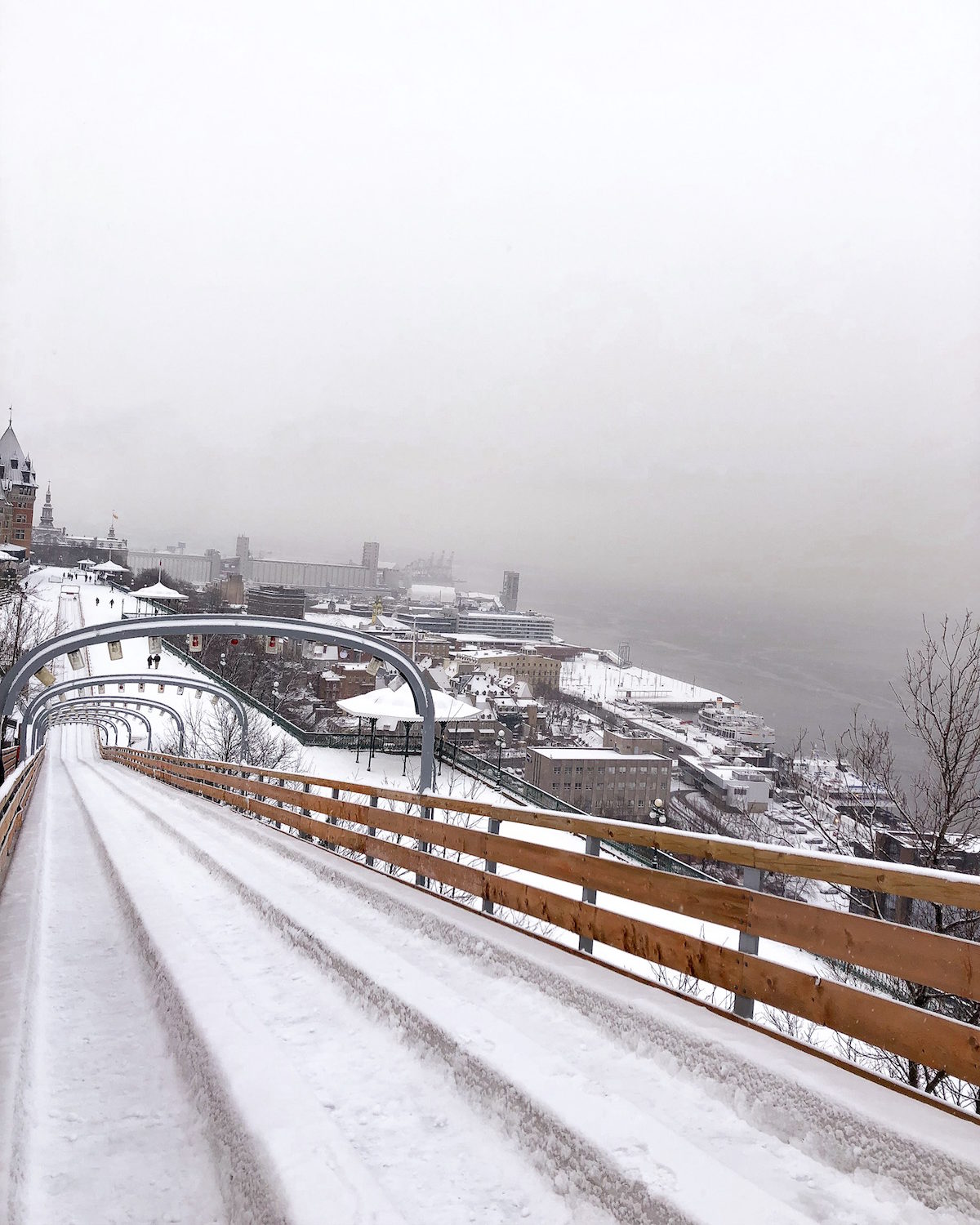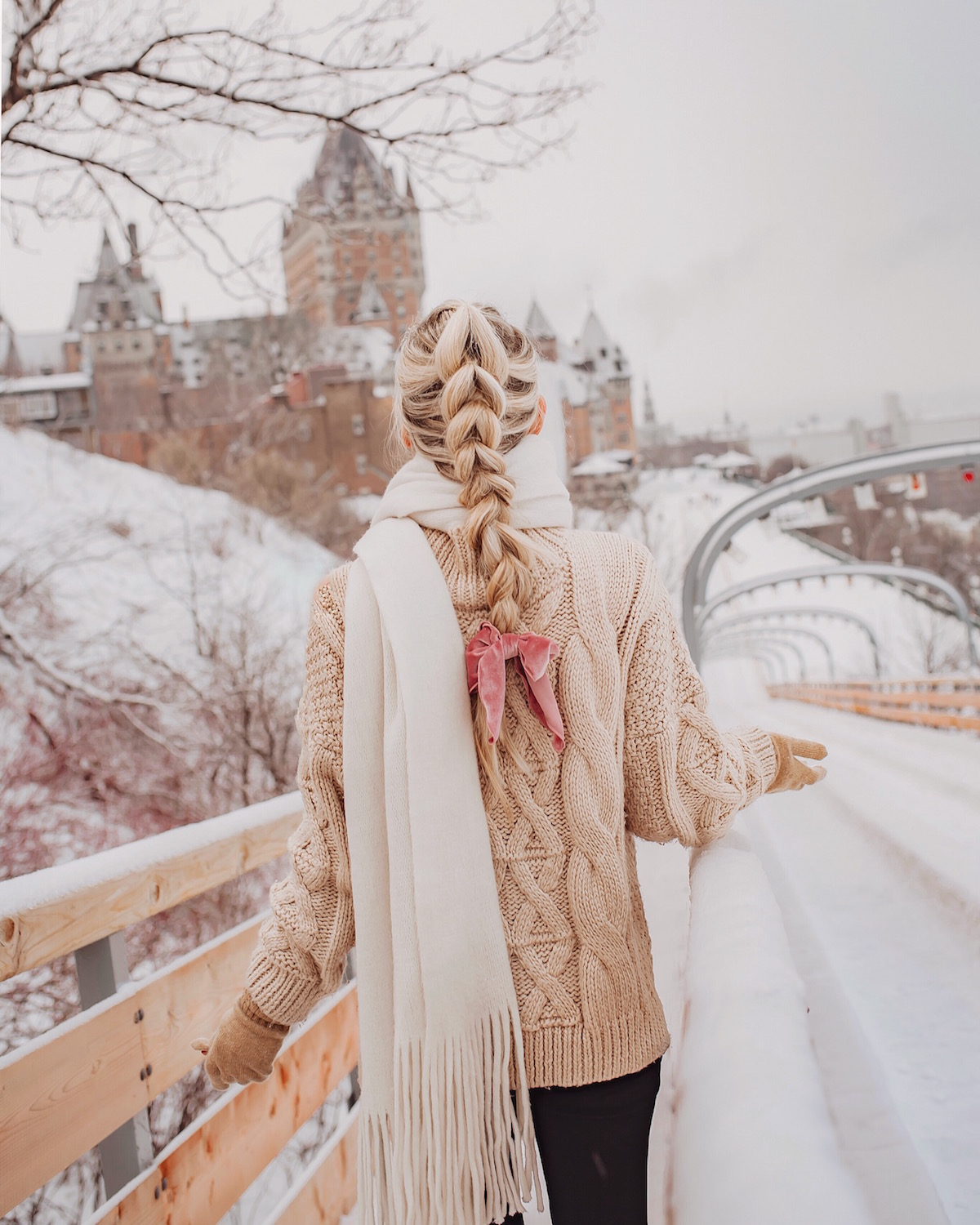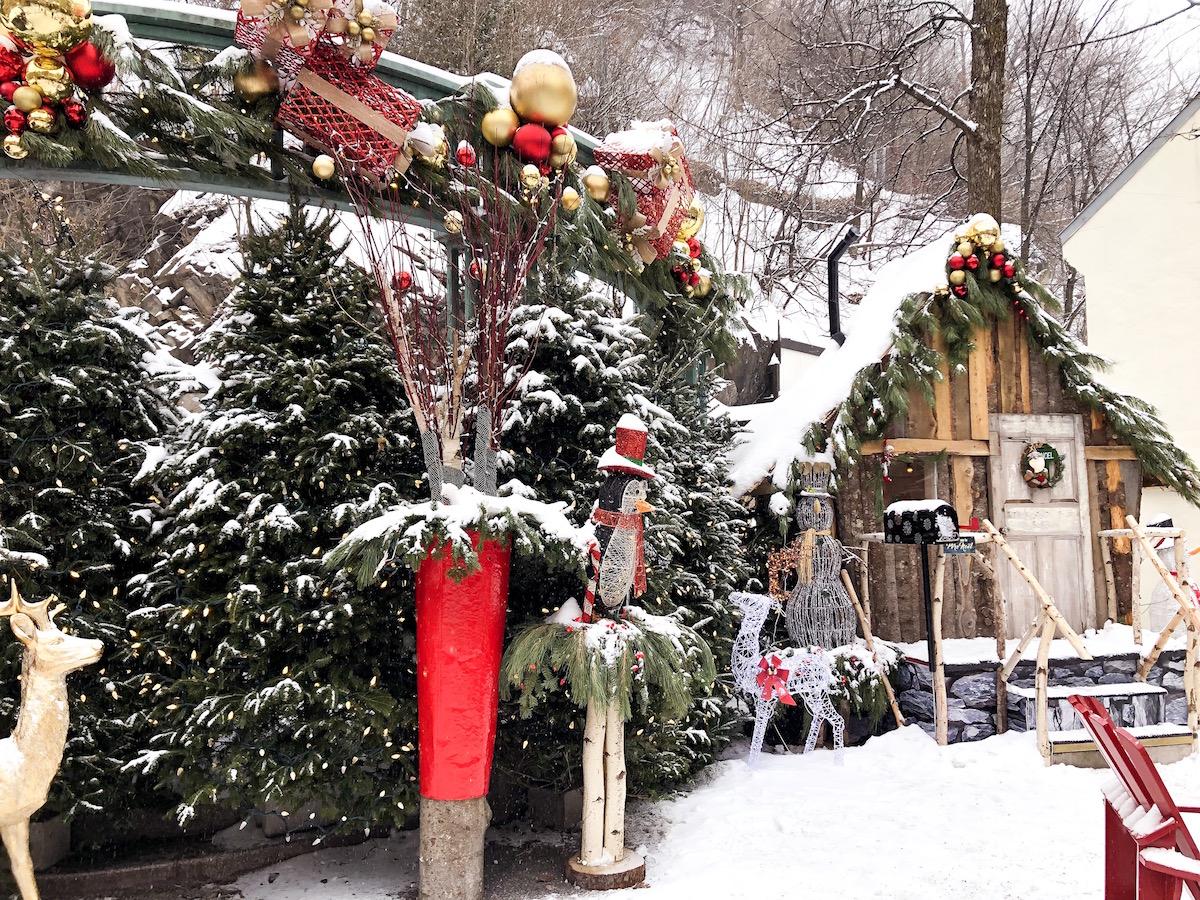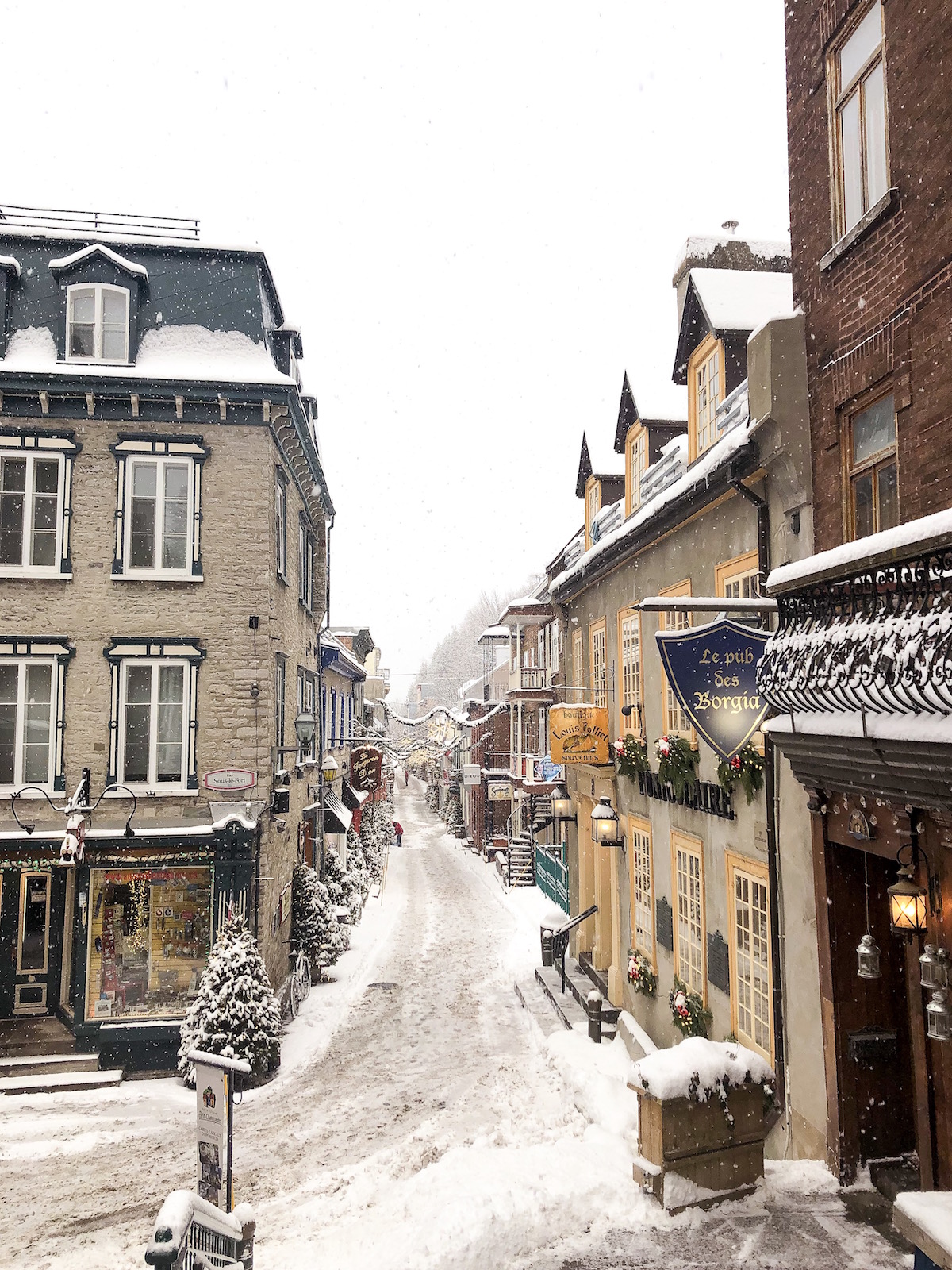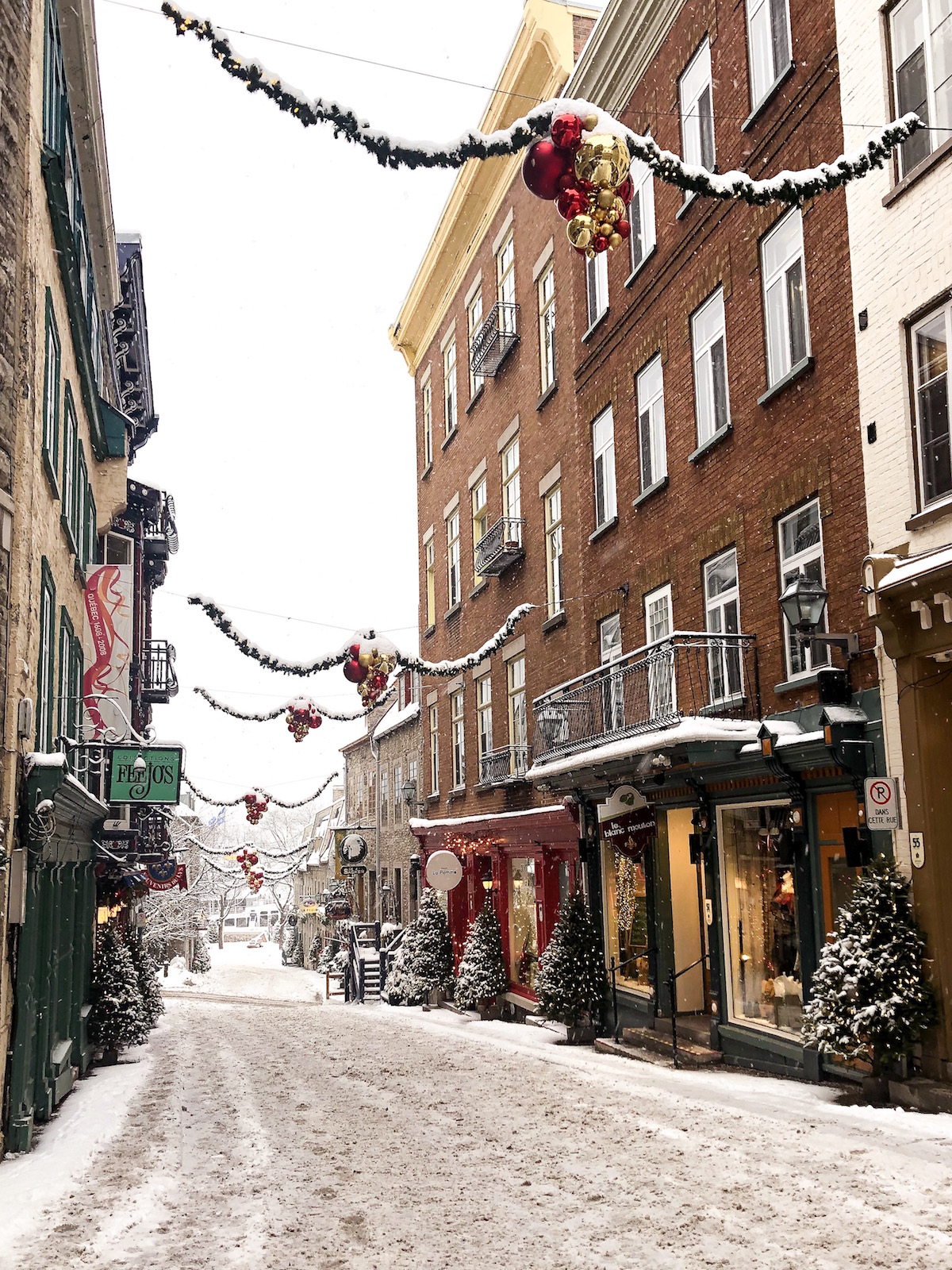 There were even a few pop up fire pits and sitting areas where you could stop to warm up. At one we even met Santa Claus! For an awesome photo opp head towards the river and to the end of Rue Sous le Fort and look back. You'll see a gorgeous view of the Fairmont Le Château Frontenac, the Funicular cablecar and the streets of lower Old Quebec.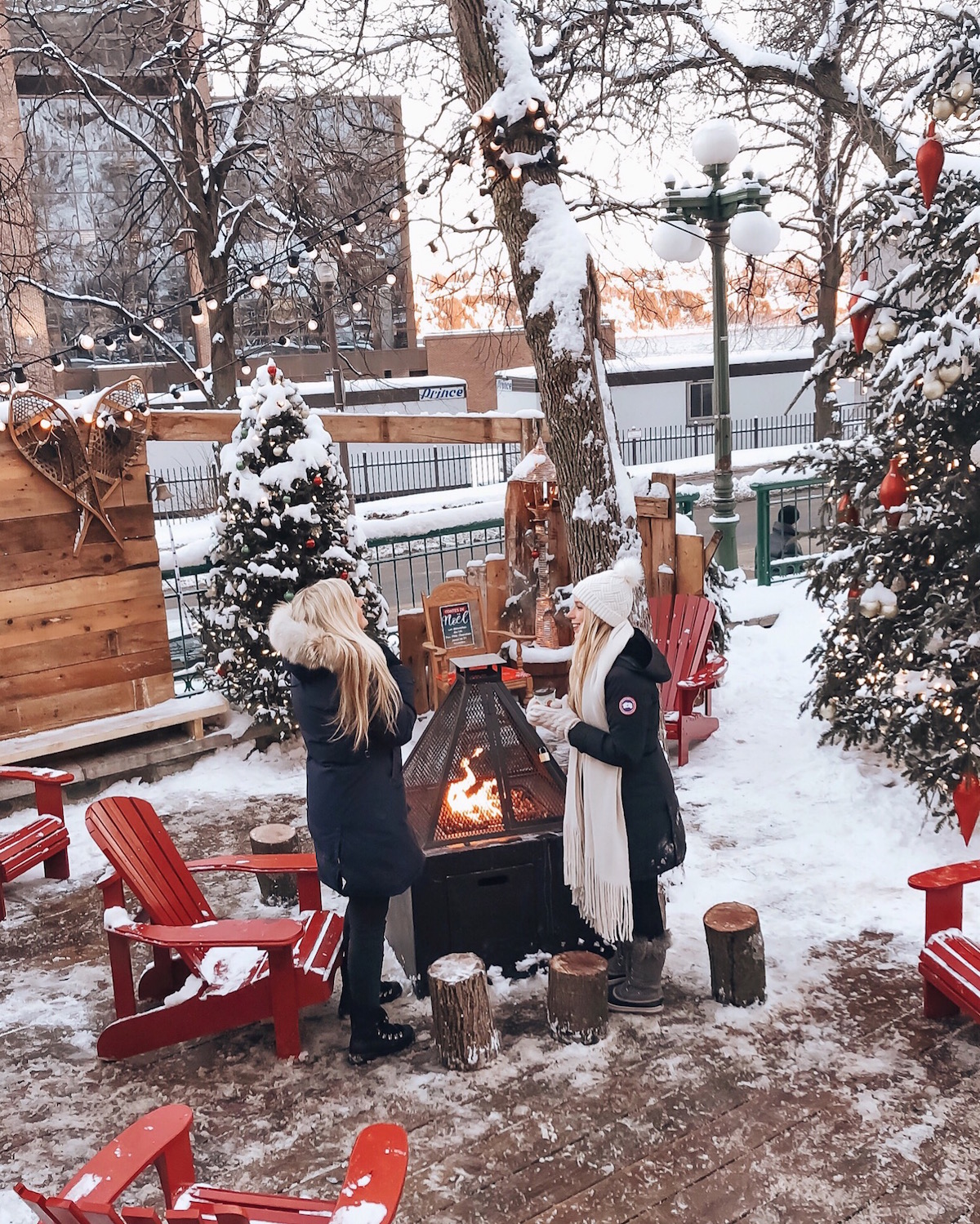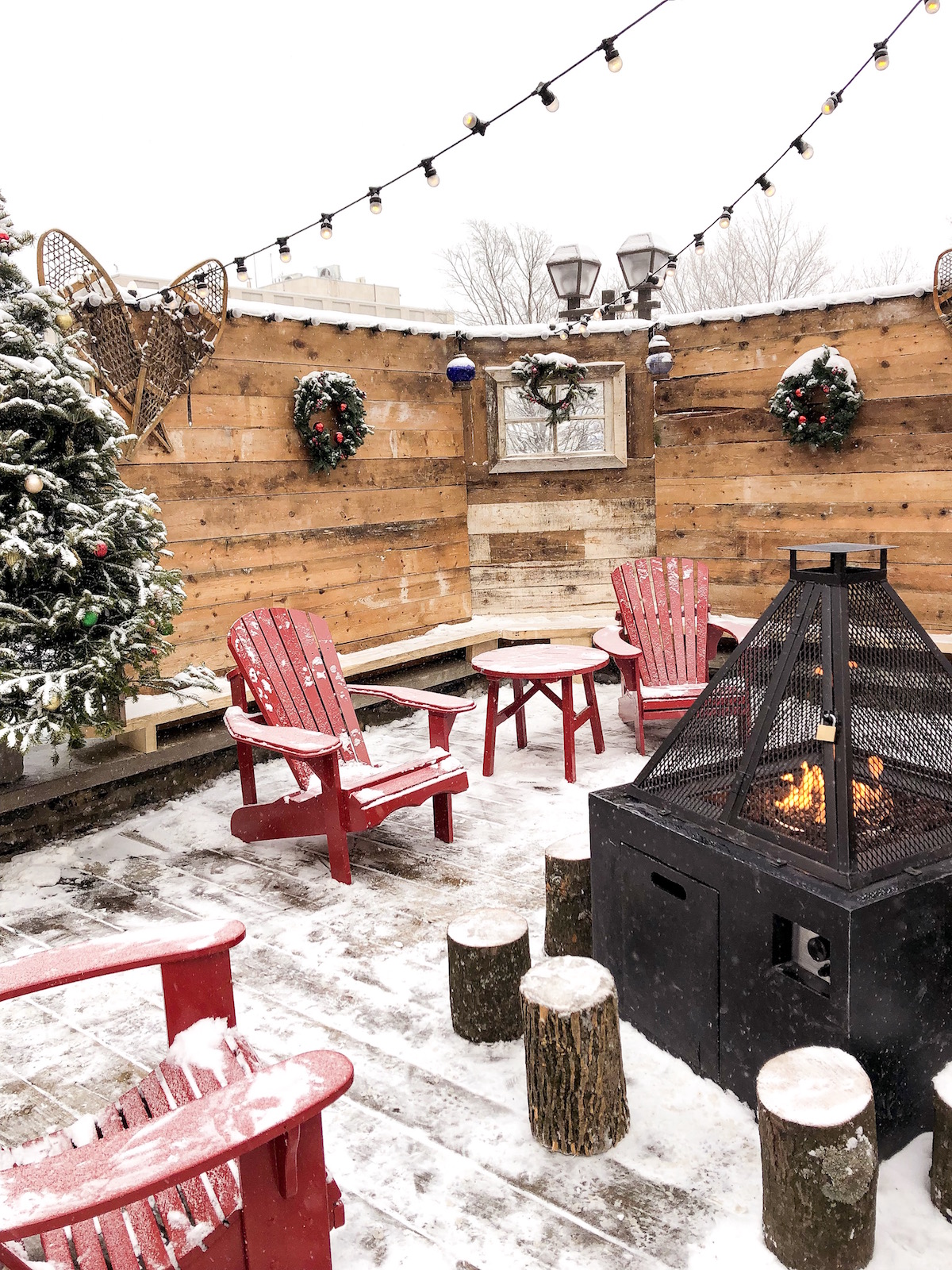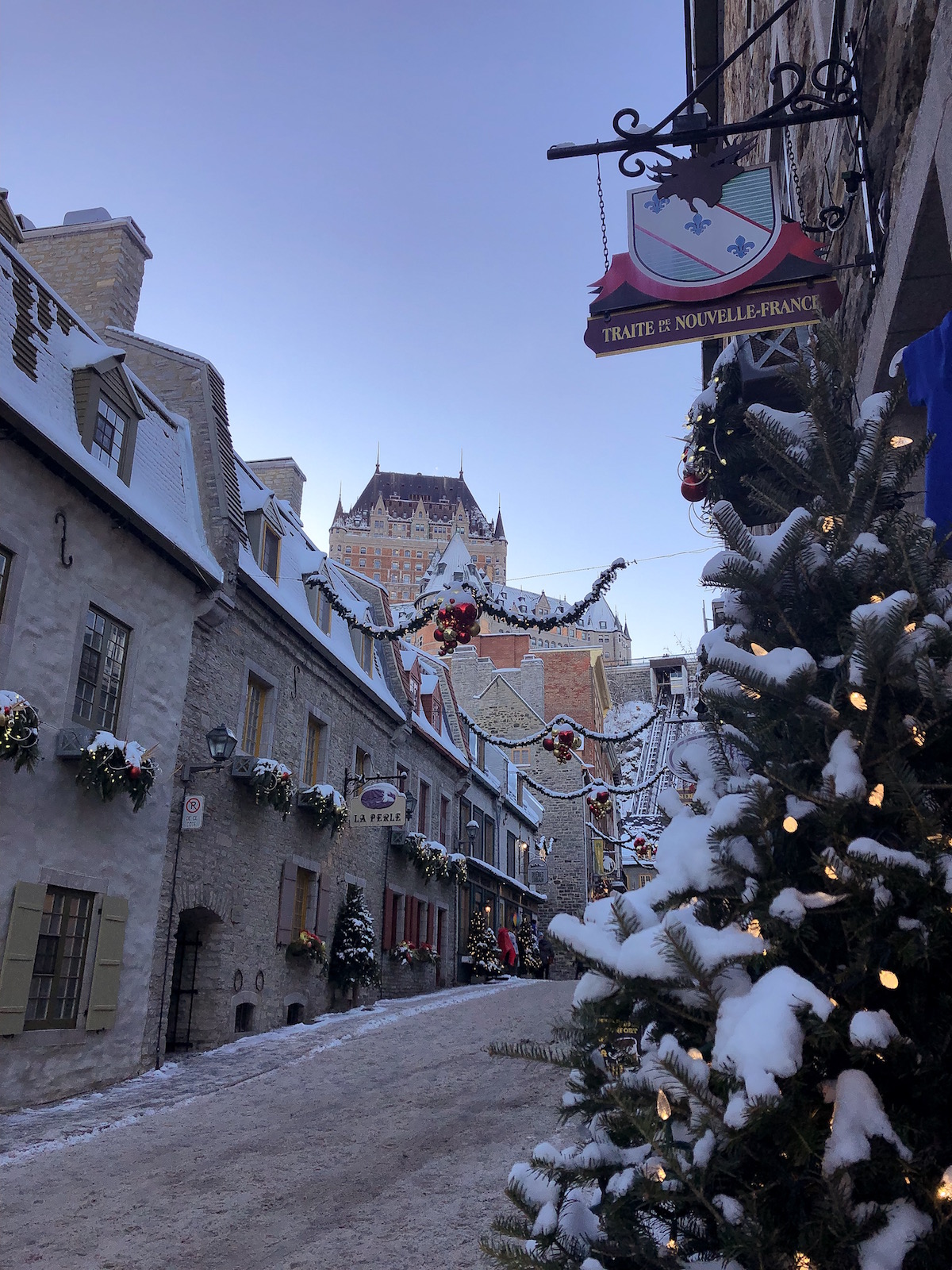 After taking a break back at the hotel later that afternoon to wash up, we headed back down to Quartier Petit Champlain for our dinner reservation at Lapin Sauté. The restaurant is located on the cutest street and has the most charming exterior– very photogenic! The temperature had dropped significantly after sunset so the warm flaky rabbit pot pie I ordered really hit the spot.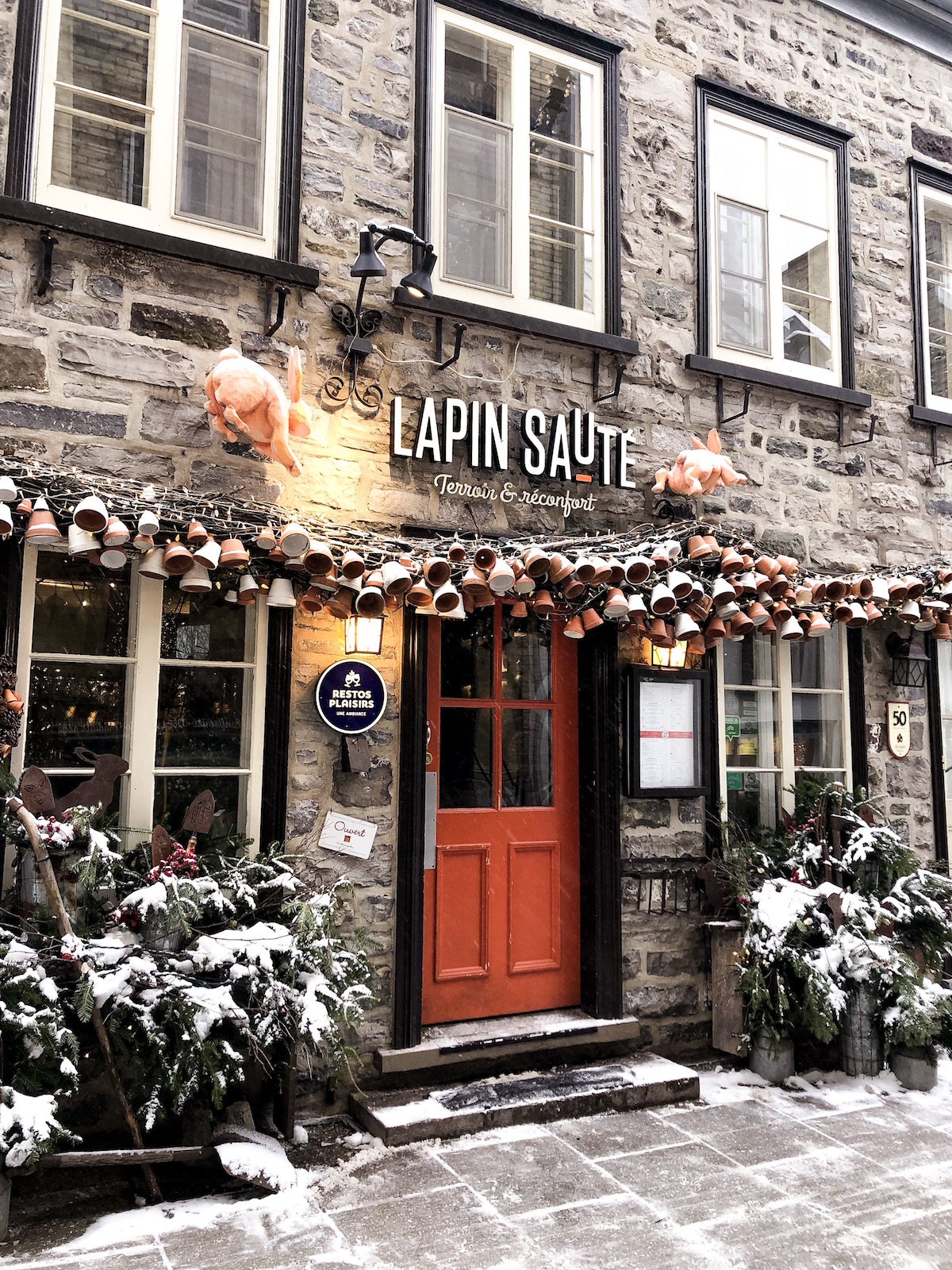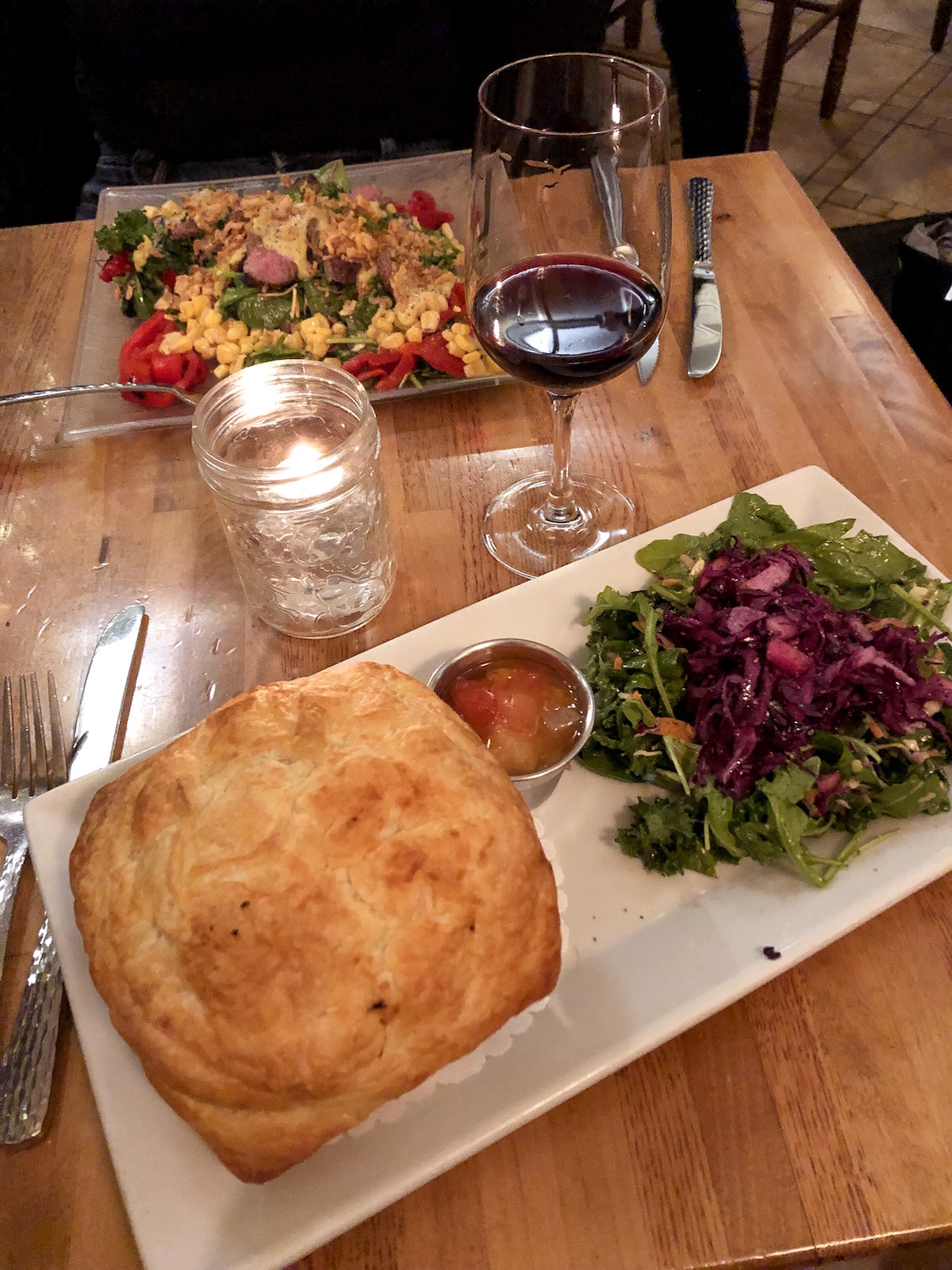 day 2 itinerary
BREAKFAST: 
Fairmont Le Château Frontenac
LUNCH: 
bites at the Quebec City German Christmas Market
hot chocolate break at Café La Maison Smith
DINNER:
cocktails + bites at Bar 1608
dinner at Bistro Le Sam
*both spots located inside Fairmont Le Château Frontenac hotel
SIGHTSEEING:
Quartier Petit Champlain
Place Royal
Notre-Dame-des-Victoires
German Christmas Market
Boutique de Noel de Quebec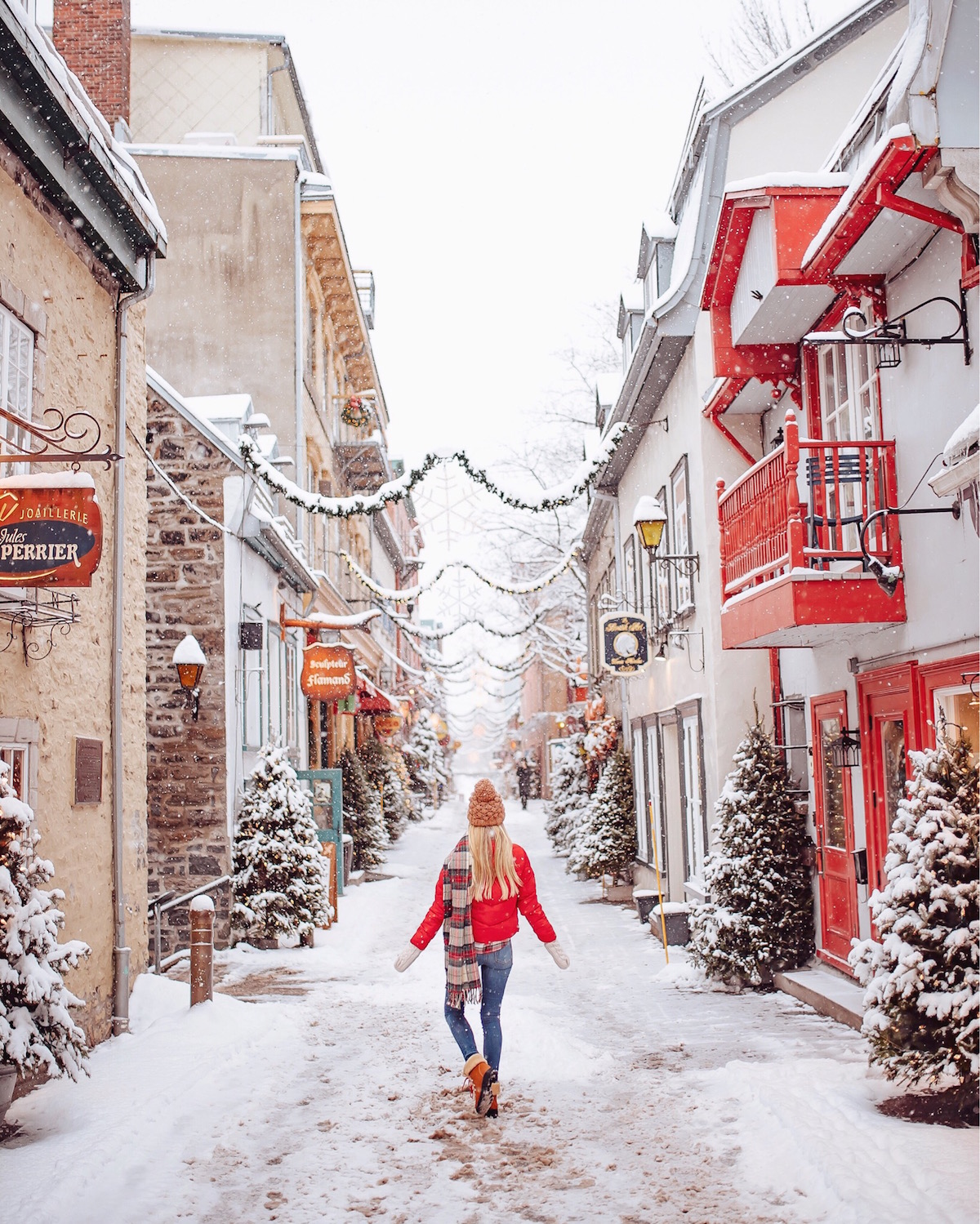 OUTFIT DETAILS // Abercrombie Puffer Coat | Plaid Shirt | Distressed Jeans | Plaid Scarf | Boots | Beanie | Mittens
Despite getting in a lot of exploring on our first day, we kicked off day two bright and early because we wanted to get up and about before the streets became full with other tourists. It was even snowing that morning too, which made the entire experience that much more magical (and the early 7AM alarm totally worth it.)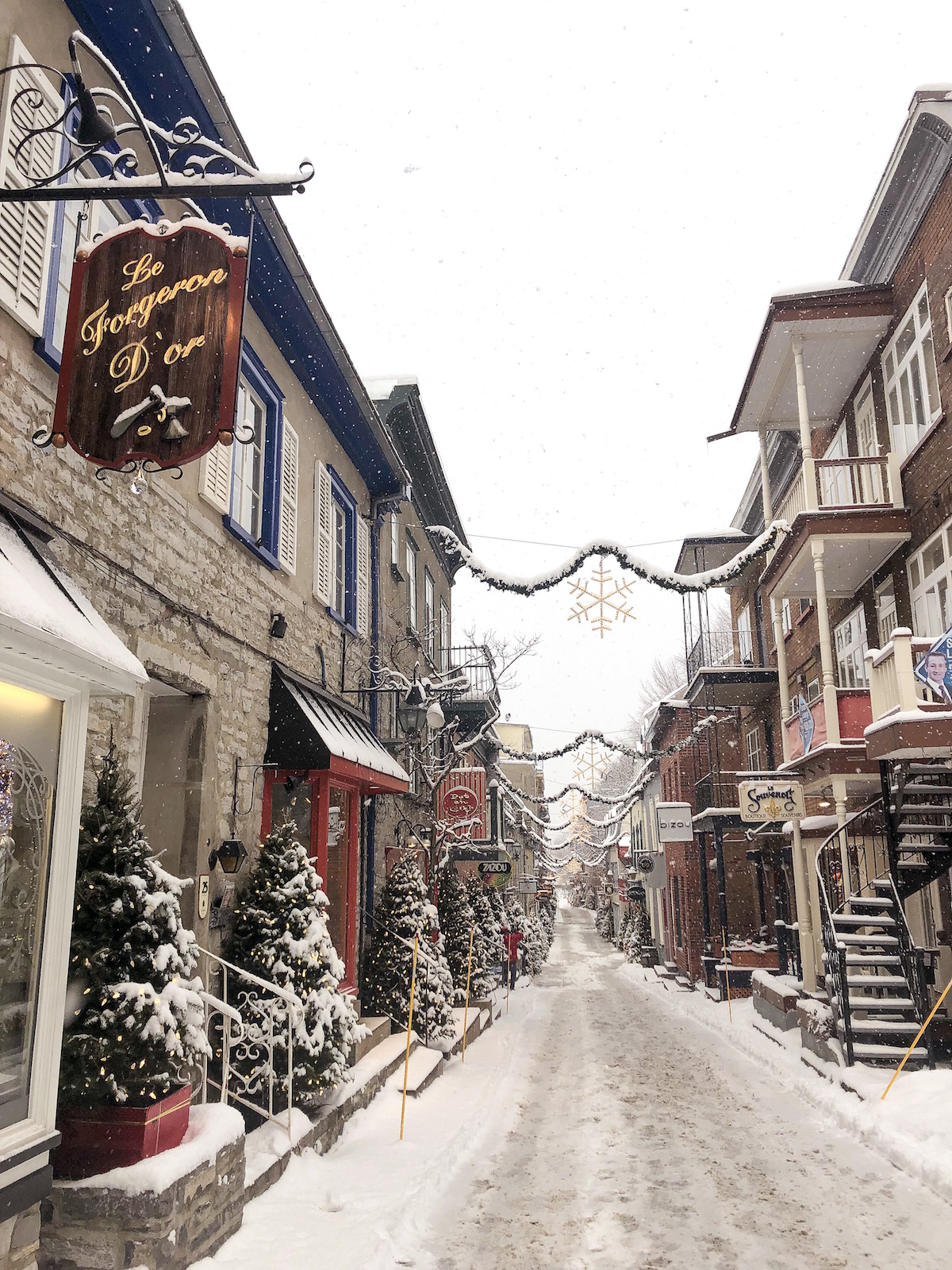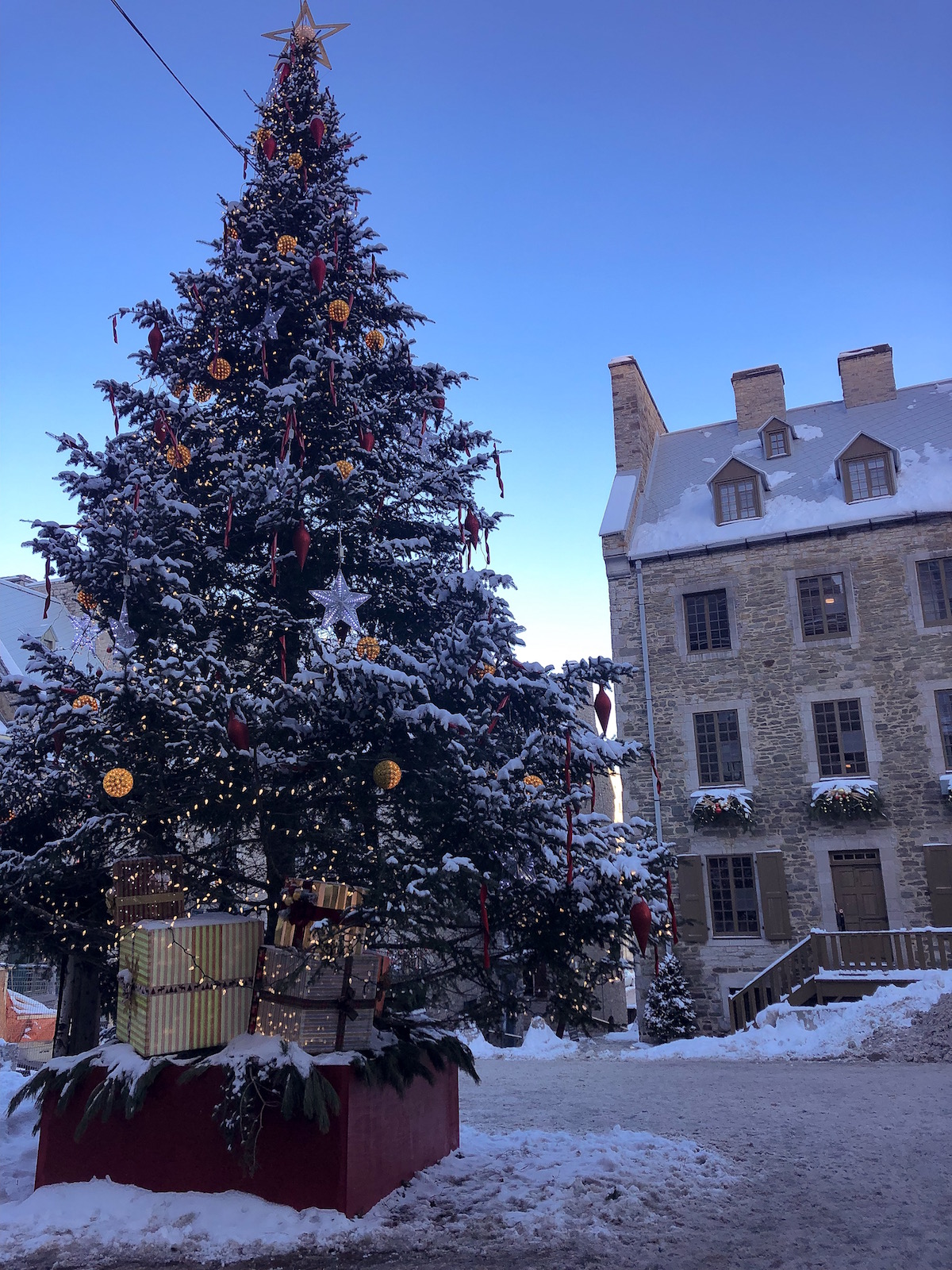 We headed down towards Quartier Petit Champlain (I mean, it's just too pretty!) and also checked out nearby Place Royal and the surrounding cobblestone streets. One landmark that you should definitely pass by is Notre-Dame-des-Victoires, a small Roman Catholic church and one of the oldest churches in North America. It's located in a cute cobblestone square with lots of little shops and cafes. Highly recommend grabbing a hot cocoa from nearby Café La Maison Smith and taking it all in!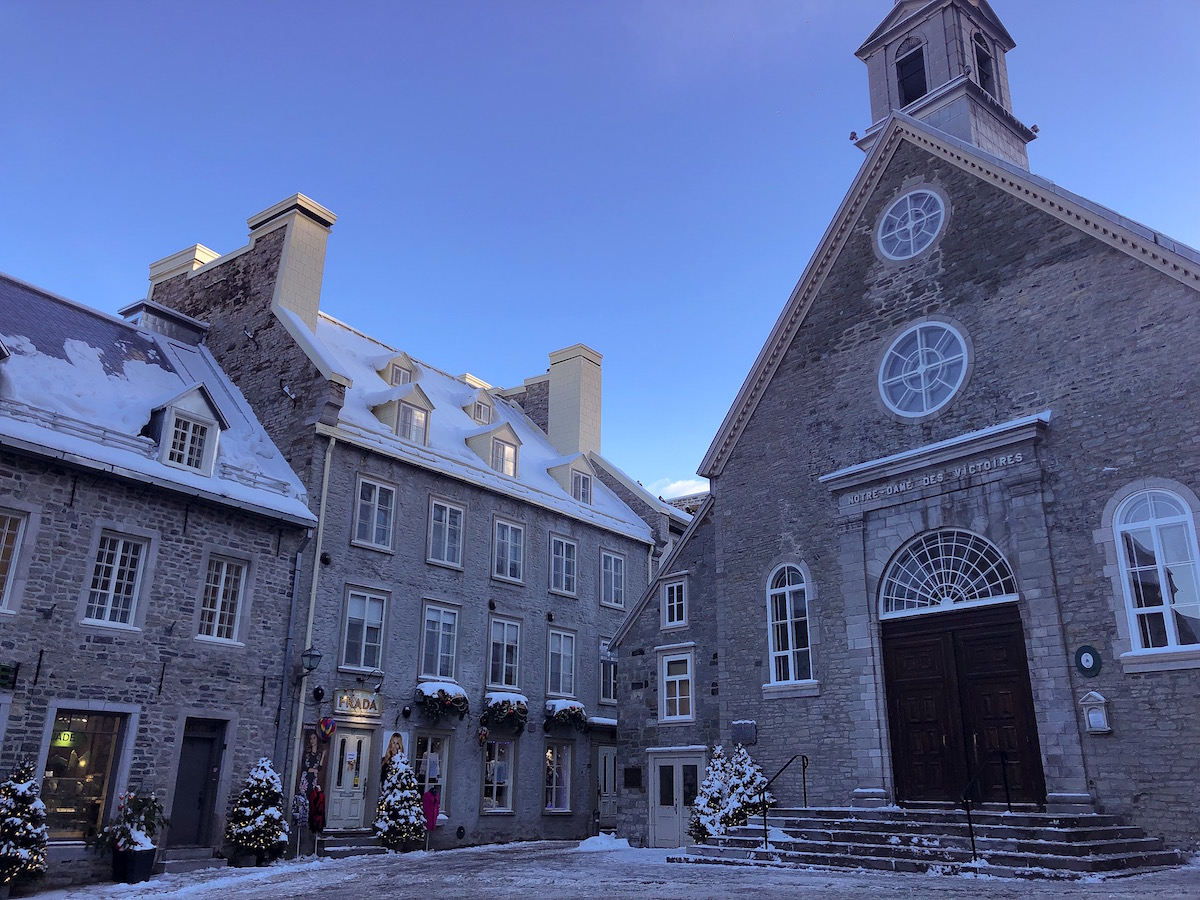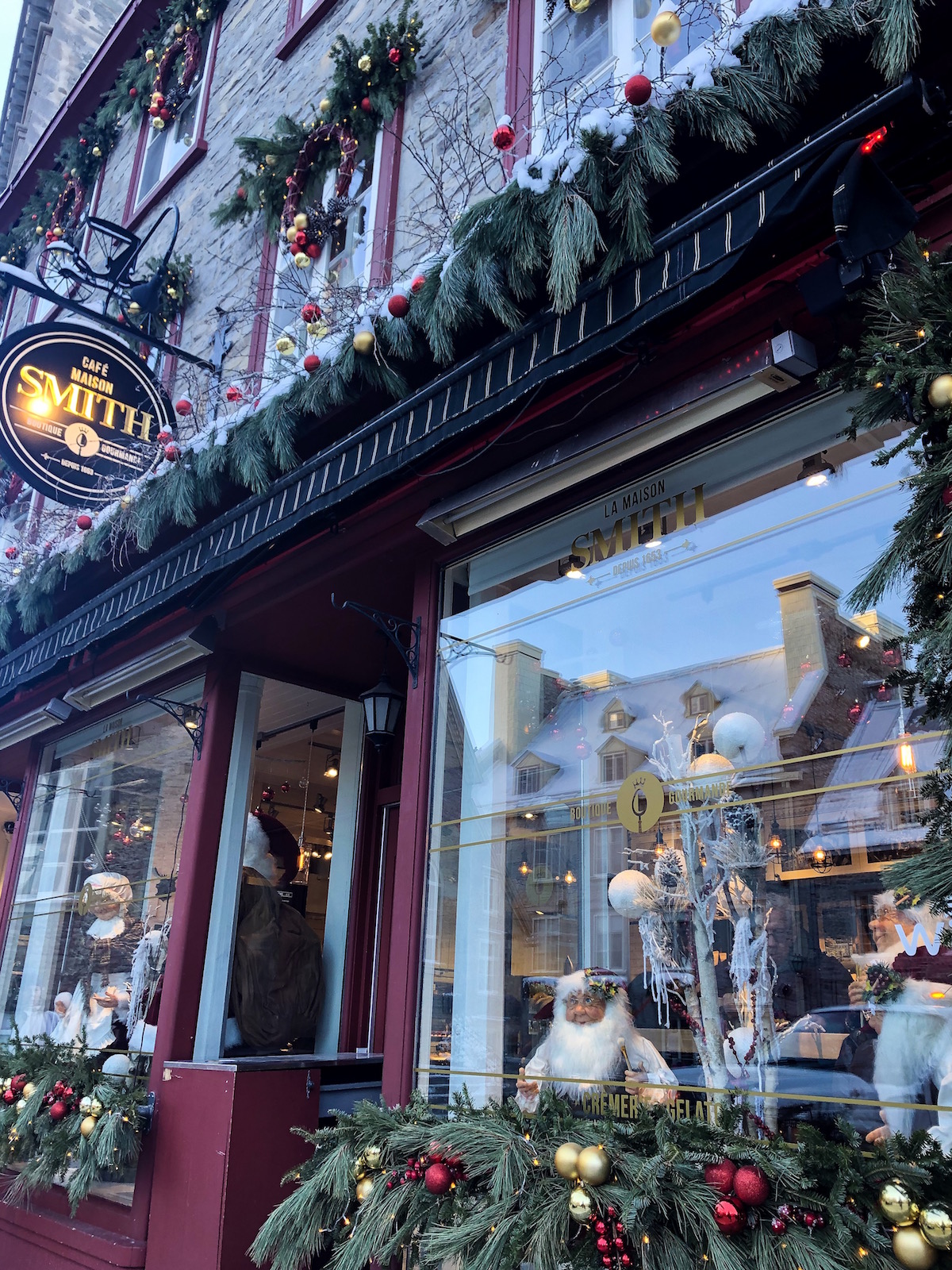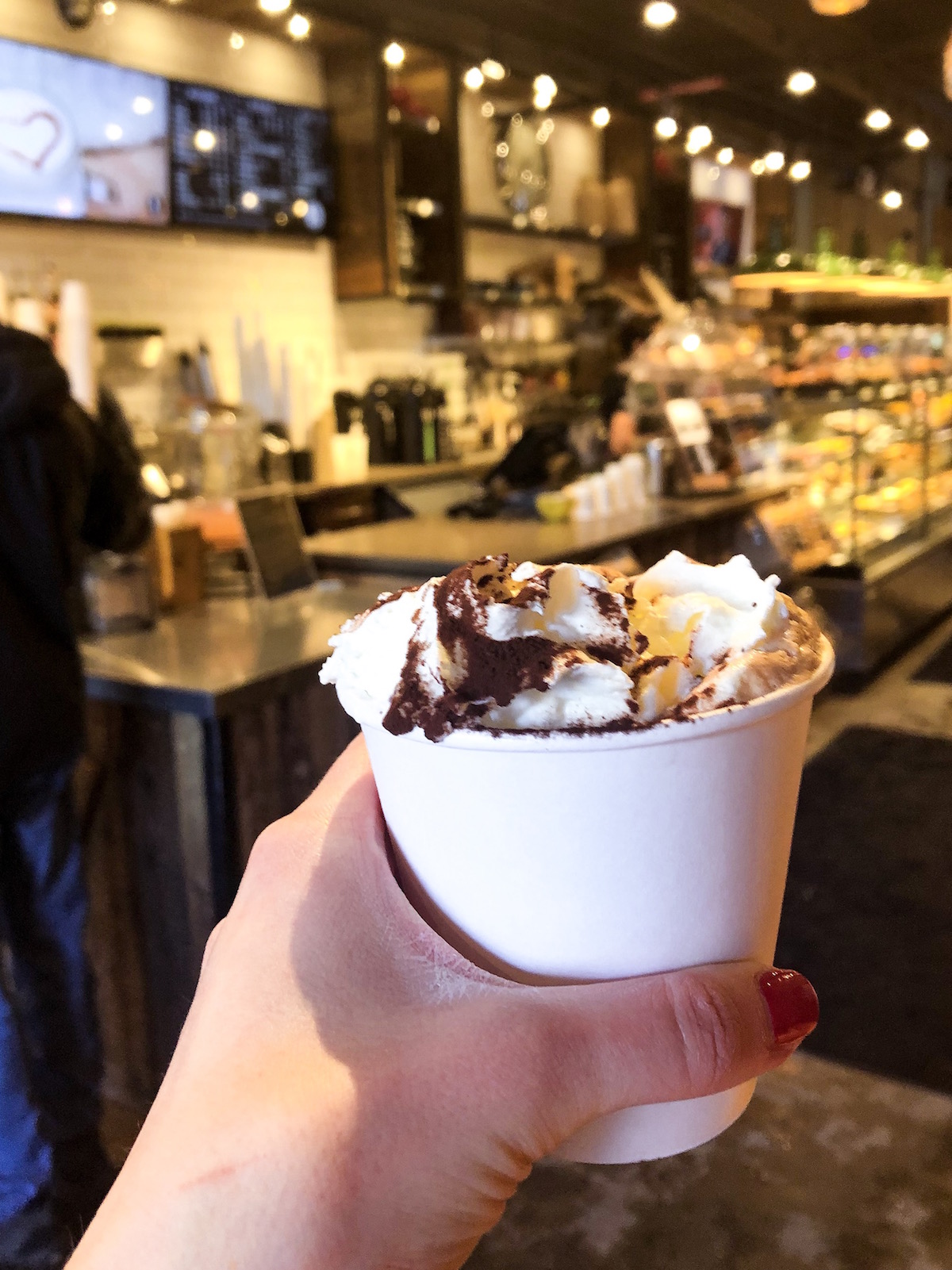 After our morning adventures we stopped back at the hotel for a very indulgent and big late breakfast. Ugh I LOVE a good buffet and the one at Fairmont Le Château Frontenac was heavenly. Due to our late-ish breakfast we skipped having a sit down lunch that afternoon and instead just grabbed a few small bites (aka candy and hot wine) throughout the afternoon as we explored Quebec City's charming German Christmas Market. The temperature dropped to the teens as the day progressed so we were happy to discover the market was located in the upper area of town nearby our hotel (the stairs down to the lower parts of Old Quebec were NO JOKE.)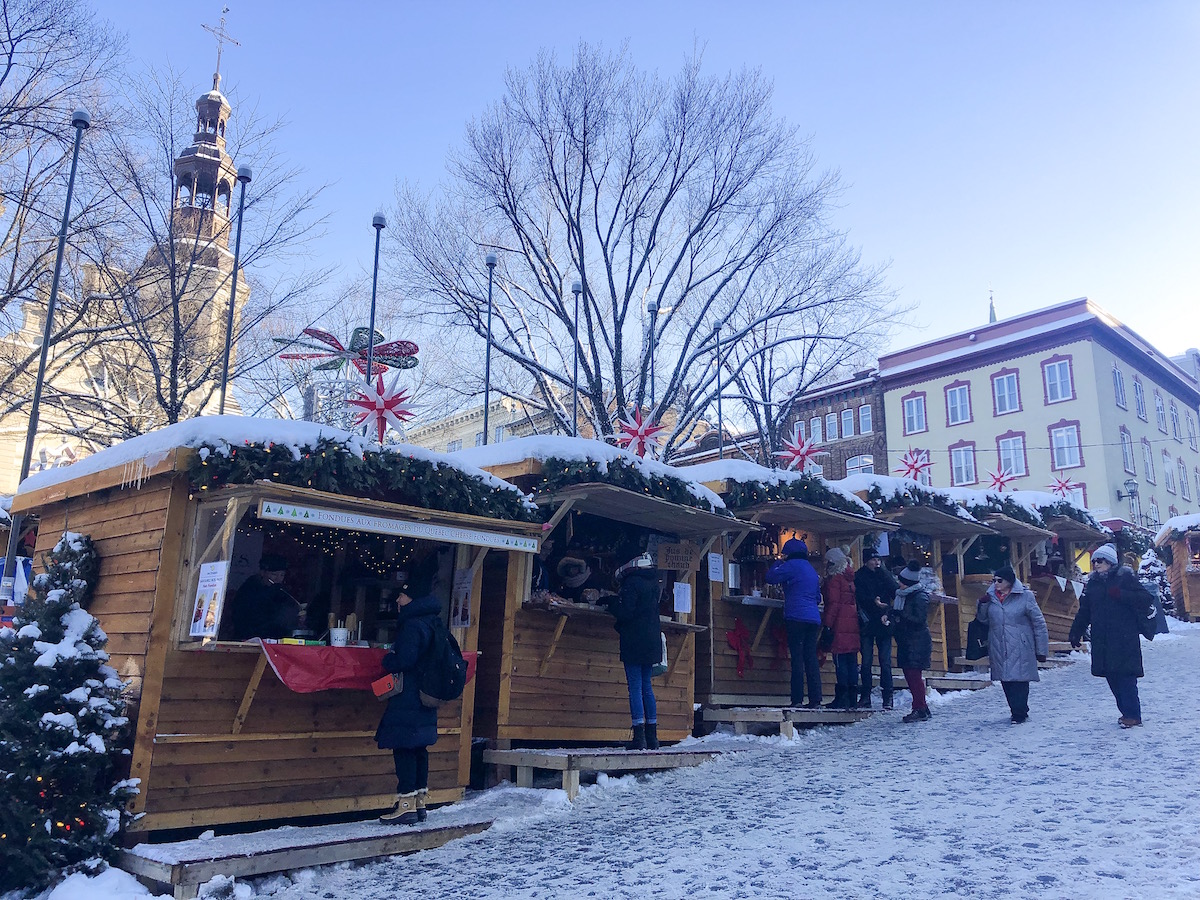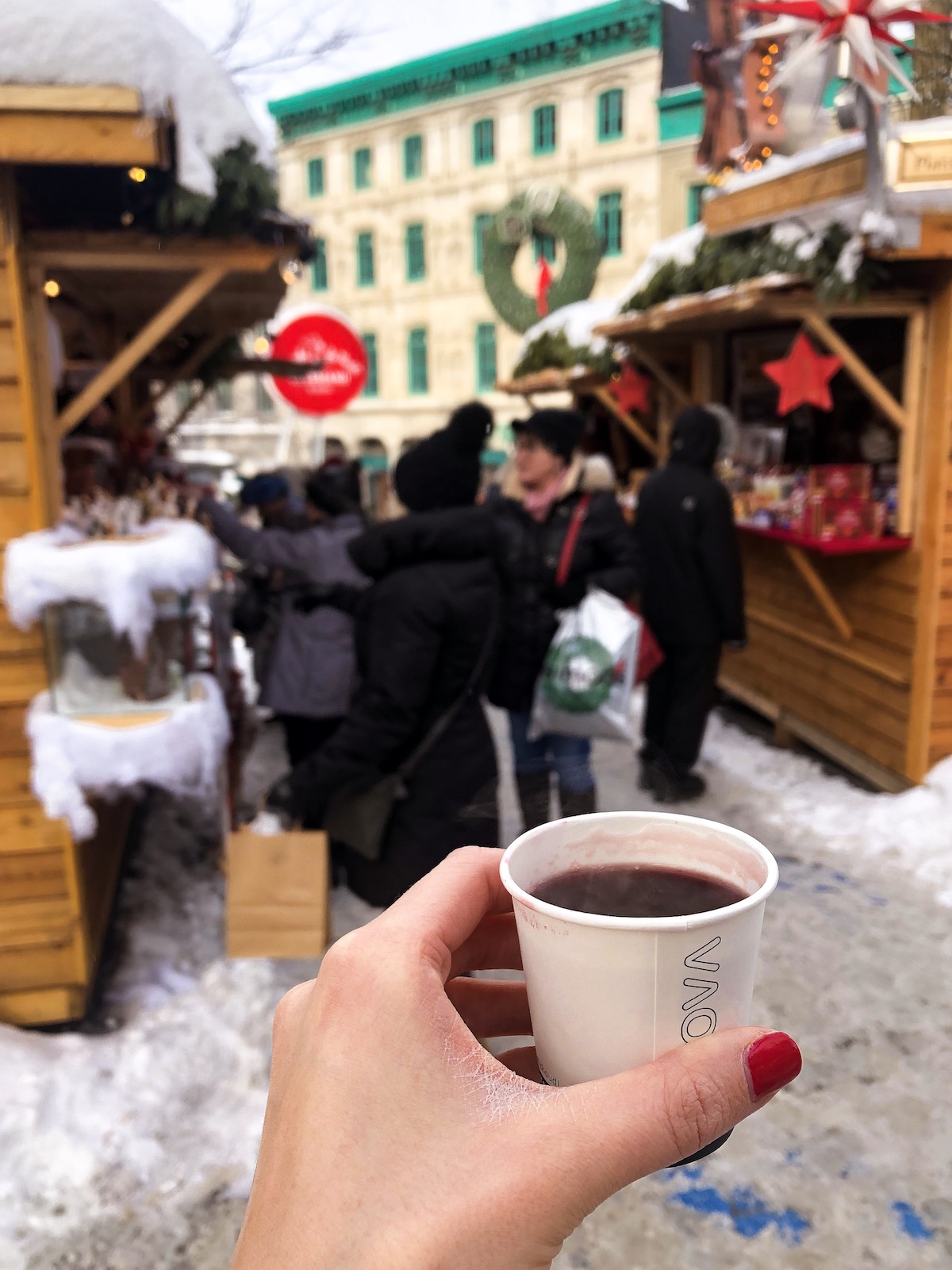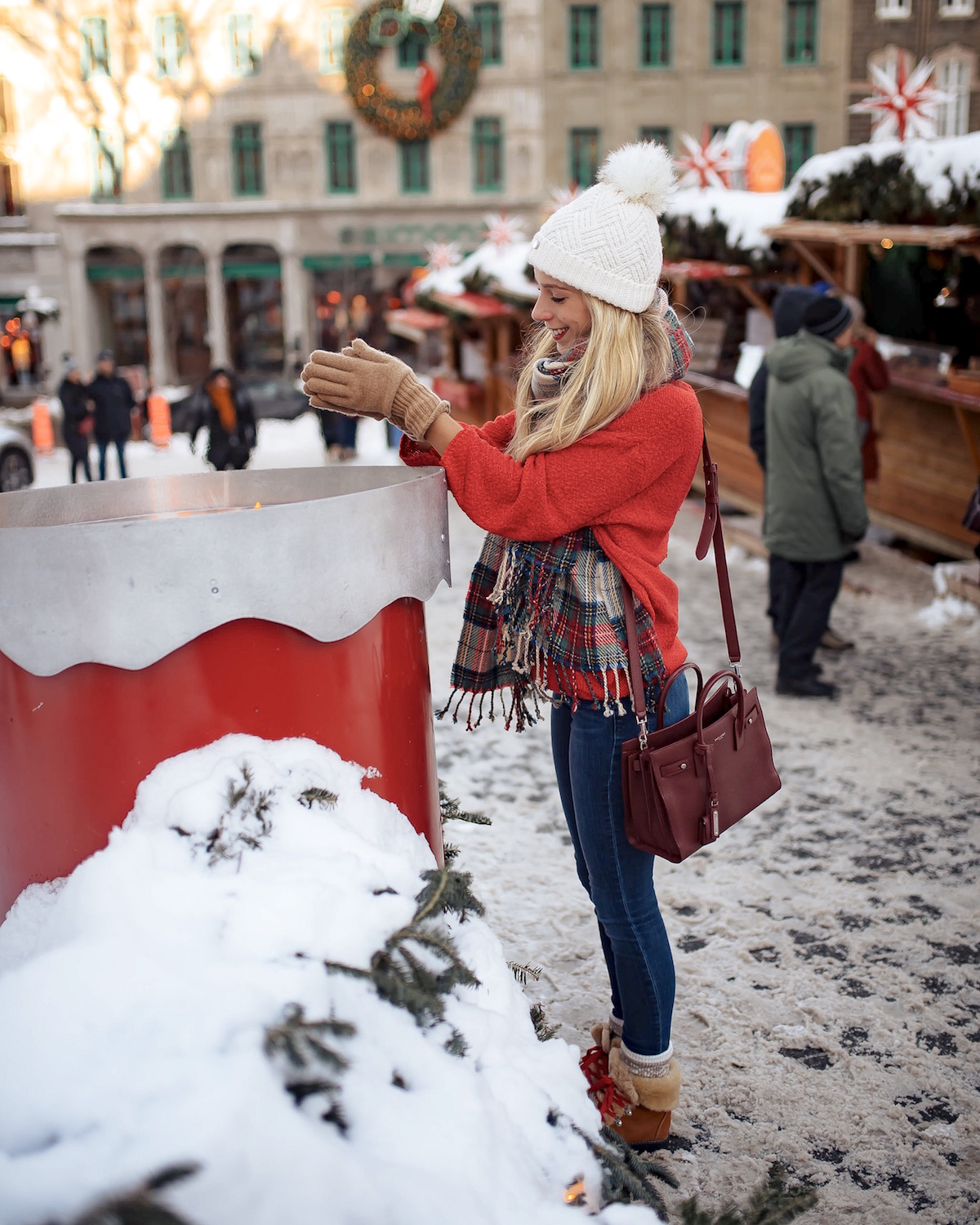 OUTFIT DETAILS // Sweater | Skinny Jeans | Boots | Plaid Scarf | Saint Laurent Bag | Similar Beanie | Knit Socks | Gloves
I also couldn't resist stopping in the famous Boutique de Noel de Quebec for a few Christmas ornaments. It's one of the most famous holiday decor shops in the city and was basically Christmas heaven. I always love to get an ornament or two from any place I travel and there was no shortage of good finds in the shop.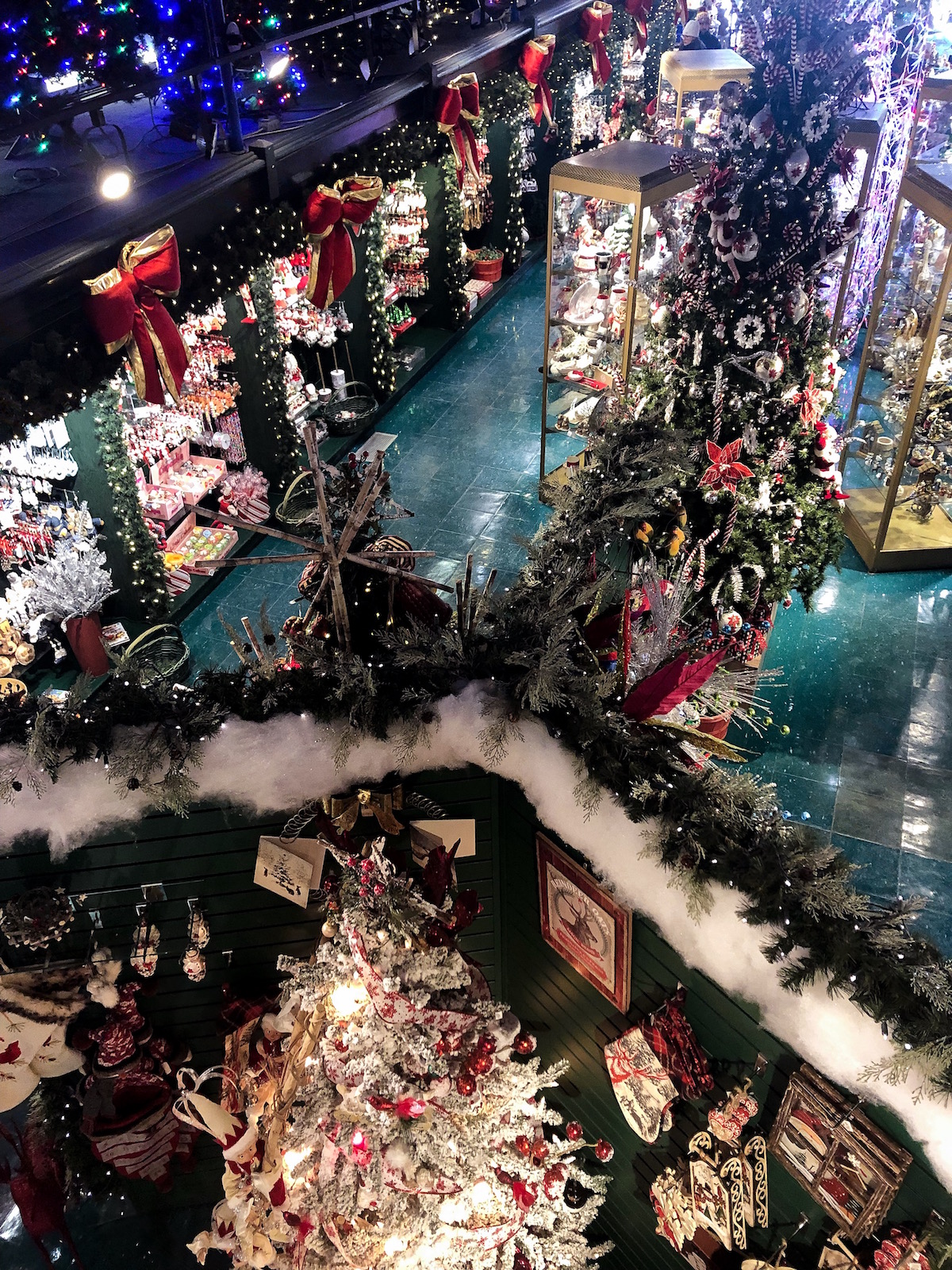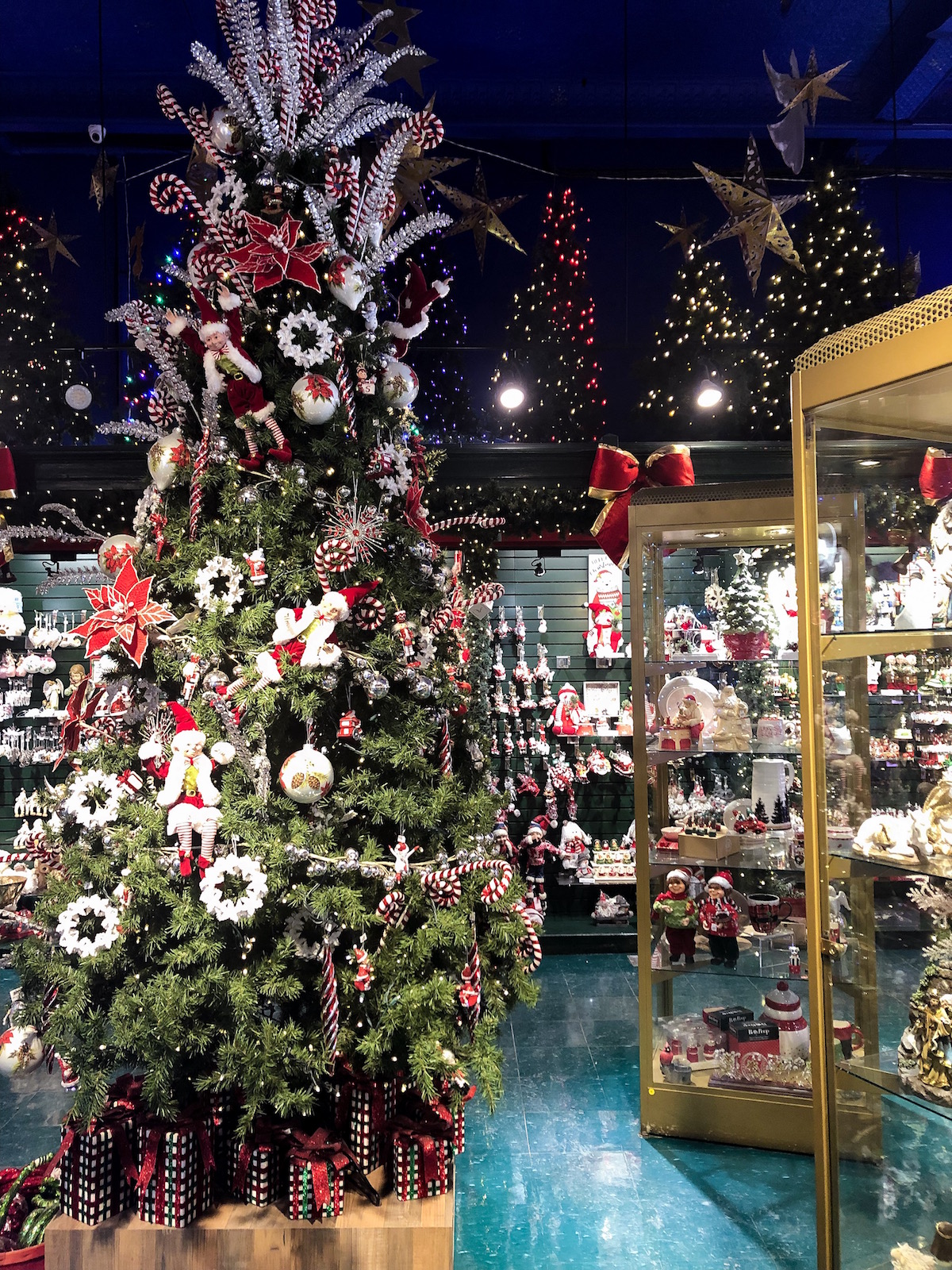 So I'll be honest. By the time the sun went down at 4PM we were exhausted. Exploring on foot all day is tiring in itself, but add freezing temps and snow… SO much harder. We had originally planned to find a restaurant in town for dinner, but decided to stay in and try two of Fairmont Le Château Frontenac's dining options. The first spot we headed was the gorgeous Bar 1608. The gold circular bar and lounge has two fire places and an incredible view of the river. Right as we walked in we knew we made the right decision. It was super cozy and had an incredible drinks menu of wine, beer and custom cocktails, not to mention some really epic cheese and charcuterie boards.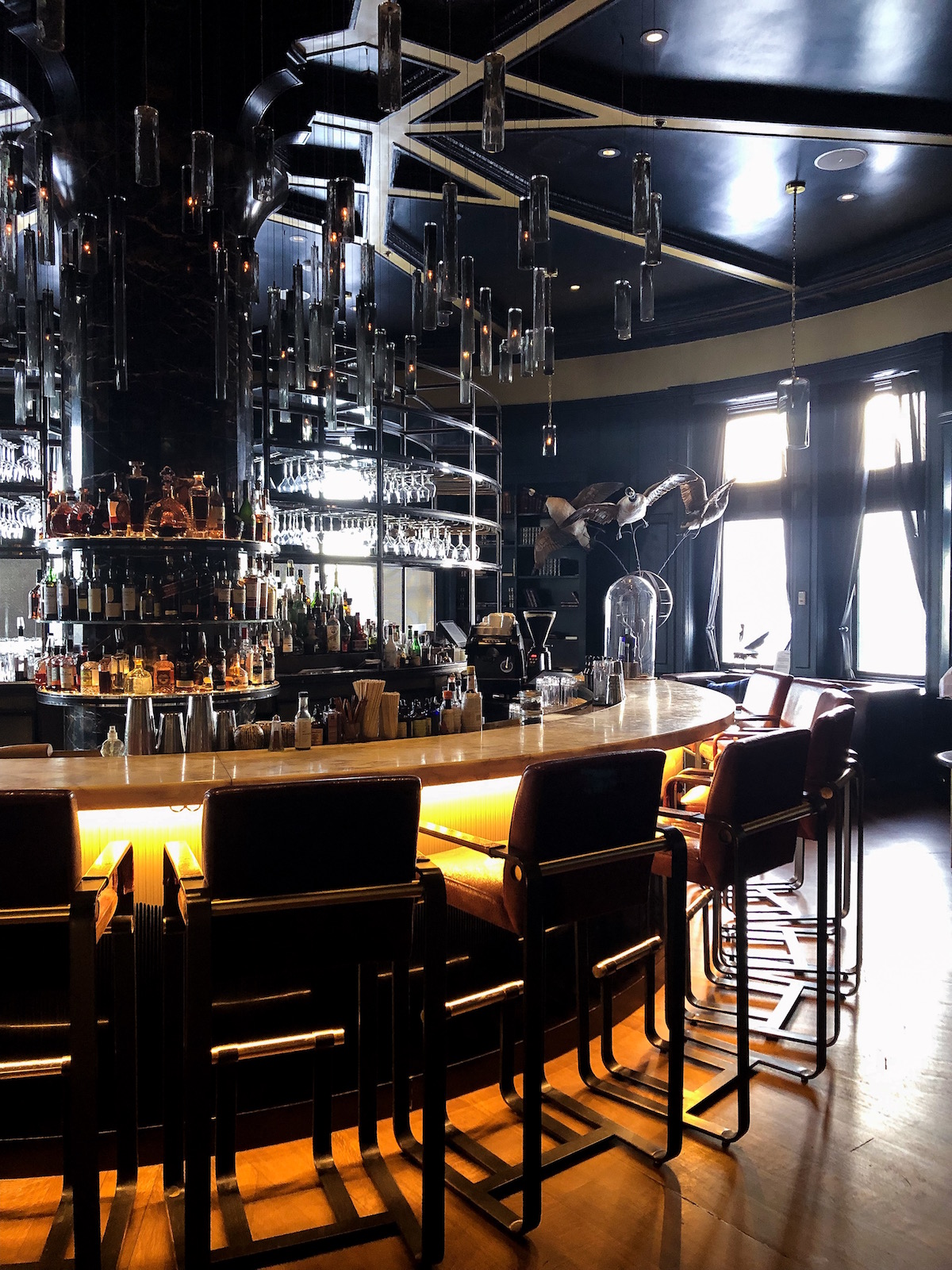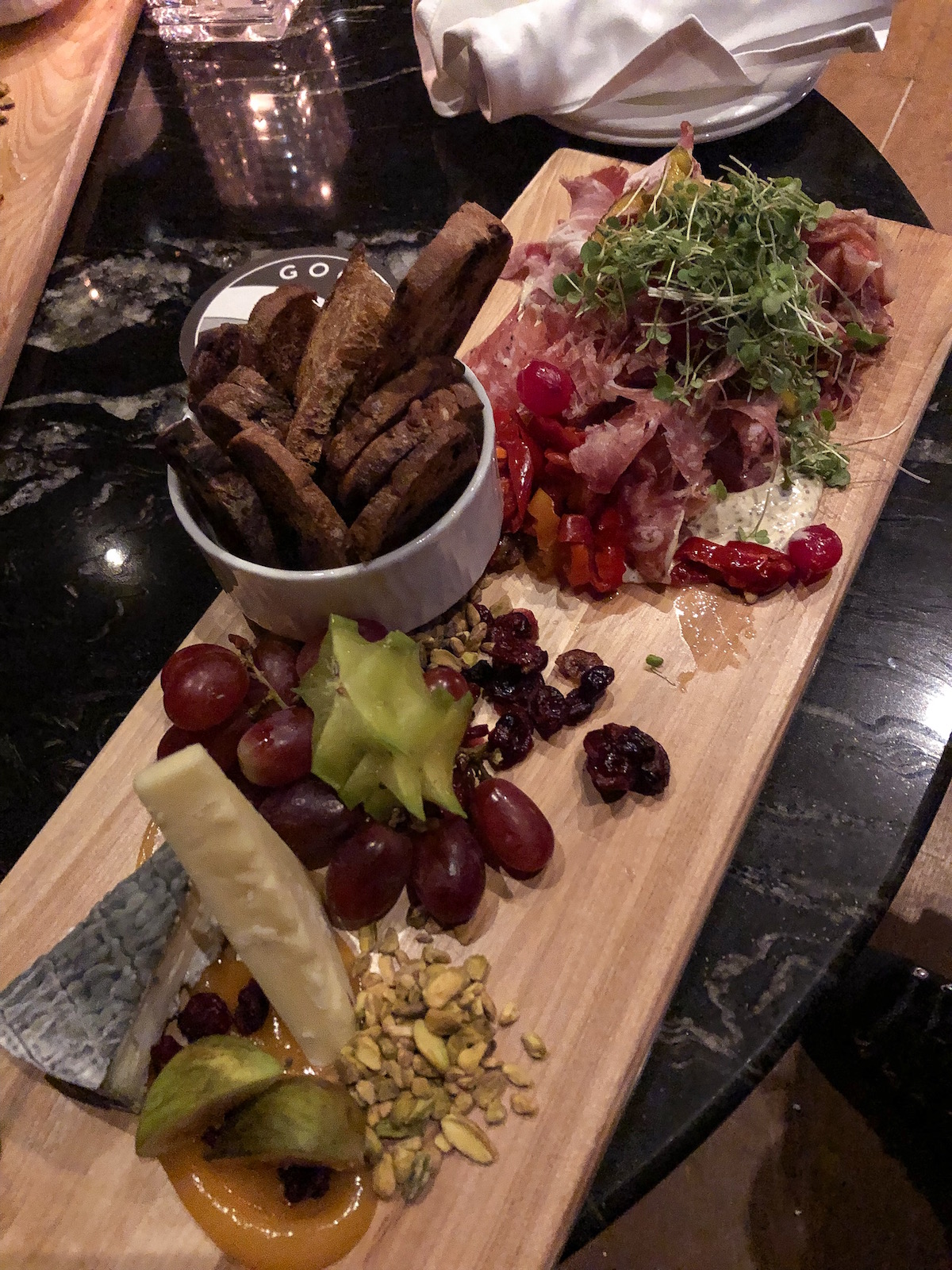 For dinner we headed to Bistro le Sam and each indulged in a big glass of red wine and a hot bowl of French onion soup (who knew cheese boards could be so filling?) I wish I'd a bigger appetite because the menu looked amazing. I remember seeing a lobster roll, crab cake, onion rings, salmon tartar, truffle popcorn and duck wings… Basically just all of my favorite things!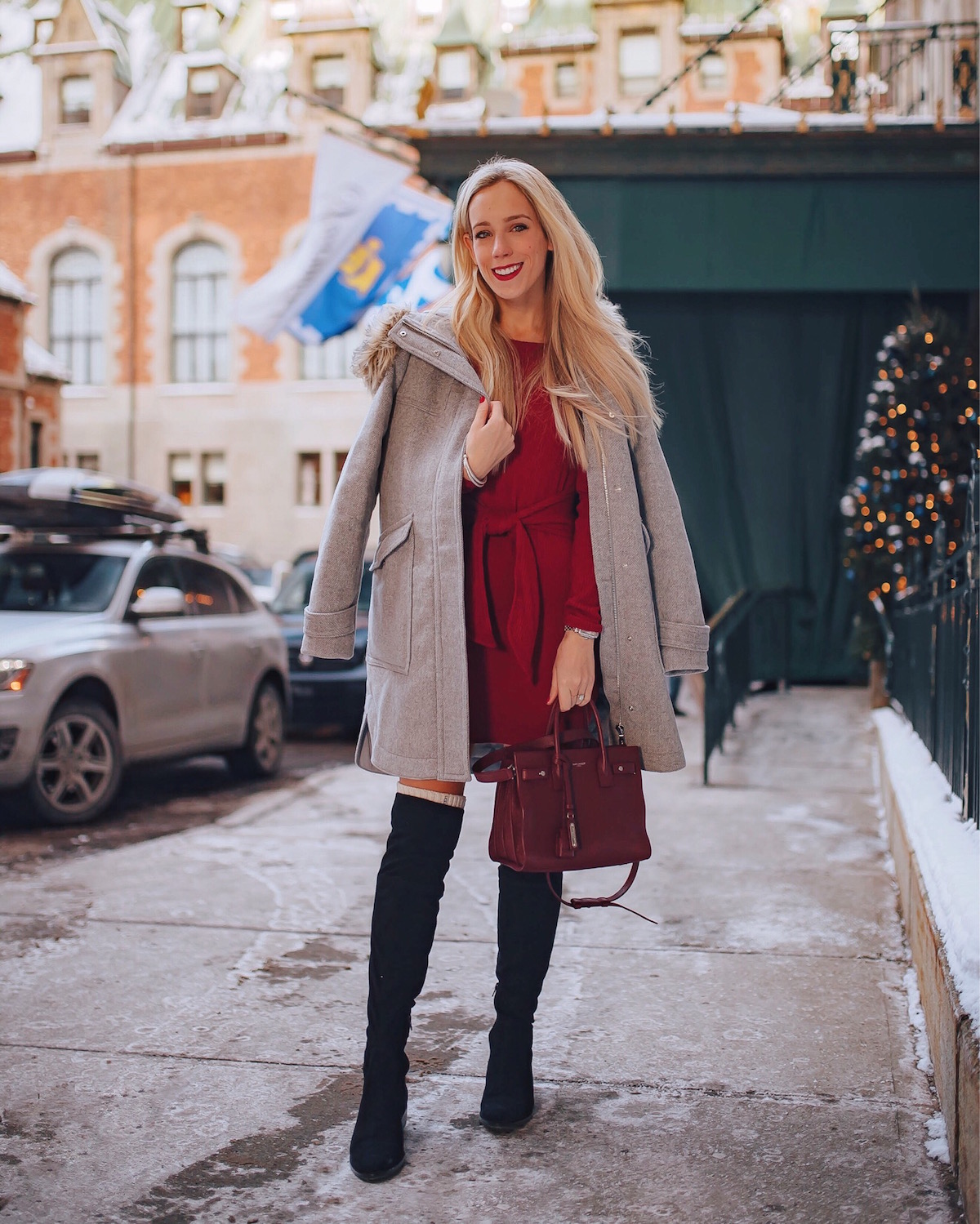 OUTFIT DETAILS // Sweater Dress | Faux Fur Wool Coat | Over The Knee Boots | Knit Thigh High Socks | Saint Laurent Bag | Red Lipstick
If we'd had more time!
Looking for more ideas of what to do in Quebec City? Here's the full list of sightseeing and restaurant recommendations I'd compiled before my trip. While we managed to check off a good handful of these, I'm kind of glad we didn't get to do everything because now I have an excuse to go back 😛
QUEBEC CITY LANDMARKS + SIGHTSEEING
Quebec City boardwalk
Quebec City ice toboggan
Quartier Petit Champlain (prettiest decorated street)
Place Royale (pretty street & cobblestone square)
Notre-Dame-des-Victoires (oldest stone church in North America located in Place Royale)
Place de l'Hôtel-de-Ville (shopping + German Christmas Market)
Rue Sous-le-Cap (cute street)
Rue Christie (cute colorful street)
Rue Couillard (cute street)
Rue du Sault-au-Matelot (cute street)
Pierre-Dugua-De Mons Terrace (for good city view photo)
The Funicular (photogenic cable car ride down to town)
Boutique de Noel de Quebec (holiday shop)
Place D'Youville (cute area + ice skating rink)
Grande Allée and the Parliament Building (bars, restaurants + good area for walking around)
QUEBEC CITY RESTAURANTS + BARS
Le Continental (restaurant in Fairmont Le Château Frontenac)
La Grolla (fondue)
Le Lapin Saute
Auberge St. Antoine + Bar Artefact (hotel bar with fireplace + good hot chocolate)
Café La Maison Smith (hot chocolate)
Chez Muffy at the Auberge Saint-Antoine
L'Affair est Ketchup
Chic Shack (casual burger spot)
Bistro Sous le Fort (traditional French food)
Pub de L'Oncle Antoine (cute old stone pub)
Gaël Vidricaire (pastries + hot chocolate)
Bar Ste-Angèle (drinks + live jazz)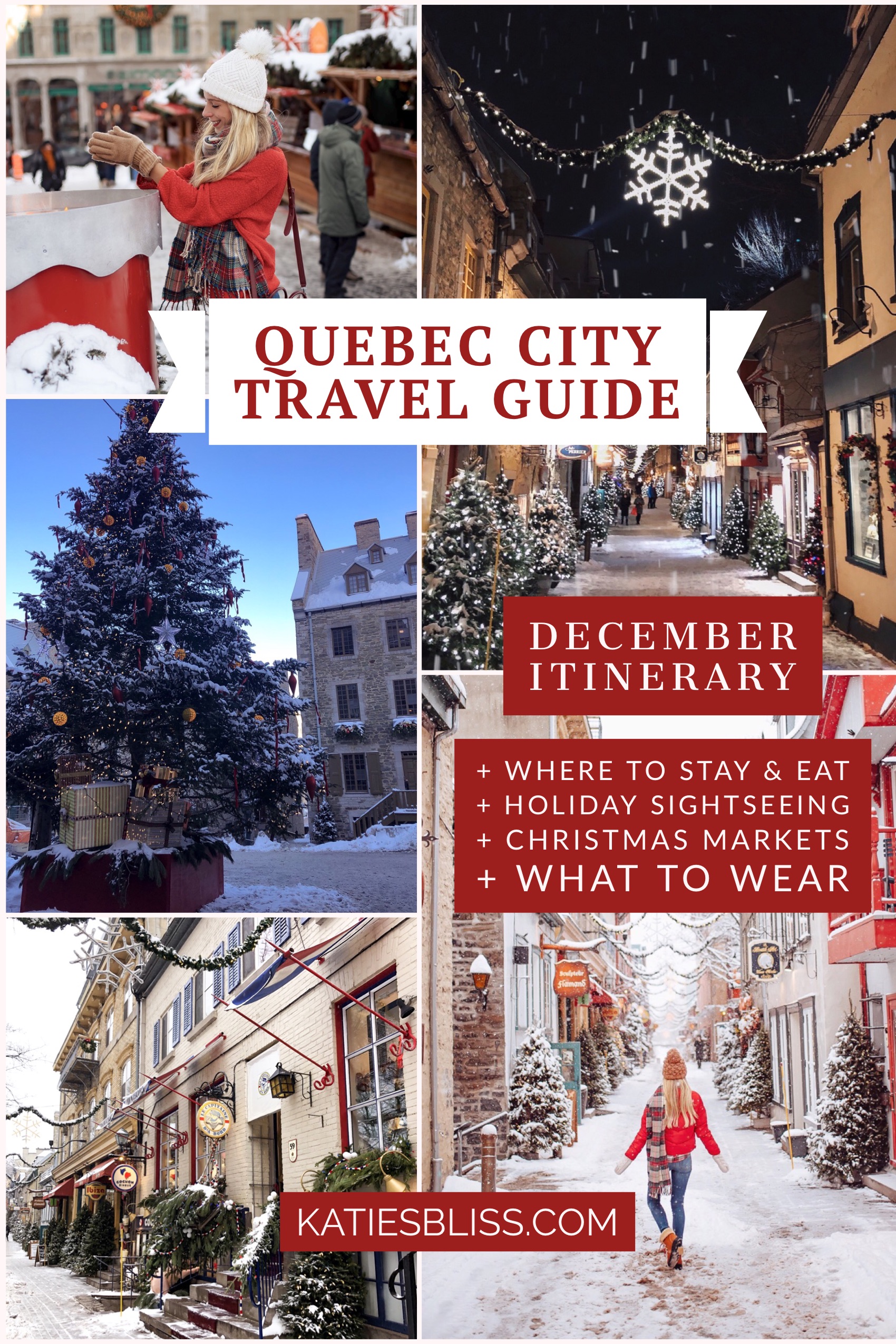 - Katie