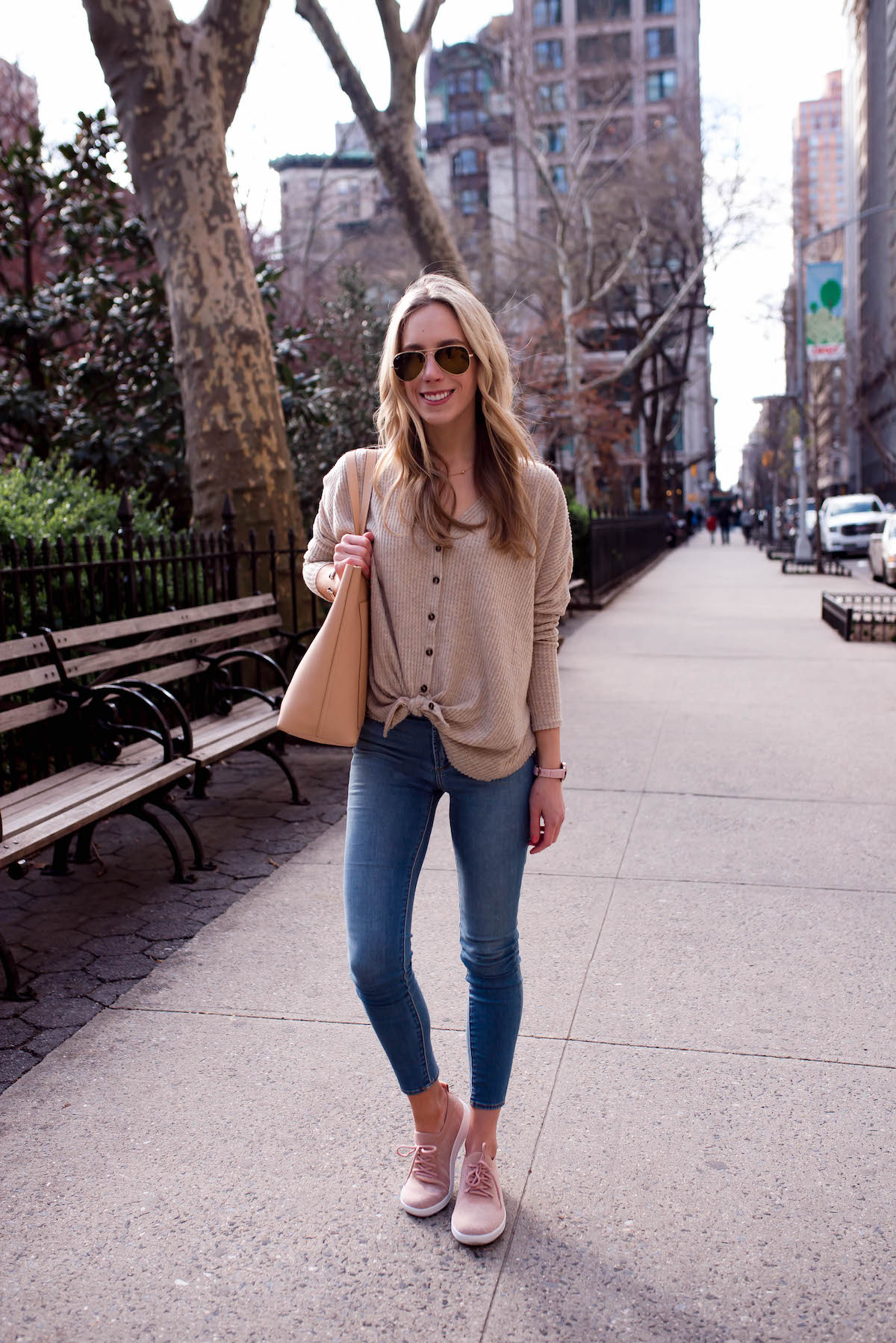 I've become quite the sneaker hoarder over the last year. It might not be obvious here on the blog, but out of all my shoes, sneakers are the shoe style that I wear the most. And I'm not just talking for the gym either! When I'm traveling, running errands or doing anything where it's appropriate to dress casually, you can bet I'm reaching for a pair of sneakers. To be honest, I hardly ever wear formal flats anymore because sneakers are just so much more comfortable and easier to slip on and go– especially ones that don't have laces.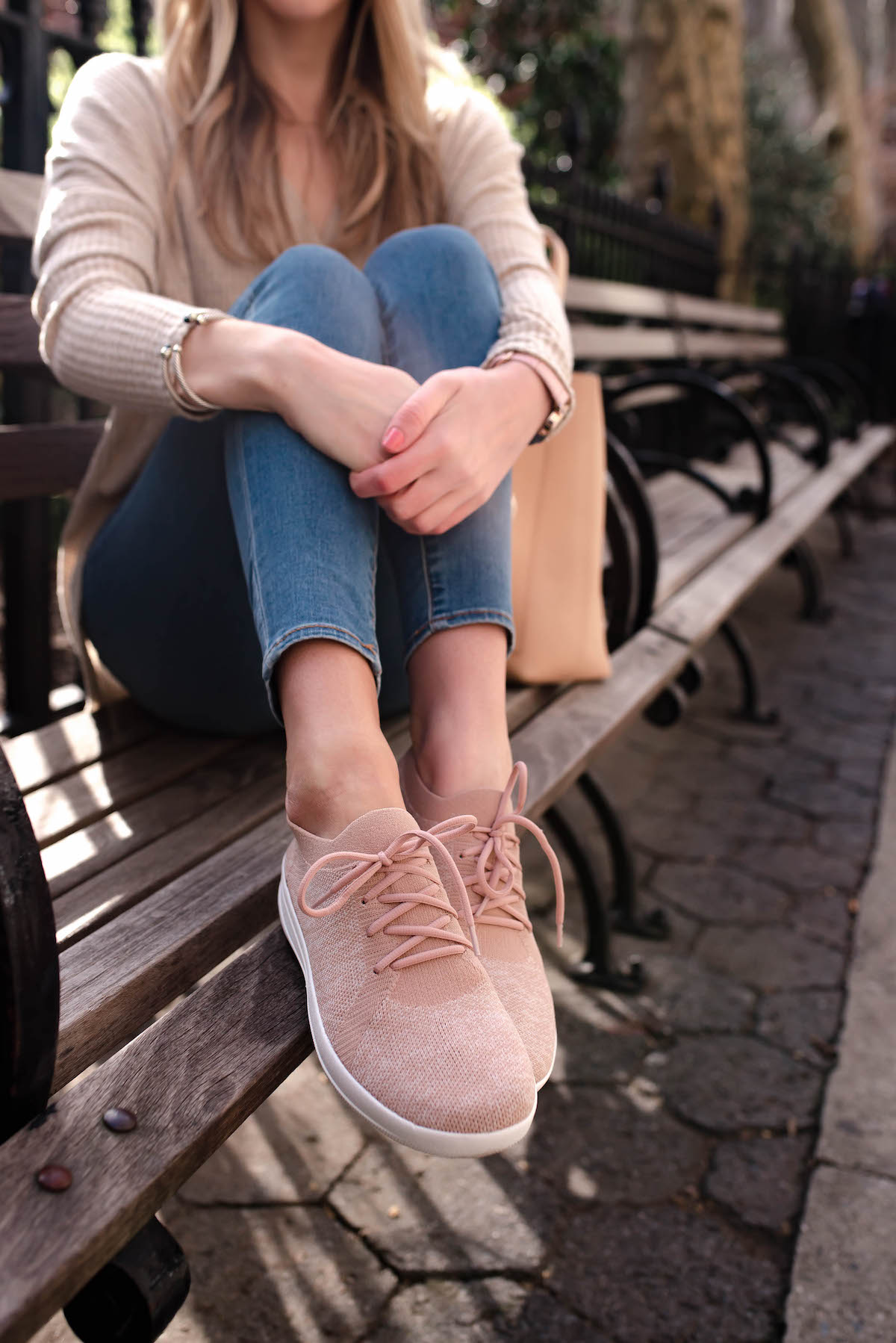 Which brings me to these pink cuties! Have you guys ever heard of FitFlop? I was recently introduced to the brand and had the opportunity to put their cult-favorite F-Sporty sneakers to the test. Since I literally walk everywhere when the description of a shoe mentions "all-day comfort" you best believe that I expect it to live up to the claim. If I'm out running errands and all of sudden my shoes starting scuffing my heels or I feel a blister coming on, I can't just pop in to my car to get off my feet. I have to physically walk home or just hope I'm able to hail a cab quickly. Gotta love the city life right?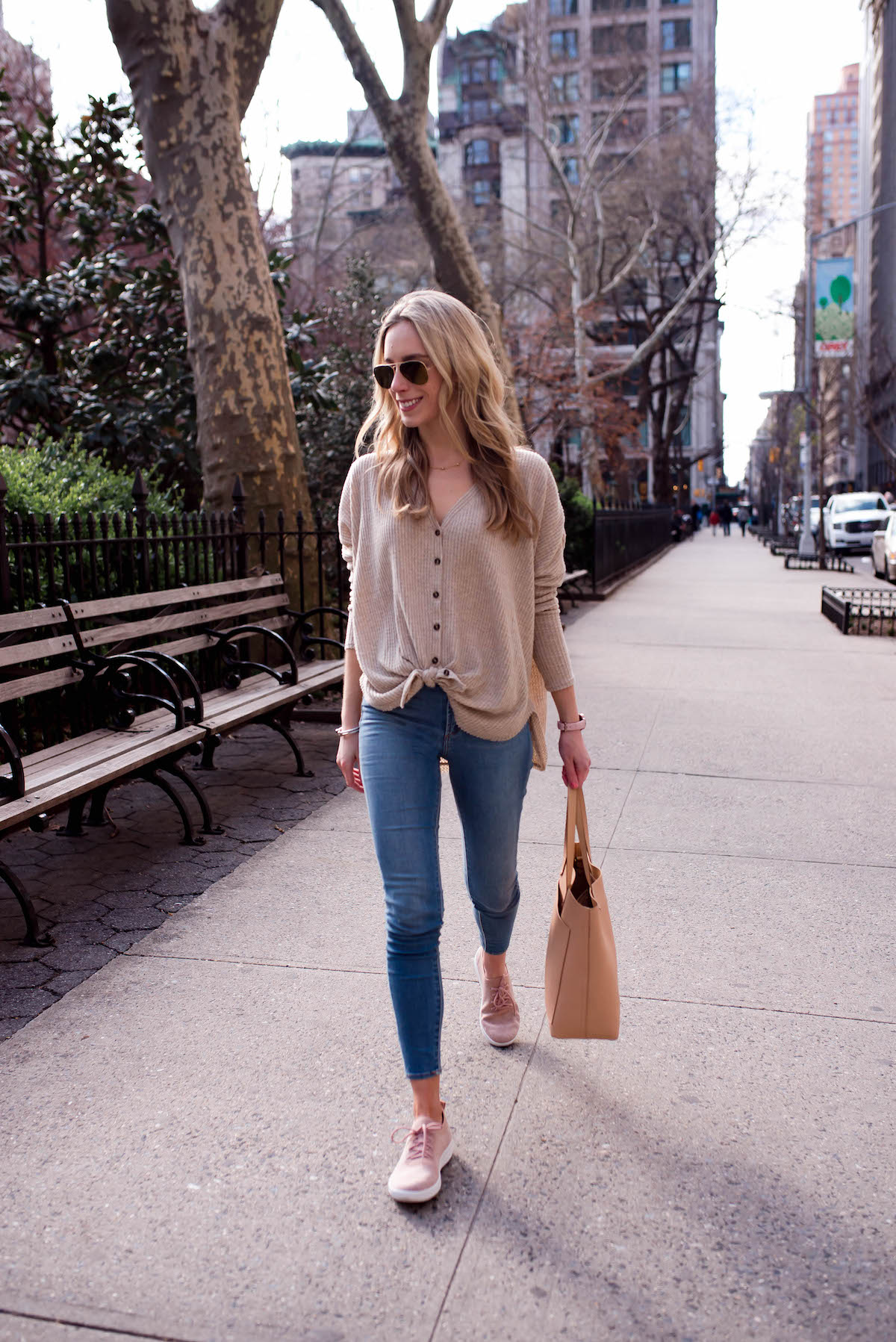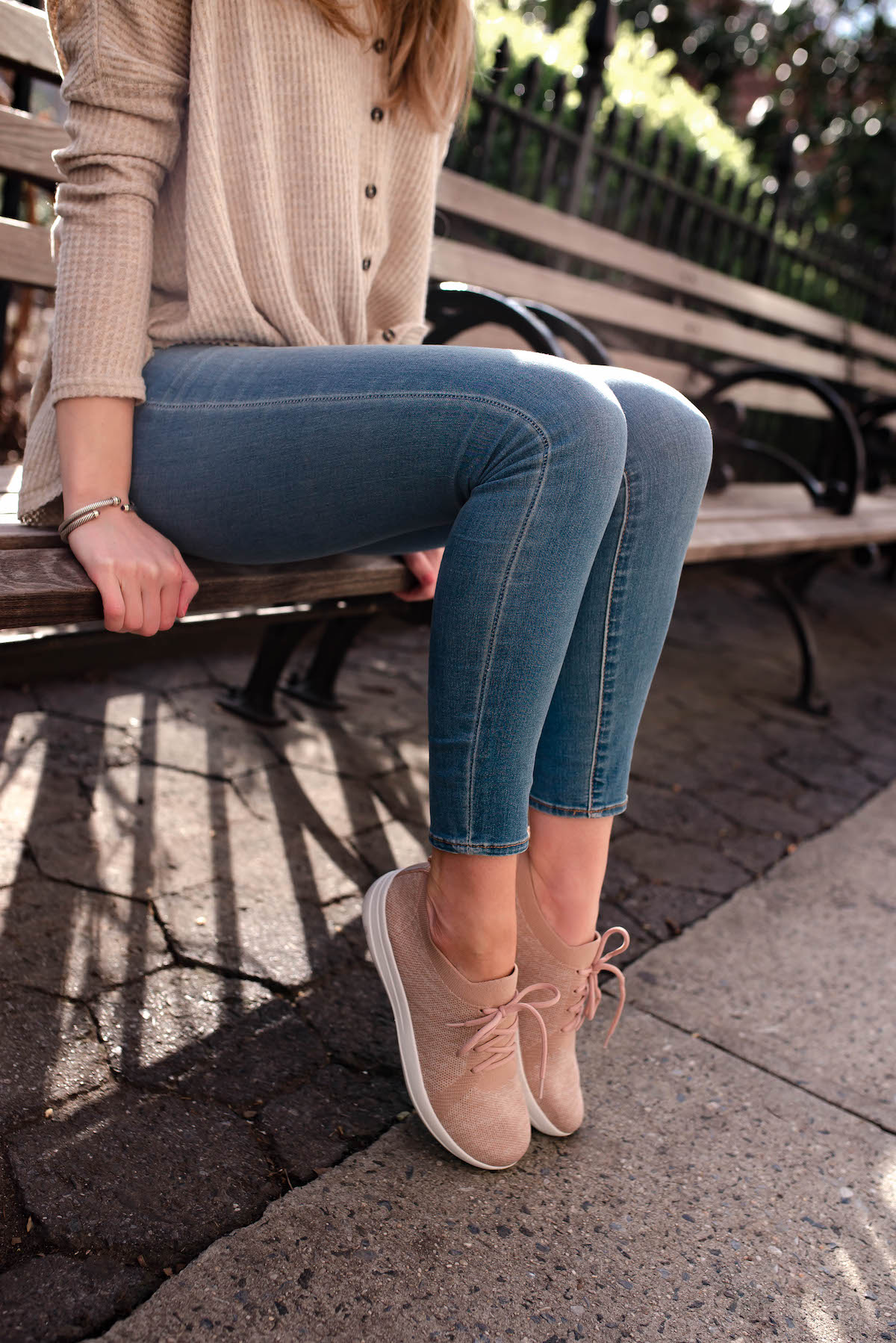 Okay so back to these FitFlop sneakers! I spent last Sunday in these pounding the pavement conquering my long to-do list of errands that took me from the coffee shop to Trader Joes, the drugstore, dry cleaners, Upper East Side to take care of my friend Allie's cat (she was out of town traveling) and then back downtown to meet Nick for dinner and to snap these photos in Madison Square Park.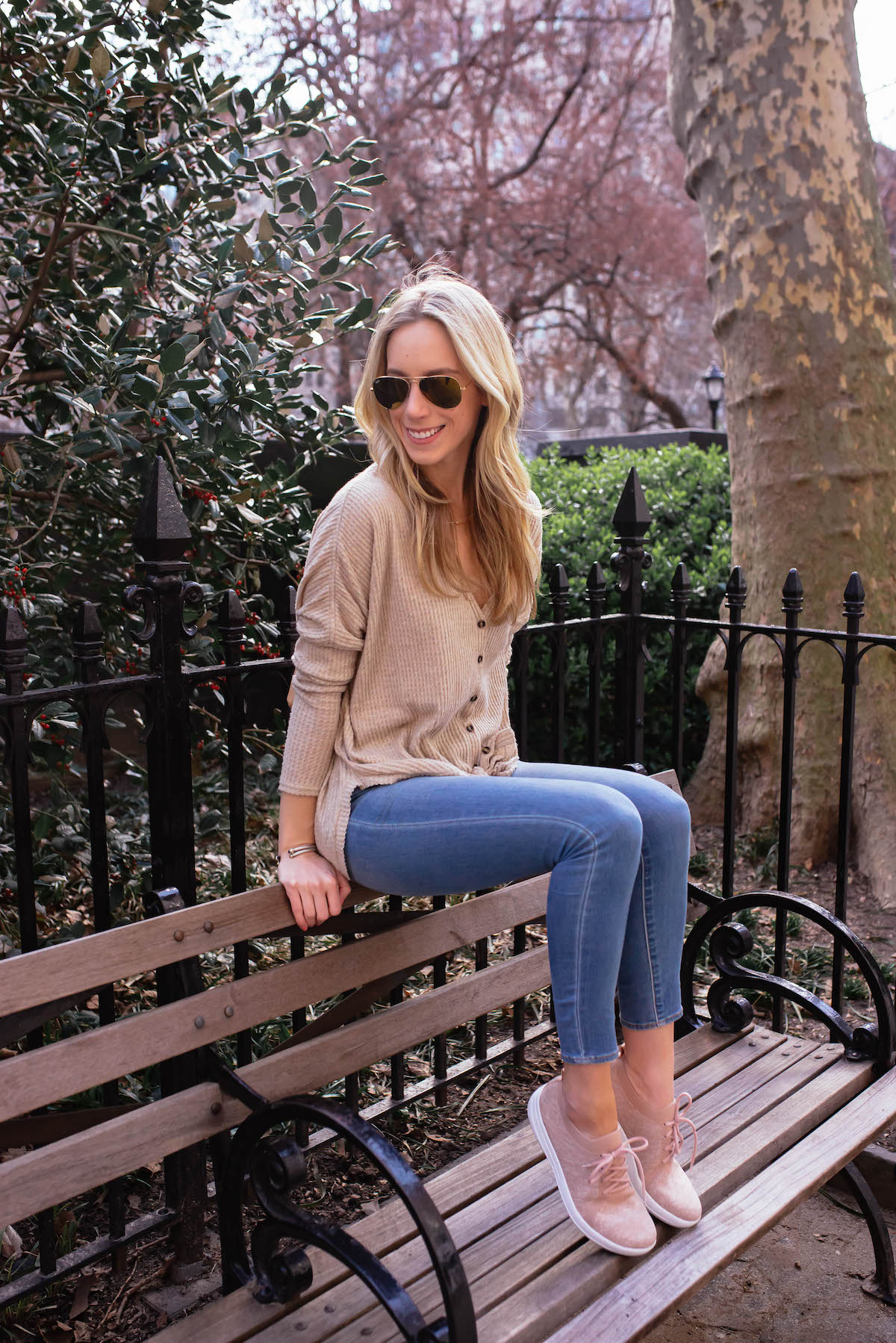 So did the sneakers live up to their all-day comfort claim? Yes indeed! The best way I can describe how these feel is like a wearing a stretchy pair of knit gloves—except on your feet and with a supportive sole. I hate when I get that sticky, sweaty feeling in my shoes from walking too fast (sorry TMI) so I was pleasantly surprised at the lightweight and breathable fit. These sneaks are the complete opposite of clunky and probably weigh less than most of my flats and flip flop sandals.
You know how I mentioned laces? Well looks can be deceiving because these are actually slip-ons! There's no tying required, but the laces can be tightened and adjusted to your liking. Another thing worth mentioning is the F-Sporty sneakers actually have a mesh-lined footbed with antibacterial treatment to help prevent odor so nope, no stinky feet over here!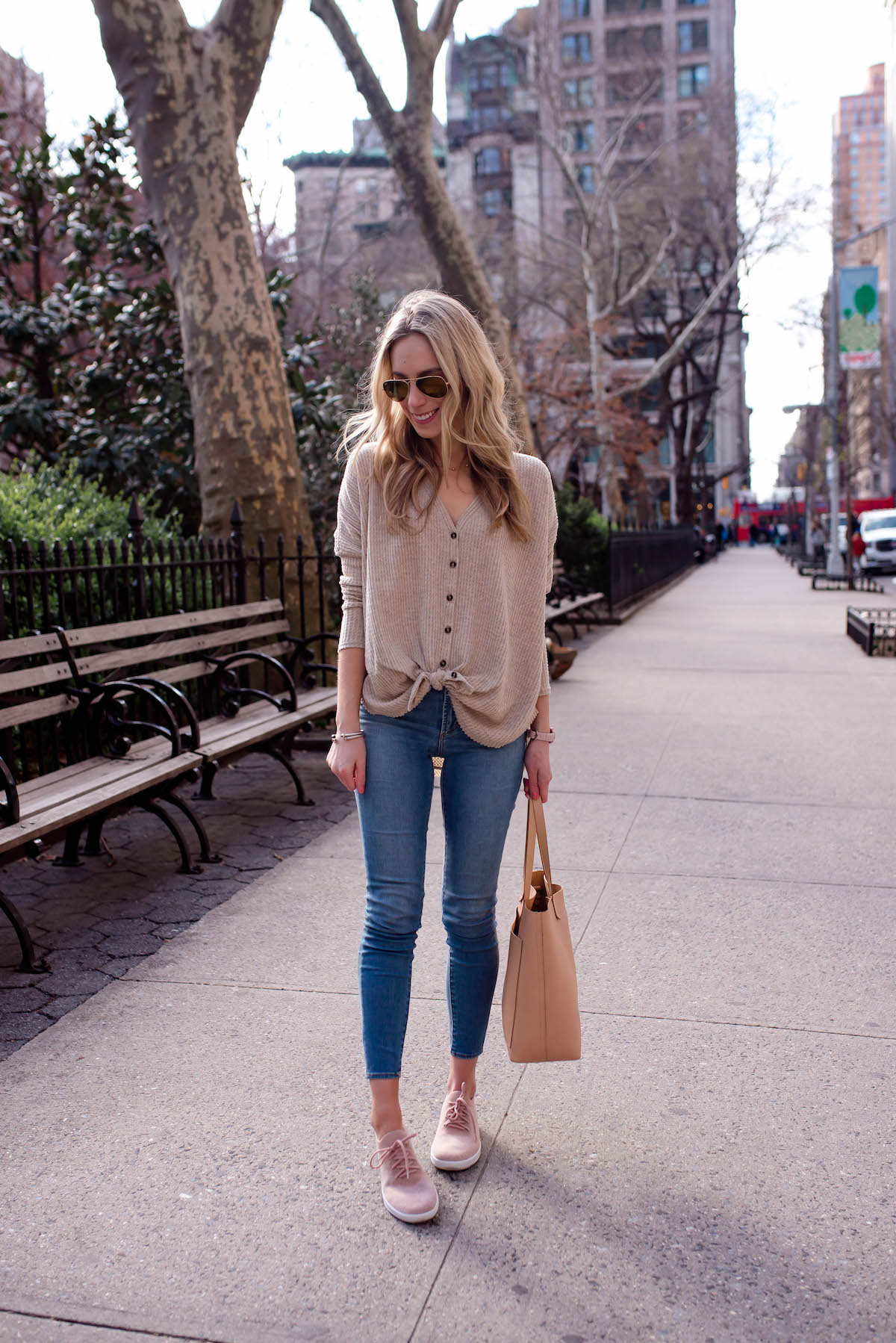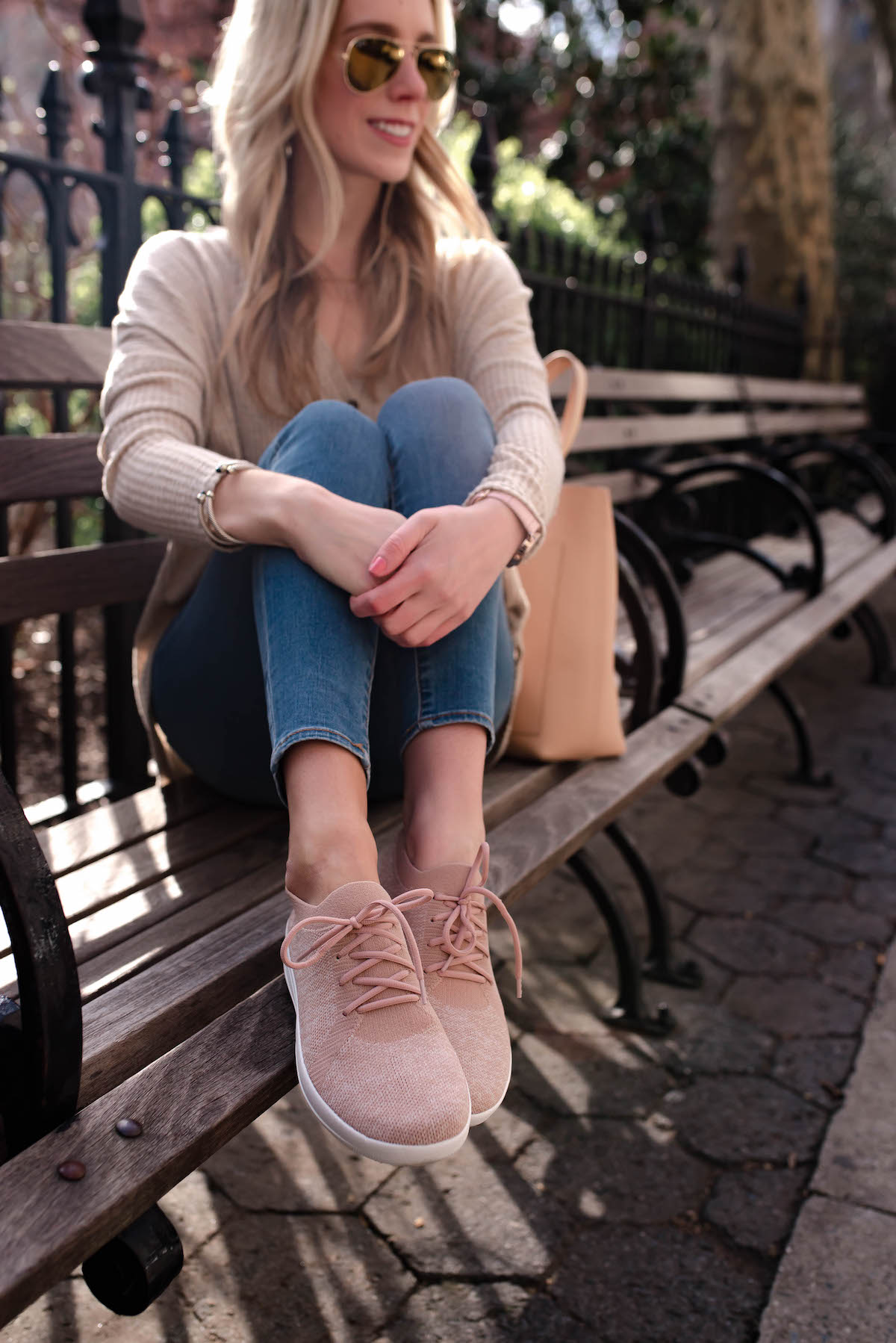 So whether you're looking for a comfortable (& stylish!) everyday sneaker or a pair of shoes that can hold up when traveling, you can't go wrong with a pair of FitFlop F-Sportys. Of course I went with light pink, but they also come in four more fun colors which you can check out here! The price is good too! At just under $110, a pair of F-Sportys is more affordable than many similar styles you might find from other mainstream sneaker brands, plus you have the guarantee of comfort and quality. Win win if you ask me!
Shop More FitFlop Footwear!


Big thank you to FitFlop for sponsoring this post!
- Katie