If someone had told me eight years ago when I first started blogging that one day I'd write a post about buying a CHANEL bag I'd have thought they were crazy. Me? The proud owner of the pinnacle of all designer handbags? No way.
I've always been a fan of CHANEL and have admired the brand's coveted quilted bags from afar for years. After falling head over heels in love with my go-to beige Saint Laurent Lou Lou quilted bag (my 26th birthday gift to myself) I knew that I eventually wanted to invest in a similar classic black style. The first purse to come to mind? A timeless CHANEL Classic Flap Bag of course.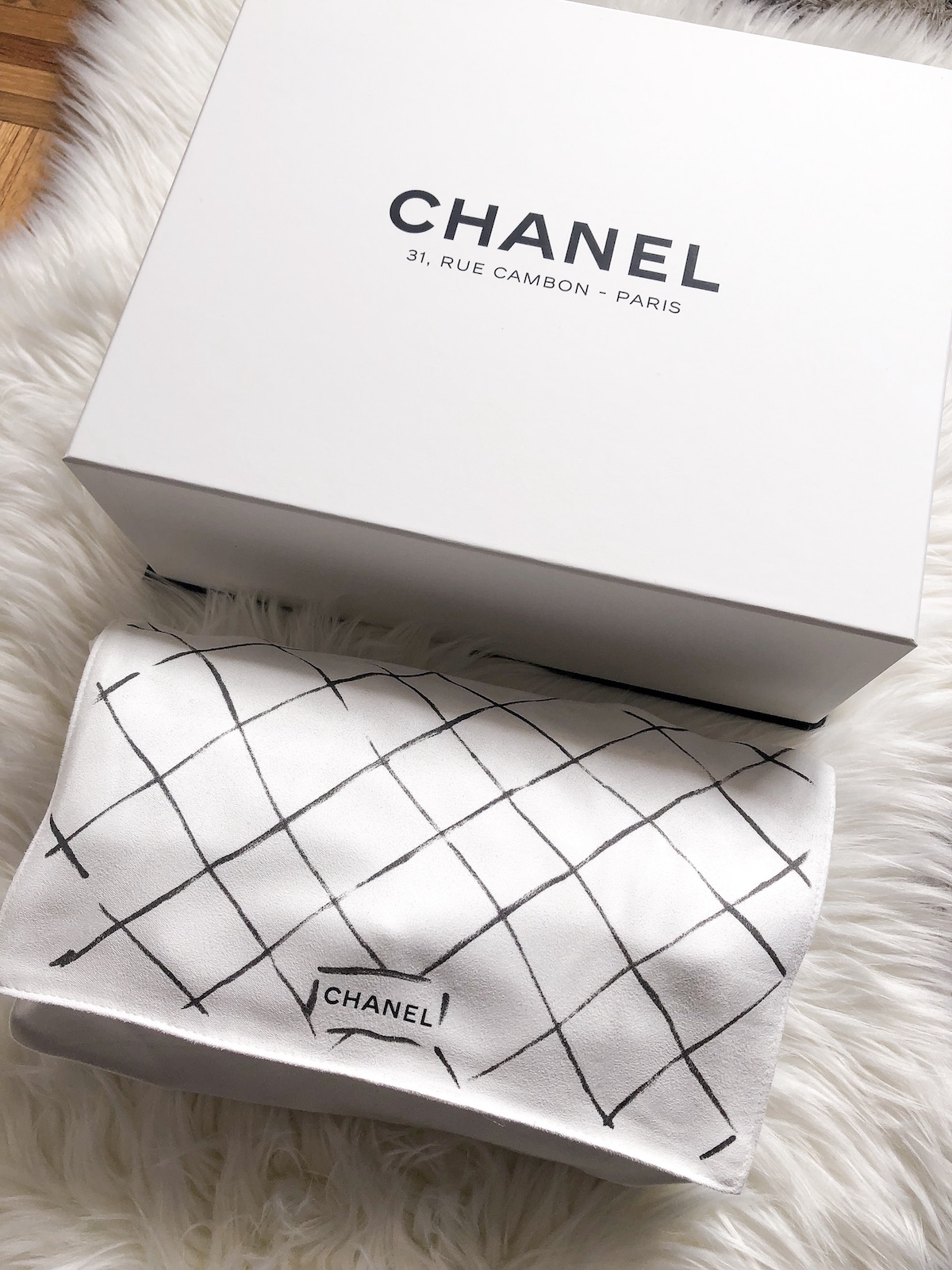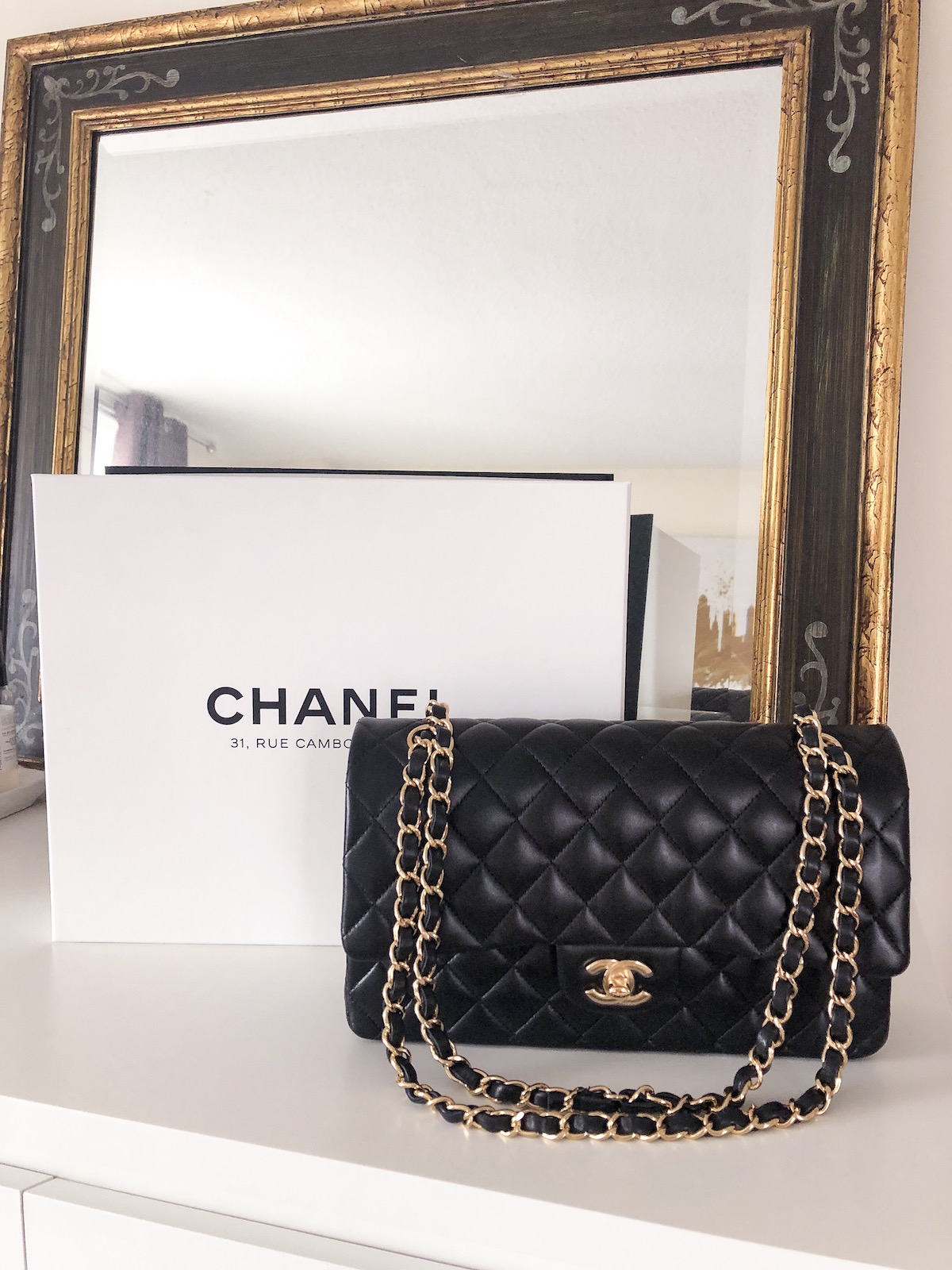 I think we can all agree that when considering a very large purchase (in this case a 4-figure handbag) it's probably best to take your time and do your research before pulling the trigger. A quick browse of luxury handbag blogs and purse forums quickly revealed to me that the most cost effective way to buy a new CHANEL bag was to purchase it OUTSIDE of the United States. Buying designer goods abroad allows American shoppers to avoid expensive U.S. state sales taxes (NYC is 8.875%!) and take advantage of slightly cheaper designer retail prices.
After doing that initial research, I tucked the info away in my back pocket knowing that I wanted to wait for the right international trip to finally invest in my dream bag. Well you all know the rest is history because a few weeks ago in Paris I did just that! Even after walking into the CHANEL flagship store on Rue Cambon, I was still a little unsure if I would actually go through with it. I mean, it's just SO much money. And for something so small at that!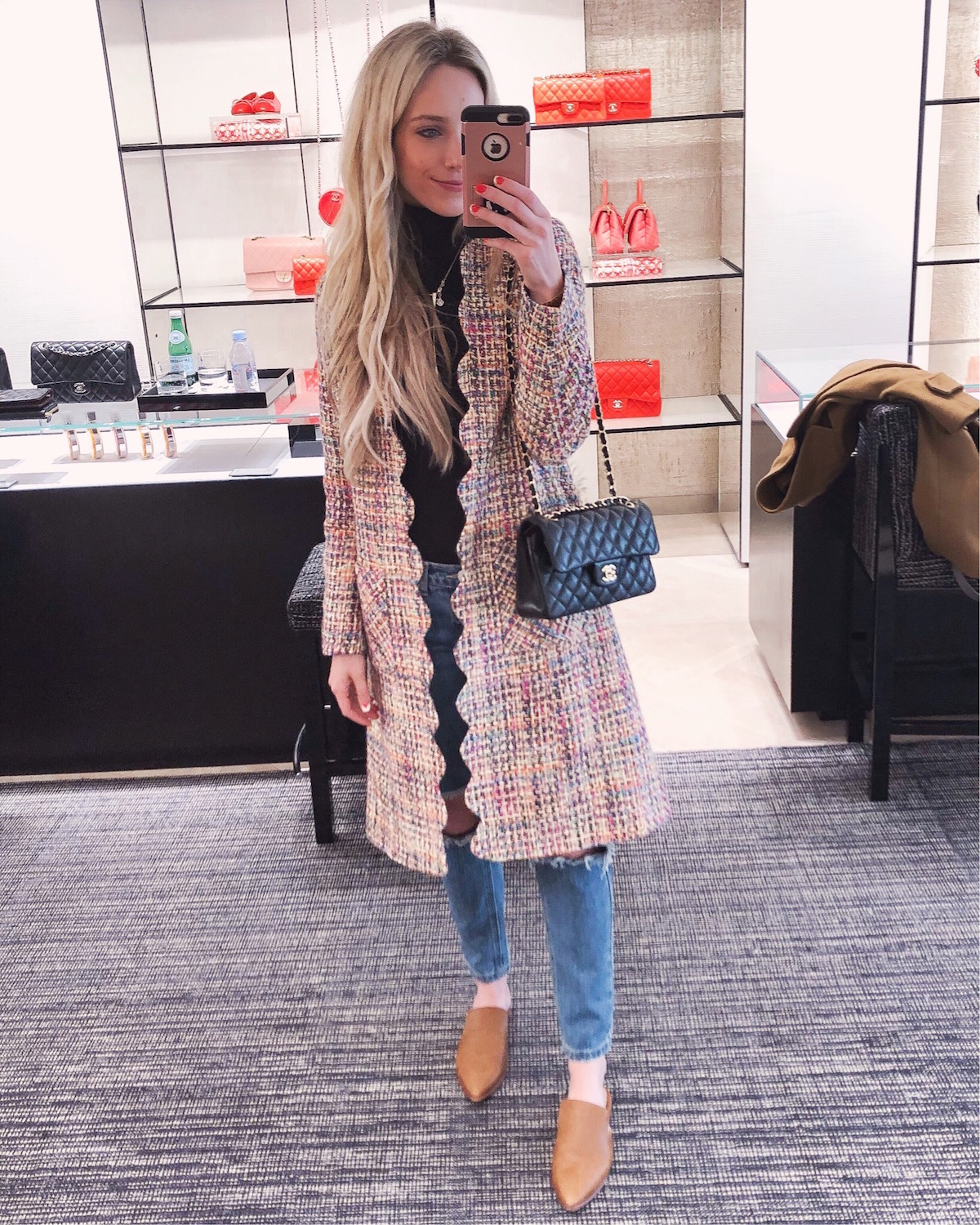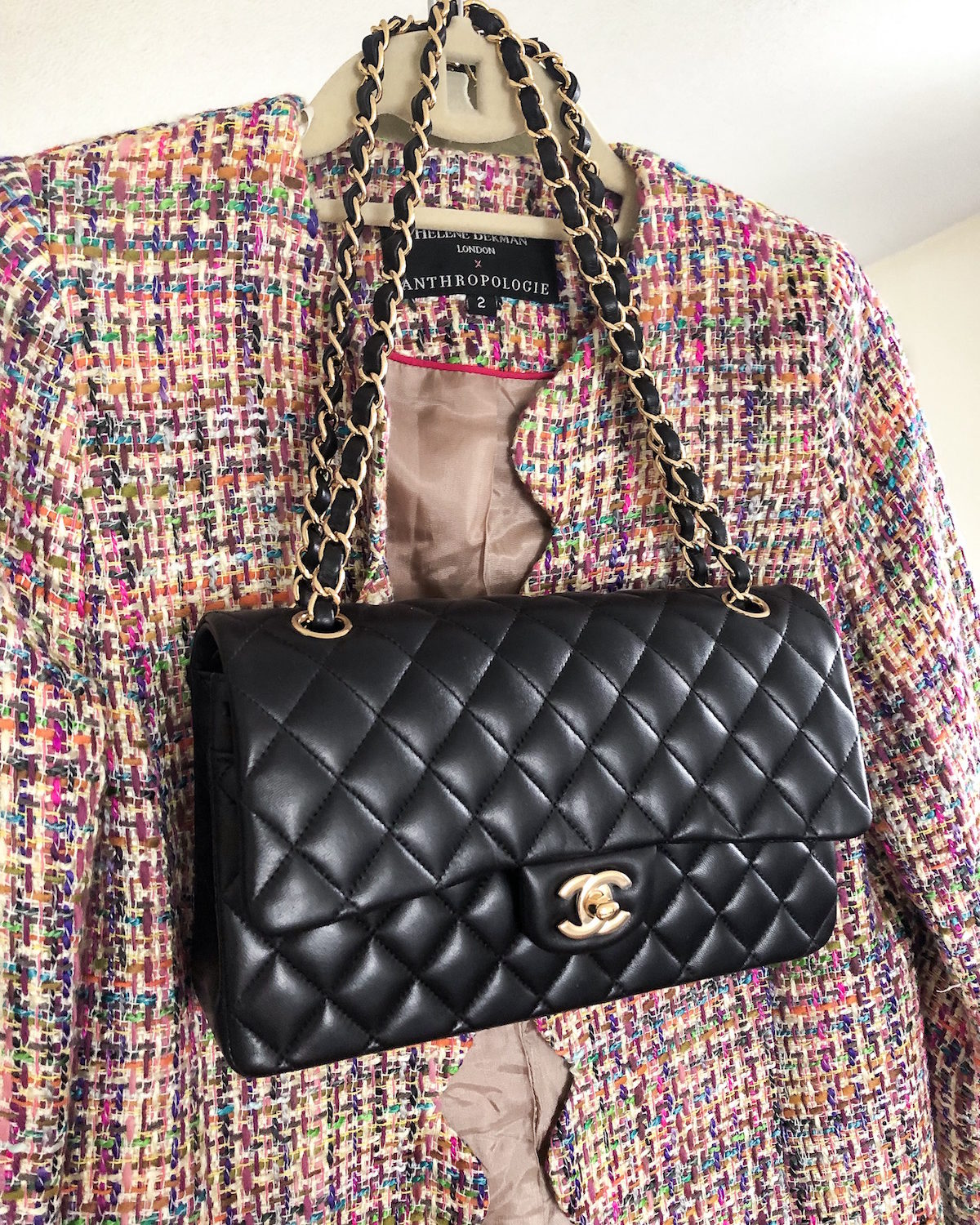 Outfit Details // Anthropologie Tweed Coat c/o | Free People Bodysuit c/o | Distressed Jeans | Leather Slides| Kendra Scott Necklace c/o
I recognize what a privilege it is to be able to afford such a luxurious item and making the decision to spend such a significant amount of money on a material item is not something I take lightly. That said, I knew that if I was going to buy a brand new CHANEL classic flap bag, now was the time to do it. So I bought the bag! Ahhh!
After revealing my new treasure on Instagram stories and mentioning how I'd saved significantly by buying it abroad I was inundated with questions like: How much did I pay? What size bag did I buy? What would the price have been in the US? What's a VAT Refund? Why are designer bags less expensive in Europe? All very good legitimate questions, but not ones I could answer off the top of my head. So here we are!
WHAT STYLE CHANEL BAG DID I PURCHASE?
I decided to go with the timeless CHANEL Classic Medium Flap Bag in black with gold hardware. I went with soft lambskin leather over the caviar. I know it's a much more delicate material, but the caviar just felt so rough to me and given that I'll only be using this bag on special occasions, I was willing to take the risk. I chose the medium because it's not too big or too small and perfectly fits my checkbook wallet, iPhone, a lipstick and pair of sunglasses (in a cloth case.) Side note: this style is currently unavailable in the United States and there's a waitlist for when it comes back in stock.
WHAT I PAID FOR MY CHANEL BAG IN FRANCE:
European Retail Price (including 20% VAT): $5,459.47
– 12% VAT Refund: $668.74
Total Cost: $4,791.47
WHAT I WOULD'VE PAID FOR MY CHANEL BAG IN NYC:
Retail Price (not including tax): $5,600.00
+ NYC Sales Tax (8.875%): $497.00
Total Cost: $6,097.00
TOTAL SAVINGS: $1305.53
I know. Insane right? When I was in the store buying my bag it was a little difficult to fully process how much money I was actually saving. Between the different currencies, exchange rates and then the VAT refund process– it was a bit confusing and part of me kept thinking that I'd just been excited for nothing and in the end it would be a similar price to if I'd purchased at home. Then I actually did the math and needless to say, I was completely shocked. I guess it was really worth it!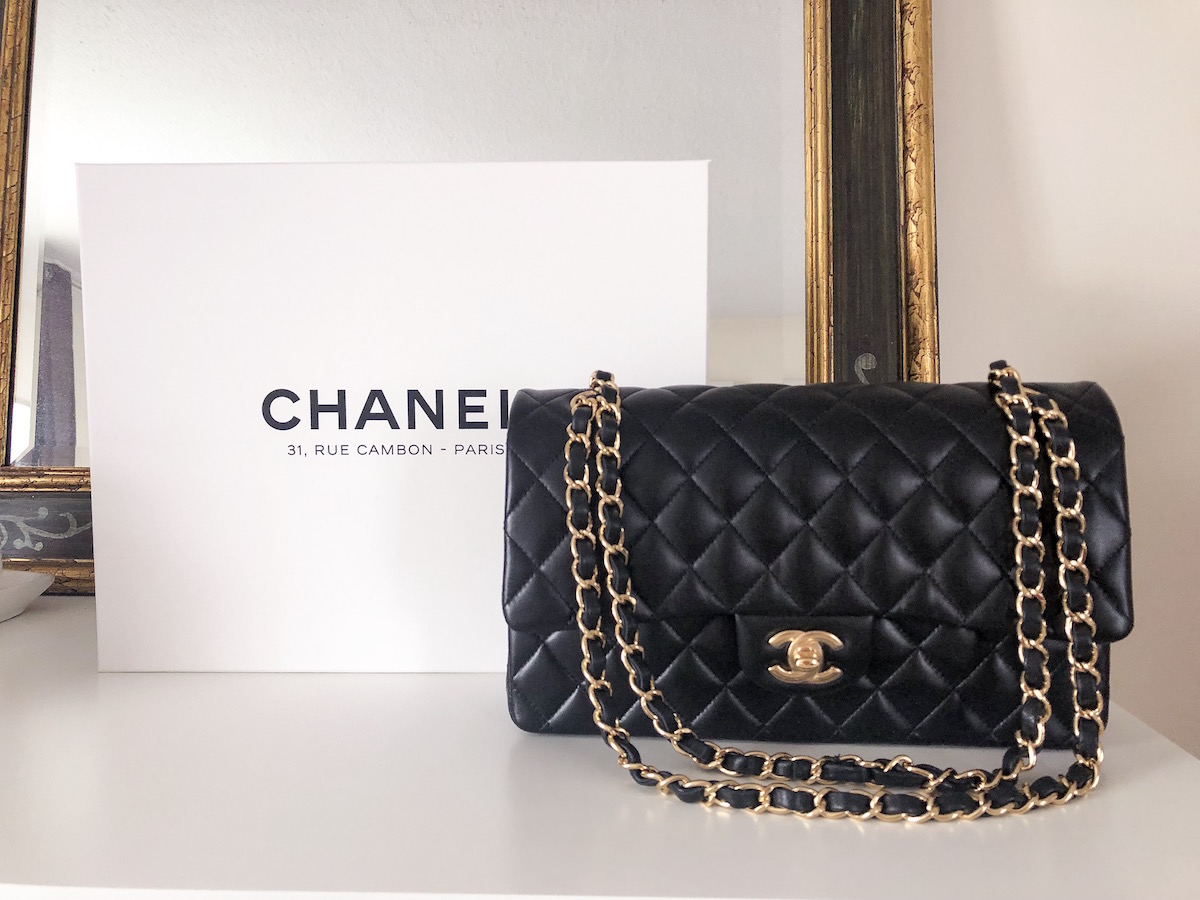 WHAT IS A VAT REFUND?
Value Added Tax (VAT) is basically the European Union's version of sales tax. The standard VAT on retail merchandise in France is 20%, though this tax only applies to EU citizens. Residents of non-EU countries can request a VAT refund on any purchases over 175€ at a customs office before departing the country. If approved, you should see about 12% of the VAT fee you paid returned to your credit card within three months. Why not the full 20%? Sadly there's an 8% administrative fee that automatically gets deducted from all VAT refunds, but hey 12% is better than nothing! PS I was very pleasantly surprised that I got my refund back in less than 2 weeks!
HOW TO GET A VAT REFUND
Designer stores in major European cities are very used to foreign shoppers wishing to take advantage of VAT refunds. At CHANEL I didn't even need to ask for help or mention I was American (I mean it was obvious LOL.)  While I was paying for my bag, my sales associate automatically walked me through the VAT refund process and provided me with all the necessary paperwork I needed to file my claim at the airport. If a store doesn't provide you with the necessary documents at checkout, all you have to do is ask them for it!
The next step is to claim your VAT at the airport. You do this before going through security- just look for signs for the customs/VAT offices. Have your passport, receipt, refund paperwork and whatever you purchased ready to be reviewed by a customs agent. They'll need to stamp your documents approving that you're eligible for a refund. Once that's done you turn in your documents and wait for your money. I did this using a pre-paid envelope that was provided by the agent that I then dropped in the refund box right there in the customs office. Make sure to take a photo of the documents on your phone before mailing them in, just in case something happens and you need proof!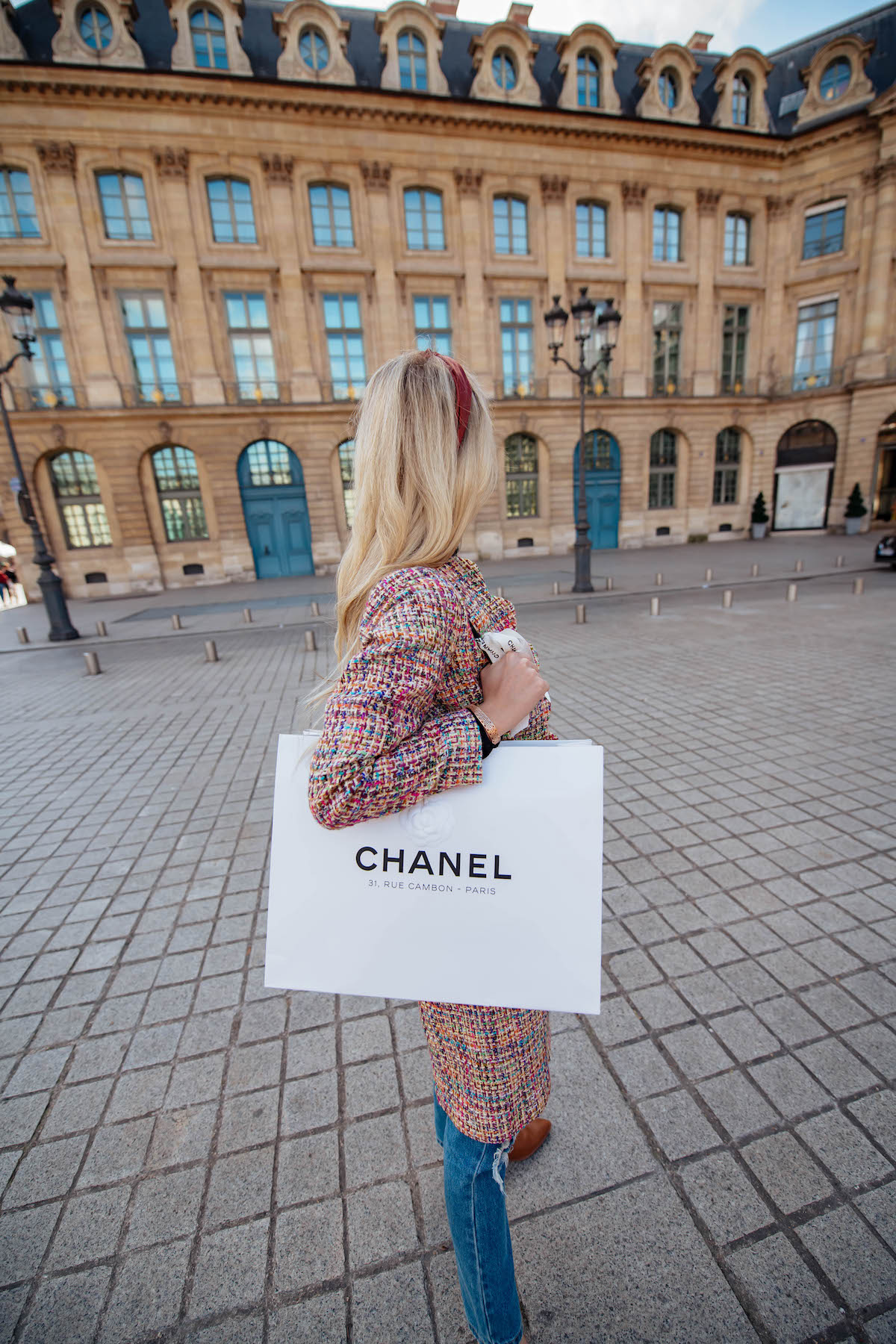 MORE SHOPPING TIPS FOR BUYING DESIGNER ITEMS IN EUROPE
Make sure you use a credit card without foreign transaction fees. Certain credit cards will charge small fees on purchase made outside of the United States. These can really add up if you're making large purchases, so make sure to check yours before your trip!
Do your research. I was very lucky that I was able to walk into the store and find the exact bag I wanted. Before your trip do your due diligence and call ahead to where you plan to shop to see if they have the items on your wish list.
Shop at department stores to easily meet the 175€ VAT refund minimum. To apply for a refund on purchases you need to spend 175€ or more at each individual store where you shopped. So even if you spent thousands of euros on your trip shopping for shoes, if each pair was bought at a different store for 100€ you would not be able to claim VAT, despite the total amount you spent on your trip. If you plan on snagging a bunch of non-designer items abroad, consider heading to a department store to get your shop on. This way you can snag multiple lower ticket items and still have your final receipt read 175€+.
What do you guys think of my new bag? Any other questions feel free to ask in the comments!
- Katie