Lilly Pulitzer After Party Sale day is here and if you haven't already, I highly suggest clicking over to LillyPulitzer.com to get your spot in the virtual line to shop. Word from the Lilly team is that new styles will be added tomorrow morning so if you don't see something you wanted today– make sure to check back!
LILLY PULITZER AFTER PARTY SALE SEPTEMBER 2020 DATES
MONDAY, SEPTEMBER 14TH – TUESDAY SEPTEMBER 15TH
SALE BEGINS 8AM ET & ENDS 11:59PM ET
Now for some of my favorite items included in the sale! I swear that even though I've been shopping the After Party Sale for years, the discounted prices are still SO shocking to me. Everything is at least 50% off! Its a great time to shop especially if you know that you're likely going to want to add a few new dresses or colorful things to your closet for next spring/summer– it's really worth it to shop now. The savings are incredible!
PS I am wearing size XS or 0 in all of the below looks. I find Lilly runs slightly big so if you're between sizes I'd size down. I'm 5'5″ for reference.
LILLY PULITZER AFTER PARTY SALE SHOPPING GUIDE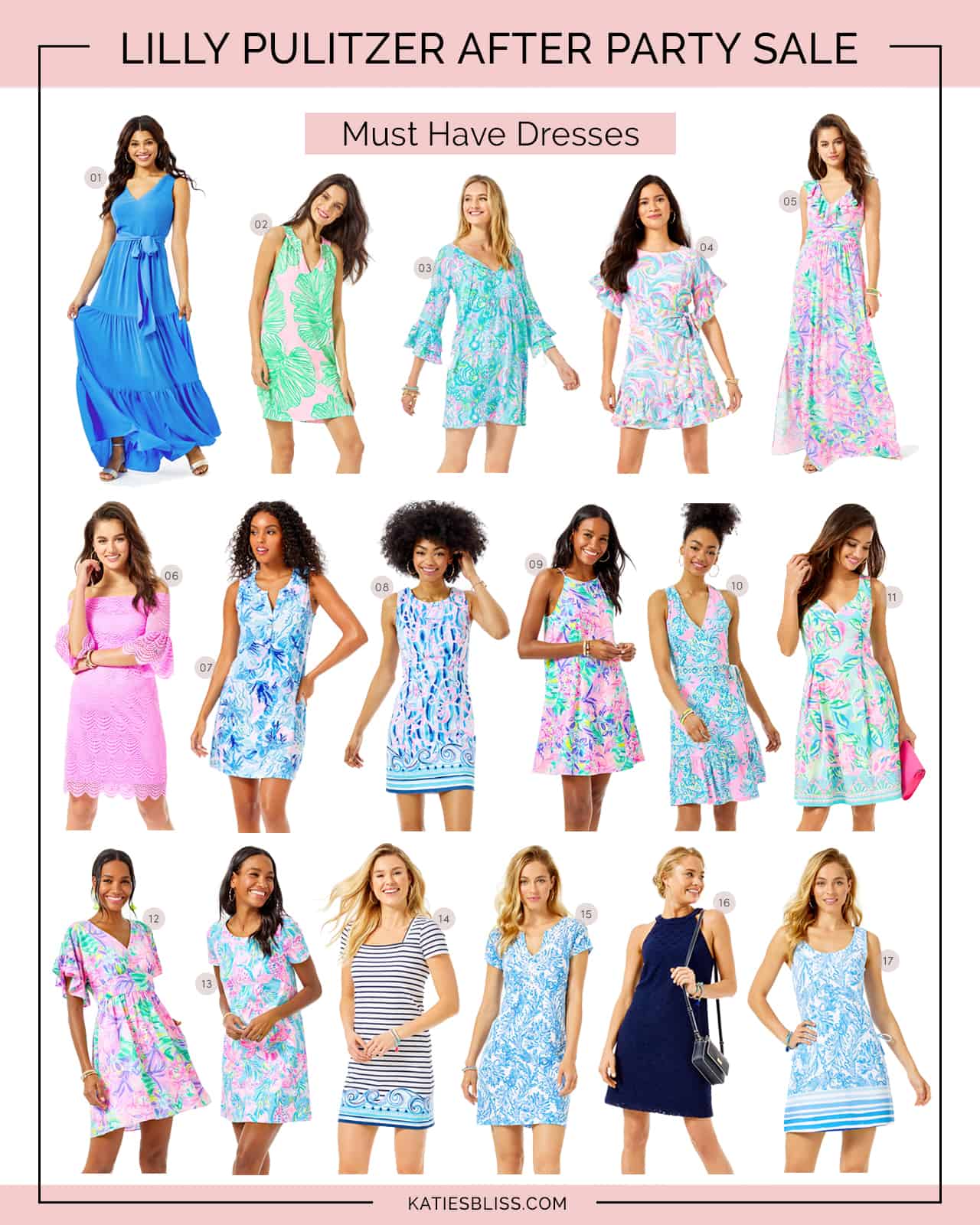 1. Lilly Pulitzer Maurine Maxi Dress (Sale Price: $89, originally $258)
2. Lilly Pulitzer Ross Shift Dress (Sale Price: $39, originally $98)
3. Lilly Pulitzer Azita Tunic Dress (Sale Price: $59, originally $148)
4. Lilly Pulitzer Darlah Stretch Dress (Sale Price: $84, originally $218)
5. Lilly Pulitzer Mirella Maxi Dress (Sale Price: $69, originally $198)
6. Lilly Pulitzer Lexa Off The Shoulder Dress (Sale Price: $69, originally $198)
7. Lilly Pulitzer Essie Dress (Sale Price: $44, originally $98)
8. Lilly Pulitzer Mila Stretch Shift Dress (Sale Price: $69, originally $188)
9. Lilly Pulitzer Margot Swing Dress (Sale Price: $50, originally $108)
10. Lilly Pulitzer Misha Sleeveless Wrap Dress (Sale Price: $64, originally $168)
11. Lilly Pulitzer Linnet Stretch Dress (Sale Price: $69, originally $198)
12. Lilly Pulitzer Blaire Fit and Flare Stretch Dress (Sale Price: $79, originally $218)
13. Lilly Pulitzer Cody T-Shirt Dress (Sale Price: $44, originally $98)
14. Lilly Pulitzer Rexa T-Shirt Dress (Sale Price: $44, originally $108)
15. Lilly Pulitzer Brewster T-Shirt Dress (Sale Price: $50, originally $108)
16. Lilly Pulitzer Rayanne Shift Dress (Sale Price: $59, originally $178)
17. Lilly Pulitzer Sammi Romper (Sale Price: $64, originally $168)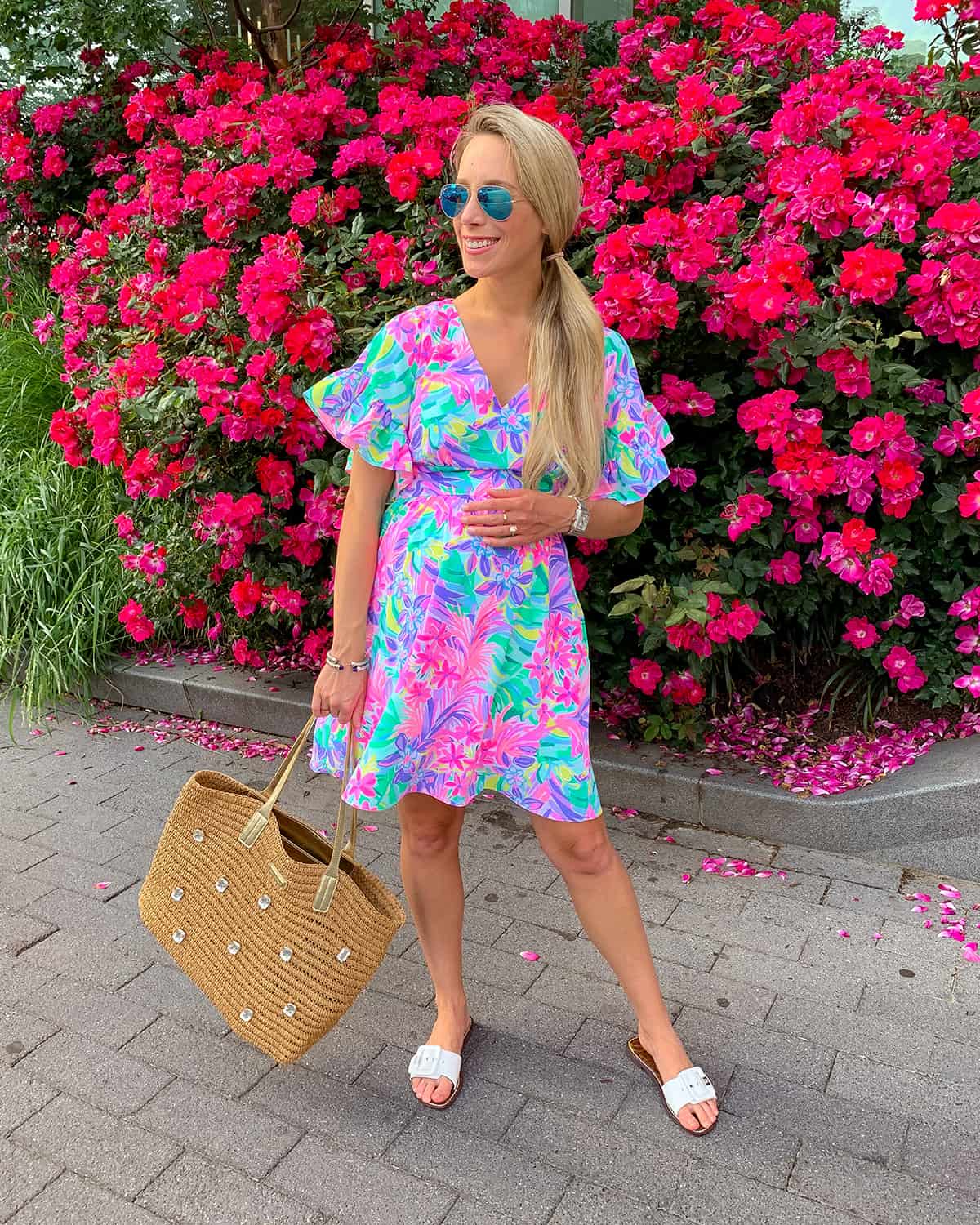 Lilly Pulitzer Blaire Fit and Flare Dress (Sale Price: $79, originally $218)
Lilly Pulitzer Sunstone Straw Tote (Sale Price: $49, originally $138)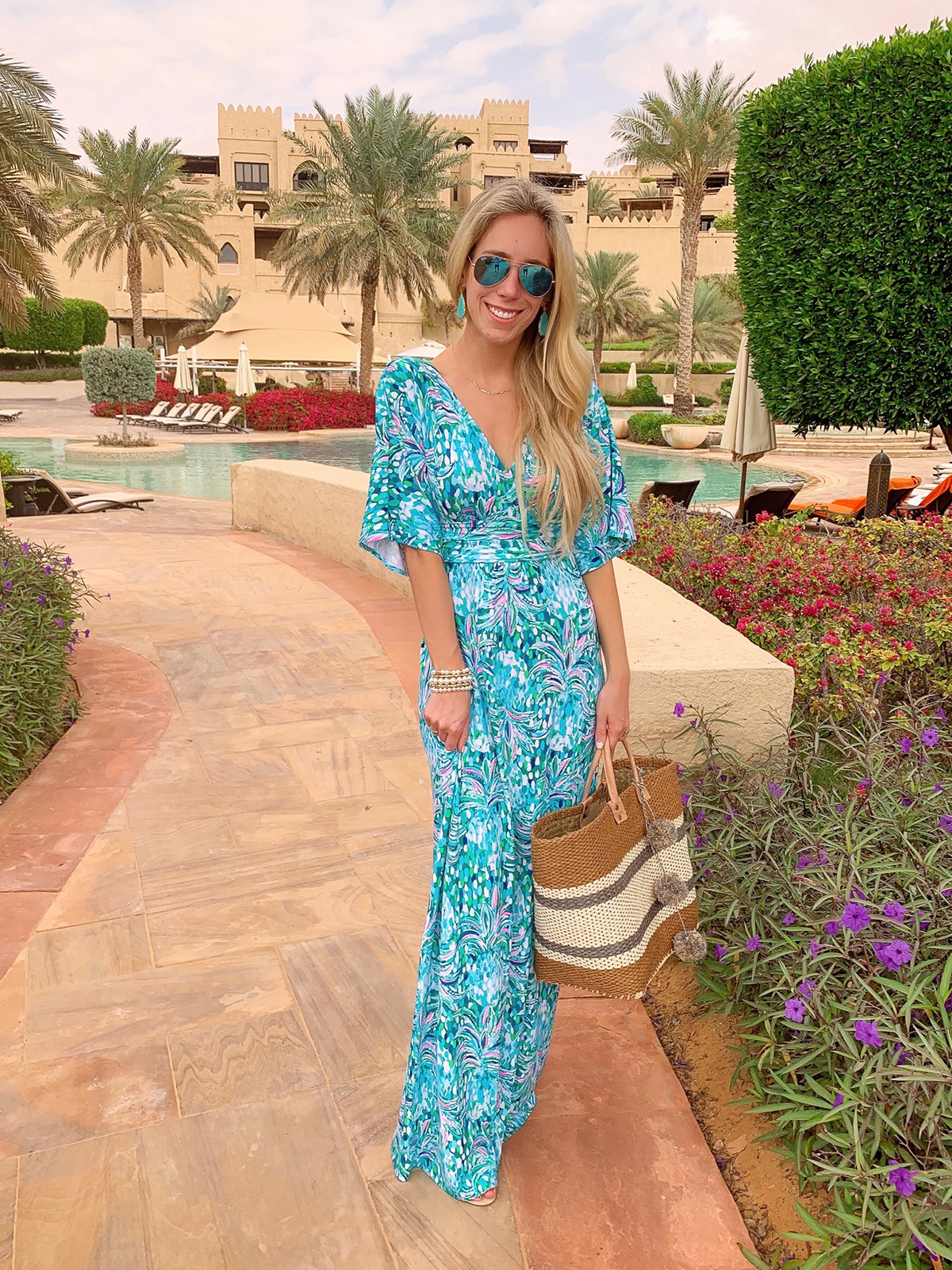 Lilly Pulitzer Parigi Maxi Dress (Sale Price: $89, originally $228)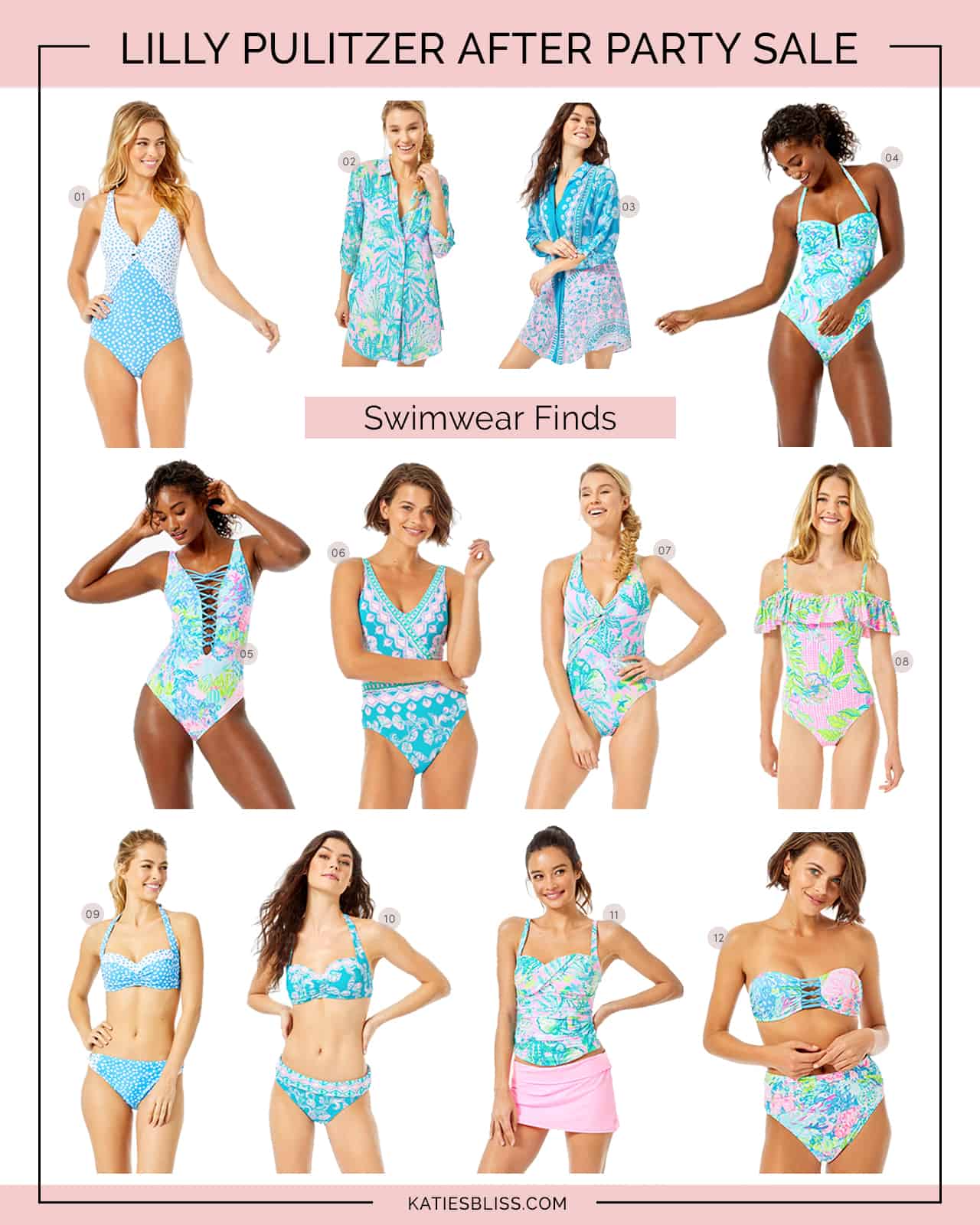 1. Lilly Pulitzer Malvie One Piece Swimsuit (Sale Price: $59, originally $148)
2. Lilly Pulitzer Natalie Shirtdress Cover-Up (Sale Price: $49, originally $118)
3. Lilly Pulitzer Natalie Cover-Up (Sale Price: $49, originally $138)
4. Lilly Pulitzer Dru Strapless One Piece Swimsuit (Sale Price: $59, originally $148)
5. Lilly Pulitzer Isle Lattice One Piece Swimsuit (Sale Price: $54, originally $138)
6. Lilly Pulitzer Shiloh One Piece Swimsuit (Sale Price: $64, originally $158)
7. Lilly Pulitzer Malvie One Piece Swimsuit (Sale Price: $59, originally $148)
8. Lilly Pulitzer Fiesta One Piece Swimsuit (Sale Price: $59, originally $148)
9. Lilly Pulitzer Roby Bikini Top (Sale Price: $39, originally $98)
10. Lilly Pulitzer Roby Bikini Top (Sale Price: $39, originally $98)
11. Lilly Pulitzer Bec Tankini Top (Sale Price: $44, originally $118)
12. Lilly Pulitzer Sandy Lattice Bandeau Bikini Top (Sale Price: $34, originally $88)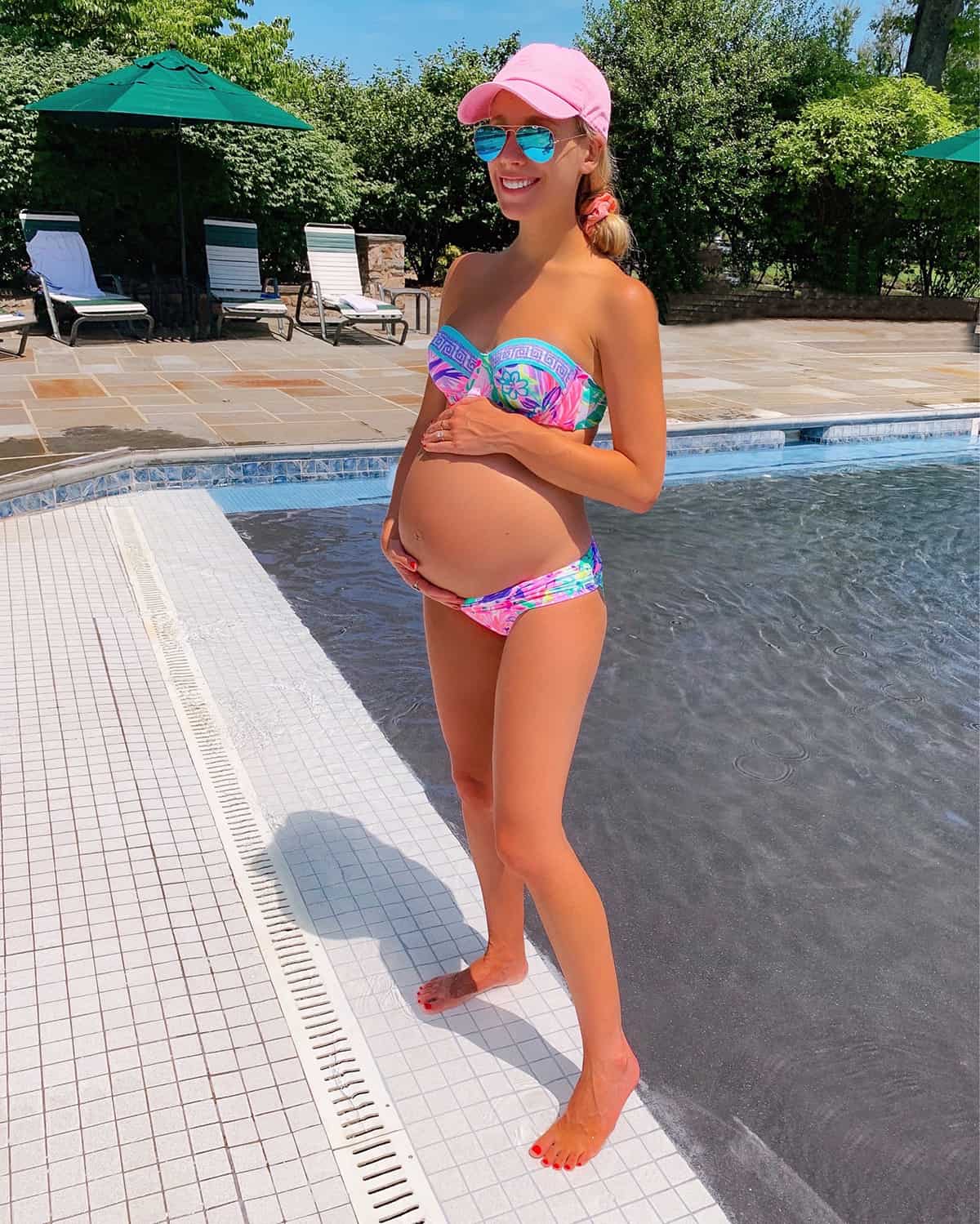 Lilly Pulitzer Leven Bikini Top (Sale Price: $39, originally $98)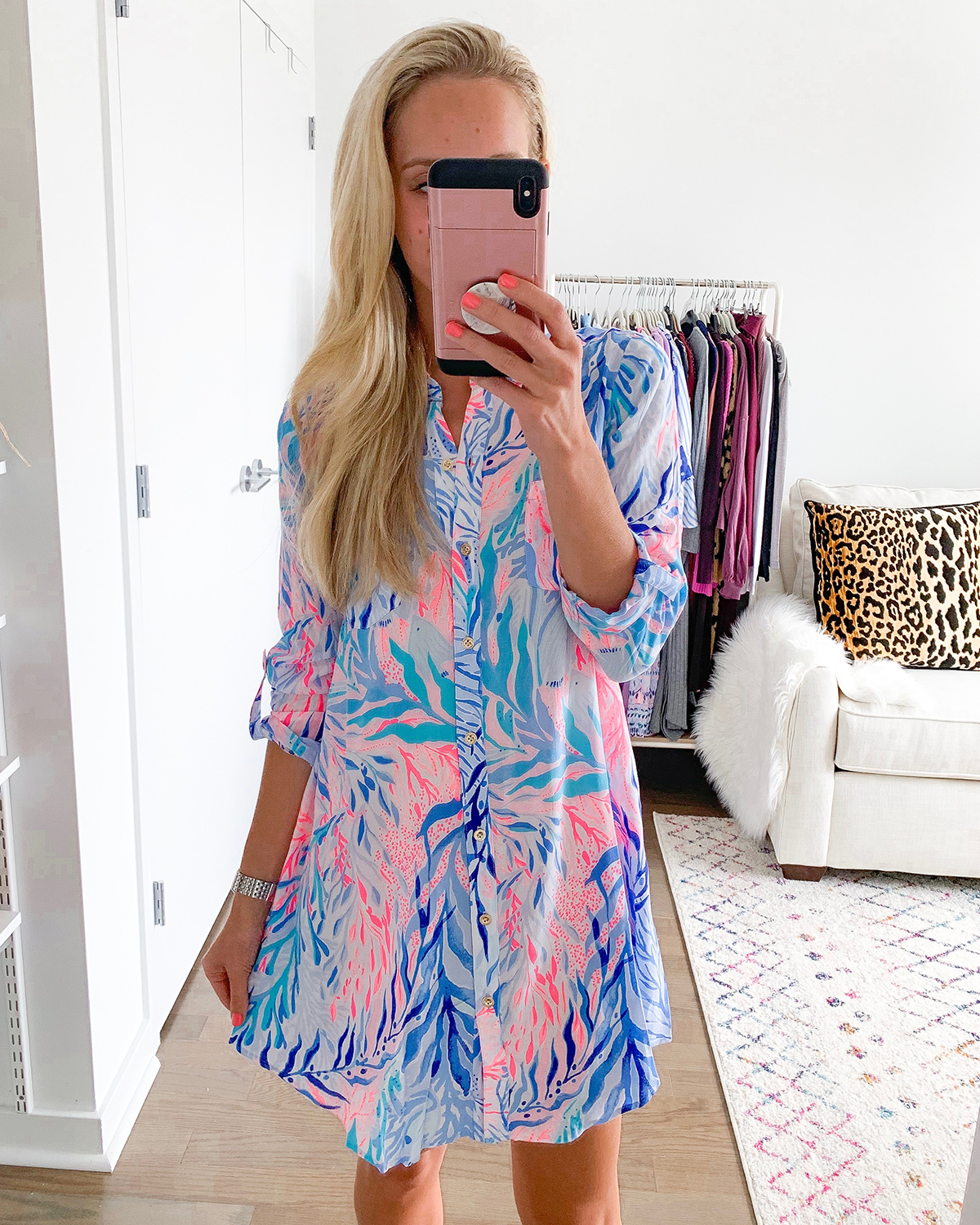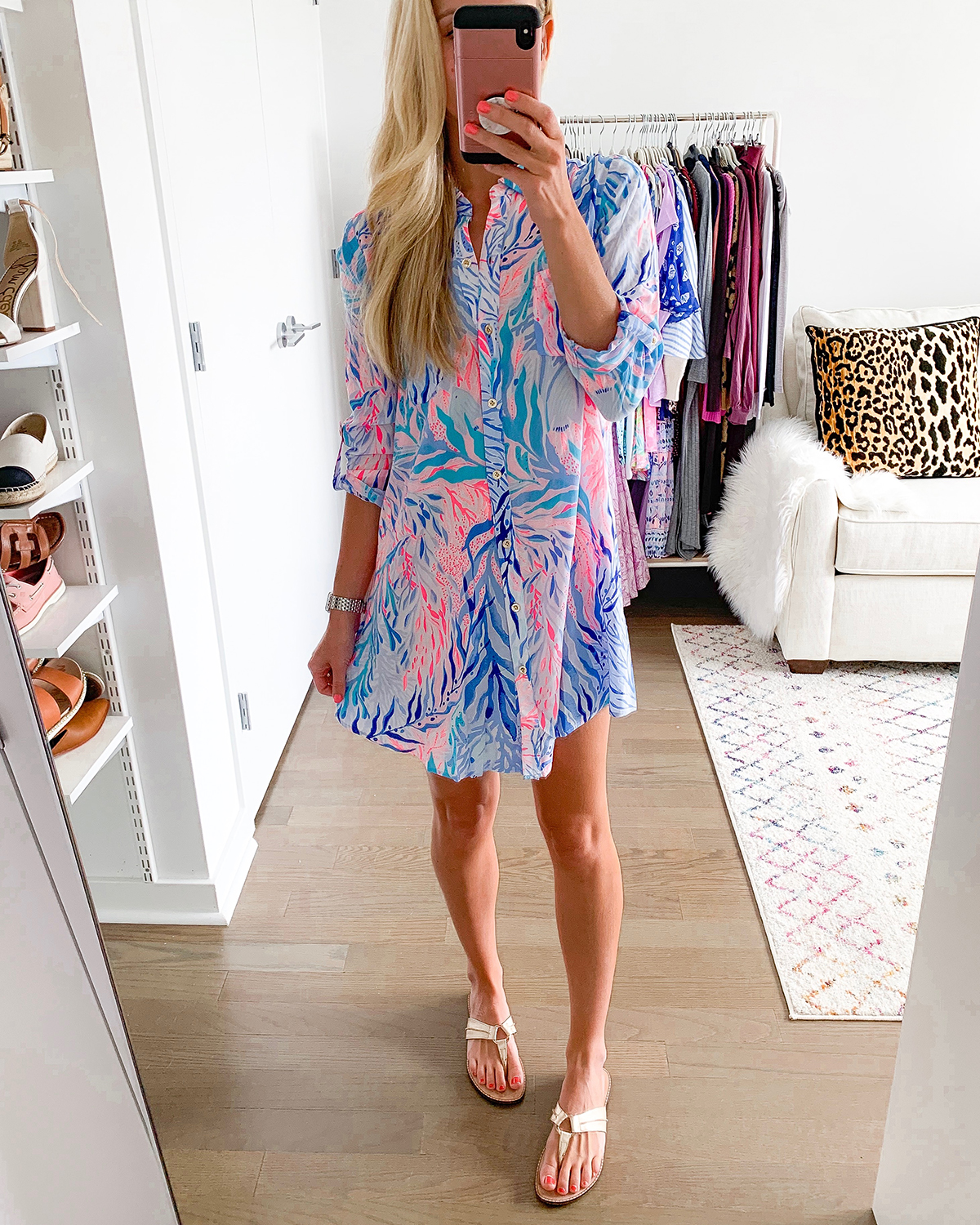 Lilly Pulitzer Natalie Shirtdress Cover-Up (Sale Price: $49, originally $118)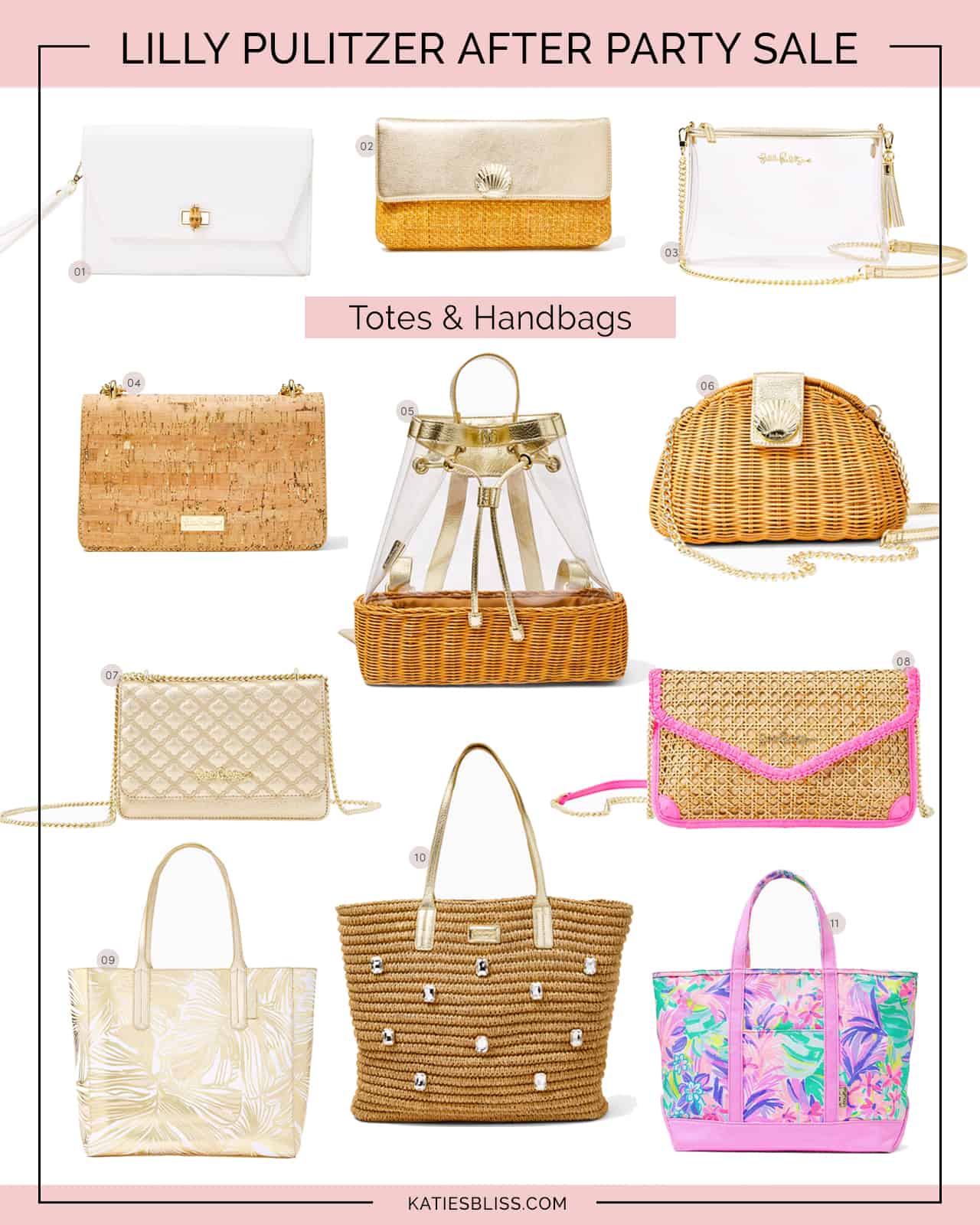 1. Lilly Pulitzer Cliona Clutch (Sale Price: $44, originally $128)
2. Lilly Pulitzer Cheyenne Leather Clutch (Sale Price: $54, originally $158)
3. Lilly Pulitzer Cruisin Crossbody (Sale Price: $29)
4. Lilly Pulitzer Kat Cork Crossbody Bag (Sale Price: $54, originally $148)
5. Lilly Pulitzer Ellamae Clear Backpack (Sale Price: $54, originally $158)
6. Lilly Pulitzer Redford Wicker Crossbody Bag (Sale Price: $64, originally $158)
7. Lilly Pulitzer Quilted Kat Crossbody Bag (Sale Price: $69)
8. Lilly Pulitzer St. Barts Cane Clutch (Sale Price: $59)
9. Lilly Pulitzer Surrey Reversible Tote (Sale Price: $54, originally $168)
10. Lilly Pulitzer Sunstone Straw Tote (Sale Price: $49, originally $138)
11. Lilly Pulitzer Mercato Tote (Sale Price: $39, originally $108)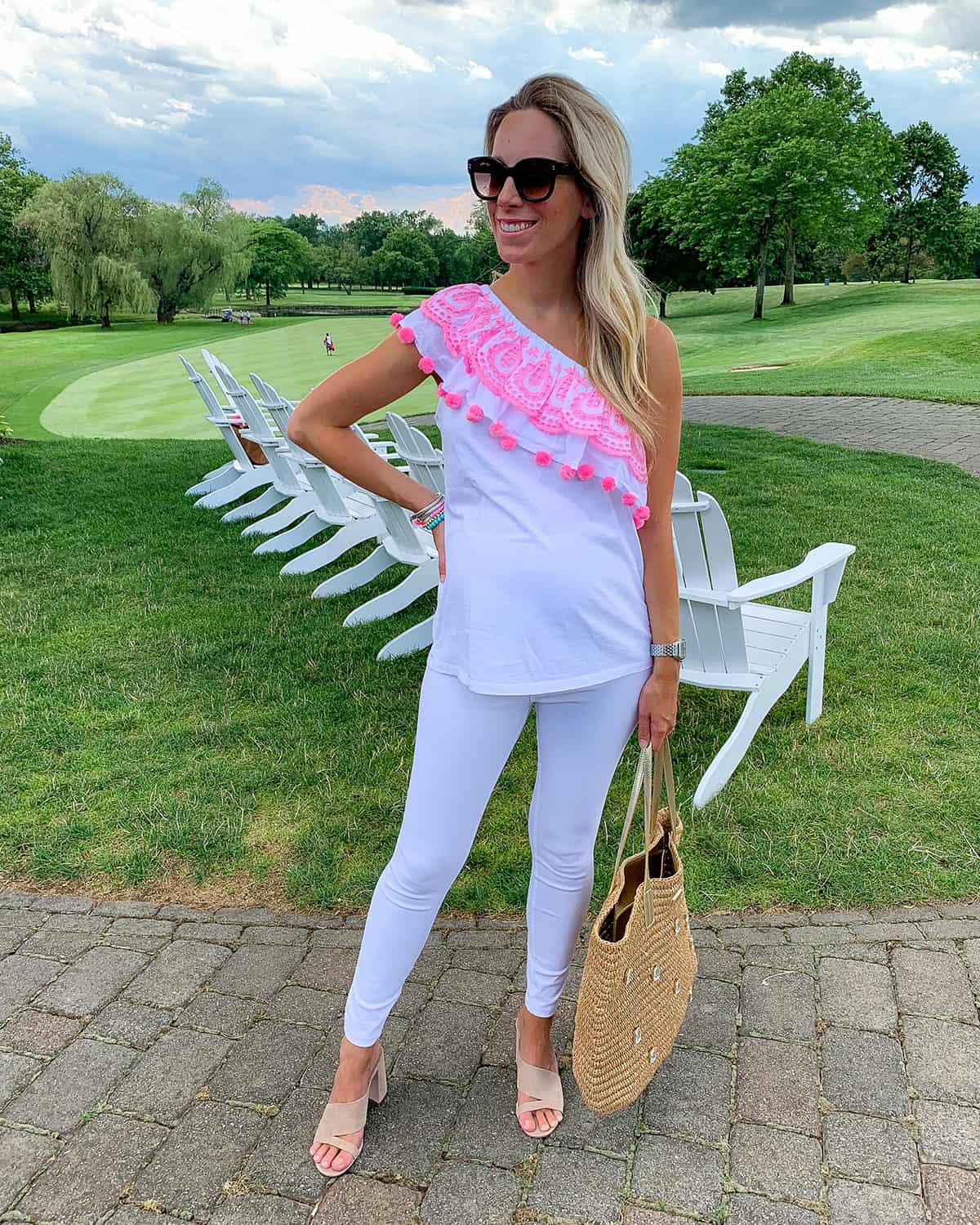 Lilly Pulitzer Idra One-Shoulder Top (Sale Price: $34, originally $88) 
Lilly Pulitzer Sunstone Straw Tote (Sale Price: $49, originally $138)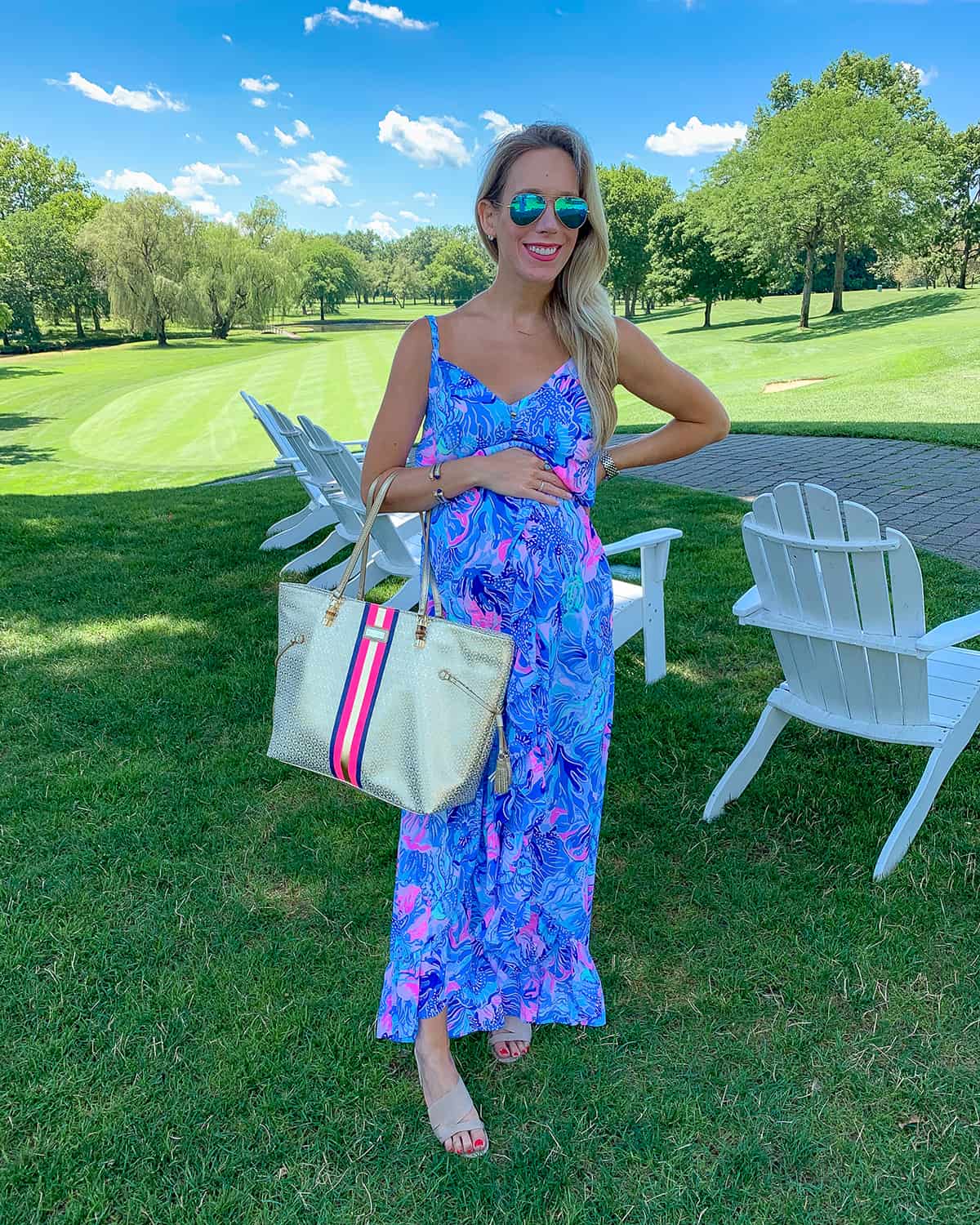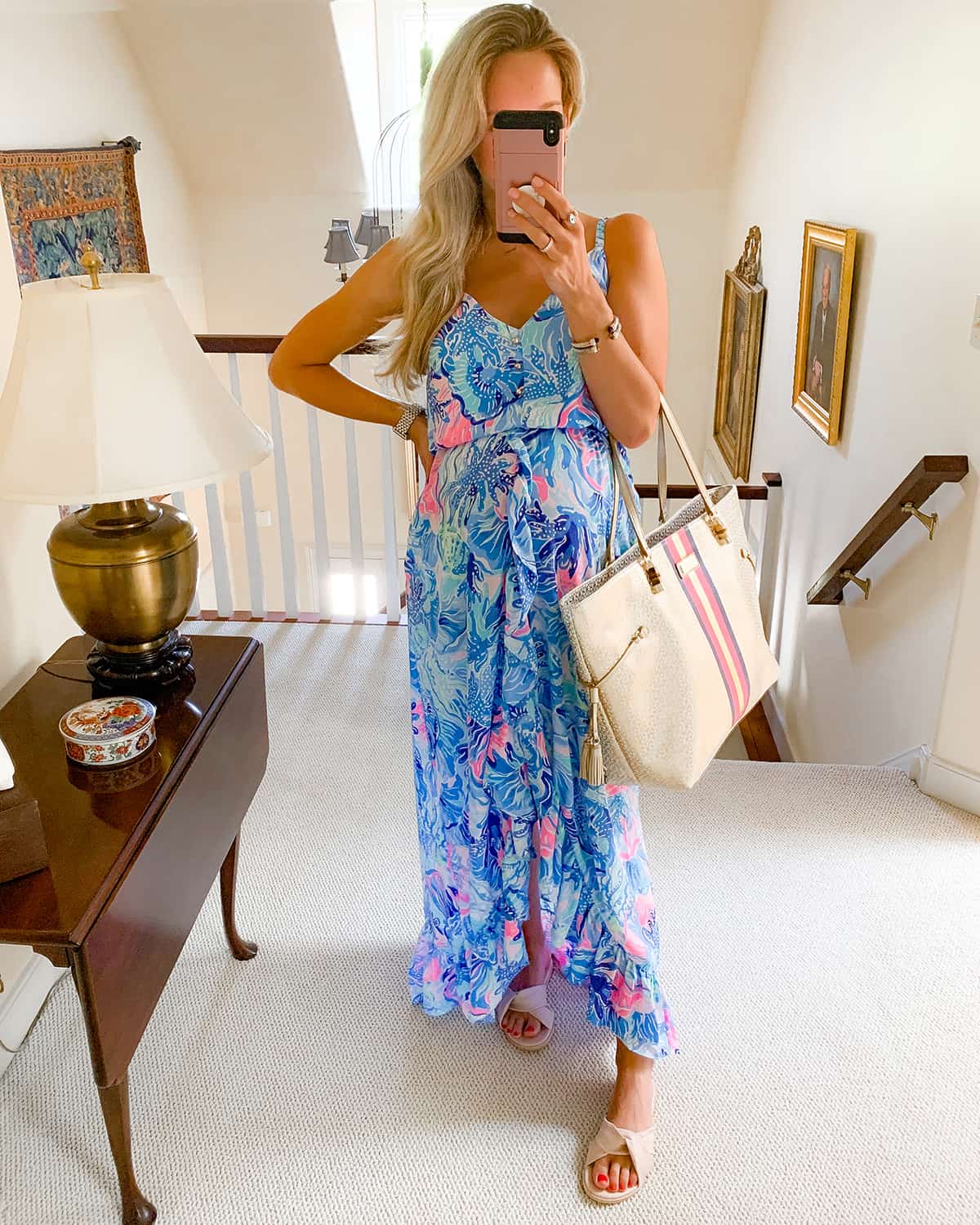 Lilly Pulitzer Mareena Maxi Dress (Sale Price: $99, originally $258)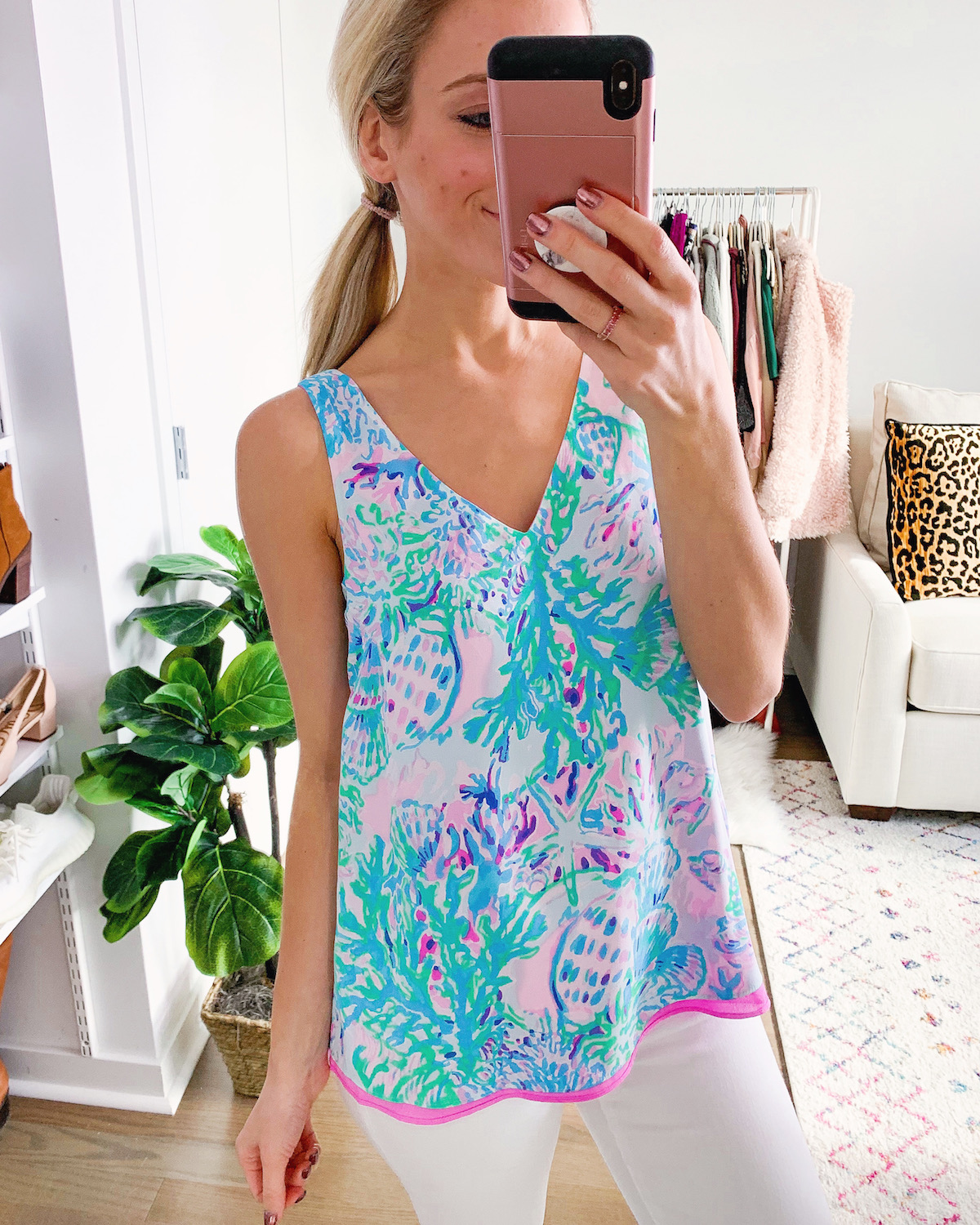 Lilly Pulitzer Florin Reversible Tank Top (Sale Price: $44, originally $88)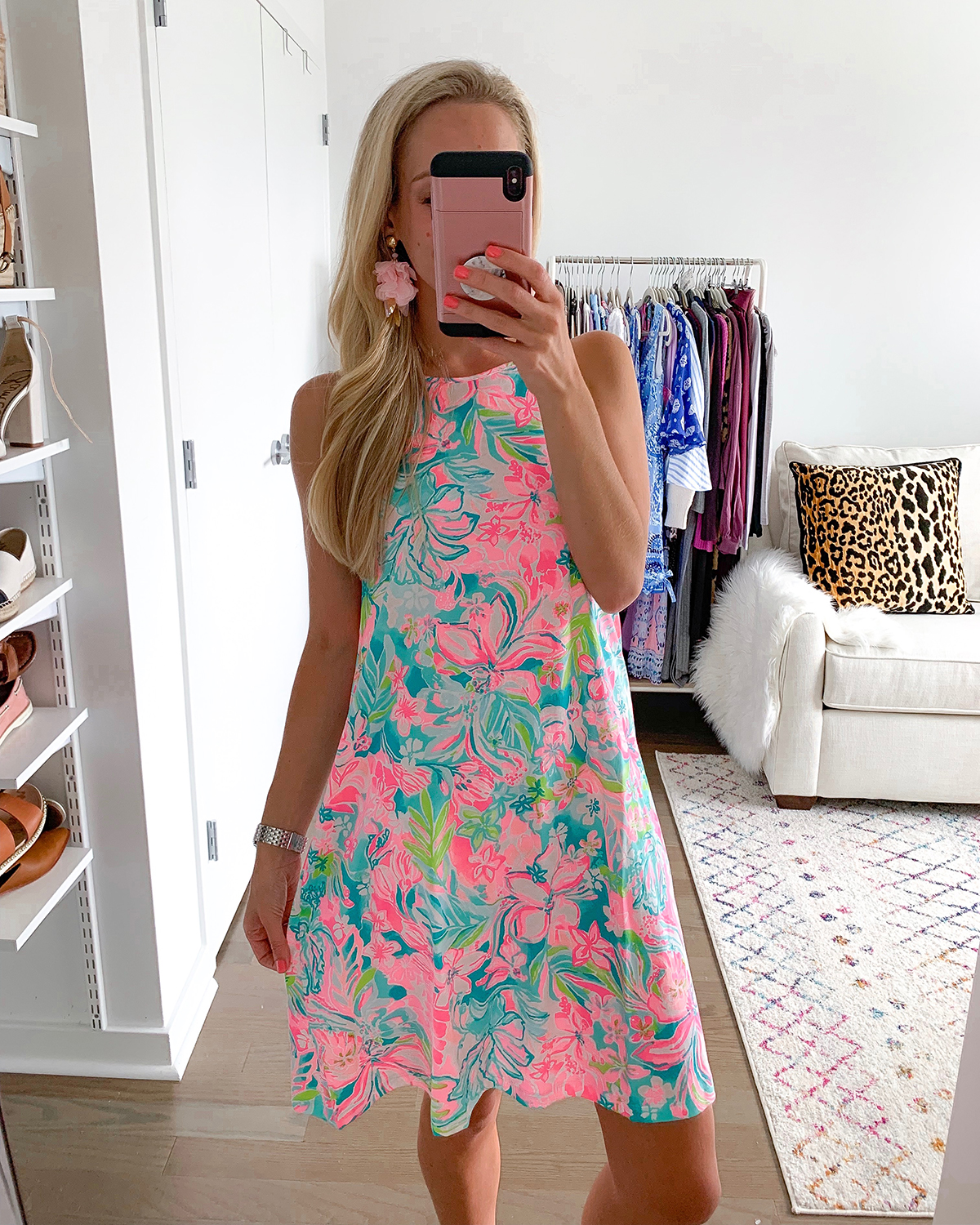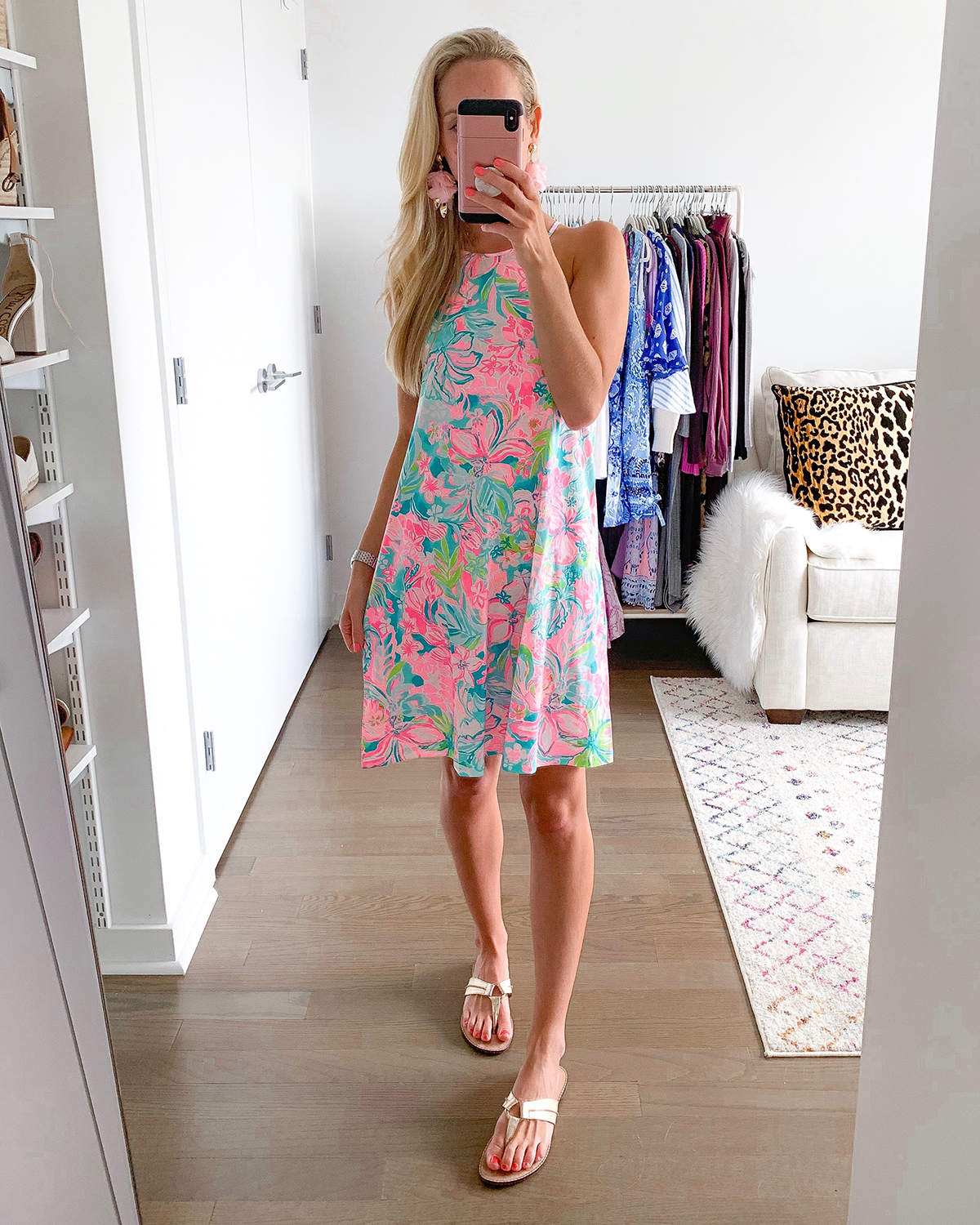 Lilly Pulitzer Margot Swing Dress // Sale Price: $50 (originally $108)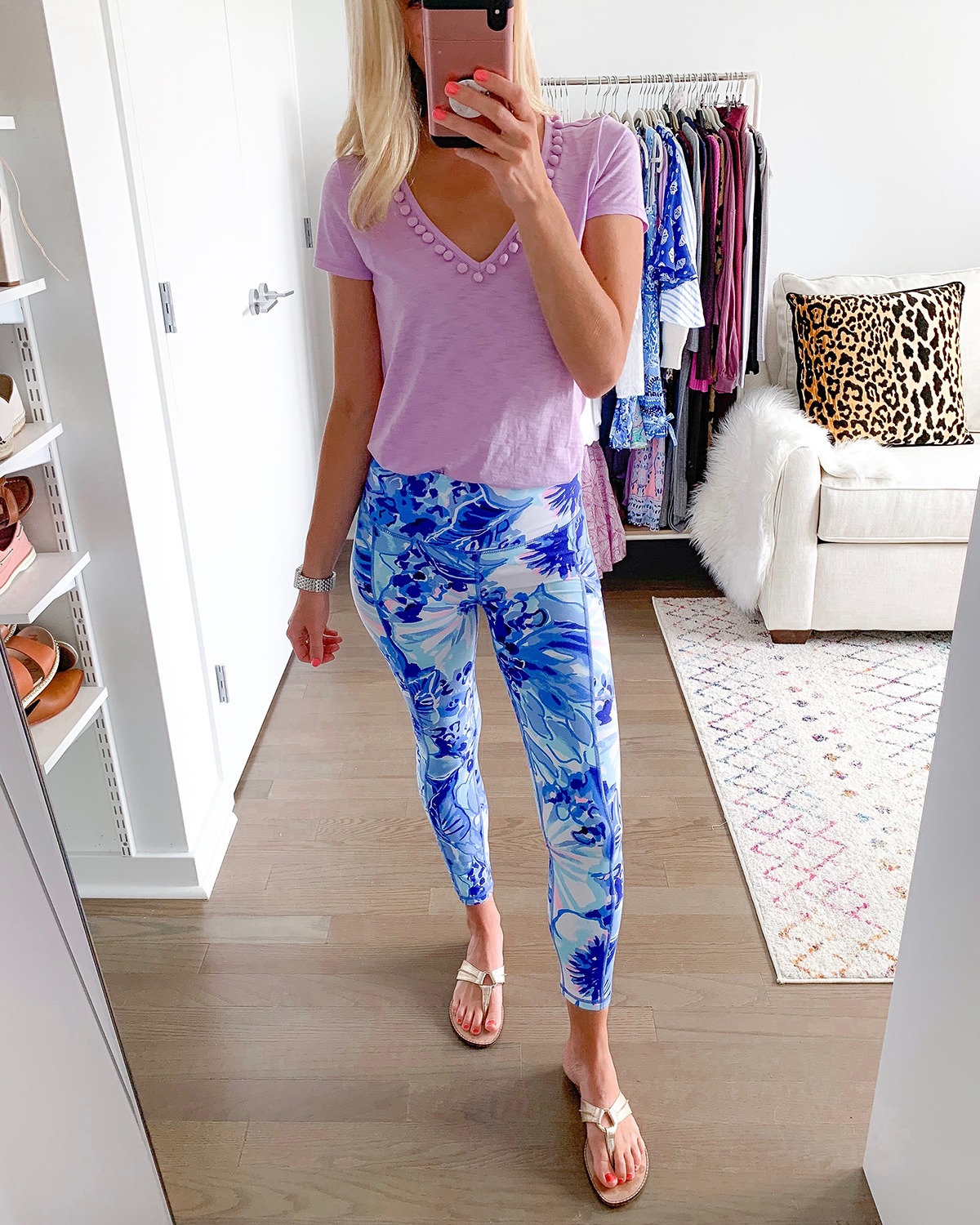 Lilly Pulitzer UPF 50+ High Rise Weekender Midi Legging // Sale Price: $90 (originally $118)
SHOP LILLY PULITZER AFTER PARTY SALE JEWELRY

SHOP LILLY PULITZER AFTER PARTY SALE SHOES

SHOP LILLY PULITZER AFTER PARTY SALE ACCESSORIES

- Katie