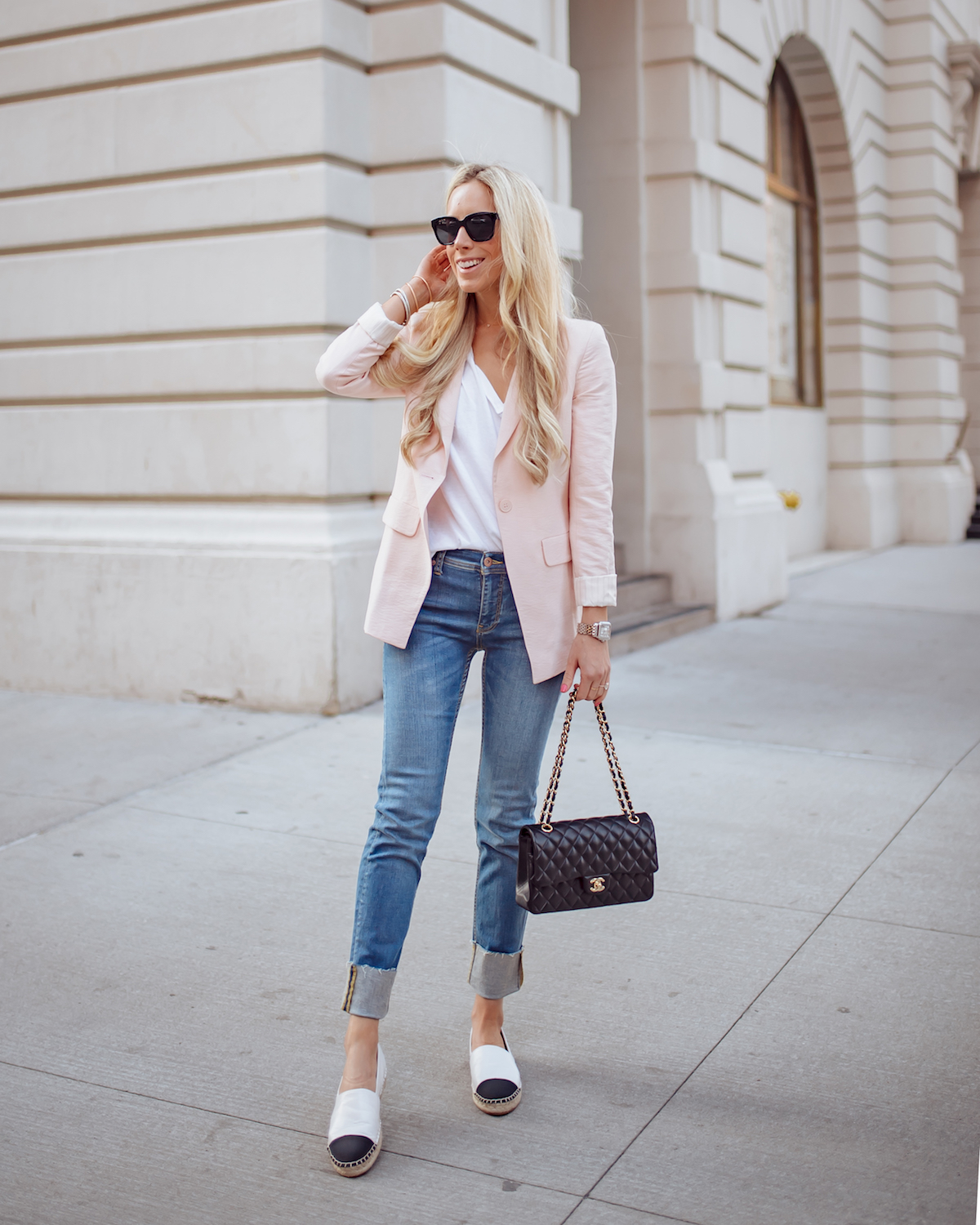 OUTFIT DETAILS // Pink Blazer | White T-Shirt | Similar Jeans | Colorblock Espadrilles | Sunglasses | Chanel Bag
Cute shoe weather is finally here! About time right?
I've been sharing some new shoe finds here and there on Instagram over the last few weeks, but thought you guys might like to see all my recent finds in one place. Y'all know that comfort is K E Y for me given how often I travel and get from place-to-place on foot. I don't care how cute a pair of shoes is because if my feet are going to be in pain after an hour then it's a hard NO from me.
Whenever I shop for new everyday shoes there are always a few things I look for 1) durability, 2) comfort and 3) affordable price. This isn't always the easiest combo to find in footwear because as they say, "you get what you pay for," but I promise it is possible! I've had a lot of luck lately finding great sandals and espadrilles priced under $100 on Nordstrom.com. The selection is SO good right now, especially on the new arrivals page. I always like to set the filter to $50-$100 so that way I'm just paging through options in my price range.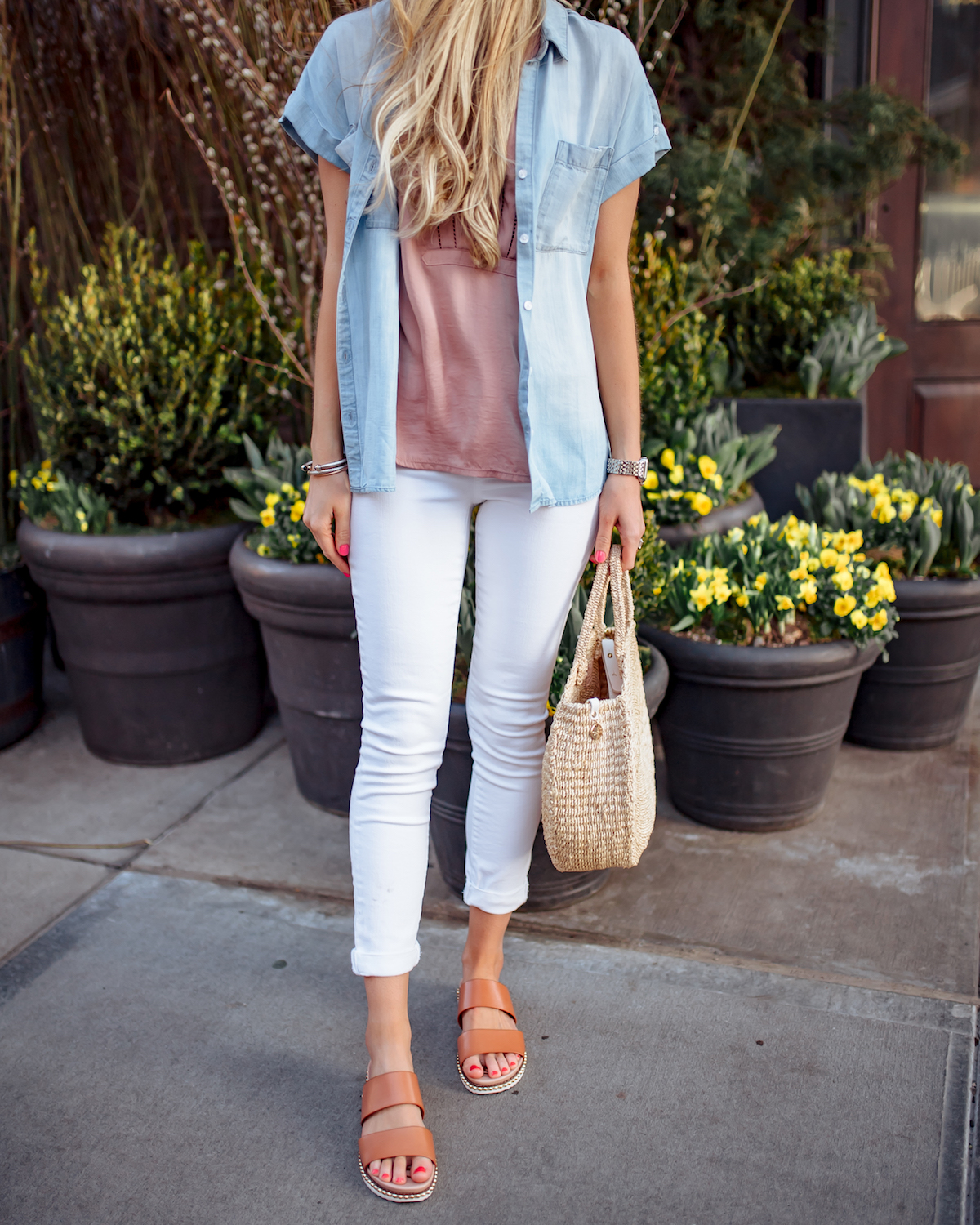 OUTFIT DETAILS // Similar Chambray Shirt | White Skinny Jeans | Brown Double Banded Sandals | Circle Tote
These are all shoes I can stomp around the city in for hours at a time and not ever have to worry about a blister, scuffed heel or aching arches. Isn't that the best? I plan to bring many of these with me on upcoming trips too! Bring on the summer travel 🙂
The Best Under $100 Sandals & Espadrilles To Shop Now
ESPADRILLES (top left to bottom right) // Colorblock Espadrilles | Green Espadrille Sandals | Pink Platform Wedge Espadrilles | Brown Leather Wedge Espadrilles
Espadrilles are one of my favorite styles of shoe to wear, especially when it comes to heels. I find wedges and platform sandals to be so much more comfortable than pumps. If I want some extra height and know I'm going to be walking or on my feet for an extended length of time, I always opt for a heeled espadrille. All of the ones pictured here come in multiple colors!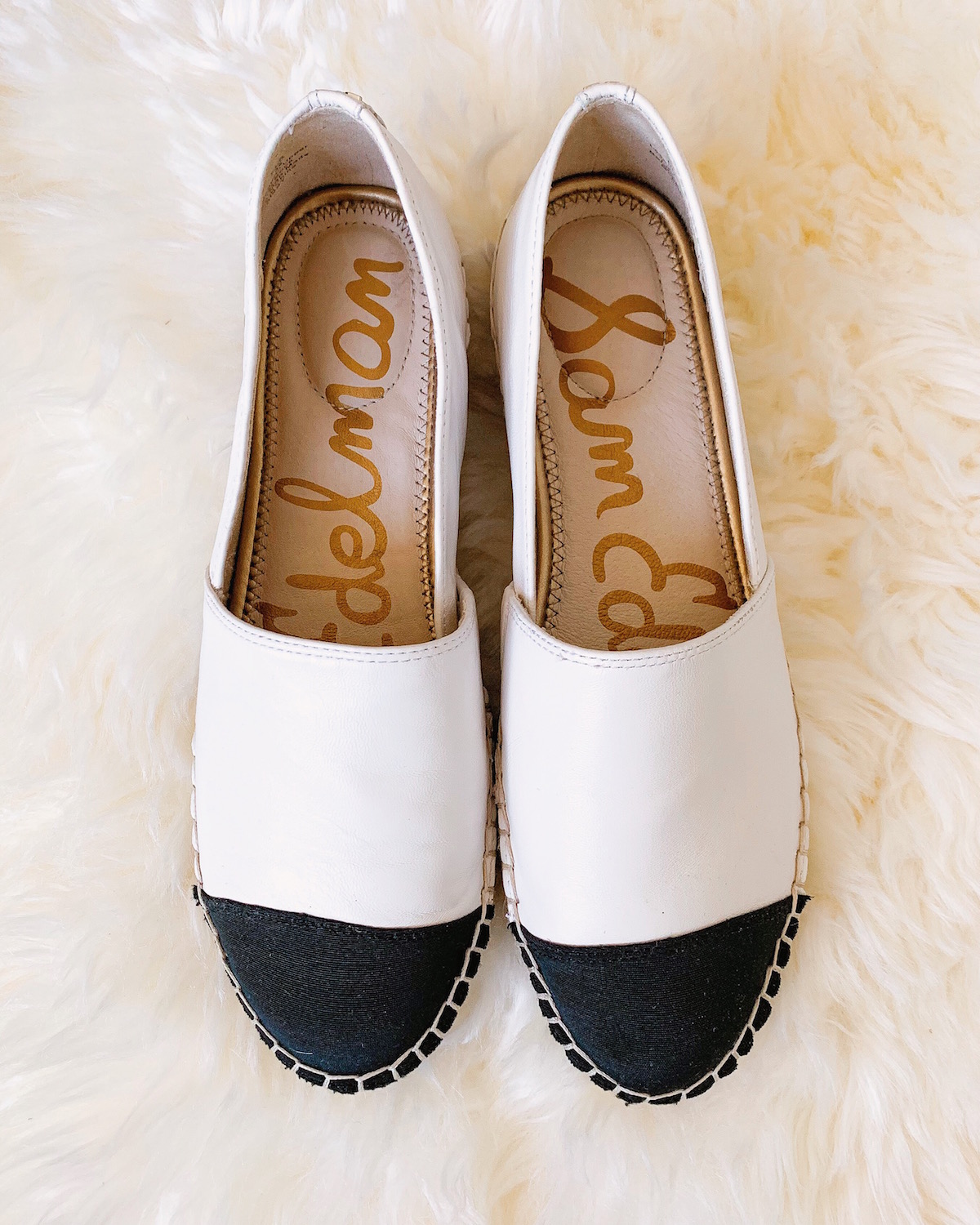 Of course I love a good traditional flat espadrille too. Whenever I wear these colorblock cuties I get so many compliments and nobody can believe these aren't a designer brand. Nope, no crazy price tags allowed over here! These come in a few color combinations too… Love the tan and all-black versions!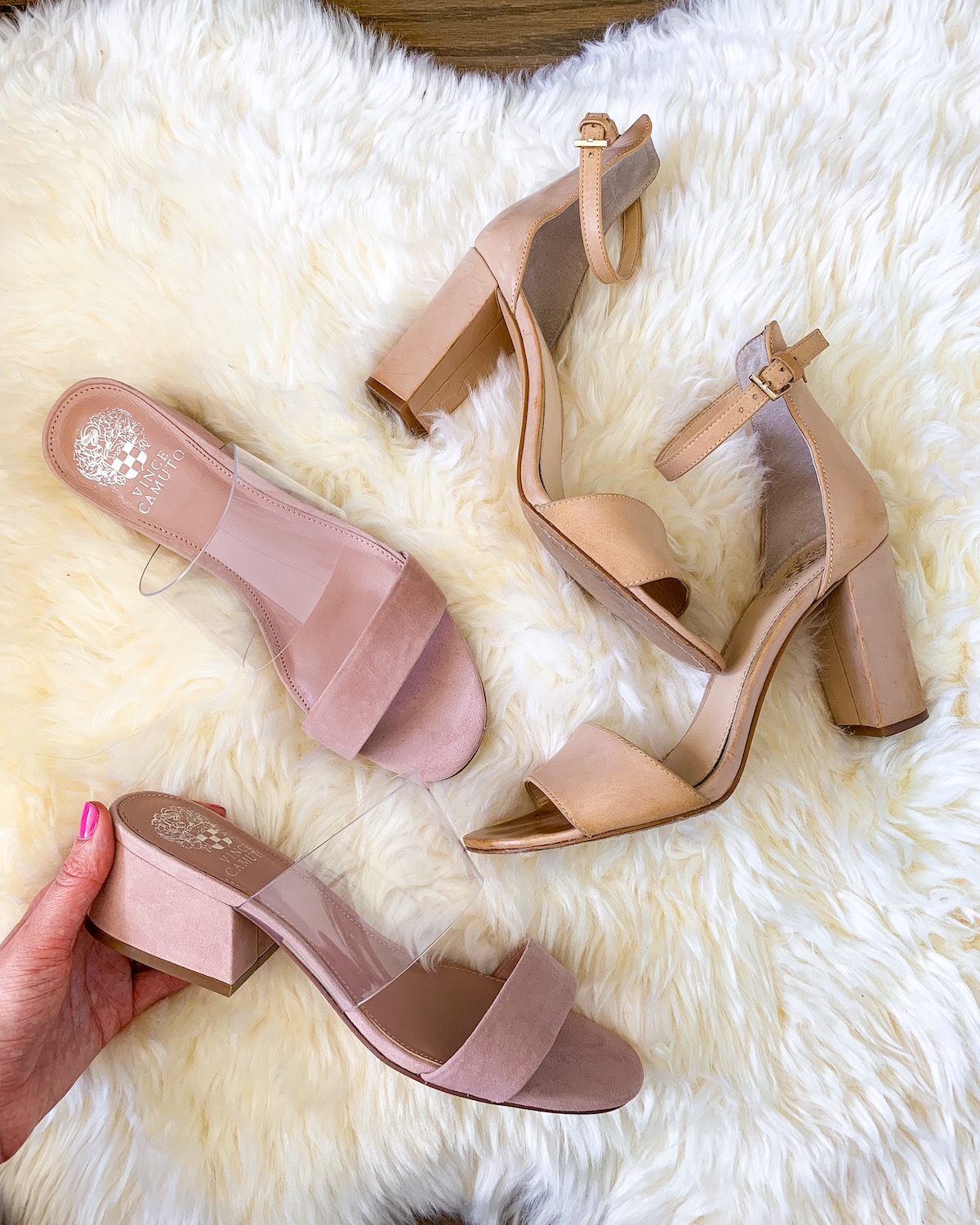 HEELED SANDALS // Pink Suede Slides | Nude Ankle Strap Sandals 
Is it obvious which pair is new and which has been well-loved? LOL. The invisible double band on these pink suede slides totally suckered me. The modest block heel is perfect for when you want to be comfortable, but still want to feel dressy and get a touch of extra height.
I often get asked how I keep my shoes in such good condition and just keepin' it real for you guys, it's not always possible. These nude ankle strap sandals have been my go-to neutral heels for almost two years now. I pack these on every trip and love how I can wear them for hours without any discomfort. These shoes have been through the ringer and are in need of some TLC, but I swear by them despite all the scuffs 😛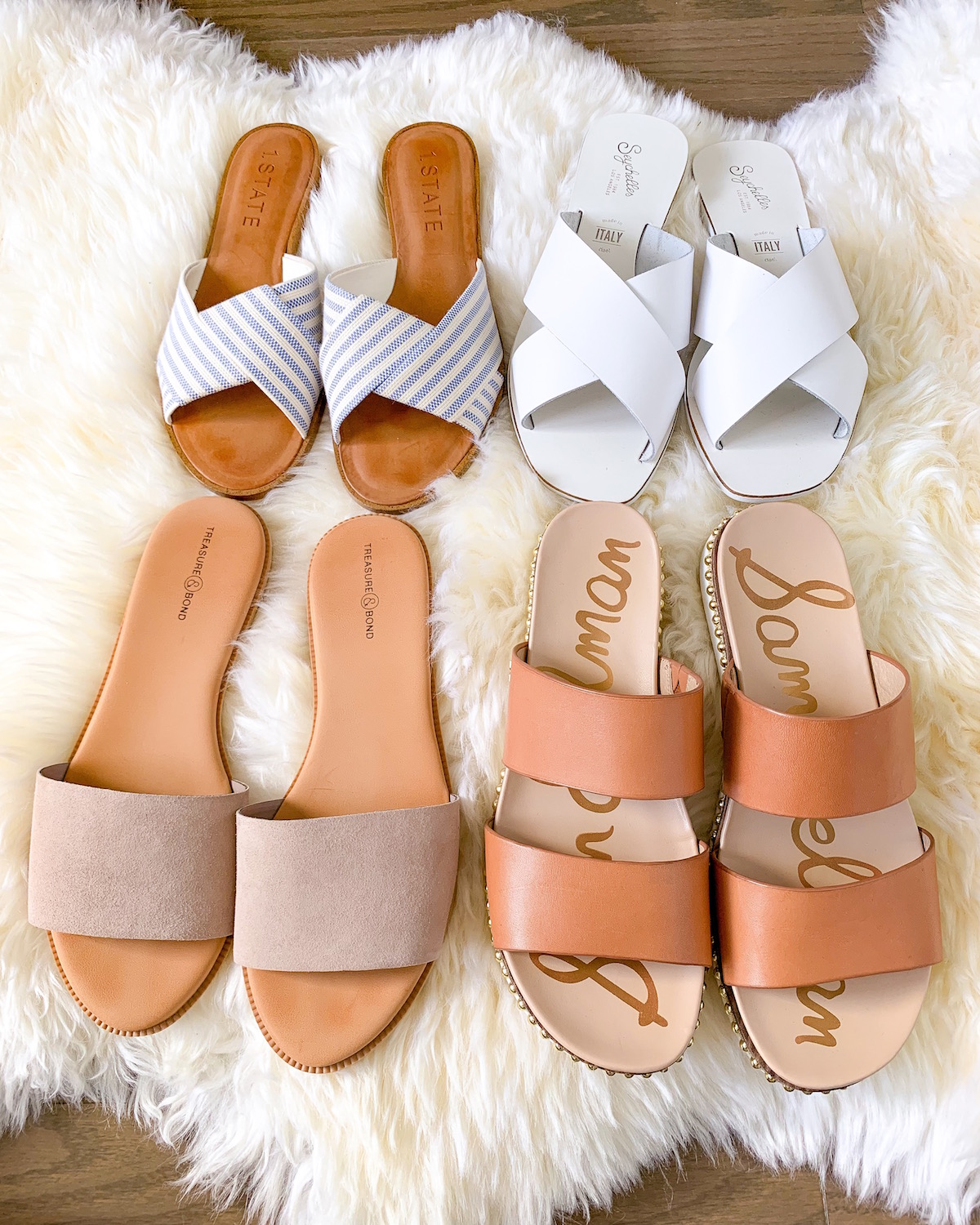 FLAT SANDALS (top left to bottom right) // Blue Stripe Sandals | White Slide Sandals | Blush Suede Slide Sandals | Brown Double Banded Sandals
As much as I love wearing sneakers day-to-day, flat sandals are where it's at on hot days. With summer and a few trips to warm weather destinations on the horizon, I've started stocking up on cute comfy slides that will match with a multitude of outfits and won't take up a lot of room in my suitcase. A girl has to have options right?
Most of these come in 5+ colors and won't break the bank! The blush suede slides and brown double banded pair both have cushioned footbeds for optimum comfort.
Big thank you to Nordstrom for sponsoring this post!
- Katie