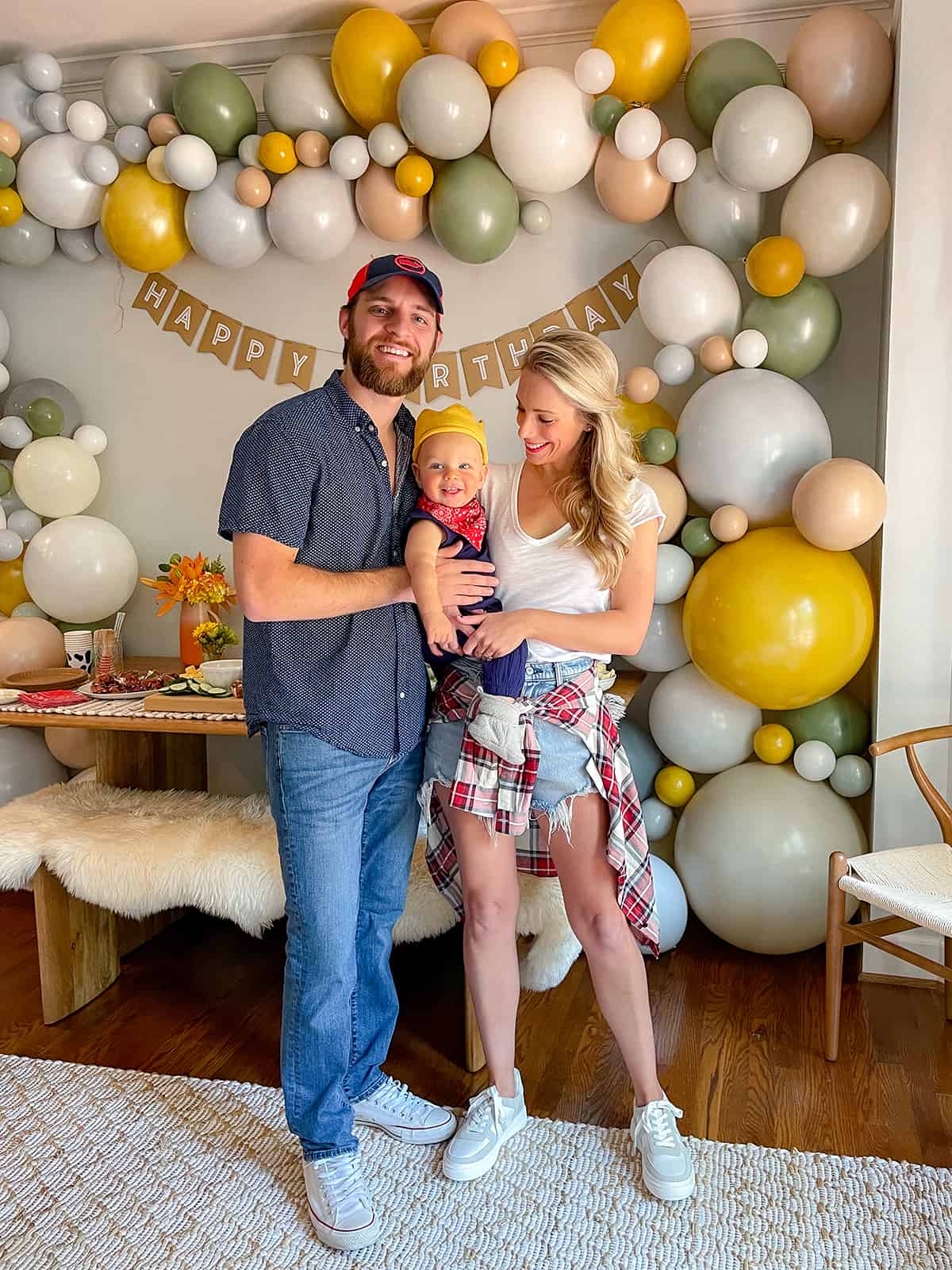 I still cannot believe my baby is ONE. The past twelve months went by sooo quickly, but at the same it feels like Nate has been a part of our family forever. Needless to say, we are absolutely O B S E S S E D with this happy boy and are so honored we get to be his parents.
To celebrate Nate's big day, we hosted a small party at our house with family and a few friends. The theme was a "Barnyard Bash" complete with a cow print smash cake, farm animal party headbands for the adults, catering from Publix and a Instagram-worthy balloon garland blown up and hung with love by Nick and myself. You can watch us in action creating it below.
View this post on Instagram
It was the perfect afternoon and Nate had a ball! Keep scrolling for more pictures and details from the day!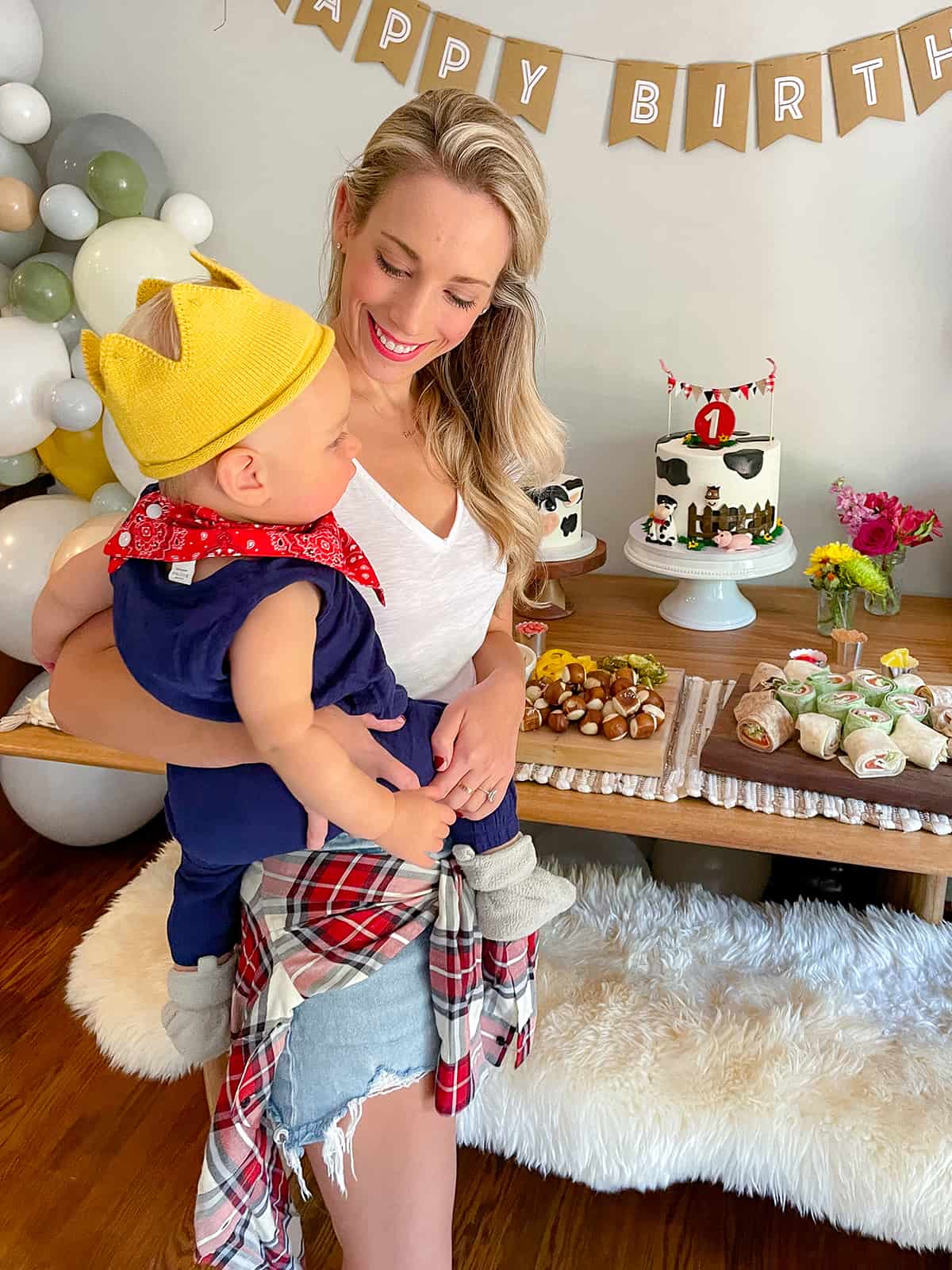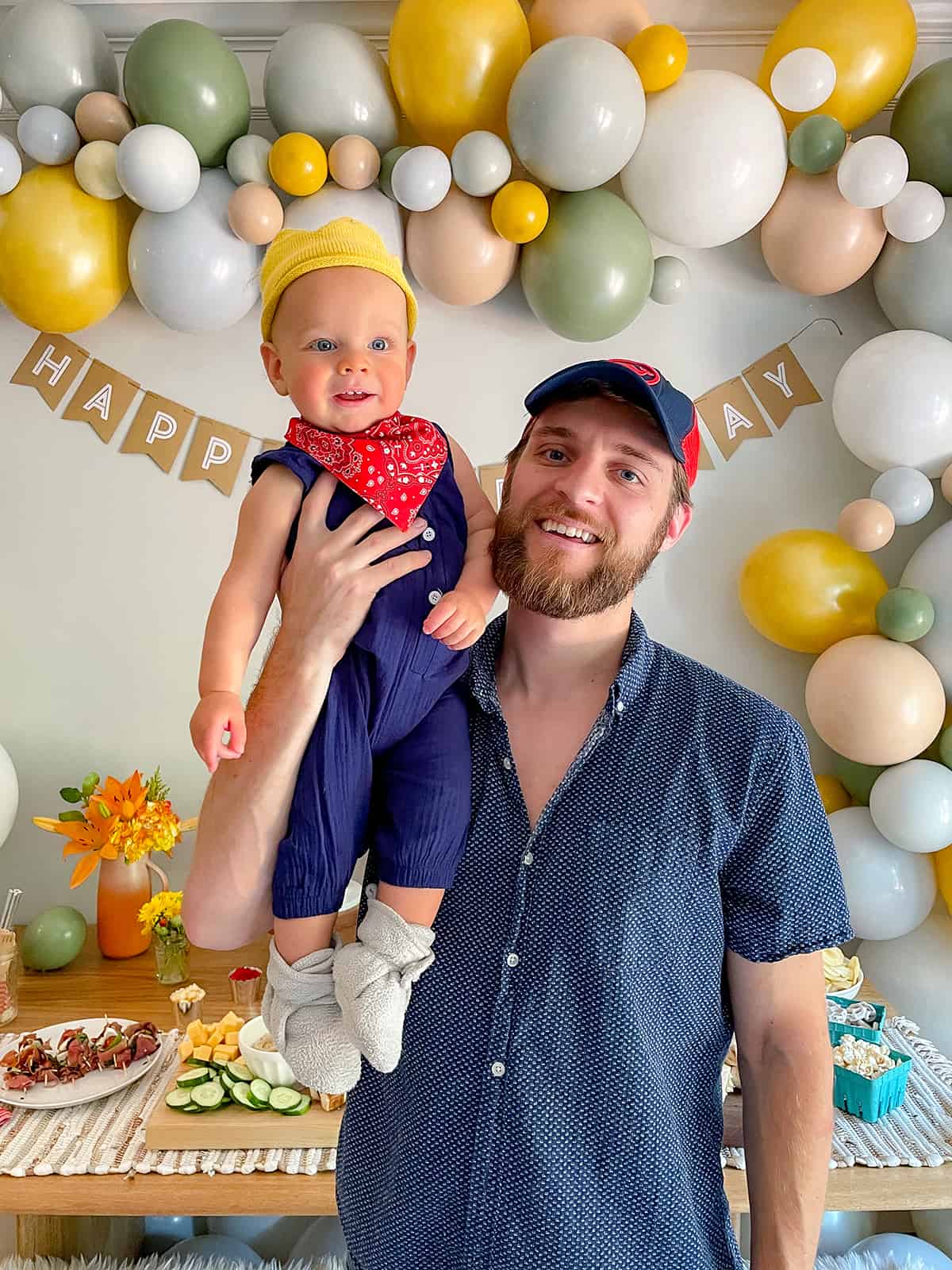 NATE'S OUTFIT // Linen Jumpsuit (avail in lots of colors/sizes) | Party Crown | Booties | Red Bandana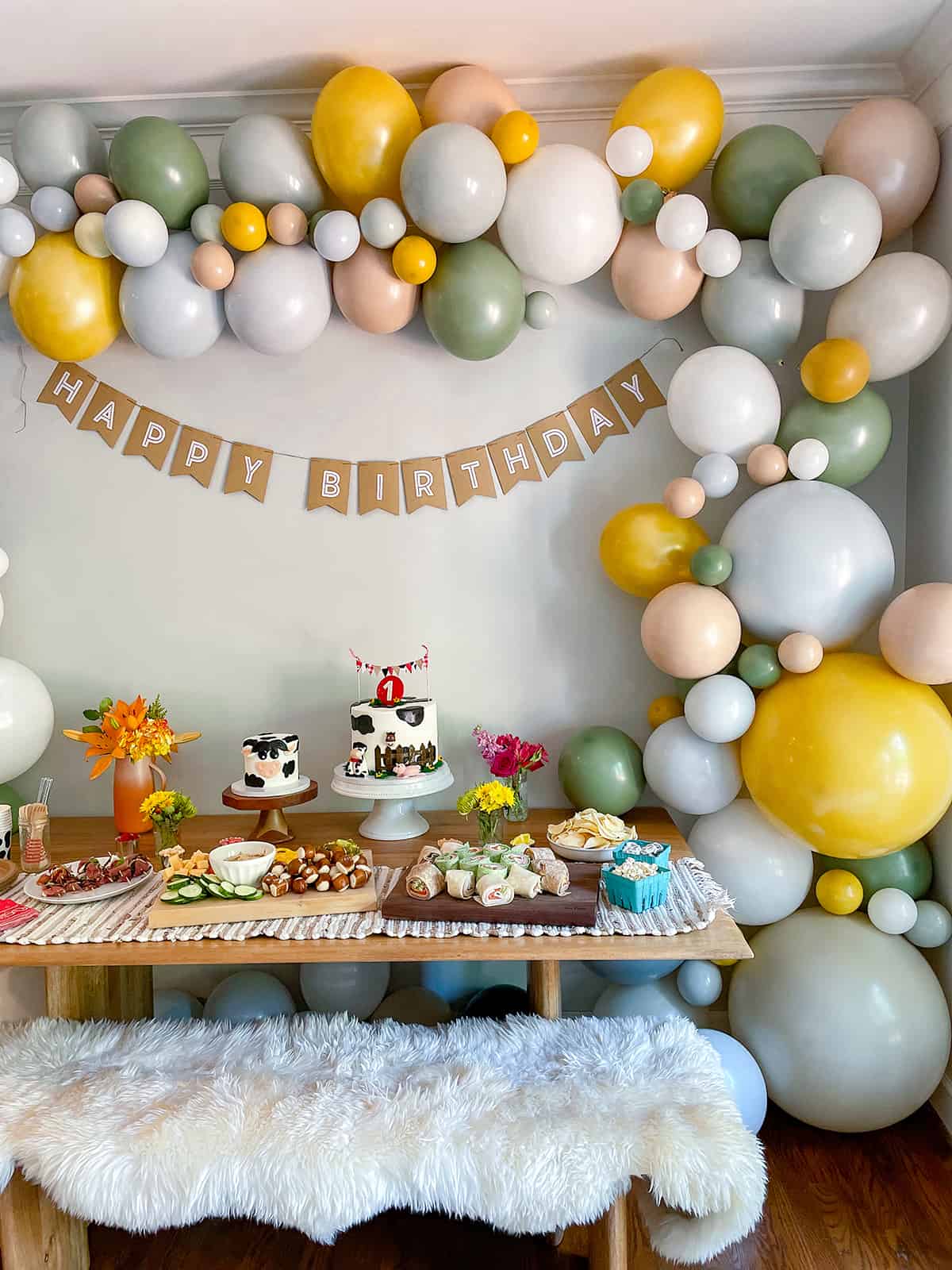 DIY BALLOON GARLAND // Balloon Garland Kit (we used size 10-12ft) | Sticky Glue Dots (the kit came with these but we ended up using them all so I'd recommend having more on hand) | Electric Air Pump (HIGHLY recommend one of these– you do not want to have to blow up that many balloons with a hand pump!)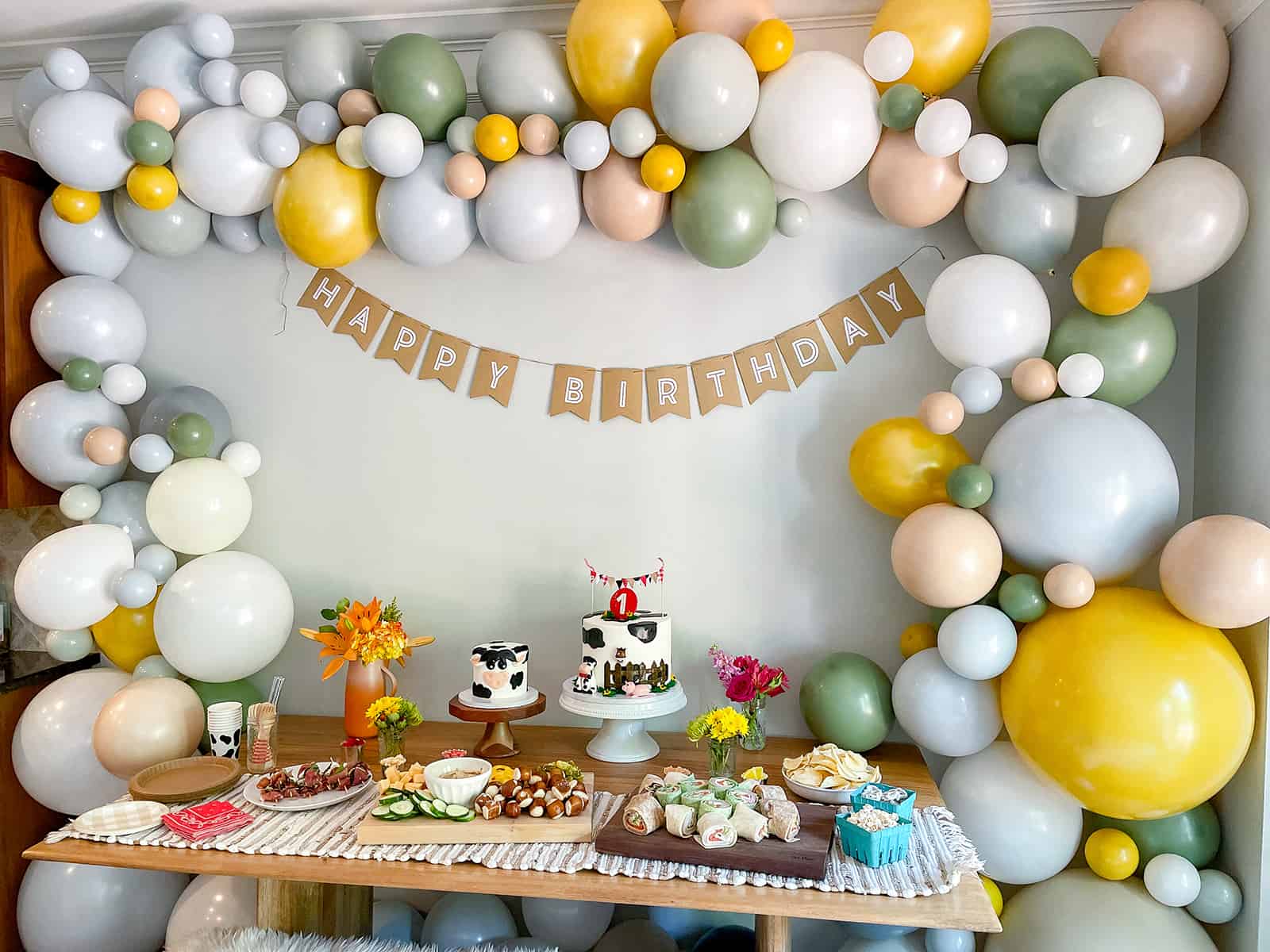 PARTY DECOR + BUFFET TABLE DETAILS // Barnyard Bash Party Kit (we used the Basics size) | Wood Serving Board (use code KATIESBLISS for 10% off) | Mint Berry Cartons (perfect size candy & snacks!) | Mason Jars | Orange Pitcher Vase | Copper Tin Drink Tub | Dining Table | Bench | Faux Sheepskin Cushion
Other than the balloon garland supplies and food, I didn't spend a ton of money on decor. I found this fantastic barnyard-themed party kit that included dinner + appetizer plates, utensils, cups, napkins, straws, a cake topper, Happy Birthday garland, baking cups (I used these for candy) and red/black & cow print balloons (we put these on our mailbox). It made putting together a cohesive themed party buffet really simple! Not to mention, it saved me from having to buy everything separately.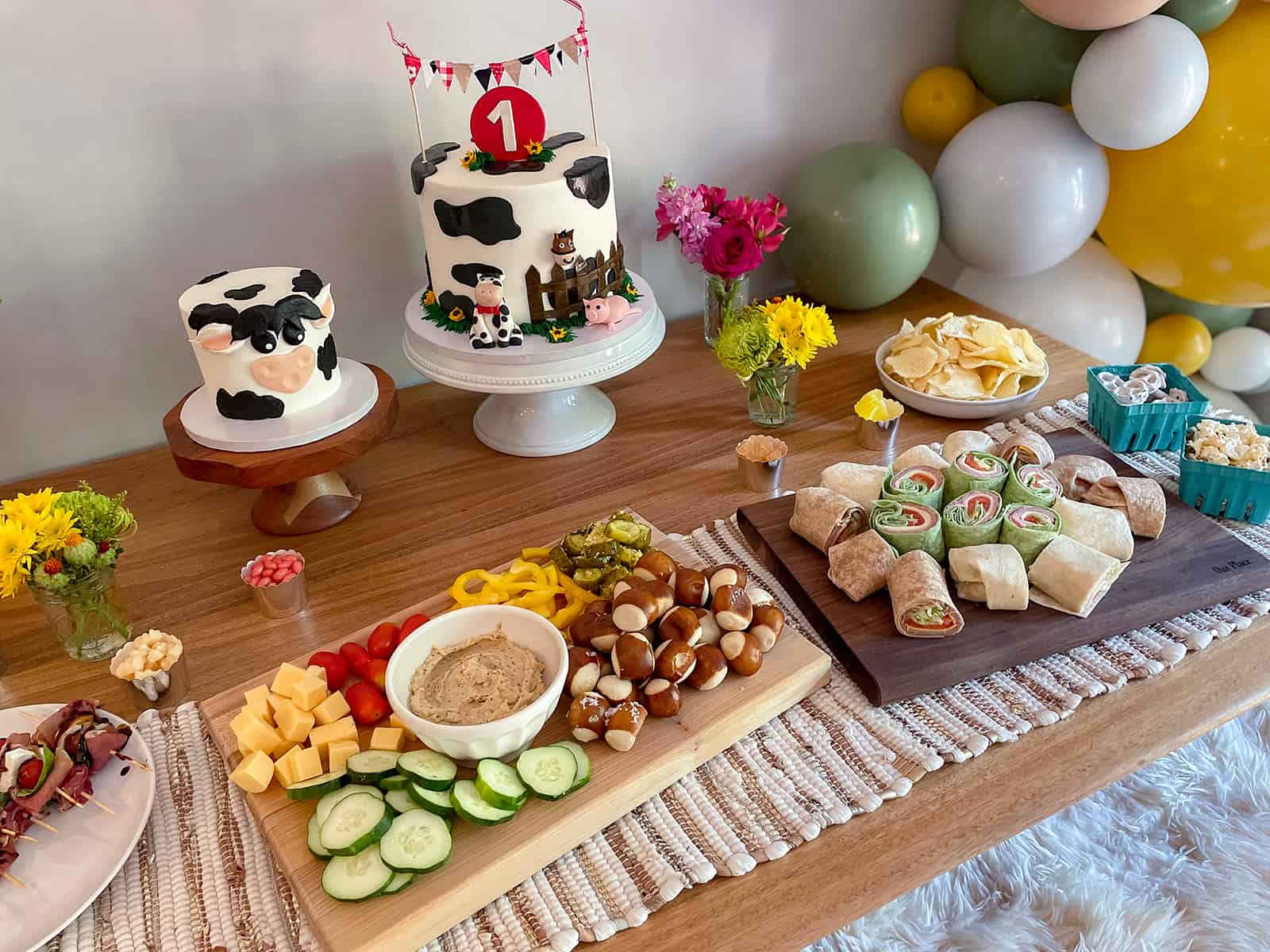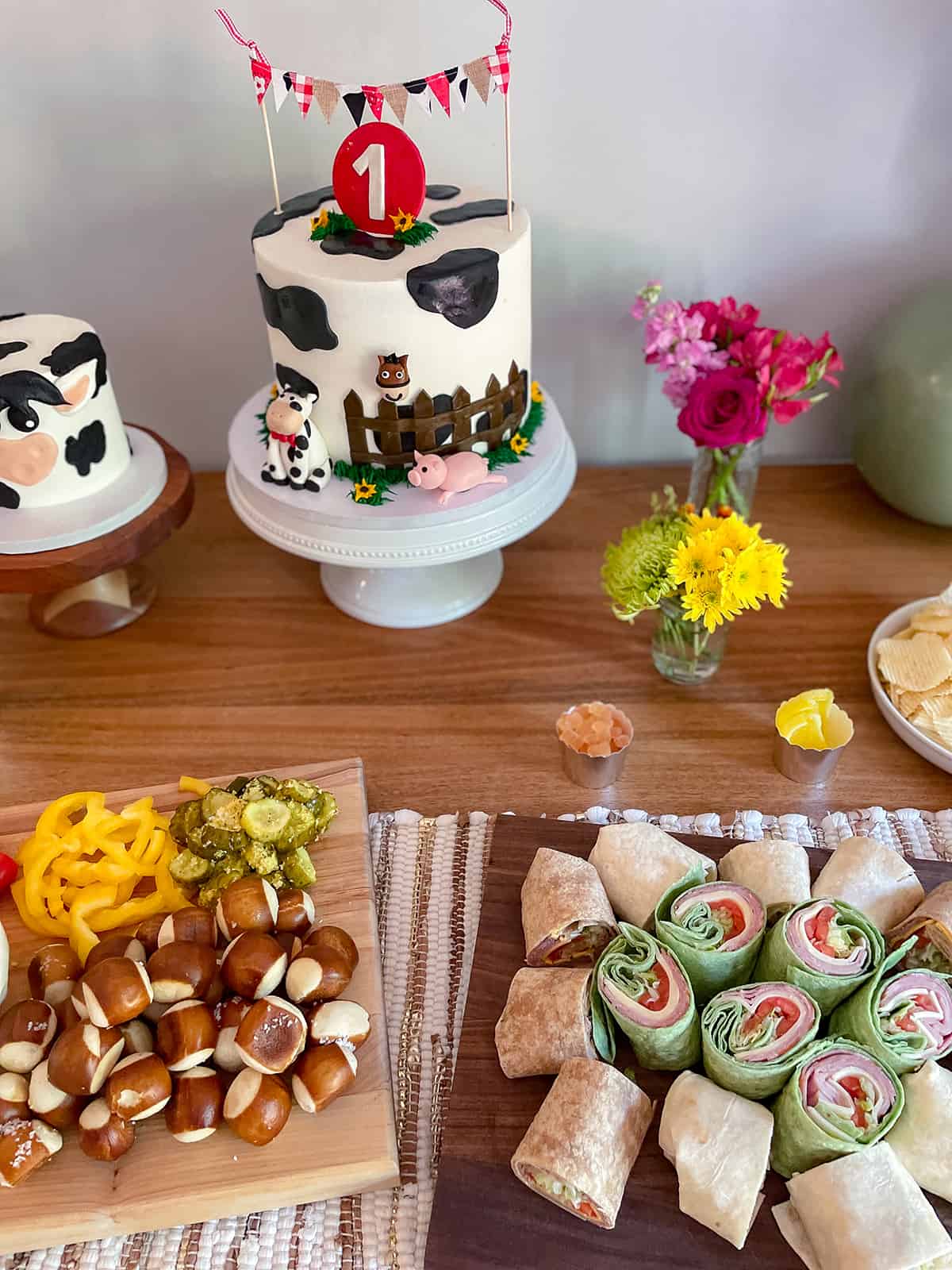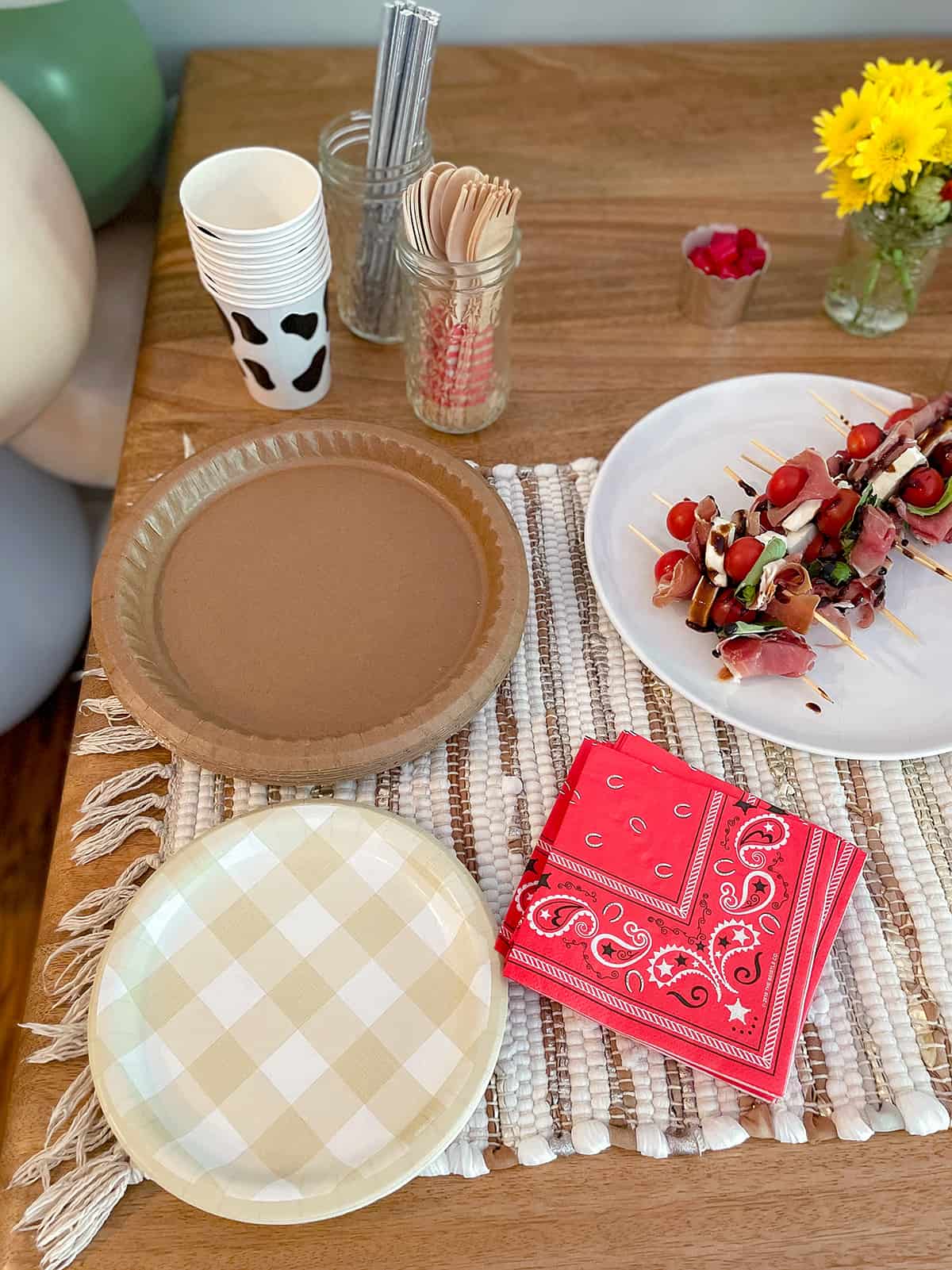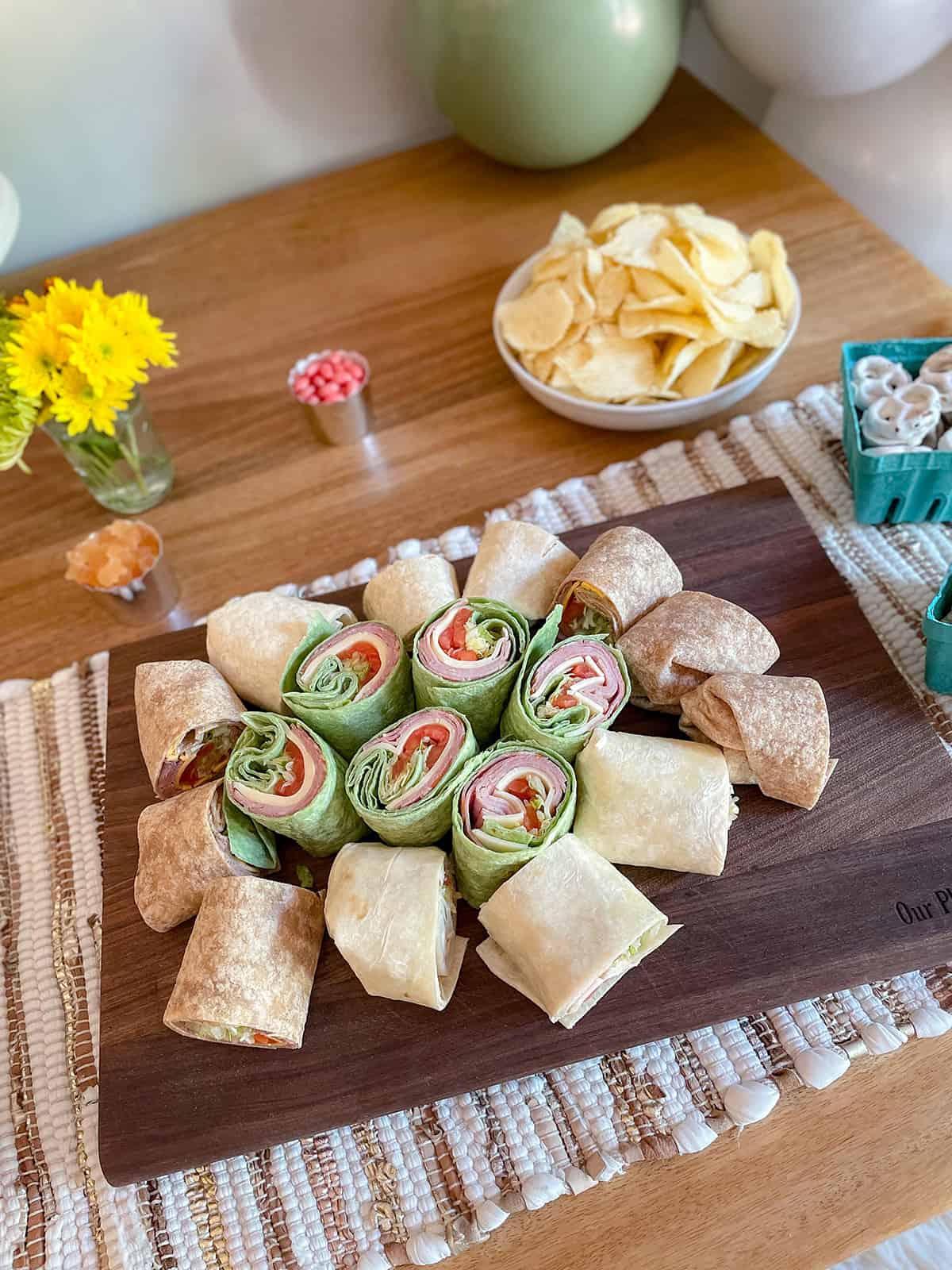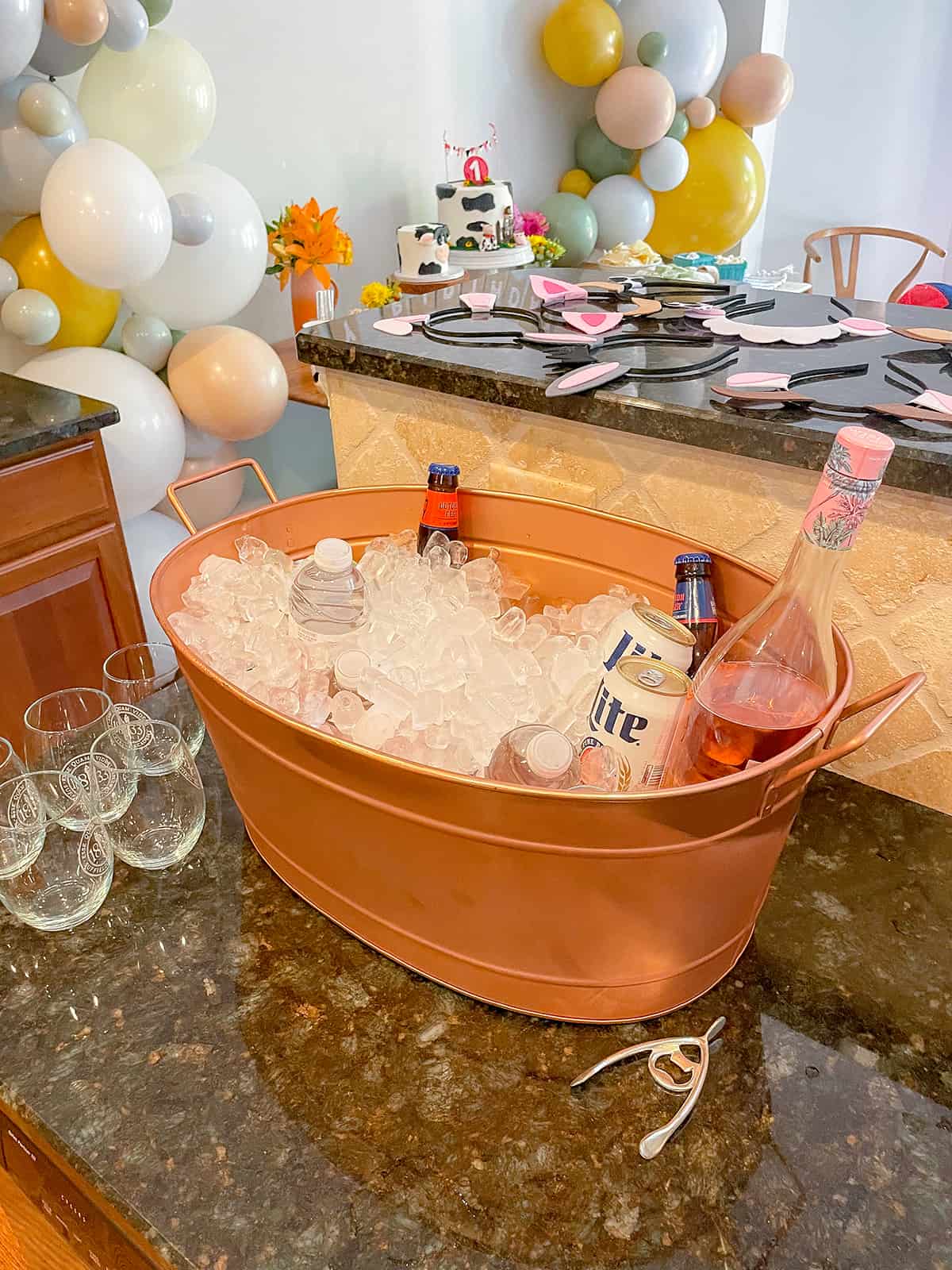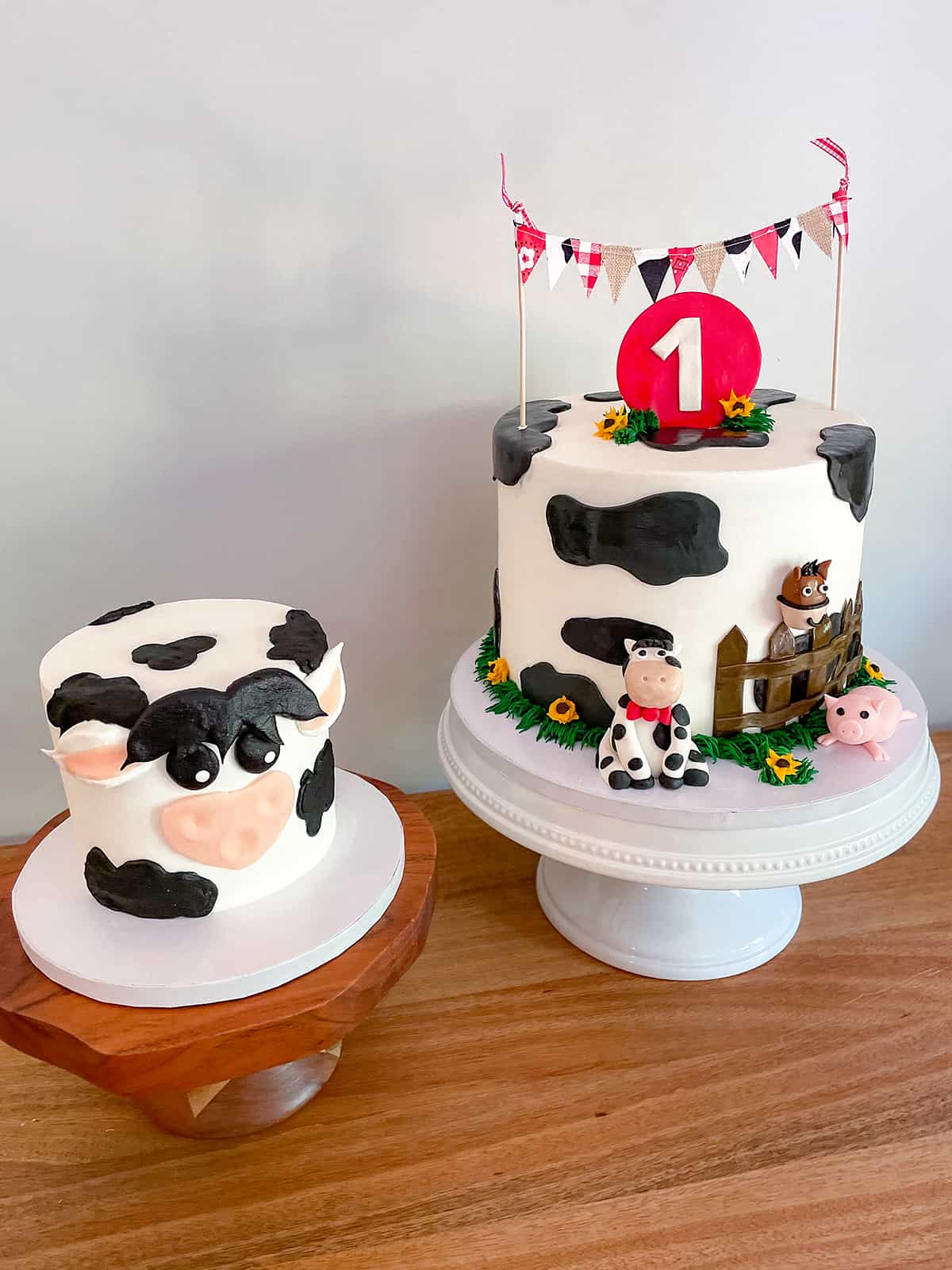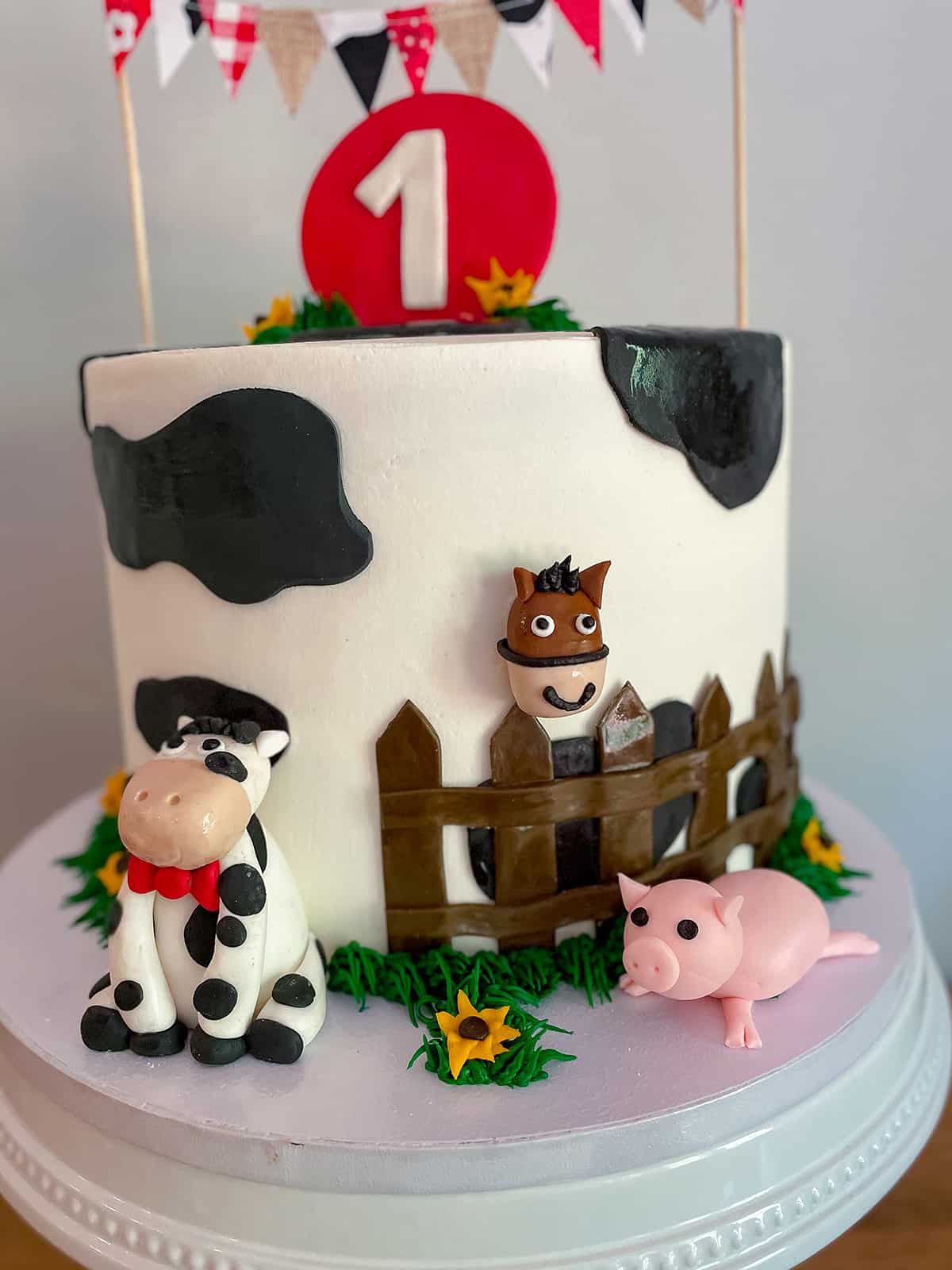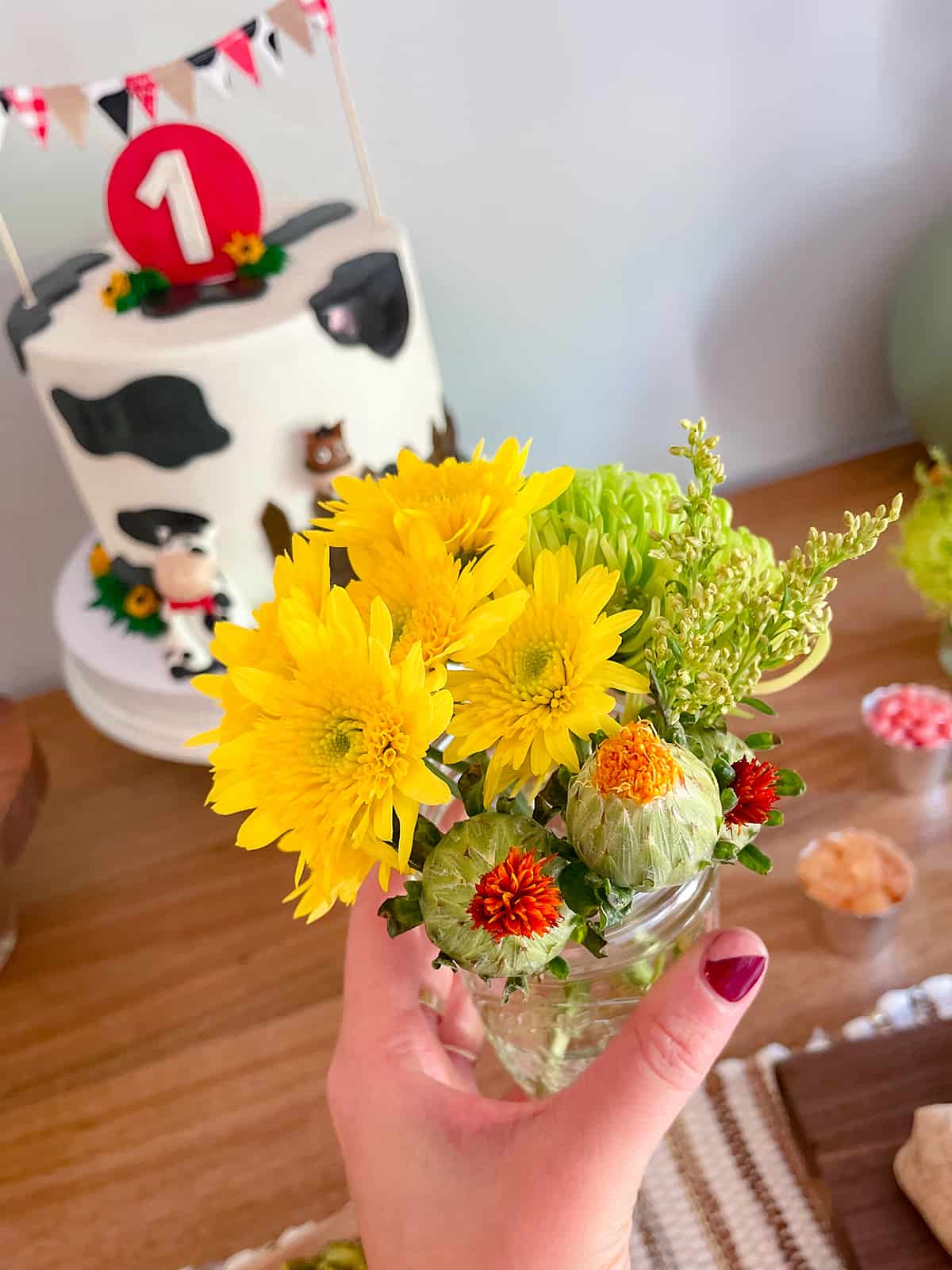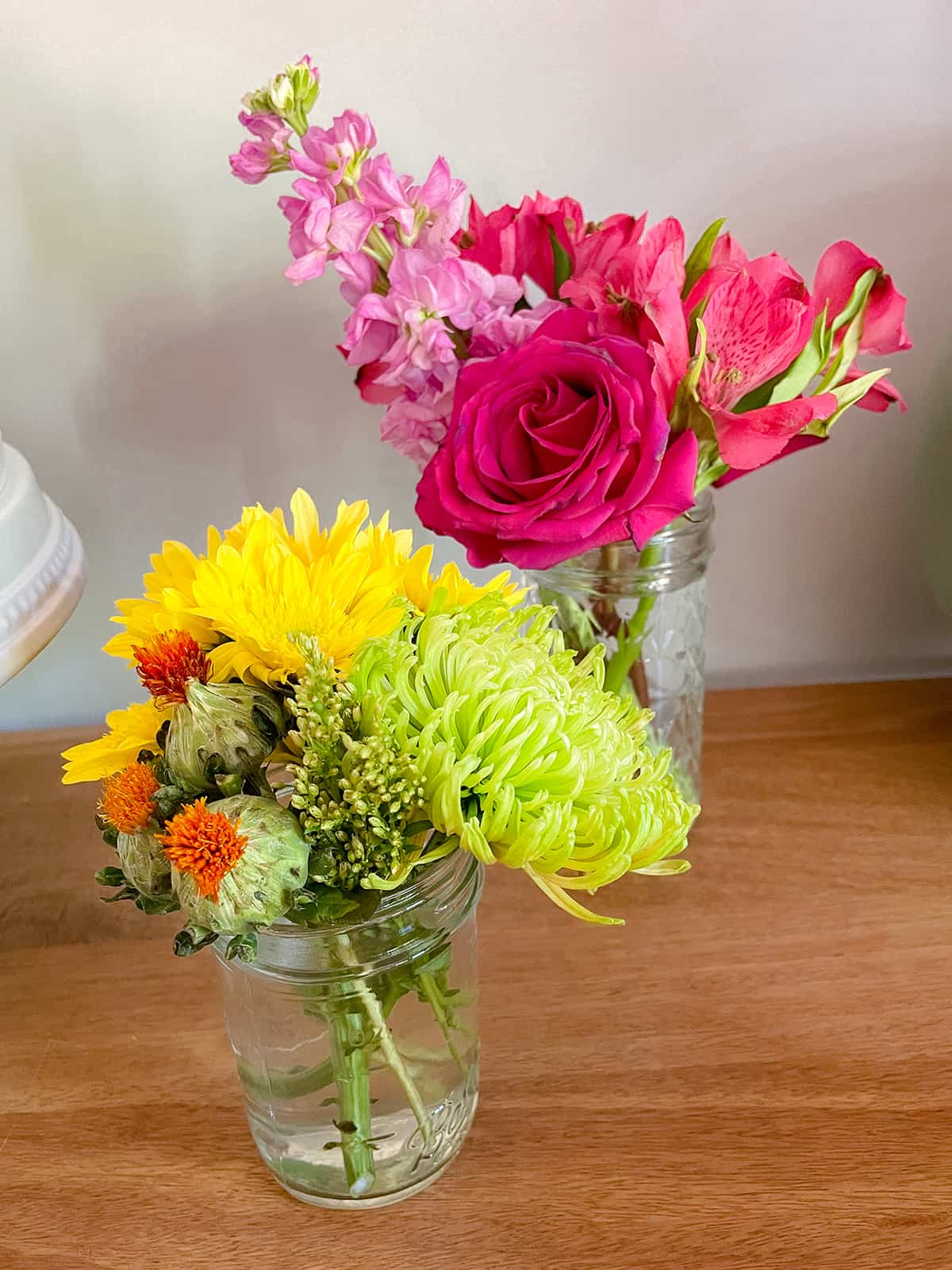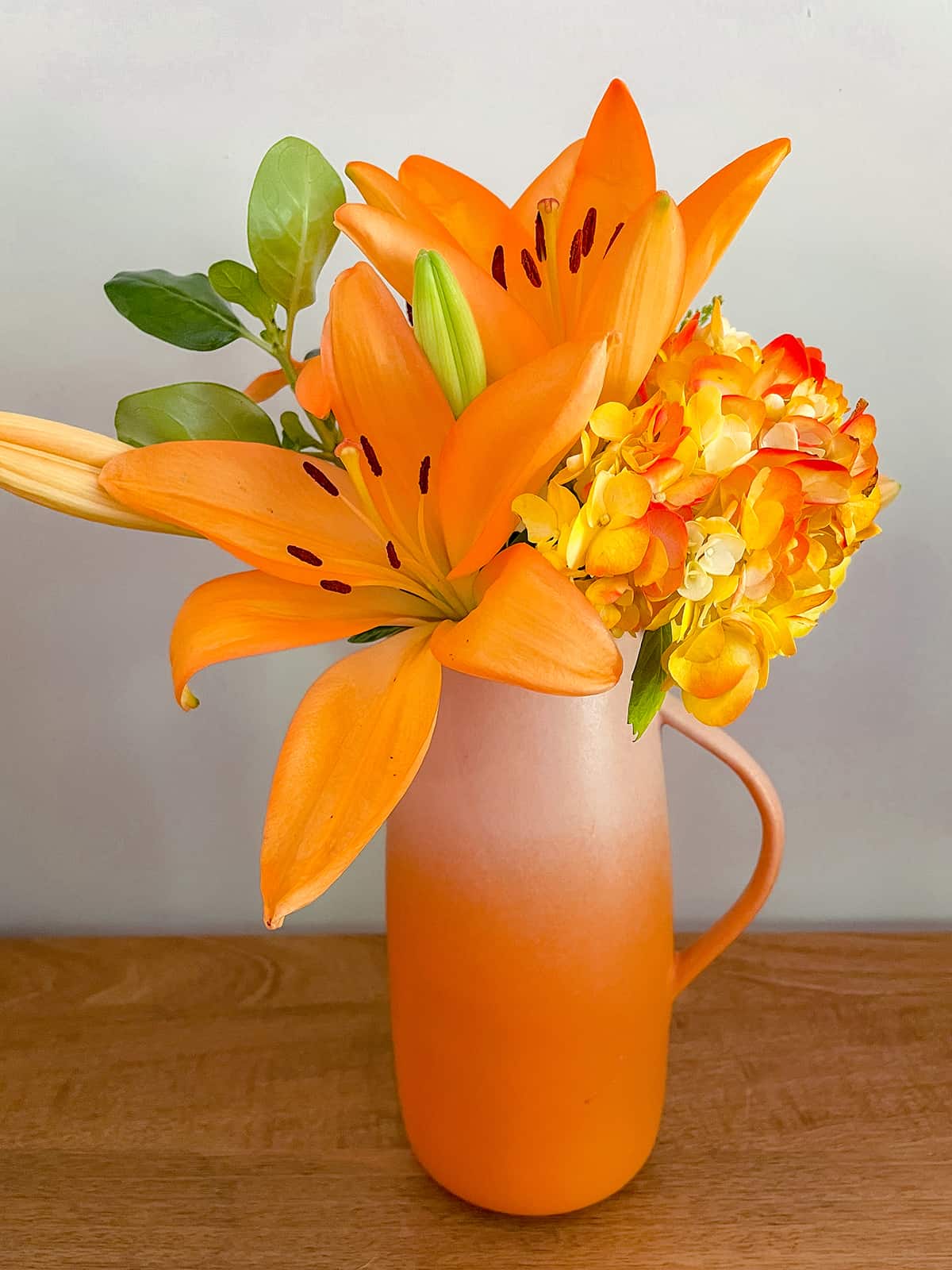 All other serving items and decor were things we already owned like our walnut cutting boards, table runner and cake stands (HomeGoods finds) and mason jar vases. I put together the flower arrangements myself using one big mixed bouquet from Kroger.
For food, we just got a few buffet-friendly catering trays from Publix (I ordered online the day before) and then the cakes were custom from Ivey Cake Bakery in Brentwood, TN. They were absolutely DELICIOUS and almost too pretty to eat!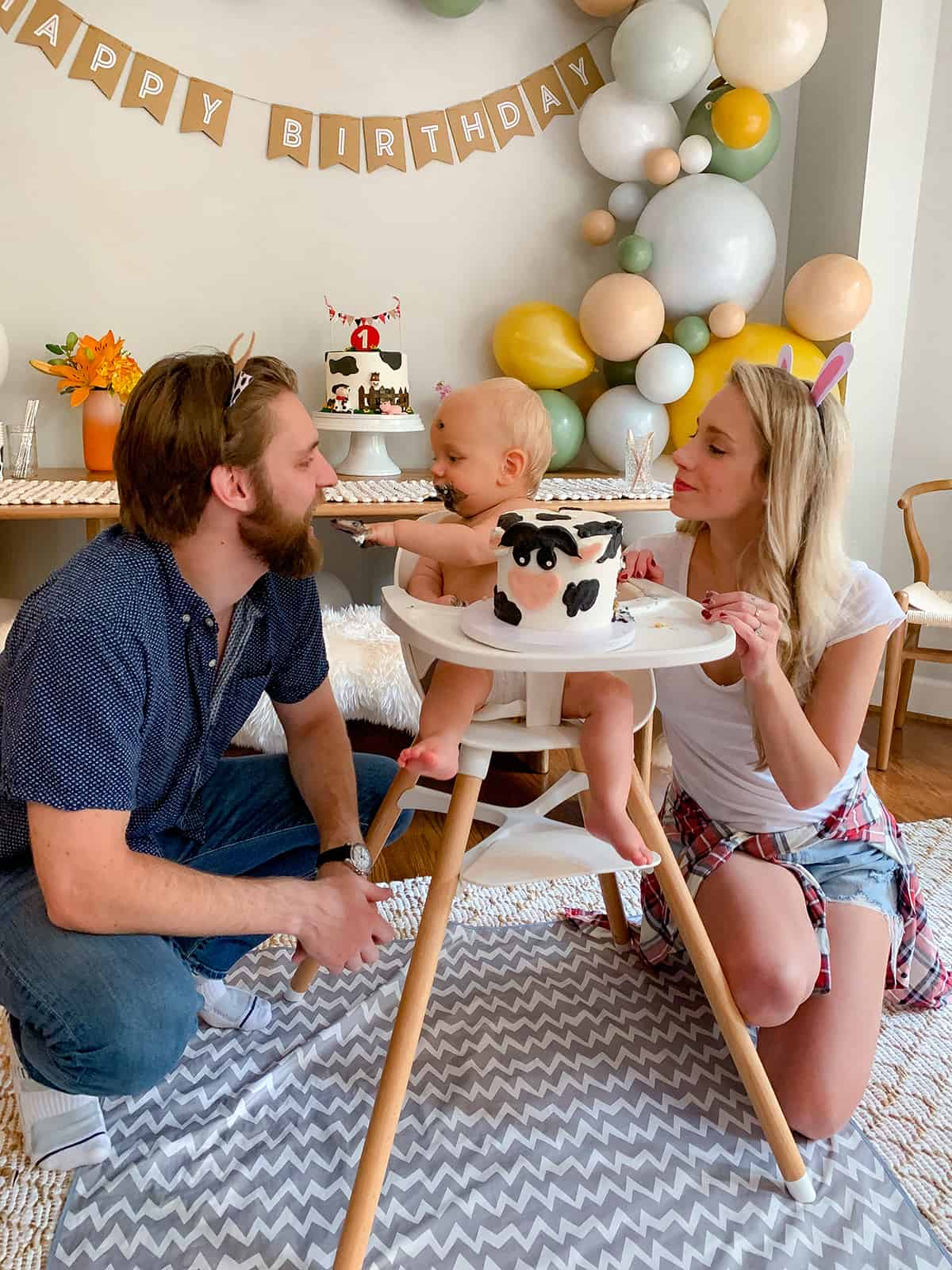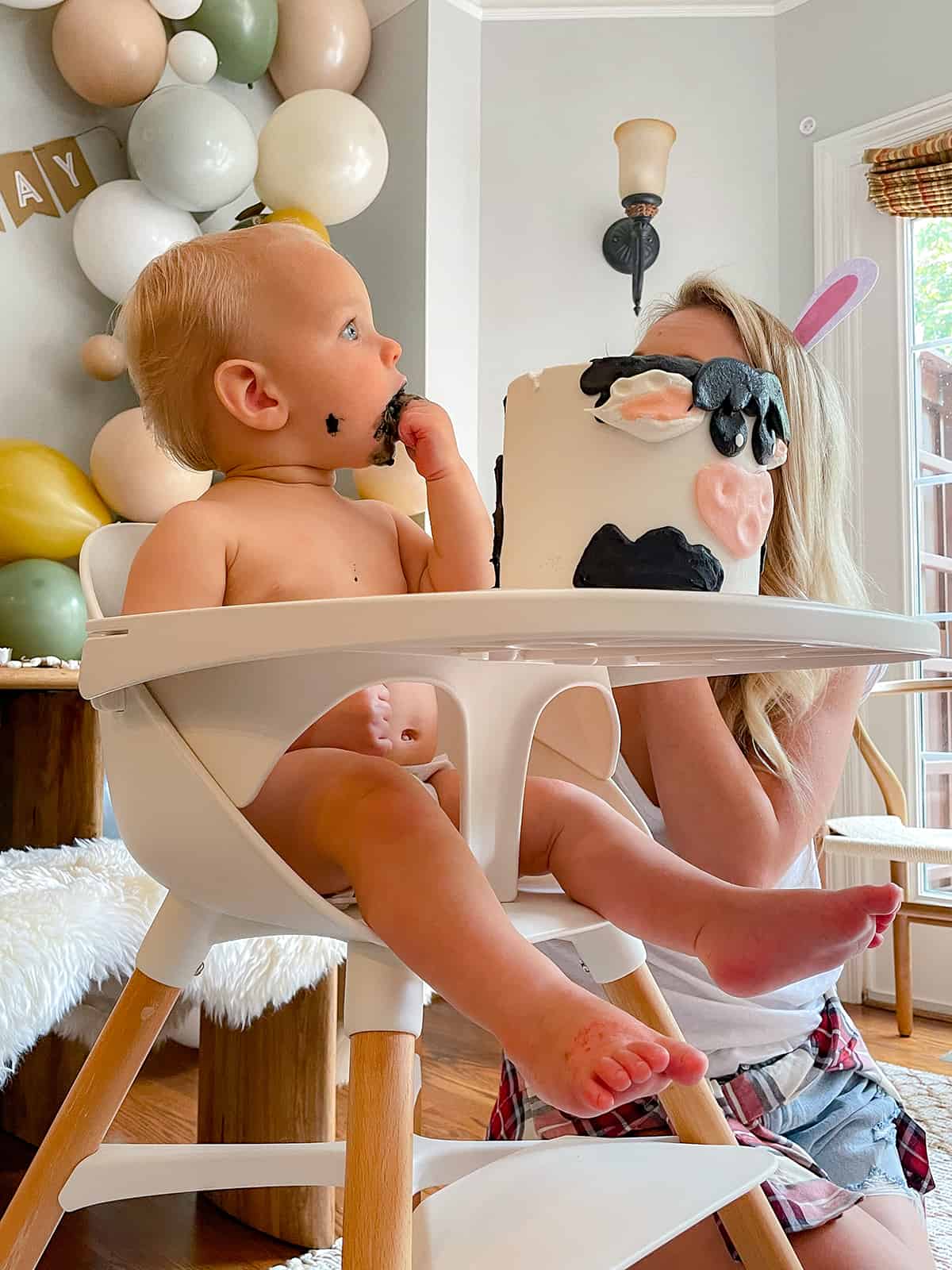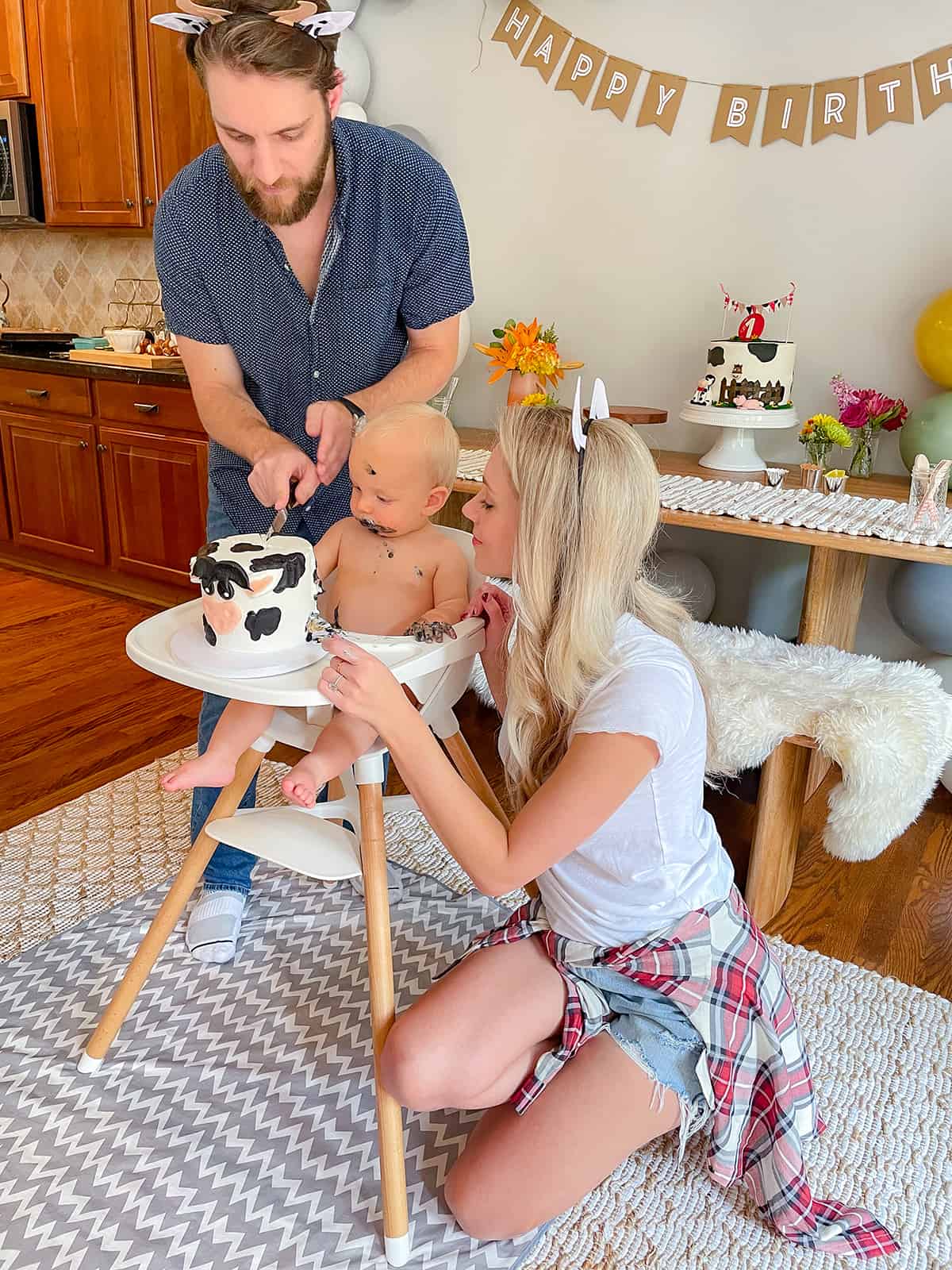 One final note– I know there's a big trend right now, especially on social media, to throw over-the-top kids' parties. A few months ago I had a moment where I let myself get sucked into the pressure and started playing the comparison game. I felt terrible that his first birthday was happening just a month after our move to Nashville and we likely wouldn't know any other families with kiddos to invite.
After talking about it with Nick, my family and a few other fellow new moms on Instagram, I quickly realized that over-the-top first birthdays were the exception– not the norm. No matter what we decided to do, all that mattered was that Nate felt loved and we could celebrate with our close family. There are plenty of years ahead to throw parties. Also, babies don't even remember their first birthdays 😛
As you can see, we kept Nate's party small and sweet and honestly it ended up being the perfect day. My sister and mom came in town to celebrate, as well as my in-laws!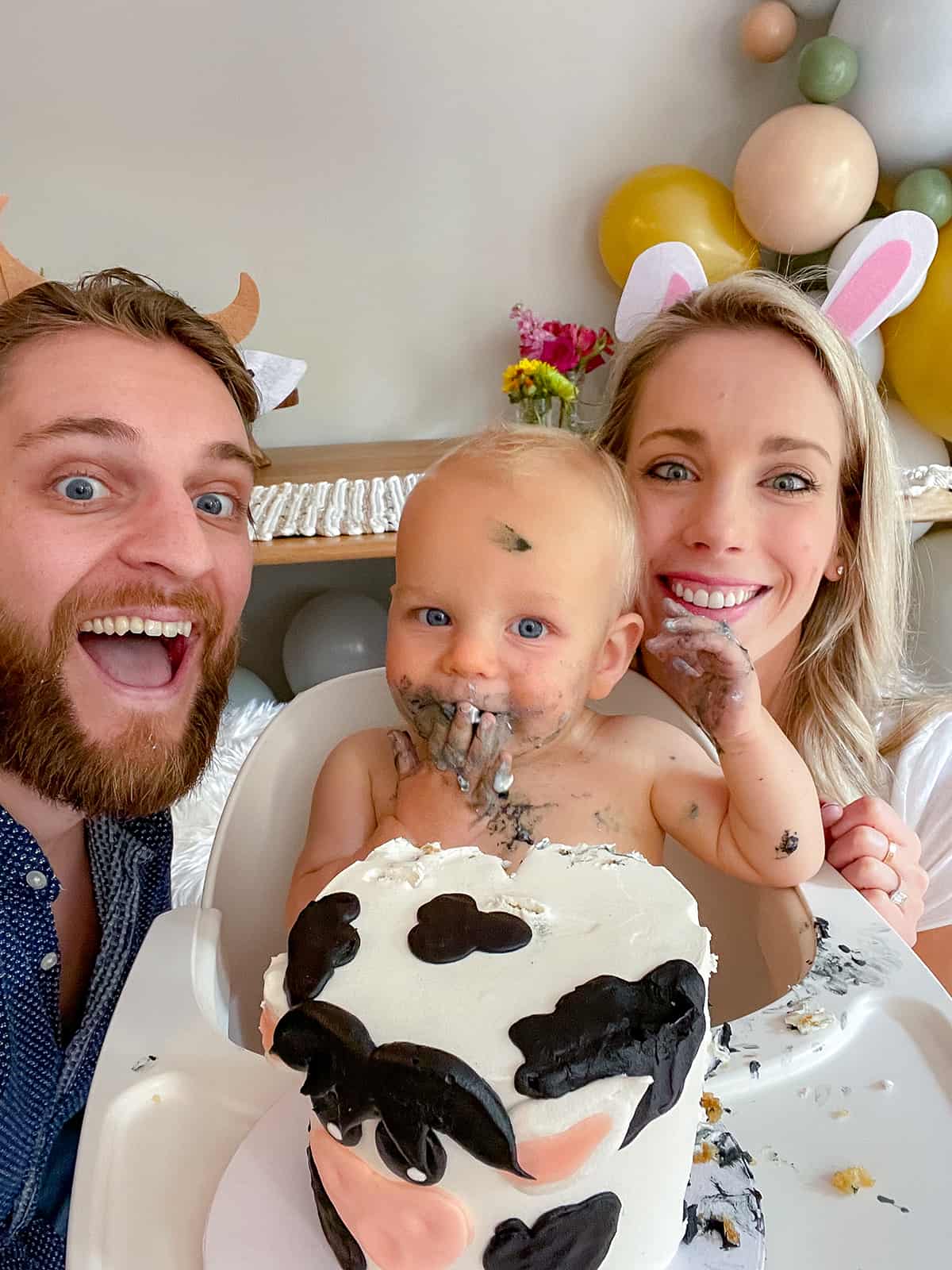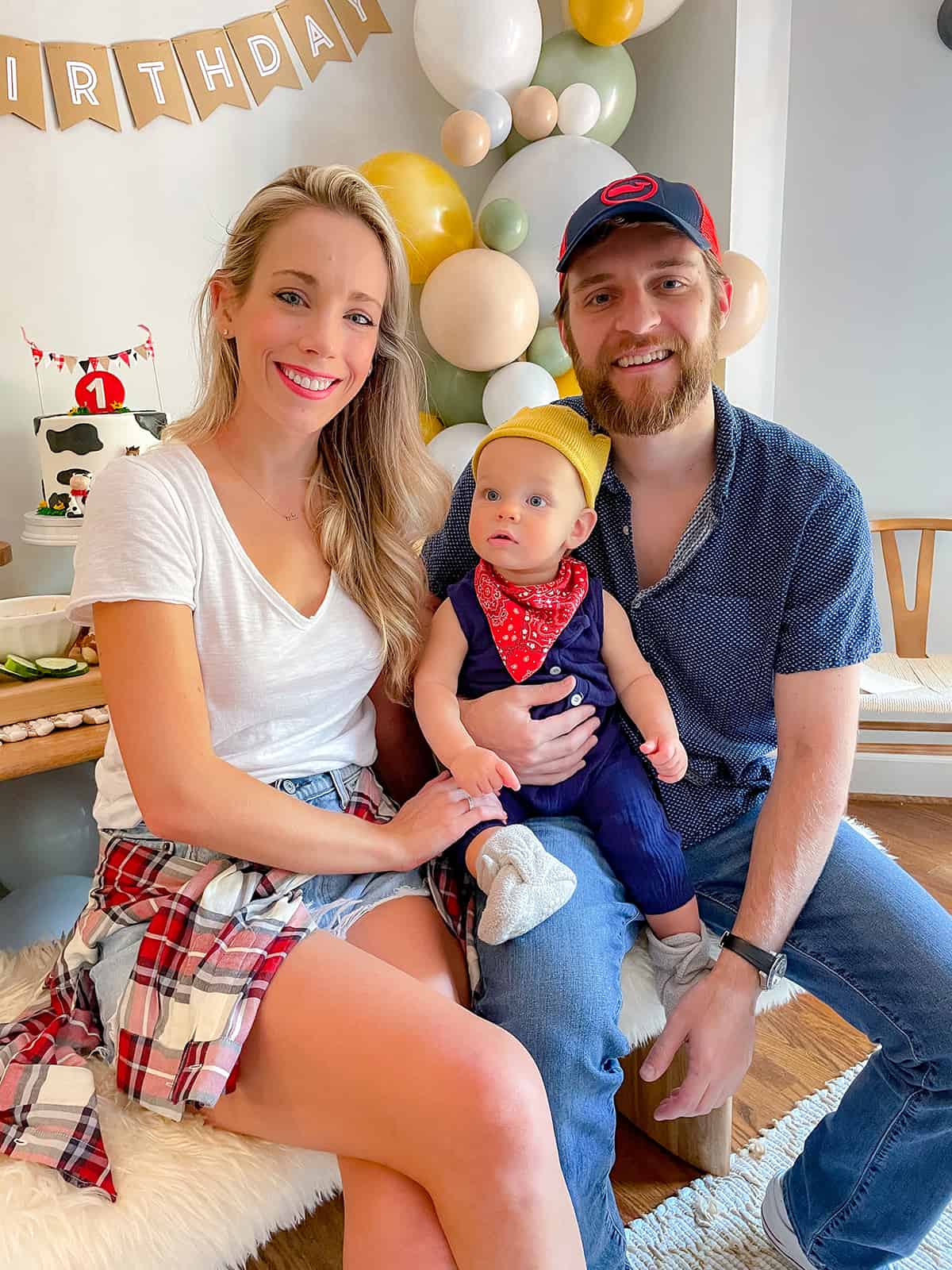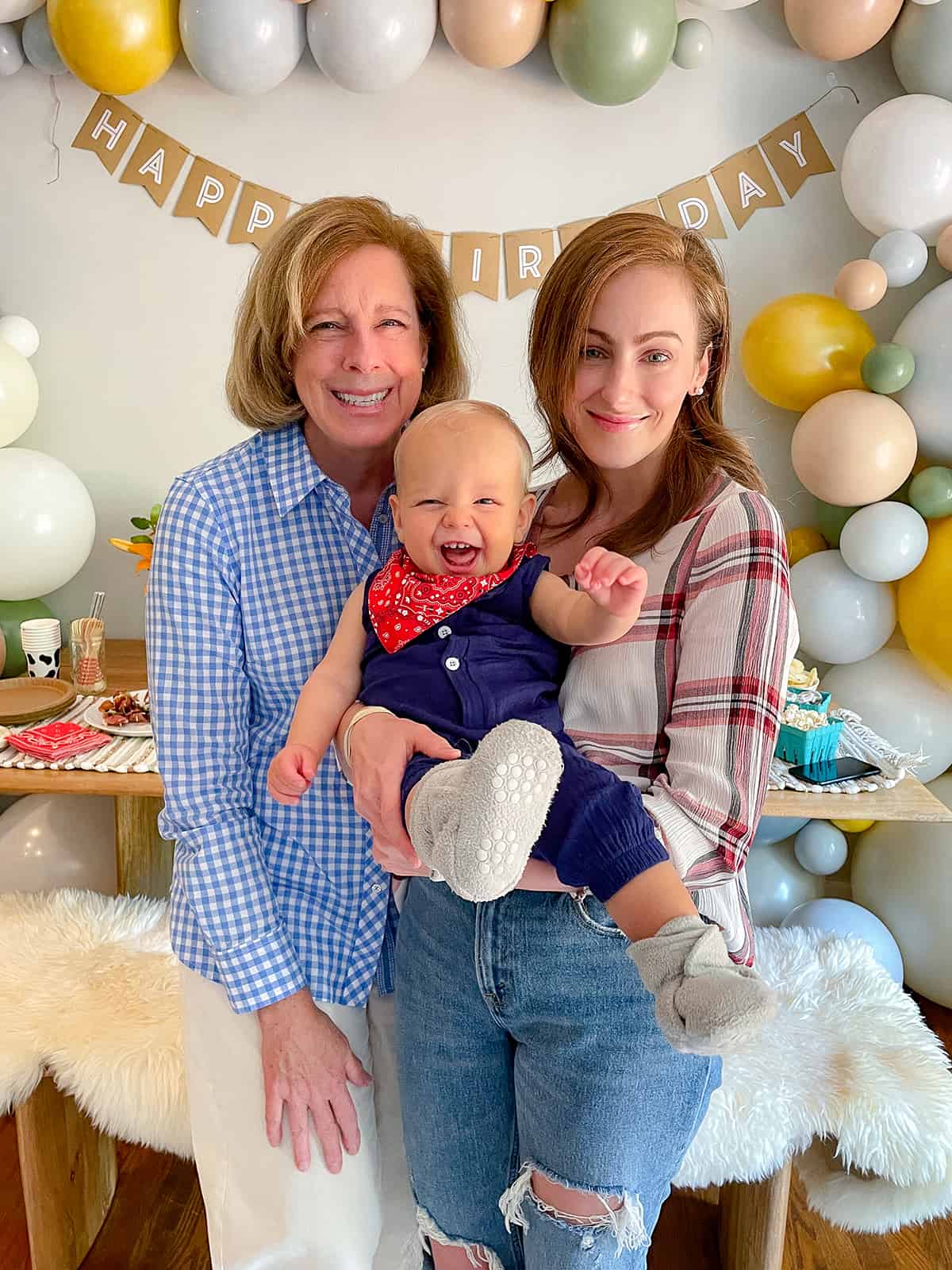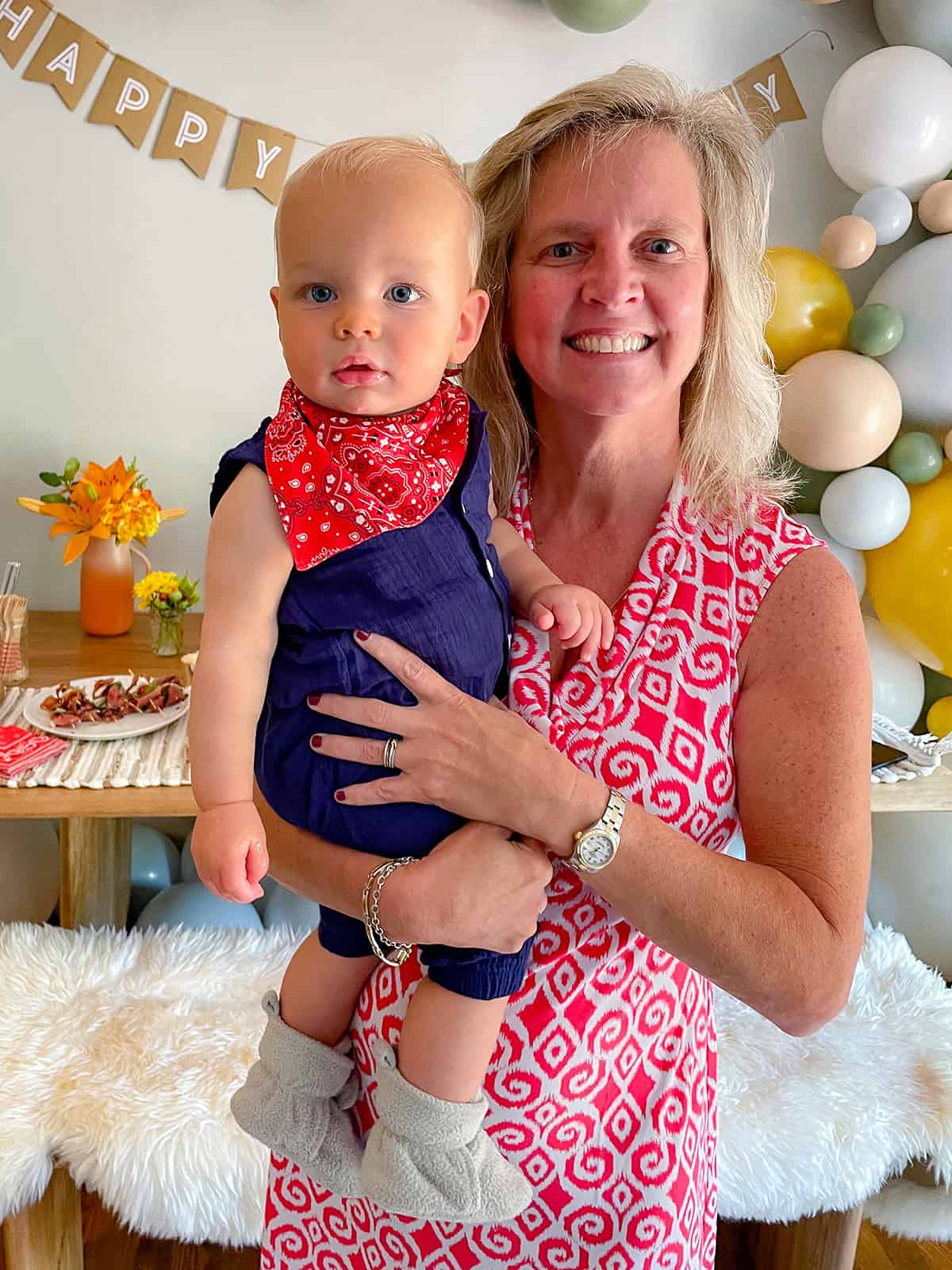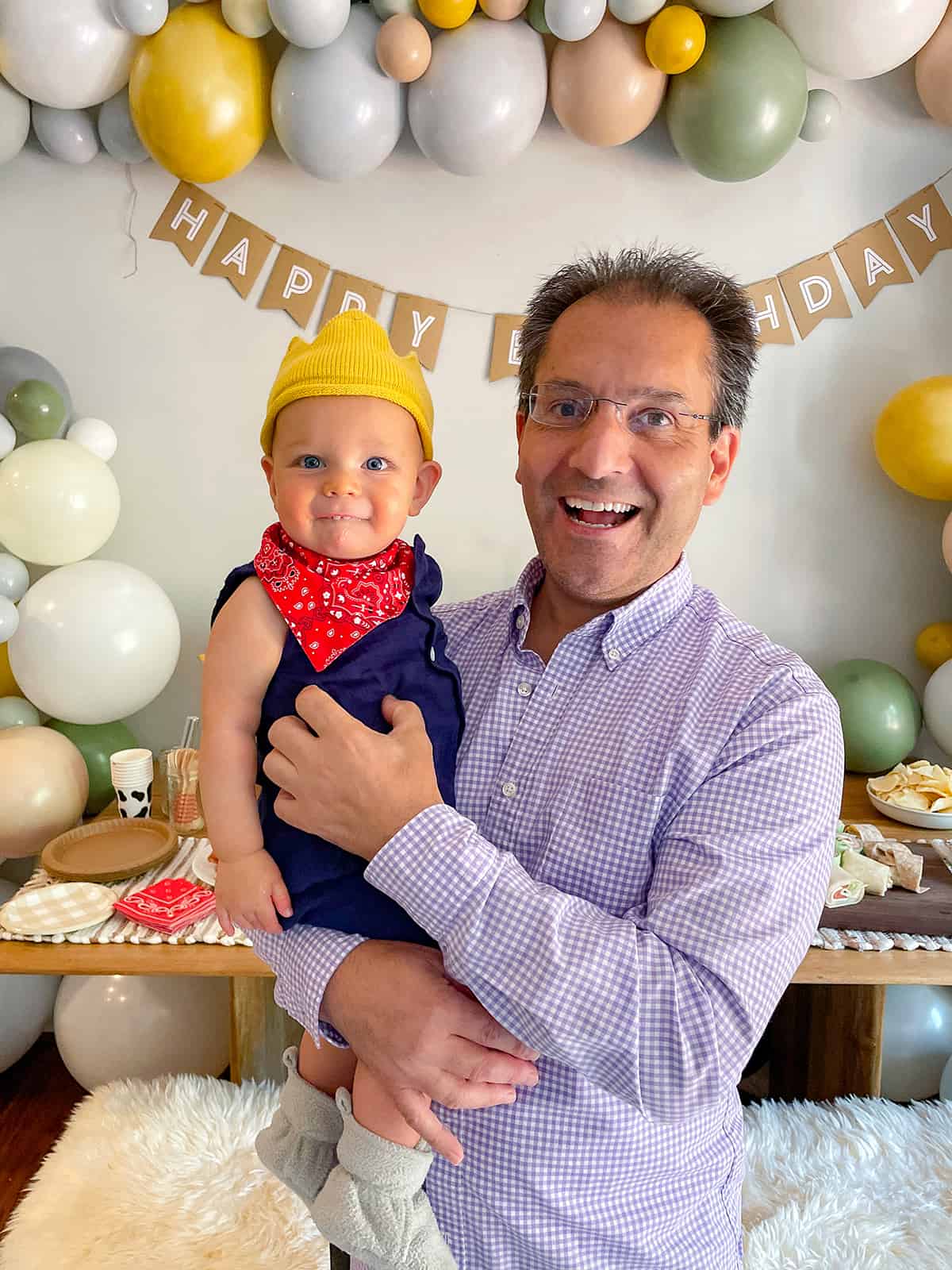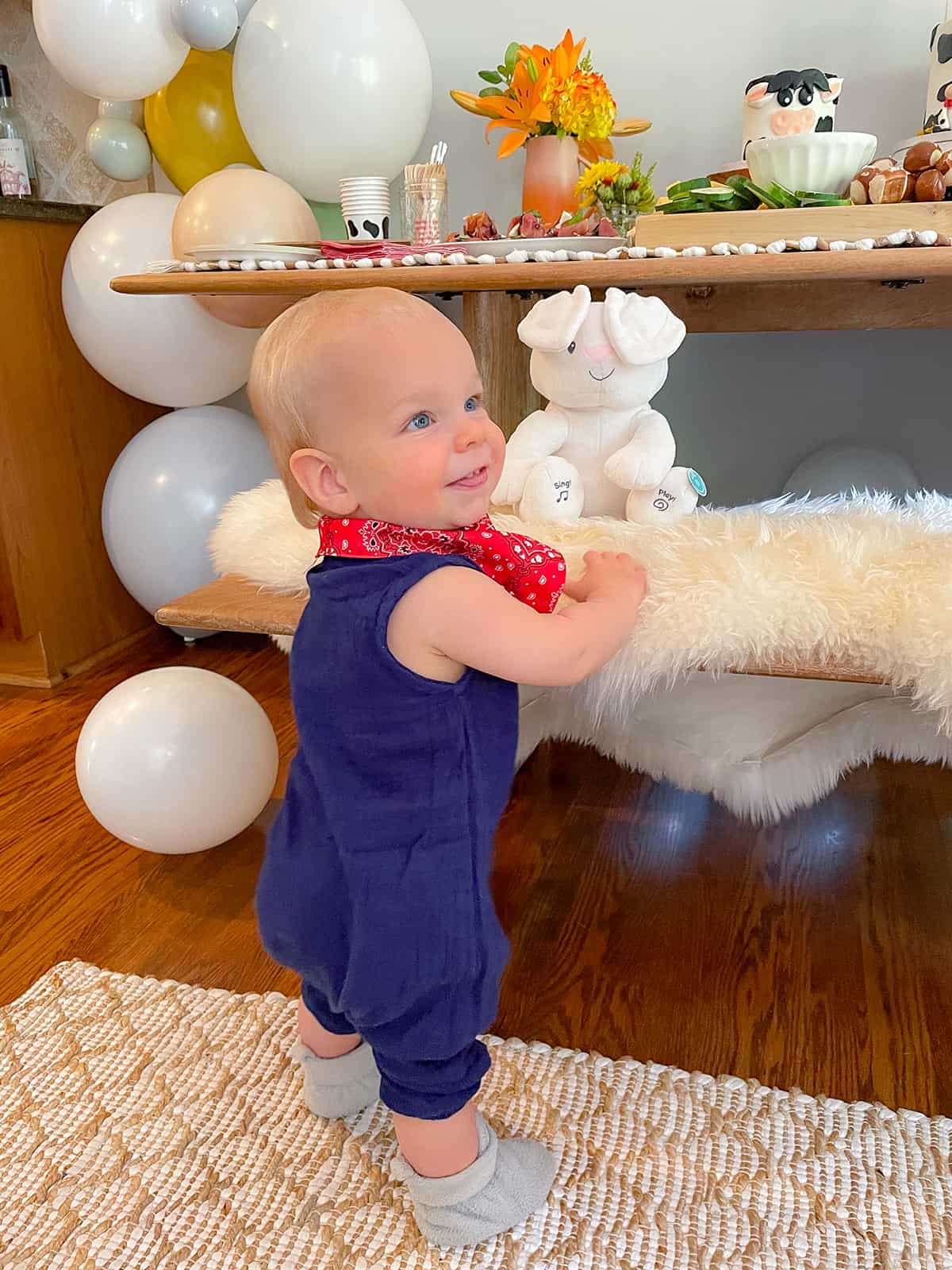 - Katie