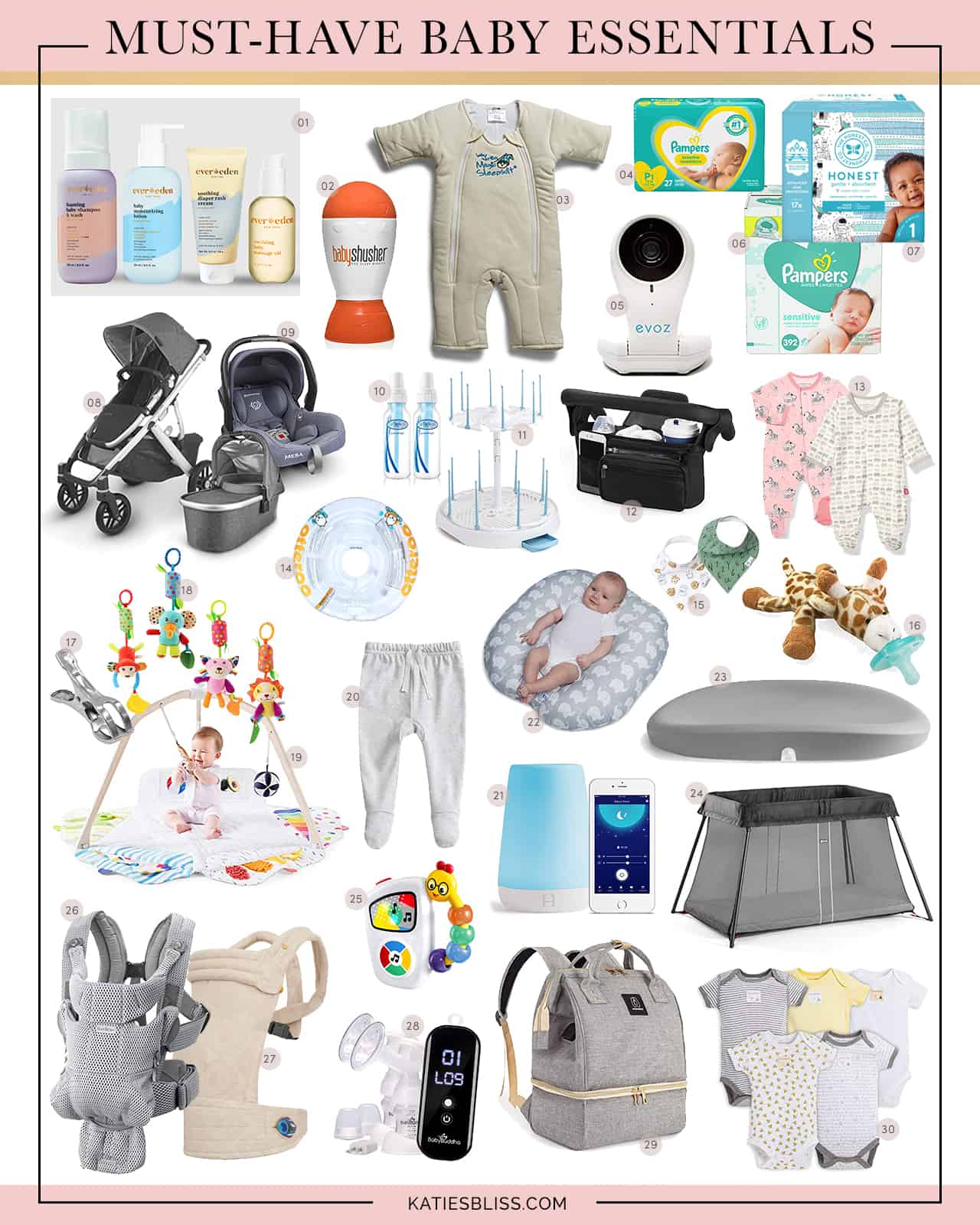 1. Ever Eden Skincare Bundle | 2. Baby Shusher | 3. Merlin Magic Sleep Suit | 4. Pampers Sensitive Baby Wipes | 5.Video Baby Monitor | 6. Pampers Swaddlers | 7. Honest Diapers | 8. UPPAbaby Vista V2 Stroller | 9. UPPAbaby MESA Car Seat | 10. Dr. Brown Bottles | 11. Bottle Drying Rack | 12. Stroller Cup Holder + Organizer | 13. Magnetic Me Footie | 14. Otteroo Lumi Baby Neck Float | 15. Bandana Drool Bibs | 16. WubbaNub Pacifier | 17. Large Clips | 18. Hanging Rattle Toys | 19. Play Gym by Lovevery | 20. Baby Joggers | 21. Hatch Baby Sound Machine | 22. Boppy Lounger | 23. Hatch Baby Smart Changing Pad | 24. Travel Crib | 25. Take Along Tunes | 26. BABYBJORN Carrier | 27. Artipoppe Carrier | 28. BabyBuddha Breast Pump | 29. Breast Pump Backpack | 30. Burts Bees Onesies
It's so true when people say that even though the days may seem long, the weeks and months after having a baby pass by so quickly. I feel like I just blinked and all of a sudden Nate is almost five months old! Everyday has been such a joy since he joined our little family. I don't know how we ever lived without him!
Back in October I posted a roundup of our most-used newborn products and got great feedback from y'all, so I thought it would be helpful to share an update on which of those items we're still loving, along with the other products that we've found most useful in the 2-4 month stage.
SLEEP SUIT
I can't remember exactly when we stopped swaddling Nate (I want to say it was around 2.5 months–we loved these swaddles btw!) but since then he's been wearing the Merlin's Magic Sleep Suit for all of his naps and nighttime sleep. It's a great transition product for babies because helps contain their startle reflex similar to a swaddle, but allows them to move their arms and legs a little more freely. It's also very cozy and cushy! I wish they made them in adult size!
Sound machines
We still regularly use both the Baby Shusher and Hatch Baby Sound Machine + Light from my Newborn Essentials post. The shusher is great to have on the go because it's tiny and easy to throw into your bag for using when traveling or anywhere you need baby to nap outside of their normal sleep environment. We keep the Hatch sound machine right next to Nate's crib for white noise and as a night light. I love how I can control the volume level and light color directly from the Hatch app on my phone!
baby monitor
Now that Nate has started taking longer naps and can fall asleep on his own, we've begun regularly using a baby monitor and really love this one from Evoz. It's lightweight, easy to move around and I love how I can watch him with the app on my phone without having to be on the same wifi network as the monitor. It also has dual audio so I can talk to Nate through it! PS we also love the Owlet monitor and sock too, which we use regularly at home in our apartment, however this is the monitor that we brought with us to Florida and have been using the most often. You can't go wrong with either!
Stroller & accessories
I can't speak highly enough of our UPPAbaby Vista V2 Stroller! When I was pregnant it was by far the one that was recommended most to me and after nearly five months of using it I understand why. The quality and durability is just incredible. It comes with two different seating options– a bassinet for the newborn stage (we used it for 3 months) and a reversible toddler seat.
A note about the bassinet attachment! It's sleep safe and many parents will actually use it as their baby's primary sleep spot until it's time to transition them to a crib. You can purchase this foldable stand and the bassinet clips right in! It's amazing and what we used at my grandparents' home when we visited them over Nate's first few months. He slept just as well in it as he did in his bassinet at our apartment!
The Vista is also a stroller that can grow with your baby and be used for multiple years. I also find it incredibly easy to use– the seats clip in and out with the press of a button and the frame folds in half making it simple to store in the trunk of your car. The wheels are heavy duty and work great in all kinds of weather and temperatures.
Some other aspects I love: the huge basket underneath that's big enough to hold multiple grocery bags, adjustable handlebar so it's comfortable for both Nick and I to push, option to have multiple configurations and add up two additional kids.
We haven't purchased a ton of extra stroller accessories yet, however we do regularly use this cup holder + organizer. It was just $19.99 on Amazon and attaches via velcro to the handlebars of any stroller.
car seat
It was really important to us that whatever car seat we chose was compatible with our stroller, so it was a no brainer for us to get the UPPAbaby MESA Car Seat.  Similar to our thoughts on the Vista, we've loved our experience with the Mesa. It's sturdy, easy to adjust as baby grows and it clips into the Vista stroller frame in seconds.
baby carriers
I've tried a handful of baby carriers and my two favorites are the Artipoppe Zeitgeist carrier and BabyBjörn Baby Carrier Free carrier. Both fit and wear in a similar way, however I would say the Artipoppe pouch is more cocoon-like– similar wearing your baby in a fabric wrap. I love how when I carry Nate in it he's really nestled and cozy– for weeks it was the only way I could get him to fall asleep for naps! The BabyBjorn is more of a structured carrier and is great if you prefer your baby held a little more upright. I would also say it's better for wearing over longer periods of time due to the built-in back and waist support.
Which is easier to put on? Both are simple to use once you get the hang of it and adjust the straps to make sense for you and your baby's size, but off the bat the Artipoppe wins hands down. It has three simple clip ins, where the BabyBjorn has six. I also like how the Artipoppe pouch fully unclips and flaps down making it easy to transfer your baby out without having to lift them from the carrier. It's how I would always get Nate into his bassinet without waking him up! With the BabyBjorn there isn't a way to take your baby out without lifting them up and through the harness.
Some other key differences:
+ Artipoppe can hold up to 44lbs, BabyBjorn can hold up to 26.5lbs
+ most Artipoppe carriers are priced at $350, however some patterns and fabric are in the $700-$3,000+ range
+ BabyBjorn carriers are more budget-friendly and start at $159
baby lounger
Boppy Pillow – Nate is a little too big for this now, but from day one up until he was 3.5 months we used this lounger pillow daily! It's the perfect spot for having a small baby relax during their wake windows and can be easily moved from room to room around your home.
pajamas
Magnetic Me Footie Pajamas – 2 words: Magnetic. Clasps. These were by far Nate's most worn newborn pajamas and since then I've been buying a handful every time he's gone up a size (he's in 3-6 month now.) The magnetic closures make them so easy to take on and off + the fabric quality is incredible and holds up great even after countless times in the wash.
daytime clothing & bibs
Bandana Drool Bibs – Nate started drooling big time around three months so now I always like to complete his outfit with a cute bib. These are super absorbent, there are tons of patterns for boys and girls and are very easy to put on!
Burts Bees Onesies – These are the onesies Nate wears most. The prints are simple and cute and easy to mix with any pant or bottom. You can snag a pack of 5 for just $24!
Baby Jogger Pant Set – I love these baby pants because they actually have covered feet! Lots of colors and patterns available too for under $20. So many infant bottoms are open, which depending on the temperature/weather means having to put socks on wriggly baby feet. Once the temps dipped in November and December, I found myself always dressing Nate in these pants to avoid the sock step!
toys
Play Gym by Lovevery – This play mat + gym is Nate's go-to spot after feedings. I can put him down for anywhere from 10-30 minutes and he'll stay fully entertained looking at the various graphic cards, mirrors and jingle toys. It has a lot of cool features that promote cognitive, visual, physical and motor development and it works great for tummy time too. The mat is also machine washable! PS we added these hanging rattle toys using these beach towel chair clips for some extra fun for Nate 🙂
Take Along Tunes – this $8 impulse buy musical from Amazon is one of our most-used baby toys! I always have it in my purse to keep him distracted and entertained on car rides, doctor appointments, when we're out and about, etc. It plays a handful of familiar tunes (just music–no vocals) and lights up. It's surprisingly very engaging! Nate is obsessed!
Otteroo Lumi Baby Neck Float – Nate's physical therapist recommended this neck float for using at bath time to help with relieving his shoulder and neck tension (I talk more about it here) and so far it's been a hit! He loves the water and has the best time when we put him in this float. Usually we'll do it for the first five minutes of his bath. I know people have mixed opinions on this product and even though we have had a positive experience with it, I would still encourage you to read reviews and do your own research first.
DIAPERS & WIPES
Over the last 4+ months we've tried diapers and wipes from a variety of brands and if I'm being honest– there really isn't that much of a difference I've noticed between them all in terms of quality and functionality. A diaper is a diaper and a wipe is a wipe. I'm not that picky as long as my boy is leaking and his tush is clean. Lately I've been ordering mostly Honest diapers (they have the cutest patterns!) and Pampers Swaddlers. For wipes we've used and liked WaterWipes, Pampers sensitive wipes and Honest wipes.
BATH & BODYCARE PRODUCTS
EverEden is the only bath and body care brand I've yet to use on Nate. All of the products are 100% natural and free of sulfates, parabens, phthalates, petroletum and artificial fragrances. We're big fans of the baby massage oil (I use this on his belly to help with constipation) the body wash, body lotion and nourishing baby face cream. PS they also make amazing products for mom too! I love the stretch mark cream and belly serum.
pacifier
I dunno if this is normal or just a Nate thing, but so far he hasn't shown a ton of interest in pacis. When he does use one (typically on car rides) he likes the WubbaNub Pacifier! He isn't the best at holding a paci in his mouth, so having the stuffed giraffe on the end helps him keep it in and gives him something to hold on to.
bottles & accessories
Dr. Brown Bottles – We tried a handful of different bottle brands and styles and these were the ones that ended up being the best fit for us. We started with 4oz slow flow nipple bottles before transitioning to 8oz bottles with a level 2 nipple around ten weeks. I'll be honest– they're annoying to clean and have a lot of little finicky parts, but they work best in terms of preventing colic, mimicking milk flow similar to a boob and optimizing tongue functionality (this was key for us in rehabilitating Nate after his tongue tie release!)
Bottle Drying Rack – only $12 and it gets the job done! I love how it's not gargantuan and very easy to clean.
changing pad
Hatch Baby Smart Changing Pad – if you read my post about my breastfeeding journey then you already know how much I love this smart changing pad and scale. It's a must-have if you want to track your baby's growth yourself or do weighted feeds. Cleaning is a breeze too– you just spray it down and wipe clean! There's also no need for any fabric cover.
breast pump
BabyBuddha Breast Pump – My favorite breast pump. It's so powerful, yet just as small as a cell phone. You can read my in-depth review of it here.
diaper bag
Breast Pump Backpack – Due to the pandemic and the fact that we spend 99% of our time at home, I haven't really had a need for your typical diaper bag, however we've gotten plenty of use out of this double layer backpack when we've traveled to visit family. It works great for transporting a breast pump, flanges and a few bottles of pumped milk. I love how the bottom compartment is a cooler– just add your own ice pack and it instantly locks in the cold. I used it when I flew to Florida with a Nate and was also able to fit diapers, wipes, his pacifier, a small blanket and a change of his clothes.
travel crib
Since we've been in Florida, Nate has been sleeping in the BabyBjörn travel crib and it's working great for us. It took just seconds to put together, weighs only 13 lbs and comes with a travel bag and crib mattress (however I did purchase these fitted sheets for it separately!) We plan on using it for future travels and anytime we need a quick popup playpen. It can be used for newborns up to 3 years! PS if you're looking for a traditional crib recommendation, definitely check out Nate's nursery reveal here.
- Katie