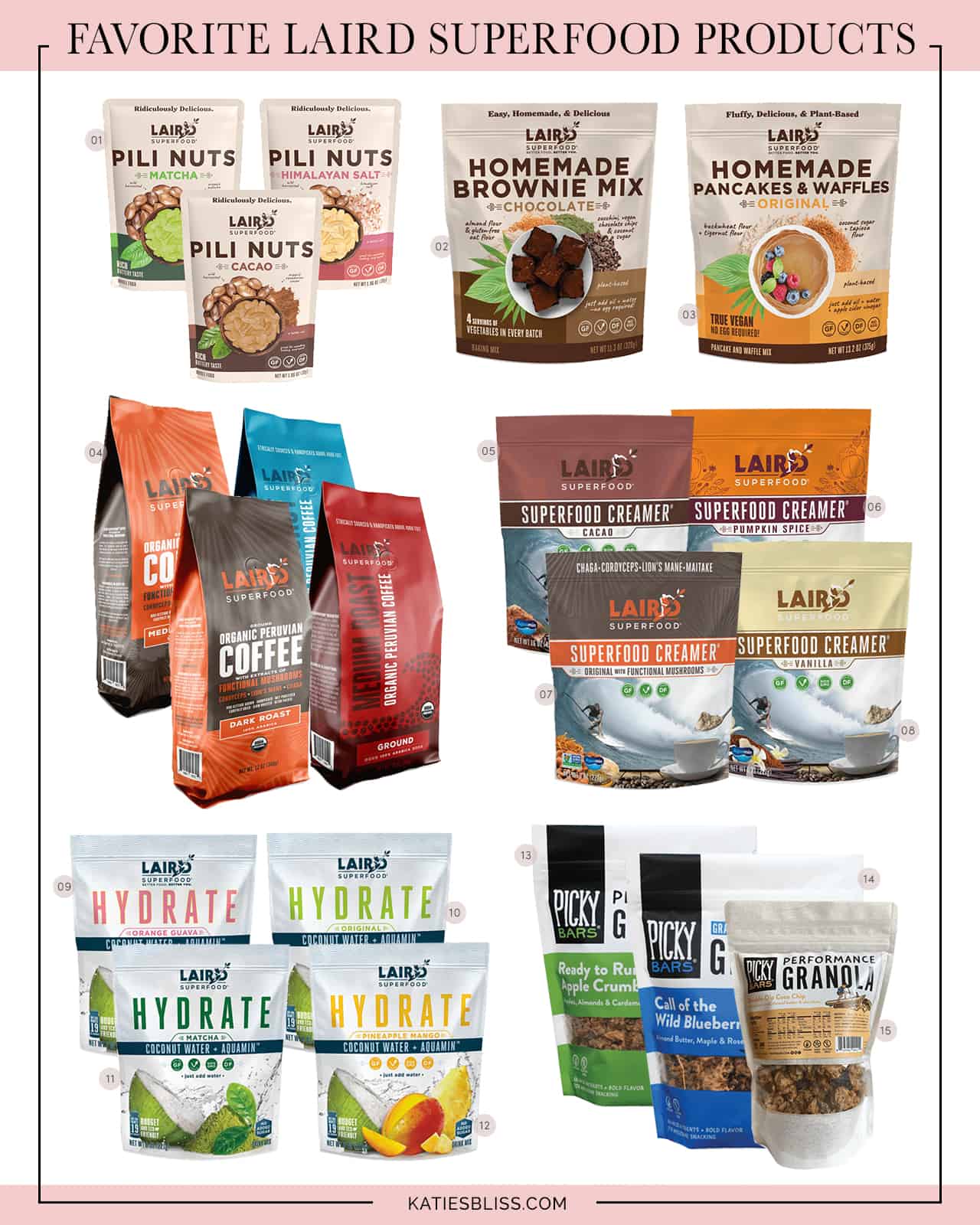 1. Pili Nut Variety Pack | 2. Brownie Mix | 3. Pancake & Waffle Mix | 4. Organic Ground Peruvian Coffee (available in whole bean or ground and in multiple roasts) | 5. Superfood Creamer Cacao | 6. Superfood Creamer Pumpkin Spice | 7. Superfood Creamer Original with Functional Mushrooms | 8. Superfood Creamer Vanilla | 9. HYDRATE Coconut Water Orange Guava | 10. HYDRATE Coconut Water Original | 11. HYDRATE Coconut Water Matcha | 12. HYDRATE Coconut Water Pineapple Mango | 13. Ready to Rumble Apple Granola | 14. Call of the Wild Blueberry Granola | 15. Performance Coco Chip Granola
Laird Superfood products have been a consistent staple in our pantry since the spring. I discovered Laird when I was looking for healthy swaps for foods I eat and drink everyday like coffee, creamers, snacks, etc. Laird makes high-quality plant-based products that actually taste INCREDIBLE. I've had a lot of time to test my Laird favorites against their unhealthy big brand versions and it's wild how they were able to create such delicious healthy alternatives. You won't be disappointed! PS my discount code KATIESBLISS will get you 15% off your Laird order.
Original Superfood Creamer
If you're going to try one product from Laird, I'd recommend the Original Superfood Creamer. It's a clean, plant-based alternative to traditional dairy and sugar-filled coffee creamers and one of their best-selling products. I cannot live without my morning coffee and it makes me feel a lot better knowing that the creamer I use is guilt-free. It's all-natural, contains only whole-food ingredients and skips the artificial flavors, colors and additives found in many creamers. I've tried a few different flavors and my favorites are the Original with Functional Mushrooms, Vanilla, Cacao and Pumpkin Spice.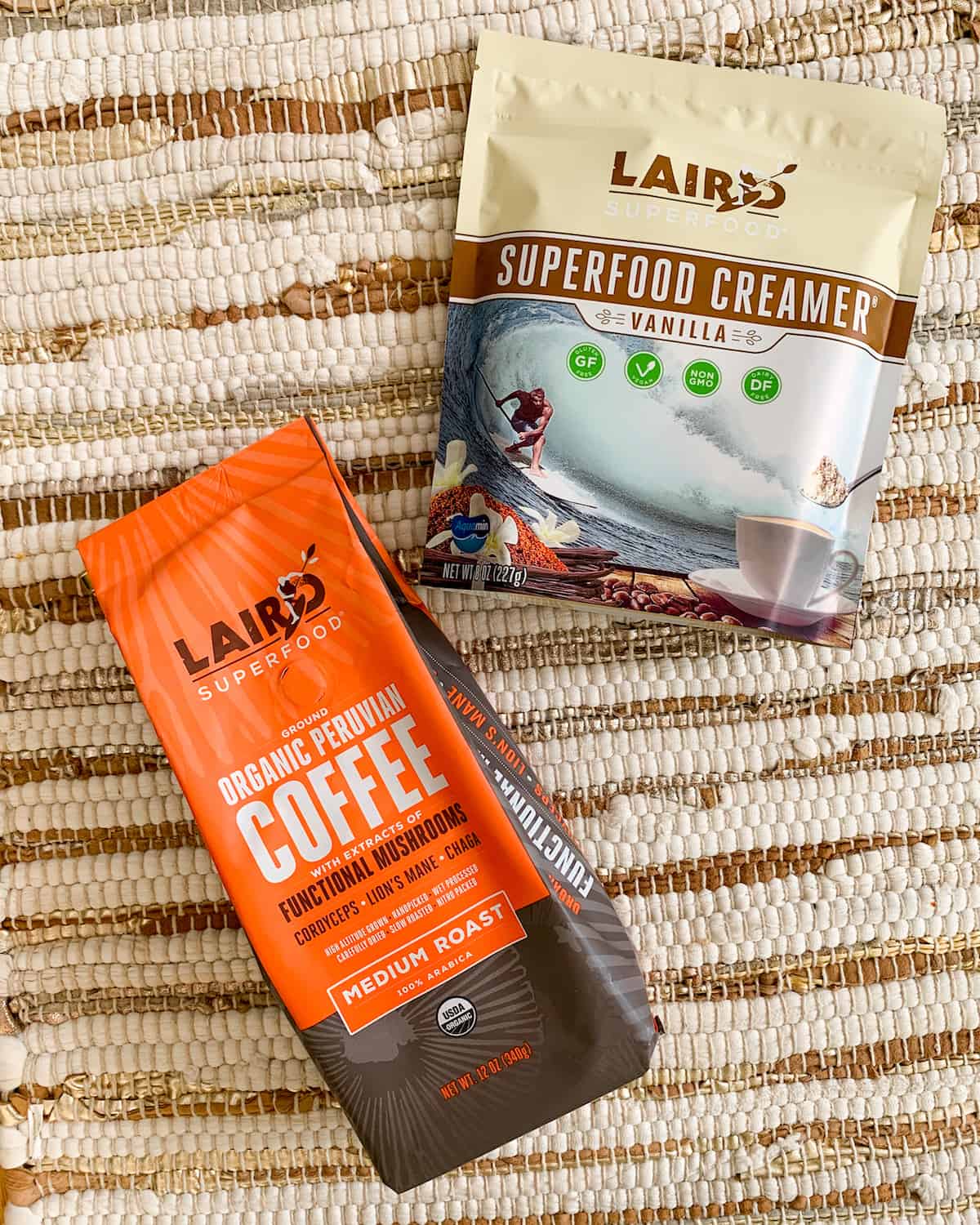 Organic Ground Peruvian Coffee
Coffee with functional mushrooms?? Huh? You might be scratching your head reading that, but I promise it makes sense! Laird Organic Ground Peruvian Coffee takes your morning mug to the next level thanks to an added blend of three organic functional mushrooms: Chaga, Lion's Mane, and Cordyceps. The abundant properties of functional mushrooms are thought to contribute to overall wellness and no, the coffee does not taste like mushrooms. Since coffee is something I drink everyday, I LOVE knowing that it's giving me more health benefits than just a boost of energy. You can buy it in whole bean or ground. It also comes in multiple roasts: medium, dark & decaf.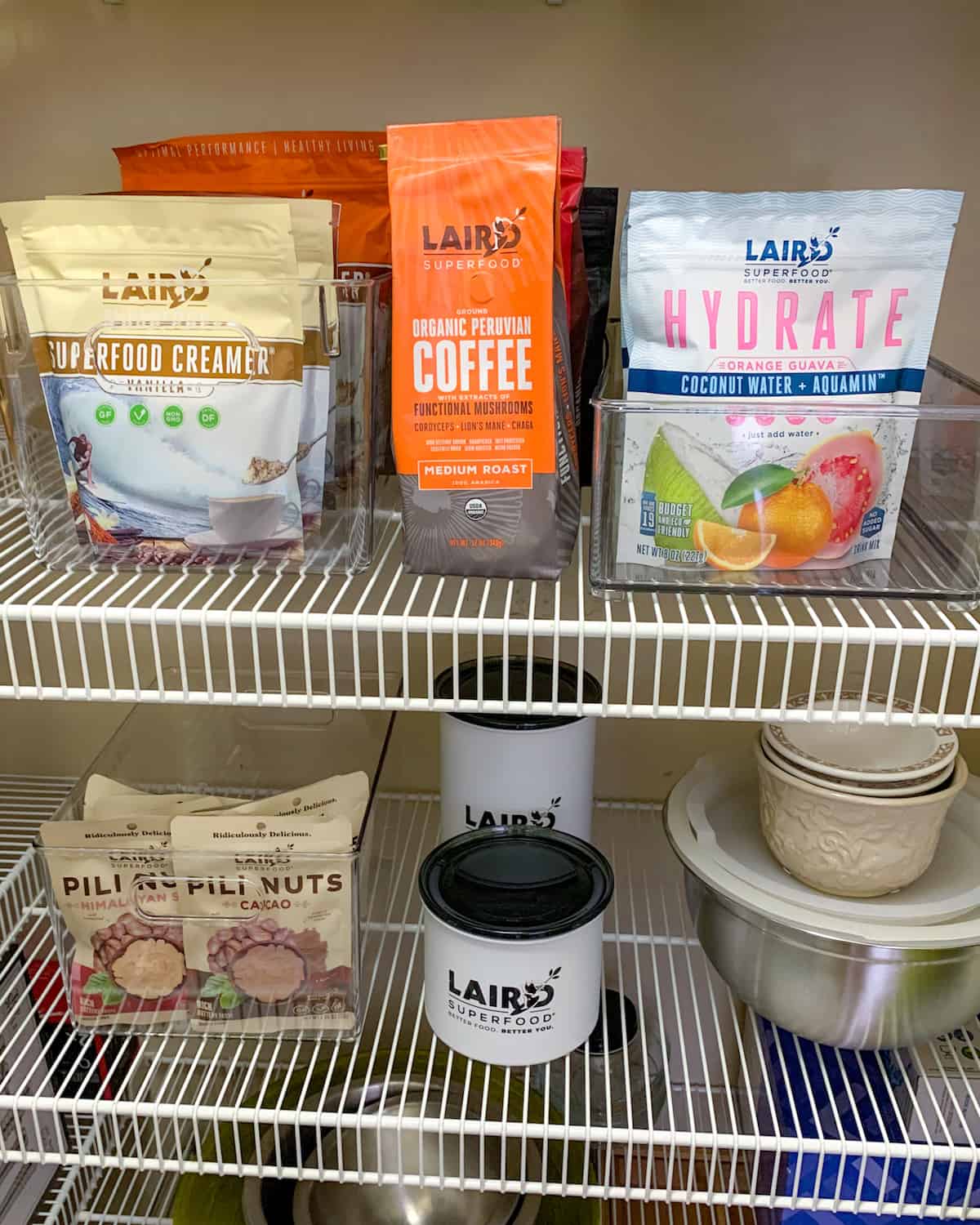 HYDRATE Coconut Water
I wish I had discovered HYDRATE Coconut Water mix when I first had Nate. Coconut water was all I drank when I was trying boost my milk supply and boy, did it get pricey. Laird's version is actually a dry powder that you mix yourself. One tablespoon is all you need to make a refreshing, electrolyte-filled 8oz glass of coconut water. A serving comes out to just $0.78!
Picky Bars Granola
Laird has awesome grain-free granolas. I love the light, yet slightly crunchy texture– it's great eating alone with milk or topping over yogurt. My personal favorite flavor is Call Of The Wild Blueberry, however the apple and coco chip are fantastic too!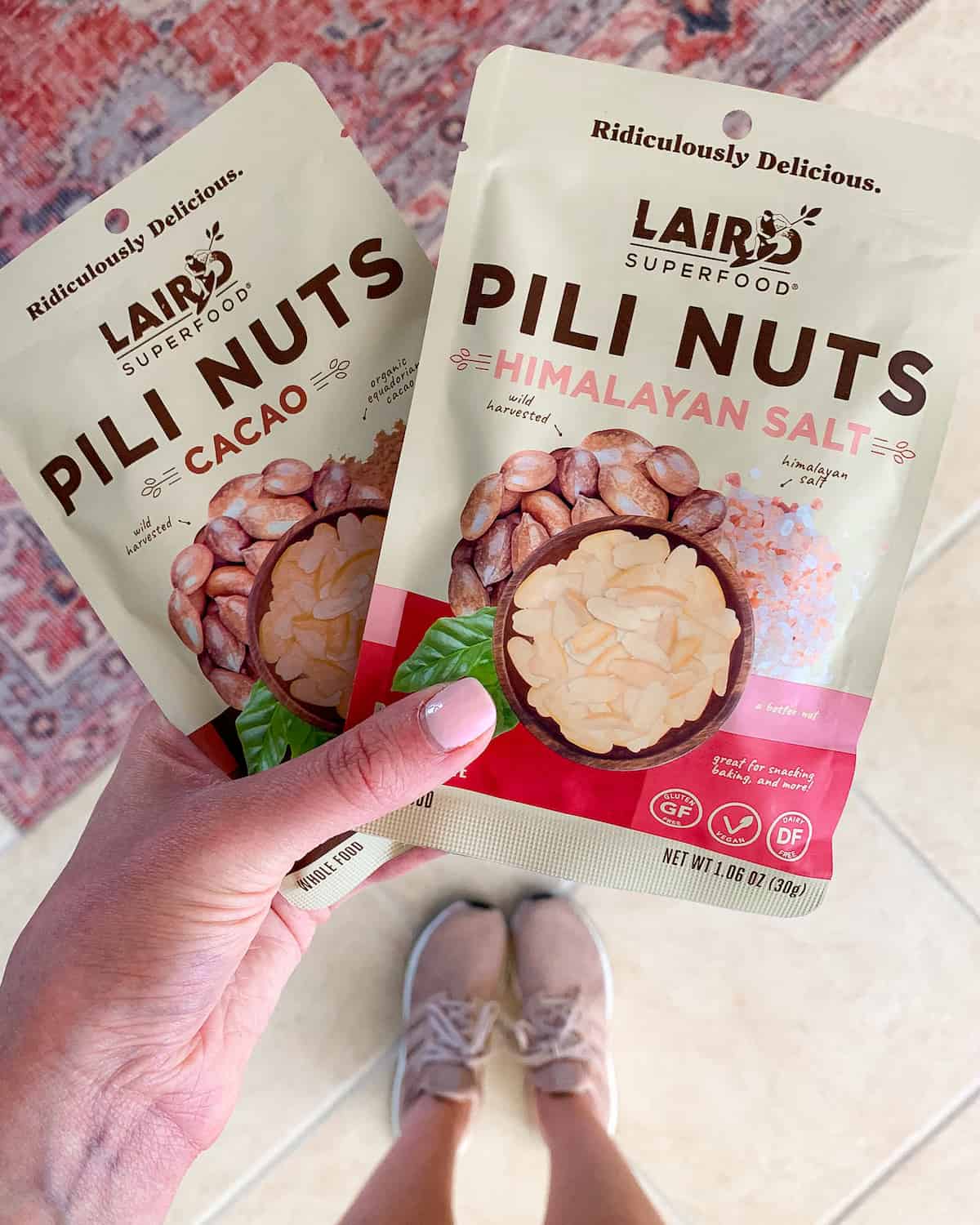 Pili Nuts
Warning: once you try Laird Cacao Pili Nuts… You won't be able to stop snacking! The good news is that these cocoa-covered nuts are filled with 8 essential amino acids and tons of healthy fats. Laird pili nut packs are great snacks for when you're on the go and SO DELICIOUS. Basically like snacking on a chocolate-covered nut without any of the guilt. They also come in a Matcha and Himalayan Salt flavor. You can also try every flavor in this Variety Pack.
Pancake & Waffle Mix
Breakfast but make it healthy! I'm a big fan of big hearty breakfasts and again, love that Laird makes it easy to make one of my favorite morning meals guilt-free. Their Pancake & Waffle Mix is gluten-free, doesn't require any egg and is so fluffy and delicious!
Brownie Mix
Similar to the Pancake & Waffle Mix, Laird also makes incredible dessert mixes. I'm a sucker for brownies and omg, Laird's Brownie Mix is HEAVENLY and tastes SO similar to the artificial flavor-filled big box brand mixes that I grew up making. The key differences are Laird's mix is 100% plant-based and contains 4 servings of vegetables in every batch! I KNOW. I was honestly so skeptical the first time I made these, but I swear y'all, these browns are delectableeeee.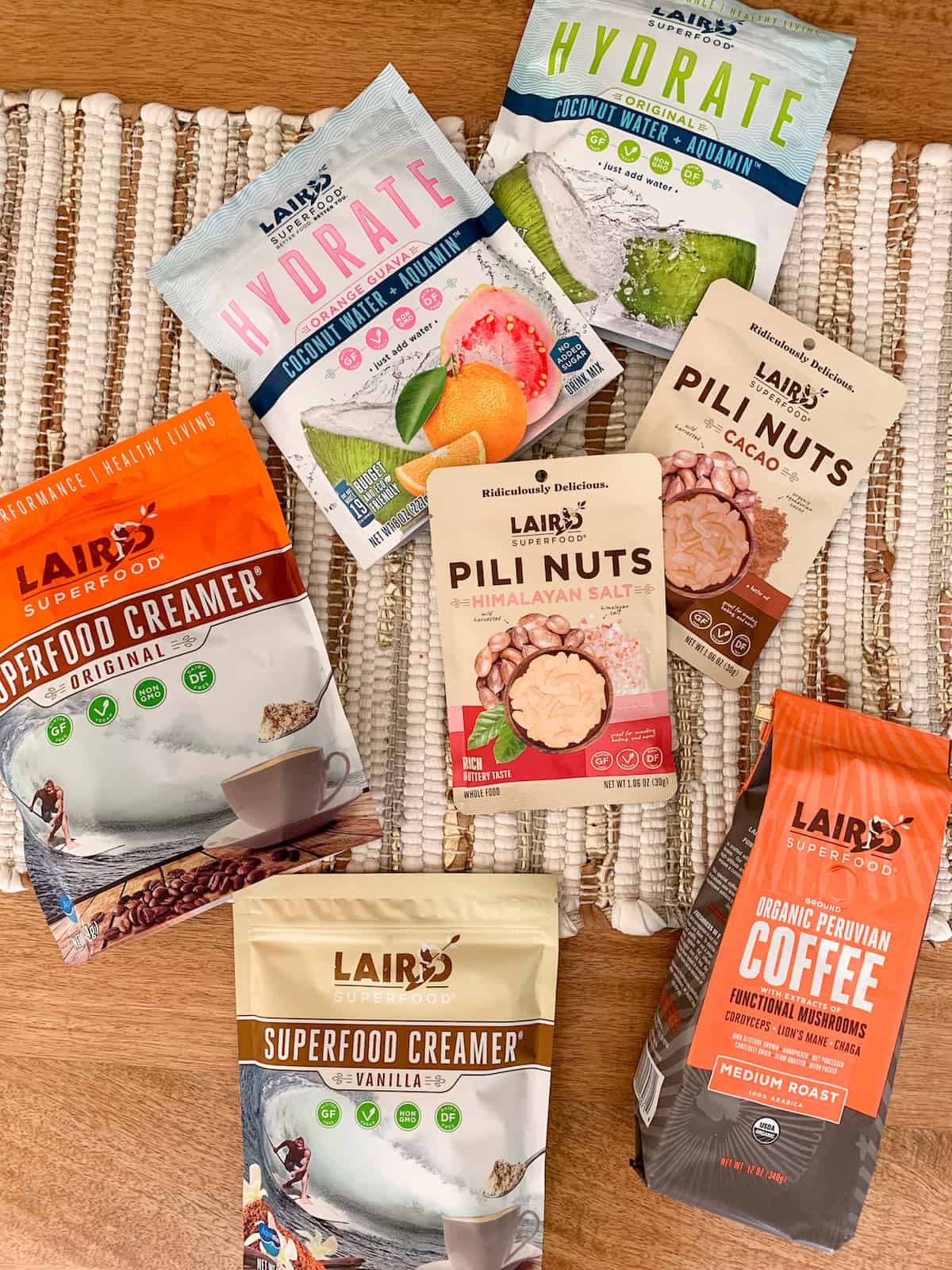 - Katie