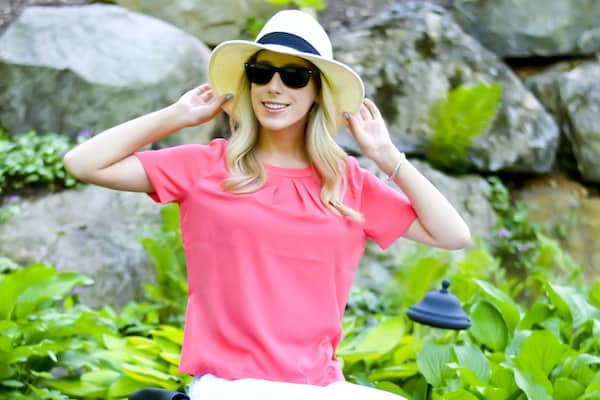 I've recently really been getting back into beauty – finally!! I'm embarrassed to admit, but I hardly wore makeup or had any strict beauty regimen for most of the spring. I think part of this was my own laziness (aka sleeping in and not having time to put makeup on) but also just boredom with my products. Now that I'm in summer mode the beauty-lover in me has sparked again and I can't get enough!
My most important essential when it comes to my summer beauty routine is clean and white teeth (duh). This is where my new Crest products come in! I don't have the self discipline to do a multi-day whitening treatment, so I've been using the Crest 3D White Brilliance Toothpaste & Crest 3D White Brilliance Boost on a daily basis to get my smile into shape and get rid of stains. How's it looking so far?
Other than that the rest of my routine is more focused on skincare and haircare with a few cosmetic staples mixed in. I like to keep things simple and efficient since I always seem to be short on time. I go into everything more in depth after the jump!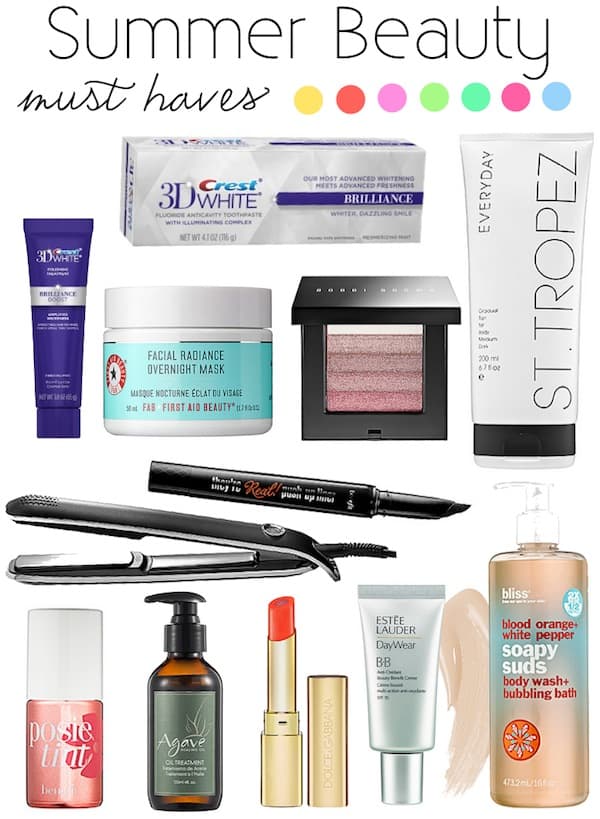 1. Crest 3D White Brilliance Toothpaste & Crest 3D White Brilliance Boost – as I mentioned about I use both of these products on a daily basis to work on fading existing stains, prevent cavities and keep my teeth nice and white 🙂
2. First Aid Beauty Facial Radiance Overnight Mask – Over the last year First Aid Beauty has become one of my favorite skincare brands. Not only are the products gentle enough to use on my sensitive/eczema-prone skin, but everything is incredibly affordable. I was recently introduced to the Facial Radiance Overnight Mask and I'm obsessed. I apply this before bed and when I wake up my skin is dewy, soft and moisturized.
3. Bobbi Brown Shimmer Brick – Now this has been on my wishlist for a few years now. Have any of you tried it? I've heard great things but I've yet to bite the bullet and actually buy one. Regardless ,a basic pink blush is a staple for me when it comes to my makeup routine. I have a few that I switch back and forth between but I'd really like to add this one into the mix.
4. St. Tropez Everyday Gradual Tan – Probably the most important part of my summer beauty routine is having a tan. After a winter of looking like a pale and sickly ghost, I knew that I had to invest in some new self-tanning products for the summer. Twice monthly I'll use St. Tropez Bronzing Mousse to get my tan. Then to maintain it, I'll use the  St. Tropez Everyday Gradual Tan as my body lotion after I shower.
5. Benefit They're Real! Push Up Liner – Another wishlist item… This liner seems to be everywhere right now! Is it as good as it claims to be? Any type of liner that's easy to apply I'm down for and I love the consistency of a gel liner.
6. GHD Eclipse Straightening Iron – I love this straightener because it gets my hair straight and shiny with less heat – a must for keeping it healthy! Over the past year I have really started taking better care of my hair by using better products and cutting down on the amount of heat styling I do.
7. Benefit Posie Tint – This is such a perfect lazy girl product! You can use it on the lips and cheeks for a perfect rosy pink flush. I dab it on with the brush and then just blend with my fingers. So quick! I always like to wear this to wear when I'm short on time.
8. Agave Oil Treatment – I always apply an oil to my hair after I shower and I love this one from Agave. Keeps hair healthy, smooth and shiny! I also love that it's not greasy and smells so yummy.
9. Dolce & Gabbana Passion Duo Gloss Fusion Lipstick – I have this in two shades – Tropical and Magenta! These fusion lipsticks apply super silky and glossy. They just glide on and all you need is one swipe for full pigmentation.
10. Estee Lauder DayWear BB Cream – I recently ran out of mine so now it's time to invest in another. This has been a favorite face product of mine over the last few years. It gives moderate coverage, protects my skin and smells fresh like cucumber. BB creams in general are great everyday products – they don't require a lot of effort. I just use my fingers to apply mine!
11. bliss Blood Orange + White Pepper Soapy Suds – Been using this as my body wash for the past month or so! I love the blood orange smell and the fact that it can be used as a bubble bath too 😛
Have you tried any of these products? What are your must-have summer beauty products?

Crest 3D White® Brilliance Toothpaste and Crest 3D White® Brilliance Boost are both designed to enhance your beautiful white smile. Working to amplify your smile like never before, the new collection showcases Crest 3D White's® continual innovation in the whitening category.
Disclosure: Compensation was provided by Proctor & Gamble via Mode Media. The opinions expressed herein are those of the author and are not indicative of the opinions or positions of Proctor & Gamble.
- Katie