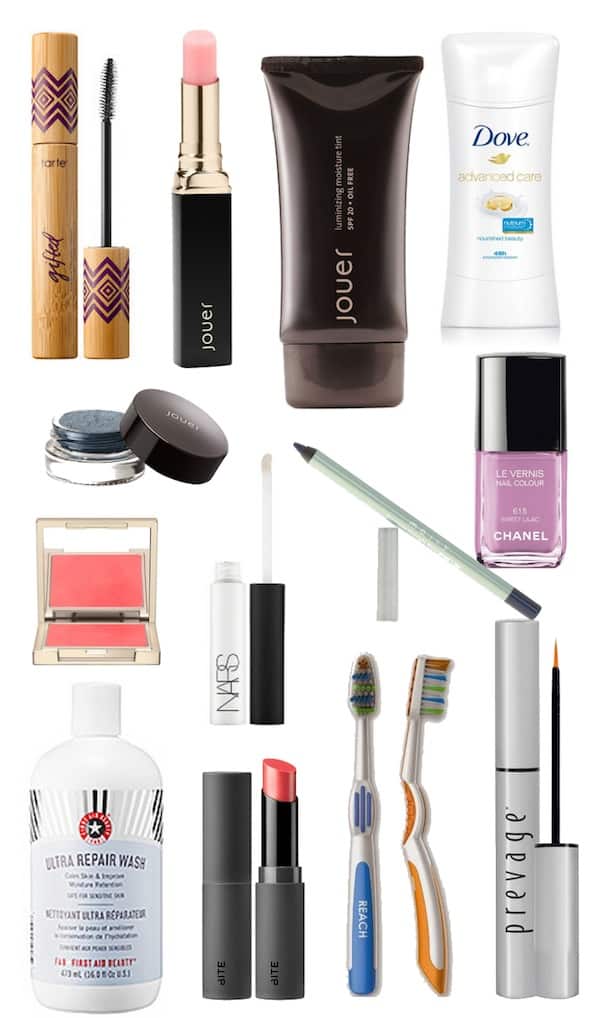 Every couple months I always like to switch up my makeup and beauty routine. It's really rare that I find a product that I'll use religiously and then repurchase. It's not that I haven't found products I love, I just like trying new things! These items have been my go-to throughout the summer and now moving into Fall. I was introduced to Jouer cosmetics at a Birchbox event and since then I've absolutely fallen in love with the line – the tinted moisturizer, cheek tints, cream eyeshadow and sheer lipsticks have made my morning routine so much more manageable. Isn't that the best? I go into everything else a little more in-depth below!
Tarte Gifted Amazonian Clay Mascara – I love a mascara with a large wand since my lashes are so long. This one doesn't flake throughout the day and comes off relatively easily when I take off my makeup at night!
Jouer Sheer Lipstick – When I originally received this in the Rose shade I thought it would apply sheer/un-colored to my lips. Turns out this lipstick turns the lips a lovely shade of light pink once applied! I cannot get over how moisturizing this product feels – I keep it at my desk at work and wear it all day!
Jouer Luminzing Moisture Tint – This is the face product I've been primarily using recently. You guys know I'm a fan of the Chanel Vitalumiere Aqua foundation, well this is similar, but at a fraction of the cost! The formula applies incredibly smooth and light. It provides just the right amount of coverage for me without feeling cakey.
Dove Advanced Care Deodorant – Soooo kinda embarrassing but I really didn't start wearing deodorant until after I graduated college. Working in an office and taking the subway around the city kinda triggered it for me – like okay, I need to star wearing something… I love Dove deodorants – they go on so gently and smell so fresh!
Jouer Long Wear Creme Mousse Eyeshadow – This is the perfect swipe and go eyeshadow. I'm all for a quick morning makeup routine and these shadows have saved me this summer. Since these have a cream base you don't even have to apply a primer. Just use a brush (or even your finger) and swipe on your lid for a day or night look.
Joeur Cheek Tint – Again, so easy and simple to apply! I just use my fingers and this tint gives me an instant rosy glow that lasts all day.
NARS Eyeshadow Base – This is a product that I'd been eyeing for years and finally bought back in Spring. When I do wear powder eyeshadows this keep them for fading and creasing. I also love how it applies – very light and smooth. I've found that other primers are just too thick and creamy. It also works well on my dry eyelids and help my eyeshadow from looking cakey on my dry skin.
Mally Beauty Evercolor Eyeliner – I'd never heard of Mally Beauty before until I received one of their eyeliners in a Birchbox goodie bag. This eyeliner applies SO smooth and creamy. Been using it so much I'm almost out 🙁
Chanel Le Vernis Nail Color – Chanel polishes are such a rare splurge for me but I just had to have the Le Vernis Nail Color in Sweet Lilac this season. It's a hue in their permanent collection and I've wanted it for years. It's the perfect shimmery lavender.
First Aid Beauty Ultra Repair Wash – This body wash is great if you have sensitive skin or suffer from eczema and dry skin like me. It's super moisturizing and free of harmful chemicals and scents that can irritate the skin.
Bite Beauty BB for Lips – I can't rave about this product enough! These are SO moisturizing and they smell amazing! Definitely one of the best balm-based lip products I've ever used. They contain SPF 15 and actually treat your lips – restoring texture and making them softer. I already went through one in just a few weeks 🙁
Reach Complete Care Toothbrushes – I received a few free samples of these a while back that Nick and I both absolutely love! Normally we just use the free brushes we've gotten from the dentist, but these are much more effective. The brush head is a lot larger and my mouth just feels so much cleaner after brushing.
Elizabeth Arden PREVAGE® Lash & Brow Enhancing Serum – Now this is a product I just started using a little more than a week ago. I've heard really good things about it and figured why not give it a shot with lengthening my eyelashes. It takes a few weeks to see results, so I'm hoping for positive ones 🙂
What products have you been loving recently? Any ones you recommend for me?
- Katie