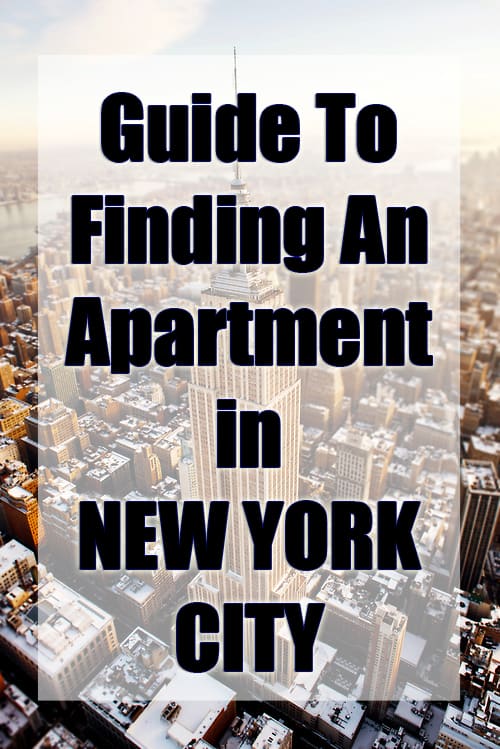 Before writing this guide, I wanted to experience finding an apartment twice.  After 2.5 years of living in our first New York rental, we are upgrading to a new apartment! We could not be more excited. 
Living in Manhattan has been a total whirlwind and I'm not going to lie, moving and finding an apartment wasn't easy. When we were first began planning our move, I had so many questions and couldn't find answers to them ANYWHERE. I had no clue about the requirements of most New York rentals, what using a broker entailed, or the best websites to look for available apartments. I'm hoping this guide can be of use to any of you considering the big move! If you have questions leave me a comment below, Tweet me or feel free to send me on a message on Facebook.
Ways to find an Apartment

Browse listings websites
My personal favorites are: StreetEasy, Craigslist, Naked Apartments and CityRealty (has a great list of no-fee rental buildings).
Stop in the apartment buildings you like and ask about availabilities
You won't believe how many people I know found their apartments just by stopping inside the building and asking. If you know you want to live in a certain area then it's worth it to try. A lot of times the doorman can connect you directly with the building manager or exclusive broker who can provide info on availability (or apartments that will soon be available and are not yet listed).
Ask around
Know someone that lives here? Ask for their thoughts on the best places to live or if they know anyone looking for a roommate. Post what you're looking for on Facebook and see who responds. When we started our search for our new apartment I found out about so many great buildings just by talking with friends. 
Use a broker
Working with a broker can be very helpful if you're looking for an apartment in a time crunch. Brokers will have multiple listings, so if one apartment isn't right for you then they probably will have another they can show you. A lot of times brokers will also have info on apartments that have yet to be listed online. 
Sublet first
This is something you may want to consider if you are unfamiliar with New York. If you choose to sublet over leasing, you won't be locking yourself into any sort of formal contract. No lease, no brokers – you can avoid it all. When I first moved here I subletted a room for one month on the Upper West Side in an apartment with two other girls. I found the listing on Craigslist and it worked out amazingly (I swear it's not creepy). I became familiar with the city during that time and was able to decide what neighborhoods I wanted to live in for when it came time to find my own place. 
Difference Between Fee and No-Fee Apartments
You'll notice on a lot of listings apartments will be categorized as Fee and No-Fee. Here's what it means:
Fee – There is a broker's fee associated with the apartment. A broker is the person who acts as the salesperson for the available apartment. When you sign for an apartment through a broker you will be required to pay them a fee for their services. This is typically equivalent to one month's rent. From my experience, it's very common to go through a broker when finding an apartment in New York. We had to go through one when signing for our first apartment.
No-Fee – There is no broker free associated with the apartment. Normally to find these apartments you need to go directly through the building's management company or leasing office. Typically no fee apartments are found in larger high rise buildings. If you're looking to live in a low rise building in the West Village then you'll most likely need to use a broker as most smaller buildings don't have a management company or exclusive leasing office. If you want to live in a high rise building in Murray Hill with a gym and a doorman, then most likely you can go through the management company and avoid working with a broker. You can find out if a building has a management company by going to the buildings website. Sometimes if the building is big enough the available apartments will be listed right on the website.
Things to Know

Most leases will require that you make 40-50 times your monthly rent
Example: to lease a $2,500 per month 1-bedroom apartment with a 40x policy, you would have to prove you have a yearly salary of $100,000. If you are living with a roommate(s) this would be combined – so you would have to prove that you make $100,000 collectively. This is why you don't see a lot of younger people living alone. If you can't fulfill the 40x policy then you will need to find a guarantor (normally a parent or grandparent) who agrees to be listed on your lease and will be liable to pay your rent if for some reason you cannot. A guarantor basically acts as your insurance to your landlord.
Be ready to pay a lot up front
You should have saved enough to pay up front your first month's rent, security deposit (normally the same as your monthly rent), an application fee (can range from $50-$1,000 depending on building) and a broker's fee (normally 15% of the yearly rent or one month). If the apartment is no-fee then you can disregard the broker's fee. 
Example: to afford a $2,500 apartment with a broker you should be prepared to pay at least $7,500 up front.
Dishwashers, laundry facilities and elevators are a luxury
You'd be surprised what simple suburban conveniences are total luxuries in New York. Most affordable apartments will not have a dishwasher or laundry facilities. If you are looking at an apartment in an older building, there's a high chance there won't be an elevator or central heat/air conditioning. I know people who live on the seventh floor of a walk up building. Garbage disposals are also totally unheard of here.
You're not going to get everything you want
Unless you have an unlimited budget, be prepared to compromise when it comes to amenities or location. For our first apartment we really wanted to live downtown at an affordable price. Well, to do that we had to live on the fourth floor of a walk up building without access to laundry services or a dishwasher. We chose location over having any amenities. To each his own. 
Be aware of your commute
Everyone uses public transportation in New York. Familiarize yourself with the subway and bus stops near your work and go from there. If you work in Tribeca then you probably don't want to look at apartments on the Upper East Side (unless you want a 1+ hour subway commute).  When you are considering an apartment, Google map the different route options you could take to work. If you're looking at an apartment and the closest subway stop is 10 blocks away from your doorstep – maybe you want to keep looking.
Listings can be deceiving
Beware of online listings – sometimes not everything will not be what it appears in a photo. Brokers will try and make apartments sound and look as appealing as possible. Don't be afraid to ask a ton of questions or ask for additional photos.
Apartments go quick
If you find one you love apply on the spot! Nick and I missed out on an amazing apartment in Tribeca because we waited just a few hours too long to apply. Literally two hours after we had looked at the apartment someone had applied and taken it off the market.
Be prepared for things to come together last minute
You can't really start looking for an apartment until about a month before you plan to move. Landlords and leasing agents don't post availabilities months out because most of the time they don't even know what will be available. Our first apartment we found and moved into within a span of a five days. It was crazy and the most stressful thing ever. I LOVE to plan ahead, but with the way renting works in New York it's impossible. There is such low availability and when something hits the market it disappears fast. 
- Katie