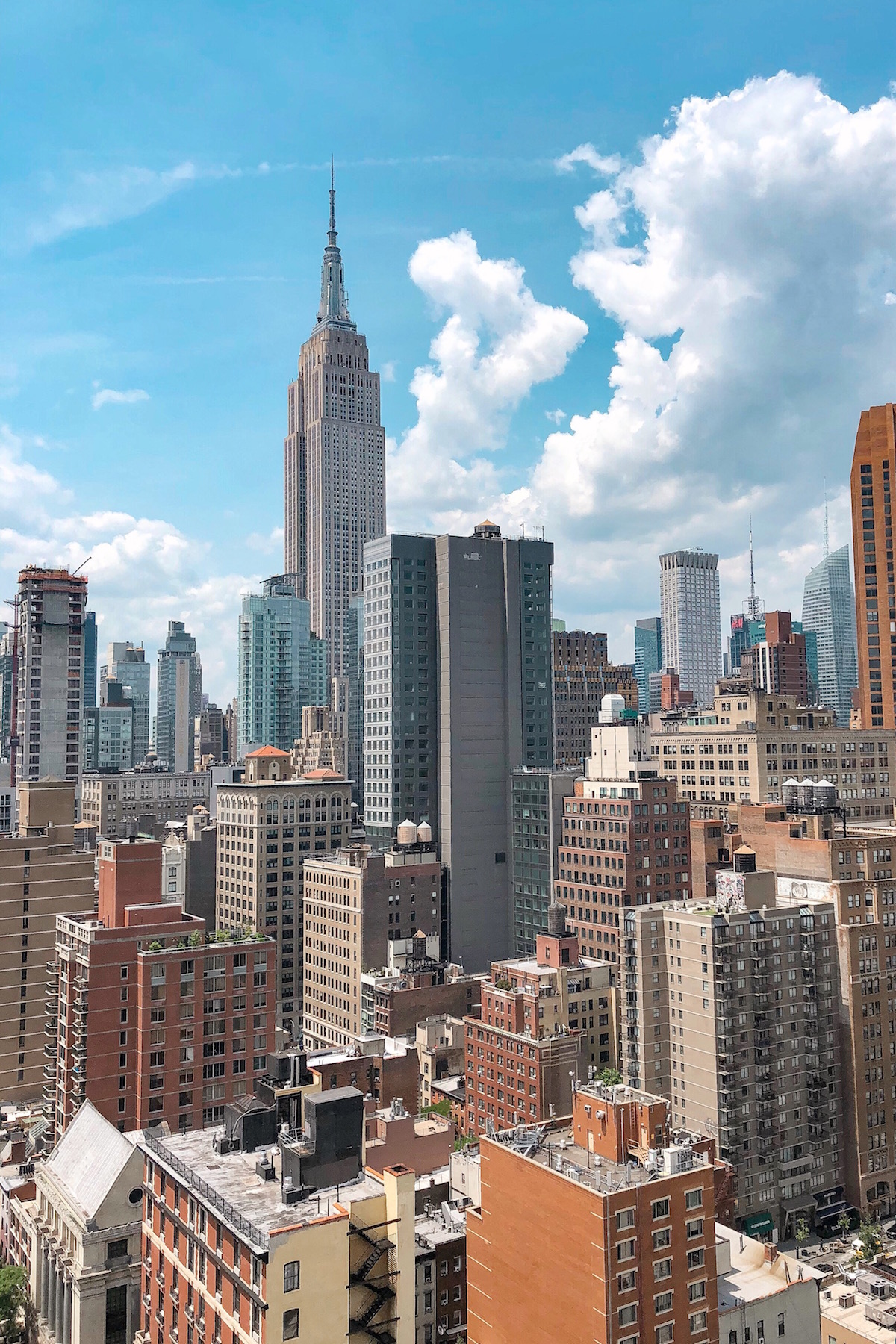 With all my energy in the last month going into planning our trip to Italy and some other upcoming getaways, it's only now hitting me that summer 2018 is just around the corner! Where did May go? Traveling and vacations are always the highlights of summertime for me, but this year I want to do a better of job of making memories at home in New York especially now that we need to start prepping and saving for a wedding. Eeek!
Carly did a cute post on her blog sharing her summer 2018 bucket list, so I thought it would be fun to share mine too! Though I'll admit… I may or may not be writing this down so I can hold myself accountable and think twice before choosing the spend the night watching Netflix vs actually leaving my apartment to try a new restaurant 😛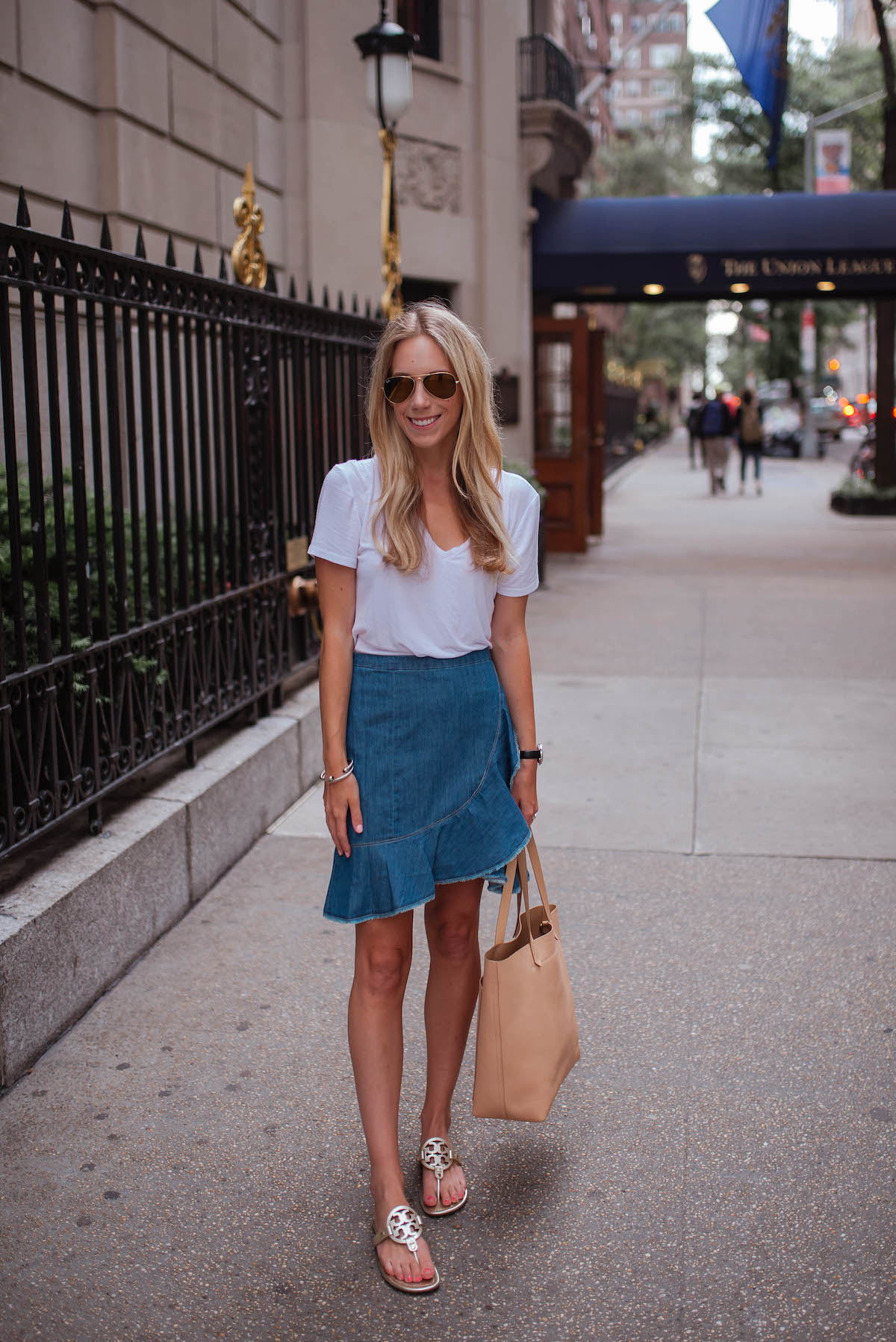 Chambray Ruffle Skirt | White T-Shirt | Madewell Tote | Tory Burch Sandals | Similar Watch | David Yurman Bracelets
Summer 2018 New York City Bucket List
Visit an art gallery. I've always wanted to do this, but admittedly I'm not very in touch with the art scene. If any of you have recommendations for exhibitions I'd love if you could let me know!
Walk the Brooklyn Bridge. Nick and I did this once our first summer living in the city and of course we chose the hottest day ever to do it. I still remember being drenched in sweat by the time we reached Brooklyn. I'd love to walk the bridge again, except this time on a cool(er) early morning or evening 😛
Eat fun sweets. I always take a screenshot whenever a delicious-looking local dessert pops up on my Instagram feed. At this point my camera roll is full of ice cream-filled Belgian waffles, churros, cookie dough, cupcakes and donuts that look like art. Now I'm not trying to gorge myself every weekend, but there's no harm in trying some fun treats here and there.
Indulge in rooftop drinks. Where New York lacks in grassy spaces and outdoor eateries, it makes up for it with rooftop bars. It's always fun to have drinks with a view and I hope to try a new rooftop bar or two this summer.
Go to a food festival or pop up eatery. I feel like I walk by food truck pop-ups and street food festivals all the time, but I never actually stop at them. There are always a ton that happen in the summer here, so I want to research ahead of time and maybe have a date night with Nick or do a food crawl one afternoon!
Check out all the colorful street art and murals downtown. Similar to the rotating door of new restaurants and bars in New York, there's a constant turnover in street art and colorful wall murals. You'll see the entire side of a building covered in rainbow hearts one week and then the following it will be painted over with something brand new. It would be fun to spend an afternoon walking around Soho, Nolita and the Lower East Side just seeing what I could find.
Visit Coney Island. I've always wanted to visit Coney Island, but for some reason we've just never made it out there. I'd love to walk the boardwalk, eat some yummy fried food and explore the beach at some point this summer.
What's on your summer bucket list? Anything else you think I should add to mine?
- Katie