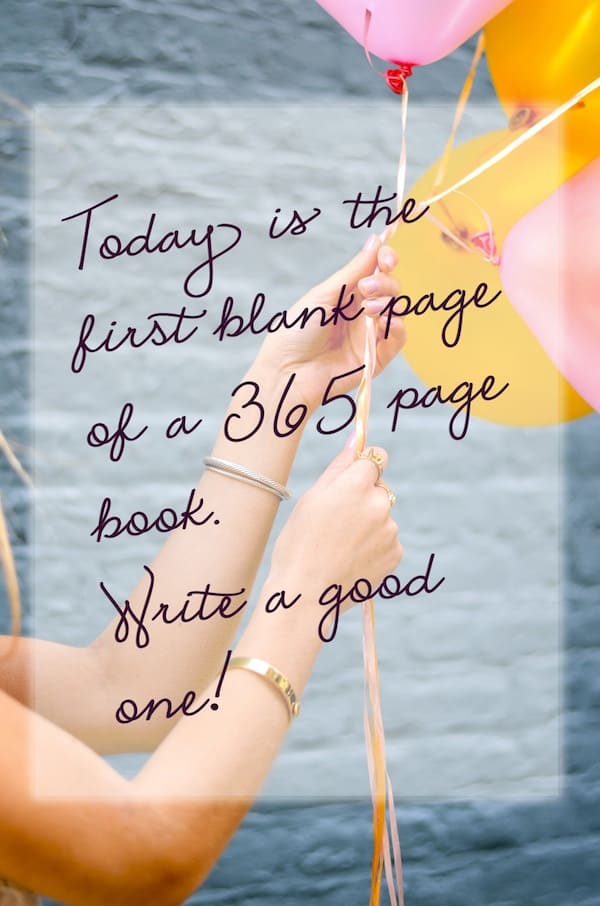 It's that time again! Here's what I'm most looking forward to and what I want to improve on in the new year (see 2014's here). Thank you all for following along on my little corner of the Internet. Here's to a happy and healthy 2015 for all!
Move and decorate our new apartment
Normally after the holidays I fall into an emotional slump and begin counting down the days until spring. Not this year! We are moving into our new place at the end of the month and it's by far the thing I am most looking forward to in 2015. Get ready for more home and decor content!
I am so proud of Nick and I and what we accomplished this year. In 2014 we both started new jobs (I know, I kinda kept it a secret) and have moved past the entry-level/post-grad phases of our careers. There really is no better feeling than getting promoted and making more money. After 2.5 years in our current place we realized we were financially in a position where we could afford to move. It's crazy because when we first moved to the city we were BARELY making it by every month. I cannot wait to turn our new place into our first "adult" home because I honestly still feel like a college kid living in our current apartment. I've already got my spreadsheet going with what we need to get (we're literally selling all our current furniture), costs of what we want, budget etc. So, does this mean we're adults now?
Explore new areas of New York City
I loooooove exploring New York. I feel so blessed to live in a place where there is always something new to do and see. Since moving here we've done a great job of taking advantage of the city. It was hard in the beginning when we didn't have a lot of extra money, but it honestly just meant we had to get creative and really research things to do that were affordable. Thankfully our financial situation has improved and getting out and about is something we're constantly doing. Our new apartment is actually on the east side, so you can expect to see us eating out and venturing around Gramercy Park, the East Village and Flatiron a lot more in 2015.
Get into shape and focus on my health
This is always on my list of resolutions and it never happens. I'll go through phases where I'll go to SoulCycle or a barre class regularly for a few weeks but then I'll just get lazy (or irritated by how expensive classes cost) and stop going. I tried a gym membership for a while too but ended up canceling because it was out of the way from my work and I wasn't going enough for it to be worth the price. Well, our new apartment building has a gym and a pool so Nick and I are making a commitment to get our sh*t together and go.
Cook more
It's not very obvious from my blog or social media, but I absolutely love to cook and bake! Right now I'm obsessed with making chili and I kinda have this desire to enter a chill cookoff competition. Do those exist in New York?
If you saw our apartment tour then you know we don't have a dishwasher and our kitchen has literally zero counter space. It's a major deterrer to cooking a meal especially when you have a boyfriend who acts like a big brat when it's his turn to clean the dishes. Well, happy to report our new place has a dishwasher, more counter space and is much more conducive to cooking a meal. I can't wait to channel my inner Martha Stewart and make more dinners (instead of ordering seamless) and entertain friends and family.
Stop comparing myself to other people
When I first started blogging one of my worst habits was that I was constantly comparing myself to other bloggers. While I've gotten over that, I've developed a terrible new one where I compare what I'm doing to what other people doing. I'll see someone I went to high school with get engaged on Facebook and I'll find myself thinking – wait, should Nick and I be planning our engagement? Or I'll see that someone has gone on a Eurotrip or some awesome vacation and I'll feel pangs of irritation that I can't take the time off from work to go on my own Basically, I'm finding that I question myself and the life decisions I've made more often than I should. Should we have waited to move and used that money to travel? Was it even smart to move to New York in the first place while we still have school loans? We live together so why don't we get married? In 2015 I hope to become more confident with my decisions.
- Katie