Oh beautiful New Hampshire. I had the best time on my girls trip last week with Sydney and Grace. We seriously always have so much fun together– I wish they both lived closer to New York! While I've spent a lot of time in New England, mostly Connecticut and Massachusetts, I'd only ever driven through New Hampshire so big big shoutout to the state tourism board for helping us plan our fall-themed road trip.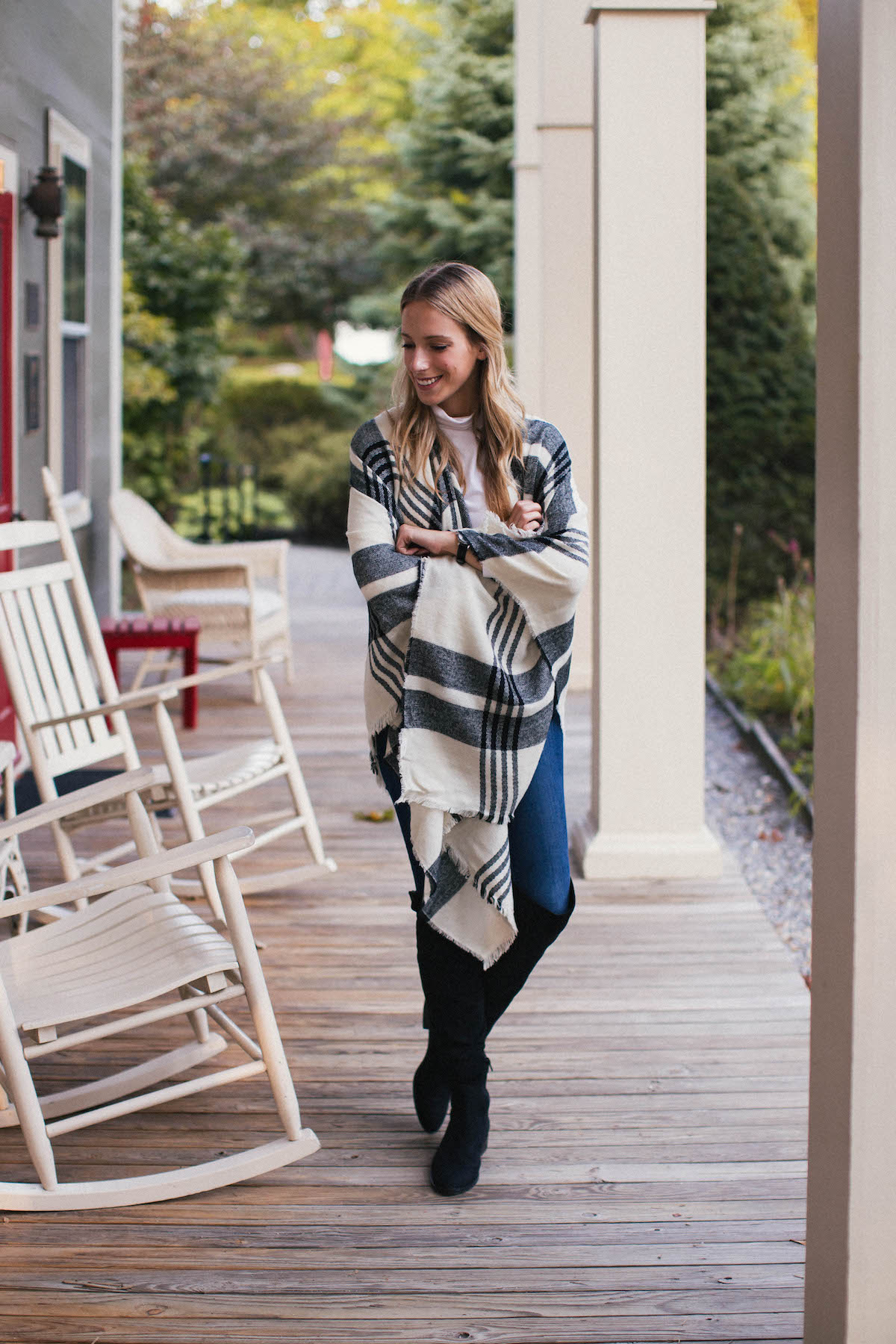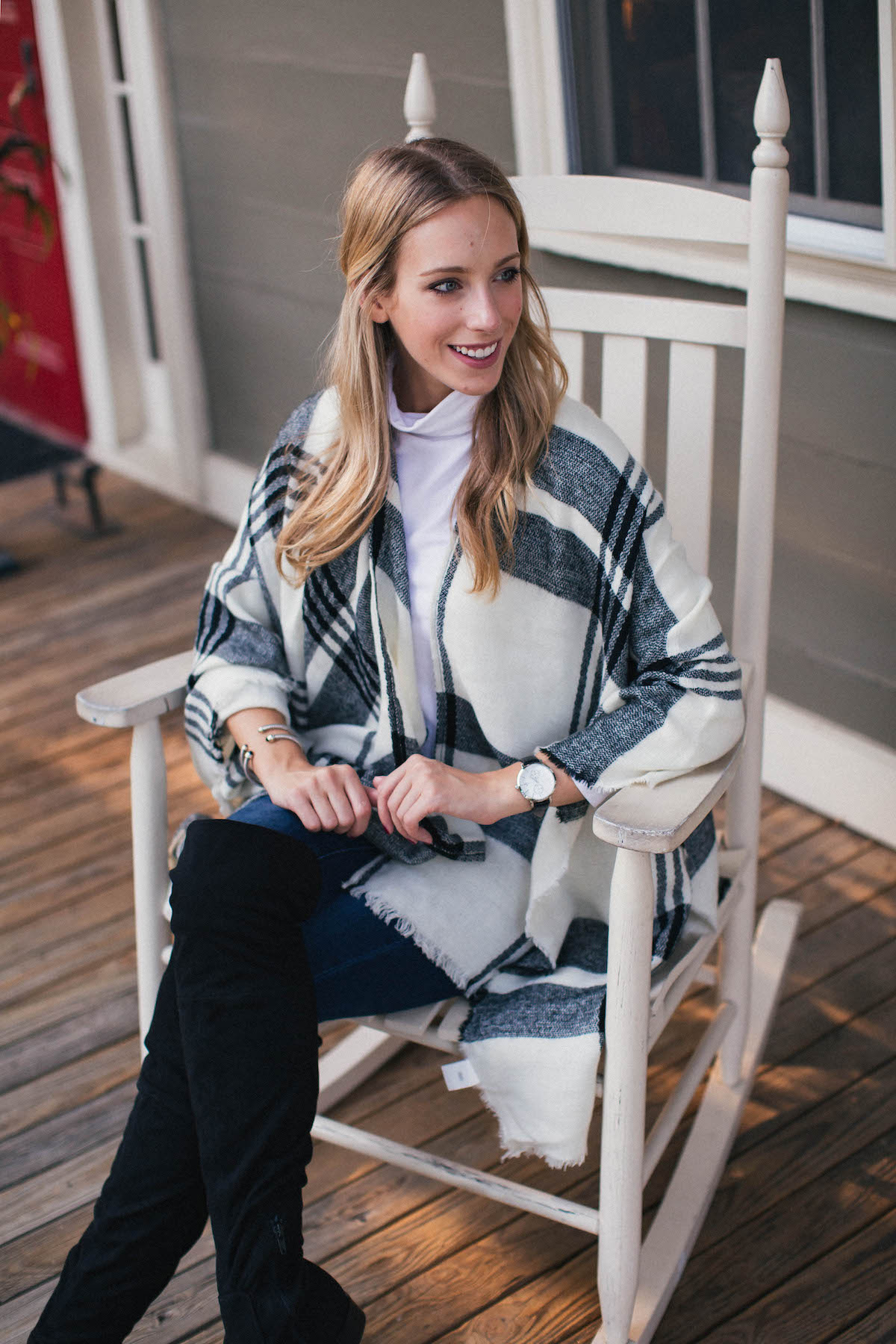 This black & white blanket wrap is just $39!
Over the course of three days we covered a lot of ground winding our way through quaint little towns making pitstops at farms, orchards, local shops and the famous White Mountains, all while sampling the fare at restaurants along the way. Looking to plan your own New Hampshire autumn adventure? Here's the scoop on everything we did in the Granite State 🙂
DAY 1 | MONADNOCK REGION
---
PETERBOROUGH & HANCOCK
Ave Marie Handmade Chocolates. Nothing like kicking off a girl's trip with something sweet… and by something sweet I'm referring to a 35 scoop ice cream sundae. Yes, the folks at Ave Marie Handmade Chocolates are the creators of this award-winning epic treat. We had the chance to meet the shop owners who easily convinced us this sundae was worth diving into, along with a sampling of their delicious chocolates. While we only were able to finish about 10% of the bowl (literally you'd need 30 people to scrape the bowl clean) we left agreeing it was some of the best ice cream we've ever had. Tip: ORDER THE PUMPKIN FLAVOR.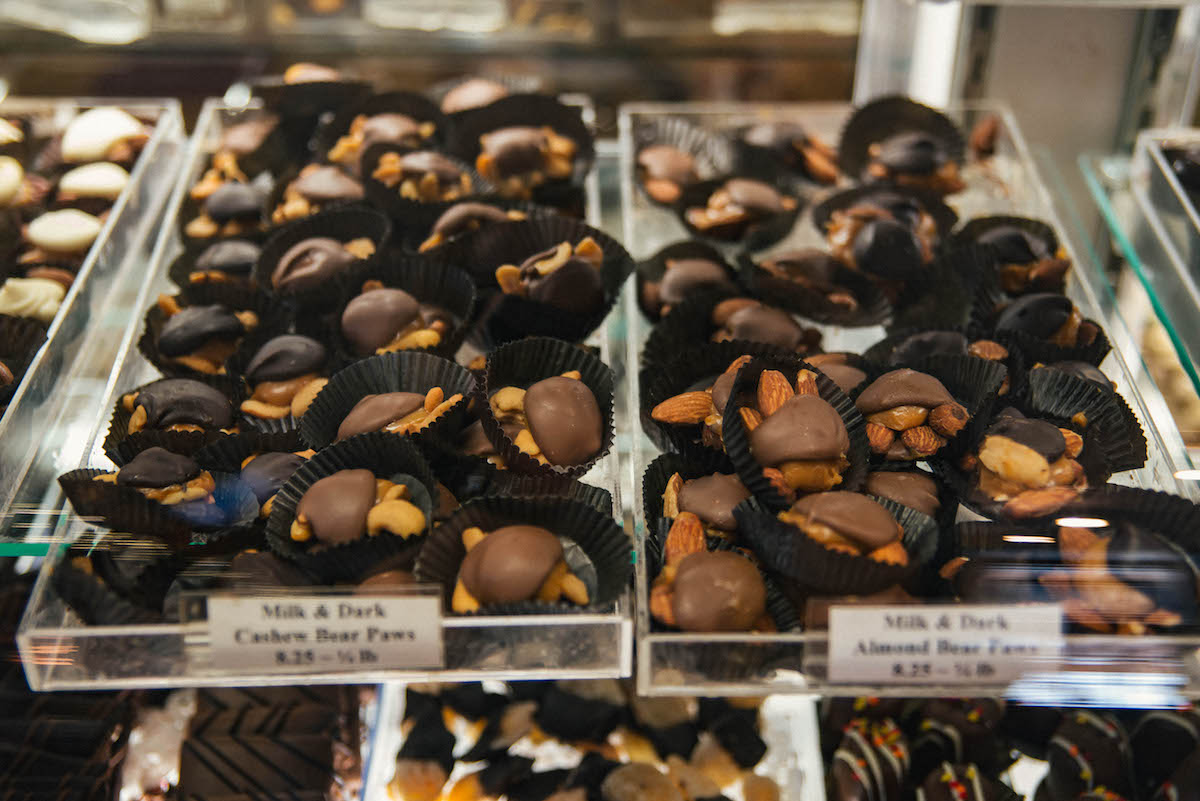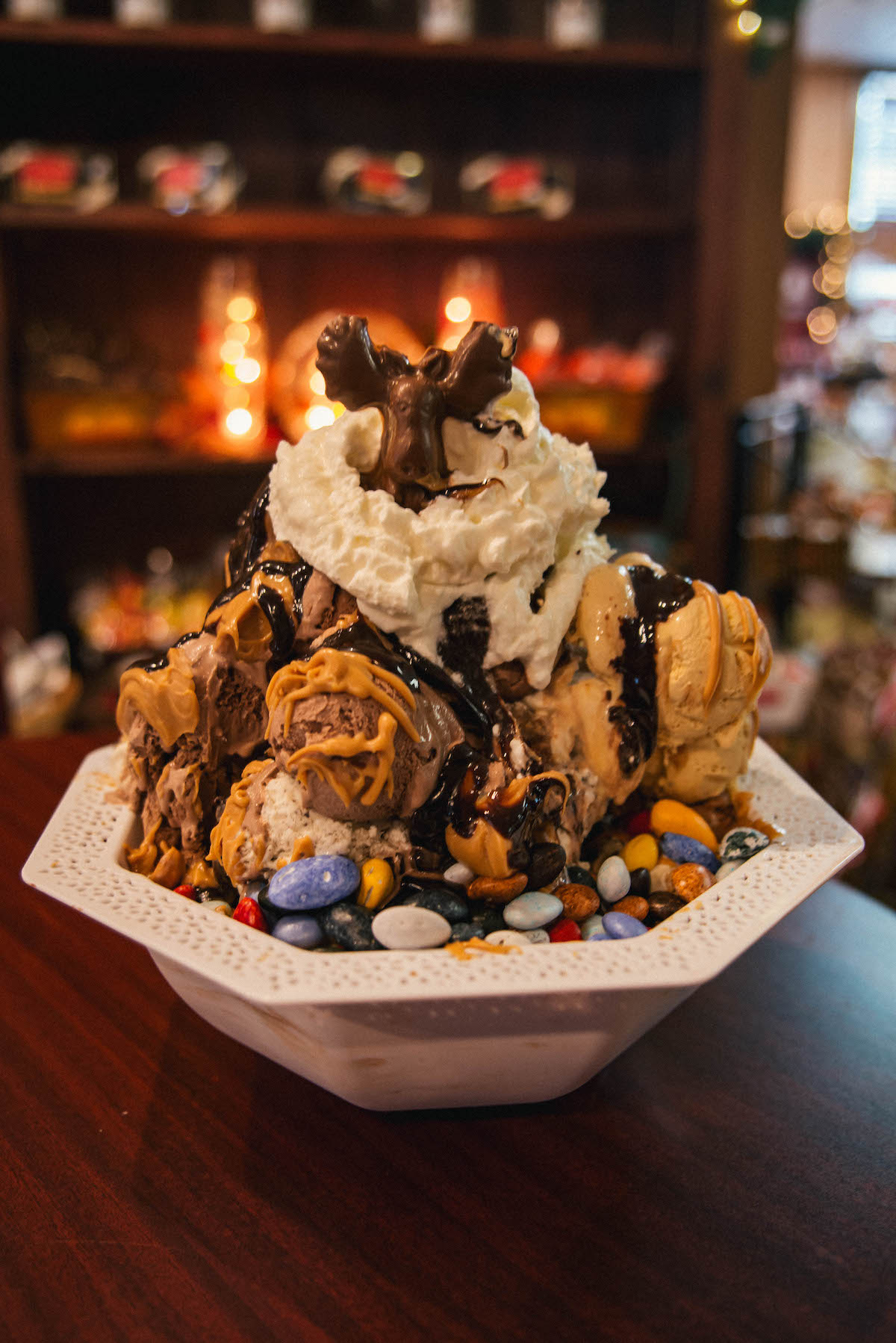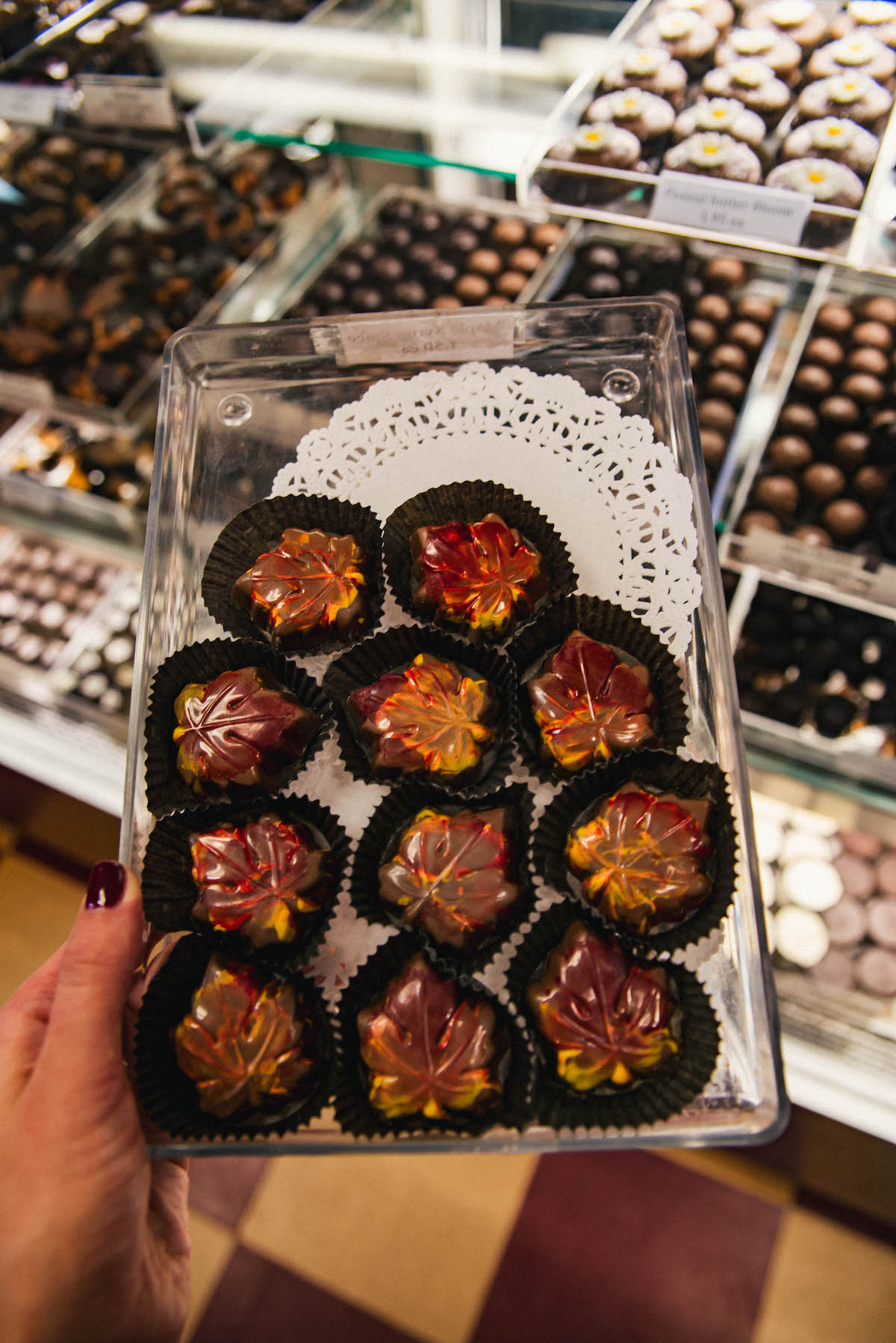 Harlow's Pub. For lunch we stopped at this local pub in downtown Peterborough where the menu included everything from sandwiches, salads, to soups, burritos and an extensive craft beer menu. I ordered the reuben and it didn't disappoint. If you're into live music there's a stage where local performers come to play a few nights a week.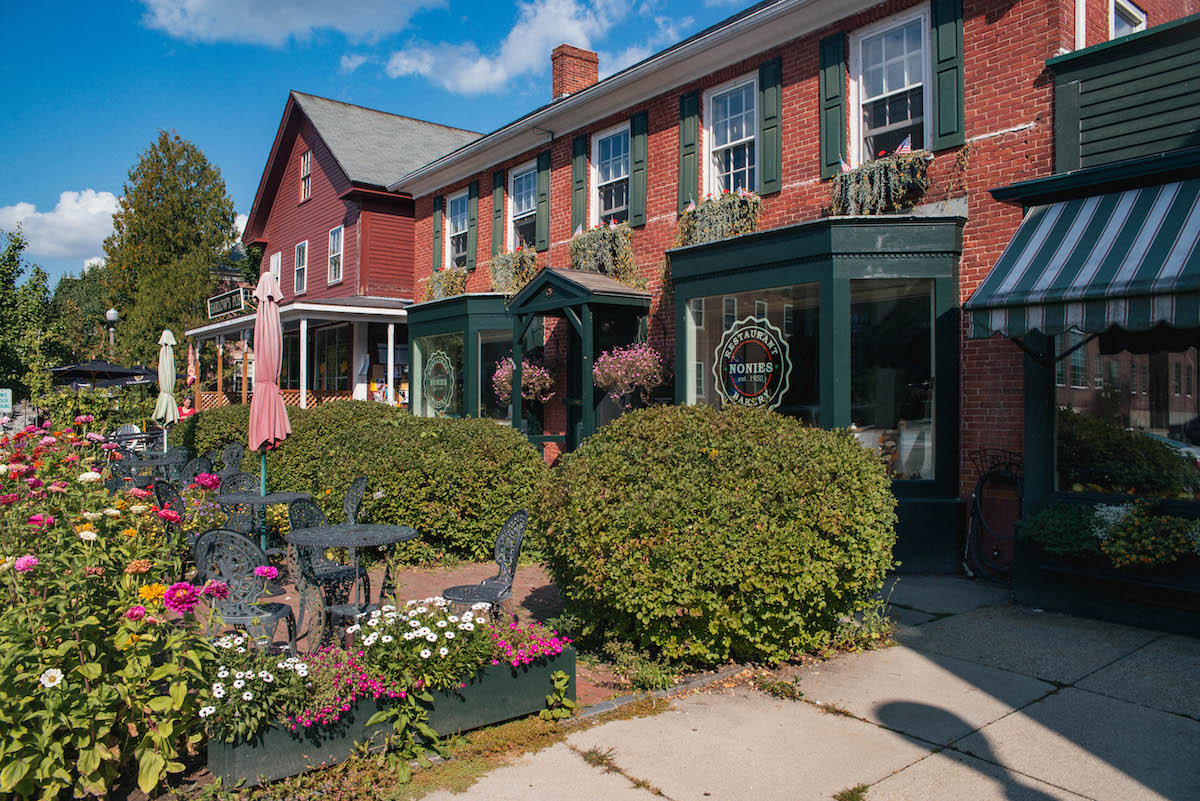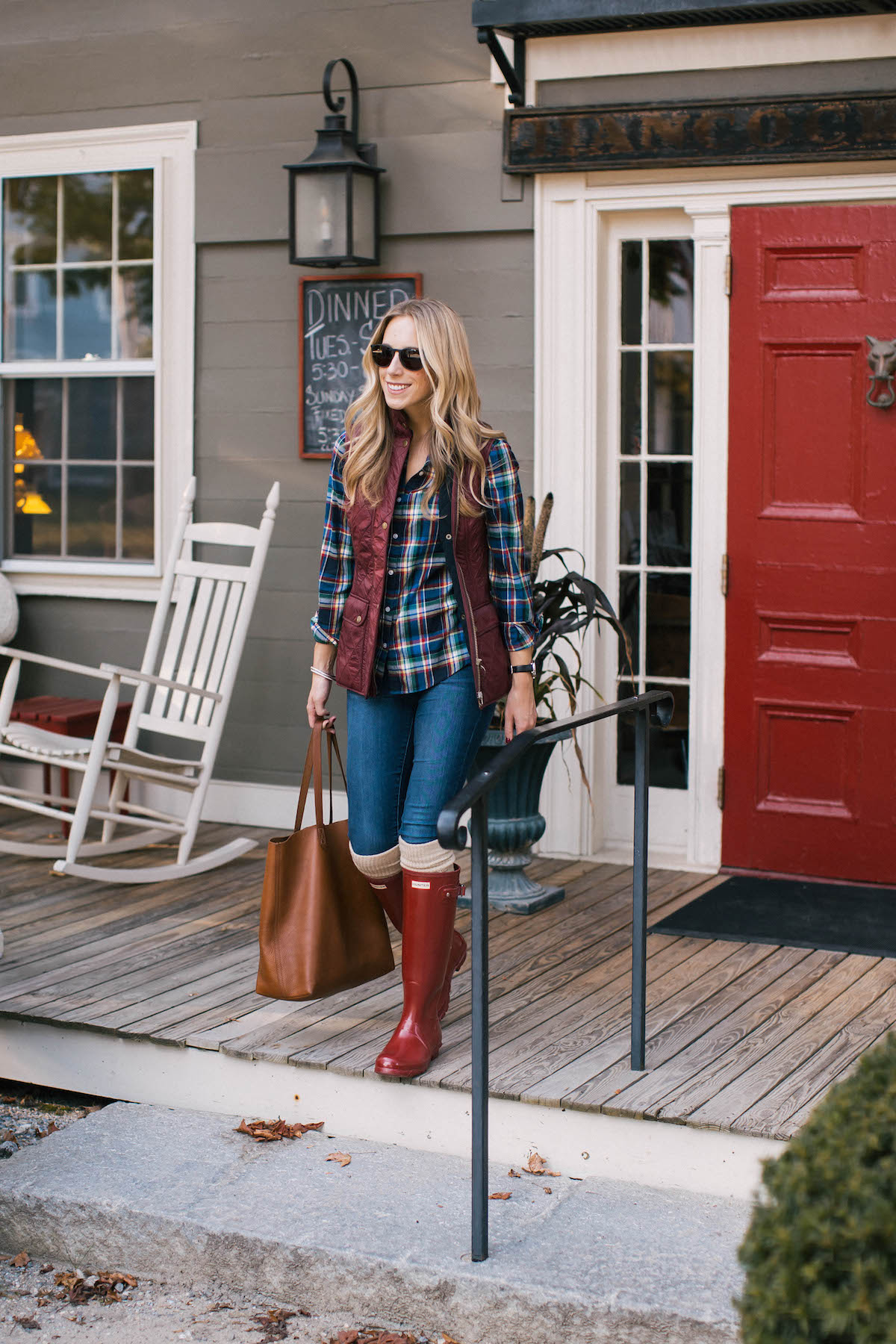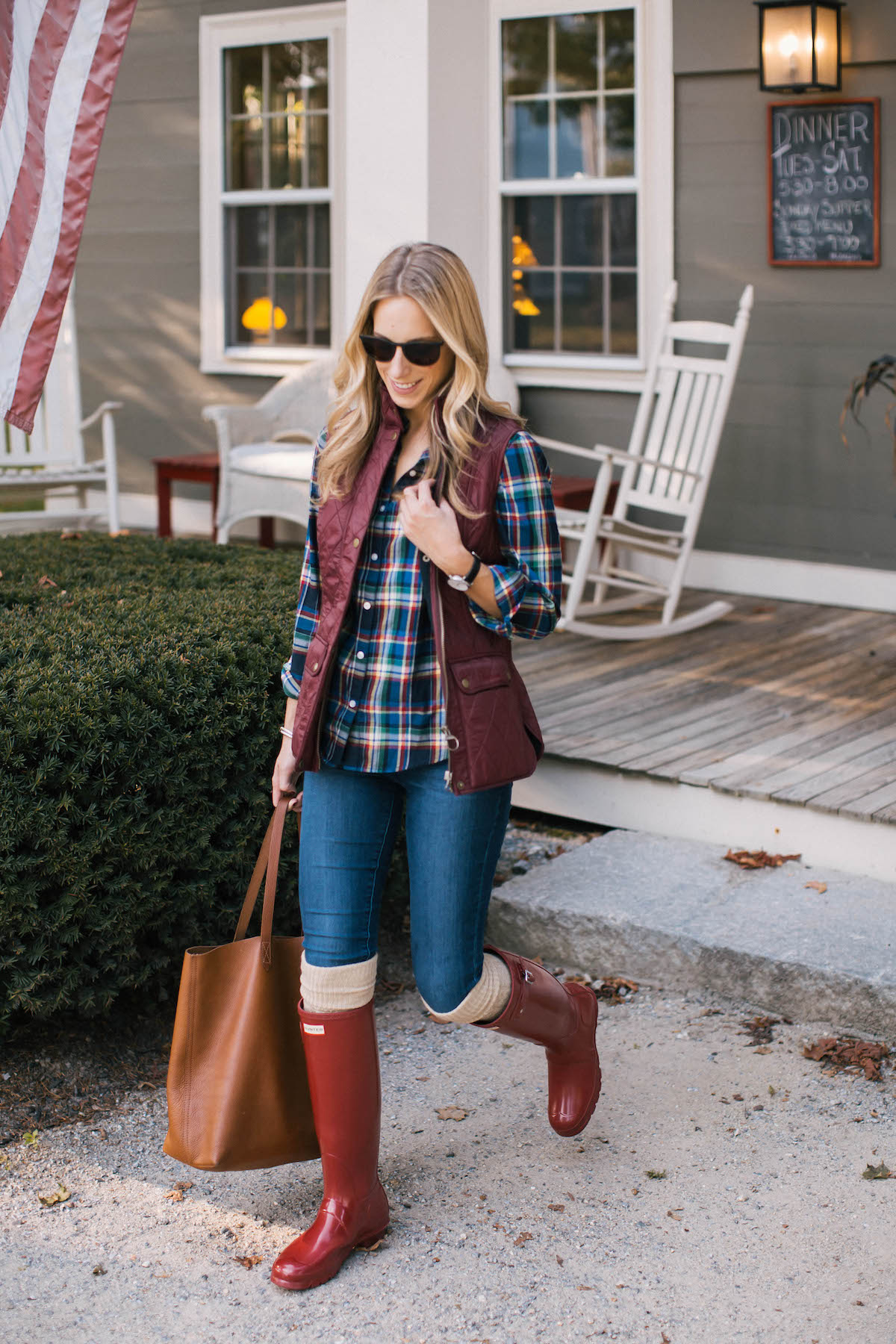 Outfit Details: Red Boots | Barbour Vest | Similar Plaid Shirt | Leather Tote Bag | Skinny Jeans | Leg Warmers | Sunglasses
The Hancock Inn & Fox Tavern. My favorite portion of our first day was getting to spend the night at the Hancock Inn & Fox Tavern. This bed & breakfast is New Hampshire's oldest and longest-running inn dating back to 1789. Immediately upon walking in the big red front door it's obvious how much the owners care about preserving the inn's history and roots. From the antique furniture, to the wood-burning fireplace, and traditional guest rooms where you have to open the doors with an actual iron key (no swipe cards here), the Hancock Inn is a total gem. Staying here I really felt like I'd stepped back in time, except with plush linens and a spa-worthy bathroom 😛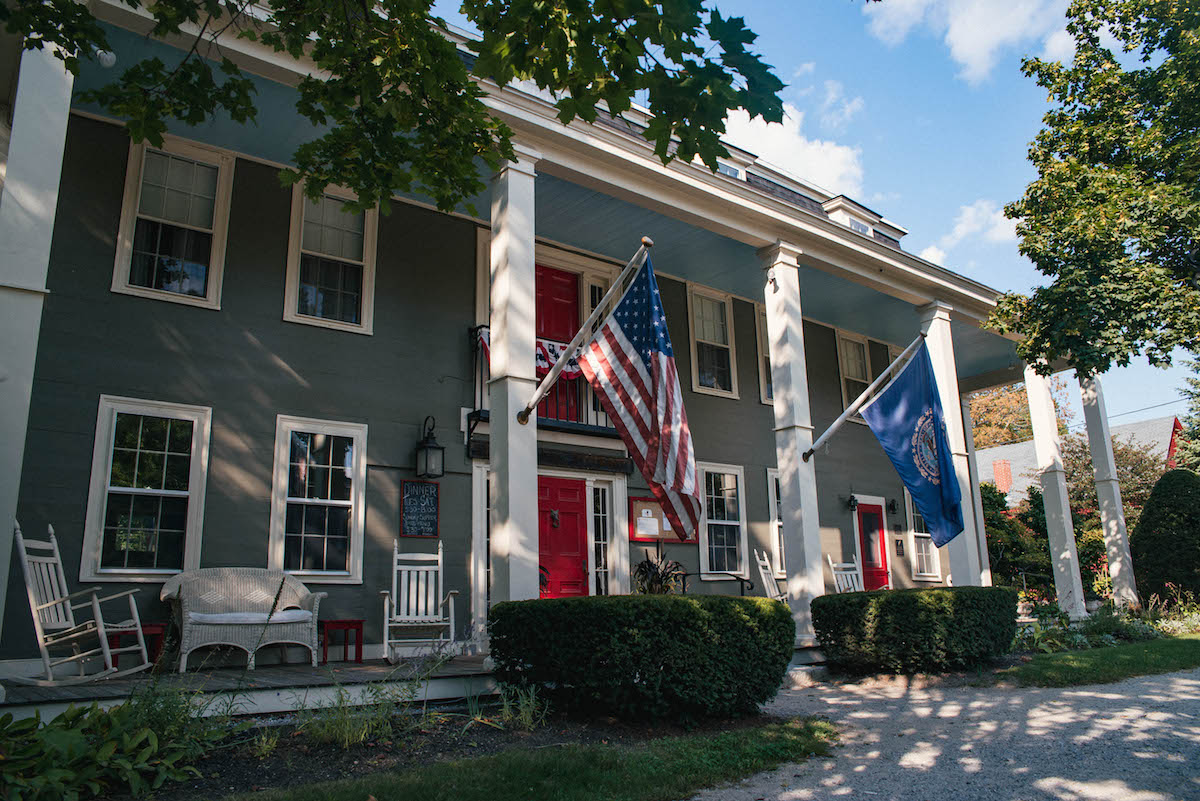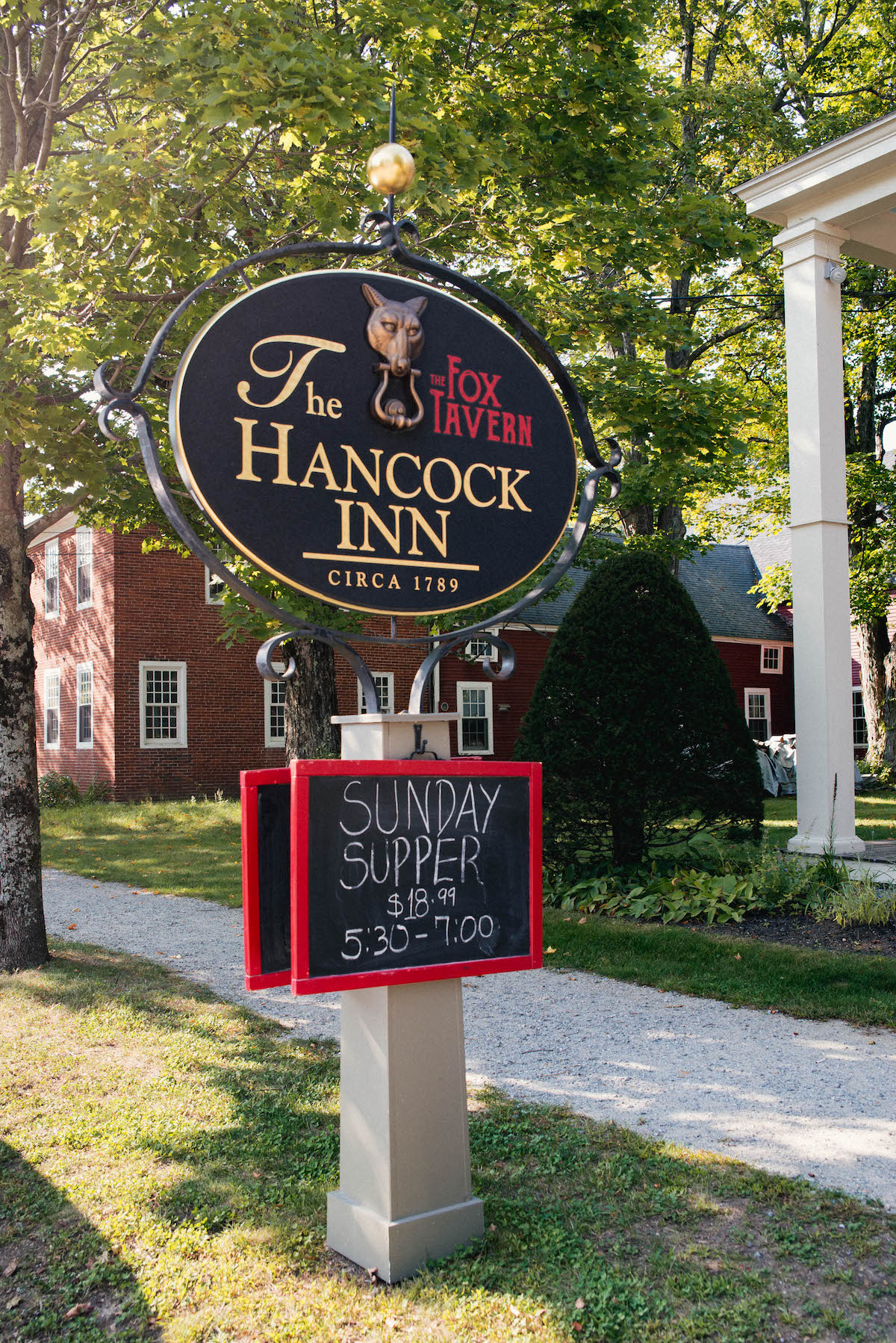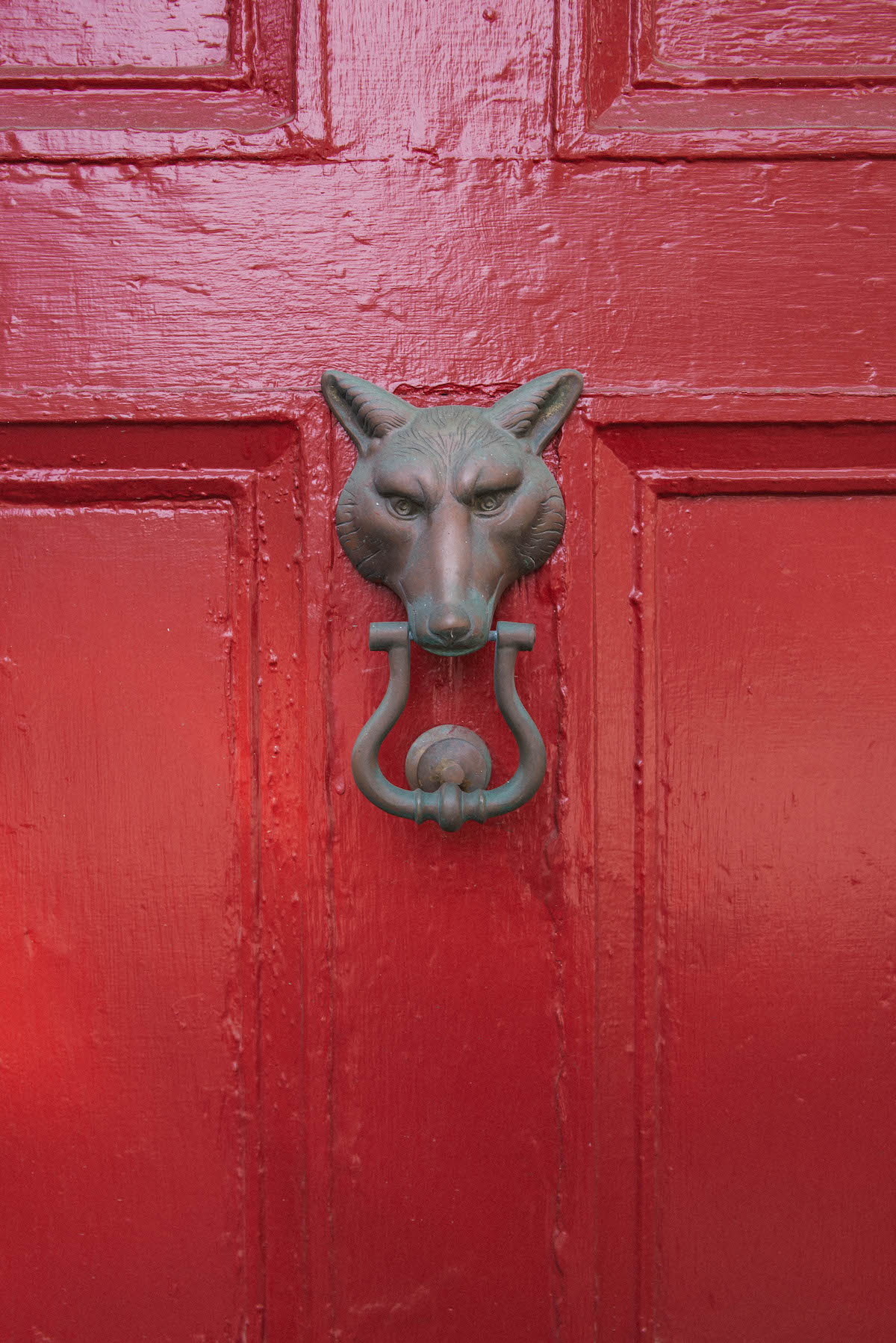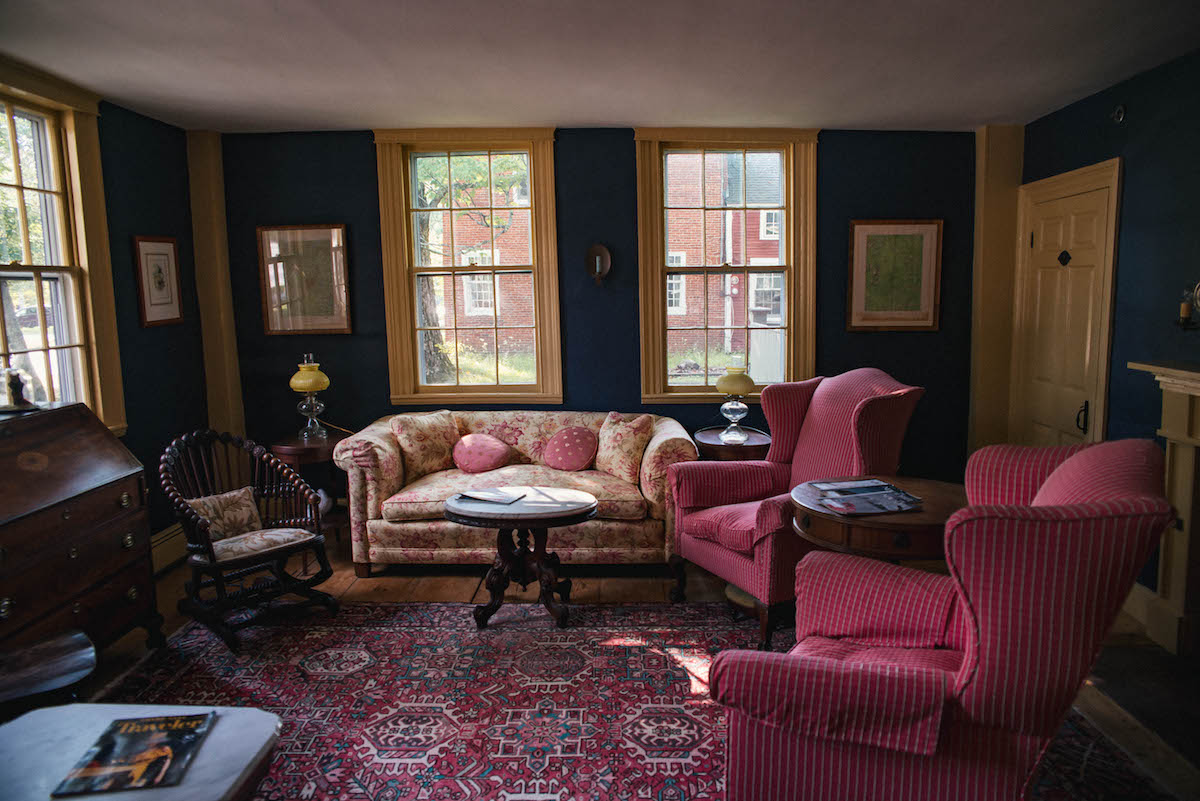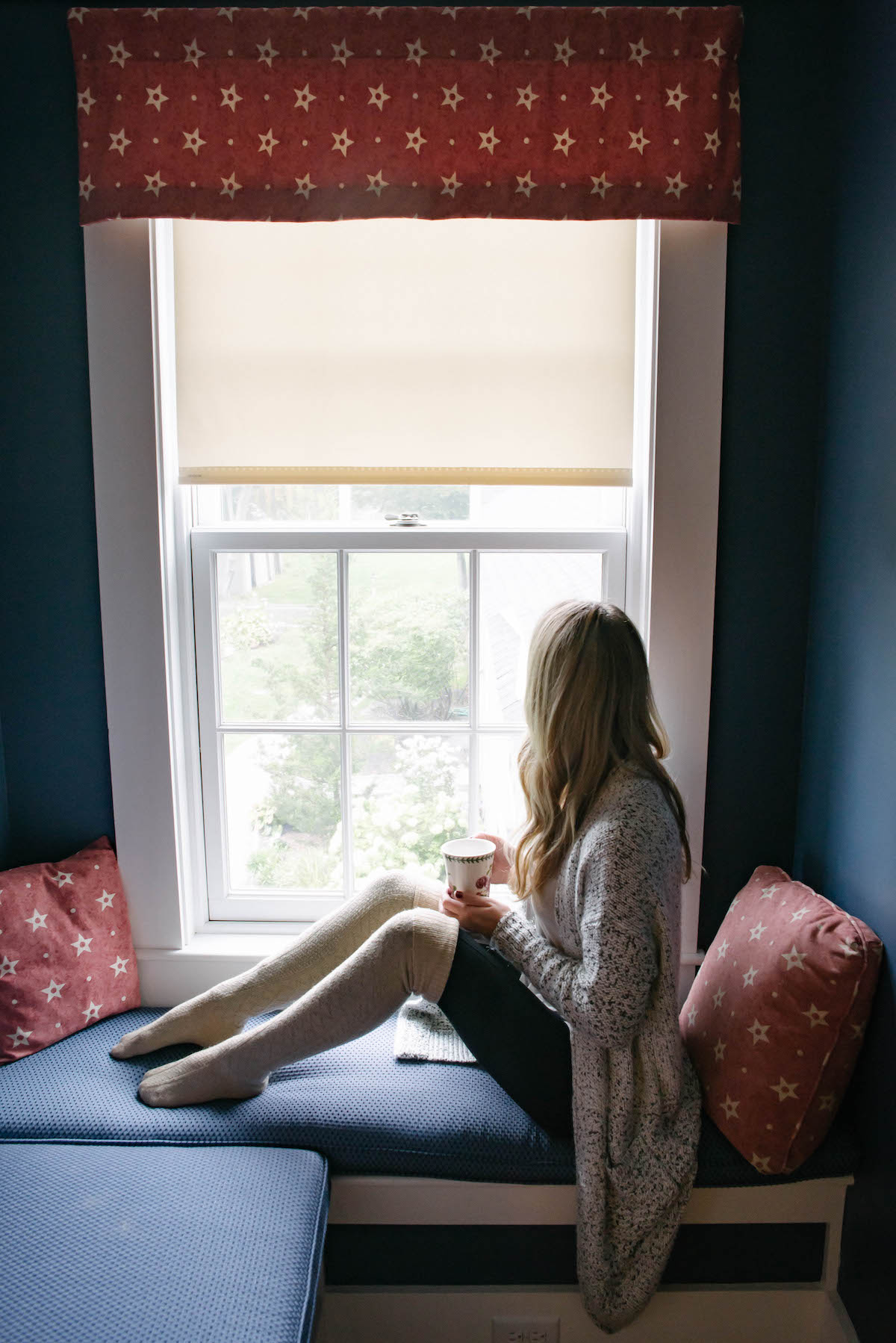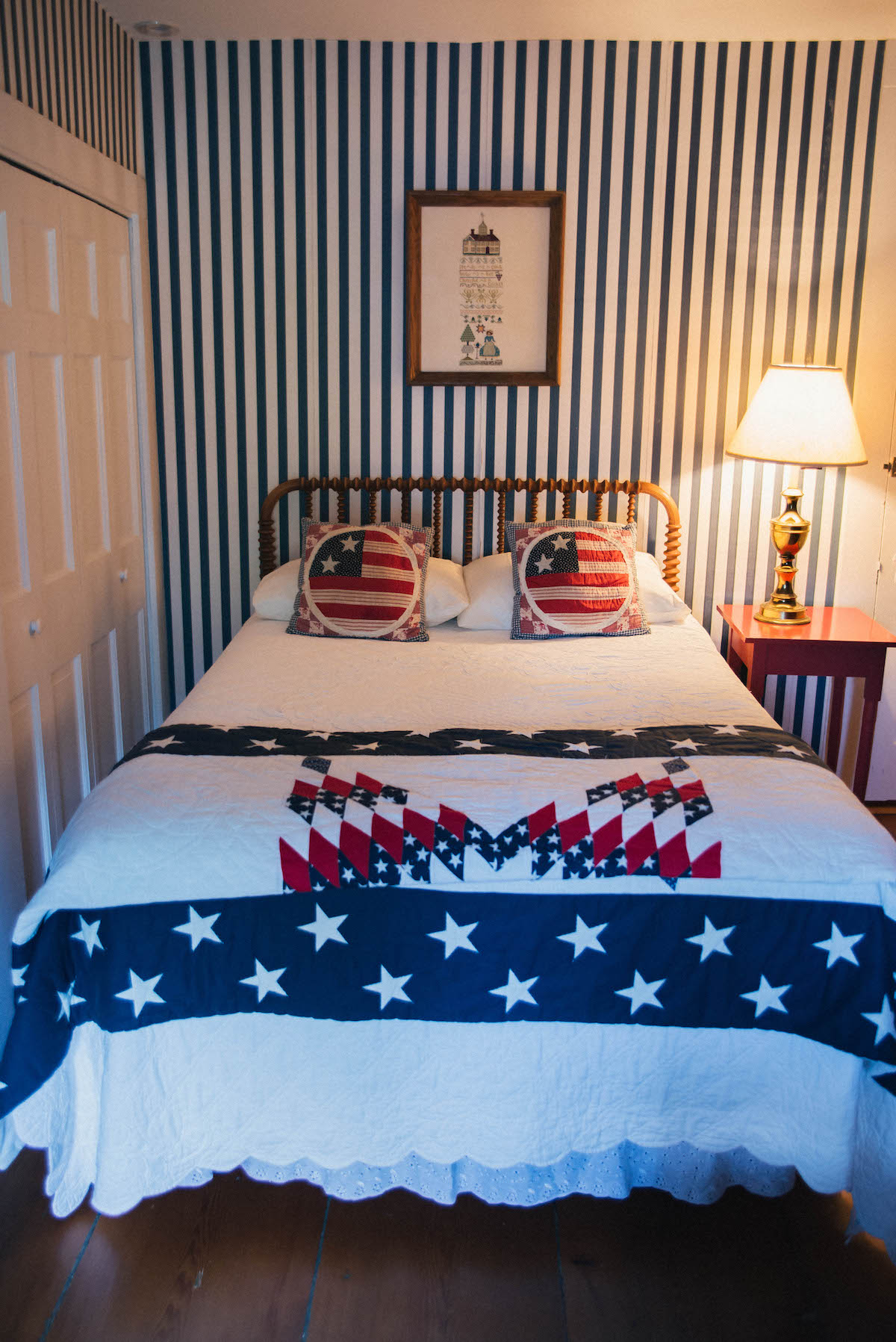 Note to self: make sure there's a window seat in my future country home 😛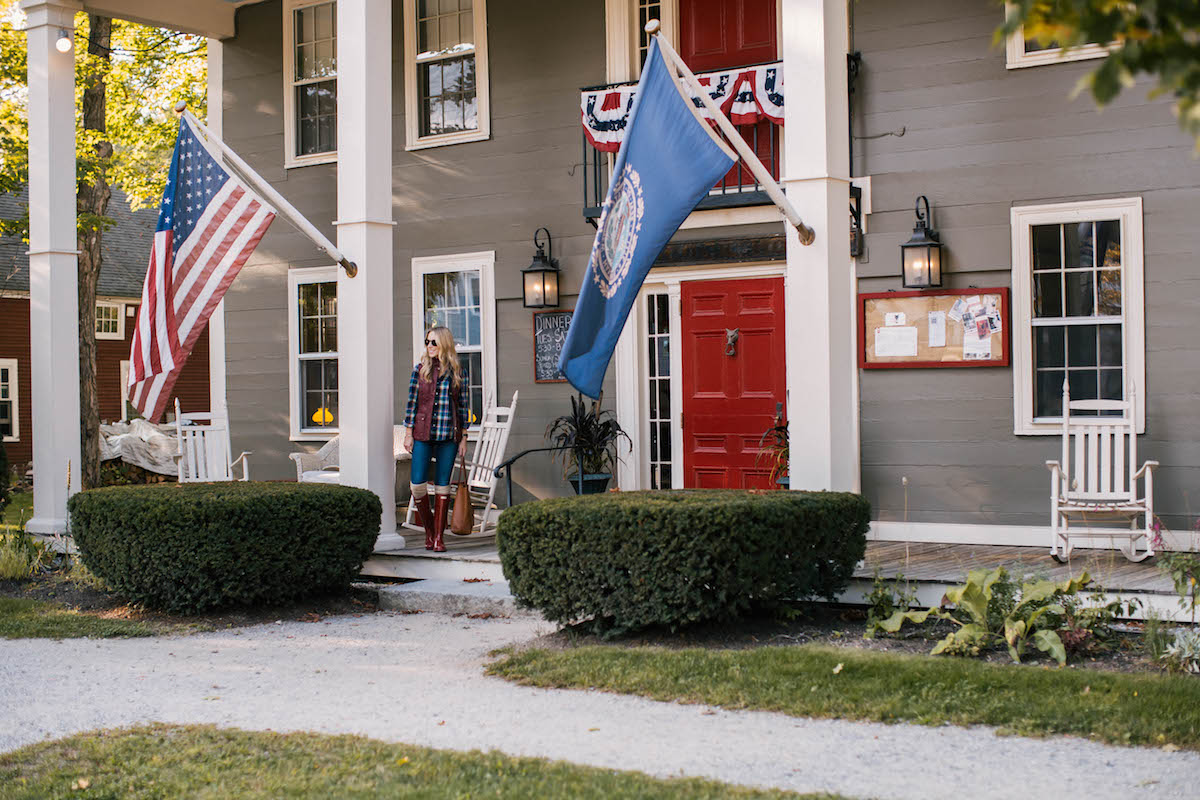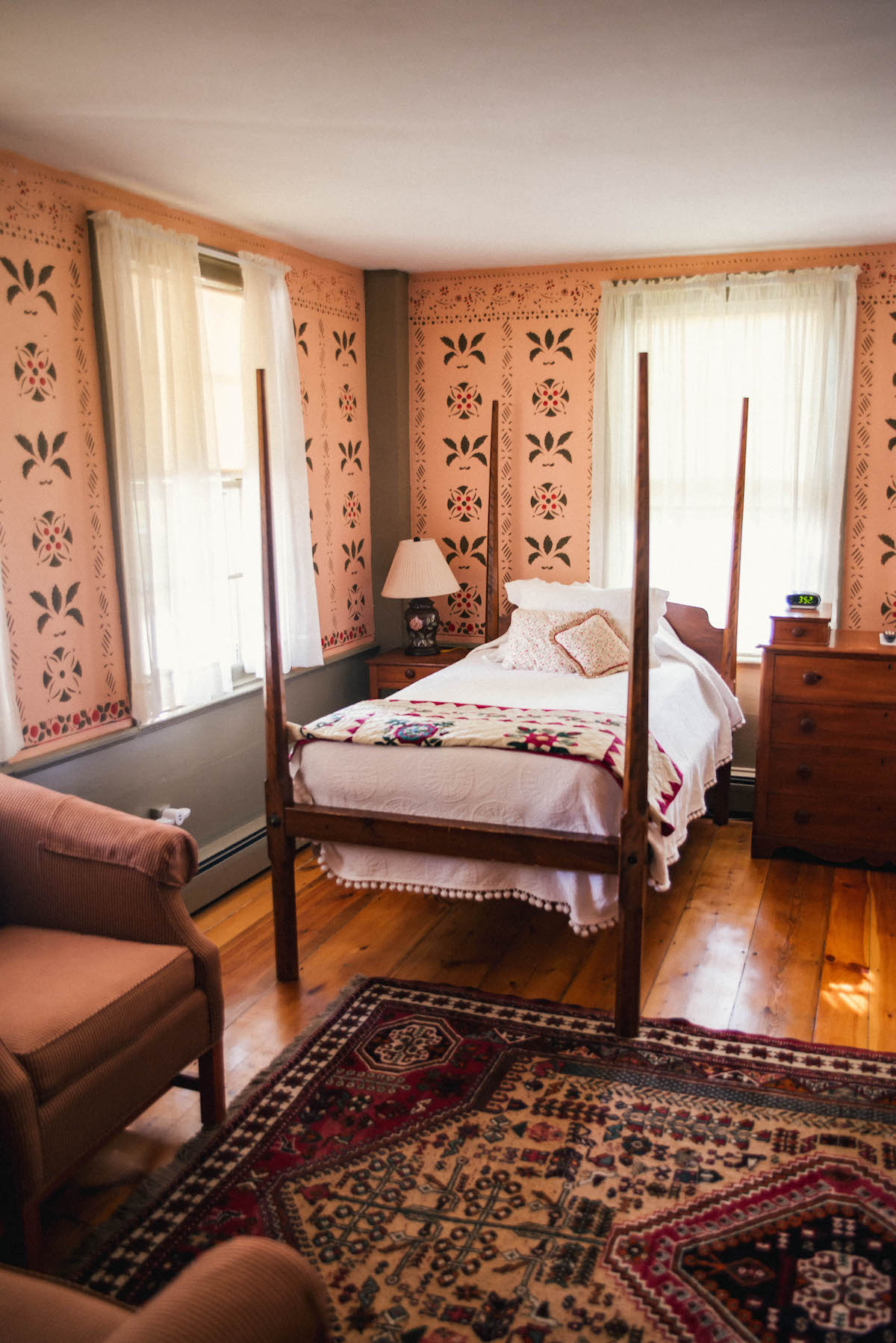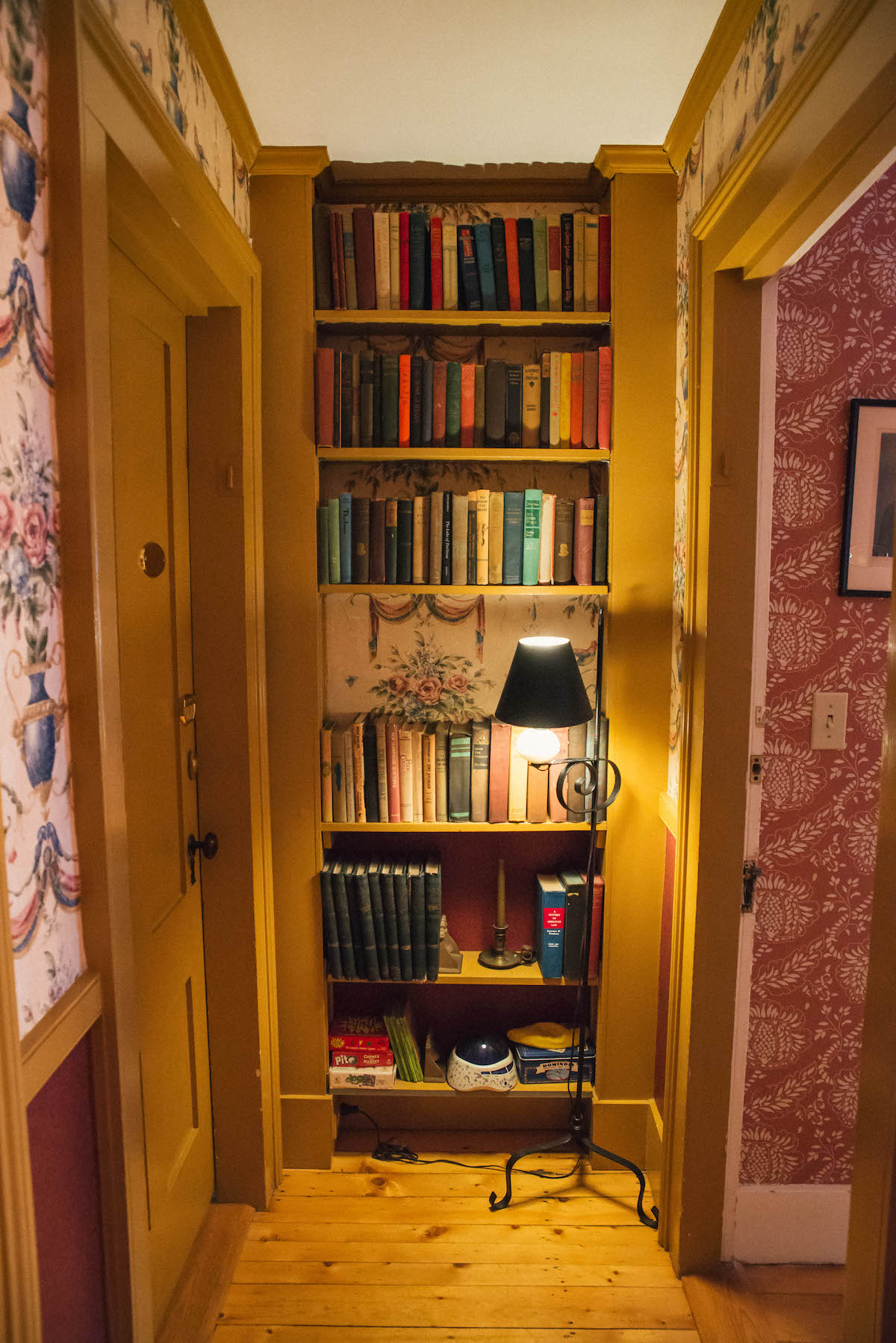 Hancock-Greenfield Covered Bridge. I'm a sucker for covered bridges. On drives to visit our families in Connecticut and Massachusetts, I've purposely diverted the route just so Nick and I can cross over a covered bridge. I mean, how much more New England can you get? Hancock is home to a super cute one just a short drive from town.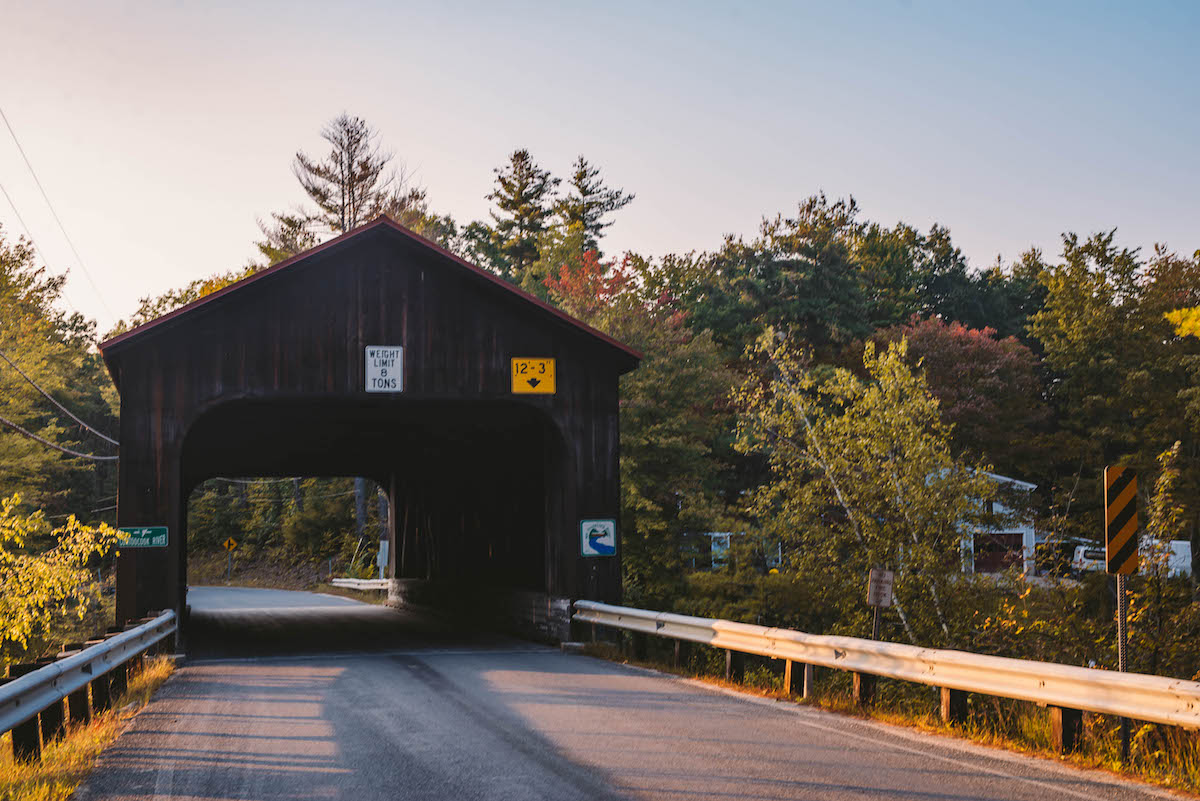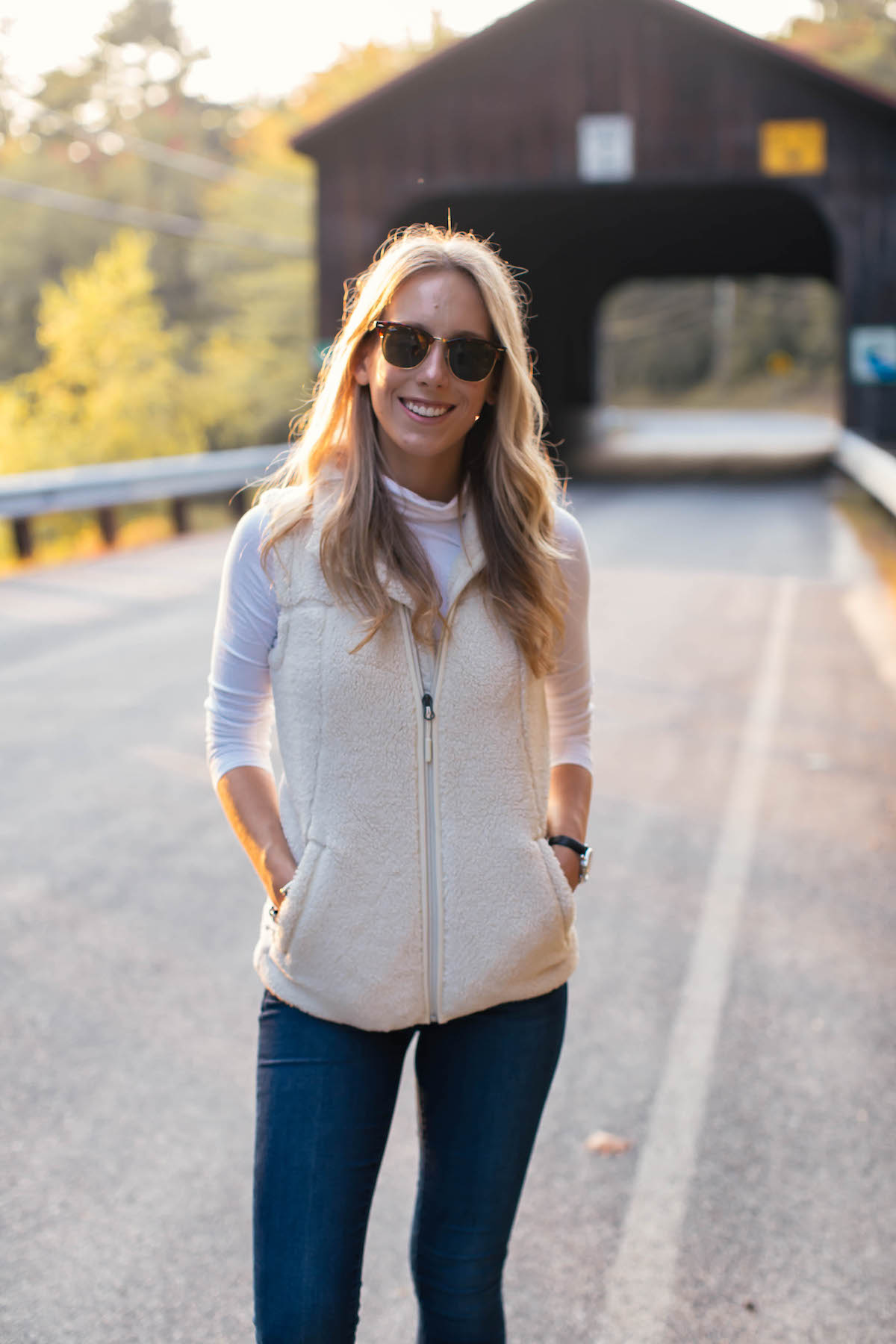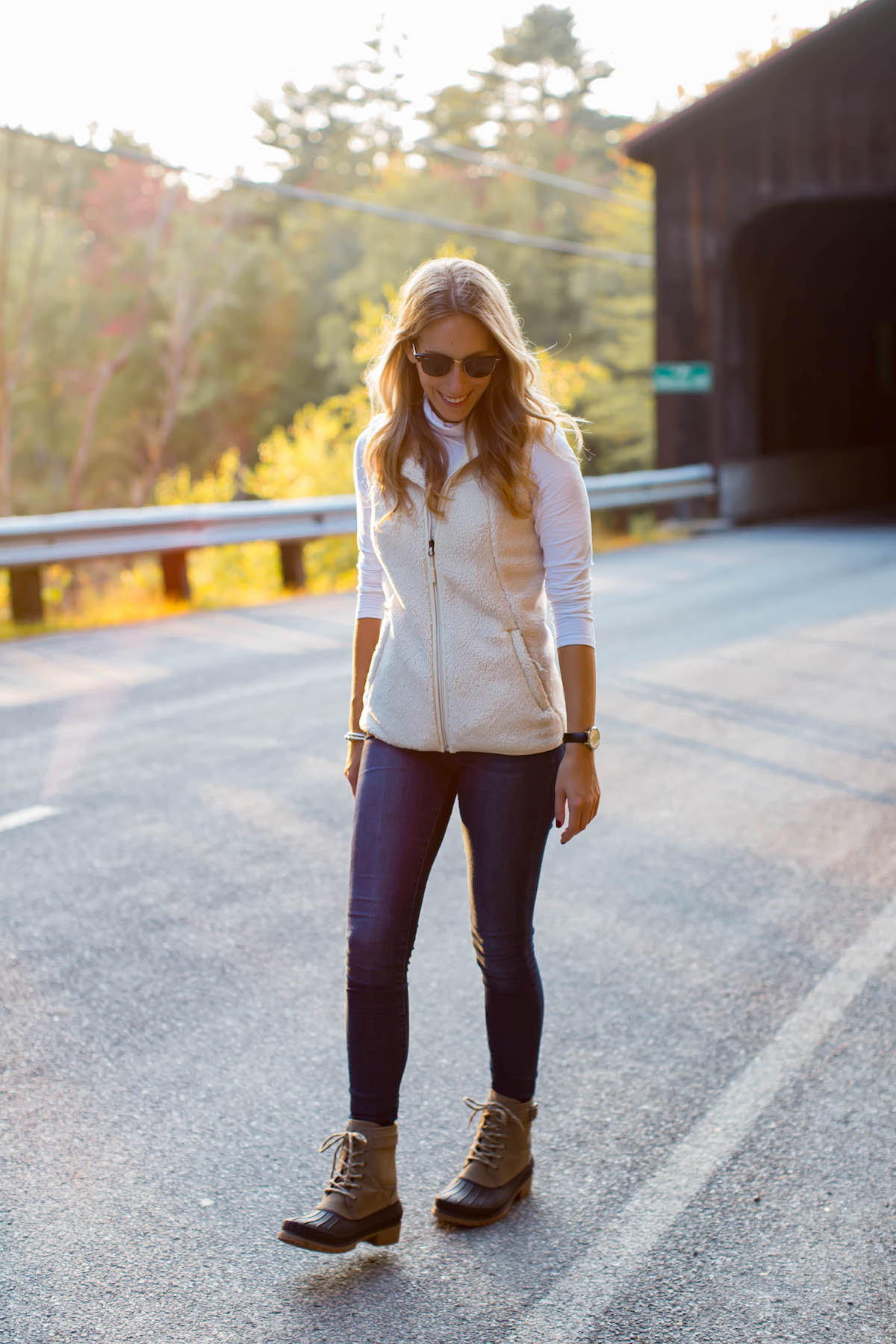 Fall wardrobe staples: a fuzzy fleece vest (under $100) and waterproof boots
Waterhouse. On our first night we had dinner at this upscale eatery located right on the water in downtown Peterborough. We were really impressed with the extensive menu which offer the perfect mix of casual fare with an upscale twist. I didn't get any pictures but trust me when I say that the fish tacos were delicious. PS many menu items include ingredients sourced from local farmers!
DAY 2 | CONCORD & THE WHITE MOUNTAINS
---
CONCORD
Leaving the Monadnock Region the next morning we took the scenic route north on our way towards the White Mountains. The plan was the head straight to our next destination but we couldn't help pulling off at a few stops as we drove through Concord. Local farms and orchards overflowing with pumpkins, apples and cider donuts? Talk about tempting…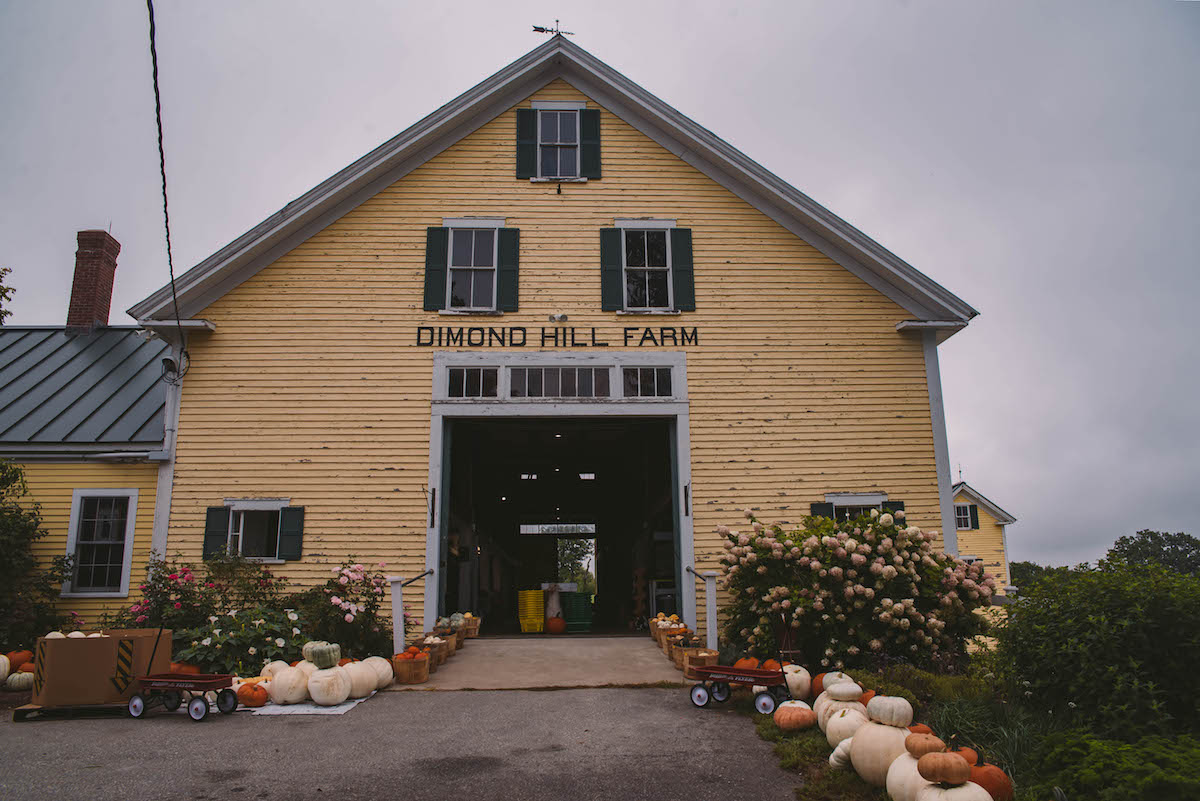 Dimond Hill Farm. Here we stocked up on some healthy snacks for the drive (by healthy snacks I mean donuts :P) and browsed all the fresh produce and colorful pumpkins. If only I'd driven to New Hampshire directly from New York, I absolutely would've purchased some veggies to take home. This family-run farm is not only photogenic, but has some super friendly employees! I spent about 15 minutes chatting with them who gave me a big list of must-see sites and other places to stop on our drive. So helpful!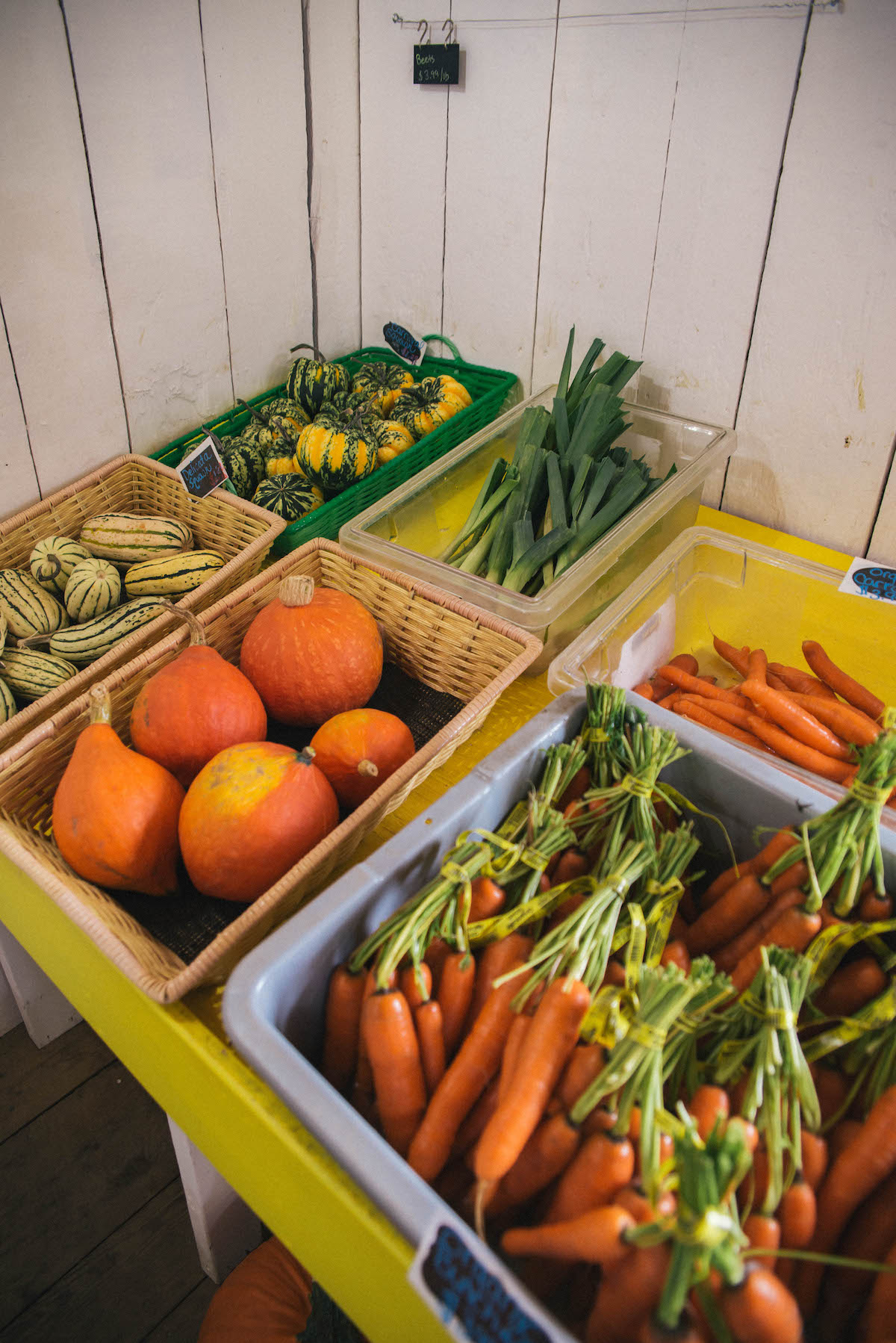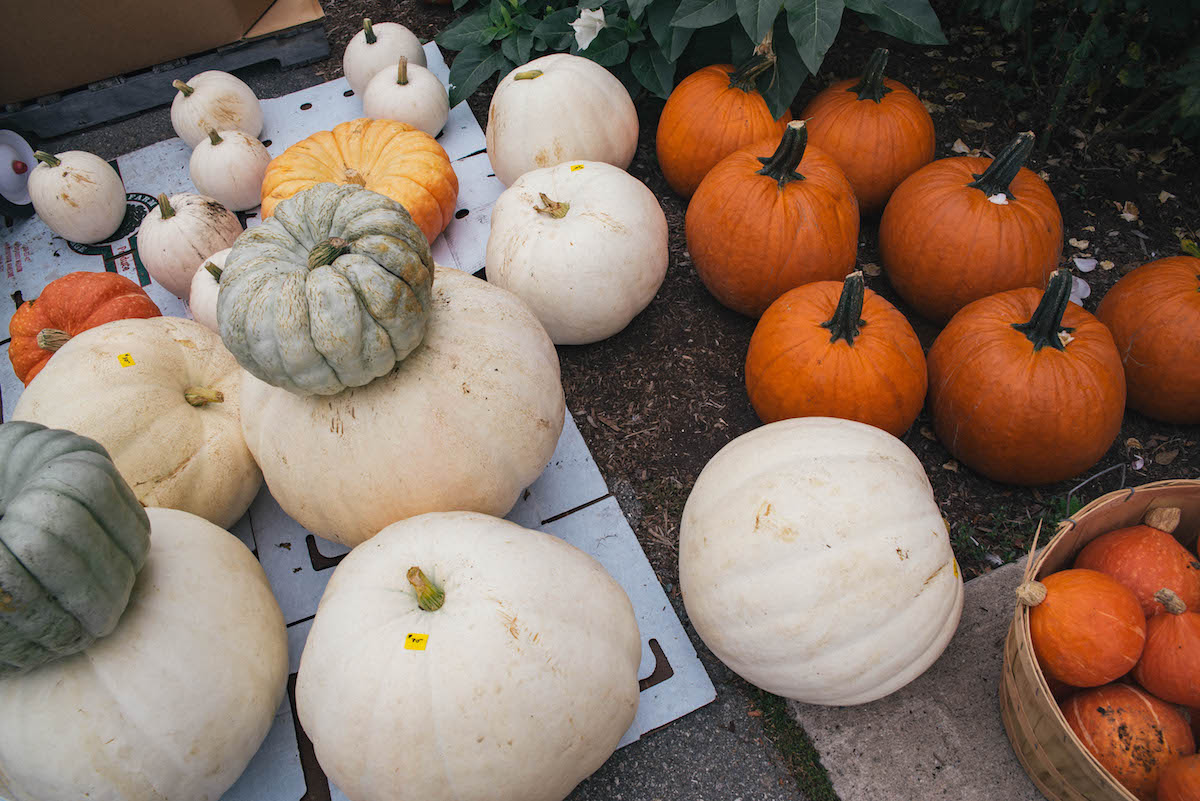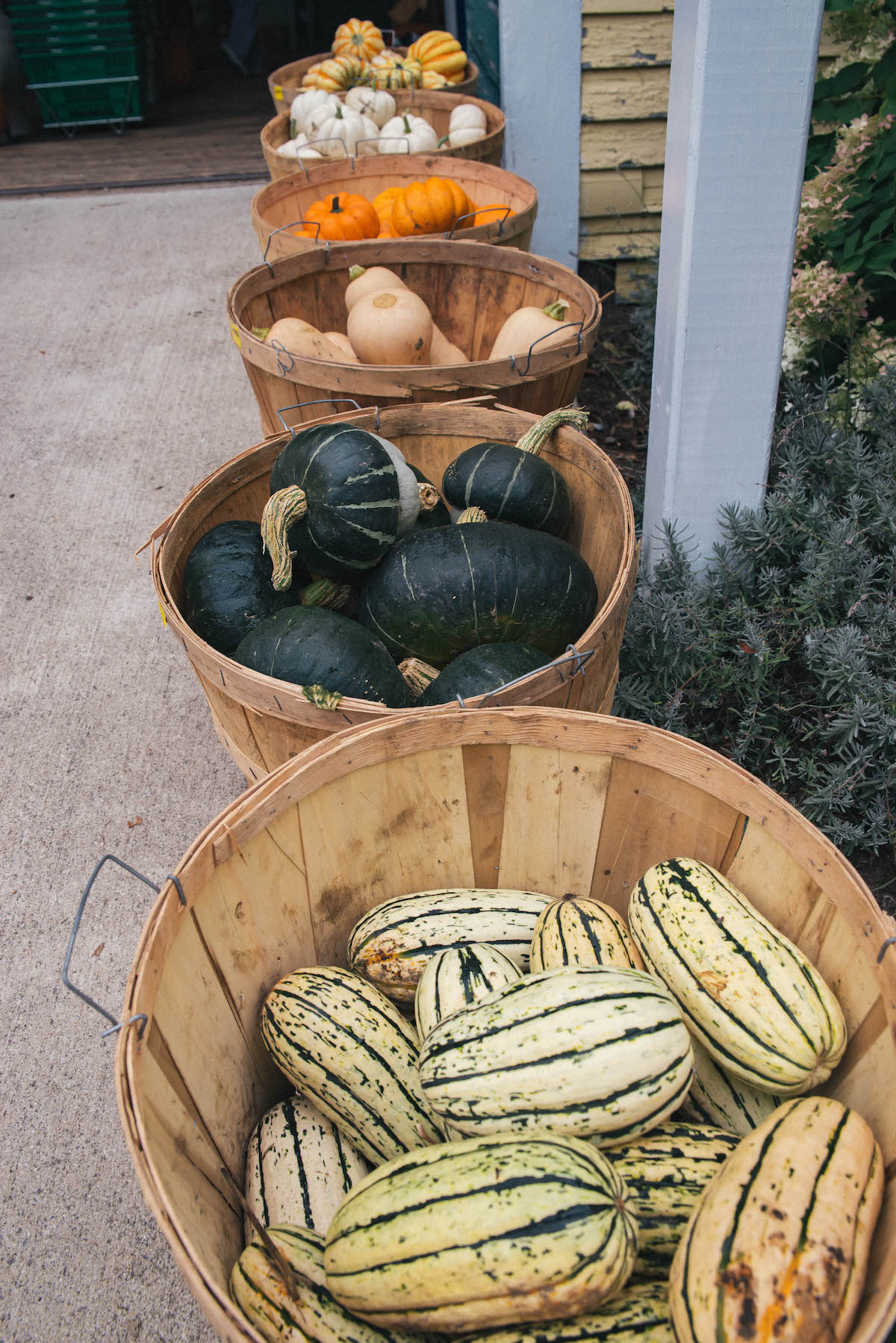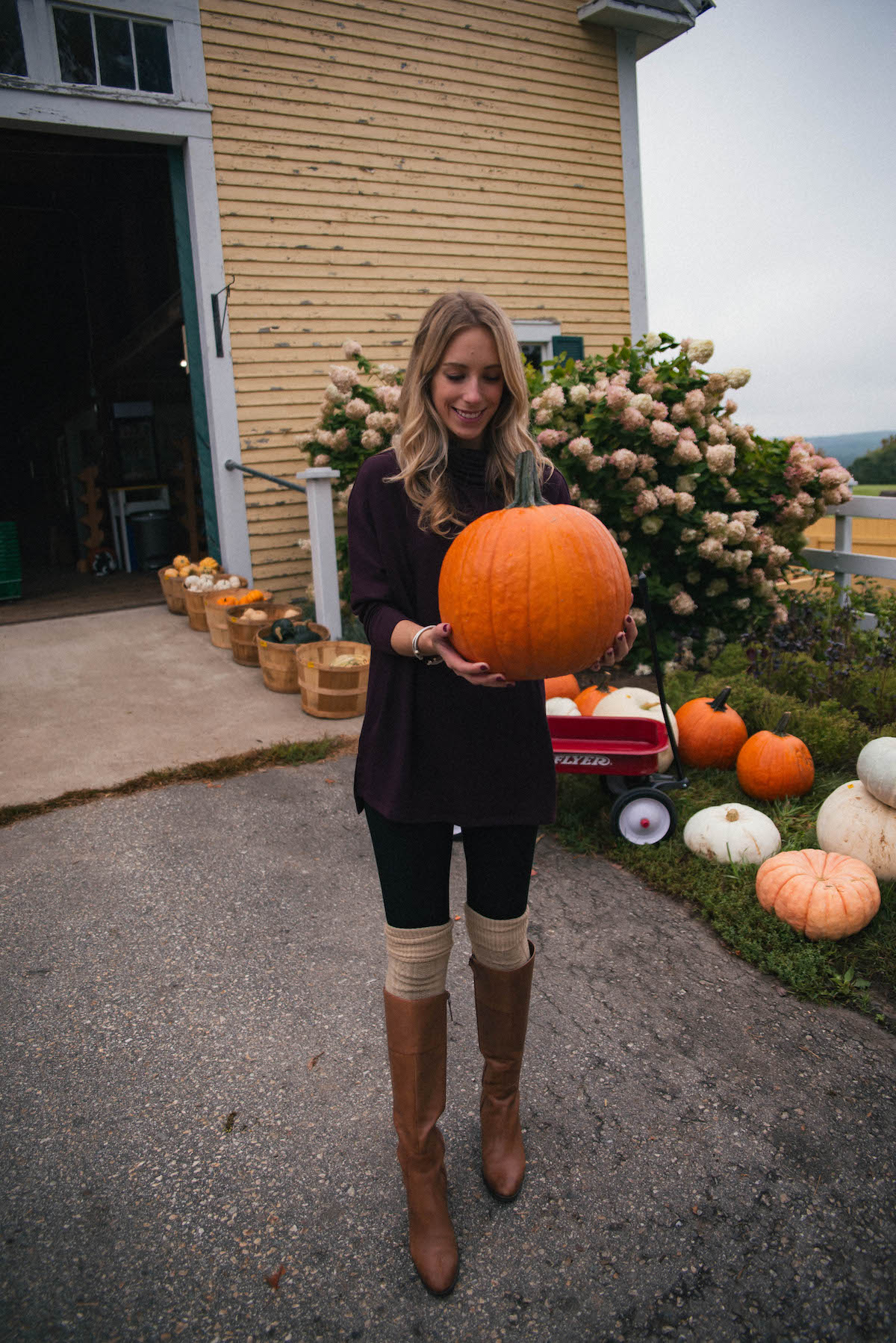 I recently blogged about this outfit— click here for details on what I'm wearing!
Carter Hill Orchard. On recommendation from the folks at Dimond Hill Farm, next we made our way to Carter Hill Orchard located about ten minutes up the road. Apple picking season is in full swing and we couldn't resist popping through the orchards. Apparently this is the place to go to see an amazing sunset too. Next time!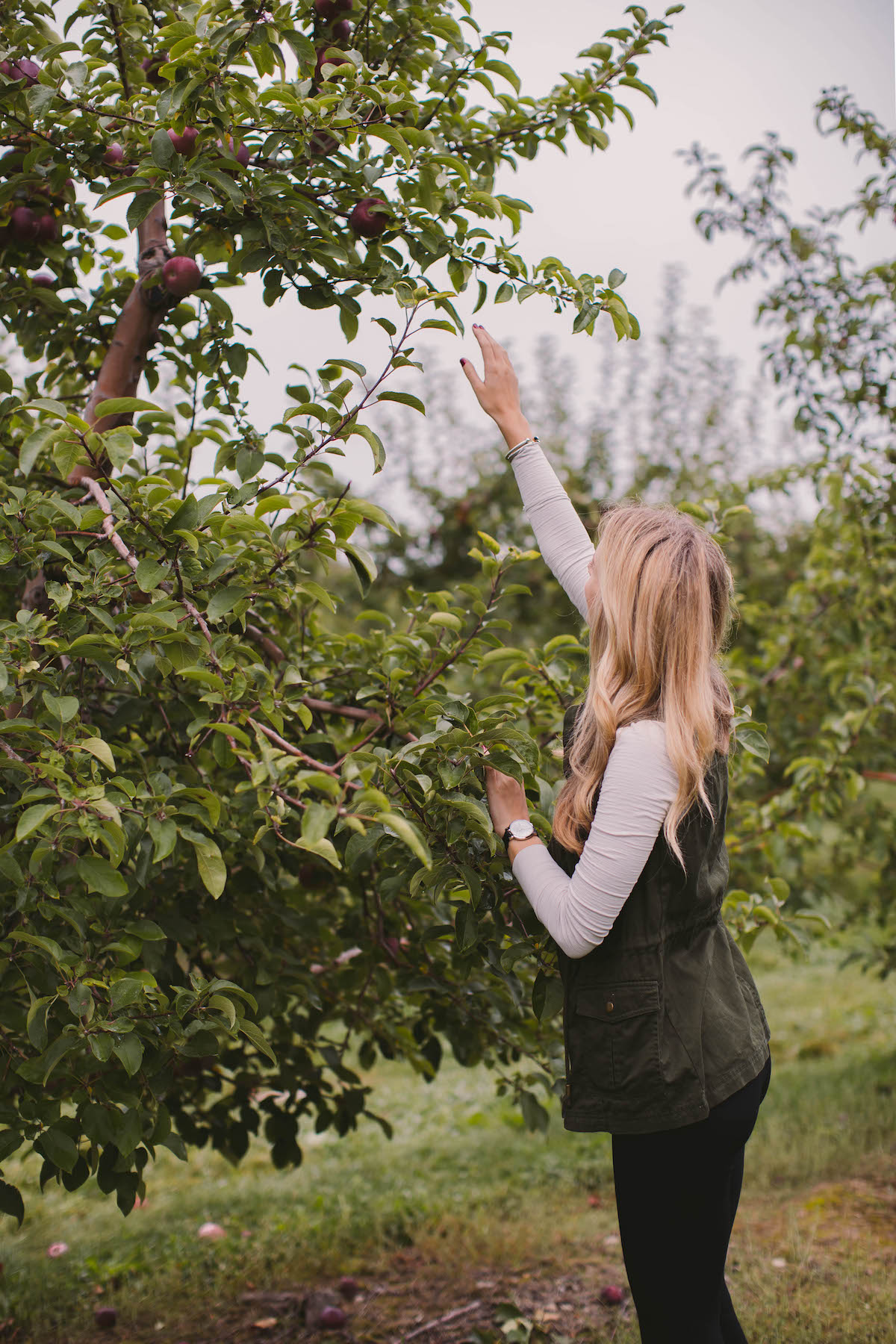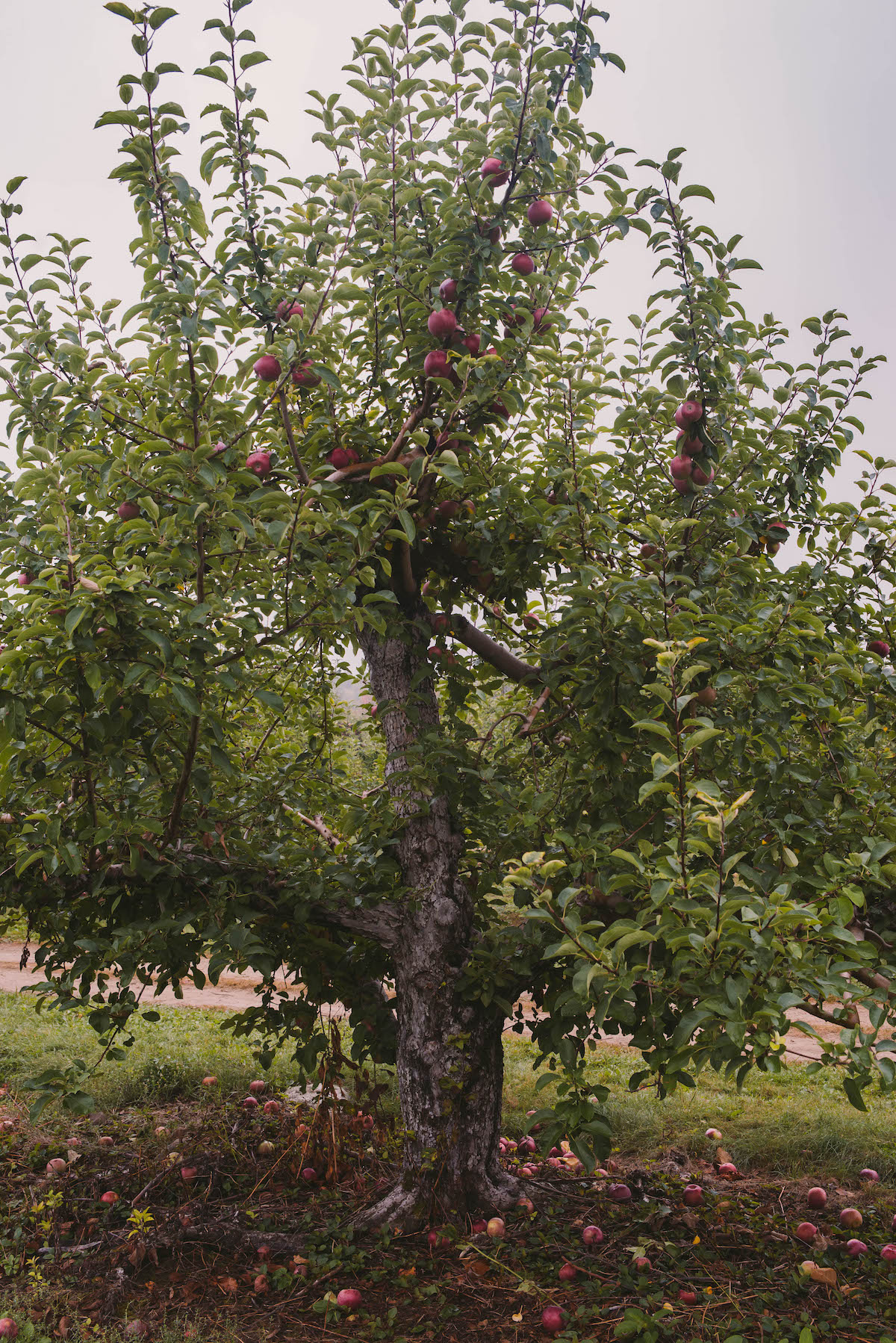 THE WHITE MOUNTAINS
Flume Gorge. After moseying our way north, we finally found ourselves in the beautiful White Mountains. We were given a few suggestions of where to stop and decided on Flume Gorge, an 800-foot gorge that extends from the base of Mount Liberty where hikers can see everything from waterfalls to a red covered bridge to stunning views and foliage. I wish we'd had more time because I would've love to have done the full hike. If you go make sure you devote a day or two to this because many of the best White Mountain hikes are a few hours long.
I definitely would love to go back because there's so much more to see and do like the Cannon Mountain Aerial Tramway, an 80-passenger cable car you can ride to the 4,080-foot summit of Cannon Mountain. Apparently on a clear day you can see the mountains of four states and Canada! There's also Loon Mountain, another hiking hot spot full of beautiful trails.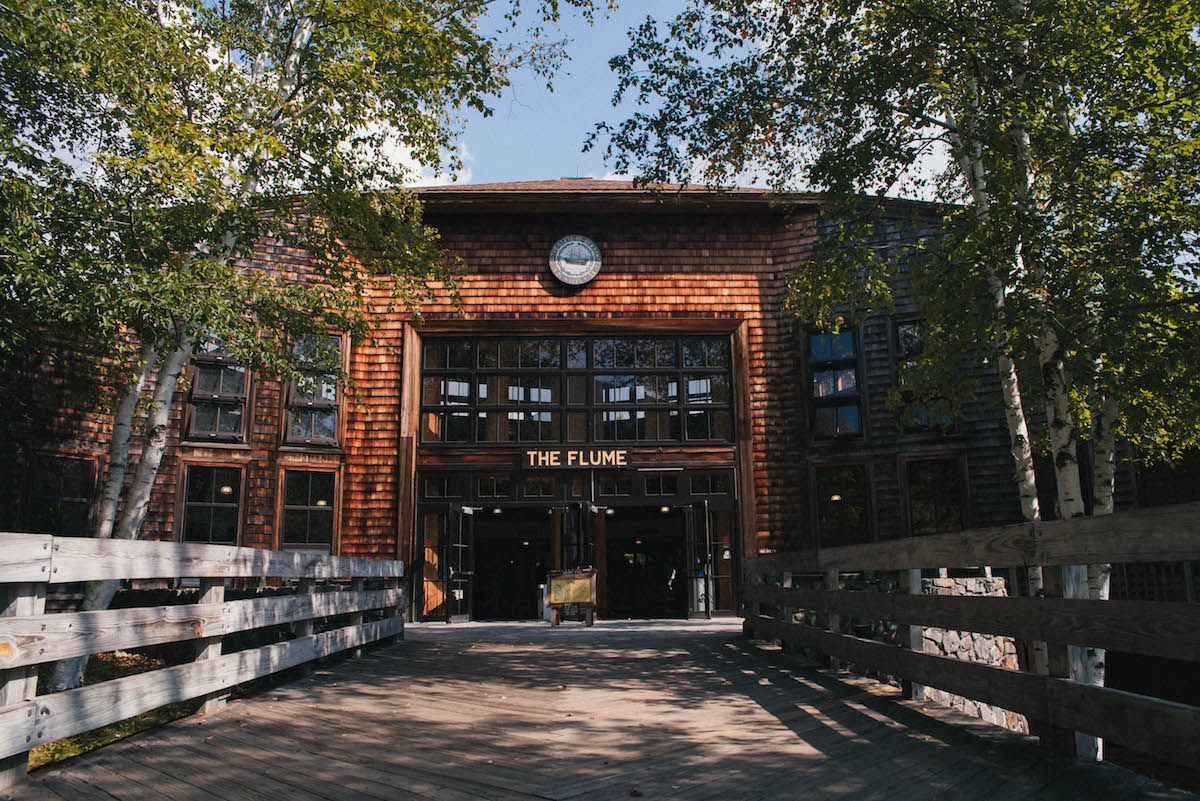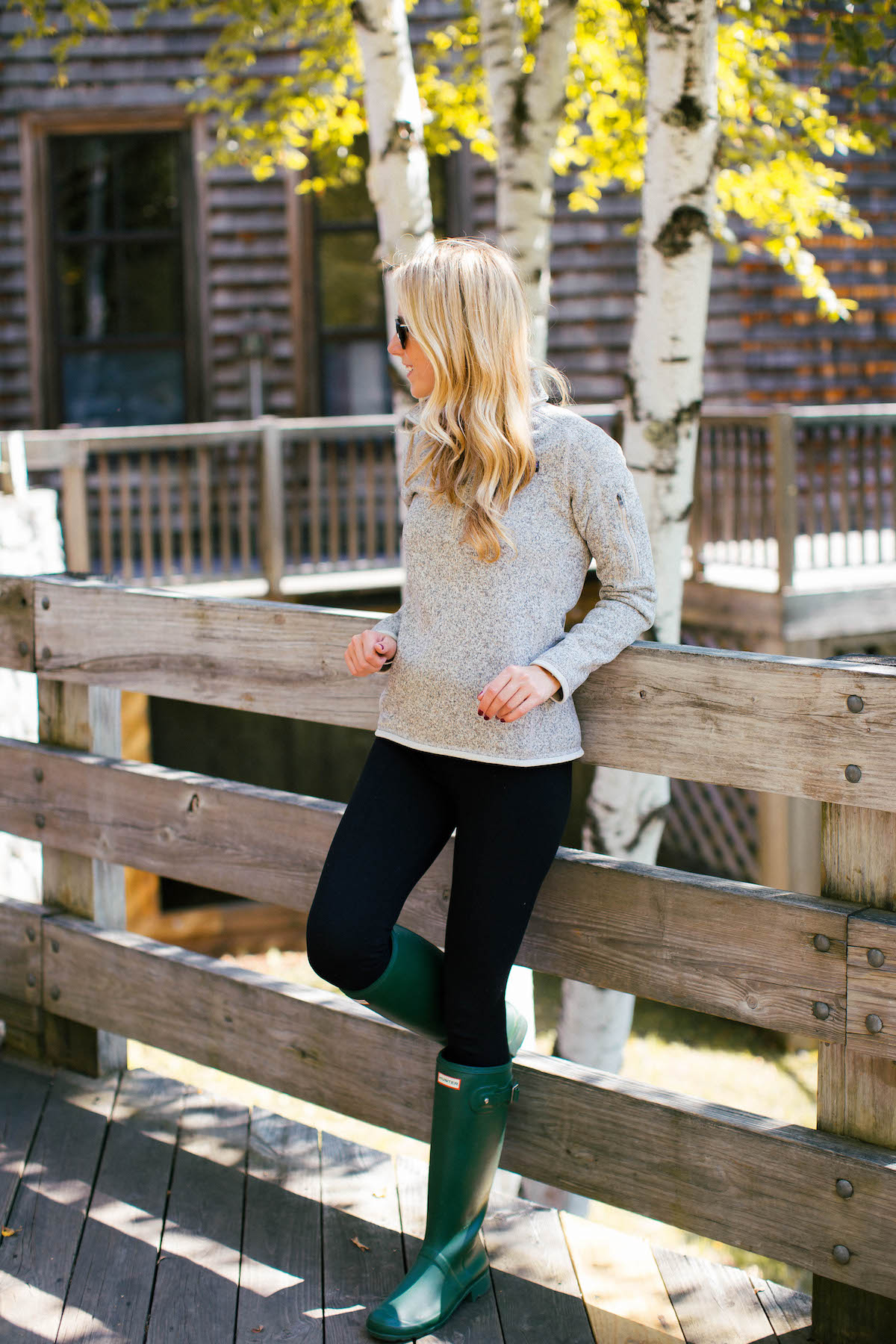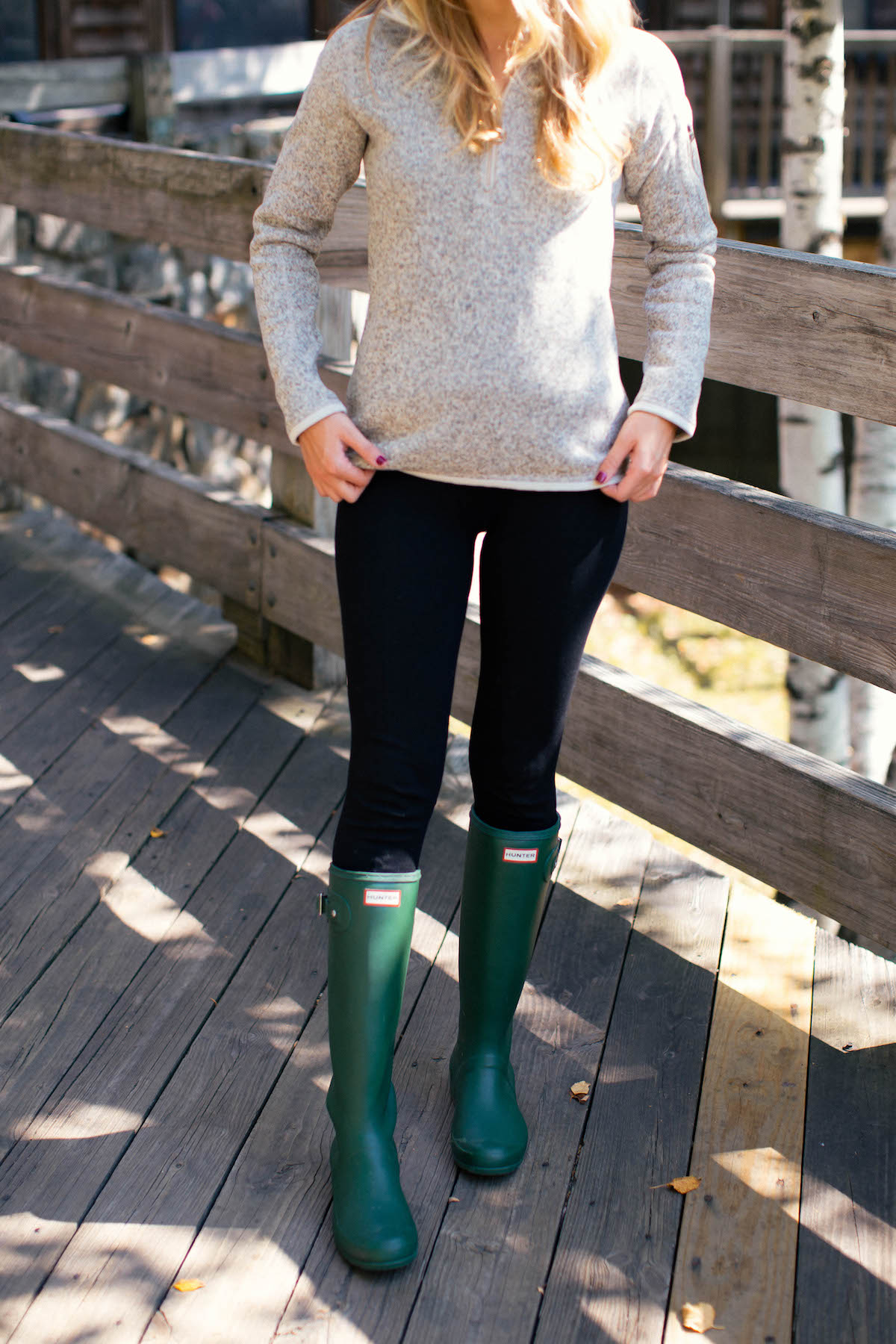 Outfit Details: Fleece Pullover (deceptively warm) | Green Hunter Boots (borrowed from Sydney) | Black Leggings
Littleton. There was one small town that continually popped up in all the New Hampshire travel articles I read: Littleton. I mean, talk about quaint and charming. We only drove through, but that was enough for me to fall in love. Upon entering Littleton you're immediately greeted by an inviting red covered bridge and the renowned Schilling Beer Company, located in a converted 18th-century mill. Littleton is also home to Chutter's Candy Store, which claims to hold the world record for Longest Candy Counter. YUM.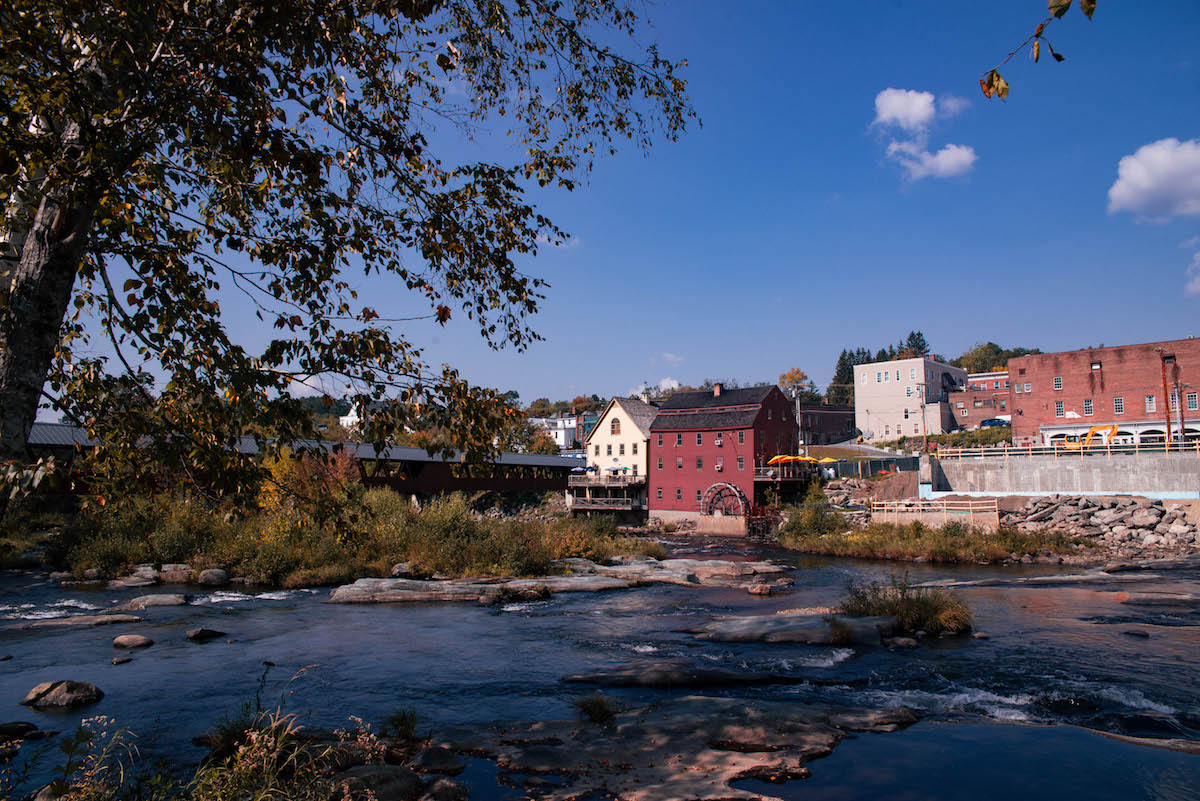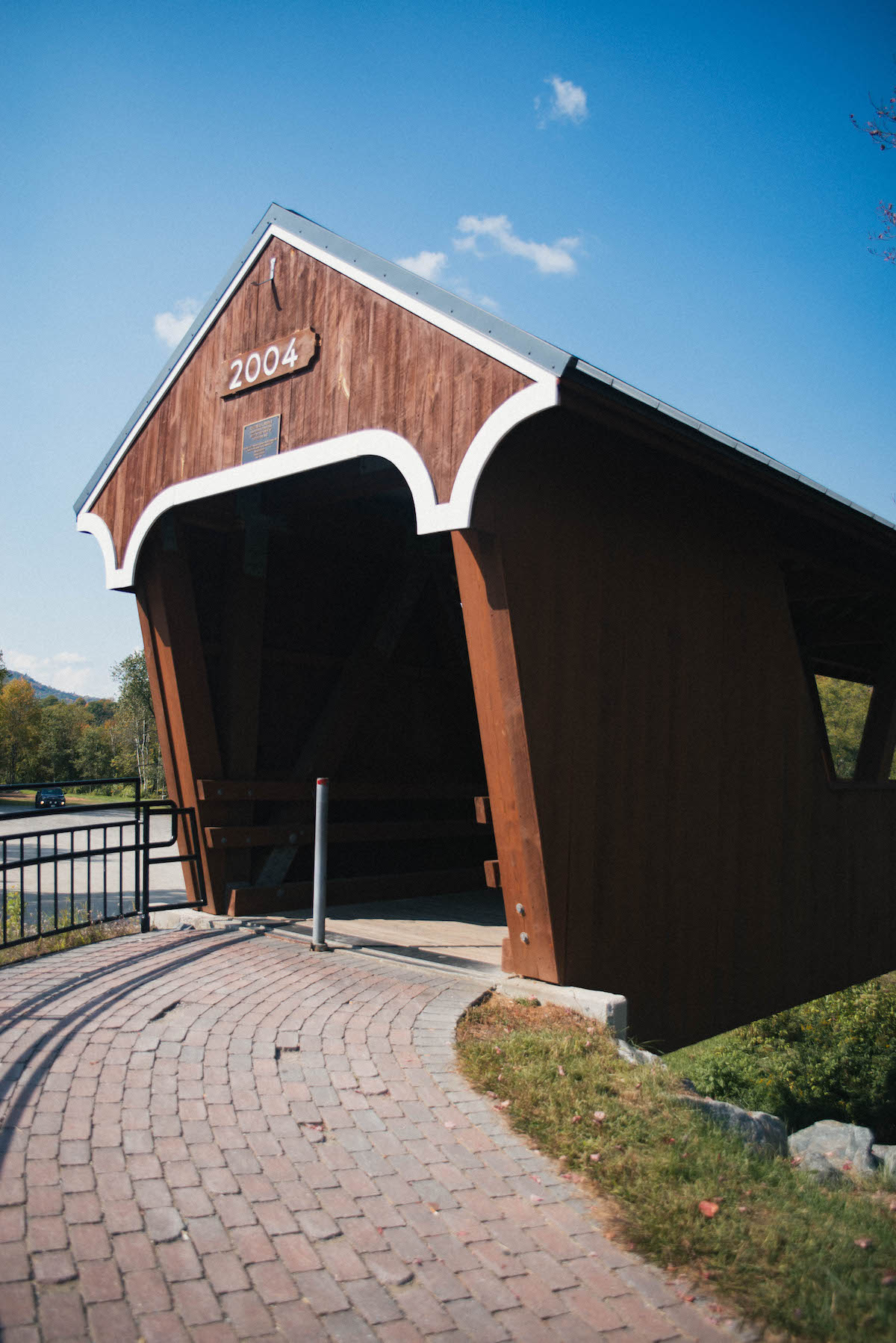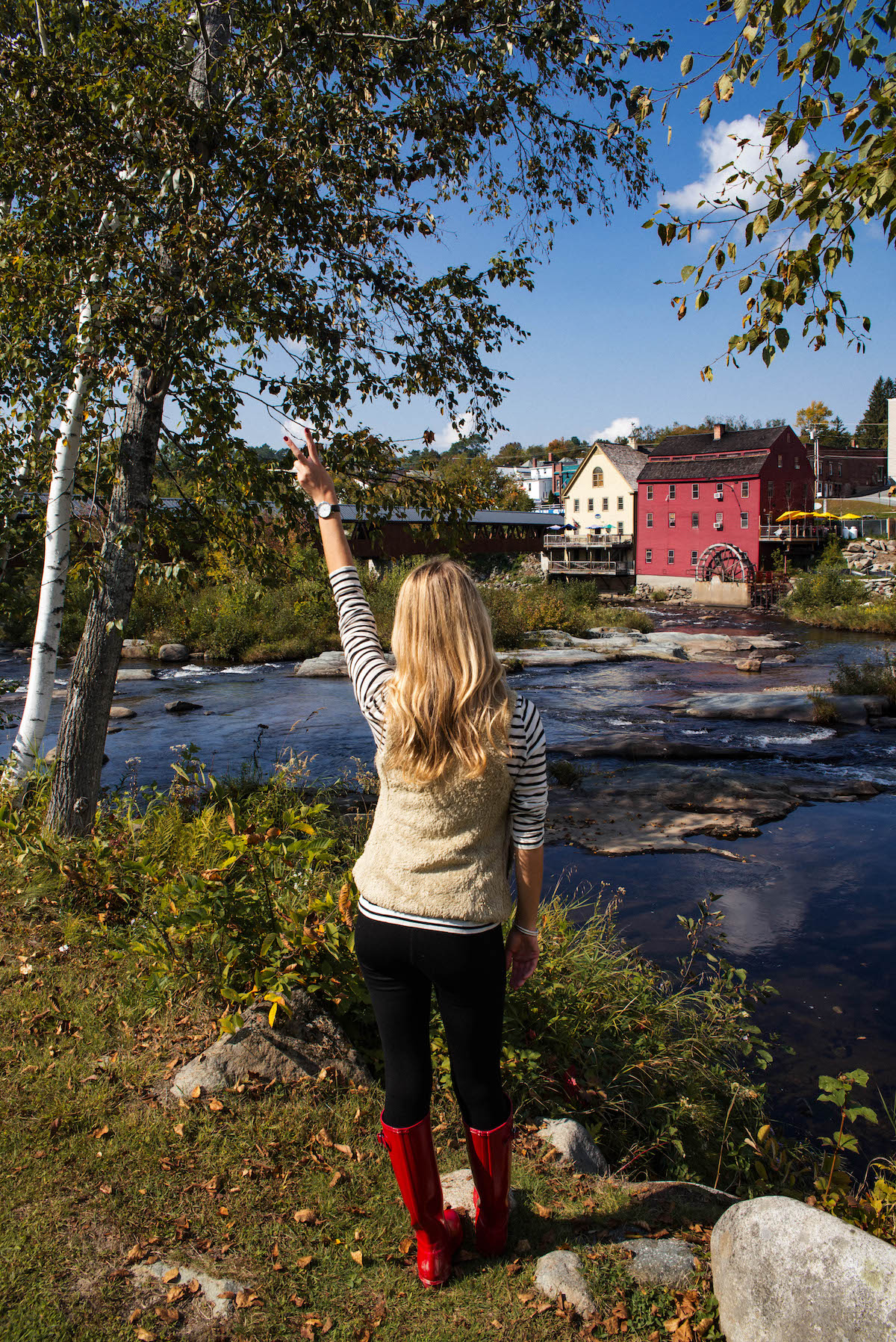 Woodstock Inn, Station & Brewery. According to locals this is the restaurant you have to go for dinner if you're staying in the White Mountains. Located right in downtown Woodstock, here you'll find a huge selection of craft beers and one of the largest food menu I've ever seen. We were starving after our long day of driving and couldn't resist going to town on 'kitchen sink nachos' a bloomin' onion and for me, an 'adult grilled cheese' stacked with cheddar cheese, bacon and tomato. Now I'm craving the meal again… SO GOOD. There's also a microbrewery on site where guests can take a tour and purchase some bottled brews to take home.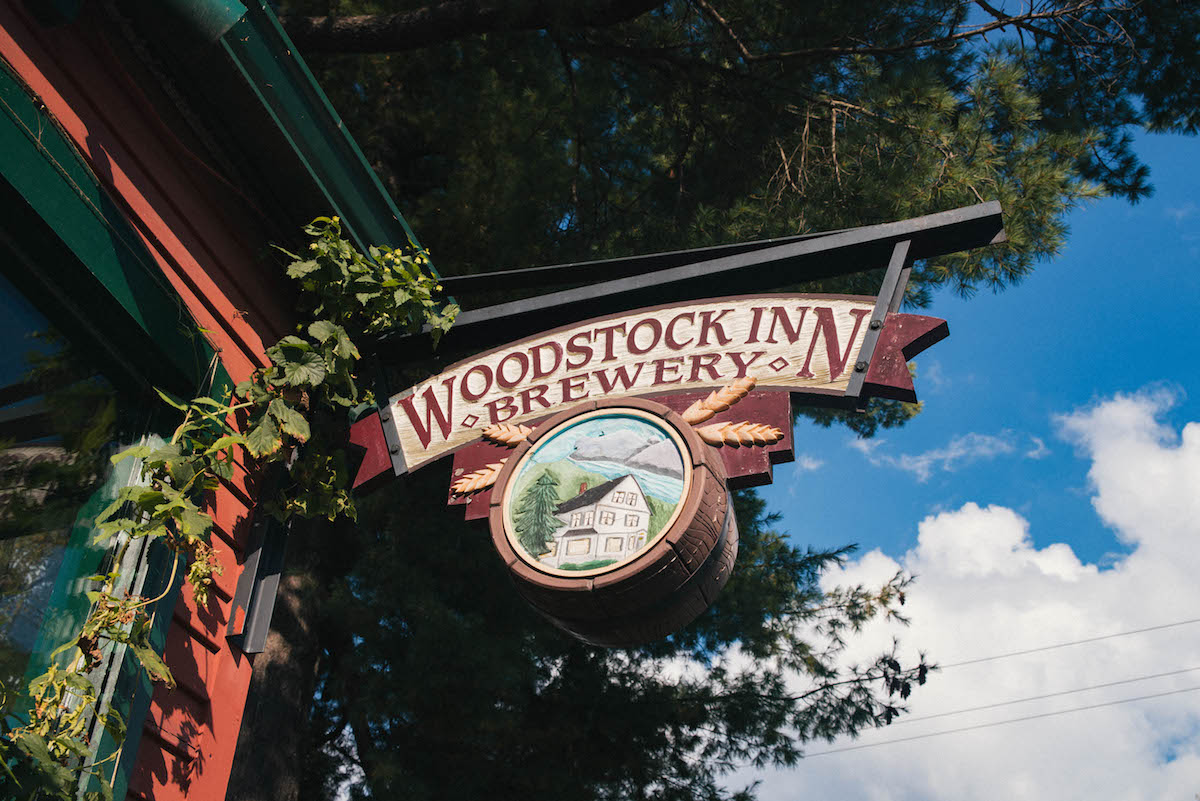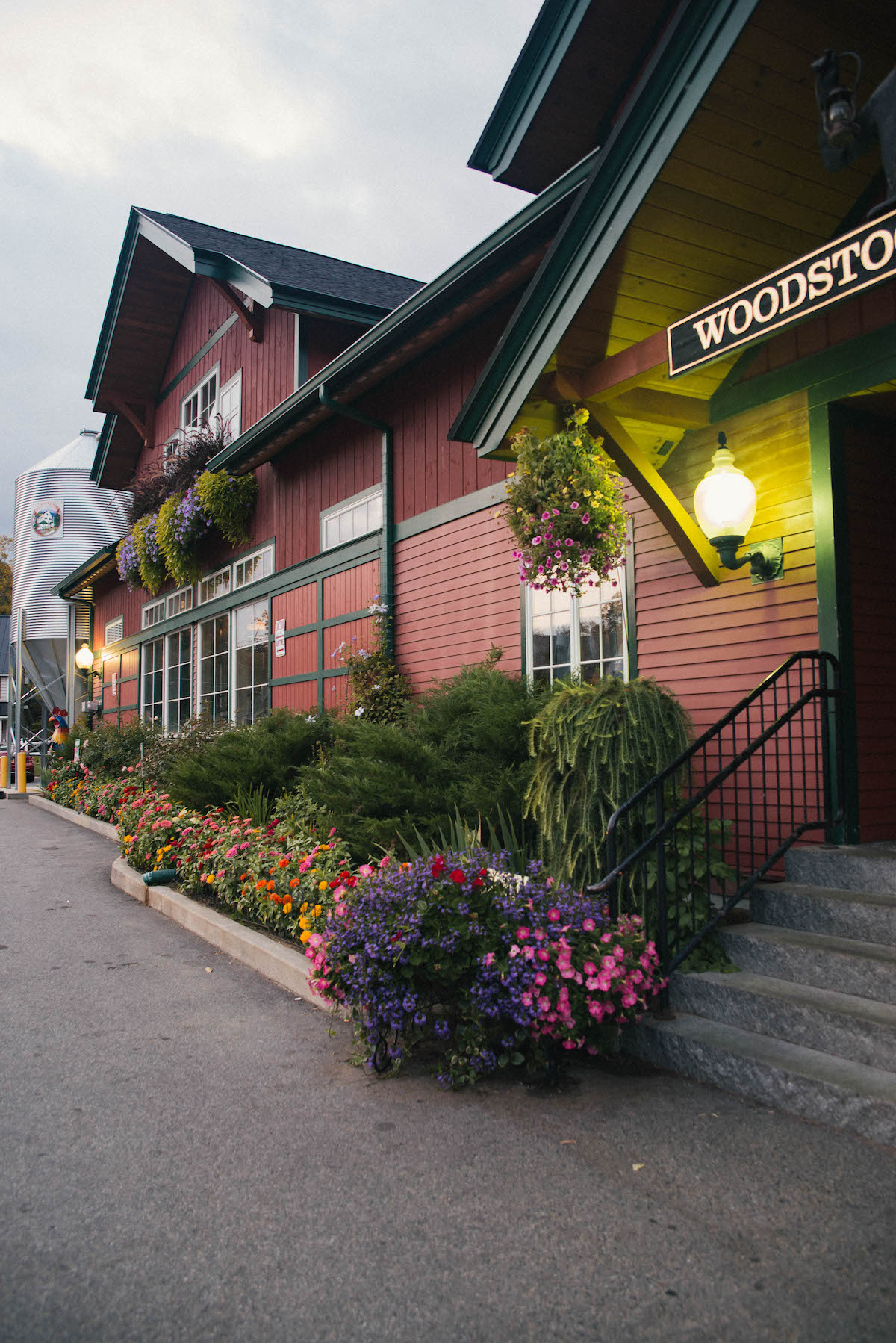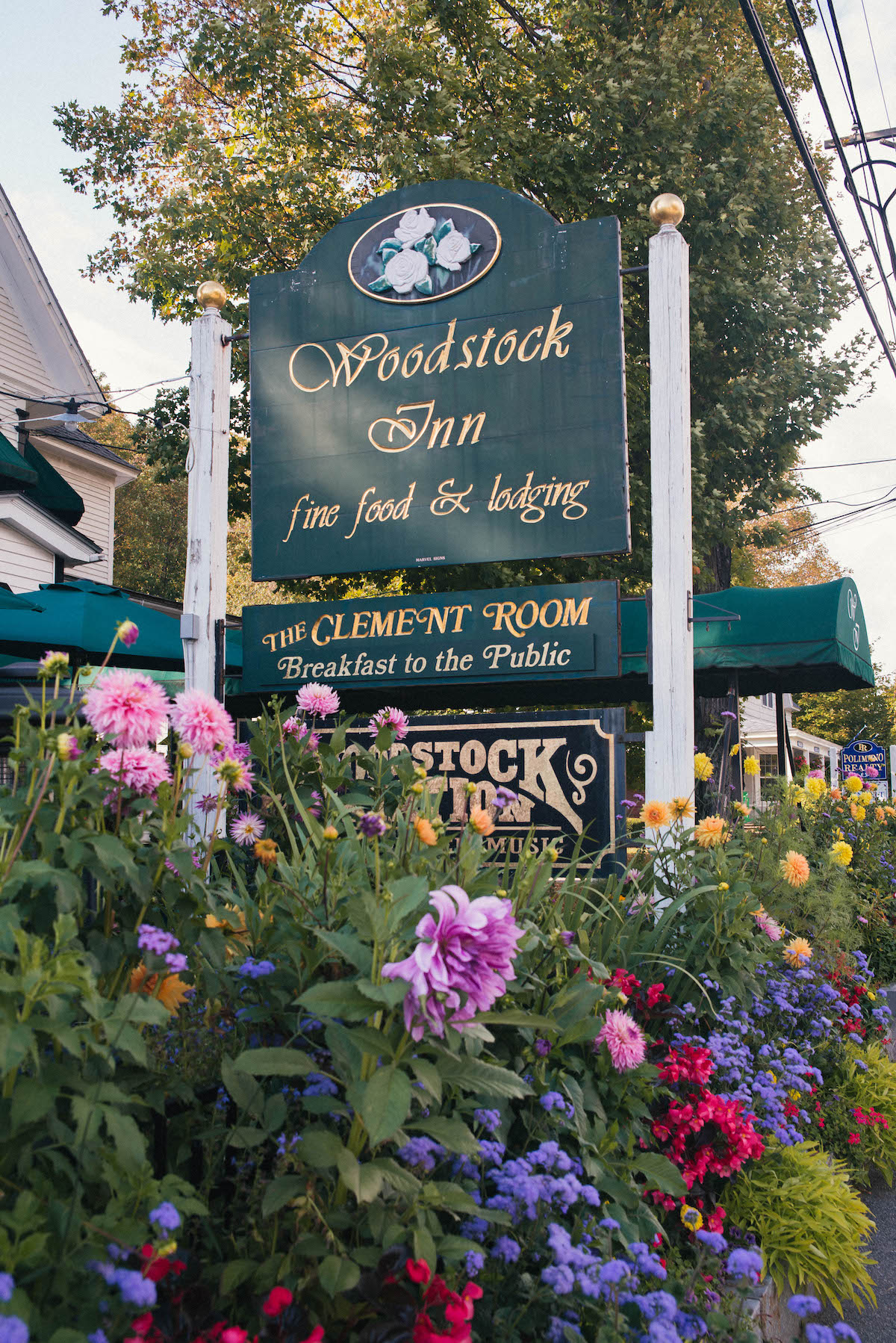 RiverWalk Resort at Loon Mountain. It felt amazing that night falling asleep in my comfy suite at RiverWalk Resort at Loon Mountain. I couldn't believe just how big the room was (Grace has more photos in her post) but I'm talking a full kitchen, living room and bedroom. I think it may have been bigger than my apartment… Anyways, I was already feeling completely spoiled but then I saw this view. Right from my balcony I could take in beautiful Loon Mountain. Can you imagine how stunning this looks when all the leaves have fully changed?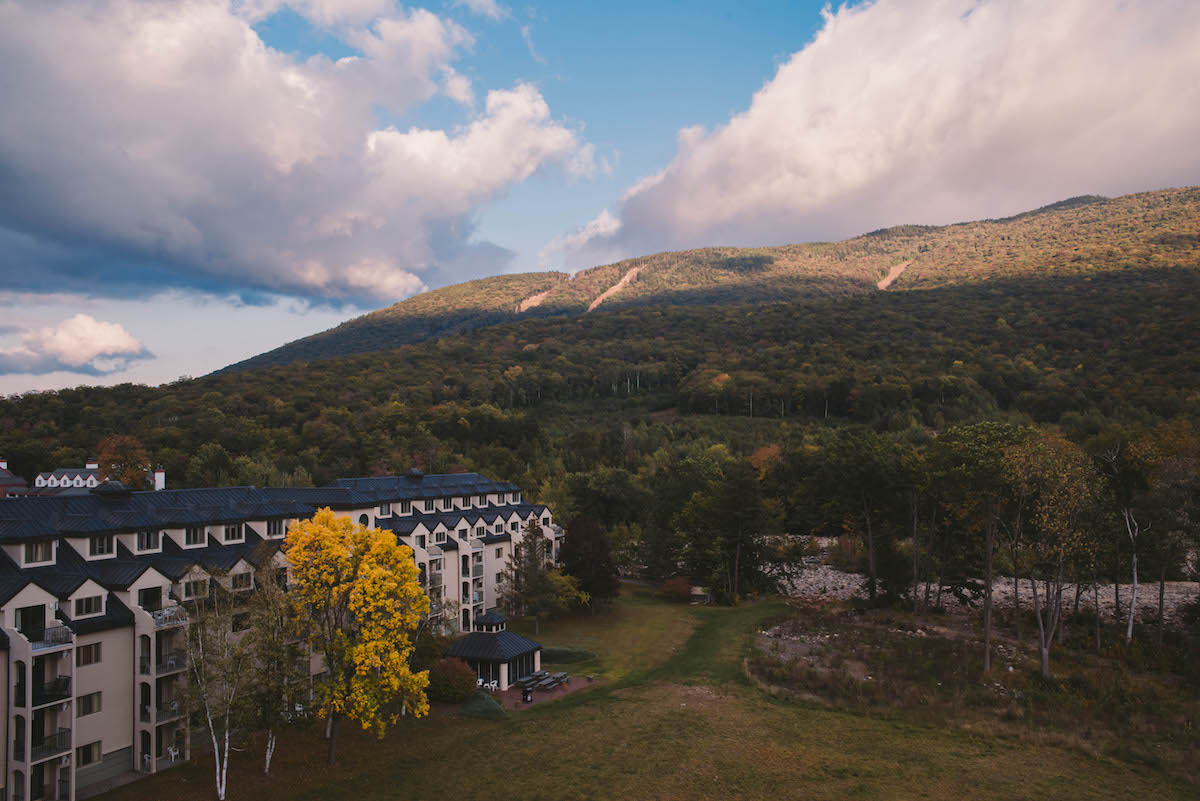 Lincoln & Woodstock. These two neighboring towns are conveniently right in the middle of the White Mountain region and the perfect place to stay if you're visiting the area. Off of the Kancamagus Highway there are a cute local shops, restaurants and apparently lots of moose. We were hoping to see one in the wild, but luck wasn't on our side this time. 🙁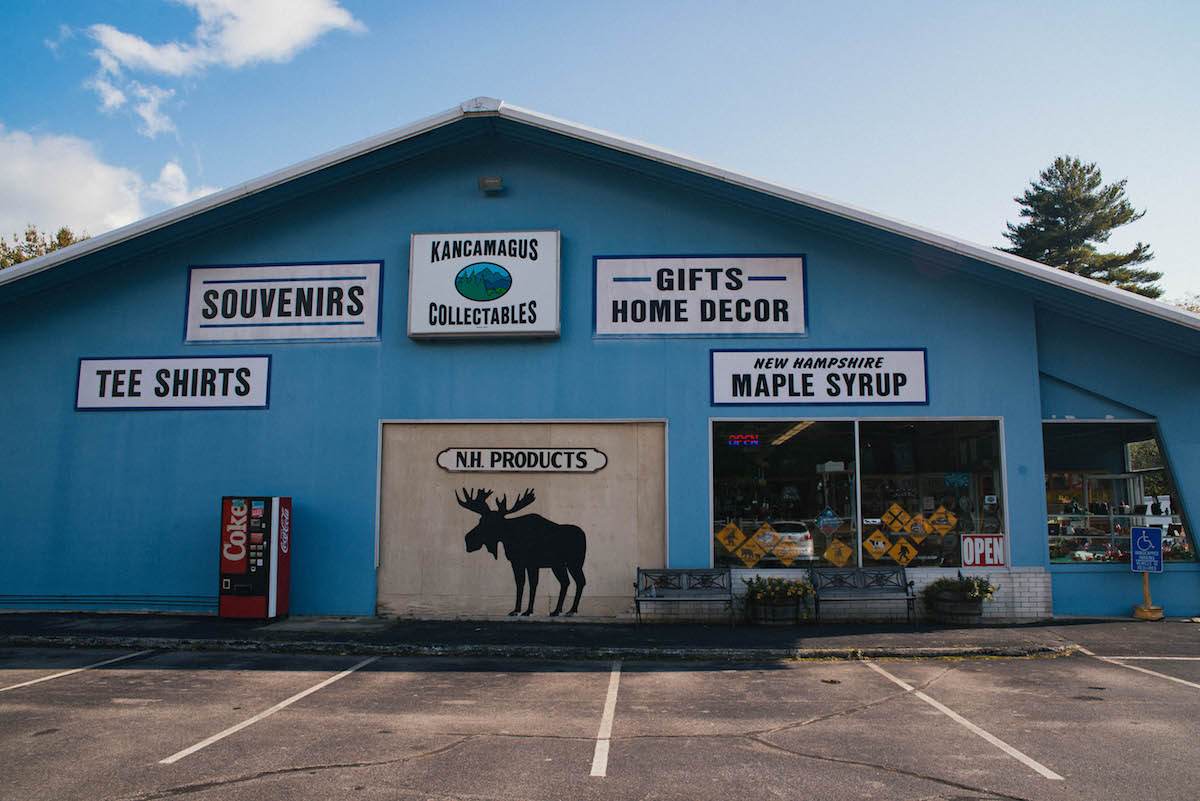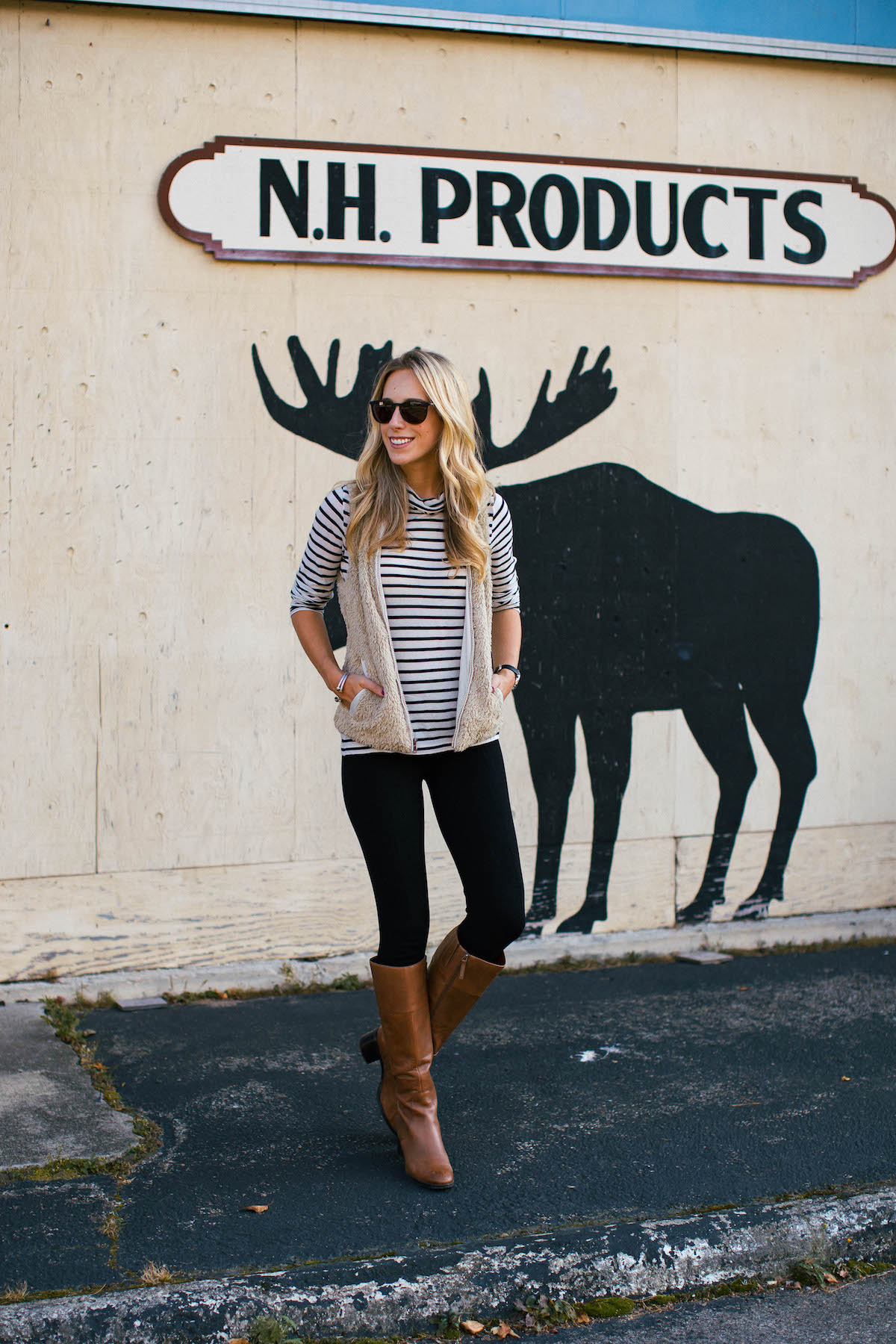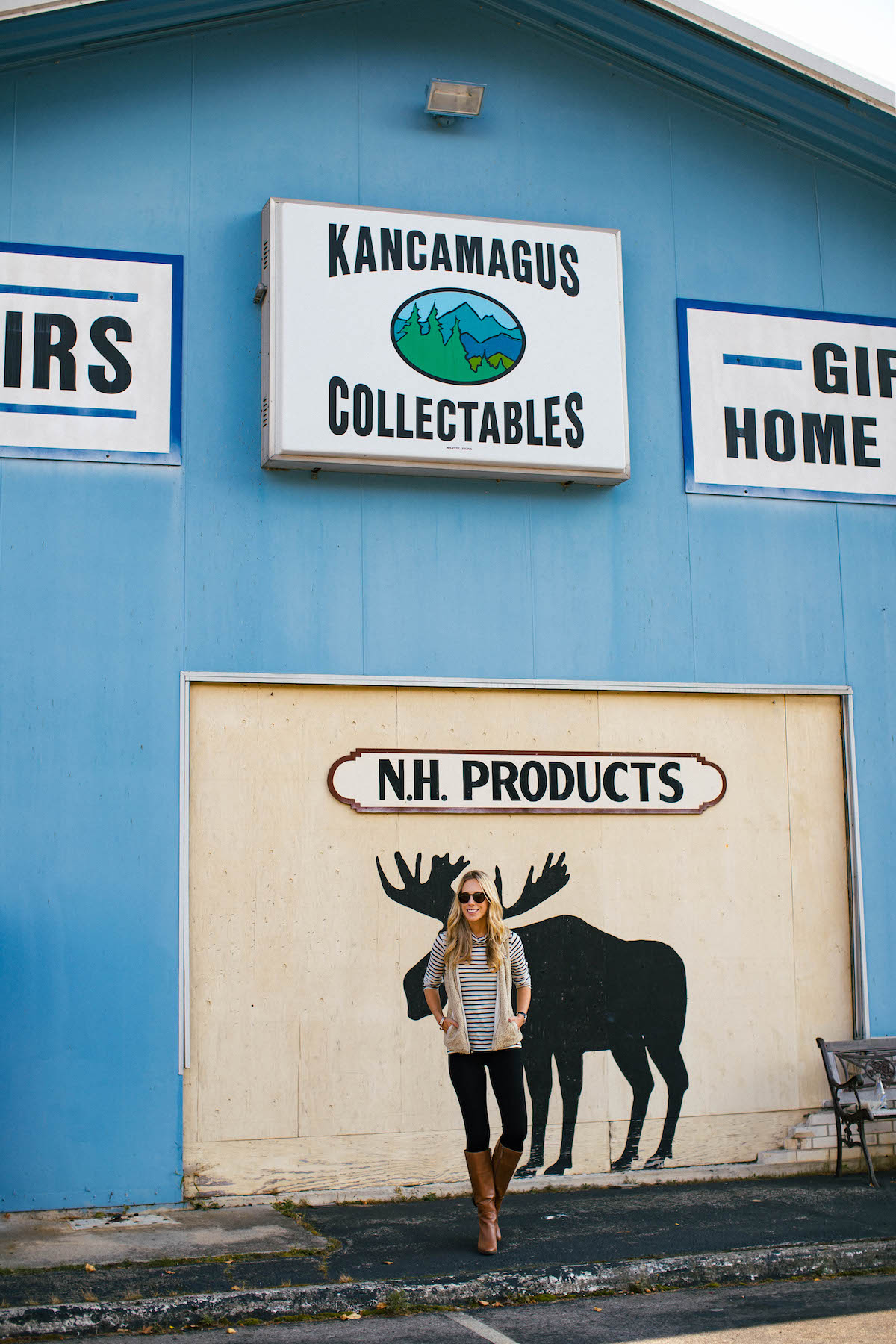 Outfit Details: Fleece Vest | Stripe Shirt | Similar Leather Boots | Black Leggings | Sunglasses
DAY 3 | THE SEACOAST
---
PORTSMOUTH
On our third day we were supposed to the visit the Lakes Region, but unfortunately the weather wasn't on our side. Grace received an ominous travel alert and after checking the forecast we realized it was for the best to move our flights up a day early. Such a bummer!!! Grace had to get a morning flight so we woke up first thing to drive her to the airport in Boston. Sydney and I were able to reschedules ours for that night and luckily had enough time to make our way to the coastal city of Portsmouth for one last afternoon of exploring.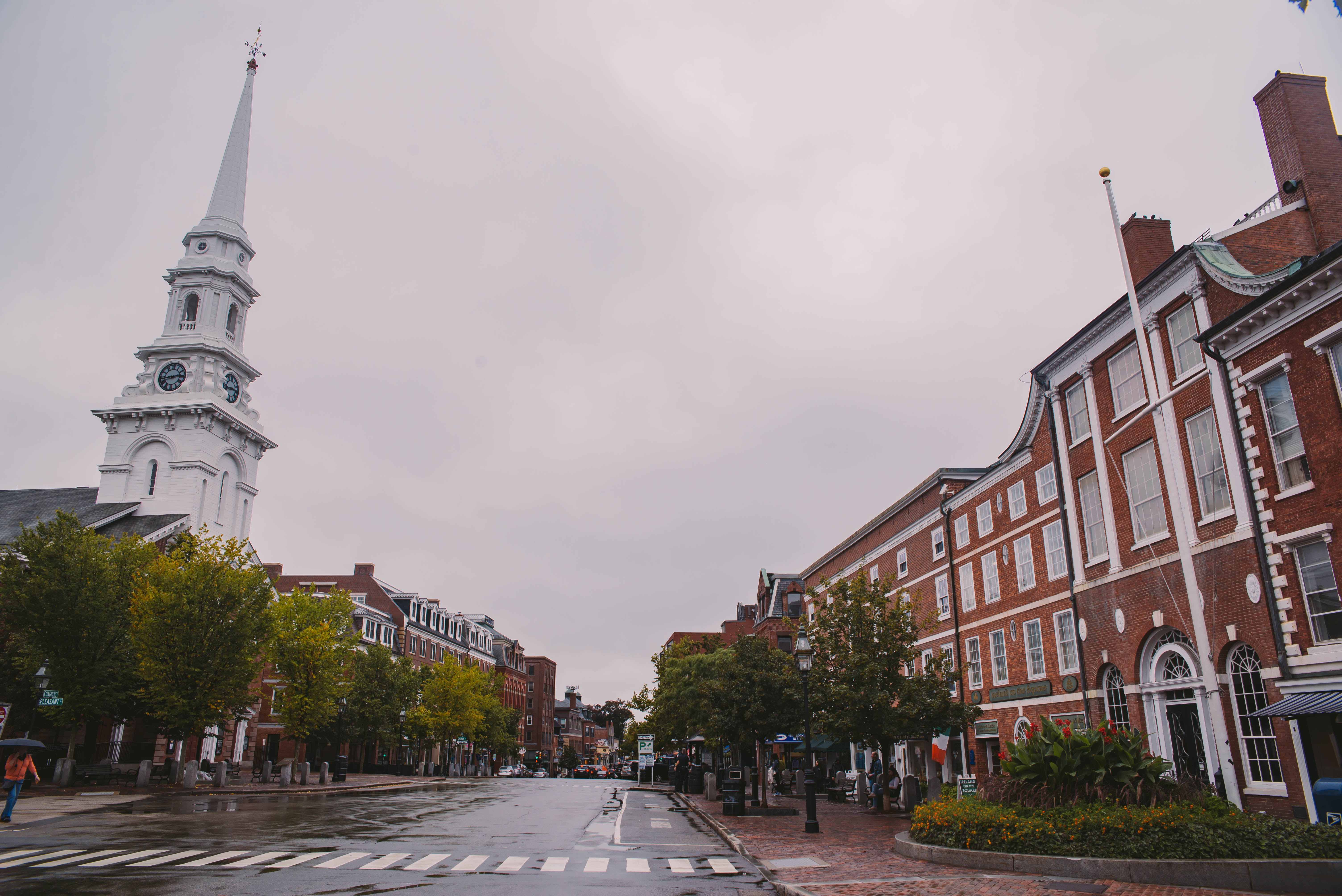 Row 34. Oysters, lobster rolls and a bloody mary = the perfect consolation to cancelled plans. Here we hid from the rain and had our best meal of the trip!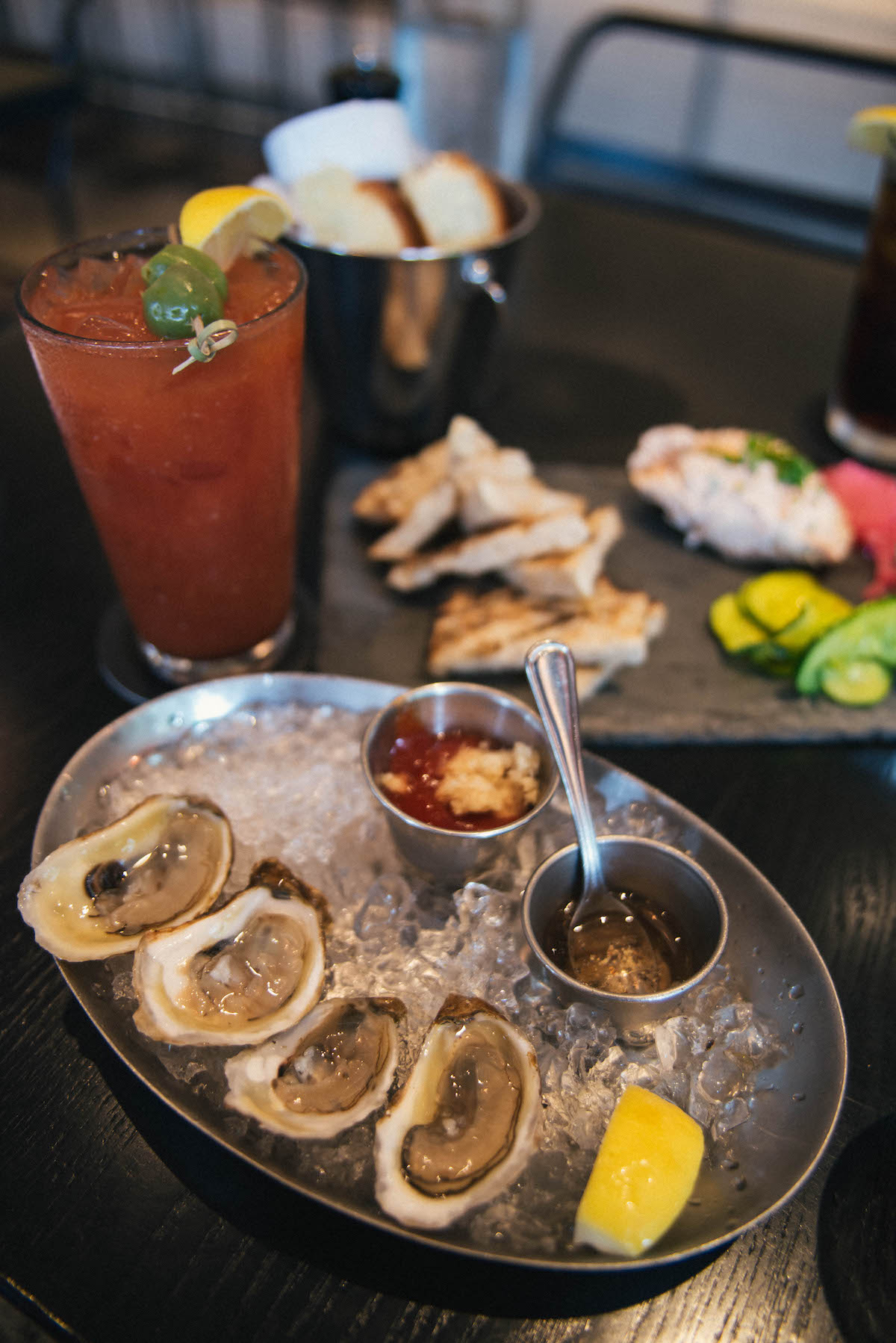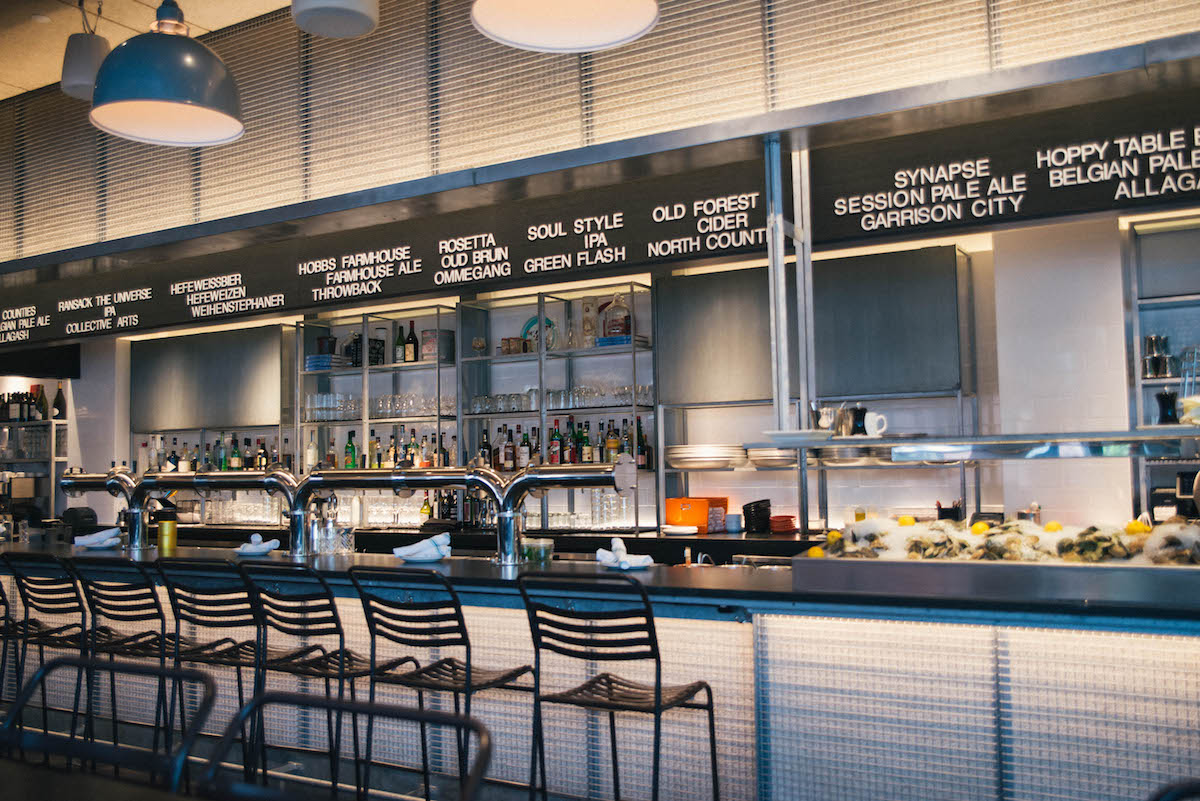 Commercial Alley. Portsmouth is home to a charming historic alley full of little shops and restaurants. Even in the rain it was adorable and reminded me of something out of a Harry Potter book.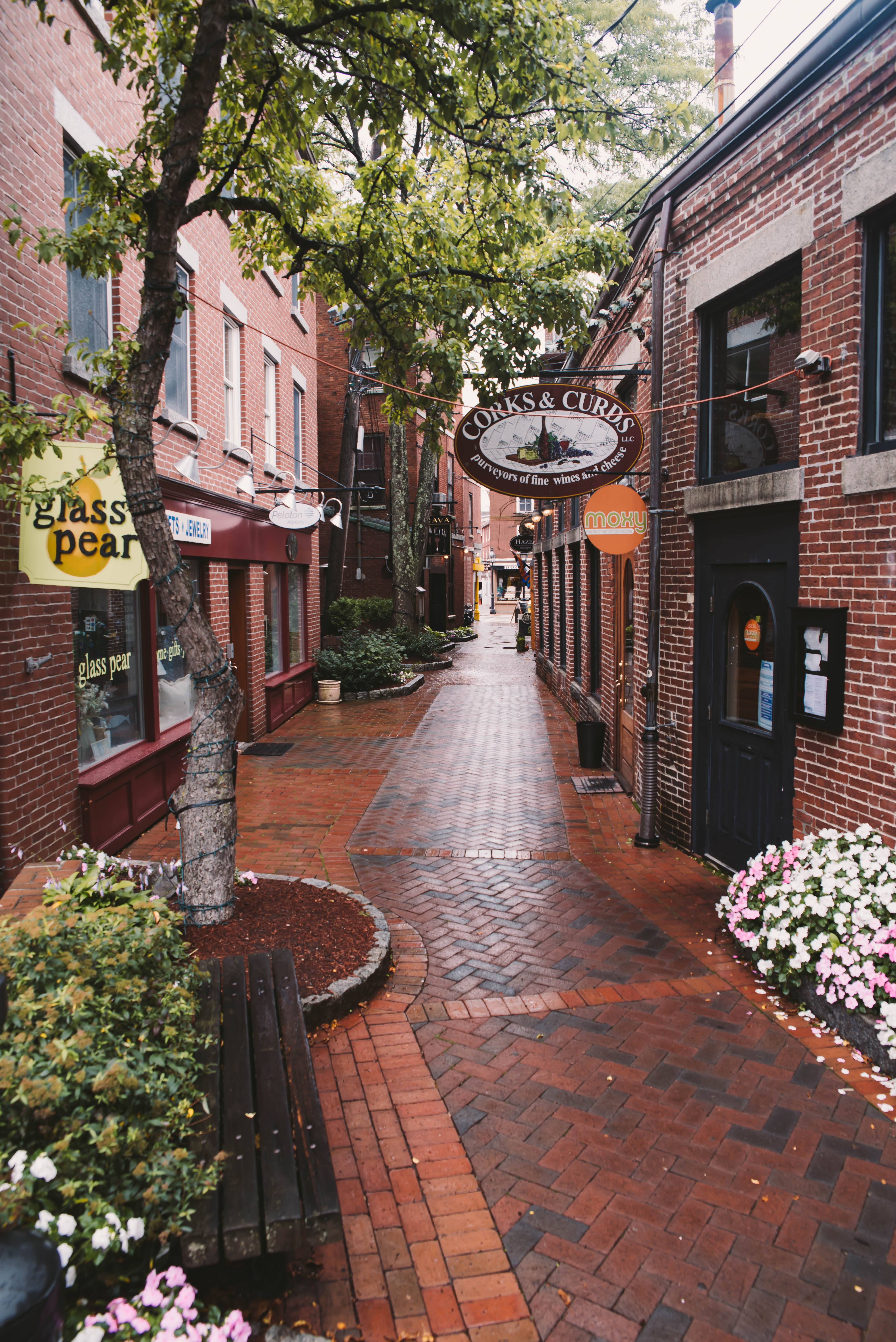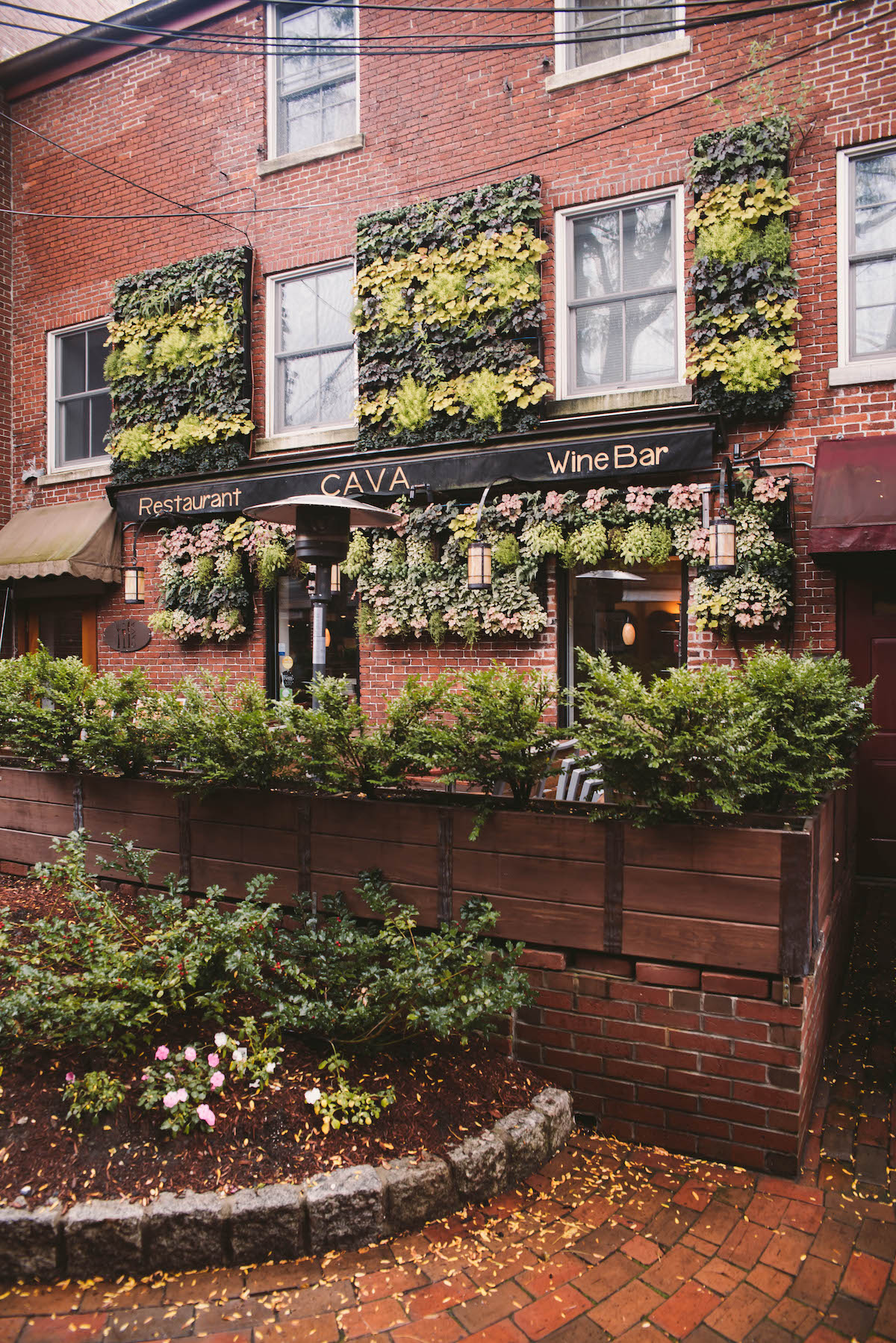 Popovers on the Square. After realizing the rain wasn't going to let up, we hid away from the storm in the cutest bakery and cafe. Despite being stuffed from lunch, we still had room for some sweets. Sydney and I sampled the apple cider, macaroons, eclairs, a fruit and of course, popovers. D E L I C I O U S.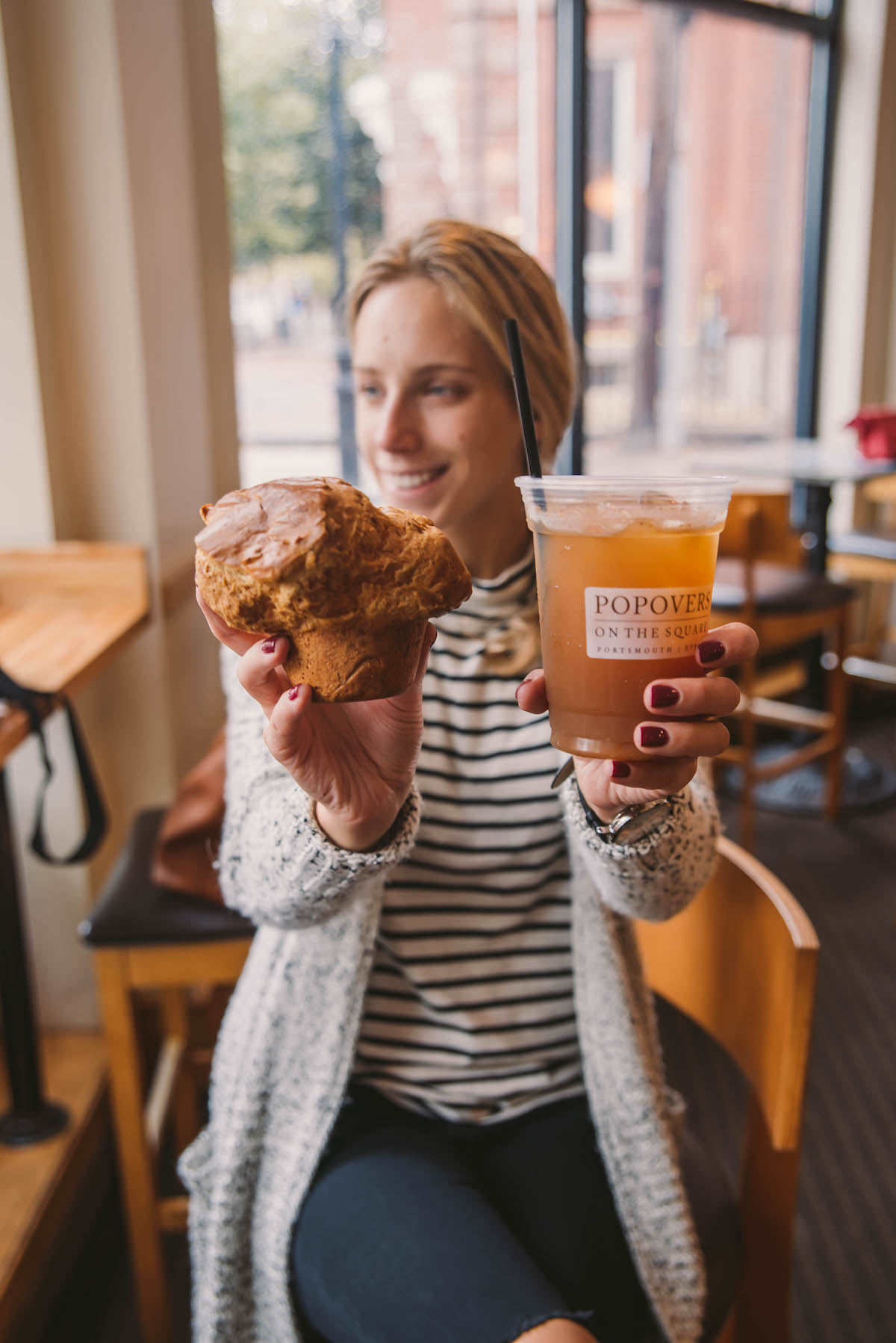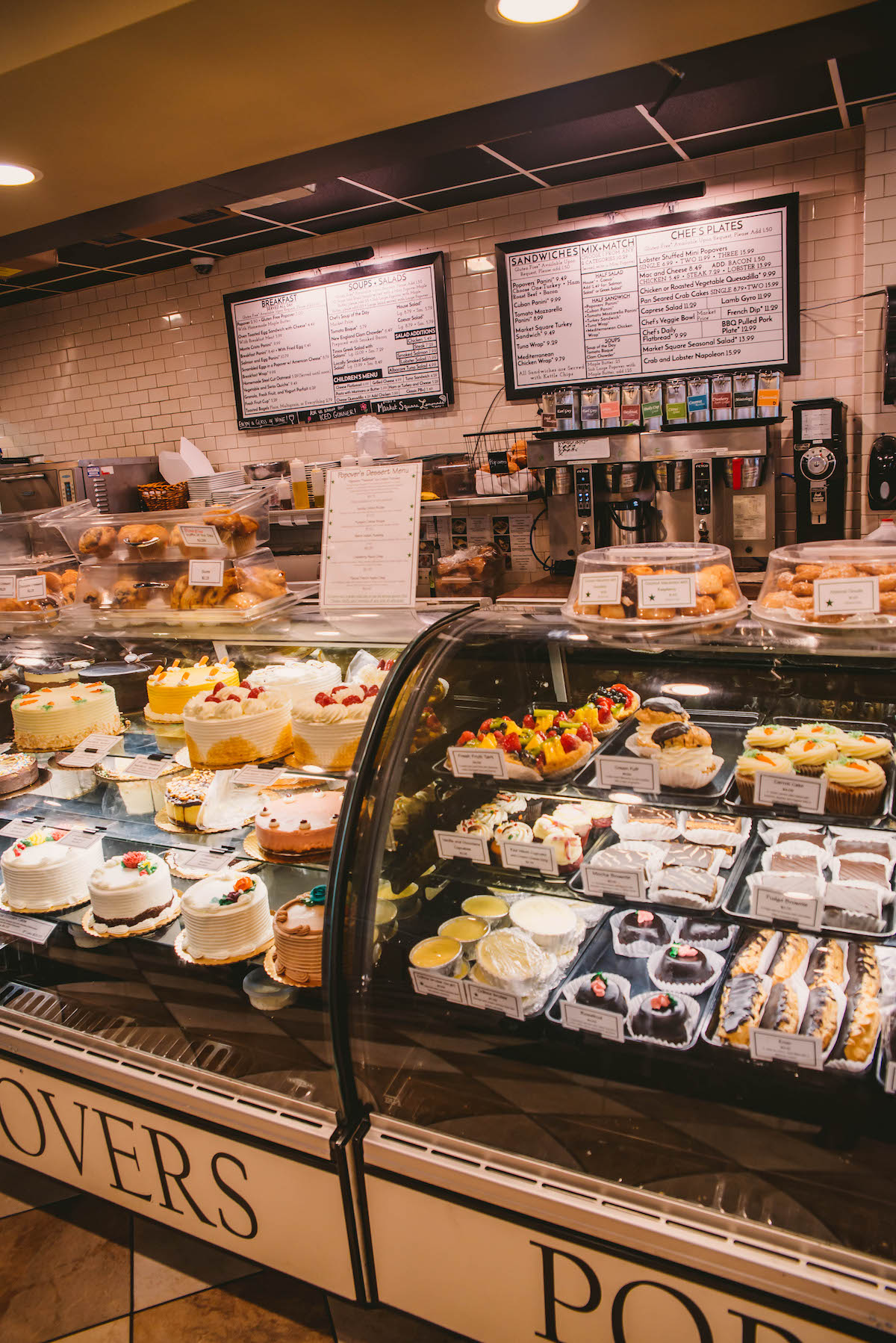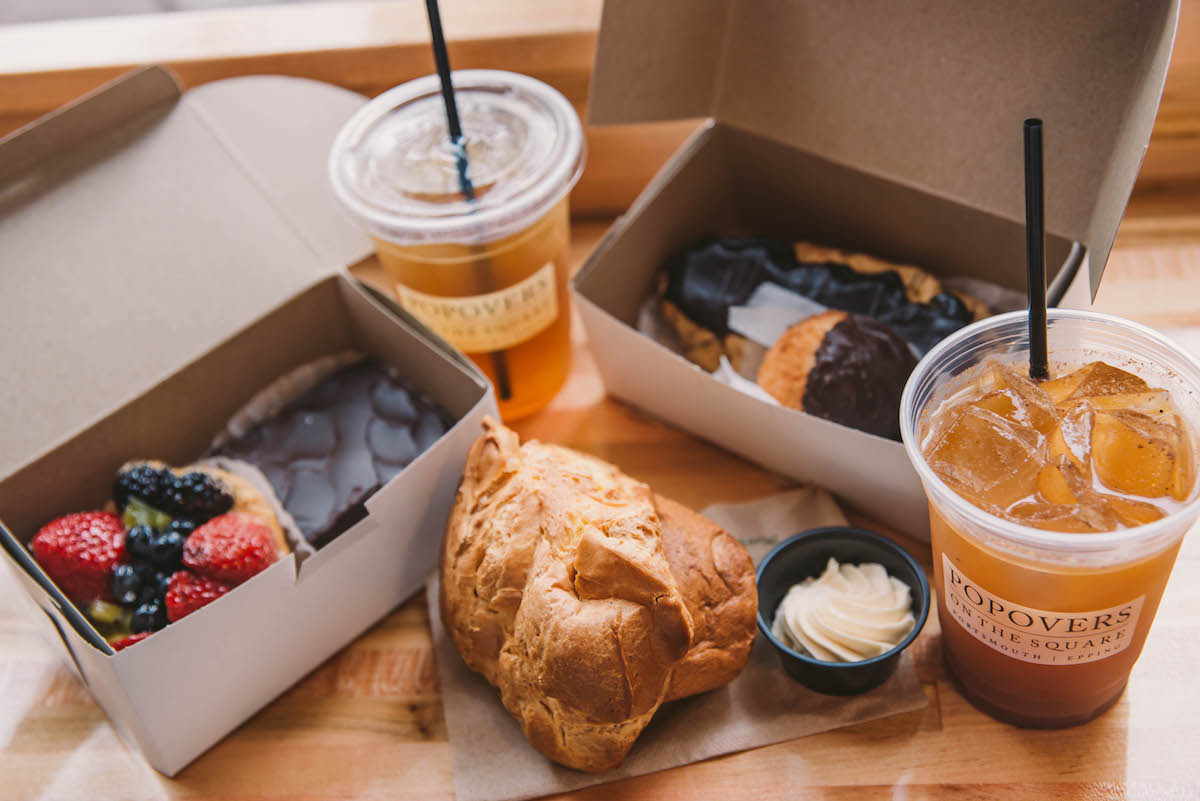 I can't believe how much we were able to see and do in three days! New Hampshire has so much to offer and is gorgeous in the fall. We couldn't get enough of the colorful foliage, local businesses and friendly people. I definitely will be back!
- Katie