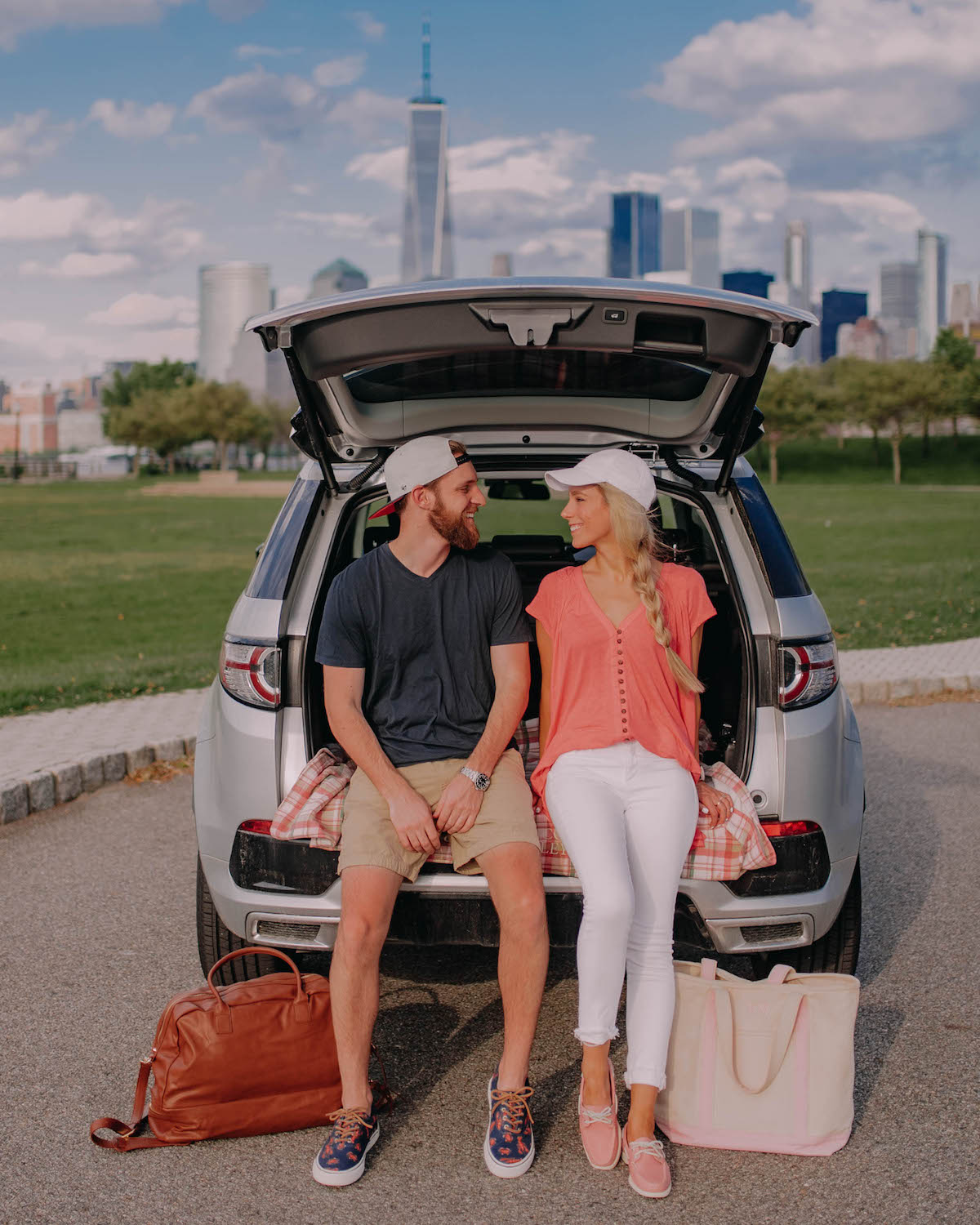 One of the things I'm looking forward to the most this summer is doing more day trips and quick weekend getaways. Owning a car has already been life-changing in the two months we've had ours, so I can't imagine how much we're going to love it during the summer. Just being able to drive to the grocery store, impulsively visit family in the 'burbs on a Saturday, go golfing (Nick, not me LOL)– much easier now.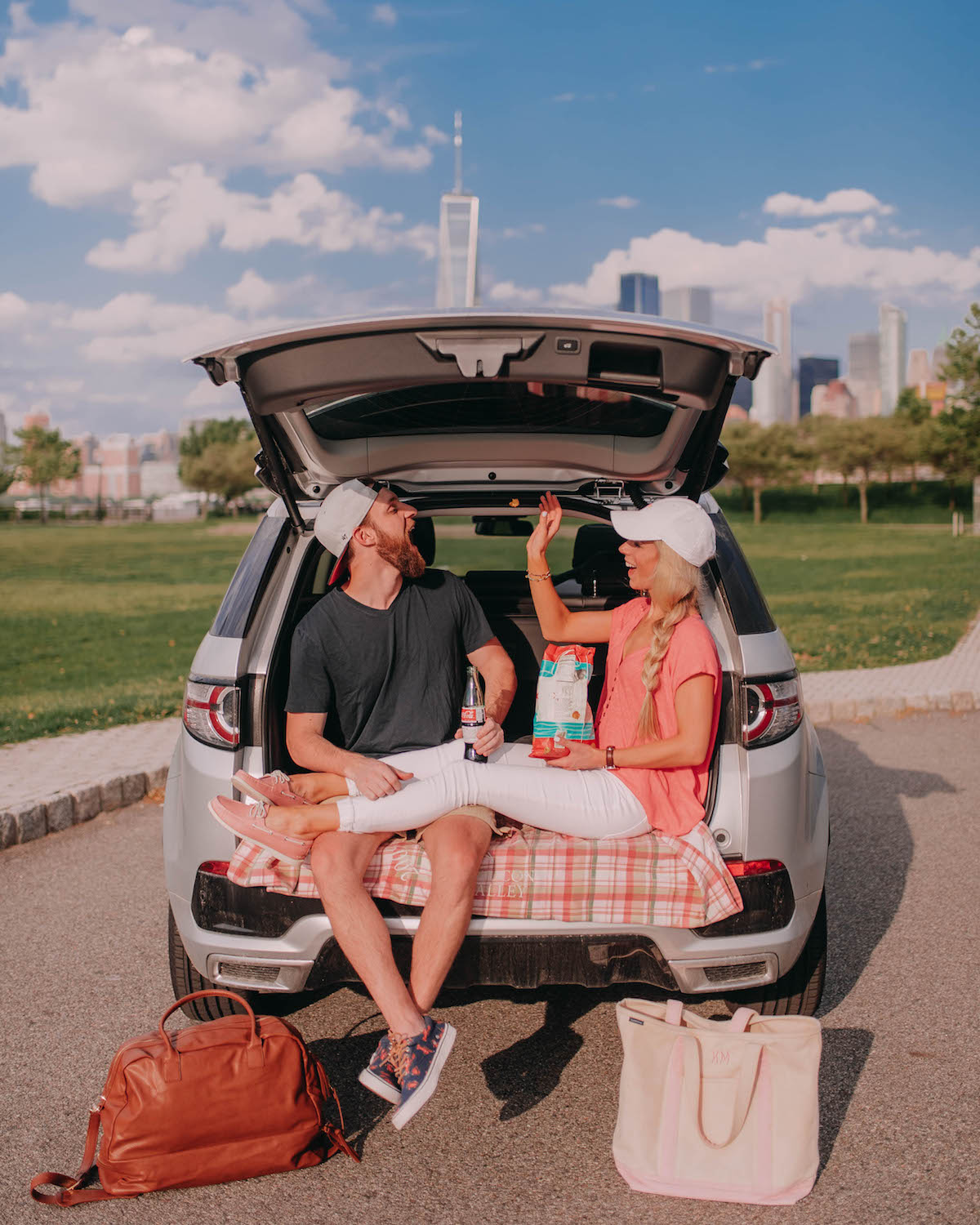 Similar to when I travel by plane, cozy is key when I'm in a car. Long distance = casual clothes. And if I'm driving then comfortable footwear is a must. Nick and I both love our Sperry boat shoes and sneakers. This is footwear made for walking and all the pairs I own are equally great for driving. Boat shoes are very durable too and will hold up for years. I wear mine in the spring and summer similar to how I'd wear a simple leather flat in the fall or winter. I pair 'em with pretty much any casual outfit– shorts and tees, sundresses, rompers– list goes on!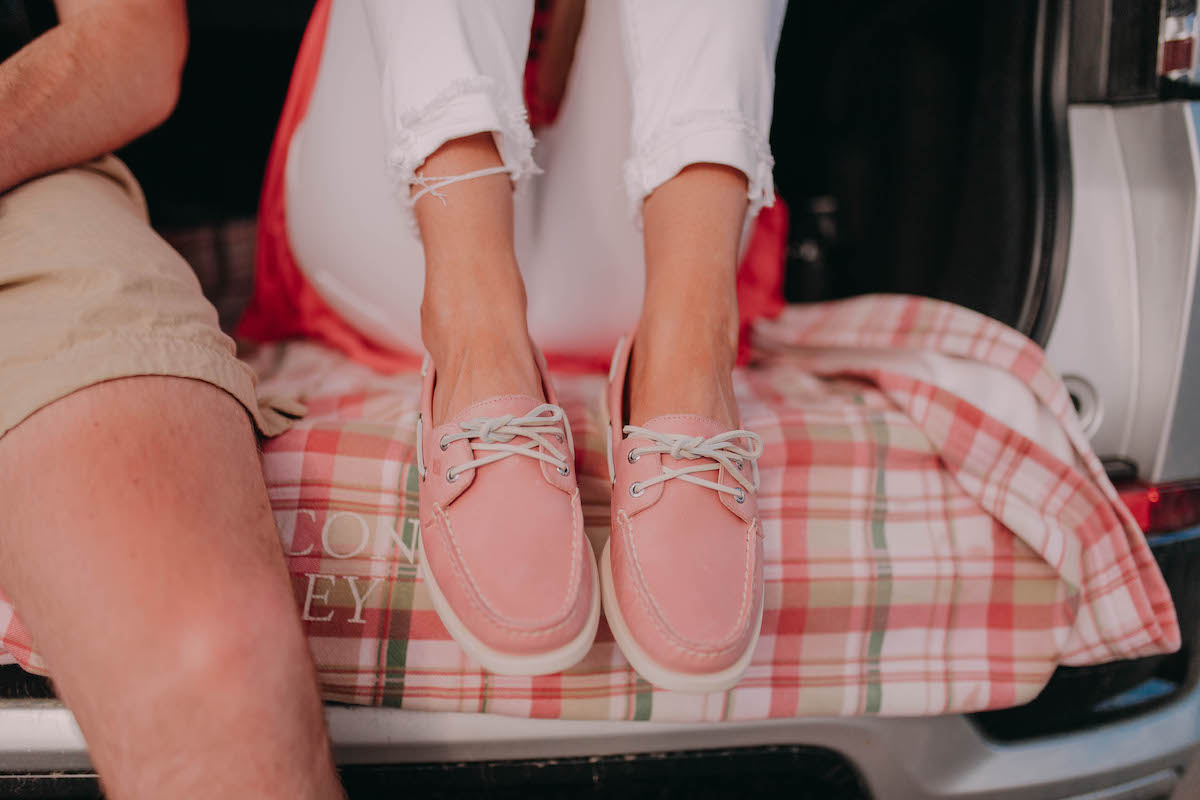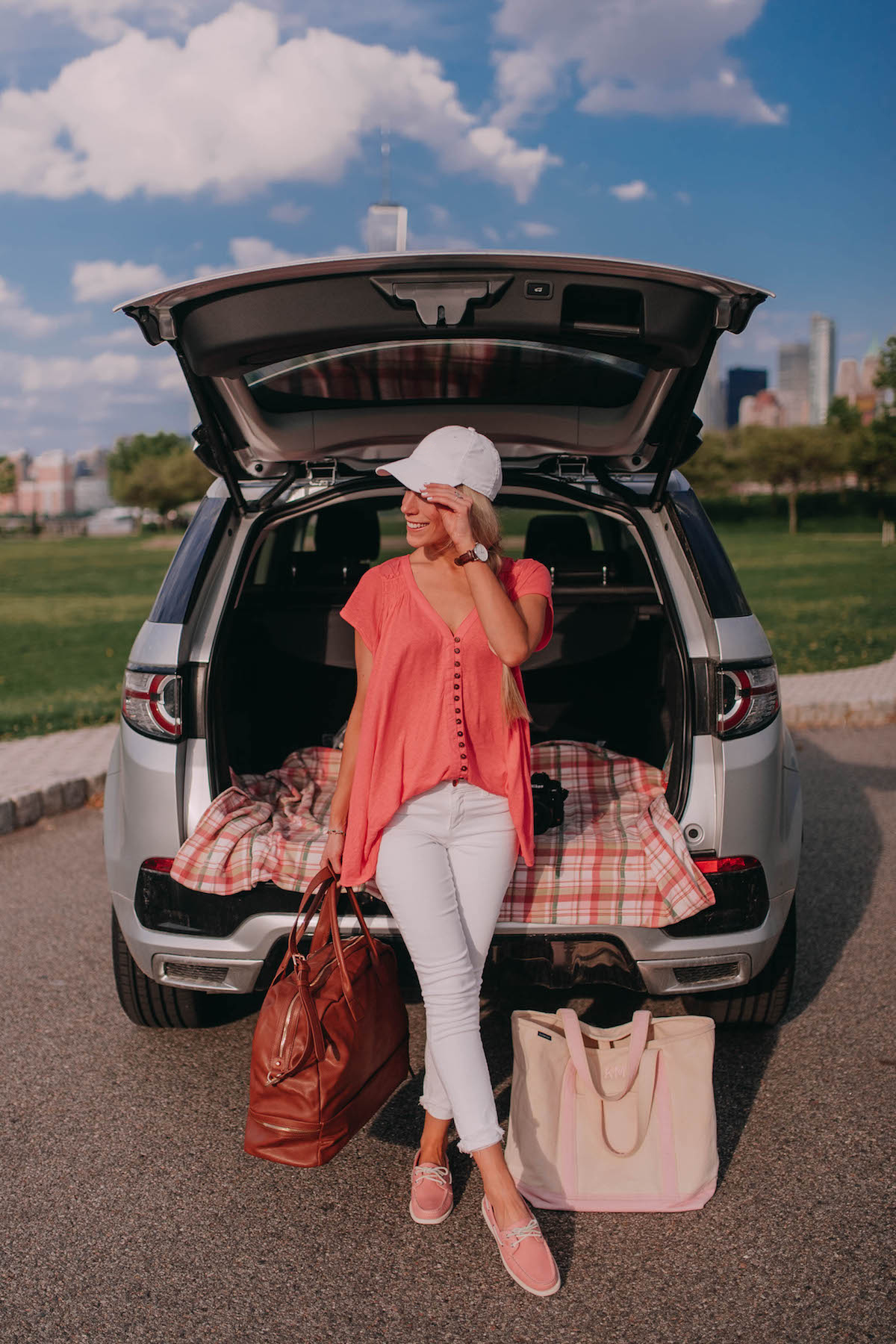 OUTFIT DETAILS // White Jeans | Pink Button Down Tunic | Sperry Original Boat Shoes | Similar Baseball Cap | Similar Watch | Brown Leather Weekender Bag | Similar Canvas Tote
Not only are Sperrys great to wear in the car, but outside too! No need to change shoes once you get to your final destination because as you can see, there's a pair of Sperrys to match with every look. You know I love wearing pink and right away I knew these boat shoes would look perfect paired with white jeans and a fun top!
MORE SPERRY WOMEN'S SHOES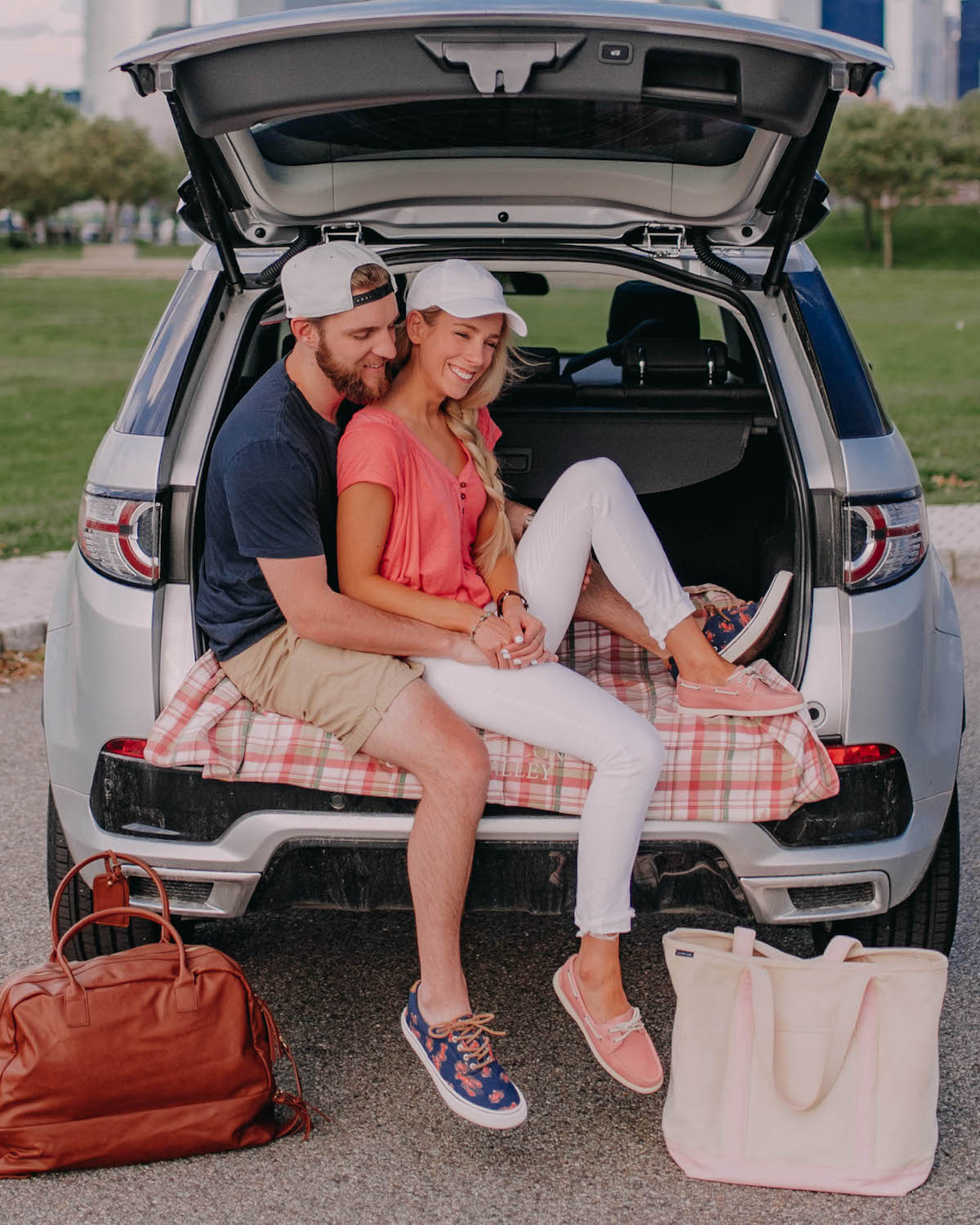 Quick Summer Getaways & Day Trips From NYC
TRIPS BY LAND…
Litchfield County, CT | This one shouldn't surprise those of you who have been following my wedding planning! It's where Nick and I are getting married and I could not be more obsessed. Located in the northwest corner of Connecticut, Litchfield County is a bucolic paradise and by far my favorite place to escape the city any time of the year. It's driving distance from NYC (about 2ish hours depending on where you're heading) and full of sweet bed & breakfasts, farms and charming villages. My favorite towns are Washington, Kent and Litchfield. 

Philadelphia | Maybe I'm bias because I grew up in Pennsylvania, but I think Philadelphia is soooo underrated. Getting there is easy via a car, bus or Amtrak train and if you stay downtown in Center City (I recommend the Ritz-Carlton) you can get pretty much wherever you need on foot. There are awesome museums, tons of restaurants and bars, adorable parks and cobblestone streets to stroll and if you're into history– obviously a plethora of landmarks like the Liberty Bell and Independence Hall. You can read my Philadelphia Weekend Getaway Guide here.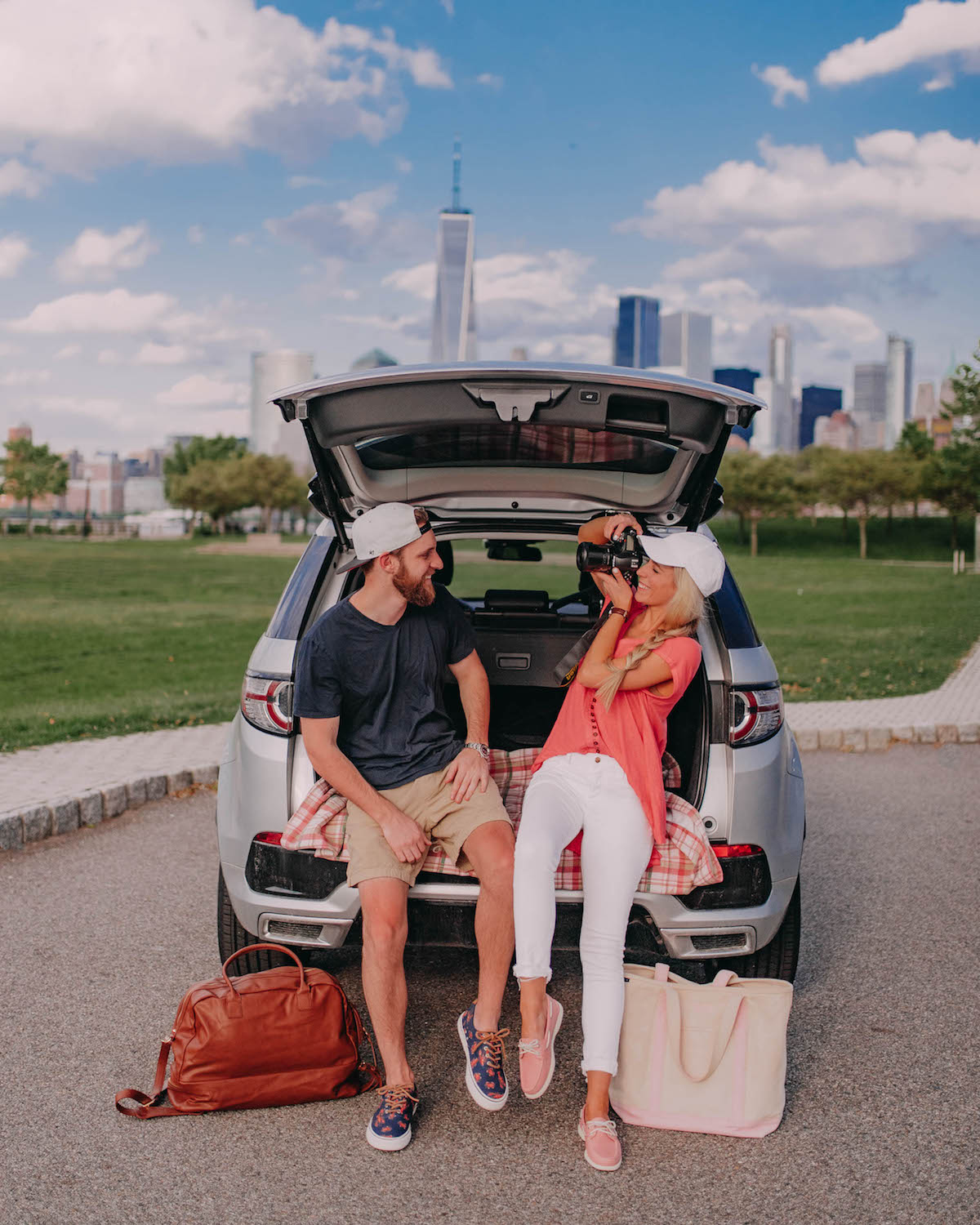 NICK'S OUTFIT // Sperry Men's Striper II Sneakers | Khaki Shorts | V-Neck T-Shirt
North Fork, Long Island | I did a day trip winery and brewery hopping on the North Fork about two years ago and it was SO MUCH FUN, super chill and way less pretentious and crowded than the Hamptons. I believe Bedell Cellars and Greenpoint Brewing were the two places we went. I'd love to go back and check out the local farms and orchards and obviously more wineries 😛
The Berkshires | If you continue driving north through Litchfield County you'll soon find yourself in the Berkshires. Equally as quaint and charming, the Berkshires are kinda like a New England countryside version of the Hamptons. The towns are a little more upscale and bigger than what you might find in the Catskills or Litchfield County– think more designer shopping and restaurants tailored to New Yorkers, but still nowhere near as bougie and crowded as the Hamptons. Lenox, Stockton and Great Barrington are my two favorite towns– we looked at a lot of wedding venues here! For planning inspo definitely check out this Berkshires Road Trip Recap I put together after taking a little trip with Nick a few years ago!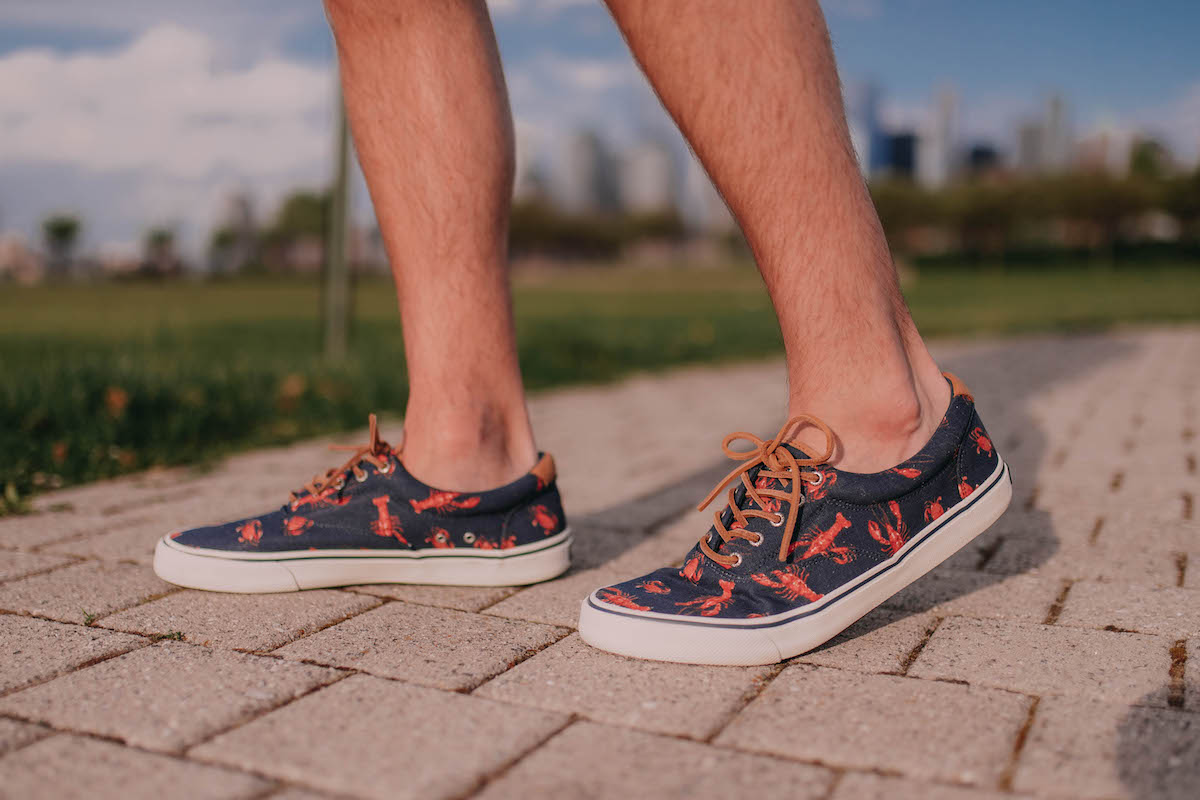 MORE SPERRY MEN'S SHOES

Tarrytown, NY | I've driven through Tarrytown and New York's Westchester County many times, but it's on my bucket list to really take the day and explore. It's home to the famed Blue Hill at Stone Barns– a very high-end farm-to-table restaurant located on a working farm and one of the most popular wedding venues outside of the city. It's beautttttifulllll. If you're into spooky stuff, the town of Sleepy Hollow is very close by (yes the one with the Headless Horseman.)
Georgetown, Washington D.C. | Visiting my friends in D.C. is always such a treat! Georgetown is adorable– think Charleston vibes. Just like Philadelphia, you can get to DC very easily from New York via car, train or bus. There's cute shopping, lots of restaurants and bars, a waterfront (I looooved renting kayaks with my college gals!) and of course lots of museums and landmarks for touring.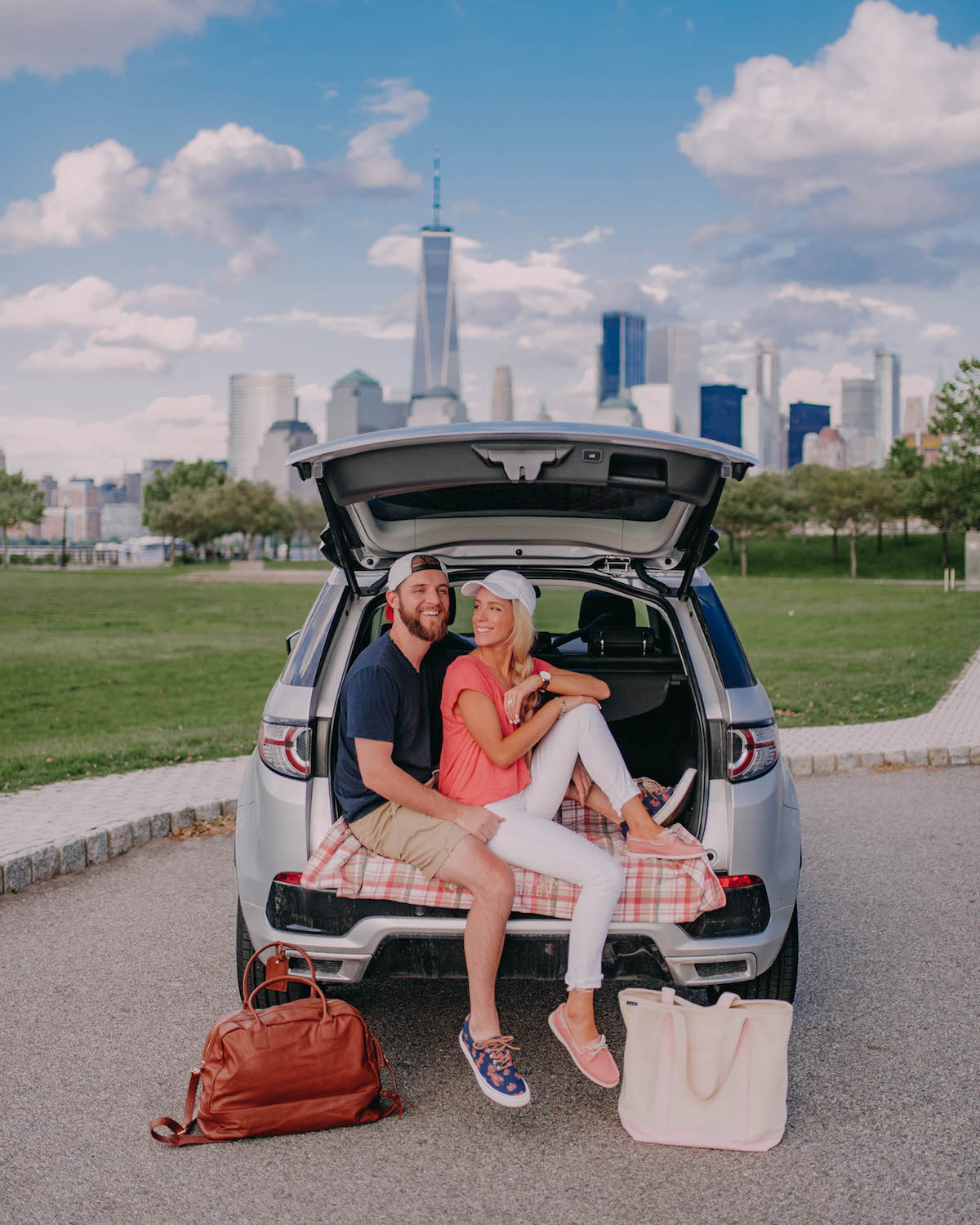 The Hamptons | I have mixed feelings about the Hamptons. I know so many people who love it out there and I think it really depends on what you're looking for in an escape. You get the beach, great restaurants, luxury hotels, lots of shopping and there's a huge nightlife/day party scene– especially in Montauk. We like Southampton the best. It's incredibly charming, the pace was much slower and nearby you'll find the amazing Wölffer Estate Vineyard. Downsides to the Hamptons: it's very crowded in the summer, super expensive and can be very see-and-be-seen.
Fire Island, NY | I need to find a friend with a house on Fire Island… I've heard so many wonderful things about this tiny destination off of Long Island and it's been on my bucket list for a while! Apparently it's not too difficult to get there either. All you have to do is take the Long Island Rail to Sayville, NY and then hop on a quick ferry.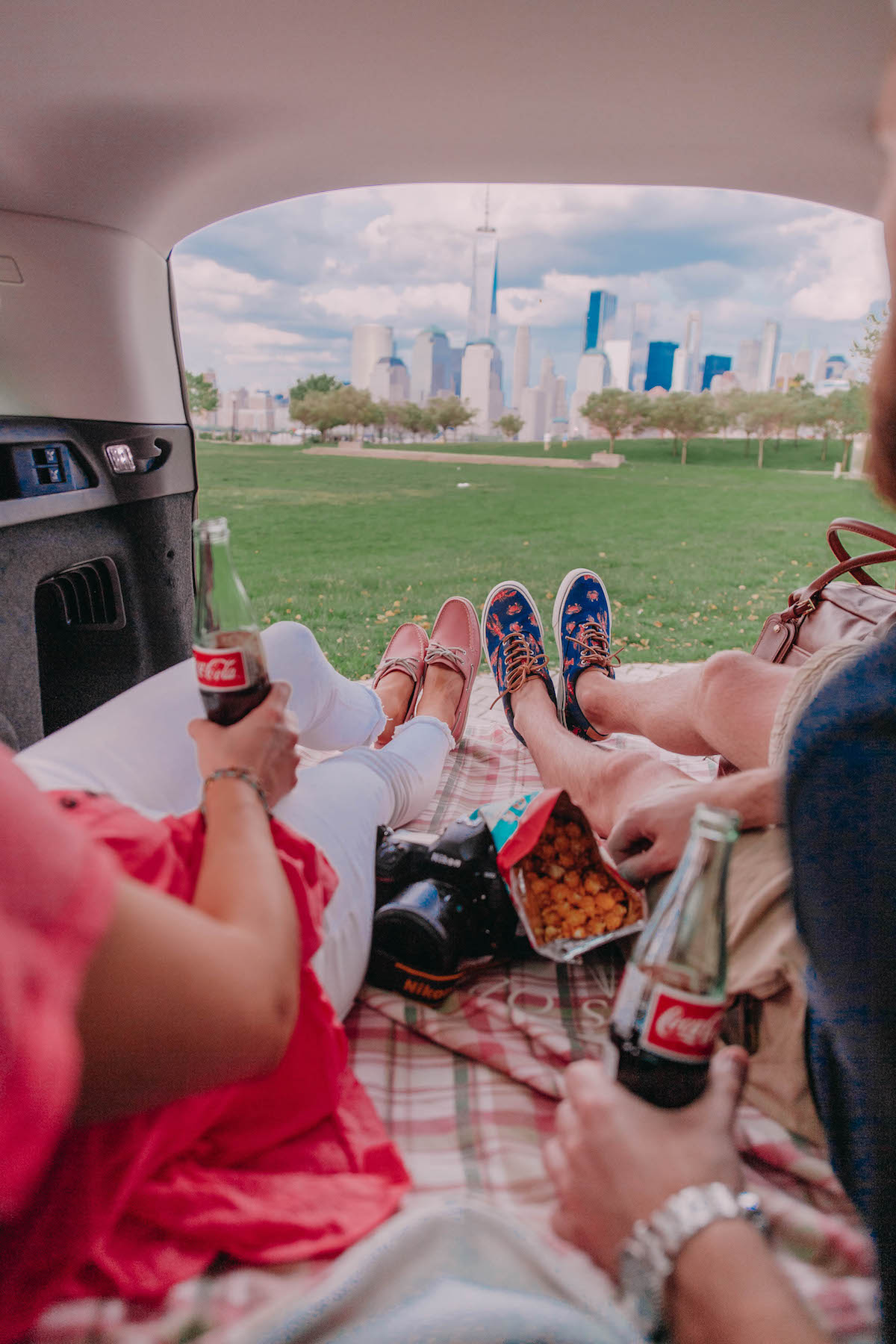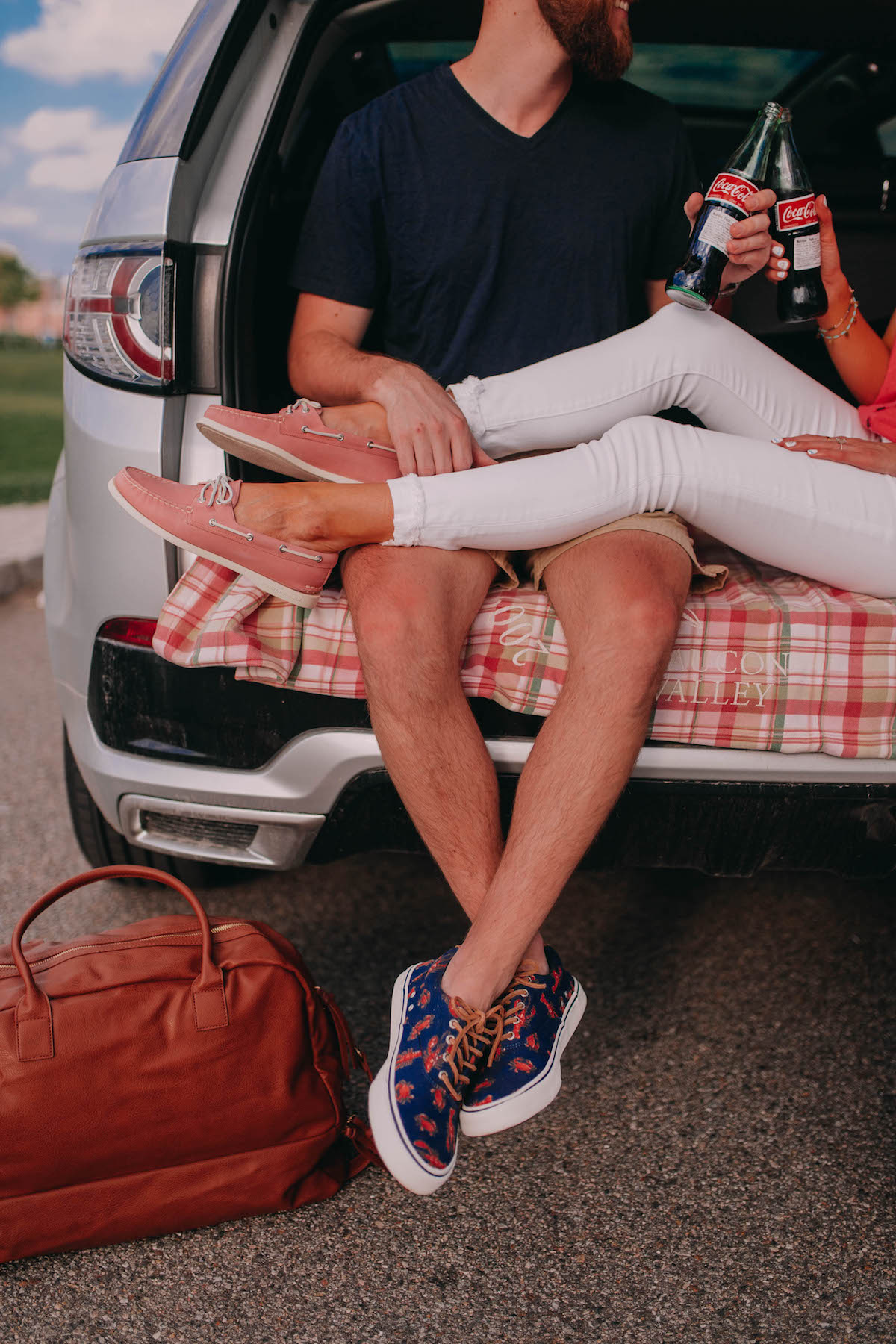 Newport, Rhode Island | Another spot on my travel wish list! I can't tell you how many times a picture of a Versailles-esque mansion has popped up in my Instagram feed and lo and behold, it's in Newport. From what I can tell it's a summer destination that has it all: beaches, gorgeous coastal views, lots of foodie spots and luxury hotels like Castle Hill Inn, Gurneys, The Ocean House. I guess it shouldn't be surprising it's where Taylor Swift chose to buy her summer home!
TRIPS BY AIR…
Nantucket & Martha's Vineyard | United, Delta and JetBlue offer direct seasonal service to Nantucket and Martha's Vineyard during the summer months. The flight is literally 25 minutes and SO easy. I'm partial to Nantucket— it's just so charming and perfect. The traditional New England shingle homes covered in hydrangeas, cobblestone streets and beautiful beaches that look like something out of a movie. If it's your first time going I'd recommend staying at a bed & breakfast so you can easily explore on foot. For recommendations definitely check out my Nantucket Travel Guide.
I loved the girls' trip I took to Martha's Vineyard a few years ago! The island is much bigger than Nantucket and there are a few different towns that each has its own vibe. I liked Edgartown best– probably because it reminded me so much of Nantucket and Southampton. Lots of old world charm, a stunning lighthouse, great restaurants and endless cute boutiques to peruse. Give my Martha's Vineyard Travel Guide a read (I have posts on both Edgartown and Oak Bluffs) before you plan your visit!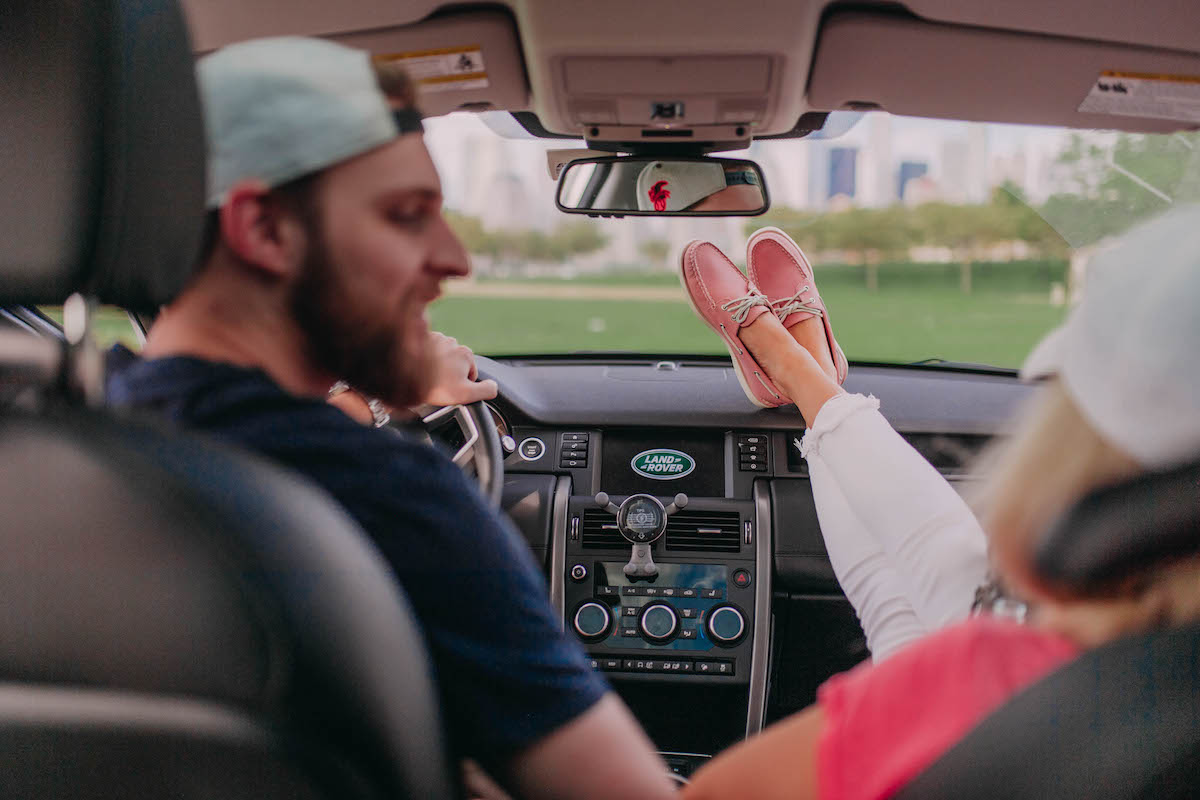 Bermuda | I absolutely loved the weekend trip Nick and I took to Bermuda last June to celebrate our engagement. It was our first time going and we were so shocked by the quick travel time. The flight was only two hours and you can fly direct from NYC! Since Bermuda is off the coast of the Carolinas it has a more mild climate and is the perfect place to head if you're looking for a tropical getaway in the spring or summer. I don't think I've ever seen such breathtakingly clear turquoise water in my entire life. If you don't believe me then just head to my Bermuda Travel Guide— just be warned you'll want to book a trip asap!
Big thank you to Sperry for sponsoring this post!
- Katie