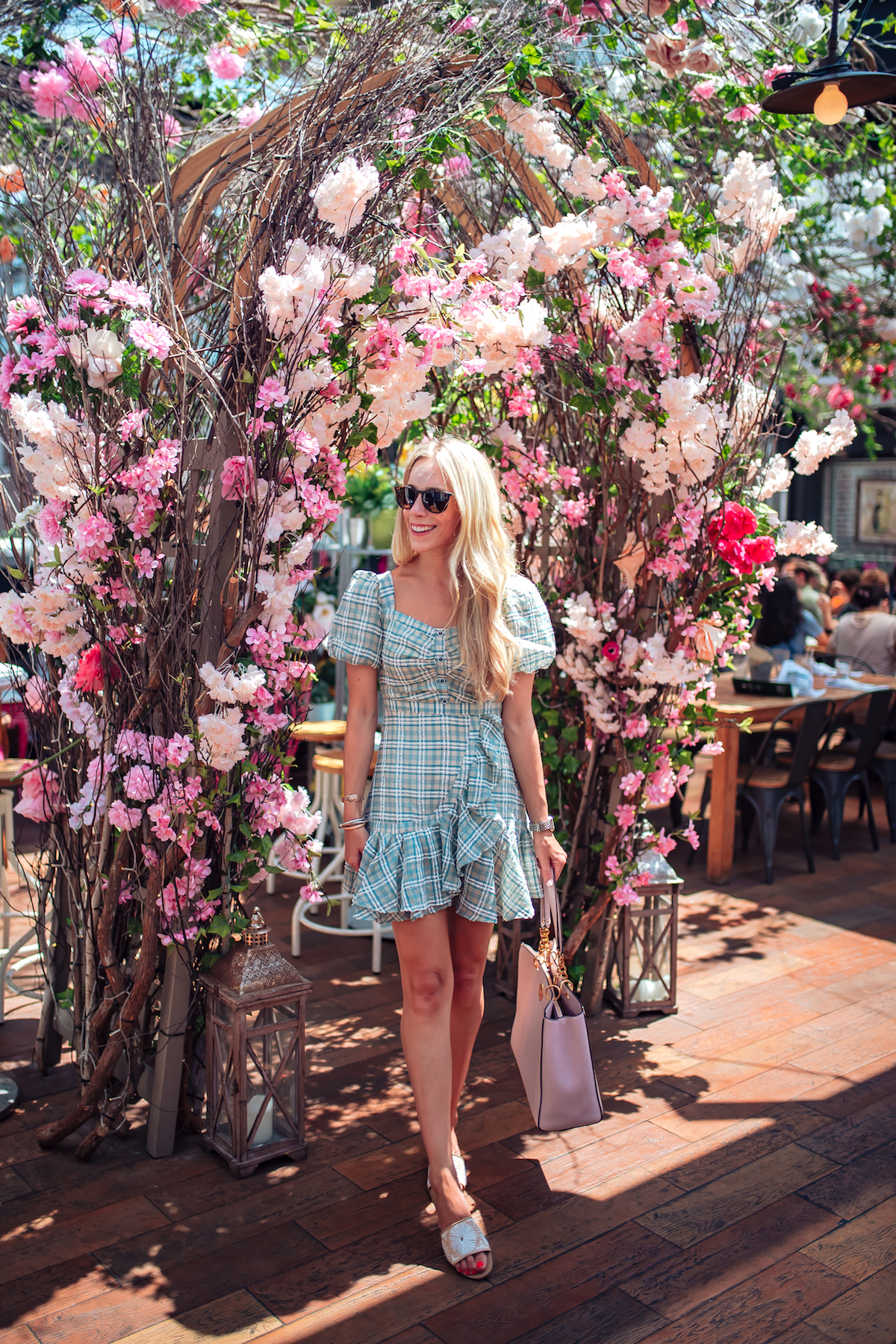 We're officially in the dog days of summer everyone! Want to know my favorite way to cool off? Throw on a J.ING dress, head to a rooftop bar and order alllll the cool refreshments. Where New York lacks in swim-able bodies of water, it makes up for in fabulous bars and eateries with incredible views. You can find a list of my favorite spots in the city in my New York Travel Guide, but since I'm always getting specifically for rooftop recommendations I figured it was only fitting to put together something more detailed.
PS don't forget to post a photo to your Instagram Story if you end up trying any of these places– I'd love to see where you end up and re-post to my own Instagram! 🙂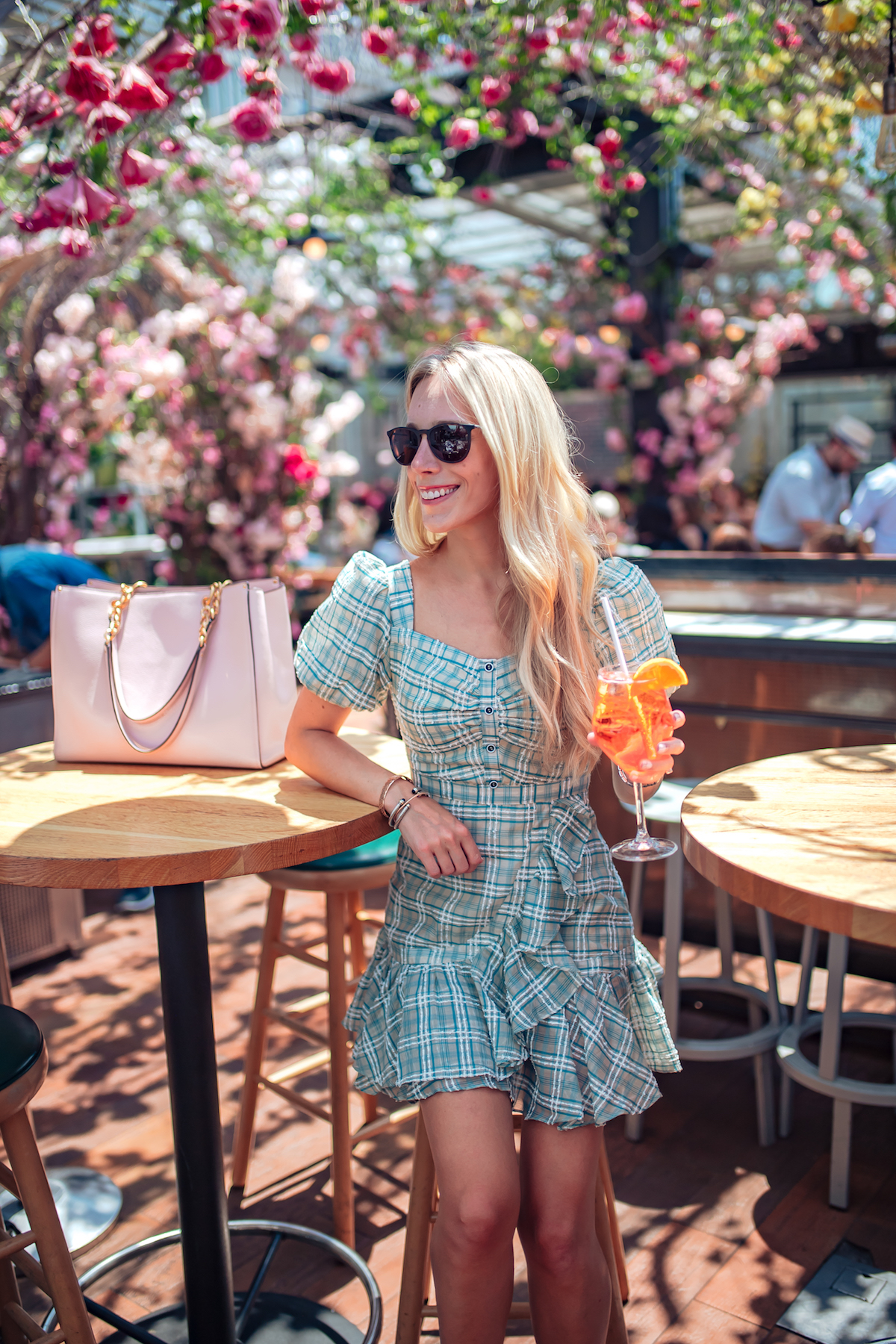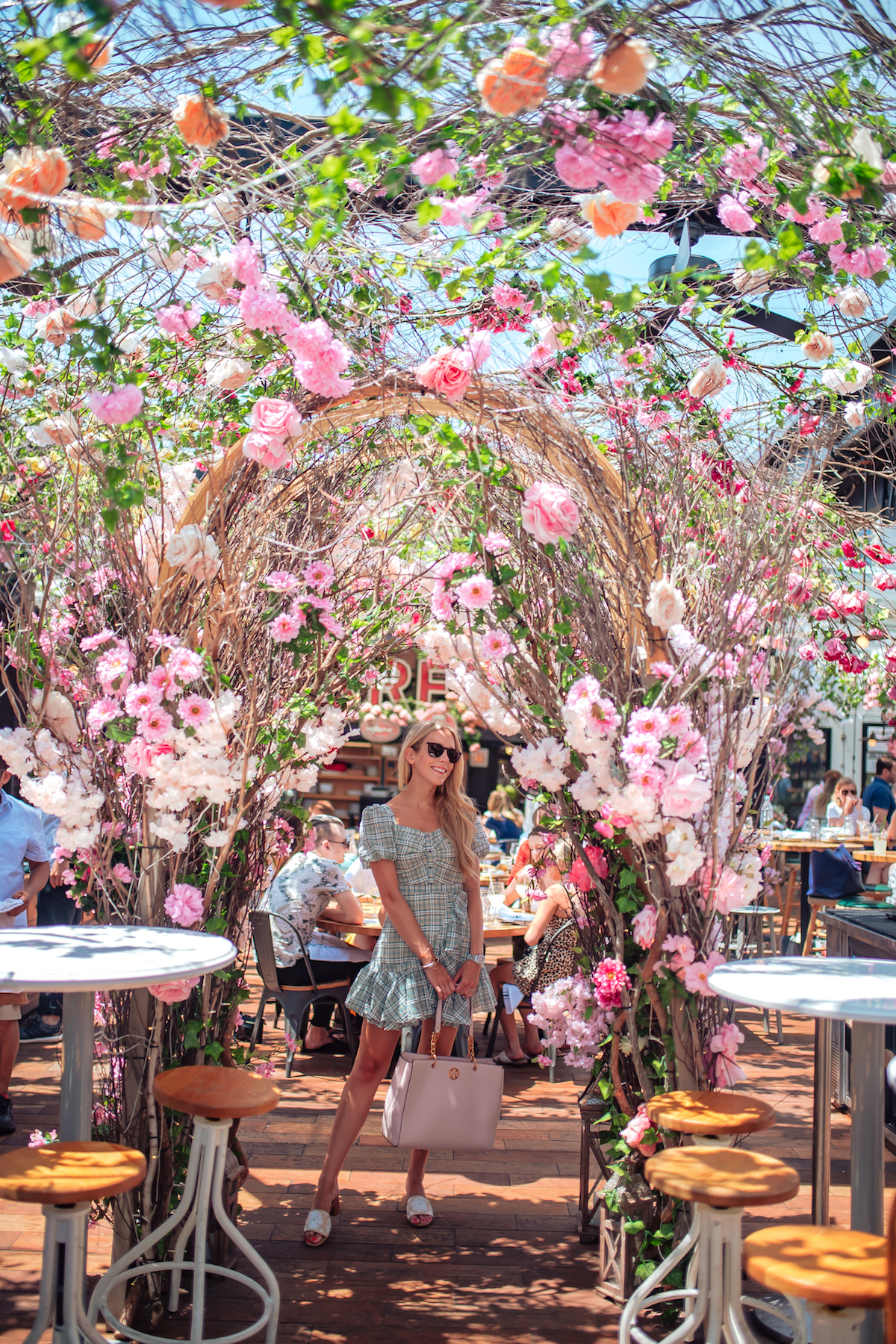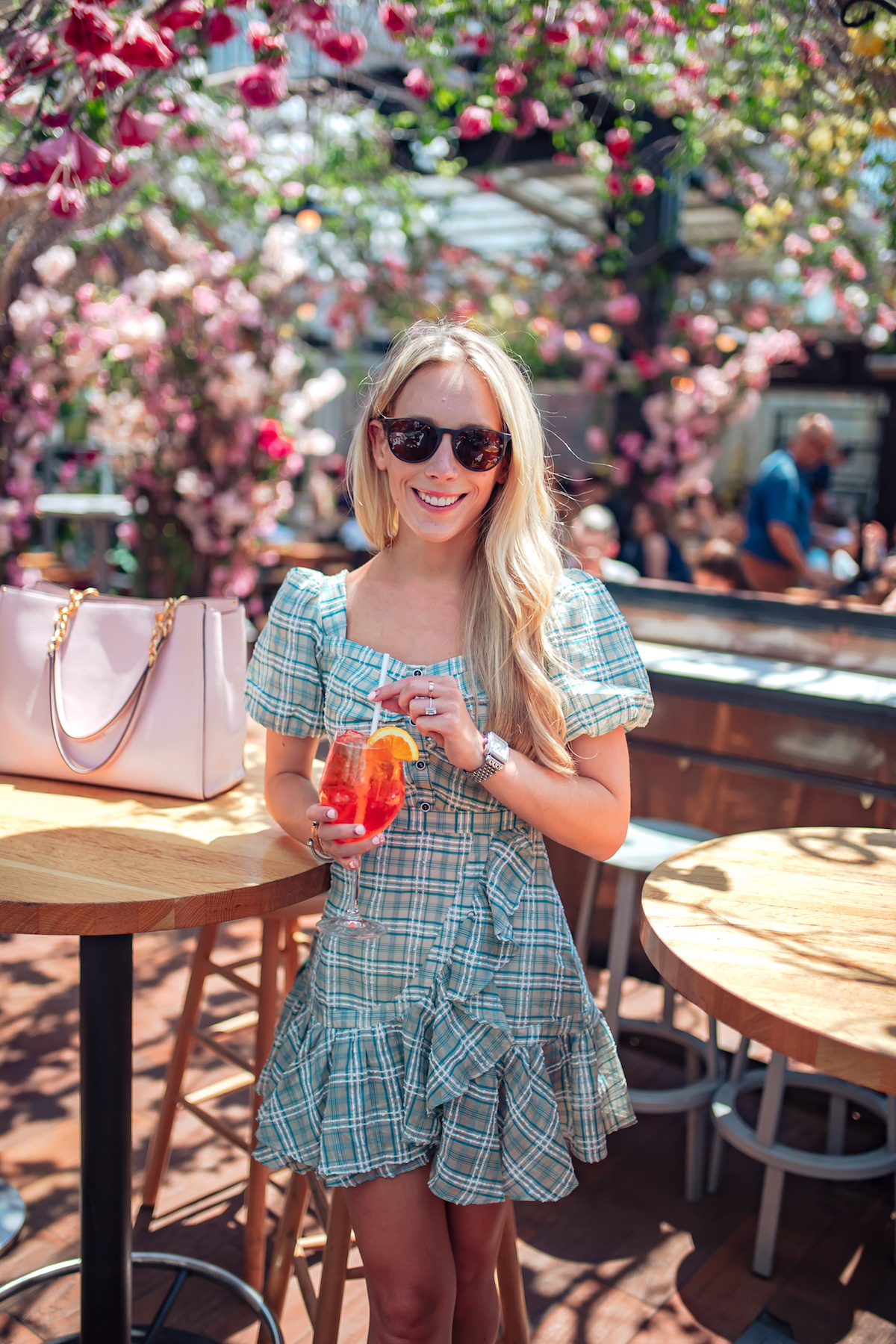 DRESS DETAILS //  J. ING Plaid Picnic Dress (now 30% off!)
How cute is this plaid mini dress? It's a perfect example of the playful, romantic designs you can find from LA-based womenswear brand, J.ING. I was recently introduced to their pieces and was immediately drawn to the bold prints and feminine silhouettes. Every design finds in with a trend, yet it's done with a twist. LOVE this ruffled peach plaid print midi dress and this cold shoulder polka dot dress. Side note: J.ING is having a BIG summer clearance sale. Lots of dress, tops, skirts and more are up to 40% off!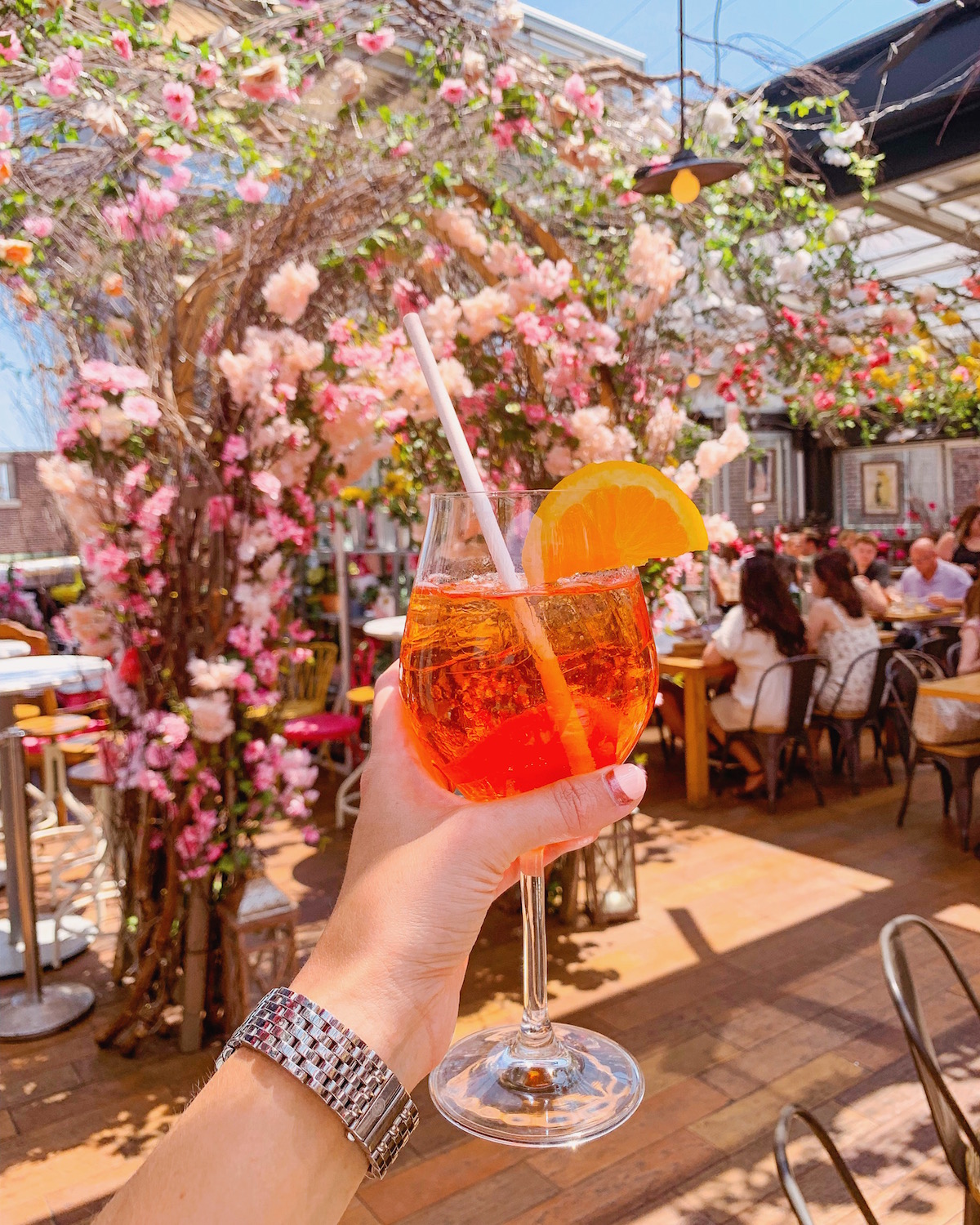 New York City Rooftop Bar & Restaurant Guide
SERRA BY BIRRERIA AT EATALY
Flatiron District
You can get lost inside Eataly! Not only is it a gourmet grocery store and Italian food-lovers paradise, but it has a really cool rooftop restaurant and bar. The decor changes every season– during the winter months it could be an alpine ski lodge with Christmas trees, sheepskin rugs & throws. Then in the summer you could walk in and feel like you've teleported to the Amalfi Coast or the Italian countryside. The vibe is really fun and upbeat so it's a great place for groups or to take out of town visitors. WARNING: the food is NOT good. I hate to say it, but it's the honest truth. Go for a drink at the bar and take a few photos, then head elsewhere in NoMad, Flatiron or Gramercy for a meal. Check out my New York City Travel Guide for my recommendations– a bunch of my favorite spots are right nearby!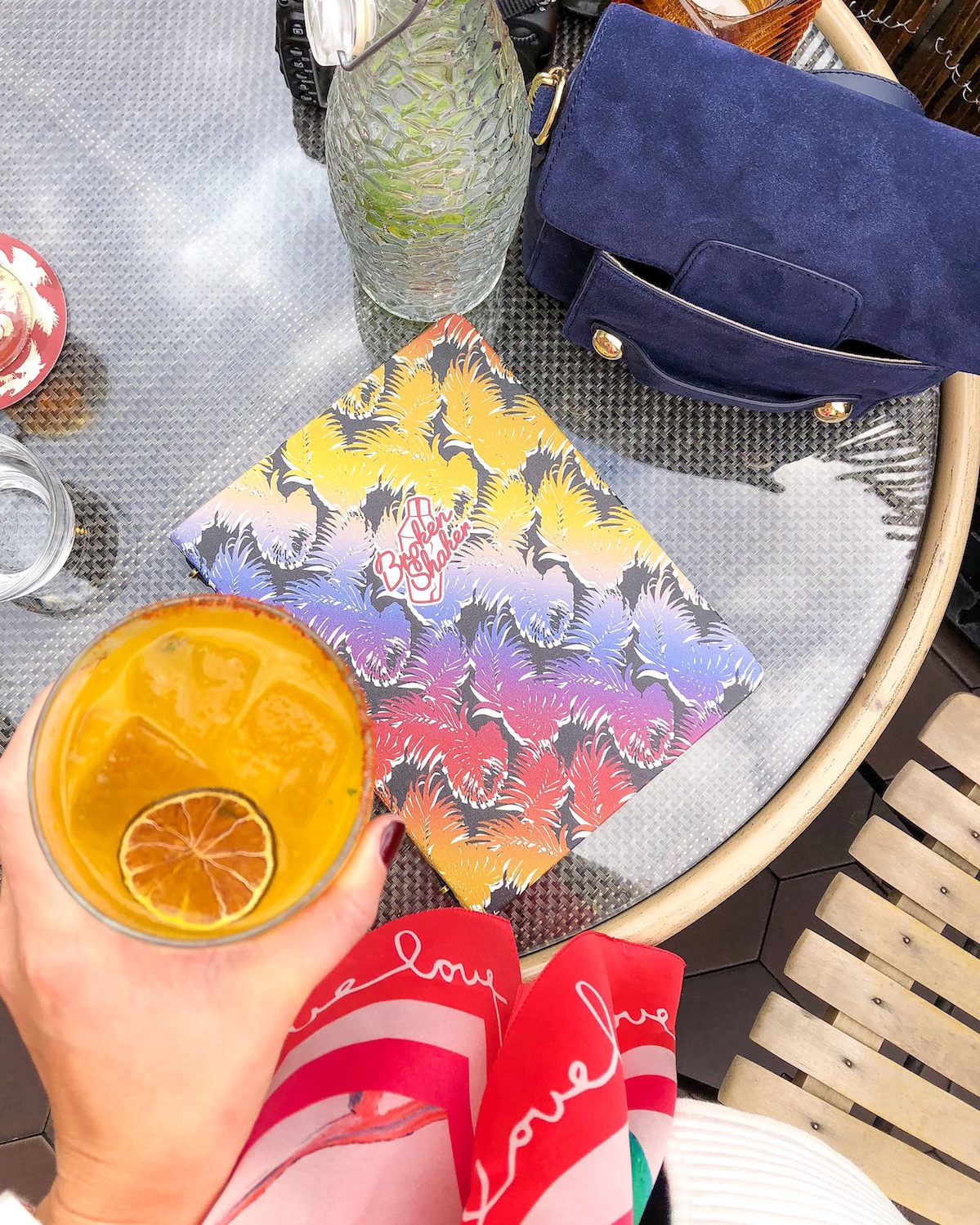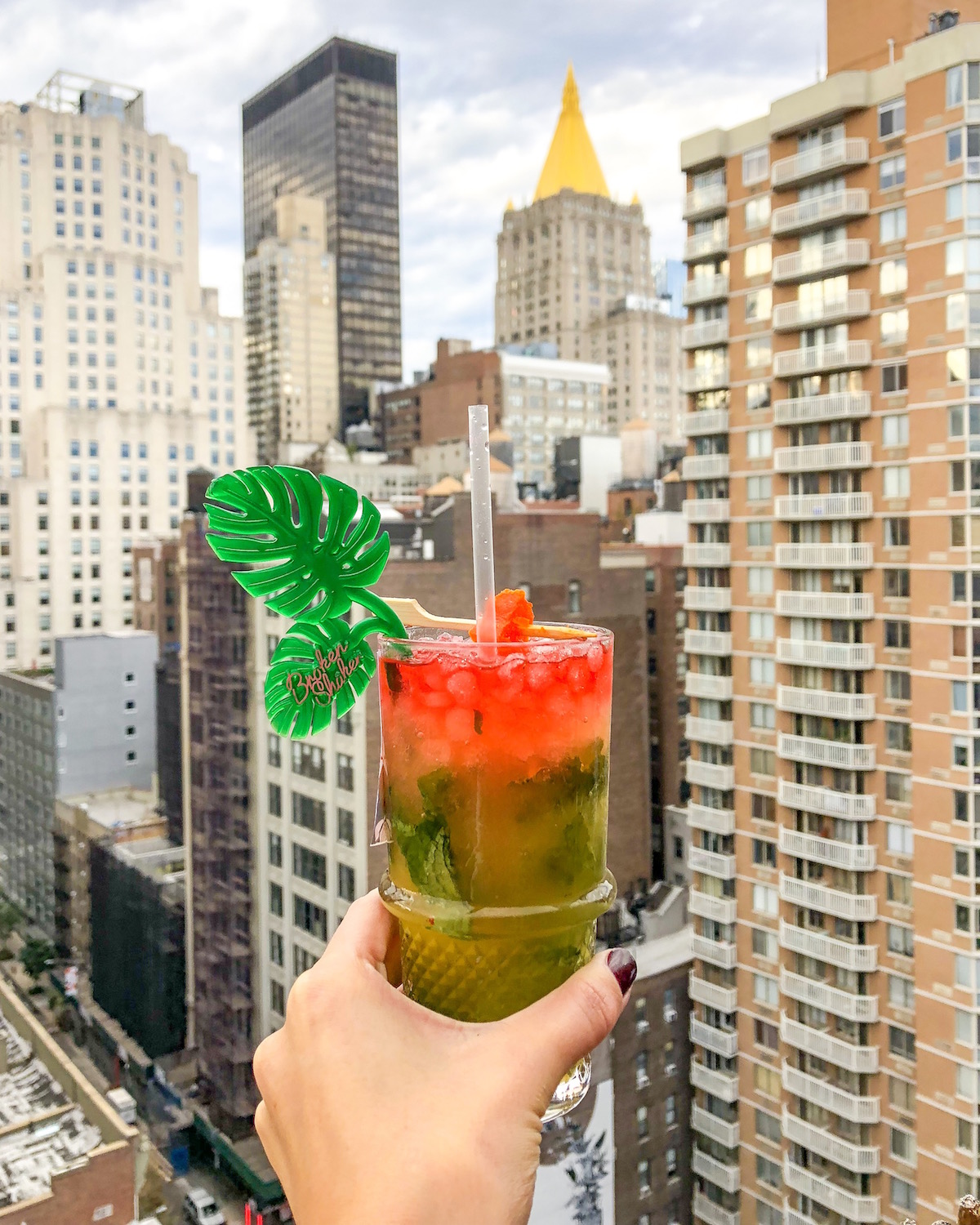 BROKEN SHAKER AT THE FREEHAND HOTEL
Gramercy Park
We were so lucky to be able to enjoy all the bars and restaurants within the newly opened Freehand Hotel during the last few months we lived in Manhattan. Brooken Shaker is the hotel's tropical-themed rooftop bar and a great spot to hit up if you're looking for trendy boho vibes without the pretentiousness. It can get crowded on popular nights and there is a line with a doorman so I'd recommend arriving early or making a reservation.Nick and I always would do a grandparent's happy hour at like 3PM on a Saturday afternoon and never had to wait 😛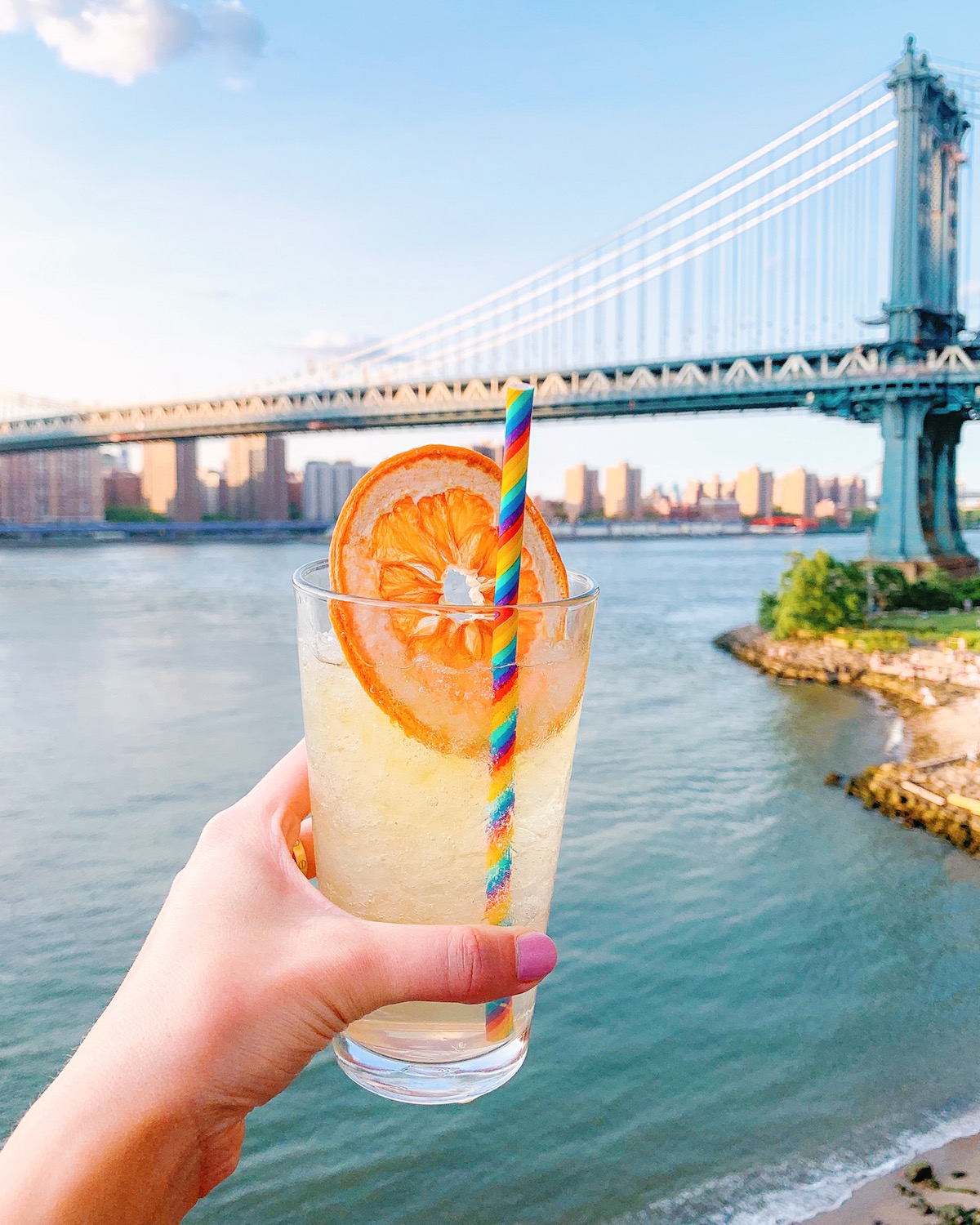 THE ROOFTOP AT TIME OUT MARKET
Dumbo
Nick and I had the best time exploring the new Time Out Market in Dumbo a few weeks ago. The format is very similar to the Chelsea Market. There's a food hall with pop-up eateries from Jacob's Pickles, DO and David Burke Tavern, among others; along with lots of stores like J. Crew and West Elm. It's a really fun place to explore and walk around anytime of year, but if it's a nice day you HAVE to head to the rooftop. There you'll find a bar, a few more foodies spots and the most incredible view of the Brooklyn Bride and Manhattan skyline. The night we went there was even live music!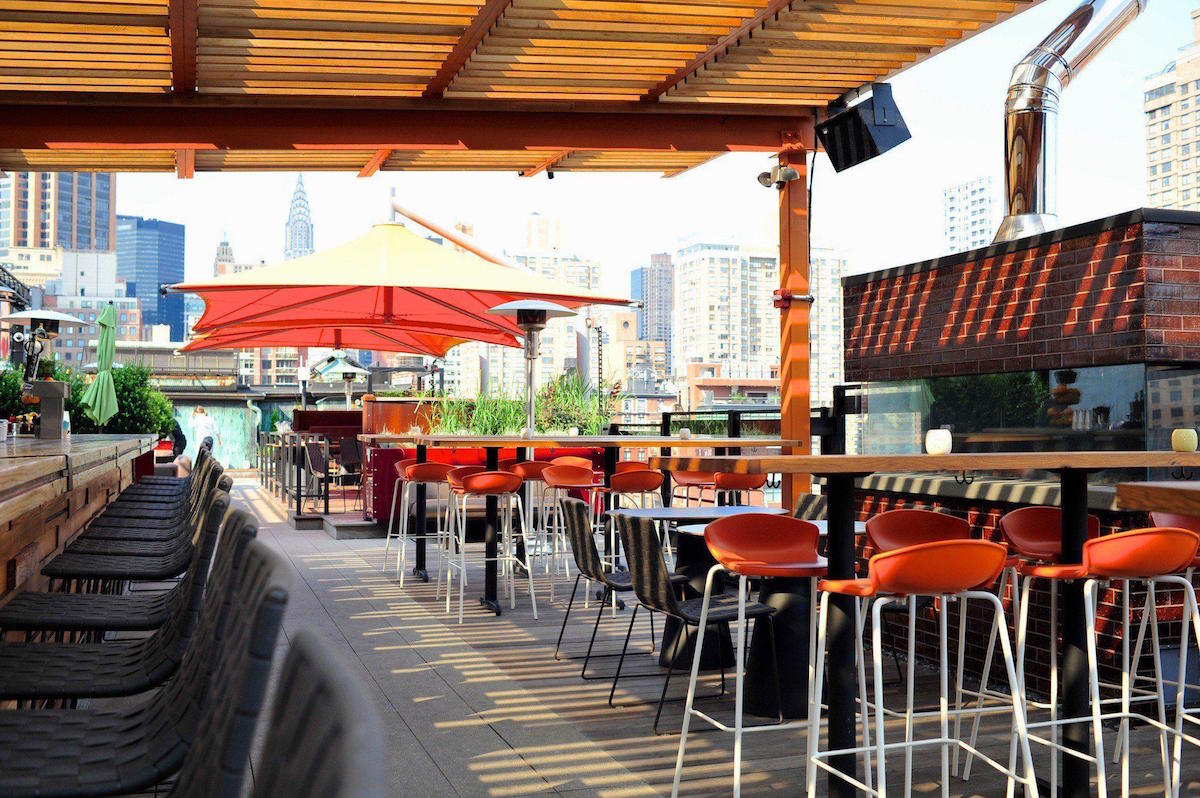 image via Roof At Park South
ROOF AT PARK SOUTH
Gramercy Park
This was another one of our favorite rooftop bars near our old neighborhood! The Roof At Park South is such a hidden gem. There's an incredible view of the Chrysler Building, the line is never that long and the small bits are just as yummy as the cocktails.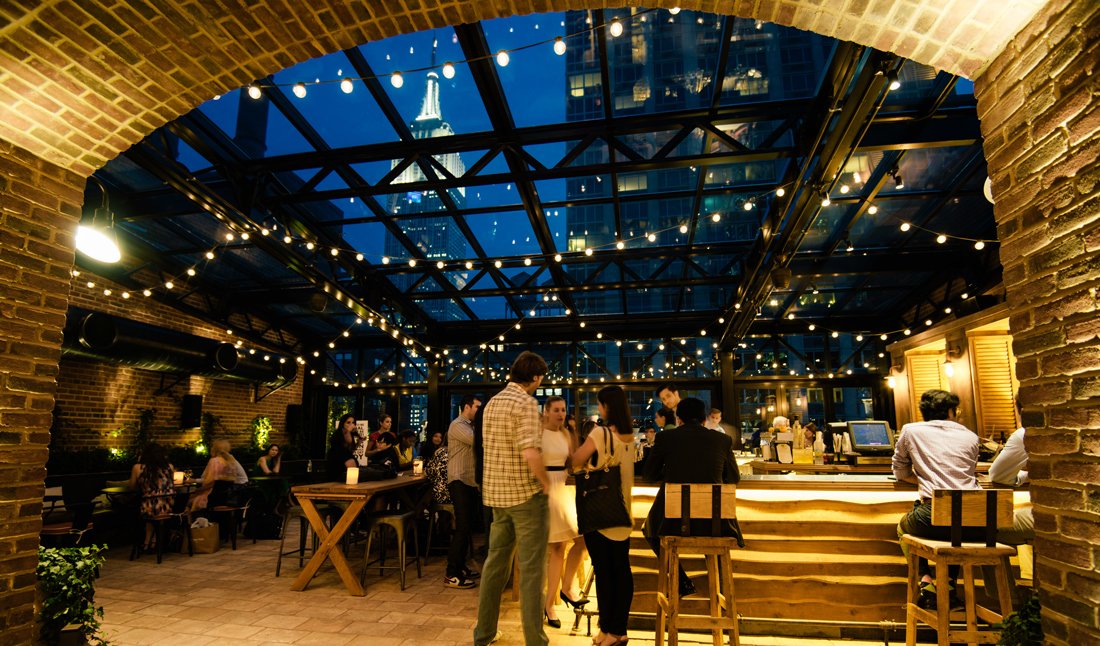 image via The Refinery Hotel
REFINERY ROOFTOP AT THE REFINERY HOTEL
Midtown West
If you work in Midtown or looking for a chic drink spot in a central location, then you need to check out the Refinery Rooftop. It's a large space so I'd recommend it if you're going with a group or your work crowd. The cocktails are yummy and there's a big food menu too!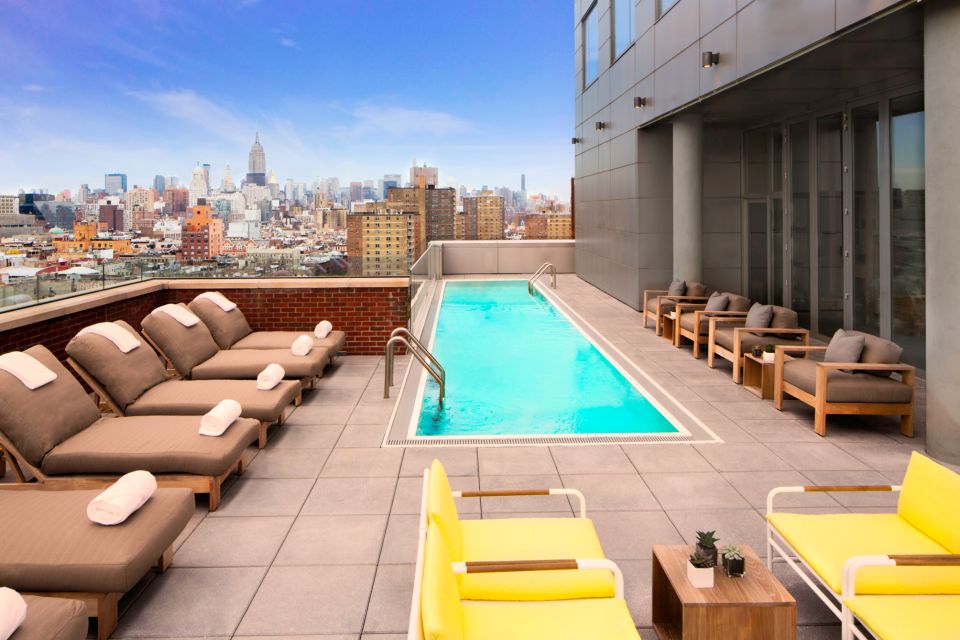 image via am NY
MR. PURPLE
Lower East Side
Mr. Purple is THE rooftop bar to go to in the Lower East Side. It's chic, trendy and there's a pool! It is a hot spot so I'd be prepared to wait in a line, but the view is worth it and the vibe is so fun!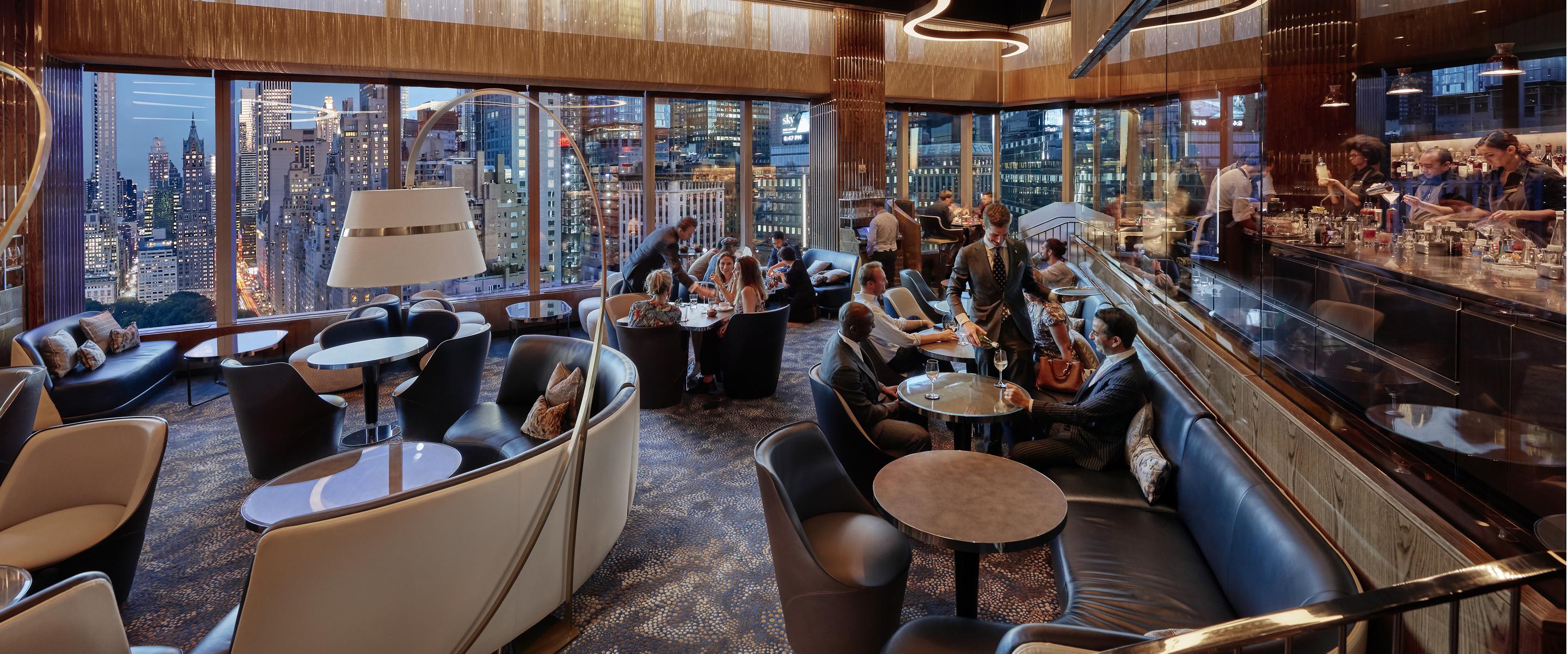 image via The Aviary
THE AVIARY AT THE MANDARIN ORIENTAL
Midtown West / Upper West Side
The Aviary technically isn't a "rooftop" bar butttt I decided to include it because 1) the view is sick and 2) the cocktails are unforgettable. Nick took me here a few months ago and we still talk about our drinks! Every cocktail is its own distinct concoction and served in a manner so creative and interactive that I don't even know how to describe it in words. It's the kind of bar you go to for a special occasion or if you're looking to impress the parents or out of town guests. Just make sure you make a reservation AND be prepared to pay. It's very expensive (worth it though!!!)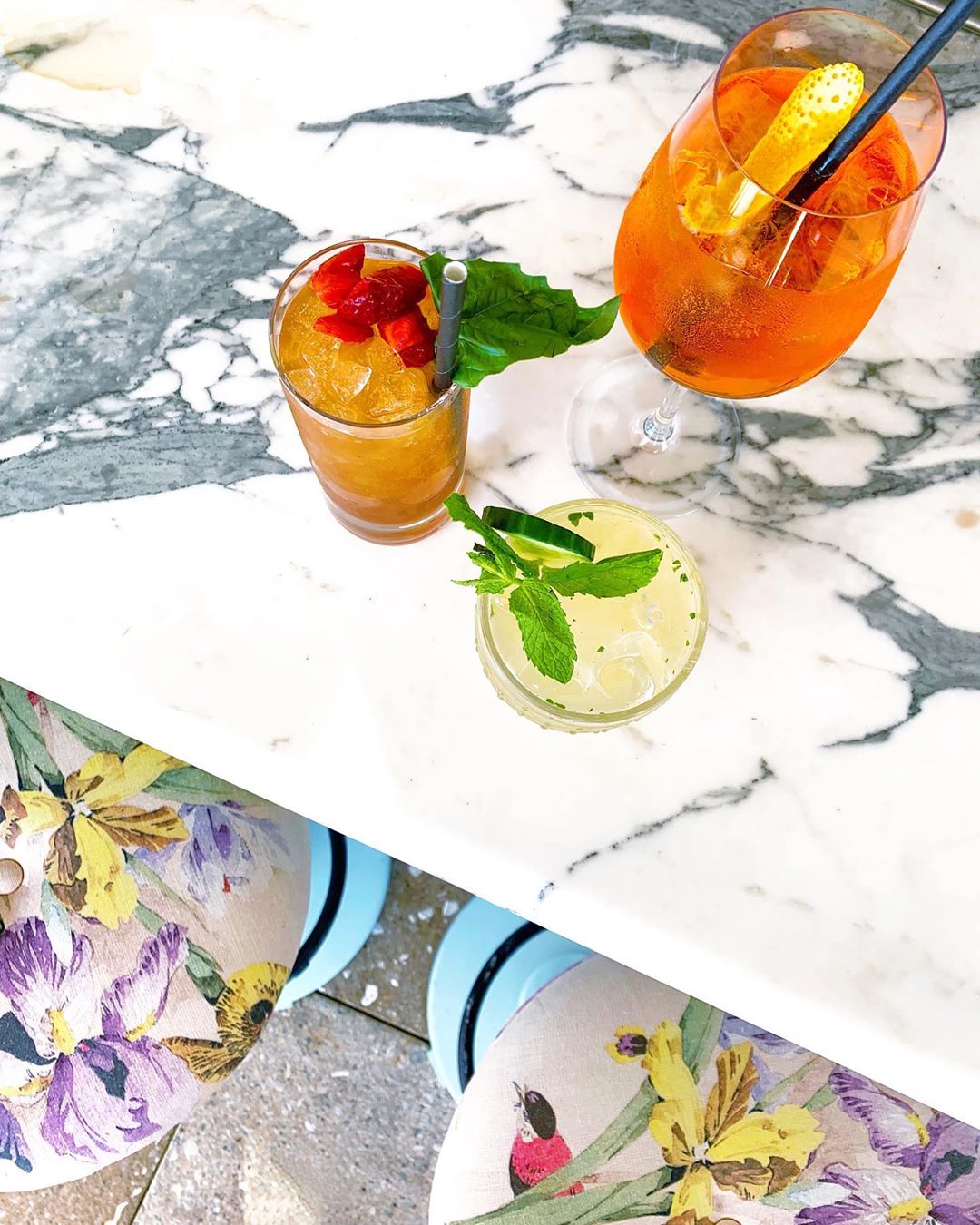 image via @Carlyahill
SUMMERLY AT THE HOXTON HOTEL
Williamsburg
So I'll admit I haven't been here (yet) but my best gal Carly told me I had to include Summerly on this list! She's the first person I text anytime I need a recommendation so I trust her opinion like no one else– she's never failed me! The description on the website is enough to convince me to head there asap: "Summerly's panoramic rooftop brings East Coast summer vibes to the heart of Williamsburg—think lobster rolls, dreamy cocktails and rosé aplenty."
Big thank you to J.ING for sponsoring this post!
- Katie