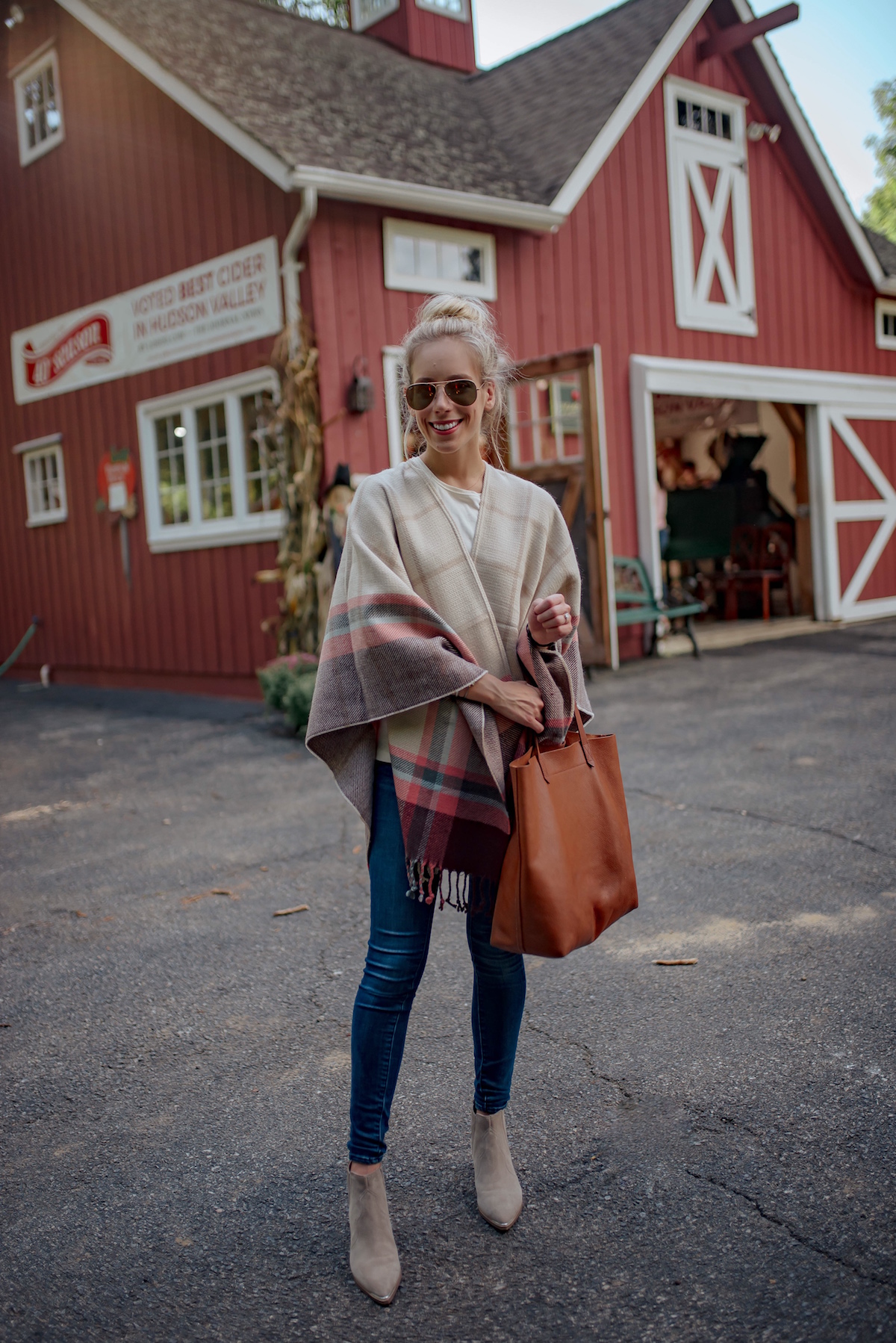 What do you think of first when someone mentions fall? For me my mind immediately goes to apple picking, pumpkin patches and cider donuts. YUM. Autumn has always been one of my favorite seasons ever since I was a kid. Knowing that I'd soon get to go to football games and visit corn mazes with my friends was a nice consolation to beginning a new school year and having homework again. There's something so nostalgic about the fall, especially the scents and colors! I 100% agree with the saying that distance makes the heart grow fonder because I appreciate nature and the seasons so much more now that I live in a large city and don't own a car.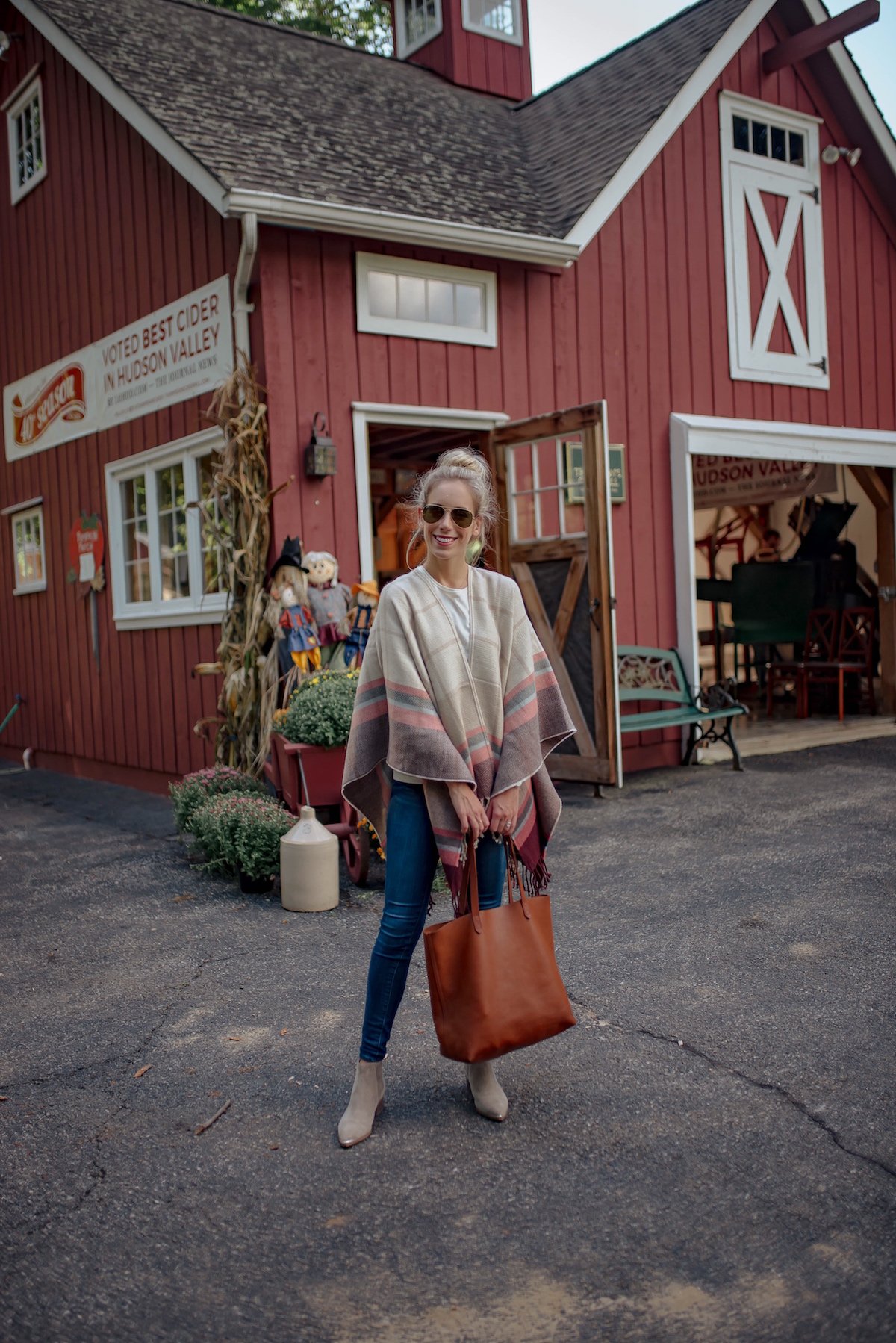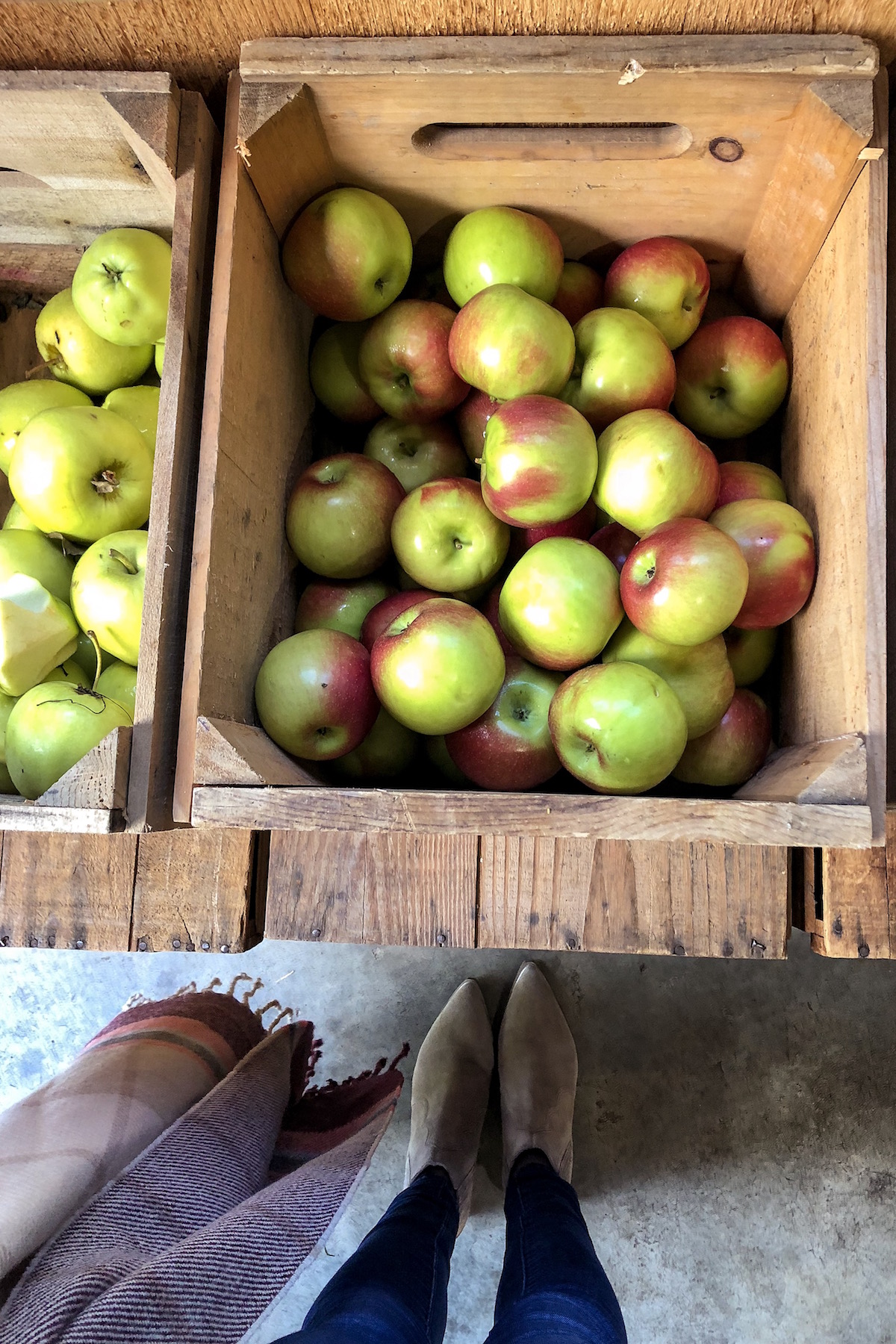 Manhattan has it's perks, but to enjoy those quintessential fall activities you have to get out to the suburbs. This past Saturday Nick and I got a car loan and spent the afternoon hopping around a few orchards and farms upstate. We didn't have a specific plan in mind (always risky) other than the addresses of a few farms I'd quickly bookmarked, but we ended up having a really fun fall-filled afternoon that didn't take us too far from NYC. I got a lot of questions on Instagram asking for details on where we went so I put together a little guide for those of you looking for the perfect autumn escape from the city.
Best Farms For Apple Picking & Cider Donuts Near NYC
Weed Orchards & Winery
We went to Weed Orchards & Winery for the first time last year and had an absolute blast. This place has it all: apple & pumpkin picking, games for the kiddos, hot cider donuts and ALCOHOL. There's no entrance fee and parking is free. While there's no shortage of farms within two hours of the city, not all of them serve food and drinks. Weed is also a winery so there's a large indoor/outdoor dining area and bar where you can enjoy local beer, hard cider and wine over a meal of truffle fries, margarita pizza and fried chicken. They even have live music on weekends too! It's a little farther of a drive (about 2 hours from lower Manhattan) but trust me this place is absolutely worth visiting.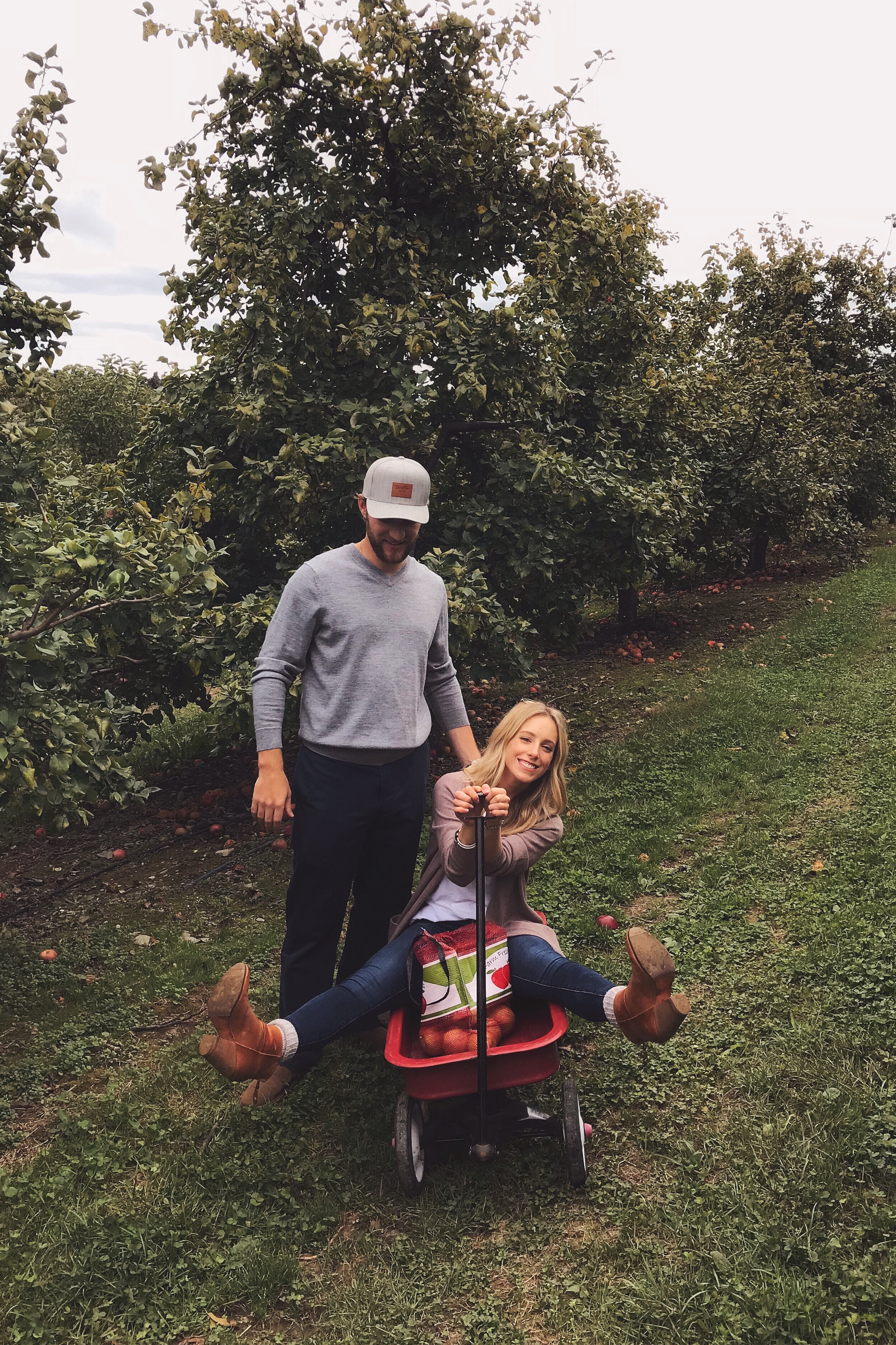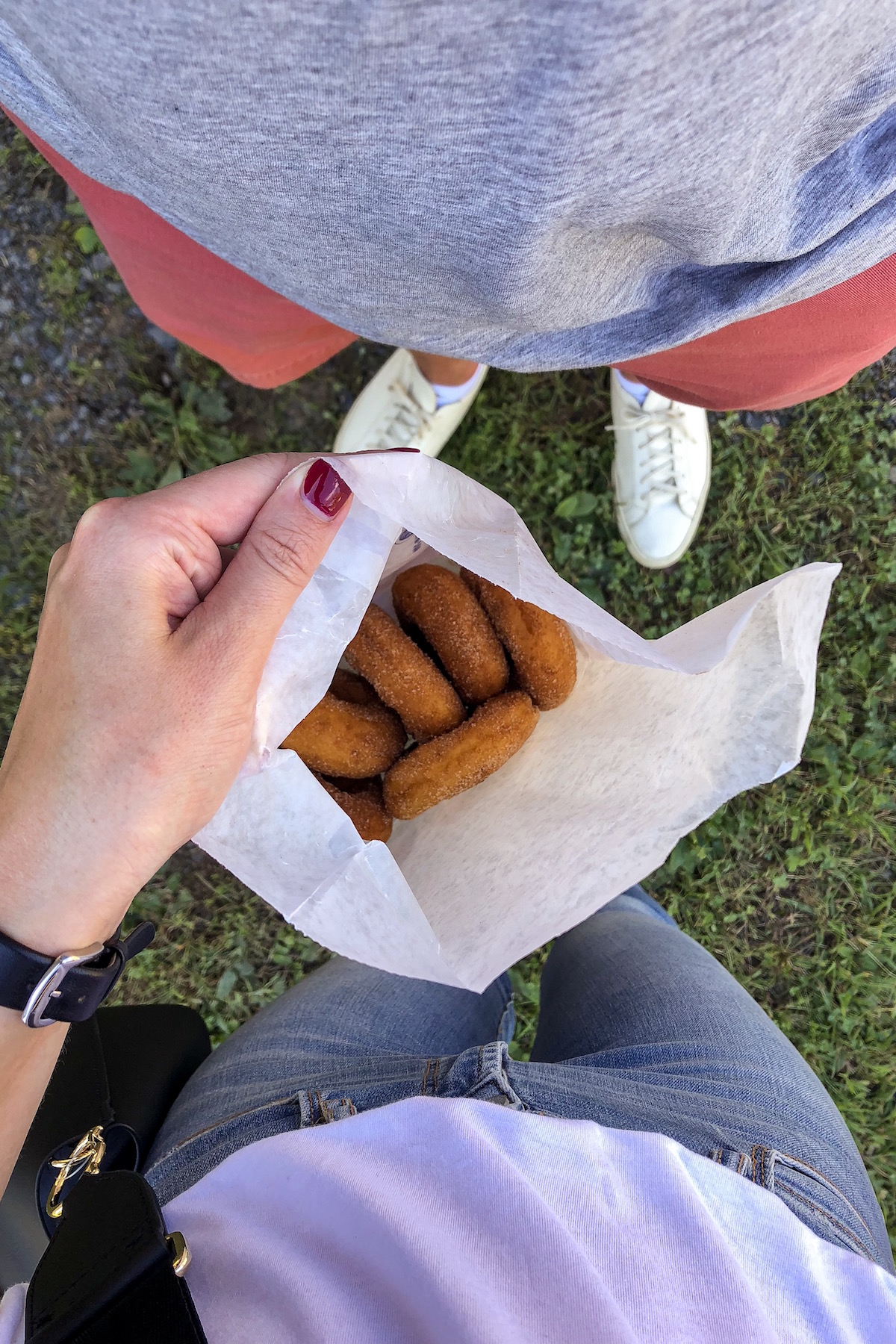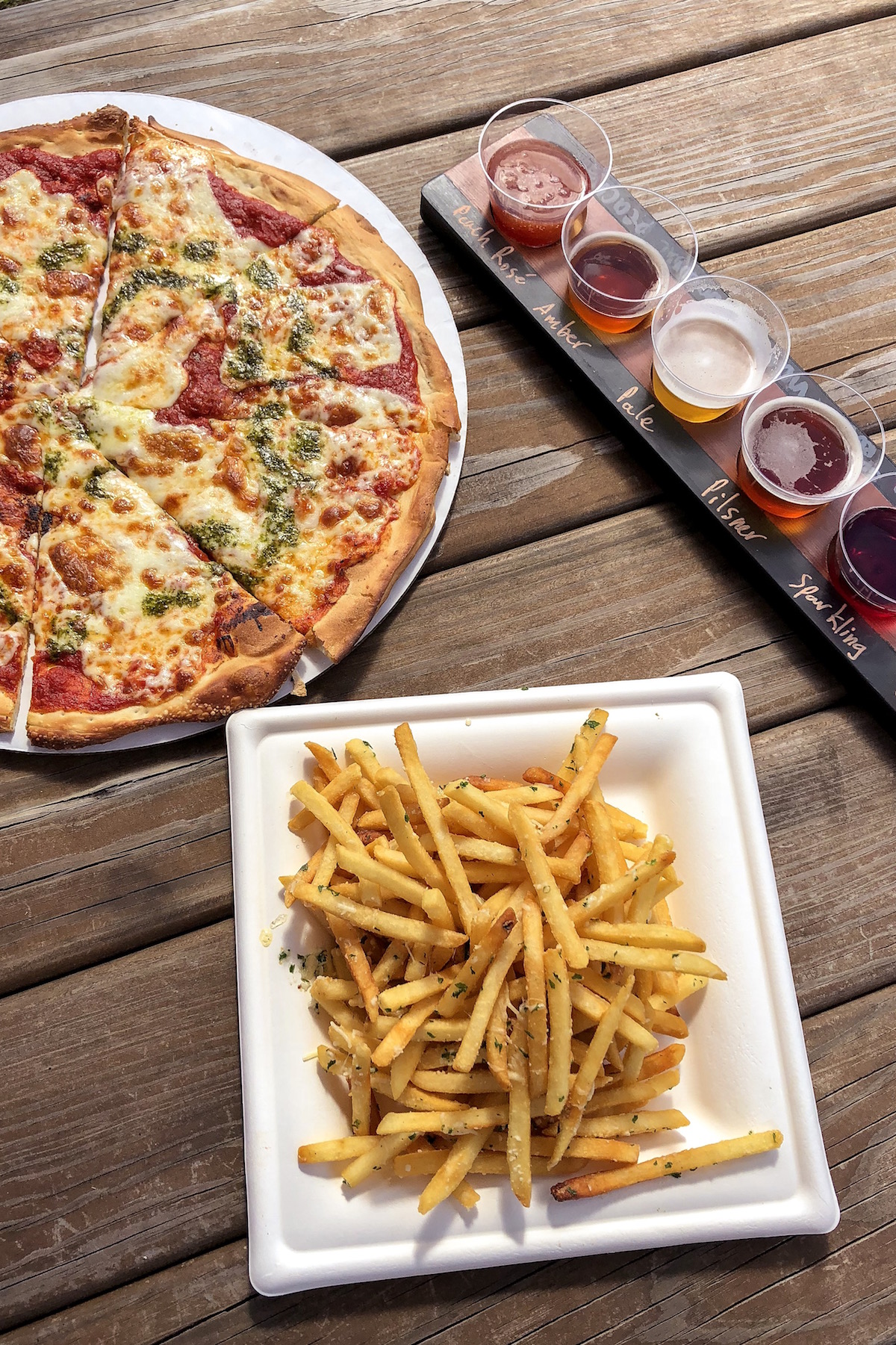 Lawrence Farms Orchards
Down the road from Weed, Nick and I discovered Lawrence Farms Orchards. If you want a serious picking experience come here. The farm is huge and has the most gorgeous view overlooking a valley. In addition to apples and pumpkins, they also have tons of fruits and veggies that you can pick. Since we had already spent the bulk of our afternoon at Weed, we decided to just park and check out the main store. The farm has a $3 admission fee per person, but since we were only stopping by to browse they were kind enough to let us in free of charge.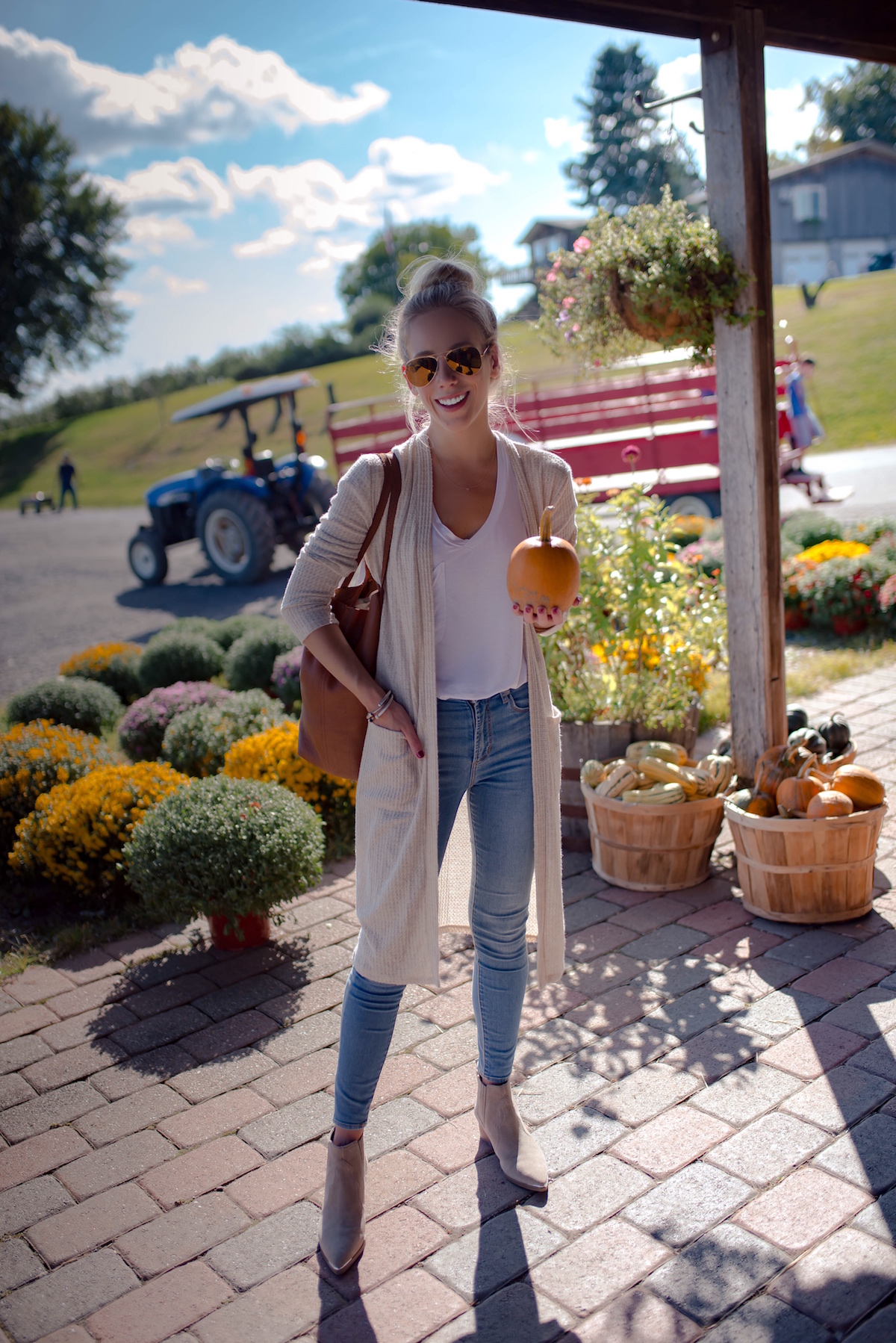 Waffle Knit Cardigan (under $50!) | Skinny Jeans | White T-Shirt | Booties | Madewell Tote | Aviators | David Yurman Bracelets
The main concession area and store had a ton of apples. gourds, veggies already picked and available for purchase. There was also a spot to order food like hot dogs, donuts and ice cream, along with non-alcoholic soft drinks and cider you could enjoy in their picnic area. I think next time we'll come here first to do all our picking and THEN go to Weed for lunch, drinks and donuts.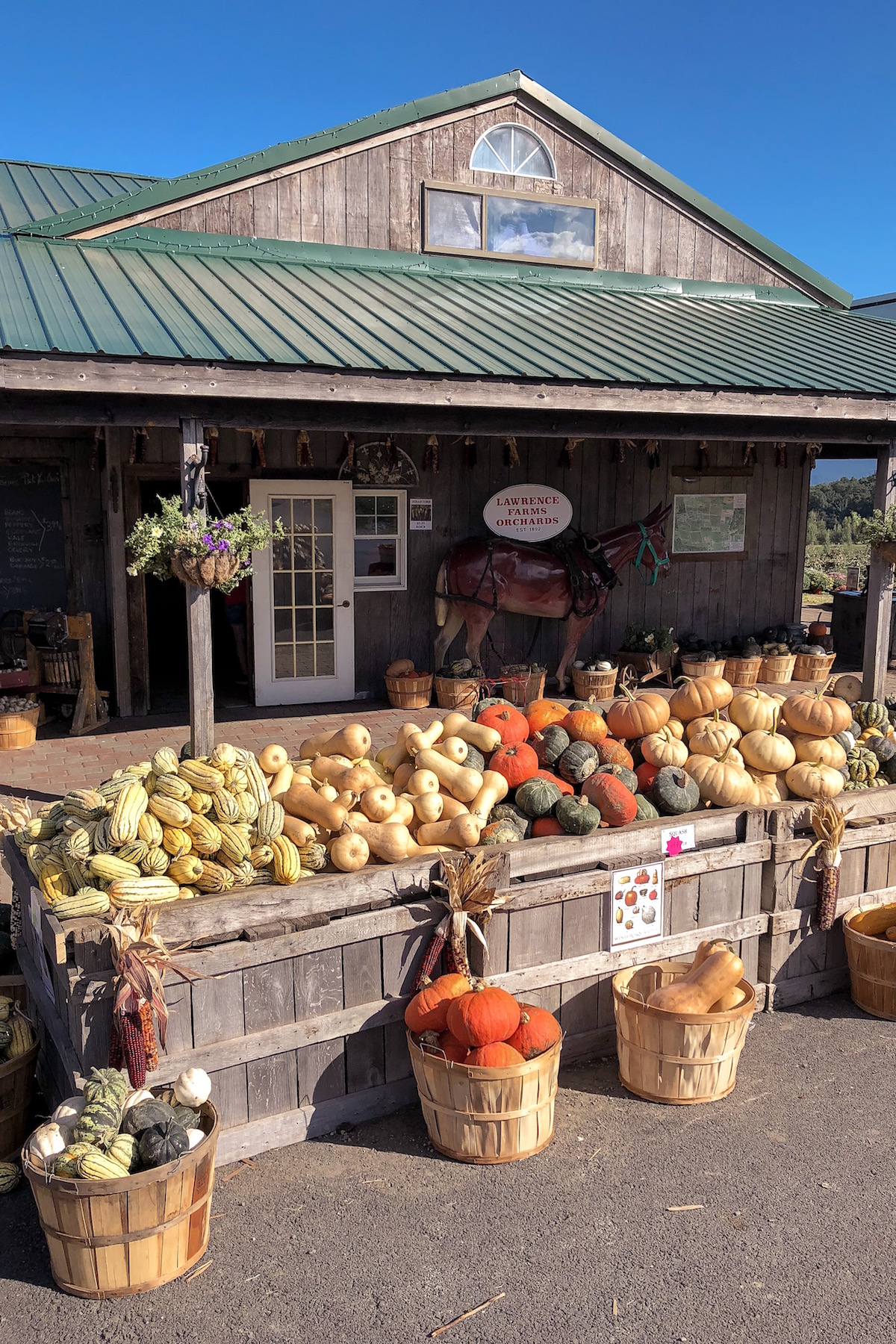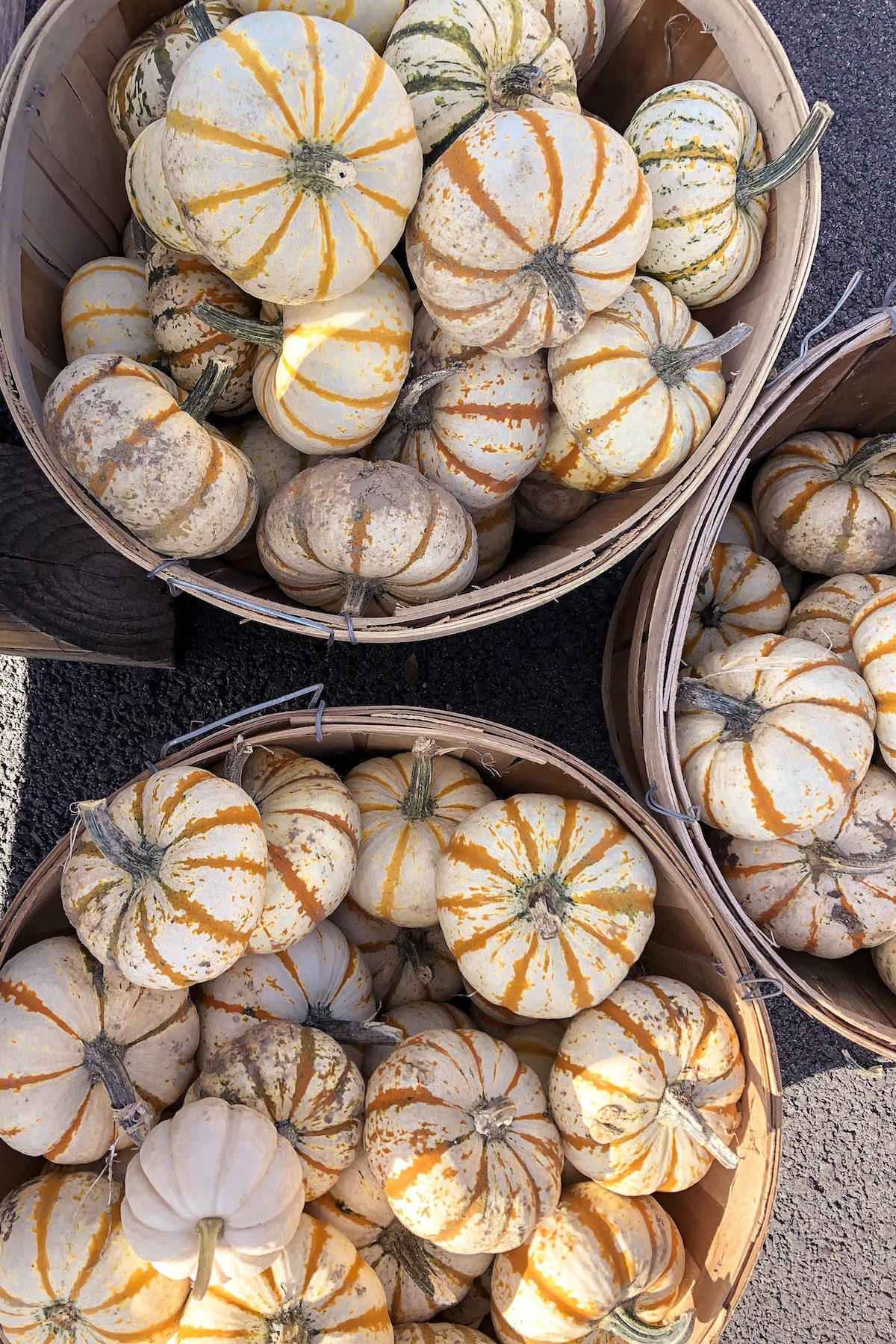 BONUS ACTIVITY
Thompson's Cider Mill
On our drive back to the city we impulsively made a detour and stopped at Thompson's Cider Mill. Such a good decision! This little red family-run cider mill is super small, but so cute and worth stopping by to pick up a bottle of homemade hard cider. They had an area set up where you could sample the ciders and purchase pastries or apples from their orchard. I believe there are certain times of day where you can actually watch them make the cider so maybe give them a call if that's something you're interested in seeing!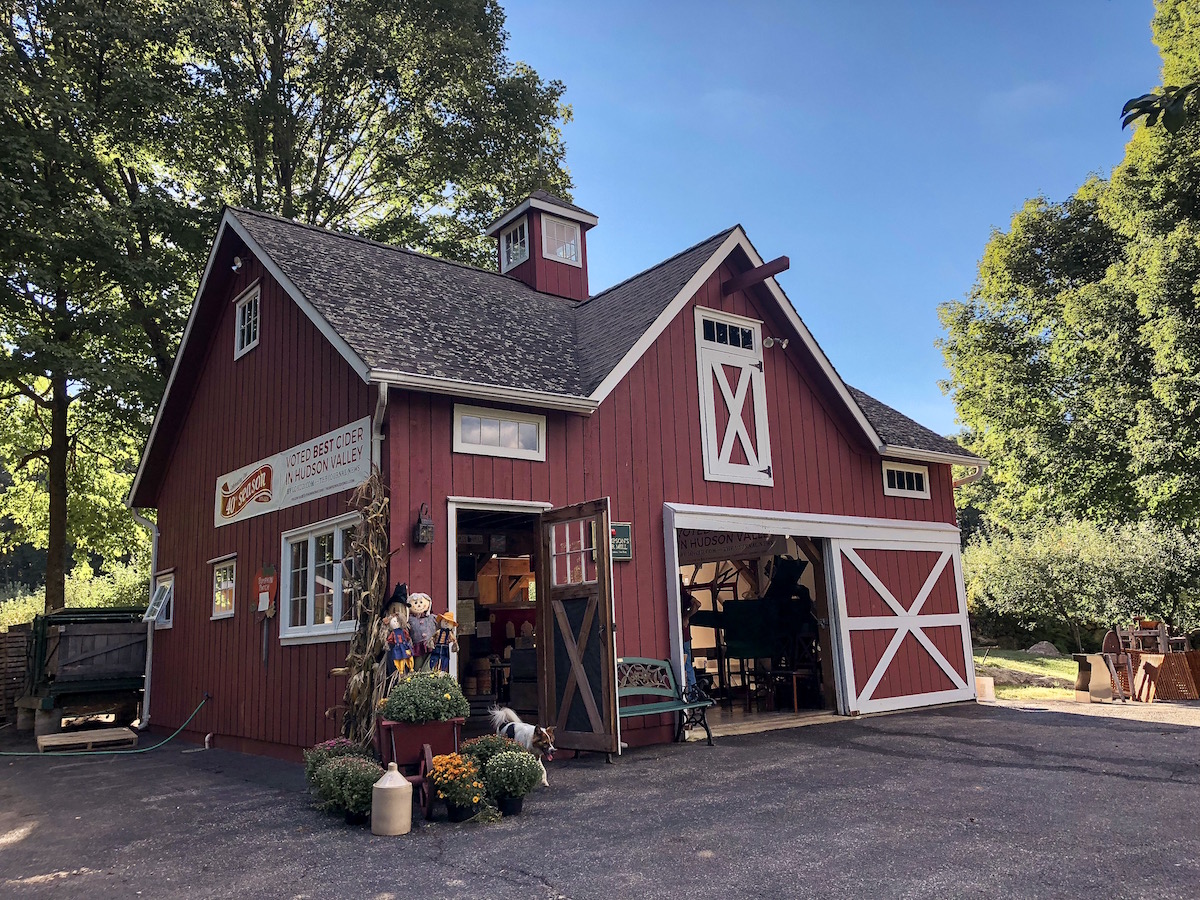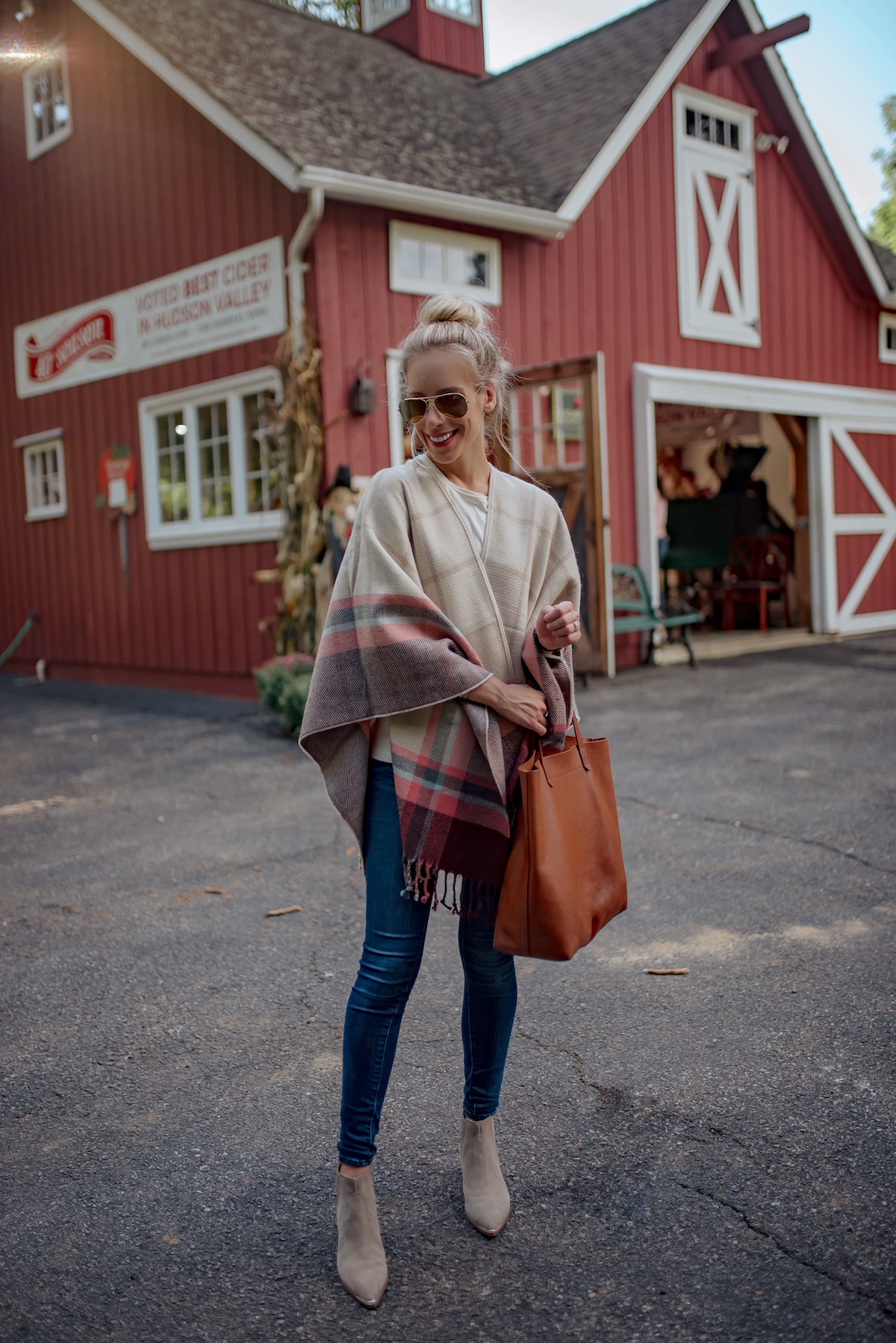 Plaid Wrap | Skinny Jeans |  Booties | Madewell Tote | Aviators | David Yurman Bracelets
TIPS
Avoid the farms and orchards nearest to the city or be prepared for crowds and expensive prices. We went to Harvest Moon Orchard in Westchester County two years ago and while it took us just under an hour to drive there, it was a total sh*tshow. I felt like all we did was stand in lines and everything about the experience felt commercialized. I've heard this about a few of the other popular "just outside of NYC" orchards so just something to keep in mind. The entire point of going apple picking is to enjoy the outdoors and you can't really do that with hundreds of other people on top of you.
Get together with a group of friends and split the cost of car rental. Sure there are trains that run up through the Hudson Valley, Connecticut, Long Island, etc. but at least to me a big part of the experience is the drive through the countryside. Lawrence Farms wasn't even on my original list of bookmarks and the only reason we went is because while passing by I saw a sign for it on the side of the road. You also don't want to be dragging a heavy haul of pumpkins, apples, cider and donuts back on a train or bus 😛
- Katie