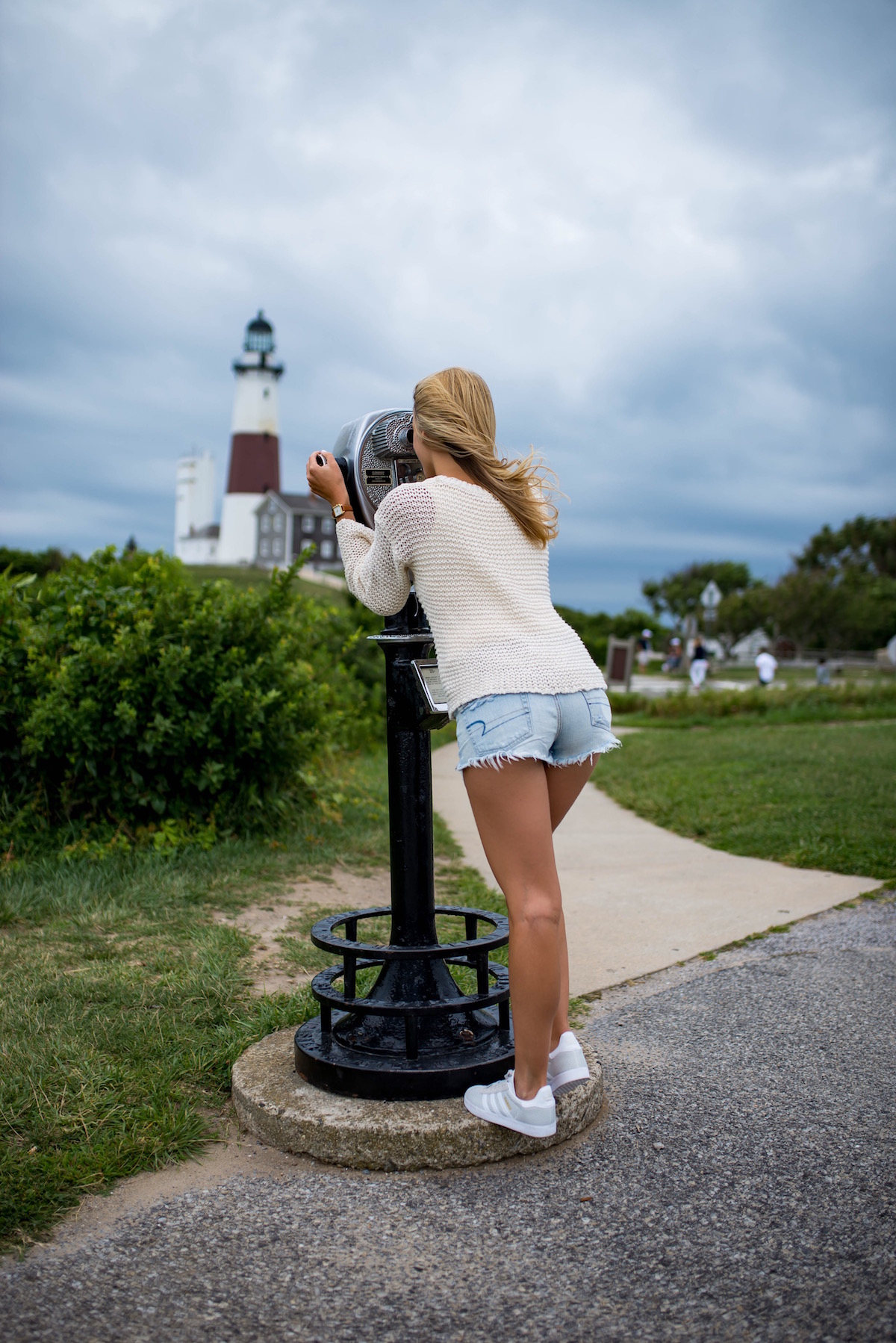 I still can't believe how much Nick and I saw and did during our two short days in the Hamptons. For not overly planning an itinerary, I'm pretty impressed with how easy it was to check lots of sites and restaurants off the list of ideas I'd compiled (thanks to all your recommendations!)
Many of the suggestions I received were all in Montauk so we decided it made the most sense to just spend the entire day there on Saturday. We were warned ahead of time that traffic in the Hamptons is crazy (there's only one main 'highway' that runs through the area) so we left the city around 8AM and made it there in about 2.5 hours. Thankfully we left as early as we did because as we entered Southampton (one of the first towns you hit as you enter the Hamptons) the traffic and congestion really picked up. It took about an hour just to drive the 40 miles that separate Southampton and Montauk.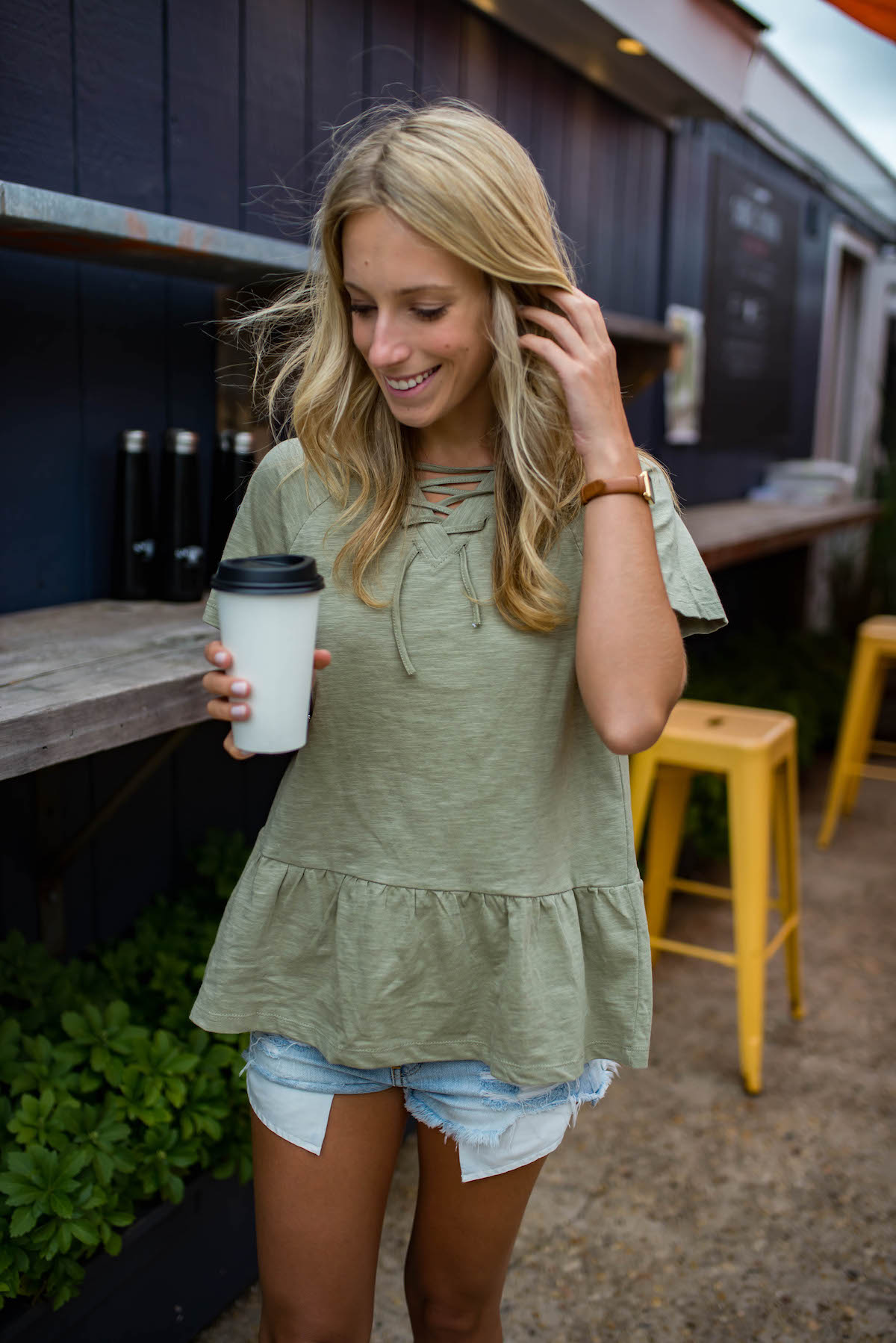 So before I get into the guide two small disclaimers!
1. It was cloudy and breezy the day we visited so we decided to skip out on hitting the beach and stick to what we do best (eat and drink) 😛
2. We rented a car! Taxis and Ubers in the Hamptons can be expensive and have long wait times so to get around it made much more sense to have our own vehicle.
MONTAUK TRAVEL GUIDE
---
Sagtown Coffee
Nick was dying for some caffeine after the drive so we headed straight for Sagtown Coffee in the heart of Montauk. It's a cute little outdoor spot with benches and barstools that offers standard fare like cappuccinos, lattes, iced coffee and tea. It definitely hit the spot!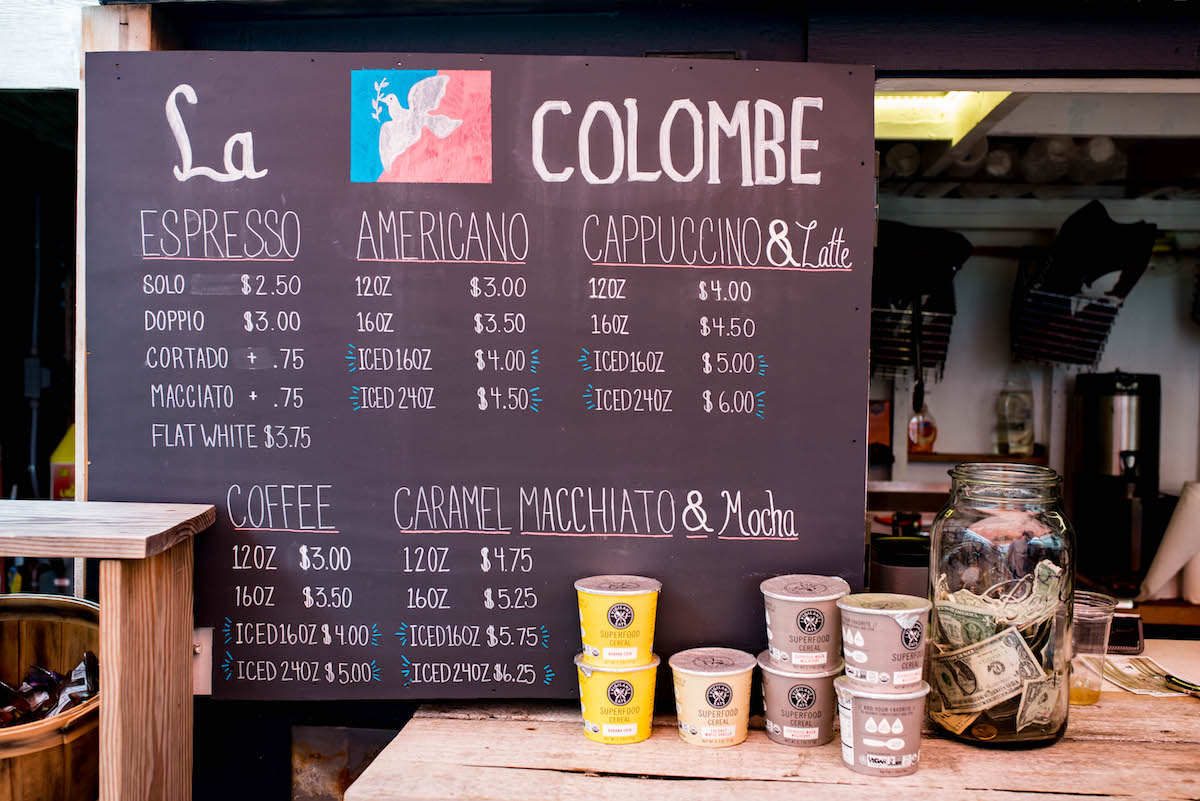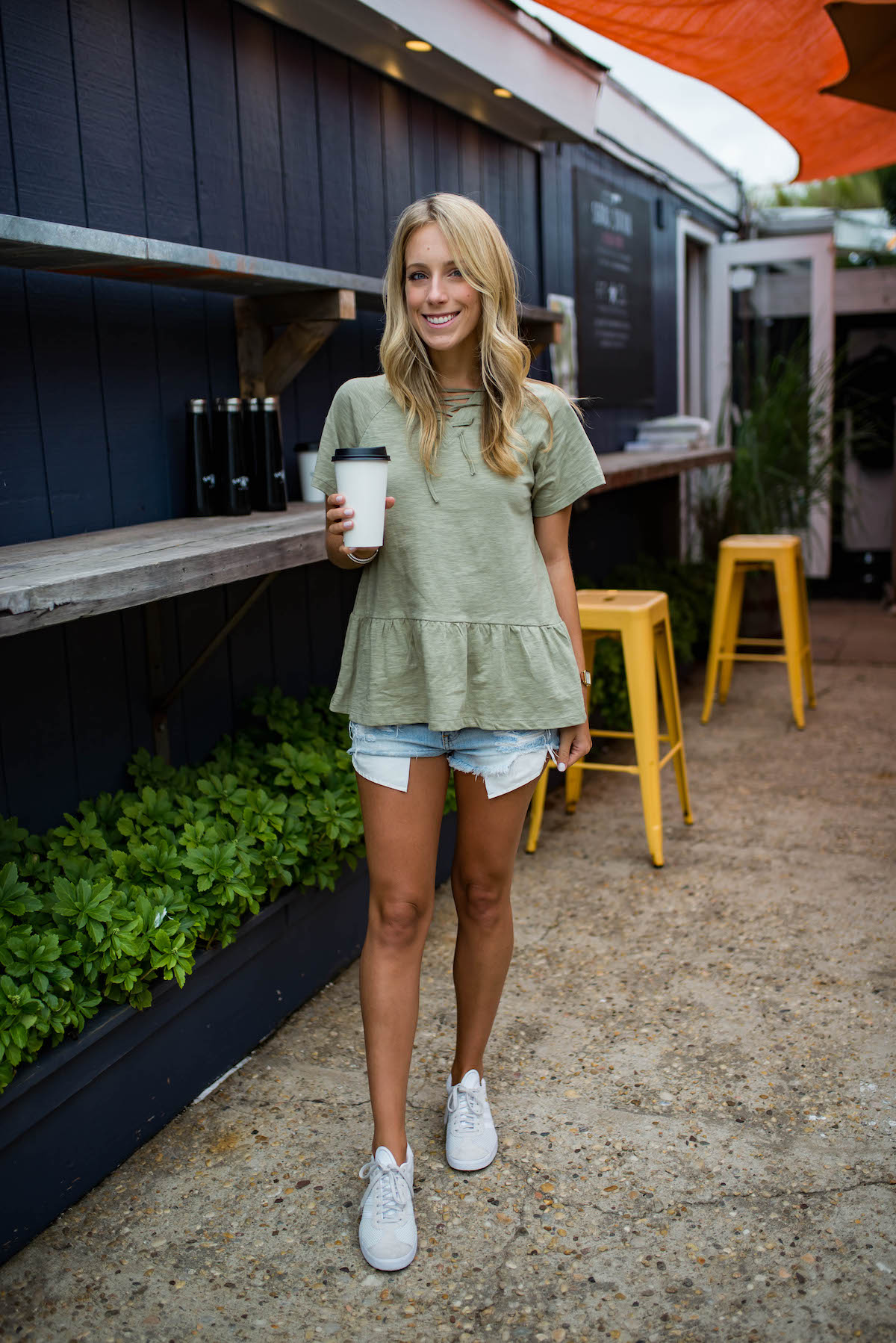 Criss Cross Peplum Top | Denim Shorts | Adidas Sneakers
Montauk Lighthouse
After grabbing coffee, we hopped back in our car and drove about 10 minutes further on Montauk Highway to check out the lighthouse. I was dumb and should've looked up more info about it ahead of time because it cost $8 to park and then to even walk up to and tour the lighthouse it's another $11 per person. Nick and I really aren't museum people (short attention spans LOL) but we decided it was worth it to pay the parking fee so we could hop out to see the view. It was a shame that the weather was cloudy because I bet on a clear day it's absolutely beautiful. It was really breezy too, but I'm glad we stopped because there were some really great photo opps despite not walking all the way up to the lighthouse.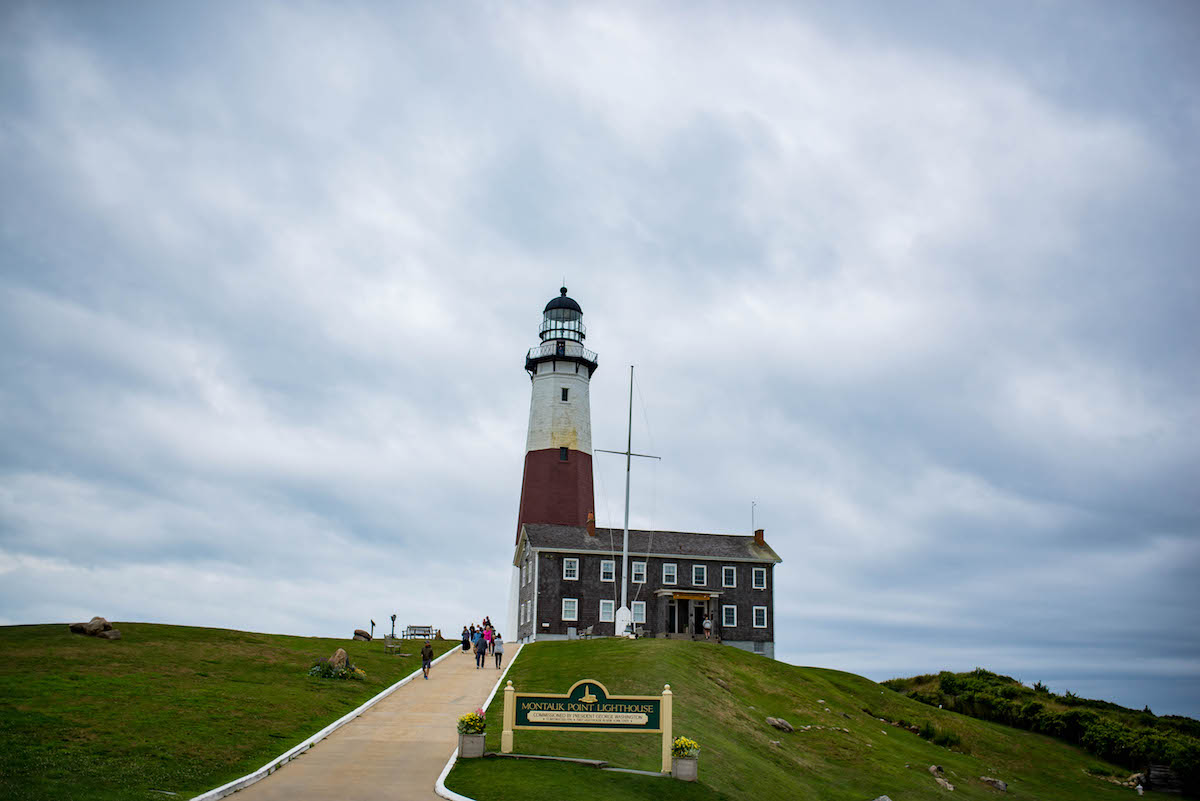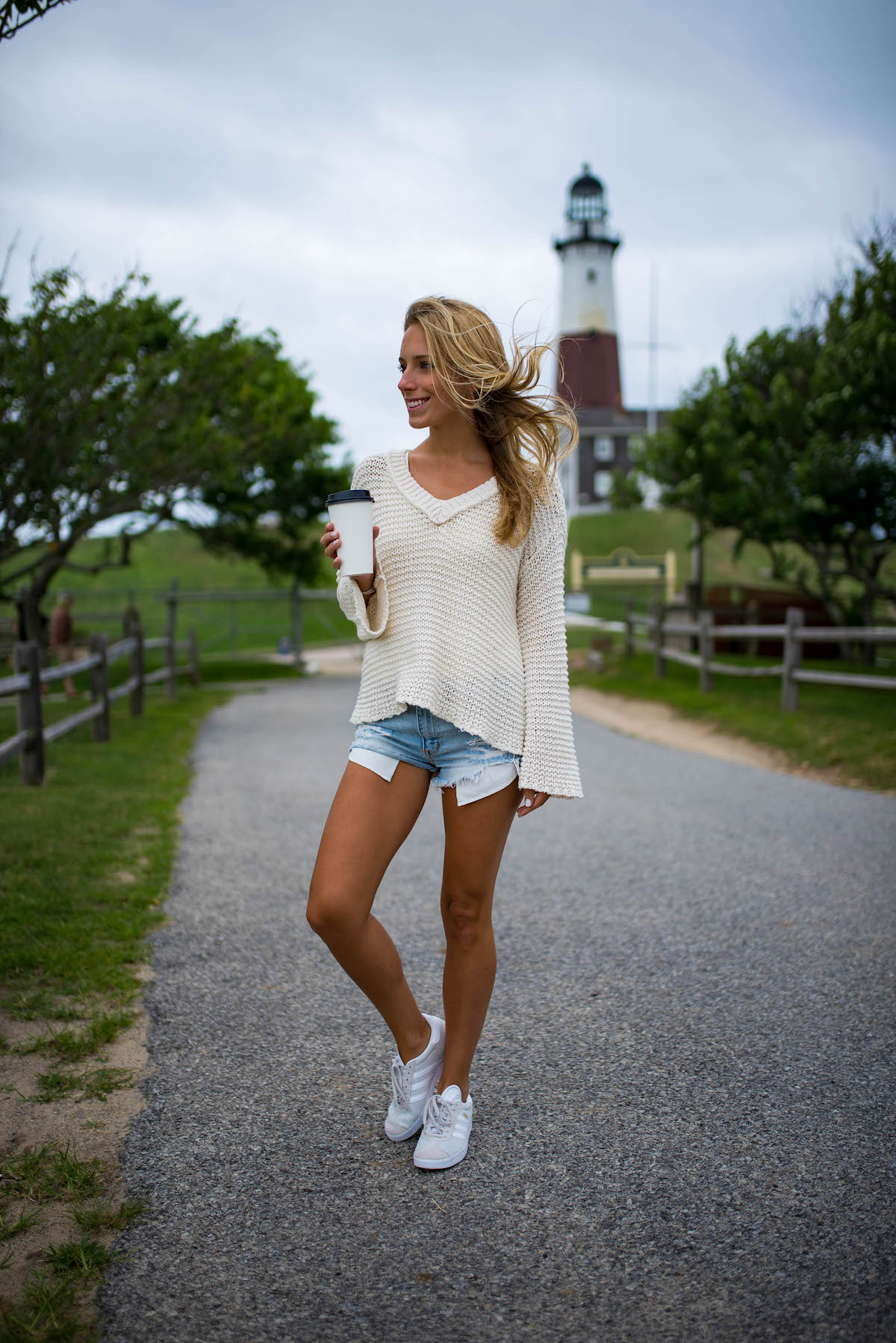 Similar Sweater (sadly mine is only available in maroon) | Denim Shorts | Adidas Sneakers
The Lobster Roll Restaurant
Okay so it may technically be in Amangansett, but there's absolutely no missing the famous Lobster Roll Restaurant off of Montauk Highway. Anyone else watch The Affair on HBO? Well Nick and I are big fans so having lunch here was an absolute must-do for us. They don't take reservations so we made sure to arrive around opening at 11:45AM. We were seated right away and almost immediately after ordering the most delicious overflowing plates with buttery buns filled with fresh lobster were placed right in front of us. I'll seriously be dreaming about these for the rest of the summer!!! I ordered the classic lobster roll (cold with mayo, celery & seasoning) while Nick got the hot preparation (warm lobster covered in hot butter). Of course I had to have a bloody mary too while Nick got a local beer. Needless to say we both left with a food baby though Nick said he could've eaten 5 more servings.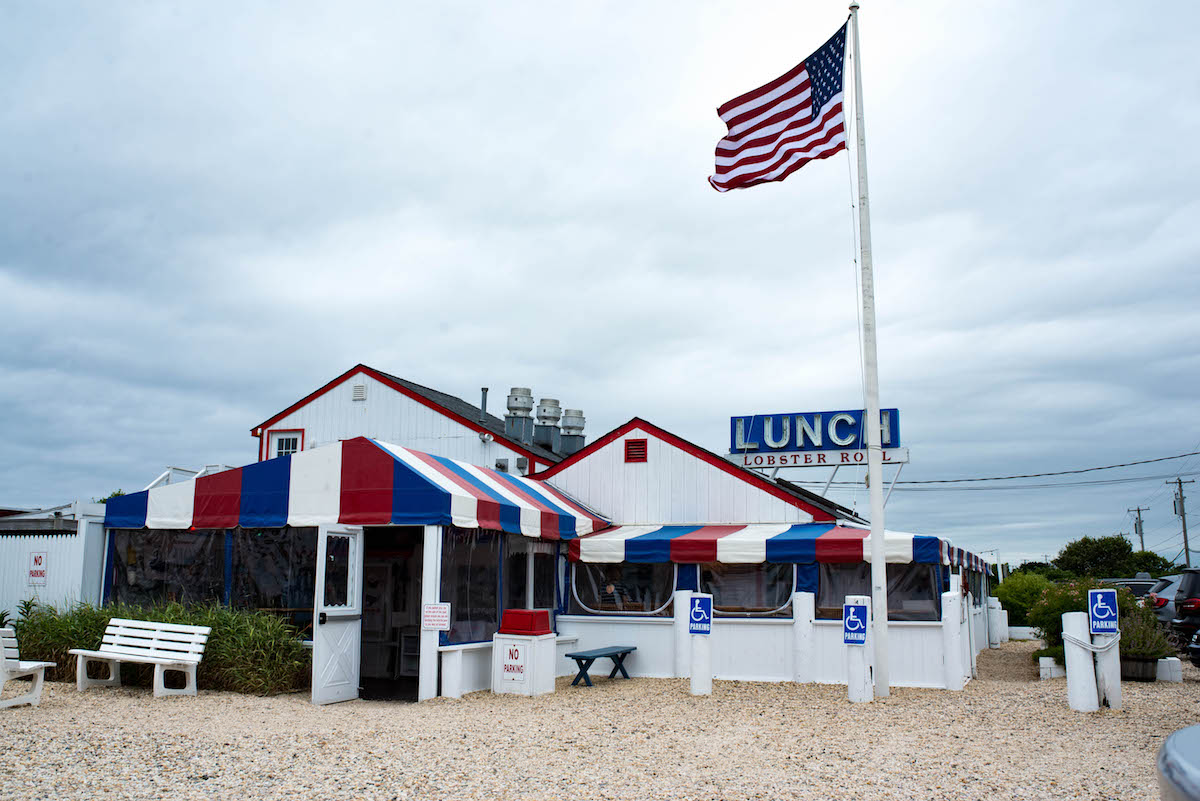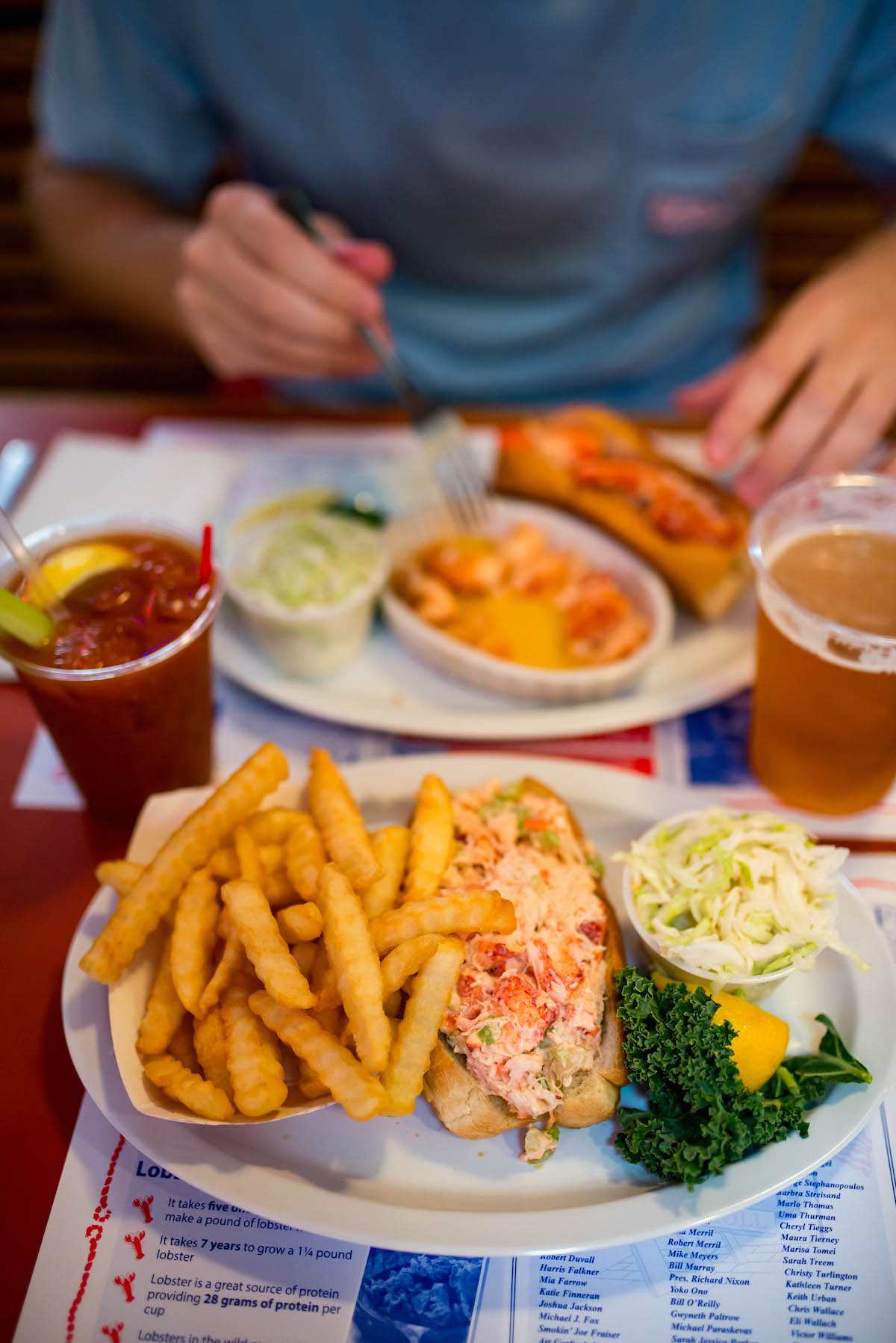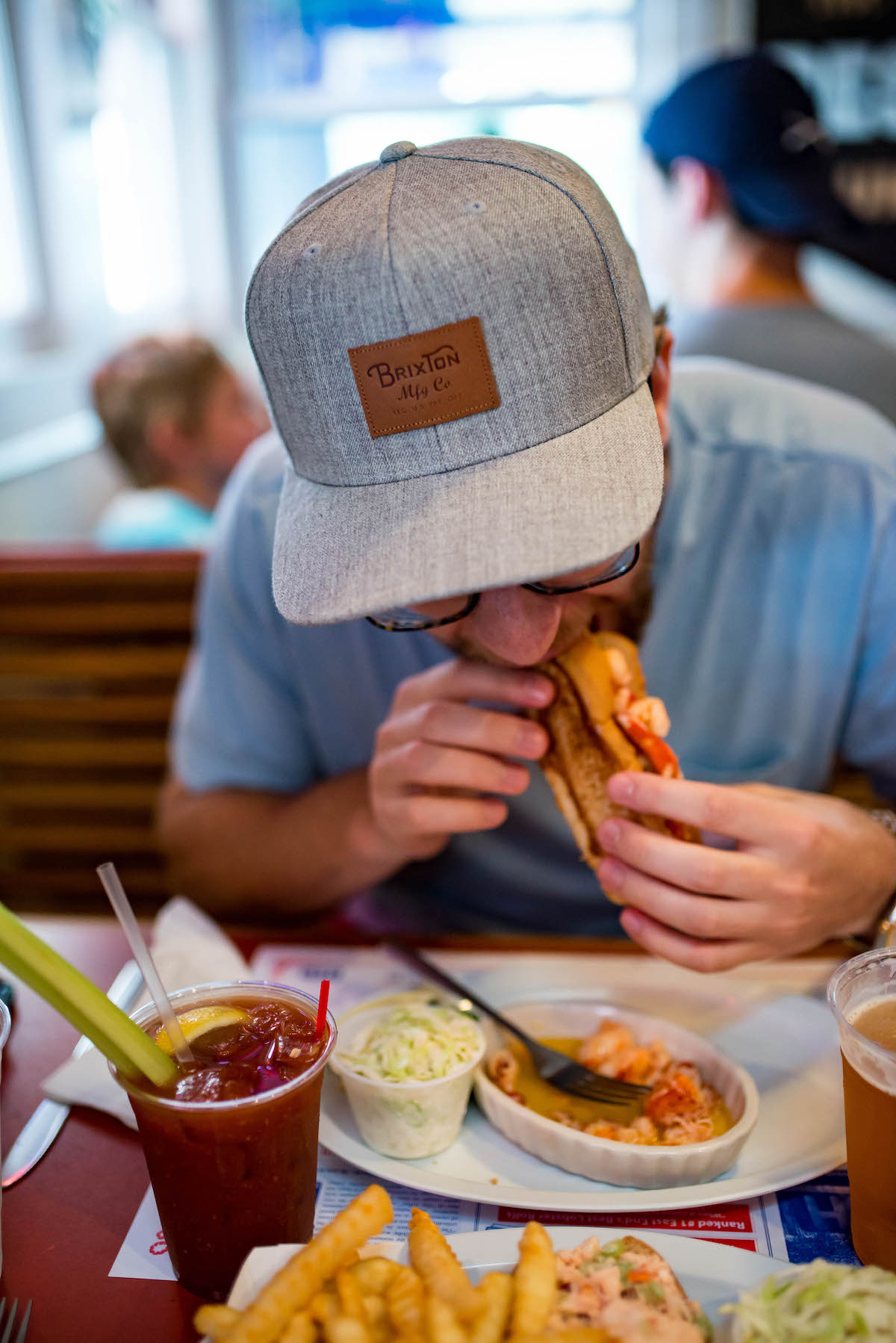 Navy Beach
Navy Beach came highly suggested so we headed here for our second lunch of the day 😛 It's an indoor/outdoor eatery and bar located guess where: Montauk's Navy Beach. We sat inside (it was too breezy on the beach) and the atmosphere was lively with lots of groups. There was a big menu with lots of small plates (our favorite way to dine) and of course an extensive cocktail list. I got another bloody mary, though should've tried one of their signature cocktails. My drink was good, but not memorable. Nick and I then split the tuna crudo and grilled octopus– both were delicious. After eating we perused the outdoor seating area by the beach. it was such a shame the weather was crap because it looked like a really cool place to hang out. Next time!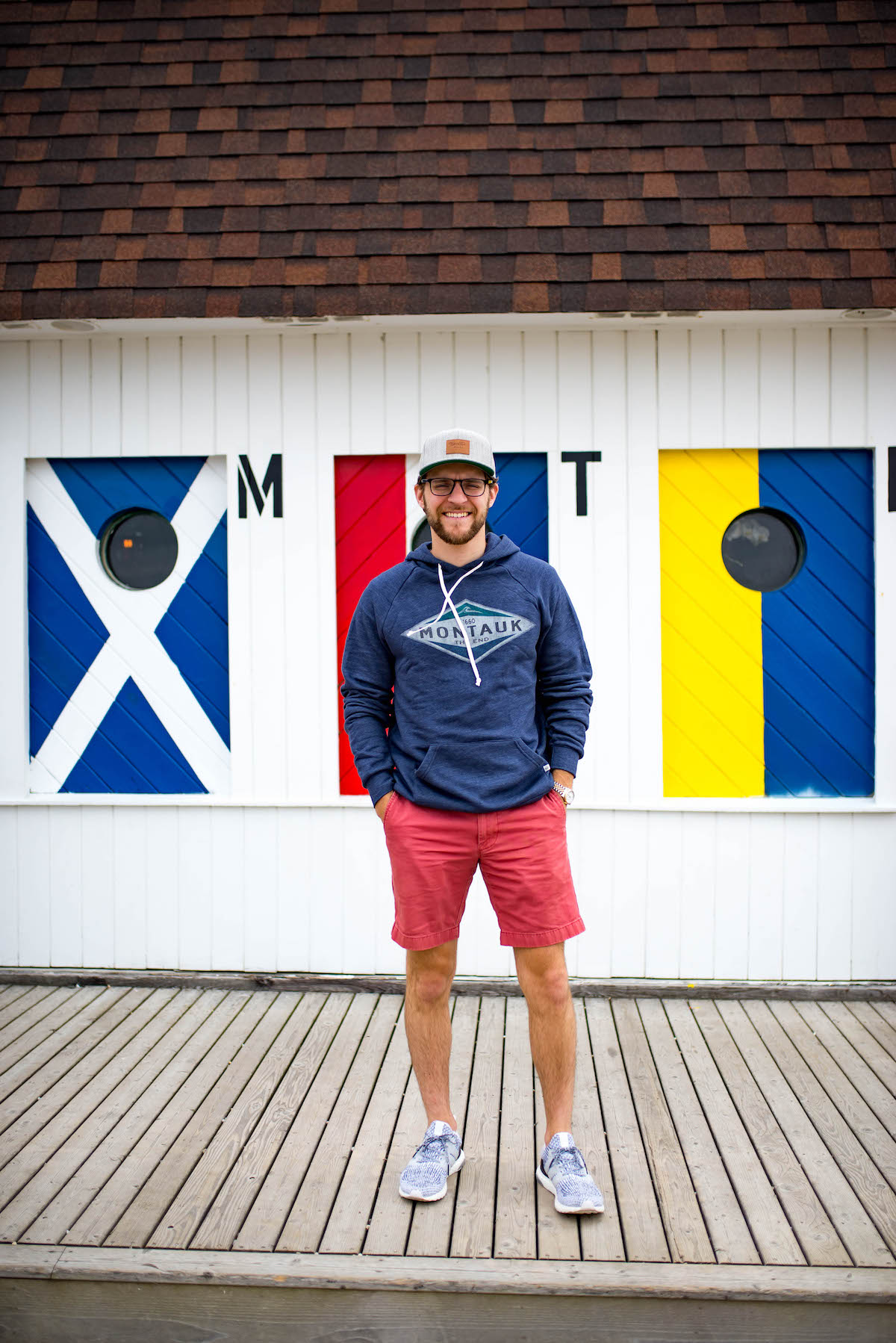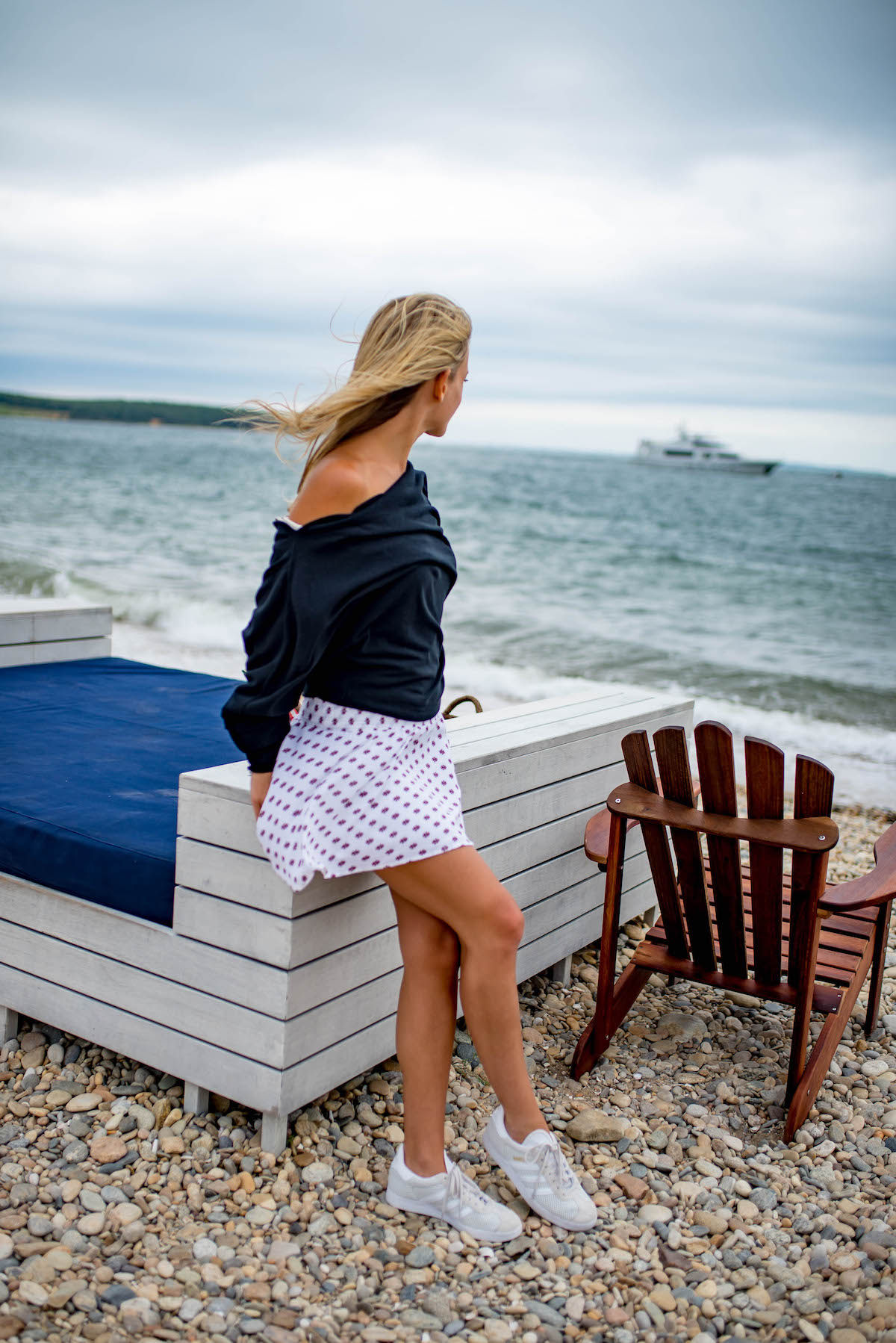 BB Dakota Skirt via Revolve | Off The Shoulder Sweater | Adidas Sneakers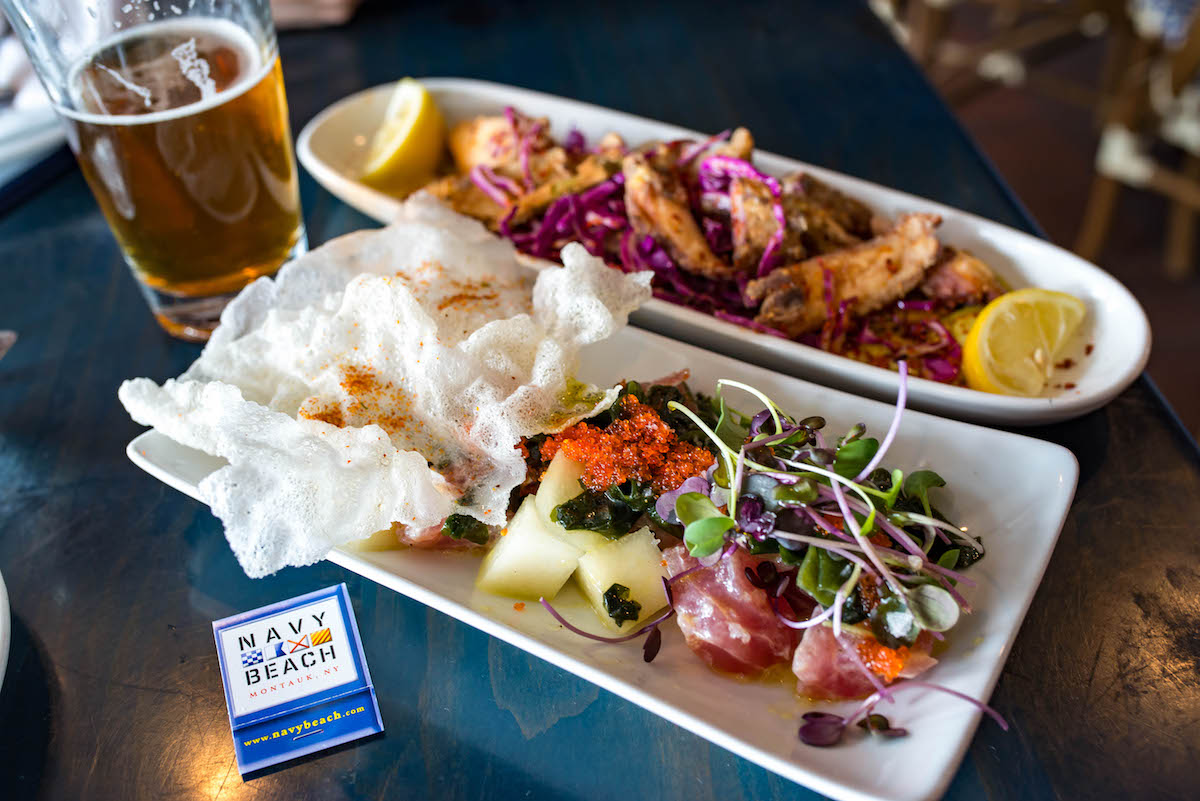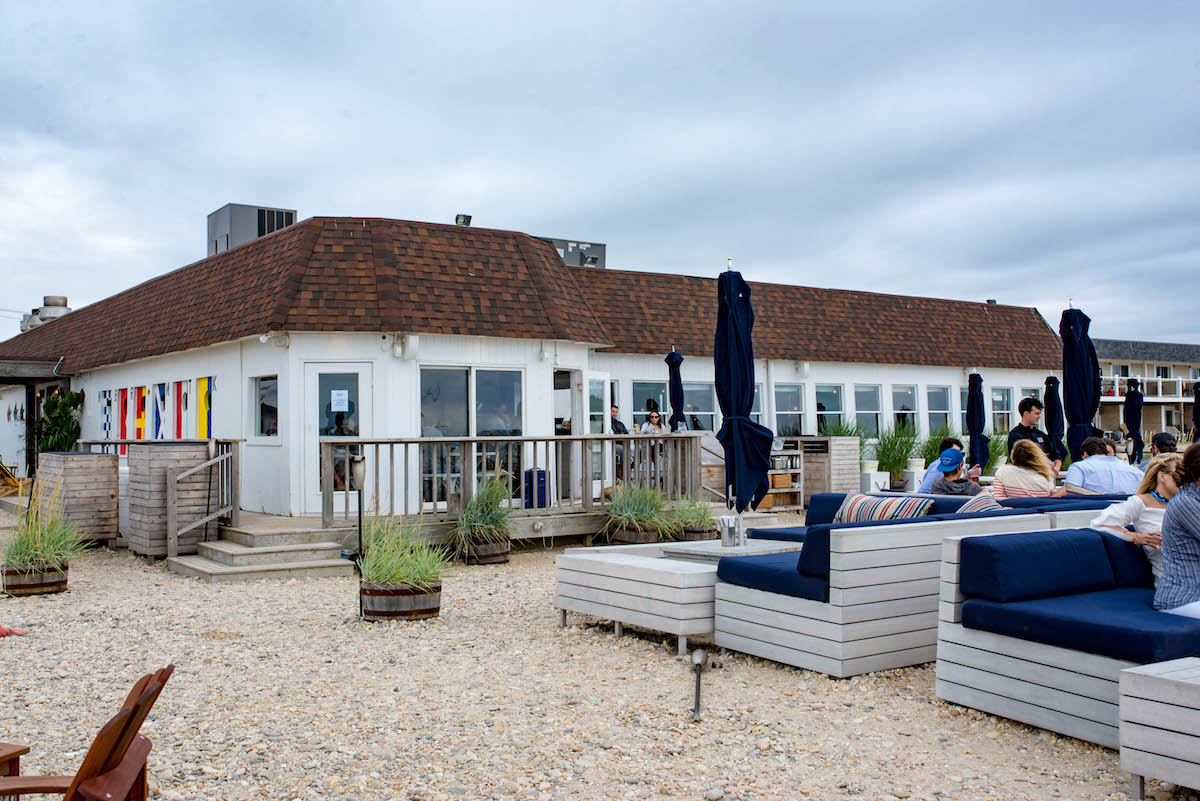 The Surf Lodge
So many people had recommended The Surf Lodge and while popular club-type places aren't our thing I figured we should at least stop in for a drink to see what all the hype was about. So I knew it was a hot spot but I thought if we stopped in at an awkward time like 3-4PM we wouldn't have any issues grabbing a cocktail. Well WOW was I wrong. As we walked up to the entrance we were stopped by security who told us that unless we had a dinner reservation or were planning on buying a table with bottle service at a $2,500 minimum we couldn't be serviced. We didn't even bother just trying to make a case for ourselves and just left. I could understand if we were strolling in at 10PM but at 3:30PM? The whole encounter just felt really elitist and left a bad taste in our mouths.
Montauk Brewing Company
After our fail at The Surf Lodge, we decided it was time to head somewhere more low key. After looking at my list of recommendations we decided on Montauk Brewery. It was busy (clearly a lot of people had the same idea as us) but way more casual and our speed. There were even some families with children. It's not a big brewery and there isn't any seating (besides two small tables inside) but we didn't mind standing in the outdoor courtyard sipping on our brews. I had the watermelon ale and it was amazing. So so good and refreshing.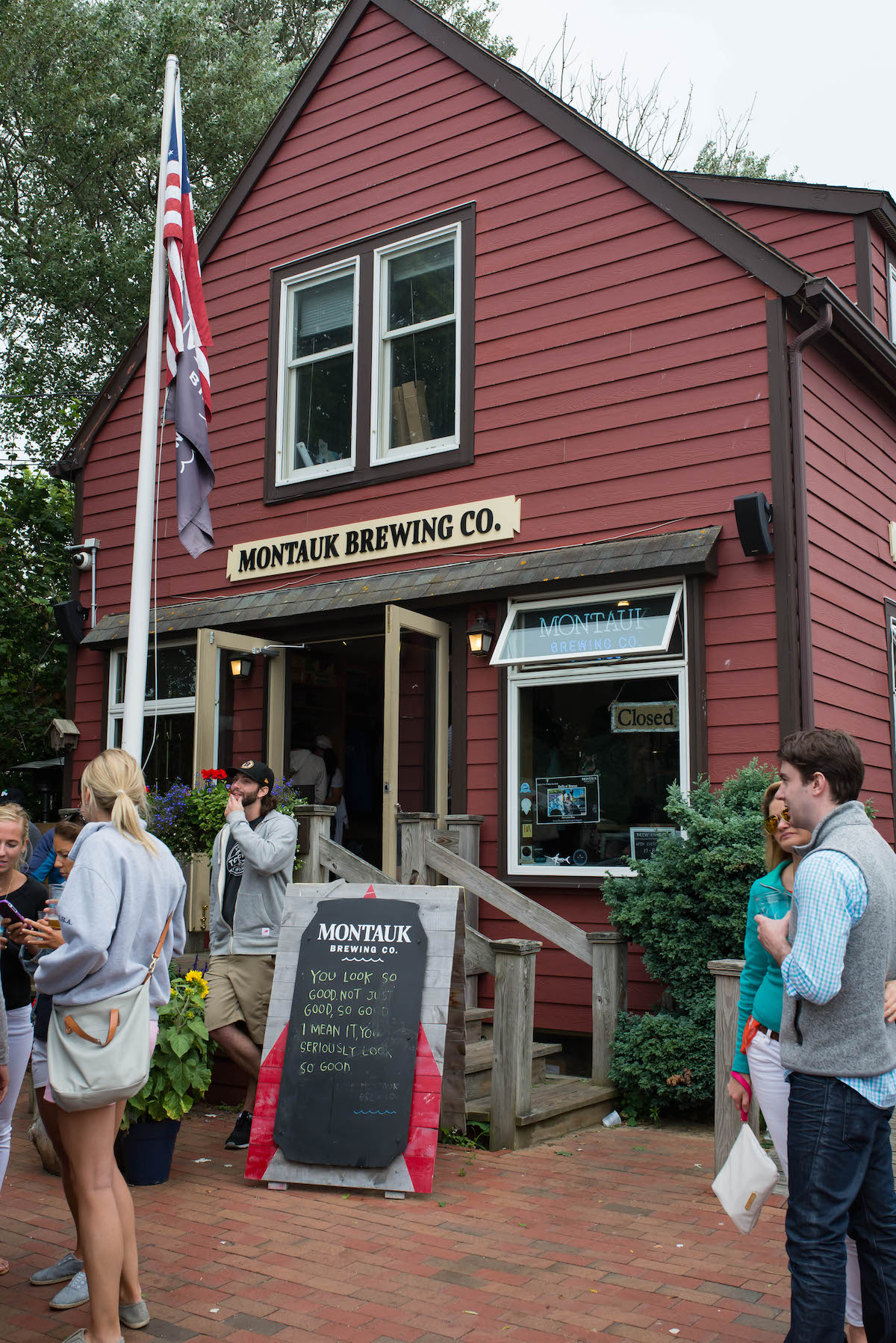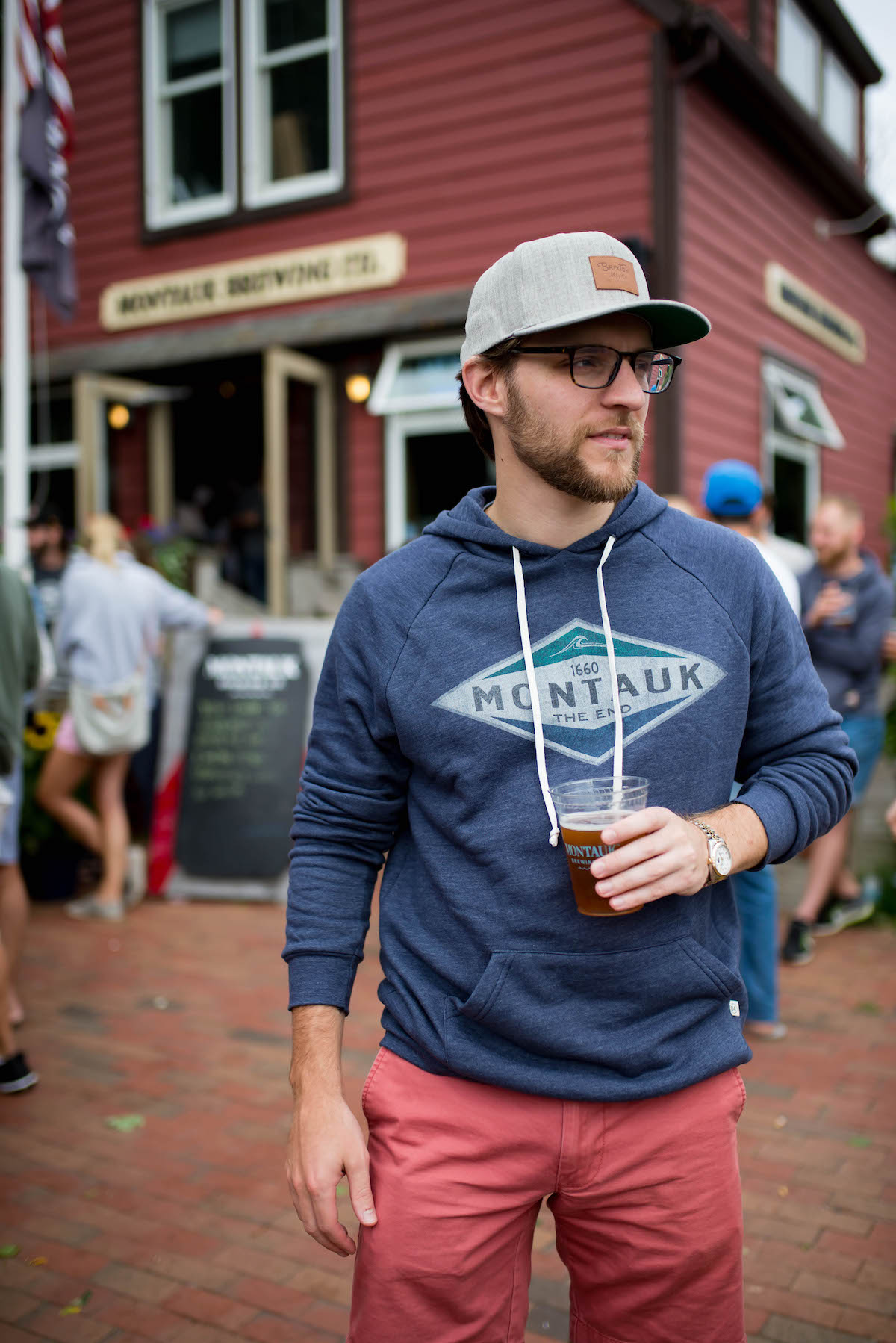 Montauk Bake Shop
Fast forward a few brews later and I was hungry (again). It was late afternoon at this point and we didn't have time to sit down for another meal because I had to attend a brand event in East Hampton (will talk about this more in part 2 of my recap next week!) so we popped in quickly to Montauk Bake Shop for a hot coffee and some sweets. I probably didn't need that cinnamon roll, but I left with absolutely no regrets.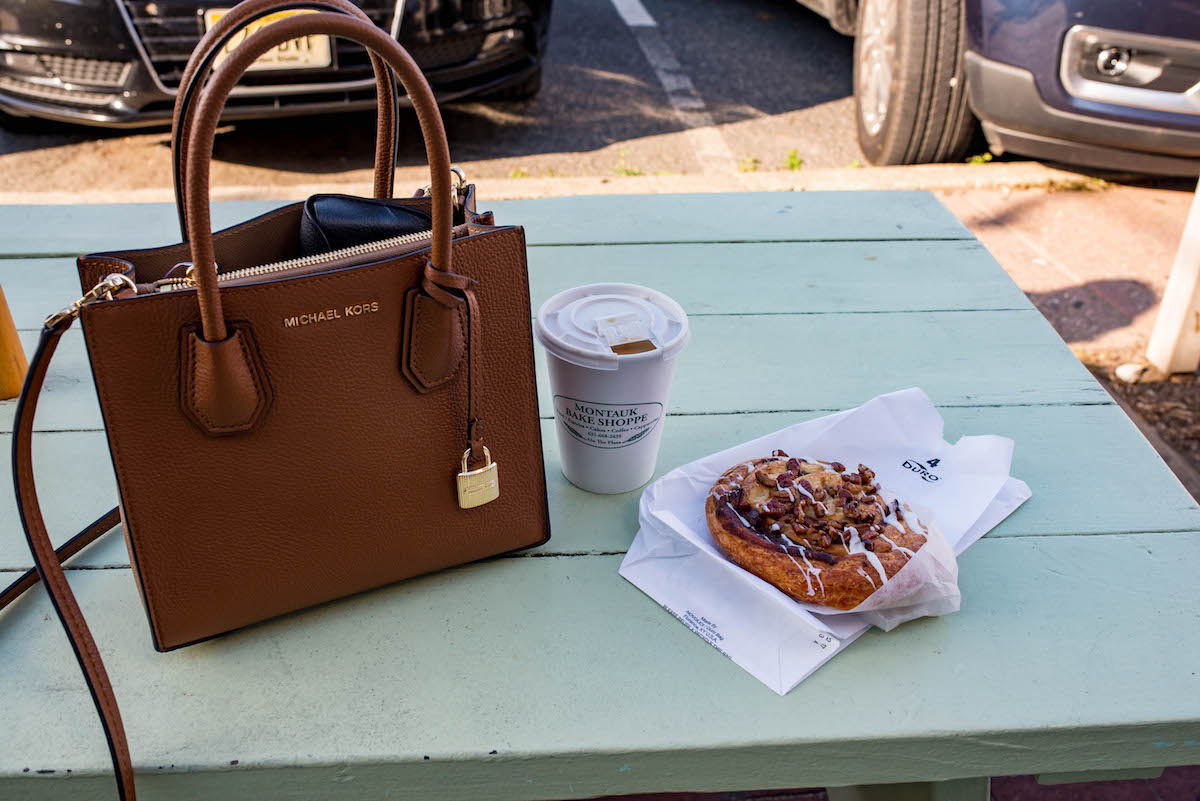 Things To Know
Compared to the rest of the Hamptons (part 2 of my guide is coming next week!) Montauk definitely has a younger and hipper vibe. We noticed lots of groups in their 20s and 30s, similar to the type of people you'd encounter at a nightclub in the city. Despite the crappy weather, we couldn't believe that peeps were still dressed to impress.
Also please correct me if I'm totally off base with this, but we didn't think Montauk was very "pretty." One of our absolute favorite things to do when we travel is browse the streets just looking at the local architecture and any beautiful homes. Montauk just wasn't that photogenic compared to what we saw in Southampton and the other towns. There wasn't much of a downtown area and any homes were hidden far away back from the streets.
BB Dakota Skirt via Revolve | Similar Denim Jacket | White Tank (on sale!) | Similar Panama Hat | Michael Kors Satchel | Adidas Sneakers | Kate Spade New York Watch (on sale for $129, normally $195) | Aviators | David Yurman Bracelets
Would We Go Back?
So real talk. We kinda felt out of place in Montauk. It felt like more of a destination for groups and people who want to 'turn up', not necessarily for low-key couples. It just seemed like people were trying too hard to 'be seen' if that makes any sense? All of the food and drinks we had were amazing, but after hearing all the hype we left underwhelmed. Maybe our experience would've been different if the weather had been sunny or if we were with a group of friends. Or maybe we went to the wrong places? Who knows! The next time we go back to the Hamptons we definitely would focus more of our time on Southampton, Bridgehampton and the other towns and maybe just visit Montauk for dinner (with a reservation in advance, of course.)
- Katie