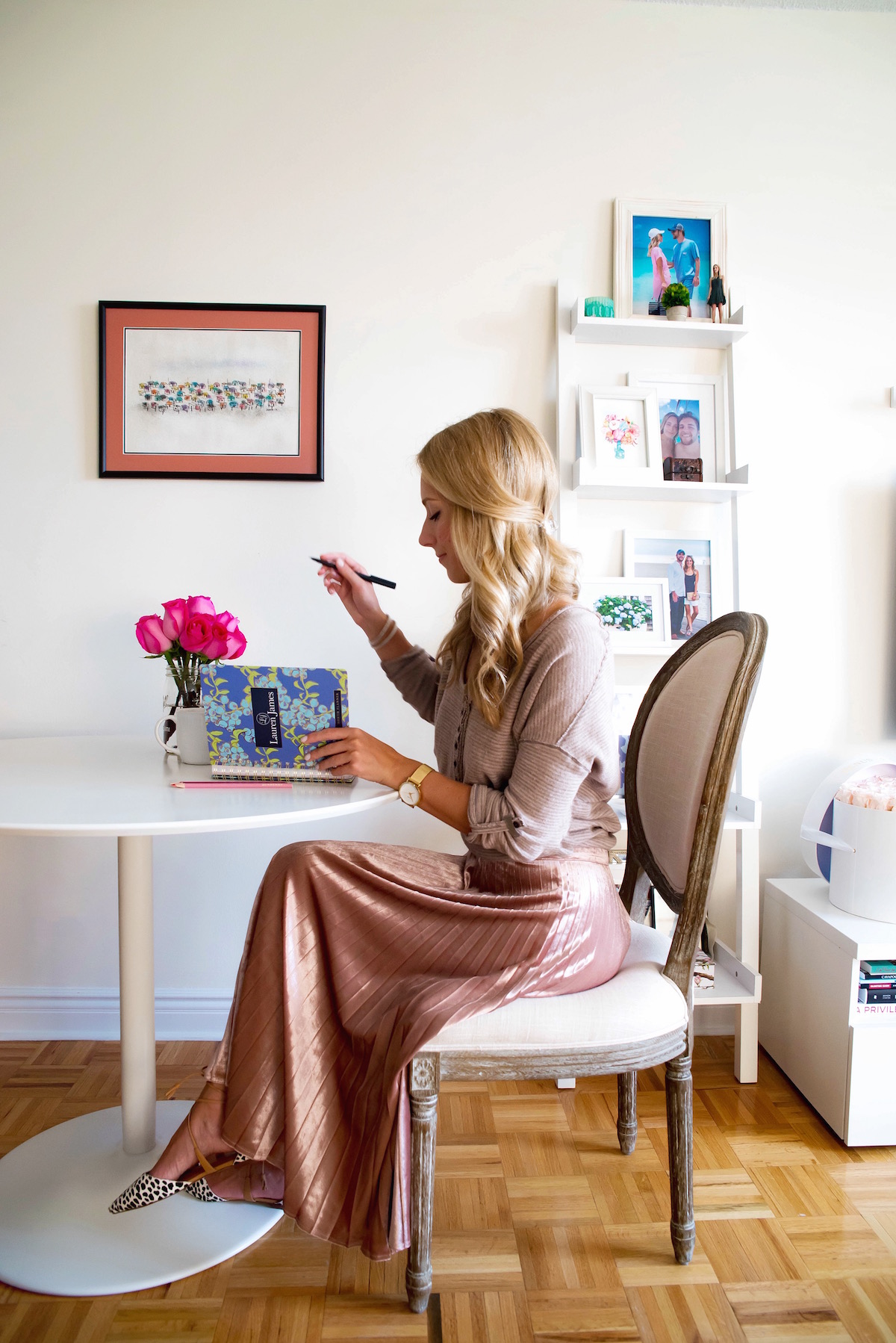 Pleated Midi Skirt (under $100!) | Similar Leopard Flats | Free People Sweater | Gold Watch
Holding yourself accountable for achieving a dream can be tough. Honestly sometimes it's easier to meet the expectations of someone else, than it is to complete the ones you impose on yourself. As you fall into a routine whether it be at work or at the gym, it's not uncommon to lose motivation or push ambitions to the side.
Things come up in a life and you make excuses for yourself. I'm definitely guilty of it– we all are. That's why it's so important to practice mindfulness and always be visualizing your goals. So are you feeling like you're in a rut? It happens to me from time to time, so today I wanted to share five things I do to stay motivated and hold myself accountable when working towards a goal.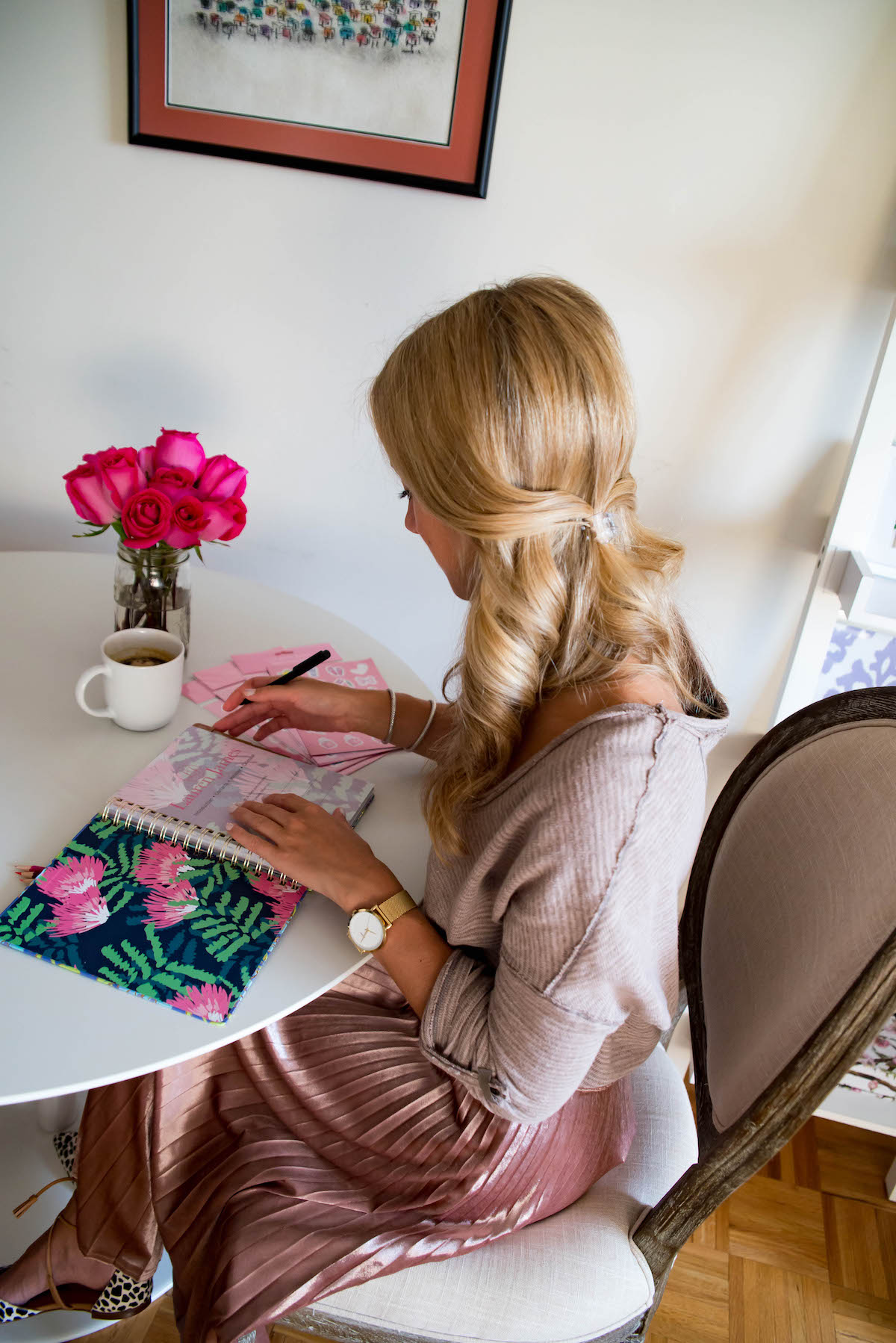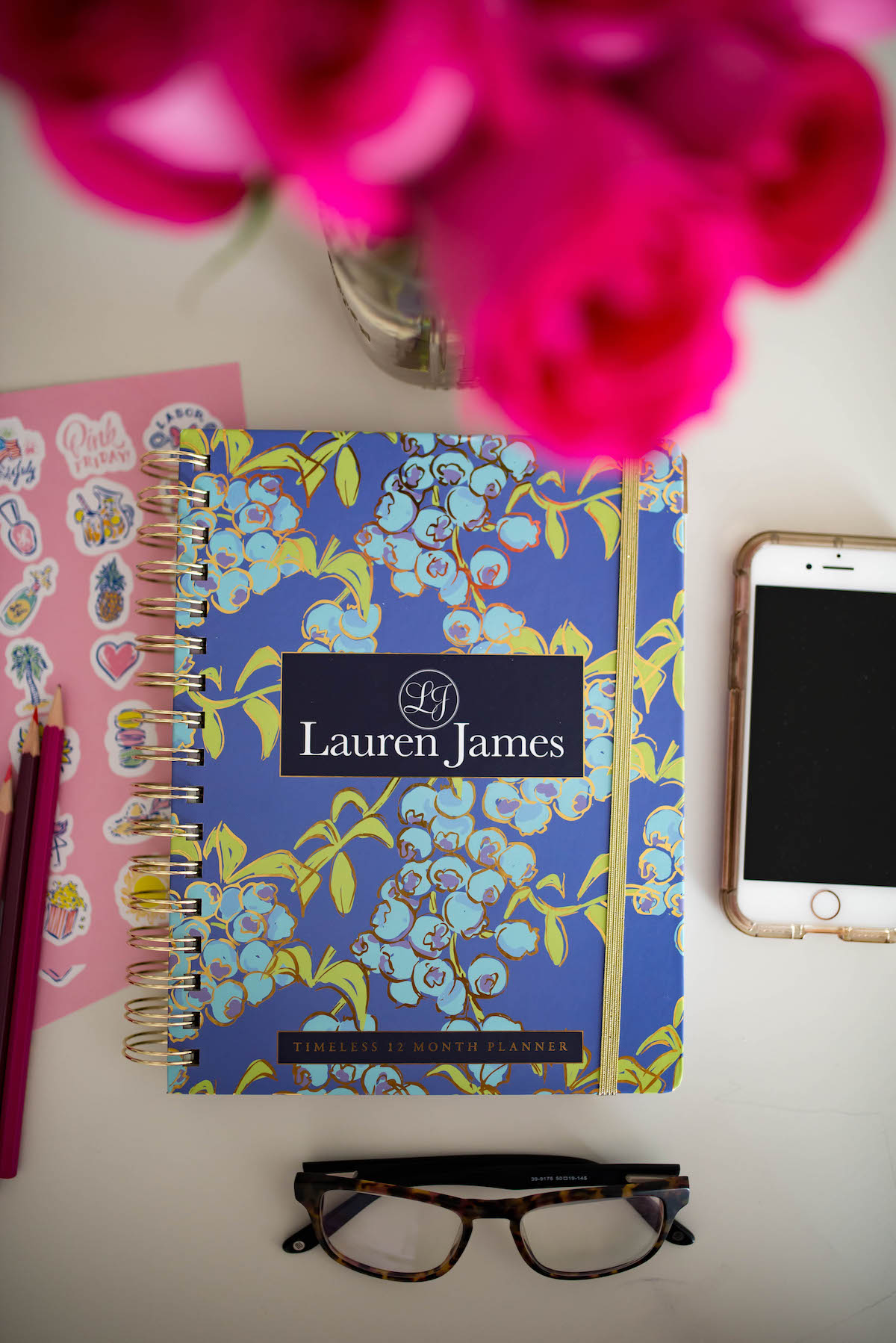 5 Tips To Stay Motivated & Hold Yourself Accountable
---
Set achievable deadlines. Tackle goals step by step. One of the most demotivating things you can do to yourself is placing the bar too high. Having big ambitions are great, but not when they are too lofty that you set yourself up for failure. Break down goals into pieces and set realistic deadlines for yourself. As you work towards your big goal, you'll feel such a sense of achievement as you check the boxes off next to the smaller ones.
Open up about your goals to friends and family. Just by telling another person about something you intend to do could be all you need to take that first step. Voicing something out loud versus keeping it as a dream in your head makes a goal much more real. Think about it. Once you tell a family member or friend about your intention  they're most likely going to ask you about it the next time you see them. You don't want to have to say, "Oh yeah, I haven't started yet."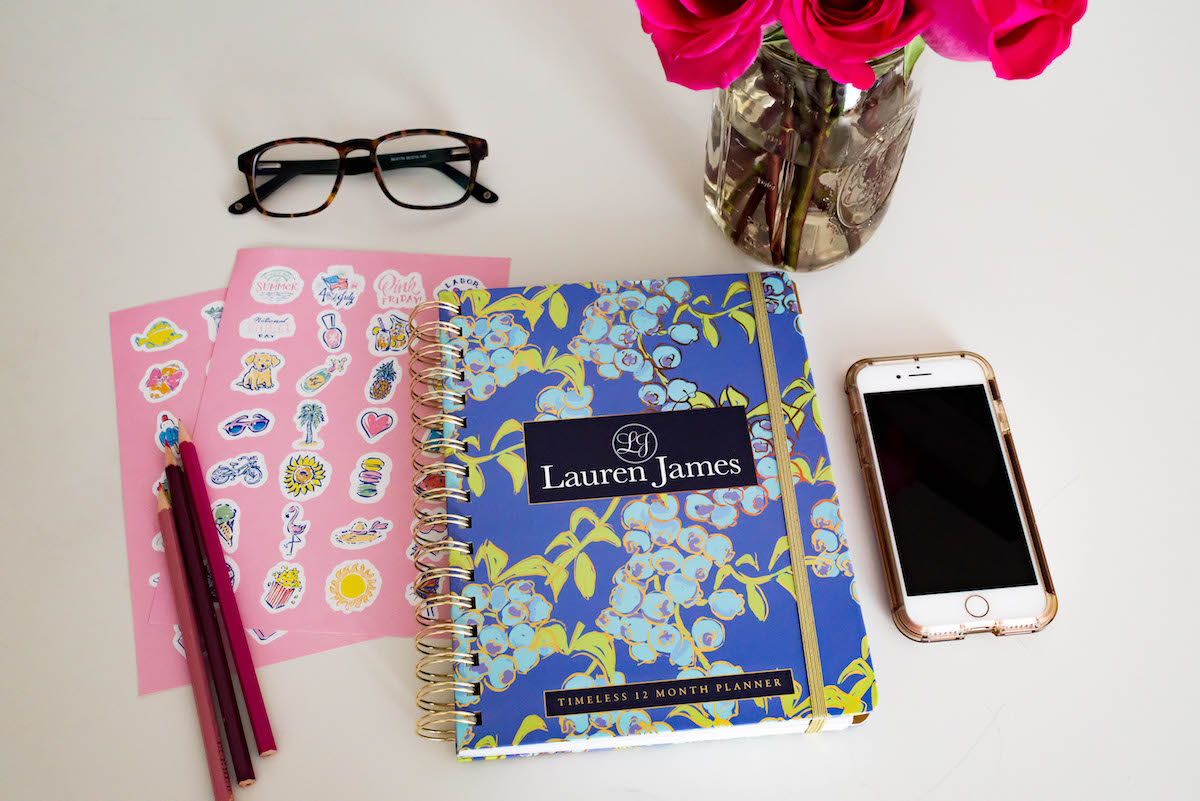 Lauren James Timeless Planner | Seasonal Sticker Pack
Stay organized. I can't stress enough the importance of planning ahead and actually writing things down. Whether it's in a planner or your smartphone, it makes a big difference just seeing everything that you have on your plate. I'm a big fan of to-do lists and especially since I run Katie's Bliss from home, making sure that I stick to working in a designated space in my apartment. It's easier to check off boxes and your less likely to forget things when you have your sh*t together. Some of my favorite organizational tactics are meal-prepping so I don't have to scramble to figure out my lunches during the week, maintaining a calendar that details everything from my meetings to workouts.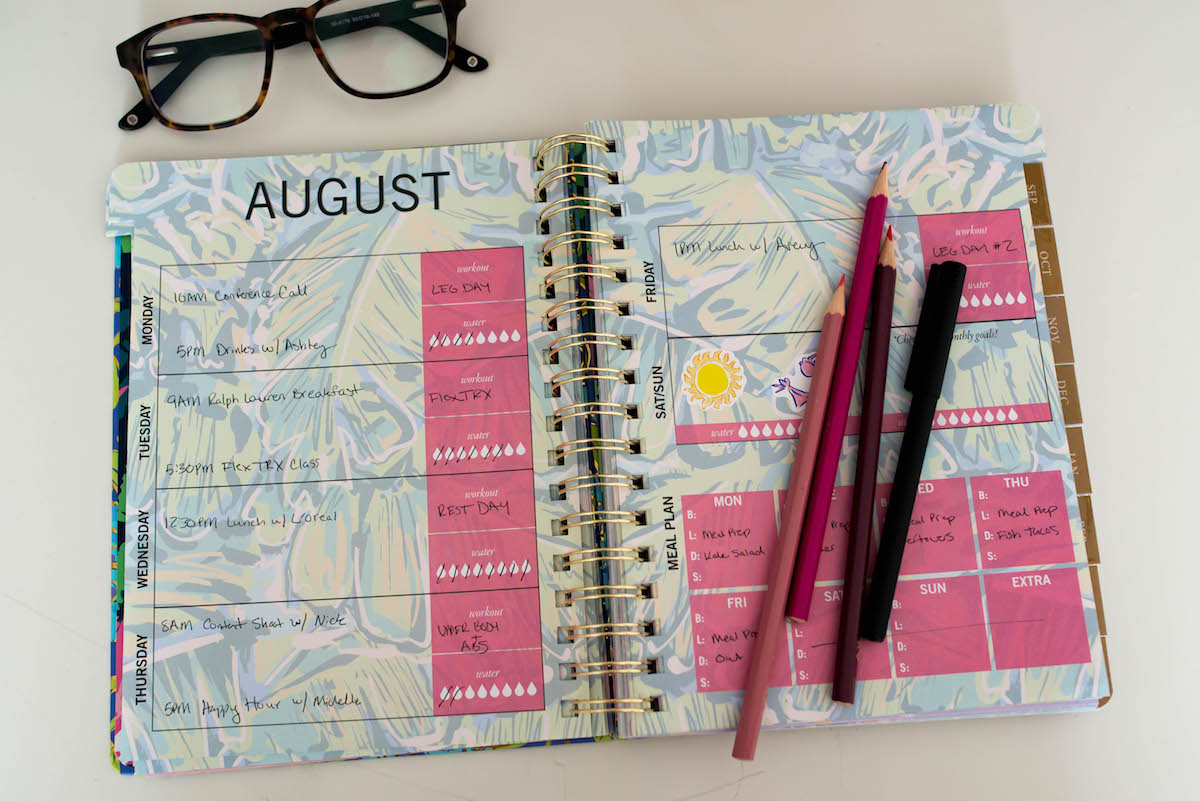 How cool is this Lauren James Timeless Planner? I love how there are individual sections for planning workouts and meals. You can also track your monthly goals and daily water intake– how did someone not think of this sooner? 
Team up with a friend to keep each other on task. Hey, sometimes you can't do it alone. A little positive reinforcement from a friend, family member or co-worker could be all that you need to keep working towards a goal. One of the things I love about my relationship with my boyfriend Nick is that we're each other's biggest cheerleader, but on the flip side we both have no problem calling the other out when we get lazy. If someone in your life is working towards a similar goal or struggling with their motivation, team up and commit to keeping each other in check. Some ideas could be planning a lunch date every week to discuss your goals, making plans to attend the same cycling class, or simply sending each other a few quick friendly reminder texts throughout the week. Sometimes just knowing that someone will be checking in on your progress is the motivation you need to keep at it.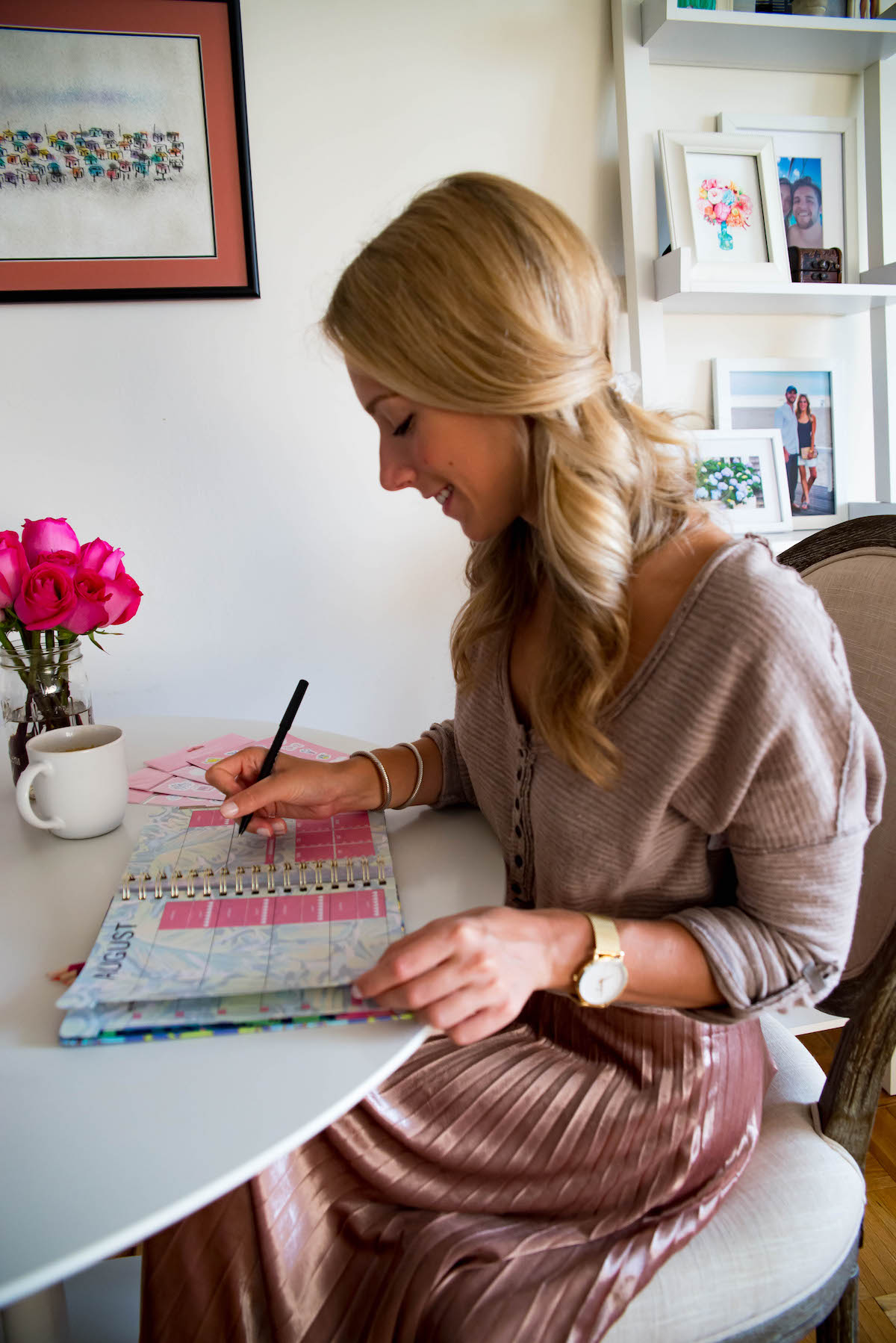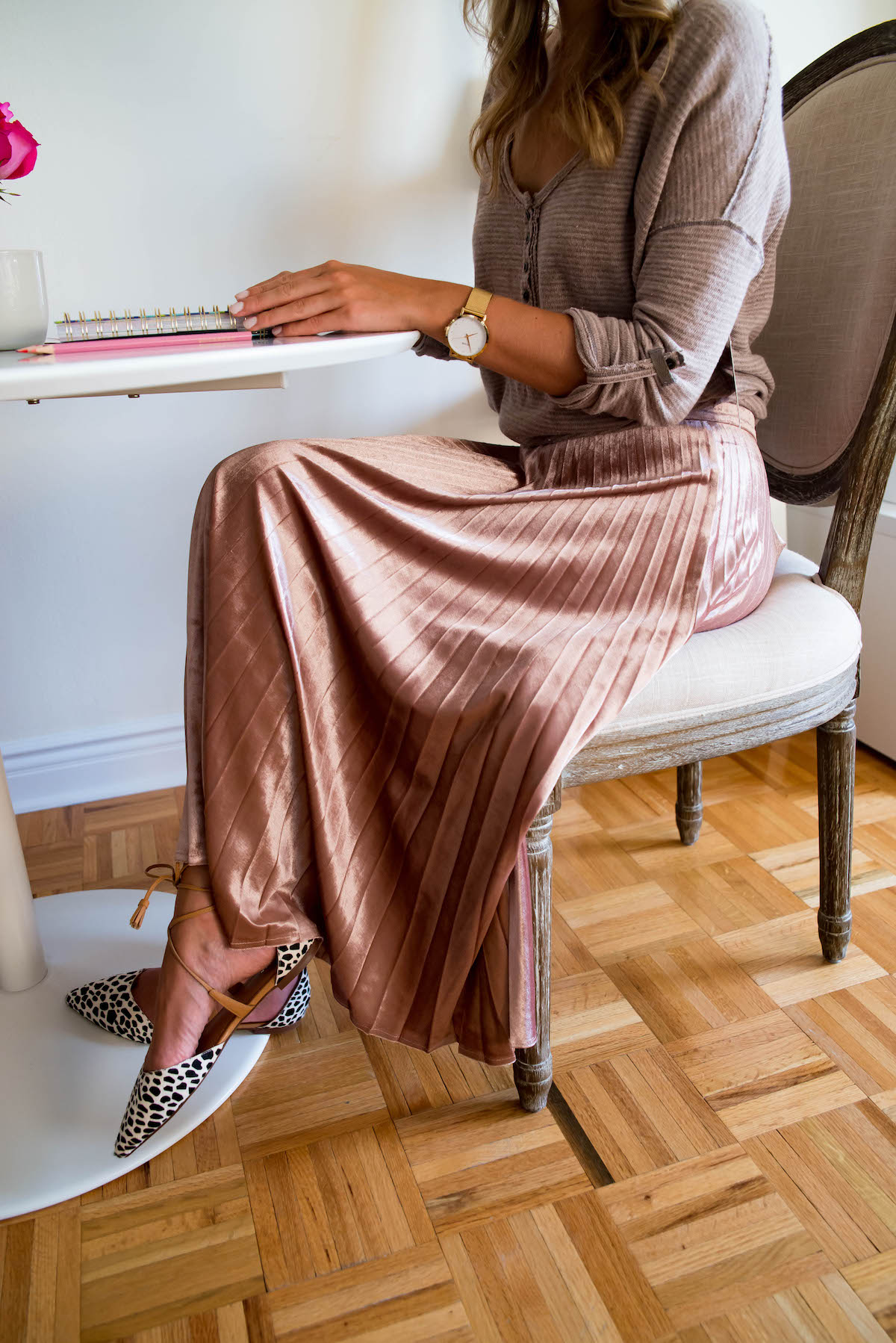 Pleated Midi Skirt (under $100!) | Similar Leopard Flats | Free People Sweater | Gold Watch
Reward yourself. There's nothing wrong with giving yourself a pat on the back as you complete the steps on your way to a goal. Knowing there's a reward waiting for you like a new handbag, dinner at a favorite restaurant or finally buying that plane ticket to your dream destination can be great motivation. But at the same time if you miss a deadline or fall off track, you shouldn't just let yourself get away freely and impose a consequence.
Would love to hear what you do to hold yourself accountable when working towards a goal!
Big thank you to Lauren James for sponsoring this post!
- Katie