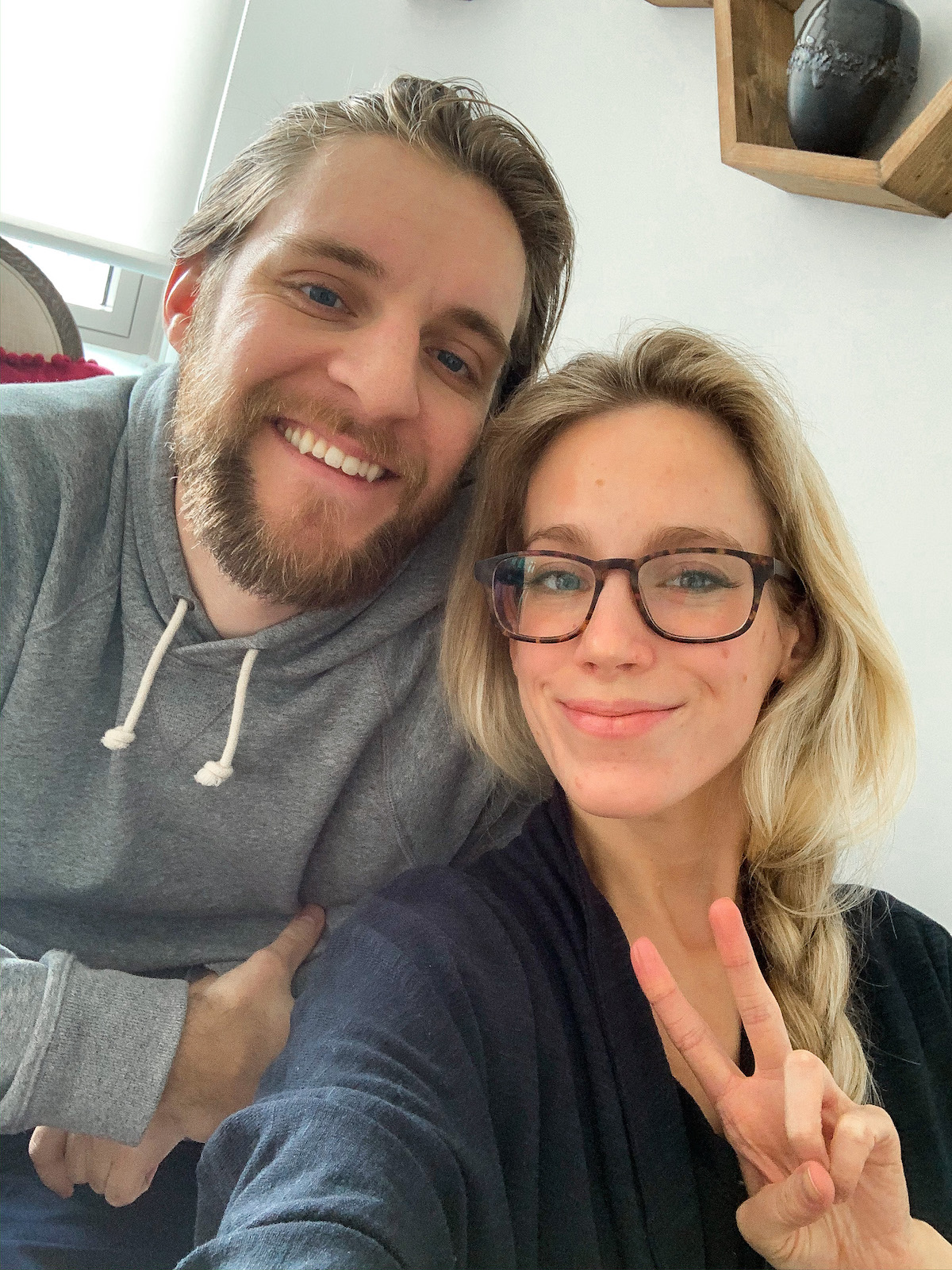 Working from the comfort of your own space definitely has its perks. You can wear what you want, eat whenever you please, play music and watch TV, take a break to do the laundry and you don't have a boss or supervisor looking over your shoulder. That said, all of that freedom can easily become a distraction. Many people like myself thrive from having a daily routine. It can also be a shock especially if you're extrovert going from an office full of lively coworkers to having to do your job at the same capacity with only digital devices to connect you to your team.
Tips for working from home is a hot topic in the blogosphere lately. While I've been blogging full time from my apartment for nearly four years, I know for many of you this is the first time you have been tasked with doing your job virtually and in many cases alongside your significant other.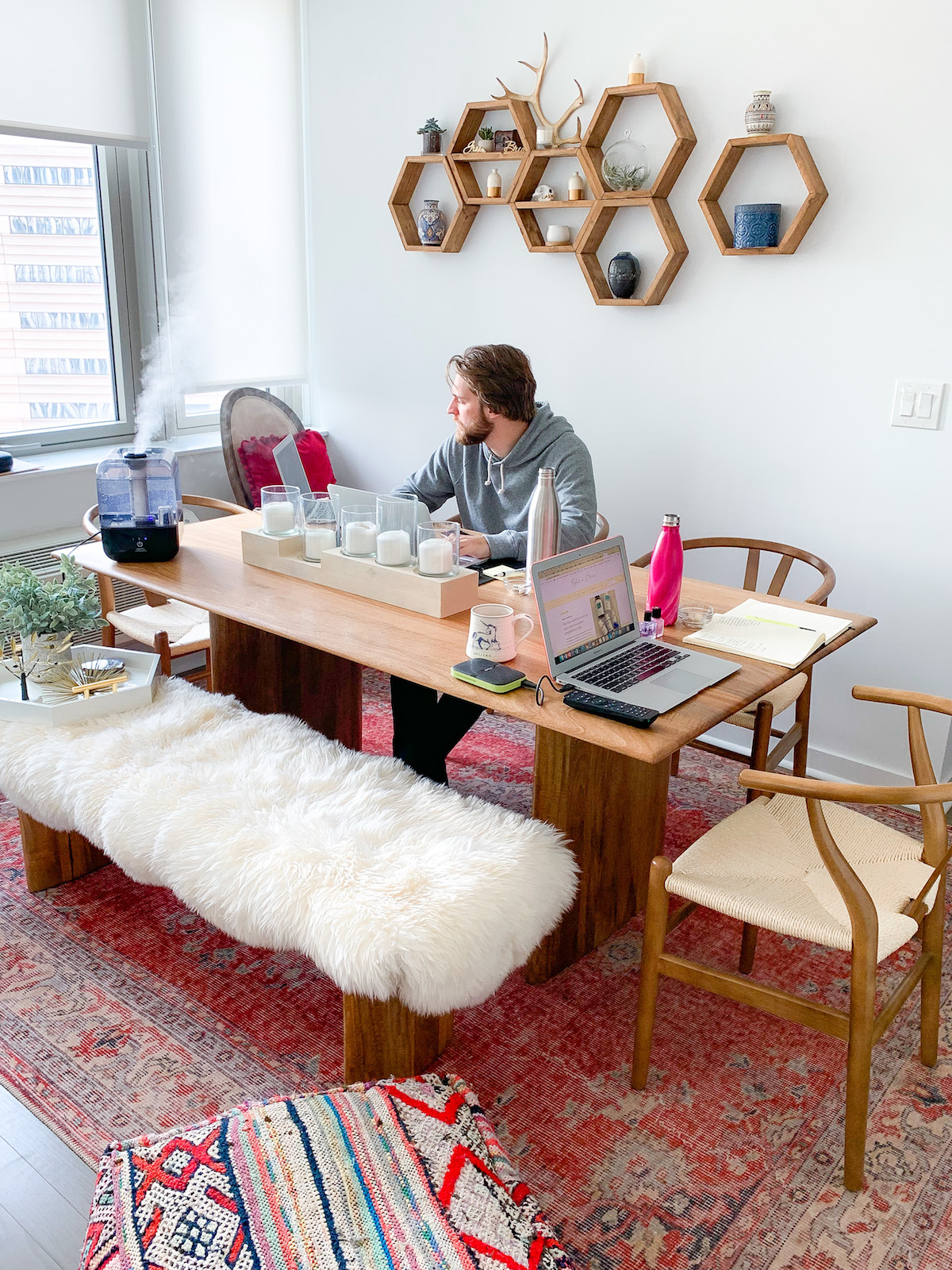 ITEMS PICTURED // Wood Dining Table | Dining Chairs | Dining Bench | Similar Carpet | Shearling Throw (draped on bench) | Wood Candle Centerpiece | Humidifier (to combat the dry air in our apt!) | Honeycomb Shelves (all shelf decor linked here) | Water Bottles | White Tray
At this point I feel like "working from home tips" is a bit overdone. Since my job as a blogger is so different from the standard 9-5 and my home has been my office for so long now– I don't think I'm the best person to ask for that kind of advice anyway as I haven't had a traditional job with coworkers in nearly four years.
That said, I can 100% relate to everyone who is feeling anxious and a bit stir crazy adjusting to social distancing and living in self-quarantine. While I love working solo, I'm definitely not used to being cooped up in my apartment all day without the freedom of being able to go to a pilates class, grab dinner with a friend, take an in-person meeting with a brand, etc. I'm also still adjusting to weekday life with my new full-time live-in coworker: my husband.
So if you're in the same boat as much then this post is for you!
How To Stay Sane Working At Home With Your Significant Other
Keep To A Normal Work Day Schedule. If you were always at your office and working by 8AM– do this at home and encourage your partner to do the same. Set your alarm early, have breakfast, get dressed and be at your desk (or wherever you are setting up your home work station) ready to go as if you were in your actual office. If your partner needs to be awake and working earlier than you– be respectful and let them go about their routine. If they have a conference call, etc. go to another room and keep noise to a minimum. Keeping a routine will help you easily swing back into the work grind whenever life returns to normal.
Get Dressed, Wash Up & Have Your Coffee. This goes along with my first point. Try to maintain as close to your regular routine as possible. Change out of your pjs into a socially acceptable outfit (yes comfy loungewear counts!) Wash your face, brush your teeth and do your skincare routine. If a little makeup helps you feel put together– go for it! Skip the Starbucks and make coffee at home for you and your partner. Establishing an in-home routine that makes you feel as if you're getting ready for a regular work day will help you feel more motivated and productive.
Loungewear That's Cozy & Cute!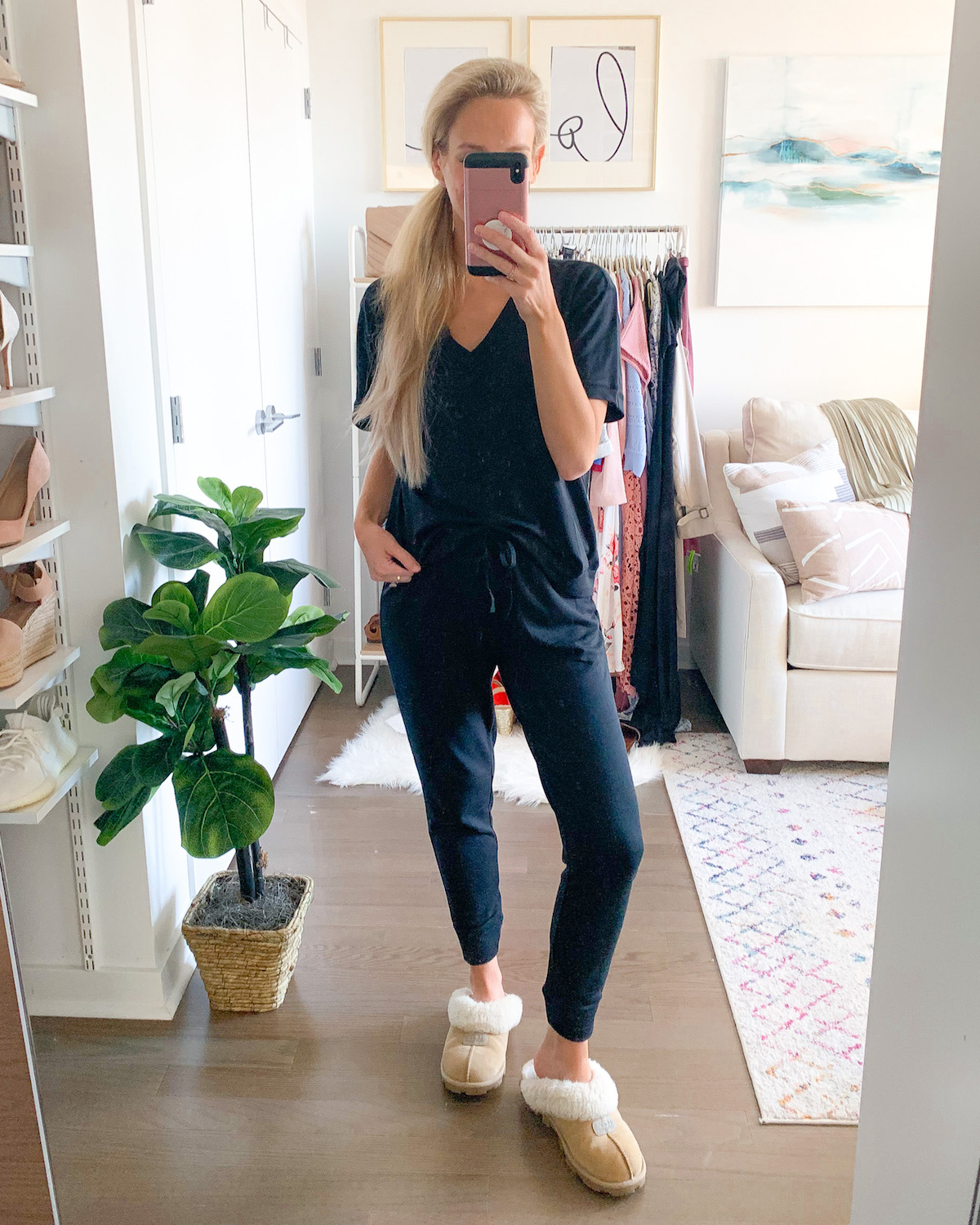 OUTFIT DETAILS // Lounge Tee | Lounge Joggers | Slippers
Try To Reduce Distractions. Suddenly being confined to close quarters working with another person that isn't your coworker can be jarring. Nick and I have very different working styles. He can do a million things at once with lots of noise and commotion. I on the other hand like to focus on one task at a time and need peace and quiet. Perfect combination for working together in a small apartment right?
I typically like to work from our dining room table, but now that Nick is home and needs the space to set up his multiple computers (he uses two screens for work) I've been taking my laptop to our second bedroom or our living room couch when I need to really focus on my work. Nick's busiest hours when he does calls are in the mornings before noon, so I've also been trying to do more of my non-computer related tasks at this time so I'm out of the room and not distracting him.
If you live in a house (jealous btw) make your own "offices" in different rooms of the home and set a time to meet in the kitchen for lunch everyday 😛
It's a balancing act for sure and we're still figuring it out ourselves, but I think the most important thing is to try and be as accommodating and understanding as possible with one another. Nick knows how tough it is for me to focus when there's lots of noise so he's definitely toned down his rambunctiousness. The fact that I've been making him yummy fresh pressed juices and a homemade lunch everyday probably helps 😛
Stay Active. Easier said then done in these times, I know. But trust me when I say that you will feel so much better and clearheaded after a quick sweat or walk outside. To keep active, we've been doing a 30-45 minute workout in our living room. So far we've done a couples workout we found on YouTube (I filmed it for y'alls enjoyment!) I also signed up for the Tone It Up and Obe fitness apps– both are offering free trials right now. My friend Carly posted a full list of virtual workout apps that you can do from home– highly recommending reading it!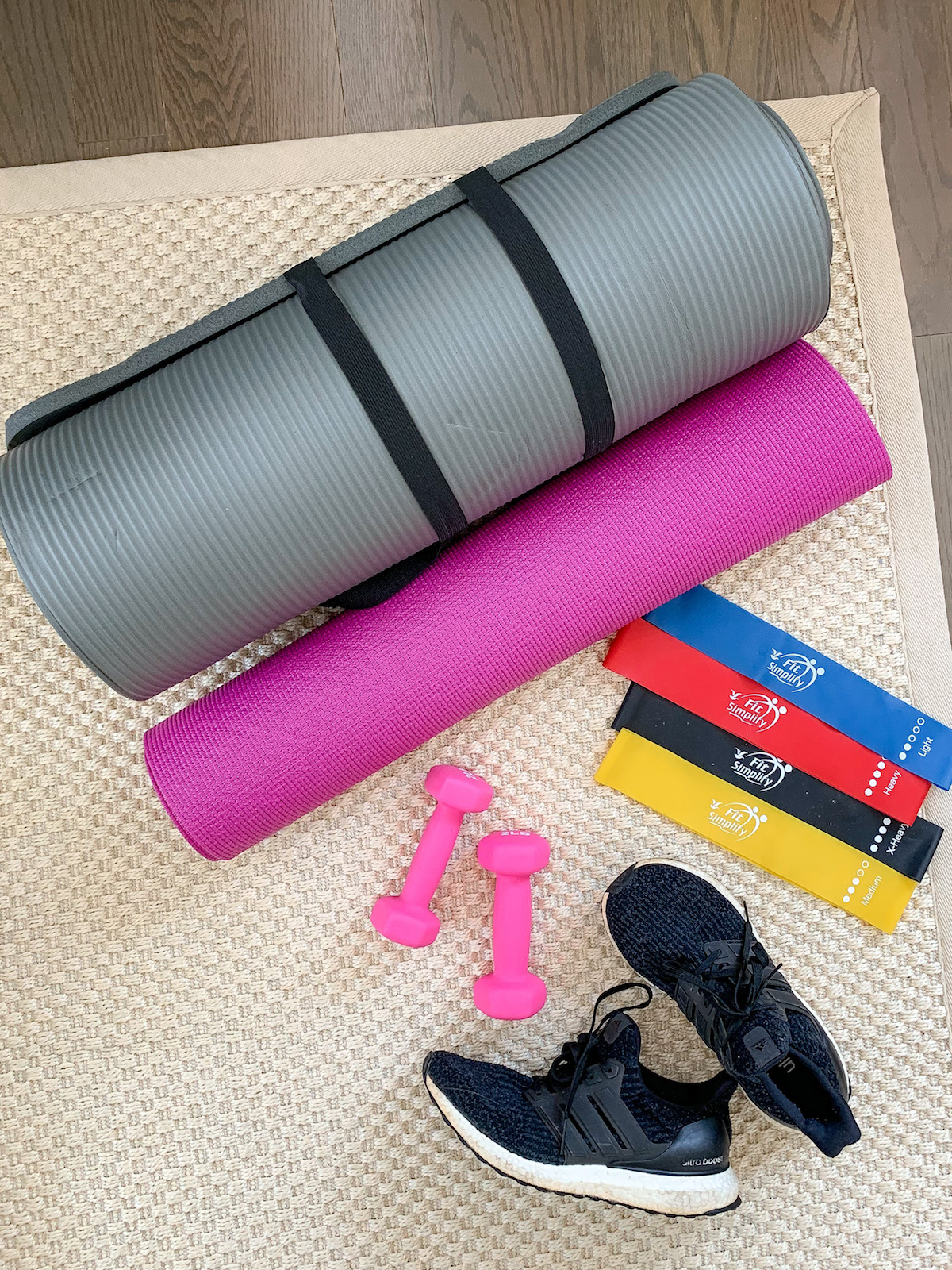 AT-HOME FITNESS GEAR // Extra-Thick Yoga Mat | Pink Yoga Mat | Resistance Band Set | 2lb Hand Weights | Adidas UltraBoost Sneakers

Motivate + Keep Spirits High During Downtime. Working from home can be hard and distracting. My husband thrives in a lively office environment when he is surrounded by coworkers, so needless to say he isn't particularly loving the quiet seclusion of our apartment. Many people can become demotivated working from a small quiet space with minimal interaction with others. If you or your partner are feeling this, then try your best to be their source of motivation and positivity. Here are some ideas of things you can do together:
Things To Do During Downtime While Social Distancing:
Listen to an uplifting playlist that you both love (we're partial to Spotify's Disney Hits)
Have a Facetime call with a group of your college friends
Go on a walk, jog or bike ride around your neighborhood
Do a couples workout in your living room (we tried this yesterday— don't judge! LOL)
Cook dinner or lunch together
Take a drive and listen to more music
Browse Zillow and daydream about your "dream home" (a favorite past time of ours)
Make a list of organizational home projects and tackle them 1 by 1
Play a board game
Go on a Netflix binge (here's a list of my favorite TV series)
Keep Personal Stuff Out Of The Work Day. It's tempting to talk about chores, family and real life things at 10AM on a Monday because your husband is right there– RESIST! Save it for the evening when you've both finished your work for the day.
Blame Everything On An Imaginary Coworker. Ok this is kind of a joke, buttttttt also legit advice. I saw this on Instagram yesterday and immediately burst out laughing. If you find yourself bickering or annoyed by something– just blame it on Cheryl or Jim!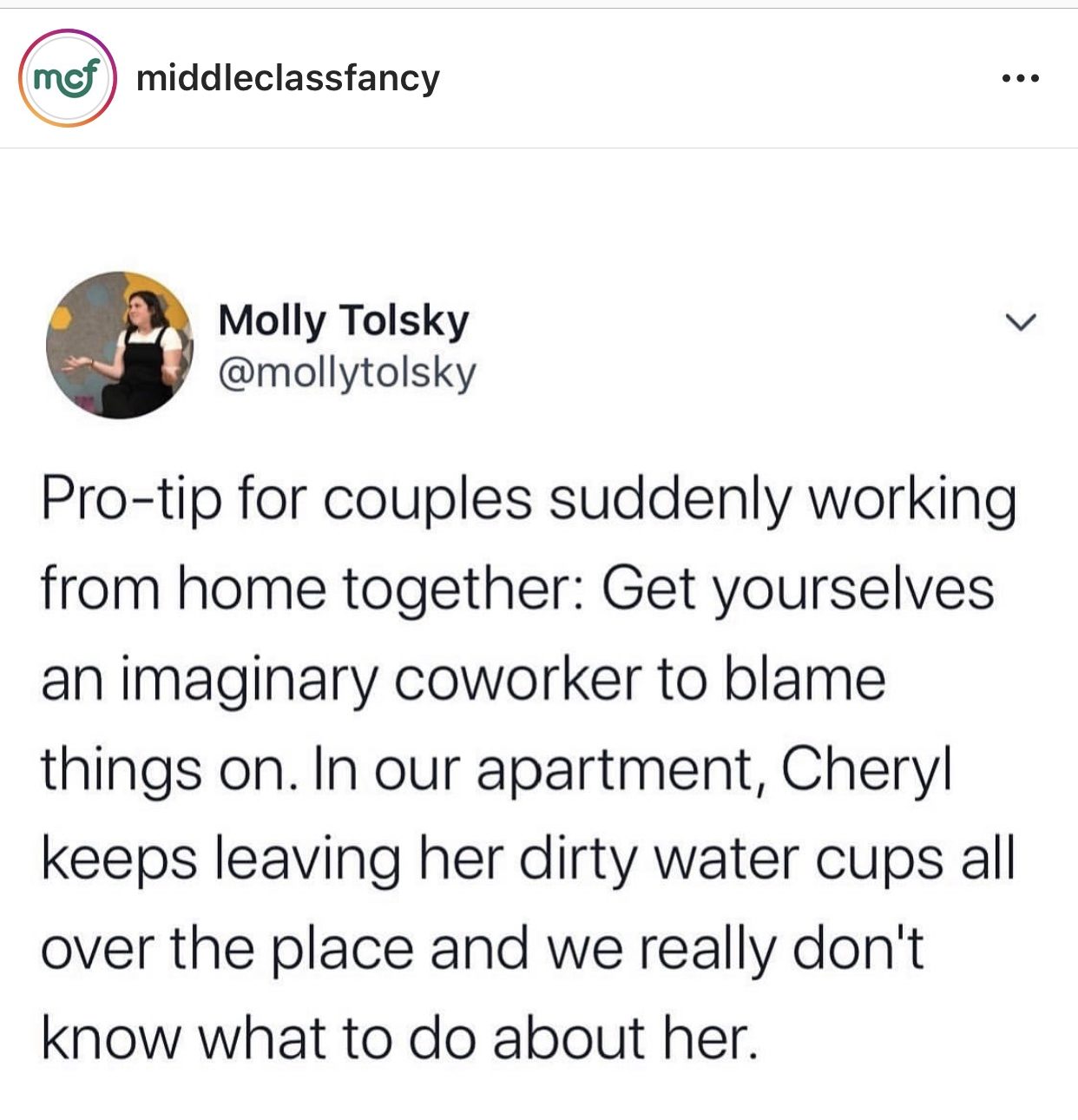 - Katie