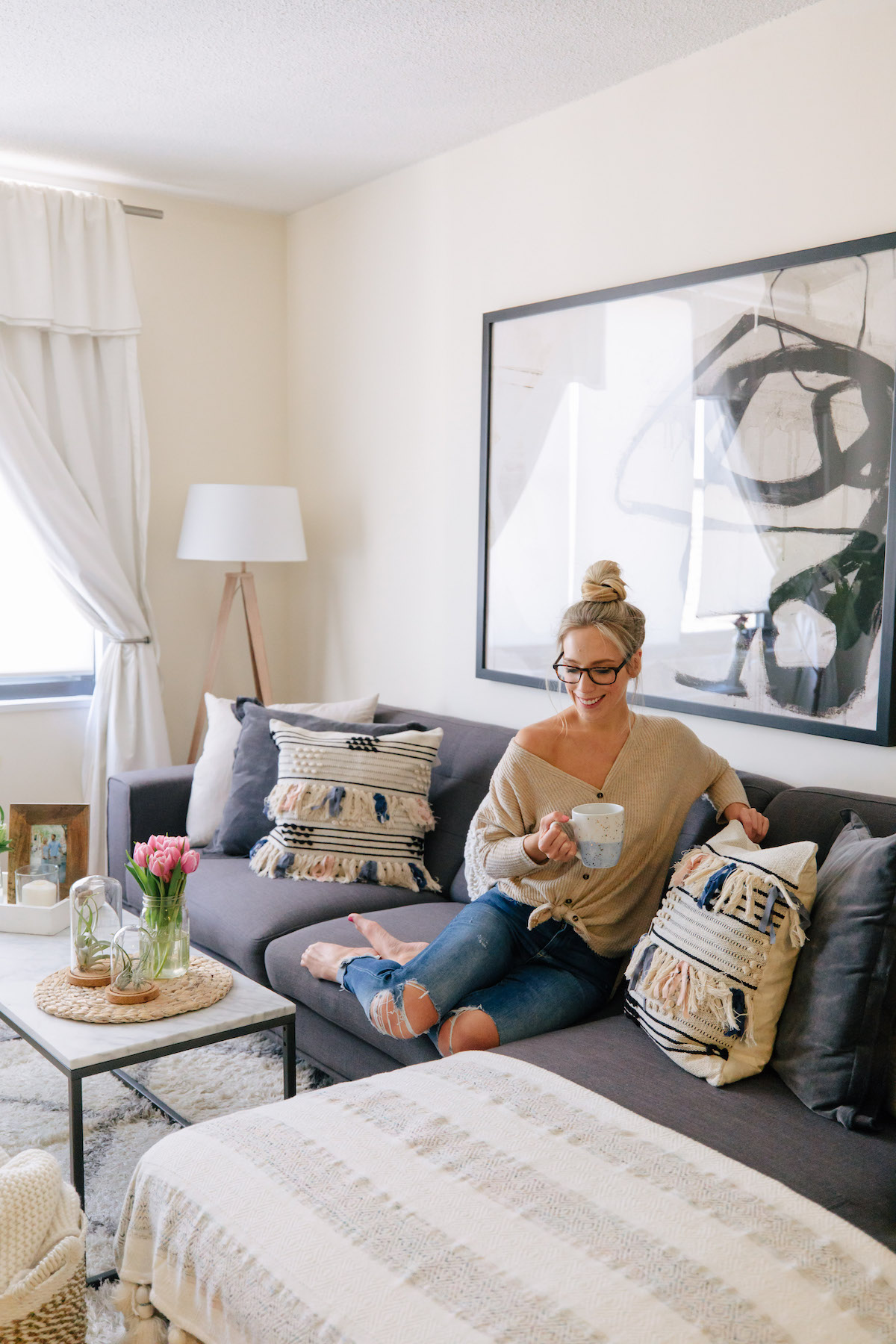 Raise your hand if you're addicted to watching TV… Those of you who keep up with my Instagram story know that I am obsessed with reality TV and Netflix. If I could envision my perfect weekend afternoon it would be snuggling up on the couch and binging season after season of an intense thriller or drama. What can I say? I'm a homebody!
Up until now I'd only revealed my little addiction on Instagram, but it's been getting harder to ignore all the requests I've been getting to put together a list of my favorite shows. I'll admit that I was a little hesitant to post this because, well, now you all know the true extent of my obsession. Before your jaw drops seeing this list just keep in mind this is a compilation of 8+ years of commitment to watching the tube— DON'T JUDGE.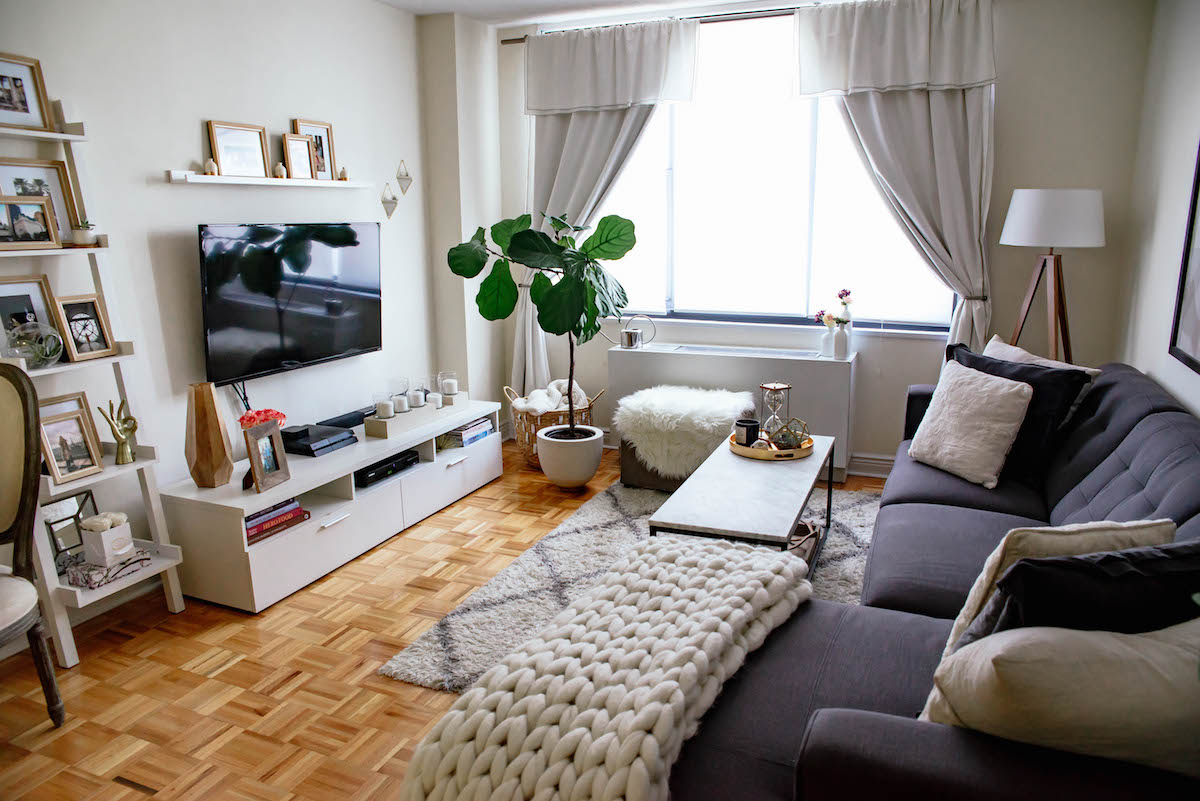 Check out my Living Room Tour for details on my furniture and home decor!
Similar to my taste in books, I tend to favor thrillers and action series. I also loooooove a good historical drama. If you're looking for lighthearted cable recs or comedies– you aren't going to find any of this list. Basically the more shock factor and OMG moments: THE BETTER. I have such a short attention span it's hard for me to get into basic cable shows when everything on HBO, Starz, Showtime and Cinemax can just take the drama to a whole other level. I also prefer binging more than one episode at a time, so many of these series I watched via Netflix. Shoutout to my Pop Pop for letting me use his subscription 😛 He's the REAL MVP.
MY ALL TIME FAVORITE TV SHOWS
Ok let's start with the all-time favorites. These are shows that spoke to my soul and were so good I'd actually re-watch over and over…
Game Of Thrones
True Blood
Homeland (Seasons 1-4, the most recent ones have been lame)
Breaking Bad
Handmaid's Tale
The Tudors
The Walking Dead (Seasons 1-5)
Revenge
TV SHOWS I'VE RECENTLY WATCHED & ENJOYED
These are the shows I've really enjoyed watching in the last few months. My top 3 recommendations are BOLDED.
Ozark
Sharp Objects
Succession
The Affair
The Innocents
Killing Eve
Safe
The Sinner
TV SHOWS I LOVED BUT EVENTUALLY GOT BORED OF
It pains me to include this category, but I gotta be honest with ya'll. Don't get me wrong. These are great shows. But for various reasons like not knowing when to end (cough cough Walking Dead) or repetitive story lines I just lost interest. These are definitely worth checking out the first few seasons though!
The Walking Dead
Fear Of The Walking Dead
Scandal
American Horror Story
Orange Is The New Black
Sons of Anarchy
Penny Dreadful
"INSPIRED BY" HISTORY
I always gravitate towards shows with a historical spin, particularly anything medieval or revolving around a monarchy. I couldn't narrow it down to 3 so I BOLDED my top 5 recommendations!
Peaky Blinders
The Tudors
The Last Kingdom
Versailles
Vikings
Godless
Frontier
Marco Polo
The Crown
Turn
The White Princess
The White Queen
Camelot
Boardwalk Empire
Hatfields & McCoys
PSYCHOLOGICAL THRILLERS AKA SHOWS THAT WILL TOTALLY MINDF*CK YOU
Nothing like binging a psychological thriller right before bedtime! These are the type of shows that once you start watching you won't be able to stop and after the last episode you'll still be thinking about what you just saw for days later. My top 4 recommendations are BOLDED.
Sharp Objects
Handmaid's Tale
Stranger Things
Bates Motel
The Innocents
The OA
Alias Grace
The Leftovers
The Night Of

SCARY & GORY BUT IN A GOOD WAY
Blood and gore may not be for everyone, but I don't mind it. Bring on the zombies, vampires and monsters!
The Walking Dead
Fear Of The Walking Dead
American Horror Story
Penny Dreadful
True Blood
CRIME, MURDER, MYSTERY, ETC.
Shows that revolve around crime or solving a mystery always get my attention. I loooove a good murder or kidnapping (LOL that sounds so demented??) Top 5 recommendations are BOLDED.
Breaking Bad
Better Call Saul (Breaking Bad spinoff)
Killing Eve
The Sinner
Ozark
Narcos
The Following
American Crime Story (OJ Simpson season– Versace season was disappointing)
American Crime
The Killing
Manhunt: Unabomber
Happy Valley
Safe
True Detective (Season 1)
The Staircase (this is a docuseries about an actual murder)
Making A Murderer (another docuseries)
Dexter (I never watched this, but Nick did & he says it's one of his all-time favorite shows)

DRAMMMMAAAASSSS
Love triangles. Affairs. Family feuds. Political backstabbing. All the feels. My top 6 recommendations are BOLDED.
Succession
Scandal
Big Little Lies
Shameless
Billions
The Affair
House of Cards (the most recent season was blah)
Homeland
13 Reasons Why
Orange Is The New Black
Gypsy
Bloodline
Weeds
Ray Donovan
Sweetbitter
The Resident
Revenge
Friday Night Lights
Yellowstone
SHOWS THAT ARE REALLY RAUNCHY
Ok so real talk. These are borderline softcore p*rn. You definitely don't want to watch these with your parents or any kiddos in the room! That could get reallllyyyyy awkward… Top 3 favorites are BOLDED.
True Blood
Power
Black Sails
Spartacus
Banshee
Quarry

REALITY TV
I love me some good trash TV and have known to keep Bravo! on for hours at a time…
Basically anything on Bravo!…
The Real Housewives (every single city but Beverly Hills & Atlanta are my favorites)
Southern Charm (only Charleston– the other spinoffs were lame)
Million Dollar Listing New York
The Bachelor / Bachelorette / Bachelor in Paradise
Siesta Key
Jersey Shore
Teen Mom
Keeping Up With The Kardashians
Chrisley Knows Best
Queer Eye
Top Chef
90 Day Fiance
- Katie