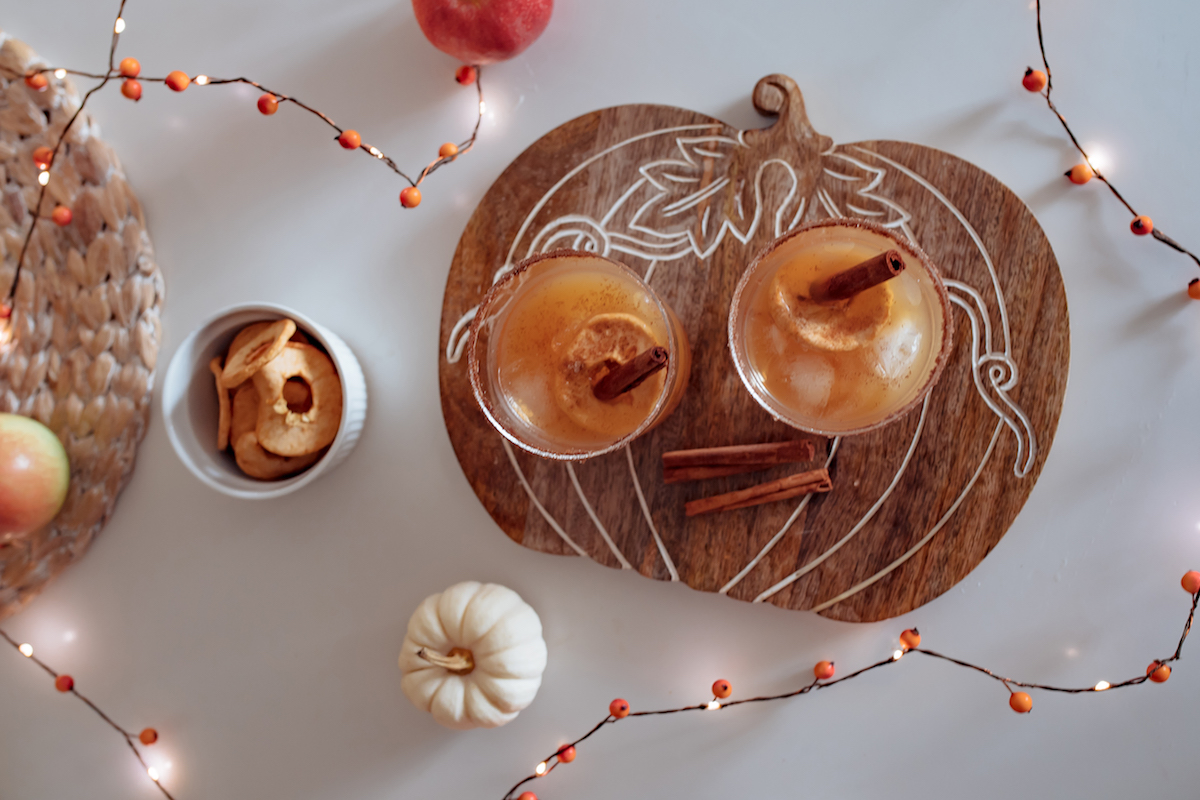 Can I get a drumroll please? Are you sure you're ready? Then without further adieu, let me introduce ya'll to my absolute favorite cocktail: the Apple Cider Margarita. At first glance it may sound a little strange, but trust me this drink is THE BOMB. The recipe is a little bit different than your standard margarita and perfect for enjoying during the fall when fresh apple cider is in season.
I actually started making these last year after being put in charge of the drinks for Thanksgiving dinner. While I'm 100% down for traditional margaritas year-round, I wanted to find a way to spin the recipe and make it more seasonal. Pinterest is a beautiful thing my friends because after a quick search I found my solution: swap out tequila for mezcal and add fresh apple cider. Everyone loved my apple cider margaritas so much that I made them again for Christmas and haven't stopped shaking them up since. It's such an easy cocktail to serve at home (Nick & I prob make them at least 1x a week for ourselves!) and the ingredients are minimal.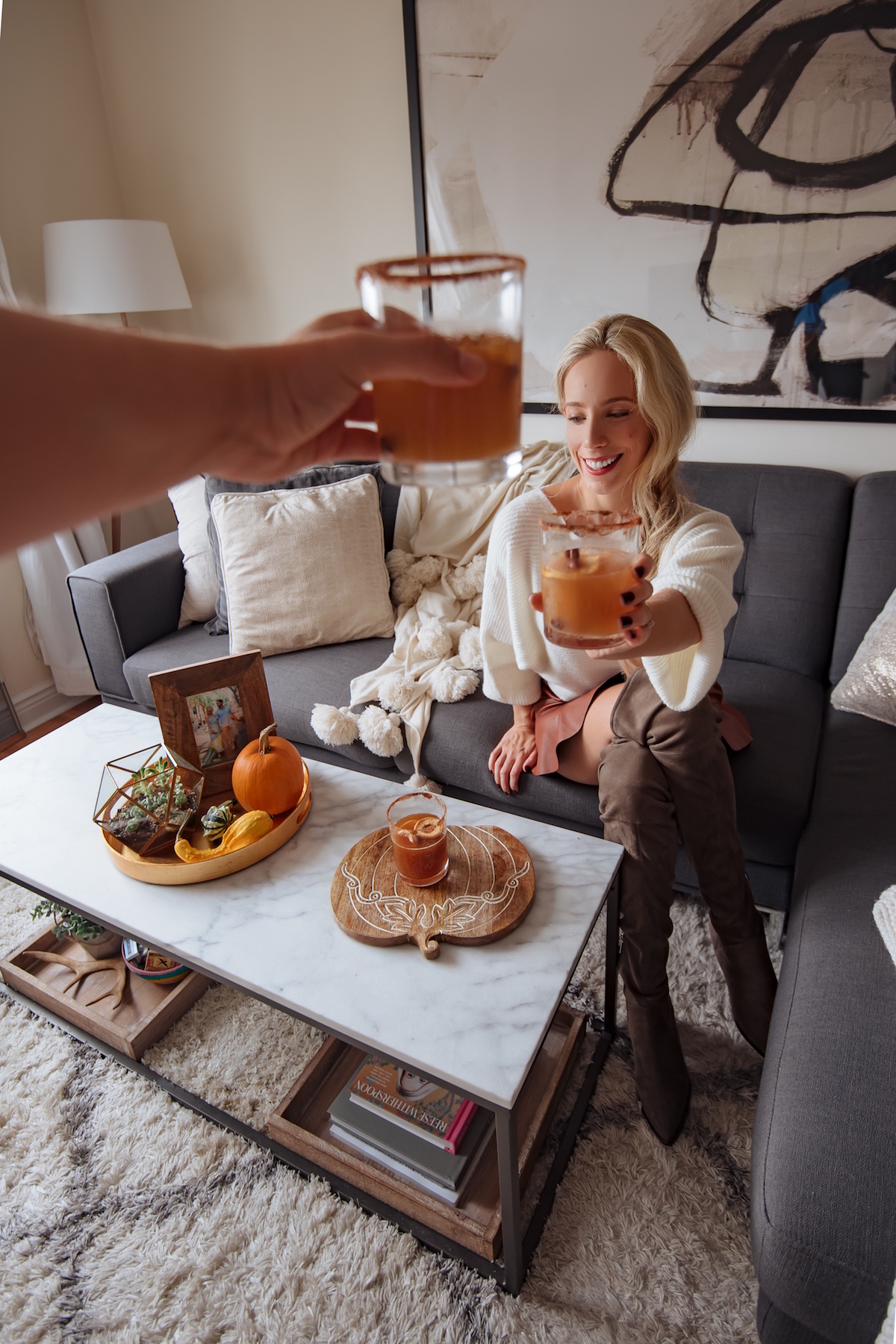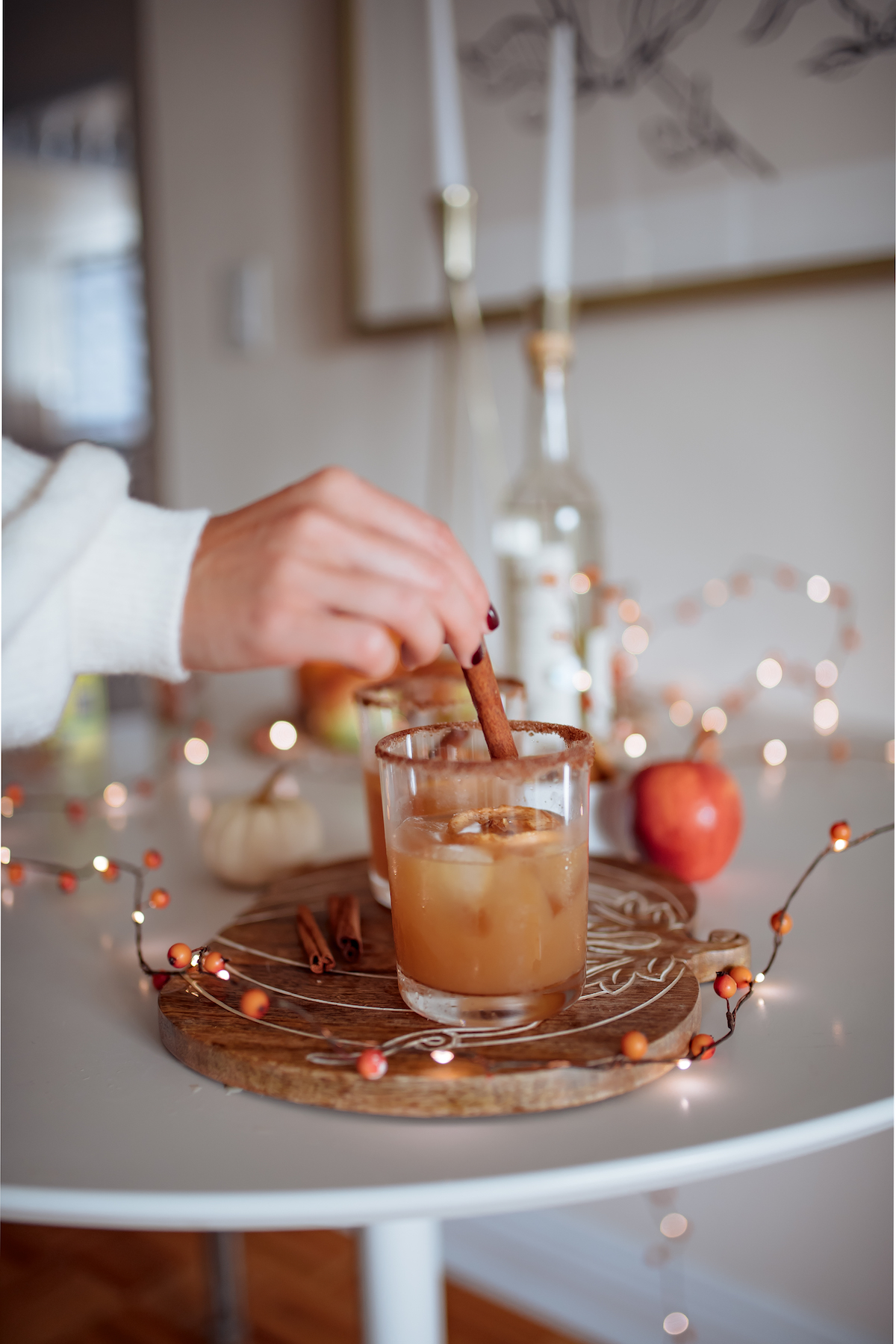 For those not familiar with mezcal, it's basically the "dirty" sibling of tequila. Mezcal and tequila are both agave-based liquors, but have very different tastes. Tequila is a very smooth alcohol and typically has minimal flavor apart from the agave. Mezcal on the other hand is rich in flavor and has a really unique smokiness that makes it an amazing spirit to use in fall and winter cocktails. Don't get scared off by the word "smoky" though. When you pair mezcal with the fruitiness of cider and lime juice it creates a perfect balance of sweet and savory.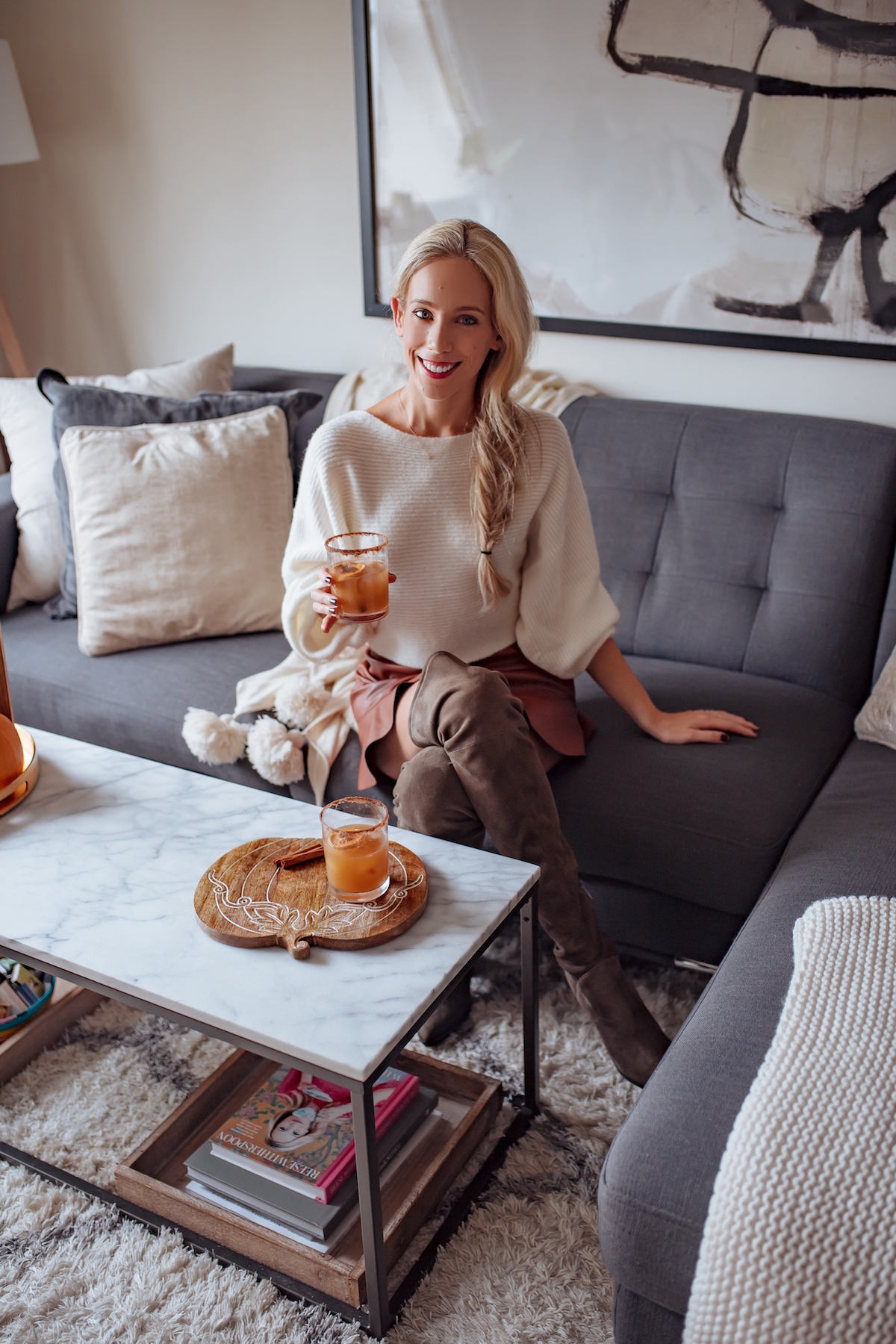 OUTFIT DETAILS // Faux Leather Skirt | Sweater | Over The Knee Boots | Similar Necklace | Red Lipstick

What really makes this cocktail amazing though is the cinnamon sugar + salt rim. Sometimes when we have these at home I'll catch Nick literally just sitting there LICKING the rim off of his margarita glass. Not even drinking!!! Like why even waste time sipping your marg when the rim is that good? I can't with him sometimes– he seriously cracks me up! Once you try one though you'll see what I mean. It's like drinking fall in a glass! Please do all your friends and family (along with yourself! ) a favor and whip these up immediately.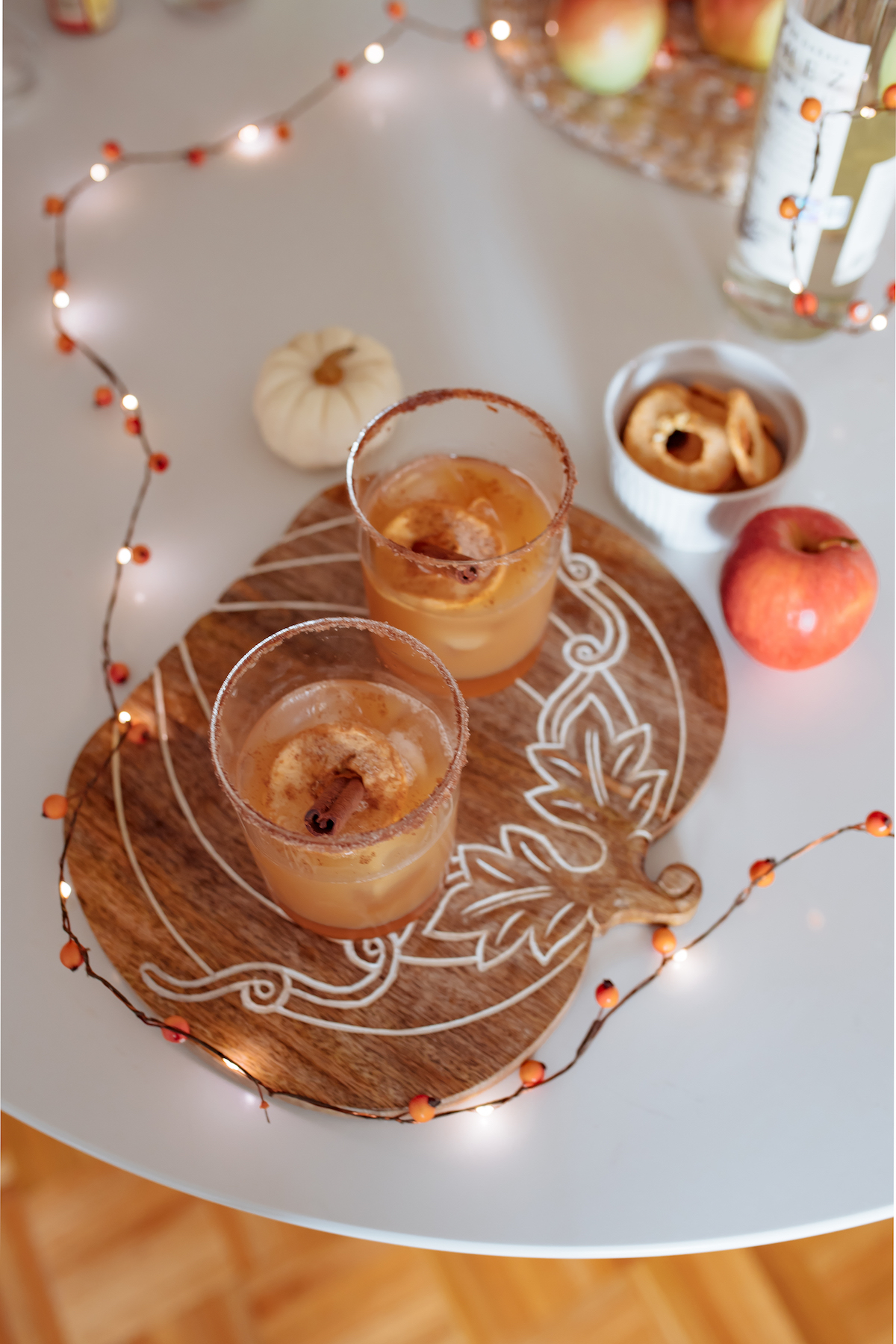 Apple Cider Margarita Recipe
INGREDIENTS:
1.5-2oz Mezcal (essentially 1-2 shot glasses)
3oz Fresh Apple Cider
1.5oz Lime Juice (I use store-bought key lime juice)
Ice Cubes
THE RIM:
Cinnamon + Sugar + Kosher Salt
OPTIONAL GARNISH:
Dried Apple Slices + Cinnamon Sticks + Nutmeg
SHOP WHAT YA NEED:

INSTRUCTIONS
STEP 1: RIM YOUR GLASSES. I highly recommend not skipping the step because the sweet and salty rim is honestly what makes this drink. All you have to do is combine a few dashes of kosher salt, cinnamon, and granulated sugar (I buy pre-mixed cinnamon sugar to make things easier) on a plate and then dip the edge of your glass into the mixture. I always lightly wet the rim of all my glasses under running water, but you can use a lime wedge too! Feel free to use whatever type of glass you prefer. I like old fashioned-style, but I've used stemless wine glasses in the past as well!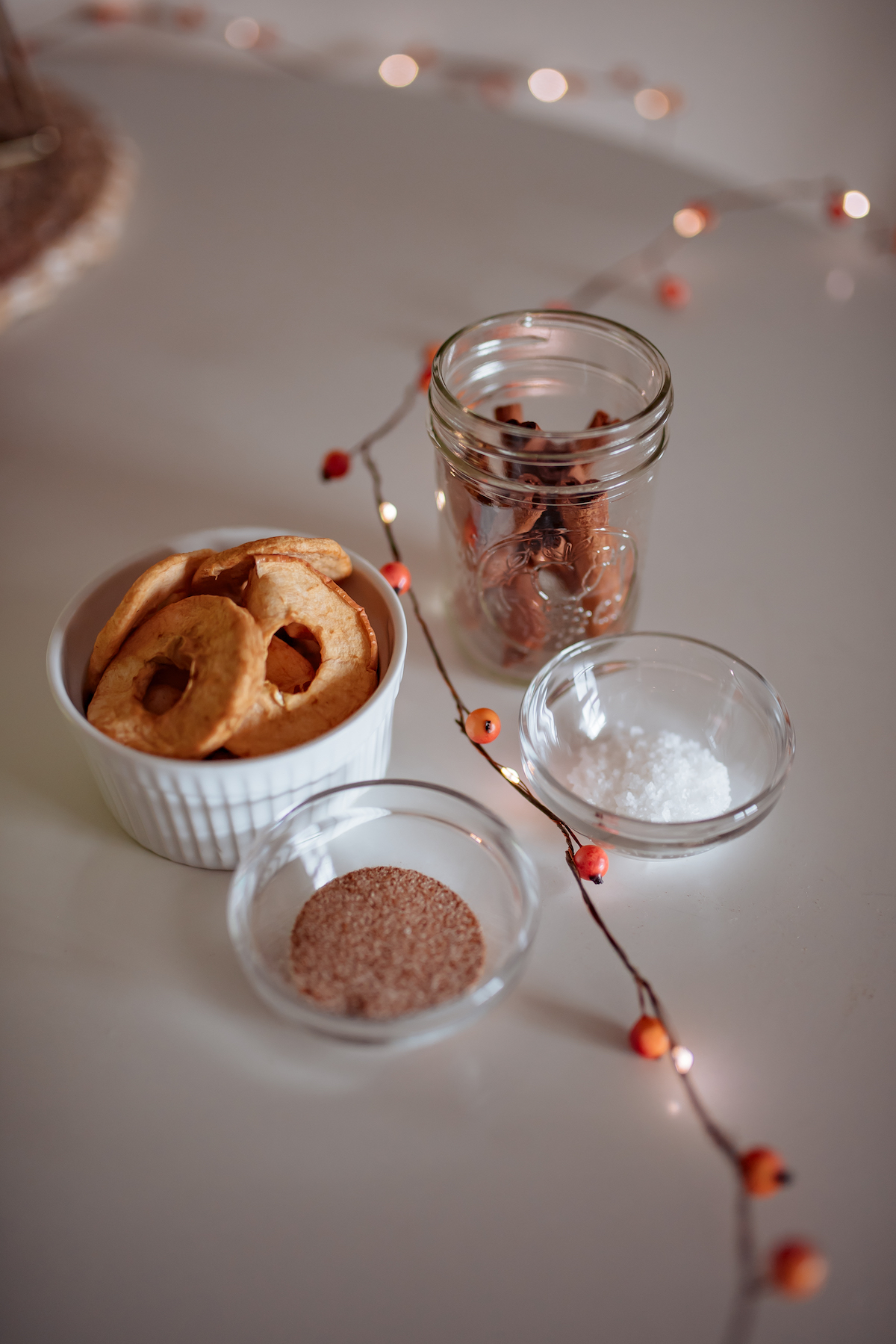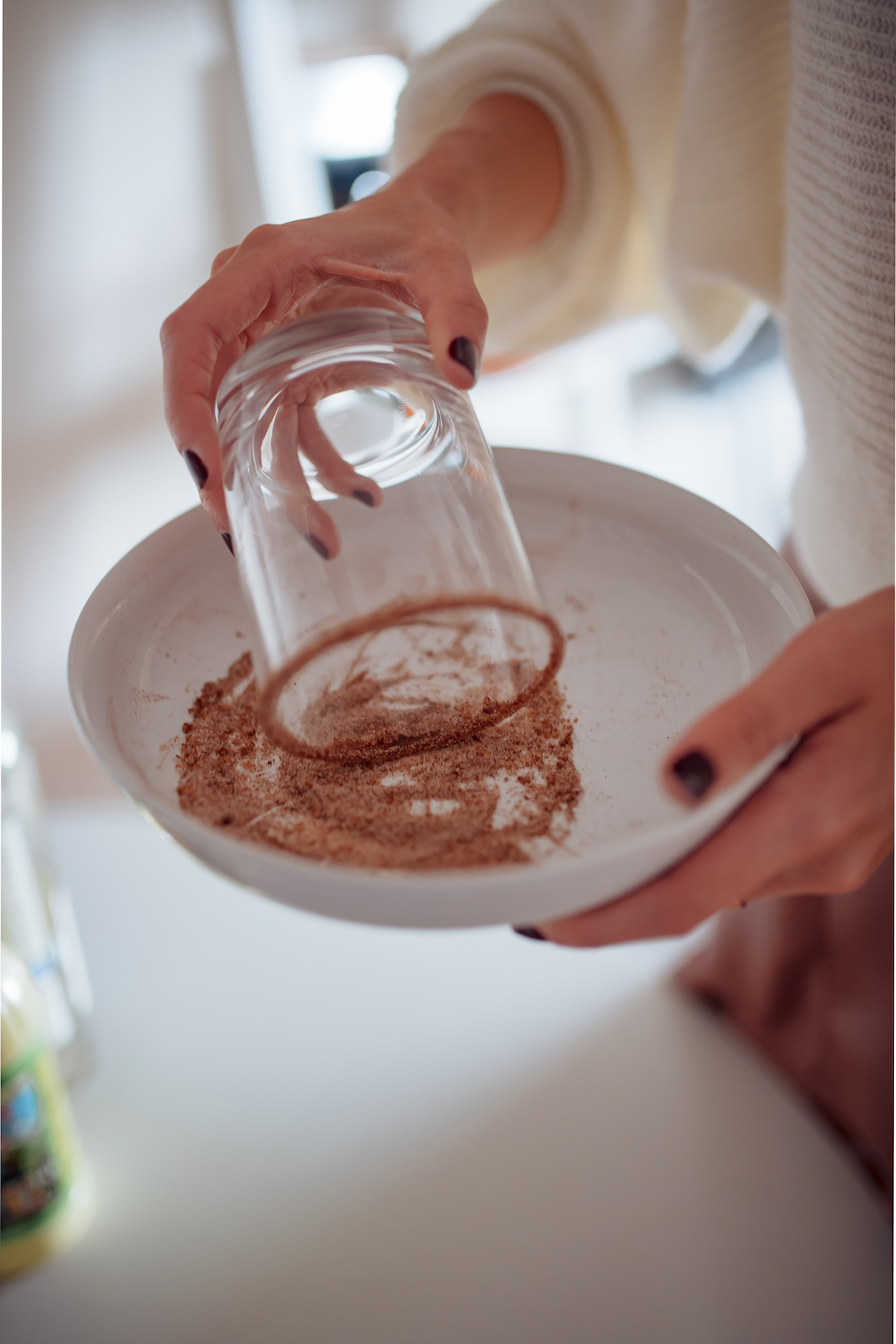 STEP 2: MAKE THE MARGS. Place a few ice cubes in a cocktail shaker and add your mezcal, apple cider and lime juice. Shake for a few seconds until the ingredients are combined and then pour into your deliciously rimmed glasses. If preferred, add a few ice cubes to each drink.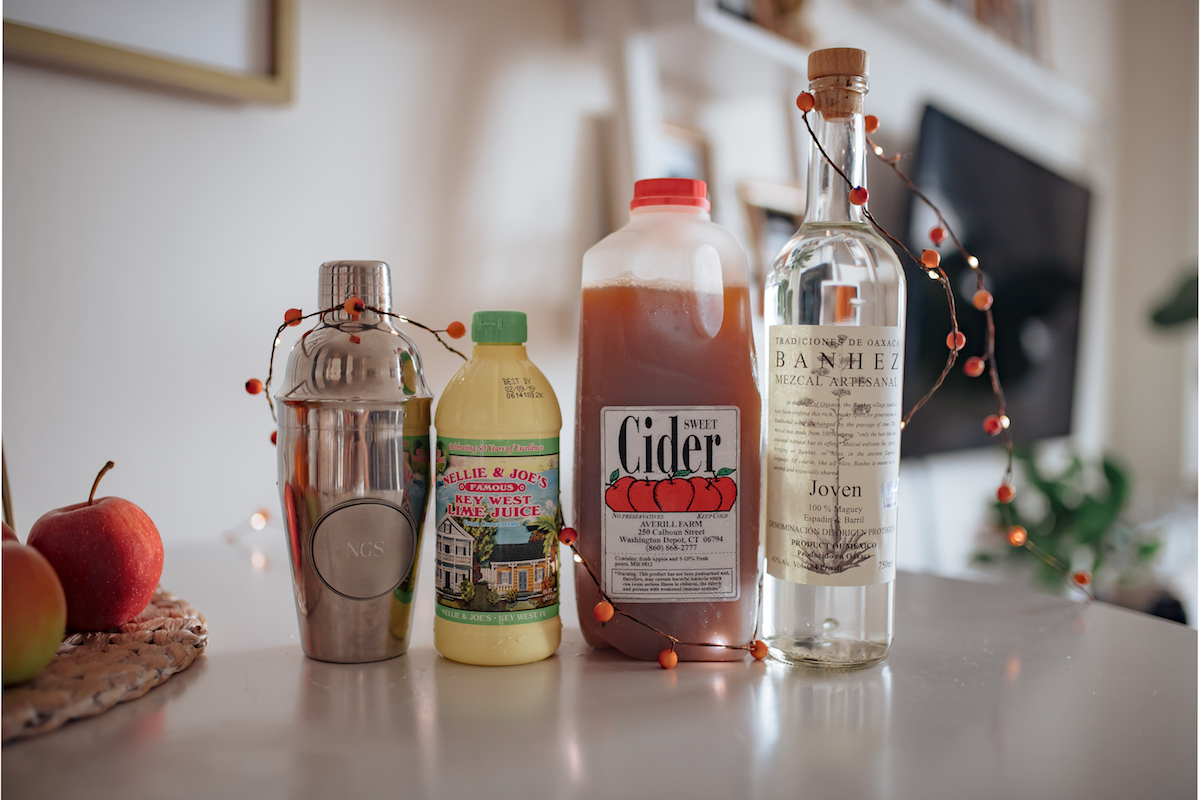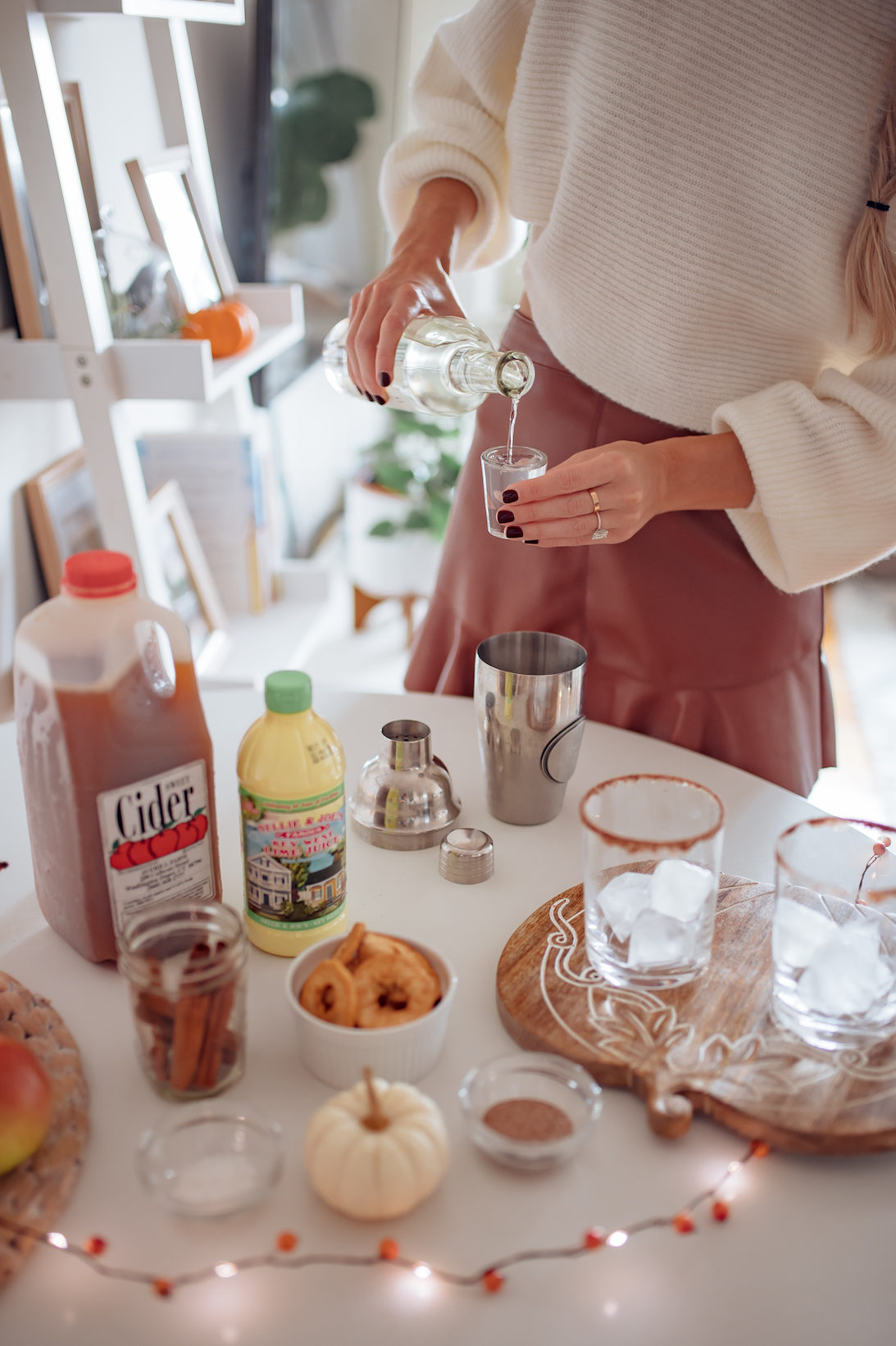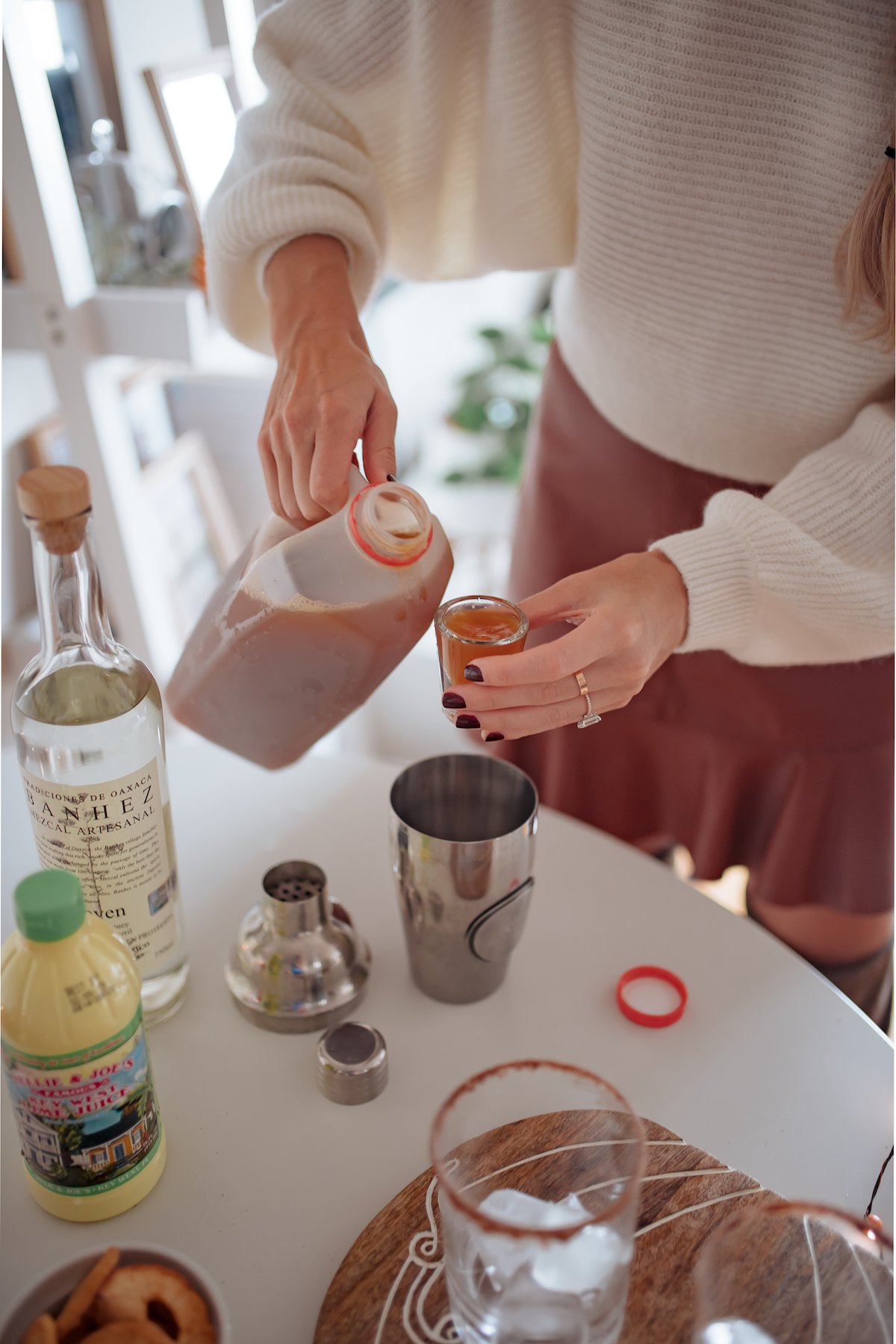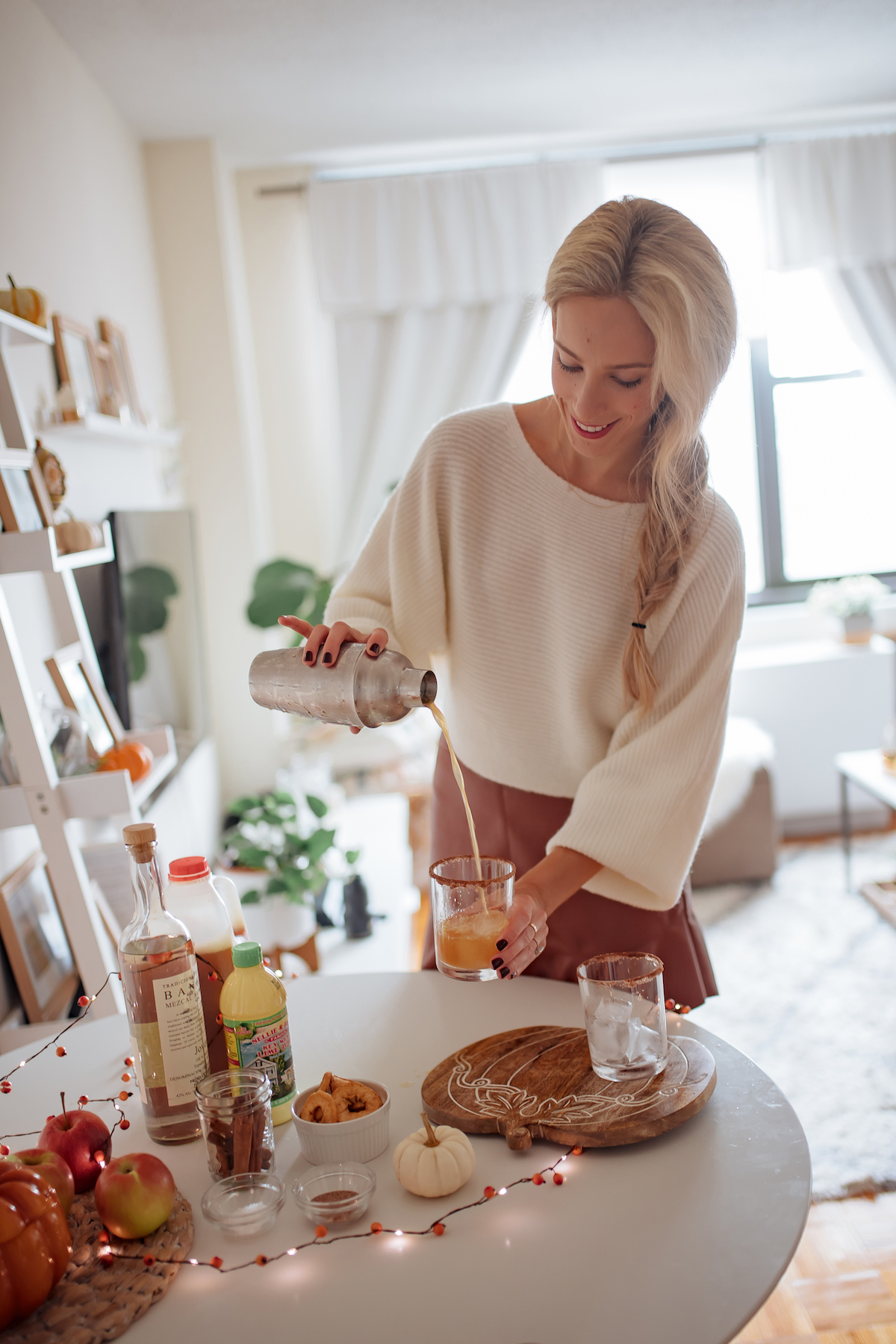 SIDENOTE // You cannnnn use a silver tequila in place of mezcal, but I really wouldn't recommend it. I was curious about the difference so I tried it myself and the margs didn't taste nearly as special. A smooth tequila just doesn't bring out the flavor of the cider the way the mezcal does. Don't get me wrong– it's still a tasty drink with tequila, but trust me when I say mezcal takes it to another level.
STEP 3: ADD A GARNISH. Totally optional, but if you have peeps to impress or wanna get #fancy for the 'gram I'd suggest adding an apple slice, cinnamon stick and a dash of nutmeg to the top of each margarita. I personally like dried apple slices though I'm sure a fresh apple slice would be tasty too! The garnish doesn't really add much to the flavor of the drink itself but it looks really pretty!
So have I sold you on apple cider margaritas yet? I PROMISE I would never lead you guys astray, especially when it comes to drinks. If you end up making these margs please send me a photo on Instagram so I can see! Also make sure to save the graphic below to your Pinterest so the recipe is always a click away 🙂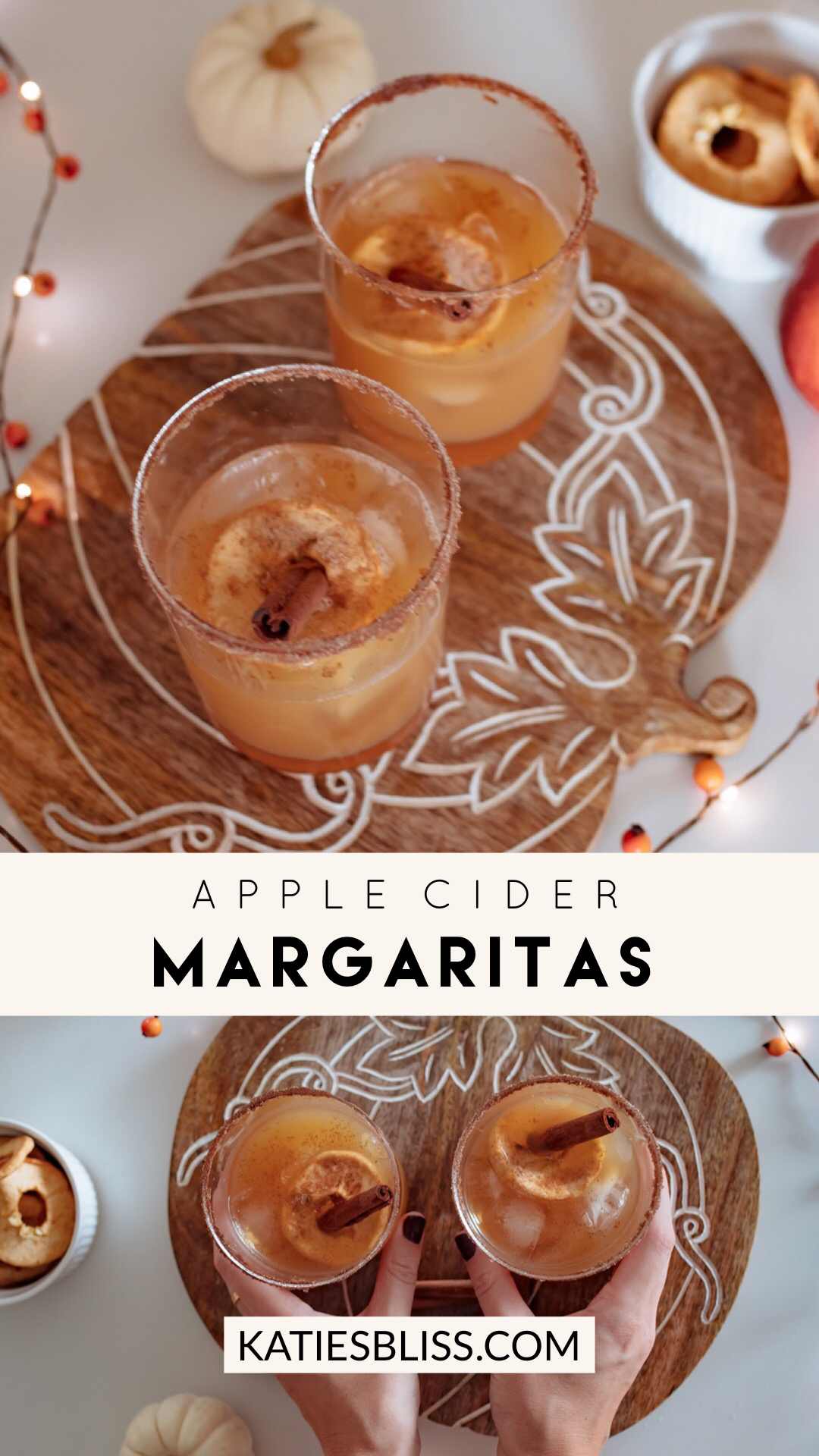 - Katie