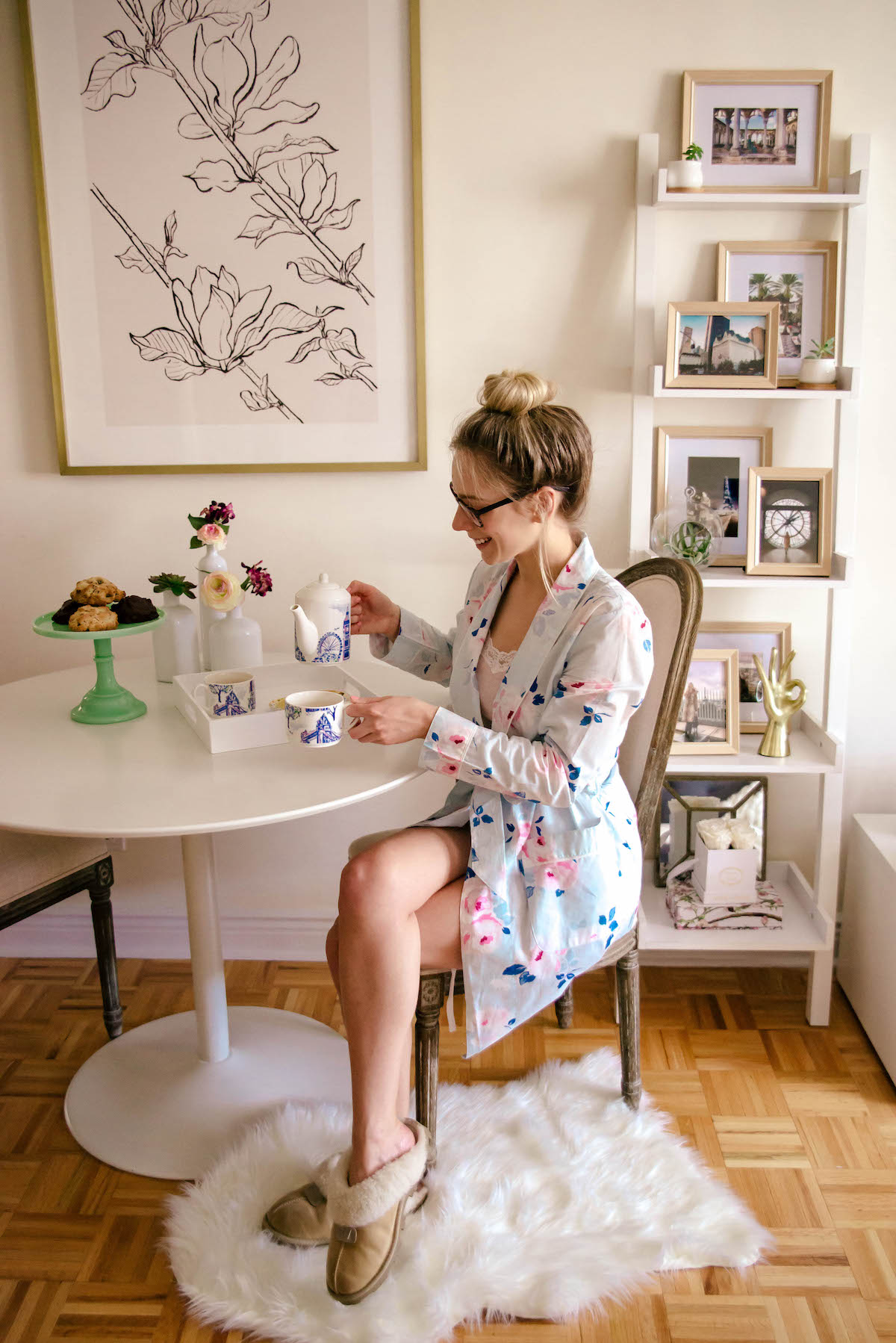 Having a long week? I feel ya! I'm breathing a big sigh of relief now that the weekend is almost in sight. This week was extra busy for me and involved many deadlines, conference calls, meetings and events. All very exciting things of course, but when you're a one woman show and manage an entire business on your own, just seeing unanswered emails in your inbox or a missed call from your accountant can trigger a mini ahhhh moment.
It's safe to say I'm certainly going to be taking some much-needed "me" time this weekend, so I wanted to share with you guys 5 easy things I like to do to unwind. Warning: Pretty floral prints, china tea sets and cookies are involved 😛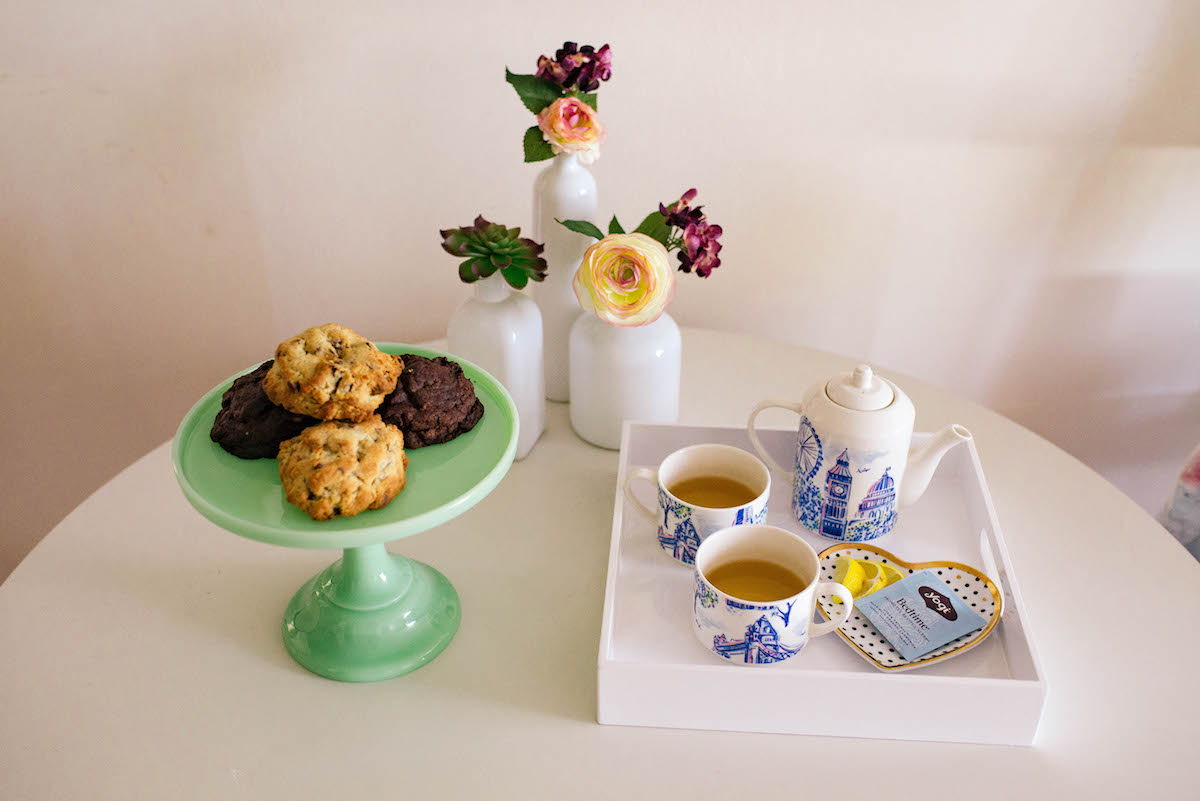 Treat yourself to a new pair of pretty pajamas. I'm definitely guilty of throwing together an old t-shirt and mismatched shorts and calling them pajamas. There's nothing wrong with that, but I will say taking the time to put on a cute pj set always puts me in a better head space. Wearing a special robe or pretty camisole with matching shorts always leaves me feeling more put together and gives me the motivation to cook a nice breakfast or actually take the time to do my full skincare routine.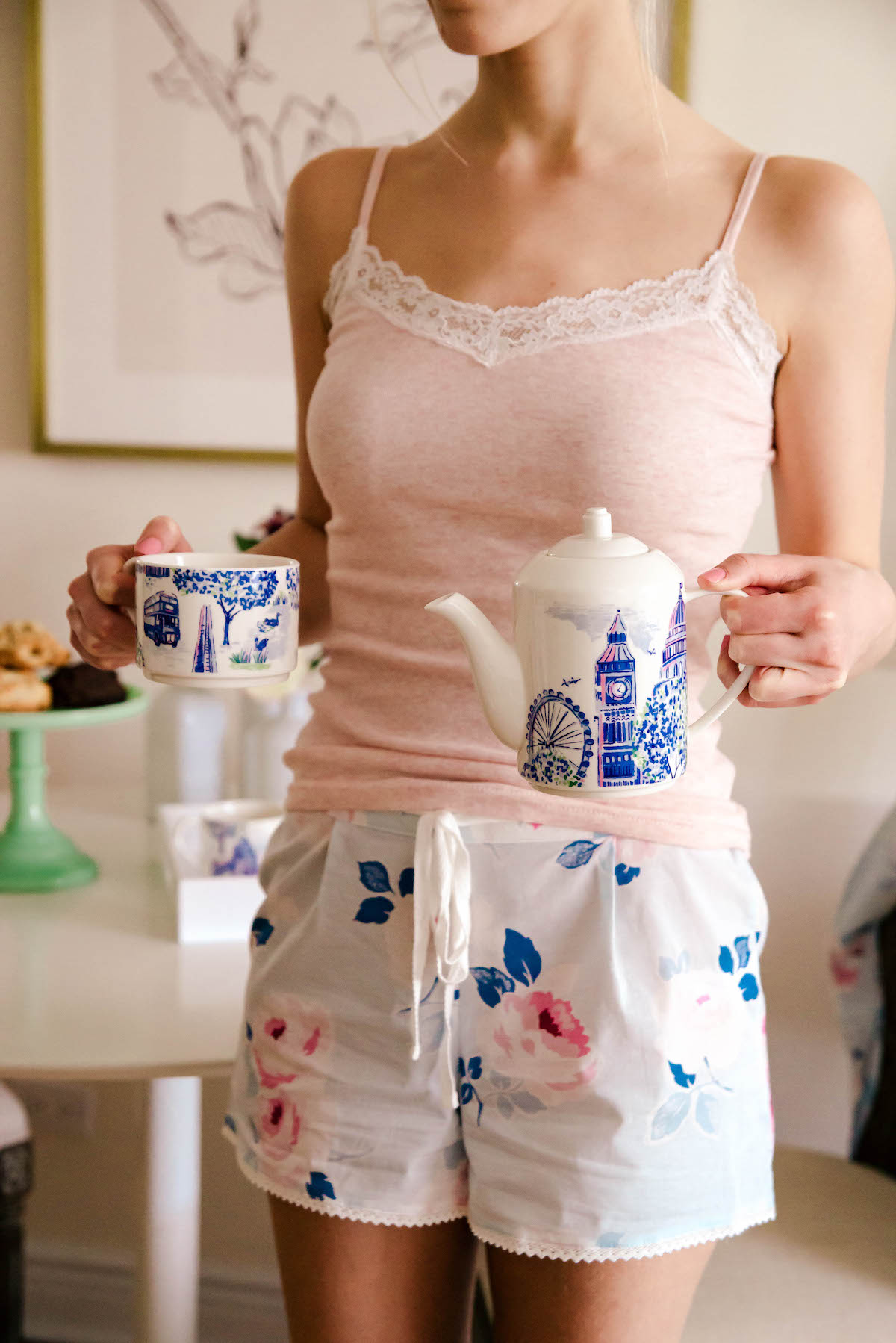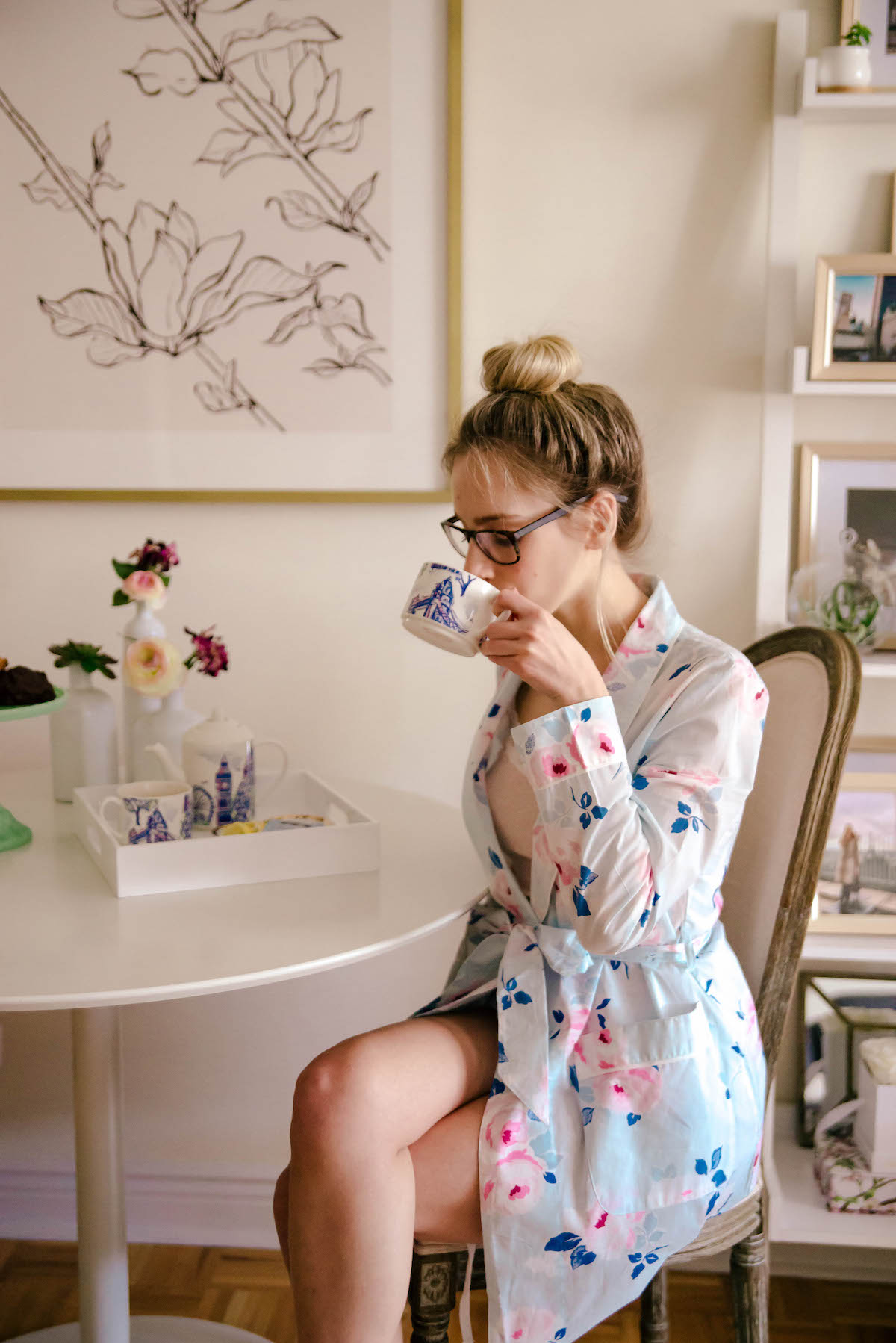 As the warmer months get closer I've started putting away my heavy pajamas in favor of lighter options like this Paper Rose Scattered Vest And Shorts Set and Paper Rose Scattered Woven Dressing Gown from British lifestyle and the Home of Modern Vintage, Cath Kidston Limited. Sounds expensive, right? Not exactly. I would never spend a lot of money on sleepwear so I love that Cath Kidston is wallet-friendly—both my pj set and robe were under $70. There is also lots of cute everyday clothing on the site worth checking out. I love all the pastel colors,vintage-inspired prints and preppy vibes in the spring collection.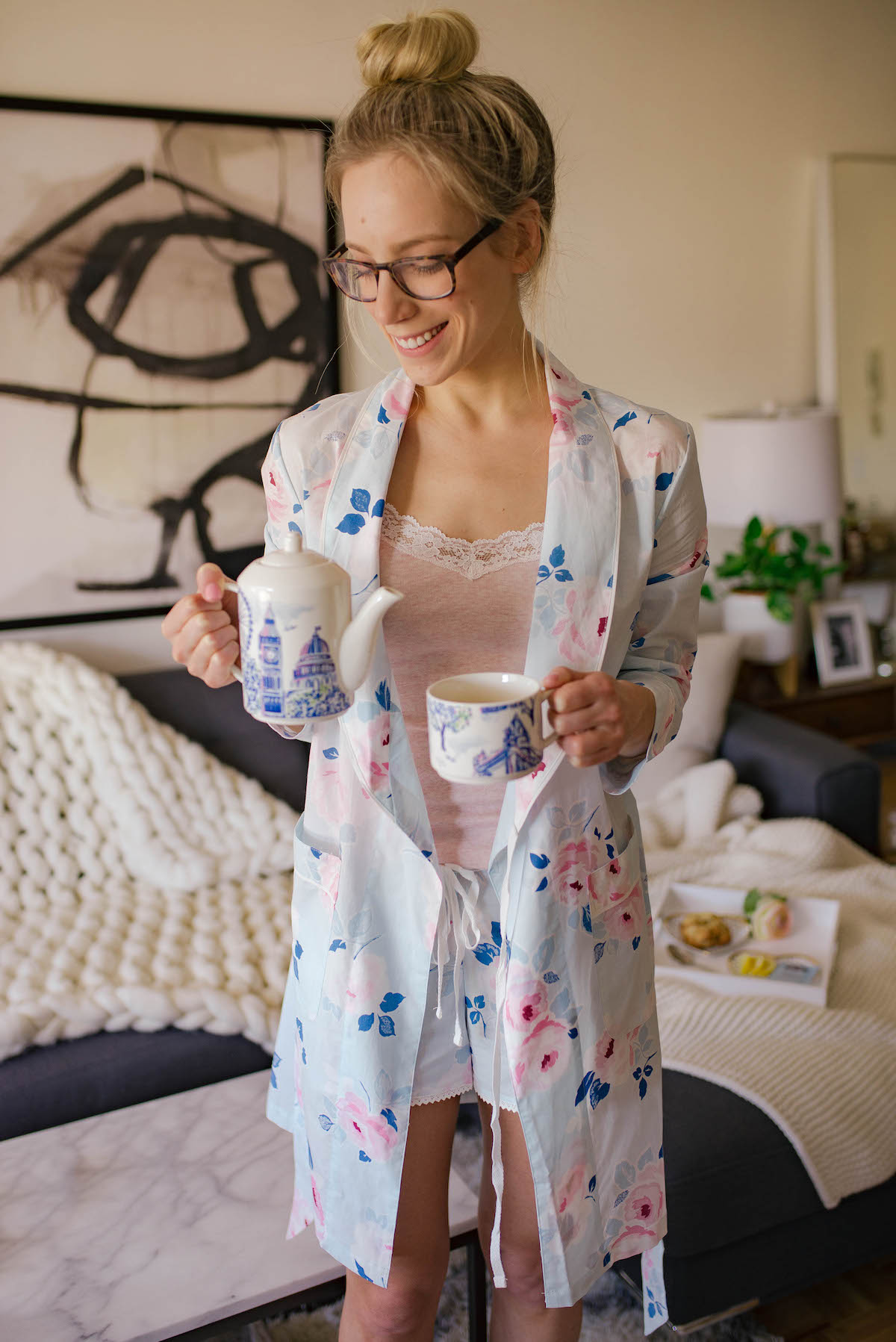 Brew a cup of tea using fancy glassware. When I was growing up my mom, sister, and I drank tea all the time. We had this large wooden tea box filled with little compartments where we'd store all of our favorite flavored tea bags. It was such a cute ritual that we'd do on school nights before bed—picking out our tea, brewing a cup and then drinking it together in the kitchen. Coffee became my hot drink of choice once I headed off to college, but whenever I'm feeling down or a bit stressed sometimes the only cure is a warm cup of tea.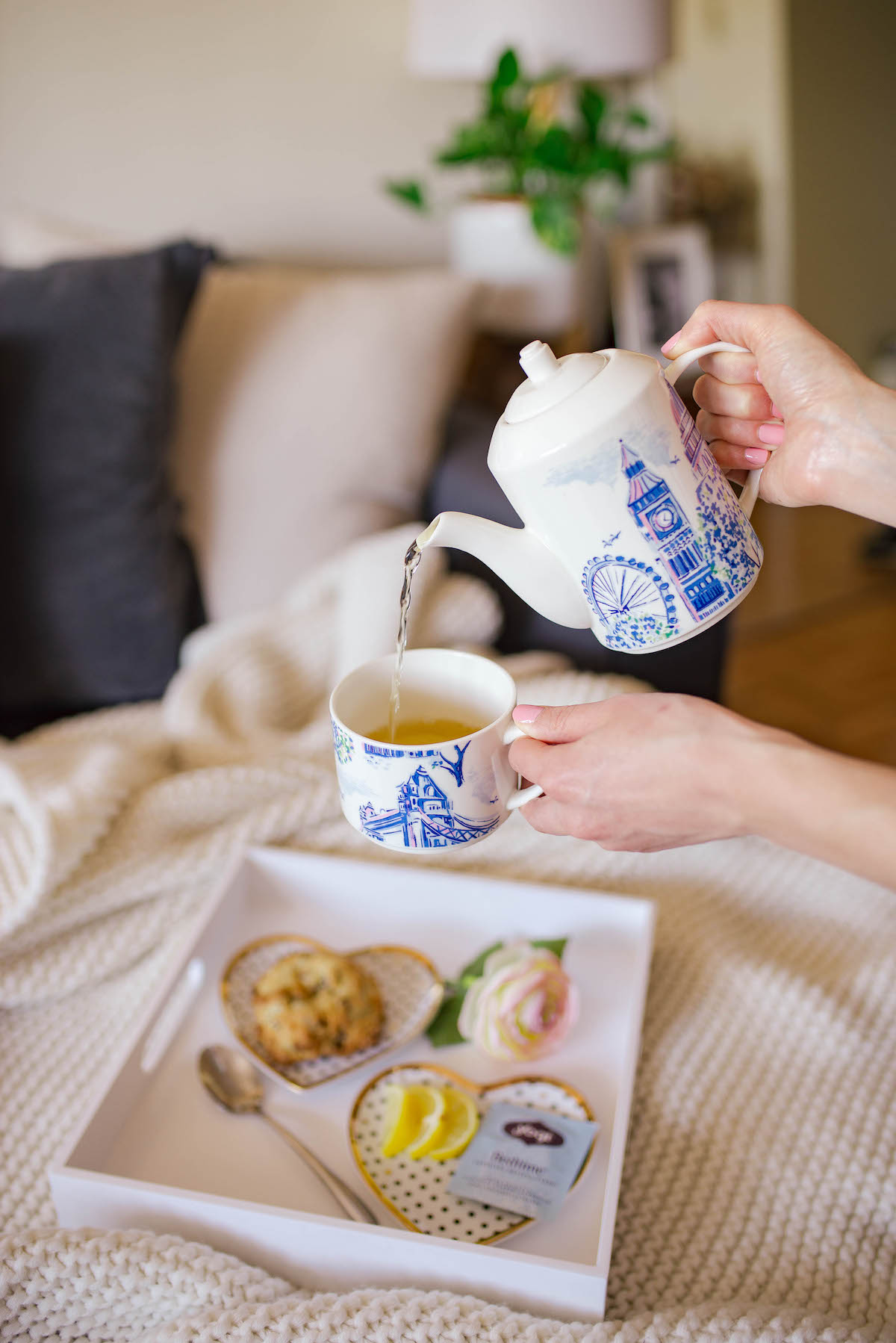 I always loved when my mom would let my sister and I drink our tea out of her china, so when I'm feeling fancy I like to use my Cath Kidston tea set. It comes with a stackable tea pot, cups for two and is adorned with the prettiest blue and white London Toile print. Just sipping out of it makes me feel like a proper British lady 😛 I also really appreciate that the china is dishwasher and microwave safe. PS Cath Kidston has lots of other cute homeware pieces that won't break the bank. Right now I'm eyeing this lemon print apron and rose-adorned wine glasses.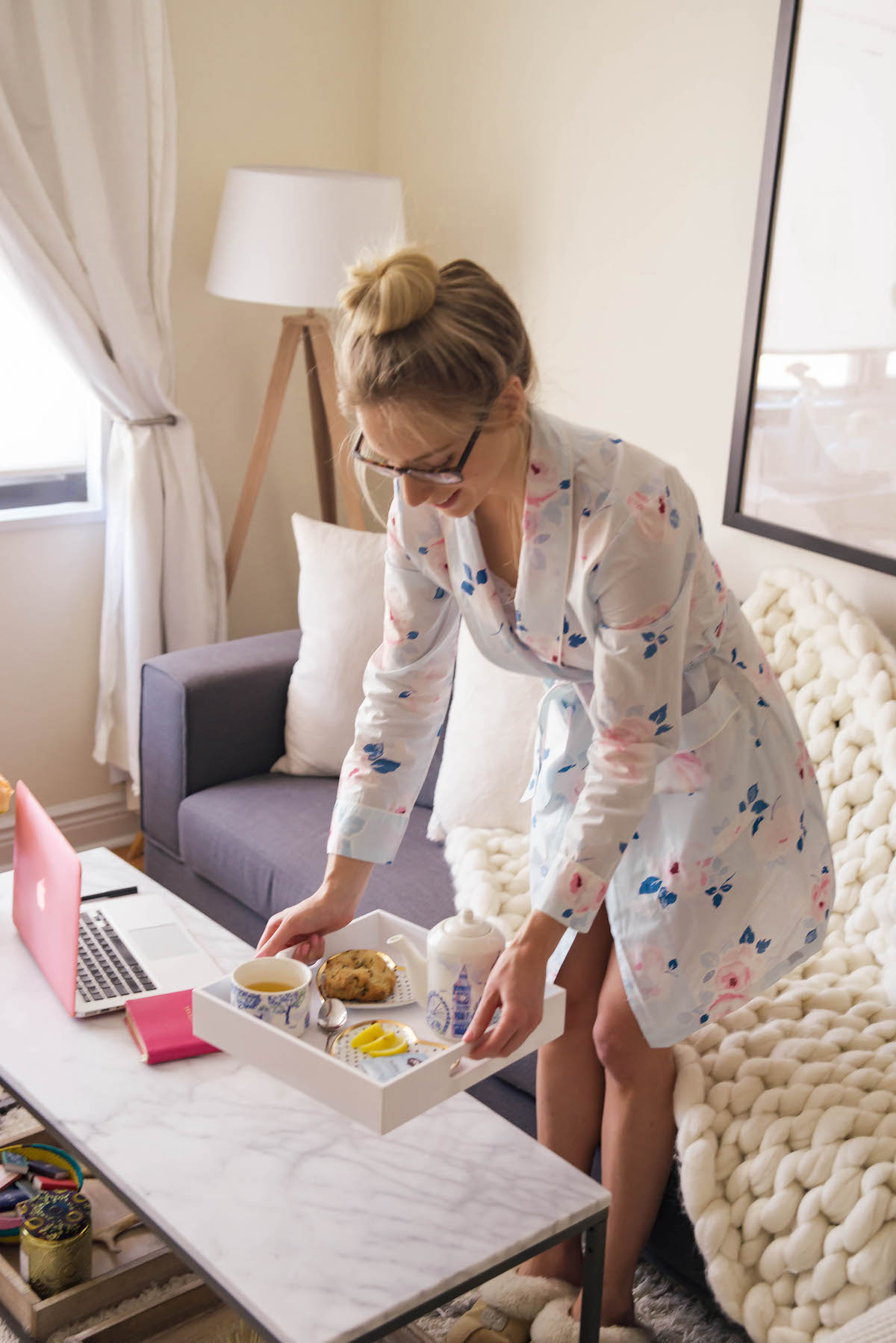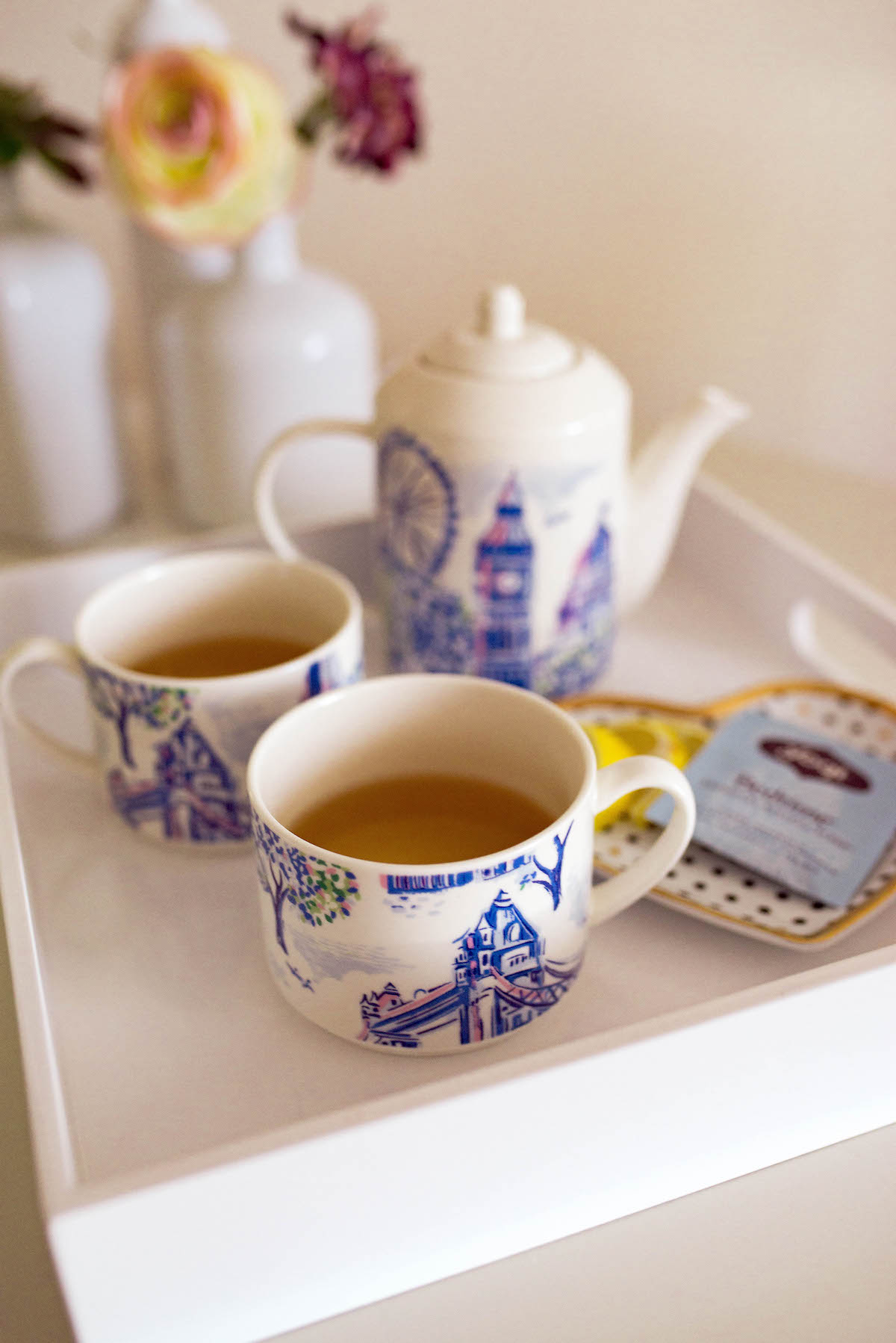 Indulge in a sweet treat. No joke for the last month I'd been craving a warm chocolate chip cookie. Not just any store-bought cookie—a real bakery cookie. Does this happen to anyone else??? I finally satisfied my craving by making the trek to Levains Bakery on the Upper West Side. The 30-minute Uber ride and 20-minute wait in line was absolutely worth it to get a bag of these warm gooey mounds of deliciousness. Nope, I didn't buy just one cookie. I got six! The idea was to have one and then freeze all the extras, but I've honestly been eating one per day and have no regrets. Sometimes you just need to forget about calories and go for that sweet treat. #NOREGRETS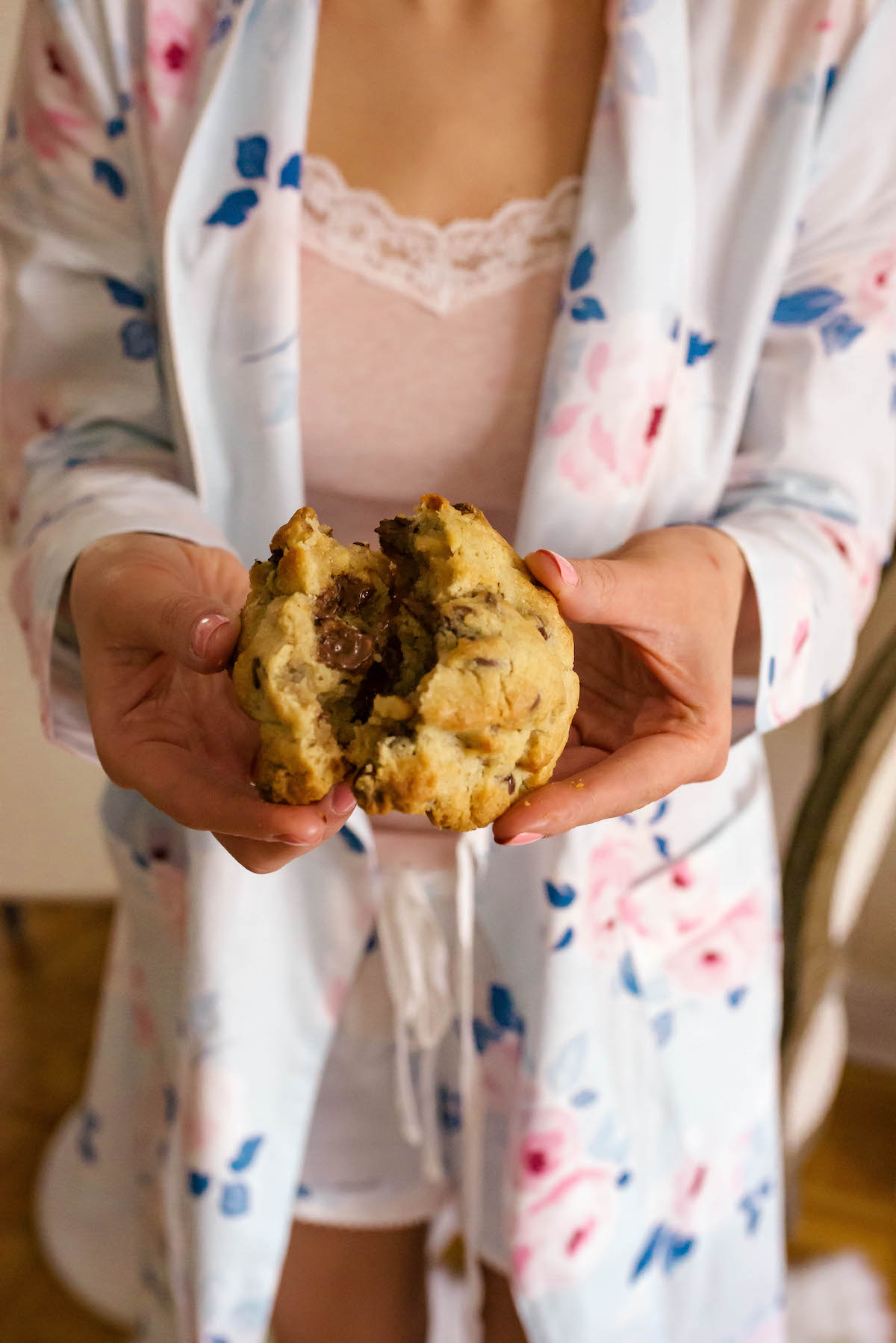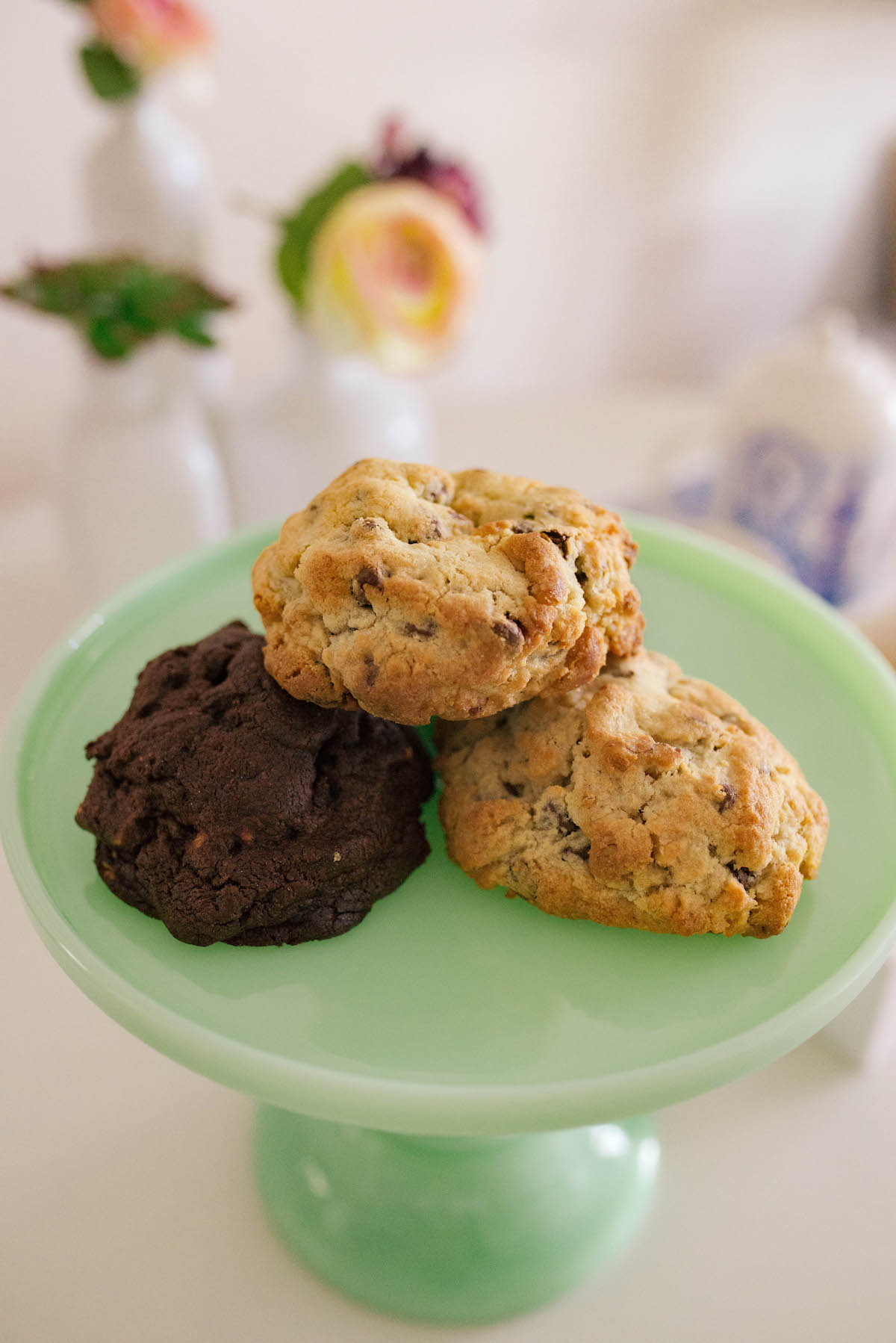 Actually sleep in. I'm a morning person, so my body is trained to wake up early, but sometimes I think I take it too far. Even if I have a late Friday night and absolutely nothing going on the next day, I'll still set my alarm for 7AM. I'm trying to get better about cutting myself some slack on weekend mornings and actually let my body indulge in a good long sleep.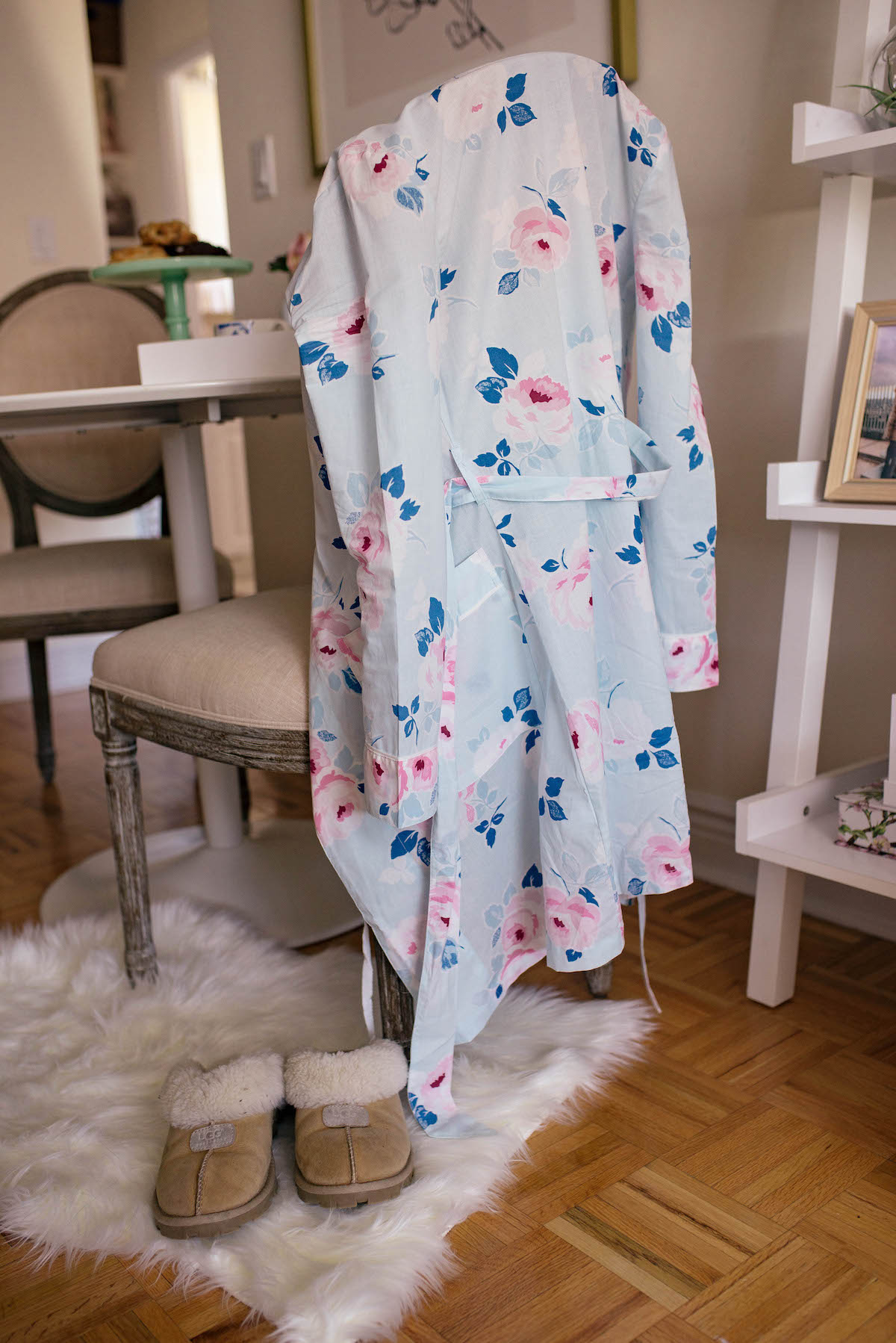 Buy a bouquet of fresh flowers. I never understood the allure of purchasing fresh flowers until I actually started doing it myself. The budget-conscious voice in my head scoffs at spending money on frivolous things like an overpriced bouquet so I don't do it on a weekly basis, but every once in a while, if I'm looking for a pick-me-up I'll treat myself. Just the process of trimming the stems and styling roses or tulips in a mason jar is relaxing to me. Flowers also add a nice little dose of color to the neutral palette of our living room!
What do you like to do to relax and unwind on weekends? Would love to hear any suggestions in the comments! 
Big thank you to Cath Kidston for sponsoring this post!
- Katie