Big thank you to QVC for compensating me for this post, as always all opinions are my own!
Who wants to wear a lot of makeup when it's hot and sticky outside? Not me that's for sure! I always like to condense my beauty routine during the summer to give my skin a break. That means cutting out those extra, but not necessary products and focusing only on the steps that take me from looking like the walking dead to a functioning human. LOL! Especially now that I have a bit of a tan, I really don't feel the need for heavy makeup.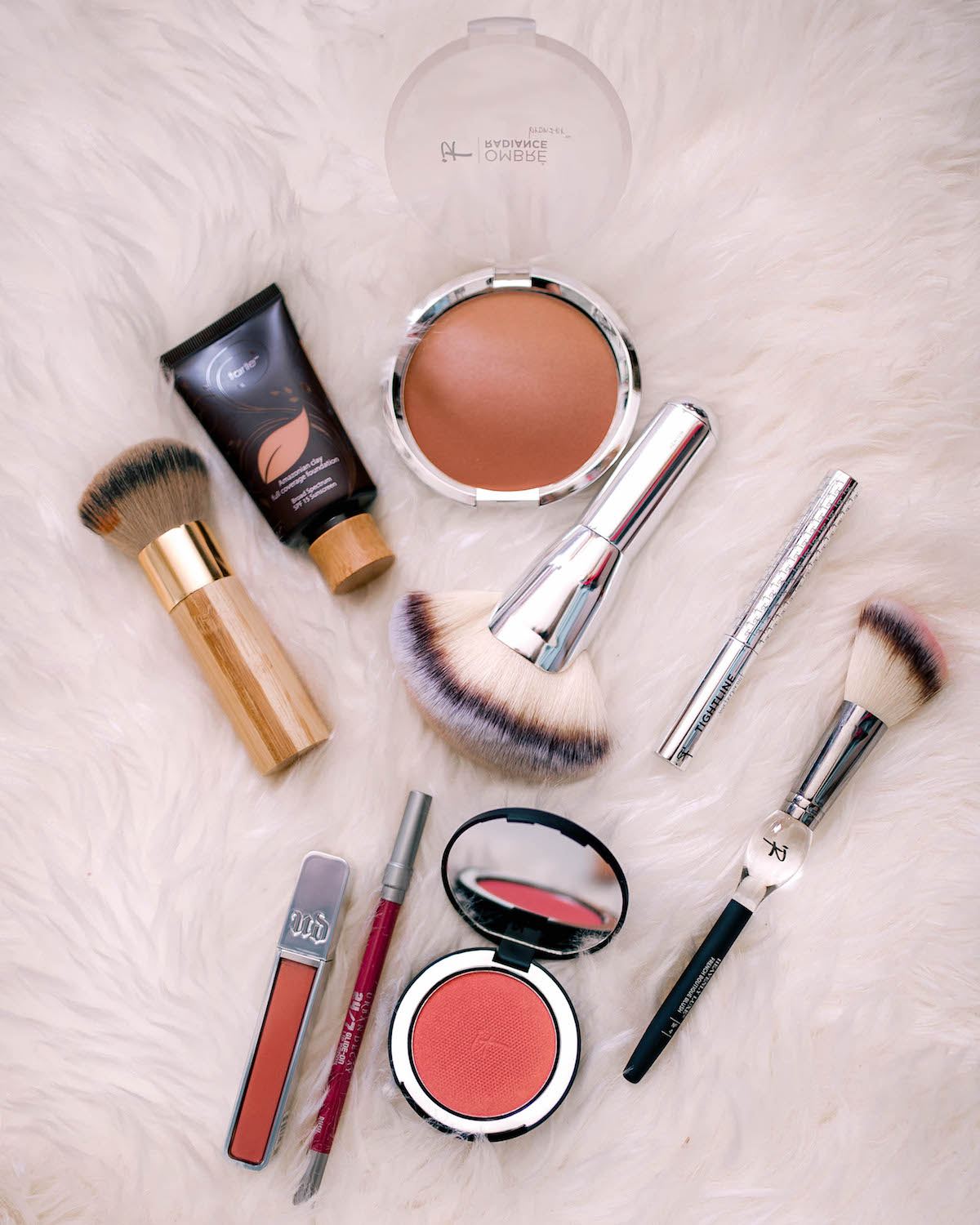 Lately I've been doing a very quick and easy five step routine. It takes me just a few minutes and can easily be modified based on your skin type and coverage preferences. PS all of these products were scored on QVC.com! I've found so many products through QVC over the last few months and feel like it's such an underrated shopping destination for all things skincare, makeup and hair. There are new sales every week and often QVC.com will have products in stock that are sold out at other popular beauty stores.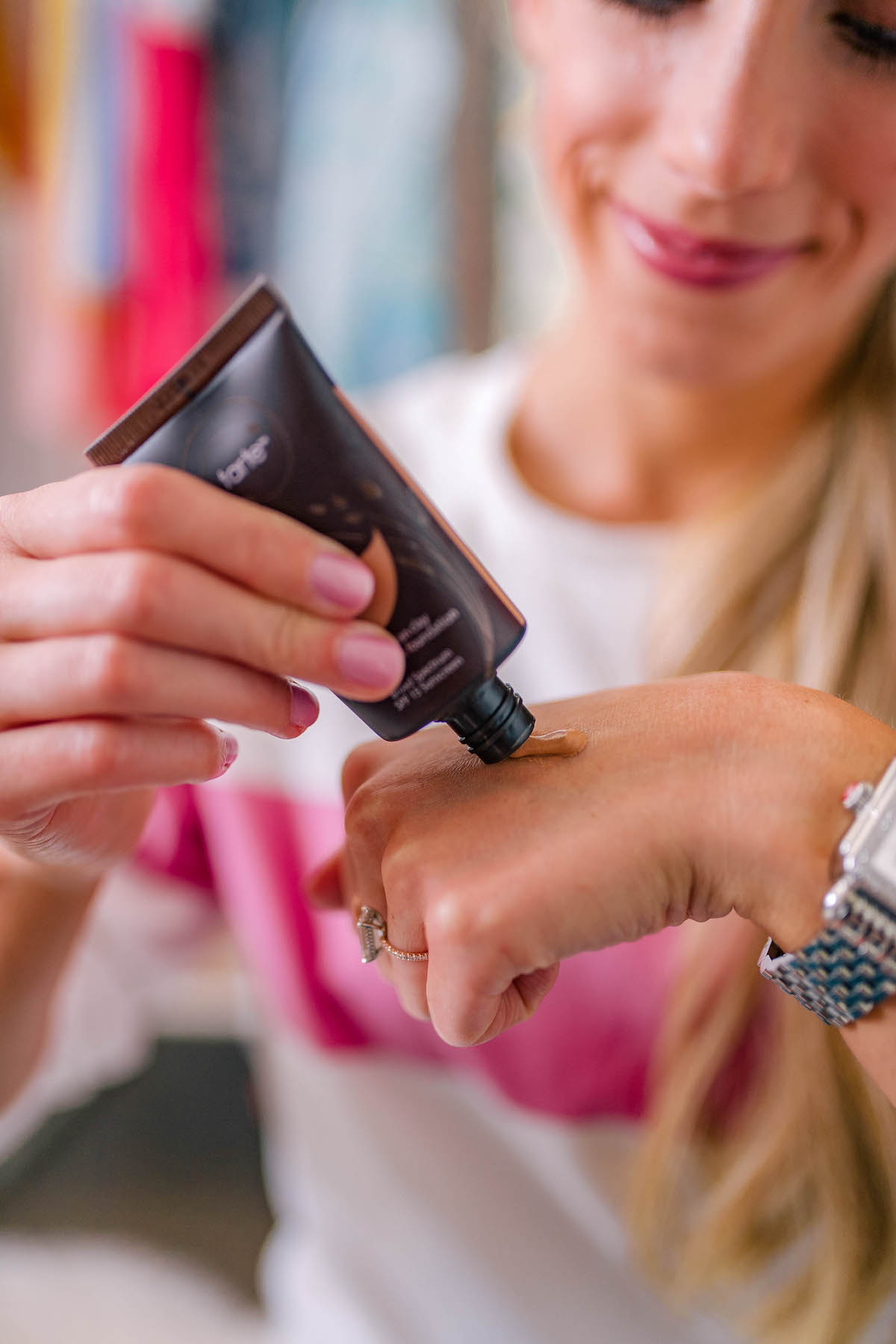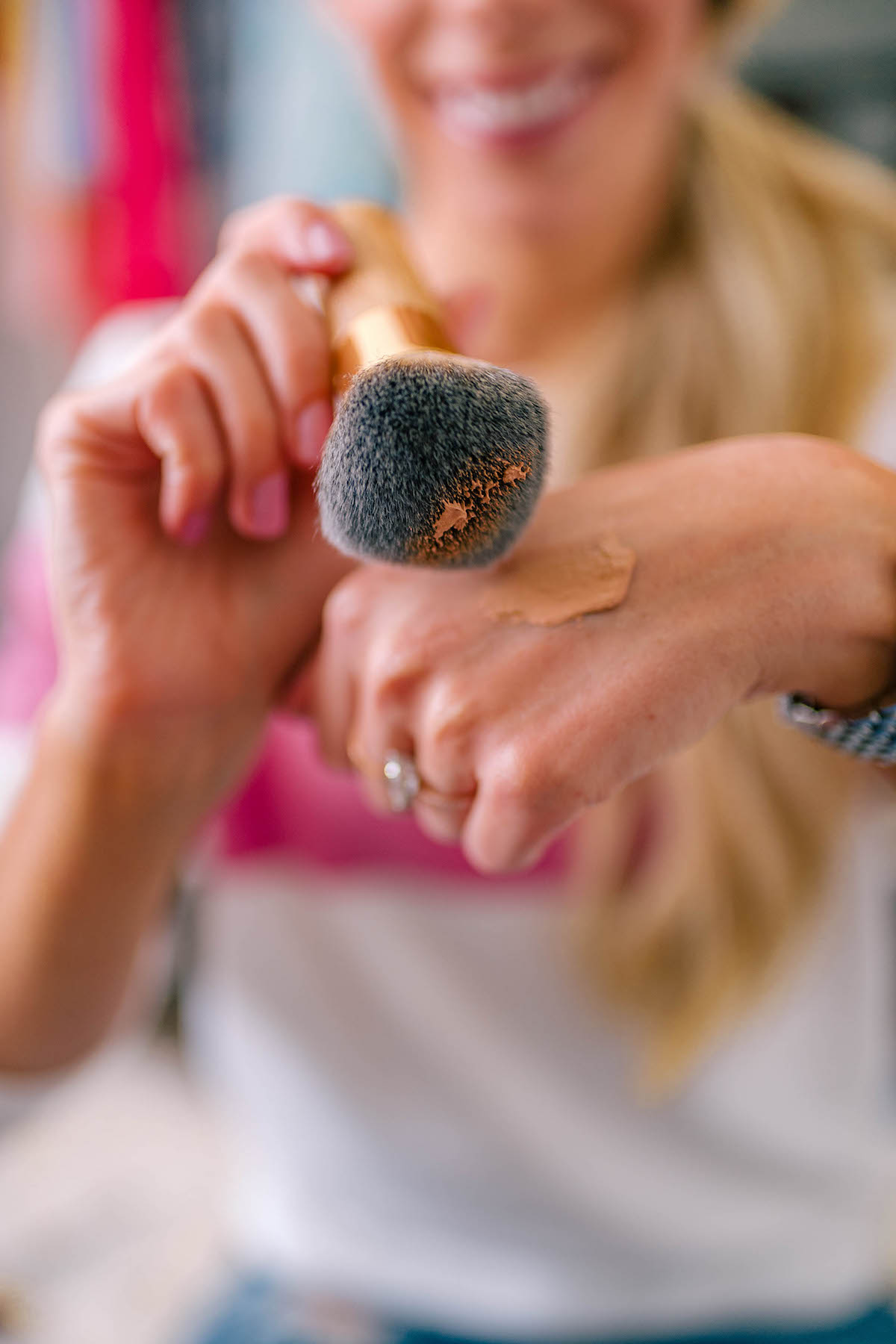 STEP 1 | FOUNDATION
tarte Amazonian Clay Full-Coverage Foundation SPF 15 w/Brush
Shade: Light Medium
Don't let the words full-coverage throw you off! This foundation is so buildable and a little goes a long way. I take just a pea-size amount and focus the product on the areas where I'd normally apply concealer– my under eyes, forehead, and nose. I stipple the product onto the back of the brush and apply in circular motions buffing out any imperfections and redness. I love how it goes on light and makes my skin look airbrushed!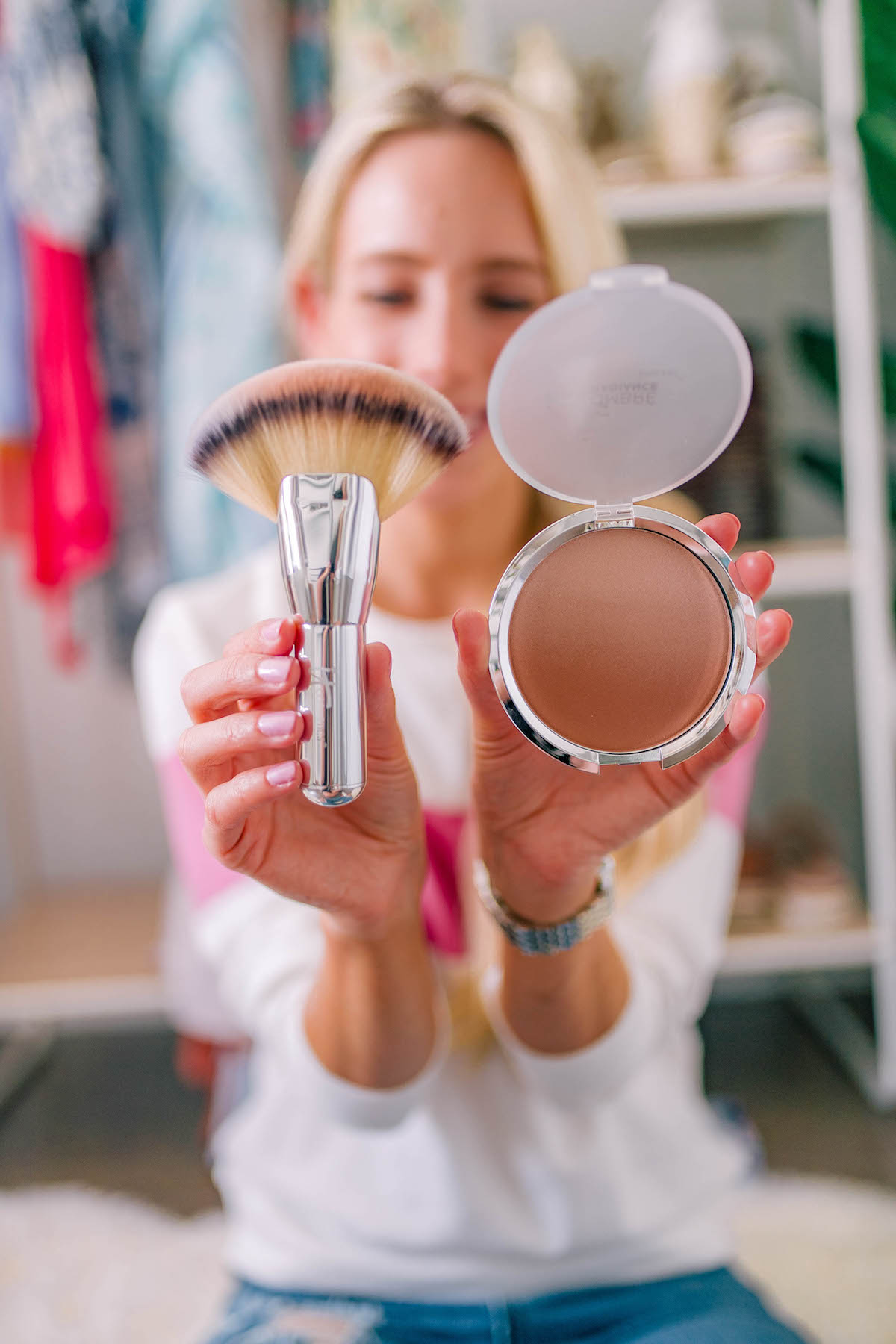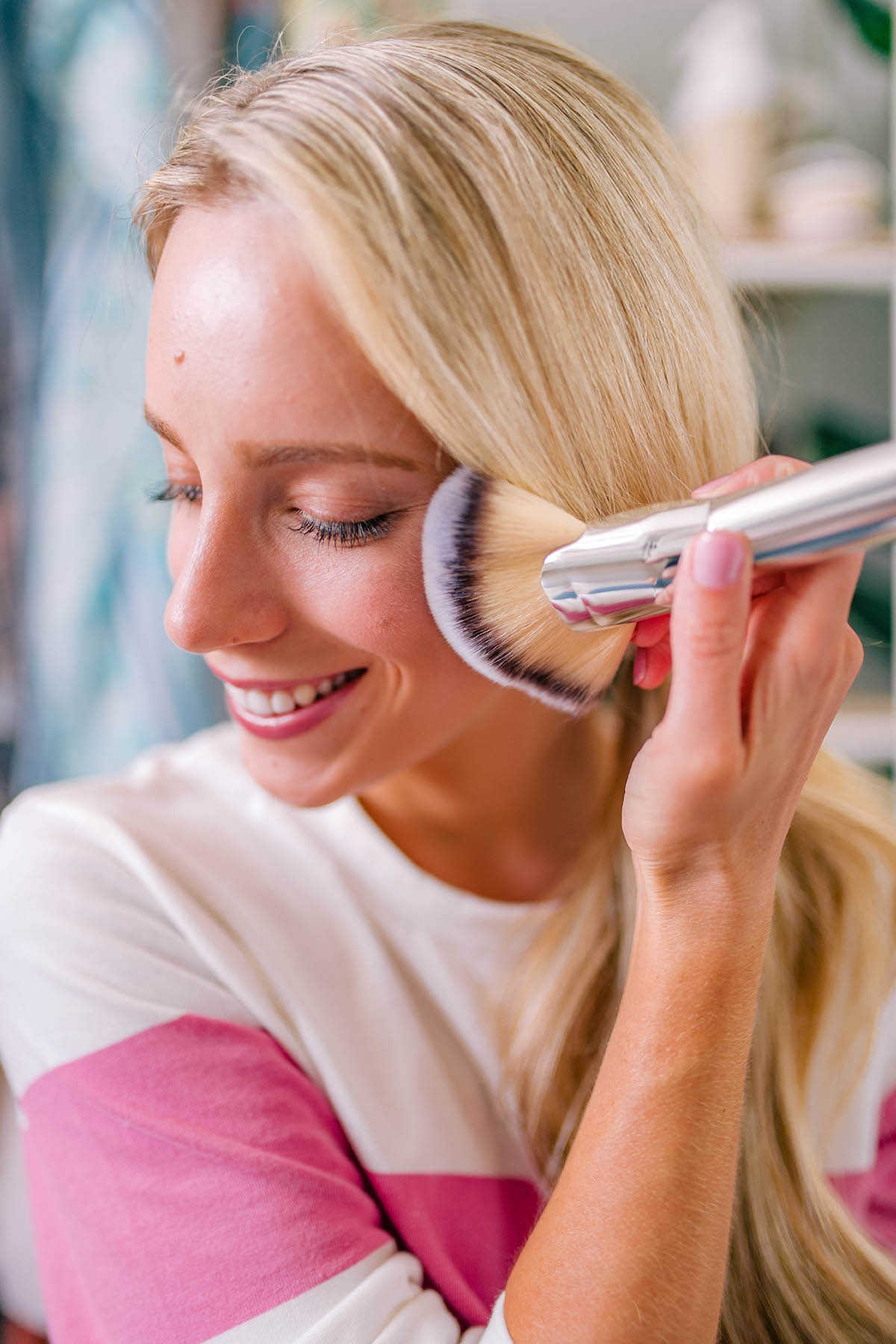 STEP 2 | BRONZER + HIGHLIGHT
IT Cosmetics CC Anti-Aging Ombre Radiance Bronzer w/ Luxe Mega Fan Brush
Can all face products come with a brush please? I was a little intimidated at first by the large fan brush that accompanies this bronzer/highlight duo, but it's actually incredibly precise and makes application a breeze. After swiping the brush across the powder, I apply it to the hollows of my cheeks. Any remaining product I'll dust up on to my forehead and down along my jawline.
This isn't just your average bronzer either… It was formulated with anti-aging in mind and contains a handful of ingredients that are so good for the skin like hydrolyzed collagen, peptides, and Drops of Light Technology. PS you can use it on your body too!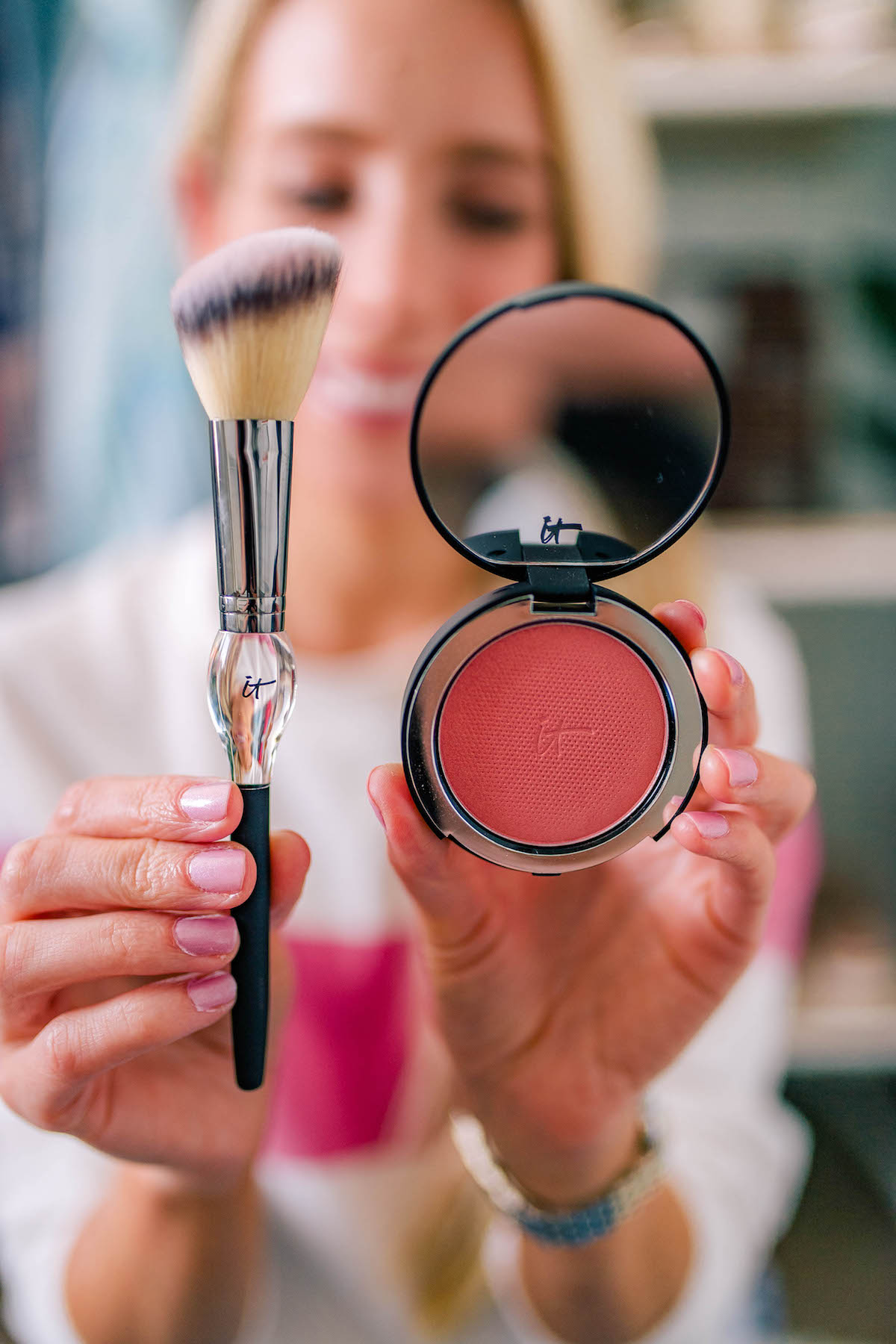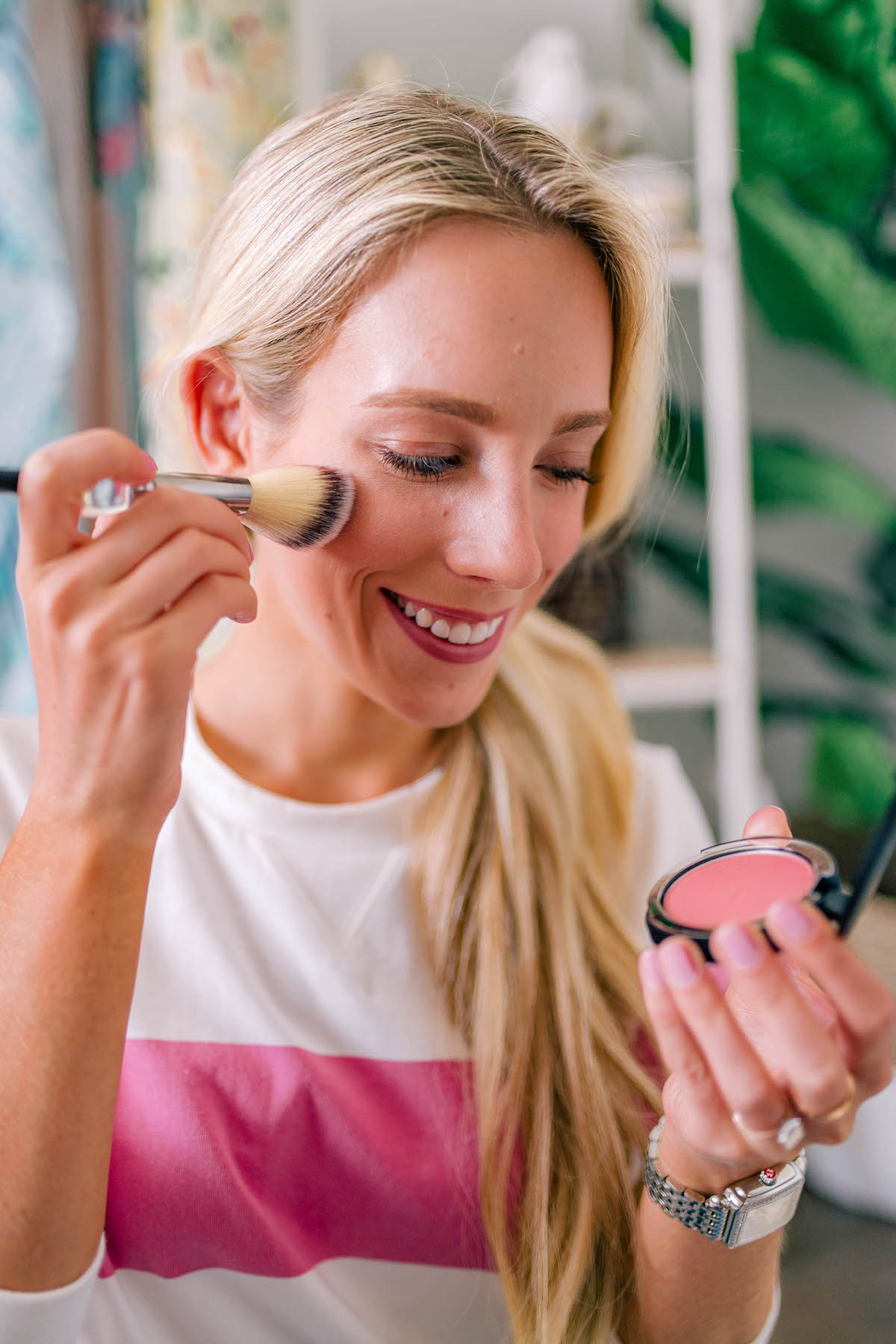 STEP 3 | BLUSH
IT Cosmetics Bye Bye Pores Anti-Aging Silk Pressed Blush w/ Brush
Shade: Sweet Cheeks
IT Cosmetics is quickly becoming one of my favorite brands for blush and bronzer. Every single product I've tried is SO pigmented, easy to build and will last forever. I actually had this blush a few years ago and LOVED it until the day I dropped it on the floor and it smashed everywhere. So happy I finally got a replacement– this time with it's own brush! I love the pretty peachy pink color. It's one of those shades you can ear every day all year long!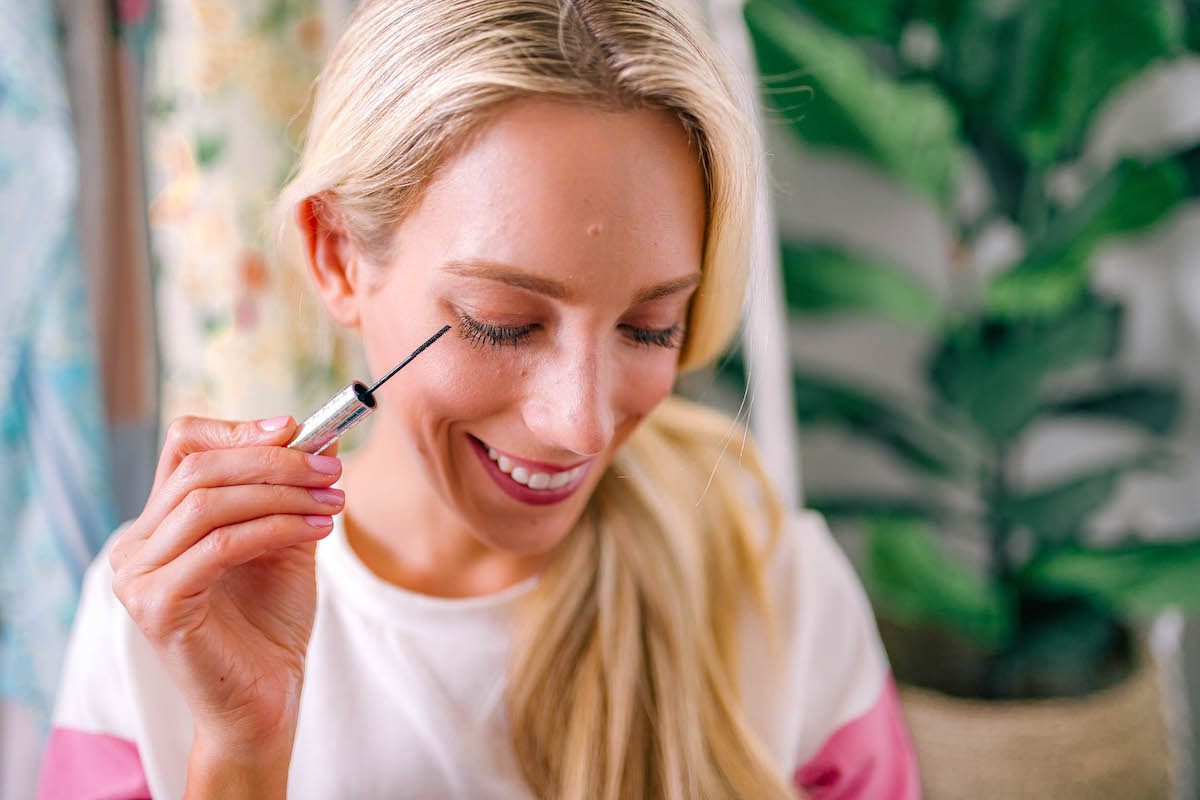 STEP 4 | LINER + MASCARA
IT Cosmetics TIGHTLINE Waterproof Black Mascara Primer Duo
This mascara is a game changer thanks to it's ultra skinny wand! If you have sparse lashes you'll easily be able to reach every single lash on your top and lower lashline, while adding volume and length. Since I don't wear eyeshadow in this routine I'll apply a few coats to give my lashes a more dramatic effect.
The brush also works as an eyeliner! It's thin enough that you can apply the same black pigment along your waterline before even hitting your lashes. The formula is waterproof too so it's a great one to keep in your pool or beach bag.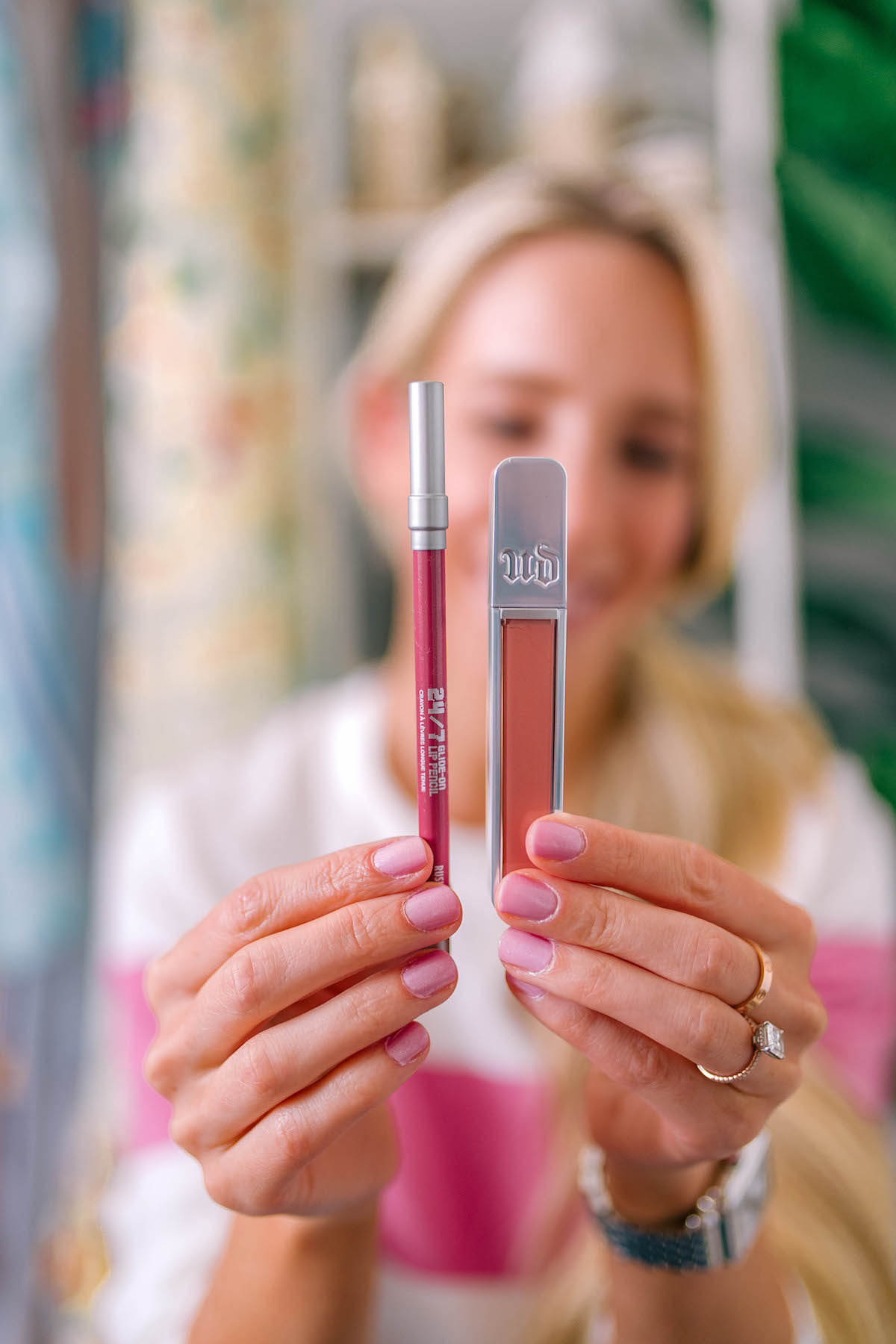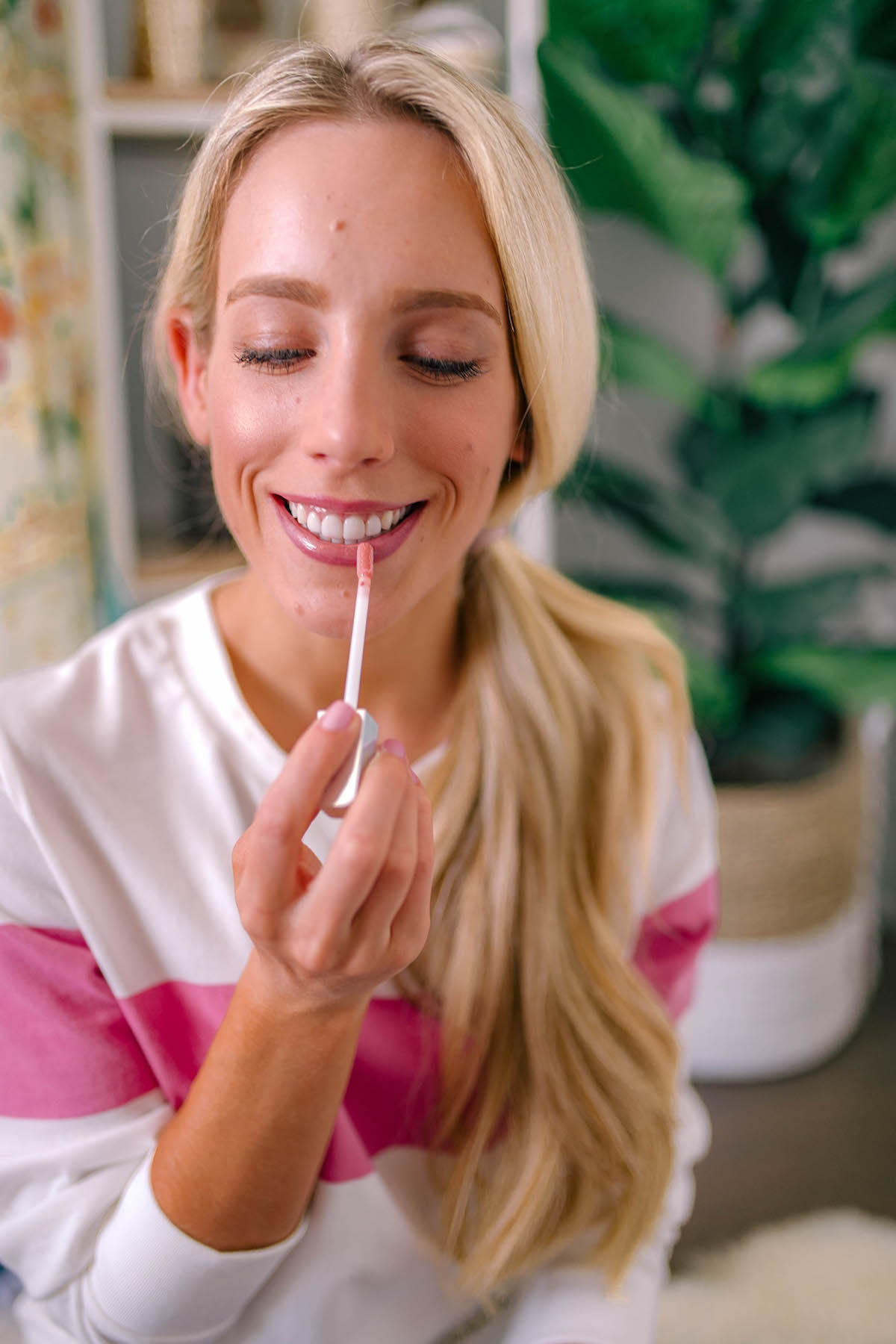 STEP 5 | LIPS
URBAN DECAY Hi-Fi Shine Lip Gloss & 24/7 Lip Liner Pencil Duo
Shade: Nude
If you're looking for a summer lip combo that will last all day without drying out, then you need to get your hands on this duo. It comes in two shades: nude (what I'm wearing here) and pink. I have tiny lips so being able to apply product precisely is key for me. What I love most about this liner is how smooth it glides on! I'm able to do it really quickly and even after a day of wear I don't notice it feathering or fading. For a little extra shine and hydration I like adding a swipe of the gloss on top, however since the liner is so creamy you can definitely skip this step.
Anddddd that's it! So simple right?
- Katie