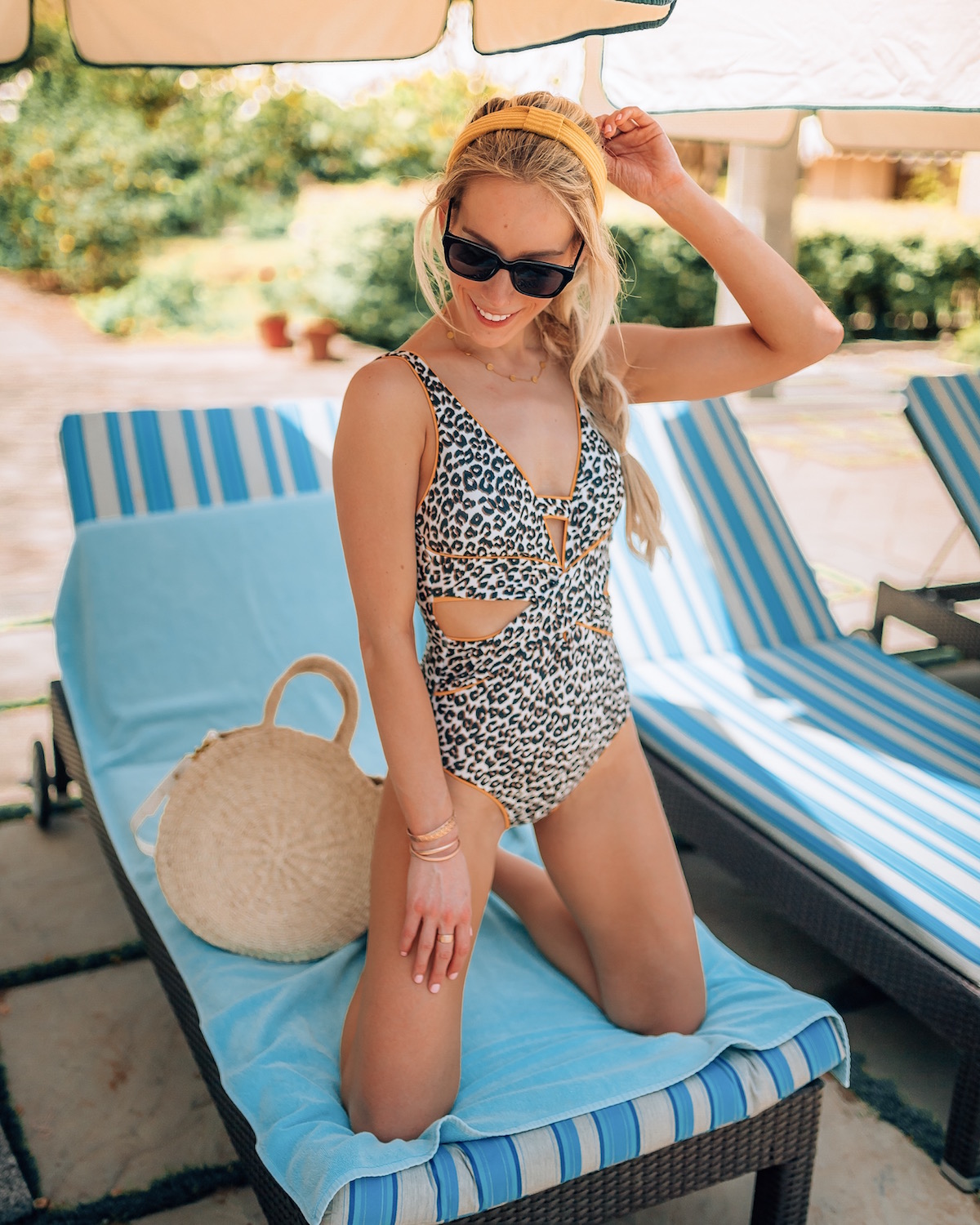 WHAT I'M WEARING // Becca One Piece Swimsuit via Everything But Water c/o | Yellow Headband | Circle Tote | Sunglasses | Necklace | Kendra Scott Bracelets
You don't need to bake in the sun for hours to get a gorgeous tan. Did anyone else spend their teenage year summer weekends "laying out"? Those days for me are long gone and I've realized that the potential sun damage is just not worth the exchange for a real tan.
So how do I achieve a bronzed glow at home? Self tanning doesn't have to be difficult and depending on the products you use, it can be applied relatively quickly, inexpensively and with no down time. I've tried a lot of different products over the last few months and have discovered a handful that I really love! These won't streak and I promise you won't end up looking orange 😛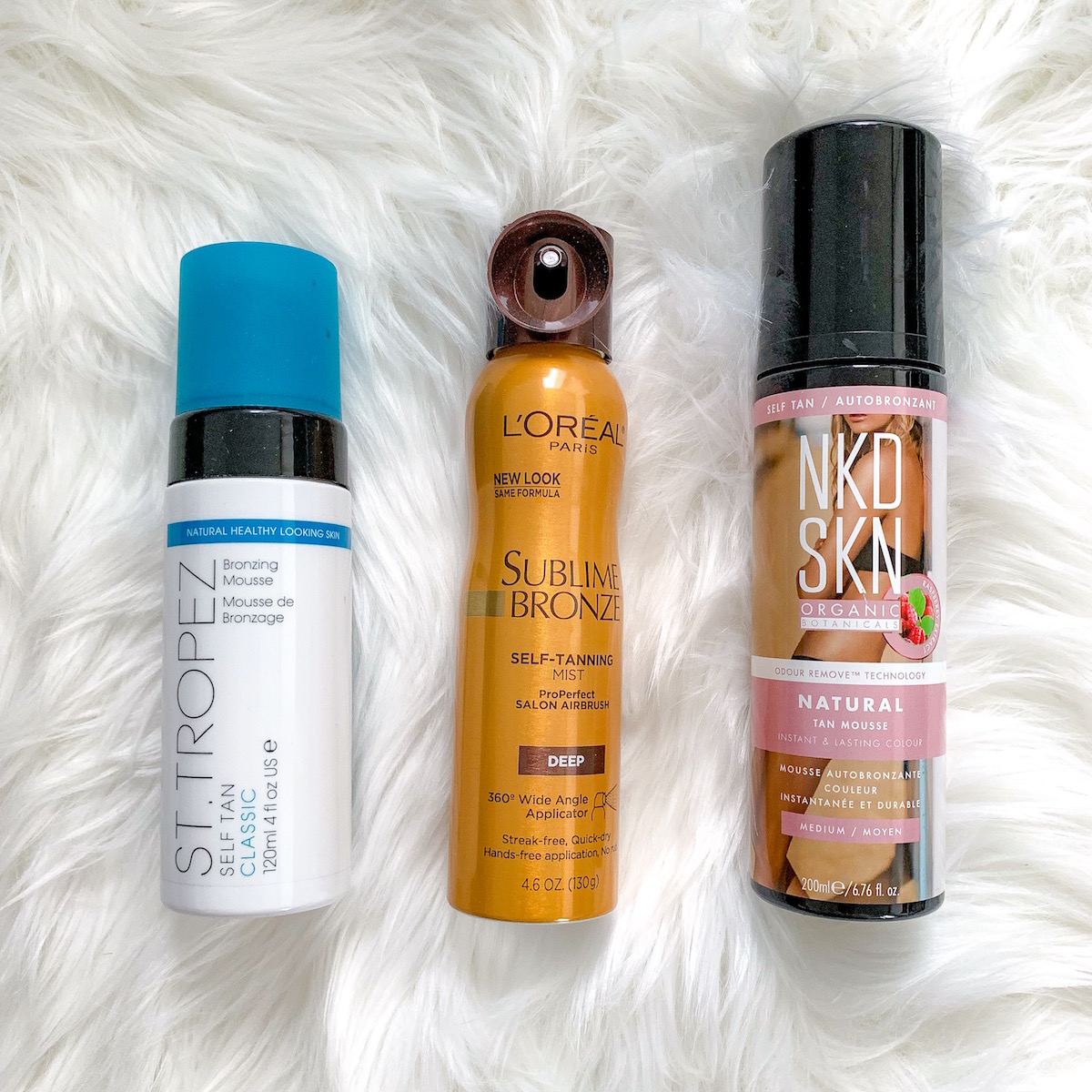 If you're looking for a once-and-done type of tan, then you'll likely want to use a tanning mousse or mist. These tend to have deeper formulas with long-lasting effects, similar to if you went into a salon for a spray tan.
SELF TANNING MOUSSES & MISTS
St. Tropez Self Tan Classic Bronzing Mousse— the OG self tanner! This was the first tanning mousse I ever tried and has been a favorite of mine for over five years! It blends into skin so seamlessly and all you need is one application to get a gorgeous dark summer tan. I recommend putting it on with a tanning mitt rubbing in circular motions (I have this mitt) and then waiting at least 8+ hours before showing or getting skin wet. I've also found that St. Tropez gives me one of the most long-lasting tans too and depending on how aggressively I shower mine will stick around for at least five days.
L'Oreal Sublime Bronze Tanning Mist— no tanning mitt required! This self tanning spray is so easy to apply and the product never needs to touch your hands. I usually will stand in my shower to apply it and then similar to St. Tropez, wait at least 8 hours before showering. I find that this one dries faster than most tanners and won't transfer to clothing or bed sheets. The only downside is that it does take more than one application to really give you a dark tan, but since it's so simple to apply you could easily incorporate it into your routine 2-3 times a week.
NKD SKIN Tinted Tan Mousse— a recent self tanner discovery! This one isn't as aggressive as St. Tropez in that I didn't have to wait 8 hours for my tan to appear, plus it dried almost immediately. It's also a lot cheaper too. It's a great option if you're looking for something easy without the wait time. PS you'll definitely want to apply this one using a mitt!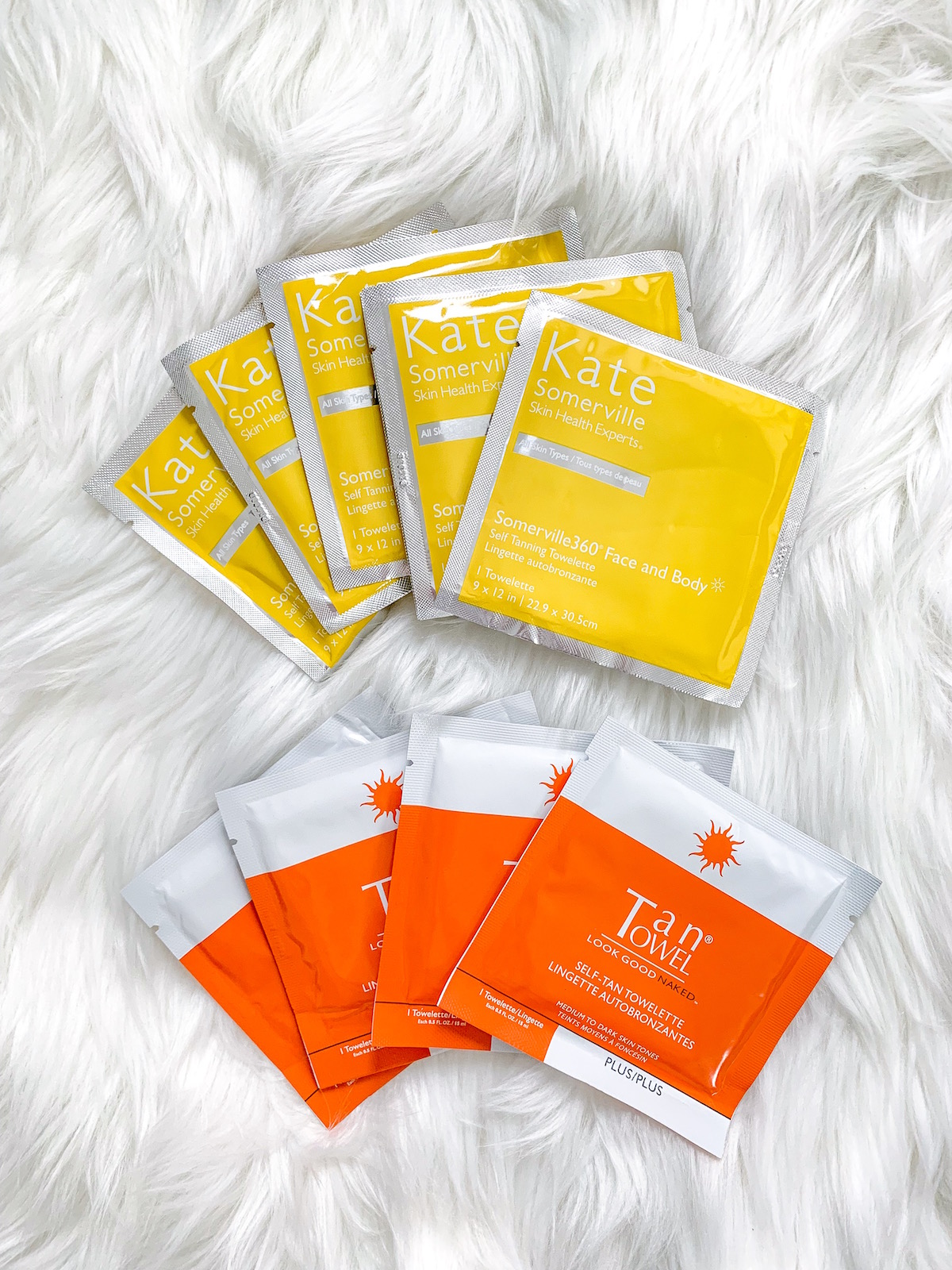 As much as I love the deep look tanning mousses and mists give my skin, I don't always have the time to apply these every week. Solution? Tanning towelettes. These are SO easy to use, dry instantly and give close to the same effect. You can also pack them with you when you travel!
SELF TANNING TOWELETTES
TanTowel Full-Body Plus 6-Pack–these towels come in two shades: classic and dark. I have the dark and love how one towel gives my entire body a nice even glow. It takes a few uses to get a super dark tan, but the instant dry time is such a big bonus! These have a nice light citrus scent too.
Kate Somerville 360° Tanning Towelettes— a little bit pricier than TanTowel, but I'd say my tan is much more lang-lasting. I have even used these on my face too!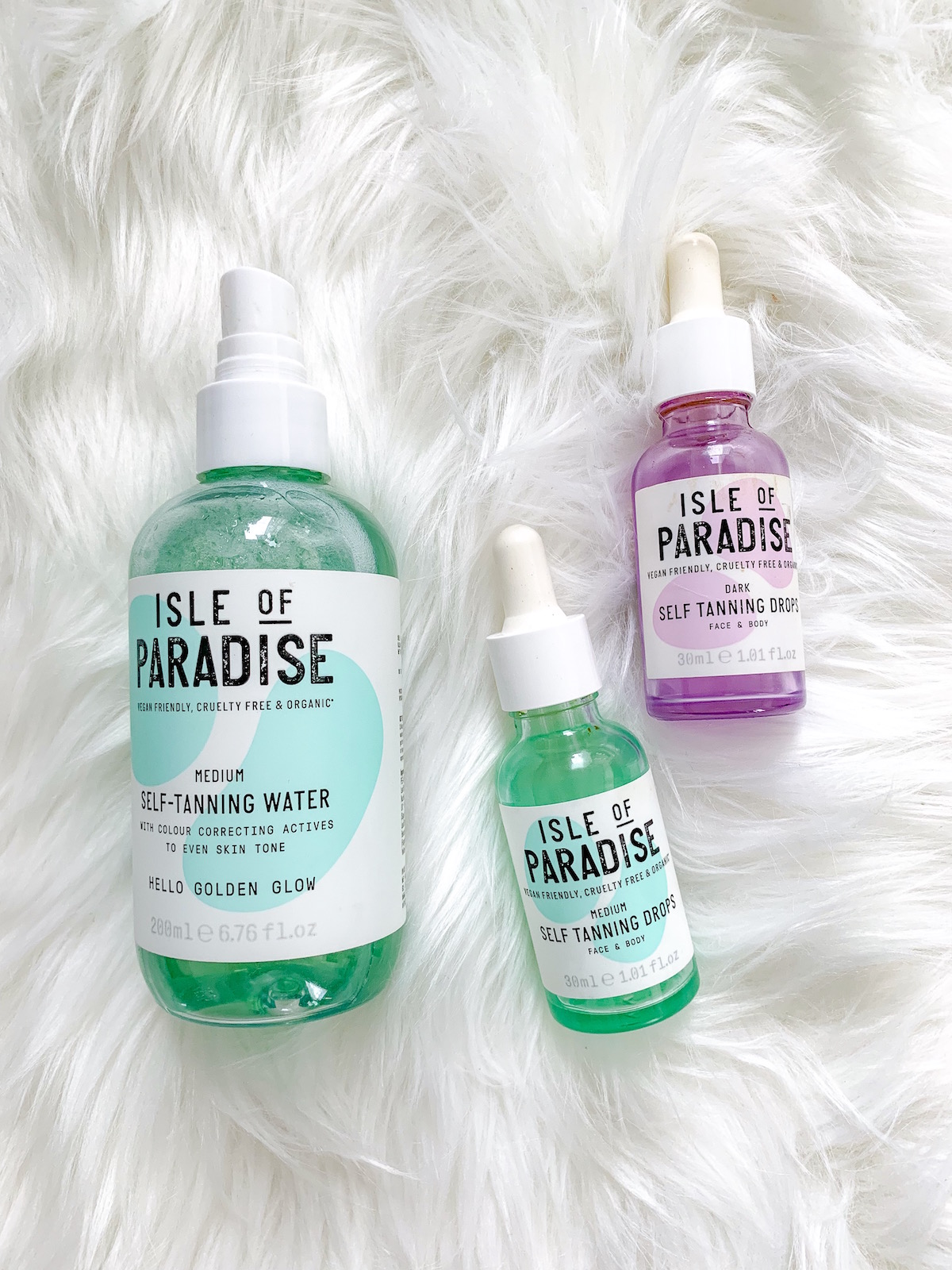 Looking for a product you can use everyday to maintain a subtle glow? You're going to want these in your life asap!
GRADUAL SELF TANNERS
Isle Of Paradise Self Tanning Drops— As much as I love a one-and-done self tanner, the application process can feel like a chore. Say hello to TANNING DROPS. When I discovered these it was like finding the holy grail! I raved about them in my 2018 Best Of Body Care Favorites post because these are so easy to use. You just mix a drop with a bump of your body lotion, apply to skin and instant natural glow! The more drops you use = darker tan. These come in 3 different shades: light, medium and dark. I personally go back and forth between the medium and dark depending on how I'm feeling. The only downside to these drops is I can't use them on my face. Even though they say safe for the face, my skin is just too sensitive and prone to blemishes.
Isle of Paradise Self Tanning Water— Similar to a tanning mist, but much easier to use everyday. It dries instantly and you can also blend this in directly using your hands. The formula color corrects and evens out skin tone, so it's a great product to use if you are trying to fix tan lines!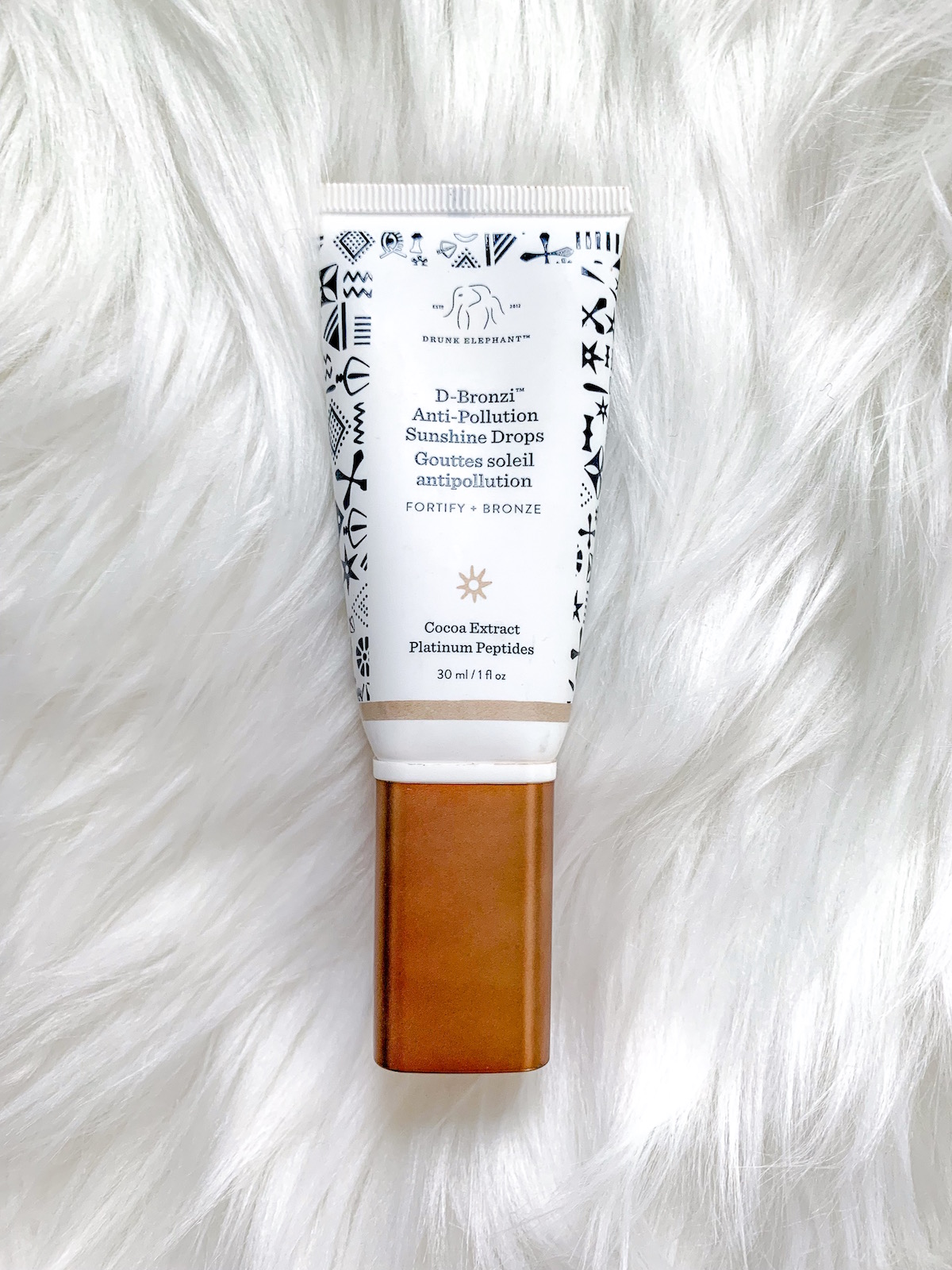 FOR THE FACE
Drunk Elephant D-Bronzi Anti-Pollution Bronzing Drops— Self tanners do not work on my face the same way as my body. My skin is just too sensitive and I find that the formulas clog my pores giving a dirty-looking effect. It's frustrating, but there is a solution! These bronzing drops aren't permanent, but give skin an instant glow without the irritation (thanks to the clean vitamin-packed formula). I mix a small pump in with my serum before applying my makeup and find it bumps up my skin tone to more closely match the rest of my body. Super easy and I don't have to fear getting pimps or blemishes. You can actually use this anywhere on your body too!
- Katie