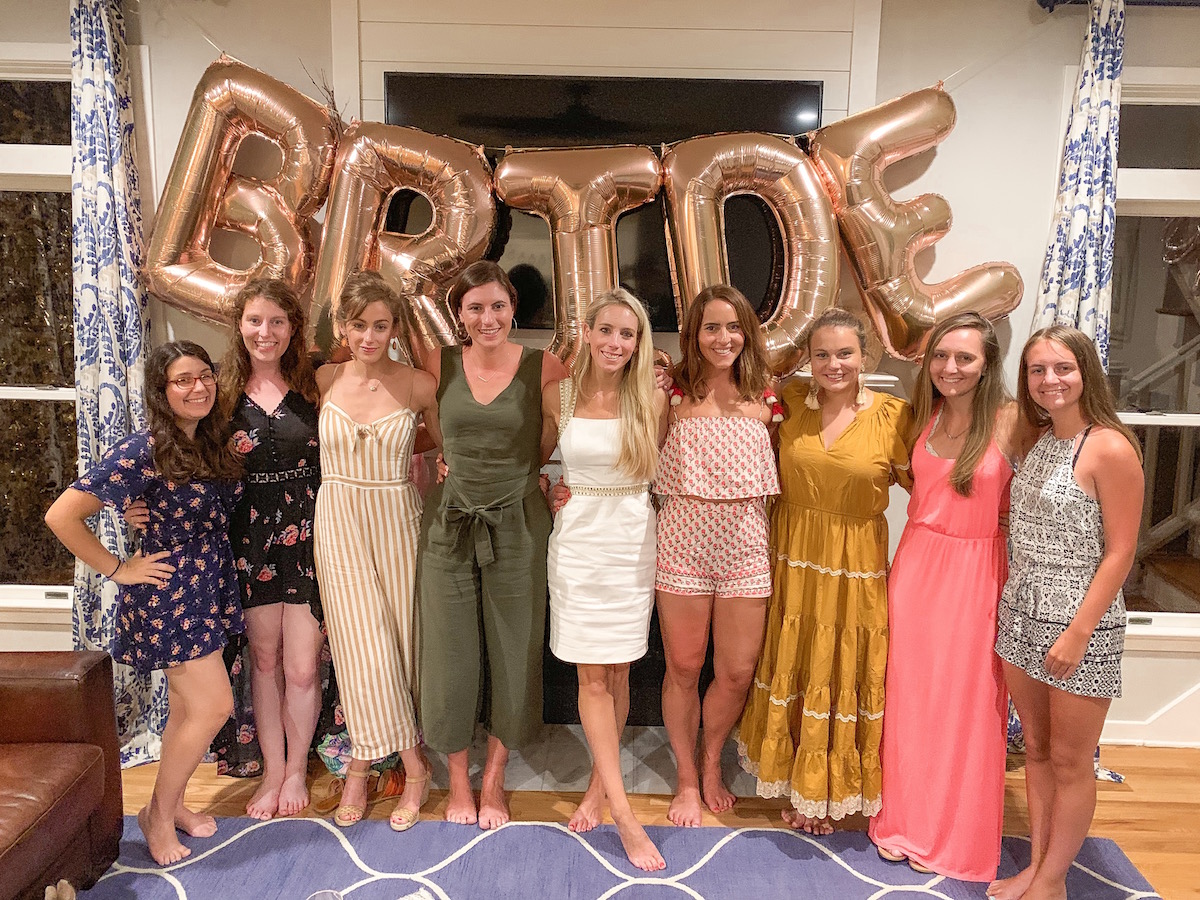 My heart feels so full after spending an entire weekend with all my favorite gals in one of my favorite places for my bachelorette! My friends went completely over the top planning the most perfect Charleston bachelorette party itinerary for me.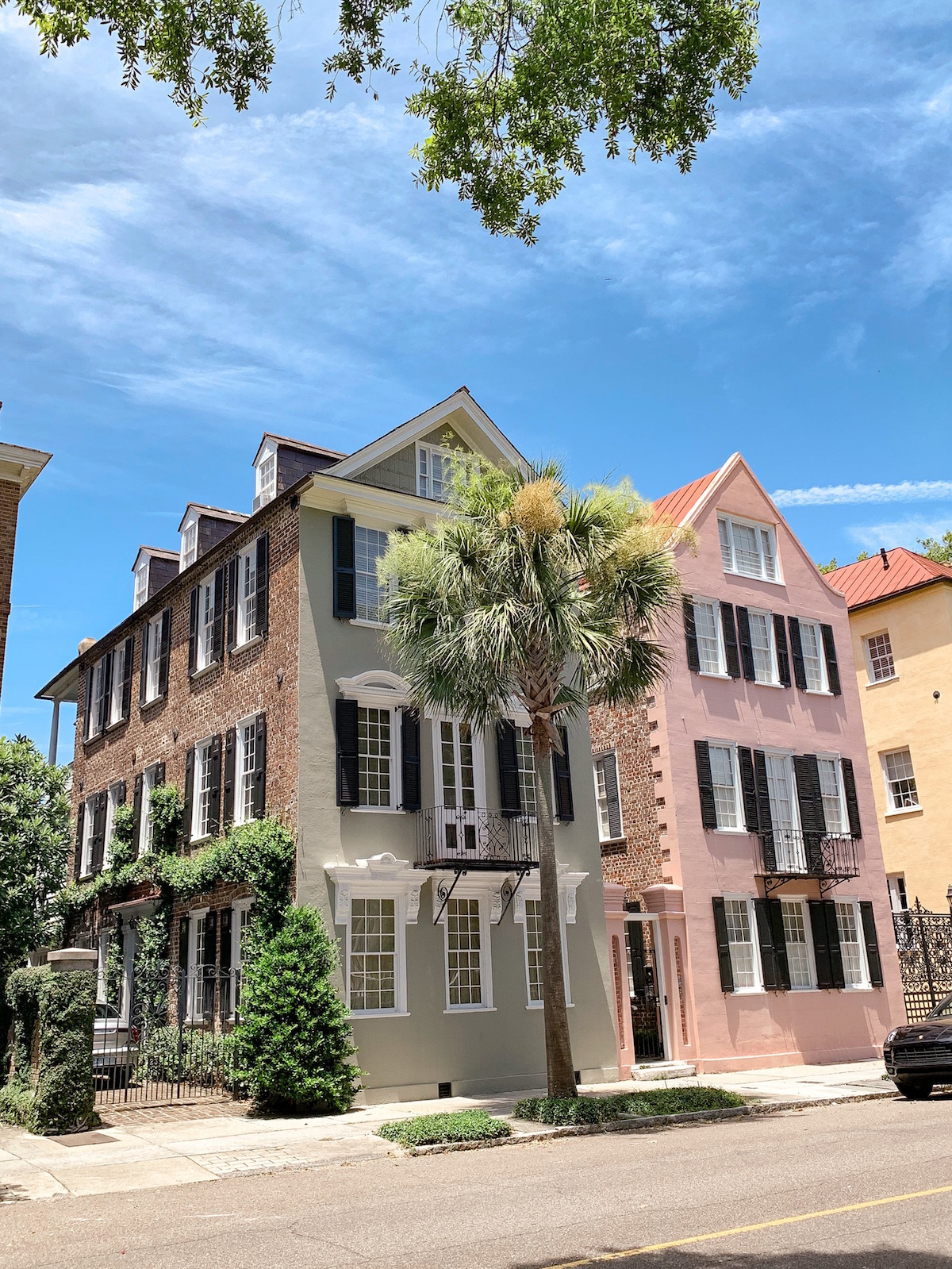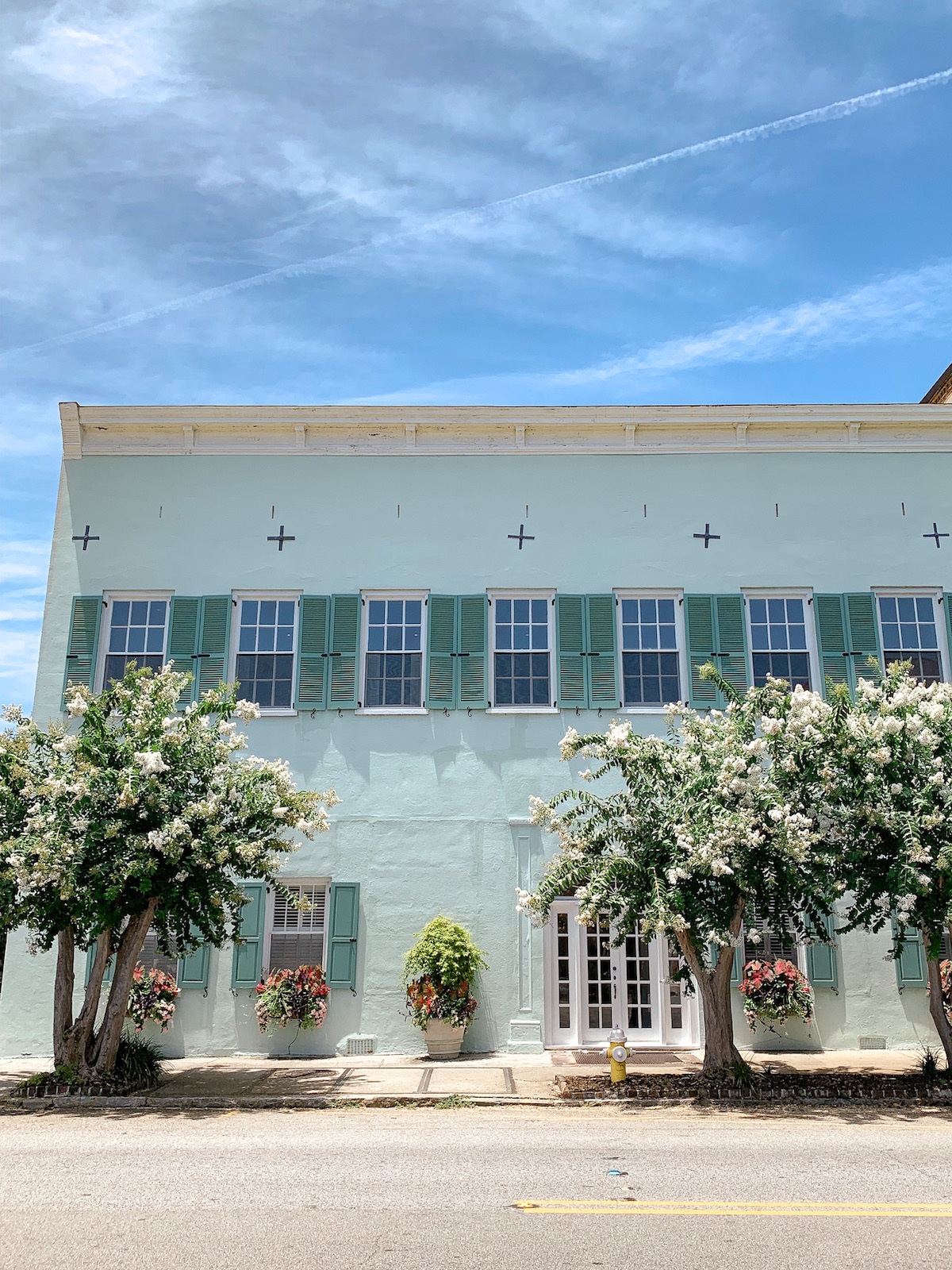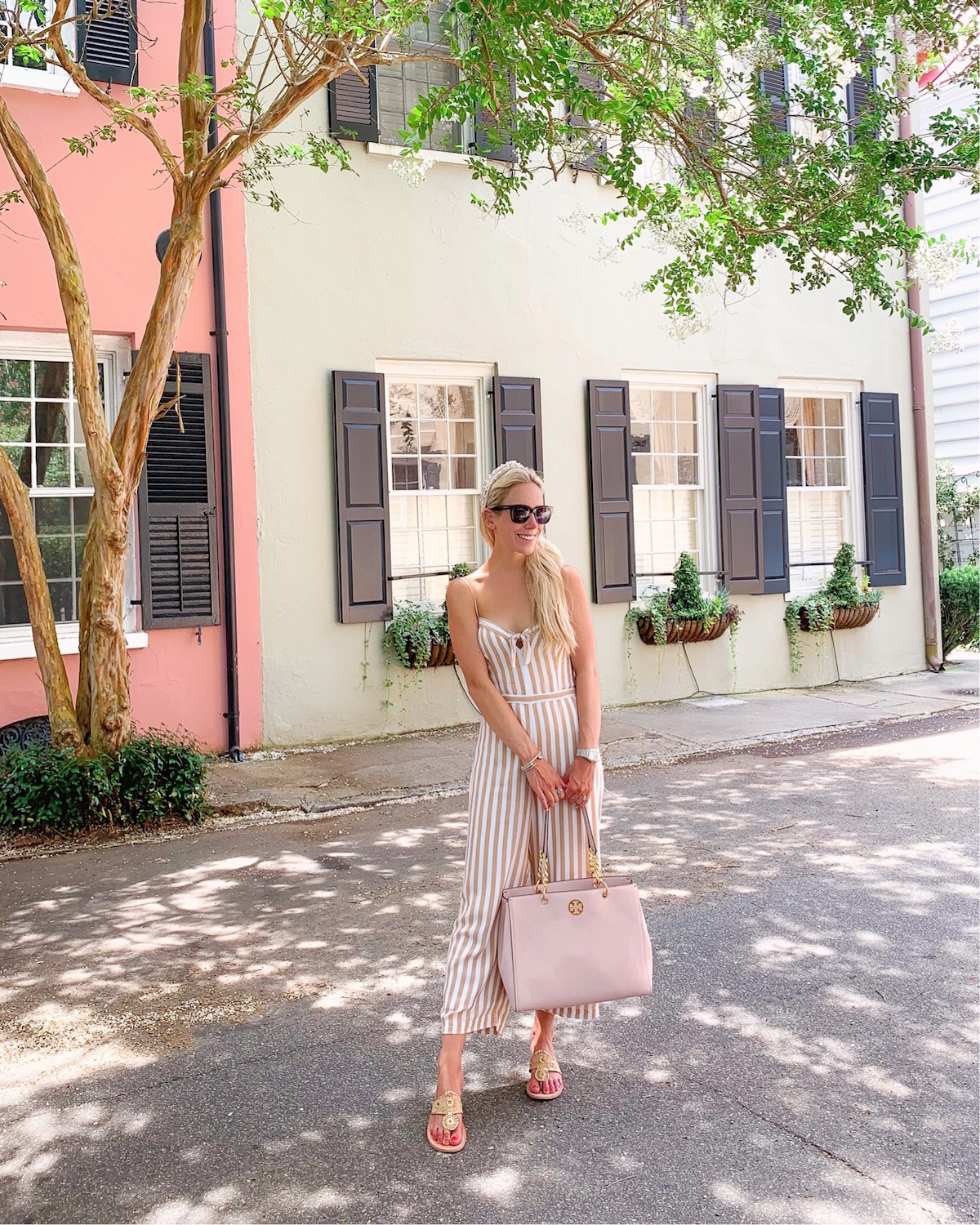 OUTFIT DETAILS // Stripe Jumpsuit | Tory Burch Tote Bag (on sale!) | Jack Rogers Sandals | Faux Pearl Headband | Sunglasses | Michele Watch
My maid of honor Allie and bff Carly (you can read her recap of our weekend here) were a total dream team. I guess I shouldn't be surprised at the amount of detail and personal touches they incorporated into my bachelorette itinerary, considering they're both NYC publicists and literally plan events for a living. You can see our full schedule below!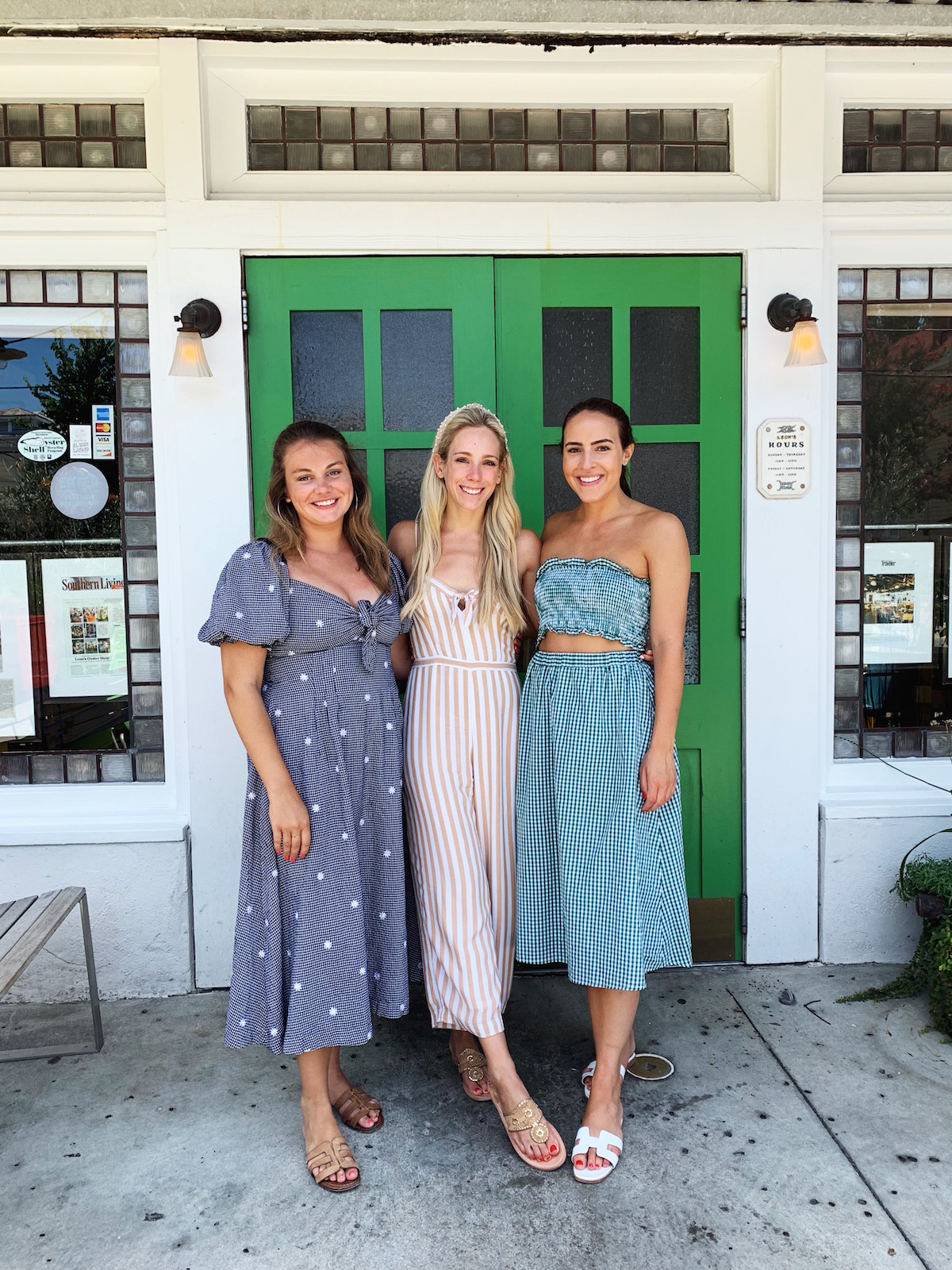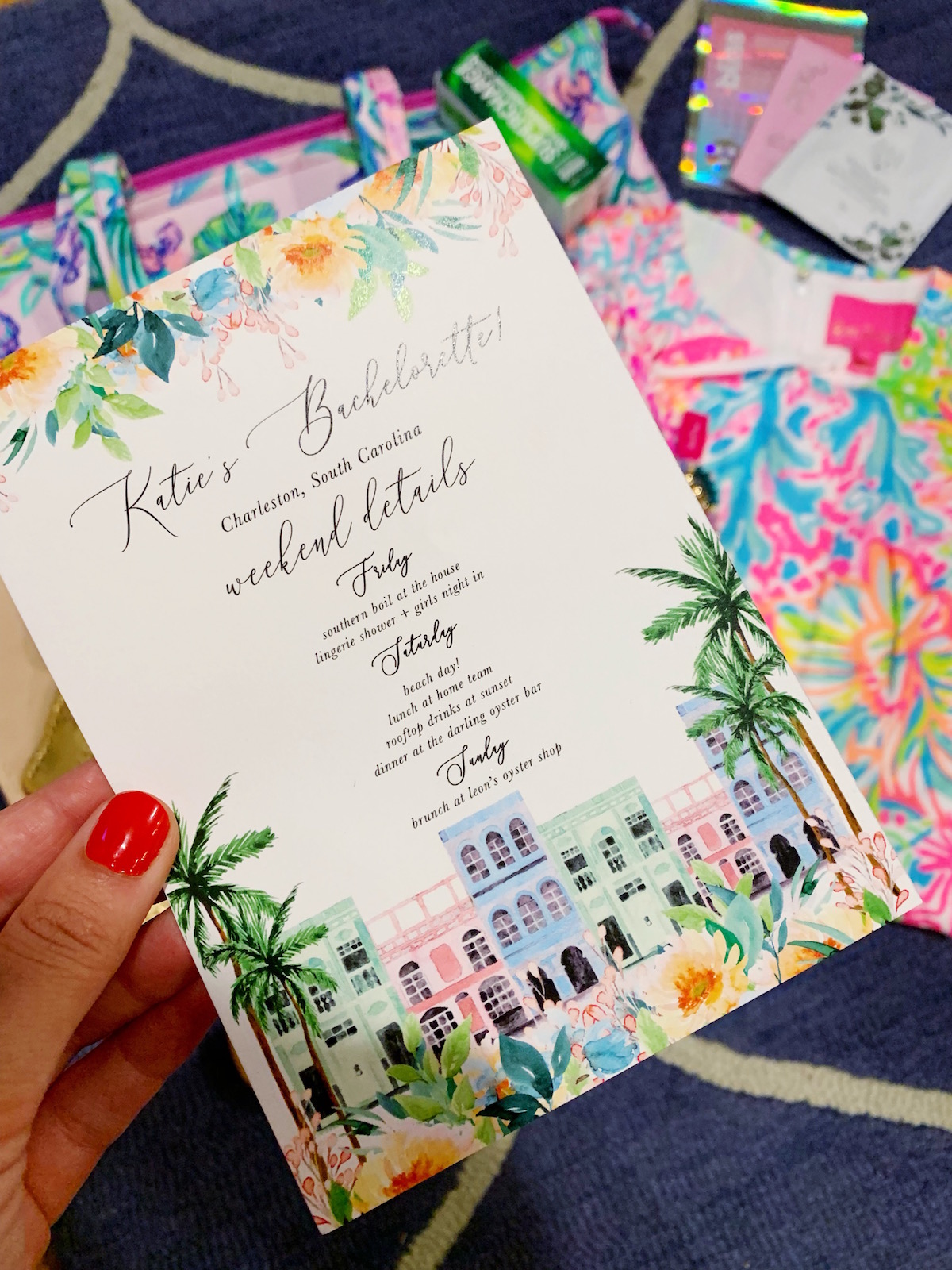 ---
Charleston Bachelorette Party Itinerary
FRIDAY
+ Arrivals to house on Isle of Palms, SC
+ Afternoon at the beach
+ Southern boil dinner at home
+ Lingerie Shower
SATURDAY
+ Biscuits & Bloody Mary bar for breakfast
+ Beach day!
+ Lunch at Home Team BBQ on Sullivan's Island
+ Hotel bar hopping at sunset in downtown Charleston
+ Dinner at Darling Oyster Bar
+ More bar hopping 😛
SUNDAY
+ Farewell brunch at Leon's Oyster Shop
+ Explore Rainbow Row & downtown Charleston
---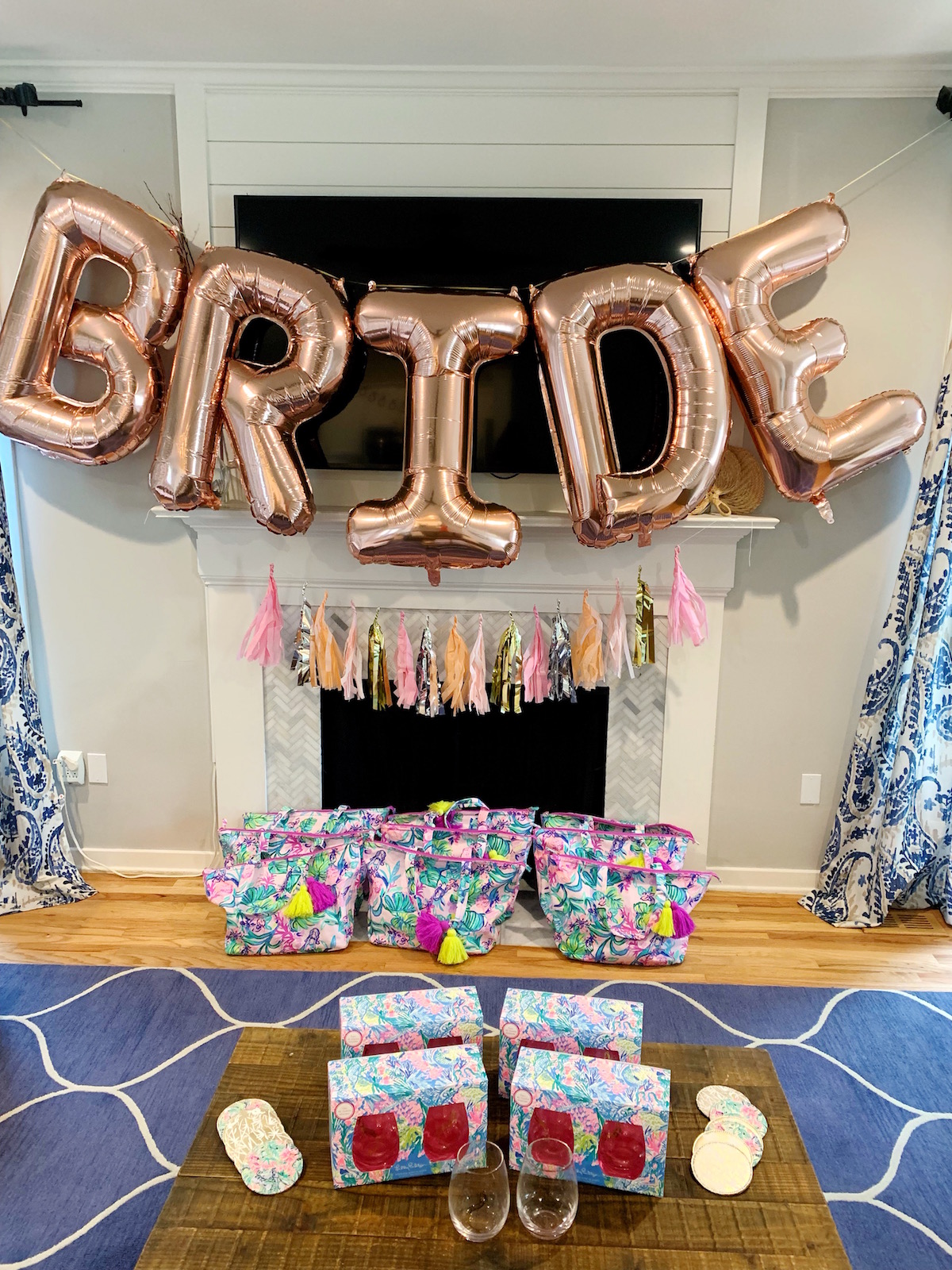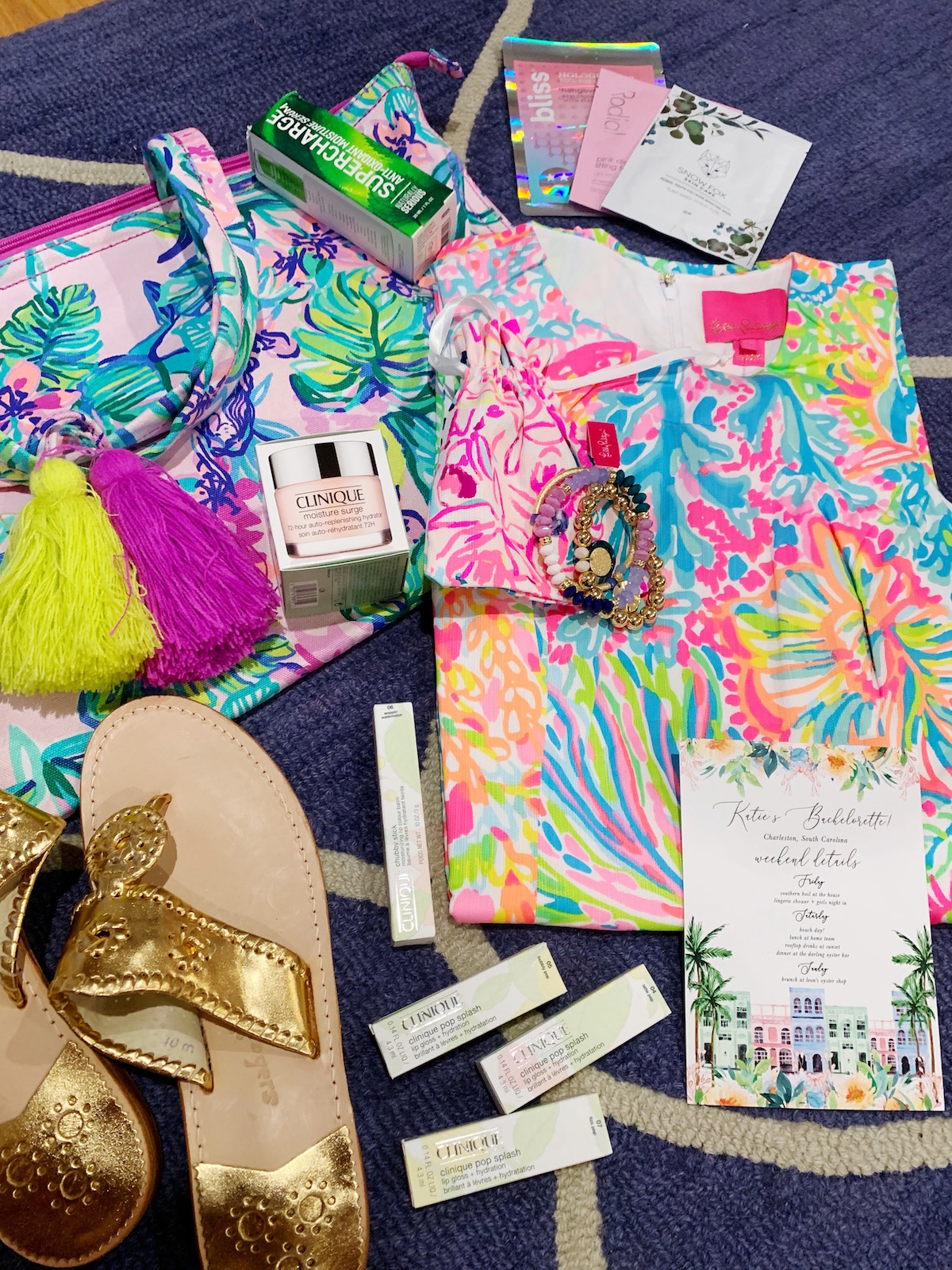 Bachelorette Decor + Favors
Carly and Allie went so far as to reach out to some of my favorite brands who graciously provided gifts for not only me, but all my friends. They also decked out our beach house in all the bachelorette-themed decor! Here's what everyone received in their Lilly Pulitzer goodie bags and where my girls found those super cute decorations.
Goodie Bags
Lilly Pulitzer Palm Beach Zip Up Tote
Lilly Pulitzer Tumbler
Lilly Pulitzer Craysea Bracelet Set
Lilly Pulitzer Phone Crossbody Bag
Jack Rogers sandals from Muse Shoe Studio
Kenny Flowers Palm Print Sarongs
Retro Heart Sunglasses
Clinique Moisture Surge Moisturizer
Clinique Chubby Stick Lip Color Balm
Naturally Serious Moisture Serum
Bliss Sheet Masks
Rodial Sheet Masks
Snow Fox Sheet Masks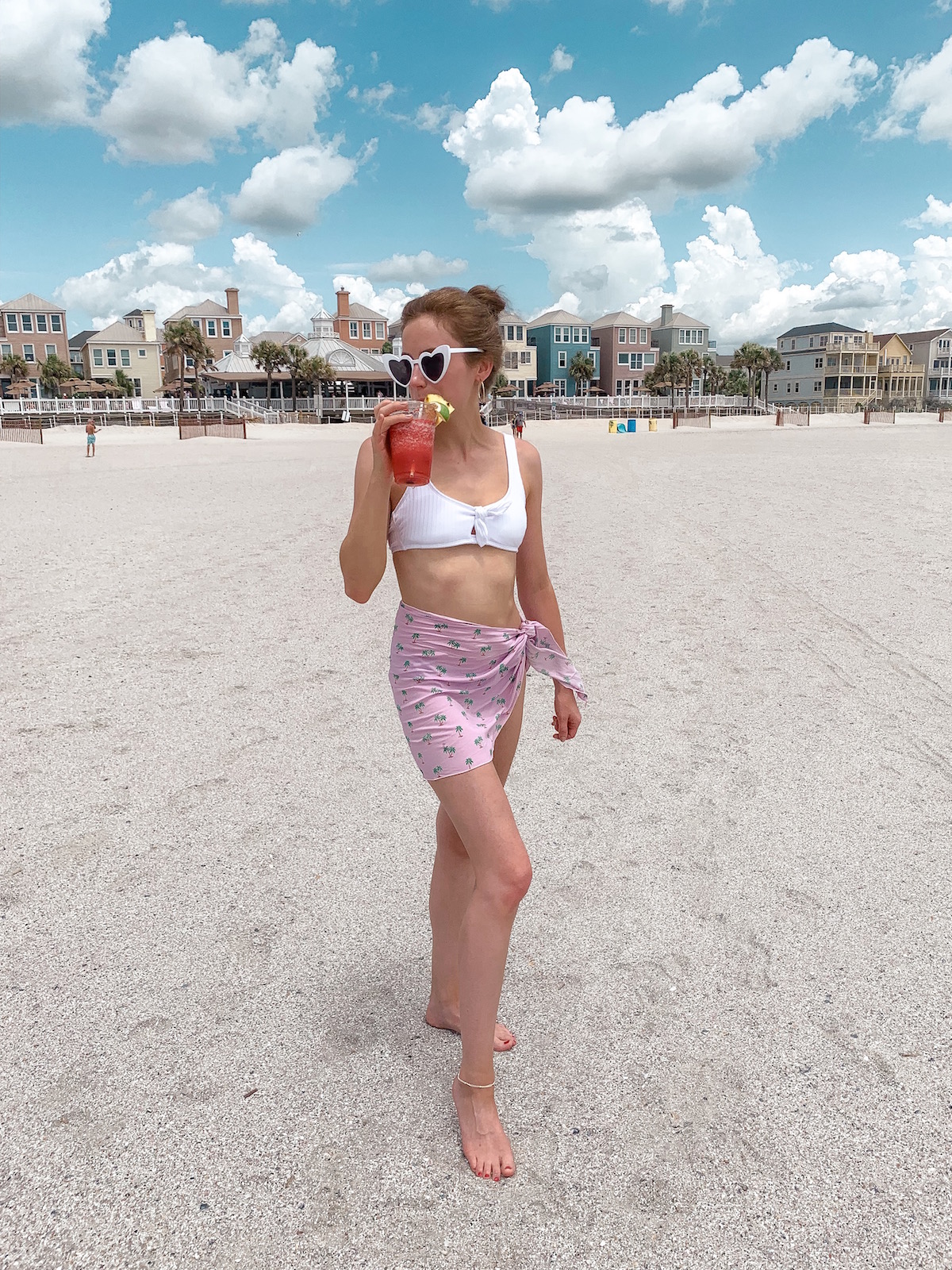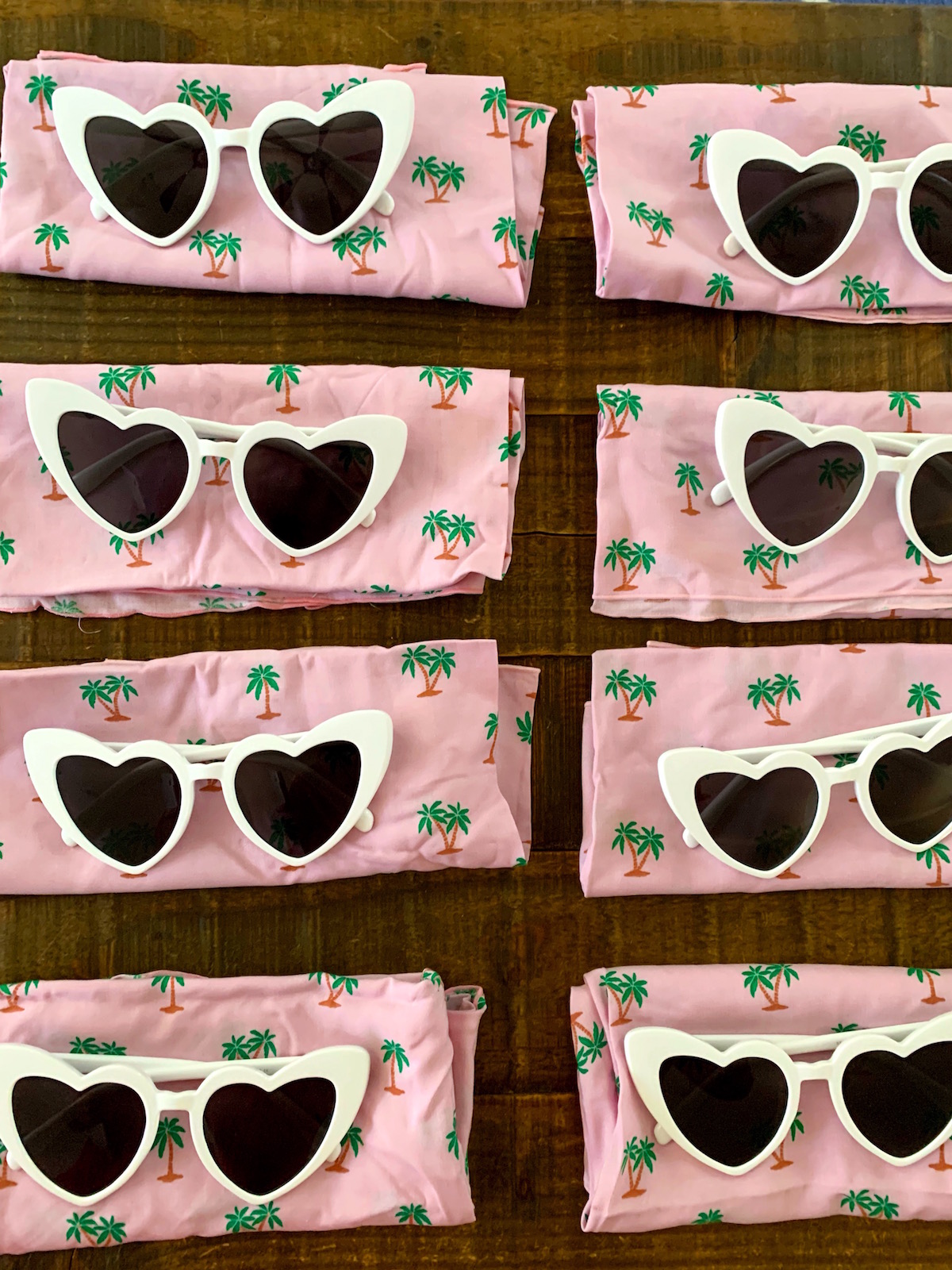 How cute is my sister in this Kenny Flowers palm print sarong & heart sunglasses??? The Kenny Flowers team also sent the sweetest palm print kimono for me 🙂
House Decor
BRIDE Balloons
Bride's Babes Party Cups
Tassel Garland
Gold Backdrop
Selfie Props
---
When I first started talking with Allie and Carly about what I wanted for bachelorette weekend all I really knew was that I wanted to spend time with everyone in a relaxing setting. I didn't want a weekend filled with over-the-top partying or cheesy games. In a perfect world we'd hang on the beach all day and then indulge in yummy food and drinks at night… and that's just what we did!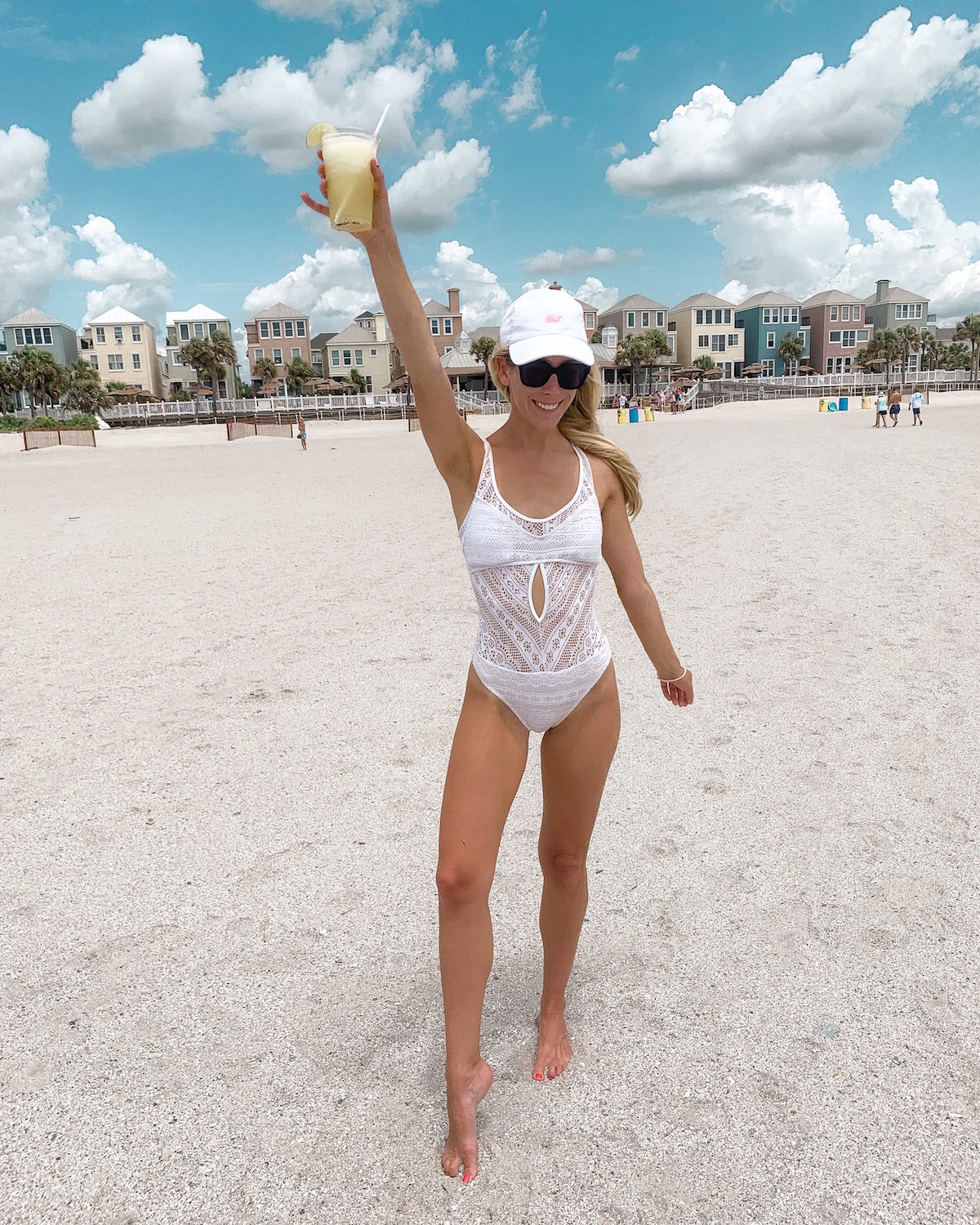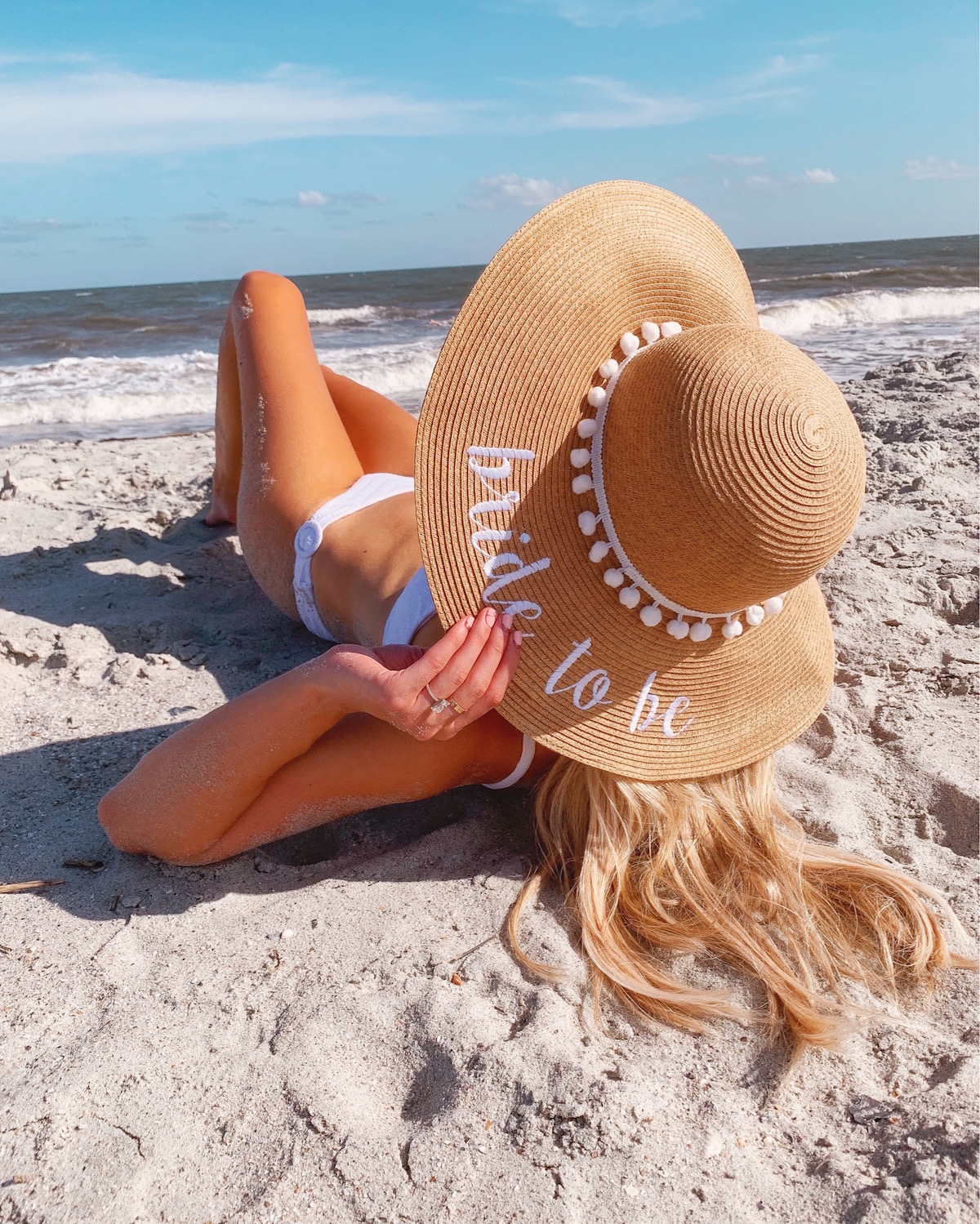 OUTFIT DETAILS // White One Piece Swimsuit via Everything But Water (on sale for under $100!) | Sunglasses | Baseball Hat | Bride To Be Sun Hat 
Allie and I were the first ones to arrive at our rented condo for the weekend in Isle of Palms, located 30 minutes outside of downtown Charleston. The Carolinas are HOT in the summer so it was an easy decision to stay in one of Charleston's nearby beach towns vs in the city. We could spend the day out on the sun and then Uber into Charleston for dinner at night– so easy!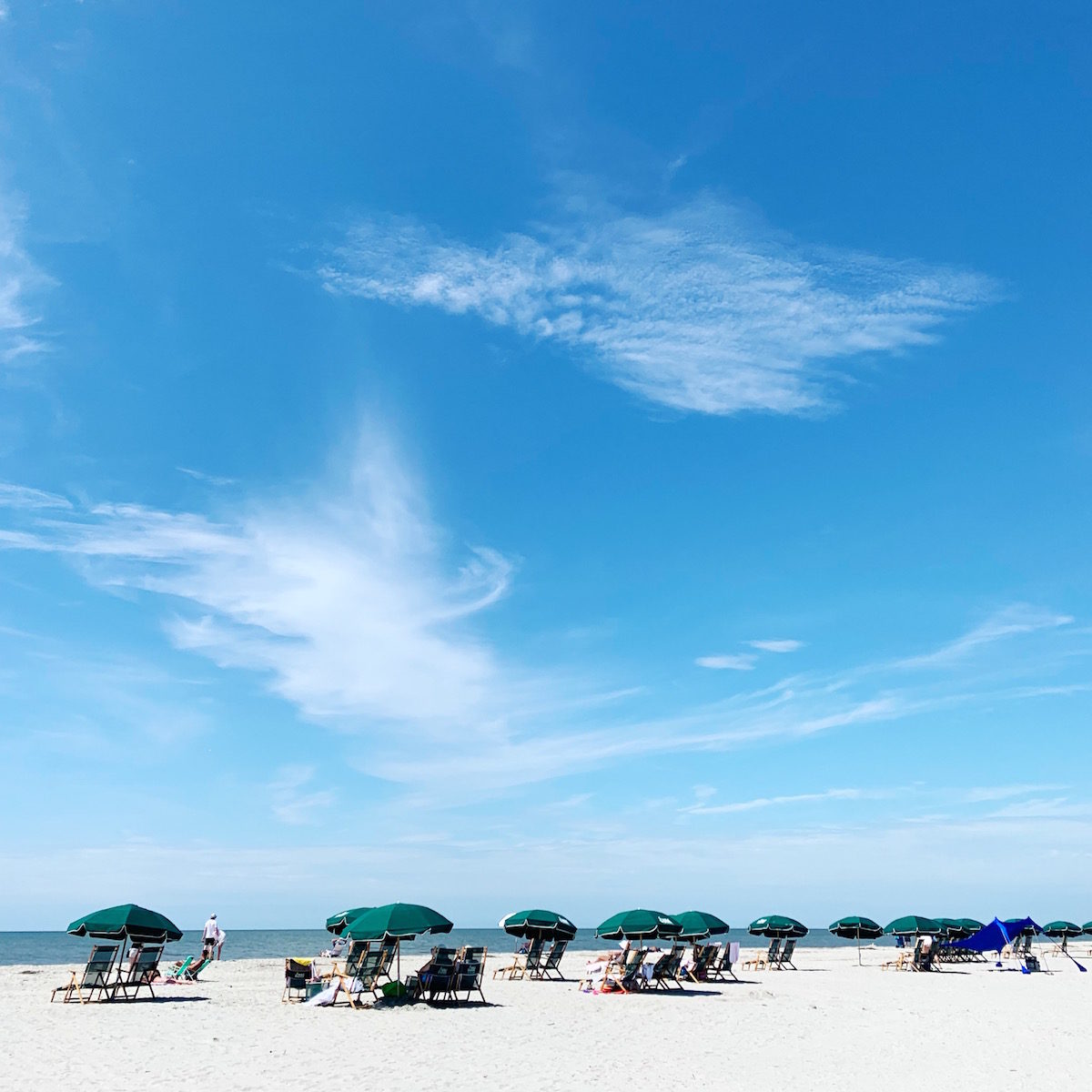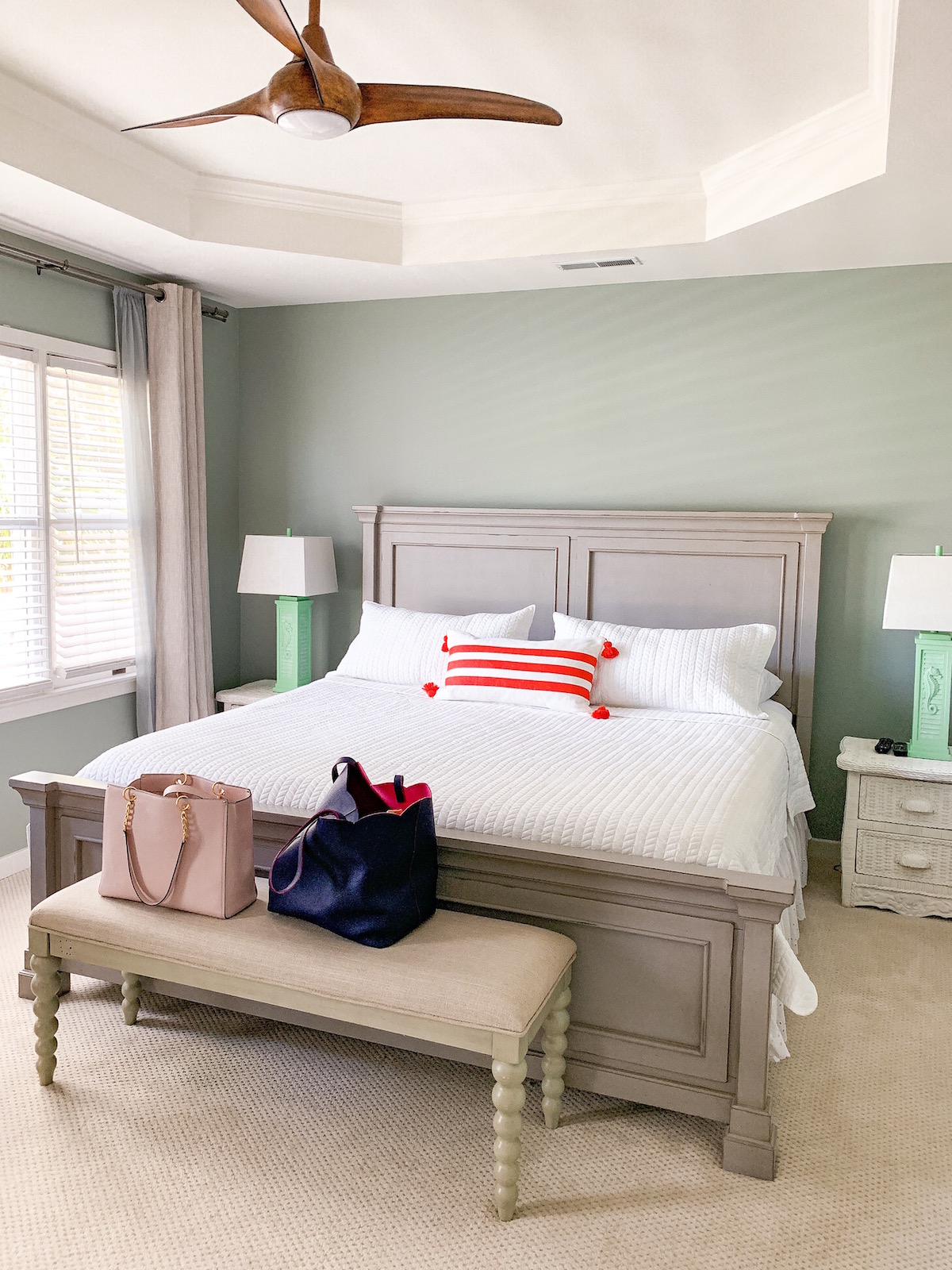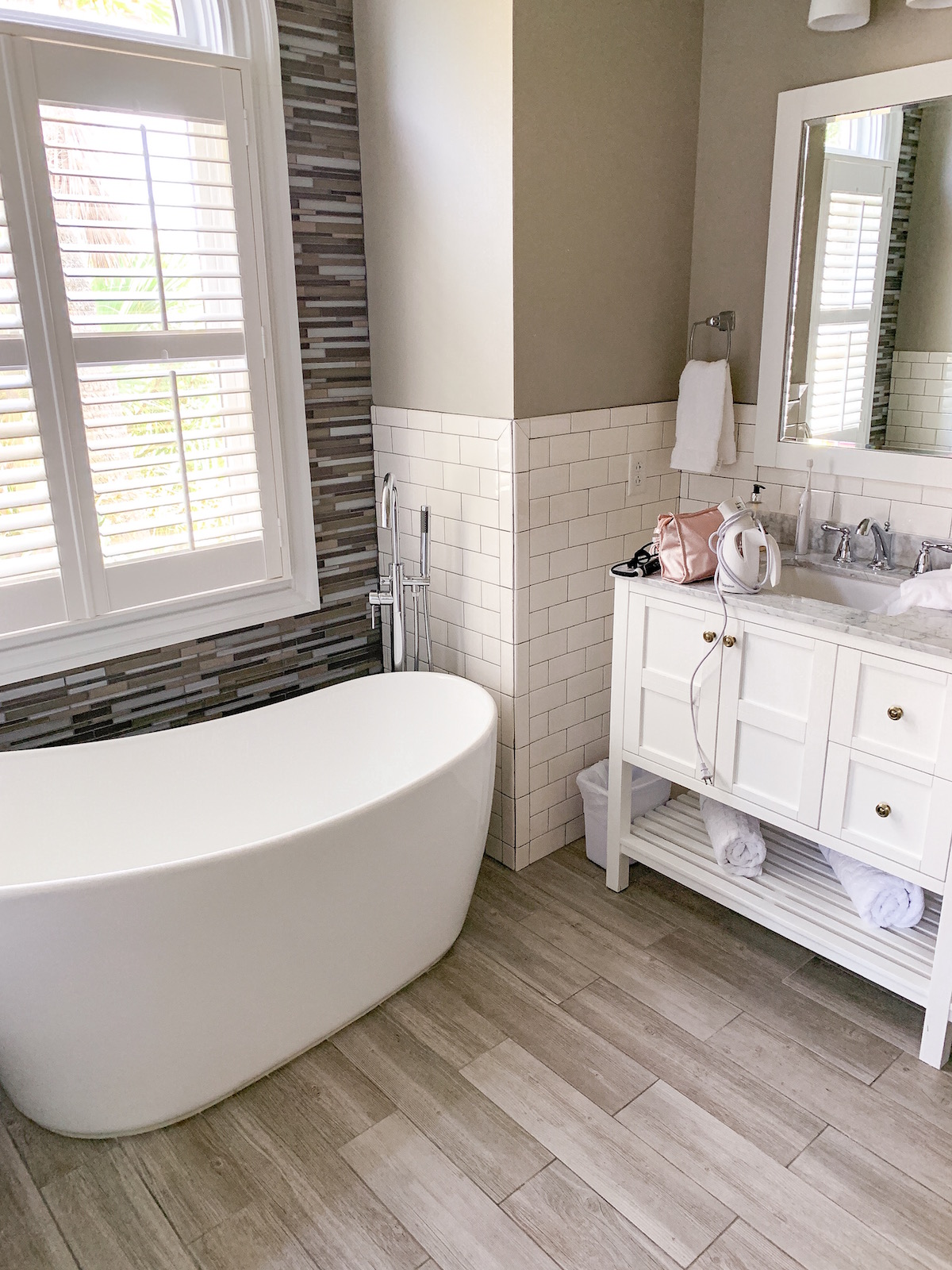 PS here's a link to the exact condo we rented in the Wild Dunes Resort community on Isle of Palms. We loved it!!!
Since everyone was arriving sporadically on Friday, the only thing on the agenda was hanging on the beach until dinner time when the bachelorette festivities kicked off. A big highlight for me was walking into the house to get ready for dinner and seeing the decorations and everyone's Lilly Pulitzer totes filled with goodies. I basically didn't even need to pack anything white because there were two little white Lilly dresses waiting for me!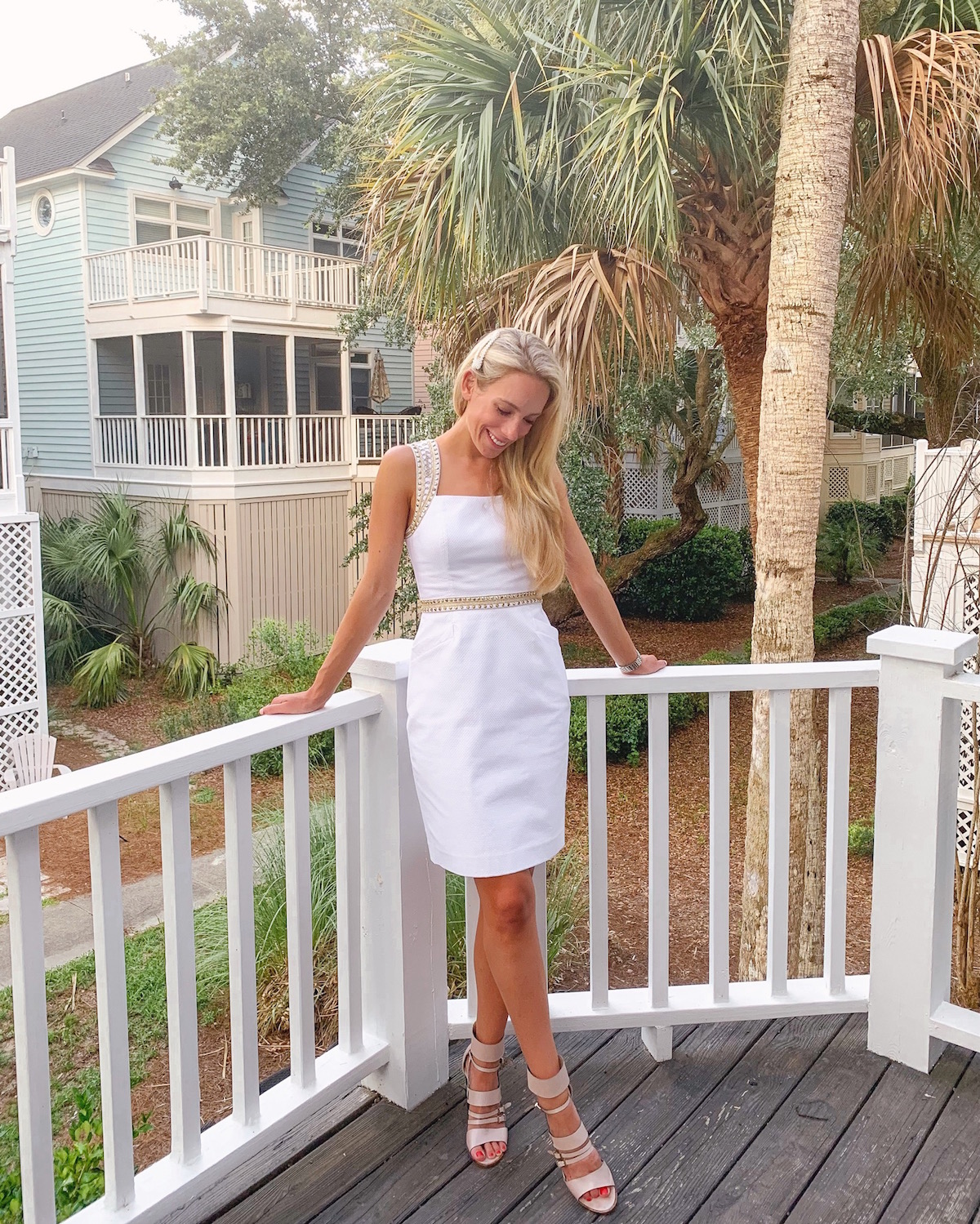 OUTFIT DETAILS // Lilly Pulitzer Dana Stretch Shift Dress c/o | Pearl Barrette | Klub Nico Sandals (old)
MORE LILLY PULITZER WHITE DRESSES

That night we ate till our heart's content! My friends actually set up the most beautiful outdoor dinner in the backyard of our beach house and hired Crazy Dutchmen Catering to make an authentic low country boil. They know I love my seafood and pulled pork sandwiches 😛 It was AMAZING and SO MUCH food. I sent a picture to Nick and he nearly lost his mind from jealousy!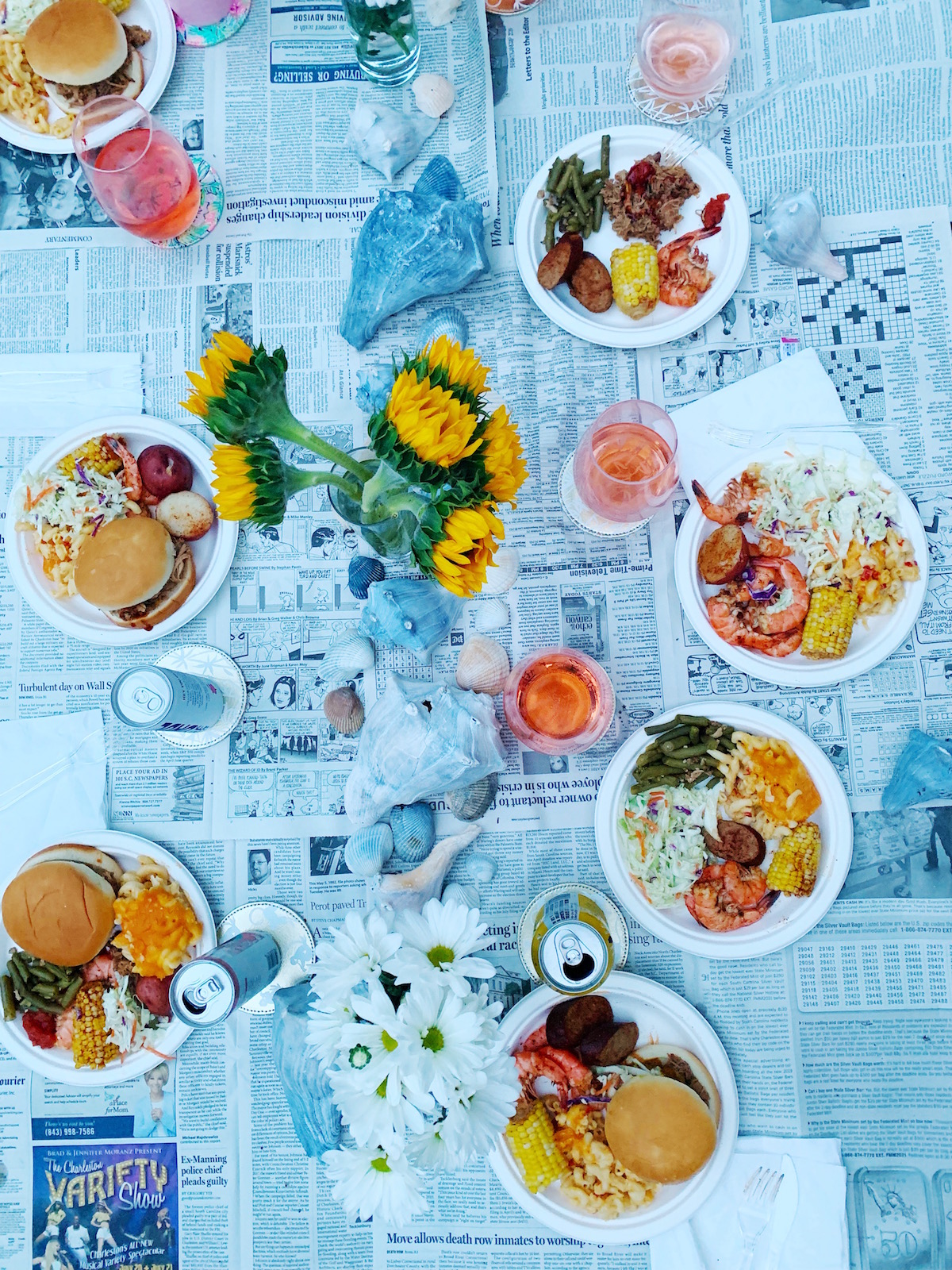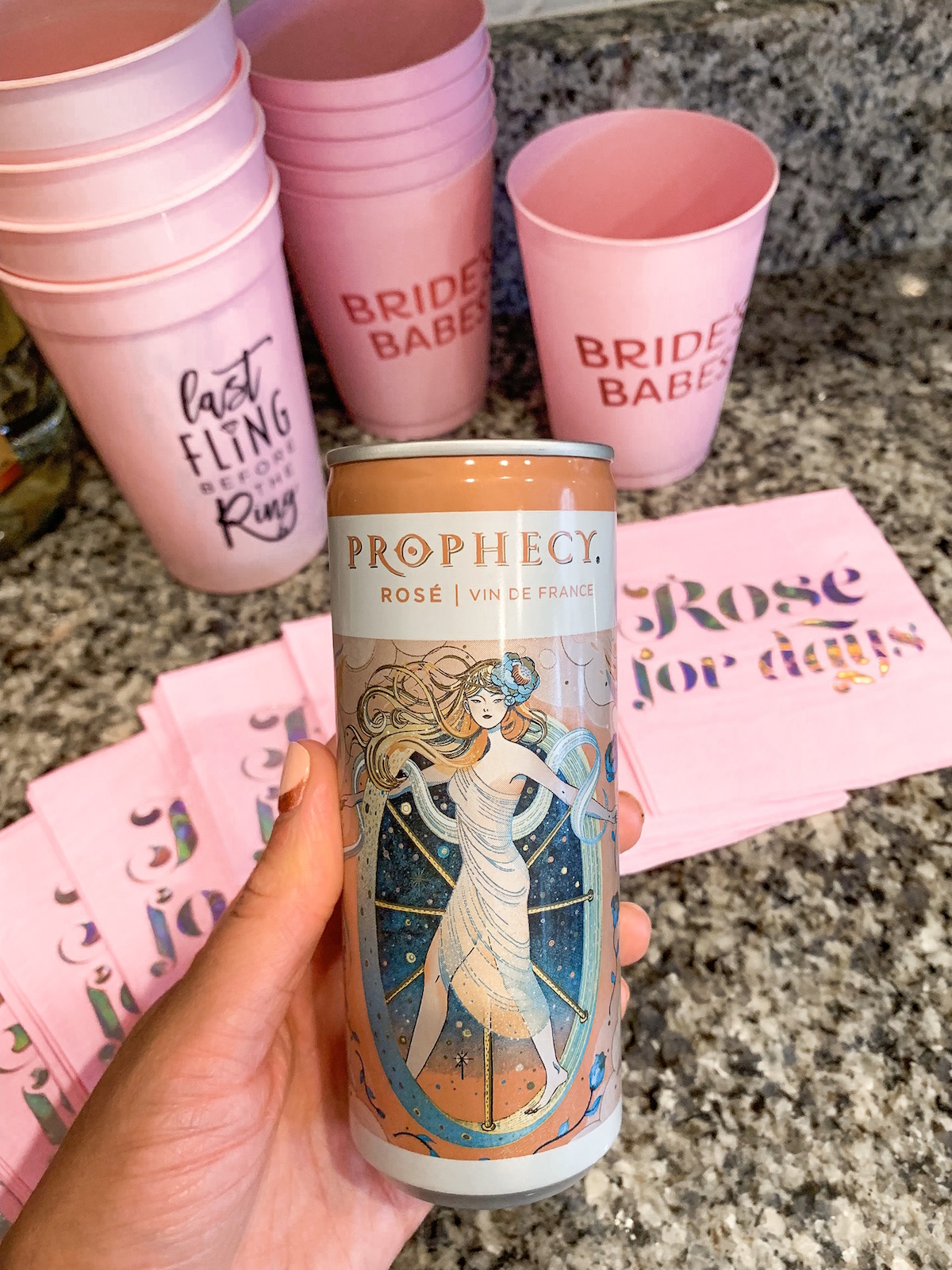 After dinner my gals hosted a Lingerie Shower for me. Luckily they all know me well because I pretty much got all cozy pj sets, though there were a few things that I know Nick will probably like to see on our honeymoon LOL. Next we played some games, drank a lot of wine and I may or may not have ended up telling some really crazy stories from Nick and my college years. It was so much fun and there were a lot of laughs!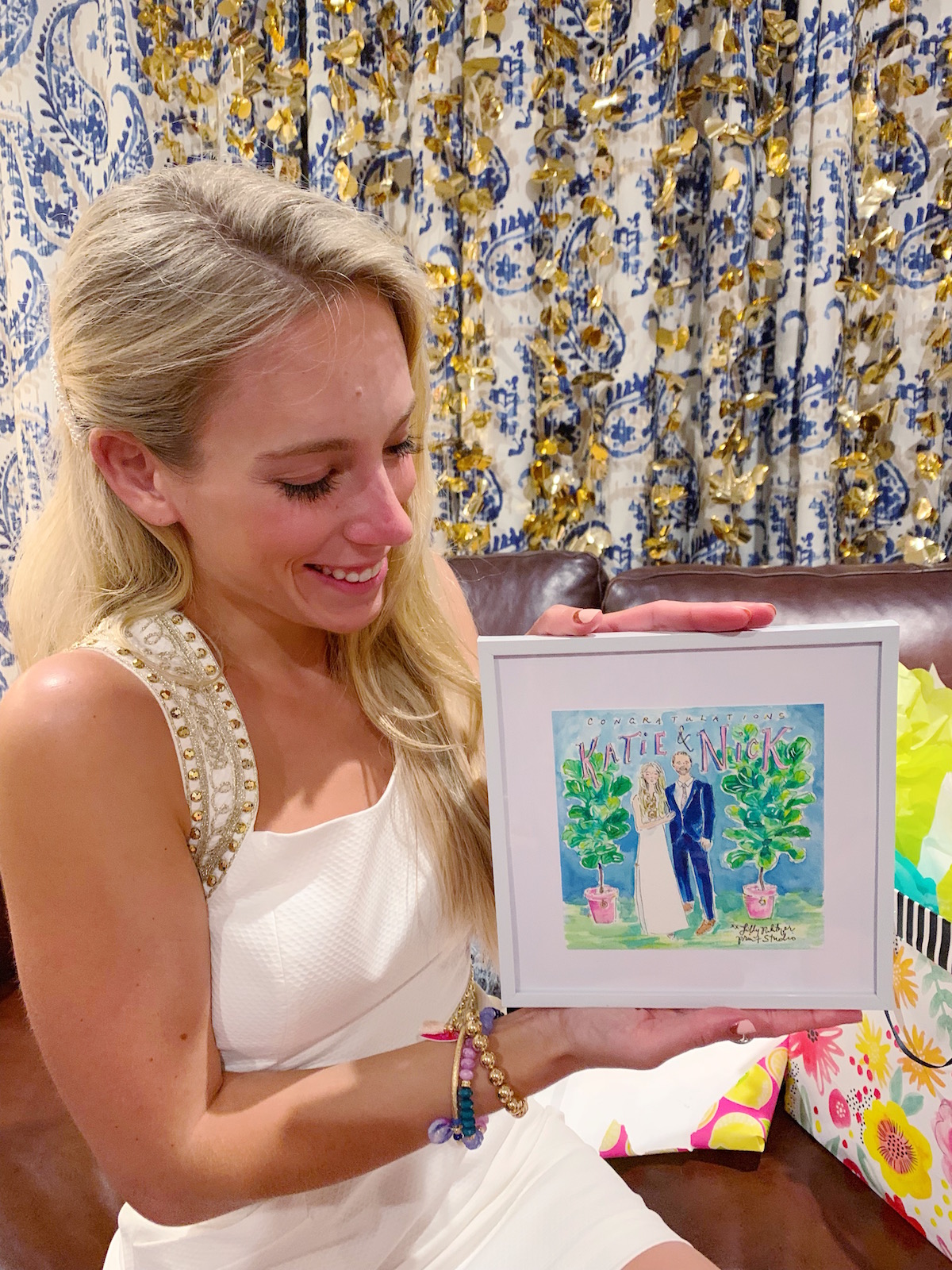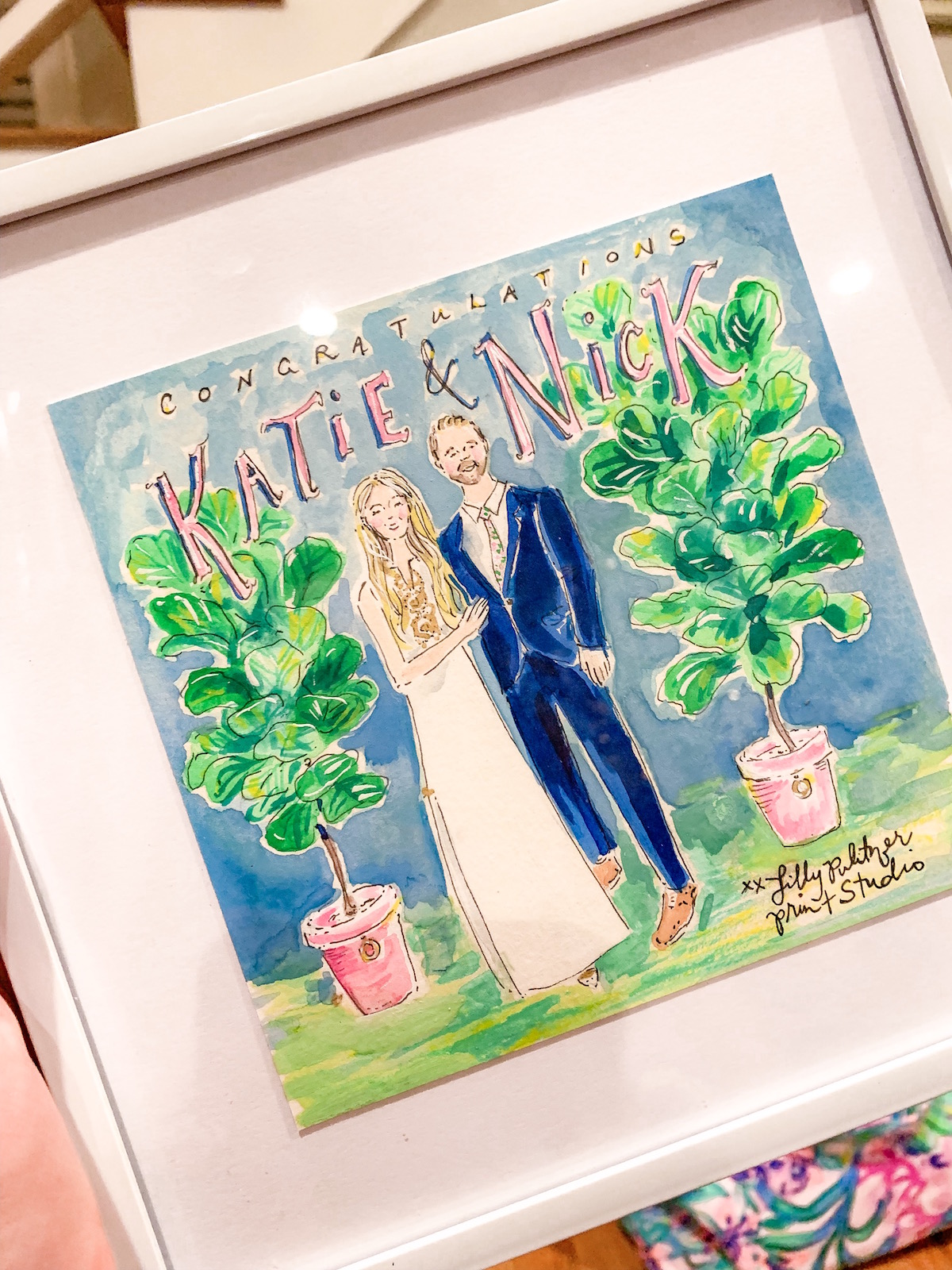 I didn't grab any photos of my lingerie 😛 BUT I did of this custom framed art that the Lilly Pulitzer print studio graciously sent along with all the other goodies. I mean… How special is this? I teared up when I unwrapped it. The fact that their print artists took the time to paint something so personal and custom for me honestly means the world. I'll treasure this forever!
The indulgent food continued the next morning because I woke up the most decadent Bloody Mary and biscuit bar in the kitchen. If you haven't tried Callie's Charleston Biscuits you need to asap! SO tasty. From there we all headed out for some more beach time. I'd been a ball of nerves all week because the weather forecast had said rainstorms, but luck was on our side because the entire weekend was gloriously warm and sunny. It couldn't have been a more perfect beach day!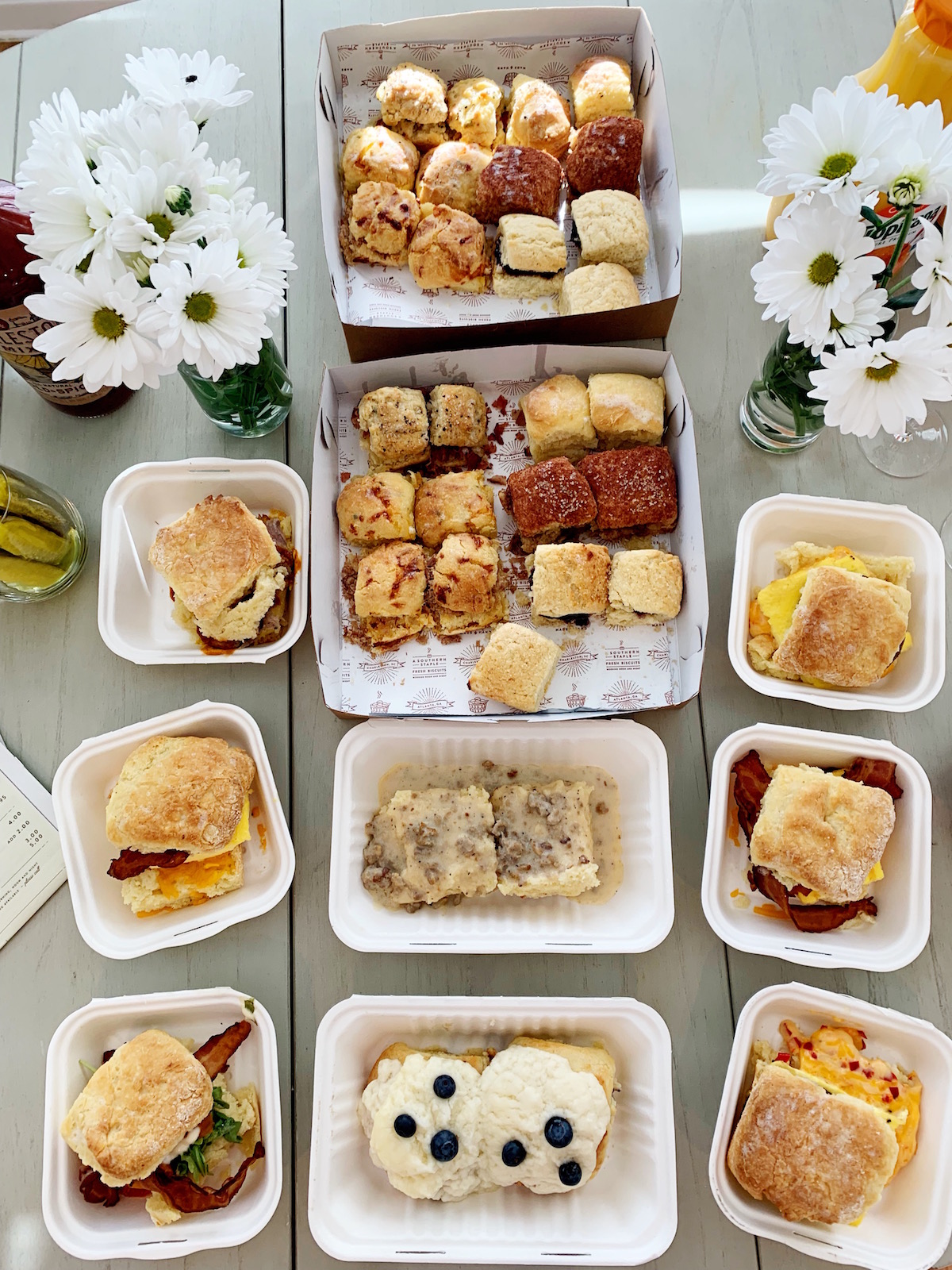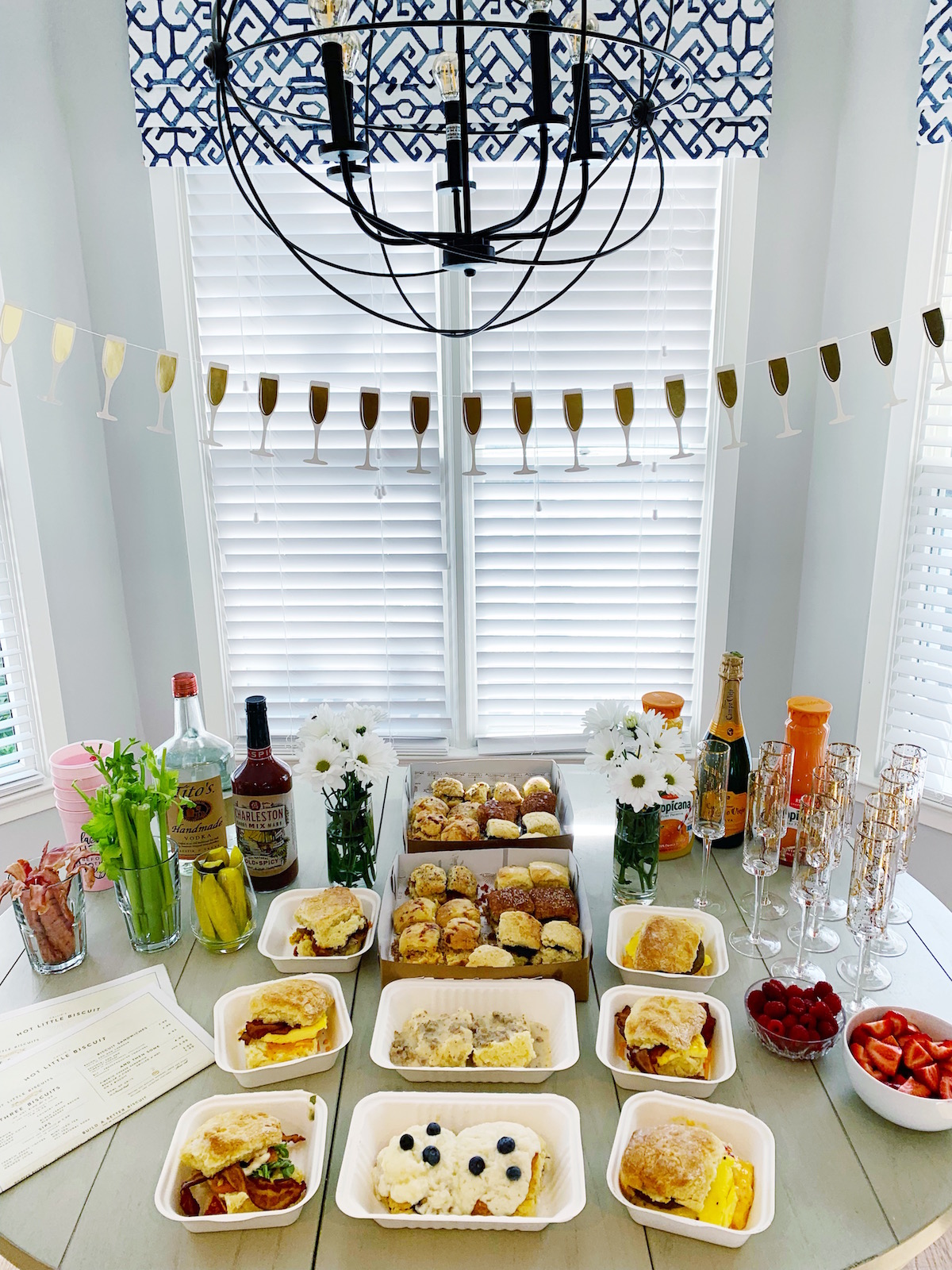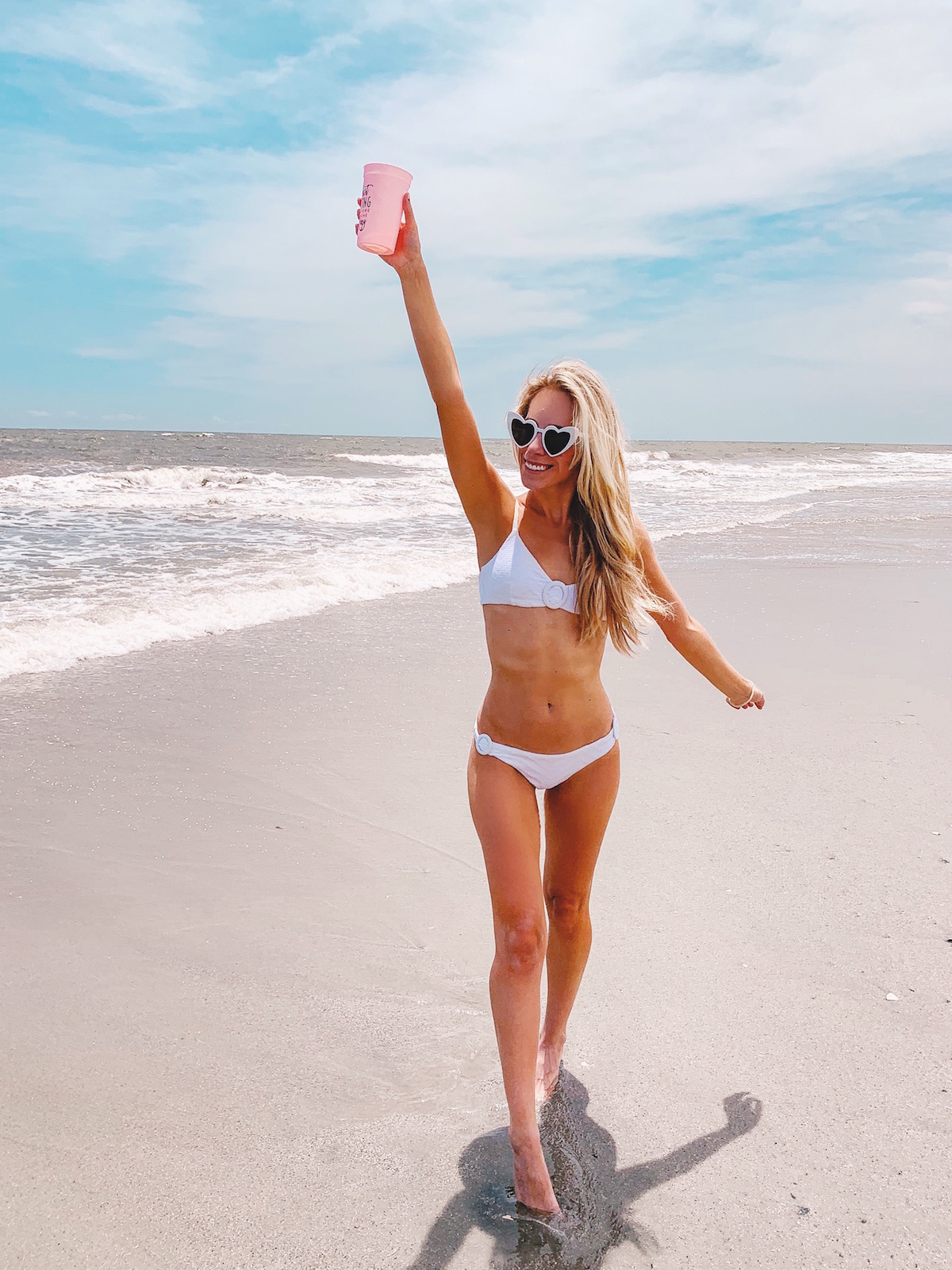 SWIM DETAILS // White Bikini Top & Bottoms via Everything But Water | Retro Heart Sunglasses
While on the sand we drank a lot more of my favorite Prophecy canned rosé (must-have for parties & events!) ordered a round of margaritas from the beach bar, listened to country music and worked on our tans. Once we'd had our fill of sun we headed to nearby Home Town BBQ in Sullivan's Island for a late lunch. My friends clearly know I have a favorite kinda food– aka anything fried and cheesy 😛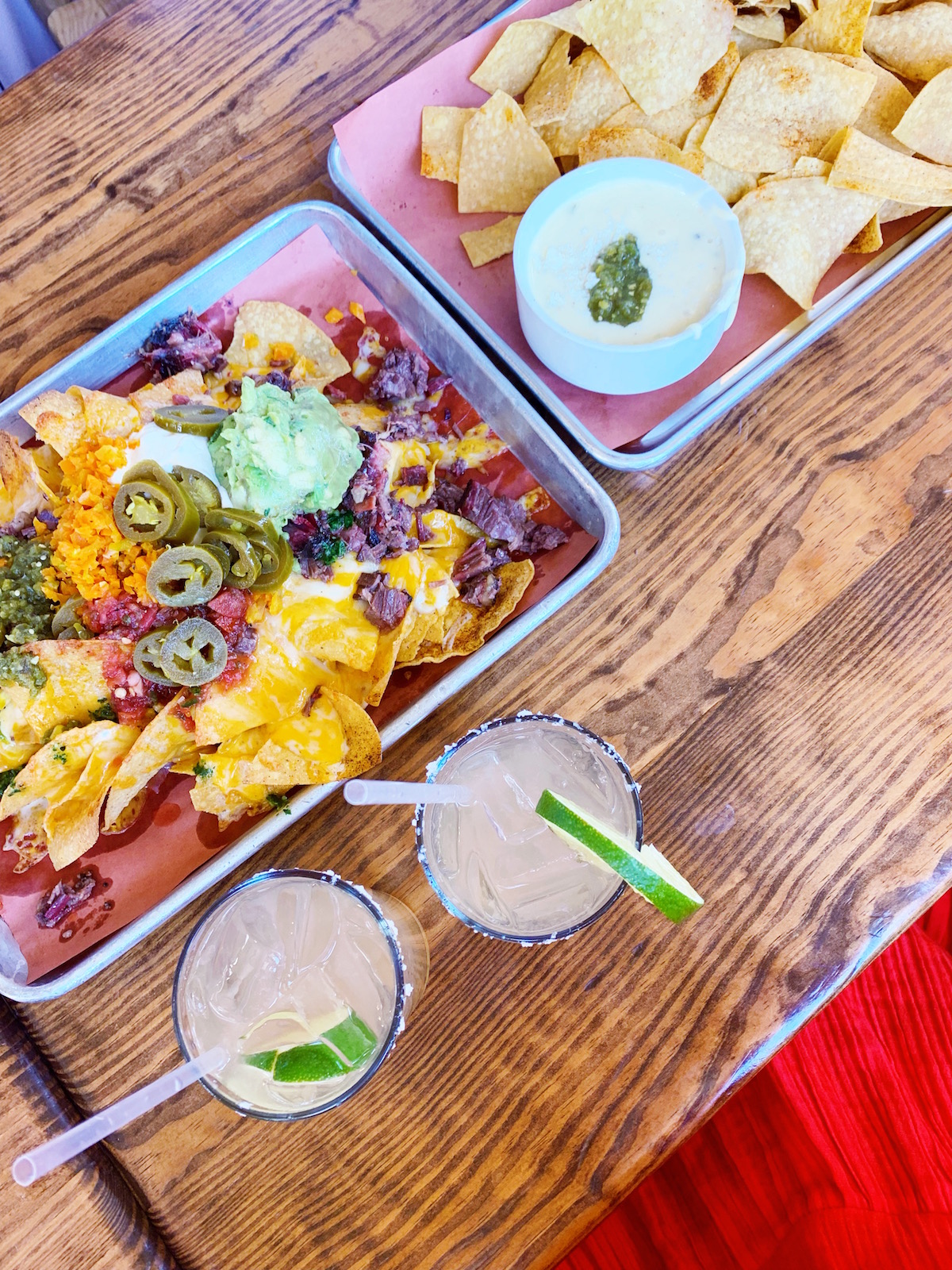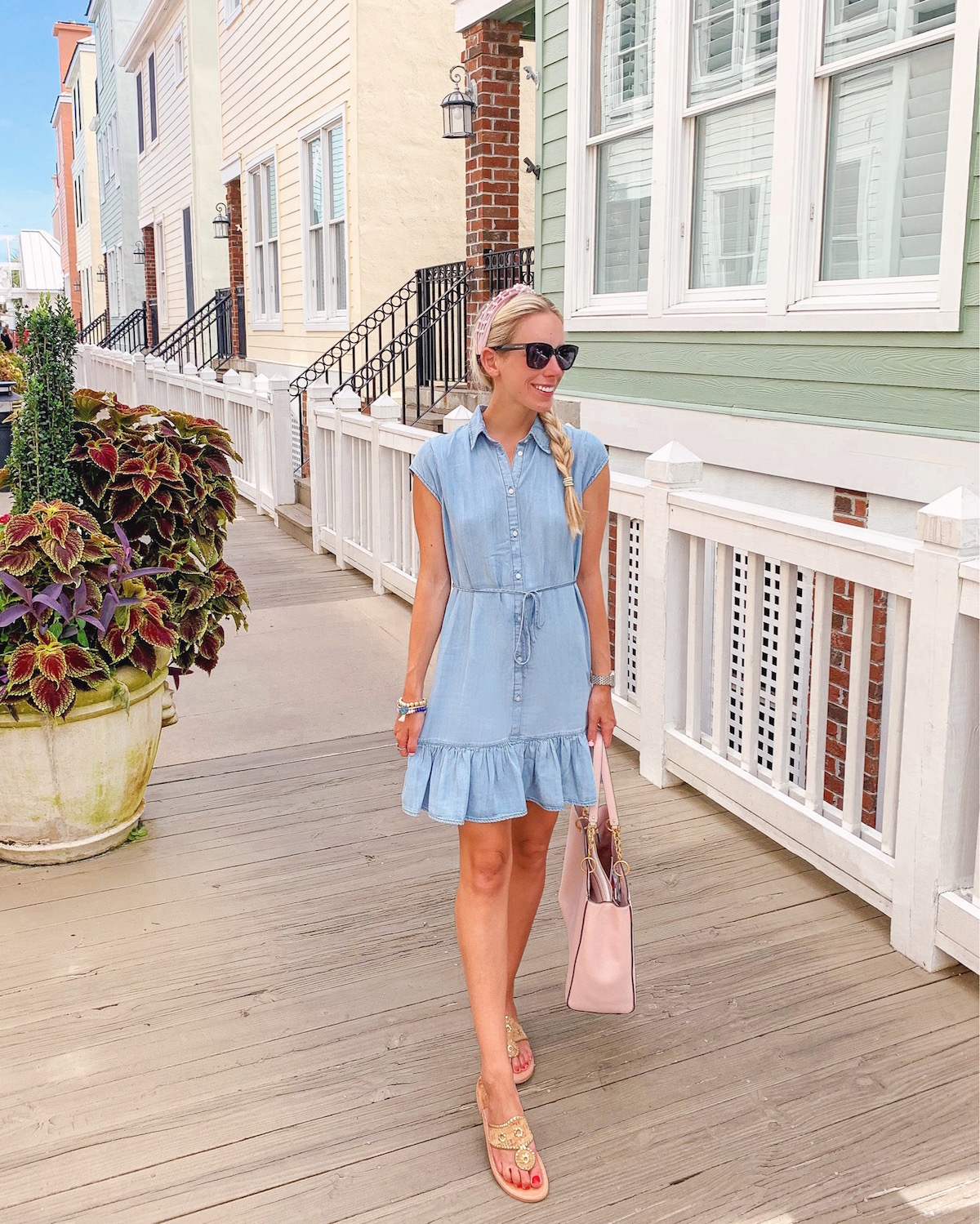 OUTFIT DETAILS // Chambray Shirtdress (now on sale!) | Tory Burch Tote Bag (on sale!) | Jack Rogers Sandals | Faux Pearl Headband | Sunglasses | Michele Watch
After lunch we headed back to the house to get ready for dinner and drinks in town! What did everyone wear? Lilly of course 🙂 It seriously meant so much to me seeing all my gals in my favorite brand! Just look at all that color!!! I also can't thank the PR team at Lilly Pulitzer enough for so kindly letting all my friends pick out a dress of their choice. Everyone was so excited!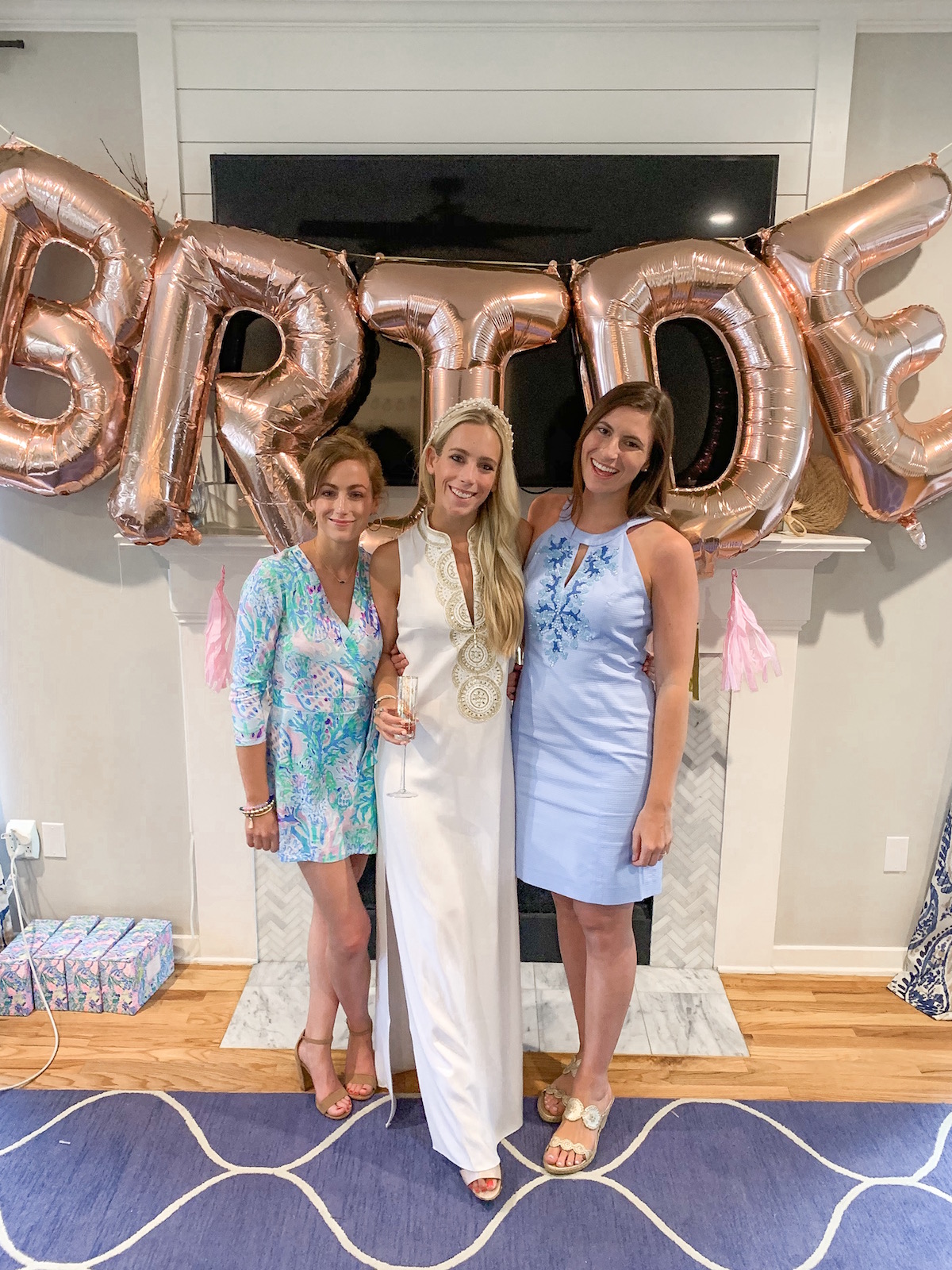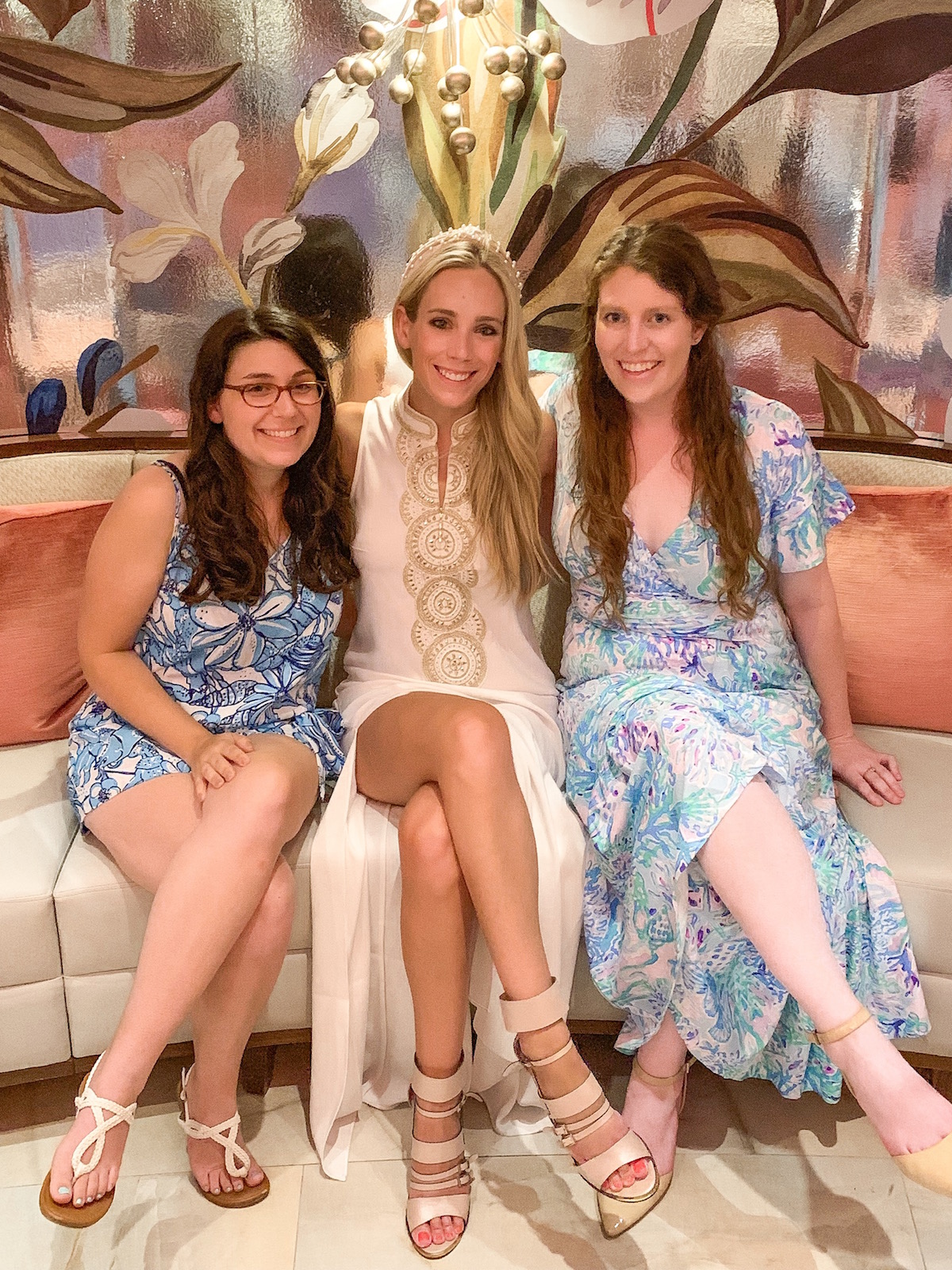 MY OUTFIT DETAILS // Lilly Pulitzer Jane Maxi Dress c/o | Faux Pearl Headband
We Ubered into town to the first stop of our hotel bar crawl: the Restoration Hotel Rooftop. They have a really fun cocktail menu here– some of the drinks even come in Capri Sun-esque pouches! Next we headed to the Hotel Bennett Champagne Bar. I actually stopped in here on my last trip to Charleston and fell in love with the pink rosé-themed decor. It's probably the most girly bar I've ever seen! Here we drank, as you can probably guess, lots of rosé before finally making our way to dinner at one of my favorite Charleston restaurants, The Darling Oyster Bar.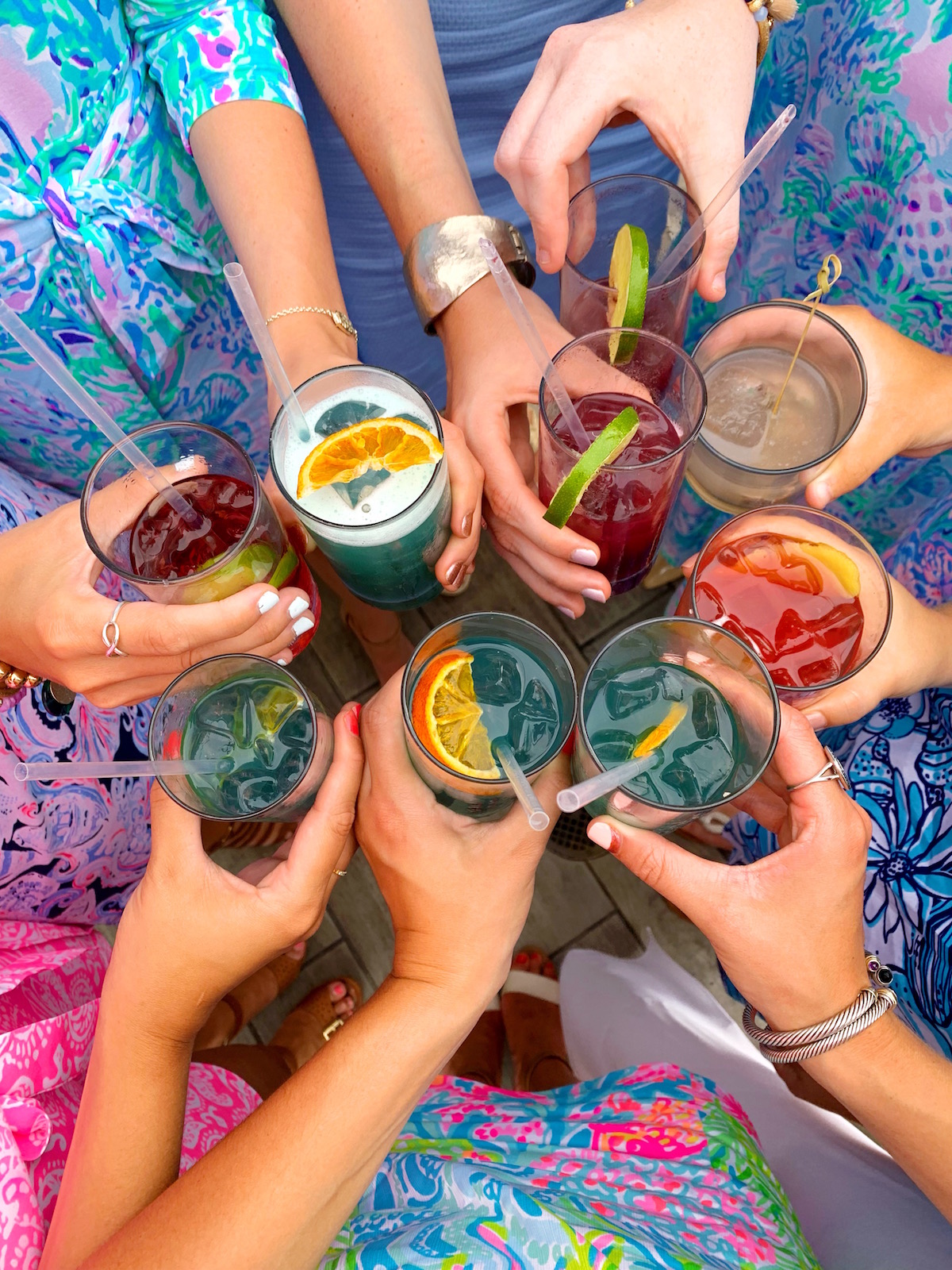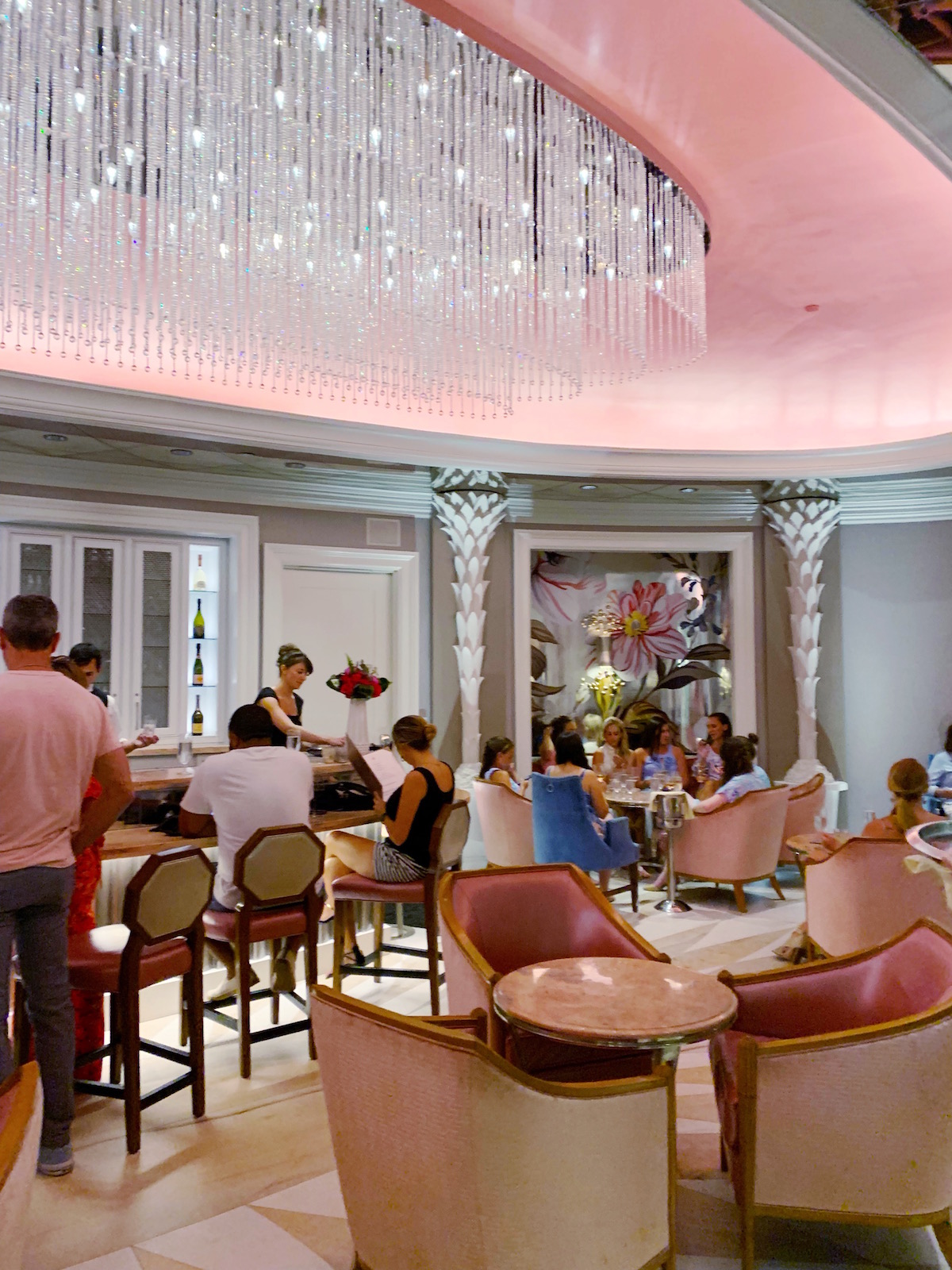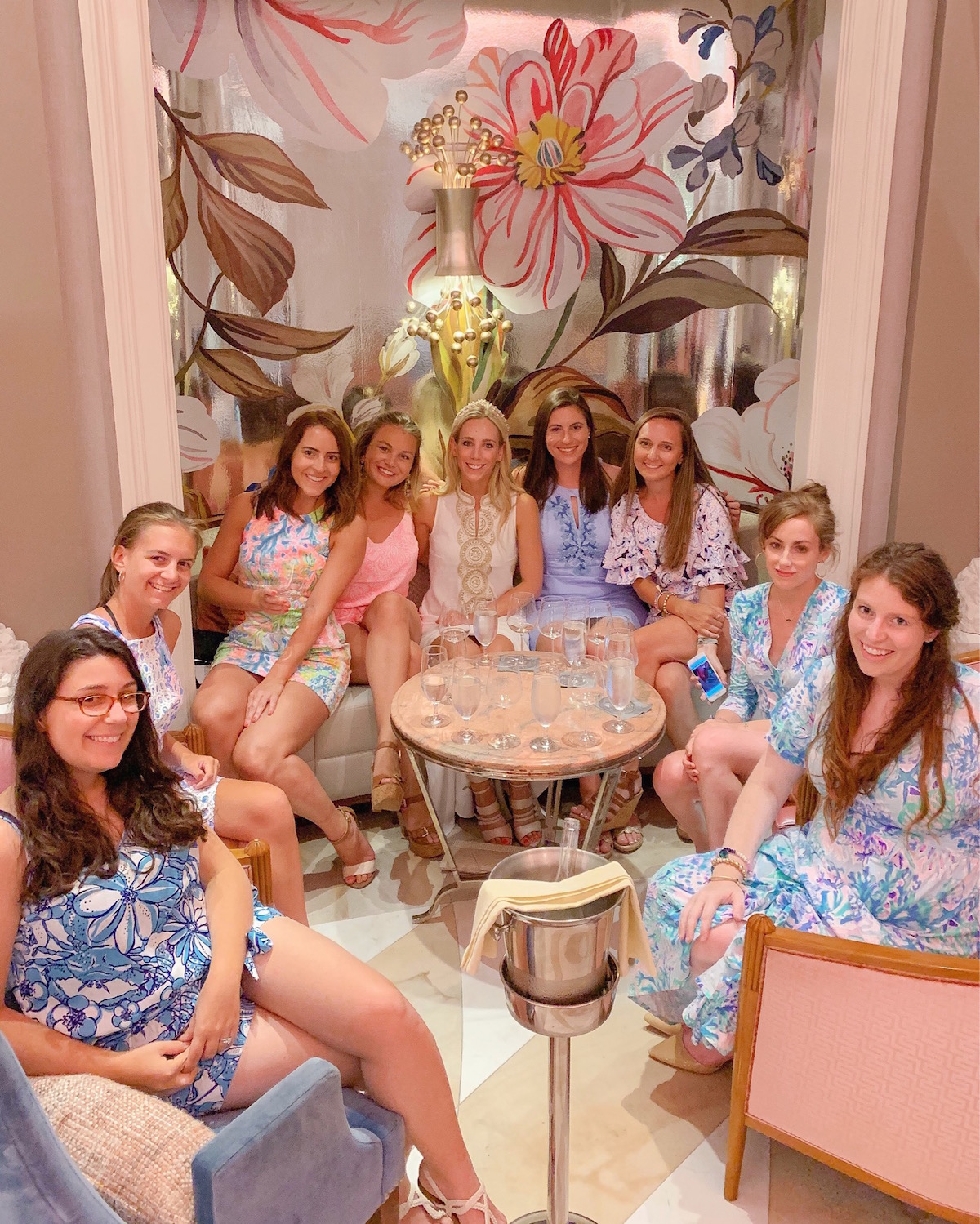 Ugh I could live on oysters and lobster rolls! Dinner that night was so good. As soon as we sat down at our table, we were greeted with a round of cocktails thanks to my girl Kendall. Such a sweet gesture of her to do since she was able to make it!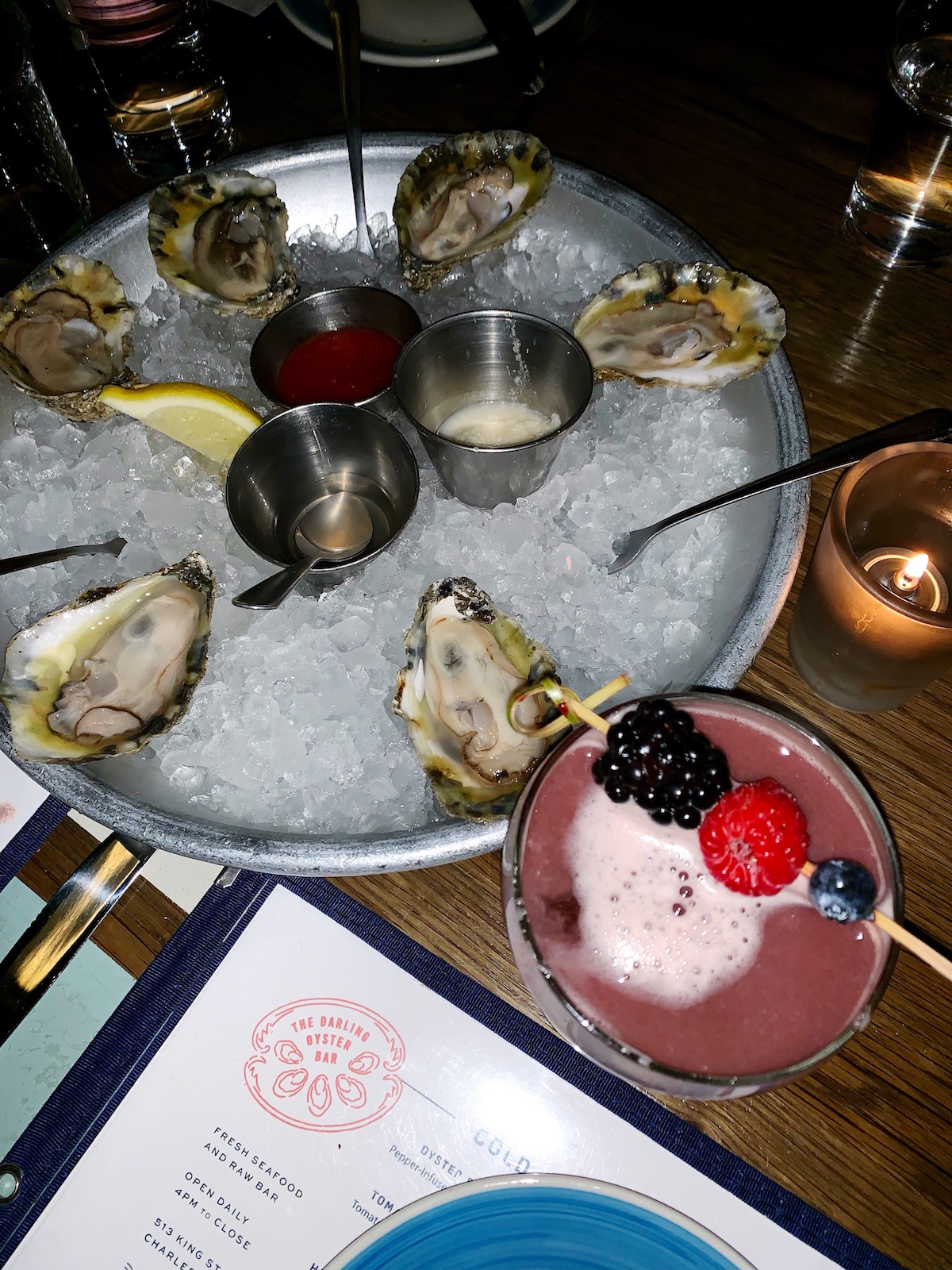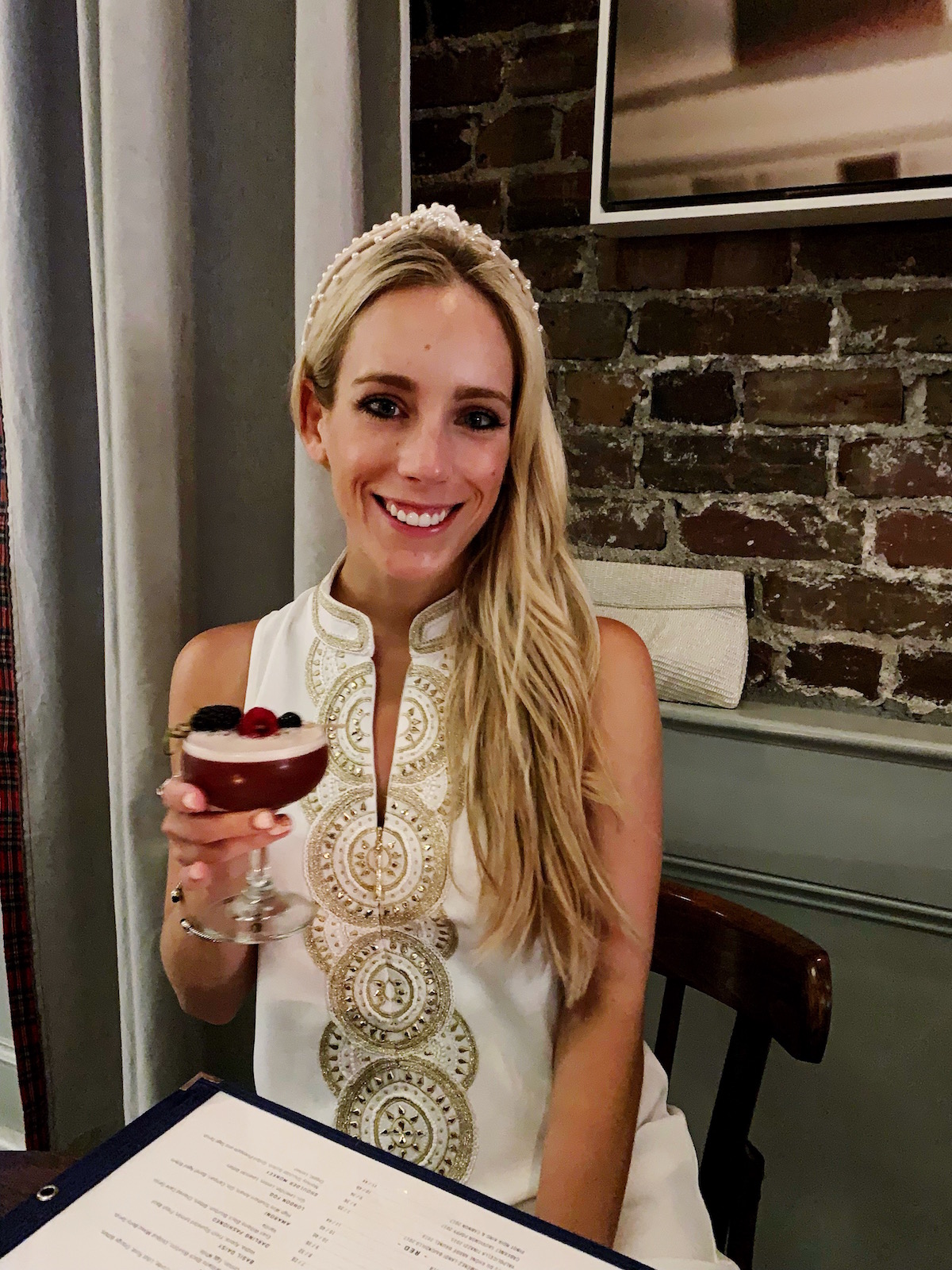 MY OUTFIT DETAILS // Lilly Pulitzer Jane Maxi Dress c/o | Faux Pearl Headband
Not gonna lie. The rest of the night got a little blurry because your girl here gets tipsy after one glass of wine and by the time we'd left dinner I was four drinks deep LOL. According to Carly's blog post we finished the night on King Street at Republic and Stars Rooftop where we danced to 90s/2000s hits (my fave!) before crashing back at home past 2AM. Girls' night out success!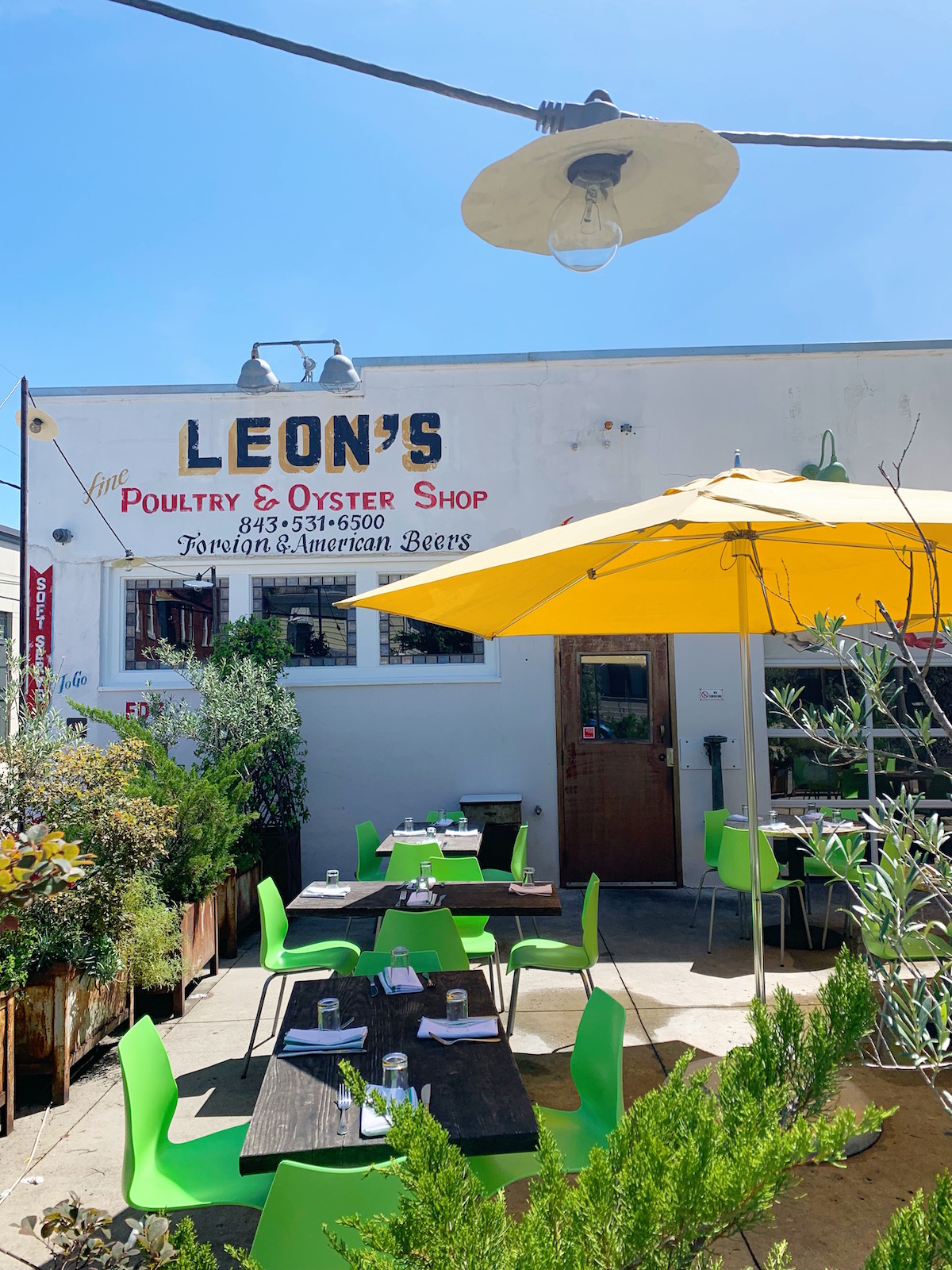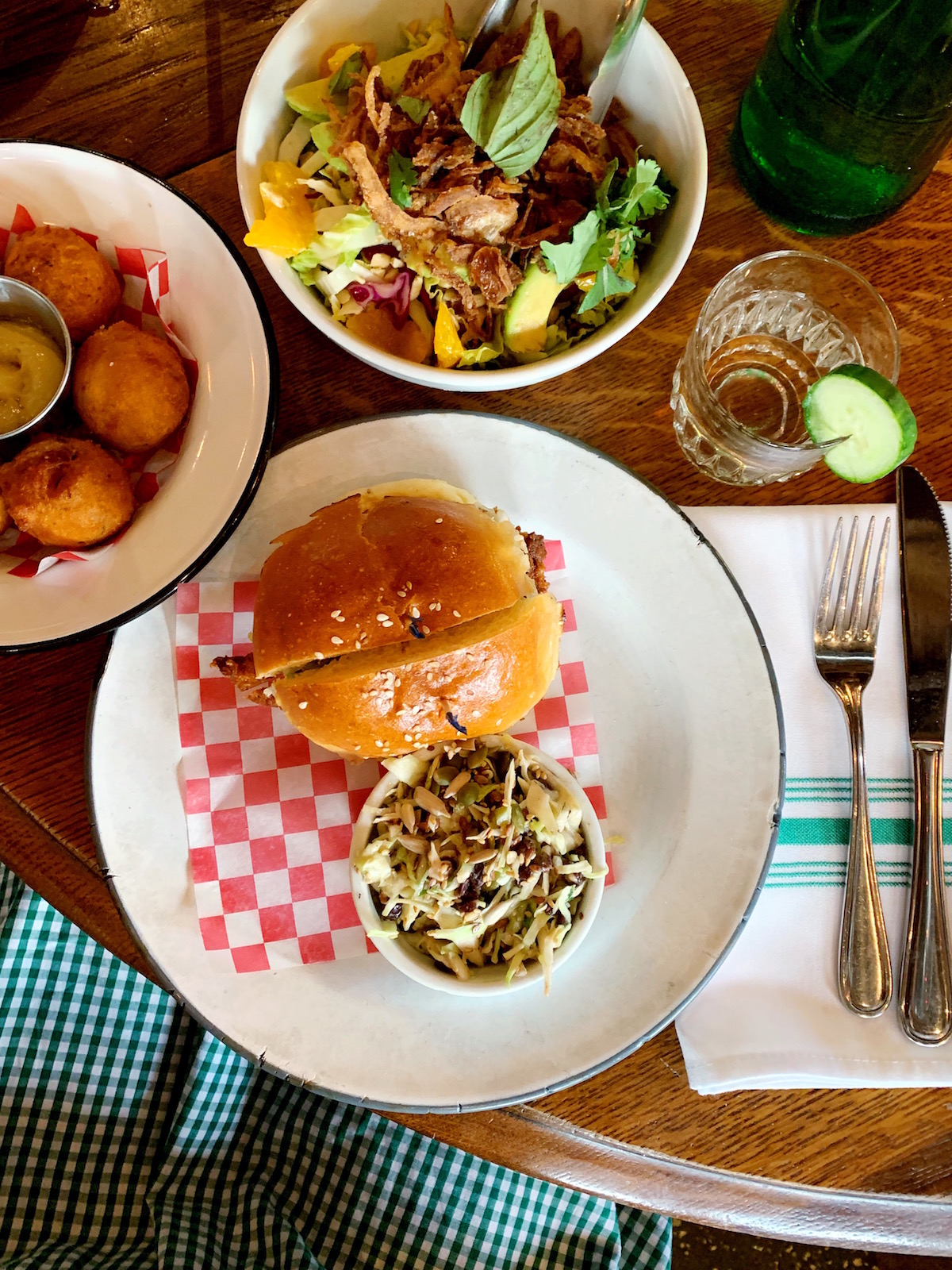 The best weekend ever came to an end the following morning with a farewell brunch of fried chicken sandwiches and hush puppies at Leon's Oyster Bar and a little exploring around Rainbow Row and the colorful streets of downtown Charleston. I didn't want to leave or say goodbye to all my friends!!! At least the silver lining is that in less than three months we'll all be reunited again at my wedding 🙂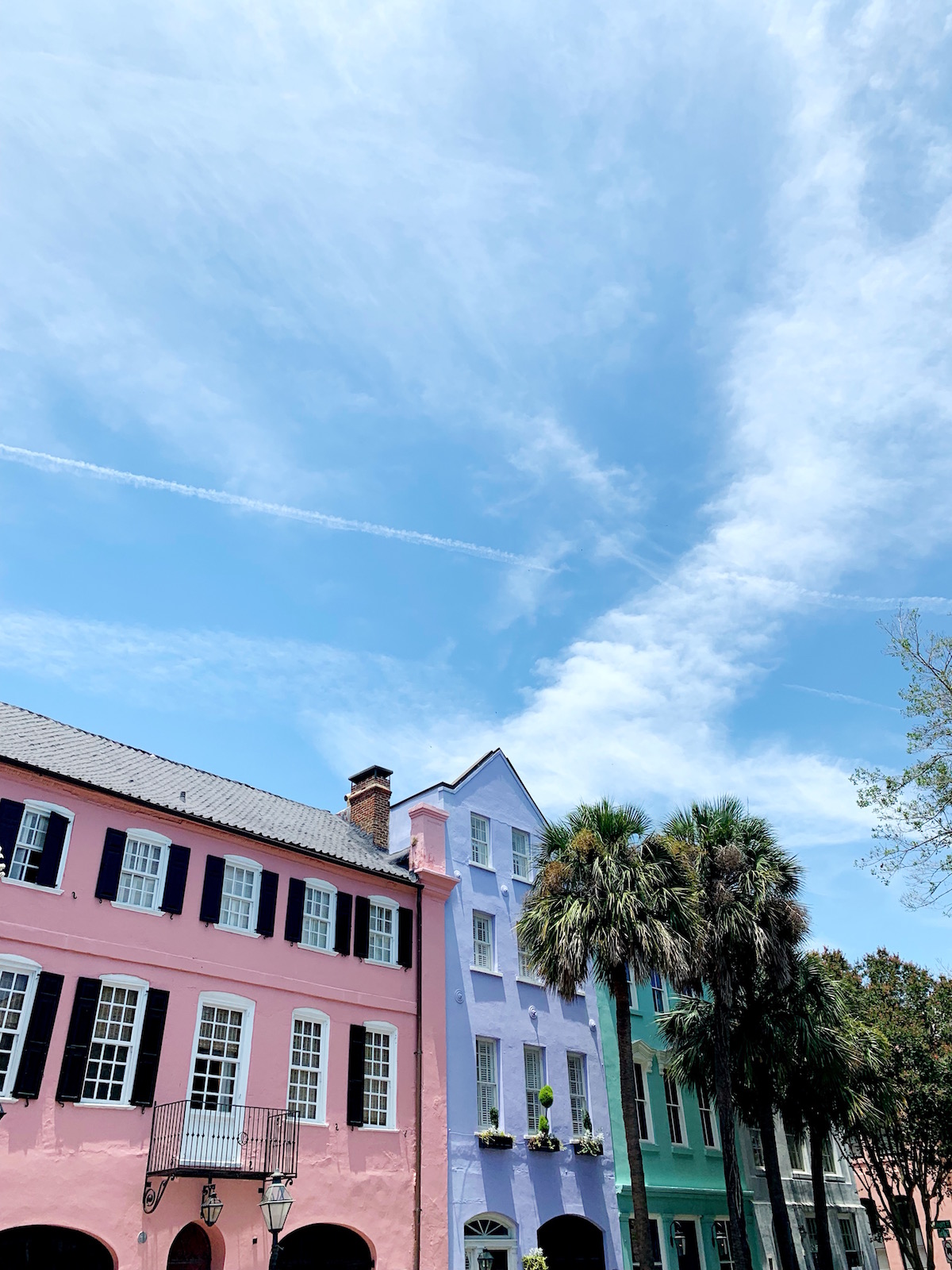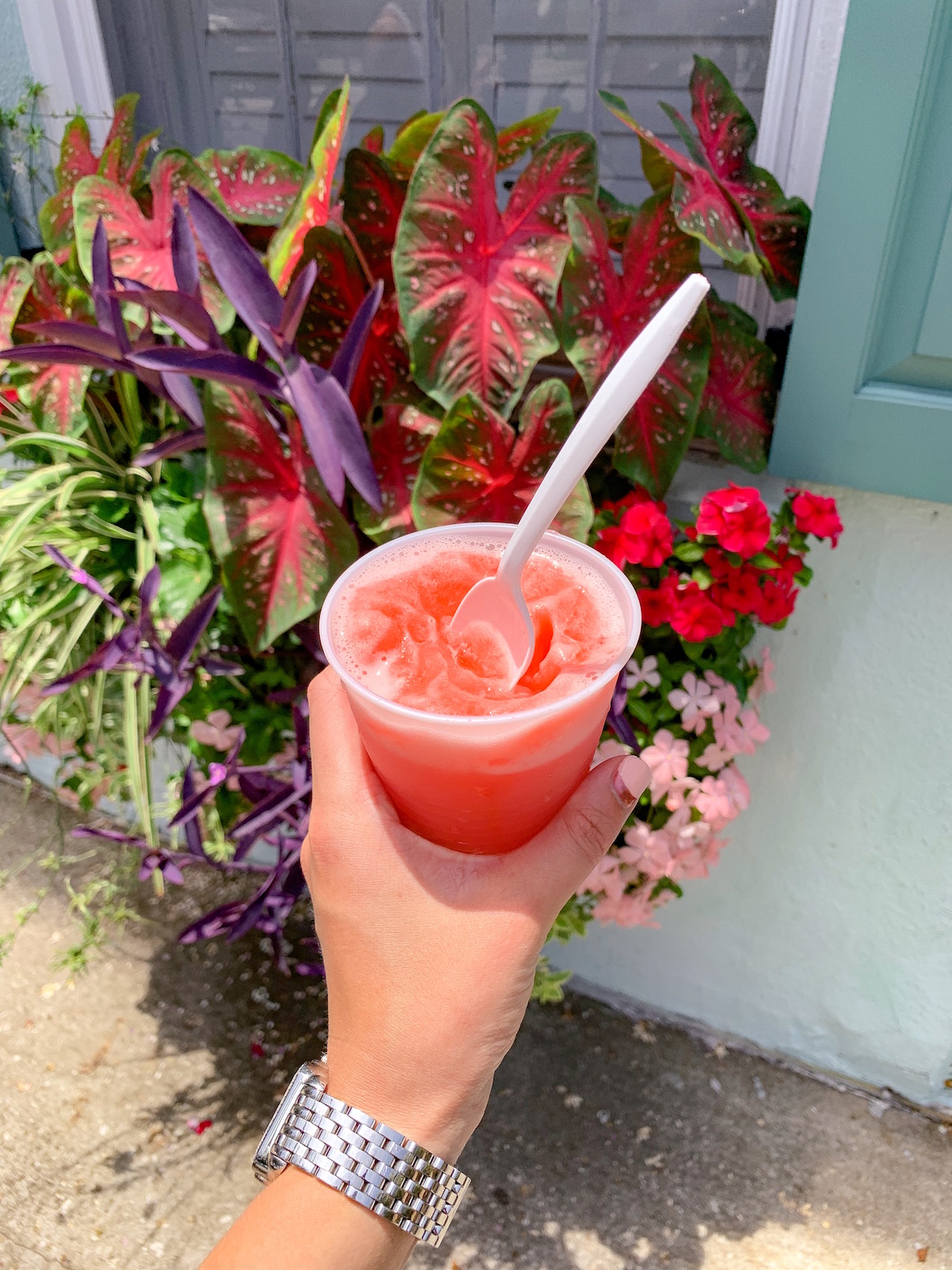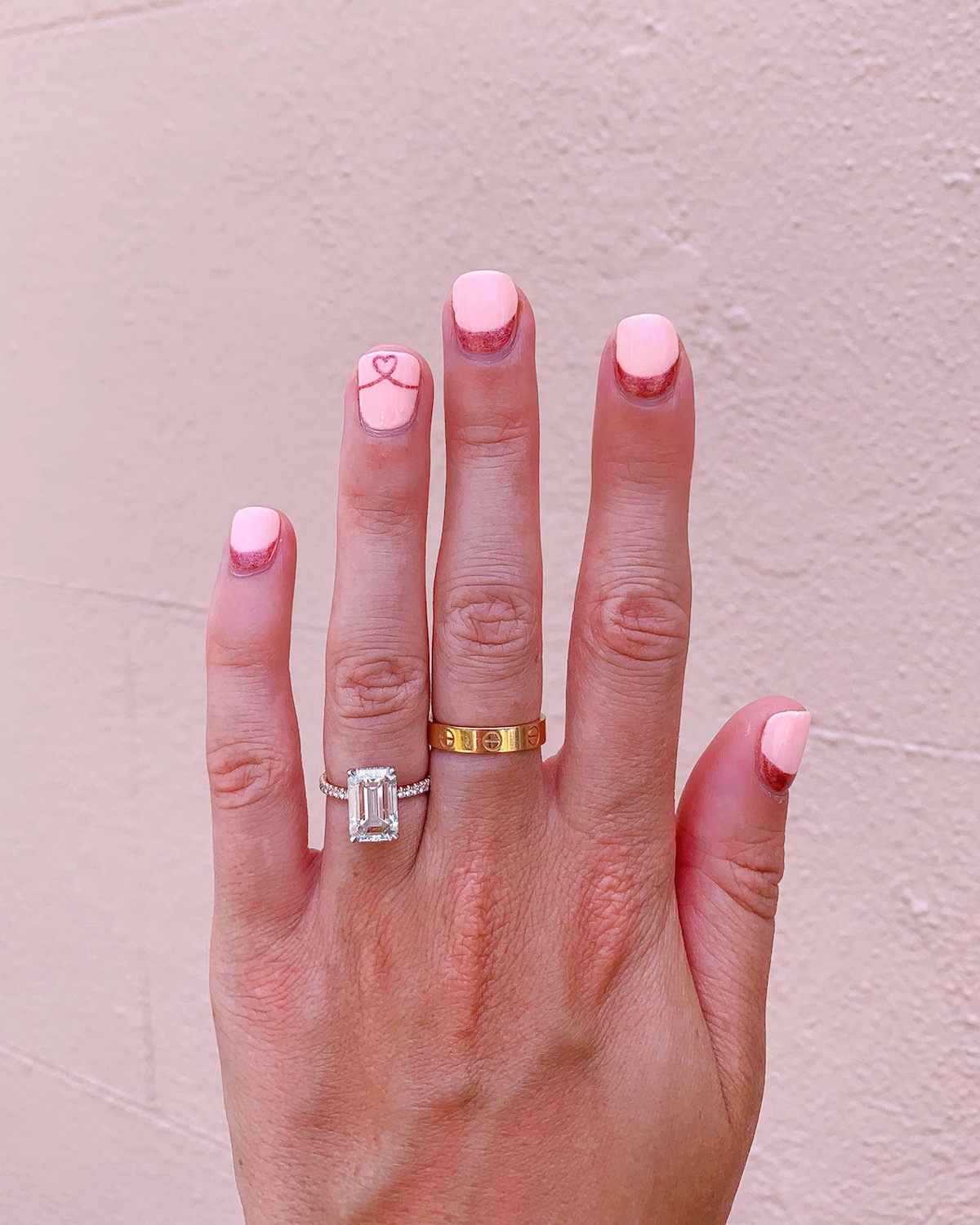 I'm still shocked at just how much thought went into planning every minute of my bachelorette weekend! Reading the Charleston-themed printed schedules, waking up to that decadent biscuit and bloody mary bar and then seeing everyone dressed up in Lilly Pulitzer, were just a few of so many special moments from the weekend. It's not lost on me just how blessed and lucky I am!
- Katie