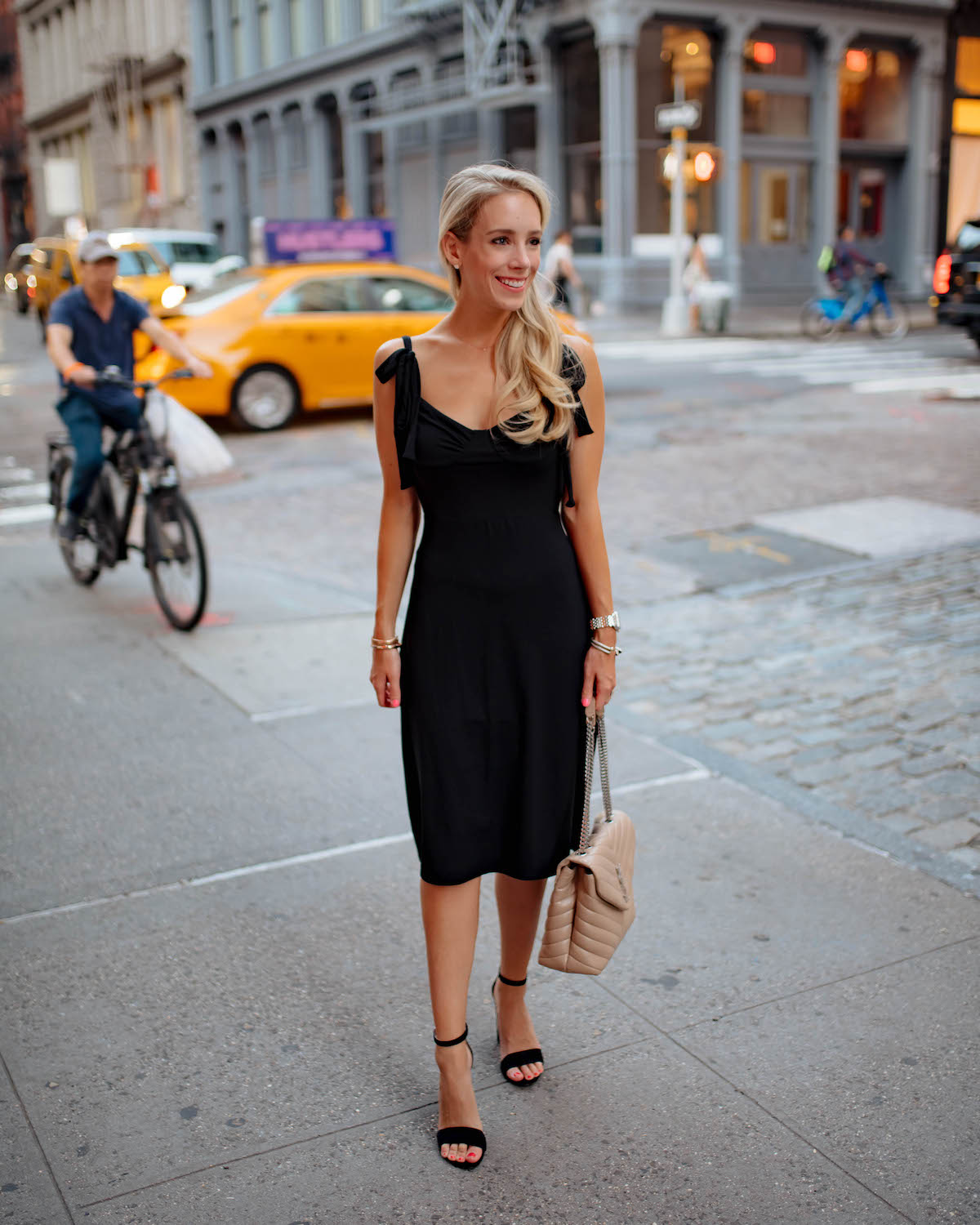 Those of you who keep up with my Instagram story already know that recently Nick and I started taking dance lessons in advance of our wedding. Any time we've ever attempted to formally dance together it's turned into a mess of stepped on toes with us both completely out of synch. SO embarrassing! We'd always joked about getting professional help for our lack of skills and finally decided to book an intro class on impulse two weeks ago.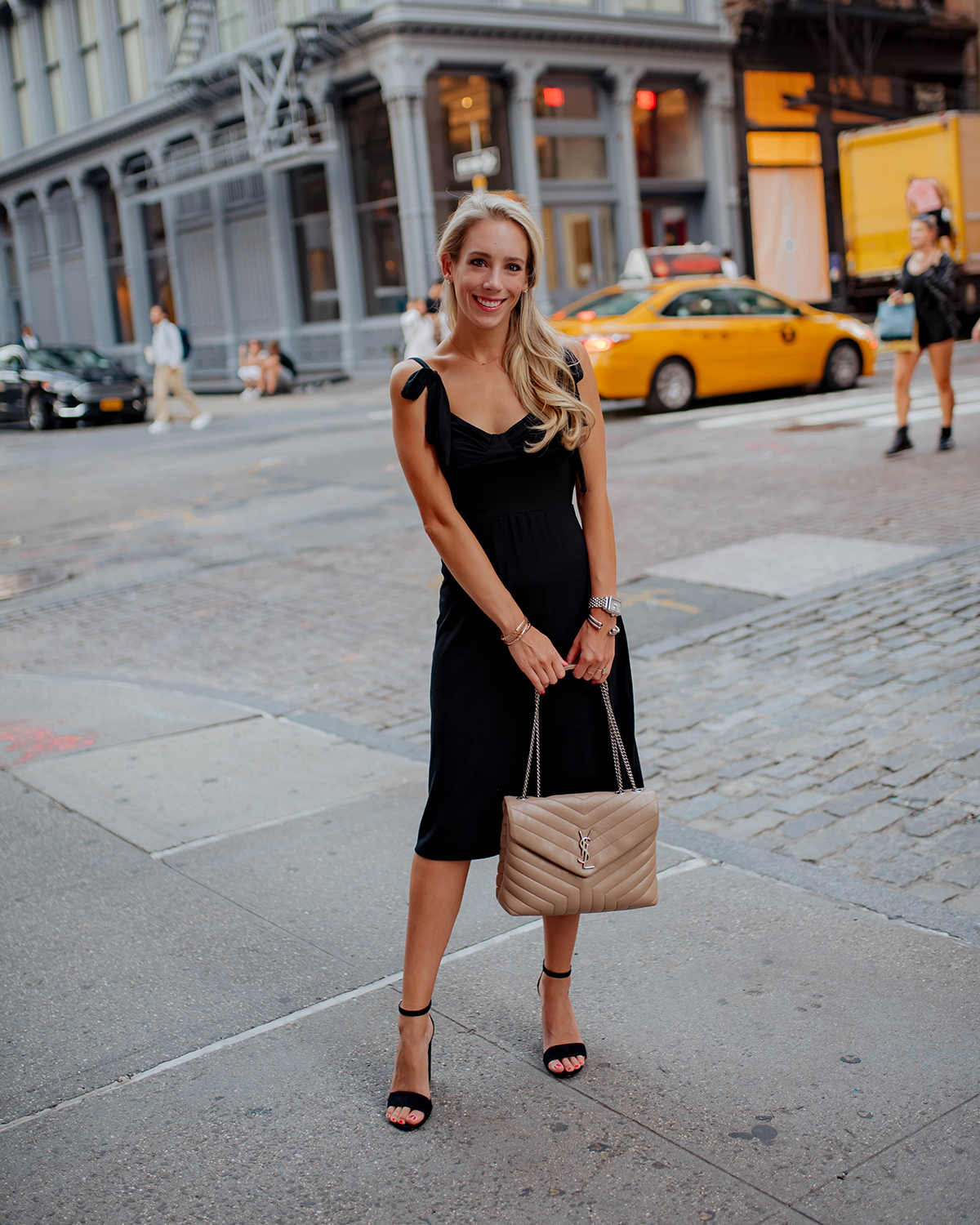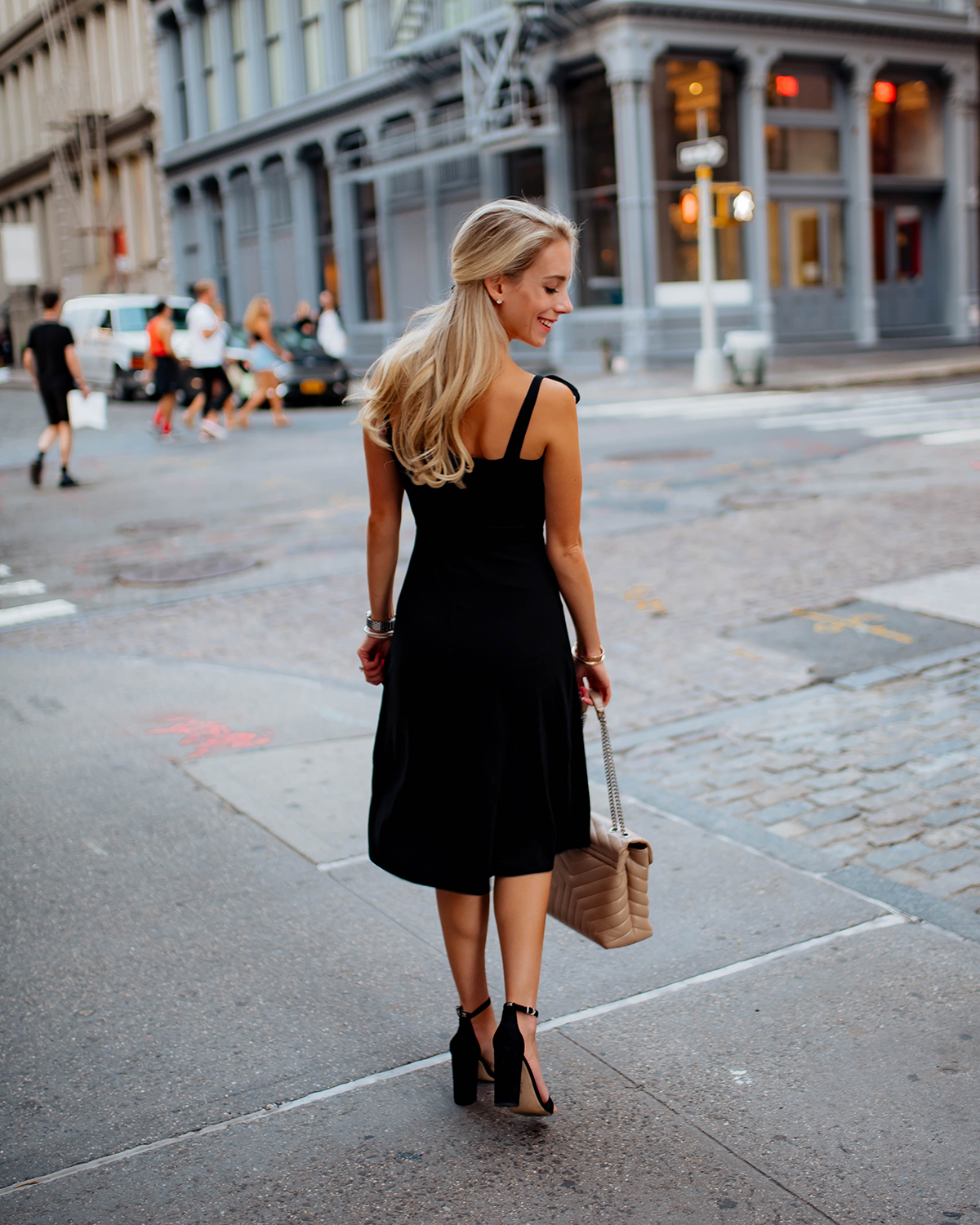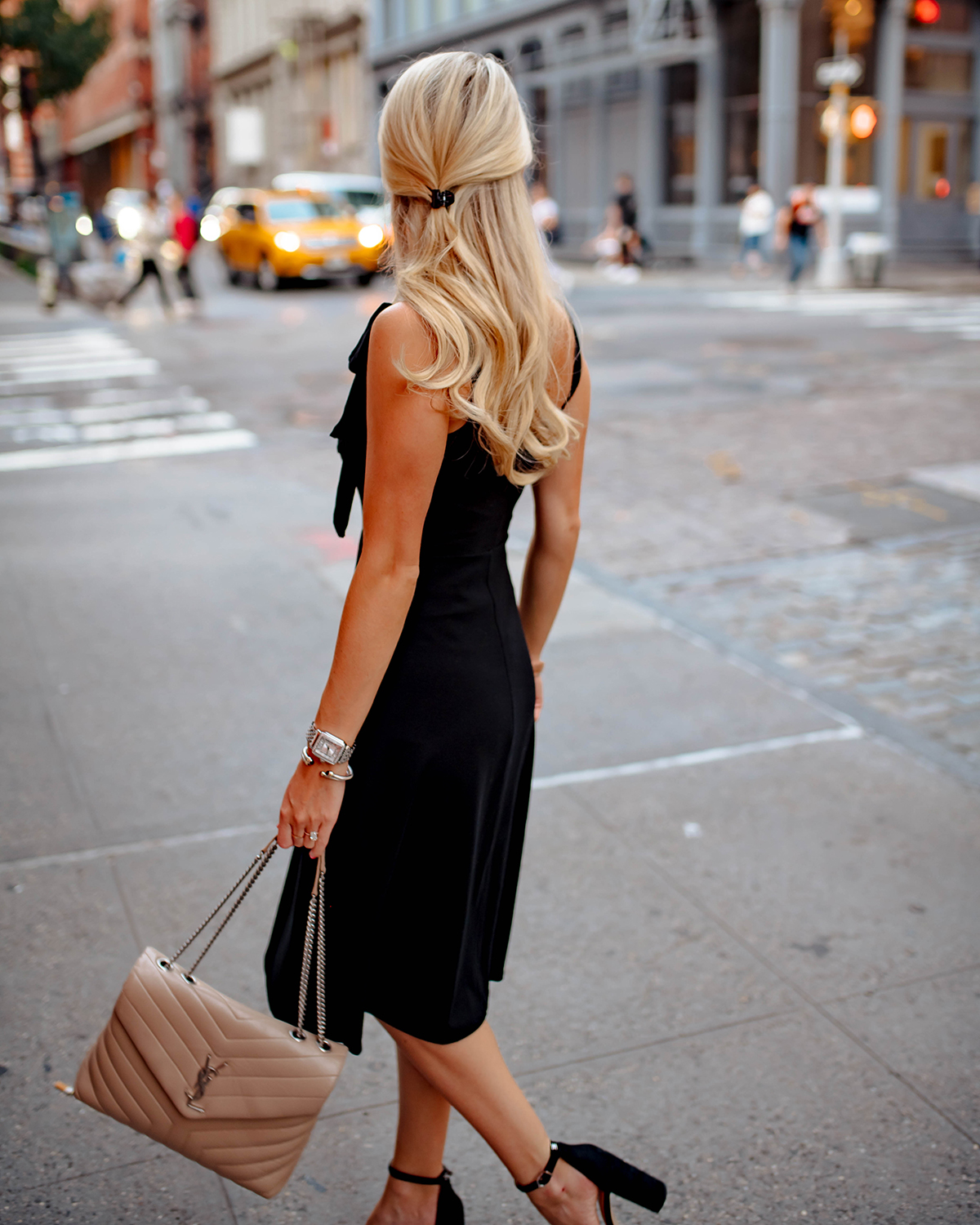 I went into that first class very skeptical because 1) I still couldn't believe Nick was game to actually take a dance class and 2) neither of us has any natural rhythm. Well, that first lesson was enough to convince us to book 10 more! It's been three weeks since we started and after five private lessons, I'm happy to share that our first dance is starting to come together! We've learned a few swing moves and even some turns and spins! We've still got a lot of work to do, but at least now I feel confident that we won't have to resort to swaying back and forth like we're an awkward middle school couple at our reception. LOL!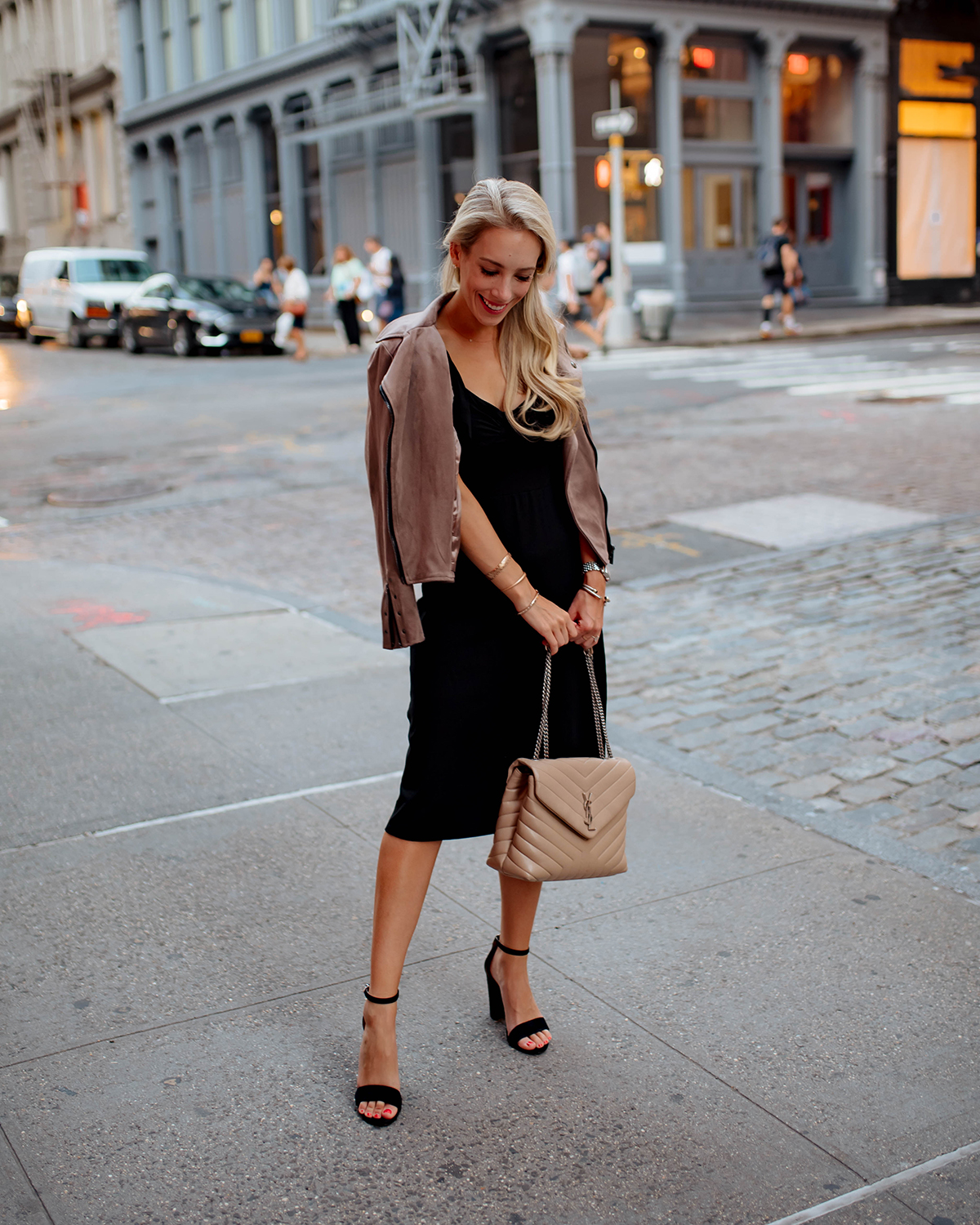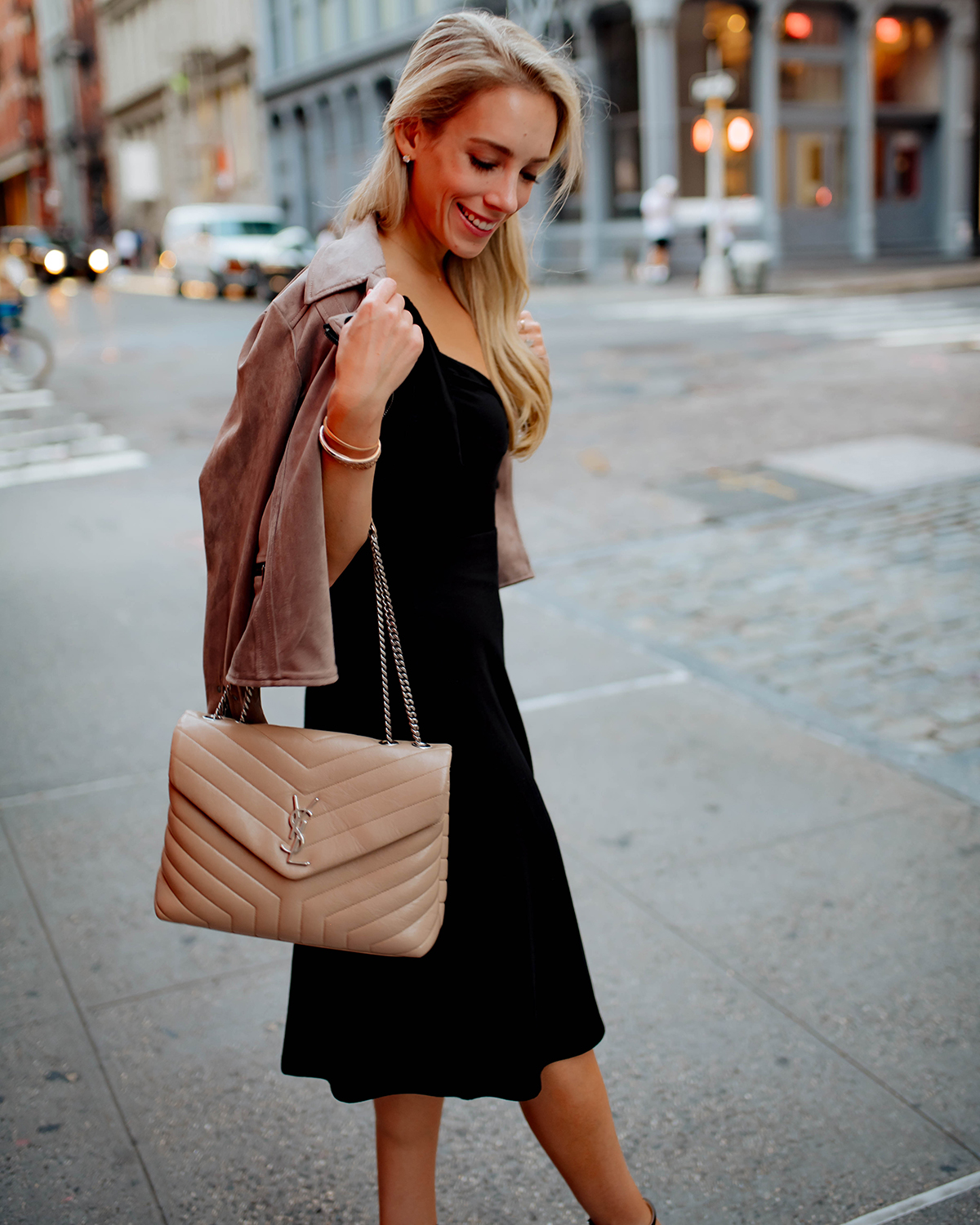 OUTFIT DETAILS // Reformation Dress (wearing xs) | Faux Suede Jacket (now on sale!) | Black Ankle Strap Sandals | Saint Laurent Bag | Kendra Scott Bracelets | David Yurman Bracelets | Michele Watch
I never thought dance lessons would be a part of our wedding planning journey, but I'm so grateful we decided to make these a priority the last few weeks before our big day. Not only has it been fun learning something new together, it's given us an excuse to plan a date night 1-2x a week after work. Which brings me to the purpose of today's post: date night outfits! You gals are always asking me to post more special occasion outfits so I wanted to share one of my go-to classic dressy looks featuring items I purchased at Nordstrom.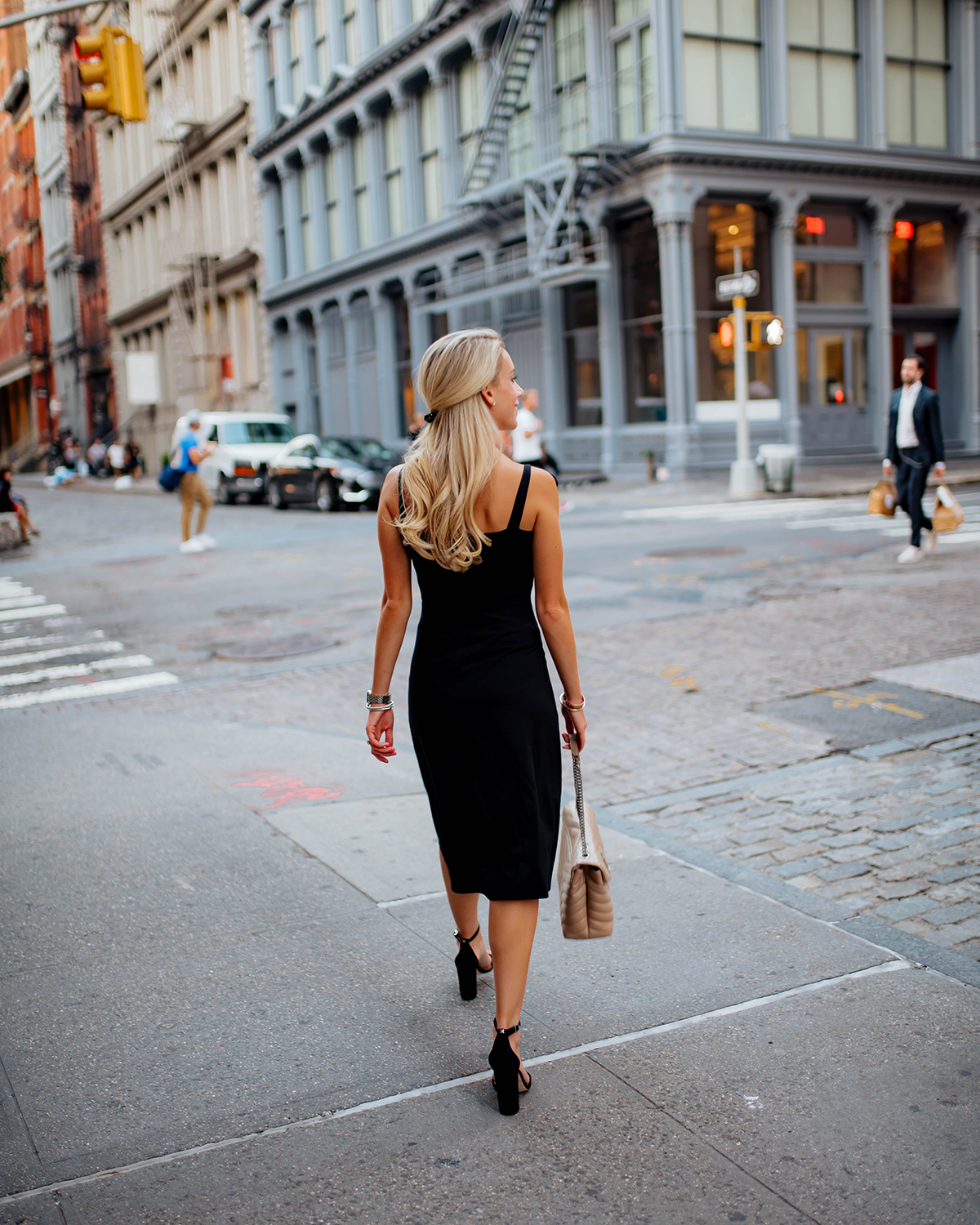 Since I don't regularly wear cocktail dresses, when I do purchase something new I always try to look for styles that are timeless and can be worn throughout the year. I love this little black dress for a few reasons. It's the perfect midi length— not too short and not too long. Also the bow straps! These completely un-tie so you can make the straps as tight or loose as you prefer. The bodice of the dress also has a built-in bra (you can see it better on Nordstrom.com here) that hugs and cinches the upper torso. I wouldn't say it takes the place of an actual bra (I just wore my regular strapless underneath) but aesthetically it adds a chic element to the dress. The fabric is so soft and comfy too!
SHOP MORE COCKTAIL DRESSES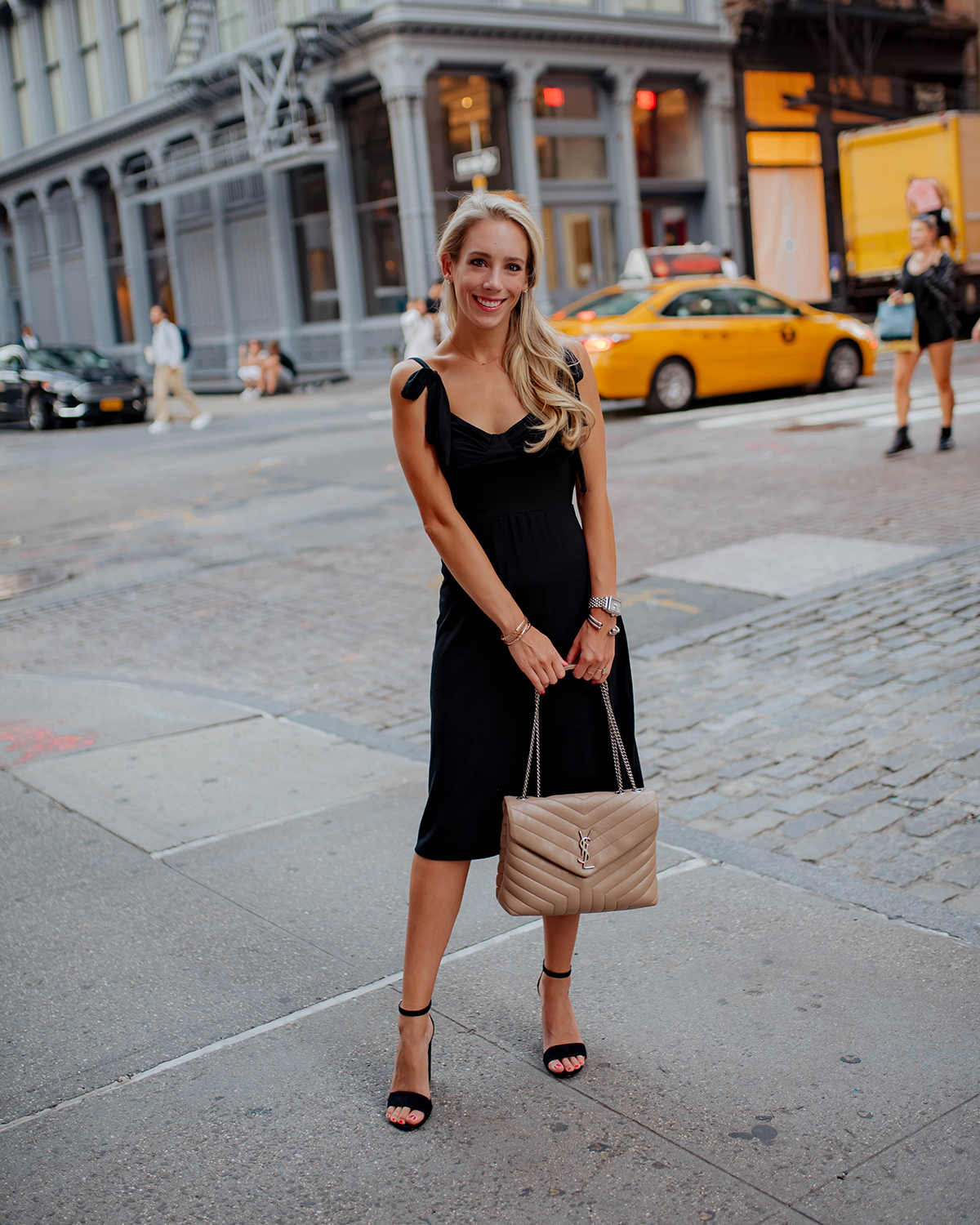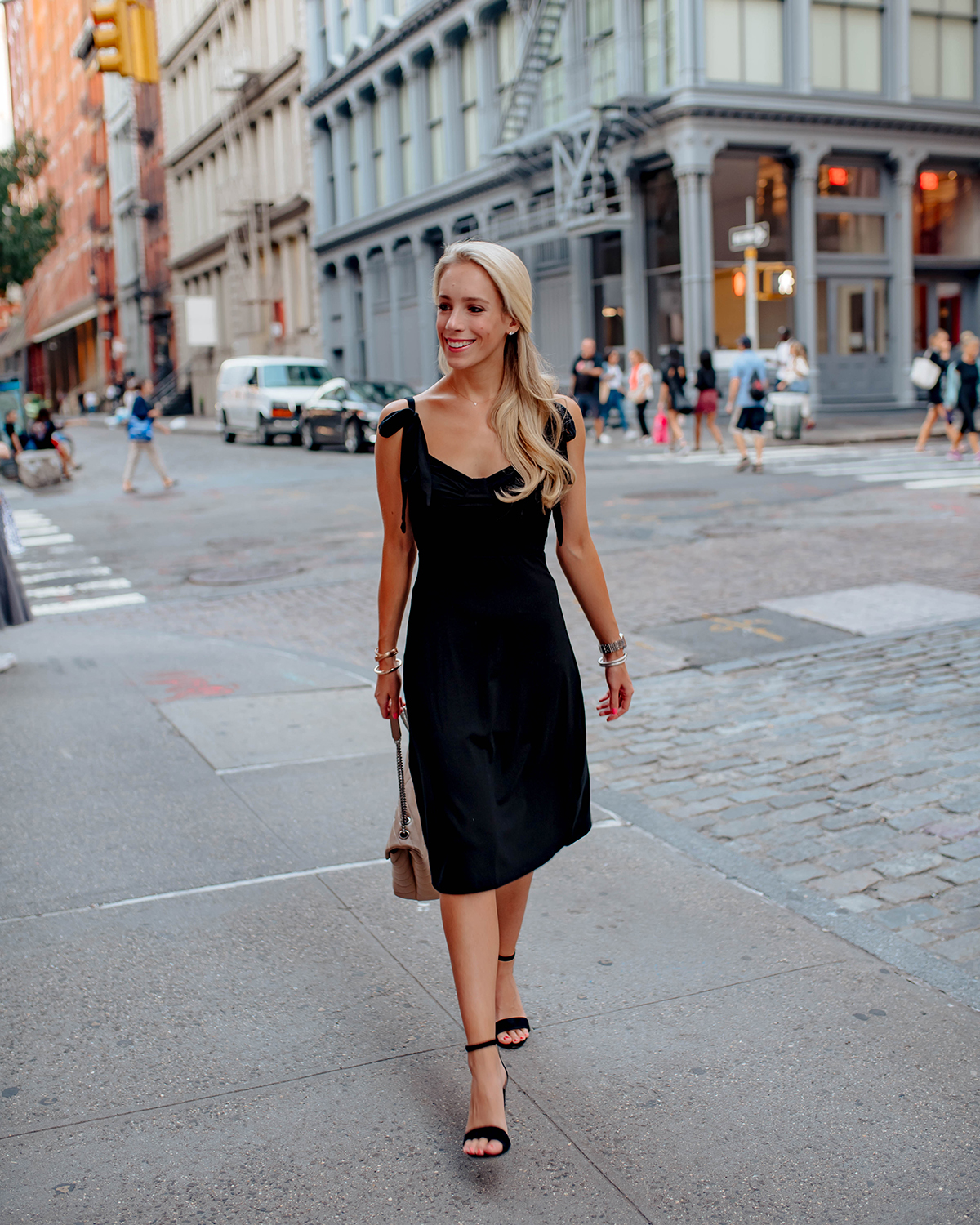 You've all seen these accessories many times for good reason. I can't recommend my Saint Laurent bag and this pair of ankle strap sandals enough! These heels have become a staple in my shoe collection because I can actually walk in them comfortably. I've even been wearing them for our dance lessons since they are very similar to my wedding shoes 🙂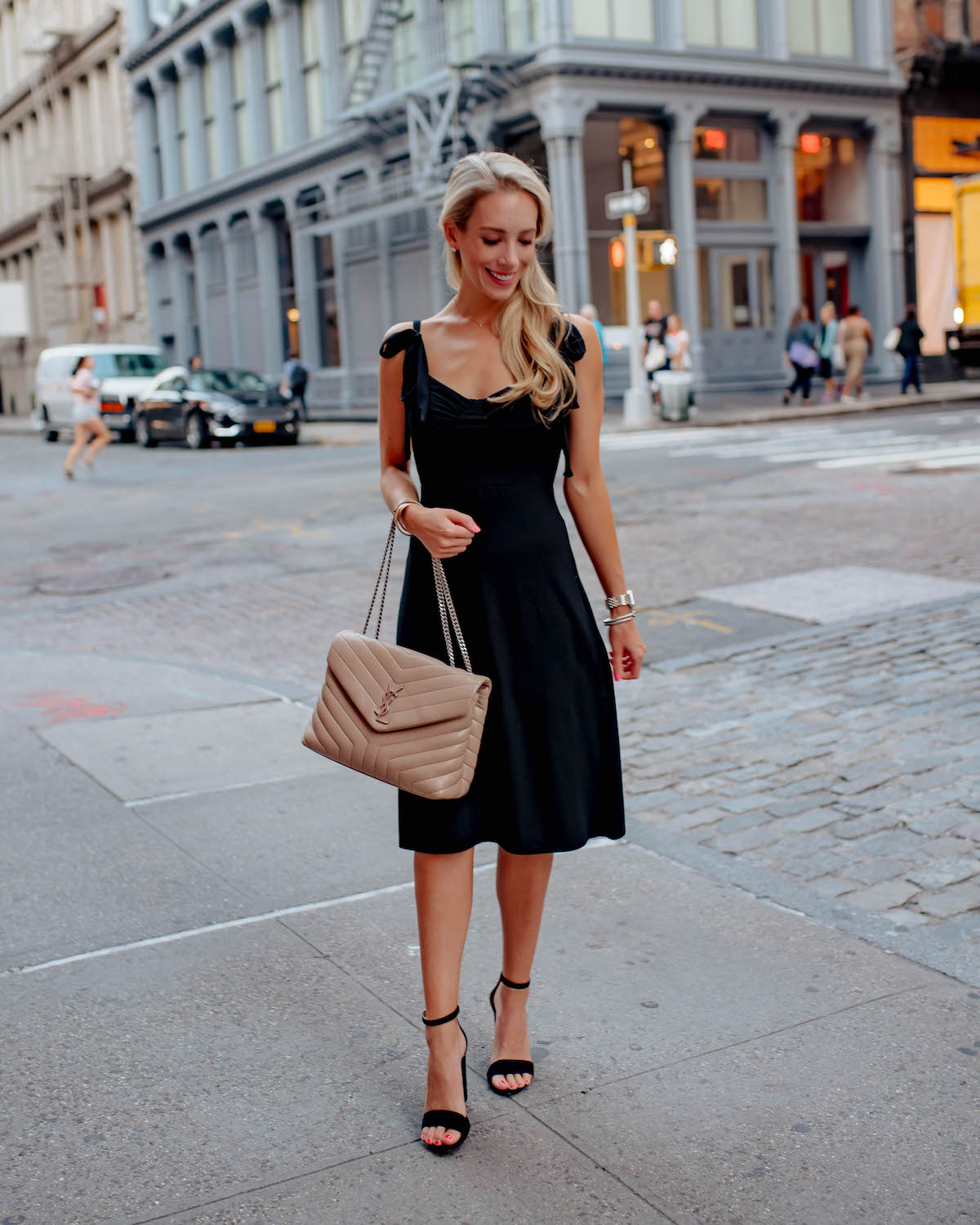 Looking for more cocktail dress options? Well a TON of new dress arrivals just hit Nordstrom.com. I feel like we're finally getting past that awkward time in between seasons and the good fall stuff is finally getting released! Woohoo!
Big thank you to Nordstrom for sponsoring this post!
- Katie