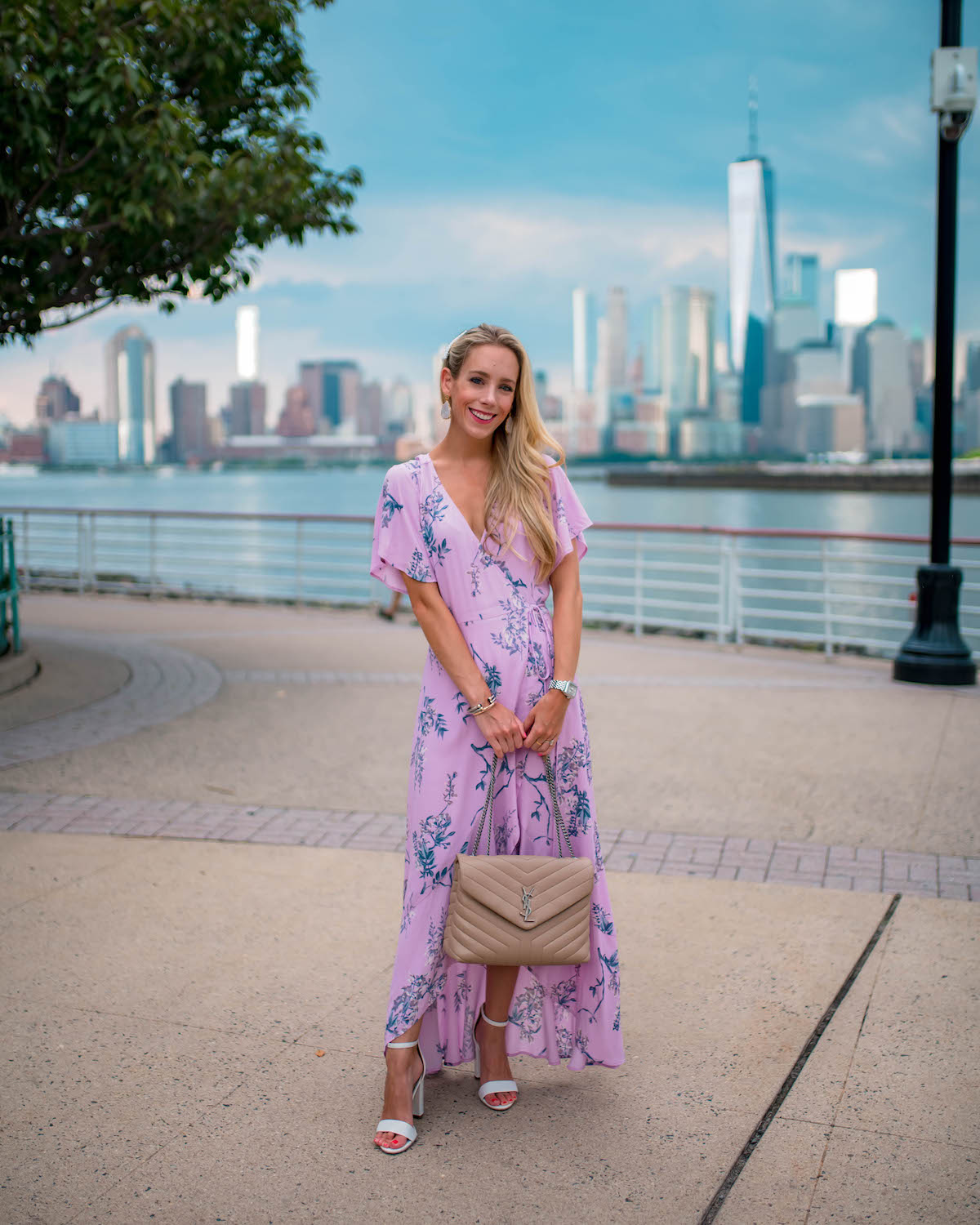 Other than getting asked about what I'm doing for my own wedding, I probably get at least 5 DMs a week with requests for wedding guest outfit ideas and my favorite affordable formal dresses. While I love having an excuse to get fancy, I don't love the price tags that come along with shopping for evening gowns and cocktail dresses. Who wants to spend hundreds on something you're likely only going to wear a handful of times, maybe even just once? NOT ME.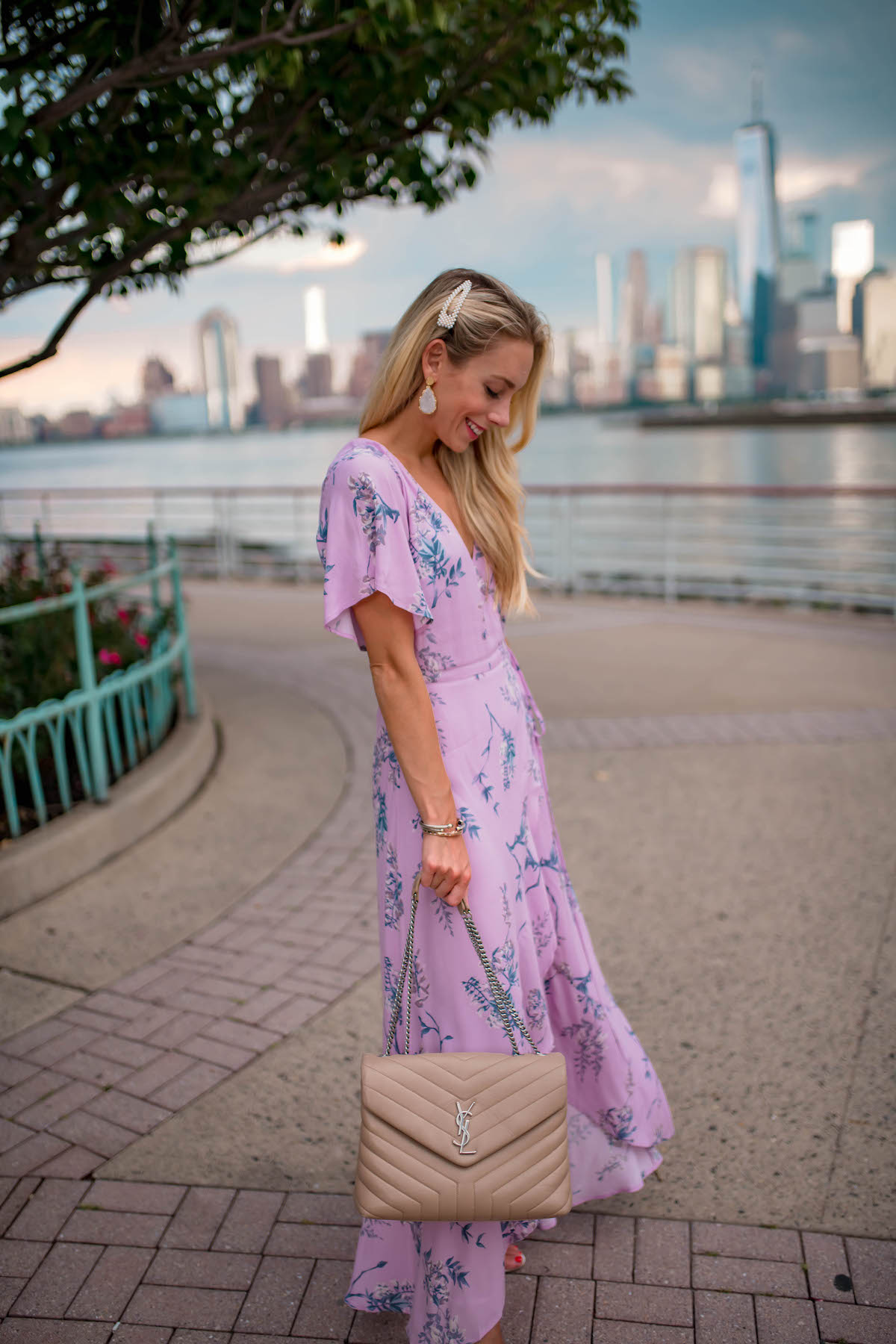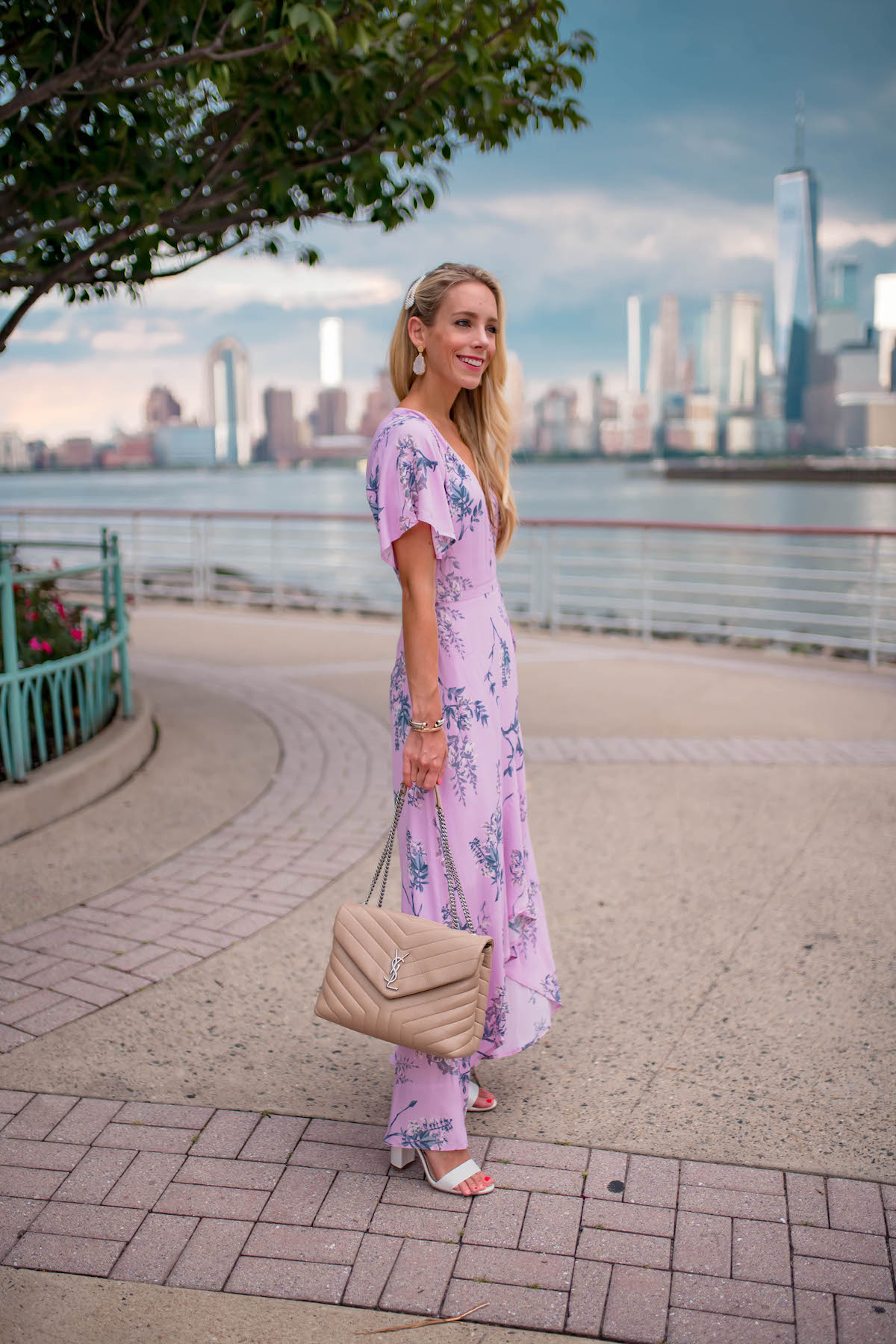 OUTFIT DETAILS // Wrap Maxi Dress (I'm wearing XS) | White Ankle Strap Heels (very comfy & good for dancing!) | Saint Laurent Bag | Lilly Pulitzer Earrings | Faux Pearl Barrette (under $5!) | David Yurman Bracelets | Michele Watch
How gorgeous is this lilac maxi dress? And would you believe it was under $100? I'm such a sucker for this color! I also love the shape and cut of this dress. The draped sleeves and flowy wrap skirt add to the elegance!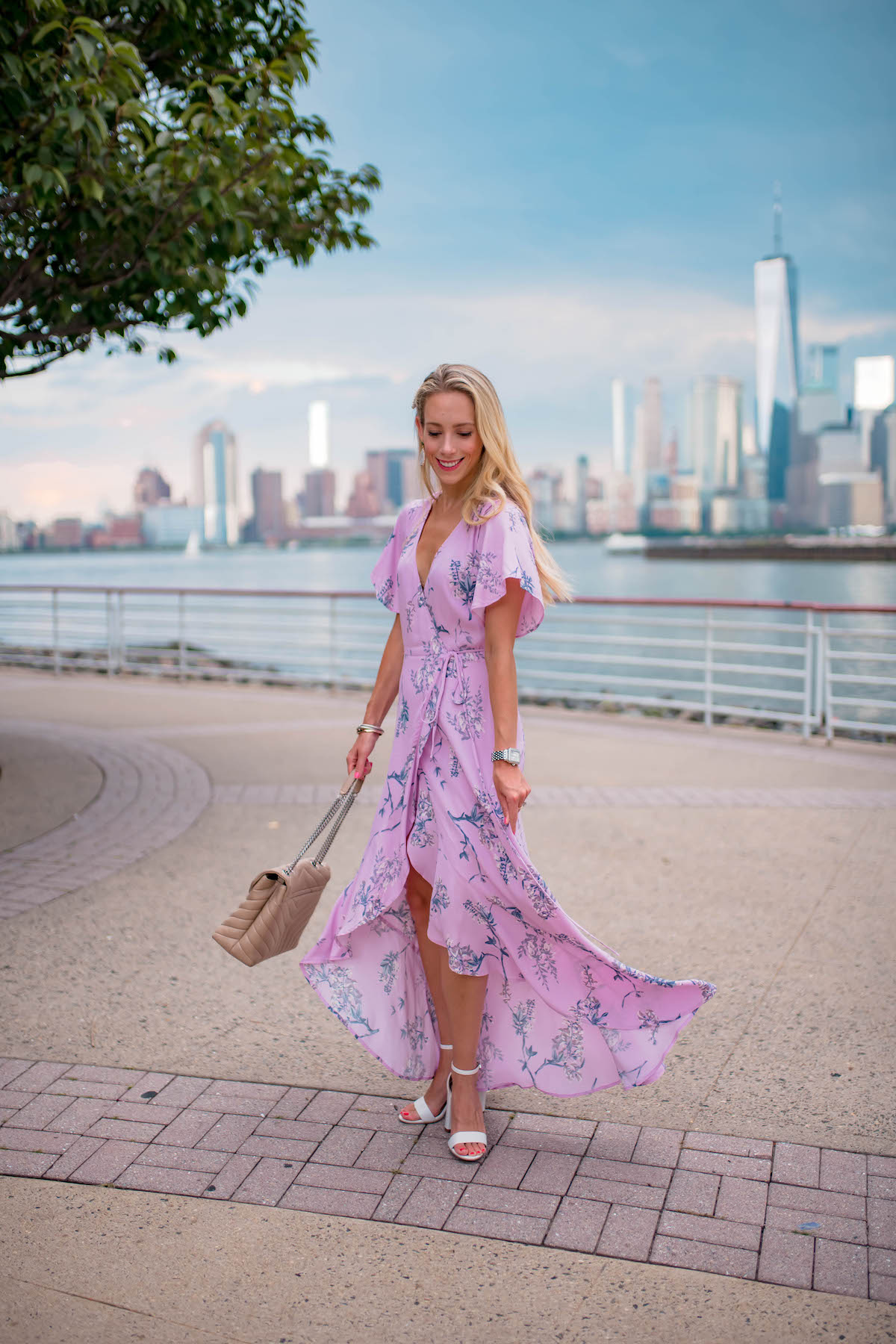 Where I Shop For Affordable Formal Dresses
Nordstrom.com
Anytime I'm shopping for clothing, I always go straight to Nordstrom.com. I can usually find anything I need and the dress selection is HUGE. Many of my favorite dress purchases over the years were scored at Nordstrom for under $100. If you're concerned about ordering a dress online without trying it on first– don't be! Nordstrom offers free shipping and free returns. If I'm ever not sure about sizing I'll just order two and then send back the one that doesn't fit!
Asos.com
Asos is a great place to shop for budget-friendly formal evening dresses. You can find a lot of unique trendy styles here that you won't find at stores like Nordstrom, Bloomingdales, etc. I also love how inclusive Asos is when it comes to sizing. They have exclusive ranges for all body types including curvy, petite, tall and maternity.
Revolve.com
Revolve.com is where shop for most of my "going out" clothing or when I'm willing to spend a littttlleeee bit more on something special. Revolve is great because they carry a variety of brands at all price points, so no matter your budget you can always find options. They have a lot of styles that skew on the sexier, trendy spectrum 😛 You also can't beat the free 2-day shipping! PS my favorite brands to shop at Revolve are Tularosa, Bobi, by the way, Line & Dot, Free People, BB Dakota and BCBGeneration.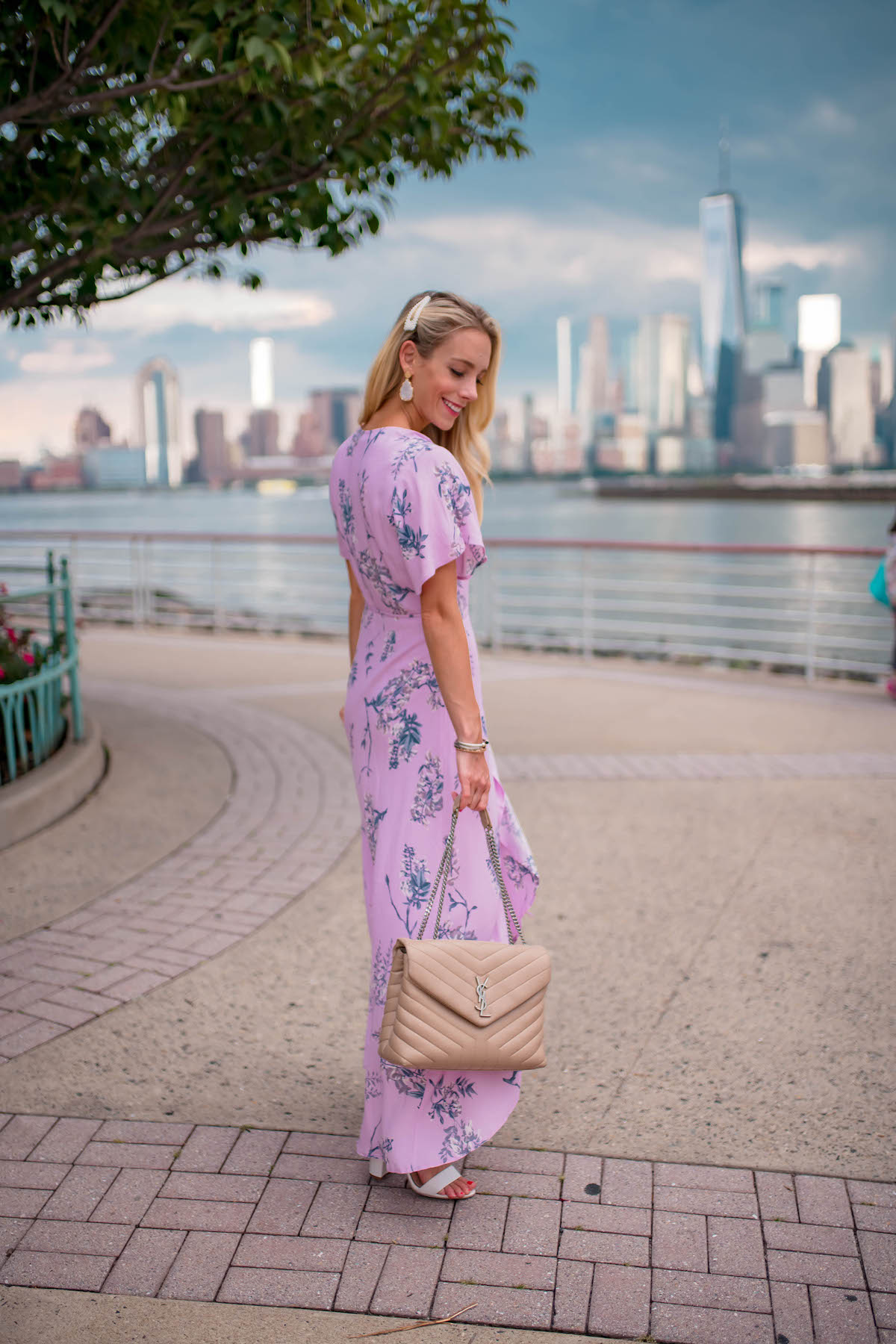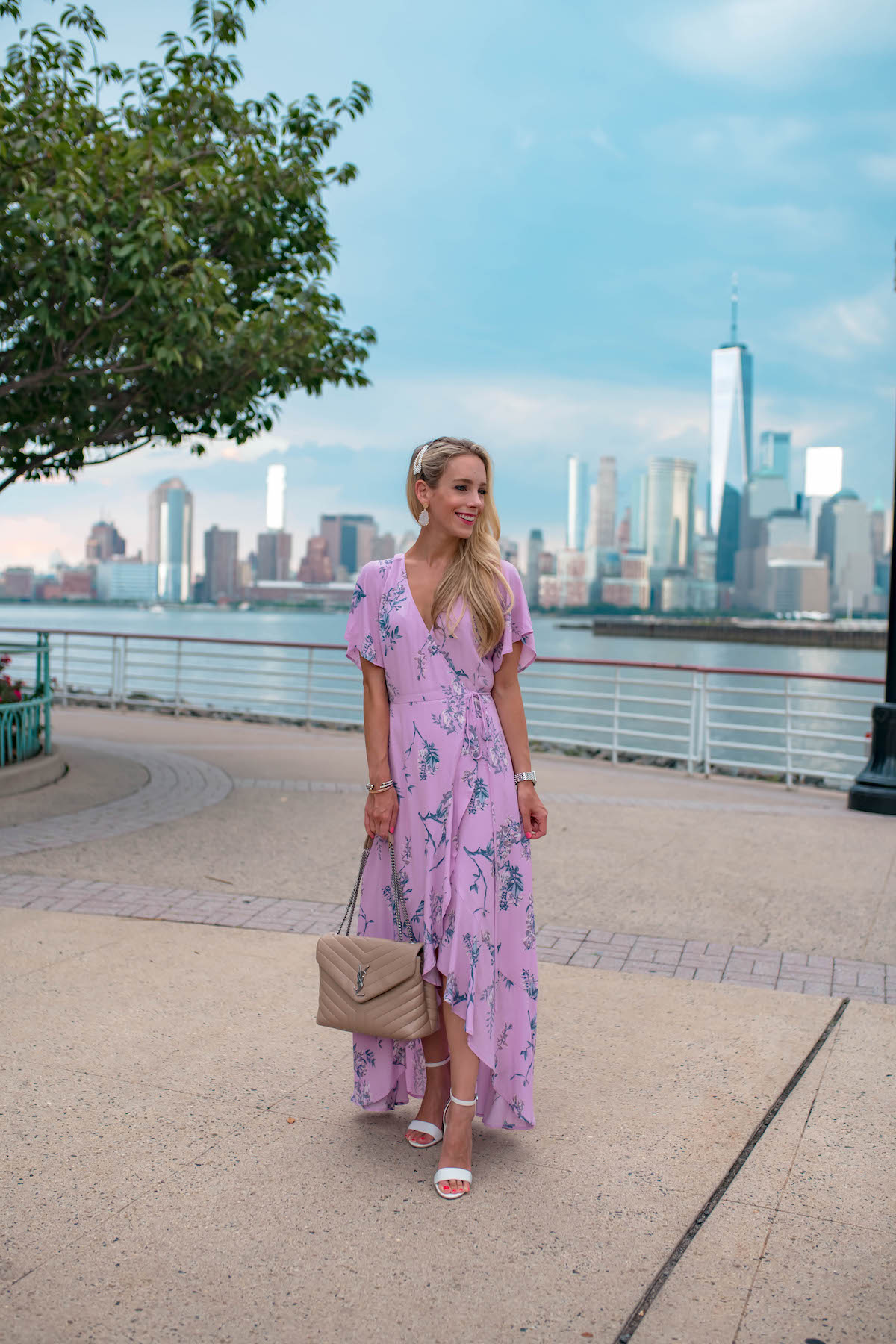 One aspect I love most about the two dresses you see here is that both can be seamlessly styled with accessories I already own. I would much rather save my money on a budget-friendly gown (especially if I'm only going to wear it a few times) and then invest in a few designer handbags I can rotate and use frequently. I'm going on nearly three years with my Saint Laurent Loulou Shoulder Bag. It was worth every penny!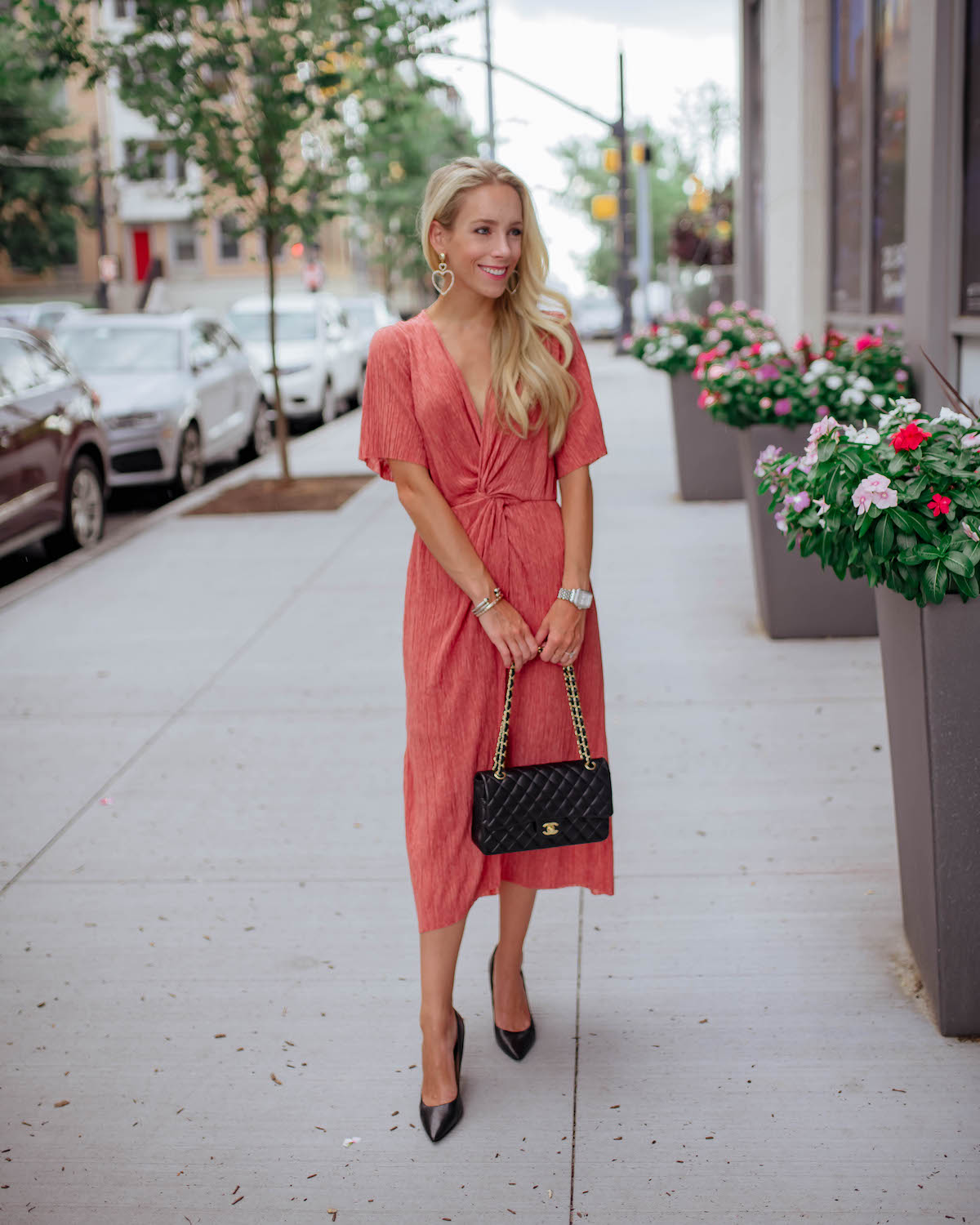 OUTFIT DETAILS // Dolman Plissé Midi Dress (under $60 & wearing XS) | Black Pumps | Chanel Bag (here's a similar bag for significantly less) | Heart Statement Earrings | David Yurman Bracelets | Michele Watch
Here's another wallet-friendly cocktail dress I'm loving! This one is available in four different colors and the fabric has the prettiest soft shimmer. Another great aspect of this dress is that it's very wrinkle-resist. I hardly even had to steam it before wearing! The shape and draping on this dress makes it a great option for all body types too. Did I mention it's incredibly comfortable?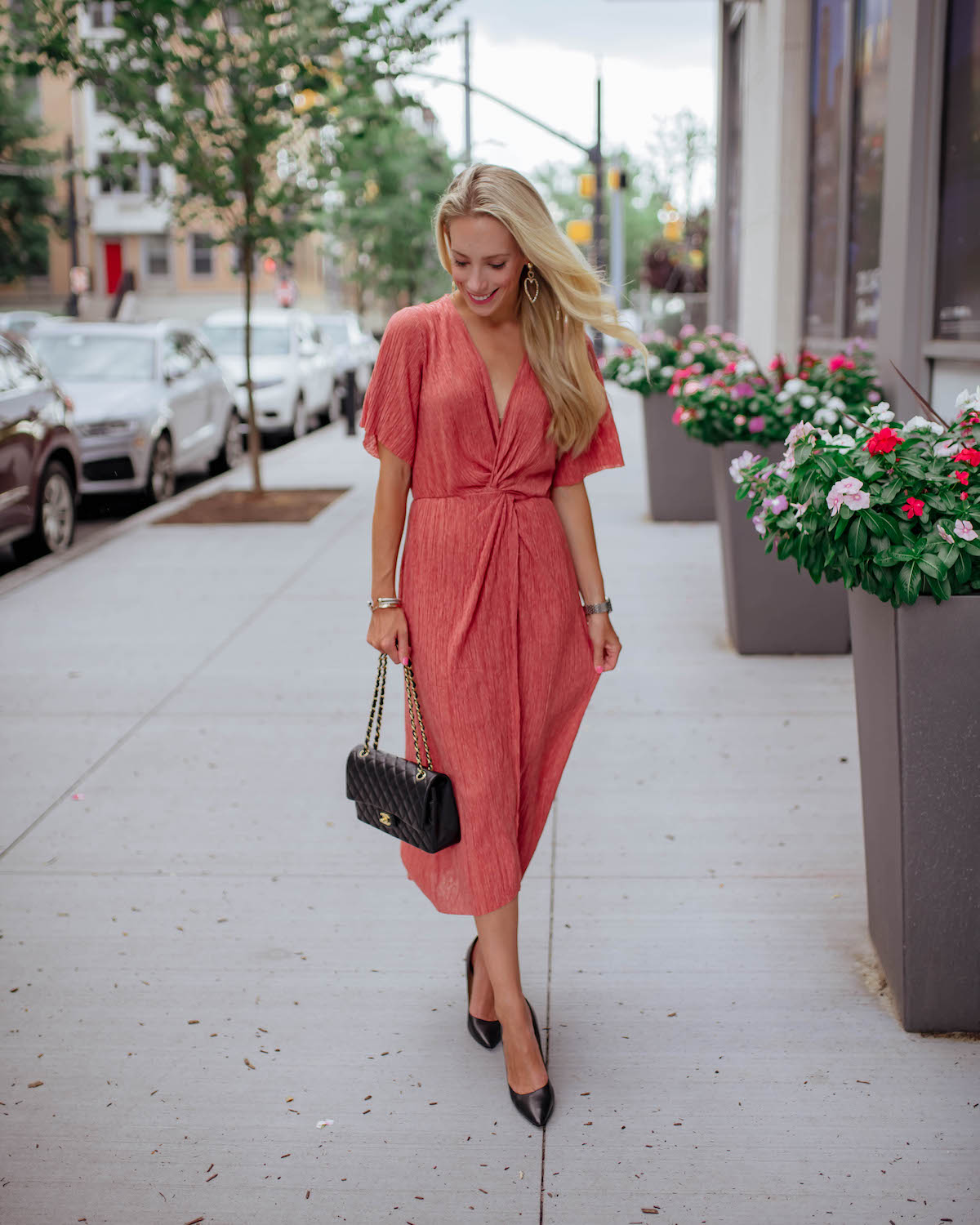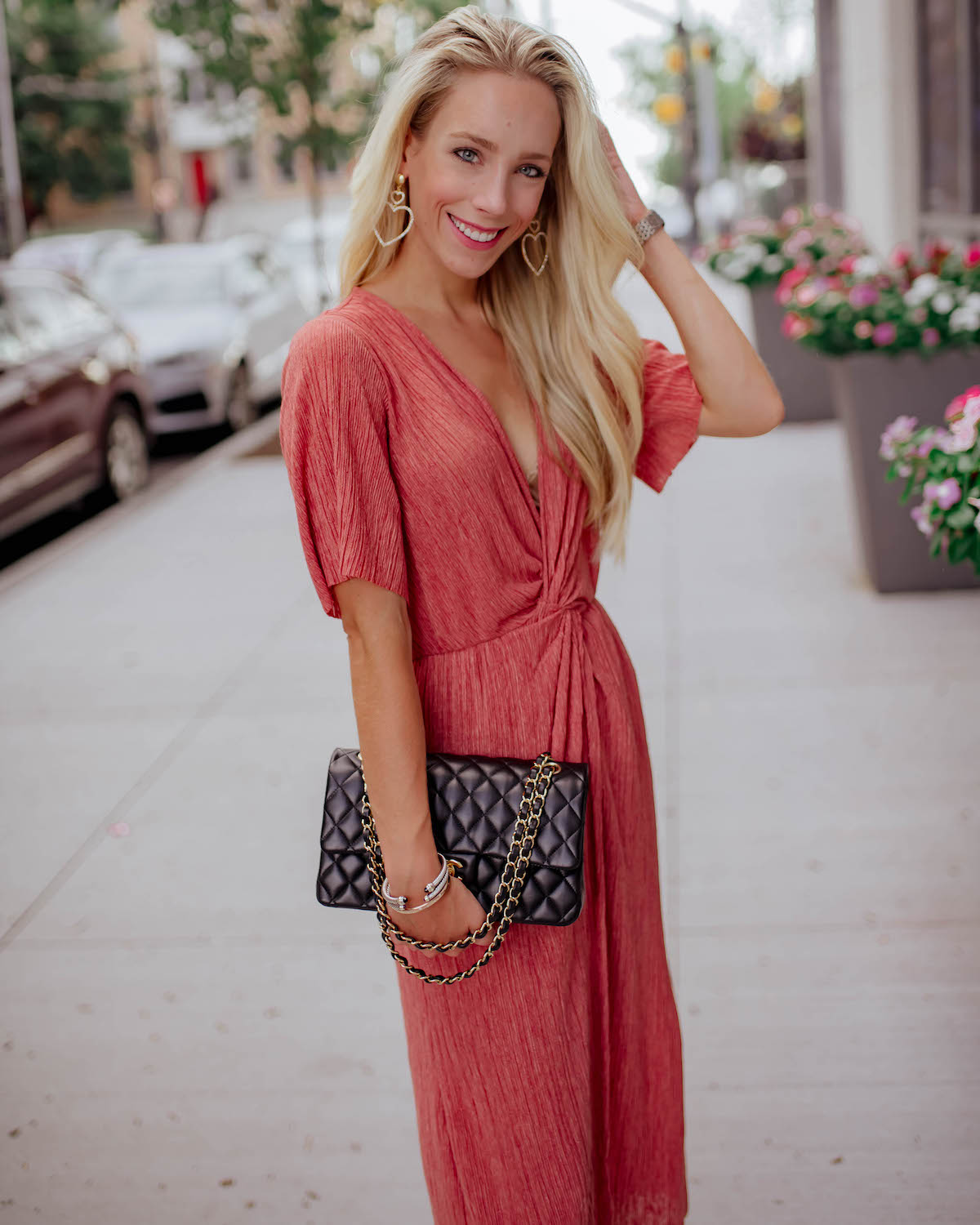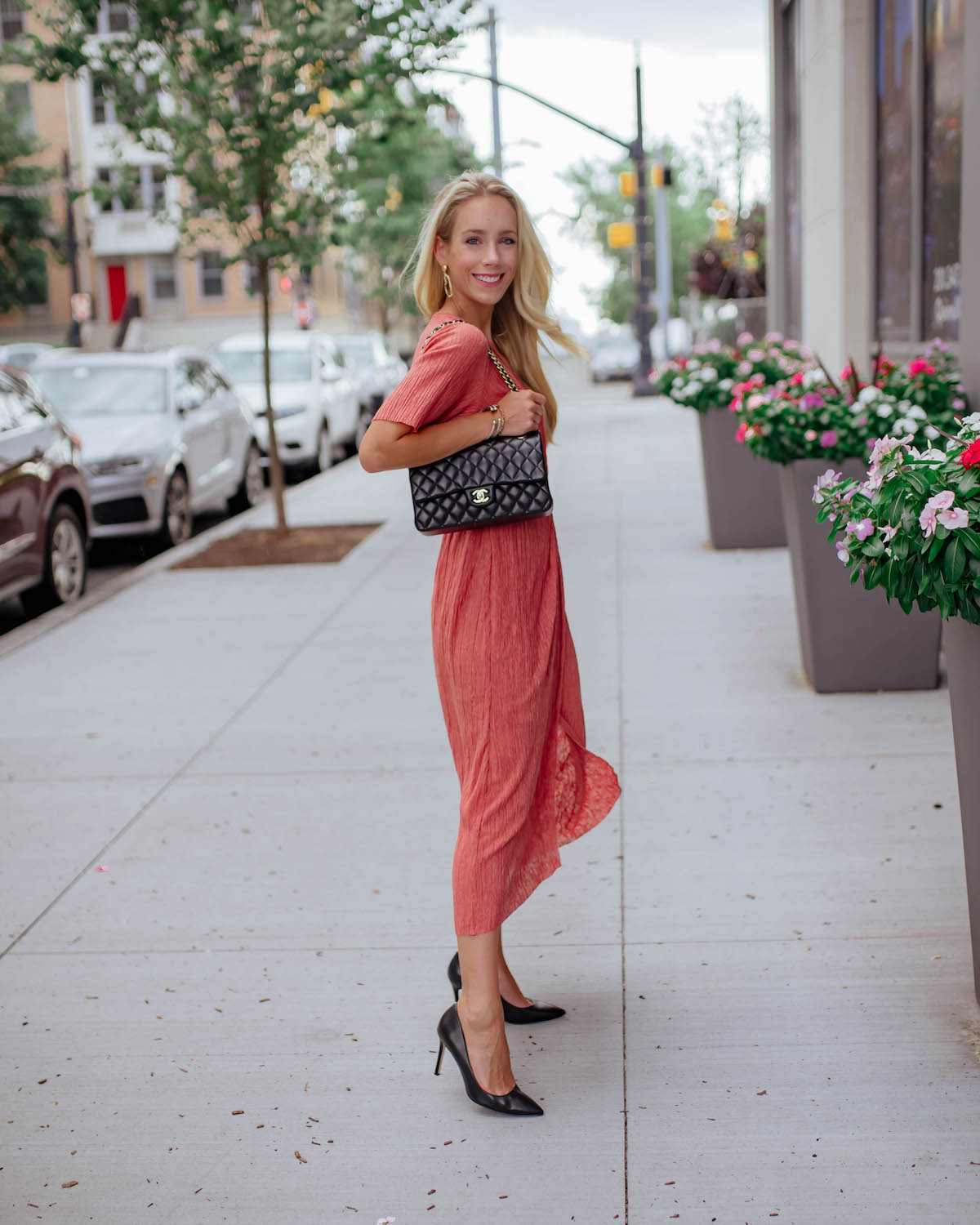 Looking for more options? I rounded up a bunch more cocktail and evening dresses all priced at $100 or less. Just click the photos below for details!
Affordable Wedding Guest Dresses | $100 Or Less!

- Katie