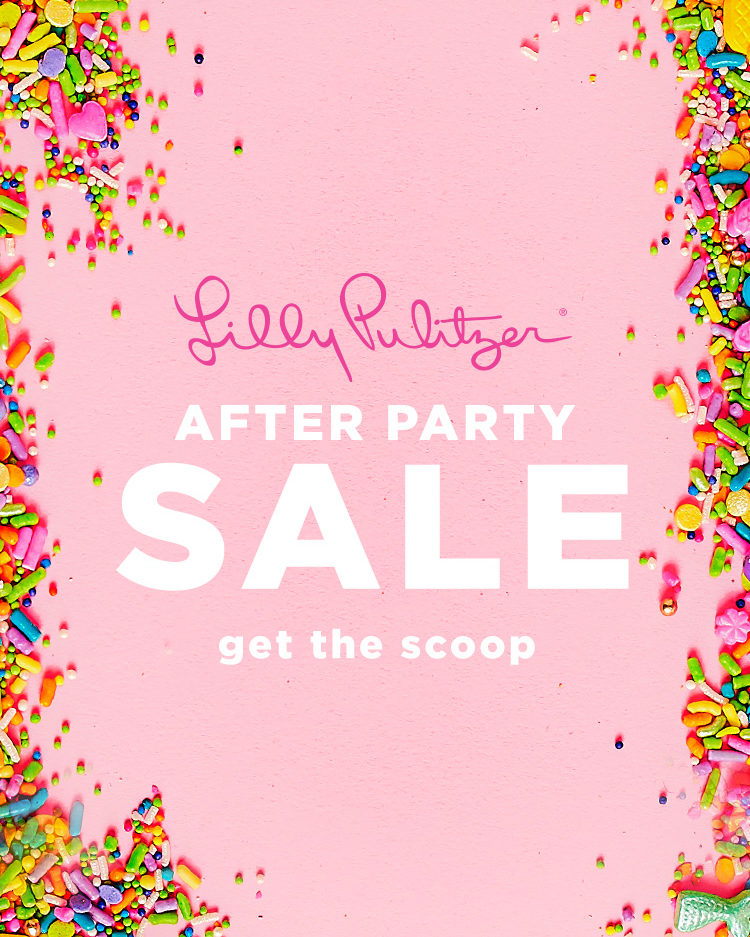 Do you know the Lilly Pulitzer After Party Sale dates? I've been getting this burning question A LOT over the last few weeks and I am SO excited that I can finally answer it today! The Lilly Pulitzer After Party Sale will kick off this Monday, September 9th at 8am EST and will run through Wednesday, September 11th. Set your alarms and have your shopping list ready!
LILLY PULITZER AFTER PARTY SALE SEPTEMBER 2019 DATES
Monday September 9 – Wednesday September 11
sale begins 8AM ET & ends 11:59PM ET
Get ready to freak out! This year's After Party Sale will run similarly to previous sales, however there will be two drops of additional product on Tuesday, September 10th and one drop of additional products on Wednesday, September 11th. This is good news especially if you aren't able to shop the sale right at 8AM on Monday. It also means Lilly Pulitzer likely has a TON of items they plan on including in the After Party Sale.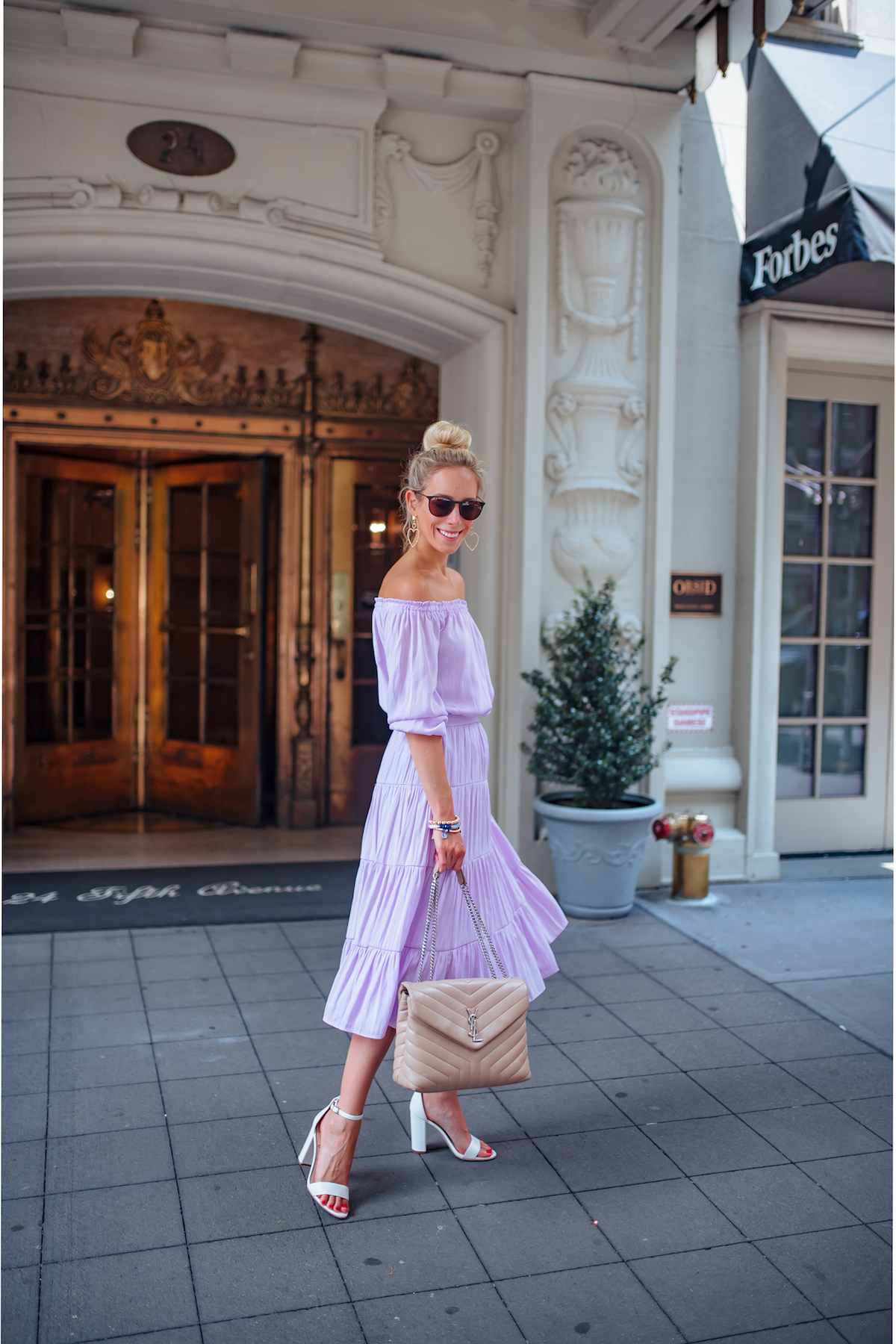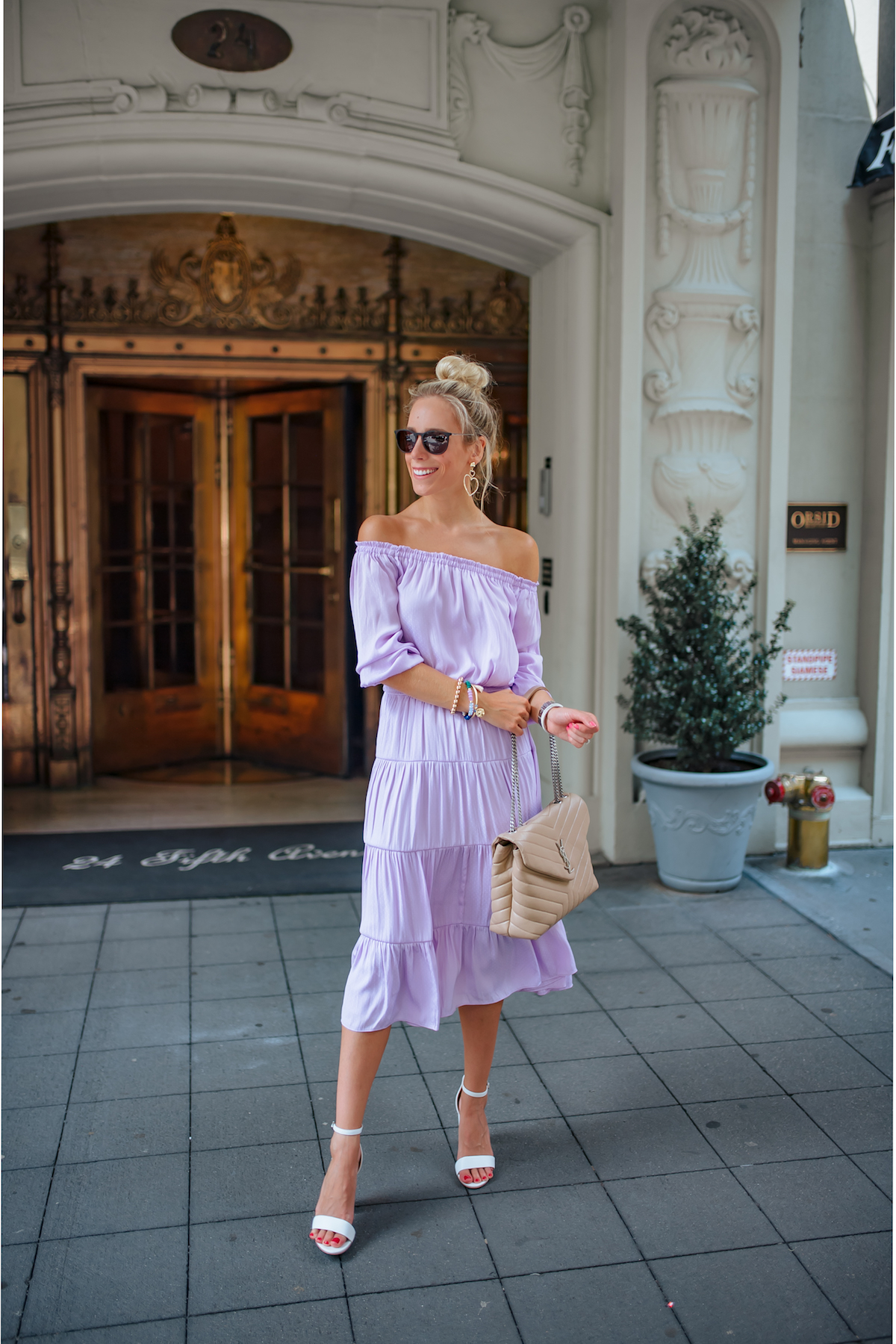 OUTFIT DETAILS // Lilly Pulitzer Dress | Lilly Pulitzer Bracelets | White Heels | Sunglasses | Heart Earrings | Saint Laurent Bag
The Lilly team clued me in on what day a few of the most coveted styles will be hitting the sale… I mean, CAN I HAVE EVERYTHING? I've been shopping this sale for years and I still can't get over how drastically the prices get slashed.
LILLY PULITZER AFTER PARTY SALE STYLES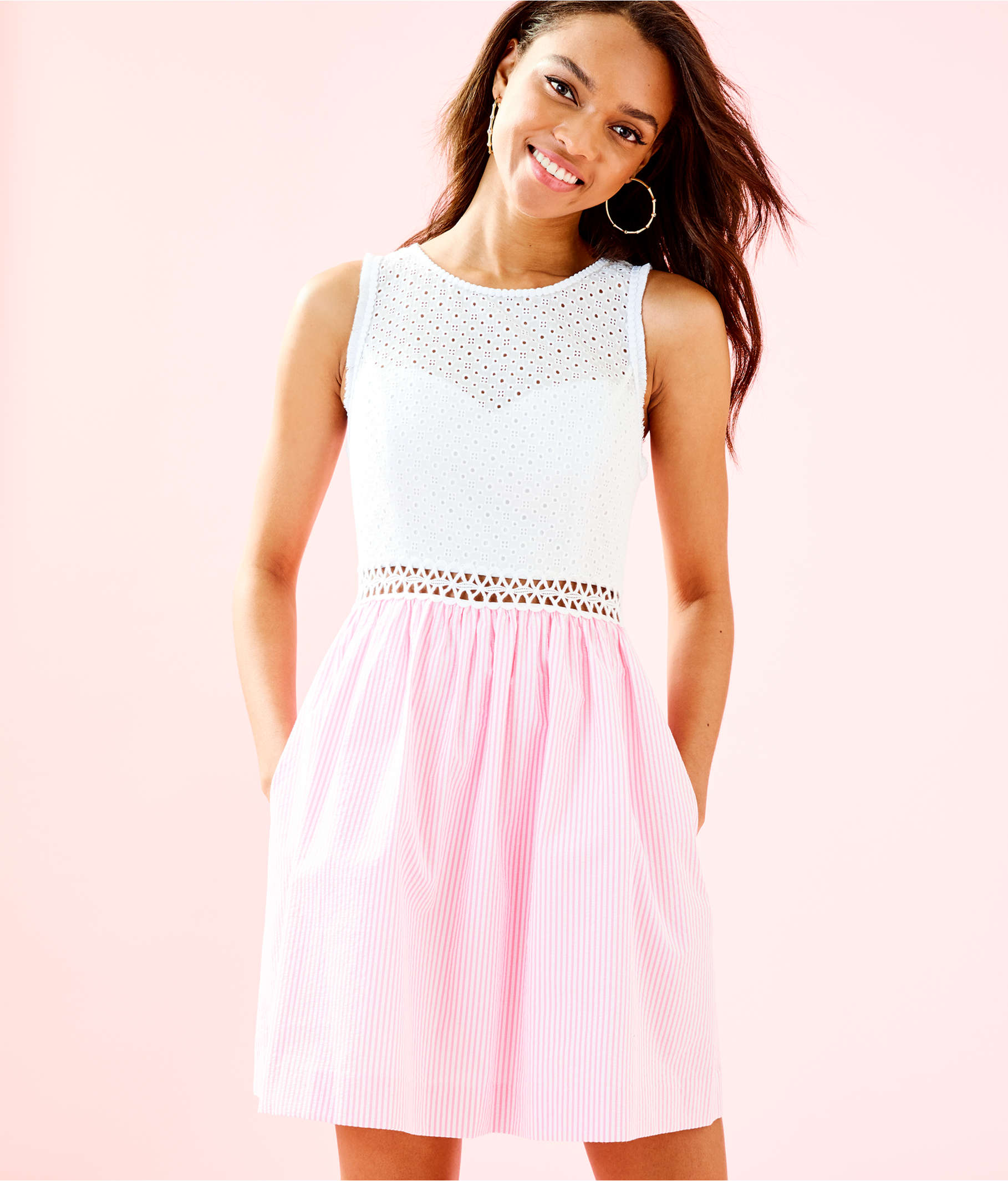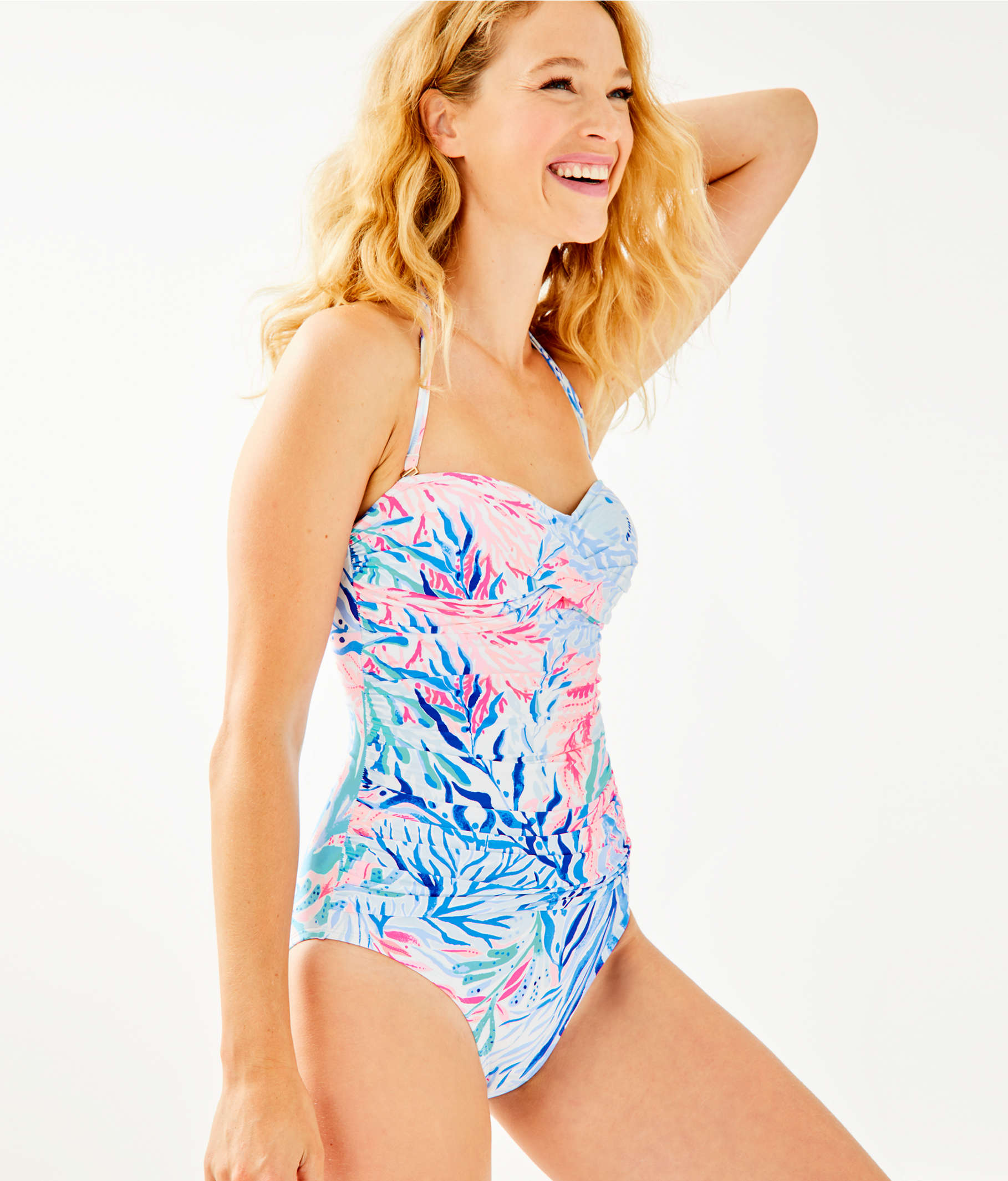 HITTING THE SALE ON MONDAY // Lilly Pulitzer Alivia Dress (Sale Price: $62, originally $228) | Lilly Pulitzer Flamenco One-Piece Swimsuit (Sale Price: $59, originally $138)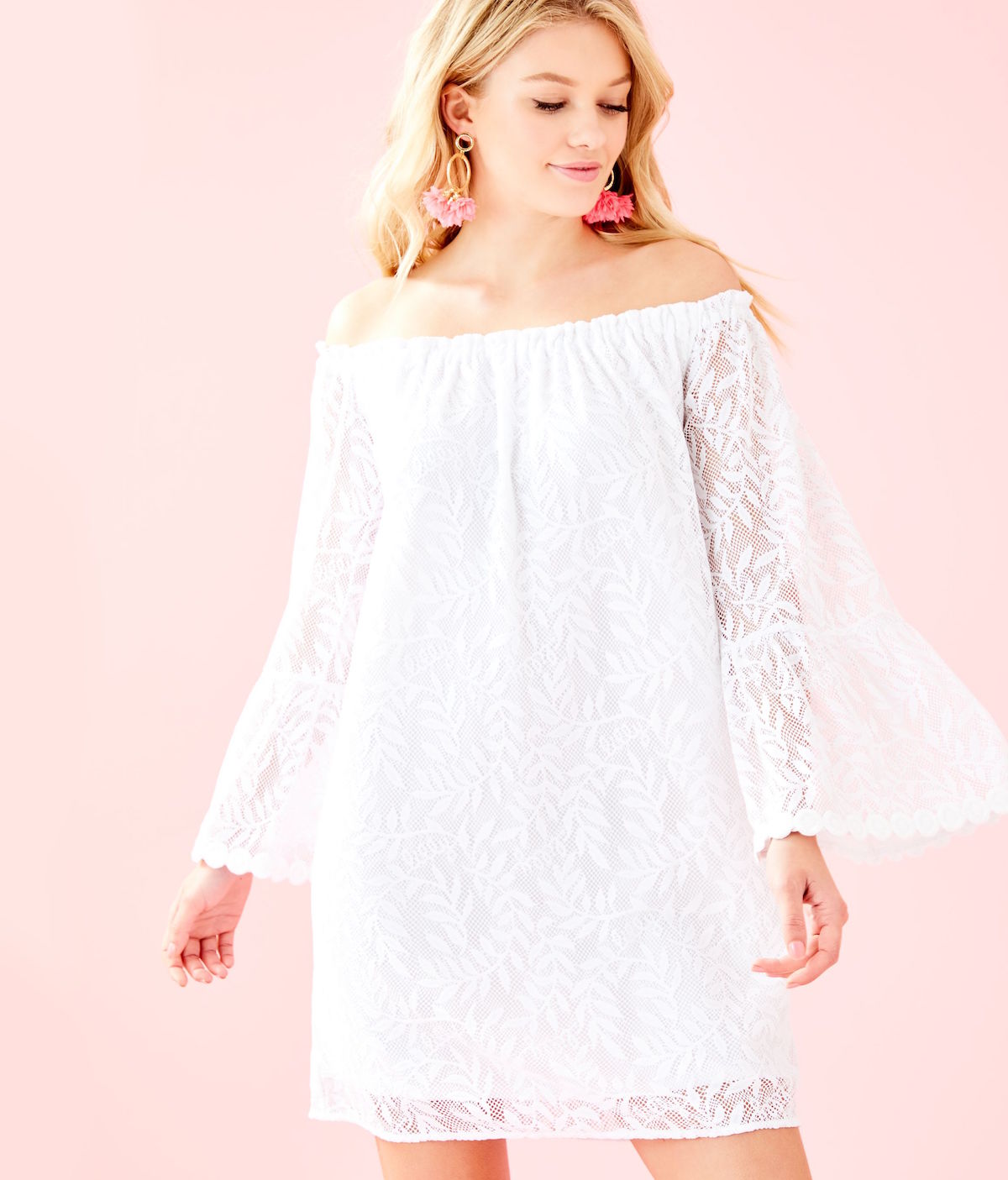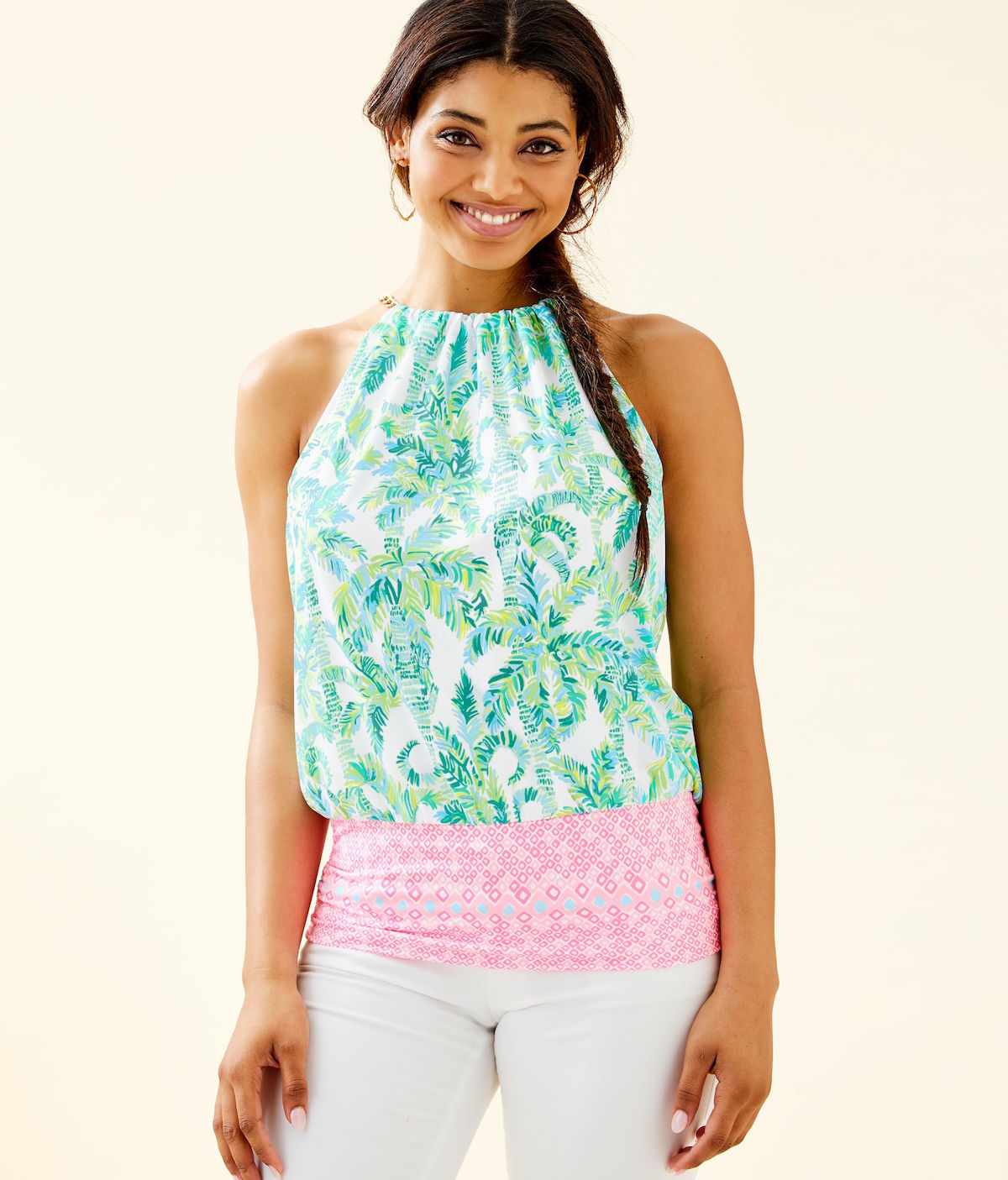 HITTING THE SALE ON MONDAY // Nevie Dress (Sale Price: $59, originally $118) | Bowen Halter Top (Sale Price: $39, originally $88)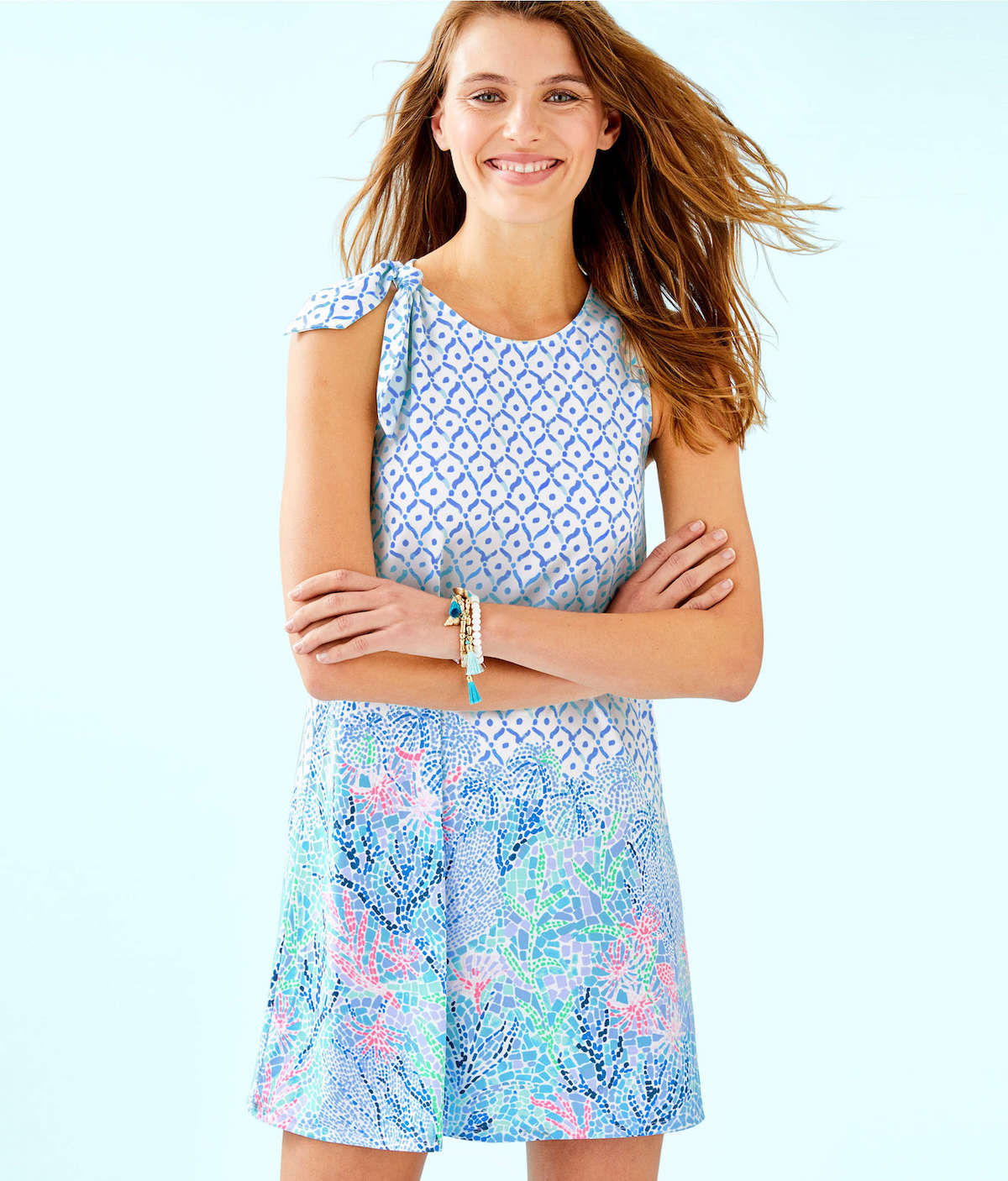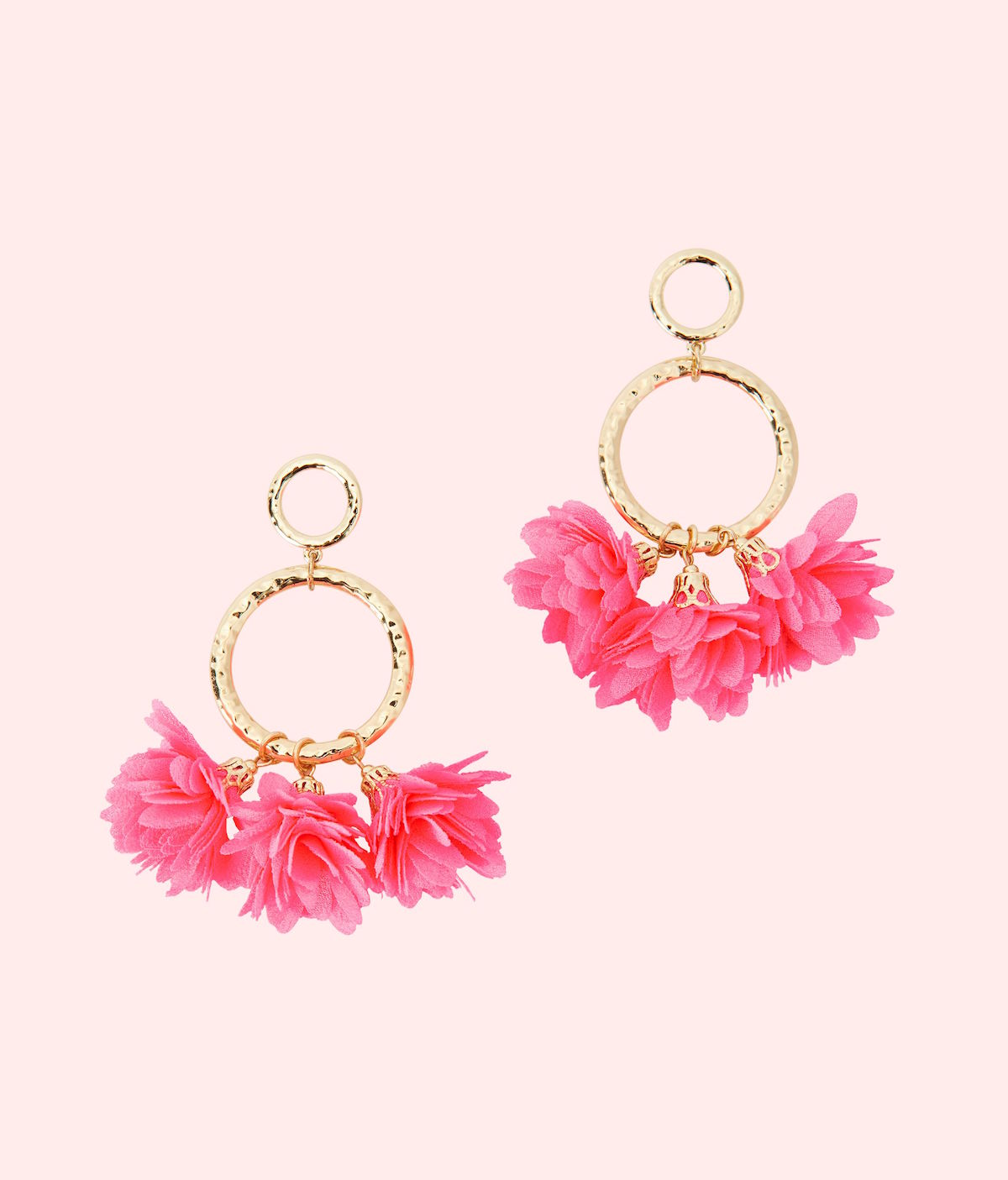 HITTING THE SALE ON MONDAY // Luella Swing Dress (Sale Price: $44, originally $108) | Cascading Petals Hoop Earrings (Sale Price: $19, originally $48)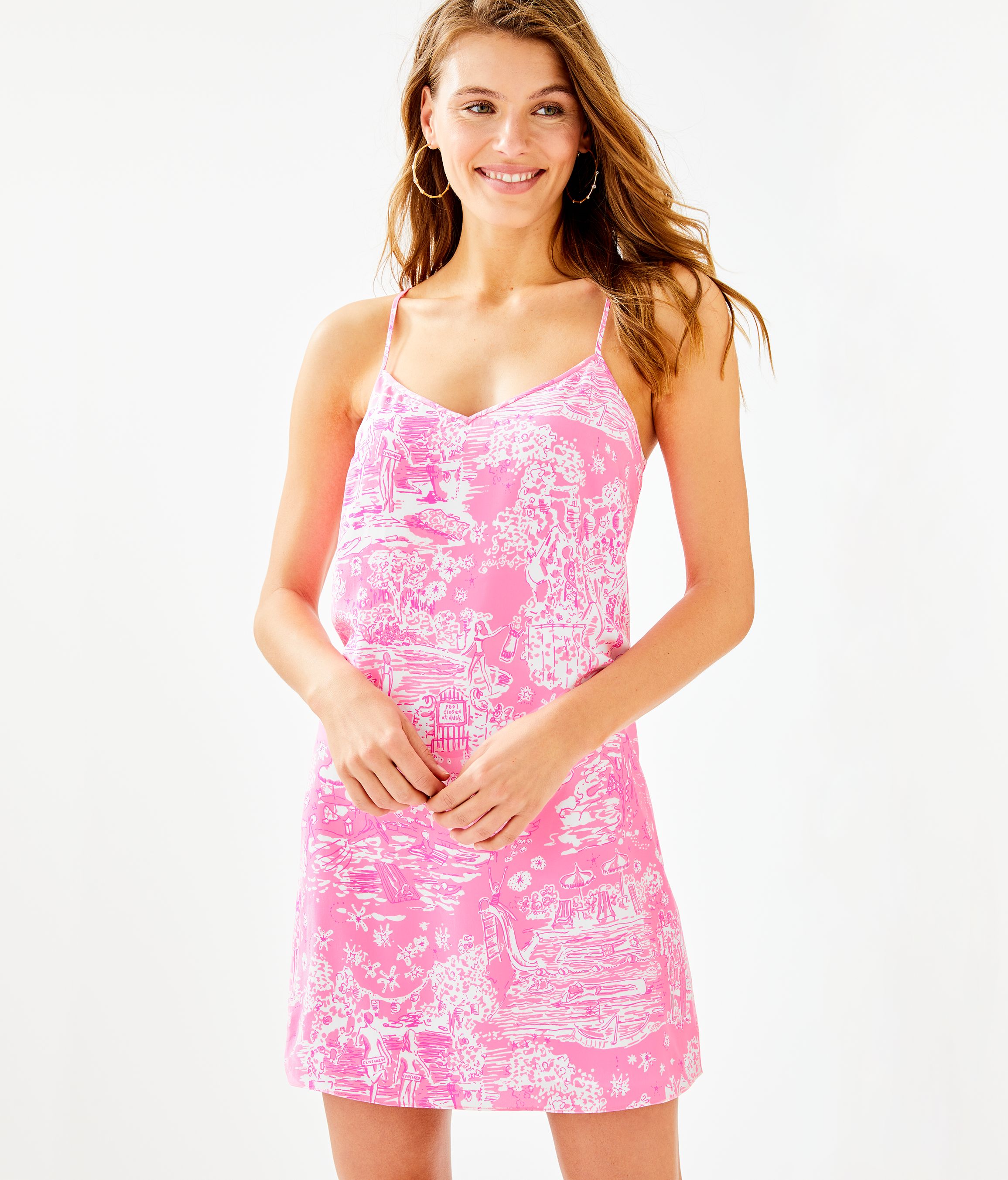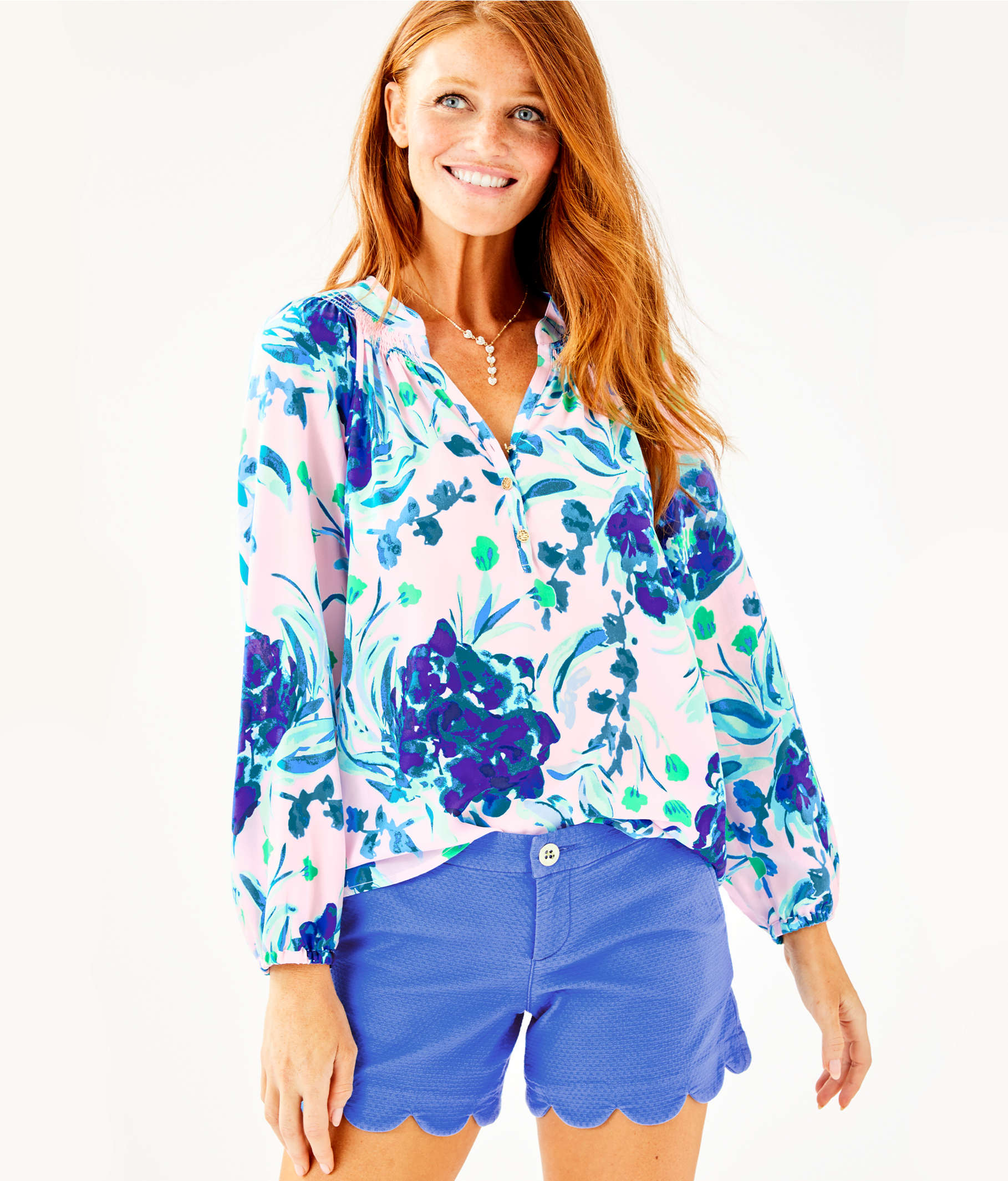 HITTING THE SALE ON TUESDAY // Dusk Strappy Silk Dress (Sale Price: $99, originally $198) | Elsa Silk Top (Sale Price: $69, originally $158)
If you've been following me for a while then you likely know how the After Party Sale works, but all Lilly lovin' newbies listen up! Every year Lilly Pulitzer has two big blowout sales: one in January after the holidays and another at the end of the summer. I personally prefer the end of summer sale because 1) it's still warm outside and 2) the selection always is better (in my opinion!)
The After Party Sale is the only time Lilly Pulitzer ever gets marked down. There isn't even a sale section on LillyPulitzer.com because the discounts at the After Party Sales are that good. At every After Party Sale you'll likely see pieces from all the recent collections of the past year. Expect to find dresses, tops, bottoms, accessories and home goods marked down over 50% off. A $228+ maxi dress would likely be knocked down to under $100 and a top like this would probably be $35 or less.
Online shoppers who hit the site when it begins at 8AM ET will be placed in a virtual line before being granted access to the sale. In the past the wait time for me has varied. There have been sales where I was let in after only 15 minutes and then others where the wait was almost two hours. It can be a little frustrating, but the markdowns are so incredibly good that I think it's absolutely worth putting in the time to shop. Lilly Pulitzer does not come cheap and your wallet will thank you!
I've included some more shopping tips and After Party Sale best practices below. If you have any questions feels free to leave me a comment, shoot me a DM or check out this FAQ page on LillyPulitzer.com. I'll also be blogging about my top picks from the sale first thing Monday morning so don't forget to check back here 🙂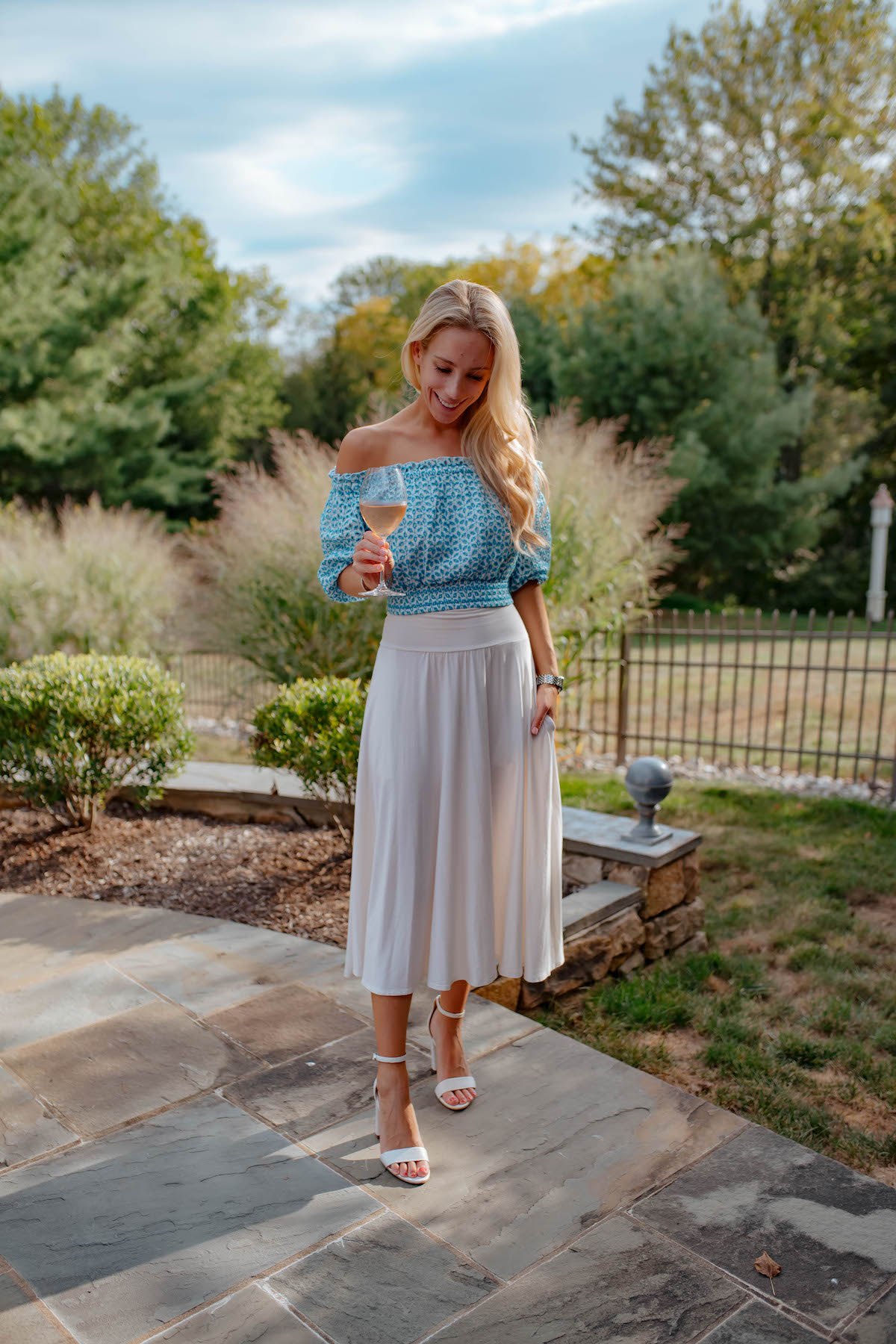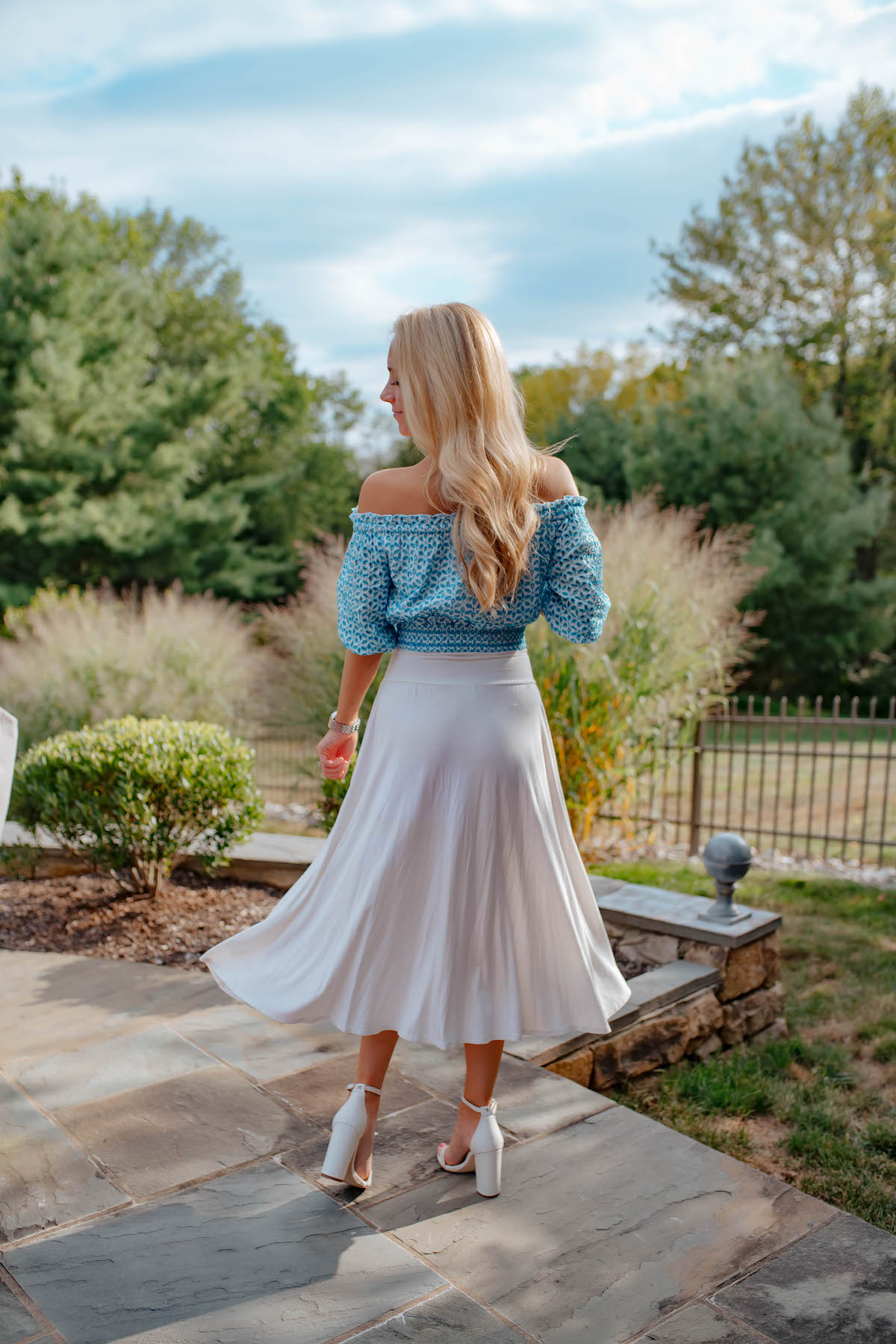 OUTFIT DETAILS // Lilly Pulitzer Off Shoulder Top | Similar Skirt | White Heels
TIPS FOR SHOPPING THE LILLY PULITZER AFTER PARTY SALE
Set up a LillyPulitzer.com account. You'll need an account to shop the sale and you can get a head start by making sure all your shipping and payment information is up-to-date. Also sign in the night before so at 8AM ET all you have to do is refresh your Internet browser to get your place in the virtual line.
Use multiple devices. Just in case the site crashes have your phone or iPad ready as a backup plan.
Set your alarm & clear your morning schedule! Get yours reminders set so you're up and ready at 8AM ET on Monday. No judgements if you need to reschedule a meeting or doctor appointment. If God forbid there's something you can't get out of, recruit a friend or family member to place an order on your behalf. If you know someone else planning to shop the sale, it could be smart to link up together in case one of you gets access to the site earlier than the other. #TEAMWORK
Know your sizing. Since I wear Lilly so much I never worry about sizing when I order online. But personally the brand does run big on me! I'm typically a XS in tops and a size 2 in pants/dresses, but with Lilly I always go for a 0 or XXS. If you're unsure you can review the size chart here!
Shop smart and fast. Everything is fair game until you've finished checkout so shop smart. Even if you've added something to your cart, it doesn't mean it's yours. I'd encourage you to write a list of what items you're interested in and your sizing so you are prepared to click fast!
Don't buy just to buy. Think about what your closet was lacking this summer or if you need to replace something. Need a little white dress? Has your pool tote seen better days? Remember everything is final sale so returns aren't an option.
Set a budget. I know it's tough not to go crazy when these sales happen. You just have to remember it's only clothes and not even Lilly Pulitzer is worth a cringeworthy credit card bill.
Understand the ordering process. Keep in mind that Lilly only has this sale twice a year and there are A LOT of Lilly Lovers just as excited as you about shopping. Everyone receives free standard shipping when they place their After Party Sale order so be prepared to wait two weeks or more for your goodies. Lilly Pulitzer isn't a big box retailer like Nordstrom– cut the warehouse team some slack as I'm sure they will be working night and day putting together everyone's orders.
- Katie