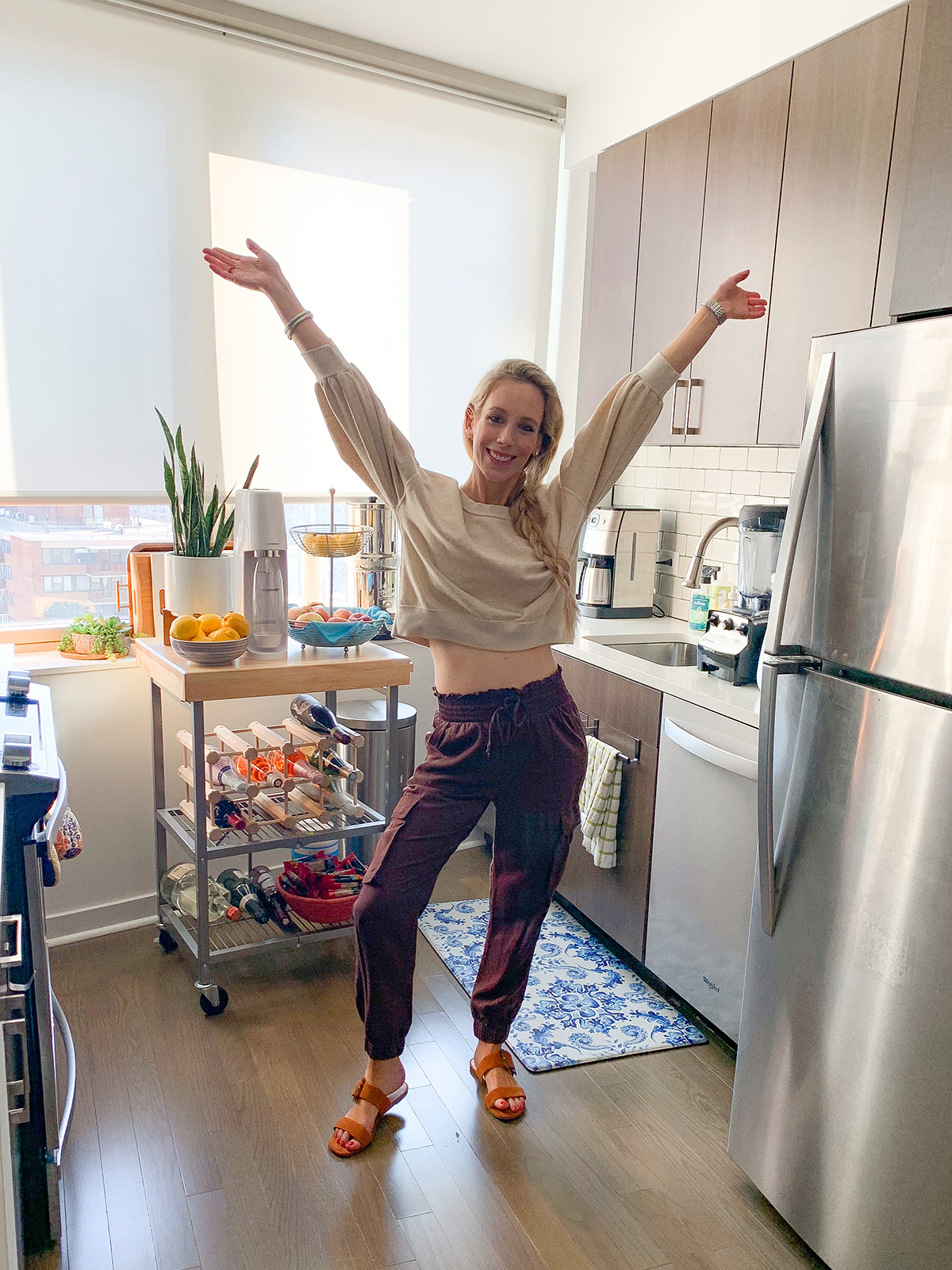 OUTFIT DETAILS // Balloon Sleeve Sweatshirt | Cargo Joggers | Buckle Sandals | Watch | David Yurman Bracelets 
Cooking has been a BIG stress reliever for me the last few weeks. While I previously only had time to make one full-fledged recipe per day (usually dinner) lately I've been opting for multi-step recipes at lunch too. All the extra hours in the kitchen have honestly been a very welcome distraction and great way to shift my focus to something else other than the news. Hope y'all are hanging in there!
Since I've been spending so much time in my kitchen lately I thought it would be fitting to share some of my essential appliances and tools.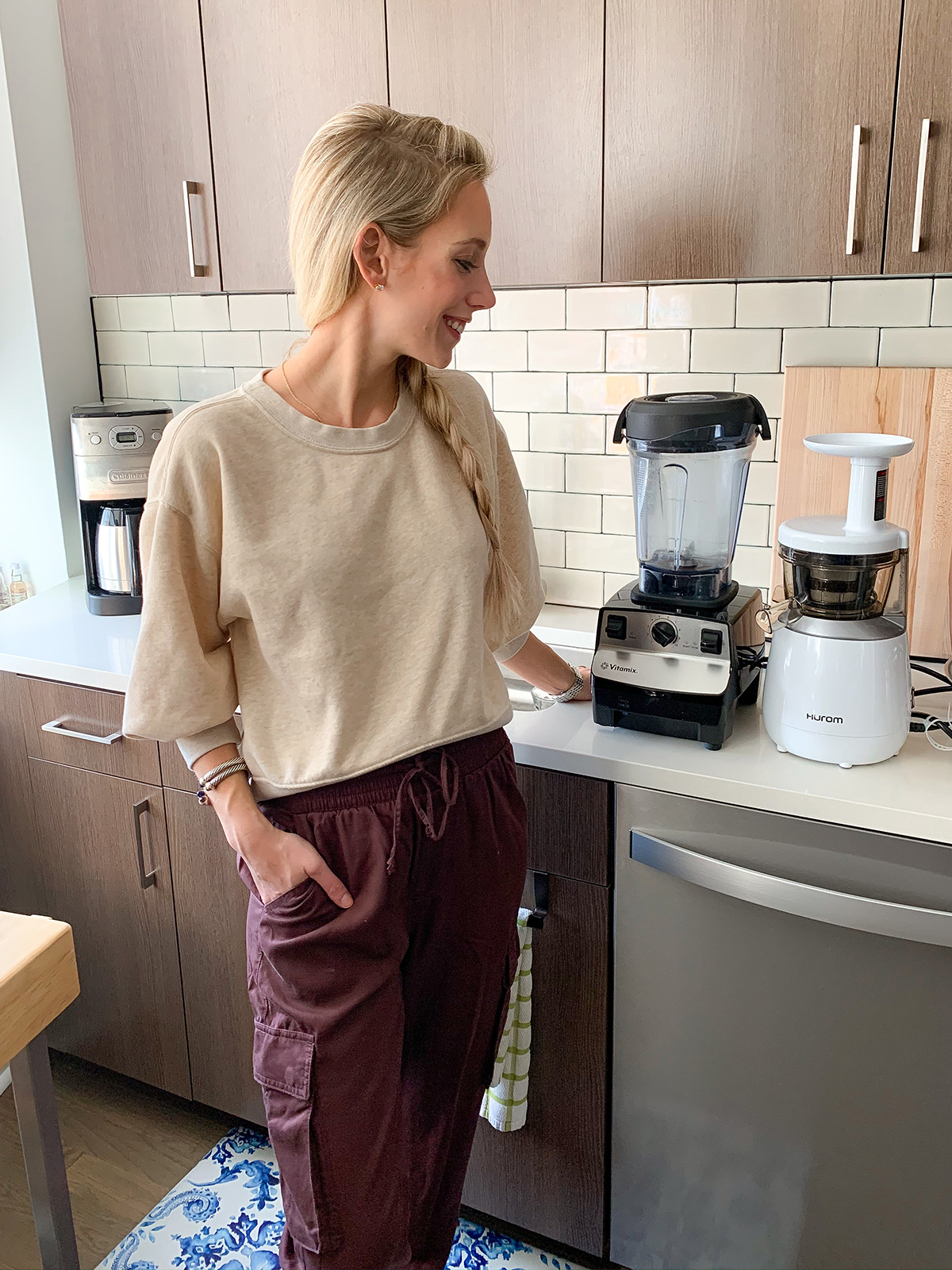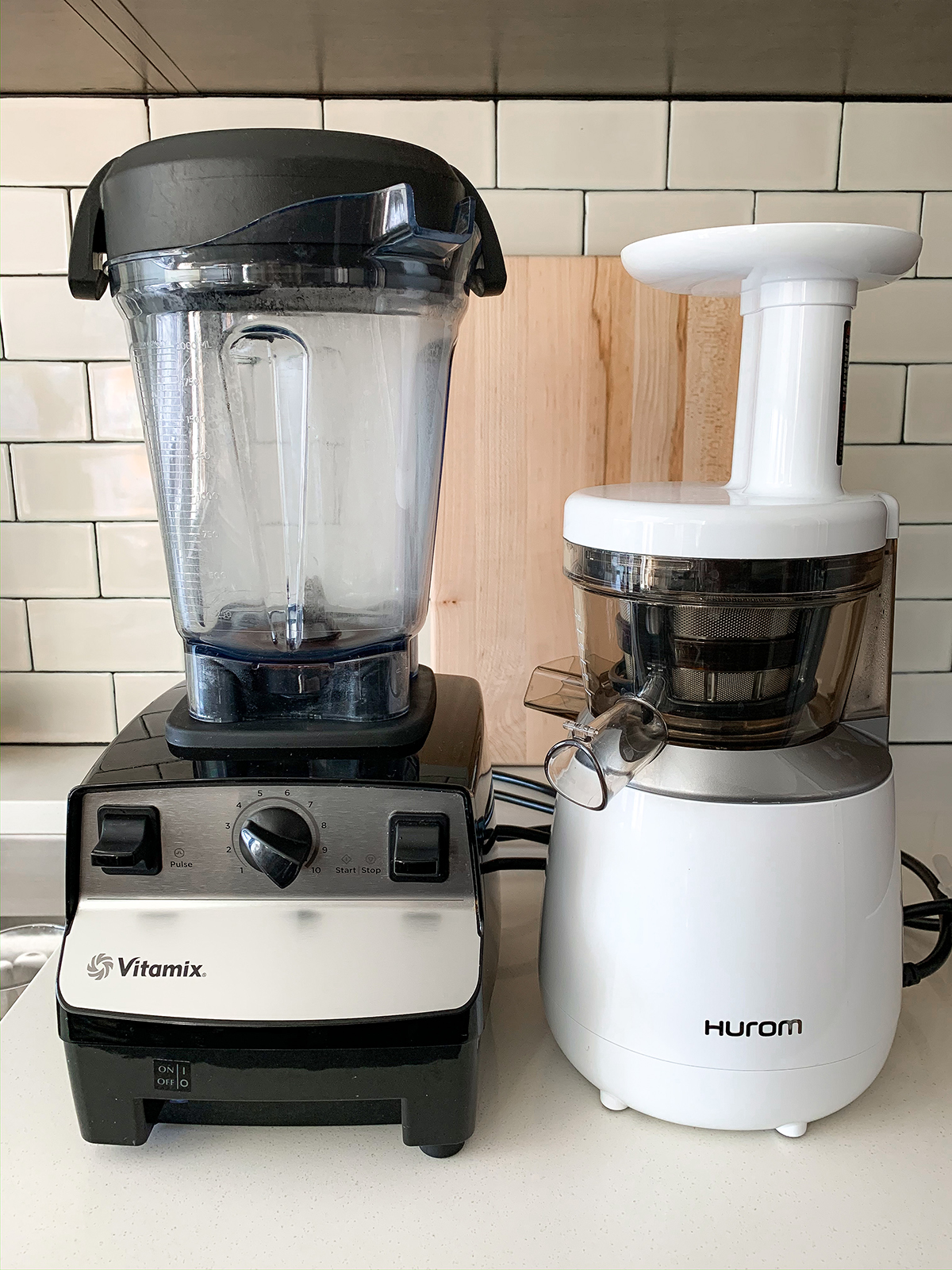 Vitamix 7500 Blender | Hurom HP Slow Juicer
Those who keep up with me on my Instagram story are already aware of how much I love and use my juicer and blender! The juicer was a Christmas gift to myself and since purchasing it I've used it nearly every single day. Making a green juice every morning has become part of my daily routine and I can't recommend this juicer enough. It's small, takes up minimal counter space and is easy to clean. I actually showed how I wash all the pieces on my story last week! Just check my saved juicing highlights.
I've had my Vitamix blender for nearly four years and it's still going strong. It's the best you can get because it's so powerful and will blend just about anything into a smooth liquid. I use at least 3-4x a week for making fruit smoothies! You can also use a Vitamix for making soups, nut milks, food processing, doughs and more!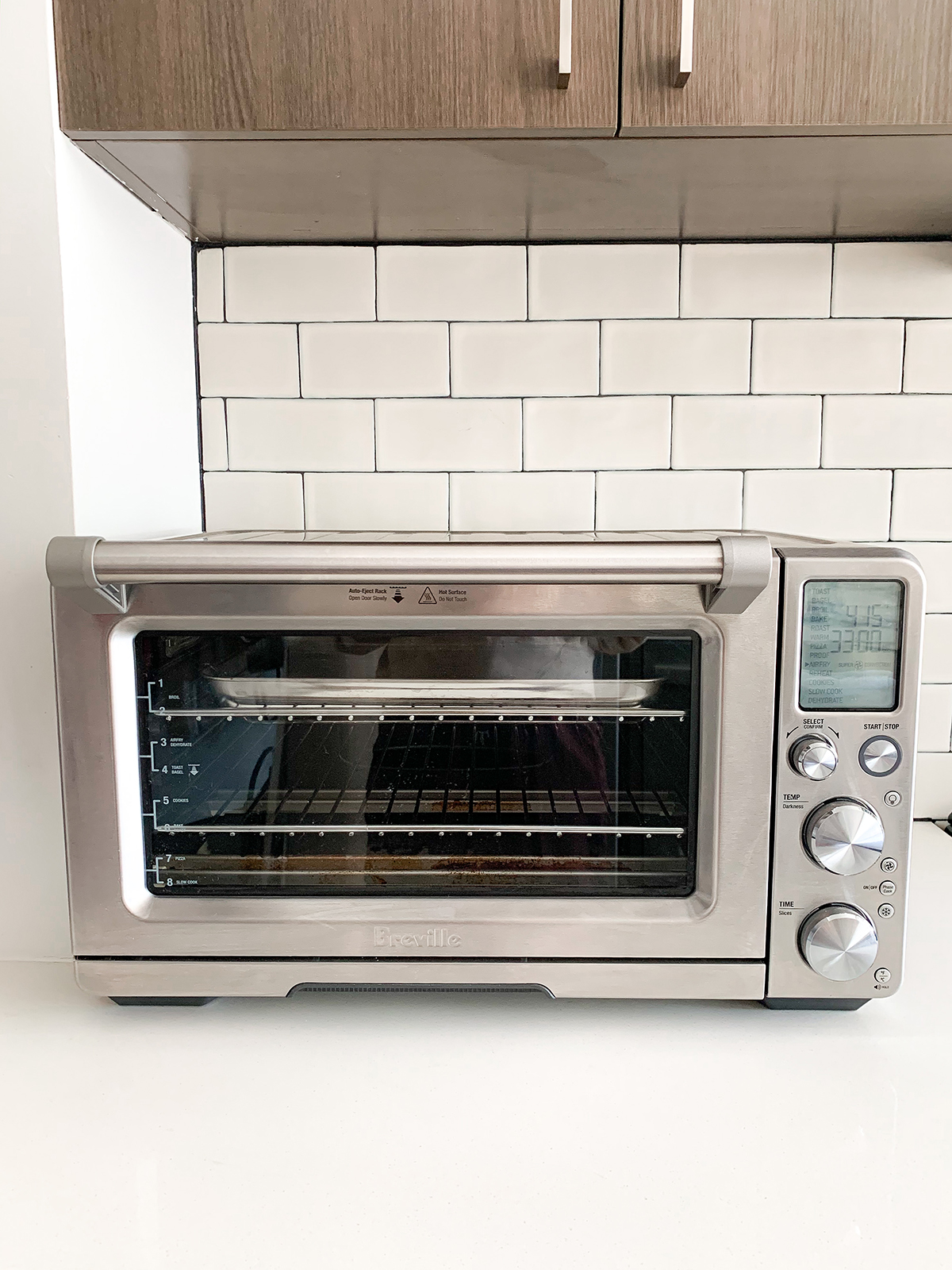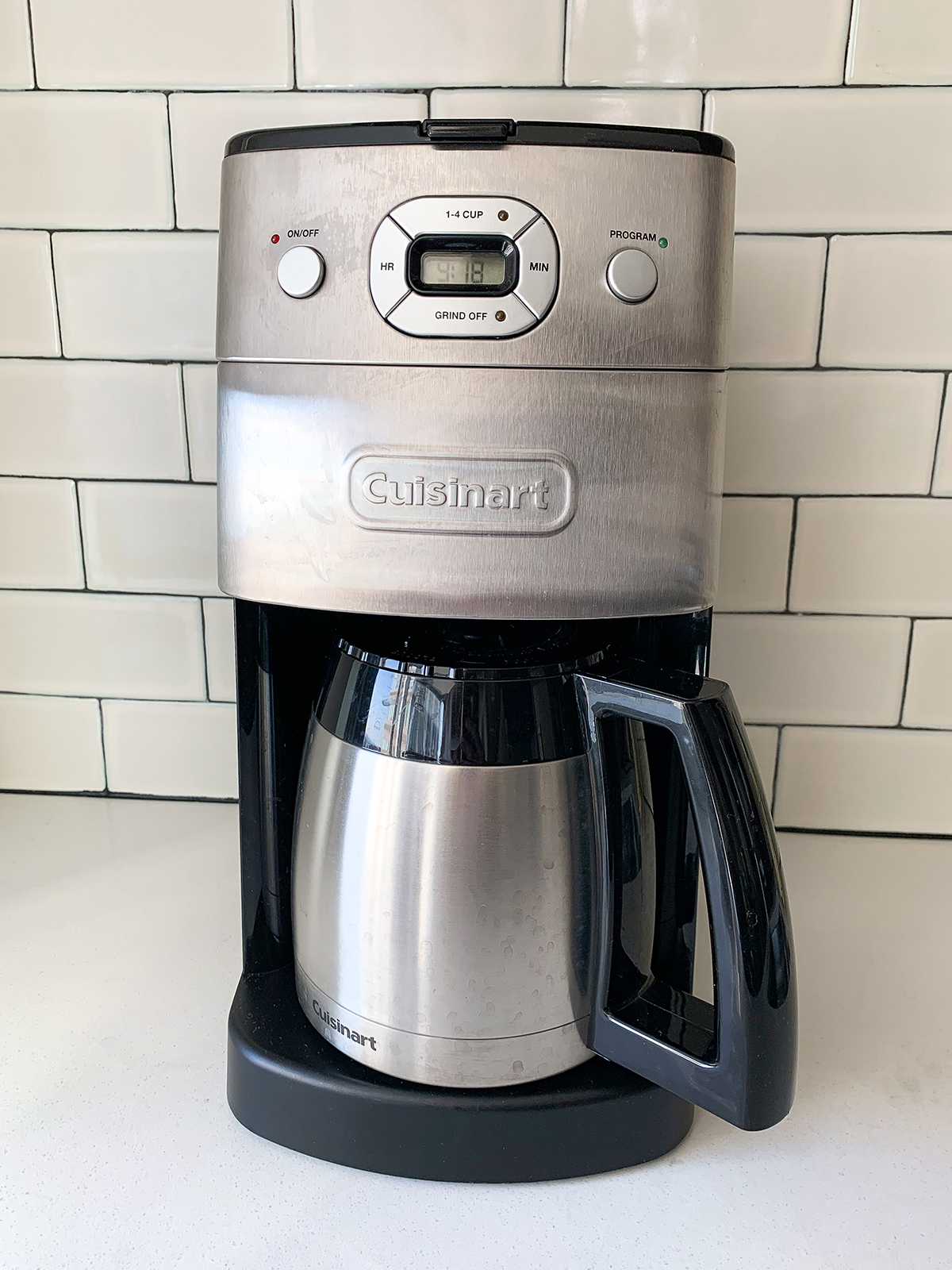 Breville Air Convection Toaster Oven (now 20% off) | Cuisinart Grind Brew Auto Coffee Maker
My two other most-used appliances are my toaster oven and coffee maker. Now that Nick is working from home, I make coffee for us both every morning. We both prefer regular brewed coffee over any fancy pod-style coffee and this pot gets the job done. It can brew up to 12 cups and even grind whole beans!
We've only owned a toaster oven for a few months and I'm honestly not sure how we went so long without one. I literally never use our large oven now! This one can do it all— bake, broil, air fry, toast, reheat, warm and roast. I use it at least twice a day!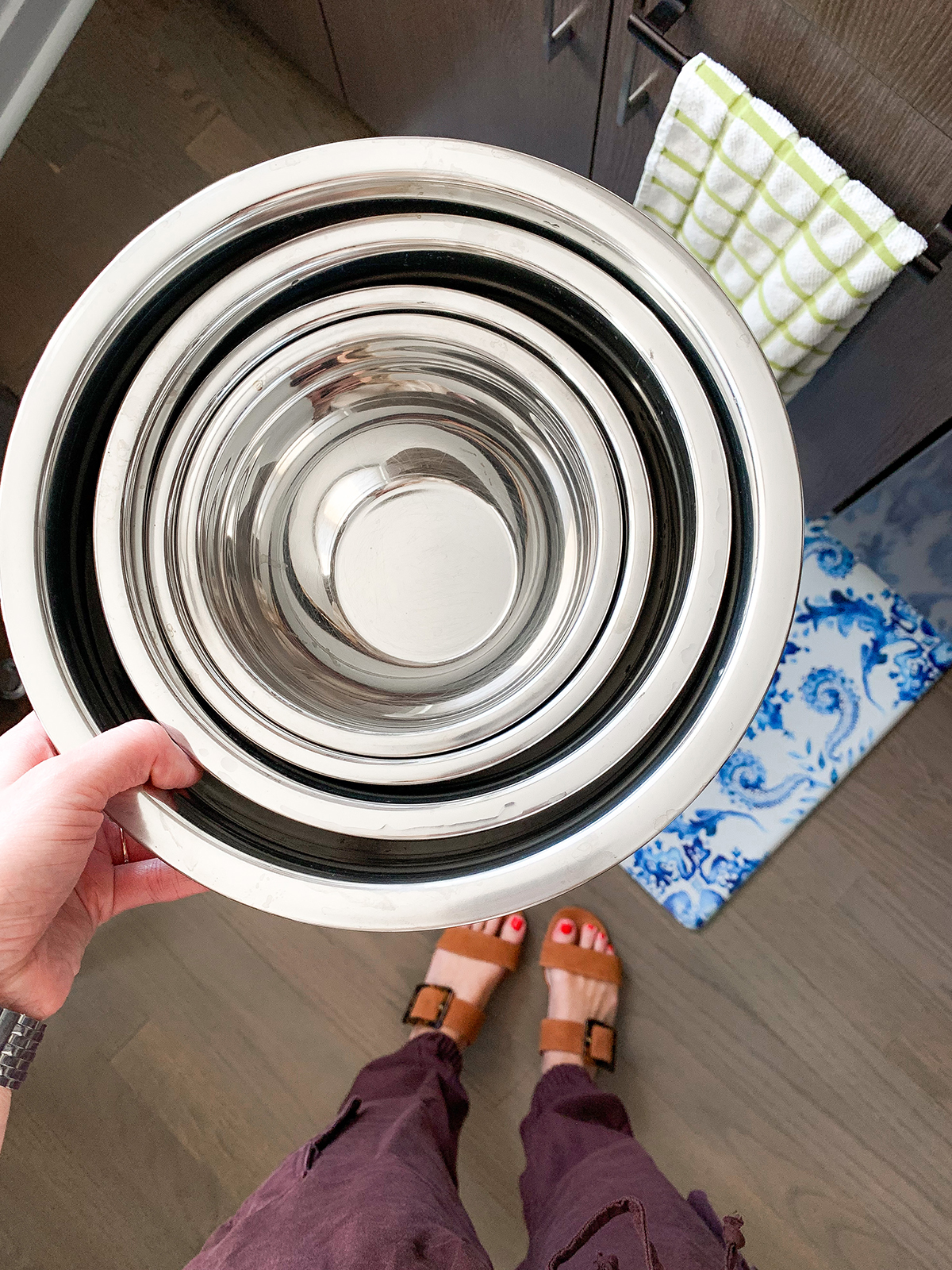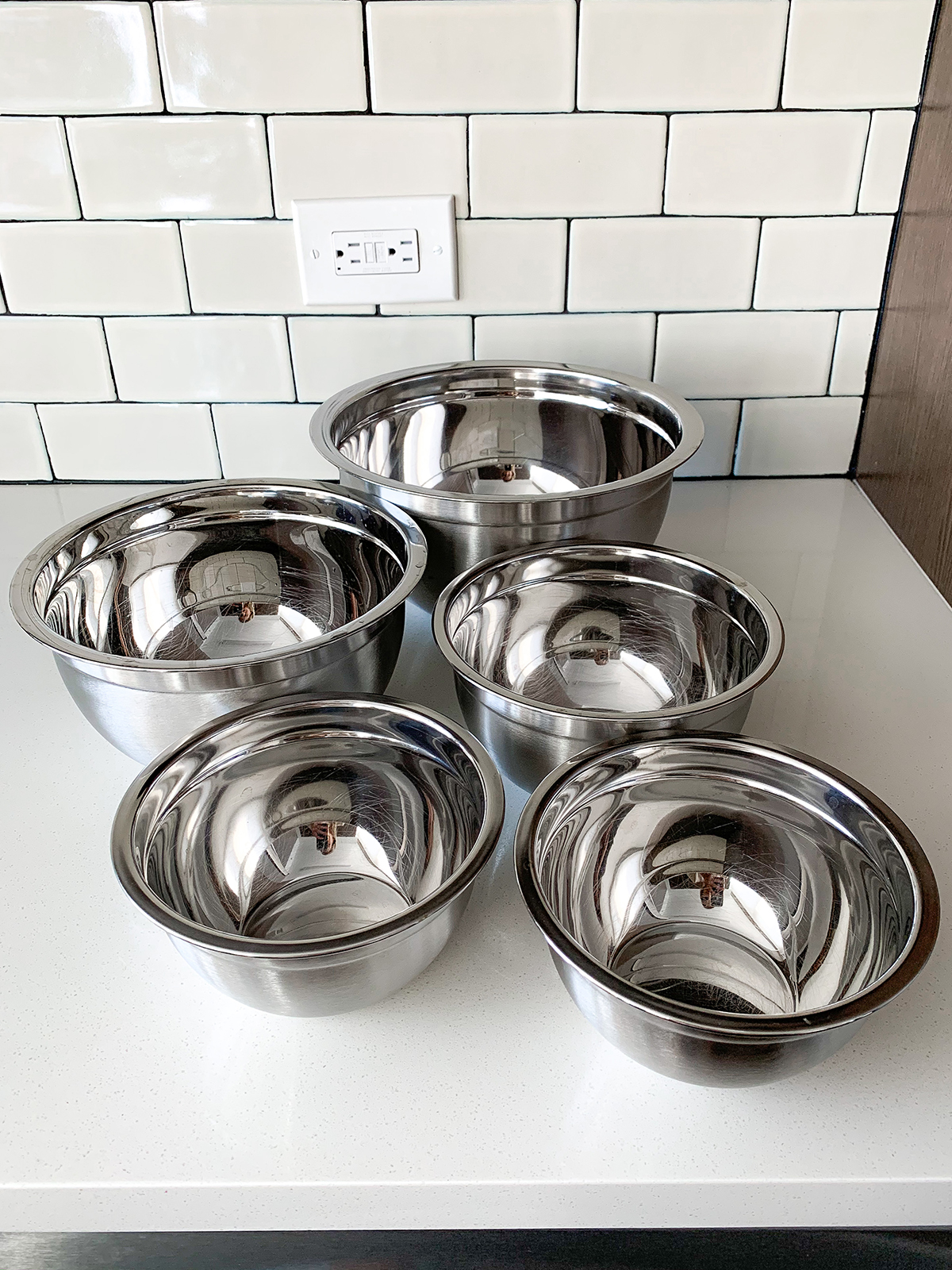 5-Piece Stainless Steel Mixing Bowl Set
I use this stainless steel mixing bowl set multiple times a week for a variety of purposes. Mostly for tossing salads, but also for mixing ingredients in any recipe. I love the size variety– the big bowls are great for when I'm making a meal for Nick and myself. The small ones I use for whipping together a dressing or when I'm making something small just for me. Each bowl comes with an airtight lid as well!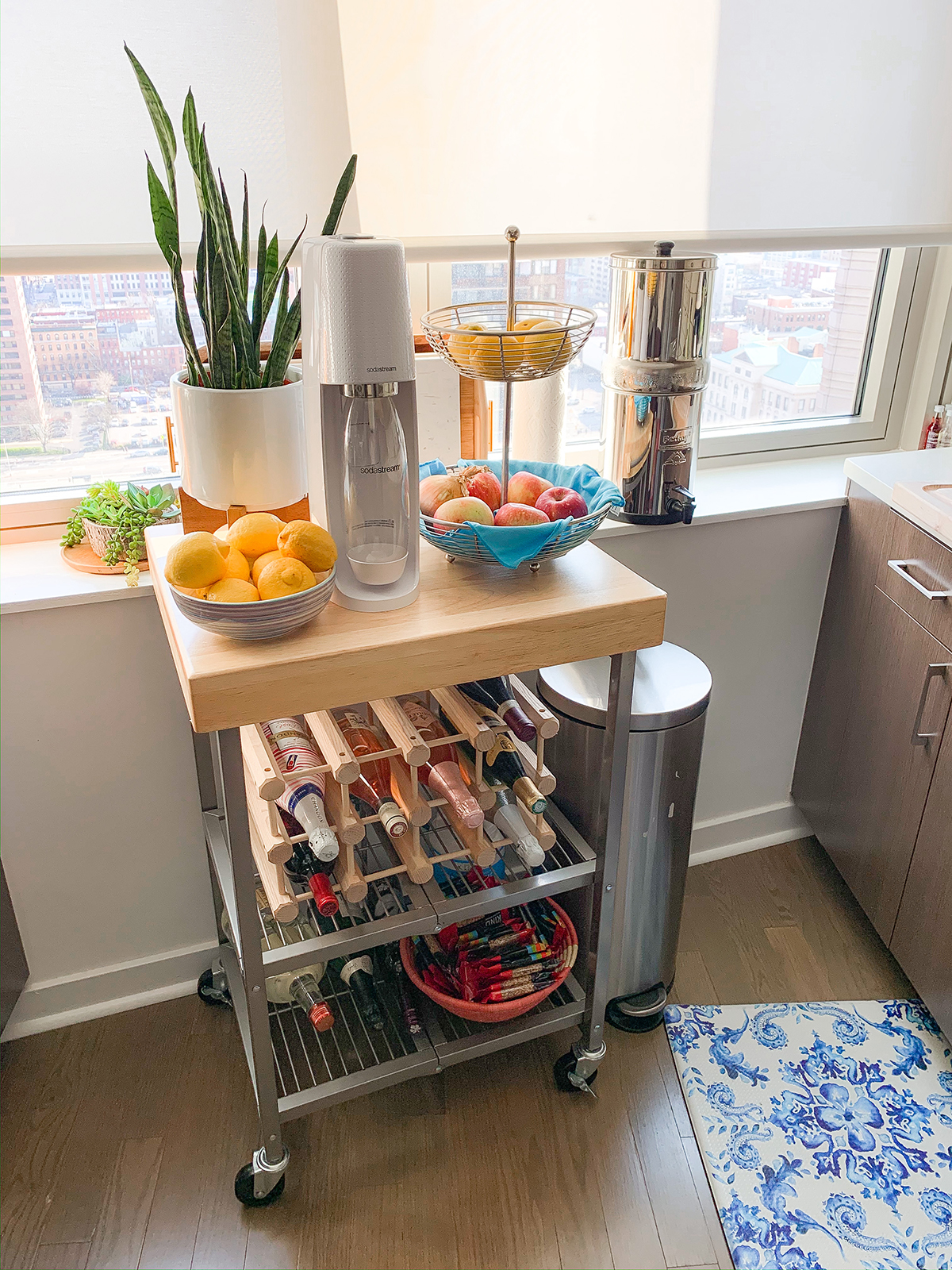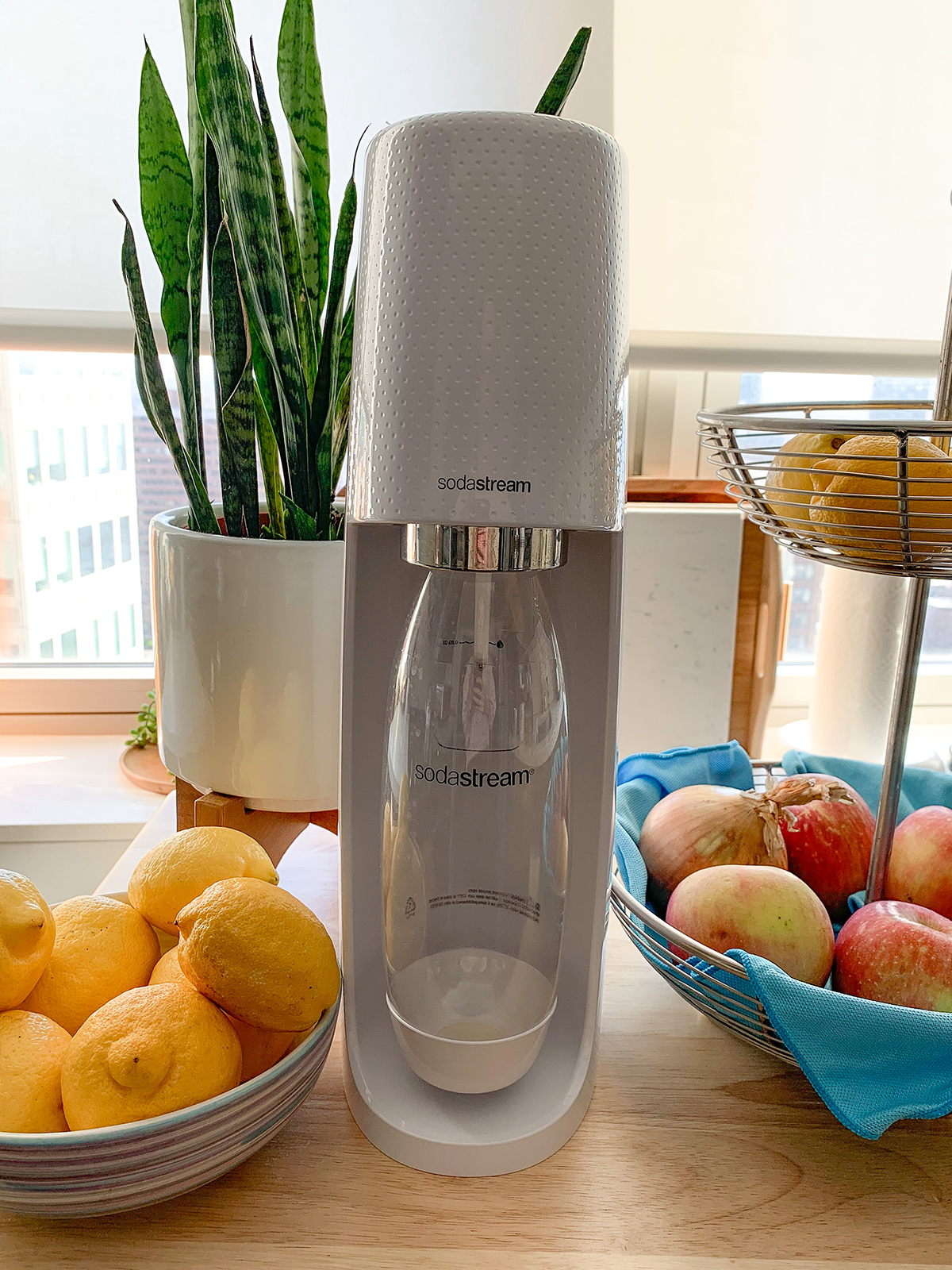 Sodastream Sparkling Water Maker | Rolling Kitchen Cart (now 20% off) | Ceramic Planter + Snake Plant | Similar Wire Fruit Bowl | Hardwood Wine Rack | Kitchen Mat | Metal Trash Can
I can't get enough of my Sodastream! This is another tool that I wish I would've purchased sooner. I LIVE on sparkling water and don't even want to think about how much I've spent buying cans and bottles over the years. If you love sparkling drinks like me you need one of these in your life. It's so easy to use, takes up hardly any counter space and doesn't even need to be plugged in! You can also add flavor to your water using any type of fresh juice or with these Sodastream fruit drops.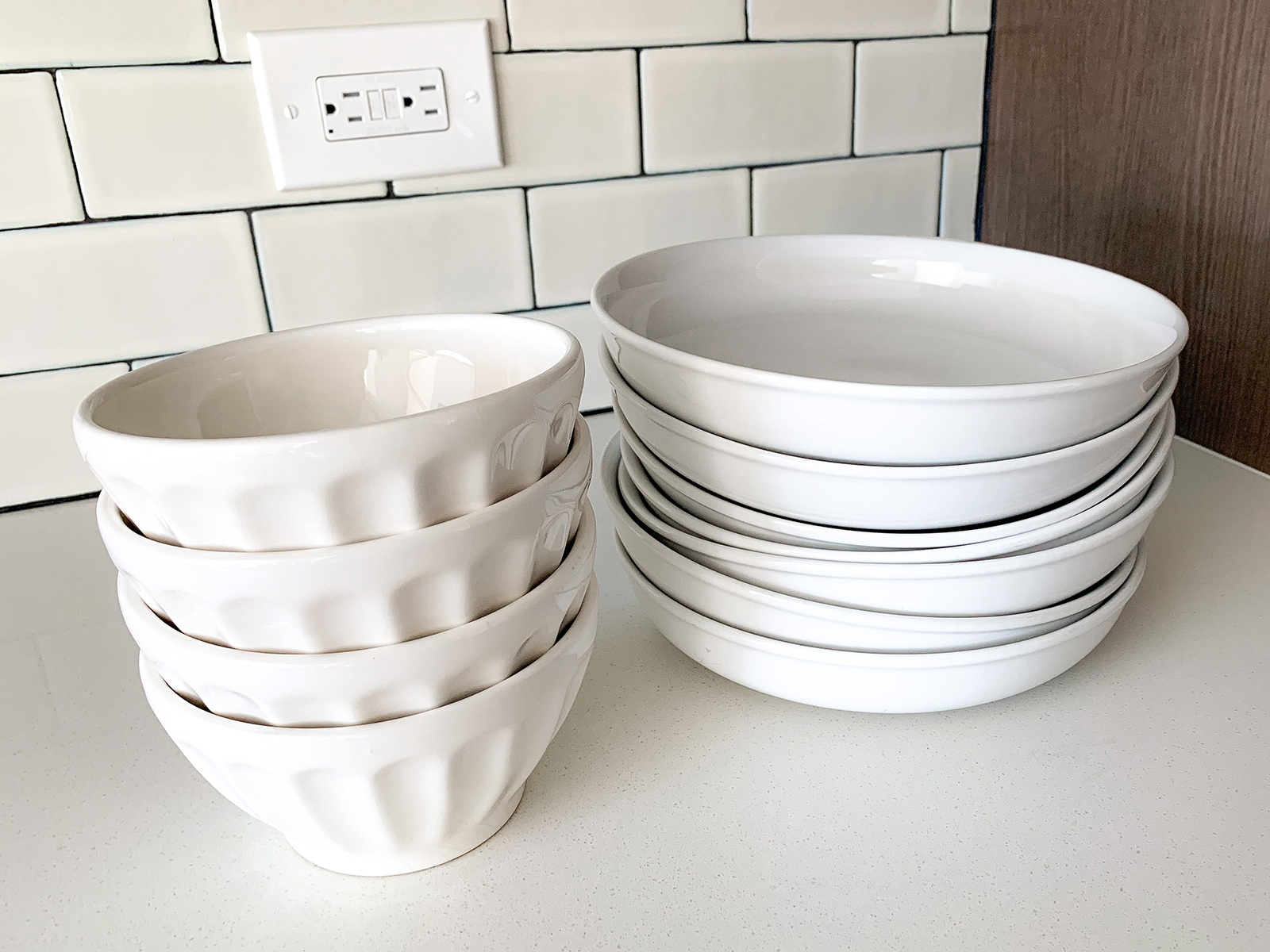 Ceramic Latte Bowl Set | Ceramic Pasta Bowl Set (now 20% off!)
Anyone else use bowls way more often than dishes? Ever since I got a set of these wide shallow rim pasta bowls, I've hardly served a meal on a flat plate. These are the perfect in-between of a dish and bowl because there's enough flat space for a main and two sides, plus all your food stays in your dish (perfect for messy eaters!) For cereal, soups and anything dish that's meant to be served in a traditional bowl, I loooove these ceramic latte bowls! They come in so many fun colors!
- Katie