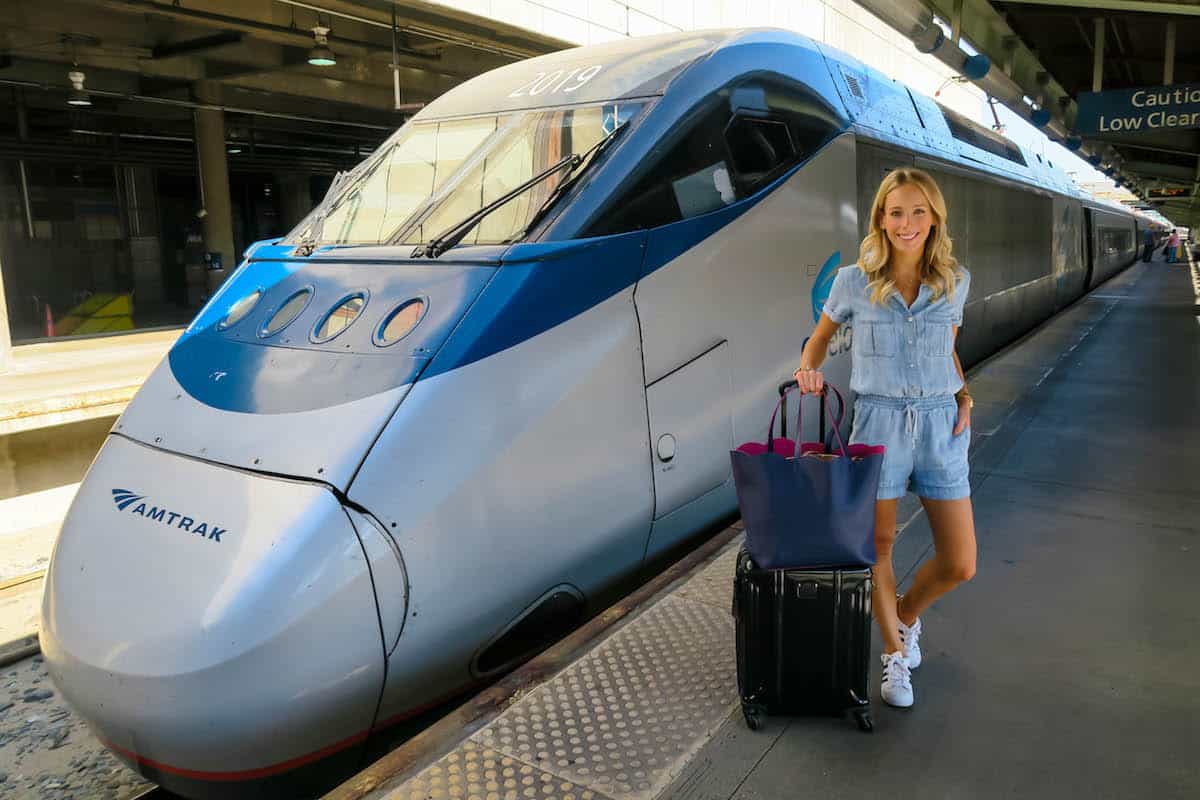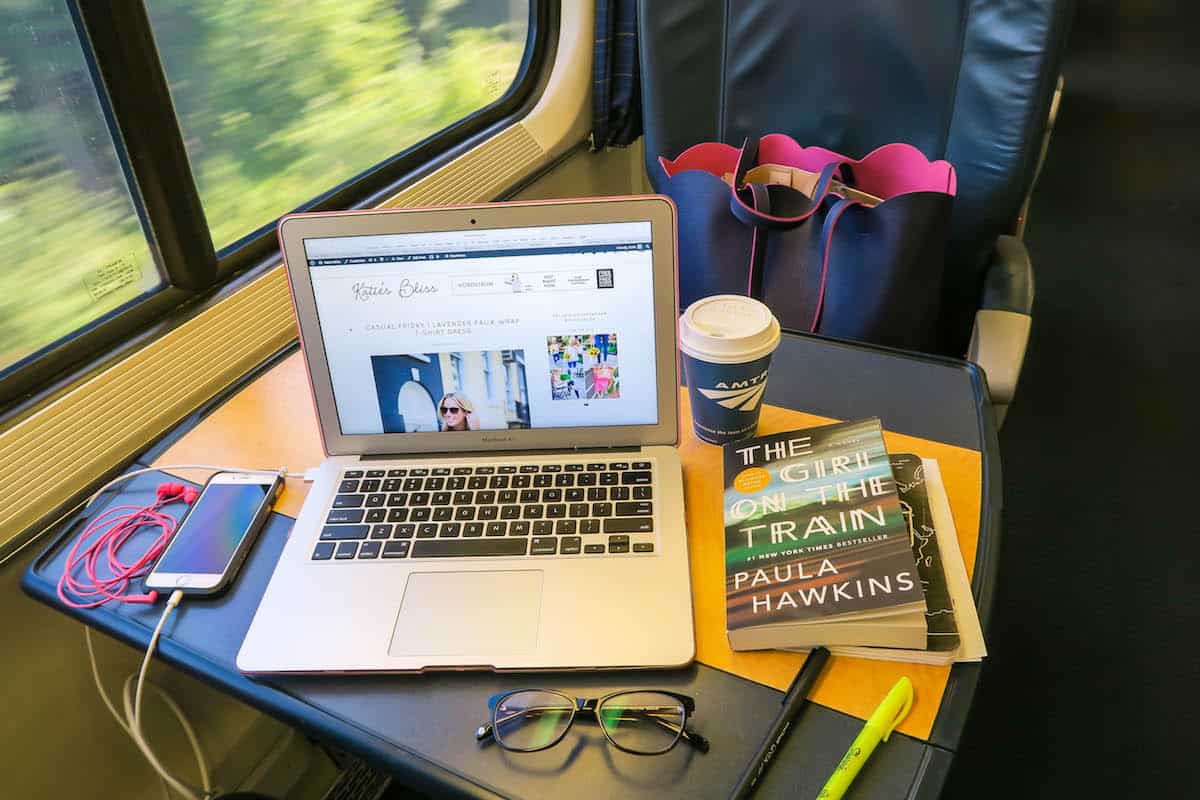 Living in a big city I rely heavily on public transportation — especially when it comes to overnight trips. Anytime I travel I always like to weigh my options to find the quickest and most cost-effective mode of transportation, whether it be flying, taking the train, riding the bus or renting a car.
Remember that weekend I went to Virginia for my bff's bachelorette party? Well I actually got there by taking the train! Cool, right? Keep on reading to hear a little more about my first experience traveling on Amtrak's high-speed rail service! 
Shop My Travel Style!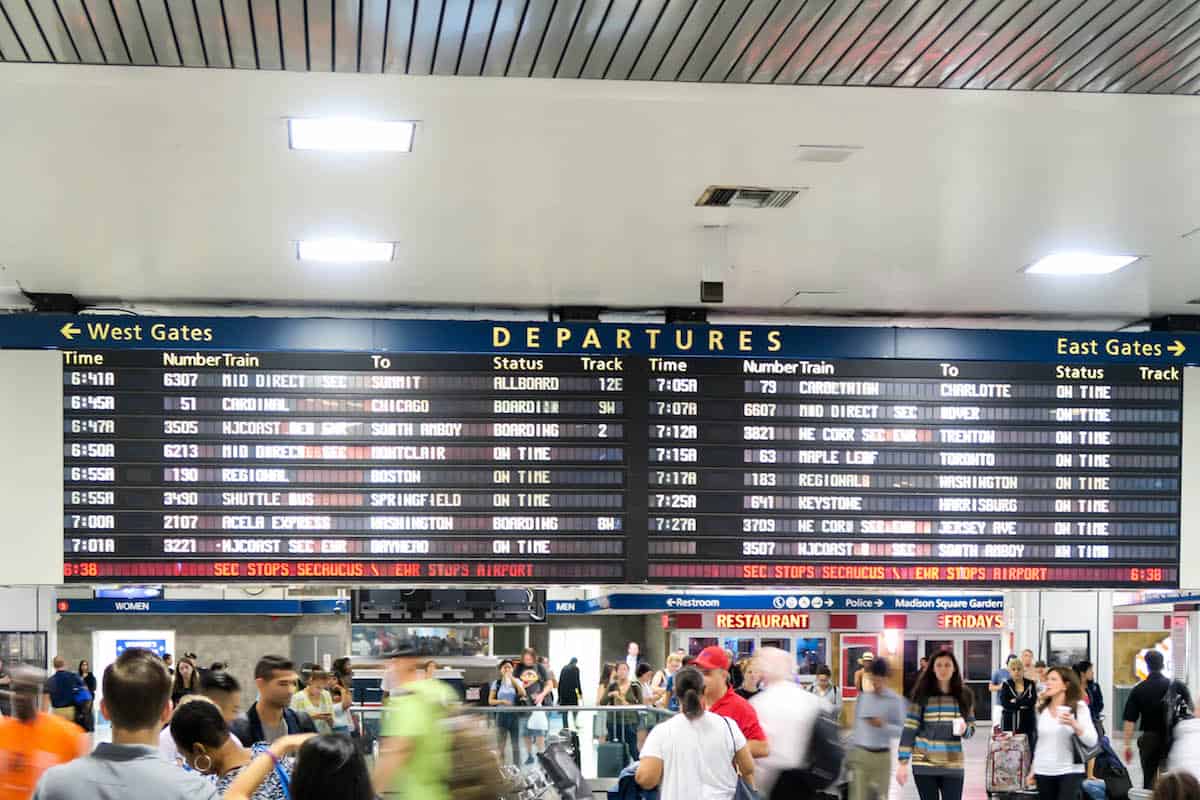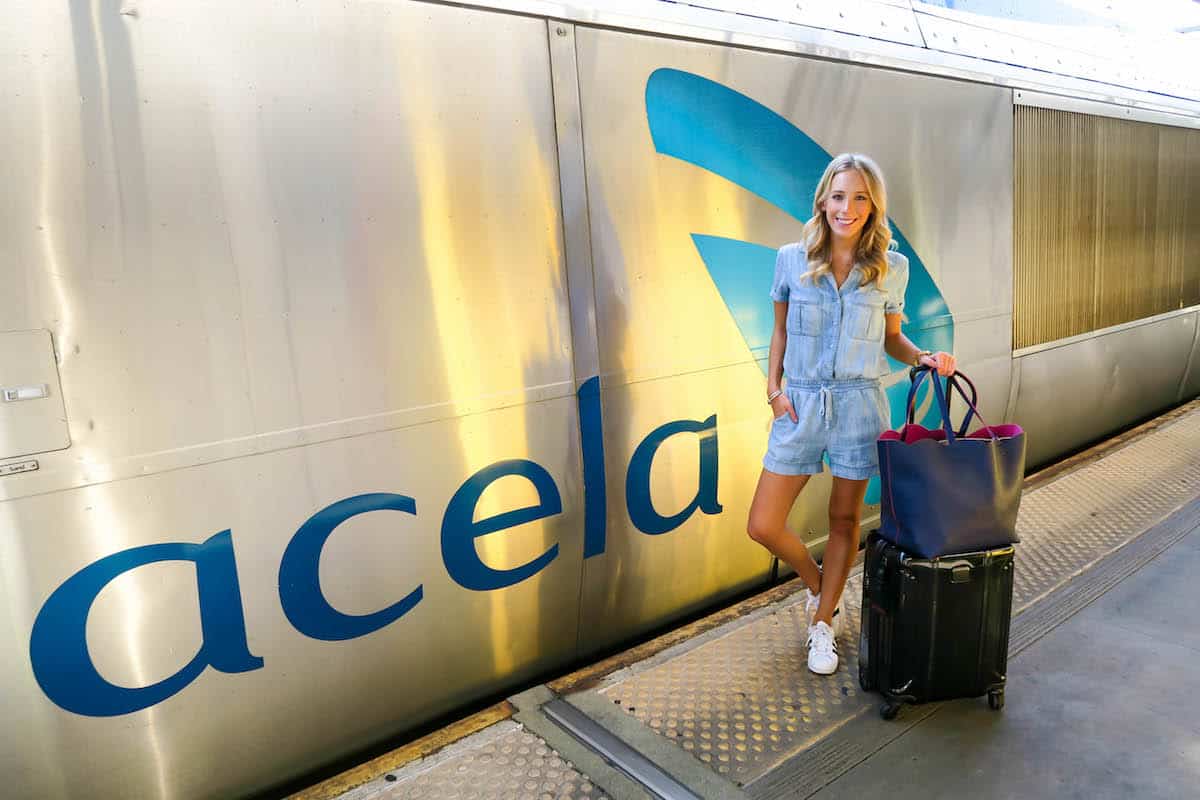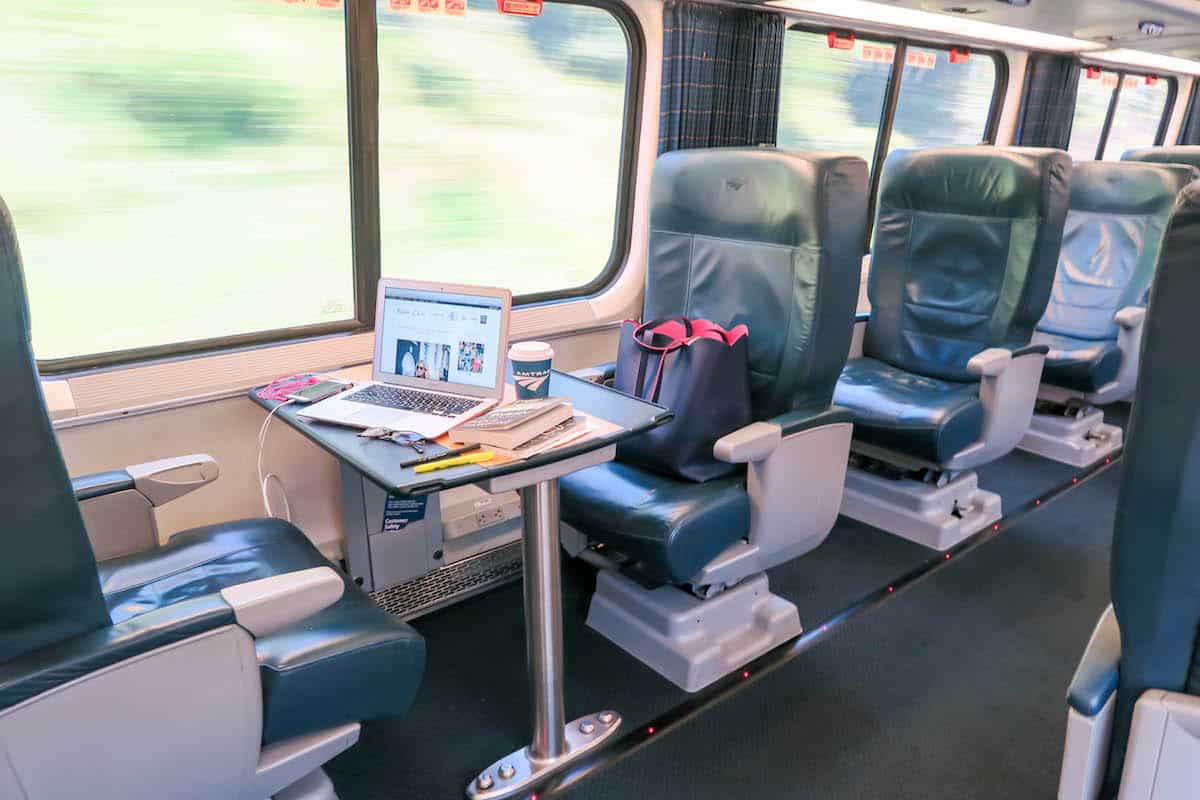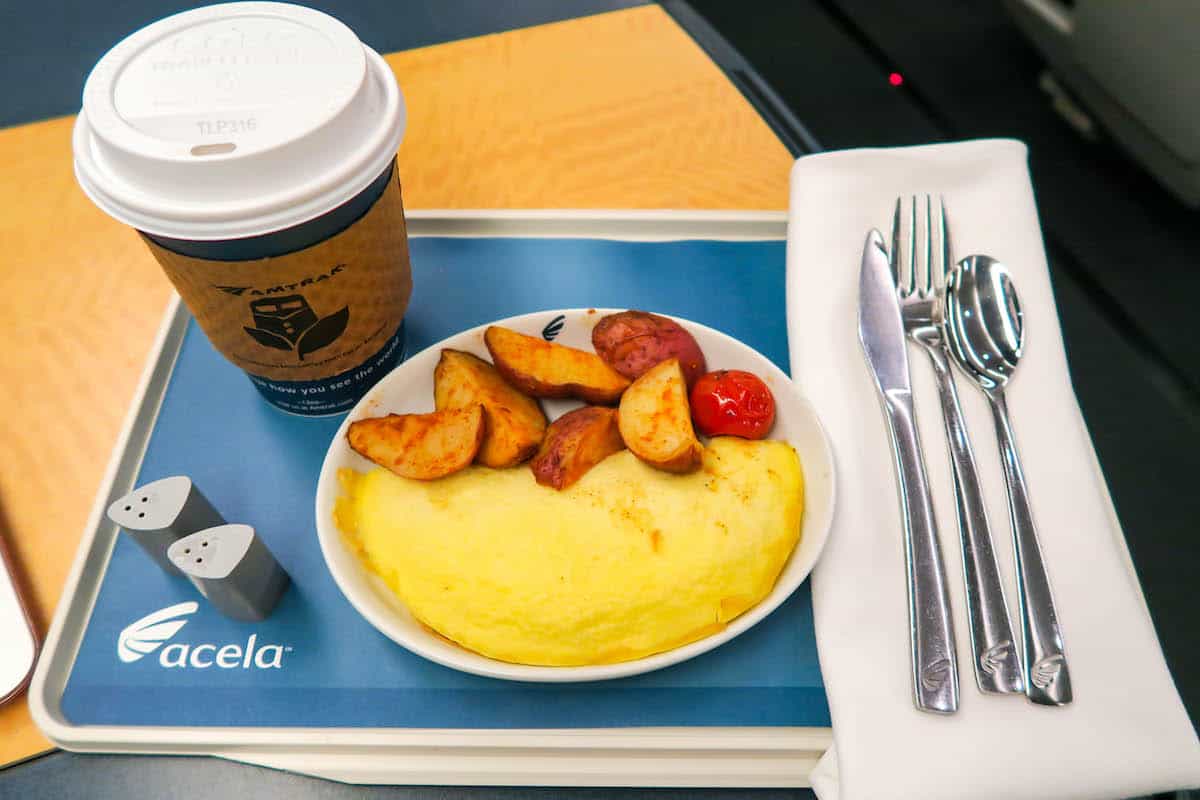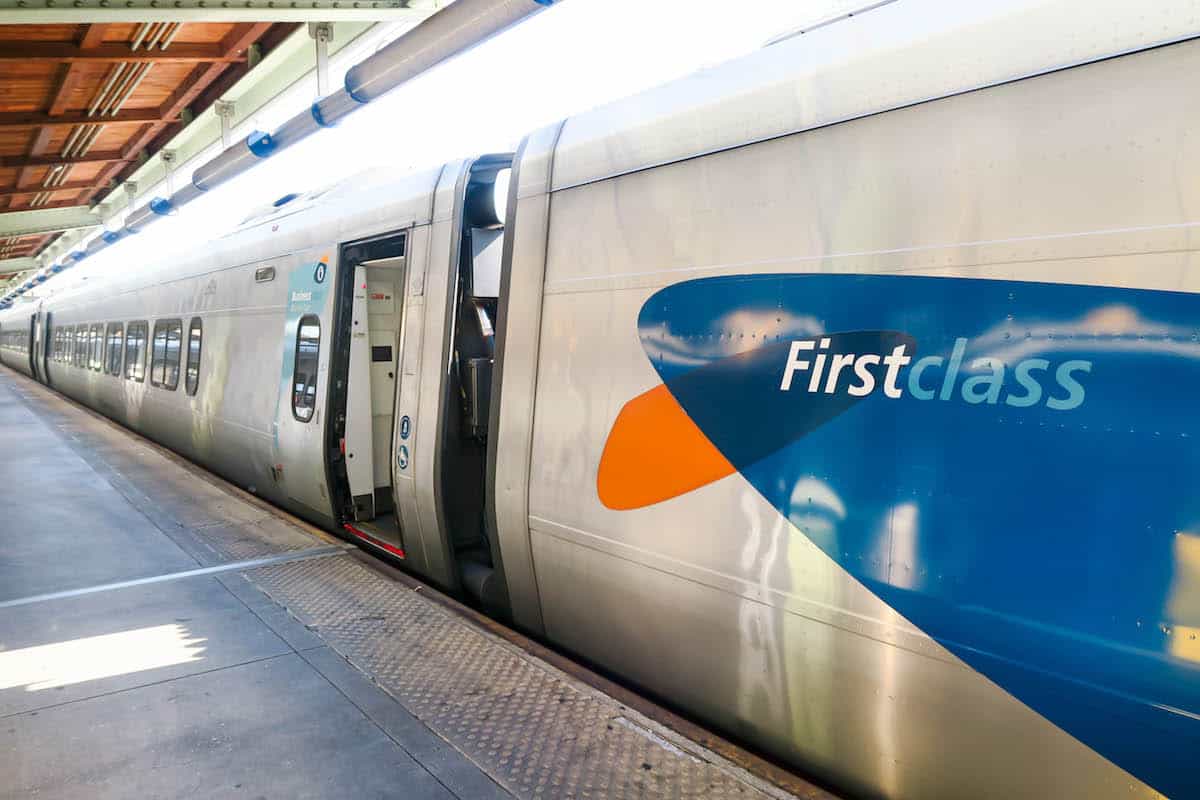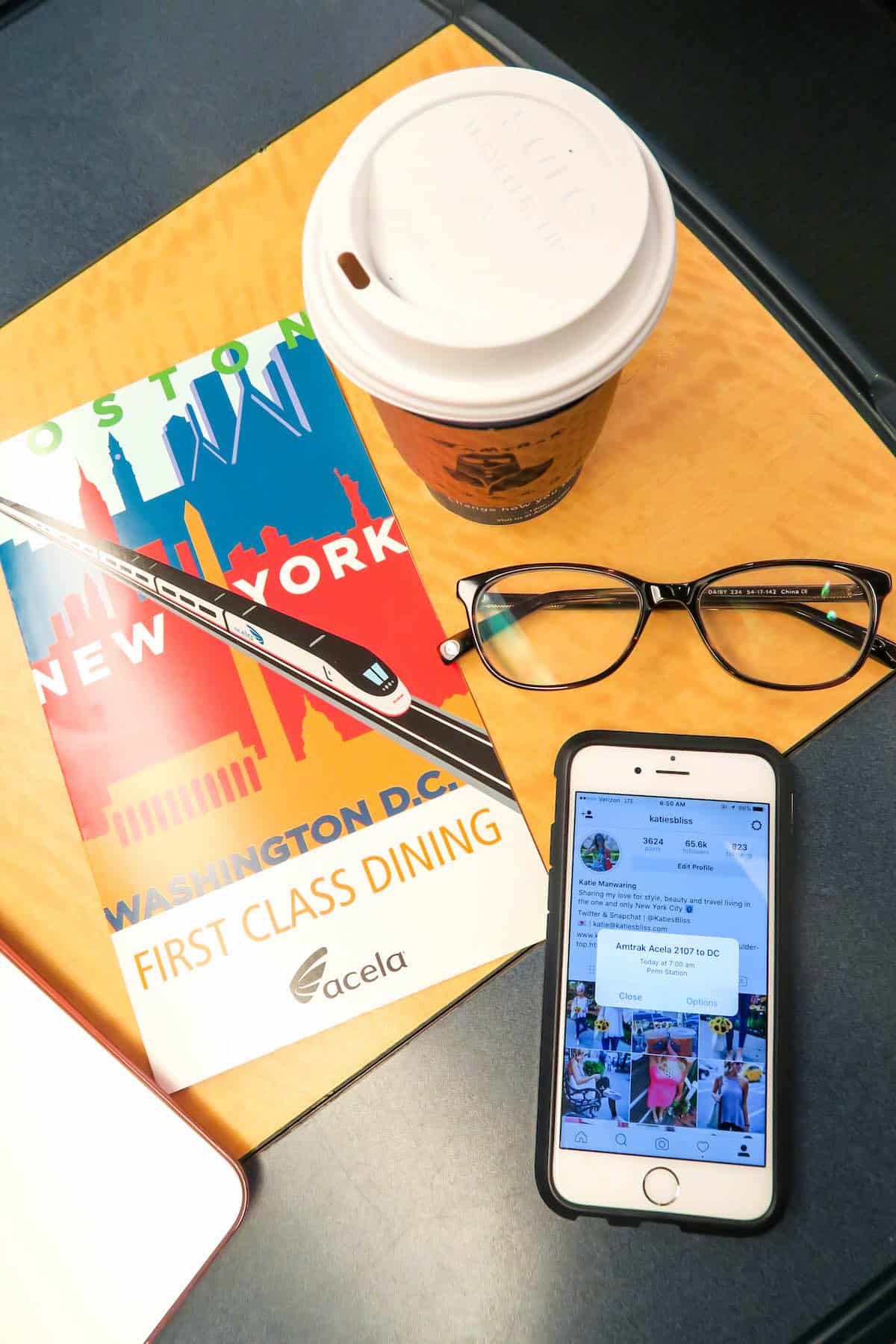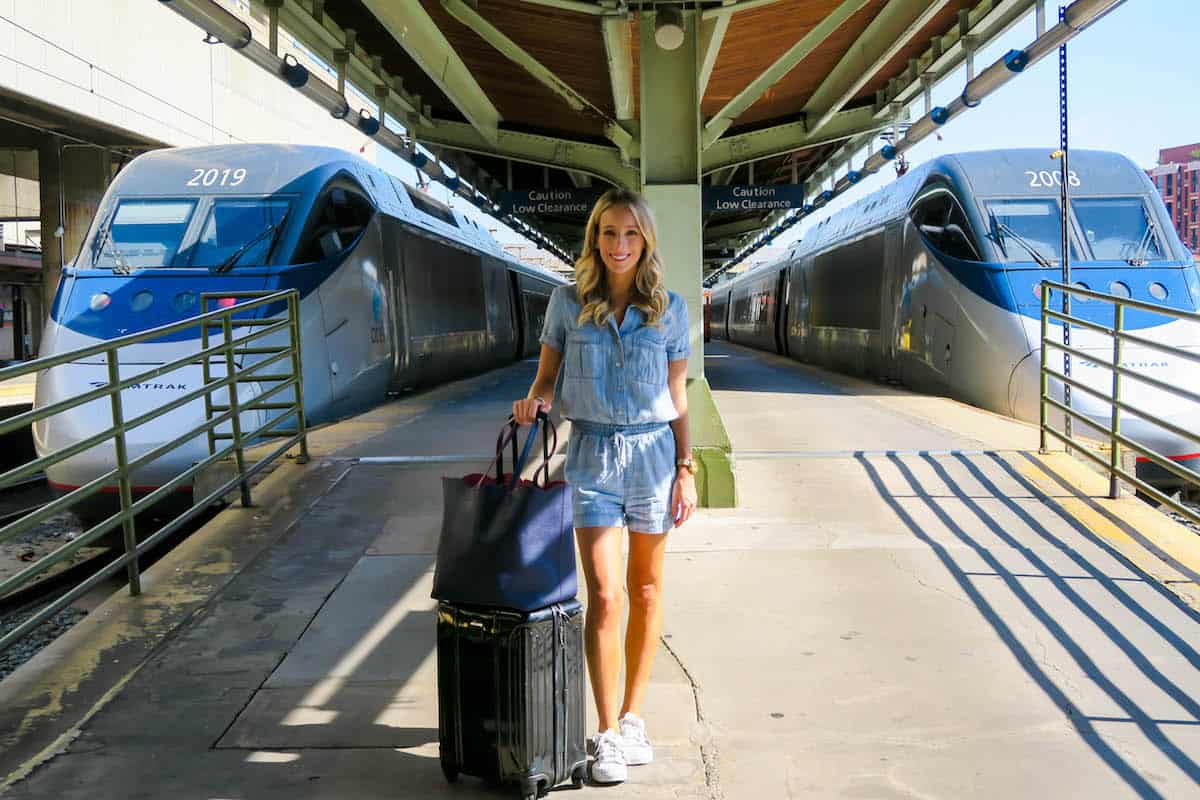 I Was Wearing…
Similar Chambray Romper | Sneakers | Similar Navy Tote | Rolling Carry-On Luggage
Shop My Travel Style!


To get to Charlottesville I had to take two trains: the Acela Express to Washington D.C. and then the Cardinal to Charlottesville. I departed from Penn Station (Amtrak's hub in New York City) and quickly was able to board the Acela upon entering the terminal. Amtrak was kind enough to offer me a first class ticket and all I can say is wow! Immediately upon entering I was greeted by attentive cabin attendants who helped me get settled, store my luggage and place a food/beverage order. I was pleasantly surprised when I learned that drinks and meals were included in my ticket, so right away I ordered a sundried tomato omelette and a mimosa. I wasn't sure what to expect, but both were pretty good!
The trip to D.C. went so quickly thanks to the complimentary wifi and spacious cabin. I was able to get out my laptop and work while I ate my breakfast. The length of the trip was about two hours. So fast.
When I arrived in D.C. I transferred to the Cardinal that makes regional stops in northeast including New York, D.C., Charlottesville, Cincinnati, Indianapolis and Chicago. I could've taken this train direct from New York, but since the Acela is so fast it made more sense to break up my travel into two legs. On the Cardinal I sat in the business class cabin where I had a large reclining leather seat, footrest, fold out tray and access to complimentary drinks and snacks. Before I knew it, three hours had passed and I was in Charlottesville for my girls' weekend.
So I'll admit it now: I get terrible anxiety anytime I travel. It has nothing to do with a fear of flying or being inside a moving vehicle I can't control. It's more so that I worry about missing my departure time, experiencing a delay or running into traffic. I get very claustrophobic too, so plane cabins and buses aren't my favorite places in the world.
I have to say I really enjoyed my first experience on Amtrak because I was able to avoid many of my typical stress triggers. I loved being able to freely move about the cabins and just relax in my own space without being shoulder-to-shoulder with a stranger. It was also great that I was able to charge my phone in the outlet at my seat.
While flying would have cut down my travel time, it made so much more sense to take the train, especially because *gasp* I wasn't in a rush. I also really enjoyed the views from the train — lots of rolling fields, farms and charming little towns. It definitely was nostalgic and a mode of travel I would take again in a heartbeat! If you wanna see more about trip– make sure you check out this little interview I did for the Amtrak blog  🙂
Have You Seen My Past Trips?
Our Grand Cayman Vacation
My First Time In Nantucket
Girls' Getaway to Martha's Vineyard
Big thank you to Amtrak for providing my transportation!
[thefeedproducts style='four']
- Katie