Guys. Nick and I had so much fun in Cleveland. We really loved it!!! You may remember a few weeks back, we spent the weekend checking out the newly renovated Ritz-Carlton, Cleveland hotel and exploring the city. It was a short trip, but we really had a great time. Neither of us had ever been to Ohio and honestly we didn't know much about the city other than that the Cleveland Cavaliers call it home. I put out a PSA on my Instagram story asking for recommendations and literally got bombarded with tips from locals raving about their city. I was looking forward to escaping New York for a weekend, but hearing everyone's enthusiasm got me even more pumped.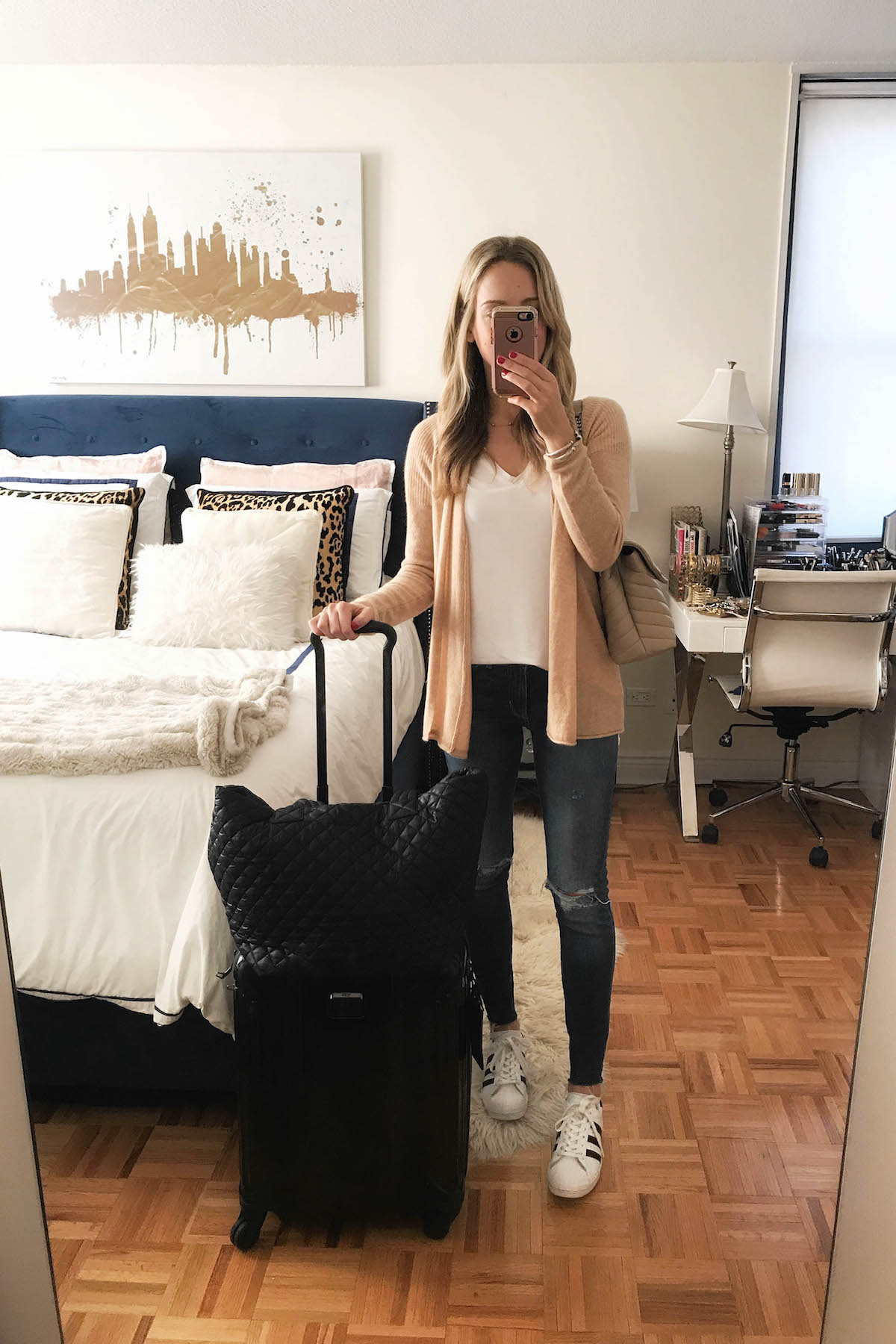 Luggage | MZ Wallace Tote | Lilly Pulitzer Cashmere Cardigan | White T-Shirt | Distressed Jeans | Saint Laurent Bag | Sneakers
My travel look for the quickest flight ever. It's only an hour to get from New York to Cleveland!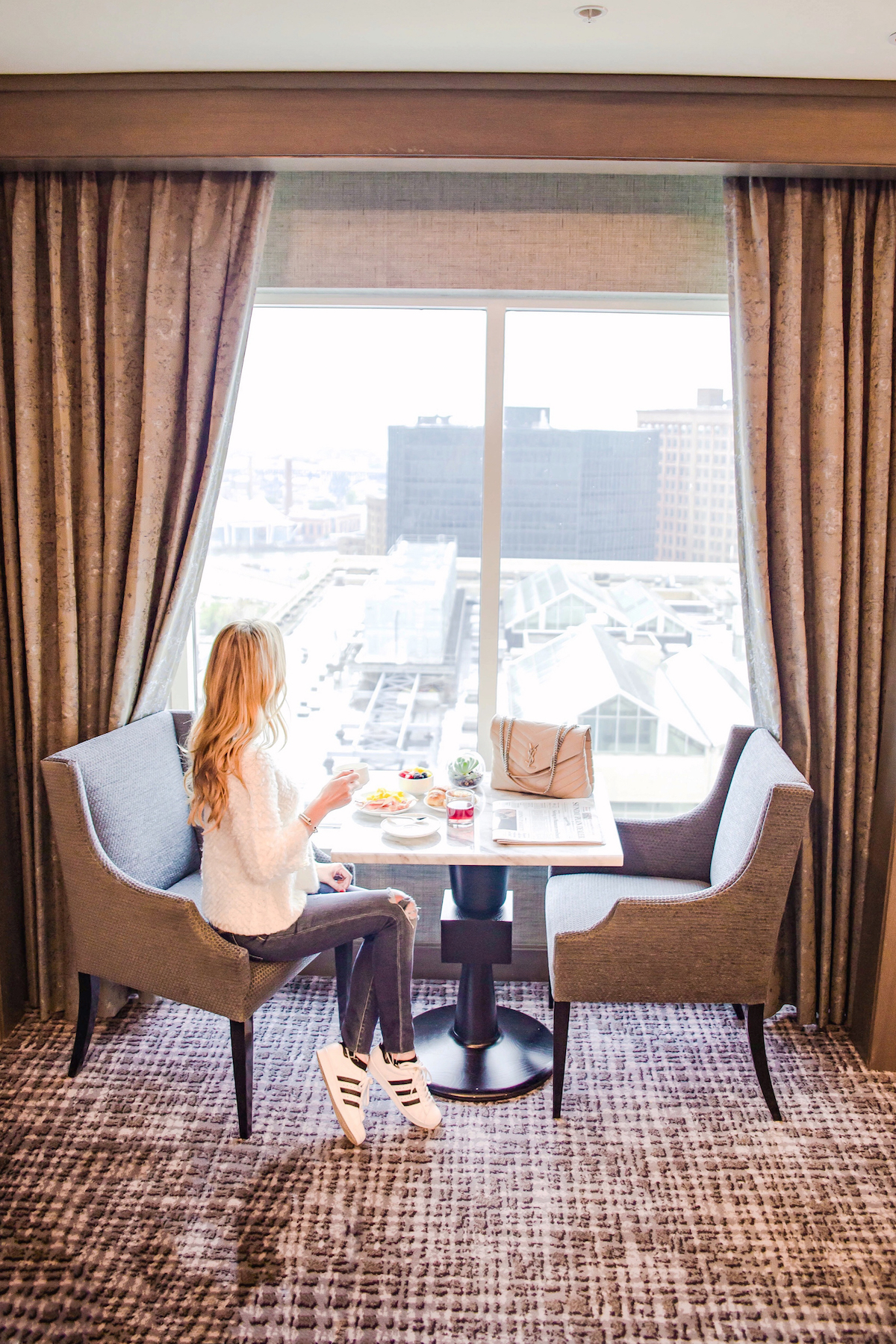 Checking out the view from the Ritz-Carlton, Cleveland club lounge. We had coffee here every morning and then a cocktail in the evening before dinner. The lounge was just redesigned and even features an electronic wine dispenser. I'm not sure of the correct name, but basically it was a fountain soda machine except when you press the button out comes wine. I need one in my future home!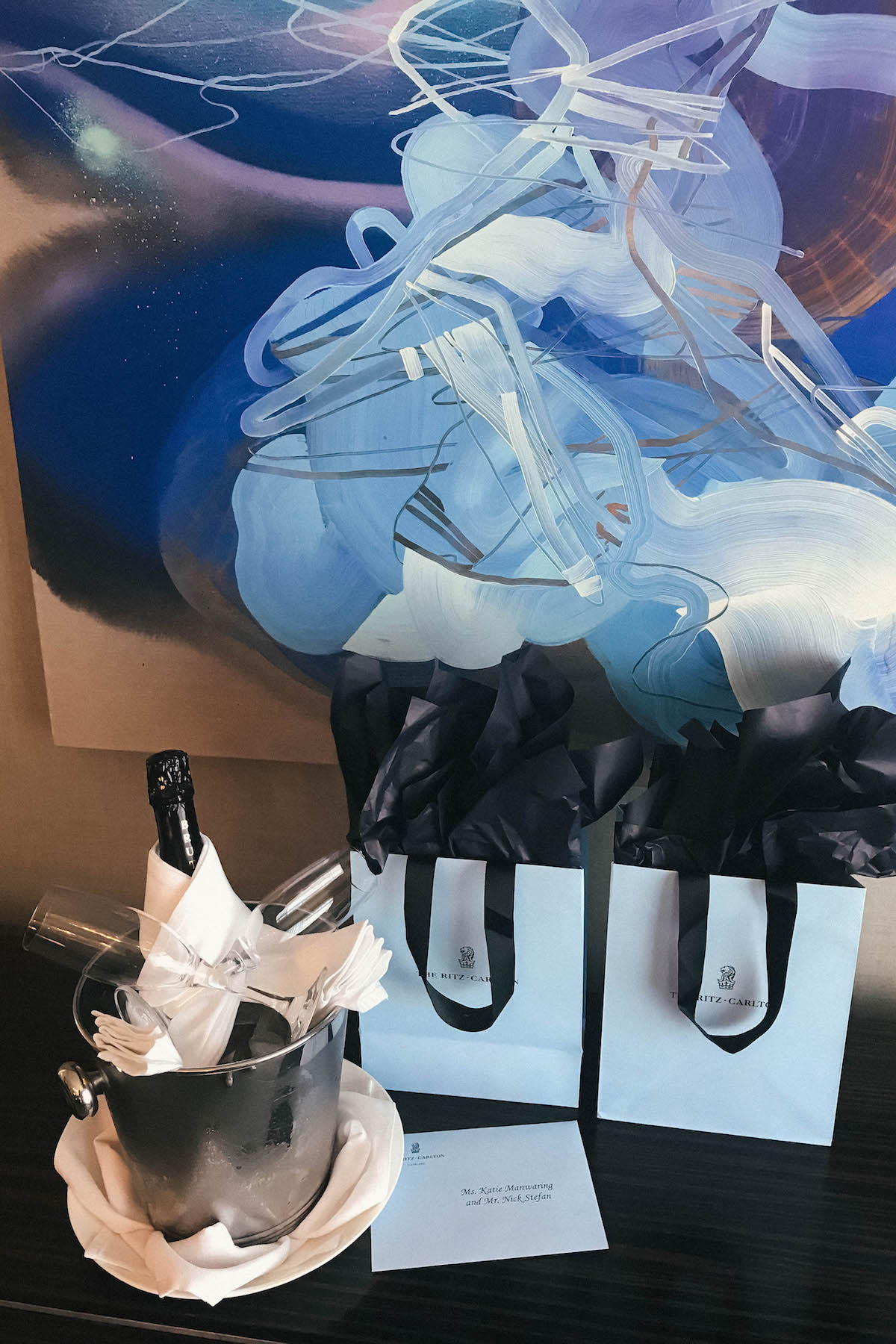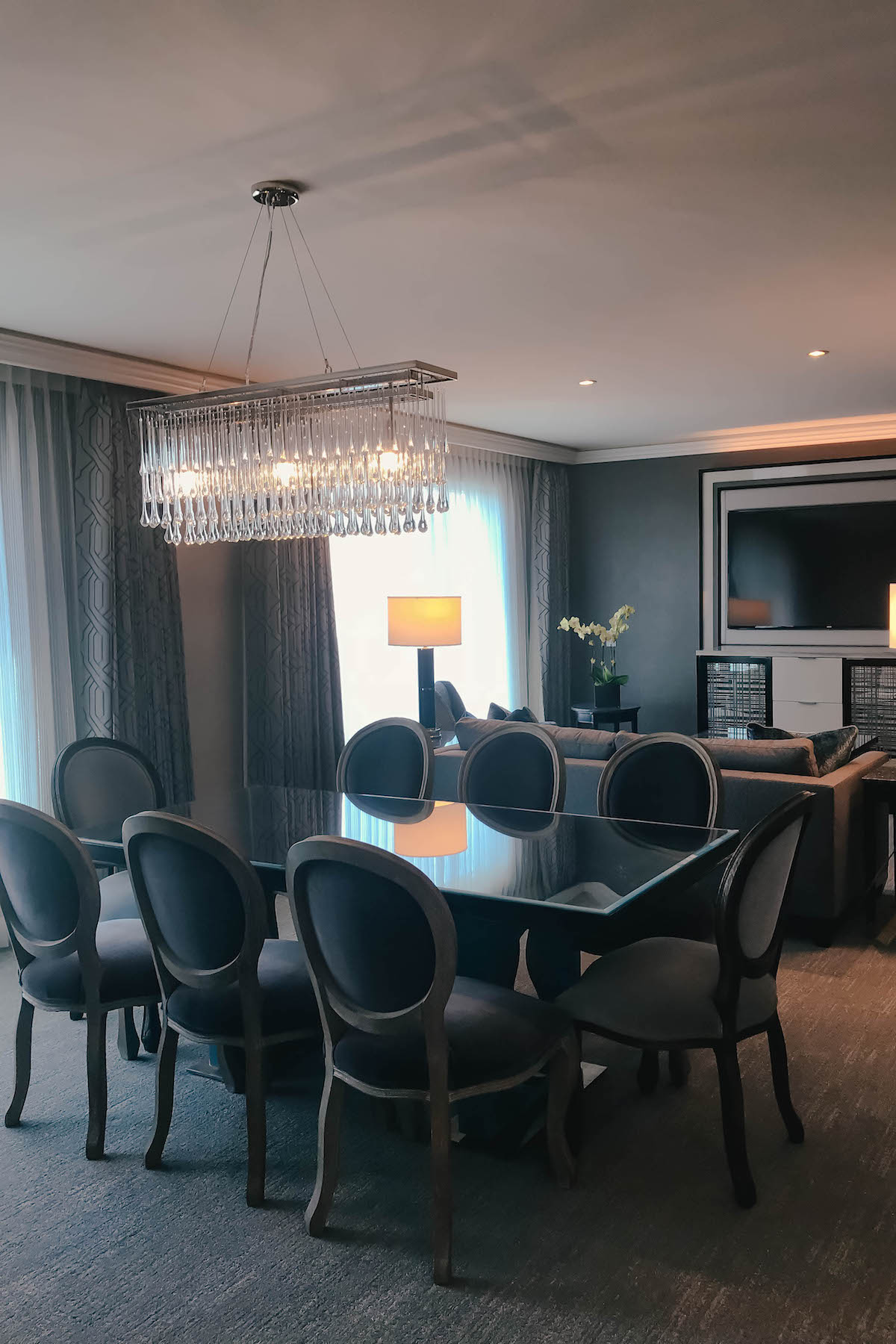 So the Ritz-Carlton, Cleveland team hooked us up with the PRESIDENTIAL SUITE. For a moment I felt super cool, but then I realized that the suite was twice the size of our New York apartment #SadButTrue. Our beautiful accommodations featured a living and dining room, king size bedroom, a walk-in closet, two bathrooms and amazing views of downtown Cleveland. Nick was in heaven getting a sink and shower to himself without having to deal with all my beauty products. One day babe!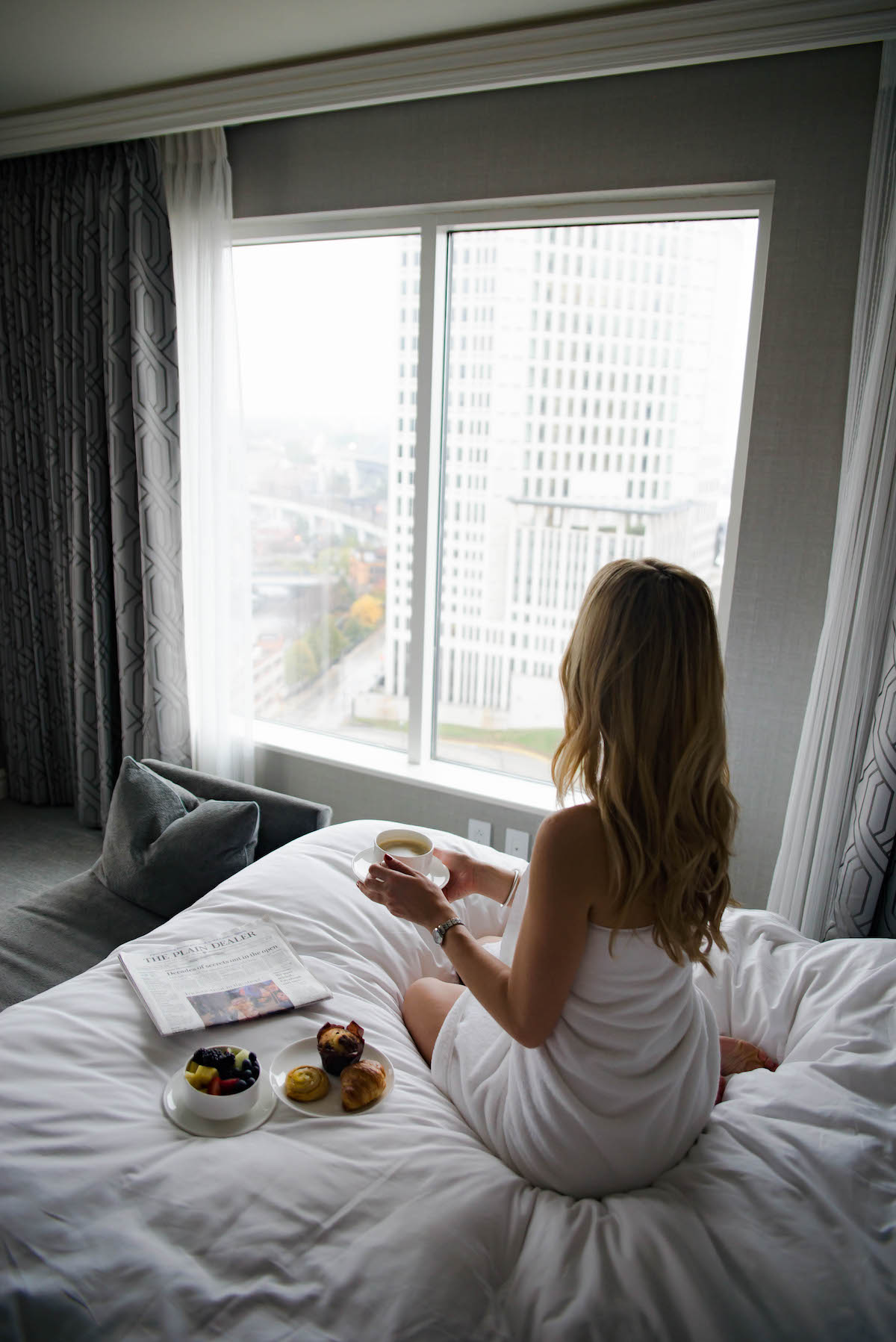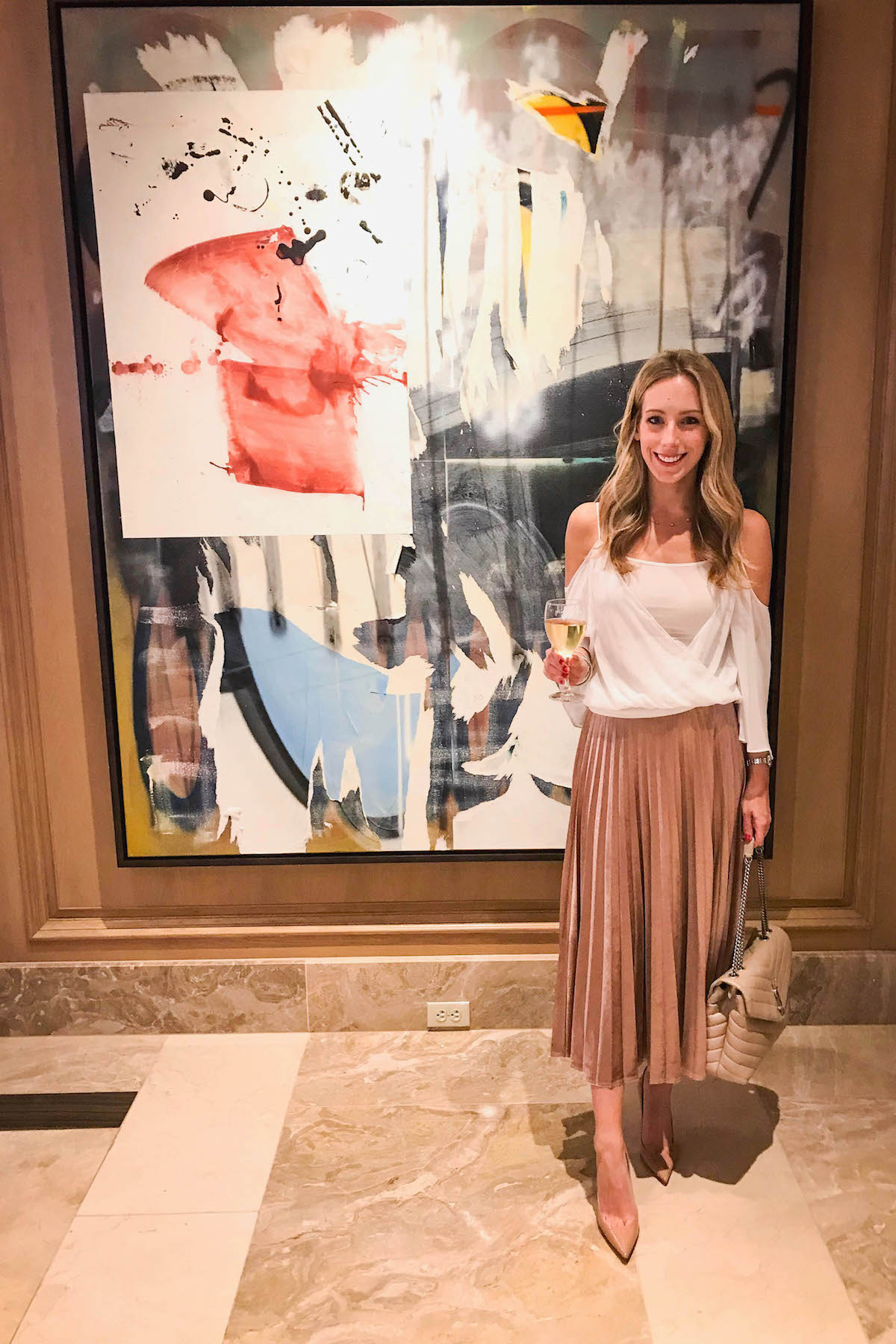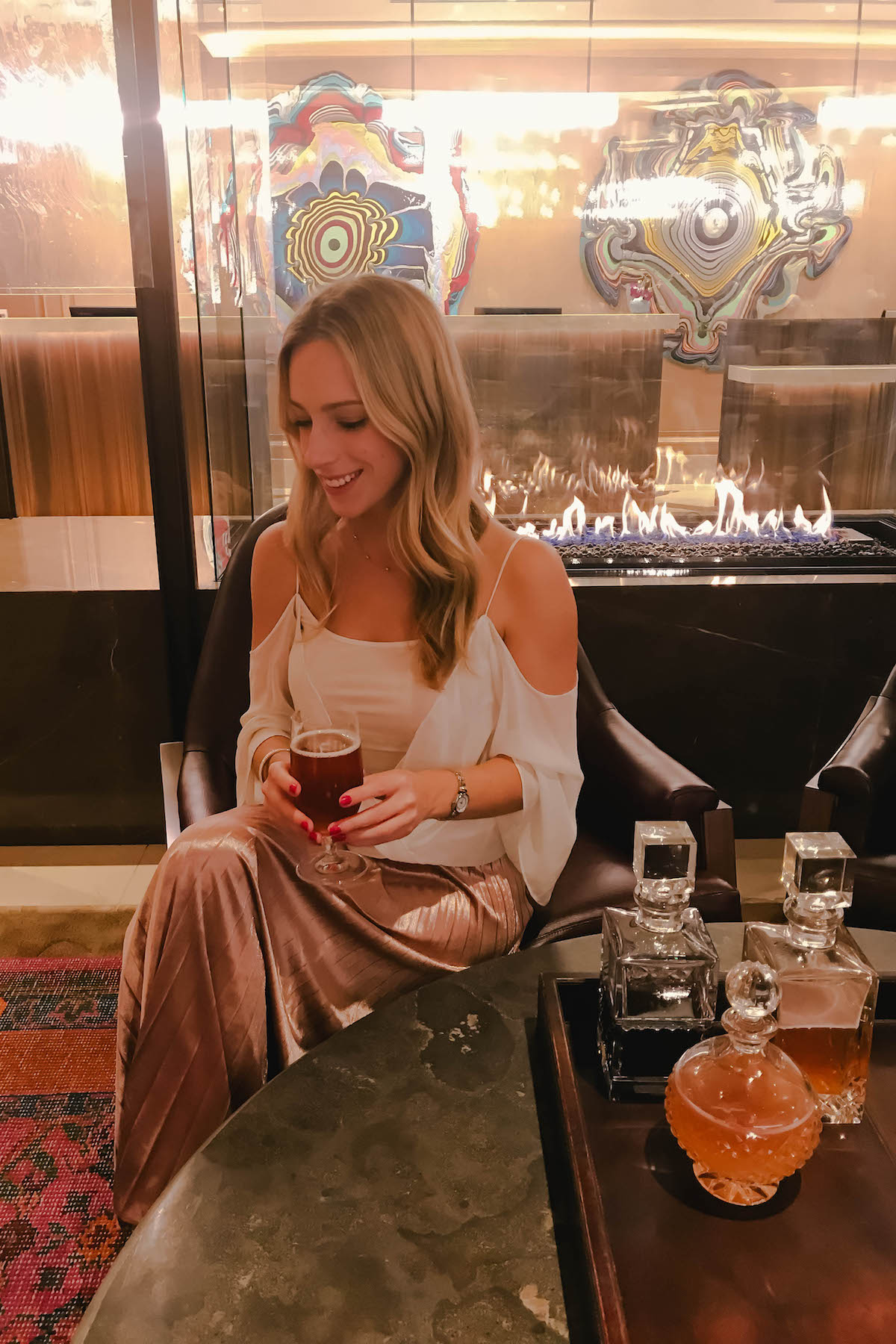 Pleated Midi Skirt | Similar Blouse | Christian Louboutin Pumps | Saint Laurent Bag
I headed straight to The Ritz-Carlton, Cleveland grand re-opening party as soon as I arrived on Friday afternoon. After sampling the menu at TURN Bar + Kitchen (located within the hotel near guest reception) I got to mingle with the staff and hear all about all the new renovations. The fitness center was crazy high-tech with equipment that could rival my gym in New York and the updated interior design throughout the property was super chic– I felt like I could've been in a swanky New York hotel!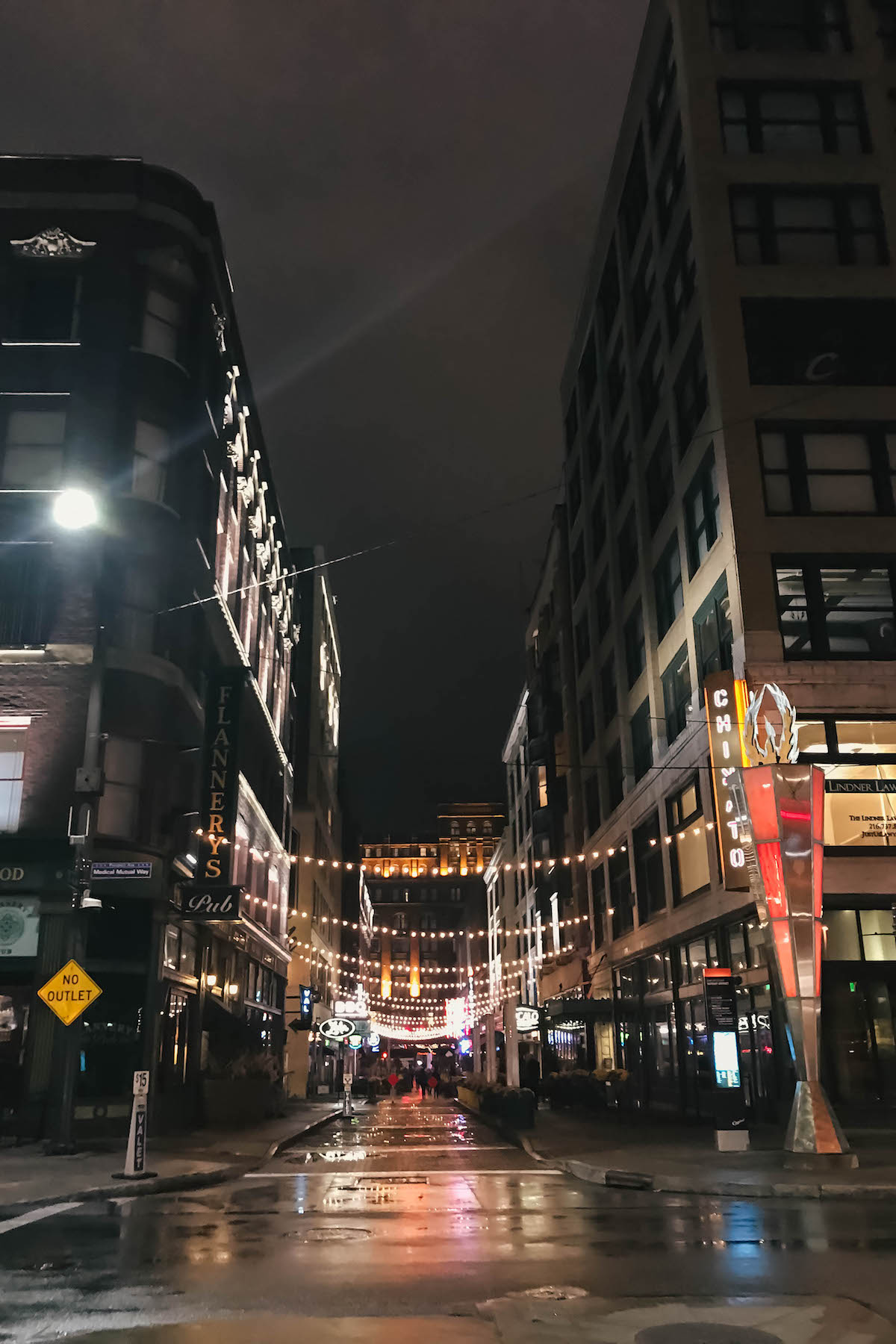 Our first night we had a super low key dinner of tacos and margs at Barrio Gateway on near Cleveland's famed East 4th Street. So many of you recommended it and the food definitely hit the spot! The Ritz-Carlton, Cleveland is in a super convenient spot downtown (literally right across from the Cleveland Cavaliers arena) so we were easily able to walk to the restaurant and check out some of the bars.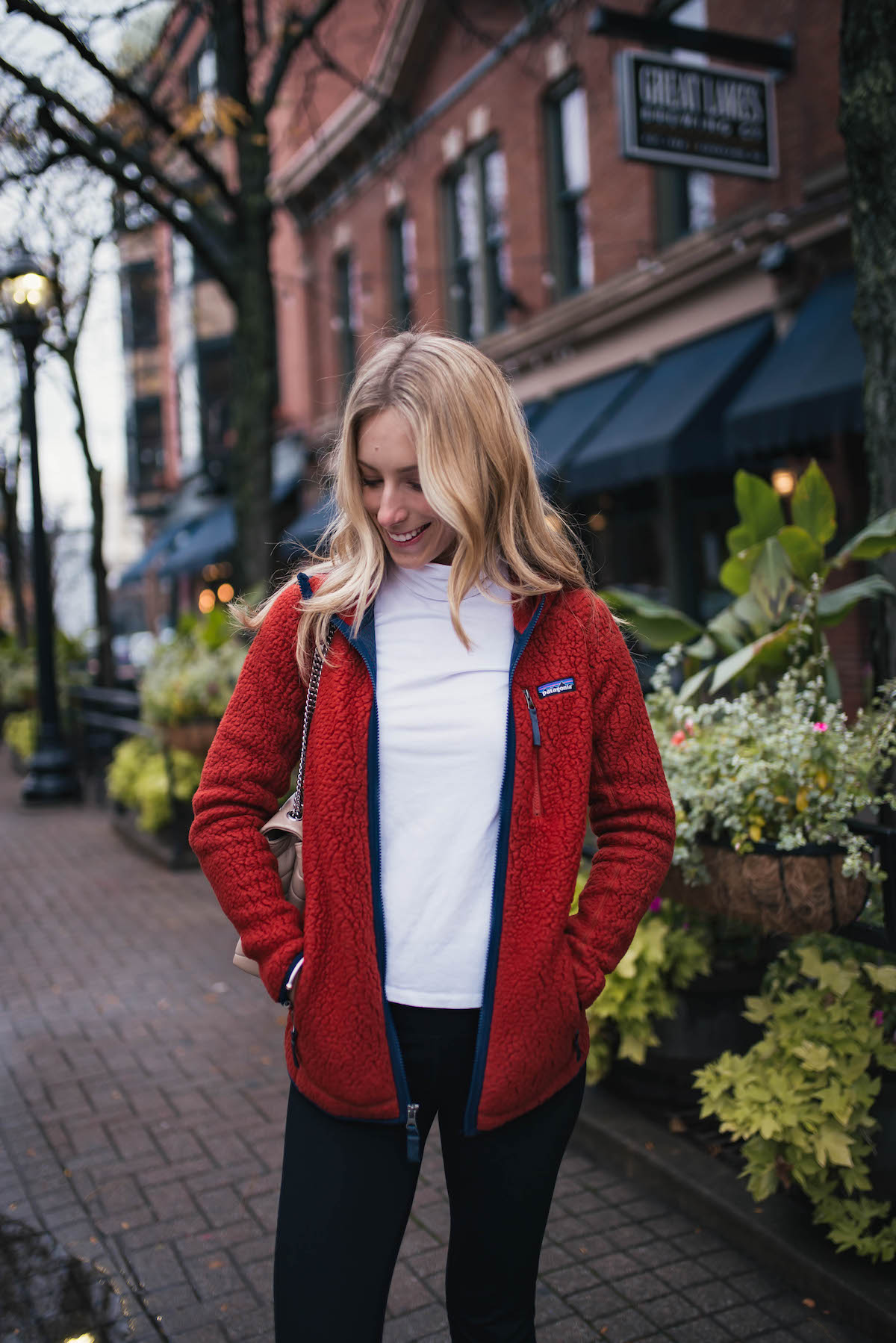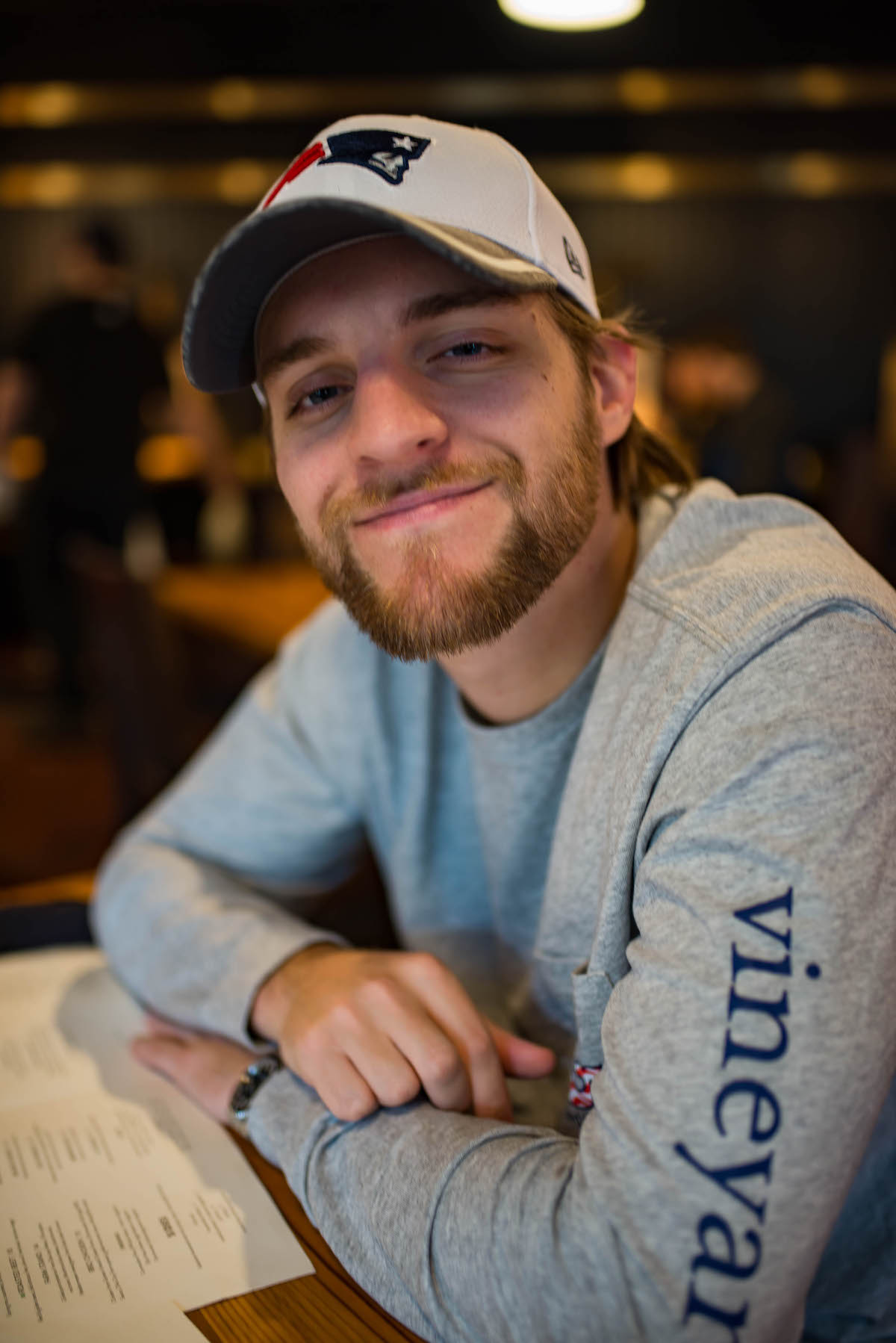 This fuzzy jacket is incredibly warm and also available in beige and navy!
Saturday we pretty much devoted to checking out the local food scene and Cleveland's top attractions. The weather was gloomy and cold, so we hunkered down at Great Lakes Brewing Company for a long lunch of beer and fried things. We loved the atmosphere here– it was really lively and the brews were delicious.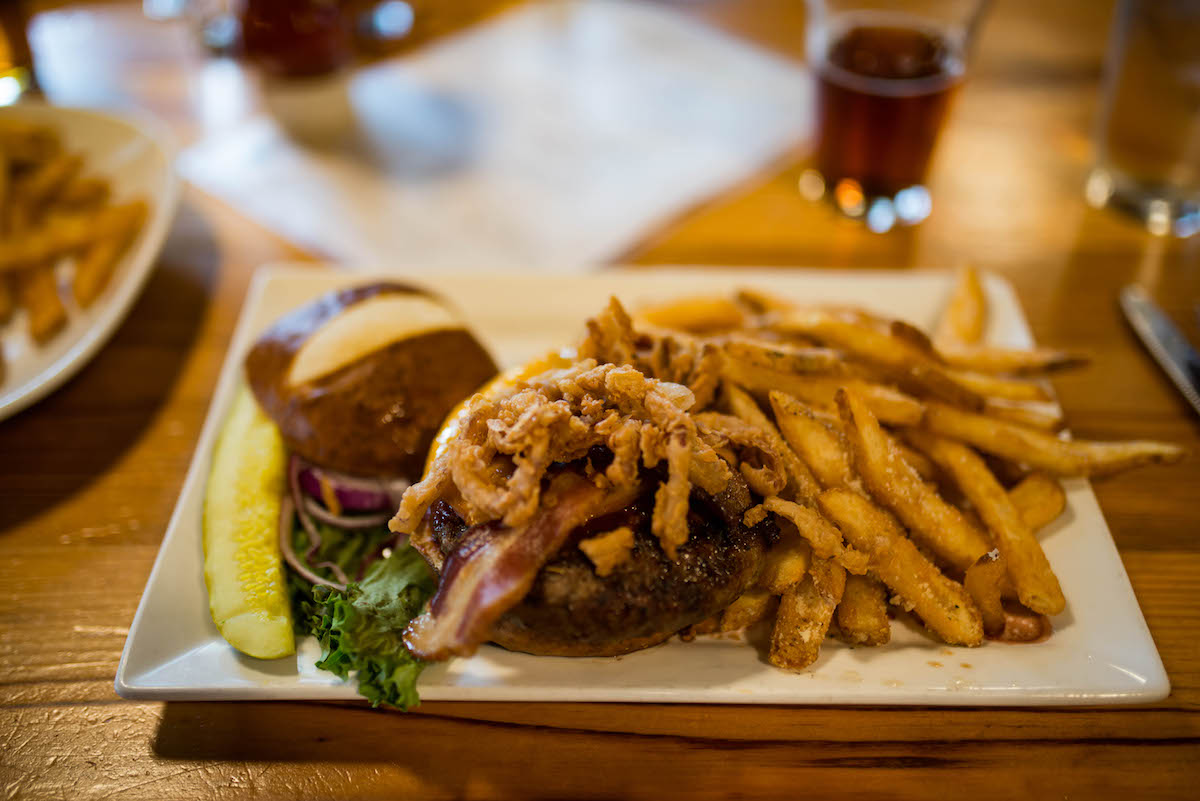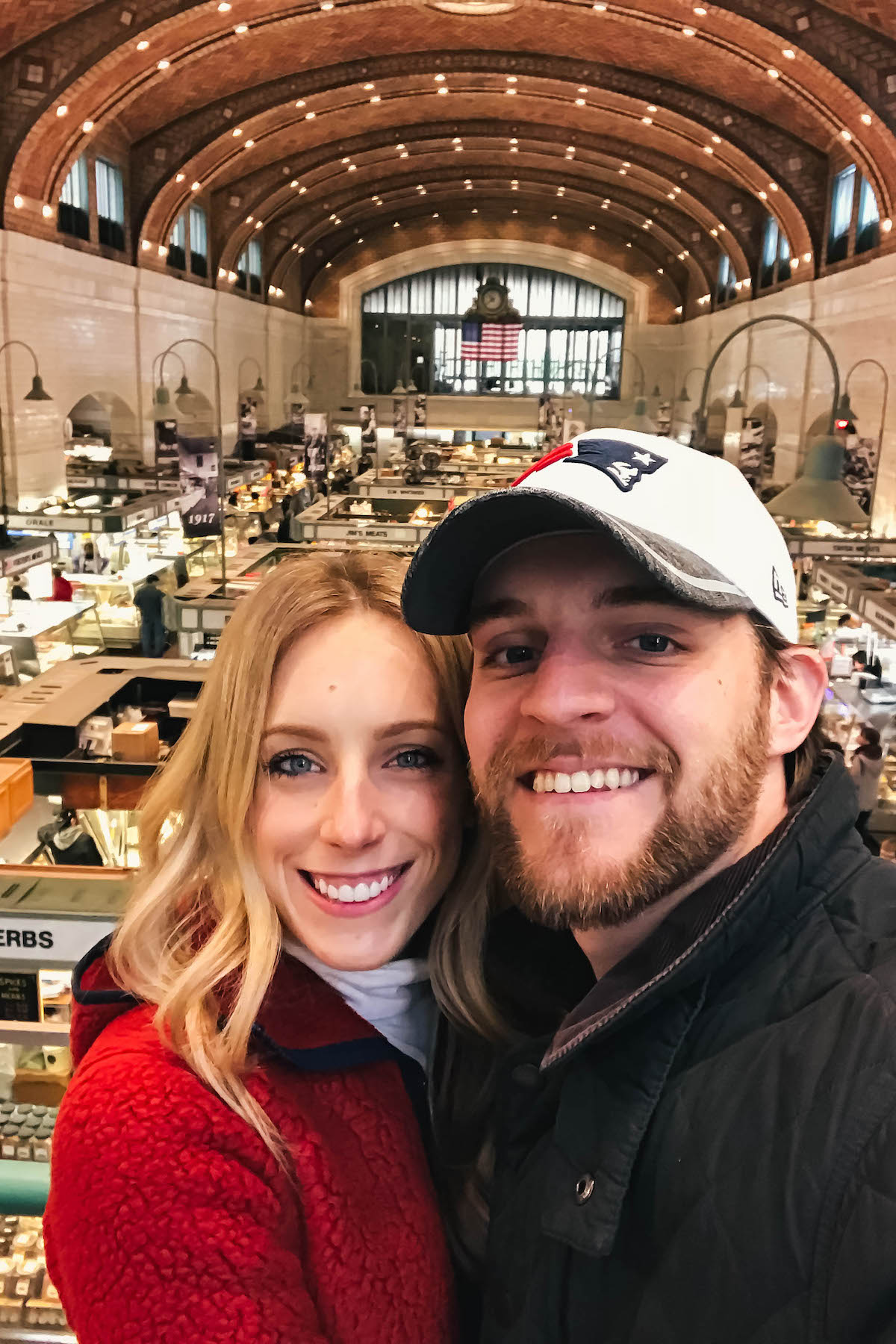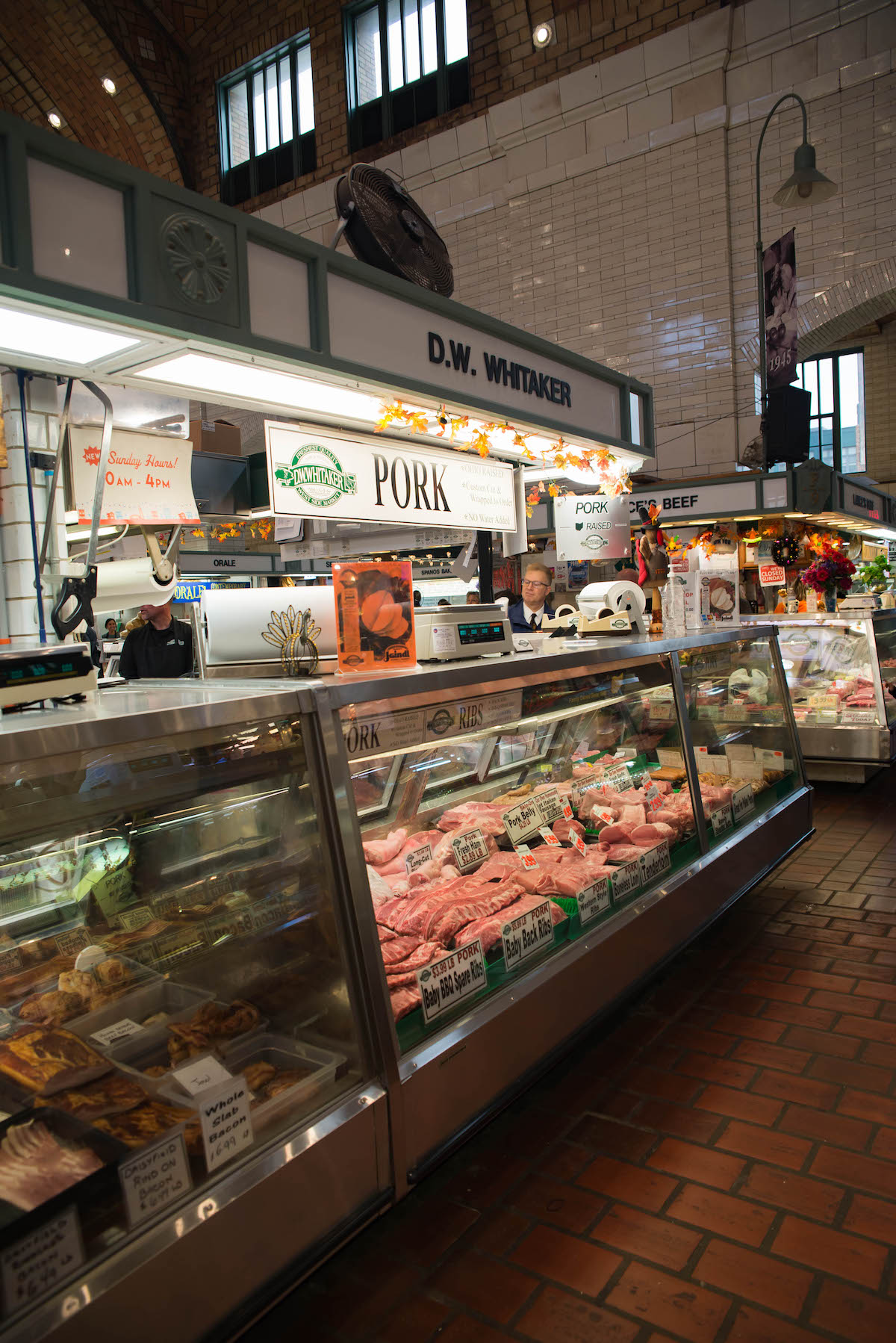 Next we walked over to Cleveland's famed Westside Market. Almost every recommended this to me. I loved peeping in all the stalls and seeing the local vendors. If we didn't have to fly home, I totally would've bought a few things. I wish there was something like this in New York because I would go all the time!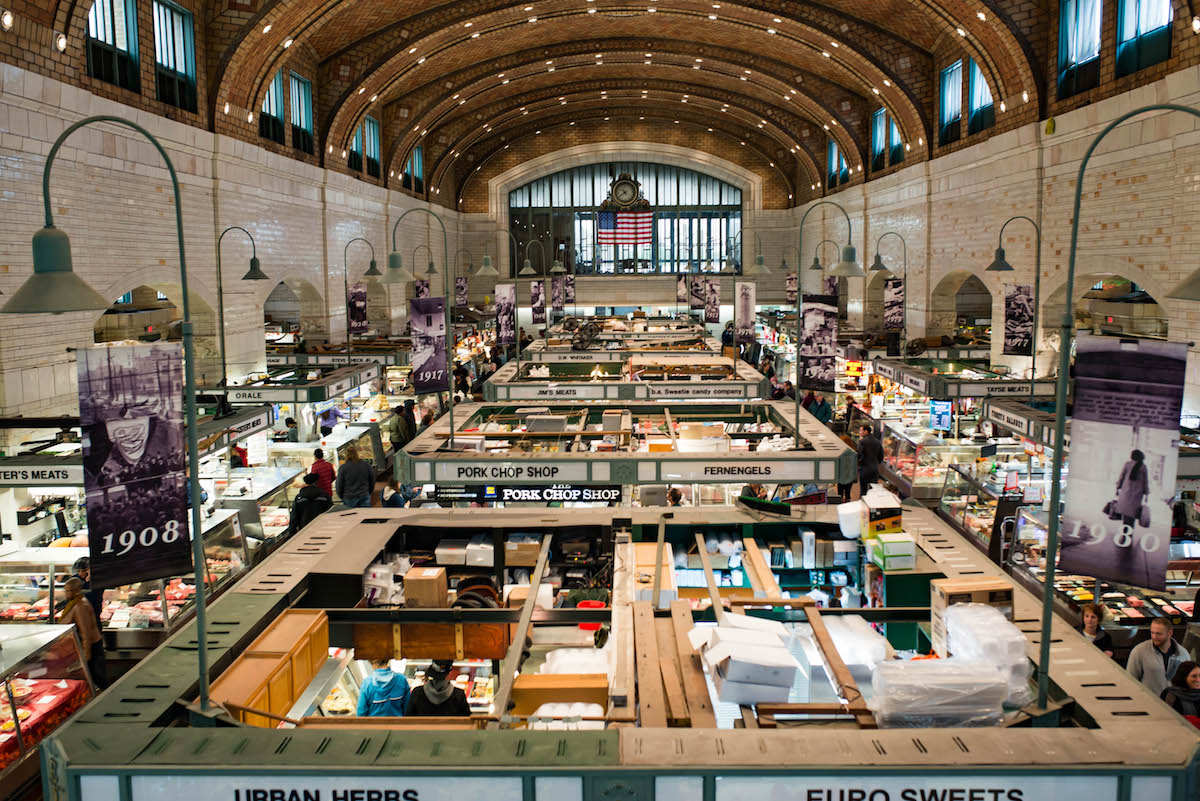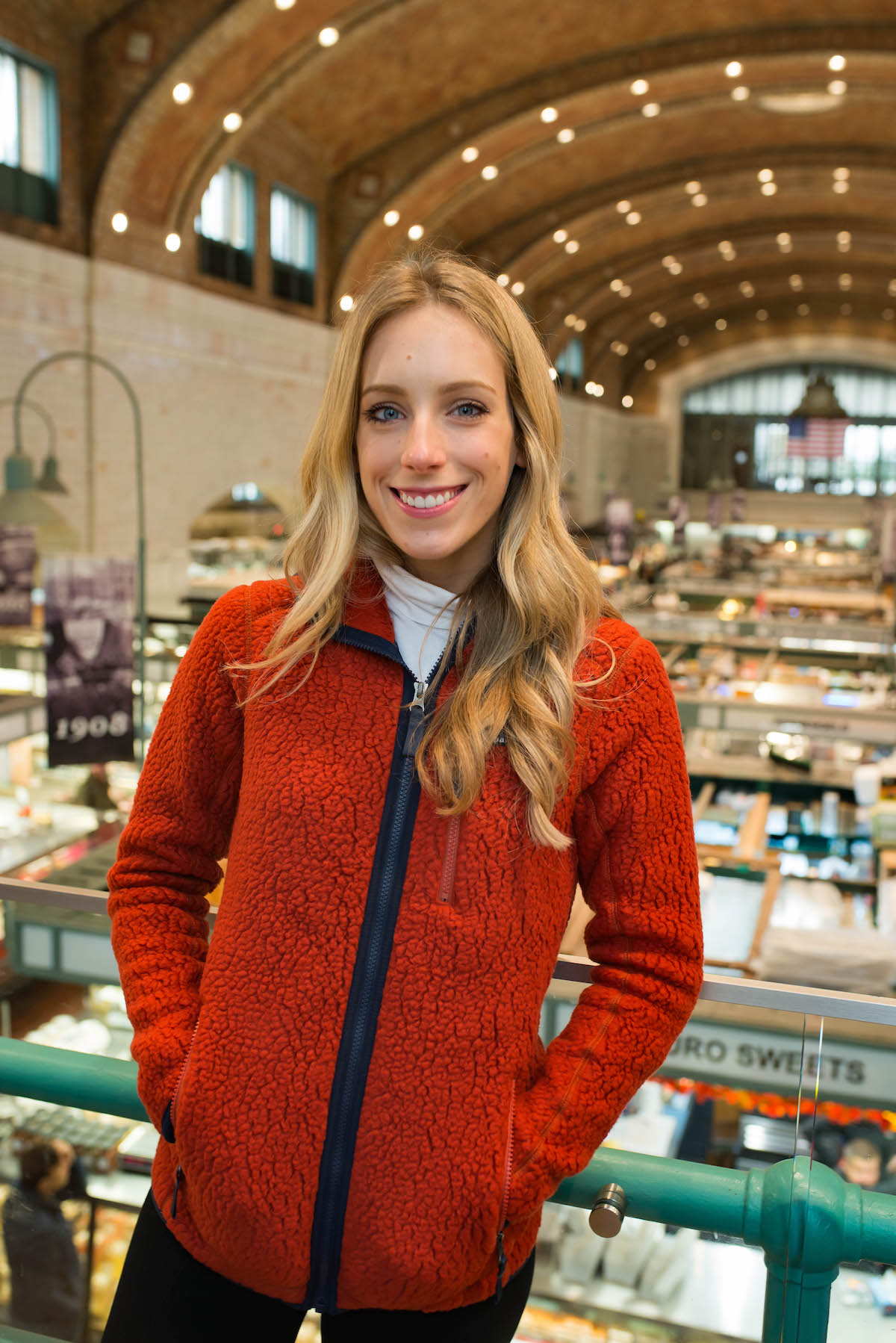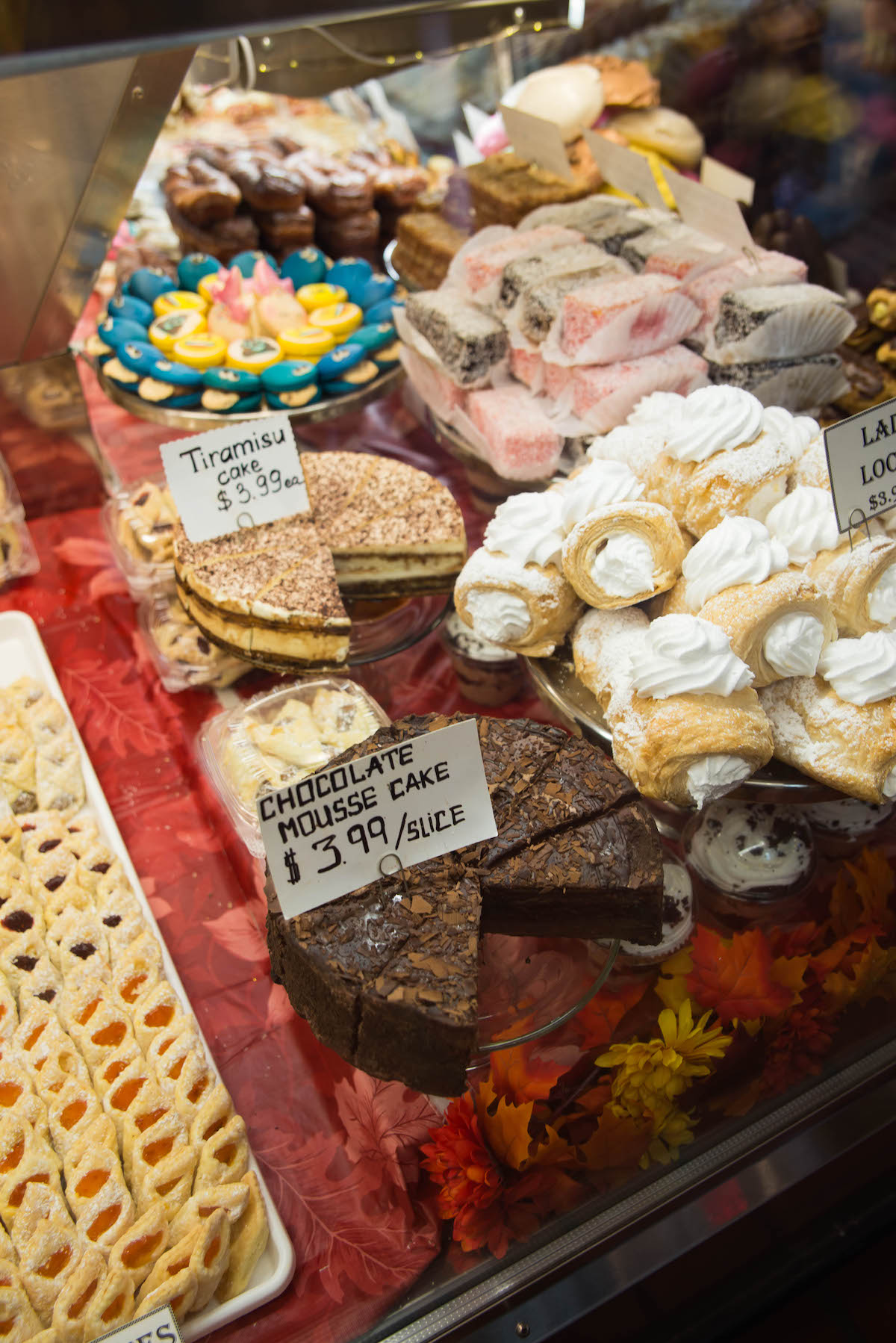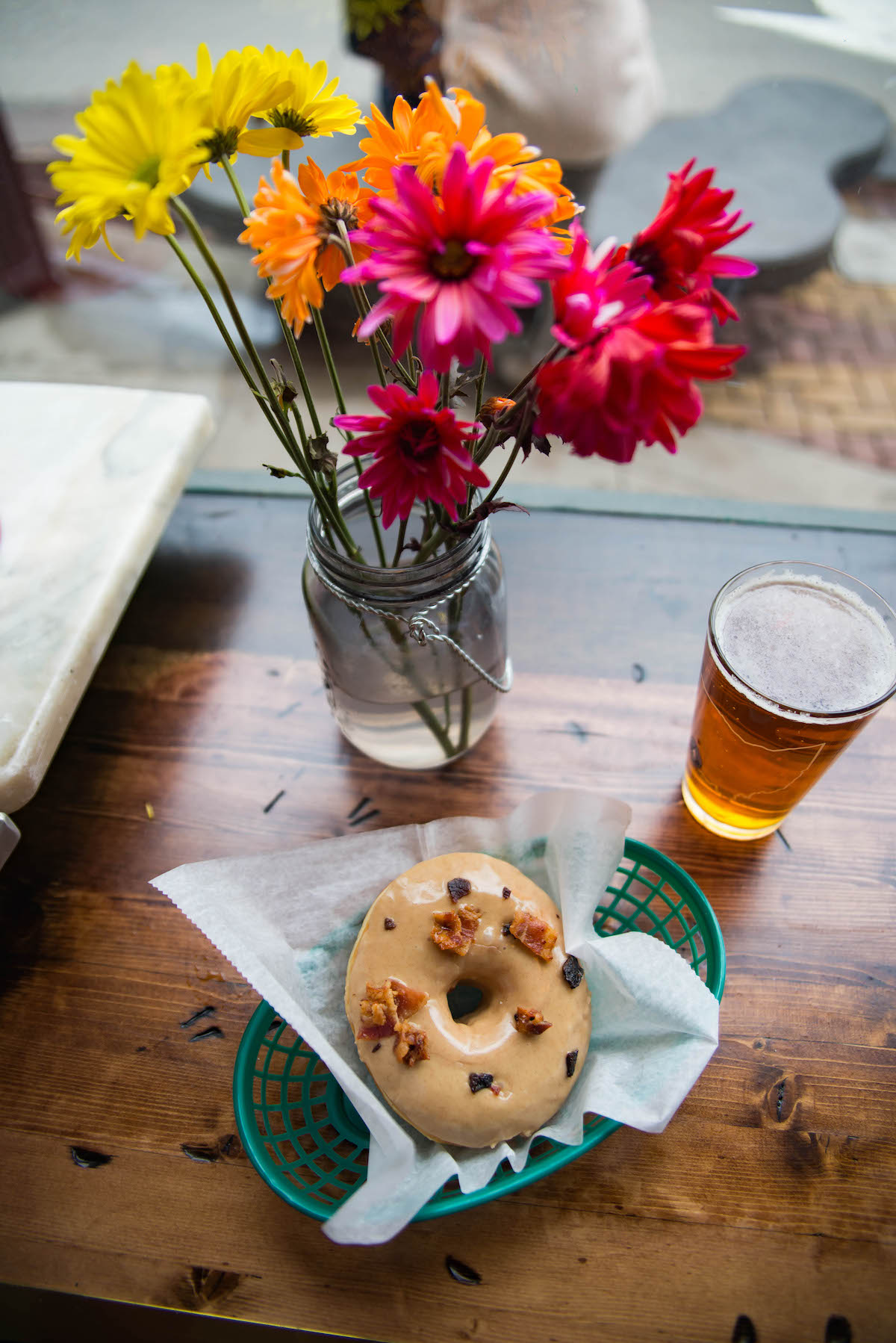 Brewnuts was probably my favorite foodie stop of the weekend. I'm a sucker for a good donut and this was at the top of my Cleveland list. Beer and donuts? I mean, can you think of a better combo? Nick was ragging on me for still having room to eat sweets after our lunch at the brewery, but there was no way I was going to skip trying a maple bacon donut. He missed out BIG TIME. Honestly it was one of the best fluffy donuts I've ever had in my life. #NOREGRETS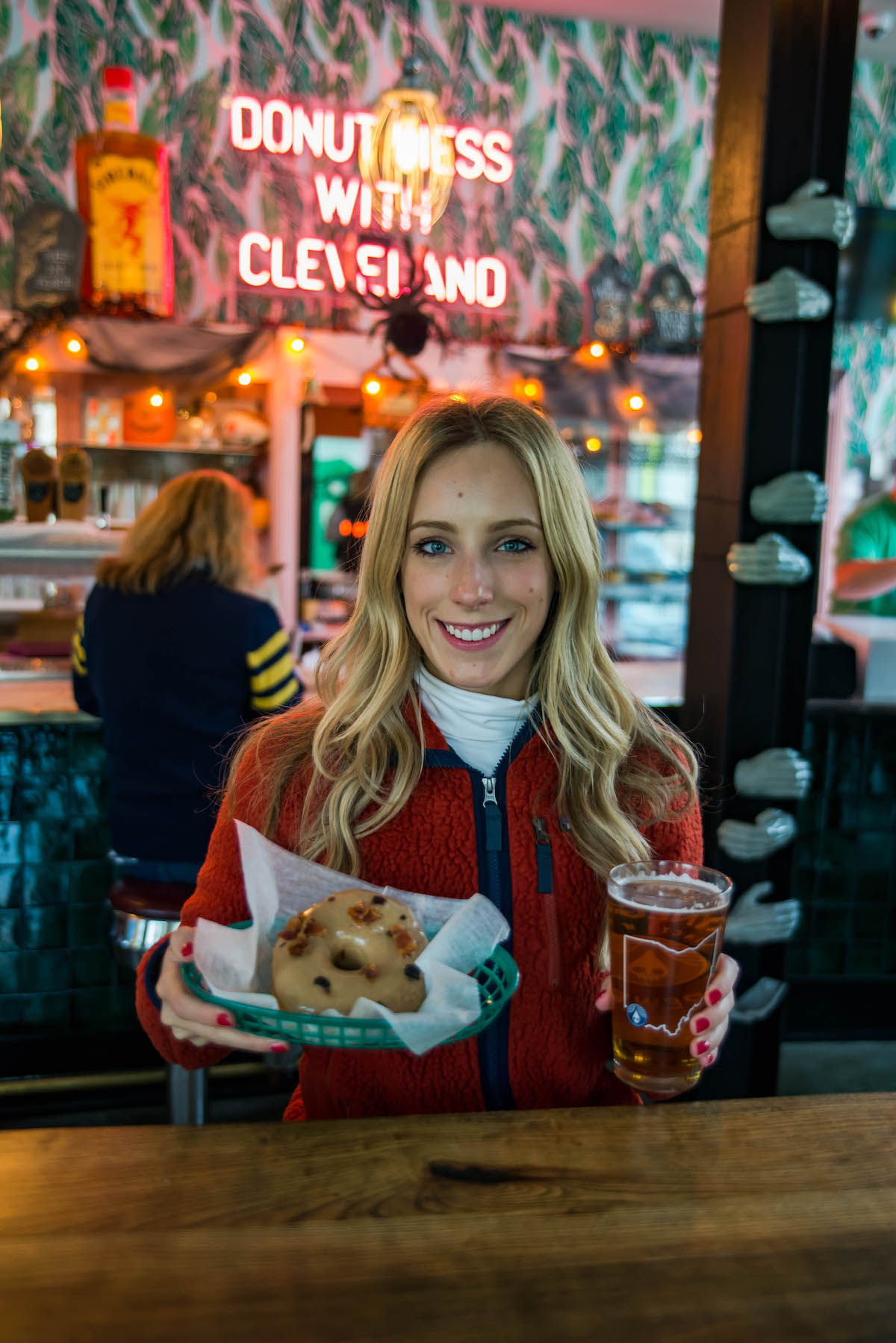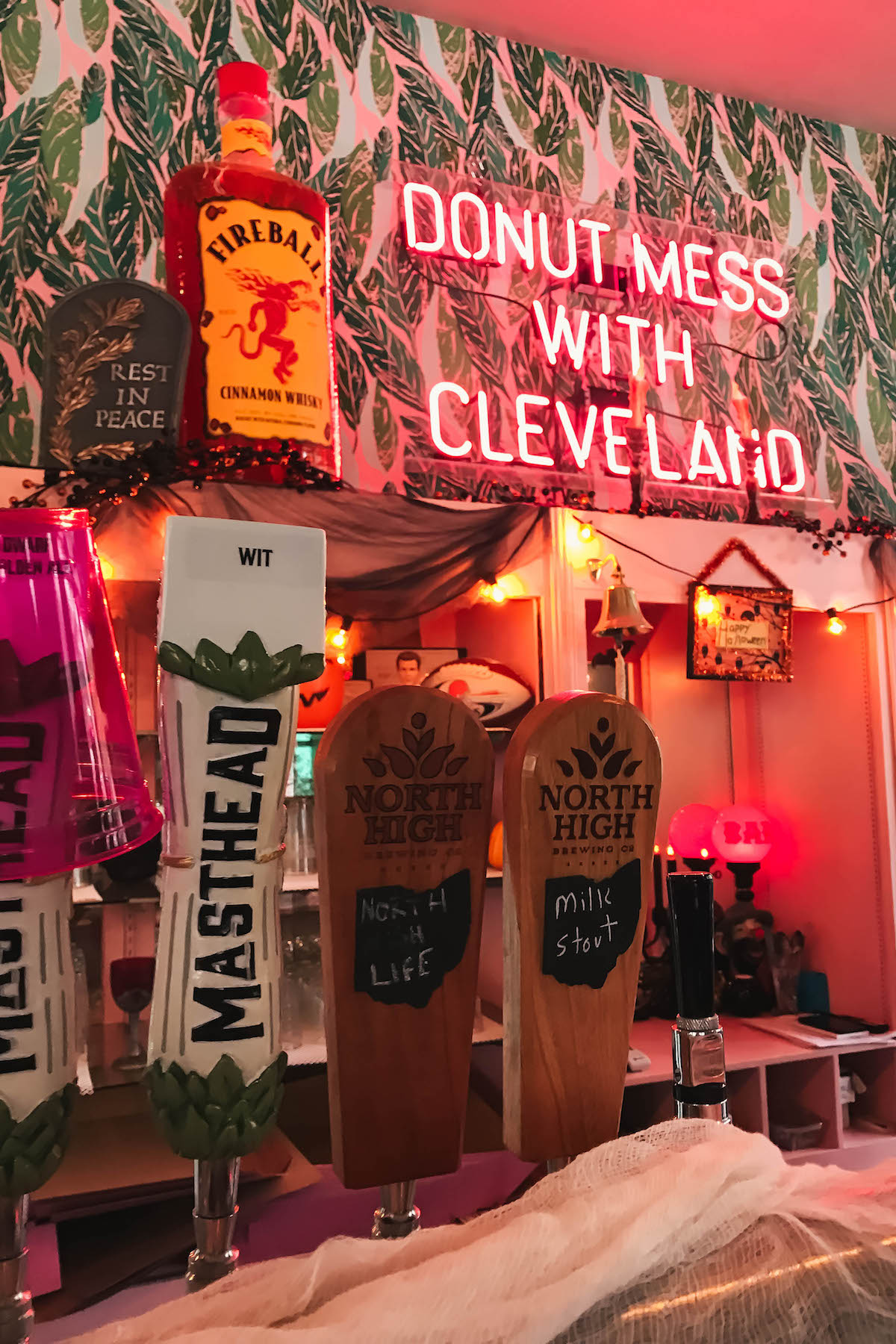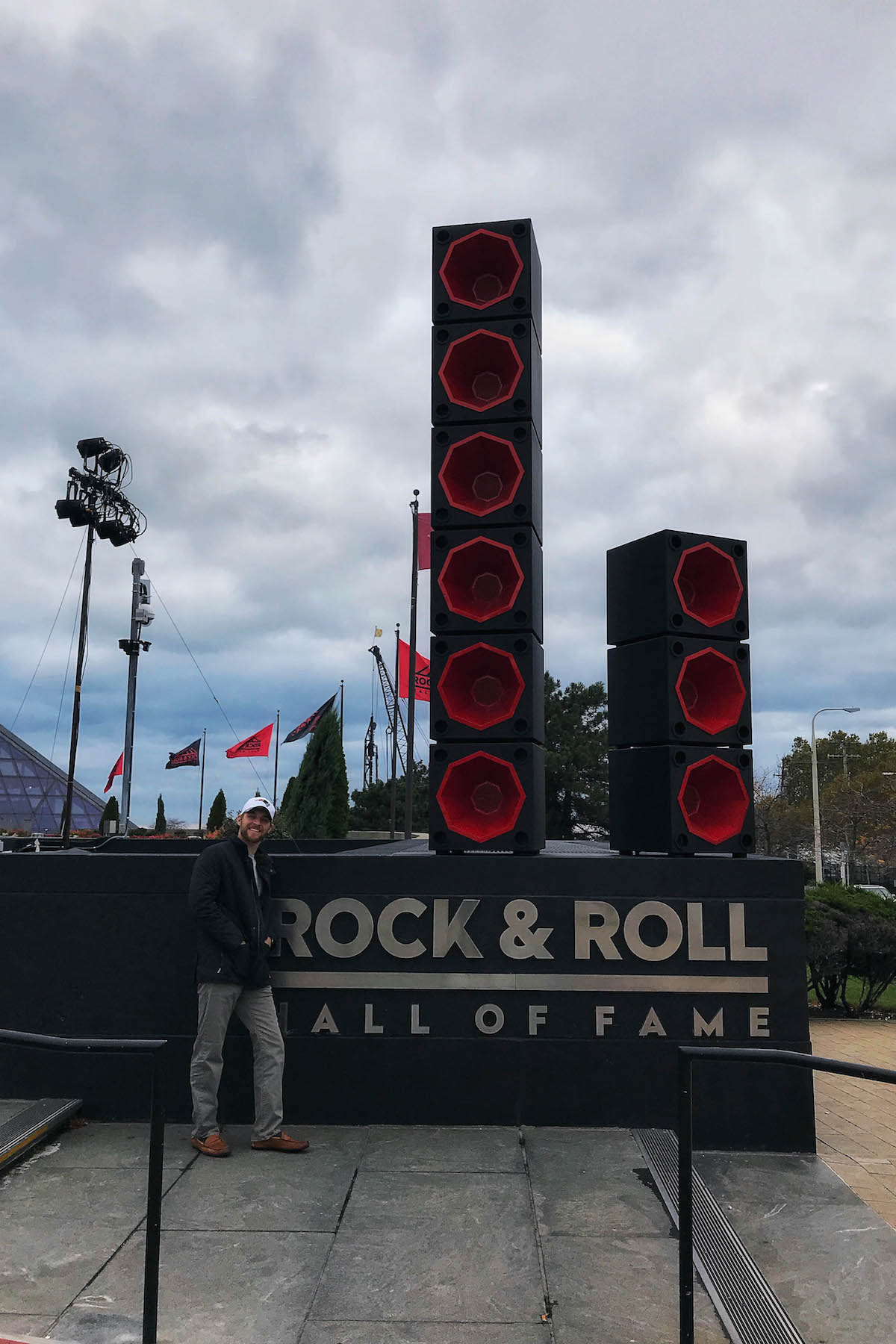 After eating enough for a family of four we decided it was time to take a break from our food crawl and do something a little more active. Cleveland is home to a few notable museums and attractions one of which is the Rock & Roll Hall of Fame. Who knew??? I swear this city was full of surprises. I made the mistake of not checking the hours and we ended up arriving only about an hour before closing. You really need a full day to see the whole museum, but it was our only chance so we paid the admission and walked through a few exhibits with a little extra pep in our step.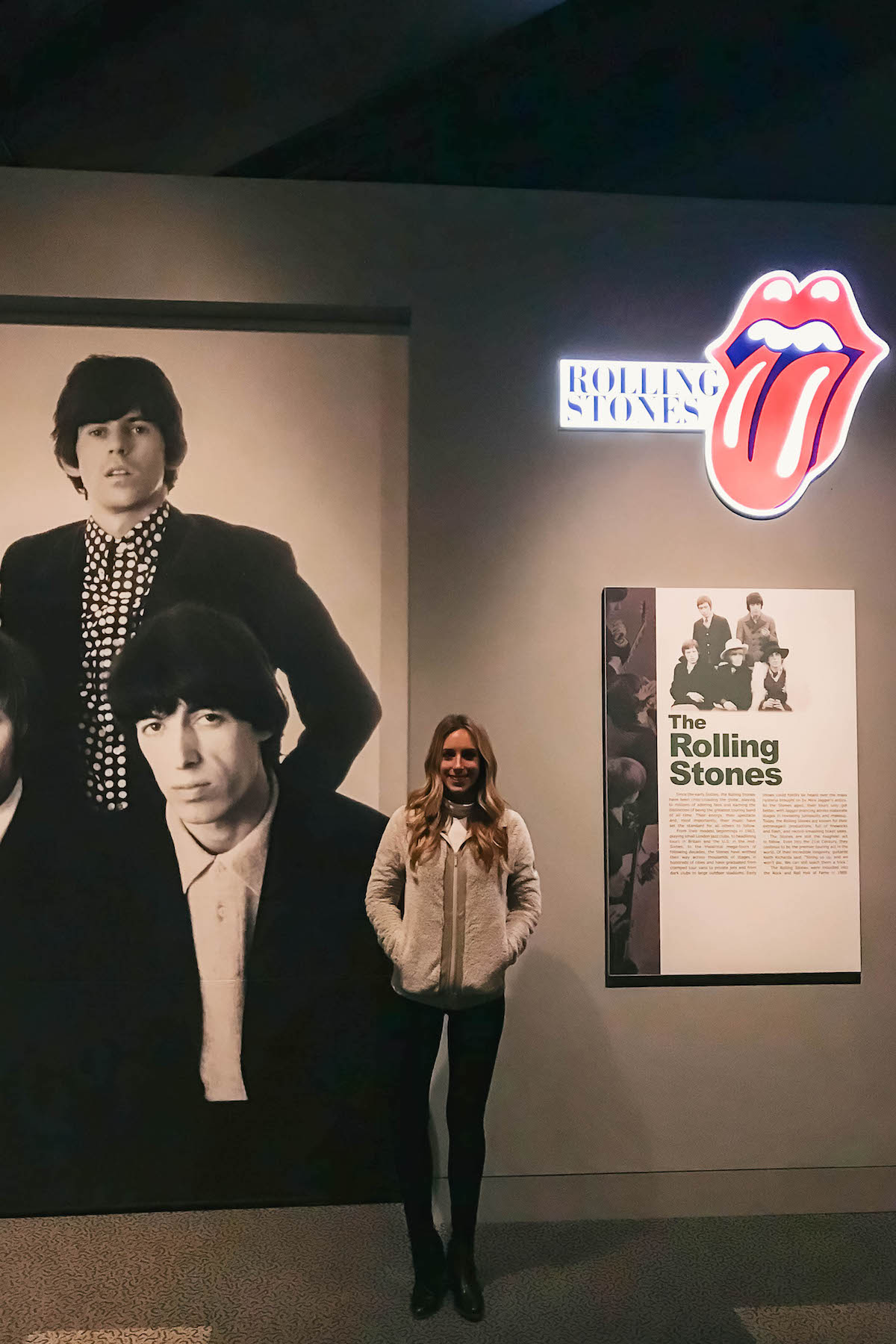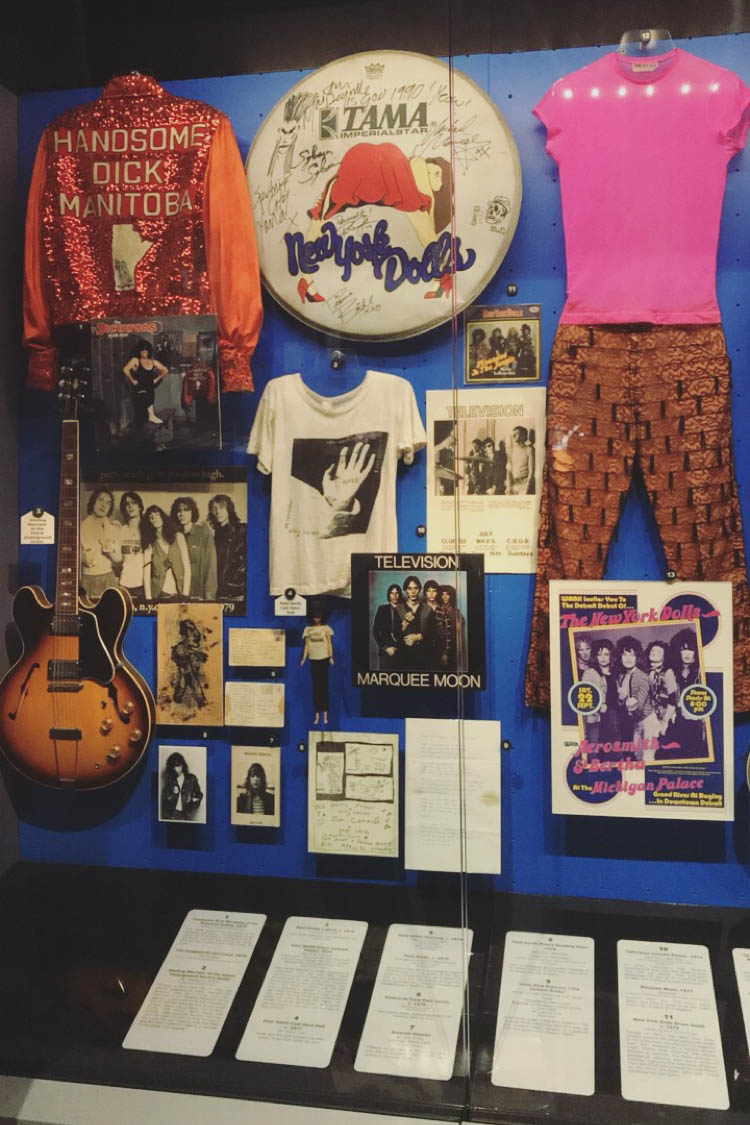 We lucked out because most of the crowds had dispersed by the time we arrived. Pretty much we had the place to ourselves!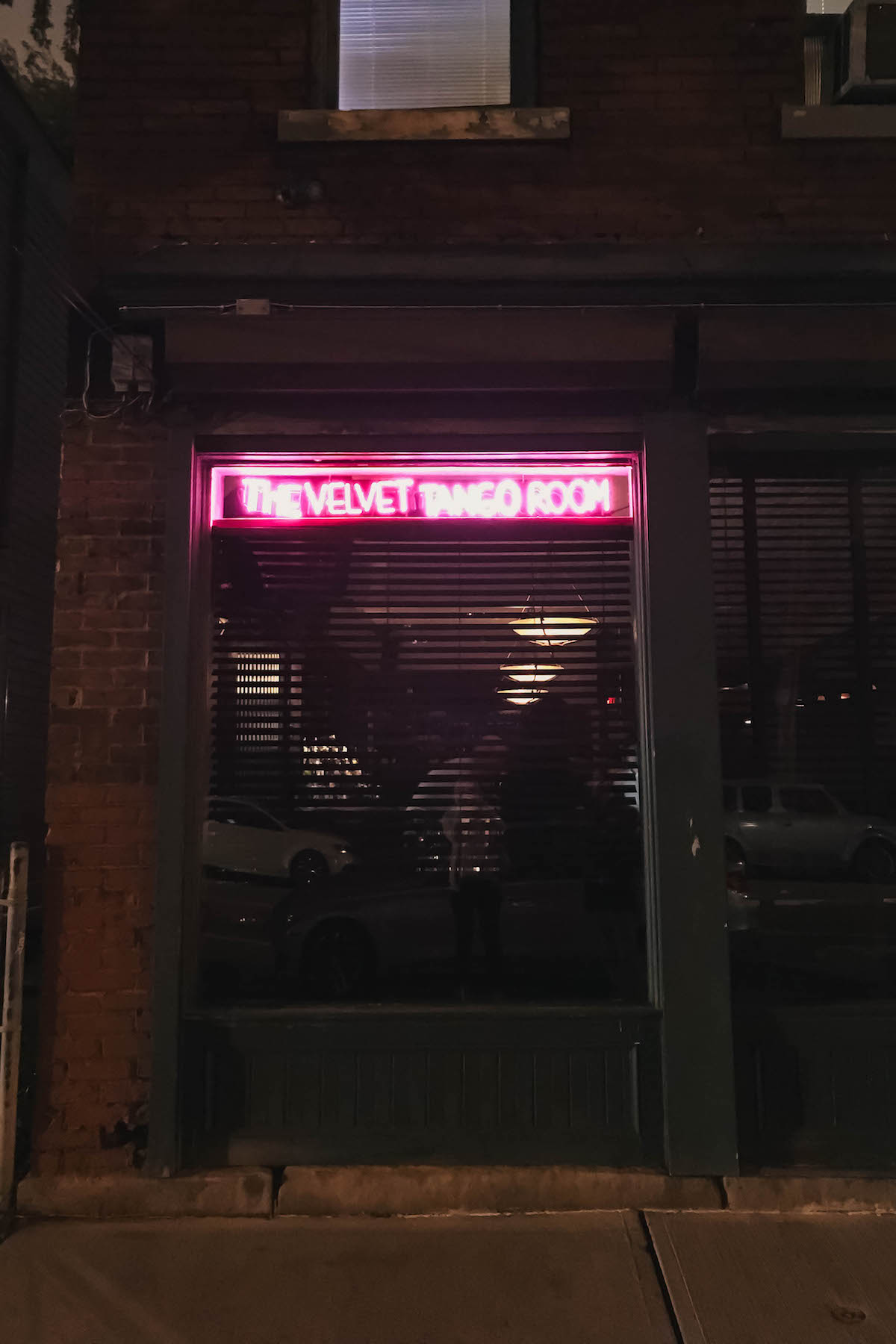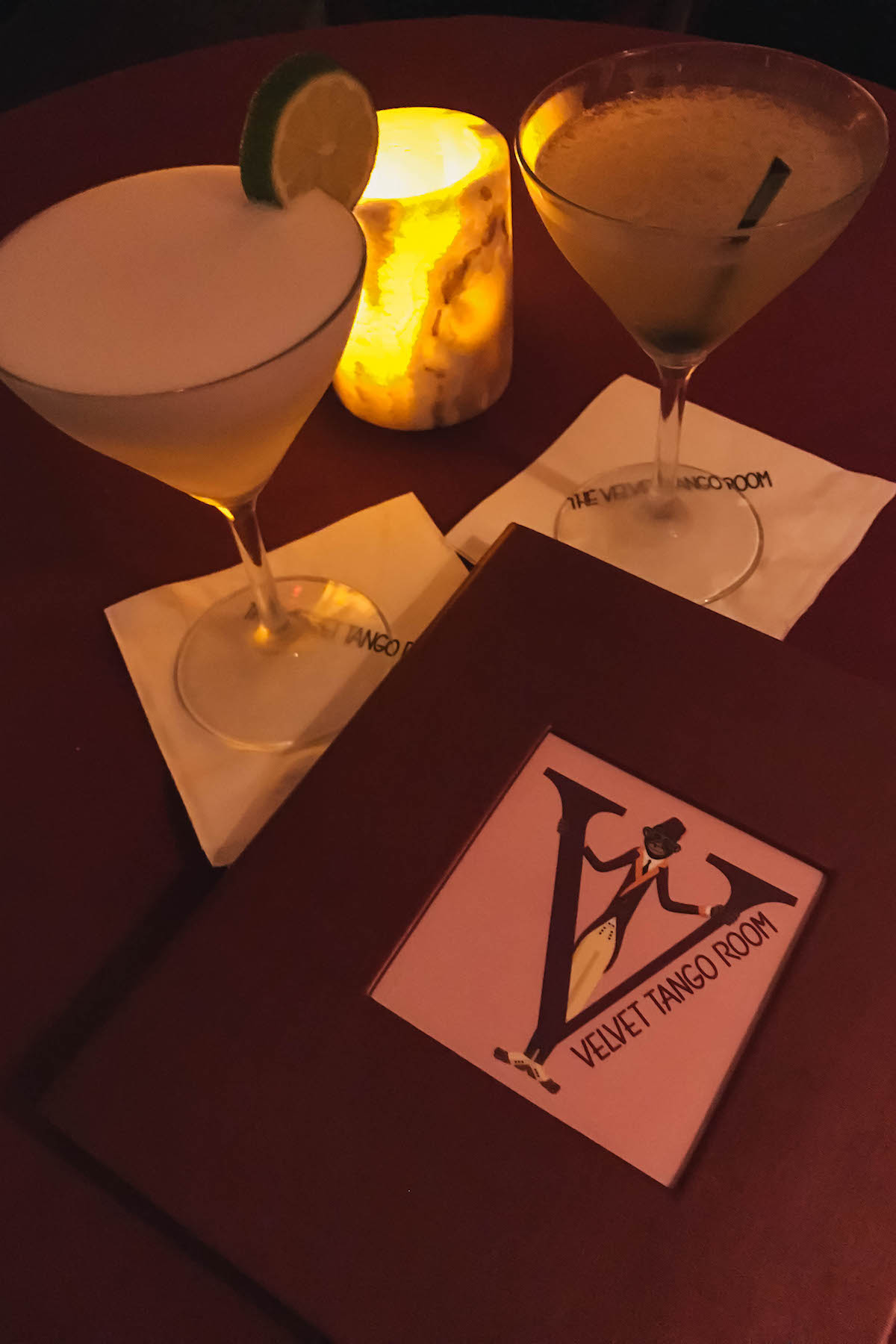 Normally after a full day of activity Nick and I would be pooped and spend the night at home, but since we were leaving early the next morning we rallied for drinks and dinner. The Velvet Tango Room was one of the most-recommended cocktails spots I was told about, so I made reservations for drinks in their backroom. This place was super cool. Like an old speakeasy. Once we arrived we were escorted through a secret mirrored door to a room with a roaring fireplace and old oak bar. The bartender literally knew everything there was to know about each cocktail and the drinks were just as impressive! After getting our sip on, we took an Uber to Dante for a late Italian dinner. I didn't think we could manage any more food, but somehow we each ate a plate of pasta.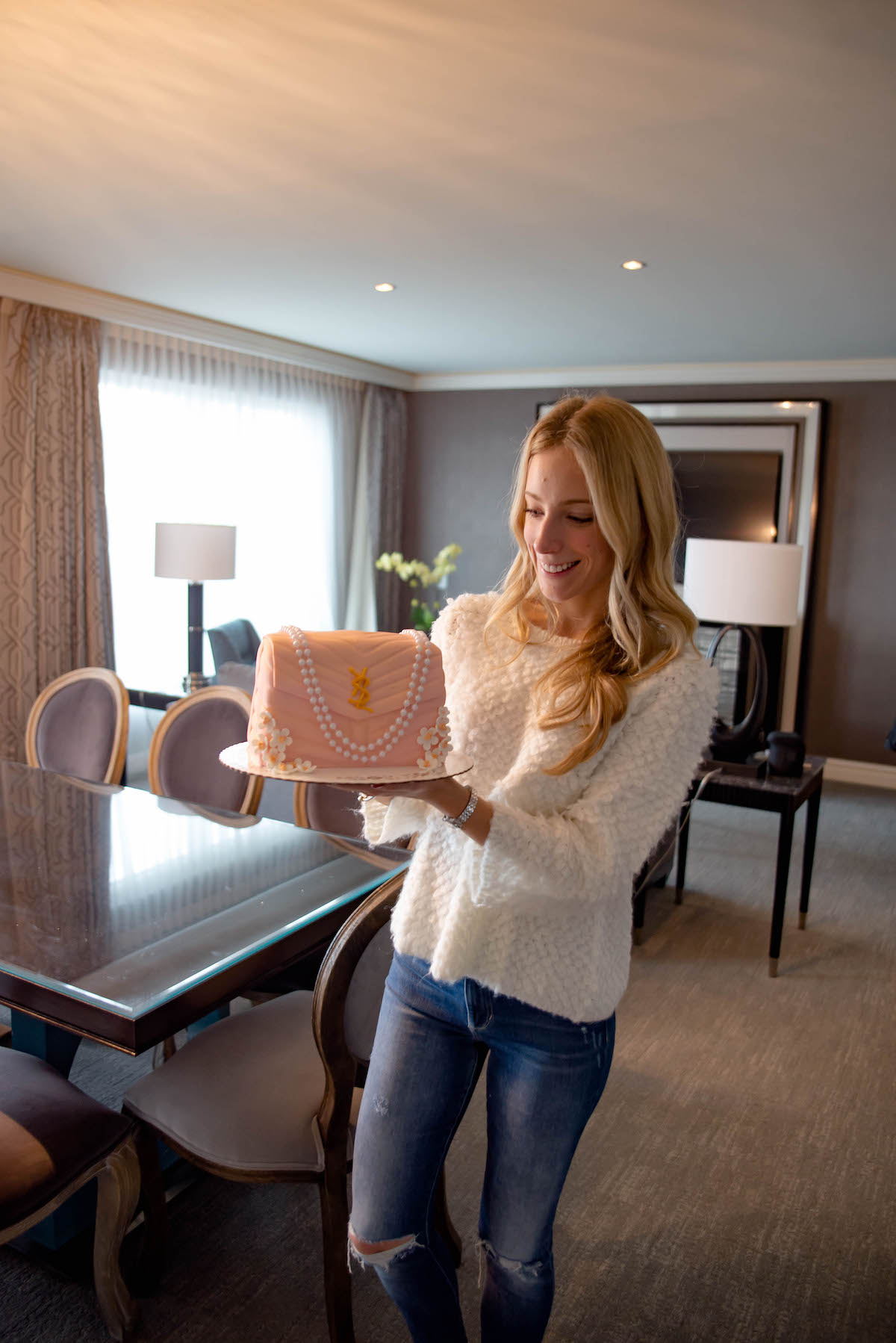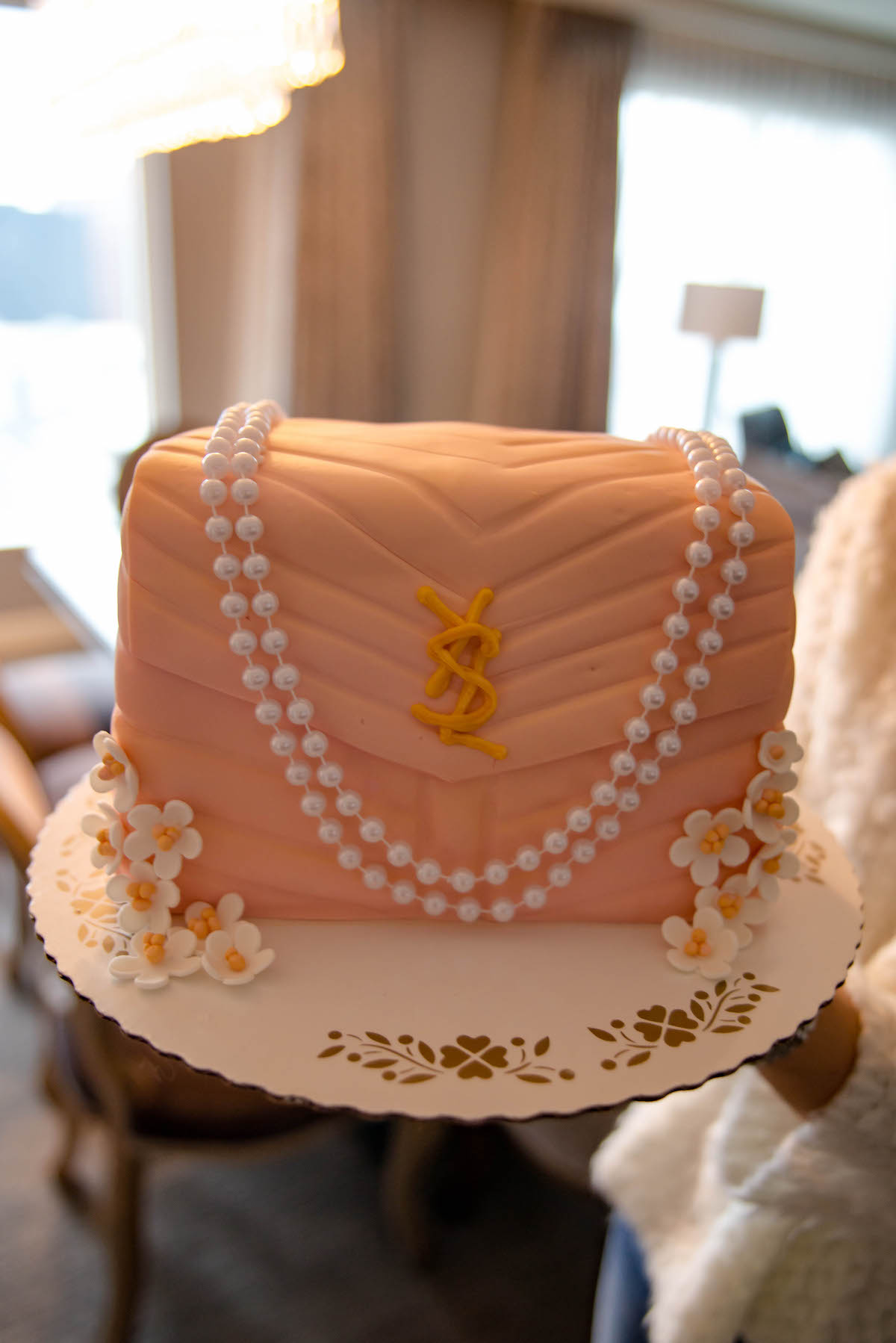 Click here for a link to my sweater!
After dinner we both agreed it was time for bed. Who knew eating and drinking could be so tiring? But you want to know what I found back in our room? A CAKE REPLICA of my Saint Laurent bag. I couldn't believe it! It was so thoughtful of the Ritz-Carlton, Cleveland to have something so personalized made for me. There was absolutely no way I was going to leave it at the hotel so Nick and I actually brought it on the plane with us when we left the next morning. We admired it for about a day before finally cutting into it (so sad) and trying a piece. Not only was it beautiful, but really taste. What a (literally) sweet ending to surprisingly fun trip!
- Katie