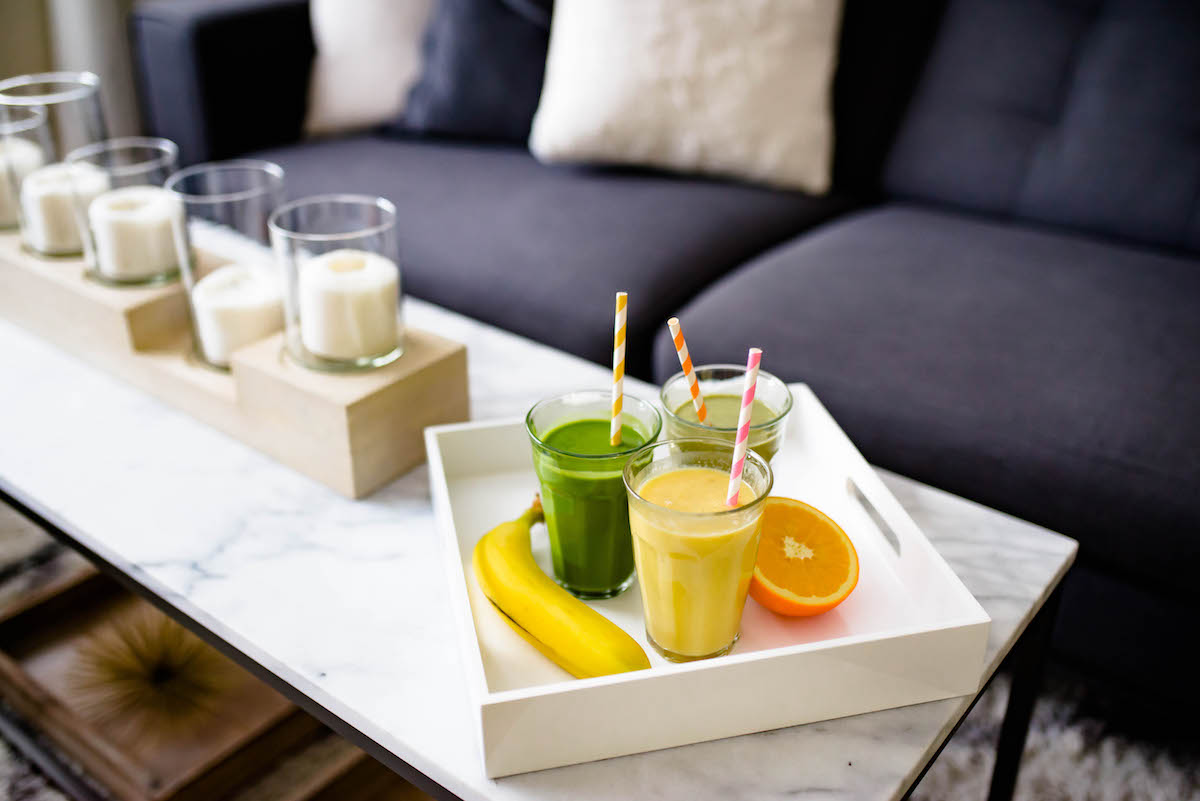 Happy Monday my friends! Switching it up with a post that's a little bit different from the Katie's Bliss norm and talking about one of my favorite drinks. Nope, not bloody marys or blackberry brambles (though both of those sound amaze right now…) SMOOTHIES.
Over the last three years I've become quite obsessed with making my own blended drinks at home in my Vitamix. I probably have a smoothie almost everyday. Addicted much? Yeah you could say that, but I primarily drink them for nutritional benefits. Okay so don't judge me too much here: I HATE fruit with a burning passion.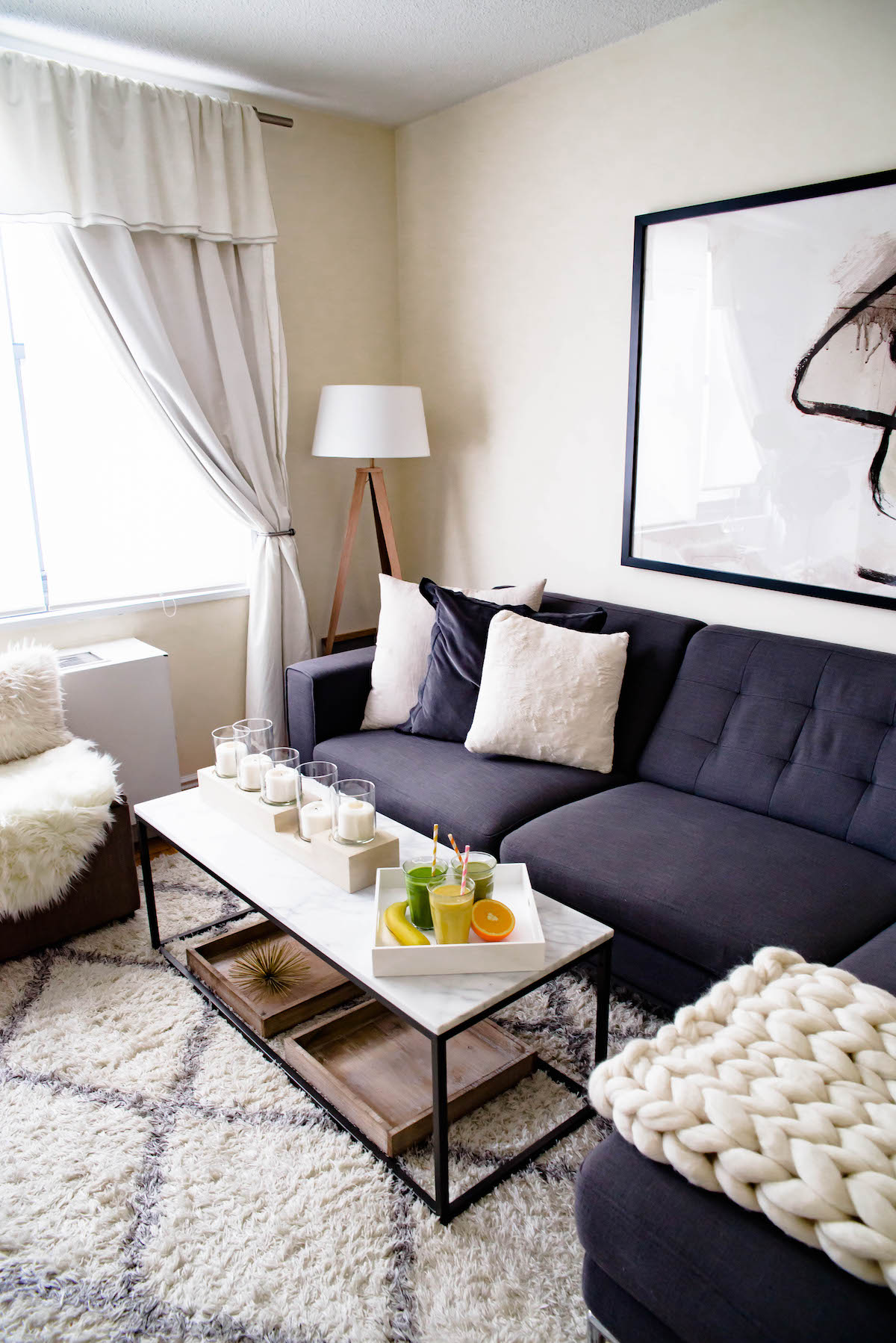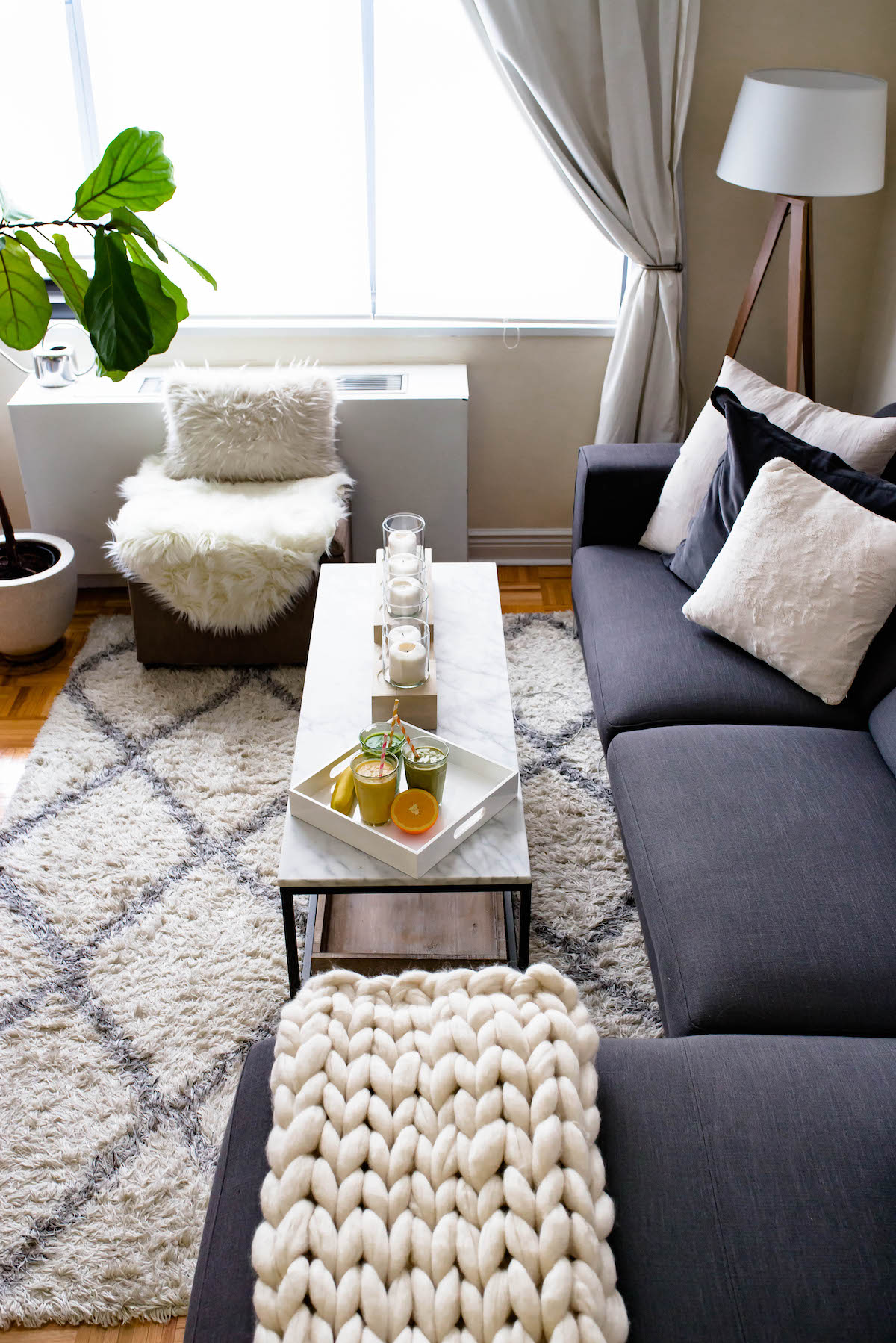 Coffee Table | White Lacquer Tray | Wooden Candle Centerpiece | Similar Coach (mine is old Modani) | Giraffe at Home Pillows | Floor Lamp | Chunky Knit Blanket | Curtains | Wooden Trays | Gold Urchin Decor | Wall Art via Minted
According to my Mom, pretty much as soon as I was out of diapers and able to express opinions about food, fruit and most vegetables were no longer welcome to me at any meal. Over the years I eventually got over my disdain for veggies, but fruit? No way. It's not even about the taste… It's the texture. Hard on the outside, but juicy on the inside? It absolutely creeps me out.
After revealing my love for my Vitamix on Instagram a bunch of you messaged me asking if I could post some of my favorite smoothie recipes. Well get ready because today I'm going to give you not one, but THREE different easy and healthy drinks you can blend together quickly at home.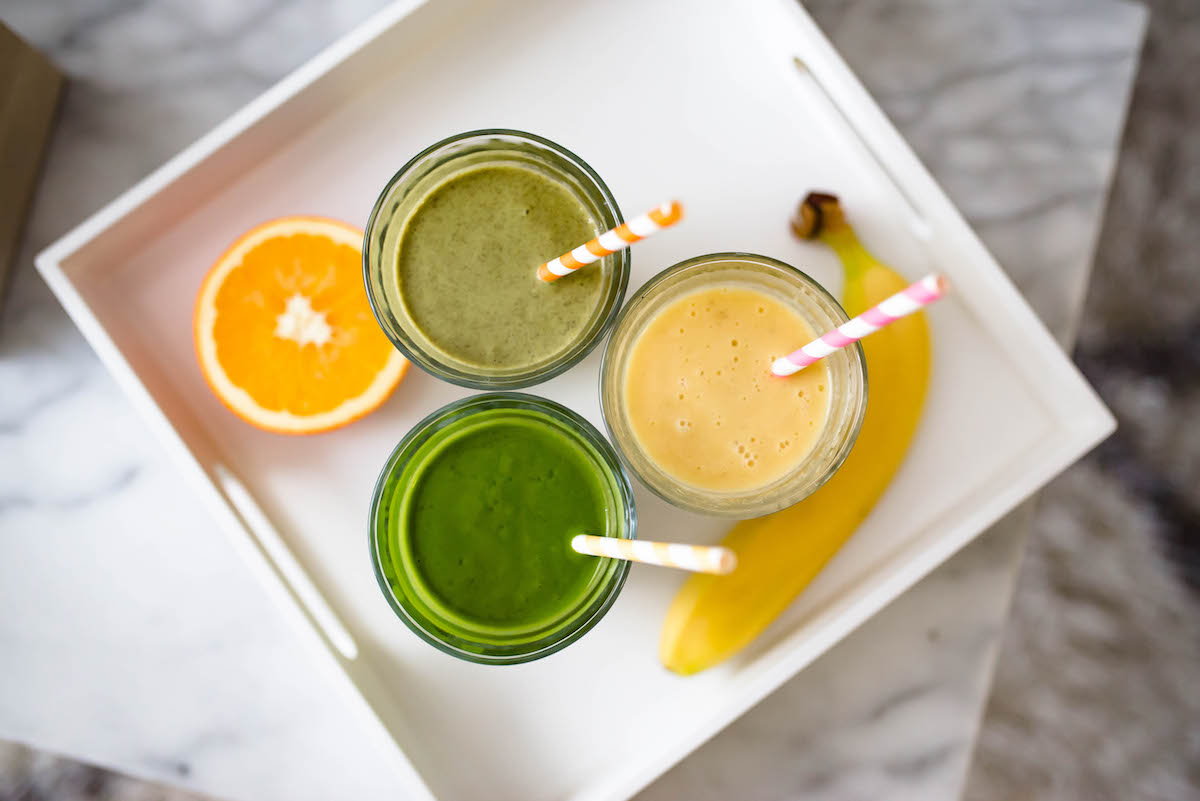 I'm definitely not trying to pretend like I'm any authority on health over here, but what I can tell you is that all of these ingredients are good for you. While they may taste nasty when eaten alone, if you blend them up together they make one super delicious combo that even those most aggressive fruit and veggie hater will enjoy. I love trying new smoothie recipes and these are the three I find myself repeating the most 🙂
3 Healthy Smoothie Recipes
(That Even Fruit & Veggie Haters Will Love)
---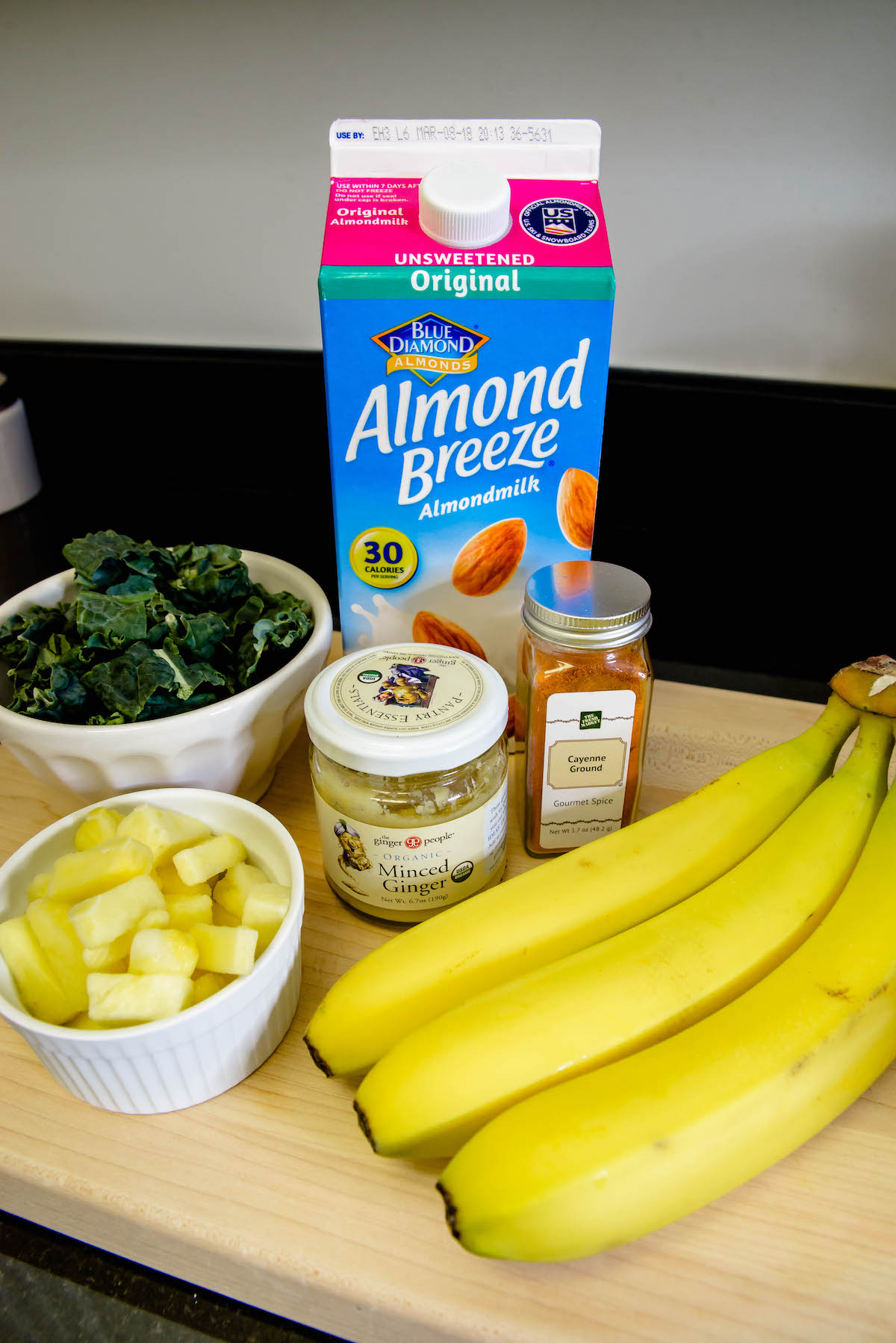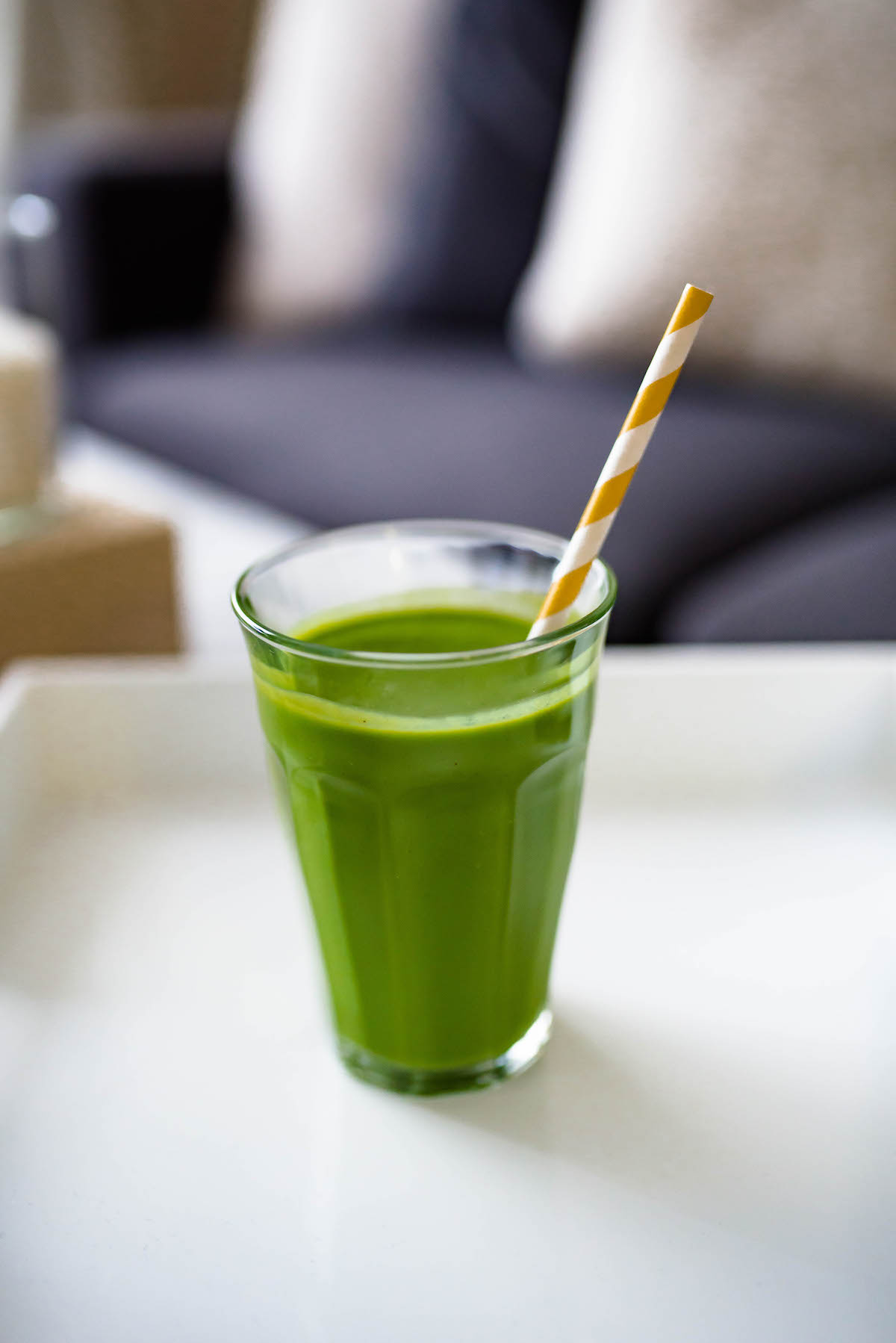 green detox smoothie
1 Cup Almond Milk (or water)
1 Banana
1/2 Cup Frozen Pineapple
1 Handful Kale
1 Tsp Ginger
Pinch Cayenne Pepper
a few ice cubes (I do 2-3)
This is my absolute favorite green smoothie recipe! Don't let the kale scare you– the fruit completely cancels out any harsh taste. In this drink you'll get digestion benefits from the banana and ginger, fiber from the pineapple, dairy-free protein from the almond milk, tons of vitamins from the kale and a little metabolism boost with the cayenne pepper. What's great about using a Vitamix is that it's so powerful it can blend solid food close to the consistency of a juice. I love the having this juice in the mornings to give myself some extra pep in my step.
---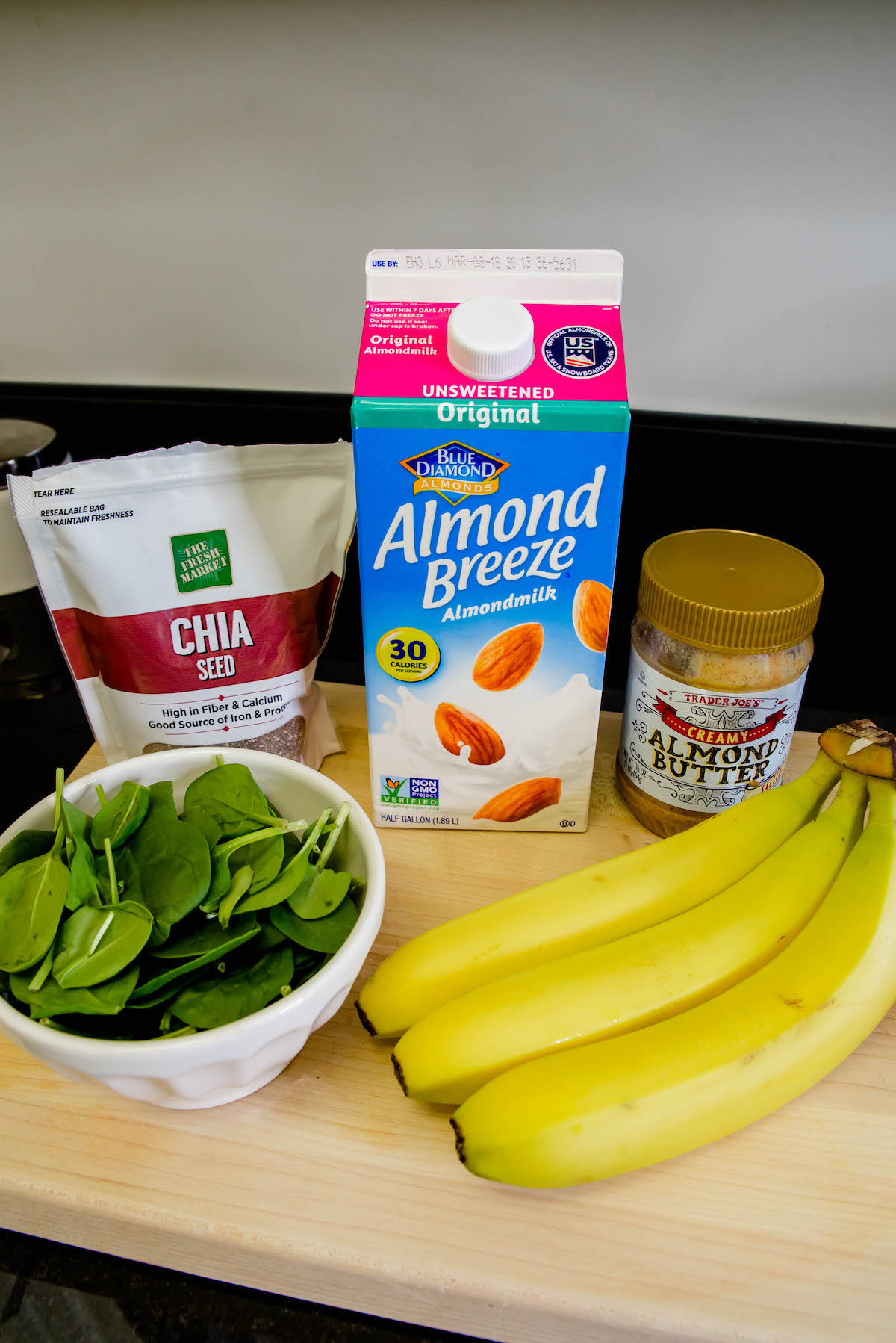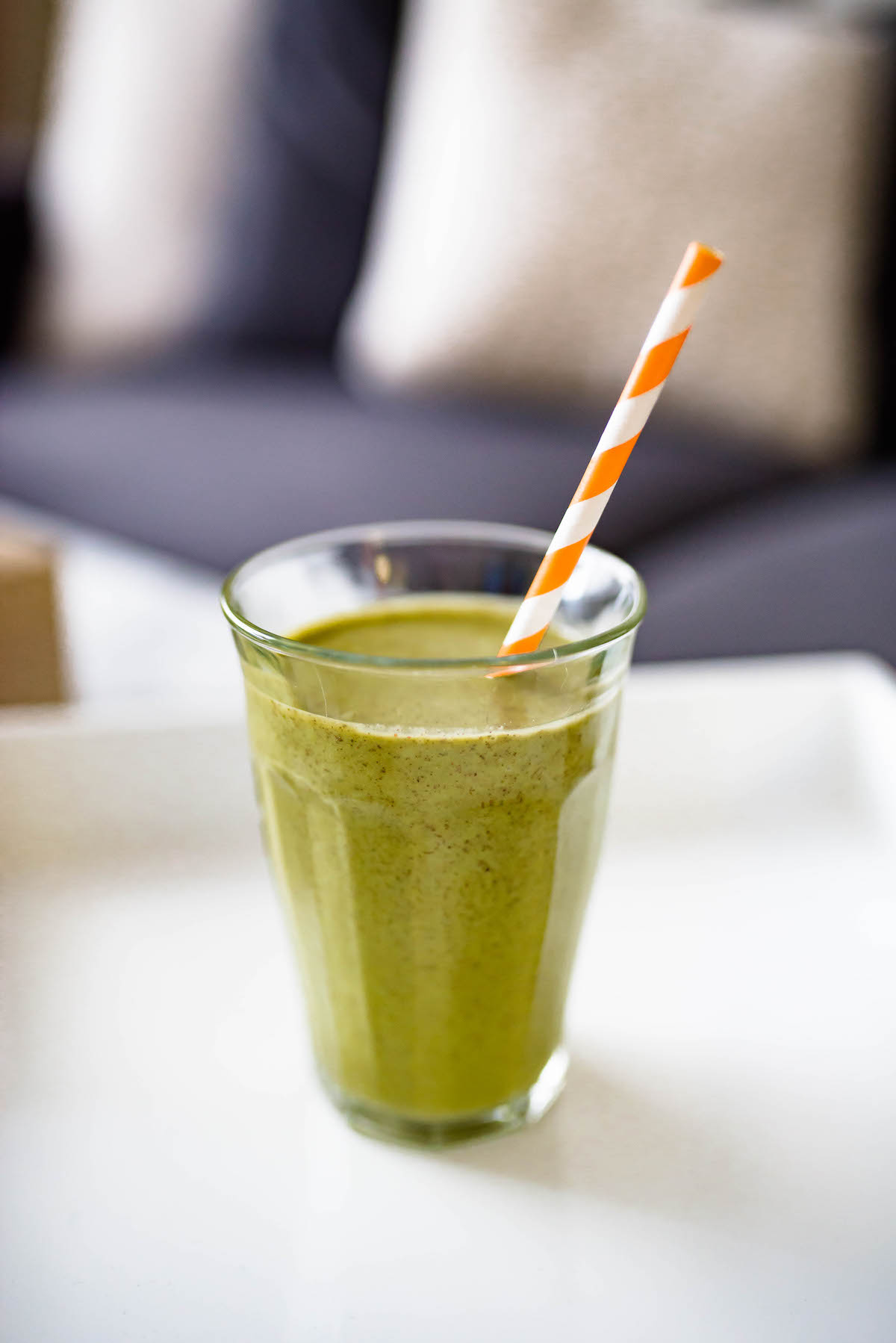 green nut butter smoothie
1 Cup Almond Milk
1 Banana
2 Handfuls Spinach
1 Tbsp Chia Seed
1 Tbsp Almond Butter
a few ice cubes (I do 2-3)
If you're apprehensive about green smoothies this is a great intro recipe because the almond milk and butter (feel free to swap for peanut butter) makes it really creamy and the banana cancels out the spinach taste. Chia seeds are totally optional, but considering adding them for benefits like omega-3 fatty acids, antioxidants, fiber, iron, and calcium.
---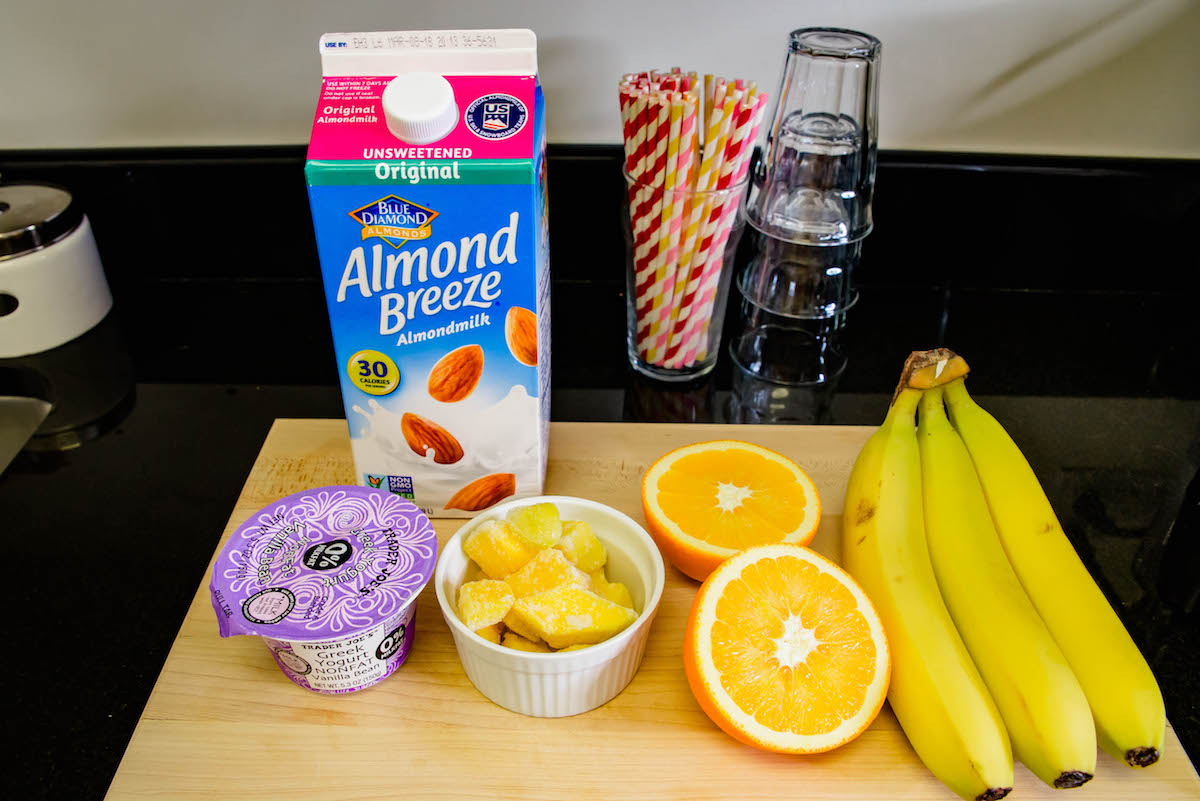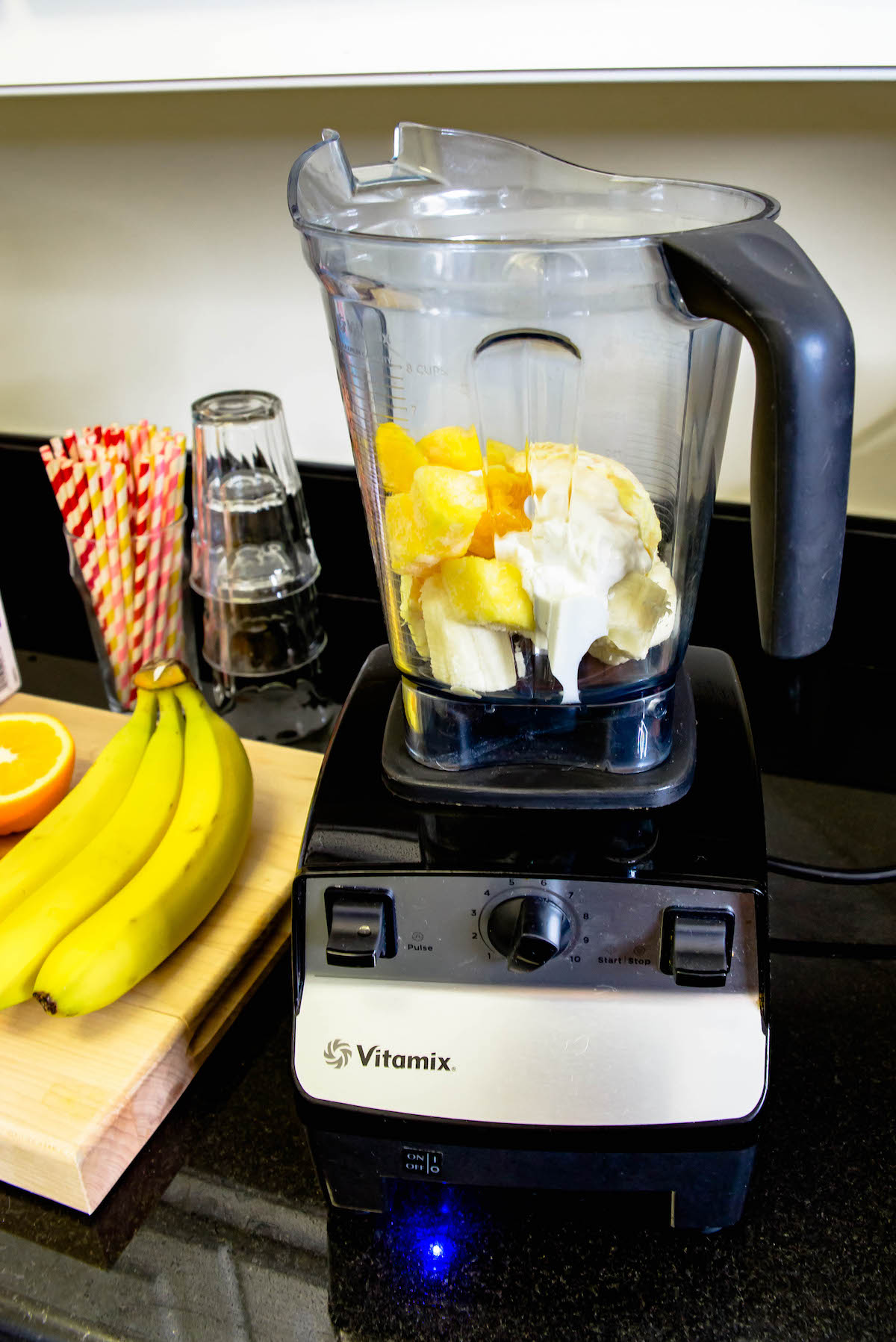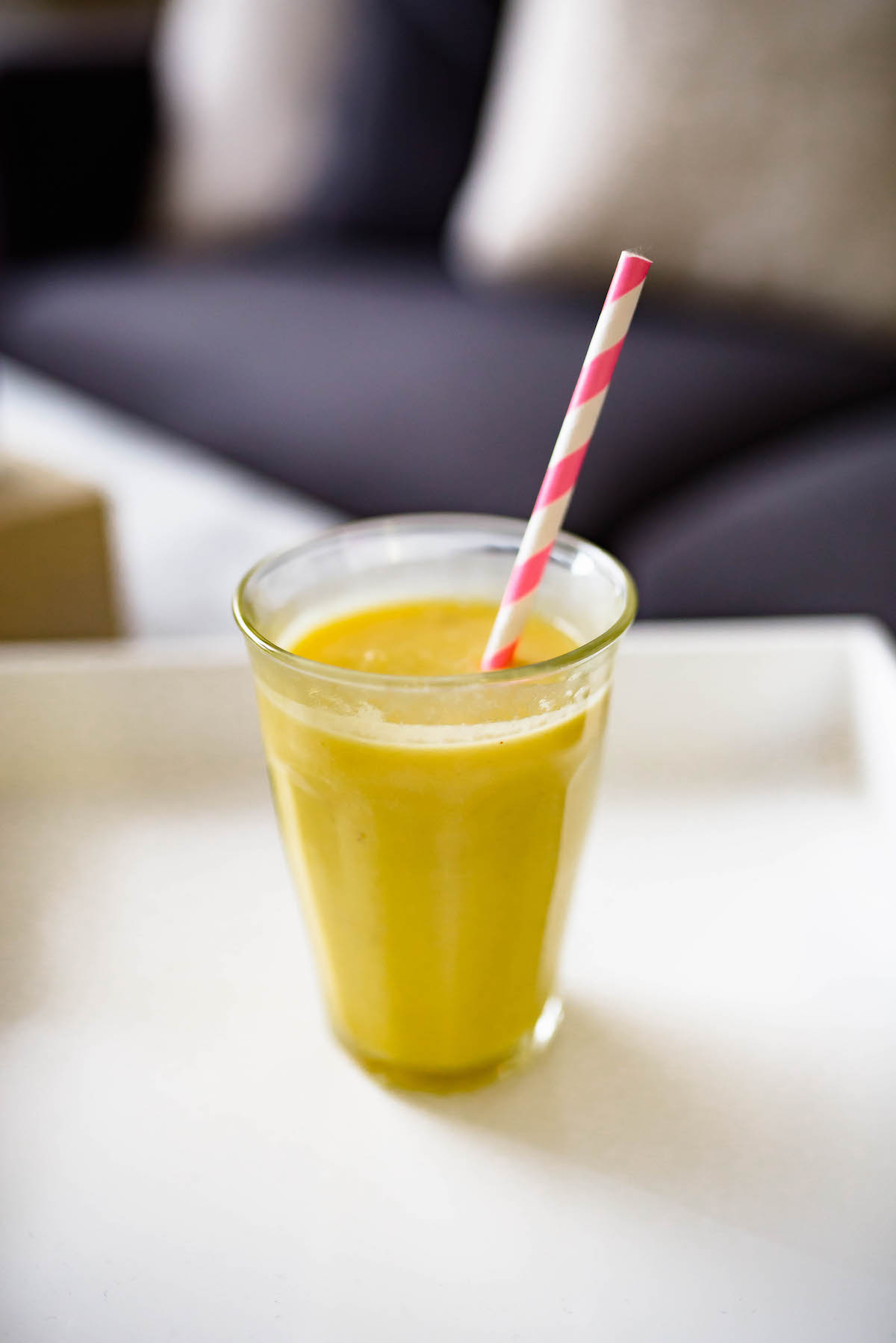 orange banana smoothie
1 Cup Almond Milk
1 Cup Frozen Mango
1 Orange
1 Banana
2 Tbsp Greek Yogurt
a few ice cubes (I do 2-3)
This is a really tasty recipe if you love fruity drinks and are looking to strengthen your immune system. There are no veggies, but you get lots of vitamin C, fiber and potassium from all that citrusy goodness. There's also added calcium thanks to the Greek yogurt. Sometimes I add in a scoop of vanilla protein powder too!
---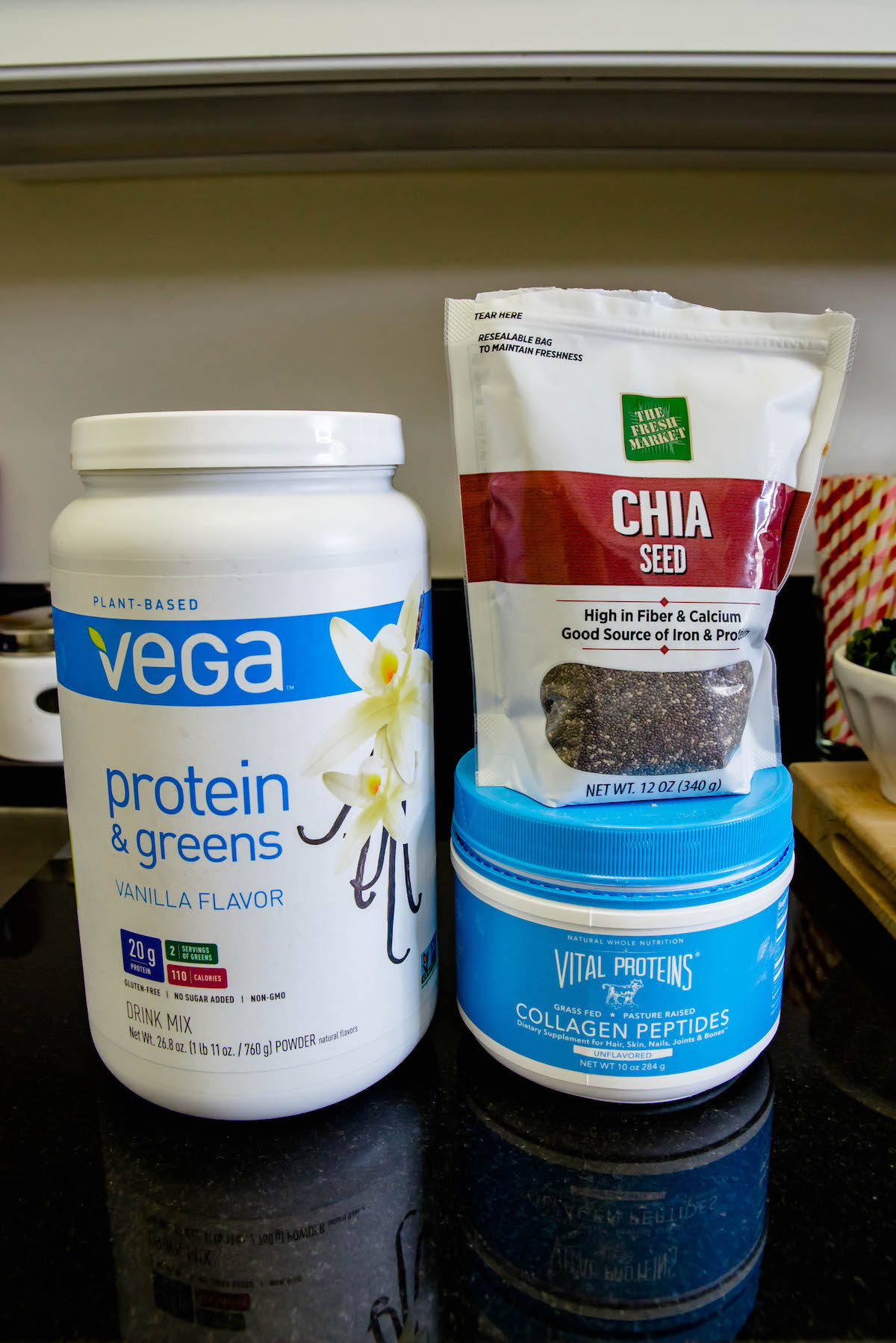 extra additions
If I'm making a smoothie after the gym I almost always add in a scoop of protein powder. I love this one because it's dairy free and doesn't have that chalky taste you sometimes get with proteins. Another one of my favorite extras is Vital Proteins Collagen Peptides for hair, skin and nail nutrition. It doesn't have a taste so you can easily mix it into any drink– I think I might even try it in my coffee! I also always add a tablespoon of chia seeds to my smoothies. They don't have a flavor and if you're using a powerful blender like a Vitamix you won't even be able to see them in your drink.
So I think that covers it! Definitely let me know if you guys have any questions or if there are any recipes that you think I should try. Would love to hear from you in the comments! xo
- Katie