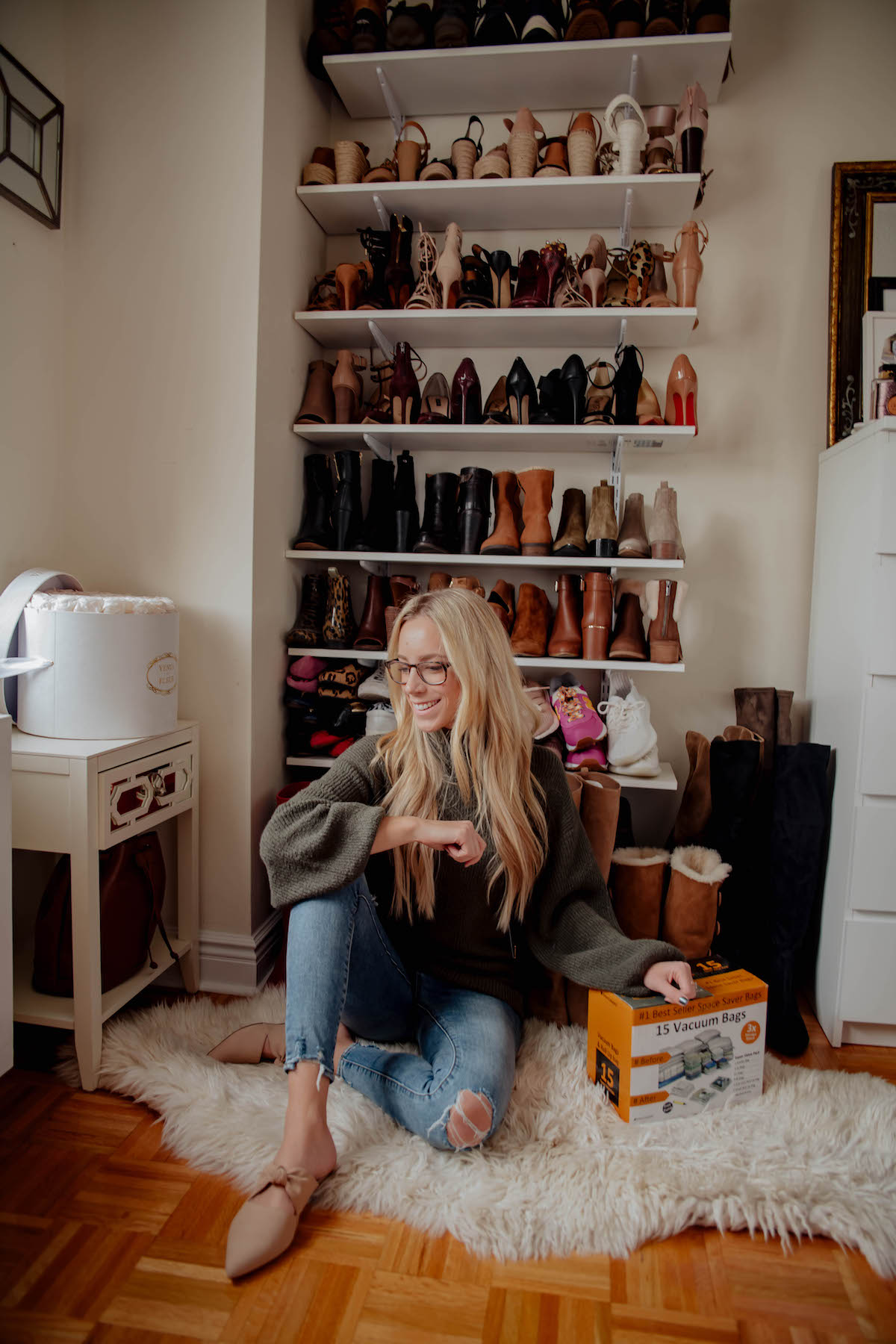 A few months ago after I casually revealed on Instagram how I store my off season clothing, I was SHOCKED at the amount of follow up questions and requests I received to put together a blog post explaining my closet organization process. Who knew a few very unglamorous behind the scenes videos of me with my vacuum and plastic space saver bags would prompt such excitement?!
The way I organize and store my clothing isn't incredibly glamorous or #closetgoals, but as you'll see below all it took were a few inexpensive  organizational supplies (that you can shop now at eBay!) to fully maximize the storage space in my one bedroom New York City apartment. PS the Home & Garden section on eBay.com is a GOLDMINE for the organization and storage-obsessed…
I've also been getting so many questions lately about my shoe shelving and garment rack, so I included some updated photos of those along with my tips for keeping the clothing and footwear you're currently wearing neat and tidy!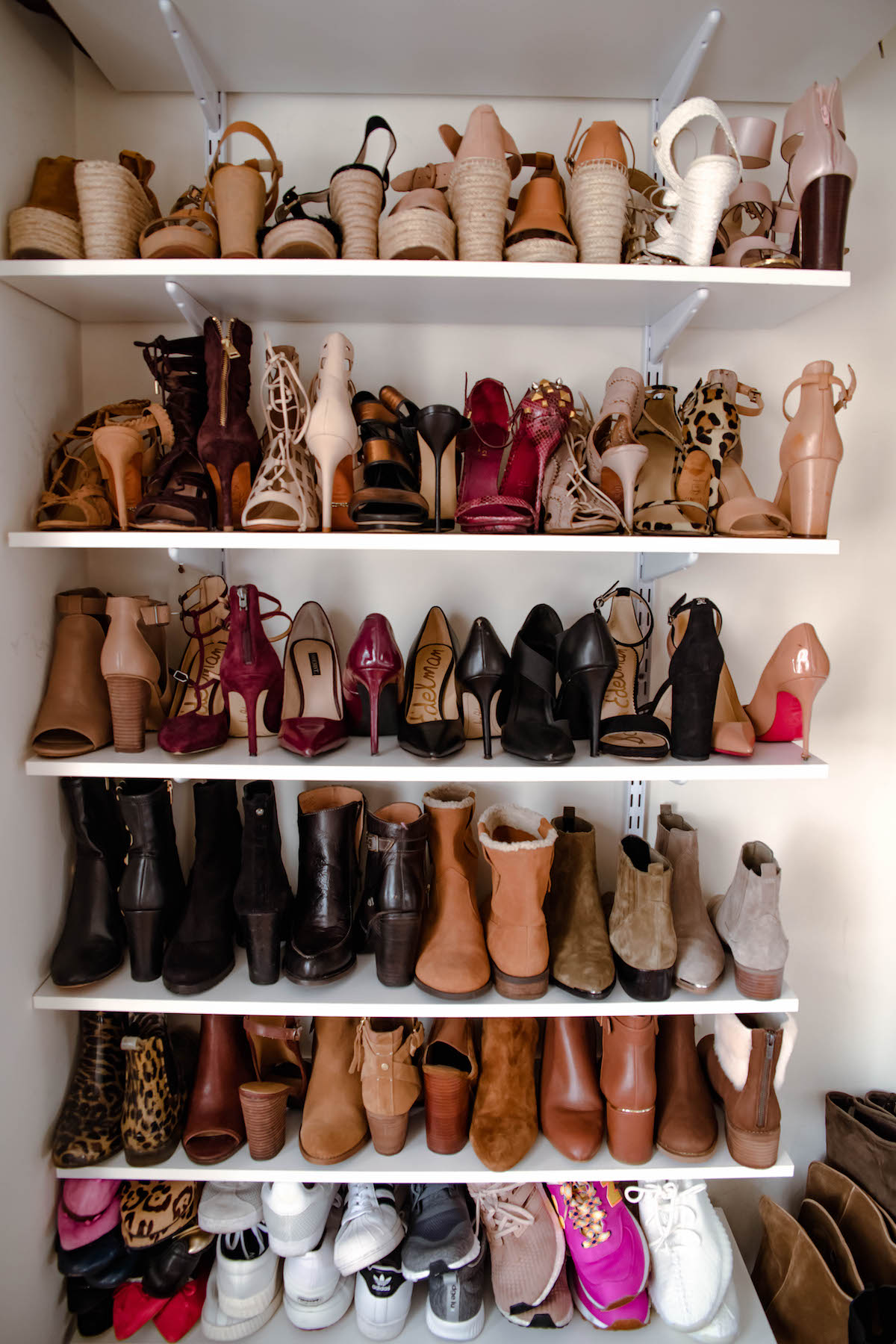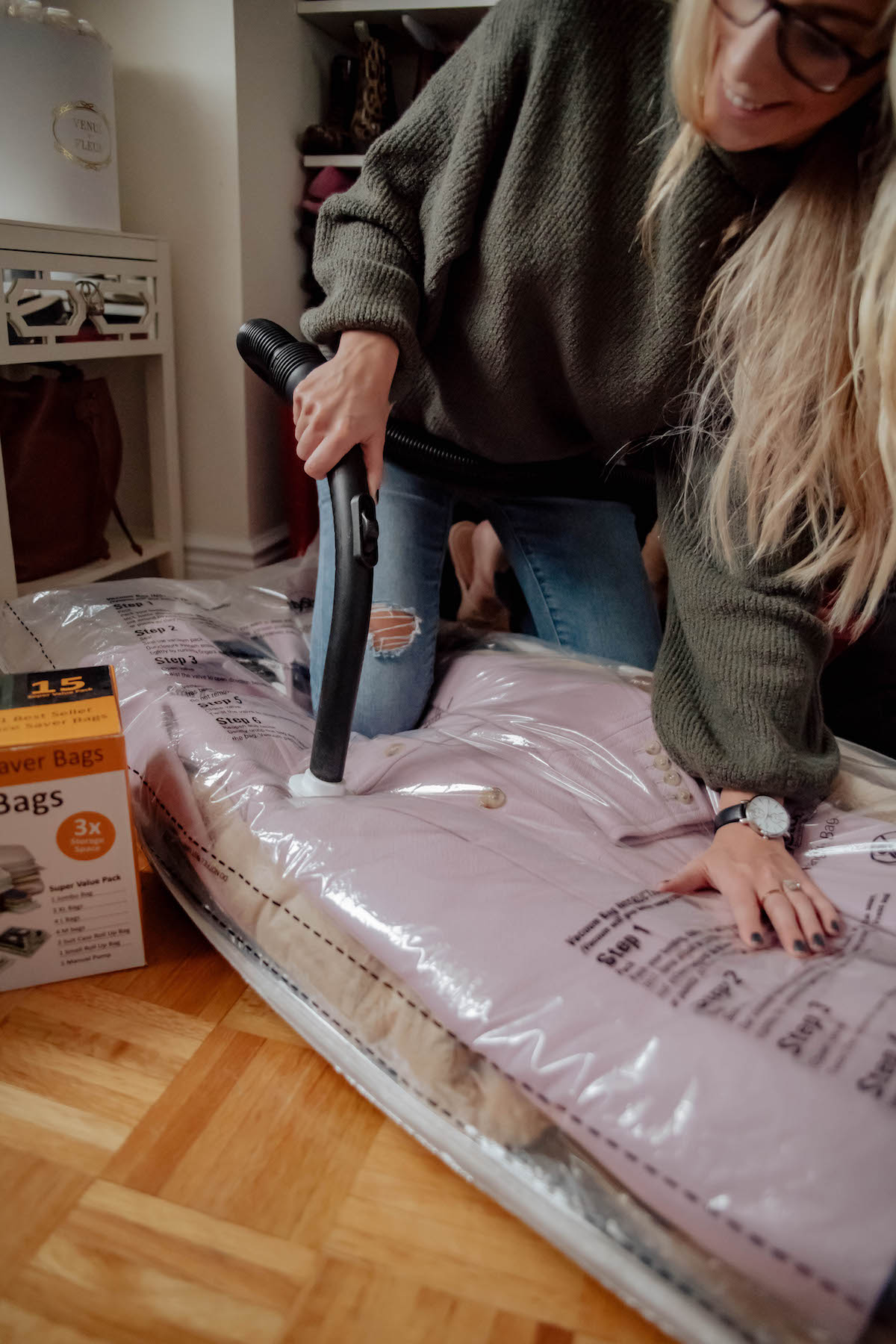 How To Store Off Season Clothing & Keep Your Closet Organized Year Round
STORING OFF SEASON CLOTHING
Vacuum Sealed Space Saver Bags
I warned you it wasn't pretty! Unless you are lucky enough to have a walk-in closet or unused rooms for storage (#jealous) I think it's common for most people to have to do some type of seasonal closet switcheroo. I only have space to keep seasonal clothing in my closet and on my garment rack so everything else has to be stored.
If you're in the same boat as me I have a life-changing solution for you: space saver vacuum storage bags. I discovered these about three years ago and I'm obsessed! I bought a set of 15 bags in various sizes for just $33 that I like to use for packing away off season clothing, extra coats, bulky bedding and more. By using these bags you can shrink your stuff to about 25% of it's original size! Total must-have for apartment living.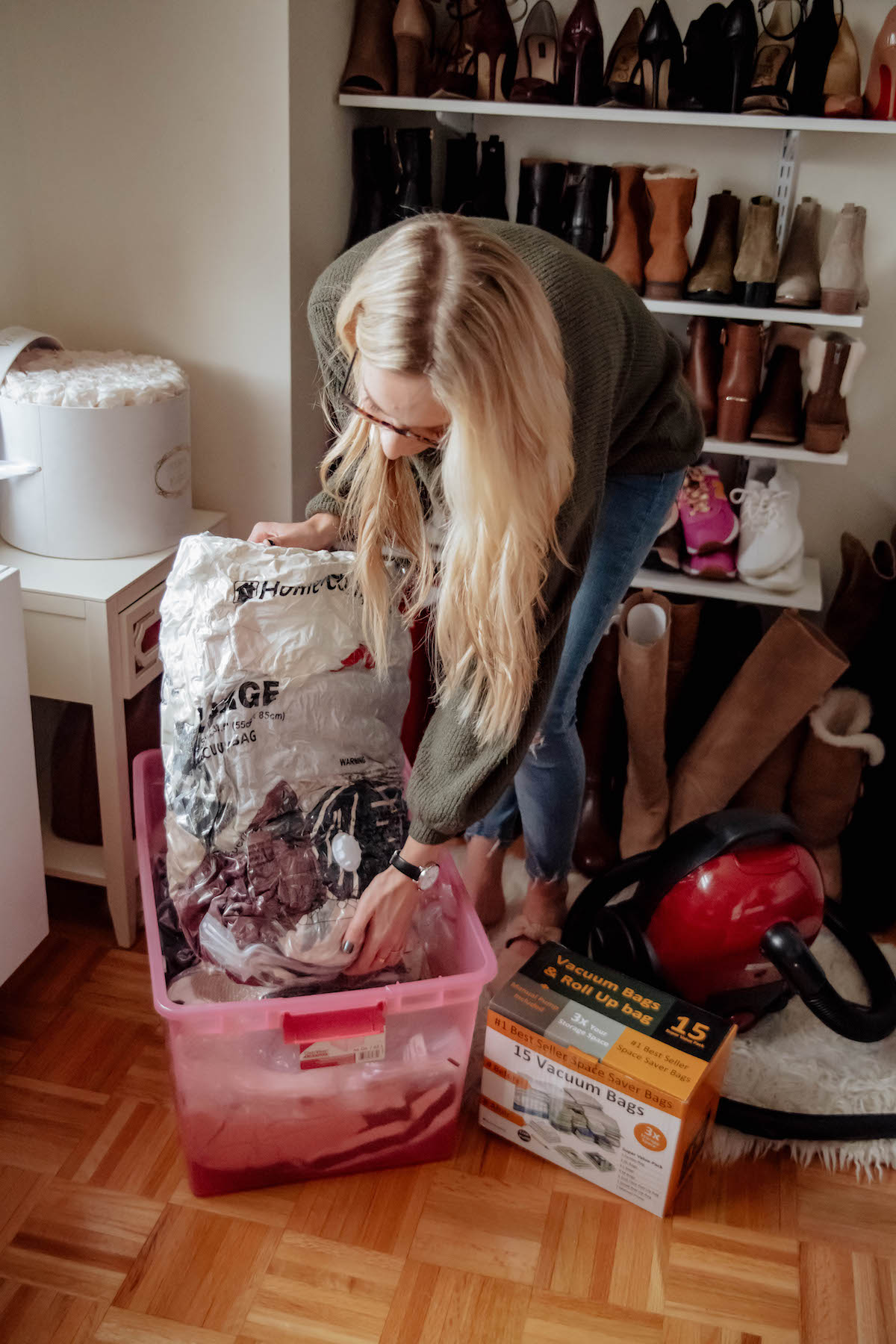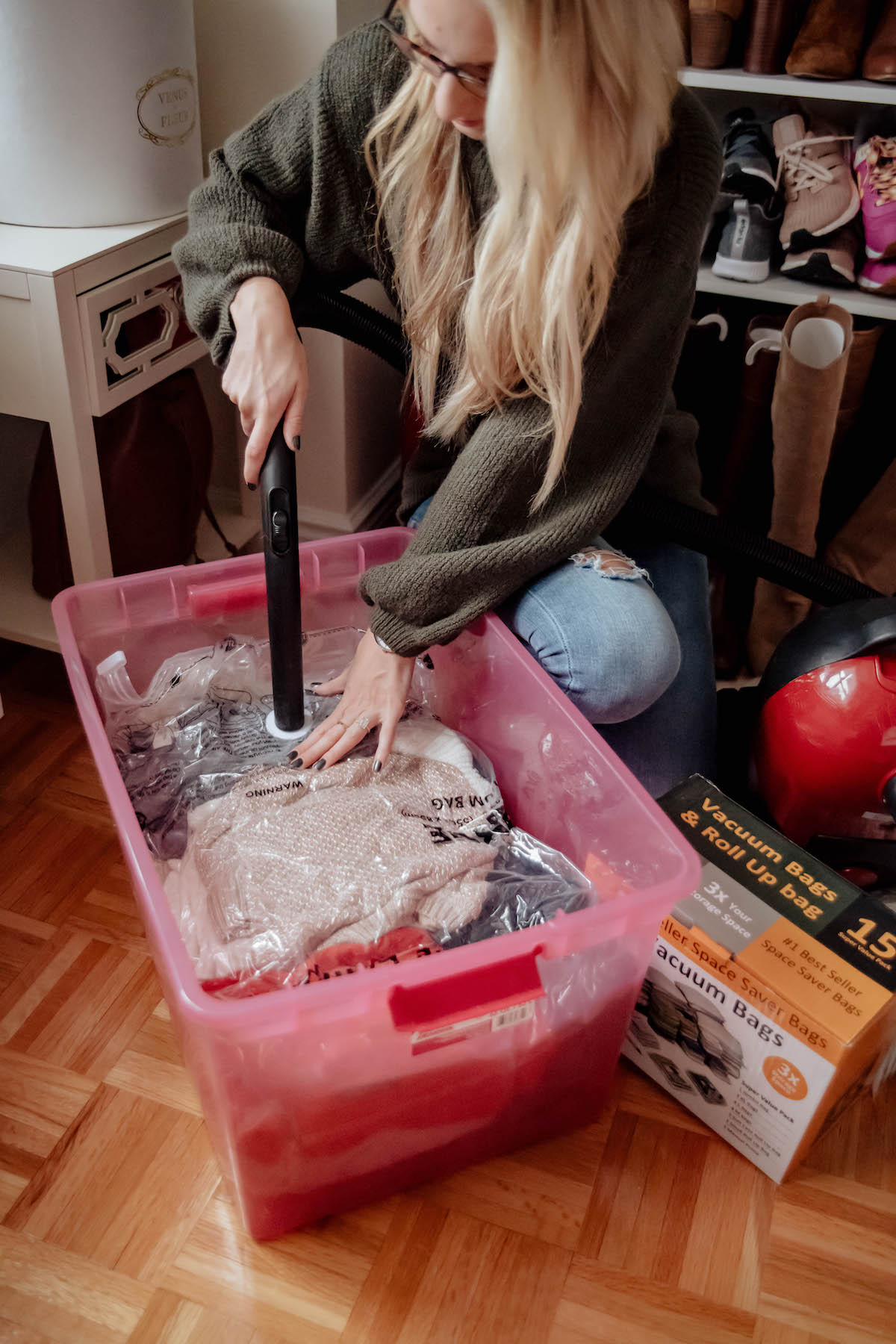 So how do you shrink it all? I believe some bag sets come with a handpump, however I prefer to use a vacuum with a hose (here's a good example from Dyson.) The vacuum sucks out all the extra air from the bag leaving you with a compact parcel that can easily be placed inside a plastic storage bin as I'm doing here. I like to fill two space spaver bags to the brim with clothing, shrink them both each is placed inside the bin (so the bags mold to fit!) and then store the box at the top of our closet.
Tip: for any items you don't want to fold like outerwear or long dresses, I highly recommend hanging space saver bags. These function the same as standard space saver bags, except you can hang them in your closet. If you don't have a lot of extra closet space, these could also be stored underneath furniture or behind a floor length mirror. I actually keep mine under our bed and living room couch 😛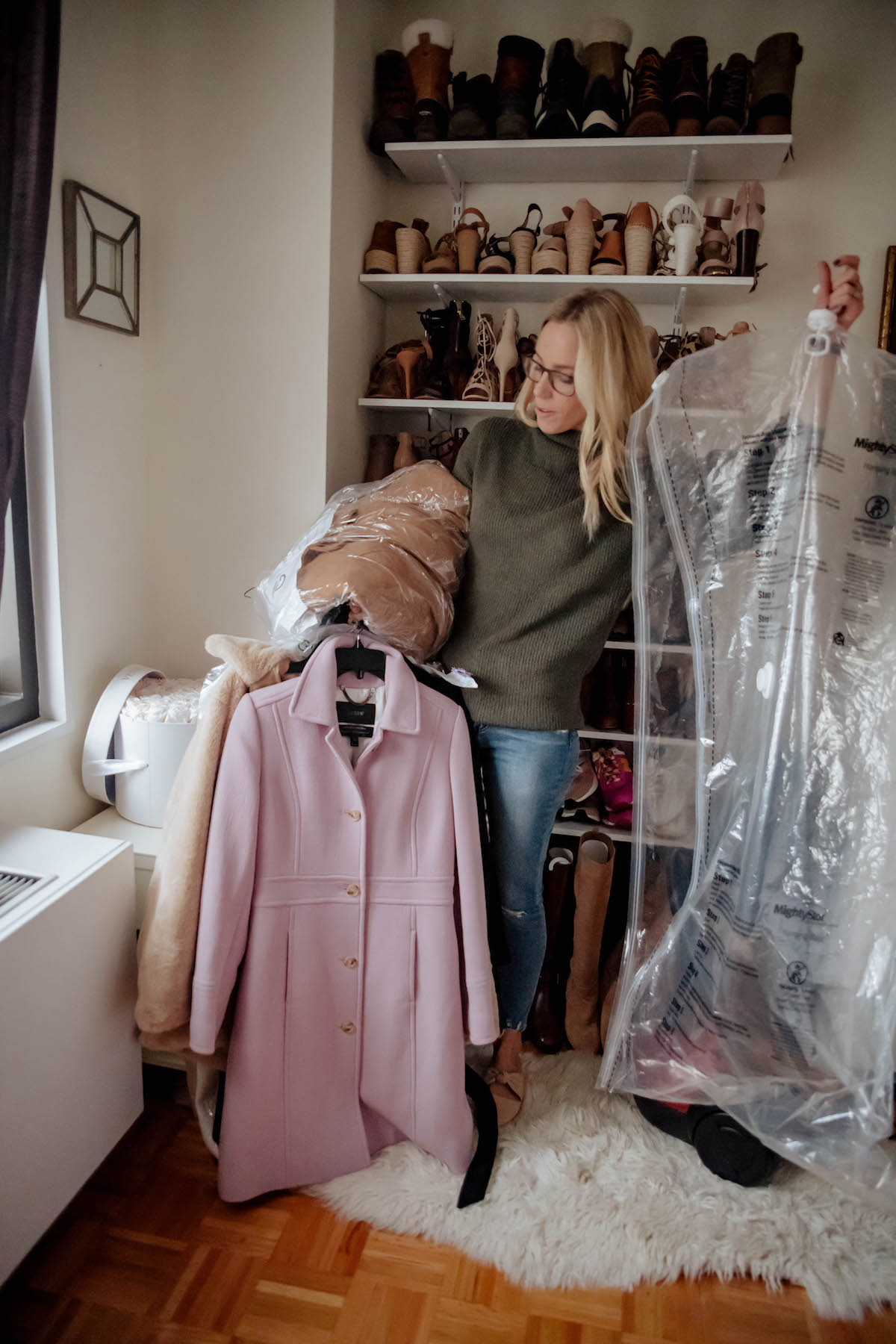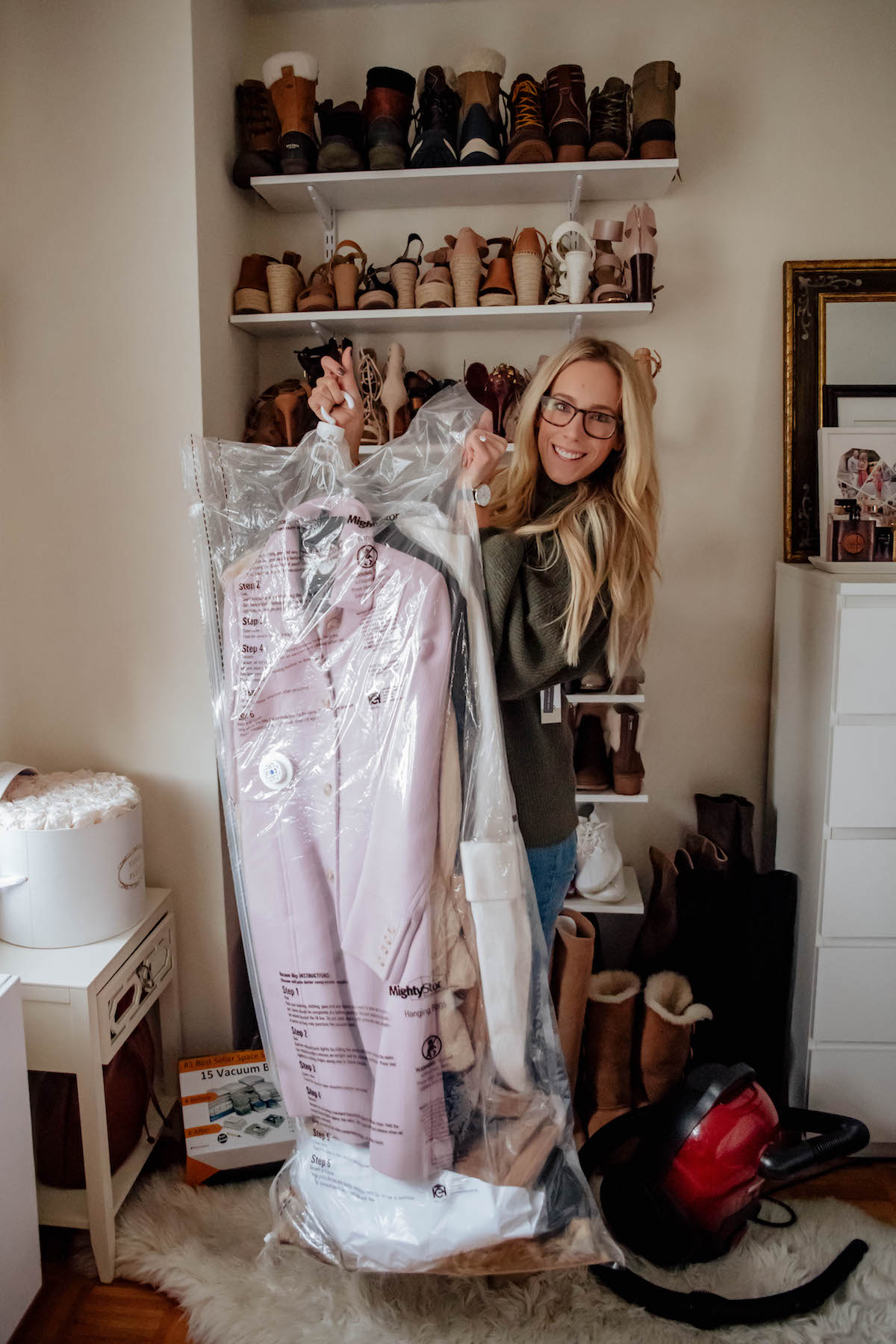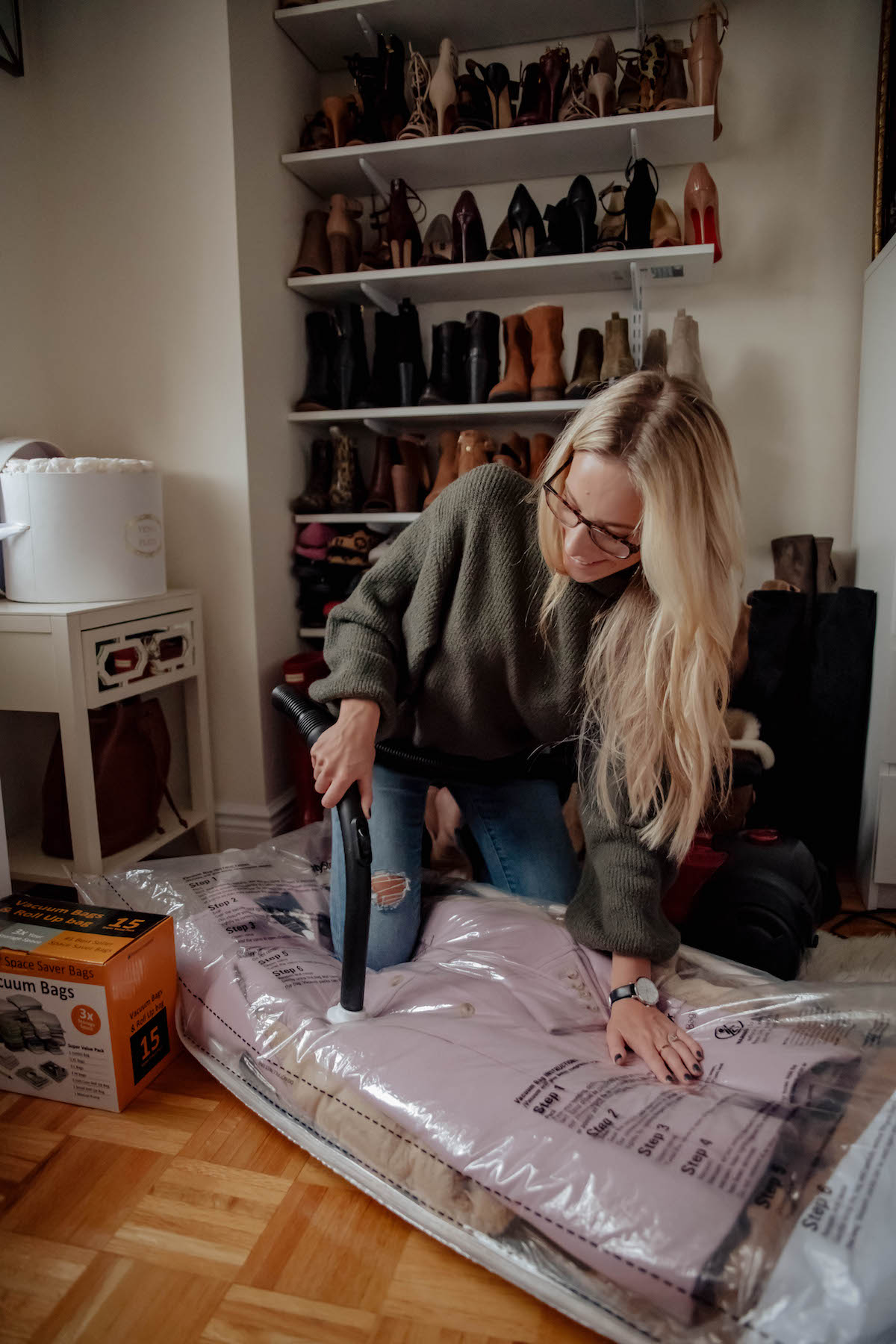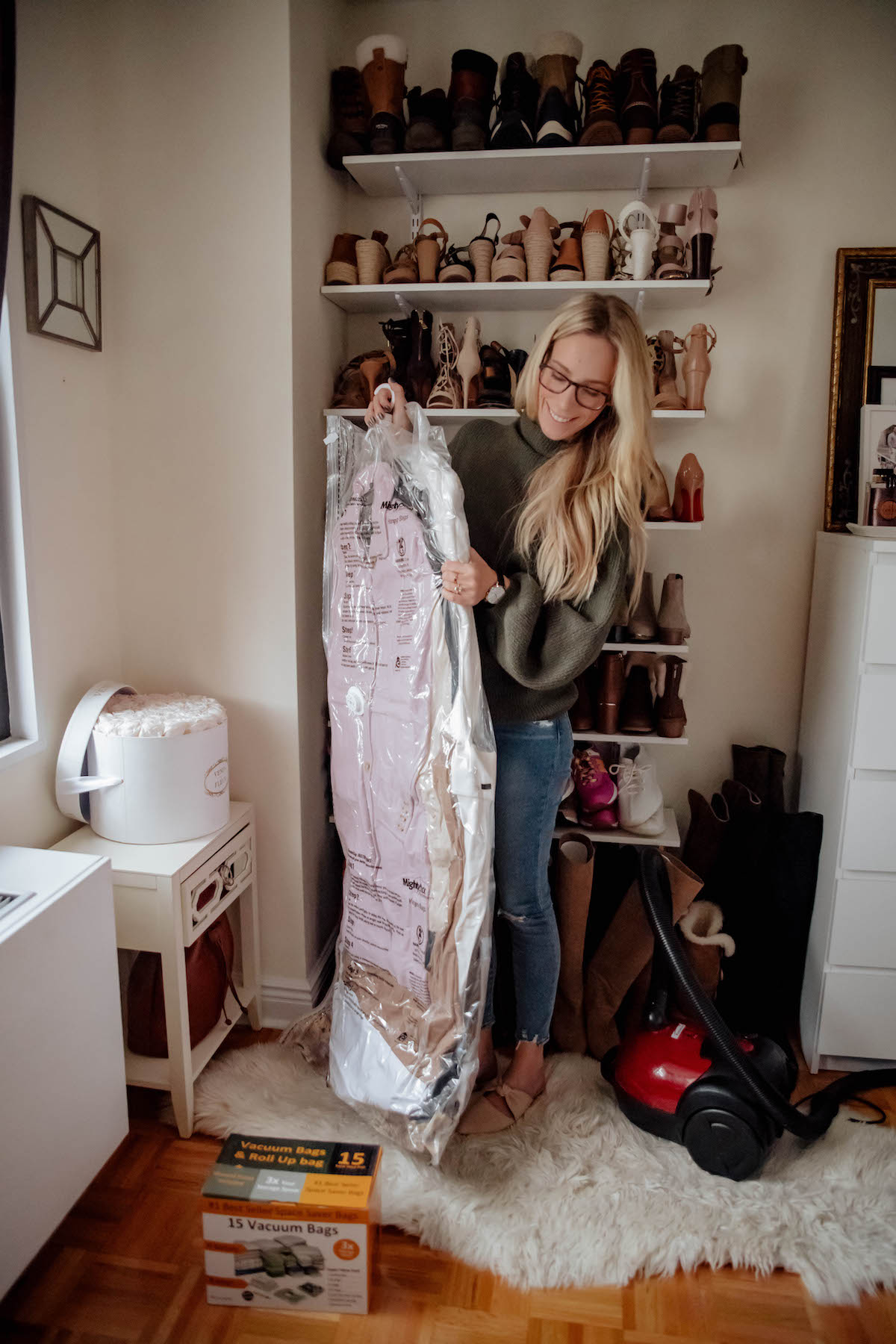 Shop Space Saving Supplies

SHOE STORAGE & ORGANIZATION
The Shoe Wall
In need of more storage space? Build UP! Installing vertical shelving, or a "shoe wall" as I like to call it, was one of the best decisions we made when we moved into our current apartment. We decided to place the shelves in an awkward area of our bedroom where we couldn't fit any additional furniture or decor to fully maximize space. I LOVE how I can see all my shoes at one time and every pair has it's home on a shelf. It was really easy and affordable to build too– you check out this blog post for a step-by-step explanation of how Nick and I put it together.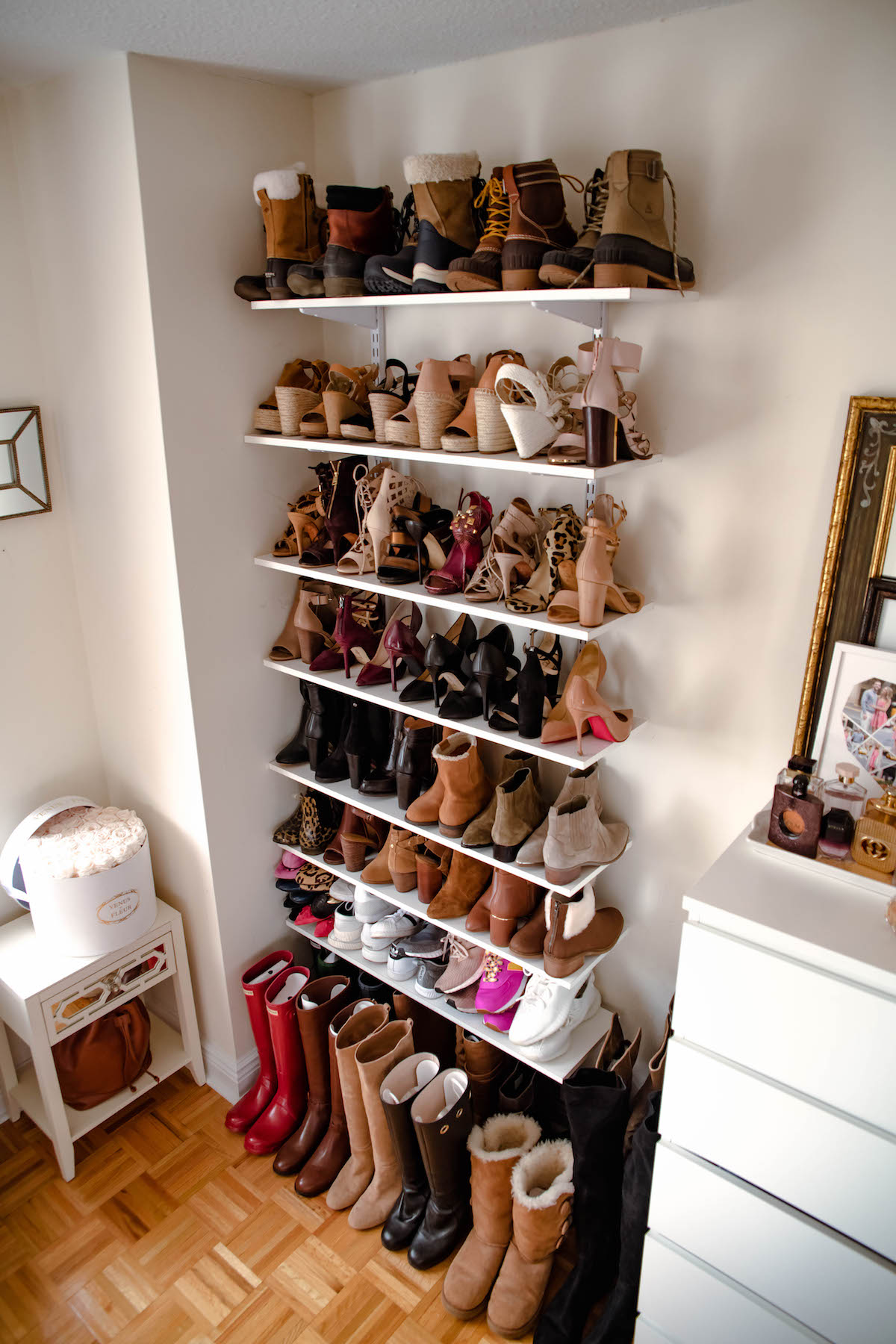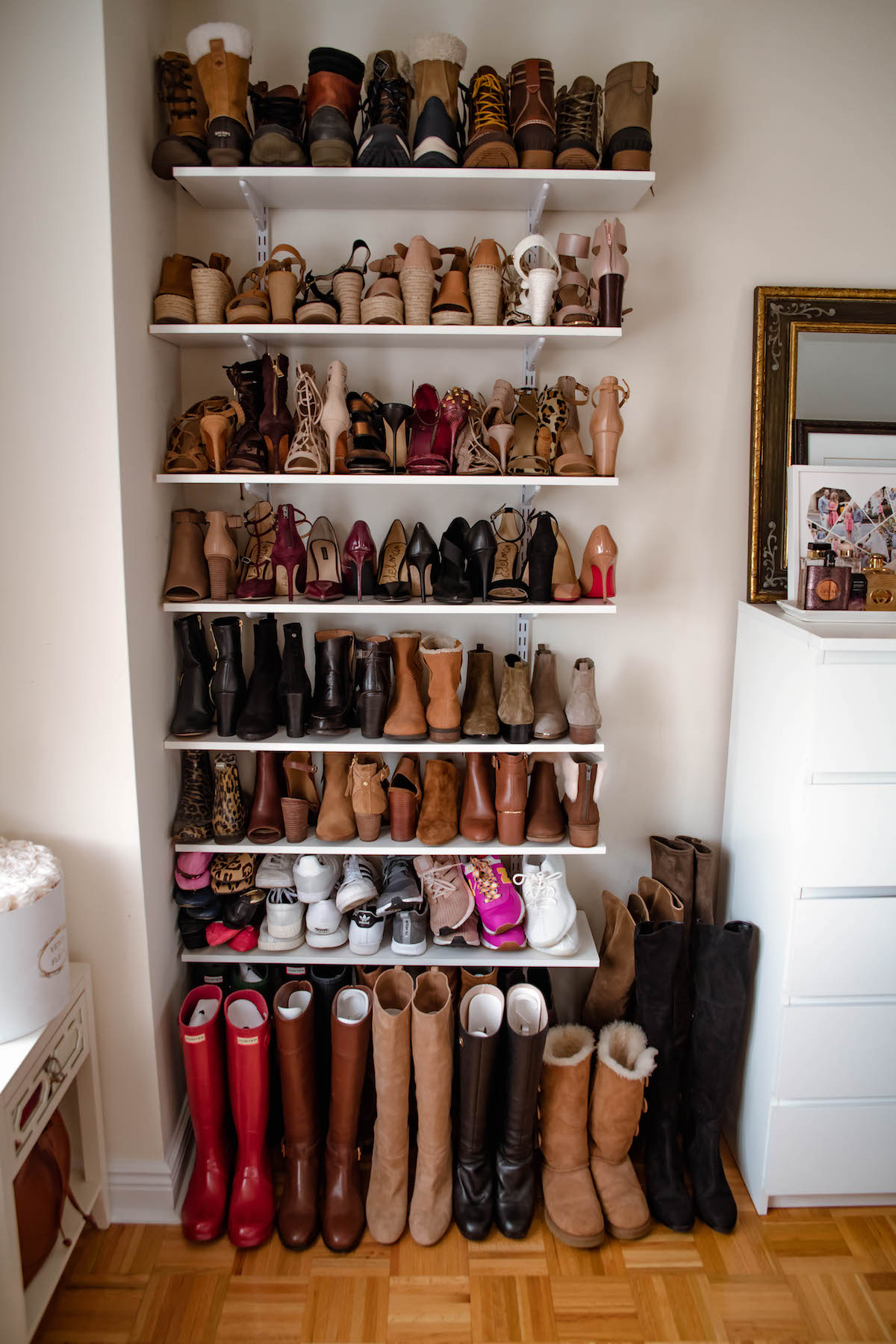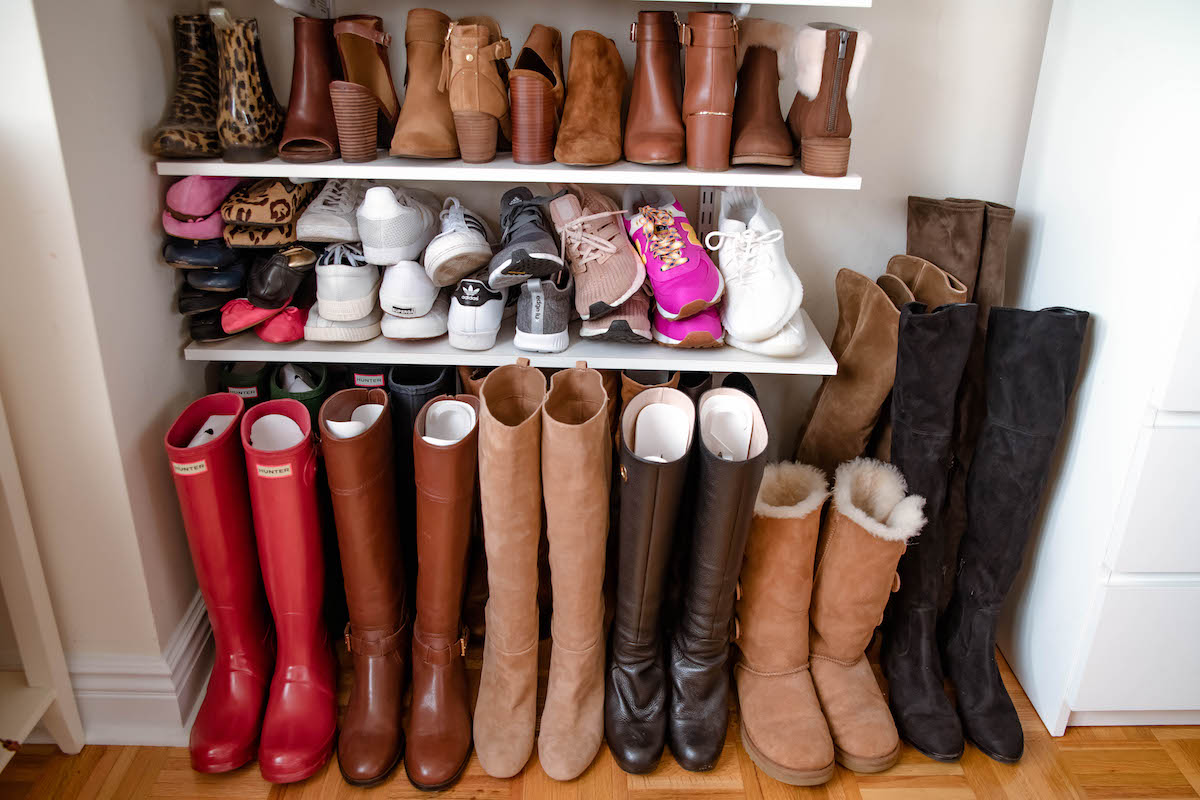 Boot Shapers
After years of struggling and failing to keep my tall boots tidy I finally found a solution: boot shapers! Not only do these help over the knee and riding boots maintain shape and structure, these also make it much easier to organize footwear standing up. The boot shapers I bought actually have a hook so if you're lucky enough to have the closet space you could even hang your shoes as you would clothing.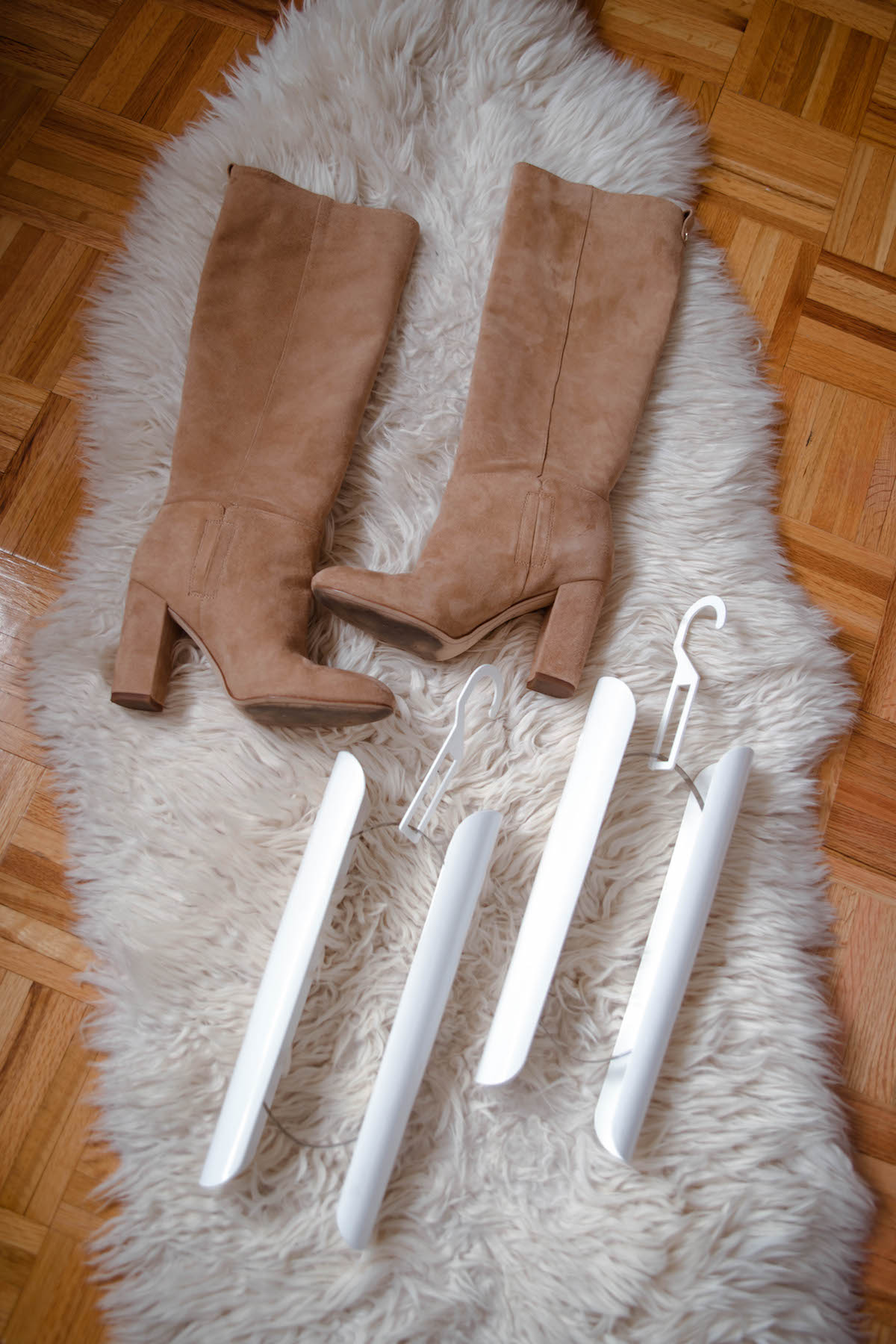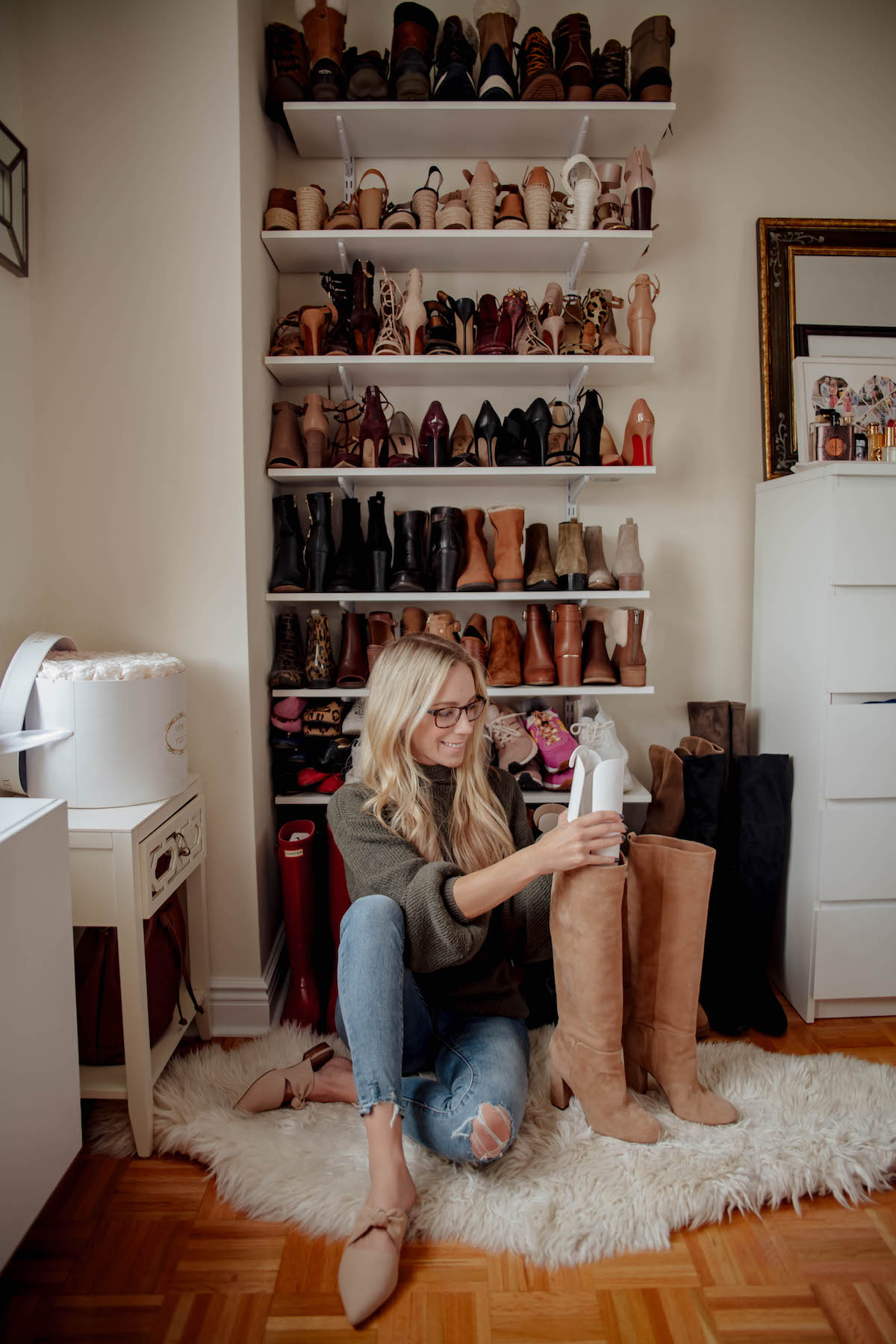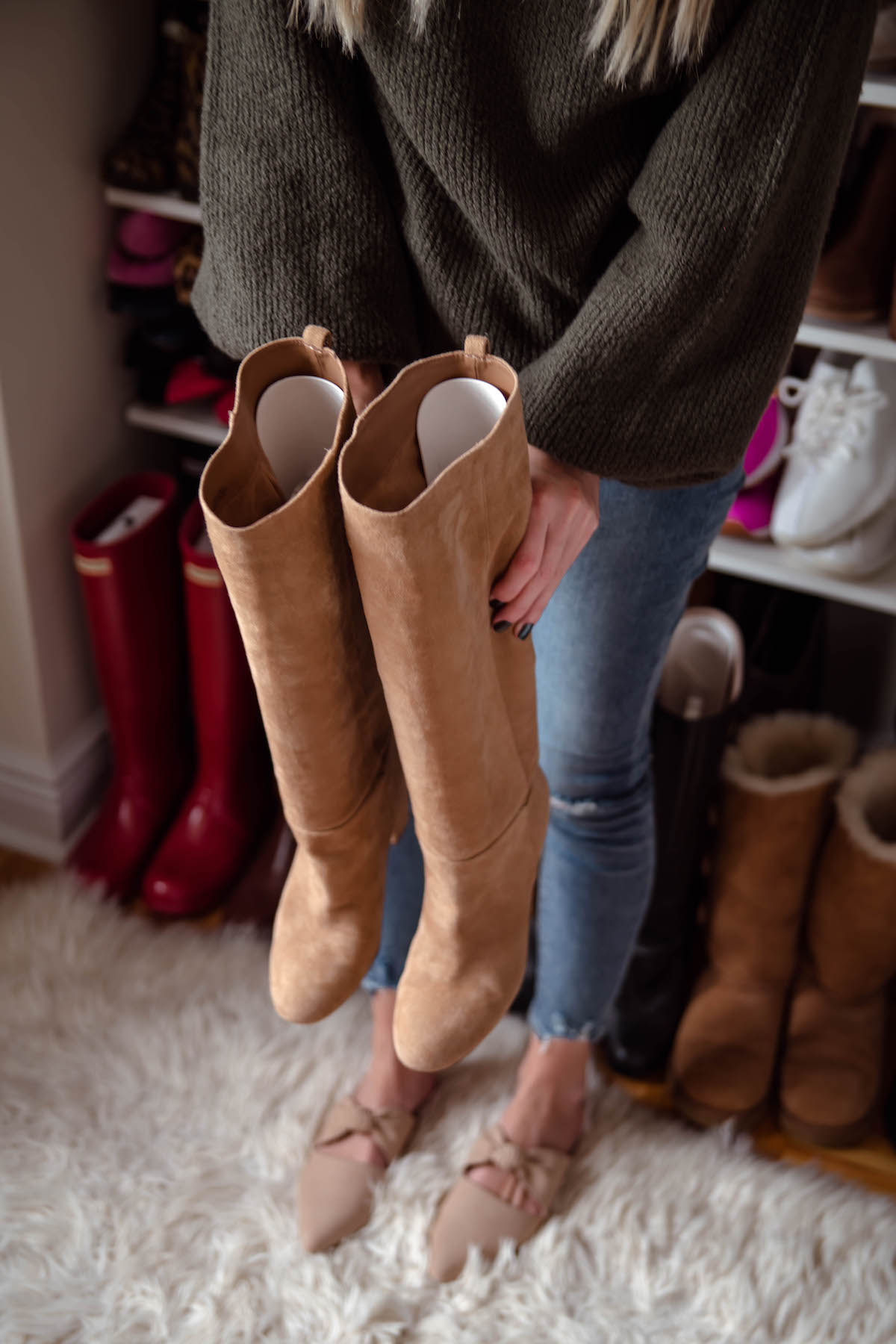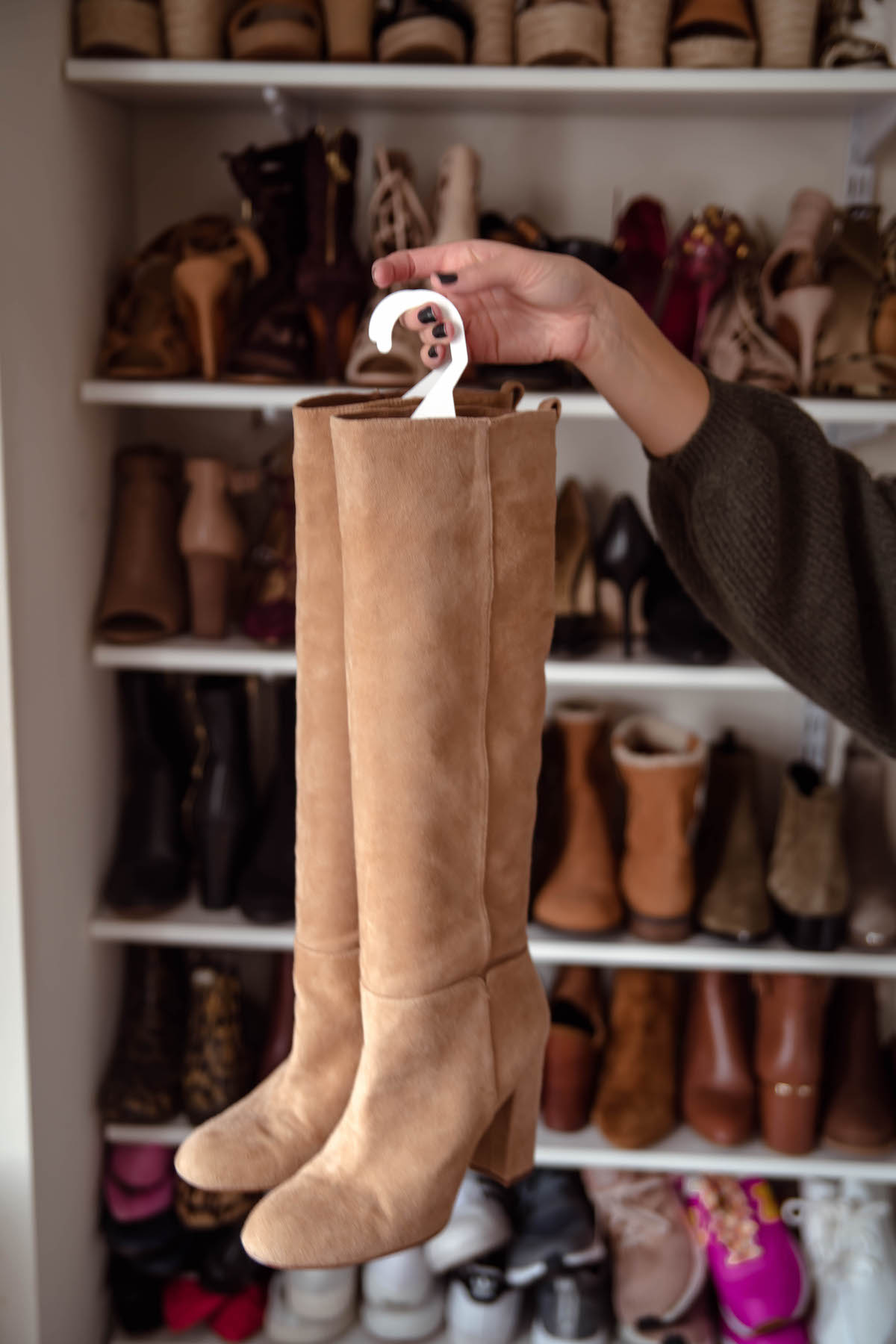 Shop Shoe Organization Supplies

SMALL SPACE LIVING CLOSET HACKS
The Garment Rack
If you have a tight amount of closet space then I would definitely consider looking into a garment rack. I like to use mine for hanging the seasonal clothing I'm reaching for most frequently or anything new that I plan on shooting photos of for my blog. Guys, my clothing is soooo much more organized now that I don't have to rummage around in my closet every day!! Similar to my shoe wall, I placed my garment rack in an area of our bedroom that we otherwise weren't going to use. Gotta take advantage of every inch of square footage my friends!!
Shop Affordable Garment Racks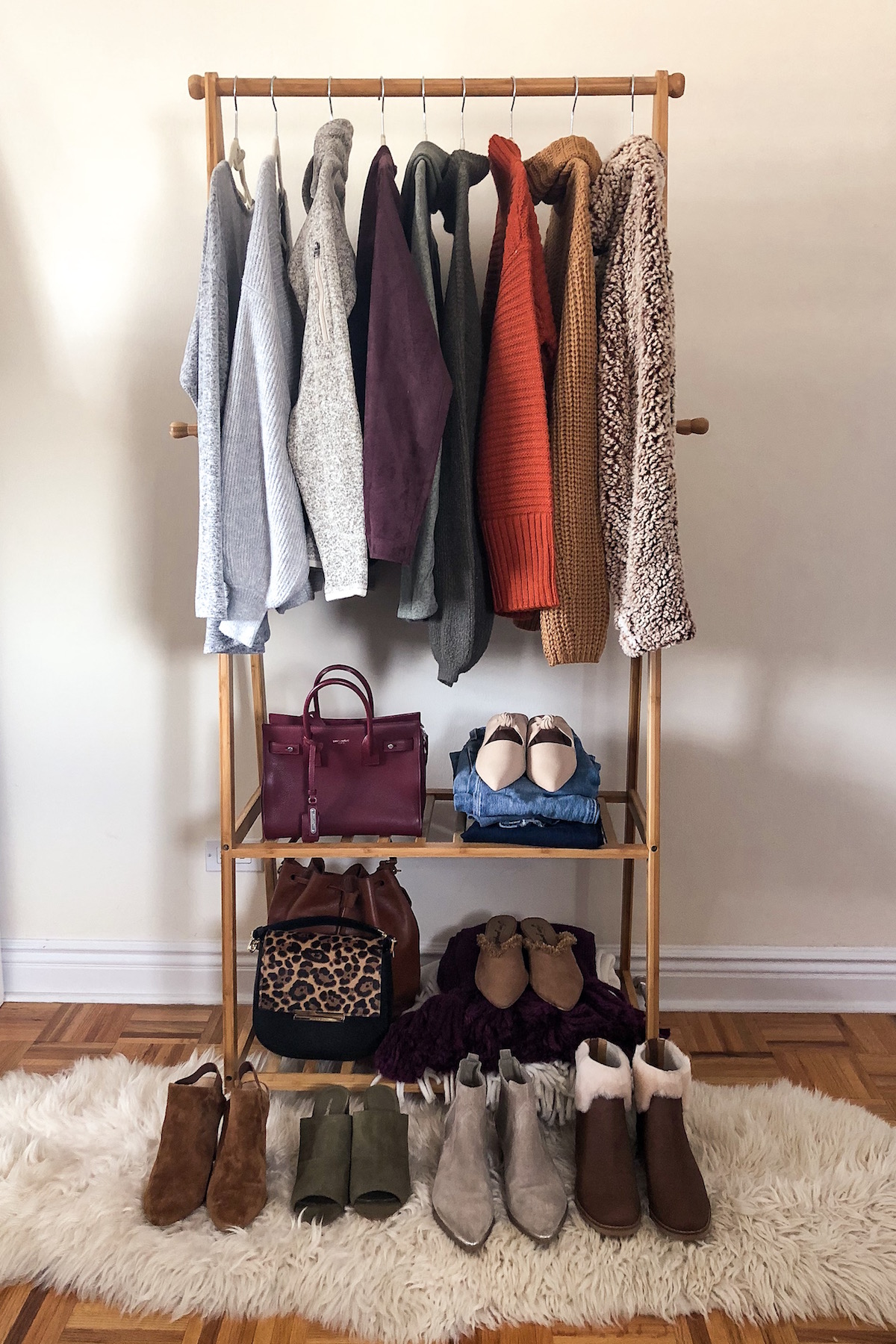 Space Saving Hangers
Anyone else OCD about their hangers? I'm pretty particular and will only buy these velvet non slip ones. I love how the hook is super slim so it takes up a minimal amount of space on a closet rod. These hangers can hold up to 10lbs and the rounded edges won't leave marks or pulls in your clothing. Also unlike metal hangers, you can actually hang pants on these without worrying about creases. PS I'm OBSESSED with this tiered hanger! It's perfect for hanging multiple skirts or pants– I actually found a set of 3 hangers on sale for just $19!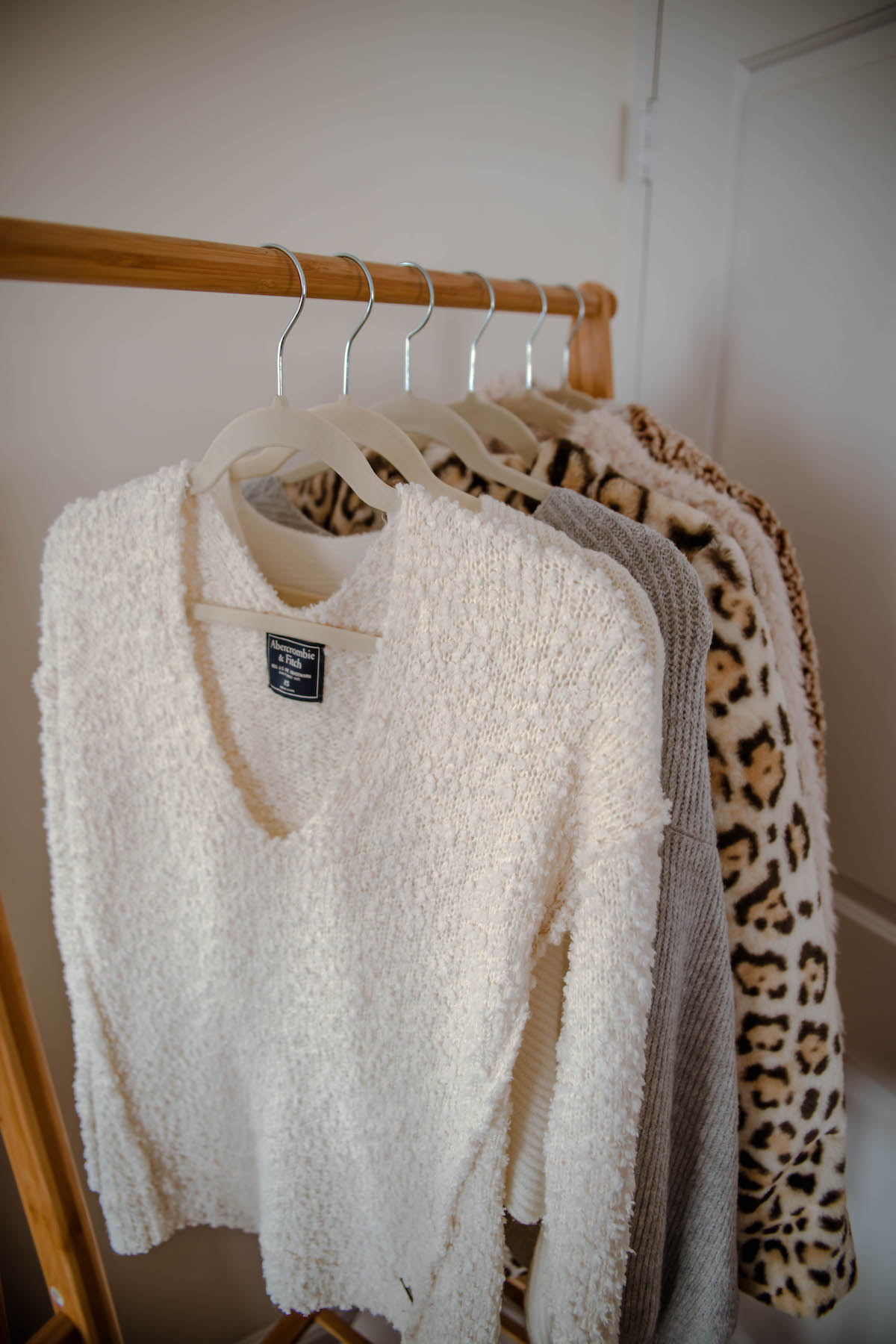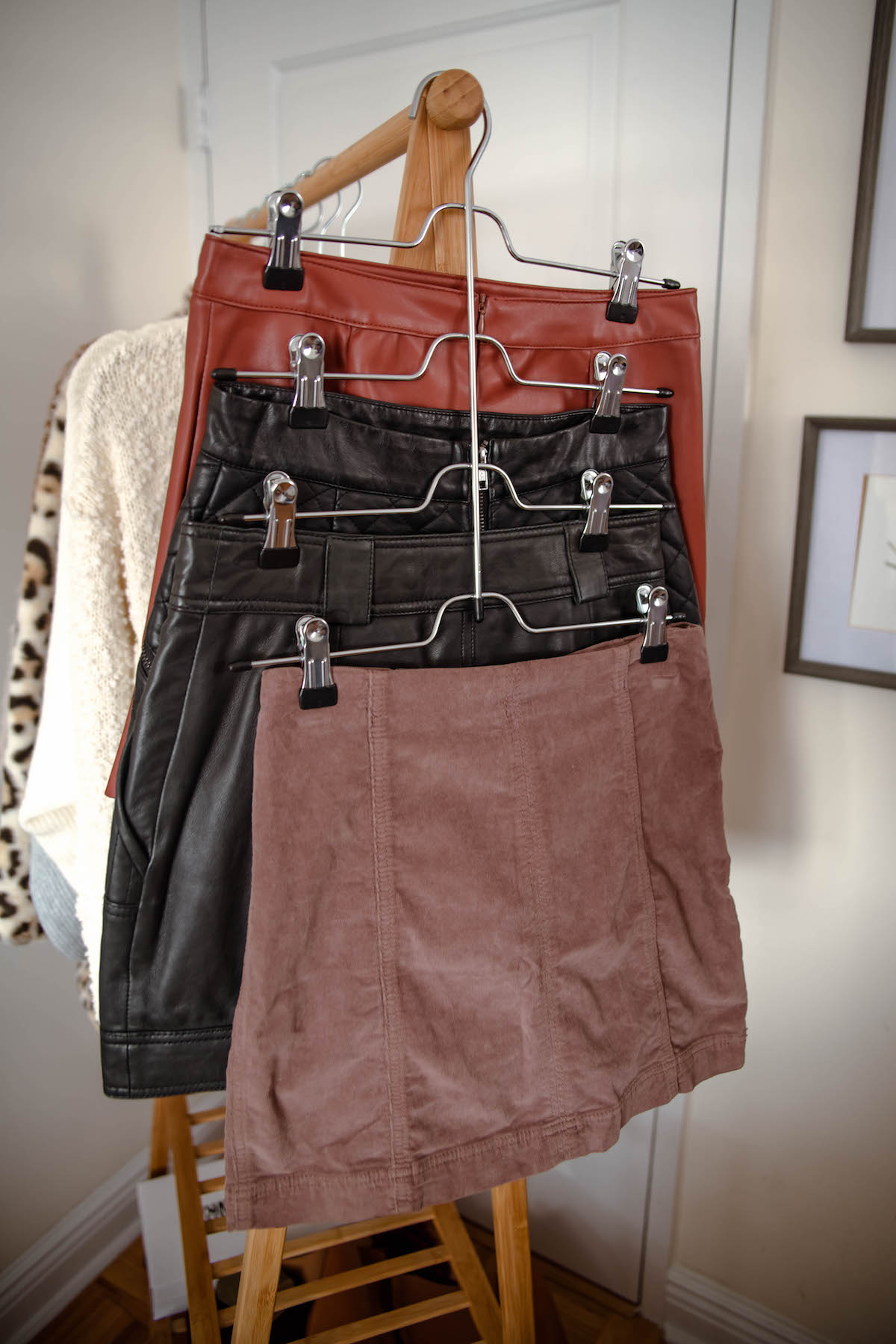 See! Maximizing storage in a small apartment or home is possible! Using just a few inexpensive supplies I can have my seasonal clothing within easy reach, while keeping everything else out of sight tightly packed away underneath my bed, couch and the top shelves of my closet. Doing all of this does take a little bit of work every fall and spring, but it's made my quality of life so much better not having to constantly worry about clutter or where I'm going to store something new. Phew!
Big thank you to eBay for sponsoring this post!
- Katie