This is a sponsored conversation written by me on behalf of Olay. The opinions and text are all mine. #ad #ageless 
After falling in love with Olay Daily Facial Wipes last month (you can read my review here), I was really excited when the Olay team asked me if I wanted to test their reengineered Regenerist Micro- Sculpting Cream. If there's one positive thing that came from having chronic dry skin and eczema, it's that I was forced into taking care of my skin at a young age. It felt like a burden having a full skincare routine as a teen, but now at 26 I have absolutely been doing my morning and nightly regimen. Testing and trying new products is one of my guilty pleasures. I'm also quite the junkie, especially when it comes to moisturizers.
Want to know one of the most interesting things I've discovered over the years? Just because a product comes with a high price tag doesn't always mean you're going to see results. I've tried plenty of prestige and luxury products I've hated and that have caused my skin to become dry or break out. It's so true that everyone has a different body chemistry—you and a friend could be using the same product and have completely different reactions to the formula and ingredients.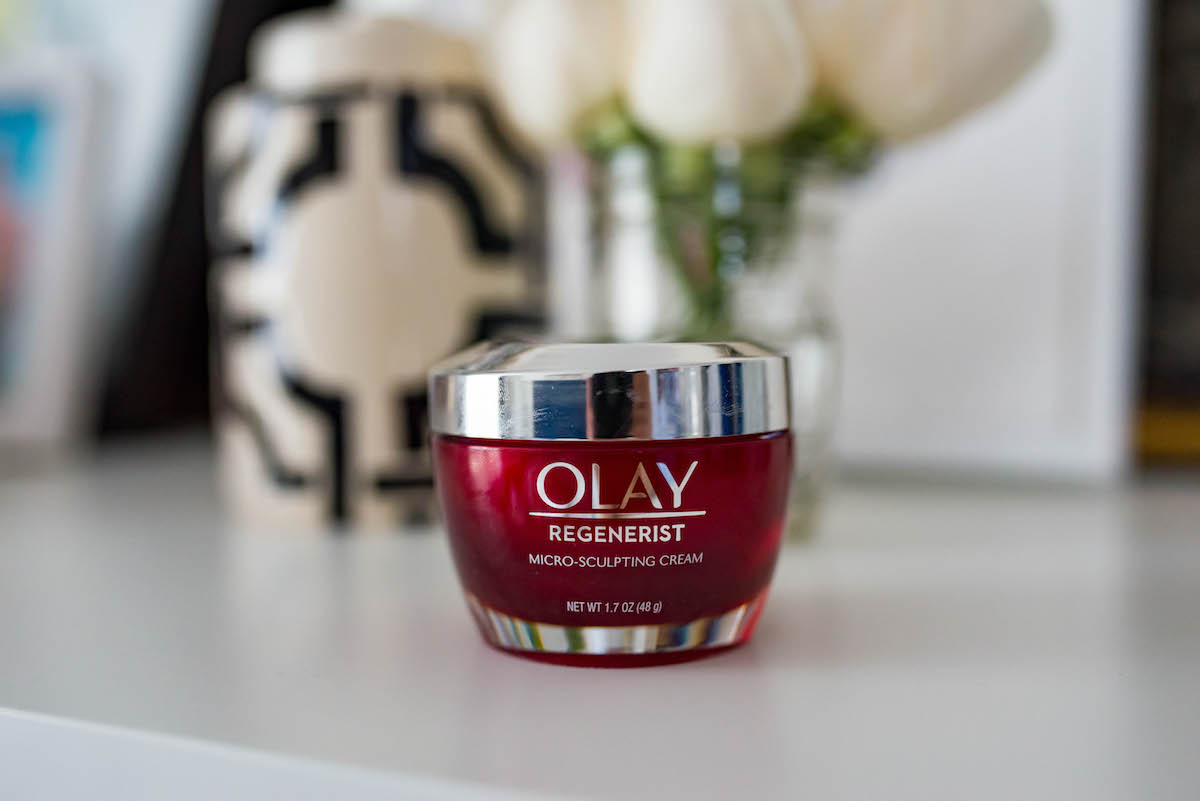 I did a little research before even trying Olay Regenerist Micro- Sculpting Cream, and was really pleased to see it had achieved a Good Housekeeping Institute seal of approval. The tests that products have to undergo to get bragging rights like this are no joke. During my beauty PR days, I had many clients vying for these seals and saw firsthand the process it takes to get a stamp of approval from a major magazine. Here are some of the findings discovered by the Good Housekeeping Institute:
Olay Regenerist Micro-Sculpting Cream outperformed 10 top prestige creams, including one with a $440 price tag.
Three hours after applying, it hydrated 400% better than a cream nearly 18x its price and beat all other products tested.
Skin moisture increased by 50% on average over a 24-hour period.
Consumers who were blind tested preferred it 80% of the time over pricier moisturizers, saying it felt "rich" without being heavy.
Thanks to anti-aging ingredients like niacinamide and hyaluronic acid, skin's texture improved by 10% in four weeks.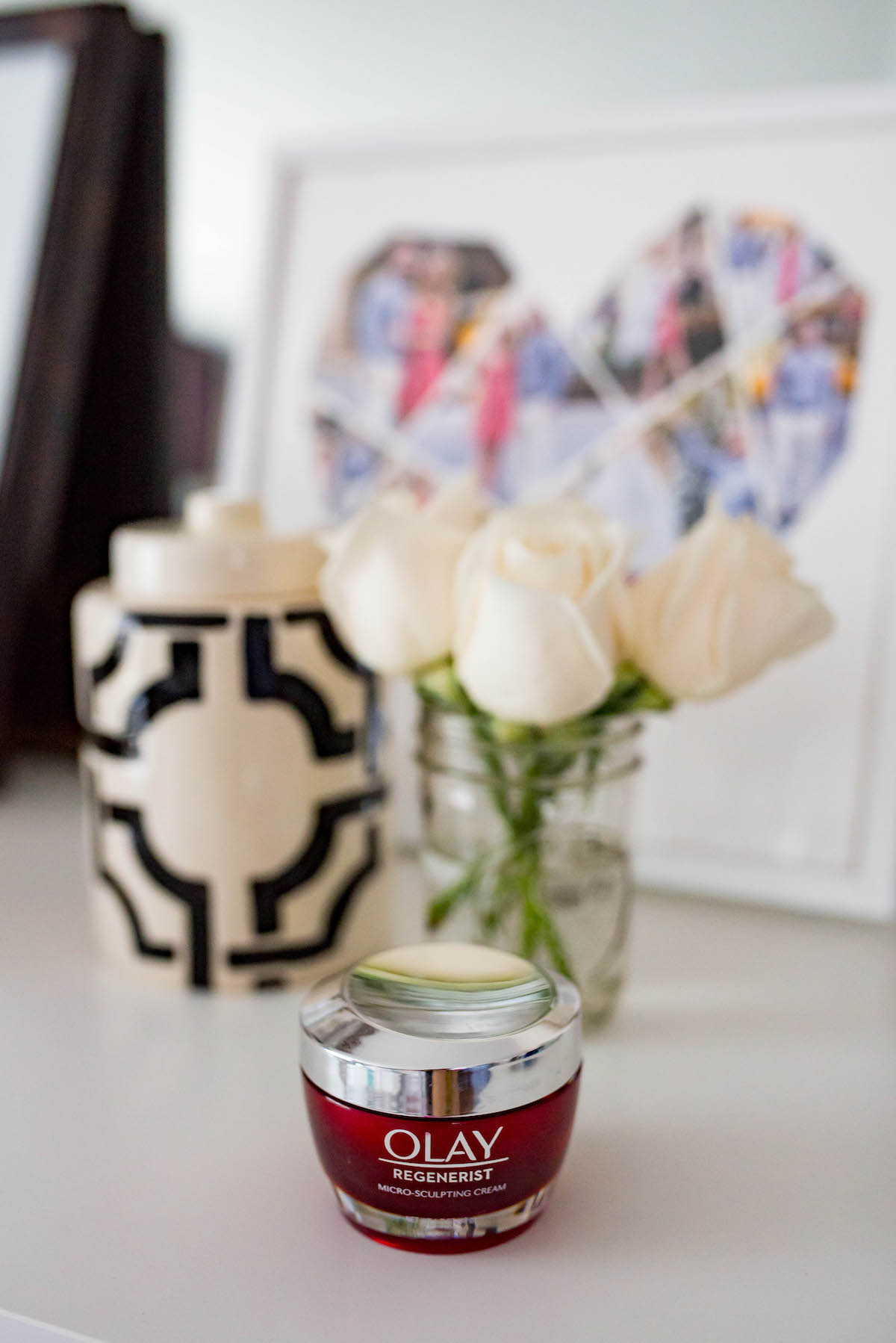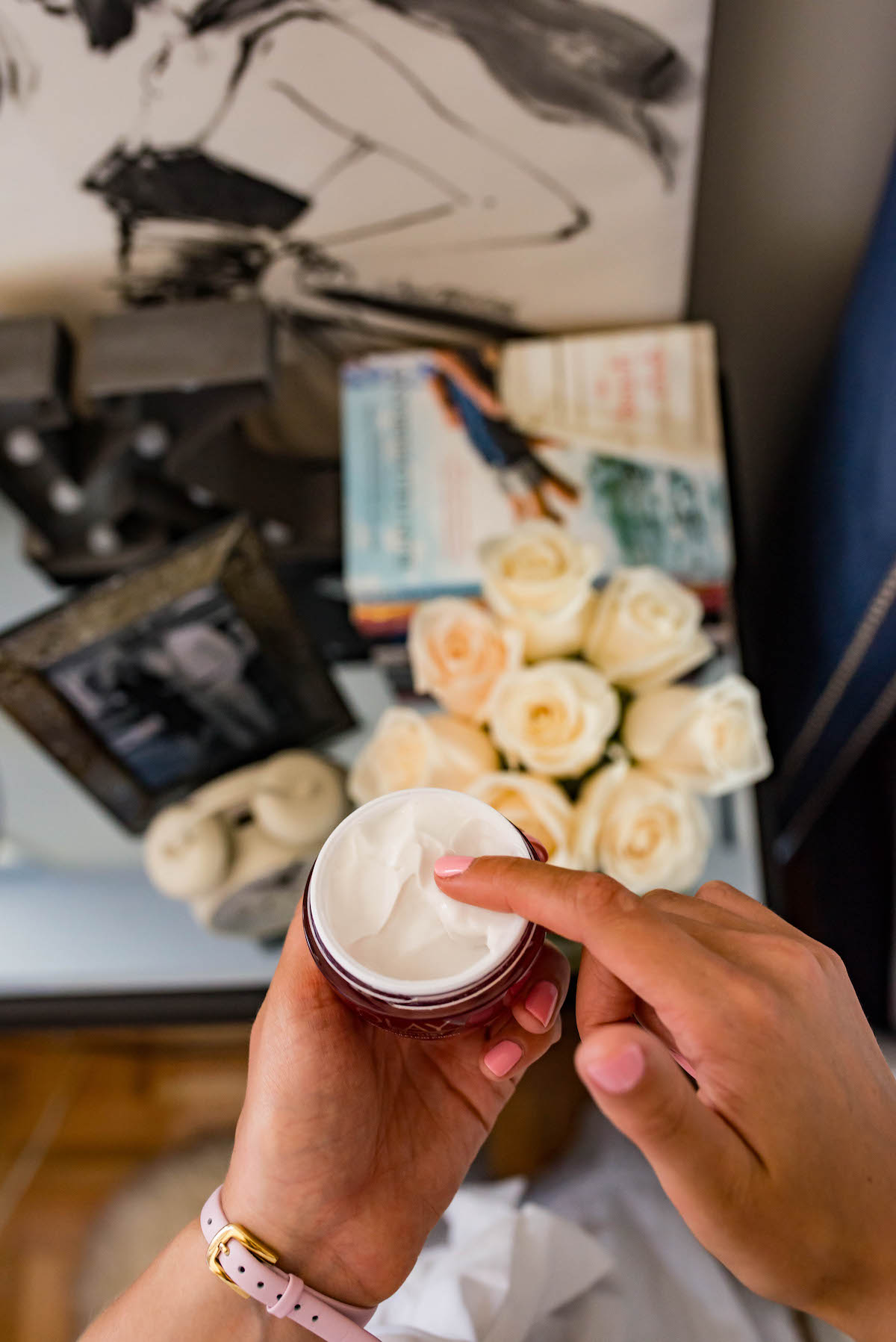 So right off the bat I knew this was a good cream. But would it work for me and my skin? Let's talk about what's in it first.
Ingredients
Don't be intimidated by the fancy names. Olay Micro-Sculpting Cream contains the ingredients you want to look for in an anti-aging cream. These all work together to regenerate surface cells, improve skin texture and prevent wrinkles.
Carob Seed Extract: aids in skin repair and regeneration according to in vitro and in vivo testing.
Vitamin B3 (Niacinamide): boosts cell turnover and maintains skin's moisture barrier.
Amino-peptide: helps decrease the appearance of fine lines and wrinkles.
Vitamin B5 (Panthenol): soothes and moisturizes the skin.
Vitamin E: an oil-soluble anti-oxidant which protects against free radical damage.
Olivem: a derivative of olive oil which has been modified to increase the penetration of anti-aging ingredients into the skin.
 PS this cream smells really good! I'd describe it as a light buttery floral. Nothing overpowering, but still very pleasant.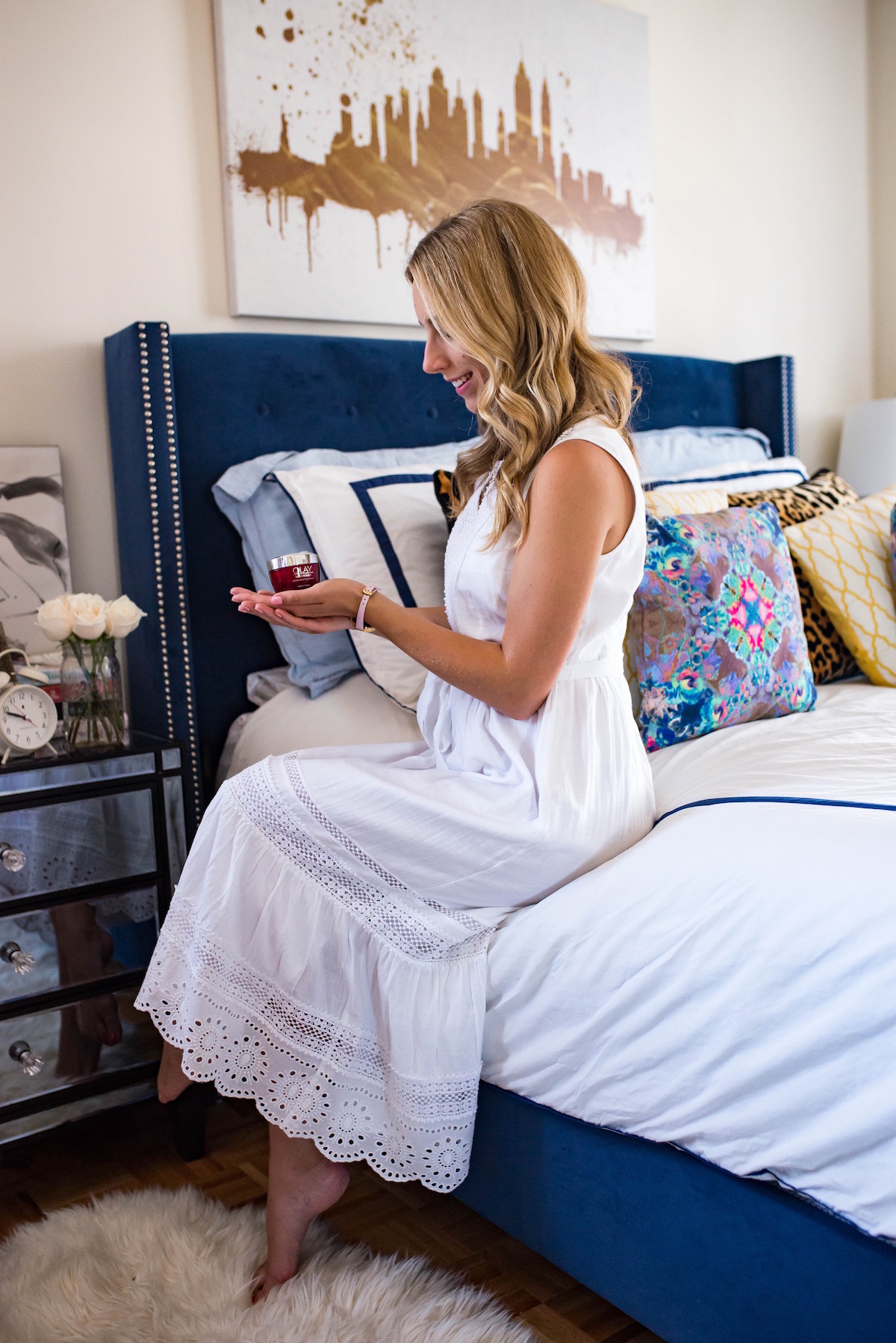 The Benefits
All my dry skin gals listen up! While it is an anti-aging product, Micro-Sculpting cream is also incredibly hydrating. Even if you feel like you don't need to use anti-aging products yet, the moisturizing benefits with this cream make it worth a try. Plus you can't beat the $26.99 pricetag. Compared to similar anti-aging products from premium brands (which can cost upwards of $50 a jar) this one is a steal.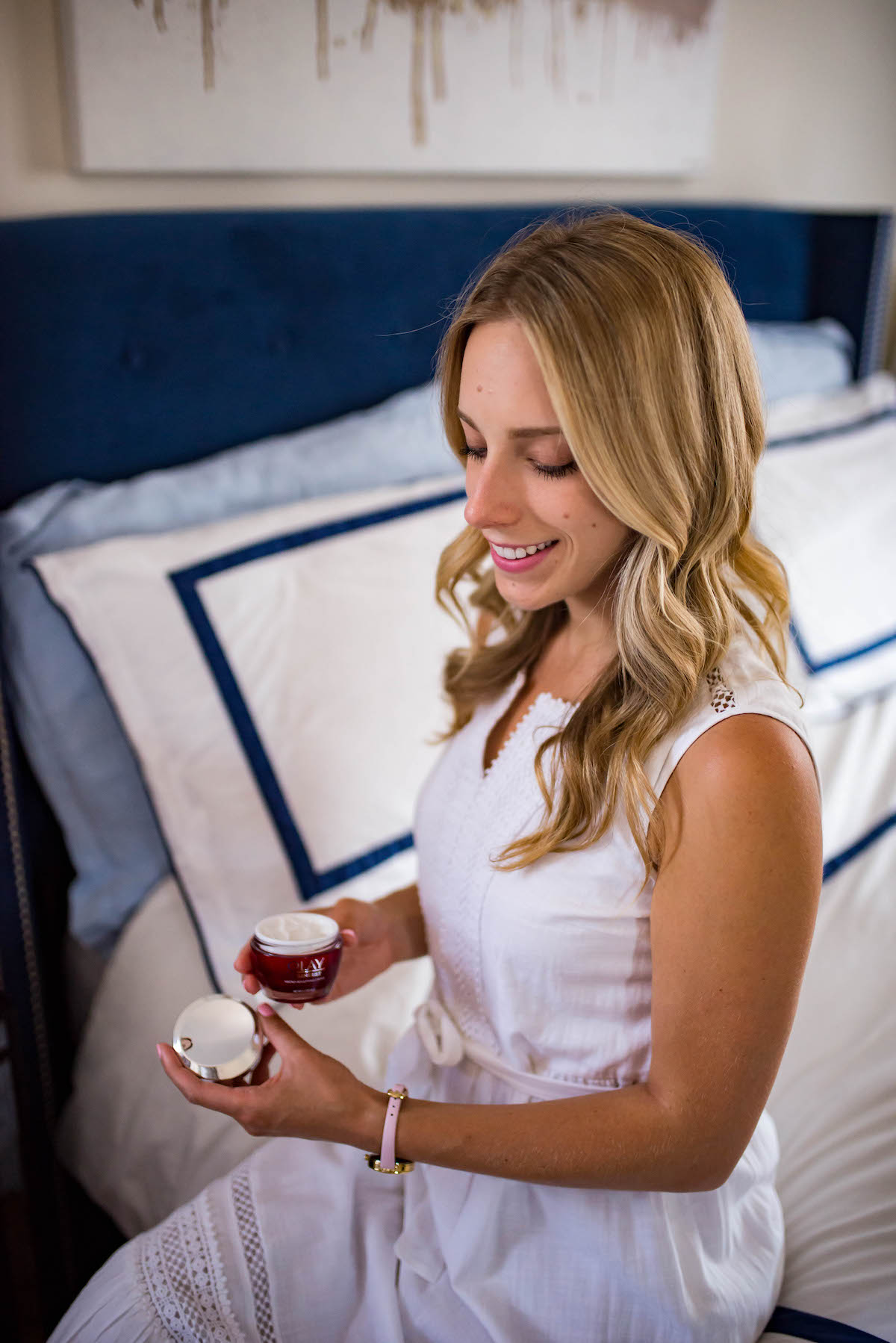 My Thoughts
To the touch it's very creamy and rich, but once applied feels incredibly smooth and light on the skin. During the summer, this is key because though I tend to gravitate towards thick moisturizers, the last thing I want on my face when it's hot is a heavy cream. The lighter the better! I've used this morning and night for three weeks and haven't noticed that awful tight and dry parched feeling at any point of the day. Maybe it's because I have a tan, but I swear my skin looks brighter too. I've even been getting away without wearing a foundation!
Once again, I can say I've had a positive experience with an Olay product. Whether you're looking for a moisturizer with anti-aging benefits or hydration, Olay Regenerist Micro-Sculpting Cream might definitely fit your needs. Having both of these benefits in one makes this a win-win in my book!
Big thank you to Olay for sponsoring this post #ad #ageless
- Katie