Big thank you to Olay for sponsoring this post!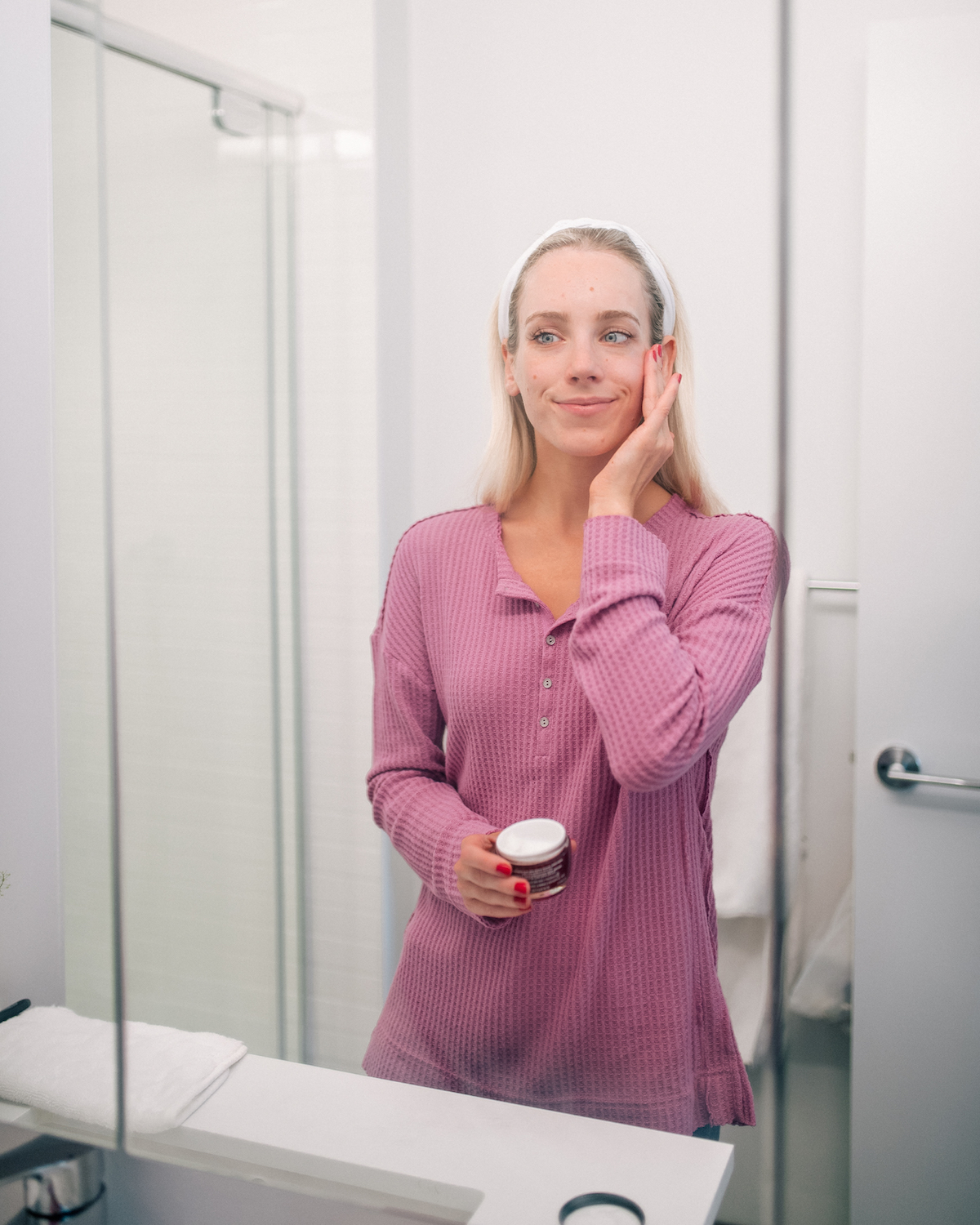 There are two things I need every morning to start my day on the right foot 1) COFFEE and 2) great skincare! As much as I love my a.m. drink of choice, today's post is going to focus on the latter– particularly why Olay Red Jar products continue to be a staple in my at-home & travel beauty routine.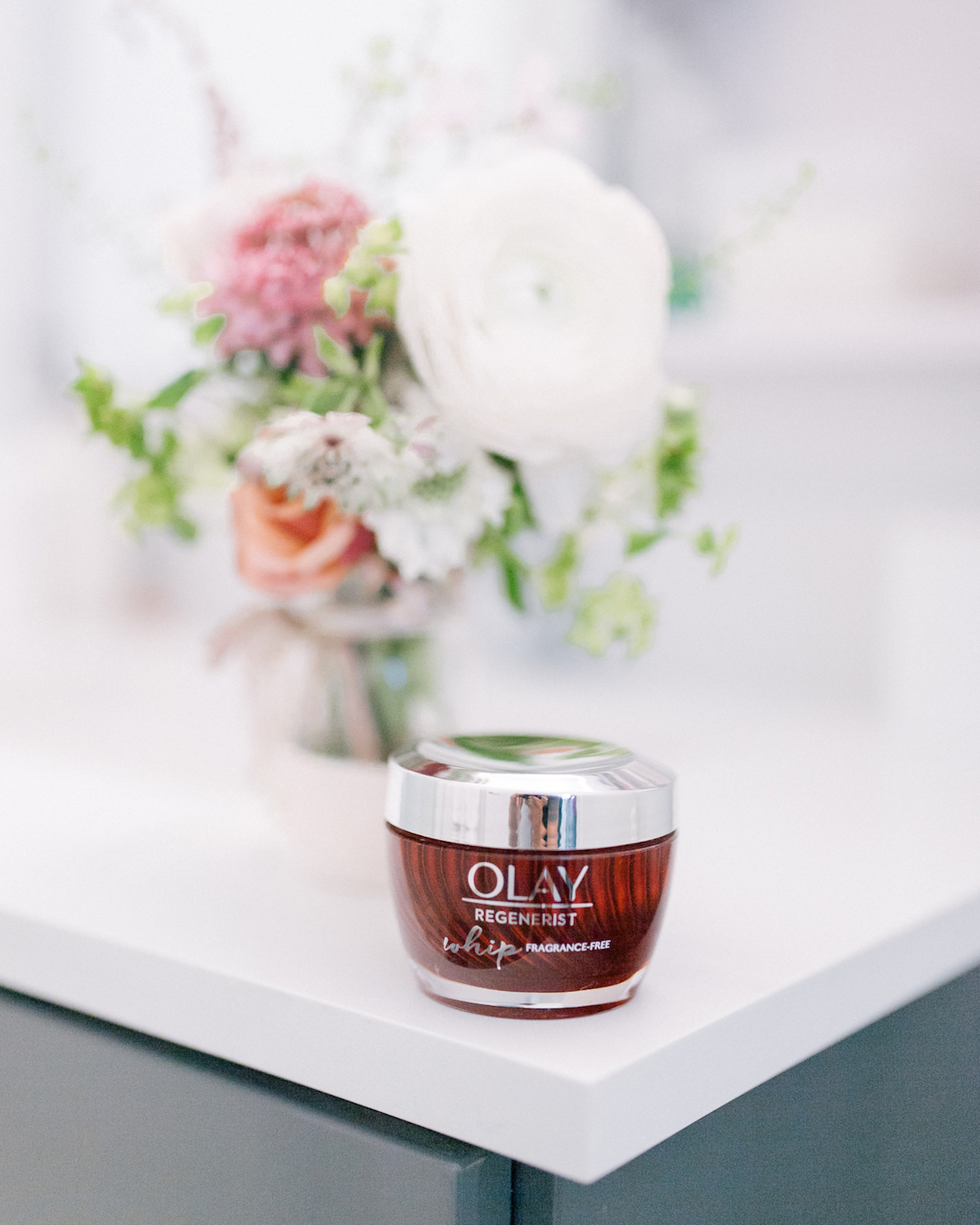 You've all heard me rave about Olay products, and for good reason! It's one of the only drugstore beauty brands you'll find in my bathroom cabinet and toiletry bag. Anytime I'm shopping for skincare, I can always count on Olay for affordable prices AND quality products that will keep my skin healthy and hydrated. Some advice: when in doubt just look for the red jars! Some of my Olay favorites are:
Olay Regenerist Micro-Sculpting Cream— super rich and nourishing moisturizer for normal to dry skin! I love using it at as my daily moisturizer when my skin is feeling extra dry or as a decadent treat for my face before bed.
Olay Regenerist Whip Face Moisturizer— lightweight, breathable moisturizer with a matte finish that dries fast. It's great for all skin types, can be used as a makeup primer and comes in a fragrance-free version (my personal favorite!)
Olay Daily Facials— the absolute BEST cleansing cloths for removing makeup, dirt and oil
Olay Ultimate Eye Cream— gentle hydrating cream that combats wrinkles and dark circles.
Trust me– these won't disappoint!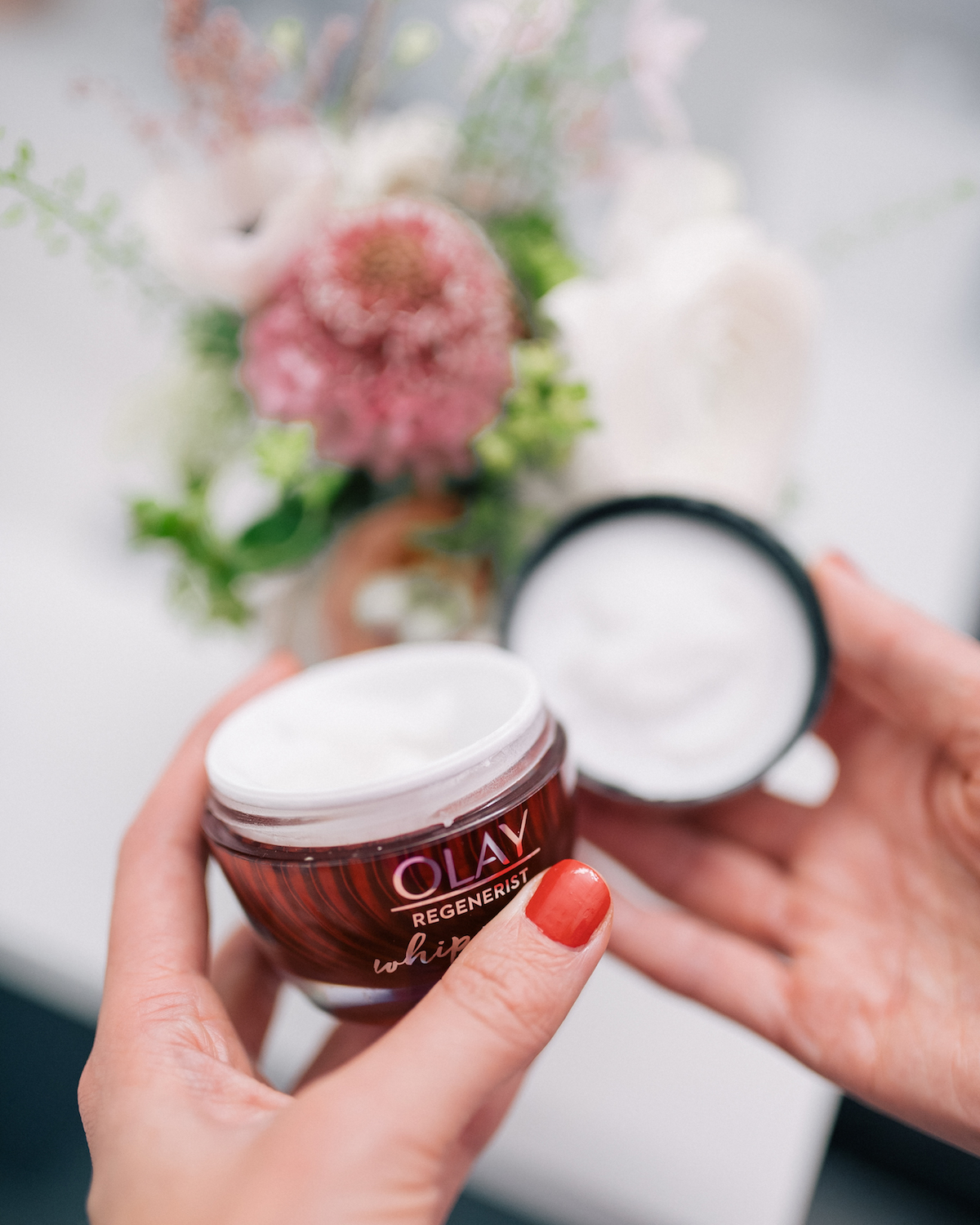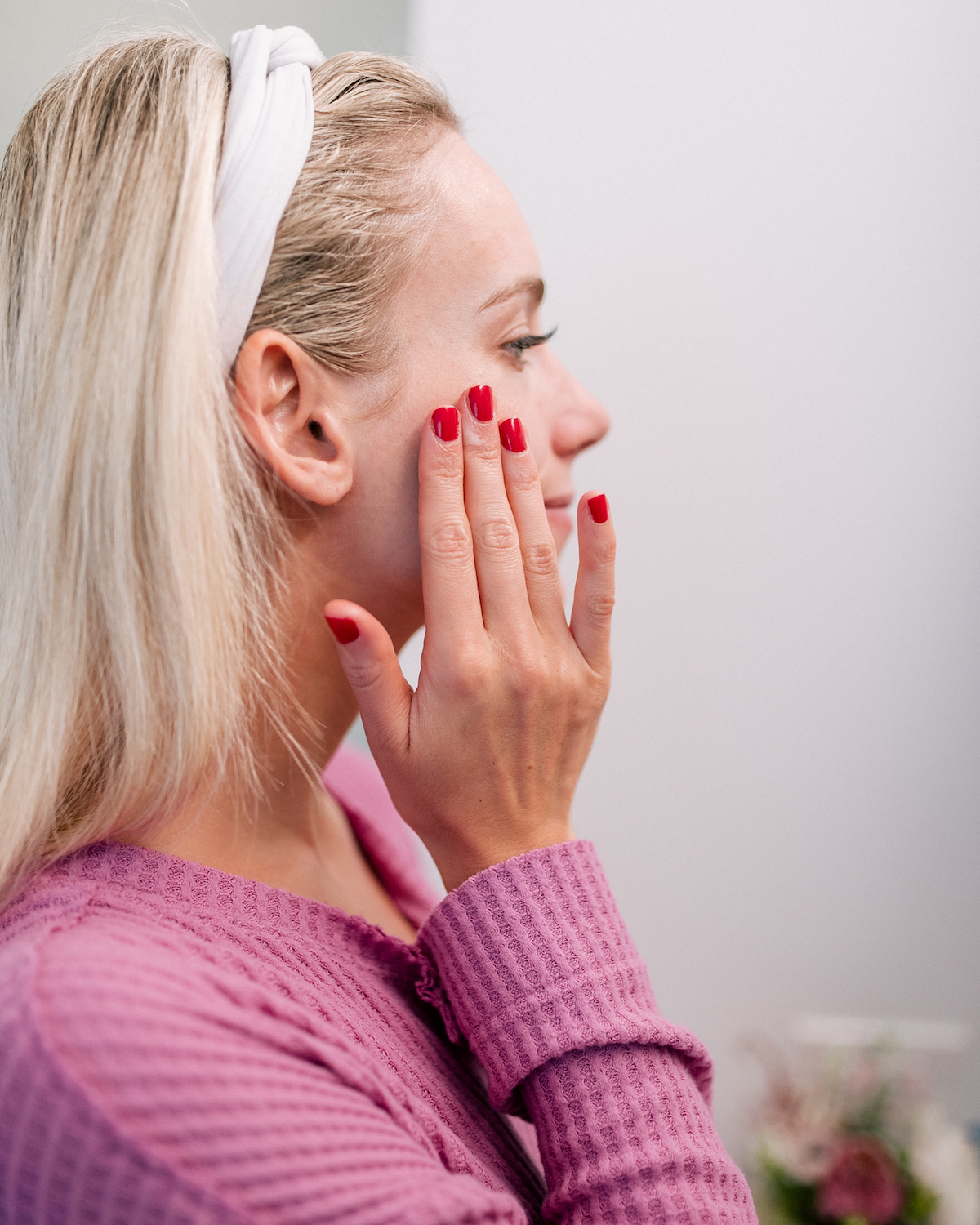 To me, what sets Olay apart from other brands is that anytime I use an Olay product I know that I can TRUST it. My skin is so sensitive and prone to irritation– the wrong ingredient or overpowering scent can trigger a pimple or eczema flare up. These are two things I want to avoid at all costs considering my wedding is close to one month away.
I'm not alone in my thoughts! Olay actually put their Red Jar products to the test over a 10-year span and the results were incredible: in 12 countries Olay ranked supreme over 131 products. It goes to show that you don't always need to search far and wide for amazing skincare. In my case I shop for Olay right at home at my local drugstore!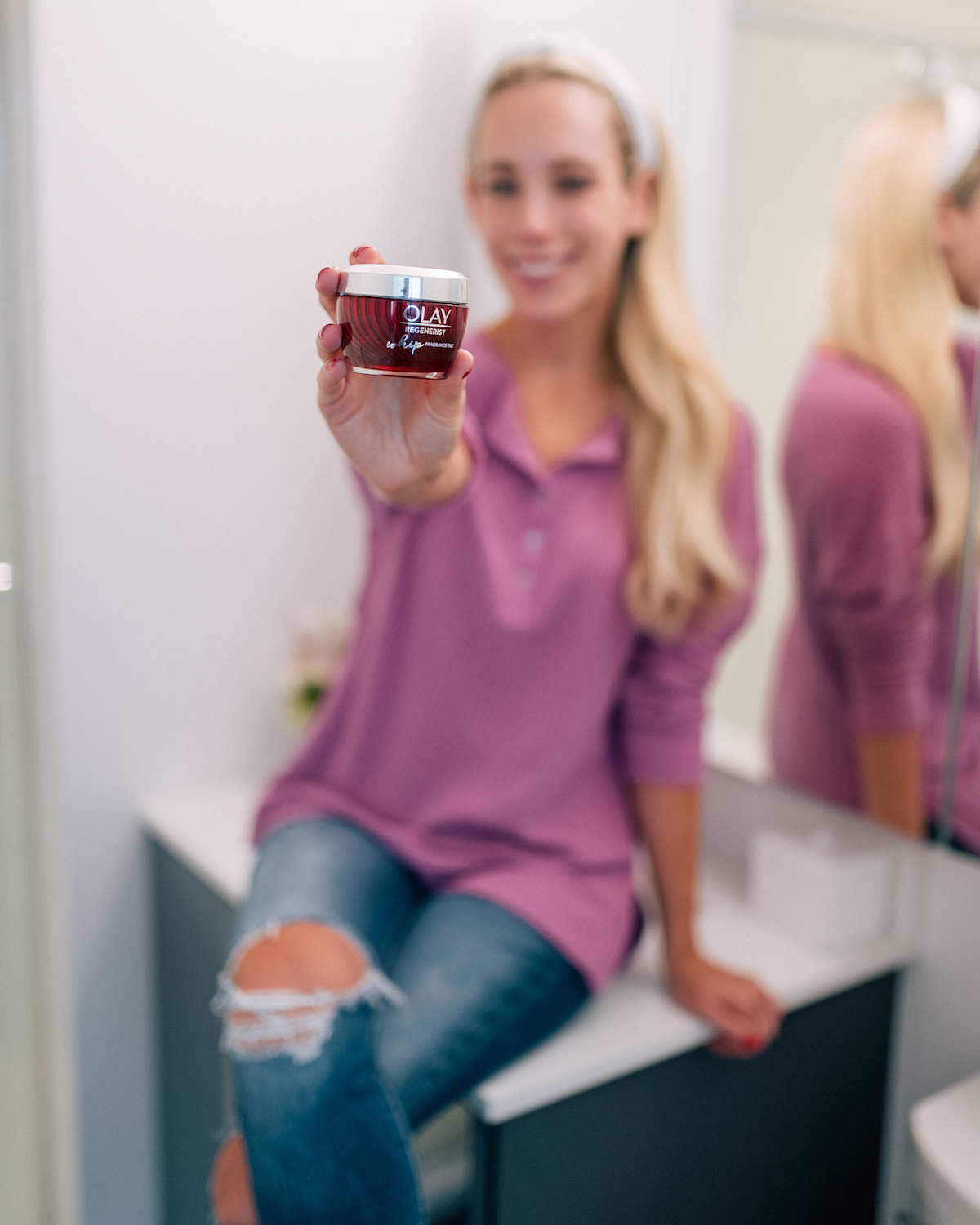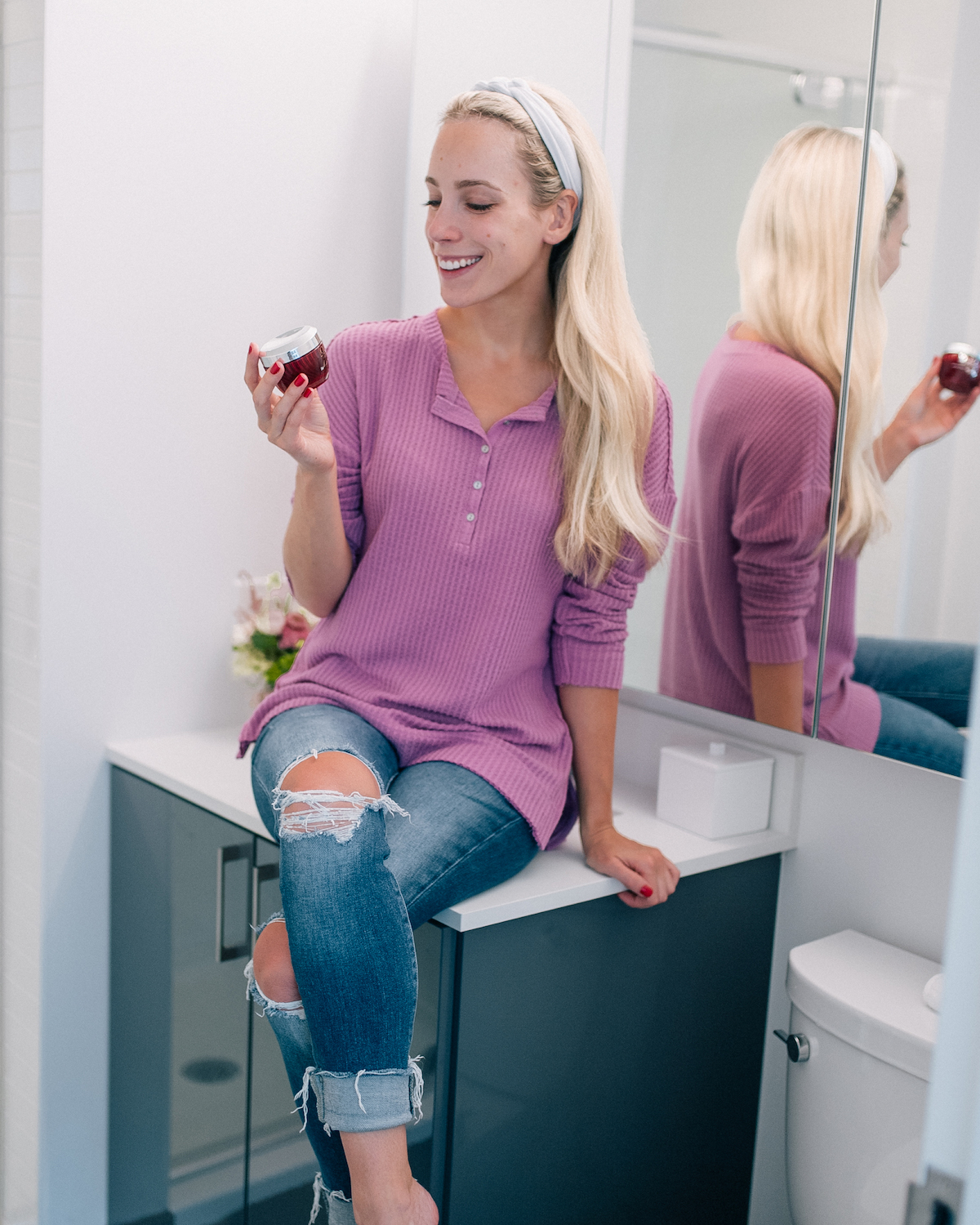 PRODUCTS FEATURED // Olay Regenerist Whip Face Moisturizer | Pink Thermal Top | Similar Distressed Jeans
Moisturizer is by far the one product in my routine I couldn't live without. I can't imagine leaving my apartment for the day or putting on makeup without first applying a hydrating cream. To me it's essential nourishment for my skin! I regularly use both Olay Regenerist Micro-Sculpting Cream and Olay Regenerist Whip Face Moisturizer, however if I was going to suggest one, I'd pick the Whip for its matte finish and dual function as a makeup primer.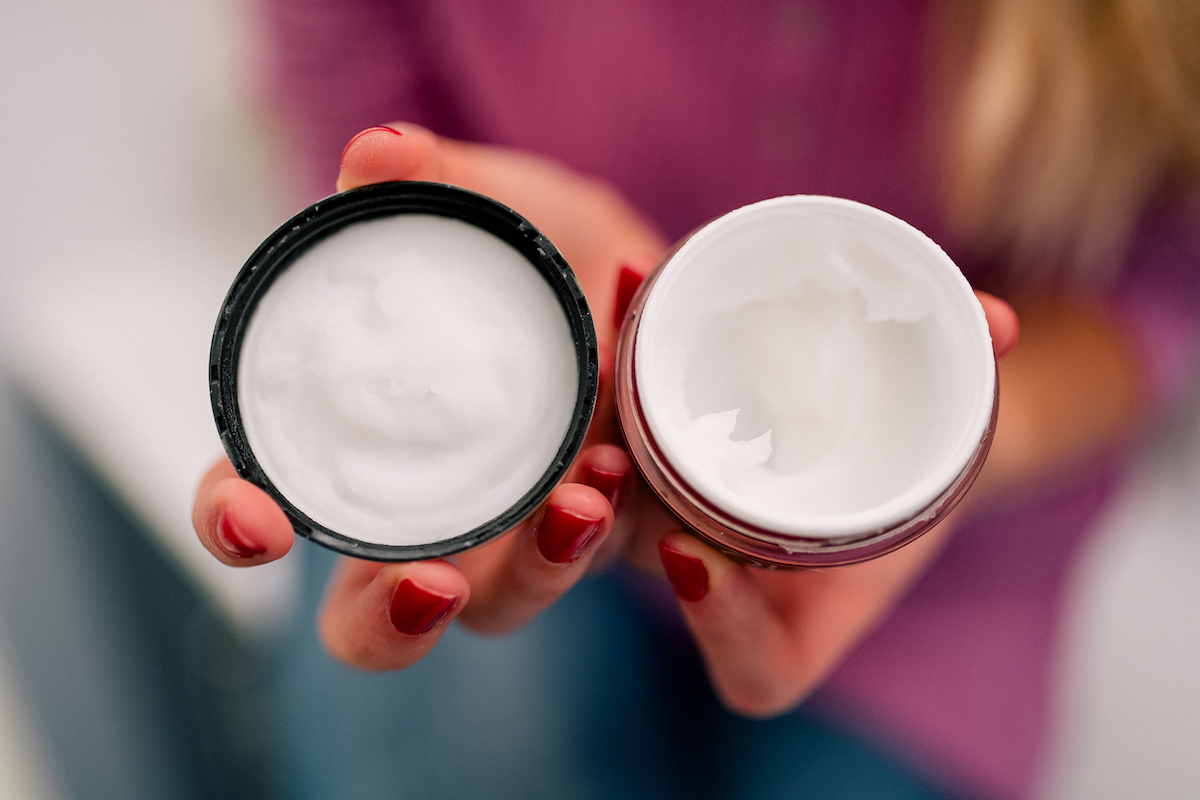 When I travel, I always try to condense my beauty routine to as few steps as possible. Packing the Olay Whip in my toiletry bag means I don't need to bring a primer or any extra moisturizers– this cream does it all! Some key ingredients include Vitamin B3, which regenerates surface cells and strengthens skin's natural moisture barrier, along with Amino–Peptide Complex II to help improve skin's elasticity, smoothness and firmness. It also comes in a fragrance-free version– if you have sensitive skin this is something you should always look for when considering a new product!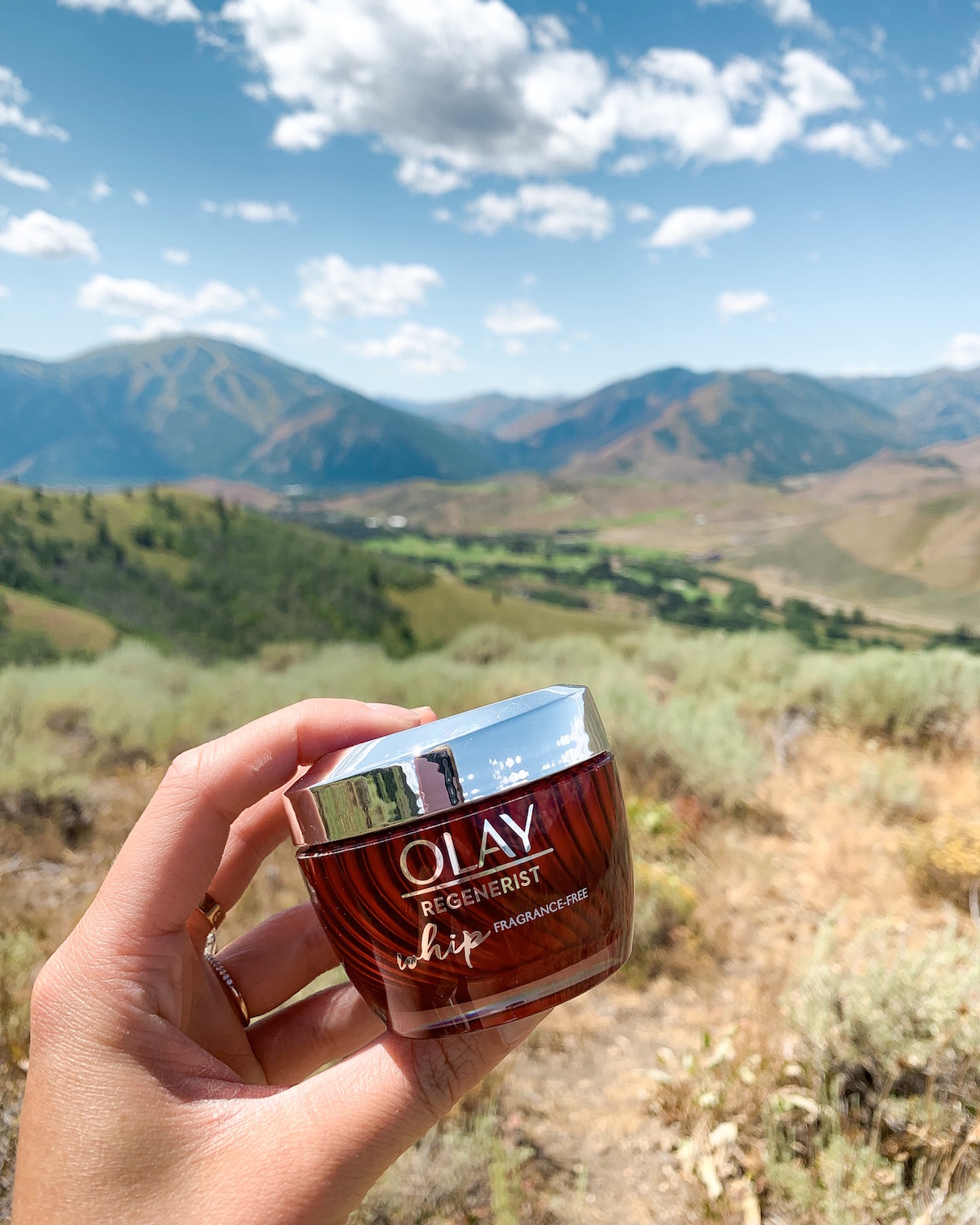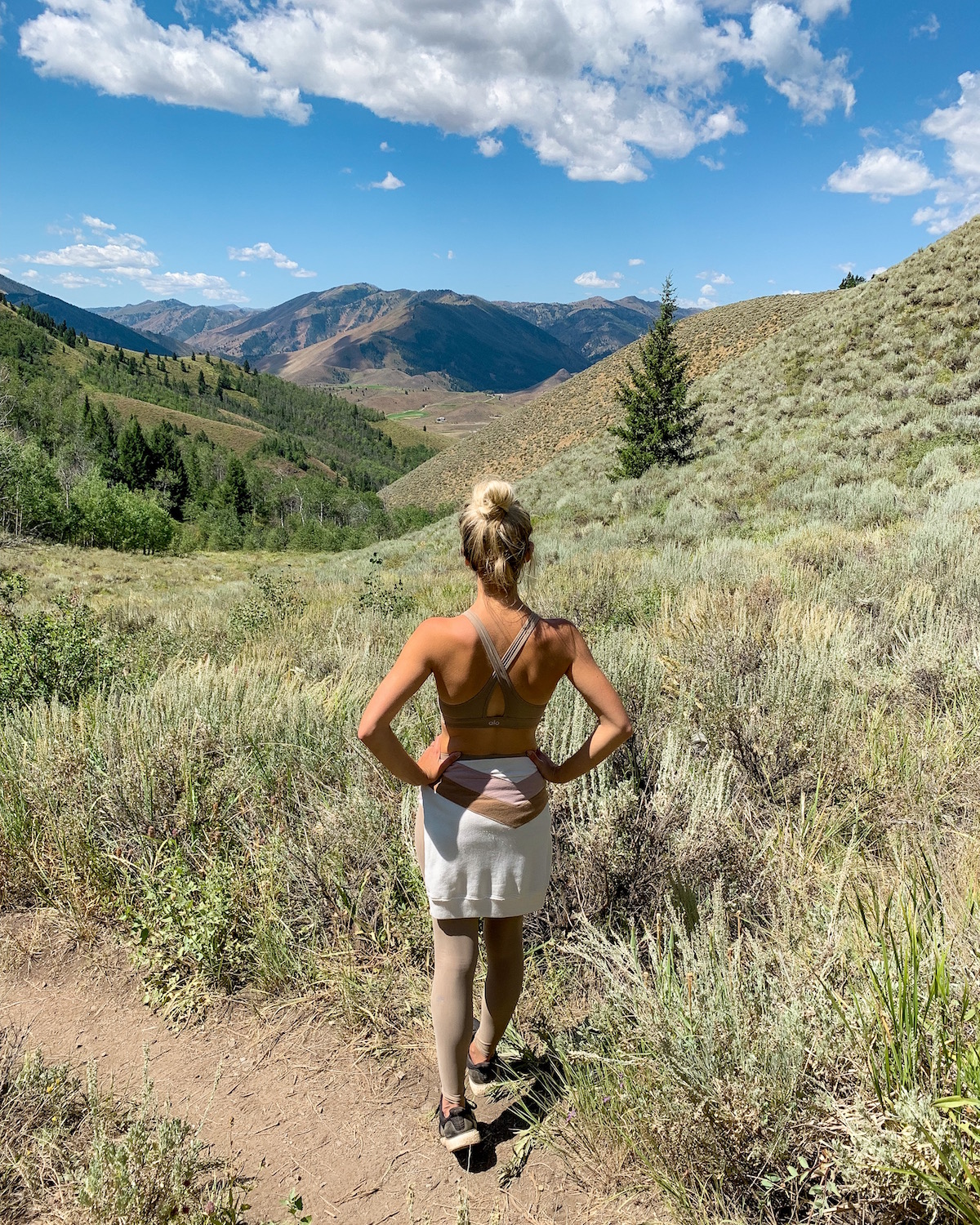 I packed my trusty red jars on my recent trip to Idaho and these truly saved my skin in the dry mountain air. I'd never experienced a climate with such little humidity– my face was so parched after just one day! Lathering on my Micro-Sculpting Cream every night helped prevent some substantial dryness and dehydration– two things my skin is always prone to when I travel. During the day I wore Olay Regenerist Whip to keep my skin hydrated when I was outdoors. Both moisturizers are total lifesavers!
I truly can't imagine not having these two little red jars in my skincare routine. Whether I'm traveling or just going about my day at home– these are tried and true favorites that I know I can trust!
PS I posted this fun lil video to Instagram chronicling my morning routine– check out it to see how I get ready and use Olay Regenerist Whip!
https://www.instagram.com/p/B2WmCGshGEy/?igshid=x484ne37iu0k
- Katie