If there was ever a more aptly named resort, it's the One&Only Ocean Club. Truly this resort is a one-of-kind tropical oasis appropriately located on Paradise Island in the Bahamas. I have been lucky to stay at some very beautiful hotels during my travels, but I think this one may just be my favorite yet!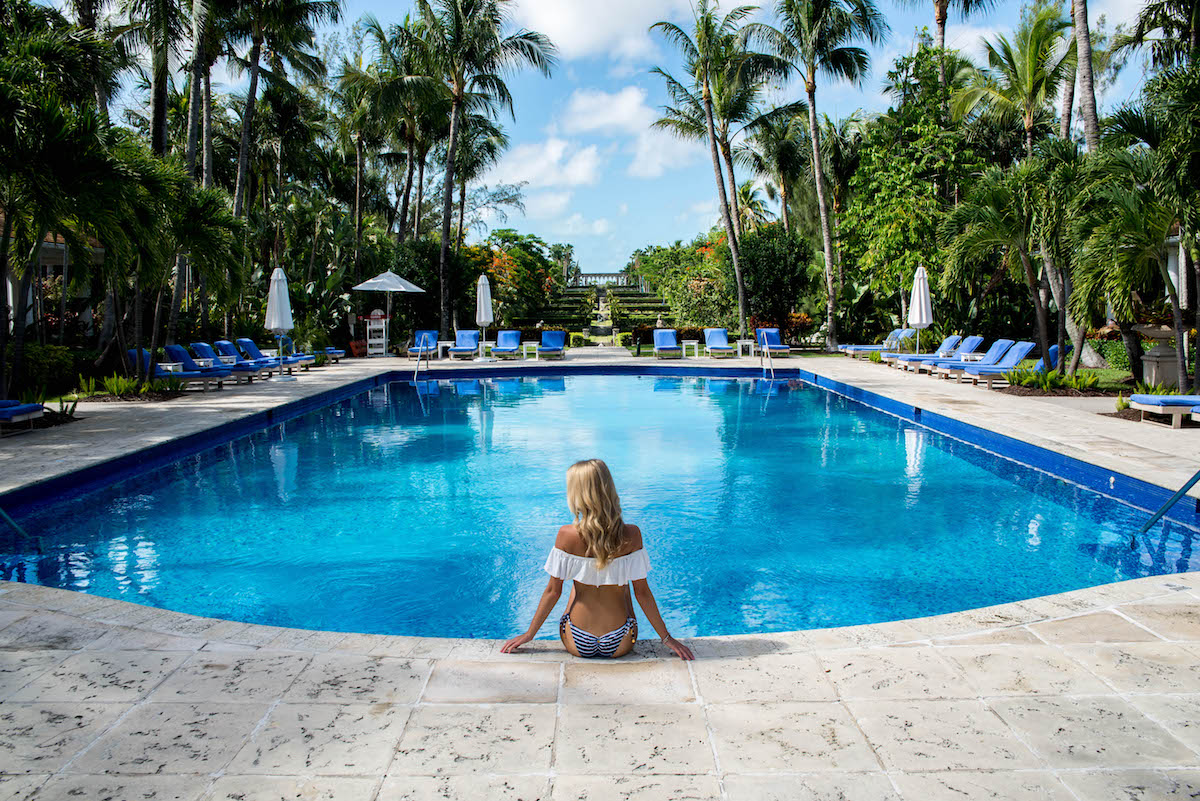 This pool overlooks the Versailles Garden and Cloisters at the One&Only Ocean Club.
THE ONE&ONLY OCEAN CLUB RESORT REVIEW
---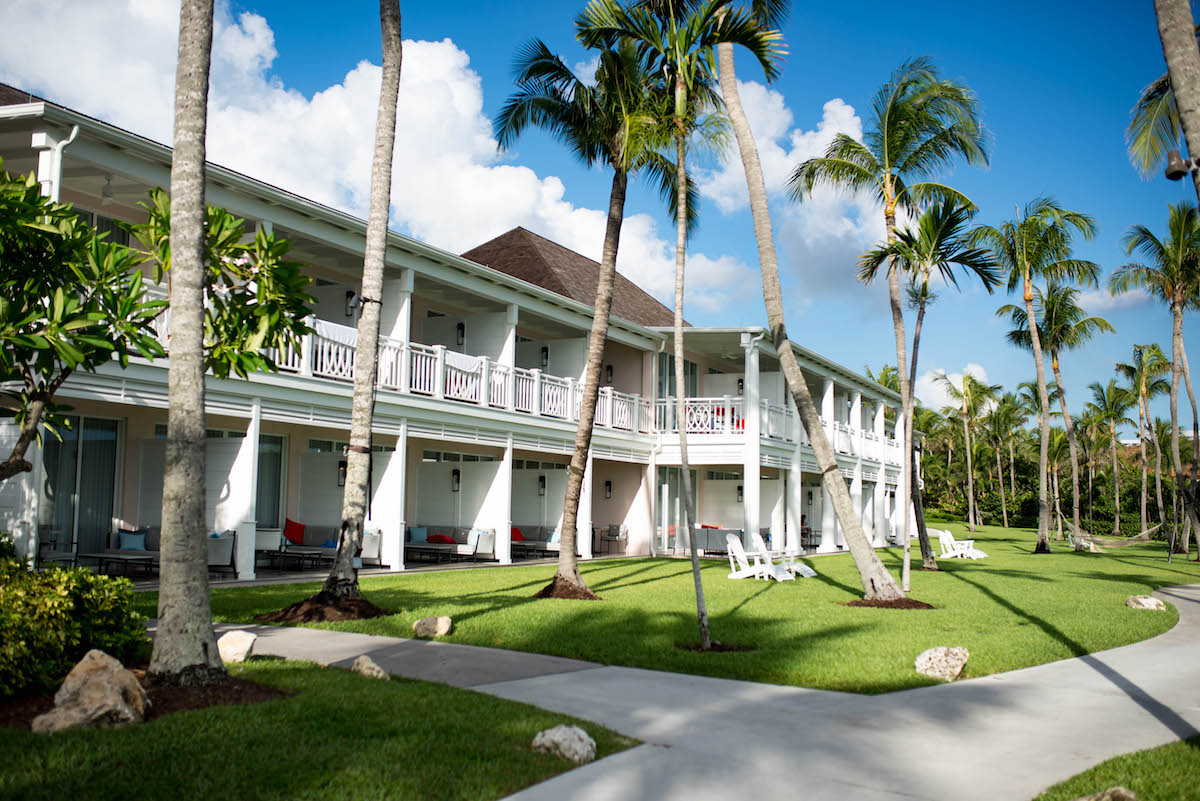 Tranquil, polished, classic, sophisticated, chic, luxurious. These are just a few of the words that come to mind when I think about the Ocean Club. Located on what was once a traditional colonial estate, the Ocean Club has been offering guests from around the world a little window into paradise for over 50 years. You immediately notice the property has such a rich history and roots on the island. Did you see my post about the Ocean Club's famous James Bond martini bar?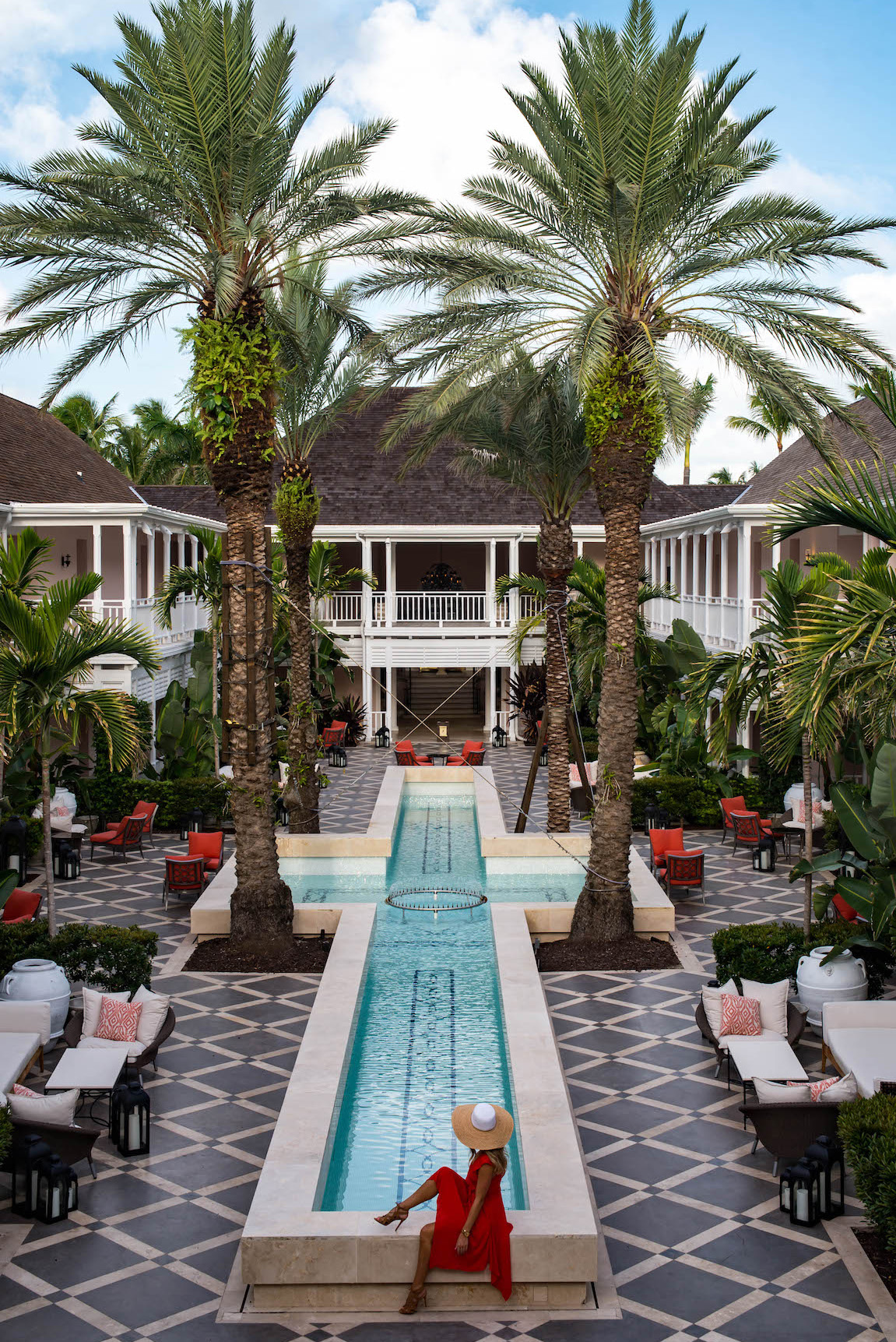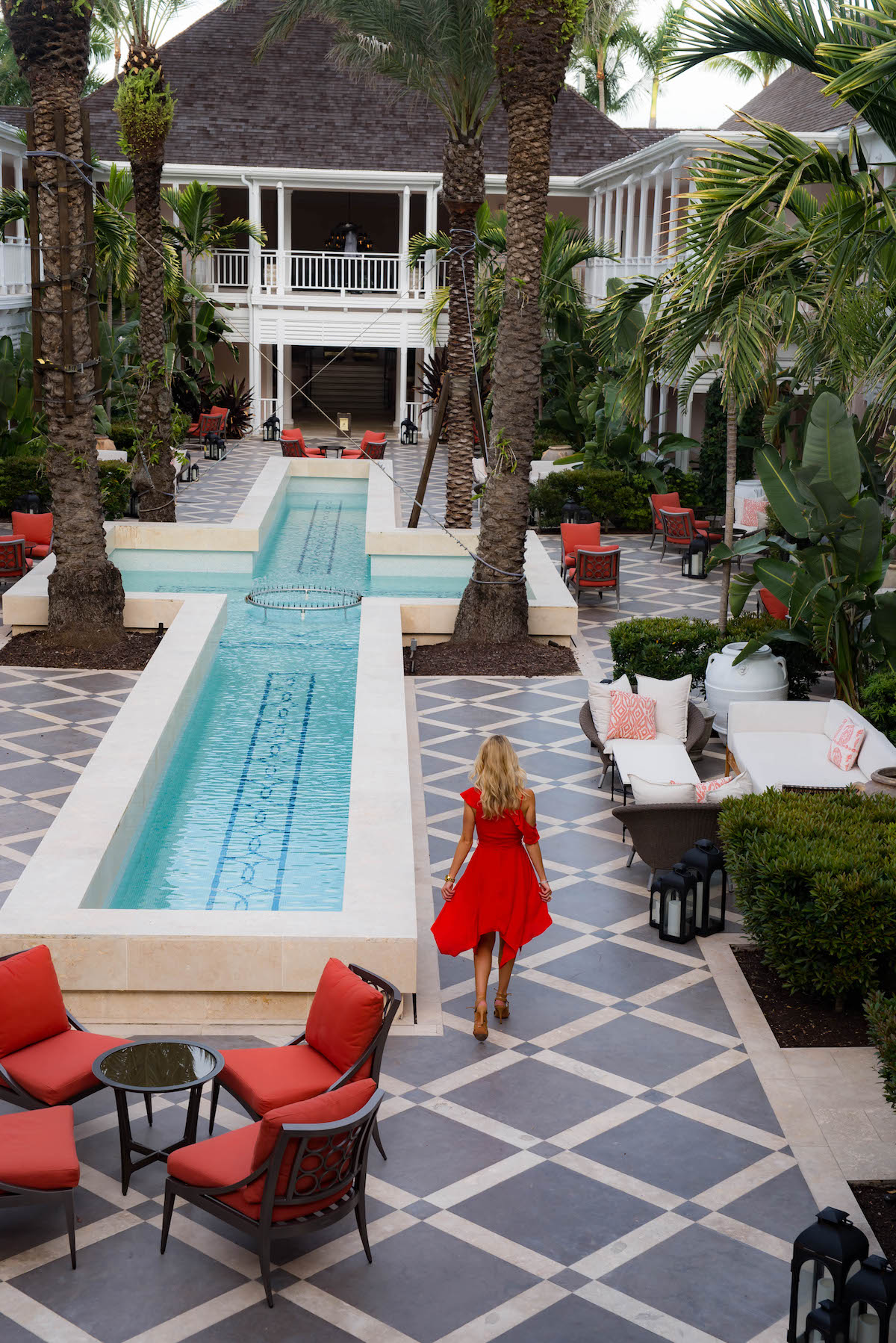 Red Ruffle Dress (under $50!) | Similar Floppy Hat | Similar Sandals
Have you ever seen a more photogenic courtyard???
When you arrive and are greeted by the friendly staff in the front lobby it's like you are being welcomed to a beautiful private estate. The contrast is really refreshing if you're looking for a getaway that feels private and tailored just to you. Even though the resort was almost at full capacity during our stay, we never felt like the resort was crowded.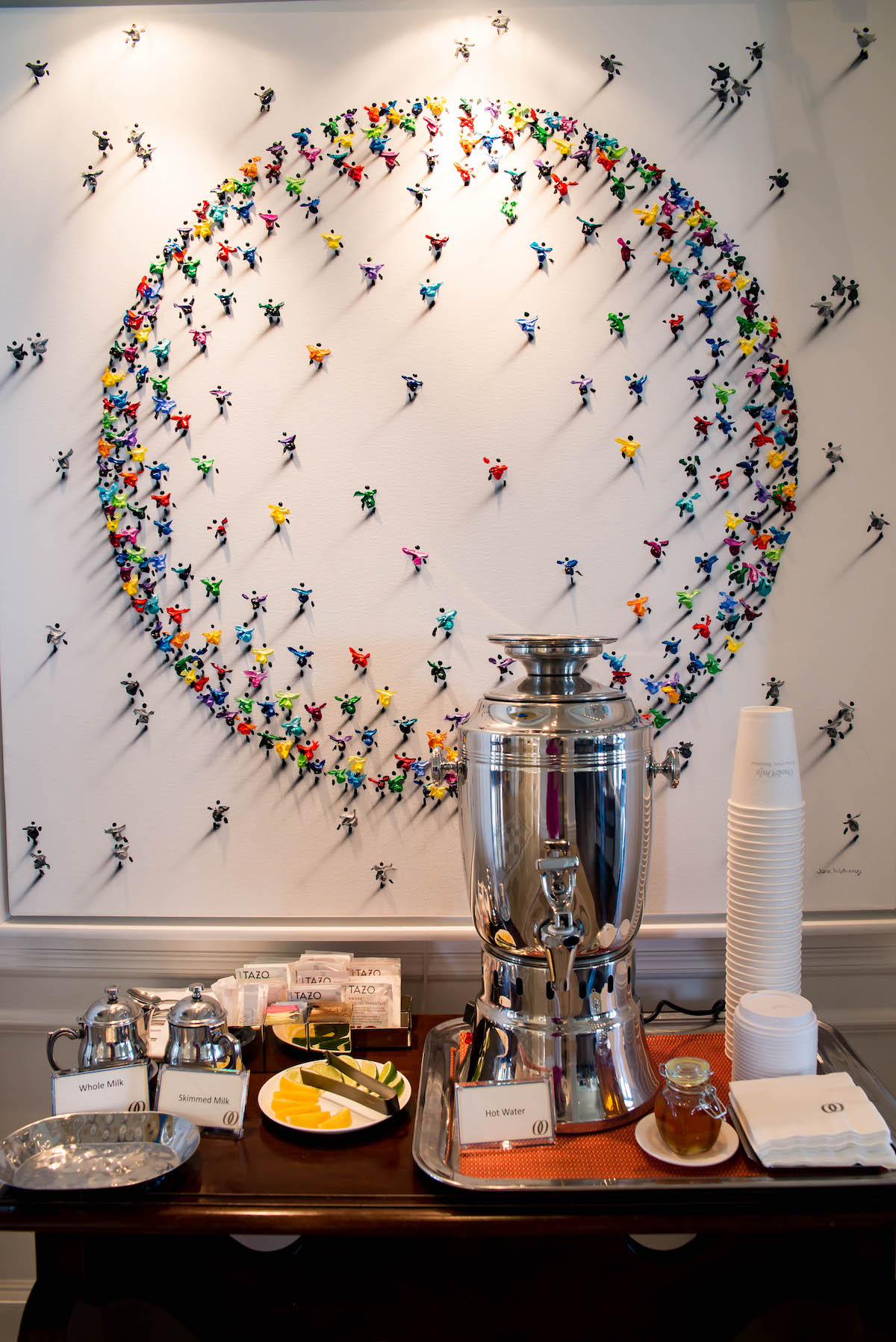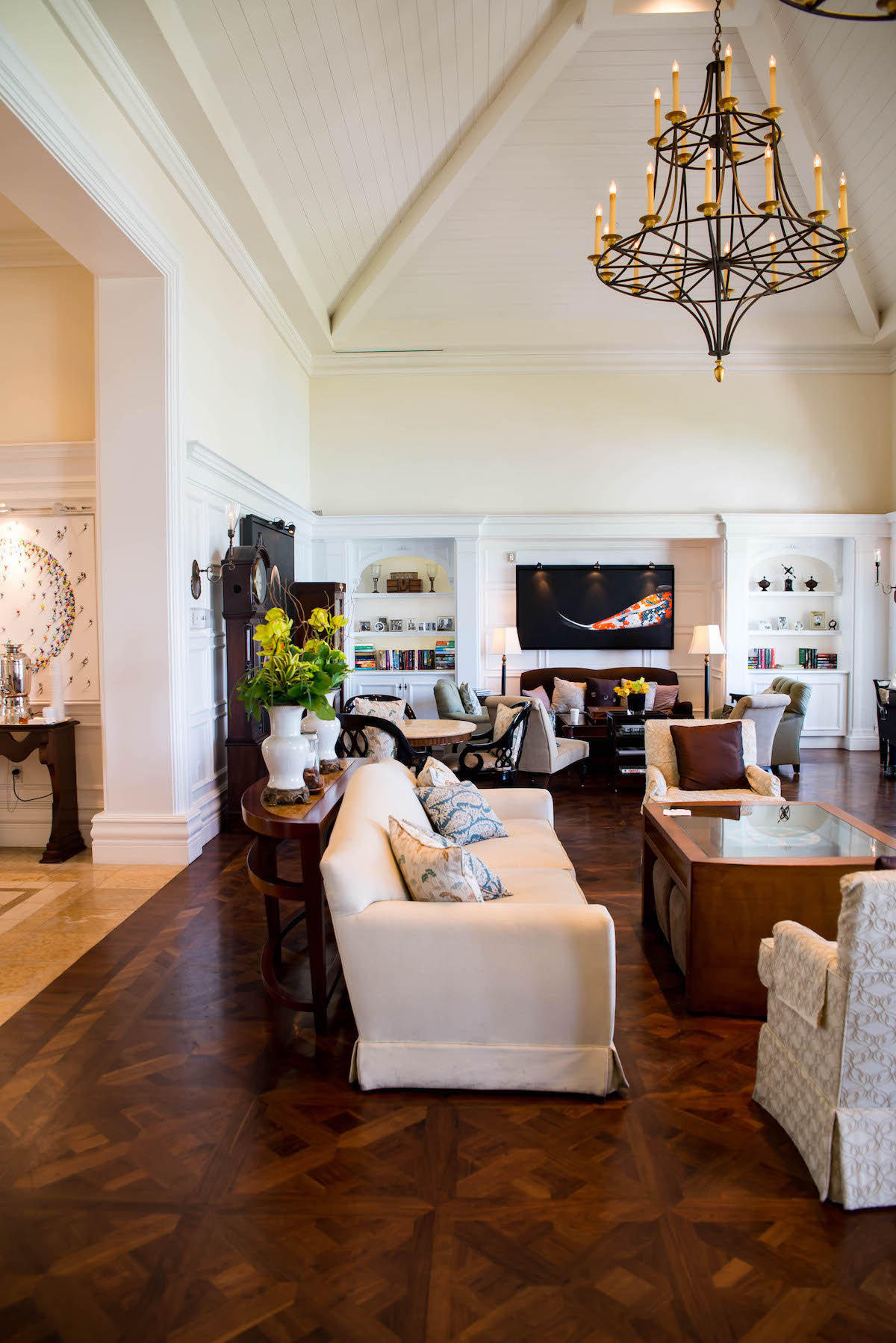 Every morning in the lobby you'll find complimentary coffee and tea, then in the afternoon they transition to Bahamian lemonade– freshly squeezed from lemon and limes.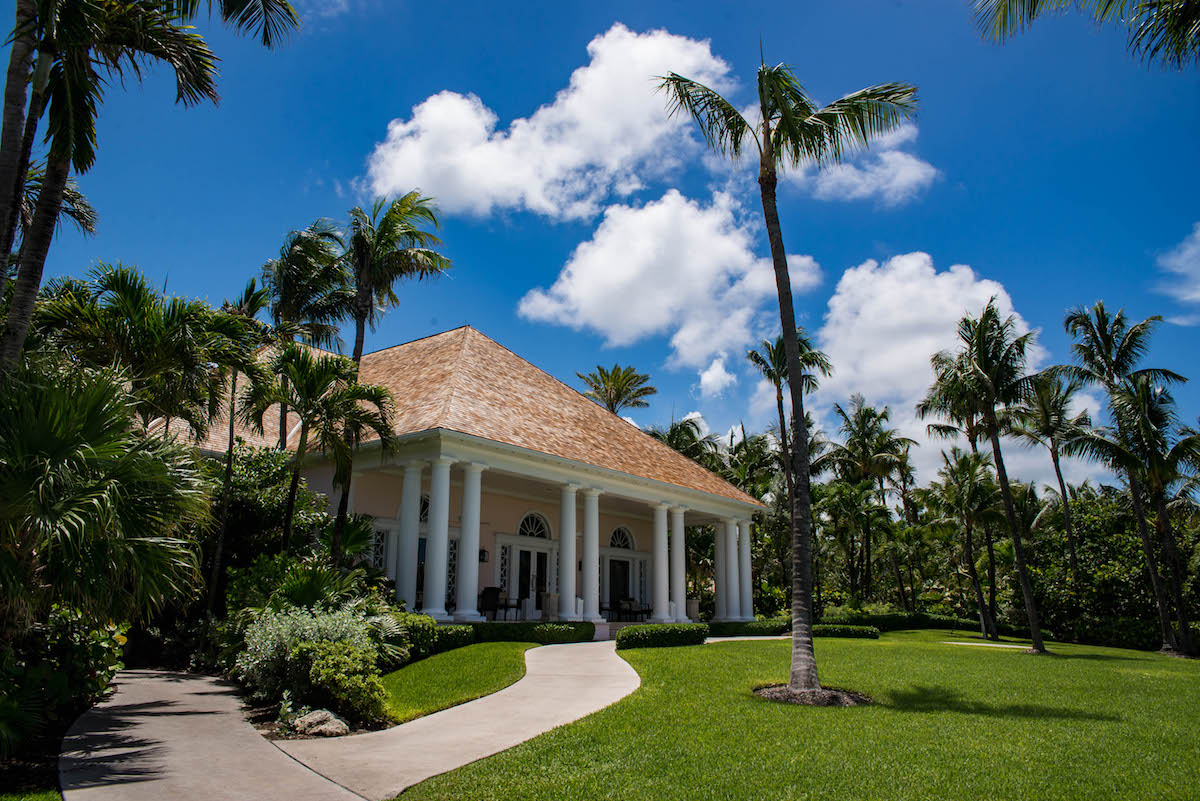 Whether you prefer to lay on the white sand beach, treat yourself to a day at the spa, hit the gym, lounge by the pool (the Ocean Club has three!) or indulge in some of the best food and drink on Paradise Island, you can easily get lost in everything there is to do at the Ocean Club. Nick and I did all of these, however by the end of our four day stay we left wishing we had extended our reservation!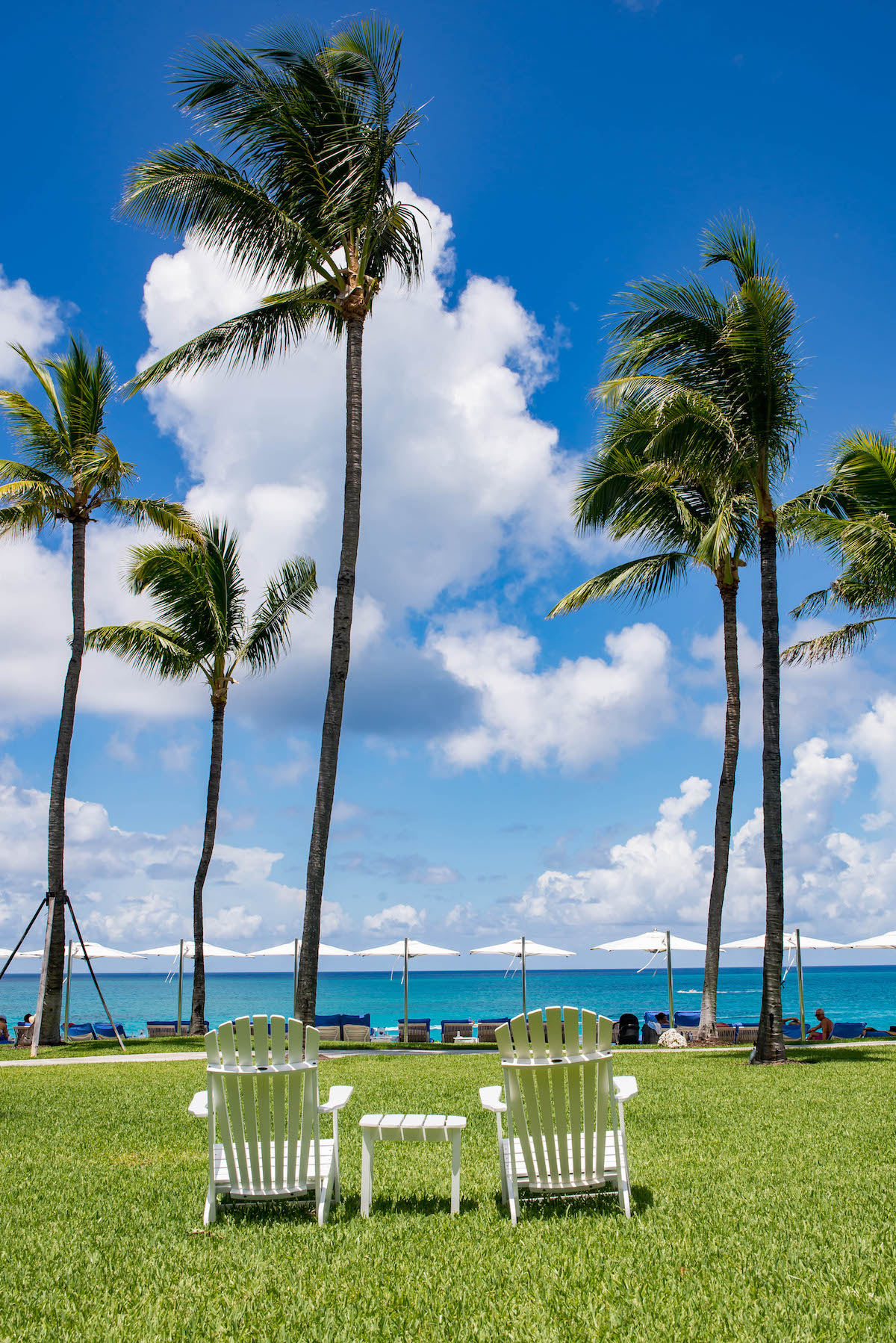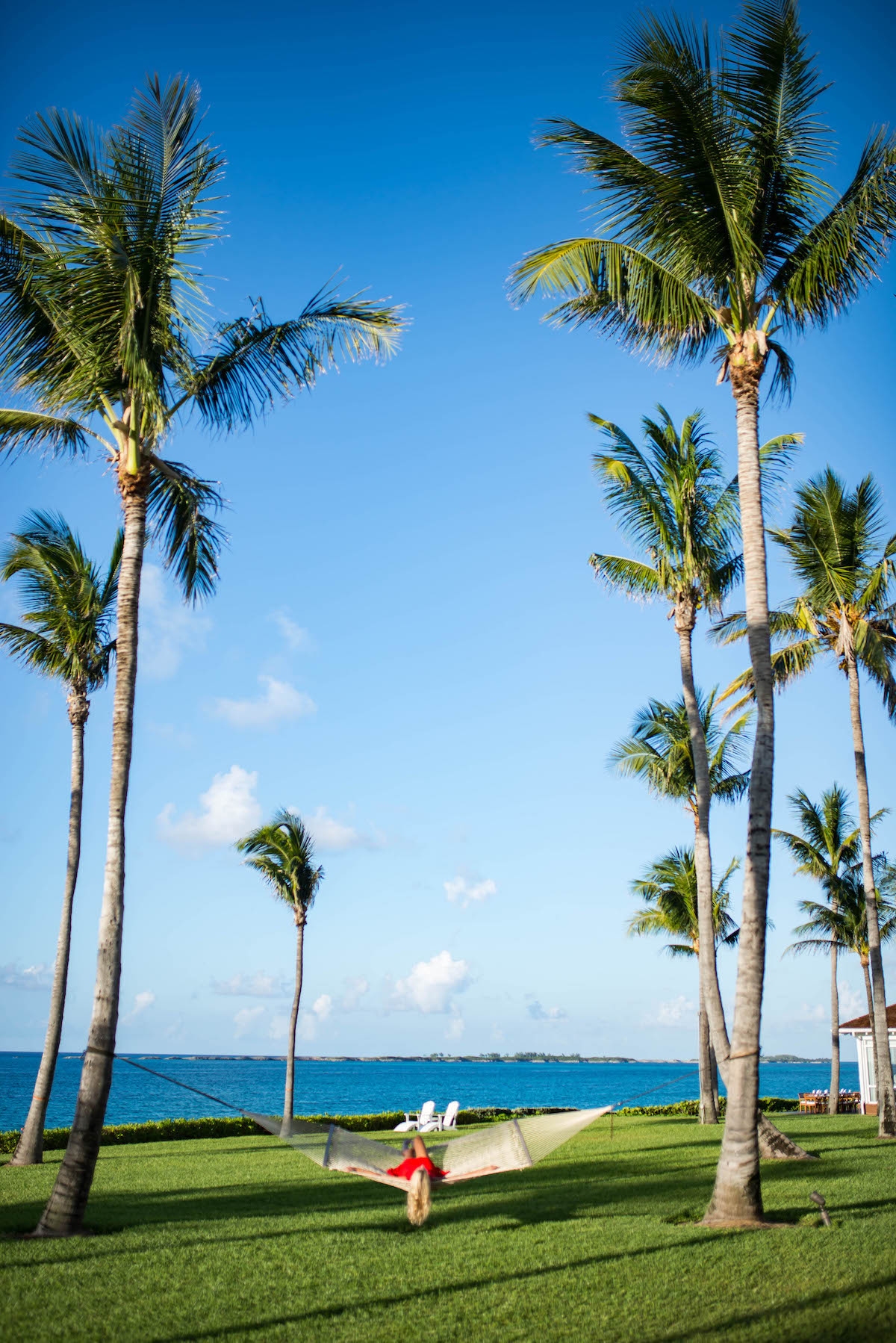 Just a few of the spots I found that were perfect for "hanging out" 😛
POOL & BEACH
---
The white sand beach and infinity pool at the Ocean Club look like actual postcards. I wish the pictures could do these dreamy settings more justice!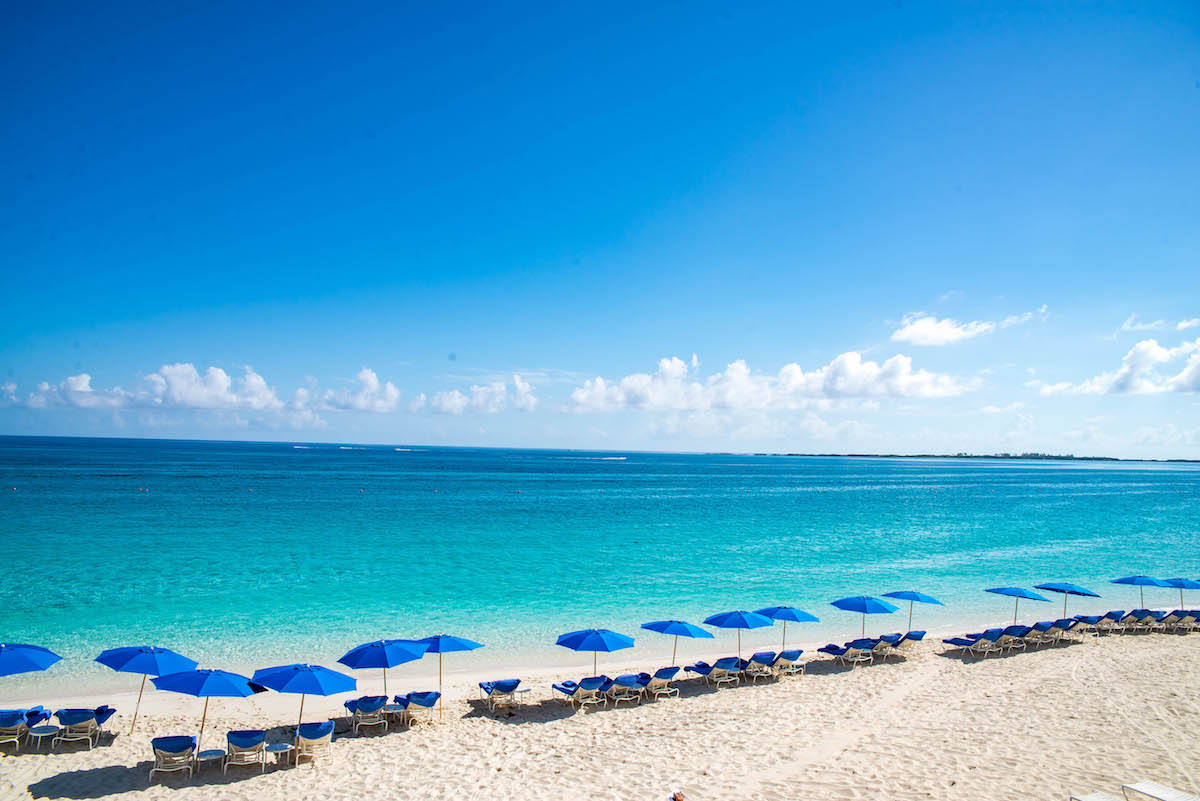 This picture reminds me of a Gray Malin print 🙂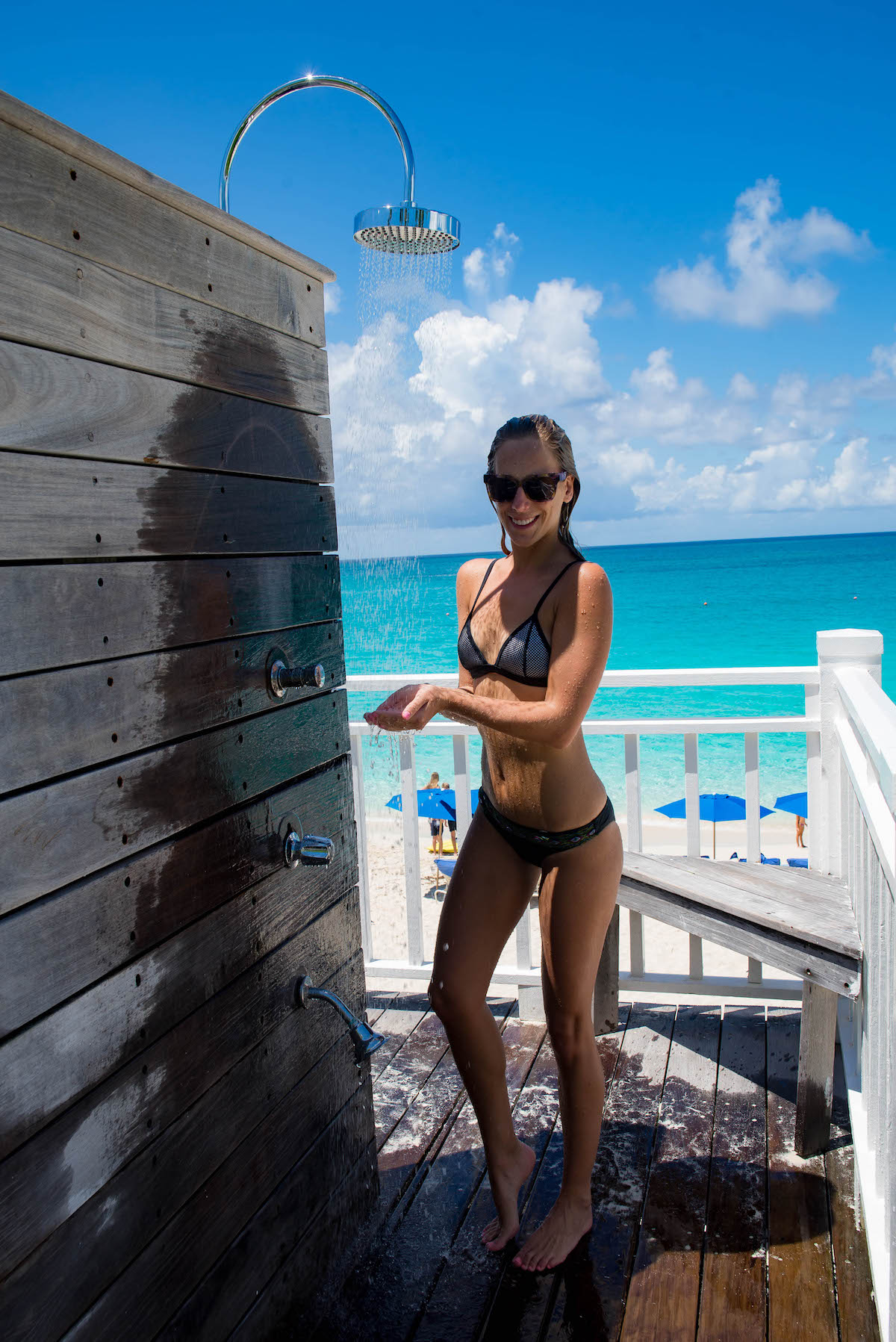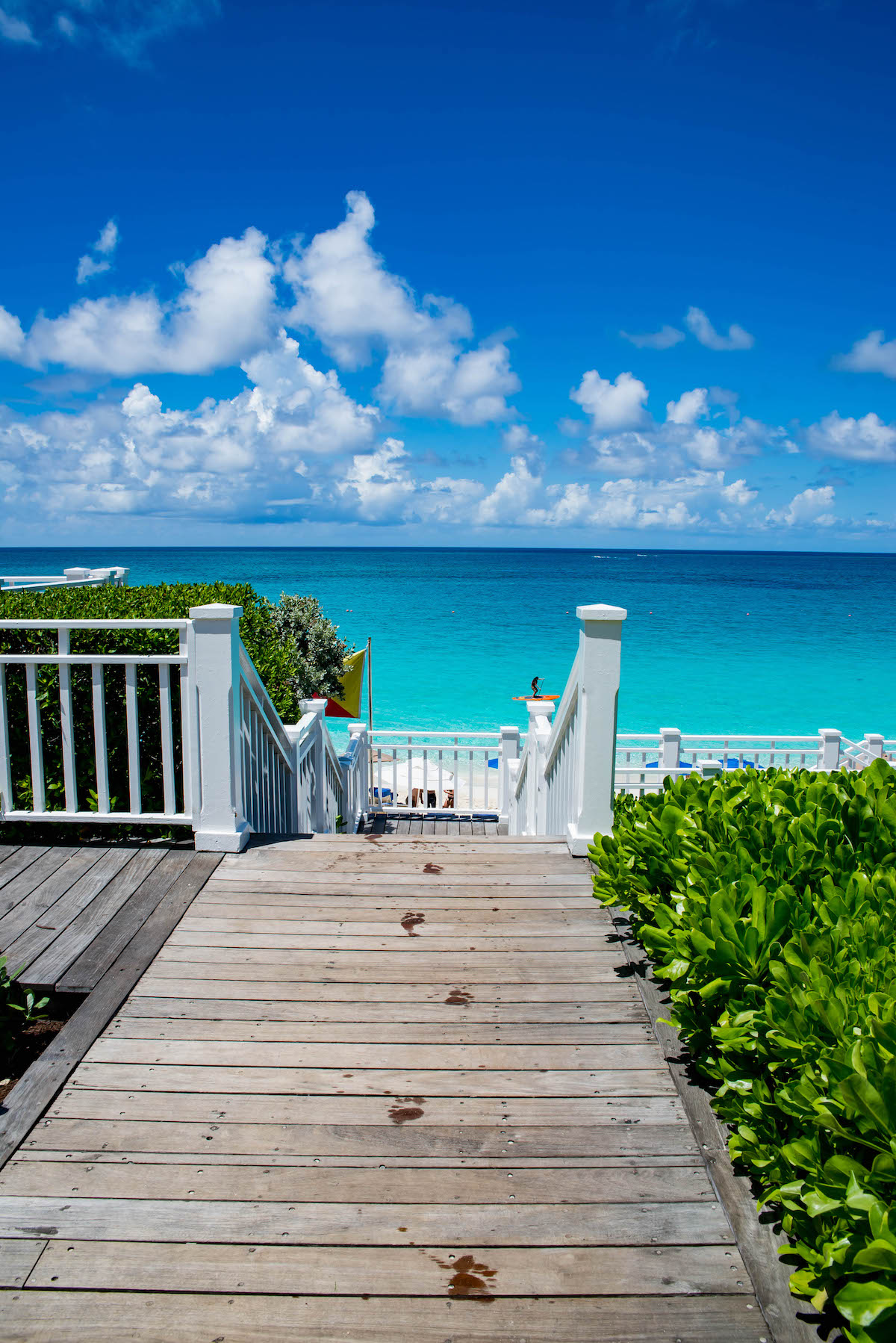 Note to self: install an outdoor shower at my future beach house.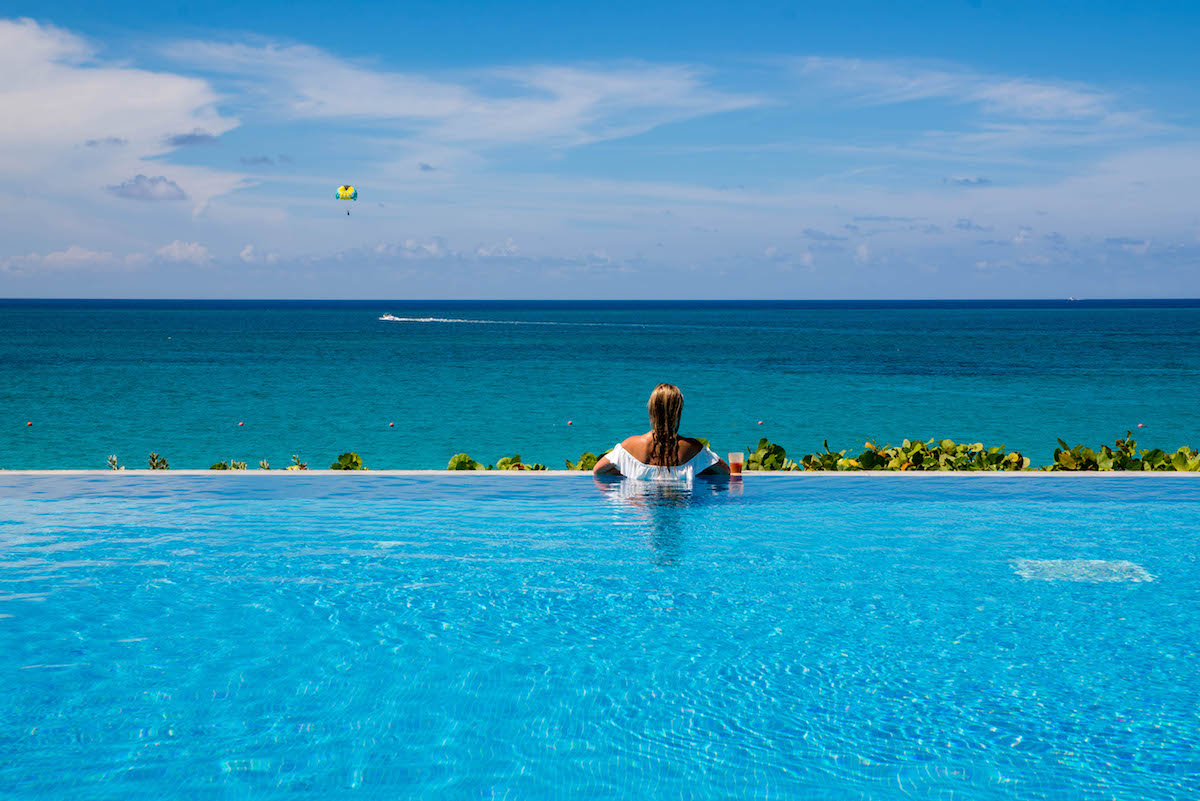 White Off The Shoulder Bikini & Bottoms
Of all the pools at the Ocean Club, the infinity pool overlooking the beach and ocean was our absolute favorite. We pretty much spent every afternoon posted up here in a beach cabana. I could've stared at that view all day!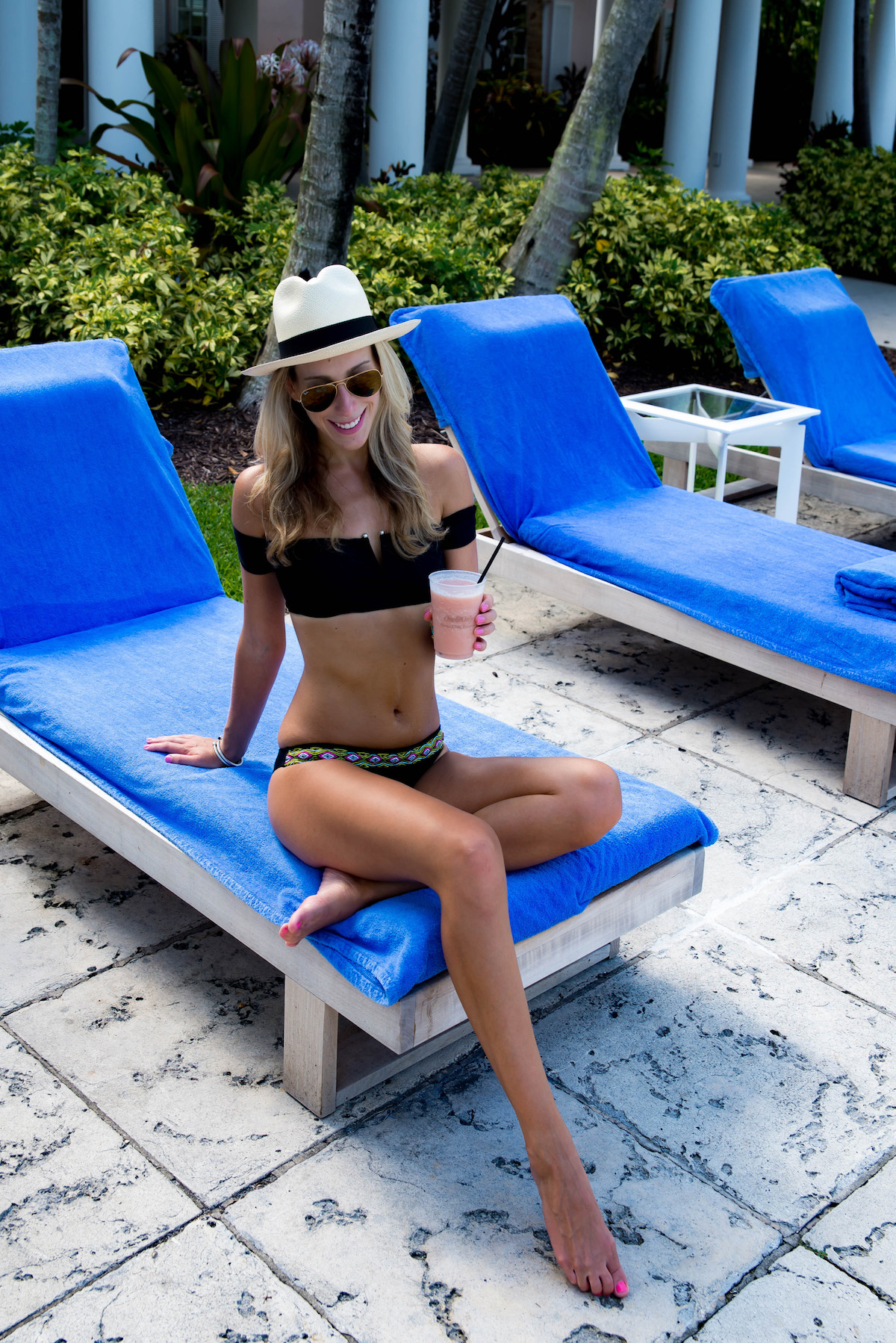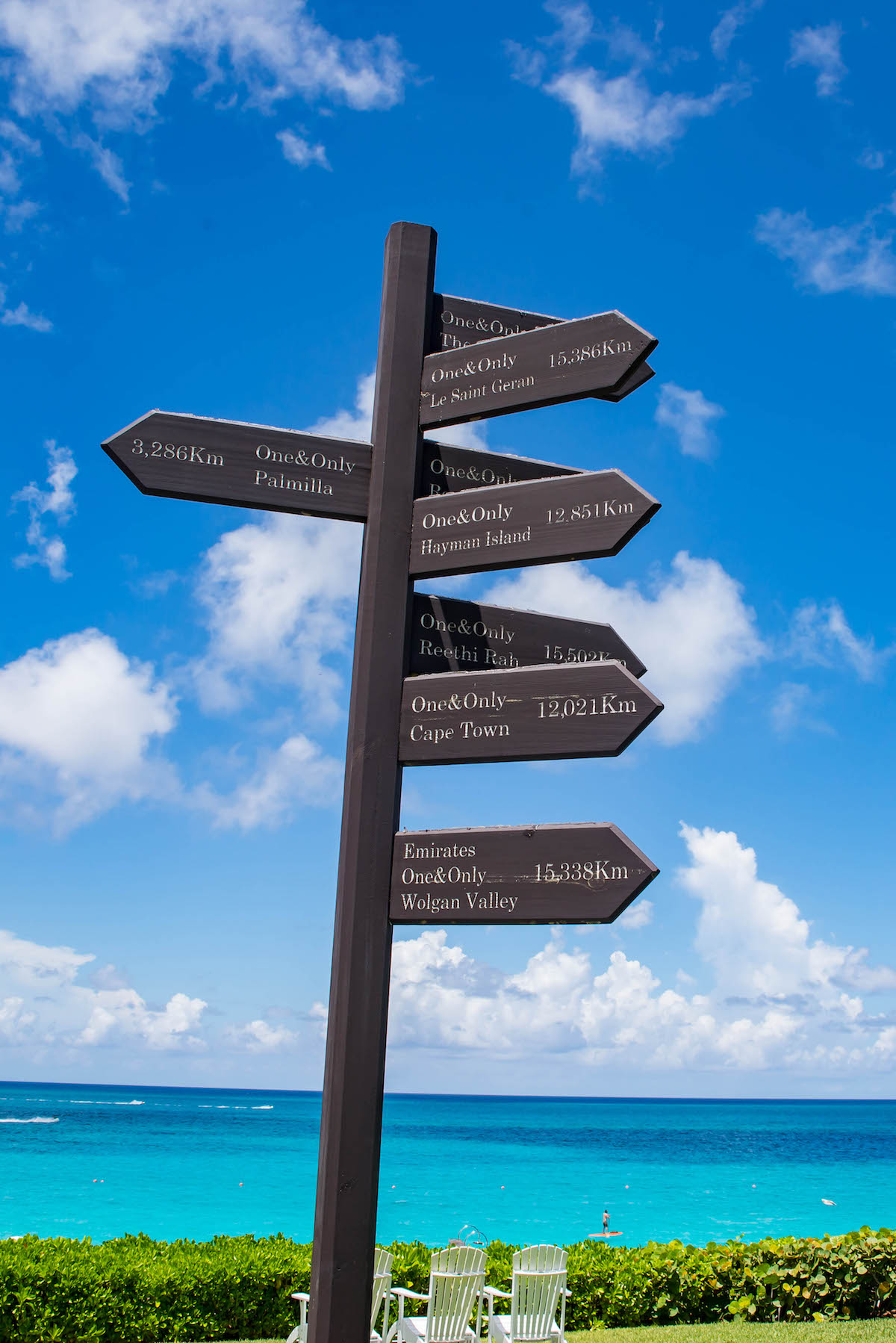 Black Off The Shoulder Bikini (now on sale for $41!) & Bottoms | Panama Hat | Aviator Sunglasses
The Ocean Club is just one of many in the One&Only hotel portfolio. Where to next? 😛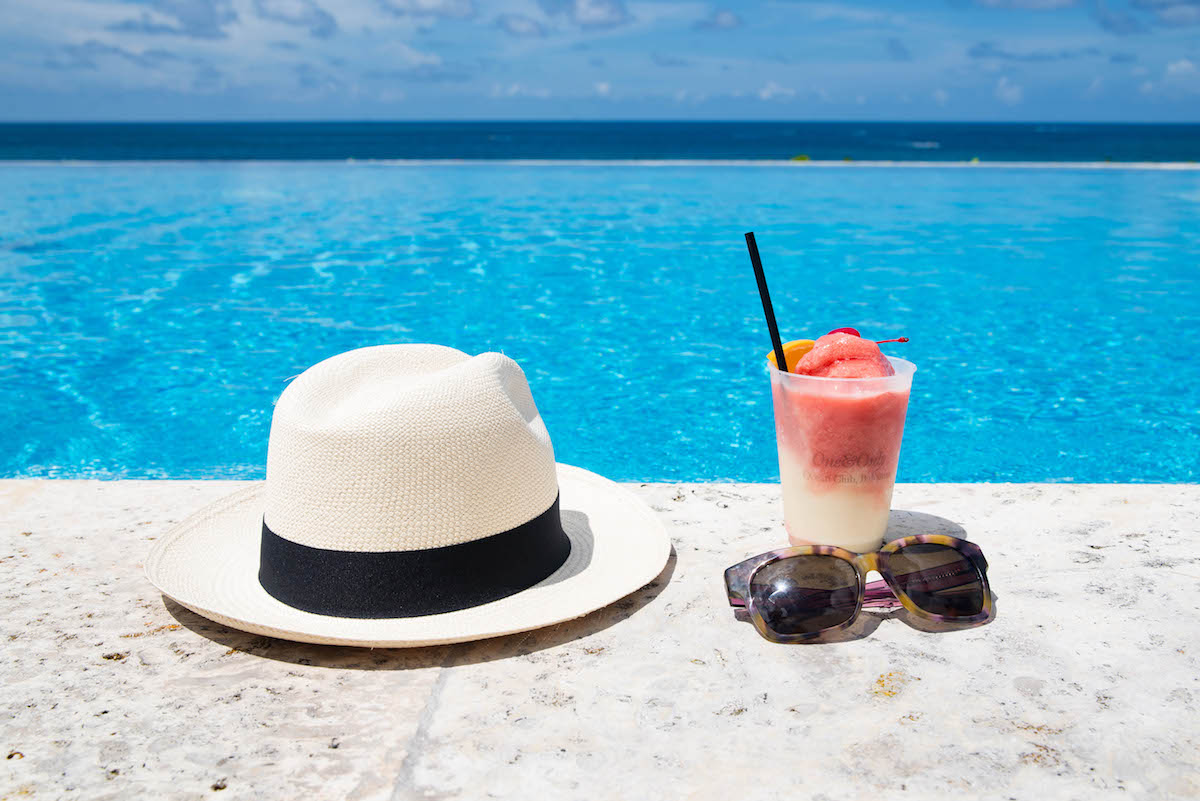 Panama Hat | Trina Turk Sunglasses c/o
Lay in the sun. Take a dip in the pool. Drink a frozen Miami Vice. R E P E A T.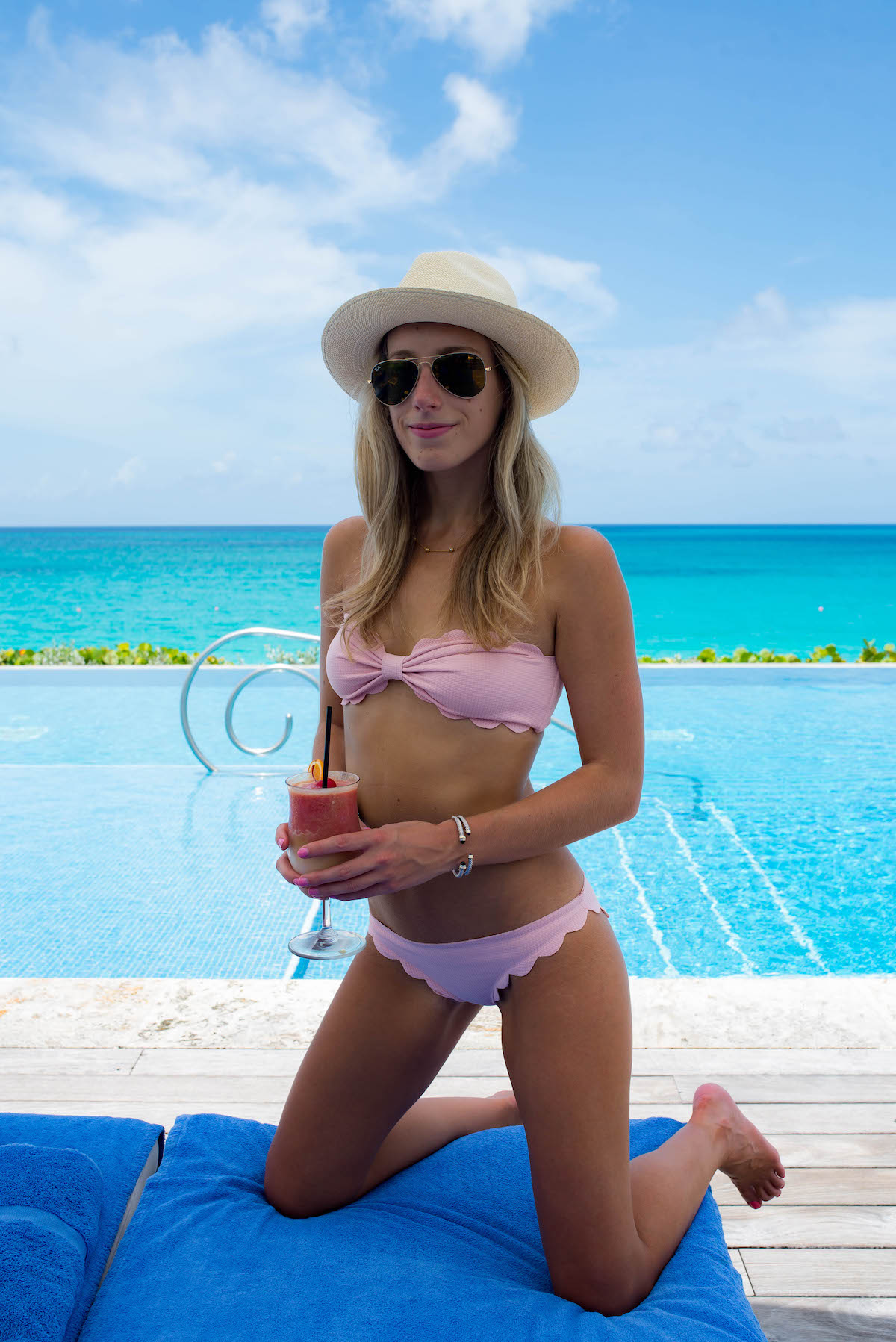 Marysia Swim Scallop Bikini Top & Bottoms | Panama Hat | Aviator Sunglasses | David Yurman Bracelets
I immediately scooped up this Marysia Swim Antibes bikini when I saw there was one left in my size on sale. It was a bit of a splurge even on markdown, but totally worth it. I'll be wearing this one for years to come!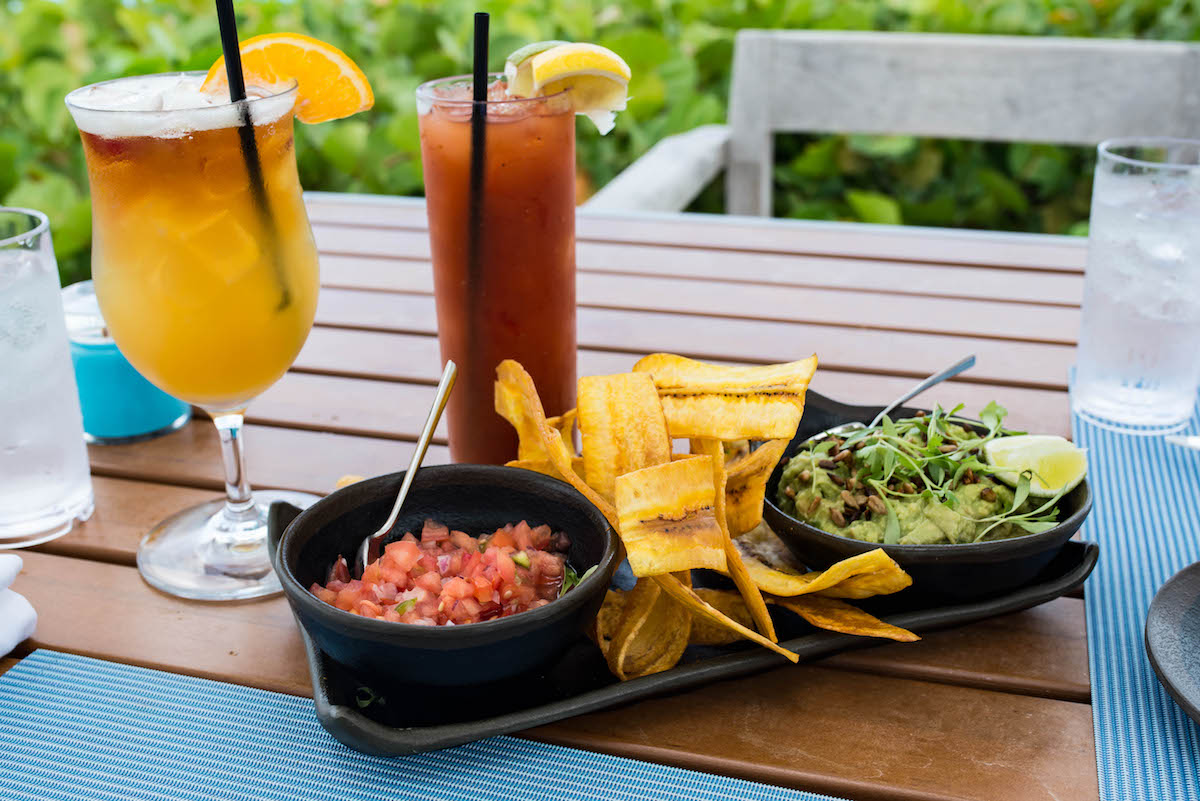 You don't need to feel so guilty about eating endless guac and salsa when it's served with plantain chips! YUM.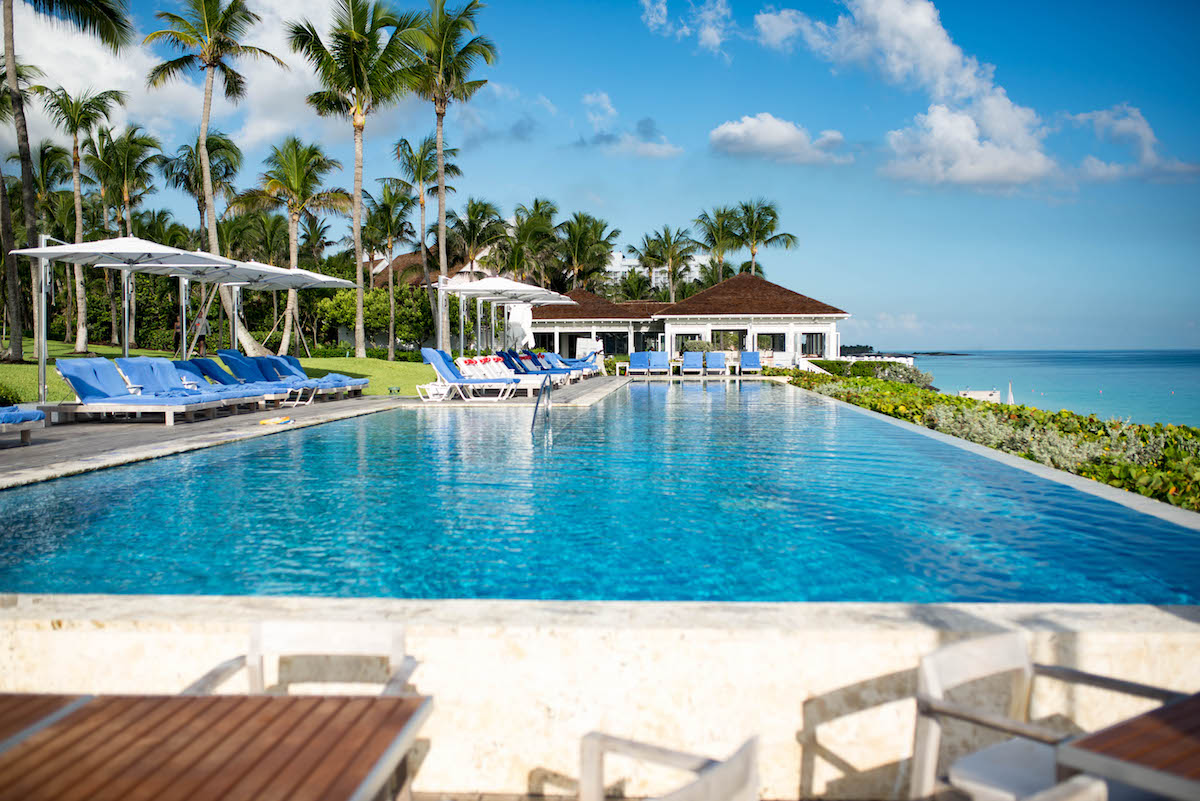 GUEST SUITE
---
The guest rooms and suites at the Ocean Club truly make you feel like you're right at home. Well, in our case it may have been even better because I think our suite was larger than our New York apartment! 😛 We stayed in the Crescent Wing of the hotel and loved our room. Some of our favorite aspects were the terrace with views of the lawn and ocean and a huge mosaic bathtub. Every afternoon a butler also served us complimentary champagne!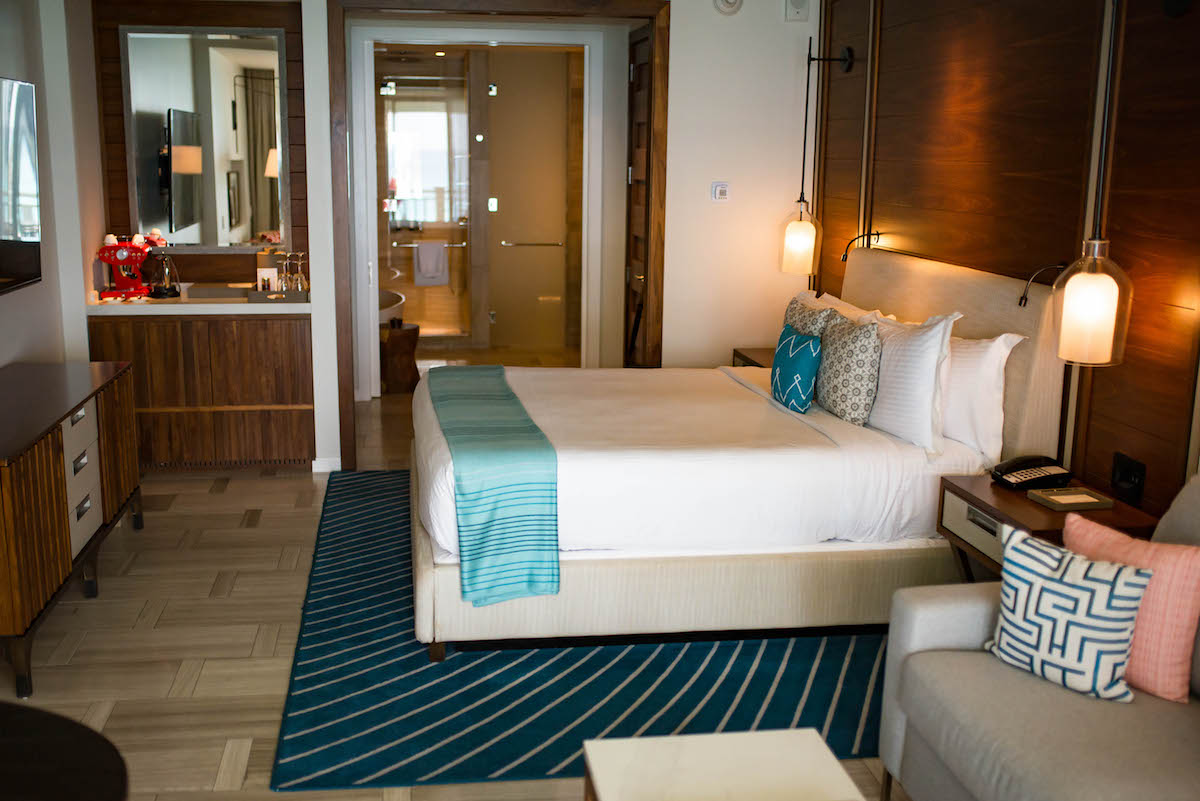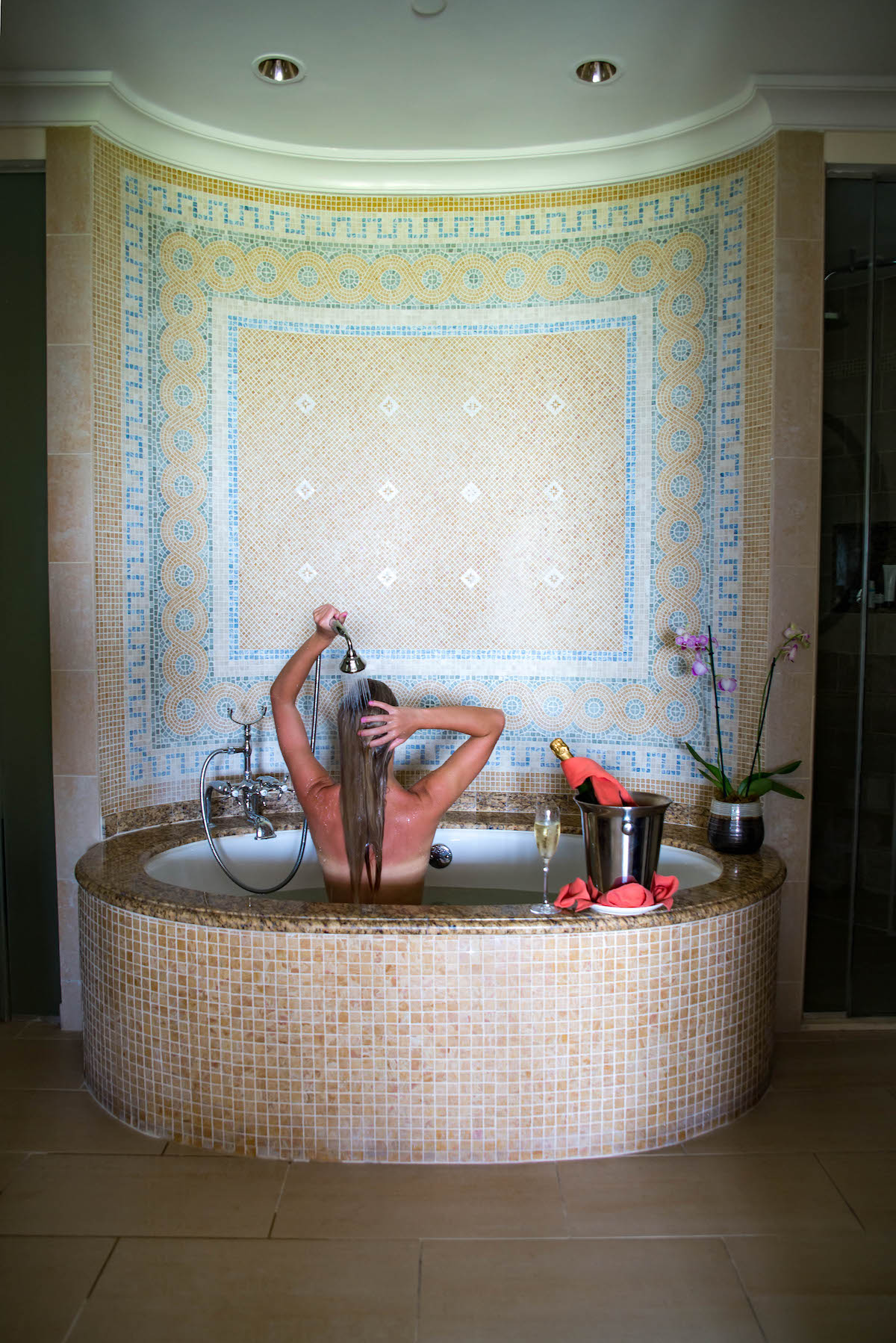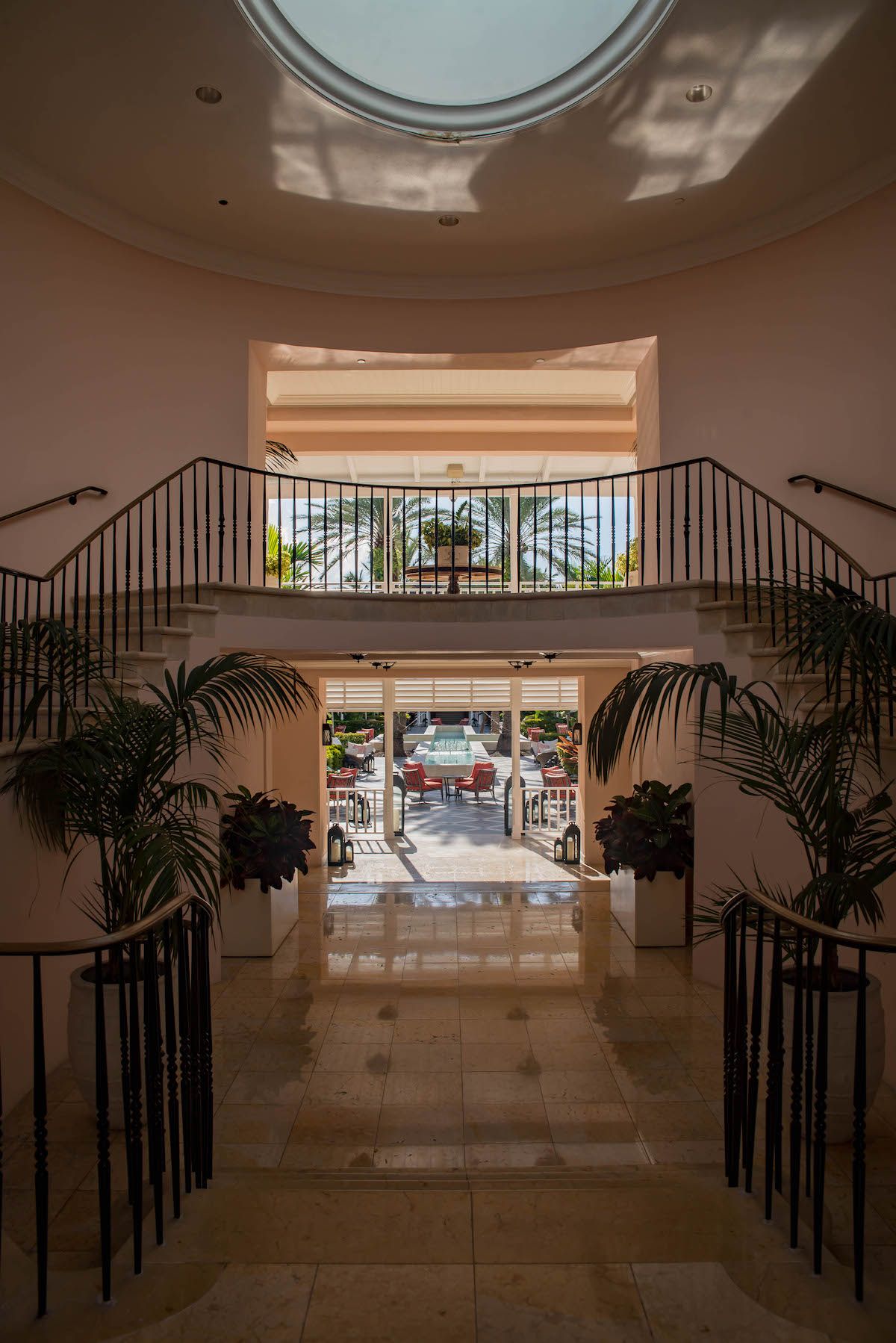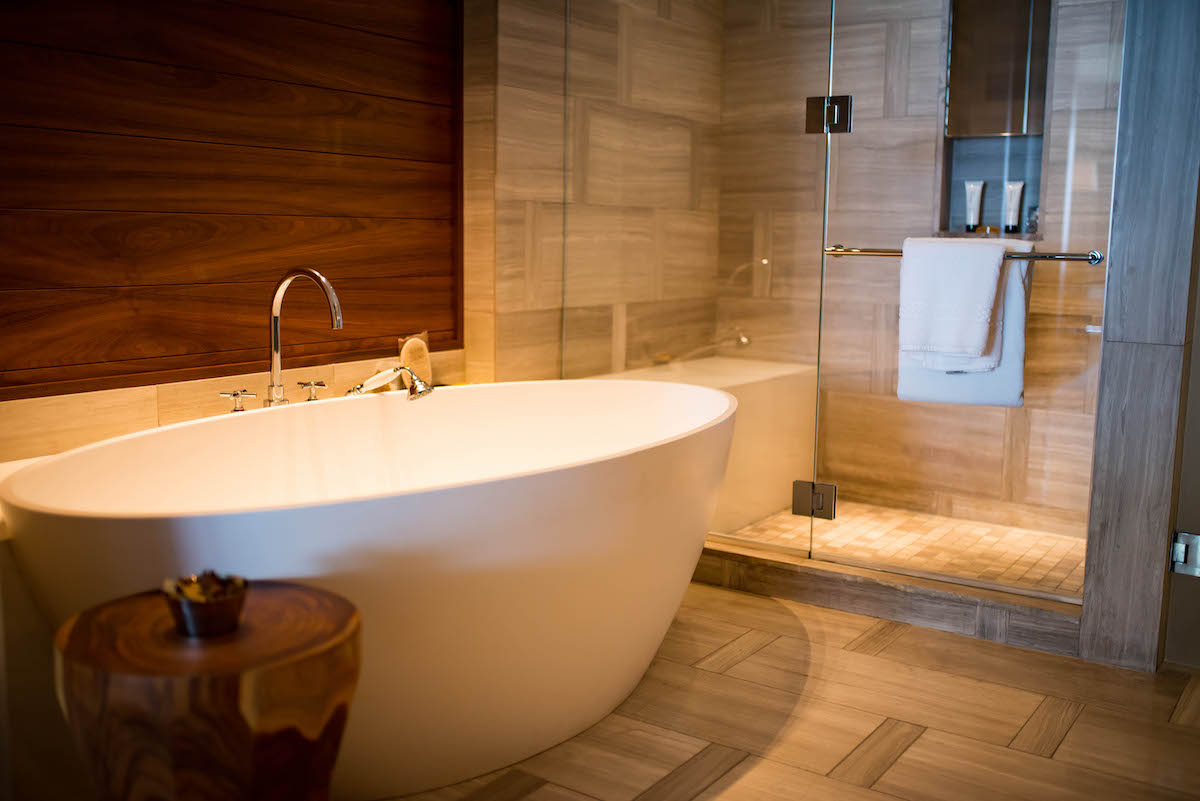 We toured a suite in the Hartford Wing where guest rooms have the chicest spa-like bathtubs.
THE ONLY&ONLY SPA
---
The One&Only Spa is completely out of this world! I felt like I was in Bali as I stepped into the private bungalow where I was treated to the Elemis Exotic Coconut Rub & Milk Ritual Wrap treatment. It was beyond indulgent and I left completely exfoliated and smelling like a fresh coconut.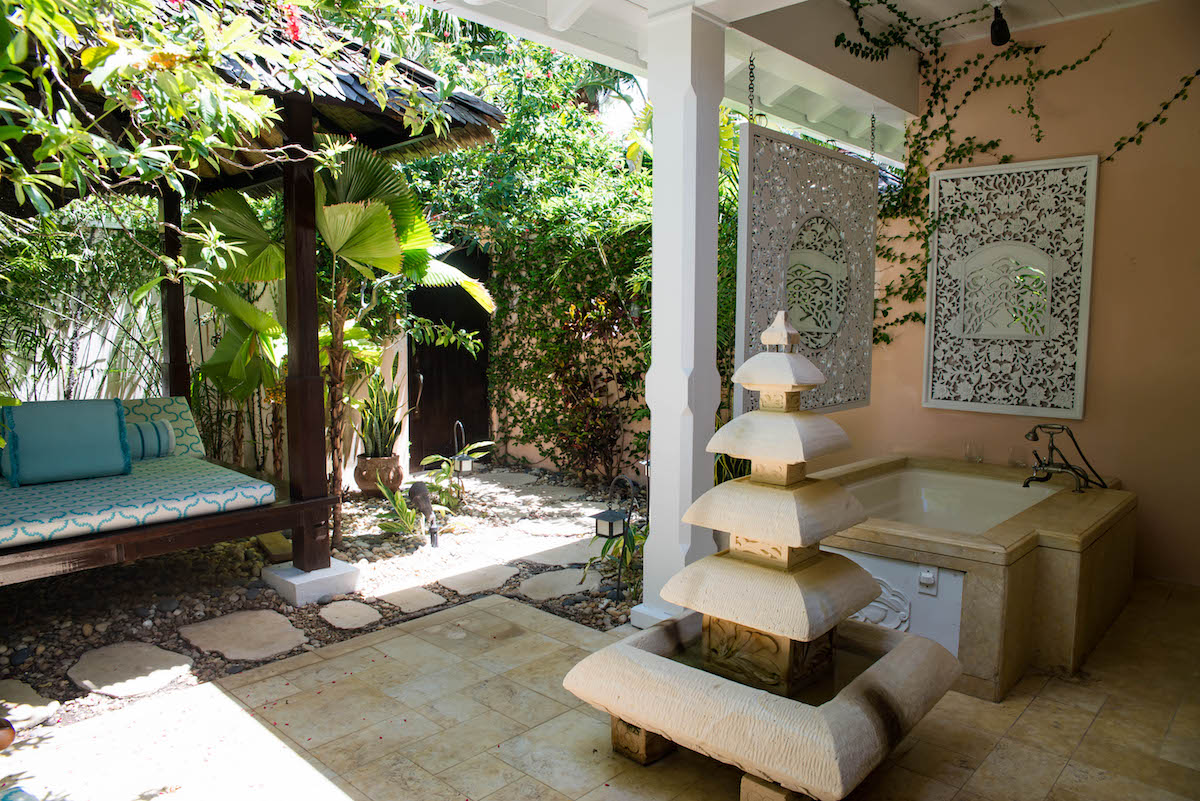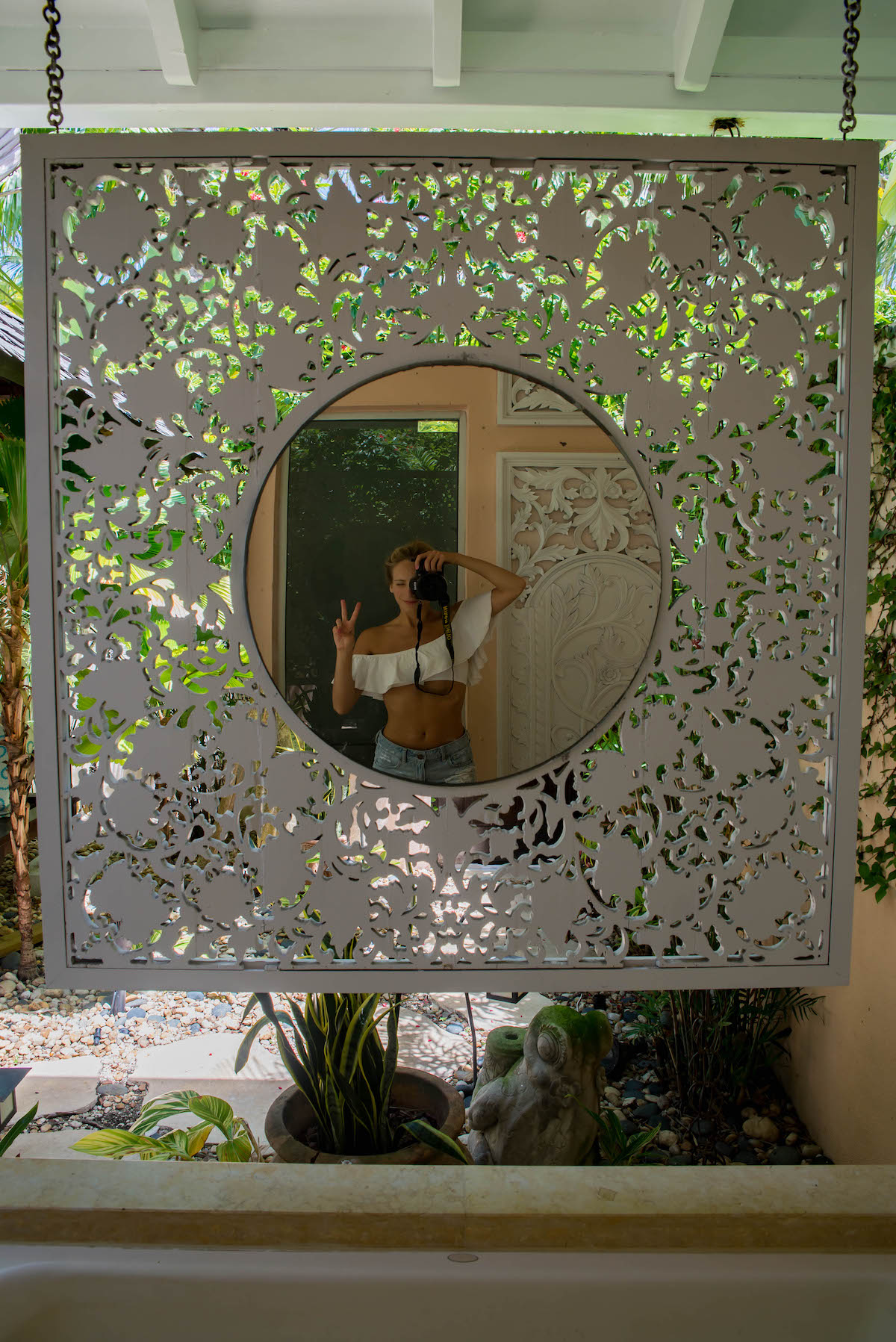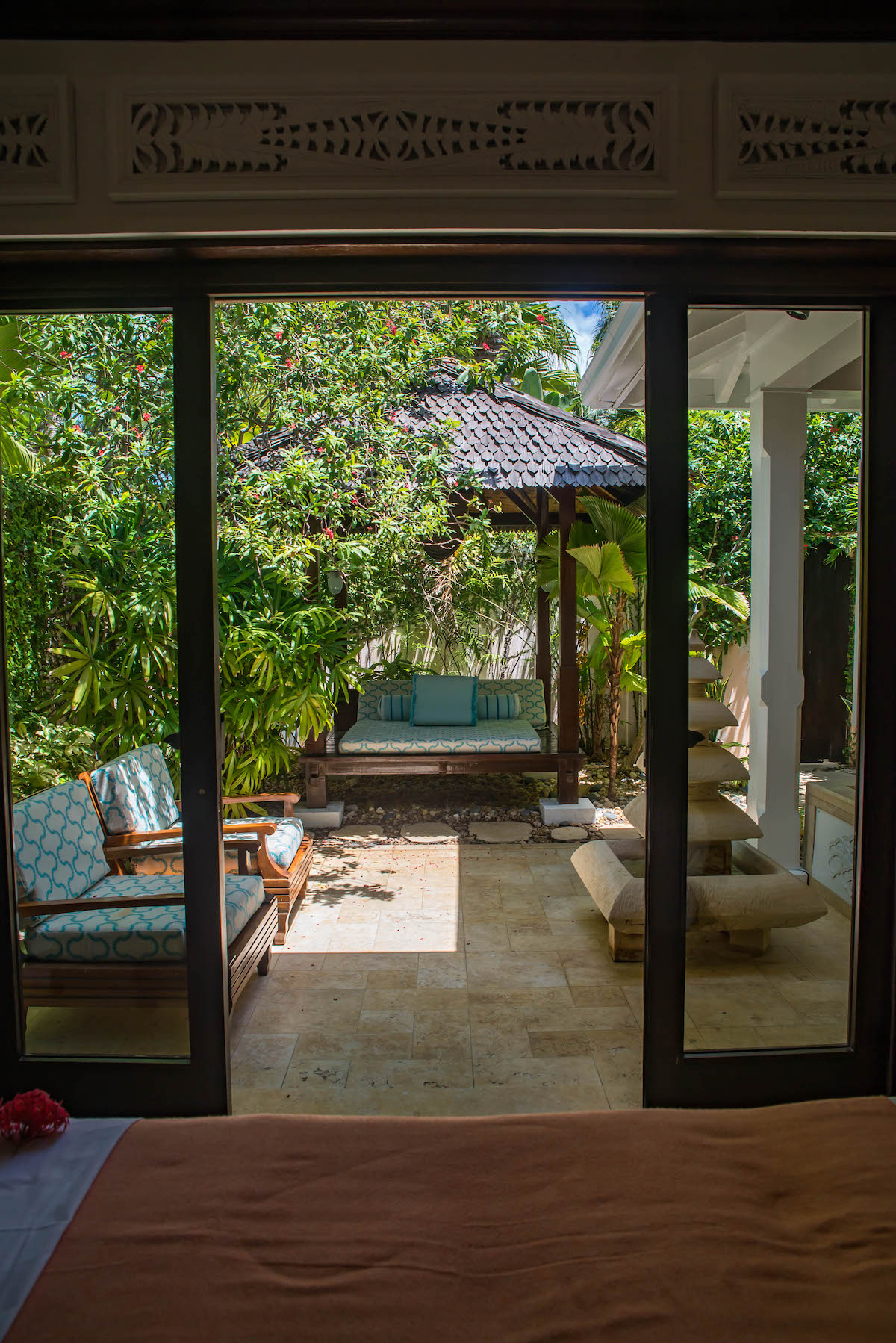 Hi! My name is Katie and I like to take pictures. 😛
THE CLOISTERS & VERSAILLES GARDEN
---
We felt like we could've been in Europe as we explored the grounds. Gracing the property you'll find manicured gardens, striking bronze & marble statues and stone terraces complete with a 12th-century Augustinian cloister that was imported piece-by-piece from France. Talk about total wanderlust and pure magic. We couldn't stop snapping away!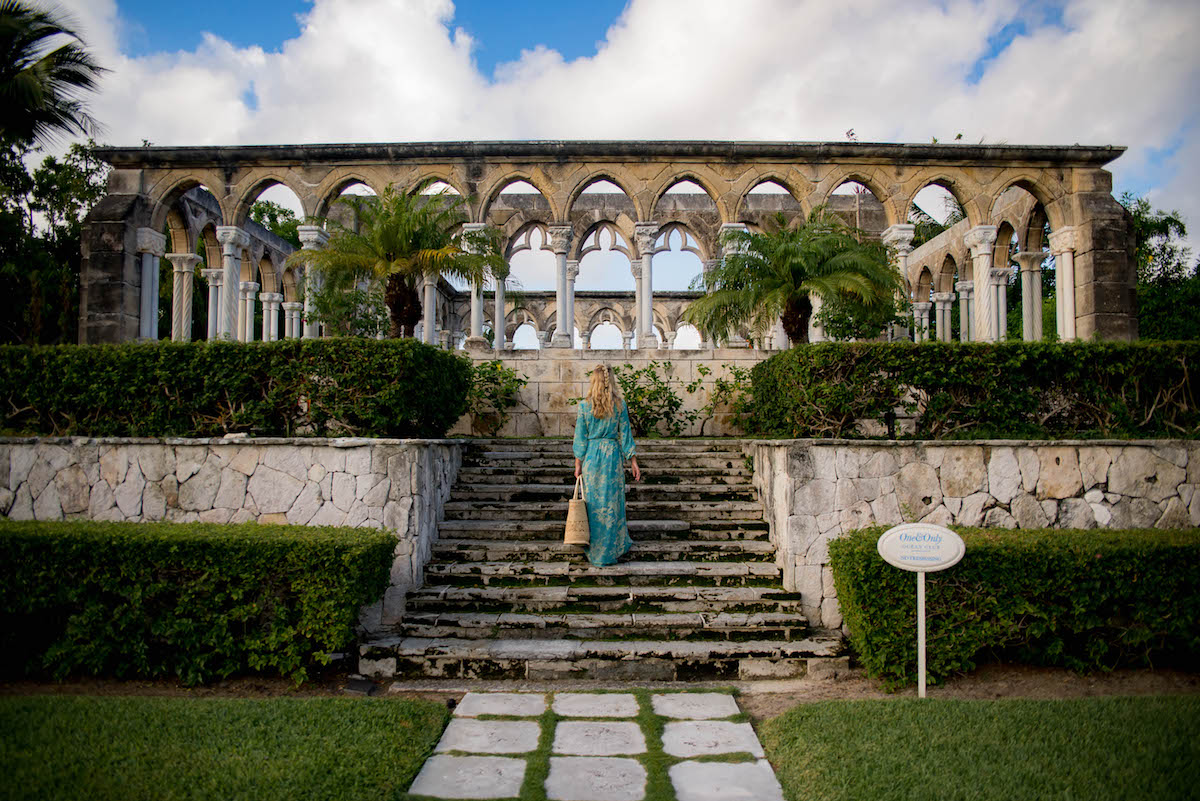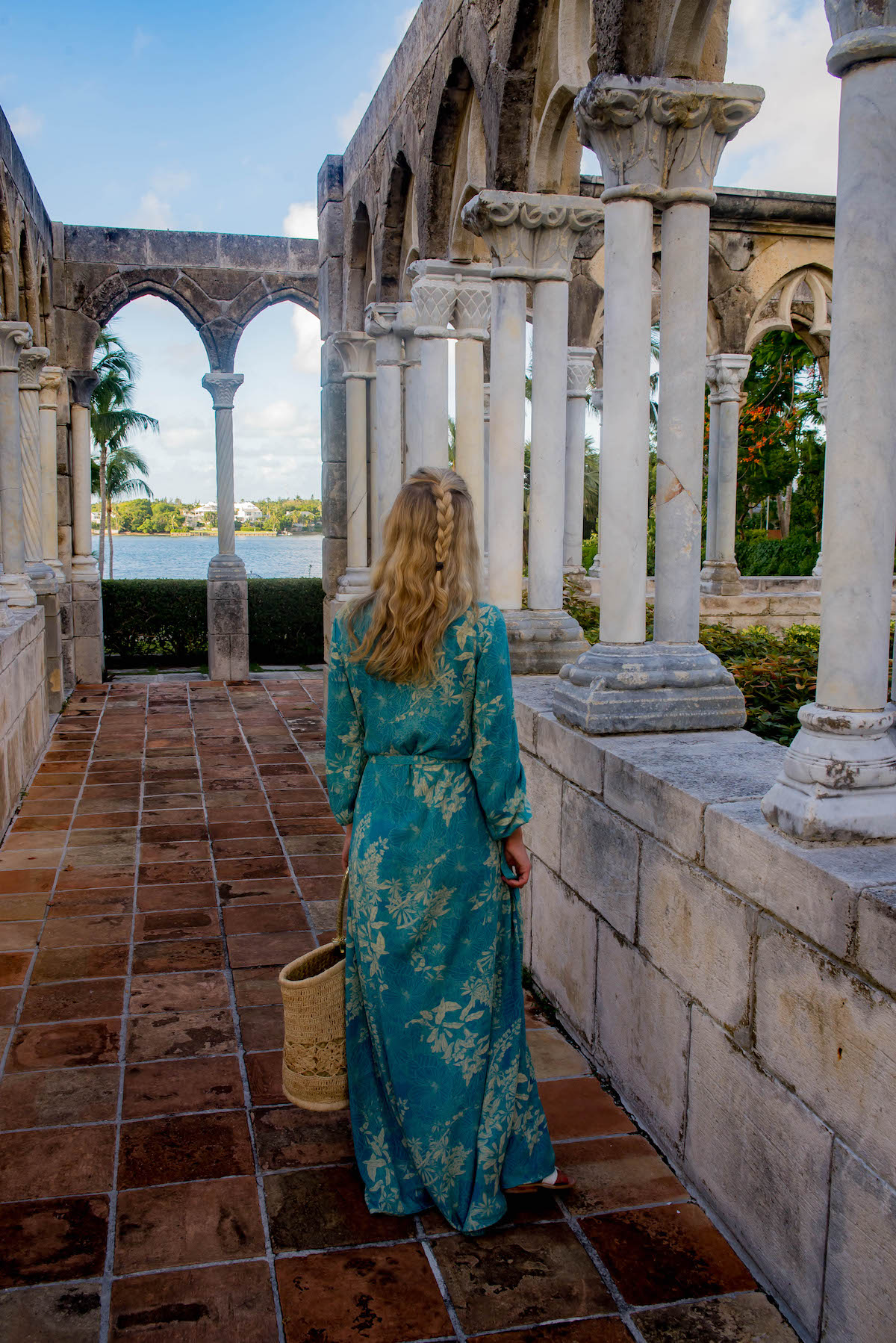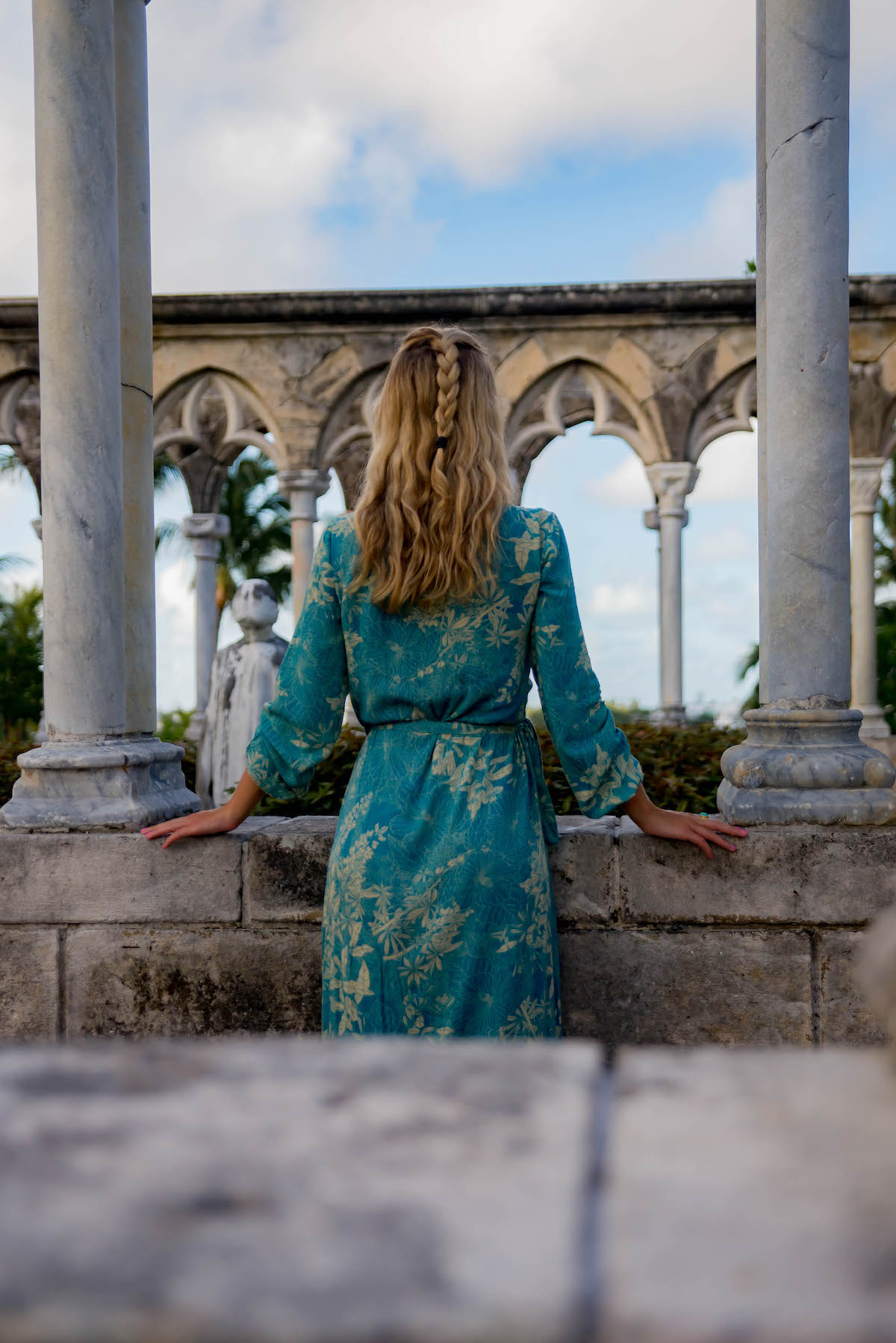 Maxi Wrap Dress | Straw Tote Bag
I mean, could this place not be not be mistaken for a set of Game of Thrones? I may or may not have felt some Khalessi vibes as we wandered the Cloisters. Of course I had to dress the part too. 😛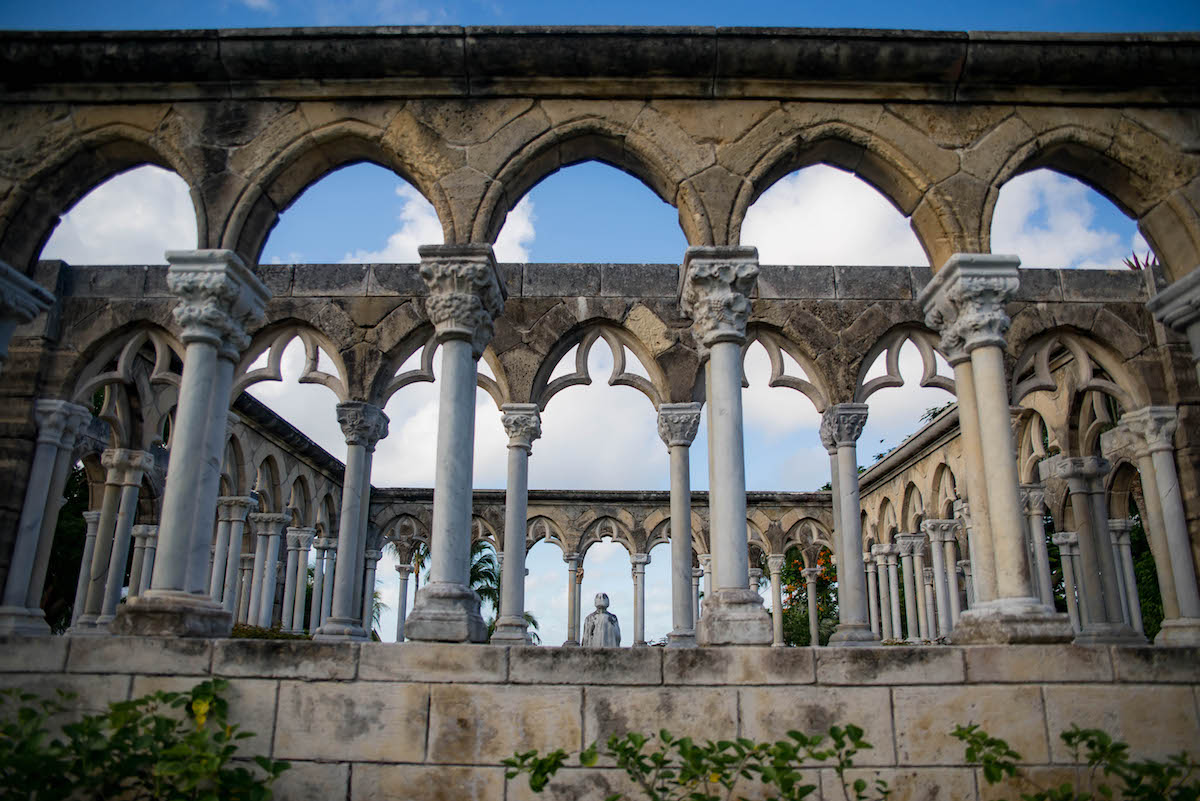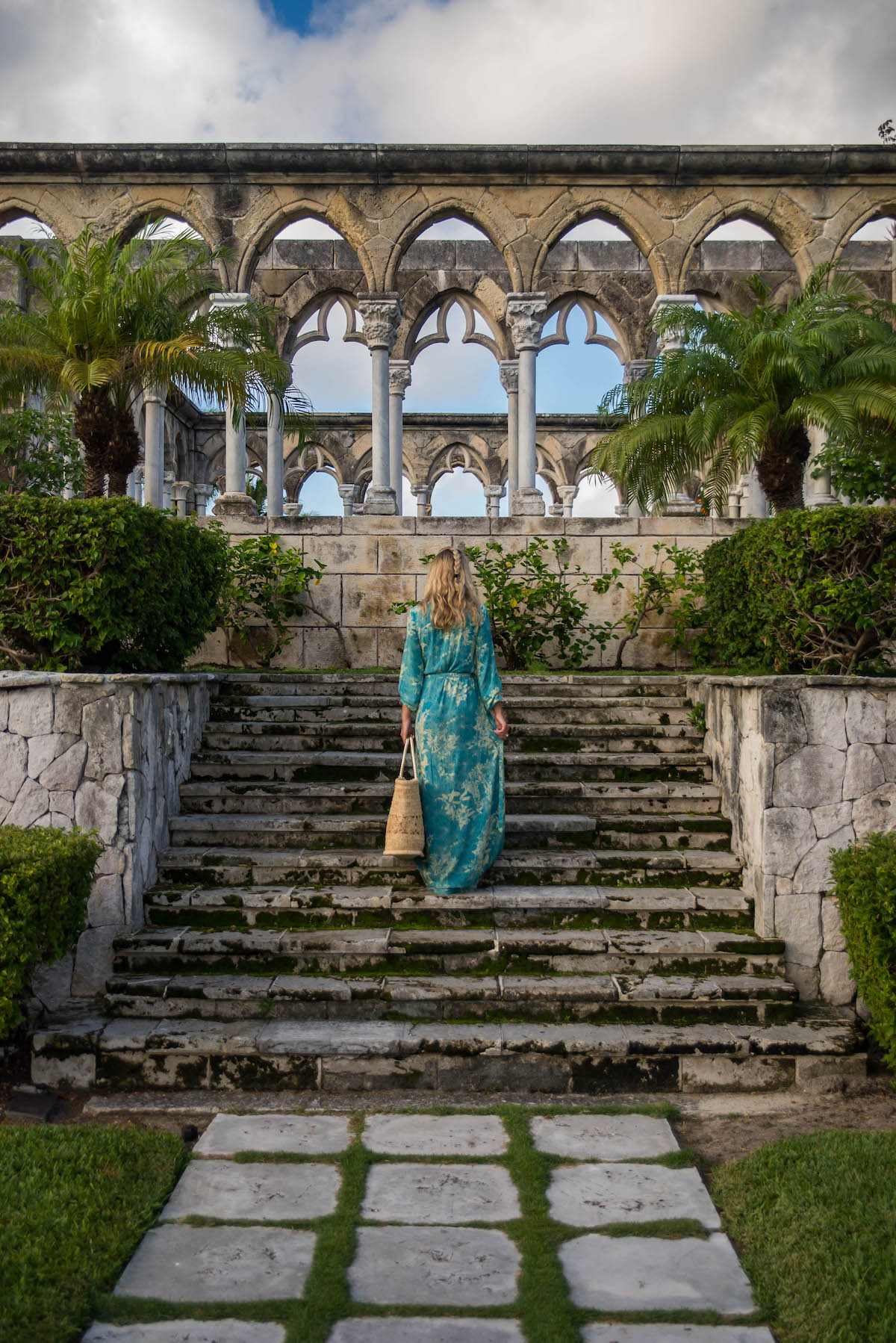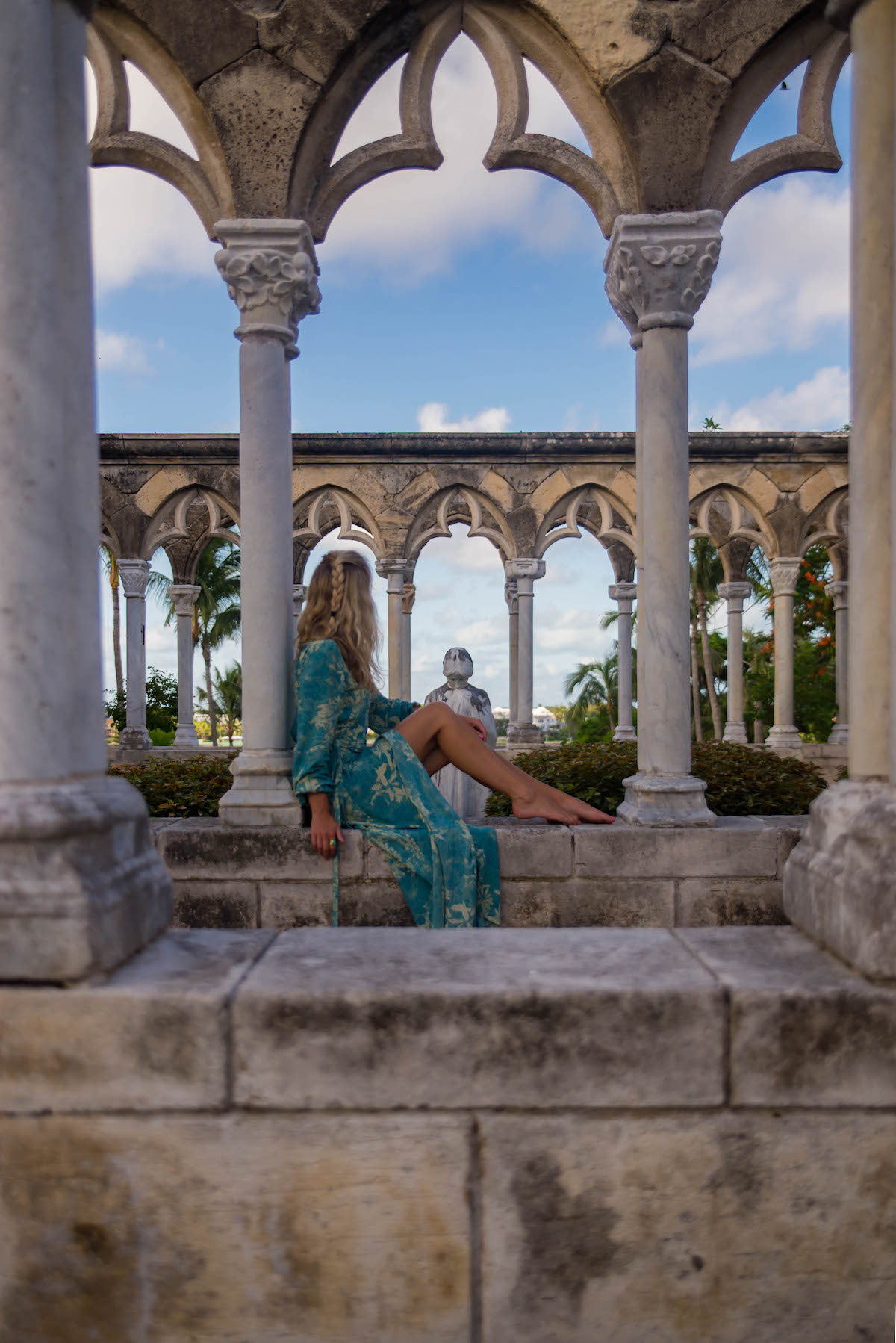 "Follow your bliss and the world will open doors where there were only walls"
BAHAMIAN CONCH
---
One of our favorite moments from our trip was learning how to prepare Bahamanian-style conch. And when I say learn, I mean actually prepare conch. Straight out of the shell. The Ocean Club set up the coolest immersion for us where we had a blast watching Chef Gilbert create three different fresh seafood dishes.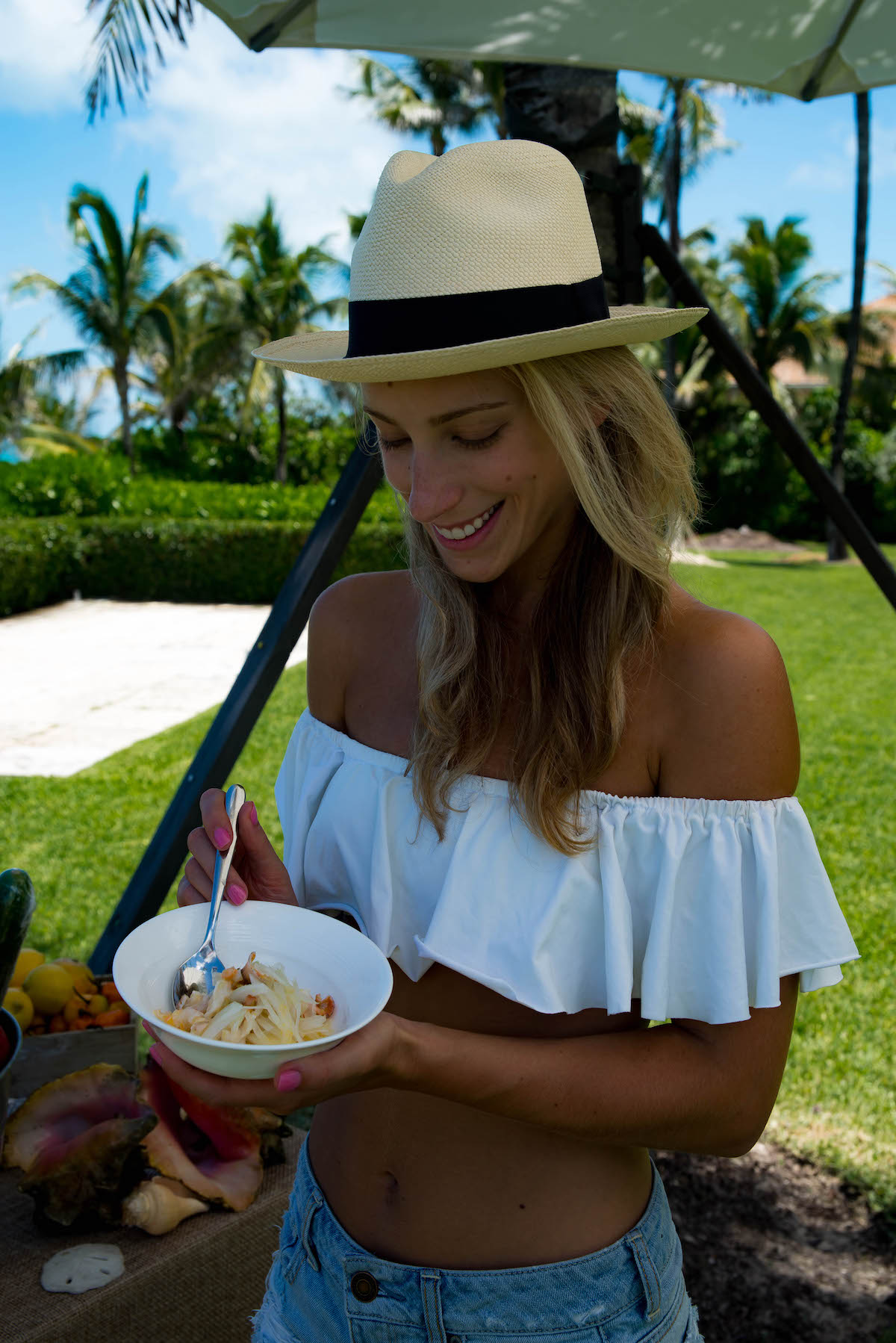 White Off The Shoulder Bikini & Bottoms | Similar Denim Shorts | Panama Hat
Scorched Conch was the first preparation of the dish that we tried. All it included was sliced conch (obvi) onion, habanero pepper, salt, lemon juice, lime juice and orange juice. So fresh!!!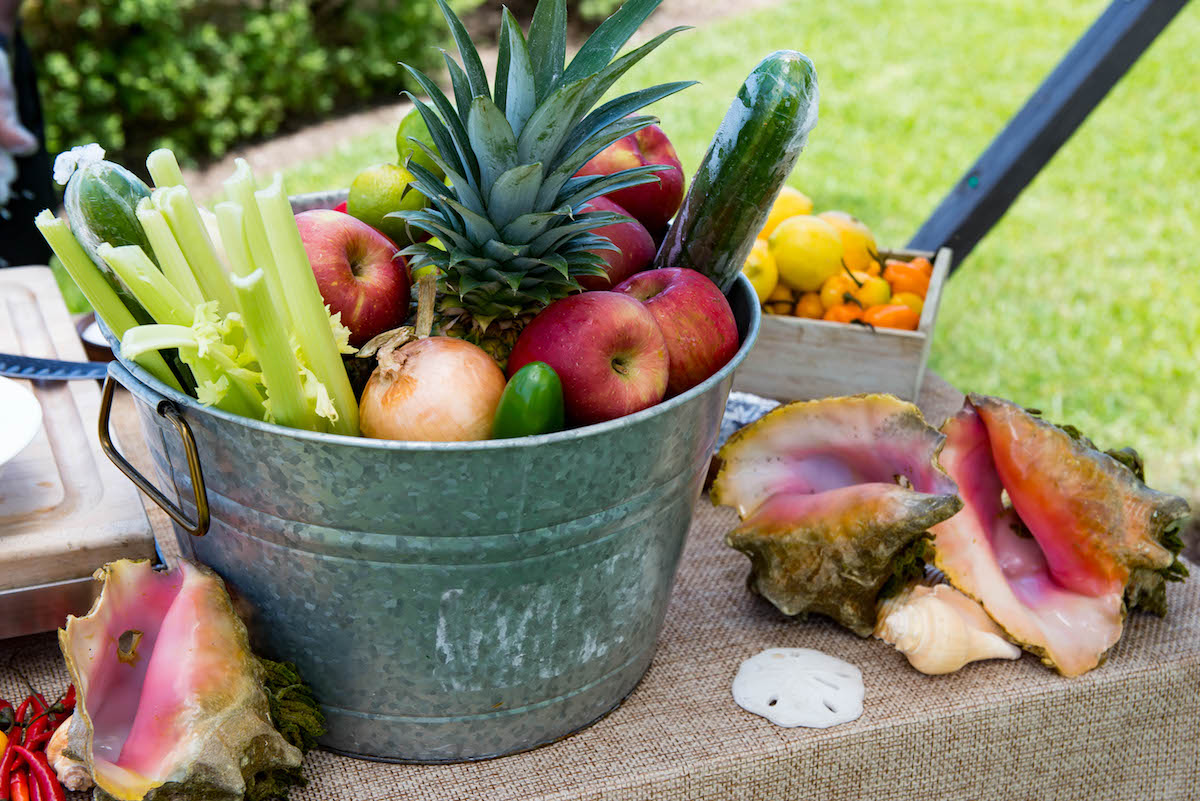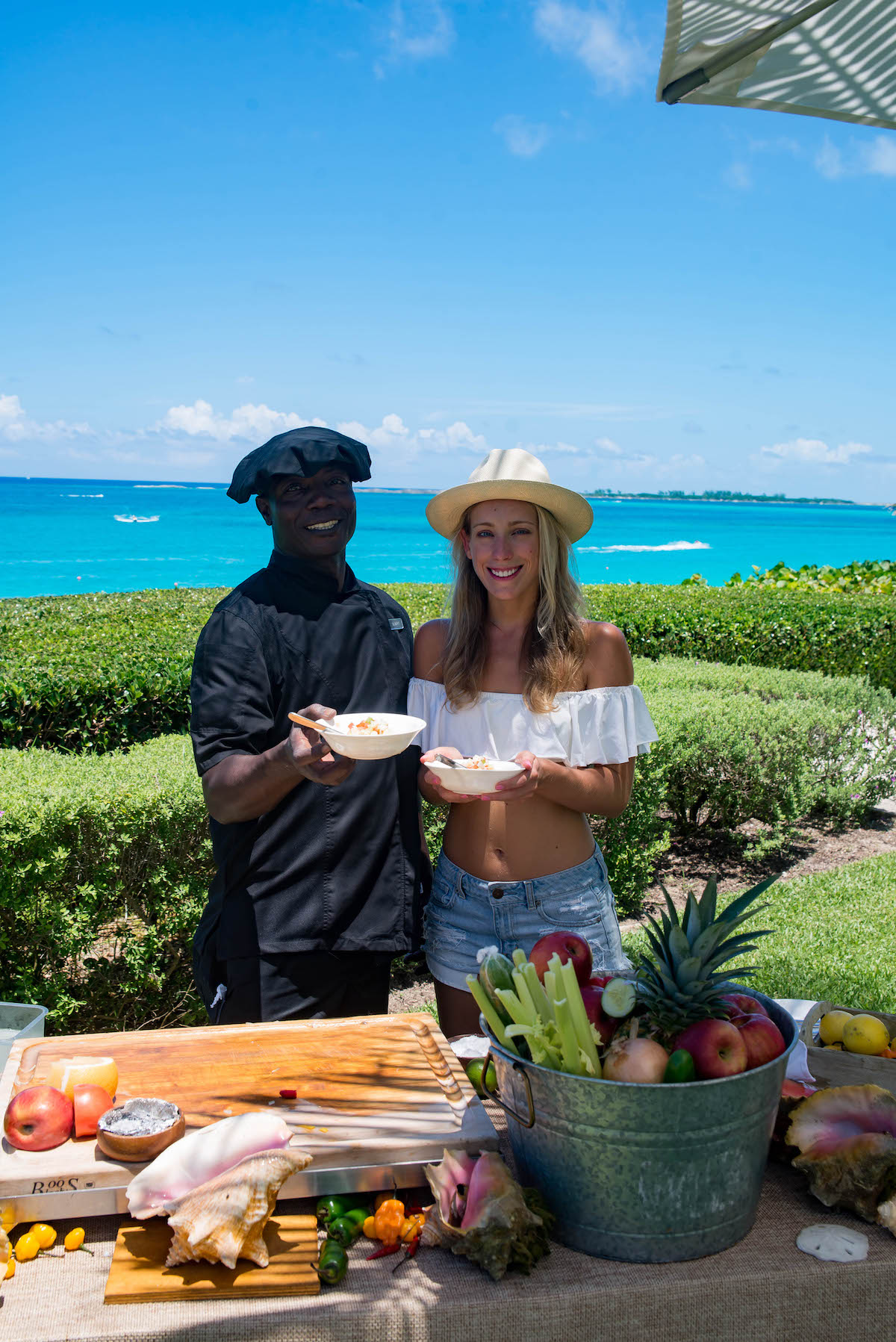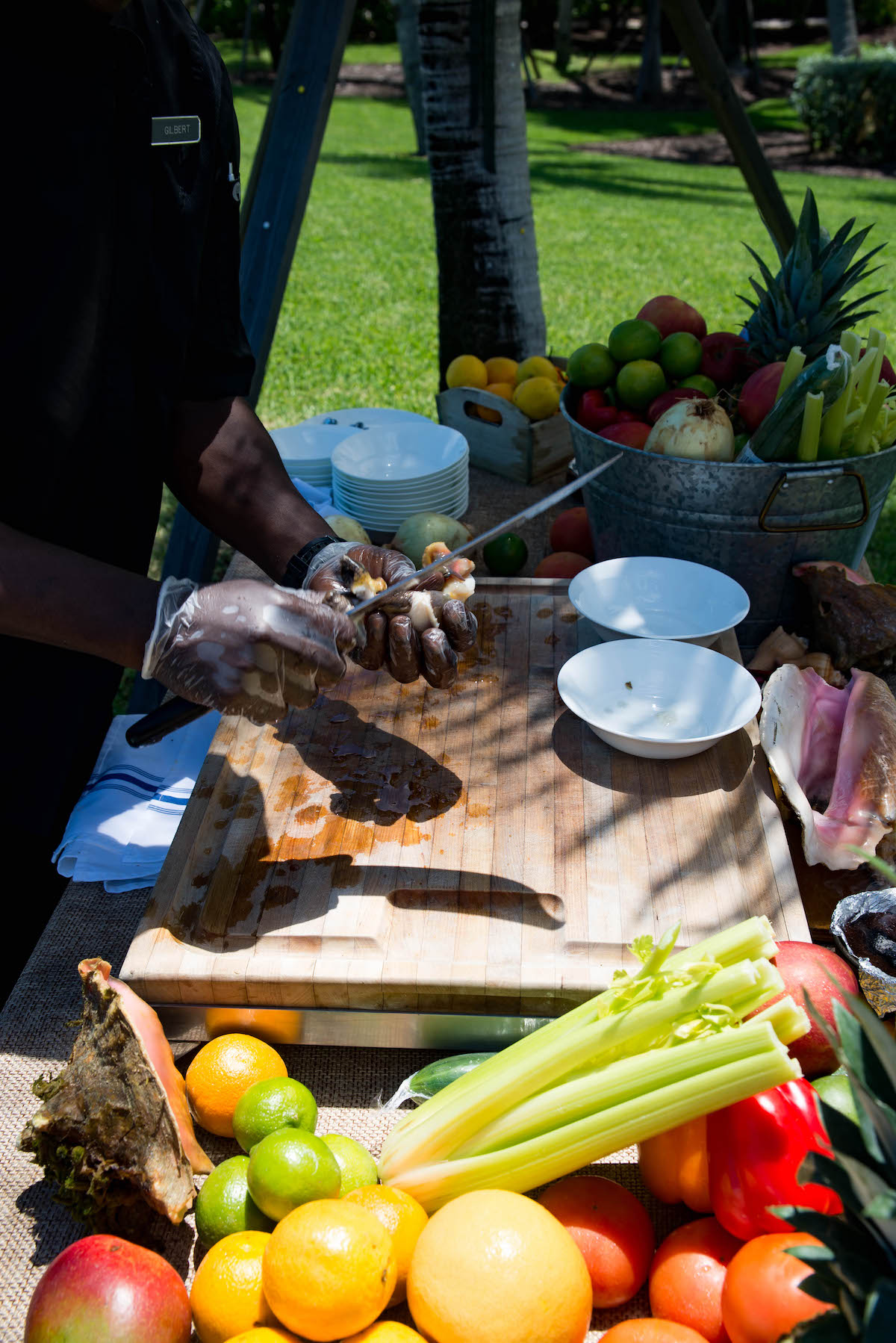 Yes, that's live conch still in the shell. They were caught fresh out of the ocean that morning!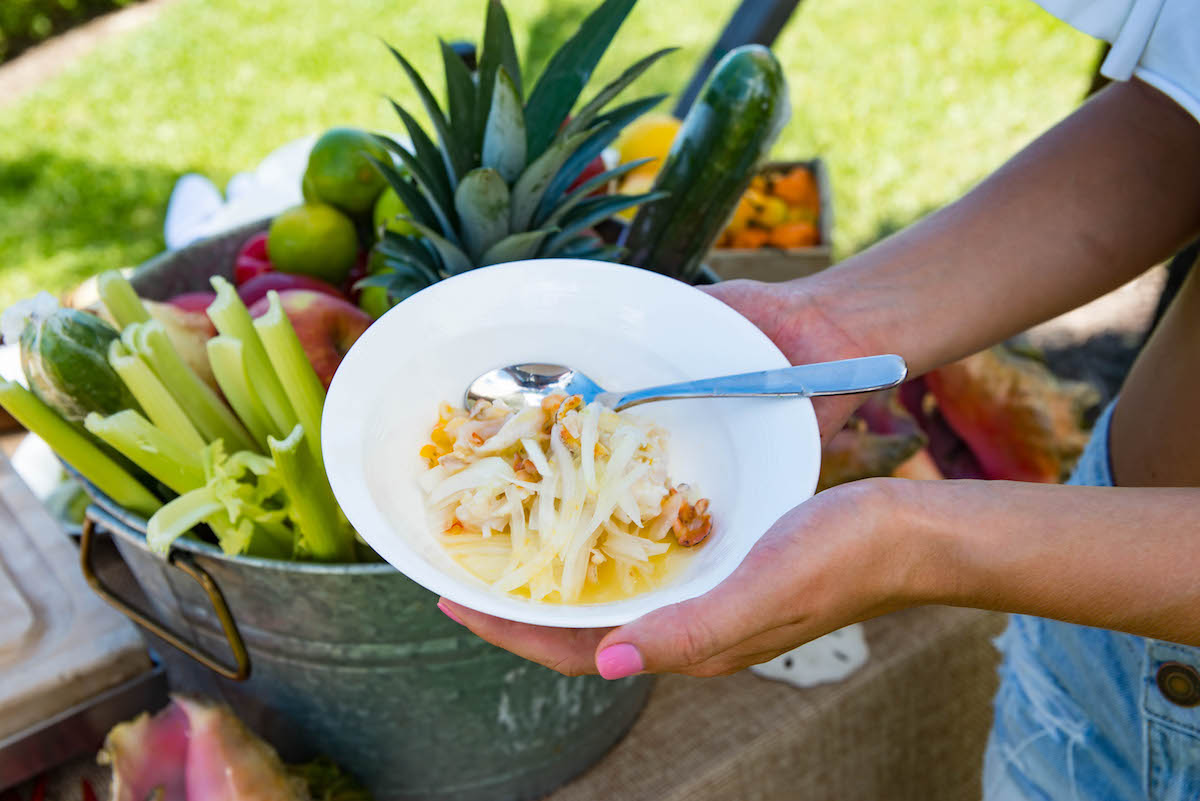 My favorite preparation was the Tropical Scorched Conch. In addition to fresh conch, this dish included a colorful mix of citrus fruit and veggies like tomato, pineapple, mango, apple, cucumber, grapefruit, orange, three peppers, jalapeños, onion and lots of lemon and lime juice. I could eat this everyday it was so delicious!
DUNE BY JEAN-GEORGES
---
The Ocean Club is home to one of the best restaurants in Nassau: Dune by Jean-Georges. Yes, that legendary chef. Dune serves breakfast, lunch and dinner and offers diners French-Asian cuisine with lots of delicious seafood options. We ate here three times and couldn't get enough of the cocktails (the bartenders in the Bahamas don't play around) and dishes like tuna tartare and three cheese truffle pizza. I'm getting hungry as I write this…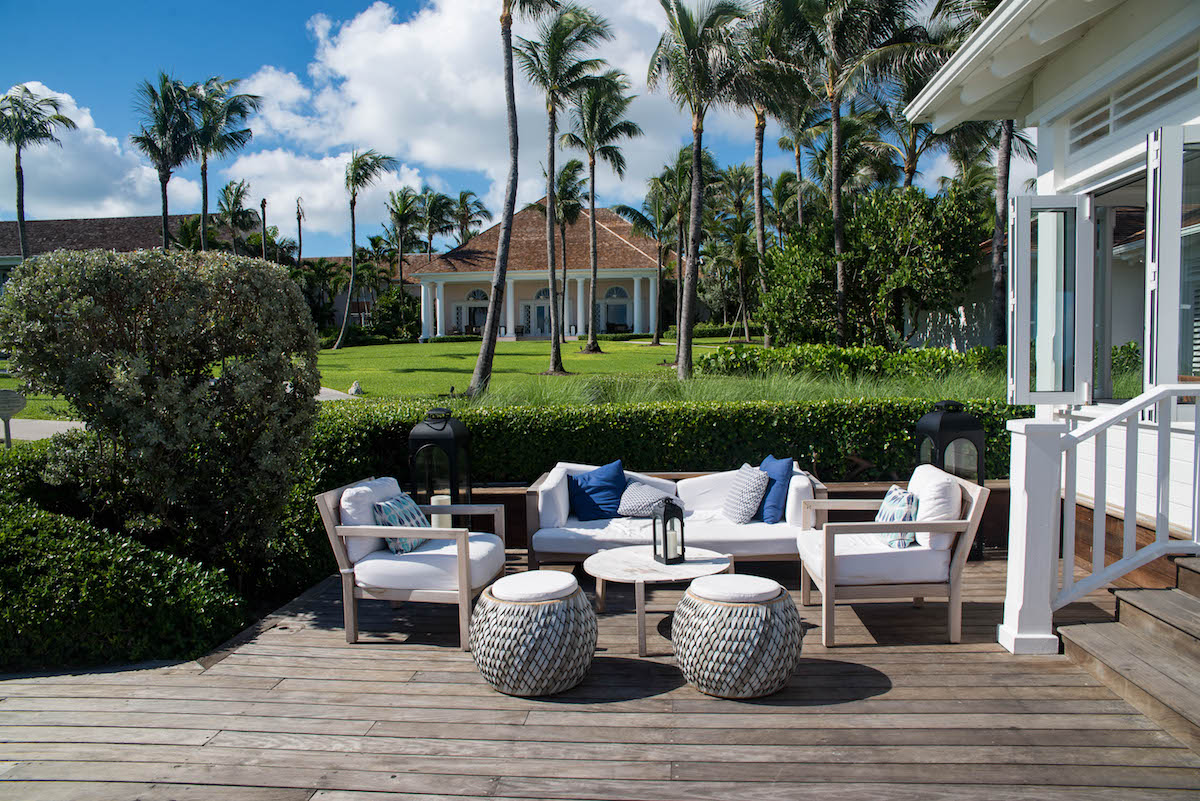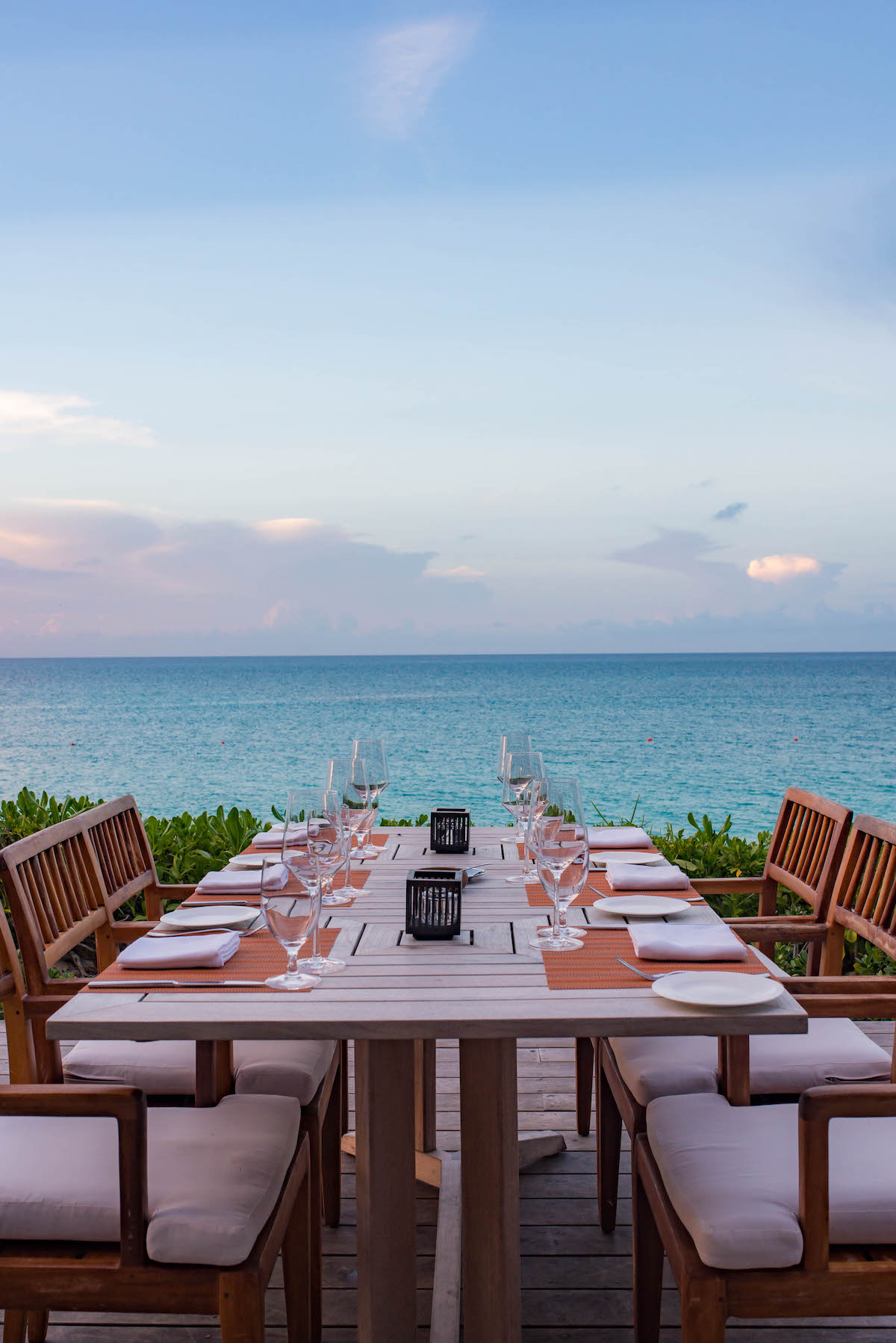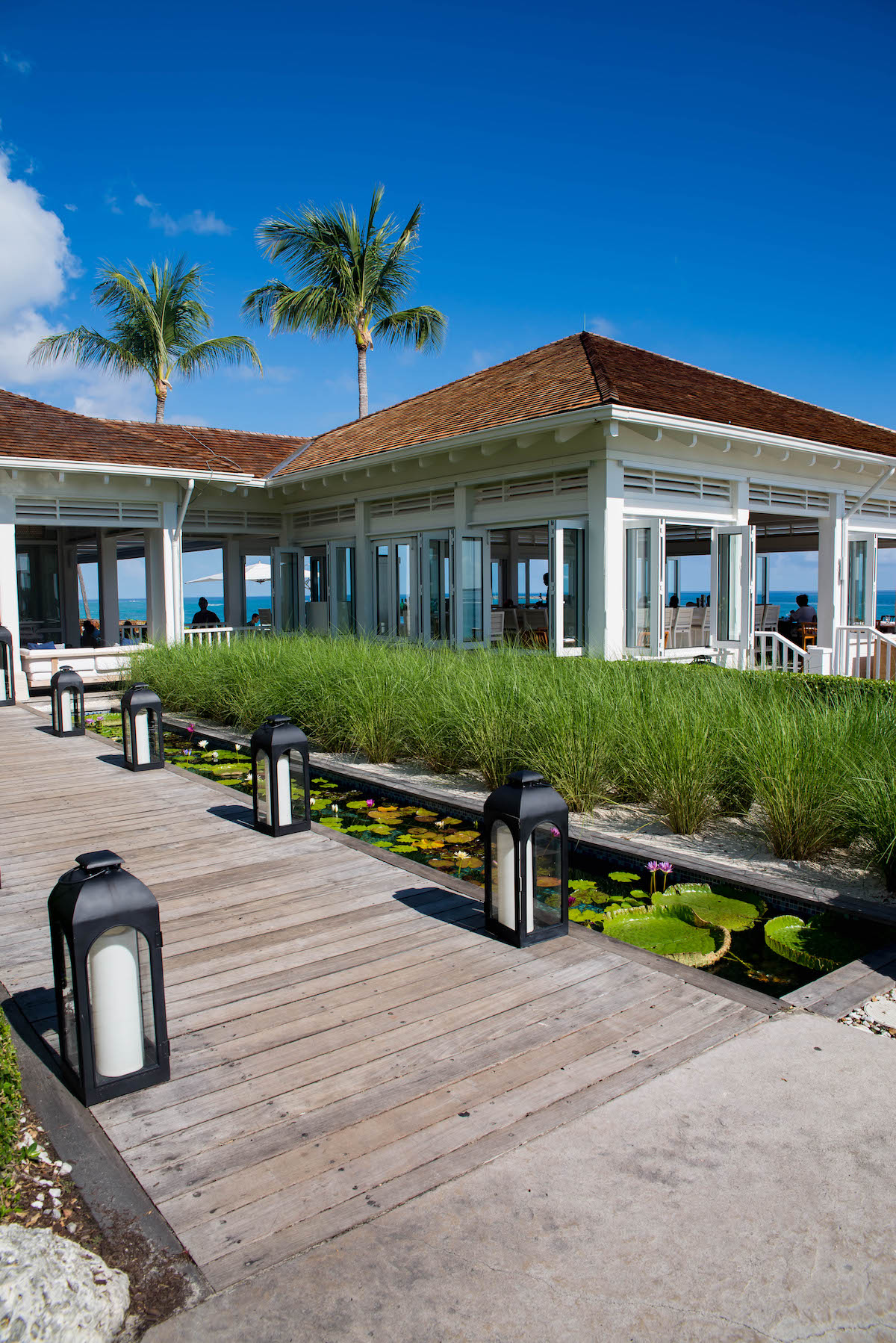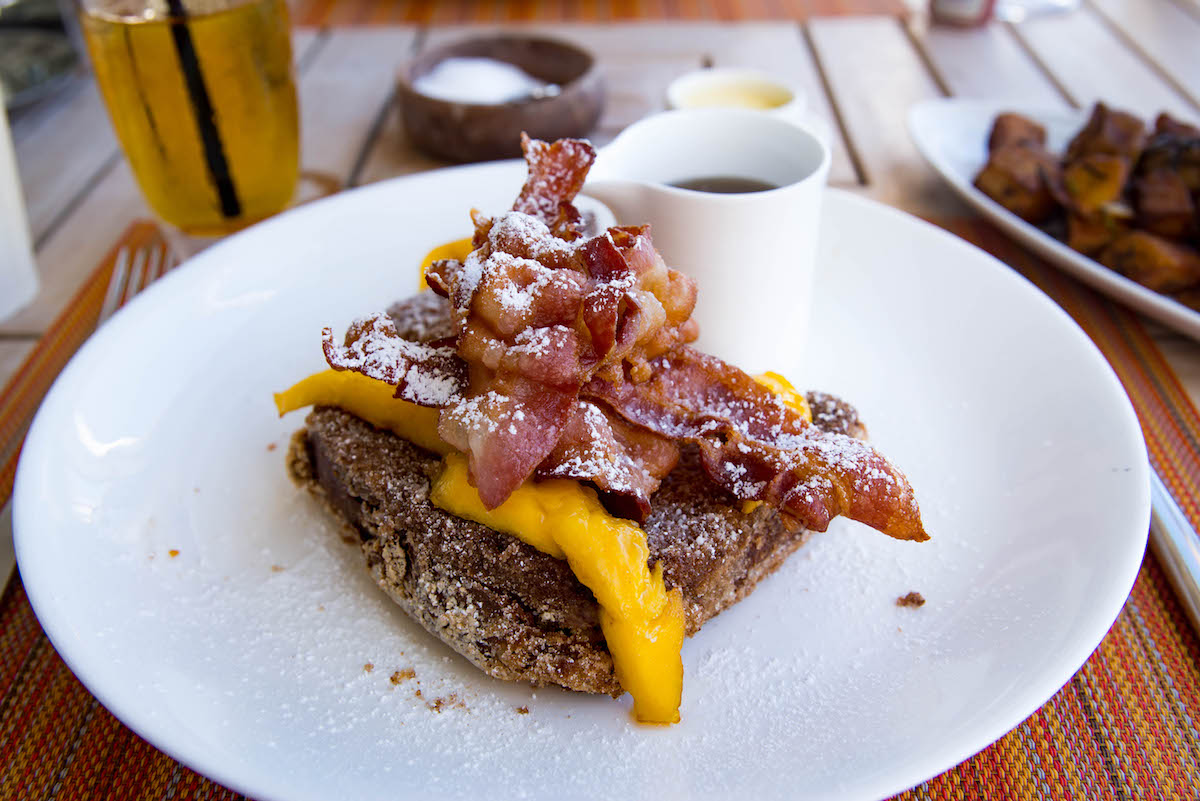 INCREDIBLE brioche french toast with mango and bacon.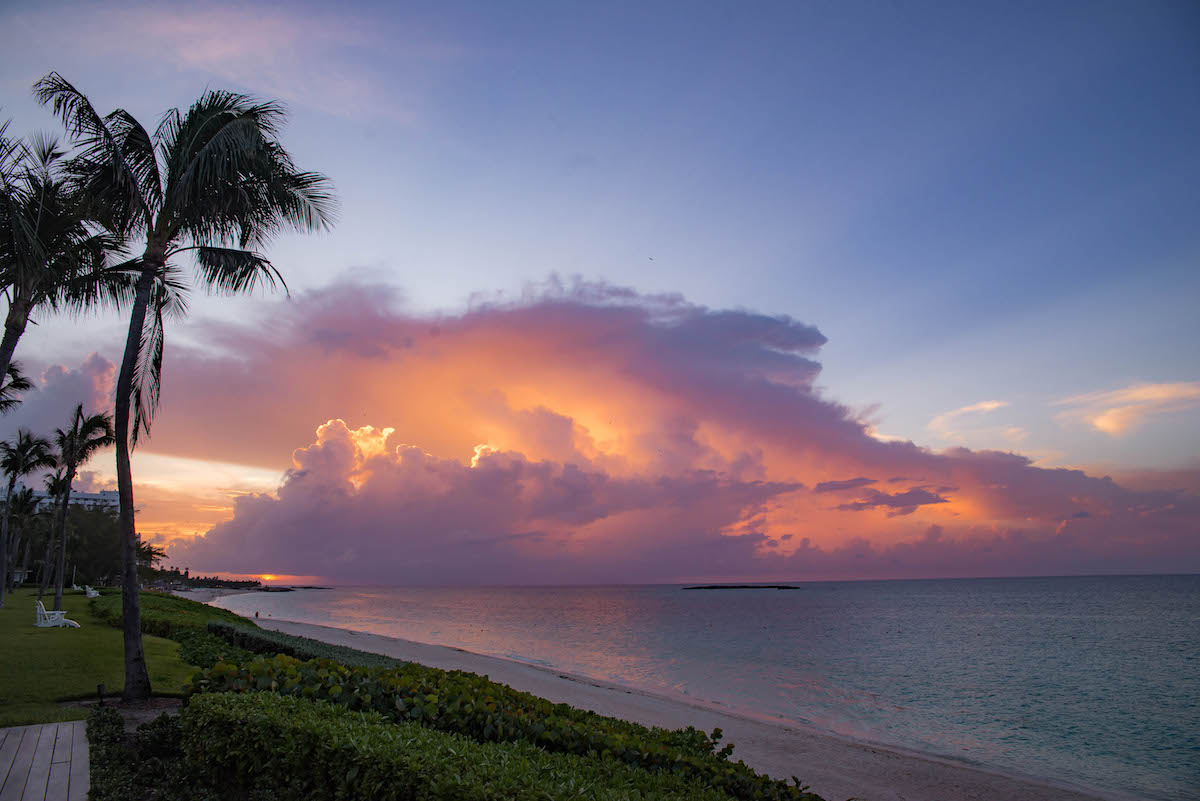 If you're looking for an incredibly special and intimate getaway the Bahamas, I can't recommend the One&Only Ocean Club enough. We just adored this hotel and left with zero complaints. I'm already dreaming about the day I get to return!
- Katie