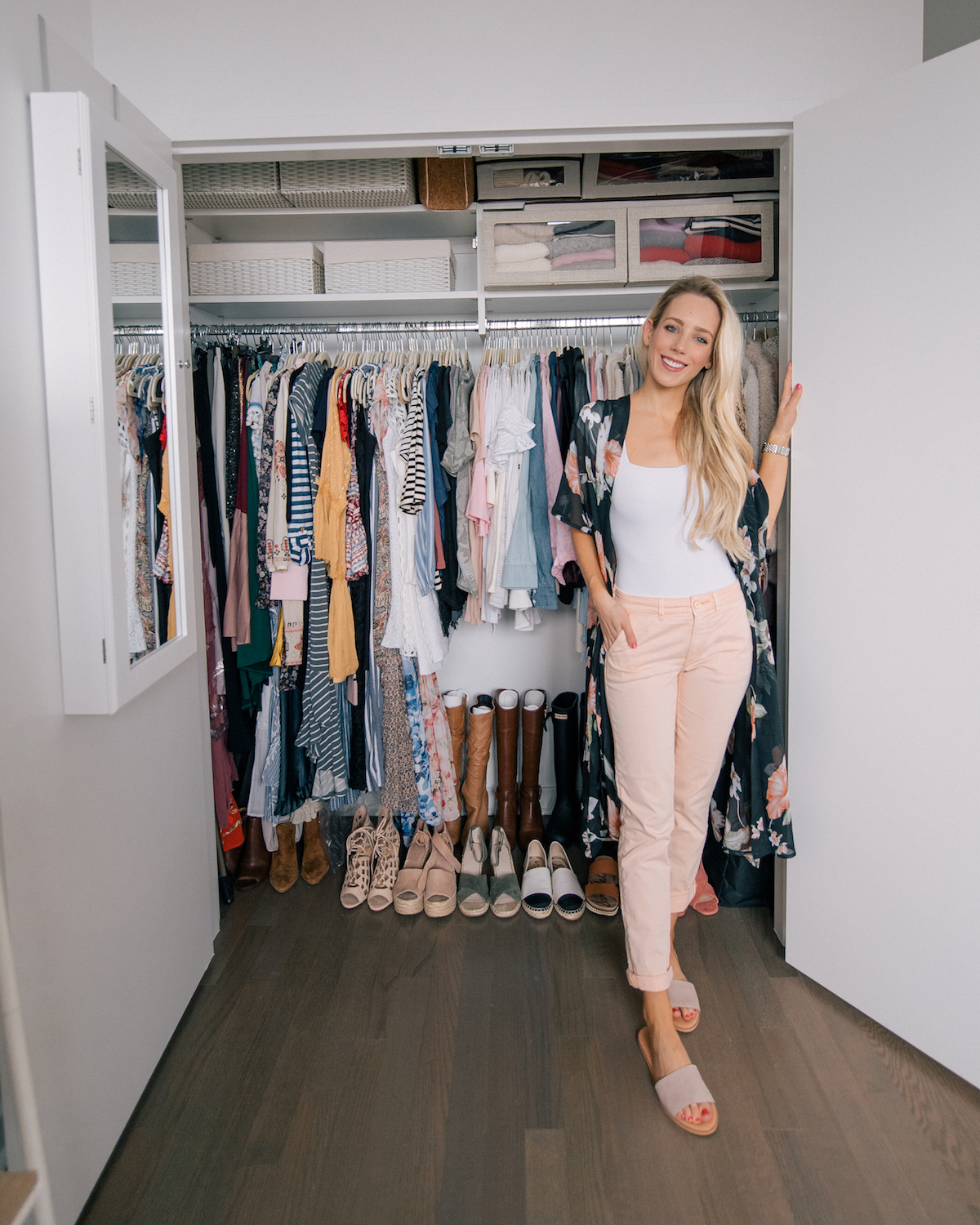 I can't believe it's been a month since we moved into our new apartment in Jersey City! The last few weeks have flown by and despite how much Nick and I have had going on with work, wedding planning and life in general, we've made a lot of progress on getting organized.
One of my favorite aspects of our new home is the closet and storage space. We have four closets: three double door-sized and one big walk-in that we are utilizing for storing clothing, shoes, luggage, toiletries, cleaning supplies and the like! Nick and I each have our bathrooms too with ample storage space under the sink and in wall-mounted cabinets. DREAMS DO COME TRUE.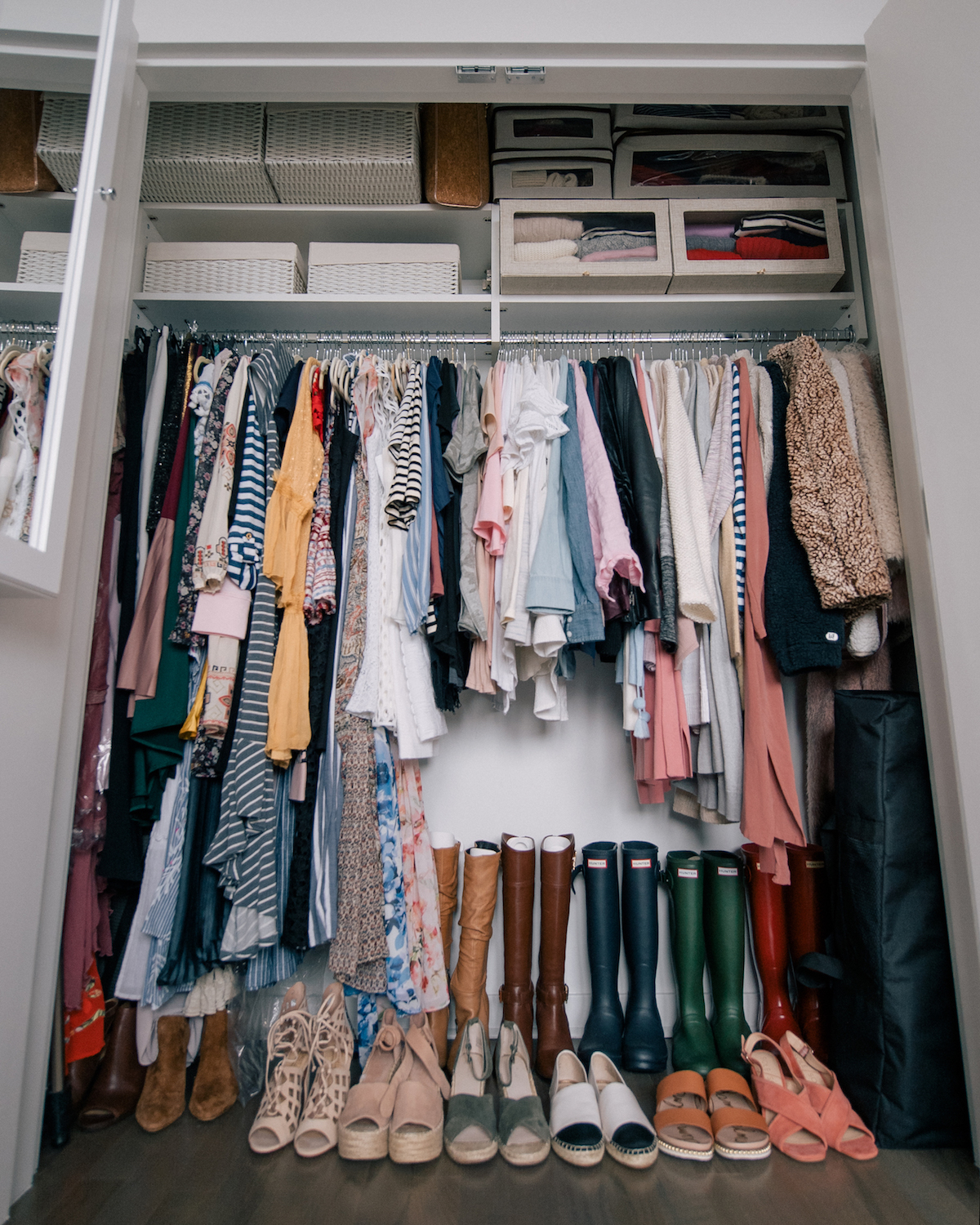 While all the extra room we have is amazing and all, there's only so many ways you can organize an empty closet with only a single clothing rod. Right away we realized that in order to maximize our storage space we'd need to get a few organizational accessories and tools. So where do you find garment bins, shoe boxes, drawer organizers and hangers? The Container Store of course. It was the first place that came to mind and conveniently enough the 25% off Closet Essentials Sale had just kicked off (and is still on-going!)
If you're organization-obsessed like us or want to get your closet looking Pinterest-worthy, then you definitely want to check out this sale! Here are a few things we picked up.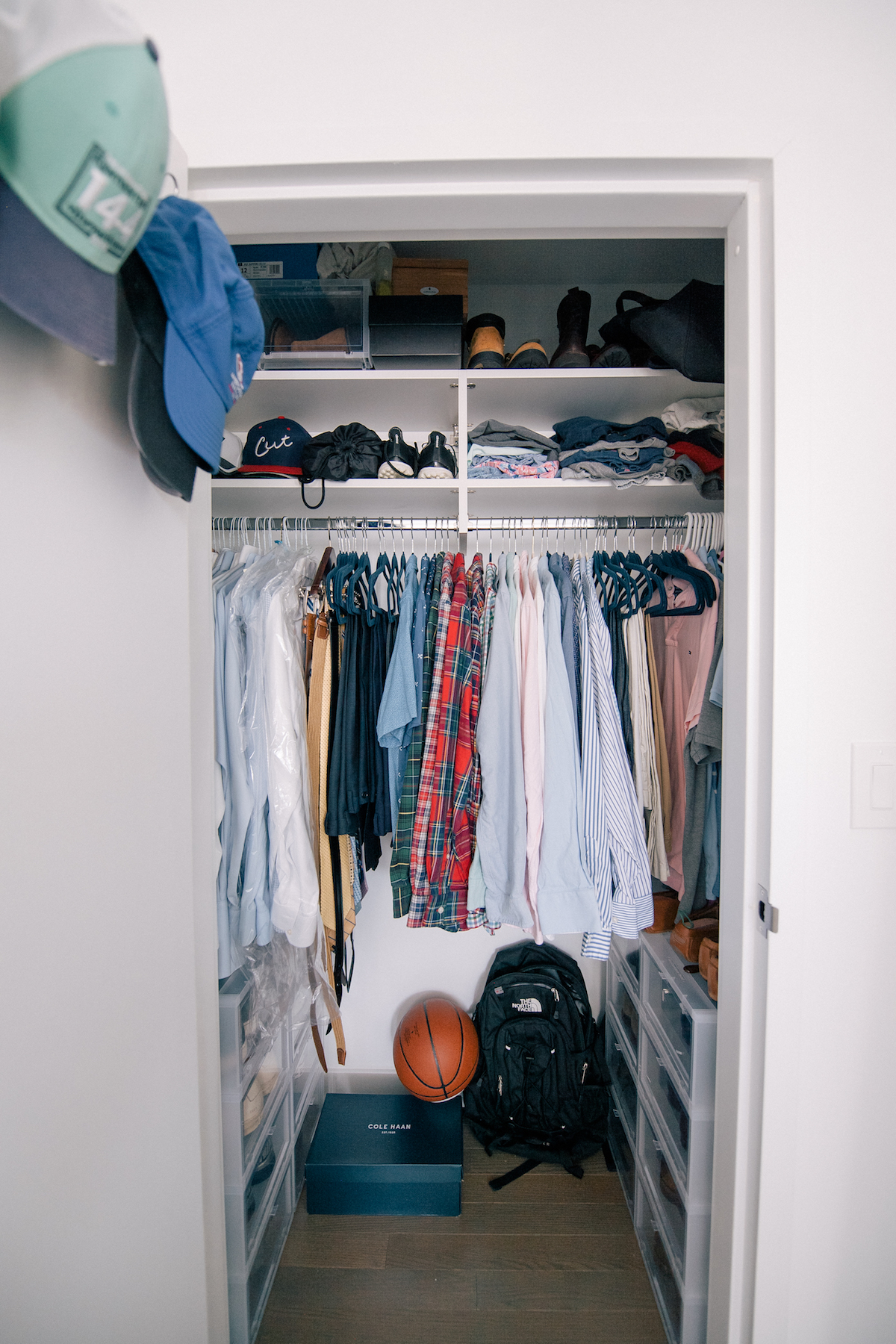 ITEMS PICTURED // Space-Saving Hangers | Mens' Drop Front Shoe Boxes | 5 Hook Over The Door Hook Rack
Guys, Nick is sooooo proud of his closet. He had it organized and looking like this within A DAY. Can you tell he was excited not to have to share one with me anymore?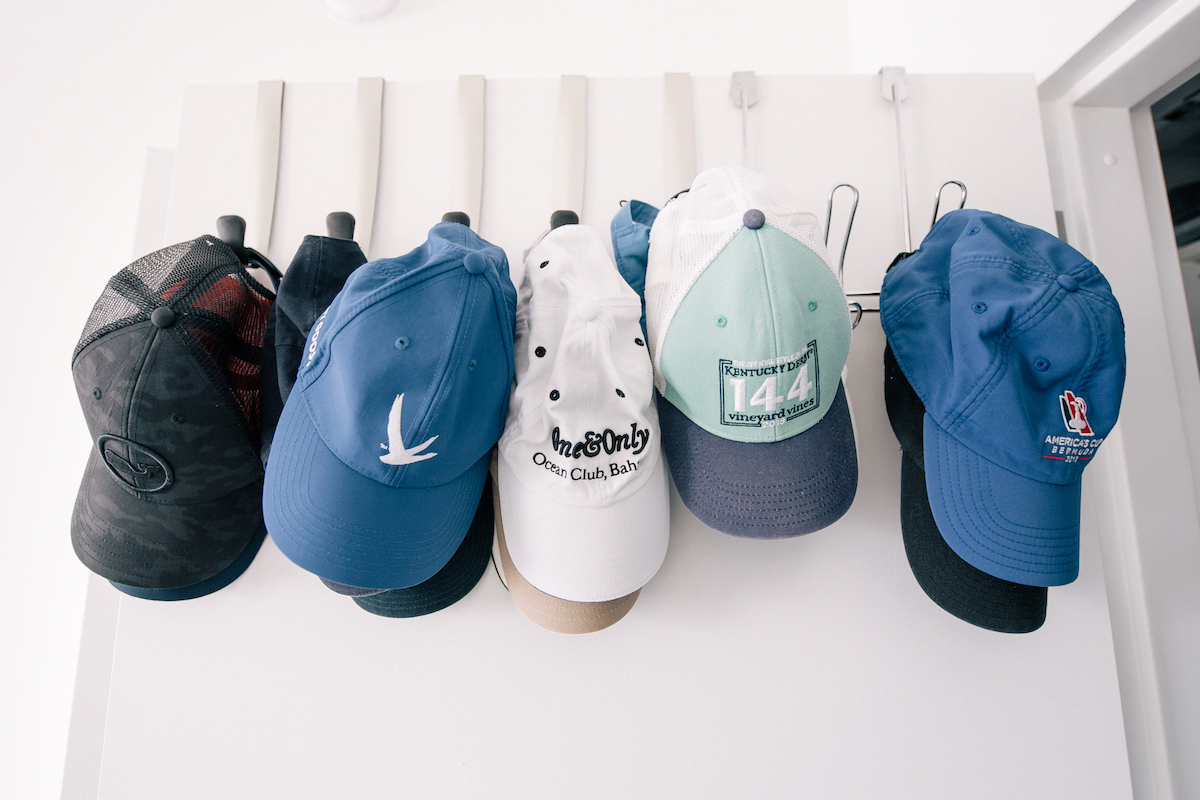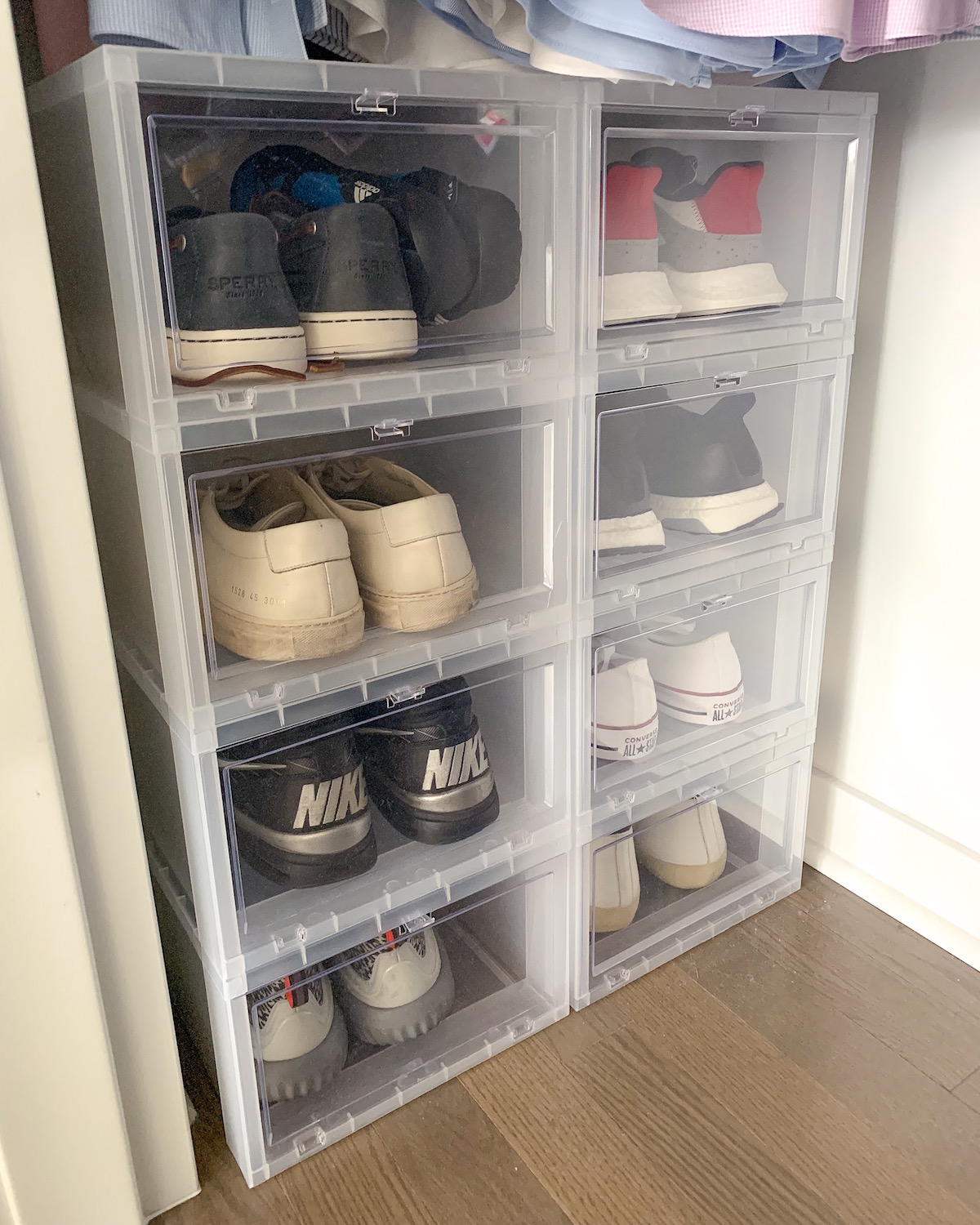 While the goal is to eventually install built-in closet storage on one of the walls in our second bedroom, in the meantime I'll be utilizing the double closet you see here. Last month the amazingggg Summer of Star Organizers, came over for the day to help me and as you can see she got my closet looking in tip top shape. We swapped out all my old clunky mismatched hangers for the space-saving ones you see here and stored away all my winter sweaters in these chic linen drop front boxes.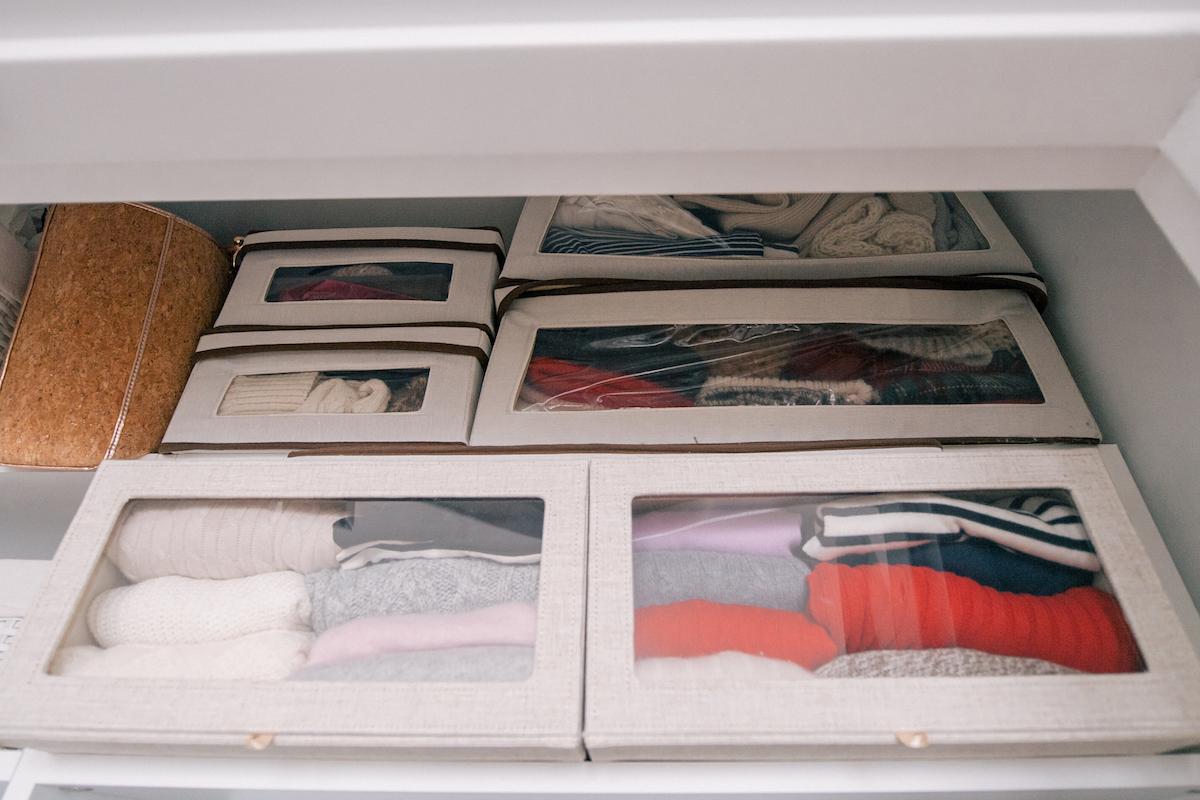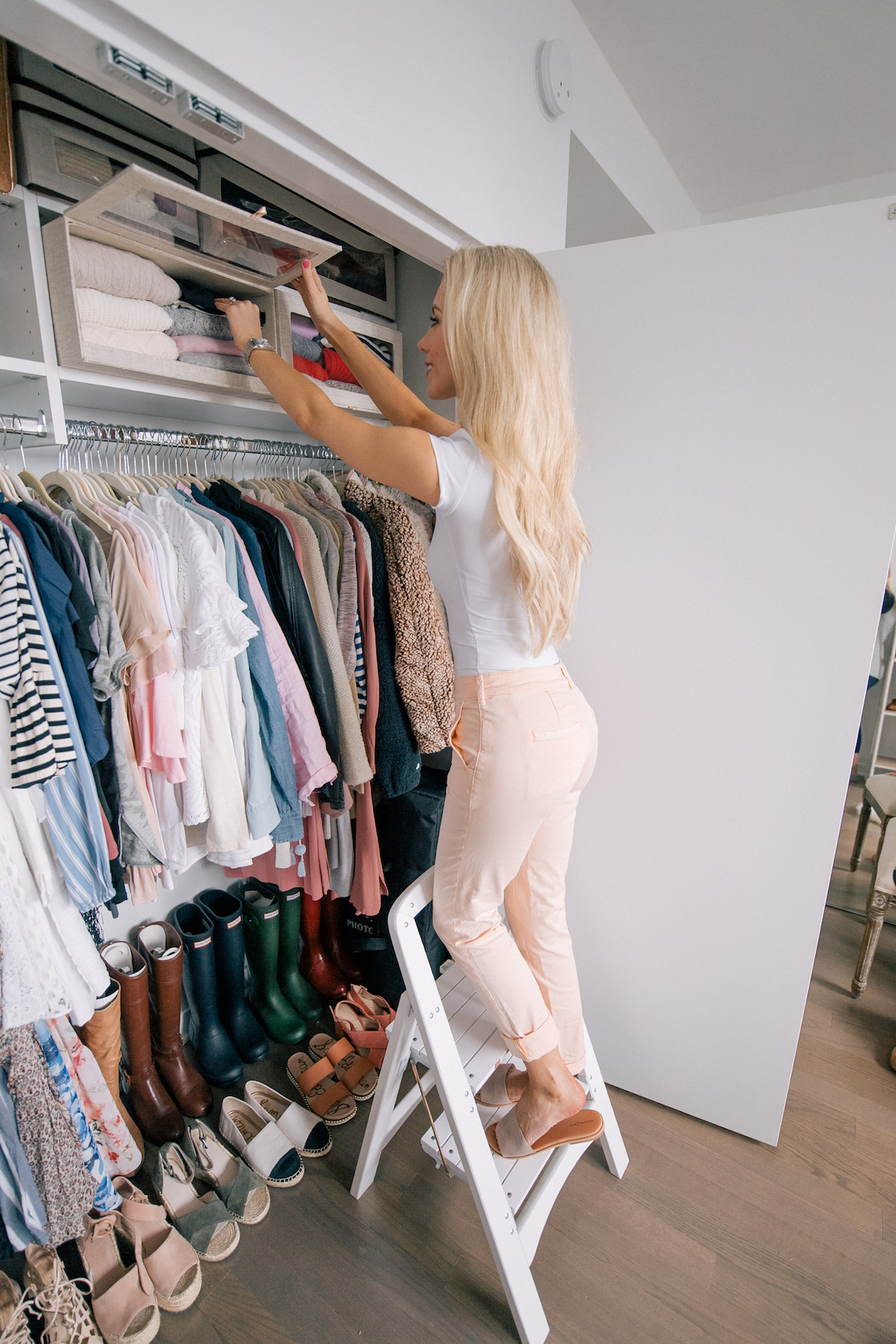 ITEMS PICTURED // Beige Space-Saving Hangers | Woven White Rectangular Bins | Linen Drop-Front Sweater Box | 2-Step Folding Step Stool
I honestly don't know what I'd do without a step stool. It was one of the first things I bought when I moved to New York and over the last seven years it's something I've used every single day! The ceilings in our new place are so high that many of the cabinets and shelves in the kitchen and closets are unreachable for me. Solution? This heavy duty double step stool. It folds up really nicely and I love how it has two steps!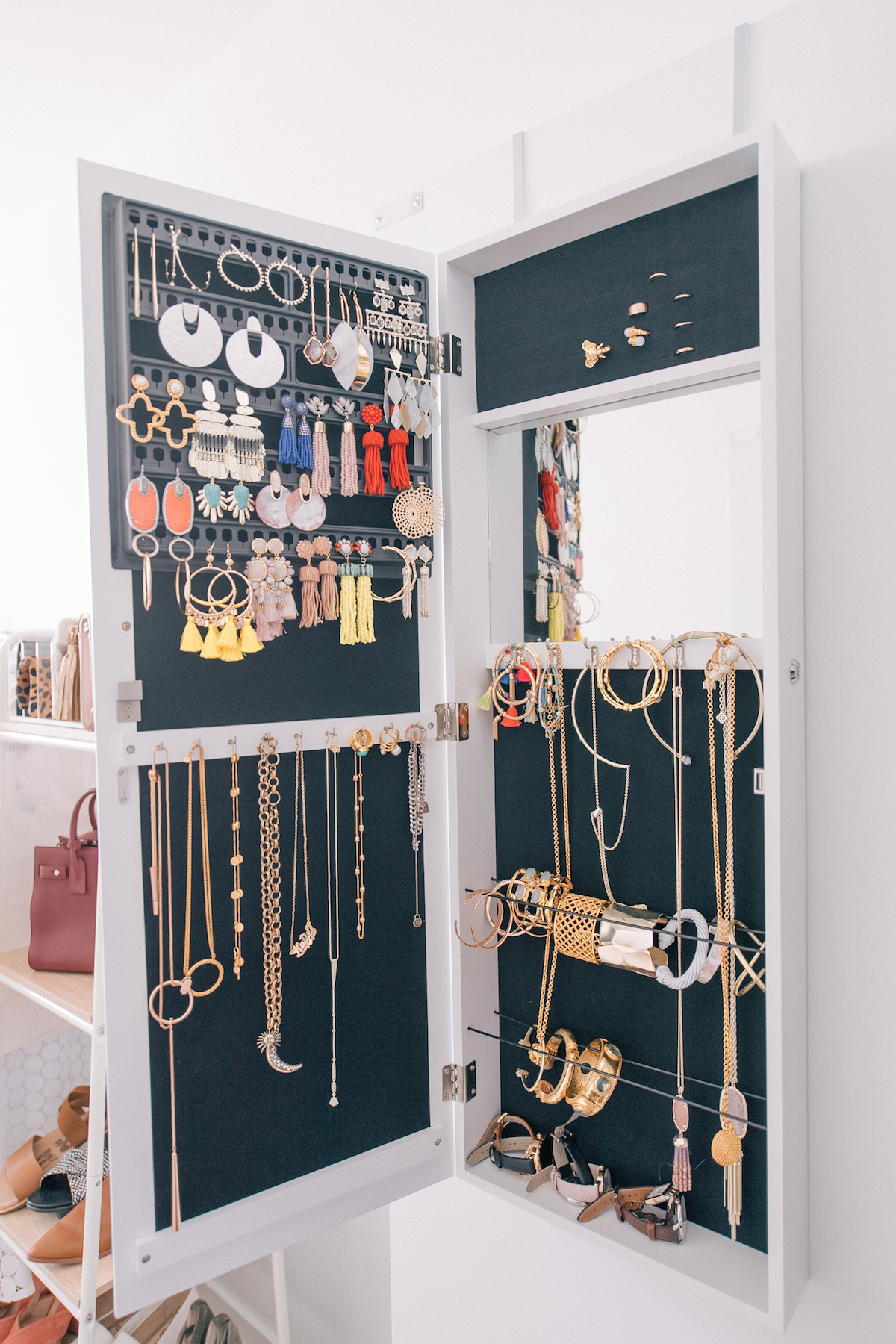 ITEM PICTURED // Over The Door Jewelry Organizer
One of my favorite Container Store finds is this hanging jewelry organizer! I can see everything I have all in one place and it's really easy to grab a piece and put it away when I take it off. No having to deal with individual bags and boxes. It comes with a lock and key too so if you have a lot of guests over or a cleaning service, you can have peace of mind knowing the organizer can't be opened.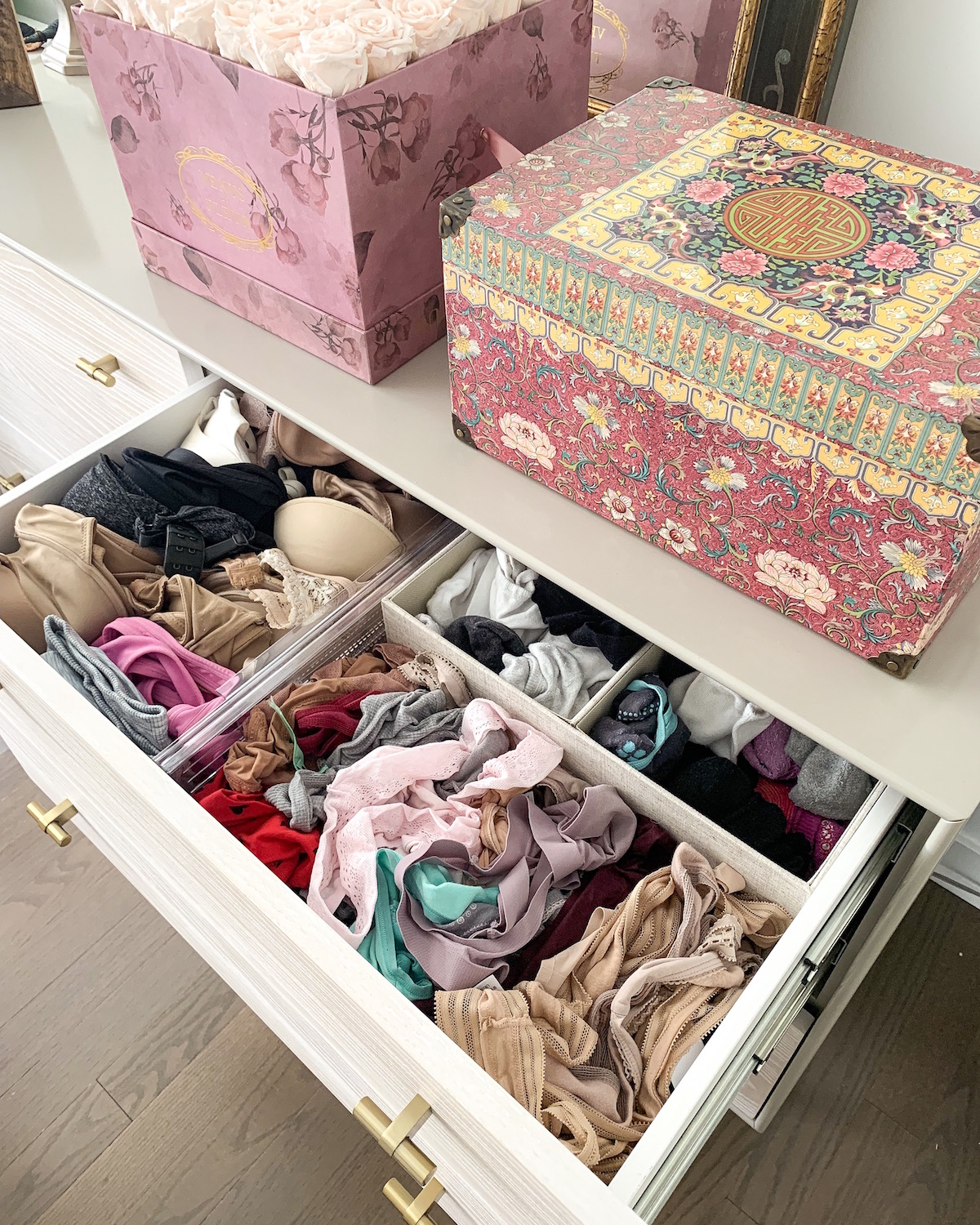 ITEMS PICTURED // Linen Drawer Organizers | Clear Expandable Drawer Dividers
My underwear/sock/bra drawer in our last apartment was something out of a horror film. I could never find anything I needed, socks would go missing and everything was just mixed up together. It was an absolute D I S A S T E R. If you suffer from messy drawer syndrome like me than you NEED to check out the drawer organizer solutions on ContainerStore.com. I had no idea there was so many different accessories and tools you could utilize to keep drawers neat and tidy! Thanks to these adjustable drawer dividers and organizers, my bras, underwear and socks all have their own place.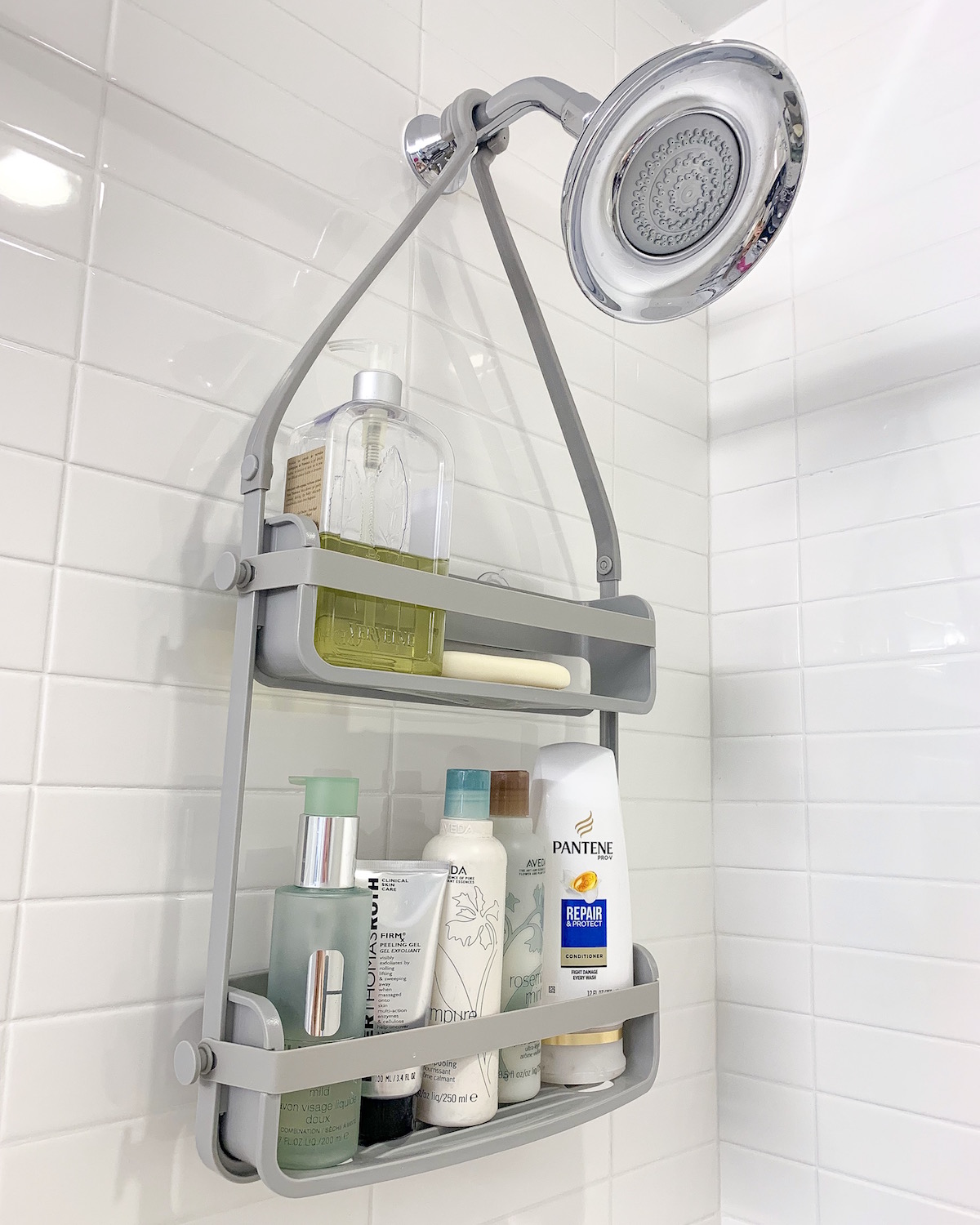 ITEM PICTURED // Umbra Grey Flex Shower Caddy
Now for a confession… I struggle at keeping my bathroom organized.
In our last apartment I kept all my makeup beautifully displayed on my vanity. Did I ever sit there to do my makeup? Nope. When we moved into our new place I decided to ditch the unnecessary vanity and cosmetic storage drawers in favor of this free-standing cart. I know it's not the most "blog-worthy" storage solution, but honestly I just wanted something that's functional. This cart is perfect because it has three spacious shelves and can easily be rolled around!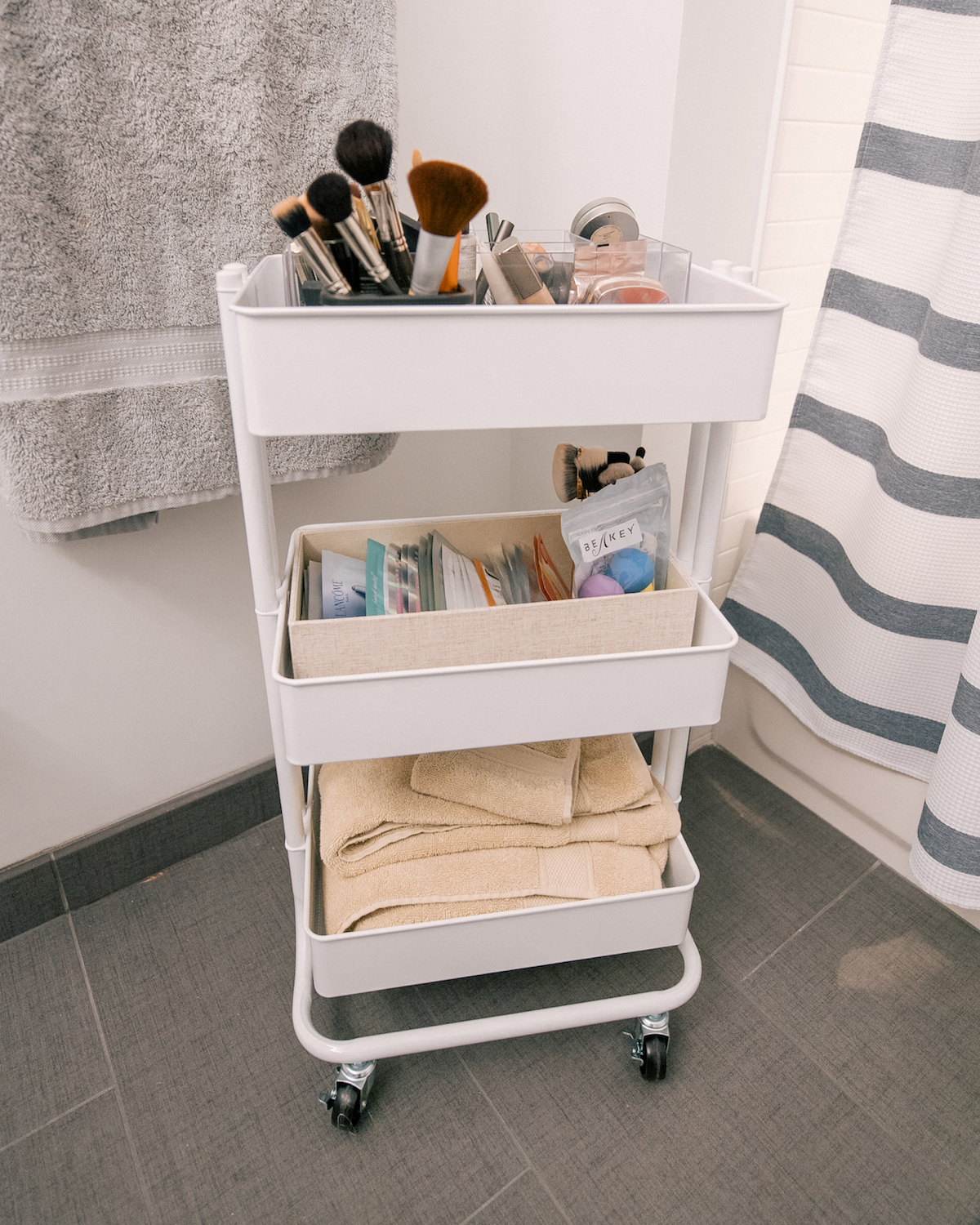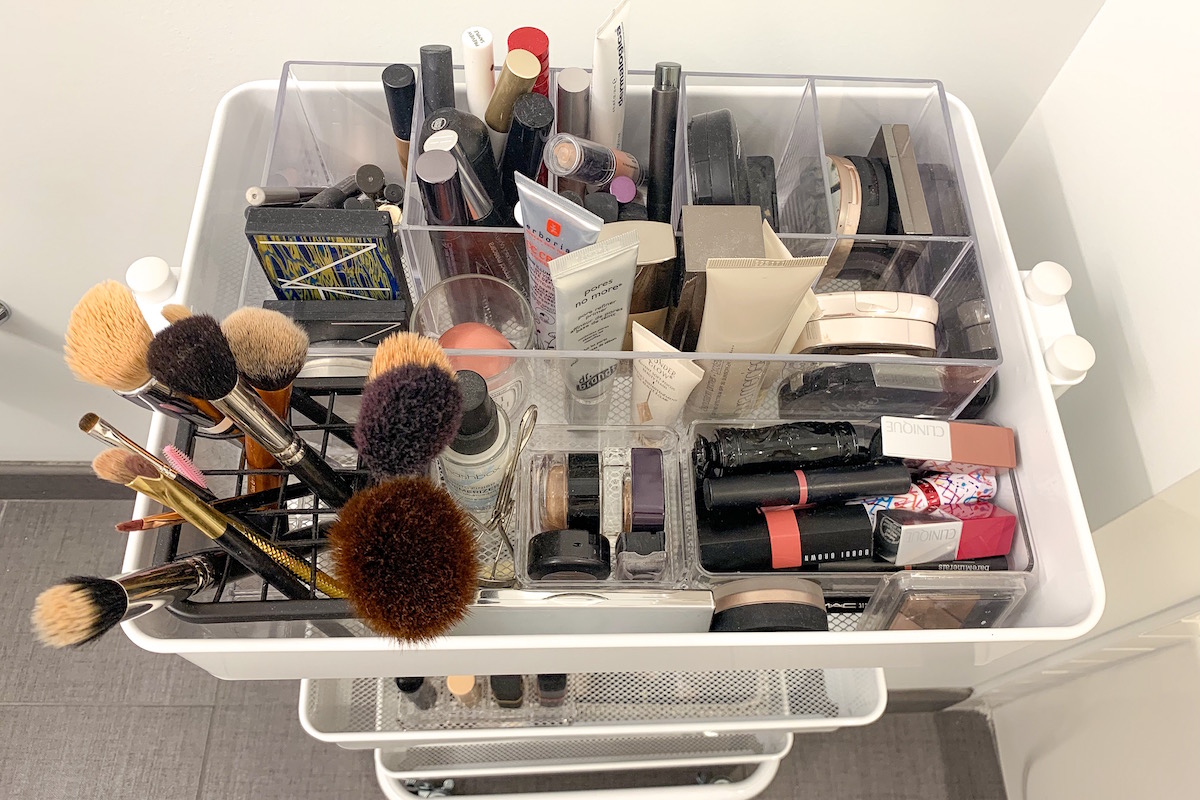 ITEMS PICTURED // White 3-Tier Rolling Cart | Acrylic Cosmetics Organizer | Cosmetics Canister
Need more storage? Just hang one of these Elfa organizers on the back of a door or empty wall! I love how these are so customizable. You can add all different-sized bins, shelves and hooks.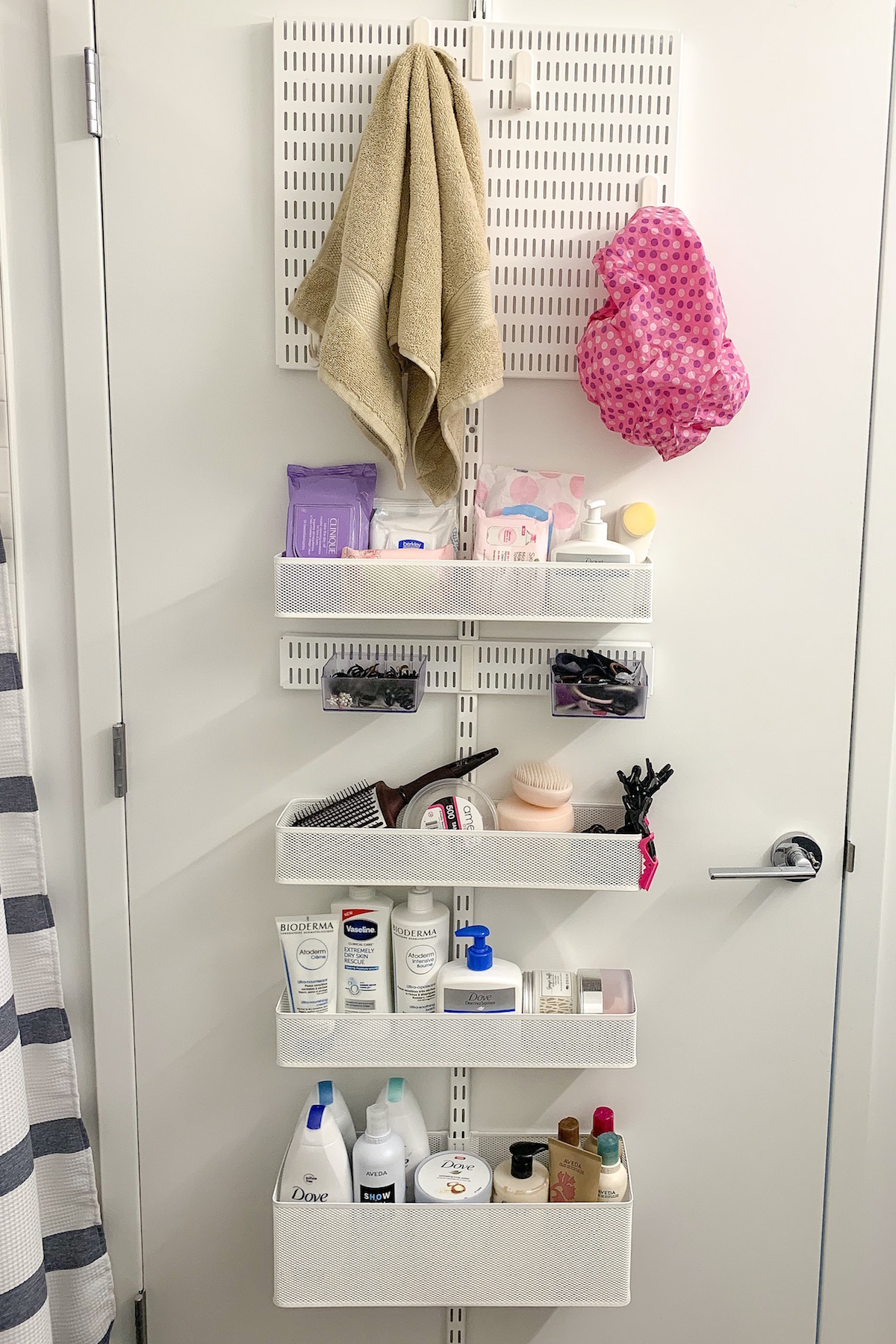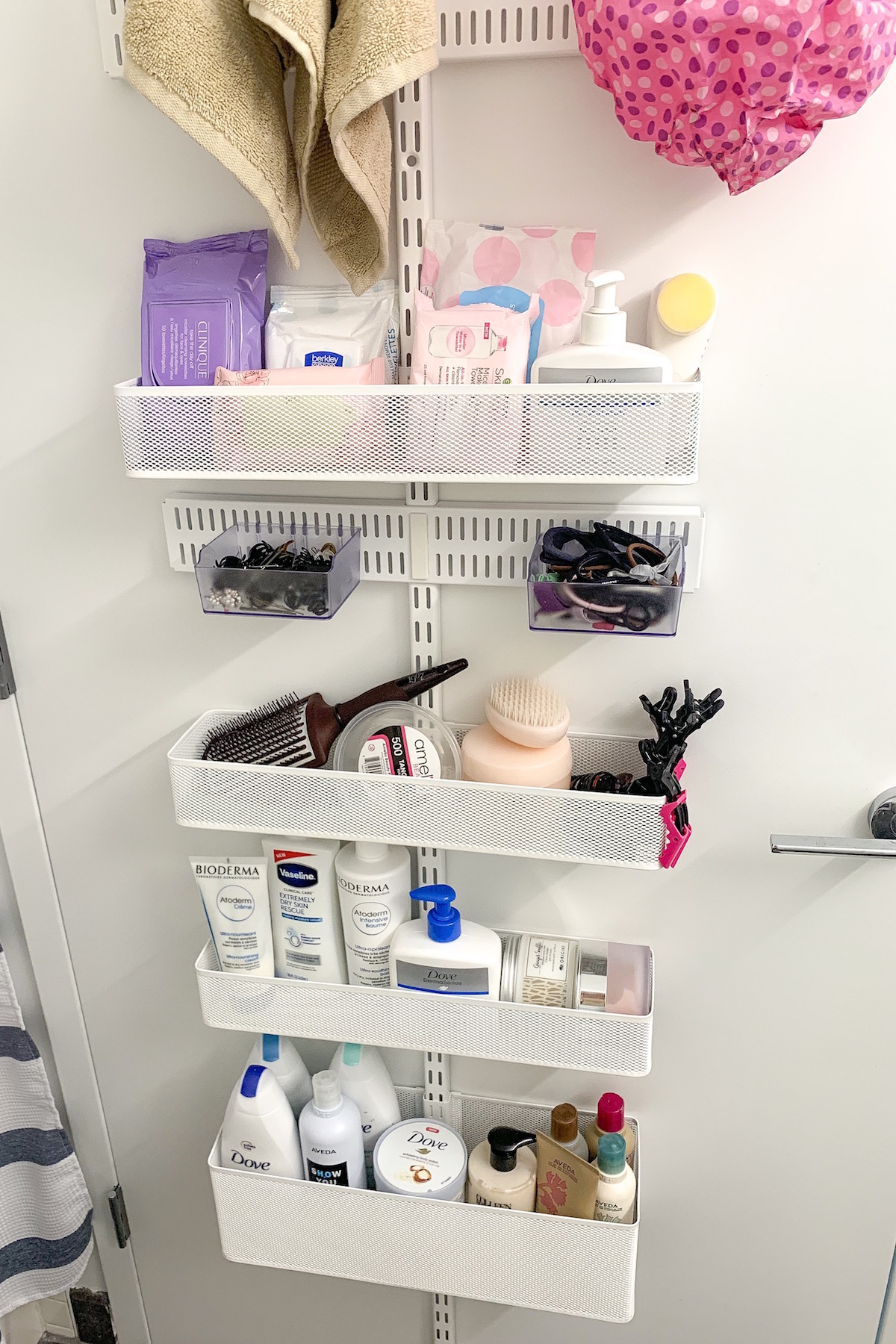 ITEM PICTURED // White Elfa Door Rack
These little acrylic storage cubes have been a lifesaver. I tend to go into tornado-mode when I'm getting ready that by the time I'm done with my skincare routine, hair and makeup every product is mixed up and stashed away in a new place. These bins have helped me keep all my smaller products together– tanning drops in one bin, lip balms in another. I also picked up this 3-section acrylic organizer for my serums, oils and eye creams.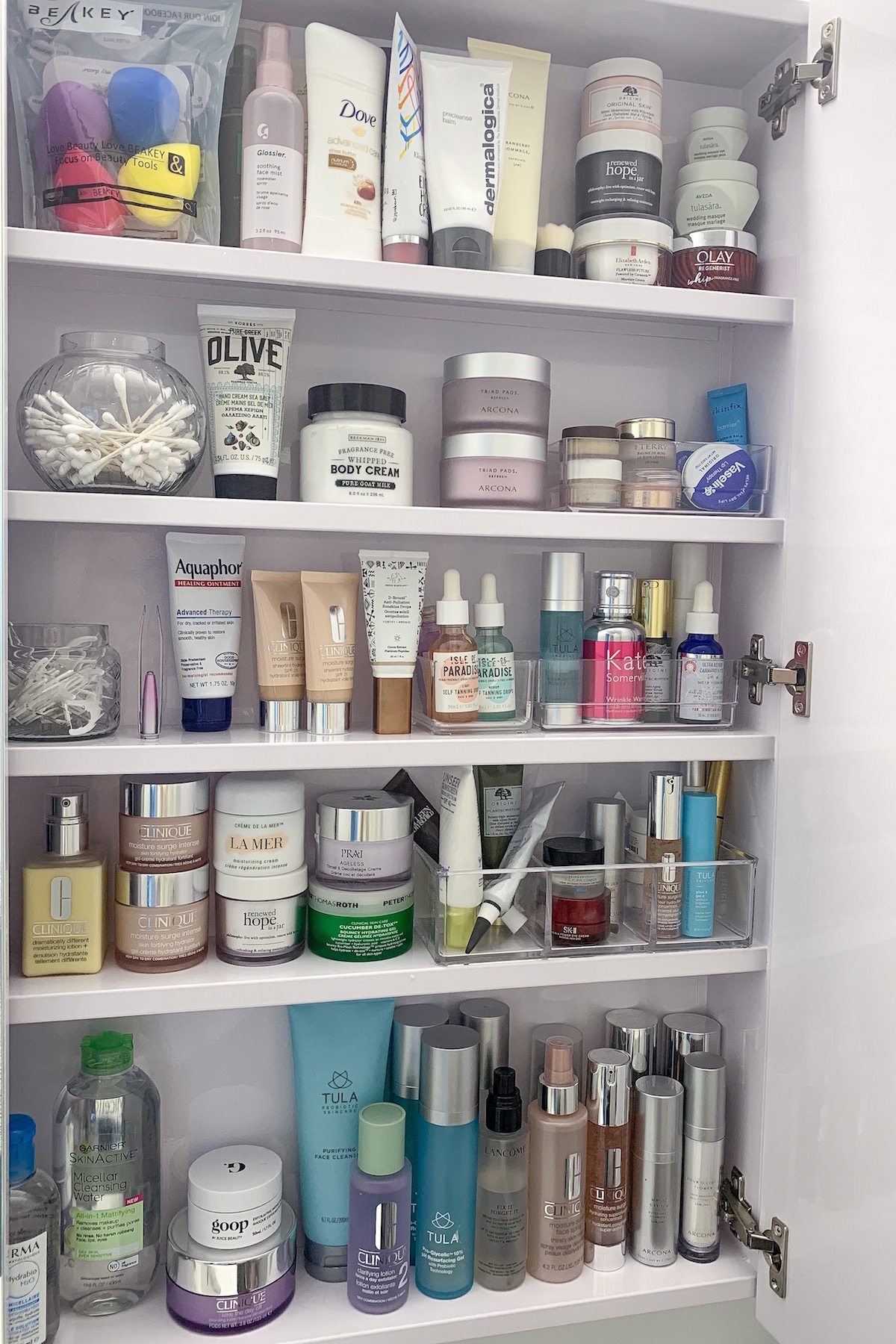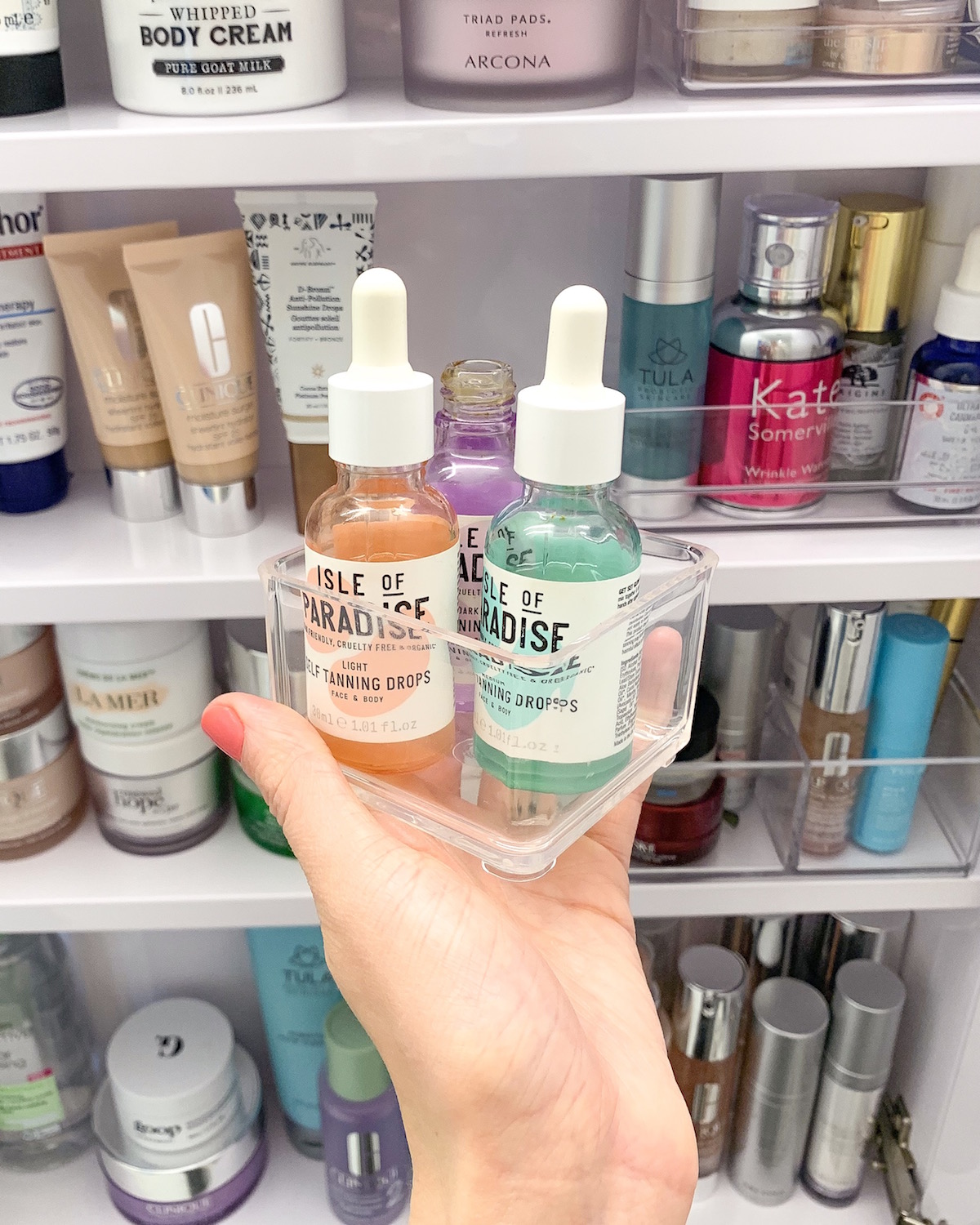 ITEMS PICTURED // Small Acrylic Organizer Bins | 3-Section Acrylic Bin
 It's funny– we're still lacking a lot of furniture, but organizational supplies? We're set for LIFE.
- Katie