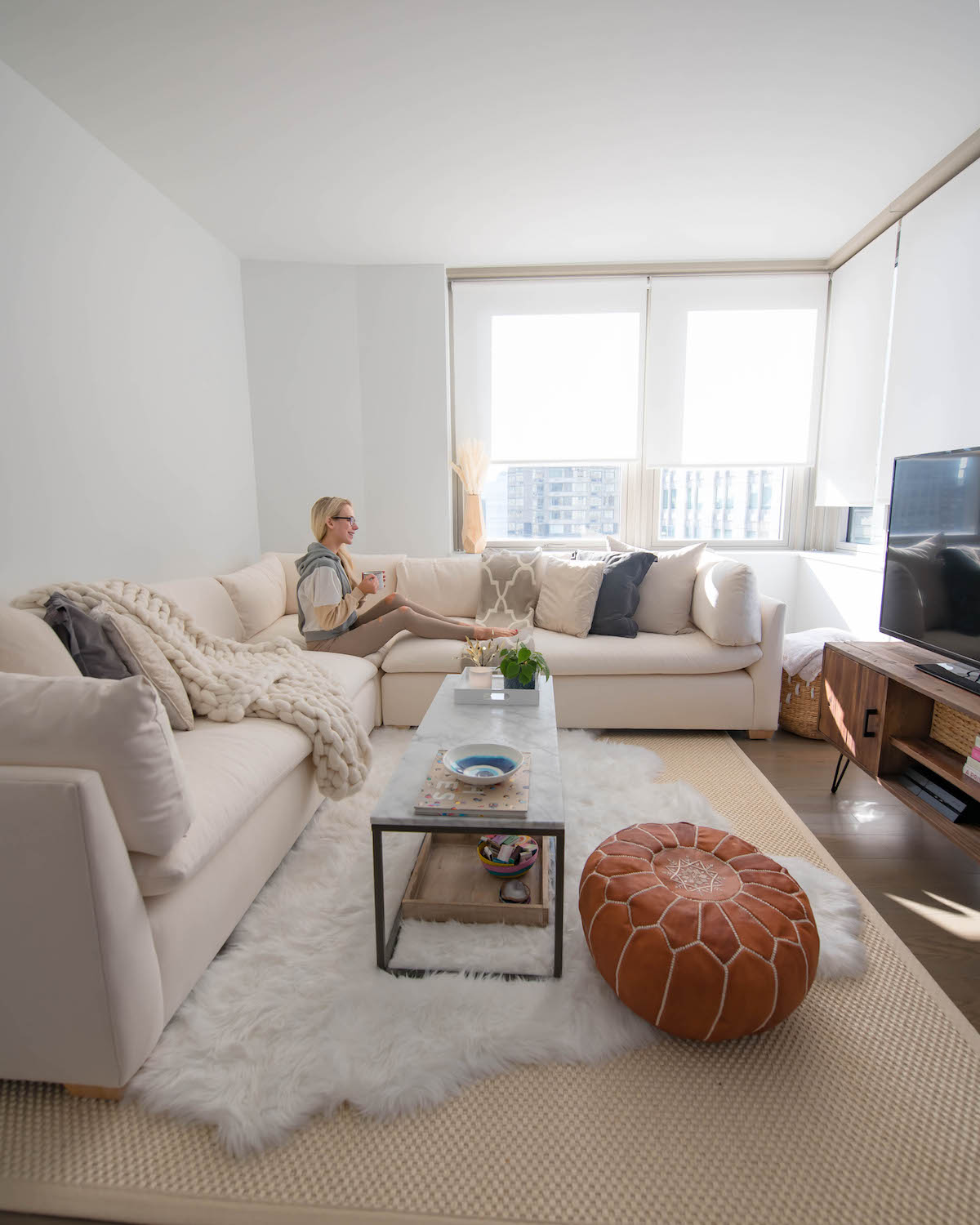 I can't believe that we've been living Jersey City for over four months now. Almost half of a YEAR! Some days it seems like we only just moved and other days I feel like I've lived here for years.
A little refresher for those who are new or may have missed this post about why we were ready to leave New York and my moving to Jersey City announcement. After six years in Manhattan, Nick and I decided we were ready for a big change of pace and scenery in 2019. We had a blast living in the city, but over time we found ourselves craving the perks of living you can get in Jersey or one of the outer boroughs. Things like having a car, being able to park said car affordably, a sizable guest bedroom, an in-unit washer and dryer, high-end finishes, MORE SPACE– these are all much easier to obtain in an apartment outside of Manhattan, without having to spend a fortune.
Long story short. After many hours of research and lots of apartments tours, we finally found our dream place in Jersey City! We were so ready to leave Manhattan that we broke our lease so we could move a few months early (our original lease wasn't until until July.)
Ever since becoming an official Jersey gal (I even switched my license!) I've received so many messages asking about my experience moving from Manhattan to Jersey City. It seems like a lot of folks are itching to say goodbye to city life, but are nervous about the transition and just don't know enough about Jersey City or Hoboken to pull the trigger on a move. So today I'm going to answer some of the most popular questions I've been asked and hopefully shed some light on what life is like living across the Hudson 😛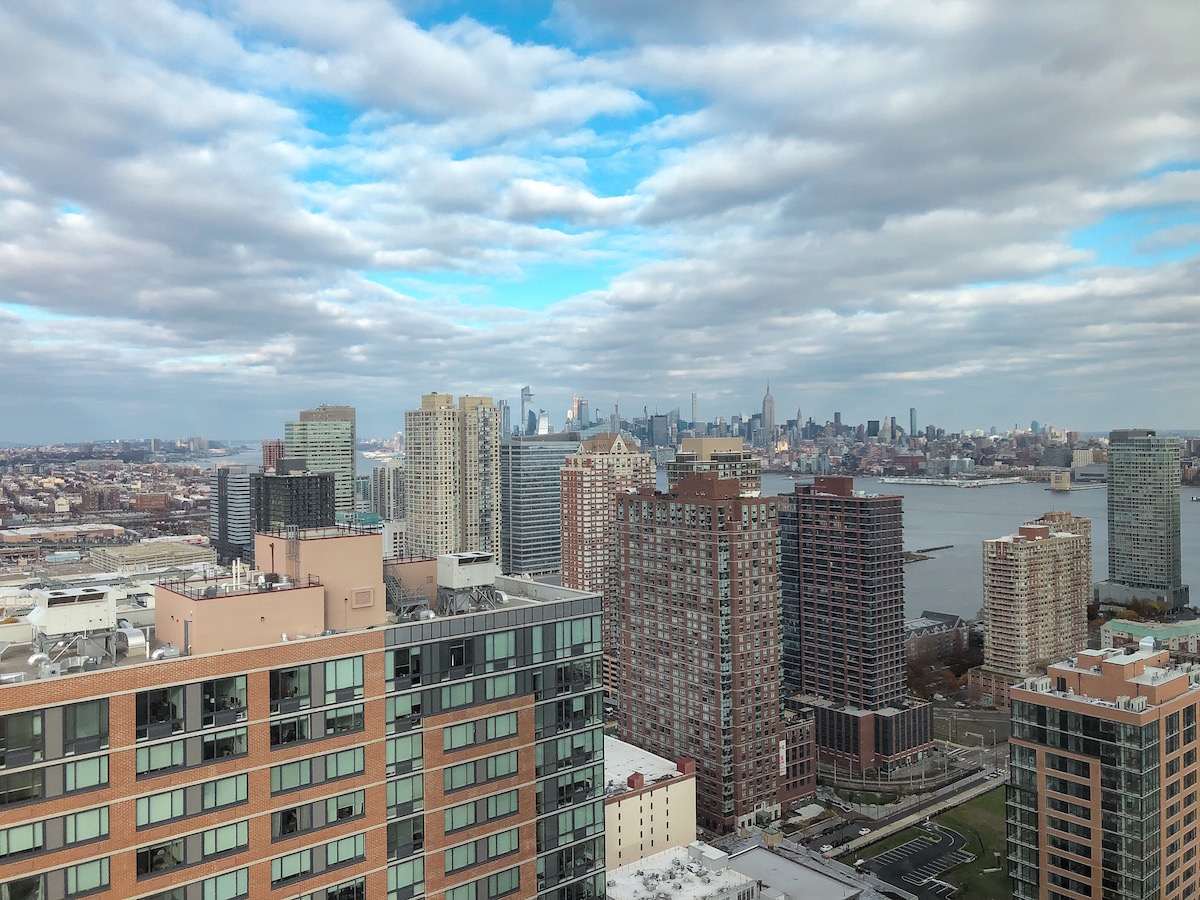 Everything You Need To Know About Moving From Manhattan To Jersey City
What do you like most about living in Jersey City?
So many things!
+ Having a bigger apartment with amenities i.e. 2 bedrooms, 2 bathrooms, doorman, washer/dryer, parking garage, rooftop pool, views, nice finishes, etc.
+ Owning a car & not having to pay a fortune to park it
+ Living so close to NYC without the high prices
+ Easy ability to travel on weekends
+ No more New York City income tax
+ Large grocery stores and shops you can drive to!!!
+ Slower, laid back pace
+ 15 minutes from Newark Airport
How has your quality of life changed now that you live in Jersey City?
Since moving to Jersey City our quality of life has improved significantly. If you read my 2018 personal update post, then you already a few of the reasons why I was completely over living in Manhattan. The expensive cost of living, high taxes and lack of basic conveniences like a car and in-unit laundry became impossible to rationalize and ultimately prompted our decision to leave Manhattan in March of this year.
By hopping across the Hudson, we were able to get all the things we wanted when we lived in New York: a 2 bed 2 bath apartment, in-unit laundry, a car and easy access to suburban conveniences. Leaving town on the weekends is a breeze, the airport is only 15 minutes away and anytime I travel I don't dread coming home to a cramped apartment with exploding closets. Sure, we could've found most of this in New York, but we would've been paying 3-4x more than we are now to get it.
The reality is that I was never a city girl. I've always known that my life as a New Yorker would be temporary and the time would come when I'd want to say goodbye to the fast pace. I'm also a total homebody. Nick and I both would choose dinner and a movie on the couch over going out in the city any day of the week. In my opinion Jersey City is the perfect middle ground between city life and the suburbs because you really can have the best of both worlds!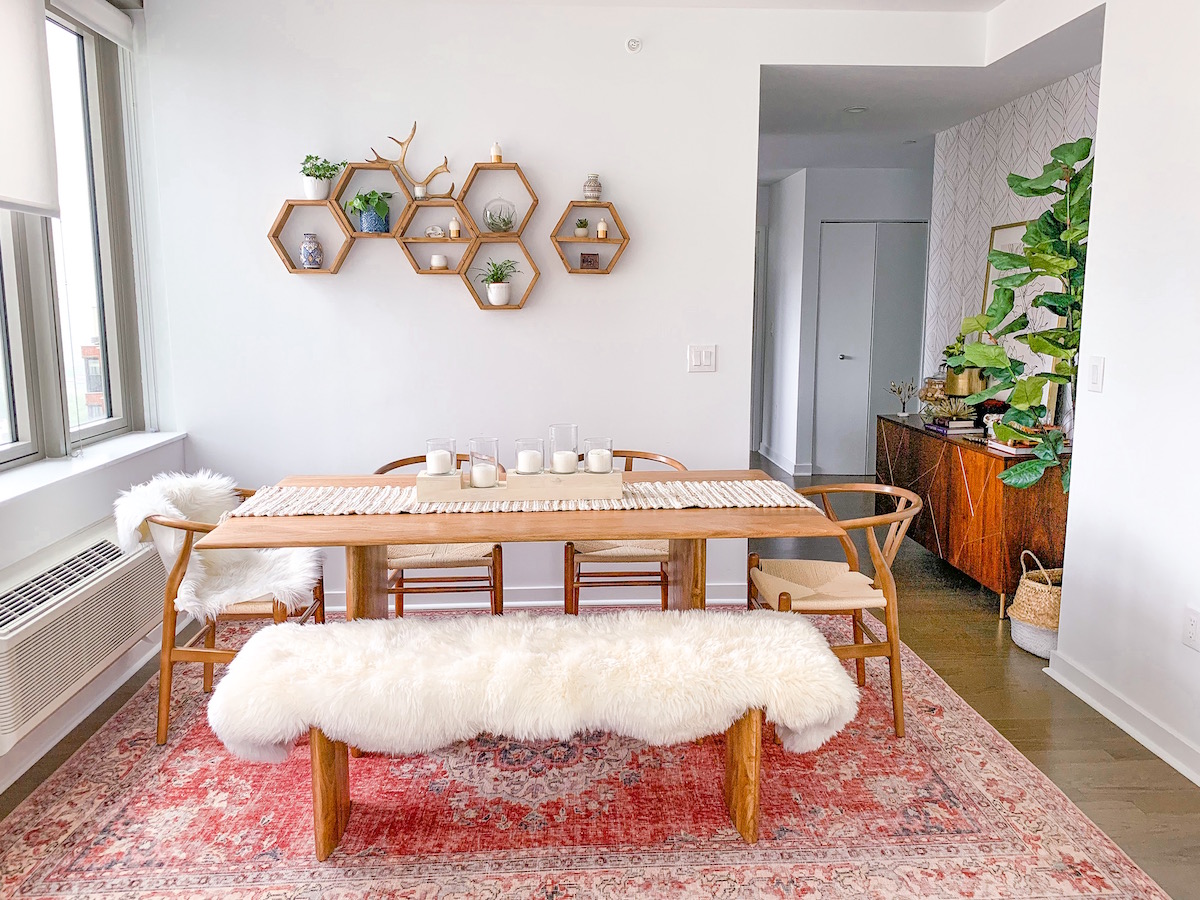 DINING ROOM DETAILS // Wood Dining Table | Dining Chairs | Dining Bench | Similar Carpet | Shearling Throw (draped on bench) | Wood Candle Holder Centerpiece | Table Runner
What were the biggest transitions you encountered moving from Manhattan to Jersey City?  
The biggest transition has been learning how to use the PATH train (basically a subway that connects NJ to Manhattan) and just wrapping our heads around the fact that the perks of the city are no longer just right outside our door. Since walking isn't physically possible and Ubers are very expensive due to the tunnel tolls, getting into Manhattan does take more time and involves an extra layer of planning. I utilize the PATH train app everyday to check the train schedules and strategically plan my appointments, meetings, errands to fall back-to-back so I don't have to go into the city more than once a day.
Stores and restaurants close much earlier in Jersey too! When you live in Manhattan there are multiple restaurants, nail salons, convenience stores, etc. on literally every block that stay open past 8PM every night. In Jersey City there may only be one or two options available and there's no guarantee these places stay open late. If you're moving from Manhattan to Jersey get ready to find all new go-to Seamless and food delivery spots because restaurants in the city won't deliver across the Hudson. The lack of delivery options was honestly the biggest bummer for me at first!
Owning a CAR. In Jersey City and Hoboken it's much easier and less expensive to park a vehicle. While it's not necessary to have one (especially if you work in the city) a car can definitely come in handy for running errands (big stores actually have parking lots over here!) and traveling on weekends. Getting a car was a big reason we wanted to move and while its added some new responsibilities to our daily lives (car insurance, maintenance, gas, monthly parking fees, etc.) we absolutely LOVE having one.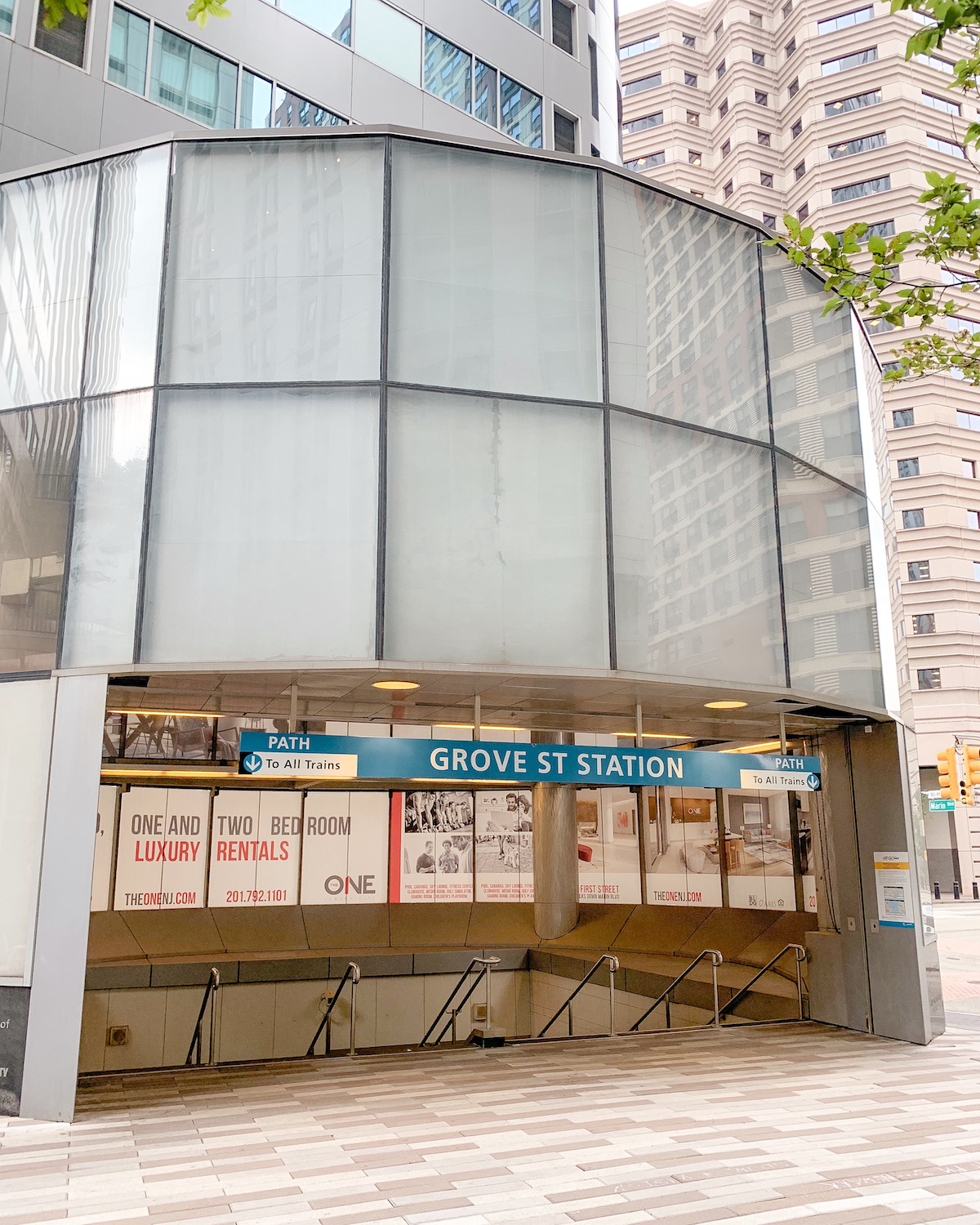 How is the commute into the city? Is the PATH train difficult to use?
The PATH is honestly so easy to use. If I'd known how simple it was maybe we would've moved a year sooner! It's essentially an underground subway that connects New Jersey with Manhattan. There are two lines: one that runs directly to the World Trade Center and another that makes multiple stops in the West Village, 14th Street, 23rd Street and 33rd Street/Herald Square. At these stops you can connect to nearly every major subway line in the city.
Riding the PATH is similar to the subway where you swipe to pay with a Metrocard. You can use the same card to pay for both the PATH and NYC subway, however you have to pay for each ride separately: $2.75 for the ride from NJ into NYC and another $2.75 if you decide to connect to a NYC subway.
The PATH runs regularly throughout the day. At rush hour trains come every 2-3 minutes, but during off-peak times the gaps between trains can be 10-15 minutes long. I won't lie: the trains get PACKED at rush hour. Like sardine can packed. Crowded trains are never fun, but at least the PATH is sparkling clean (way nicer than any subway car I've ever been on) and pretty much everyone else around you is a working professional commuting to the city. Depending where you're coming from and where you're going the ride is never more than 10-30 minutes.
Does the PATH run all night or do you have to take Ubers home if you stay out late?
I haven't tested this personally myself, but apparently beginning at midnight the PATH runs throughout the night on a limited schedule every 30 minutes.
Do you miss the city? What are the things you miss the most from life in Manhattan?
Of course, but I feel the benefits we've gained moving to Jersey City completely outweigh any cons of not living in Manhattan. That said, here are a few things I miss!
+ Being able to order food delivery from all my favorite restaurants
+ Nails salons/eyebrow threading studios (there sadly aren't many options in Jersey City)
+ Walking/taking Ubers
+ Being able to impulsively go somewhere & not have to worry about checking the PATH schedule
+ Nick's short 15 minute commute to work (it takes him 45 mins-1 hour from Jersey City)
+ The social scene and close proximity of all the city's amazing bars/restaurants/attractions
+ The charm of the city and cute neighborhoods like the West Village, Upper East Side, etc.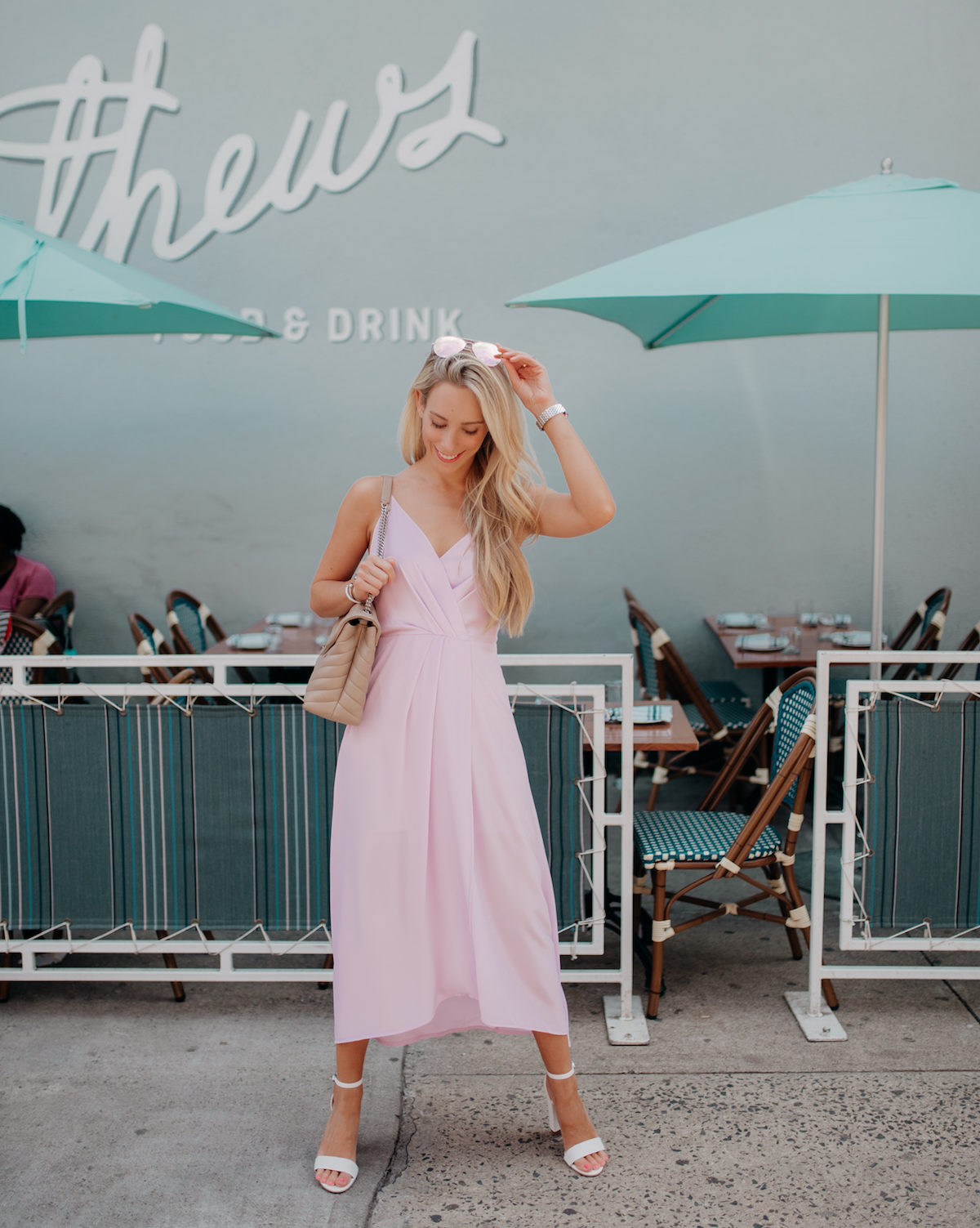 OUTFIT DETAILS // Purple Midi Dress (now on sale for $35!) | Sandals | Saint Laurent Bag | Similar Aviators | Michele Watch
Would you recommend living in Jersey City if you're in your early 20s and single?
I feel like this really depends on you as a person, where your friends live and where/how you like to spend your free time. I absolutely love living in Jersey City as a 28 year old, engaged woman with majorrrr homebody tendencies. I'm at a stage in my life where "going out" to bars and restaurants really isn't a priority for me.
Do I think 21-year-old me would've enjoyed living here as much? Absolutely not. During my post-college years I had no qualms about making plans every night of the week out in the city. Nick and I would eat out at least 2-3x a week and I frequently went out with friends or attended blogger events after work.
Had I been living in New Jersey and reliant on the PATH to commute, I don't think I would've had nearly as much motivation to network and meet new people. I think I would've suffered from major FOMO and felt very detached from my friends in the city had I made the move over here before age 25.
What are the people like in Jersey City?
I hesitate to answer a question like this because I can only speak to my own experience. Something I immediately noticed was how much more diverse Jersey City is than Manhattan. When we lived in Kips Bay I felt like I was always surrounded by white people between the ages of 21-35. From what I've observed in our new neighborhood there are folks of all races and ages. Residents in our new building seems to be mostly friends/couples in their 20s/30s and families with small children.
Unsurprisingly Jersey City is becoming an increasingly popular place to live for people who are looking to escape the high prices and fast pace of Manhattan. Anytime I walk outside I see moms with strollers everywhere and the PATH is primarily all working commuters under the age of 40.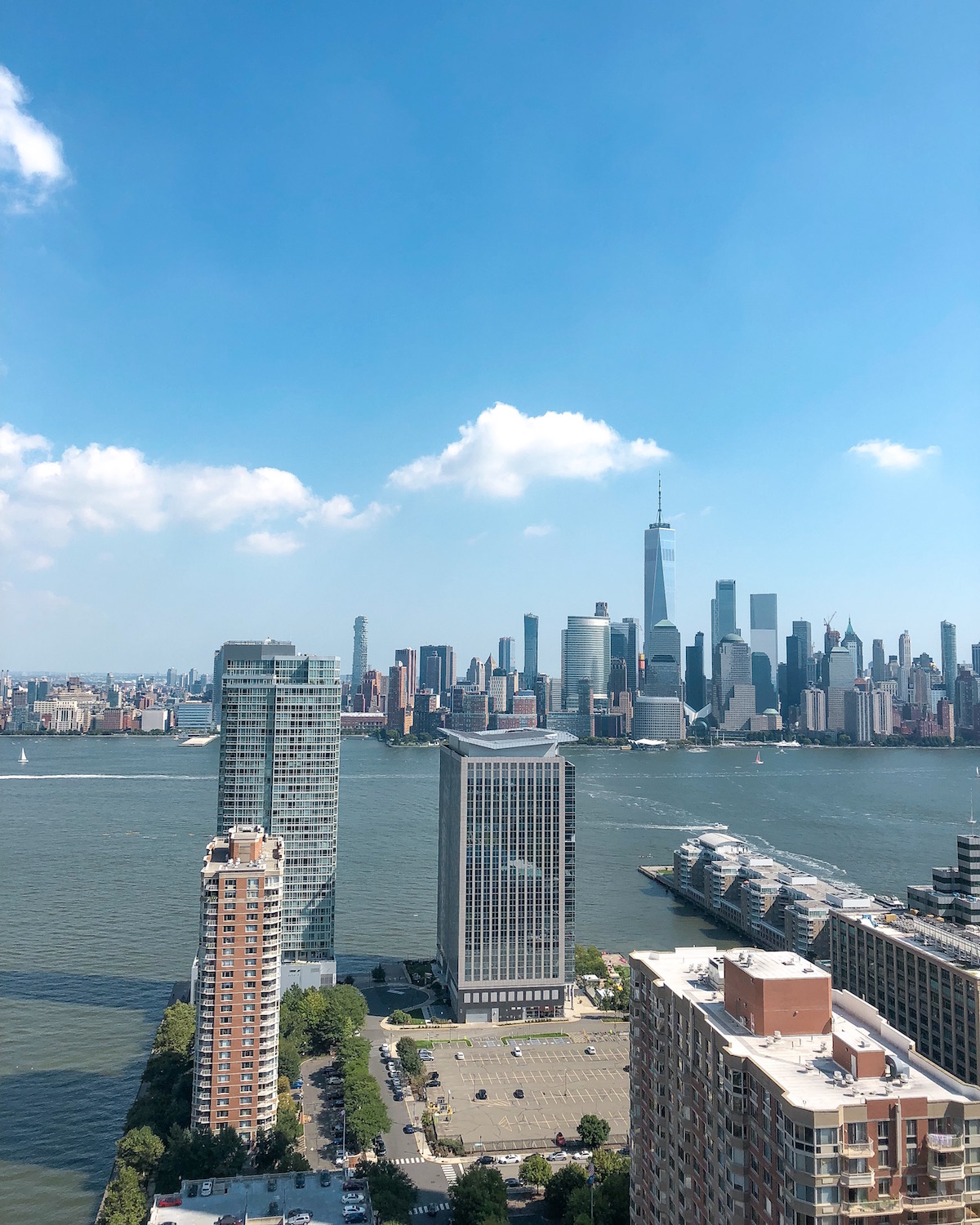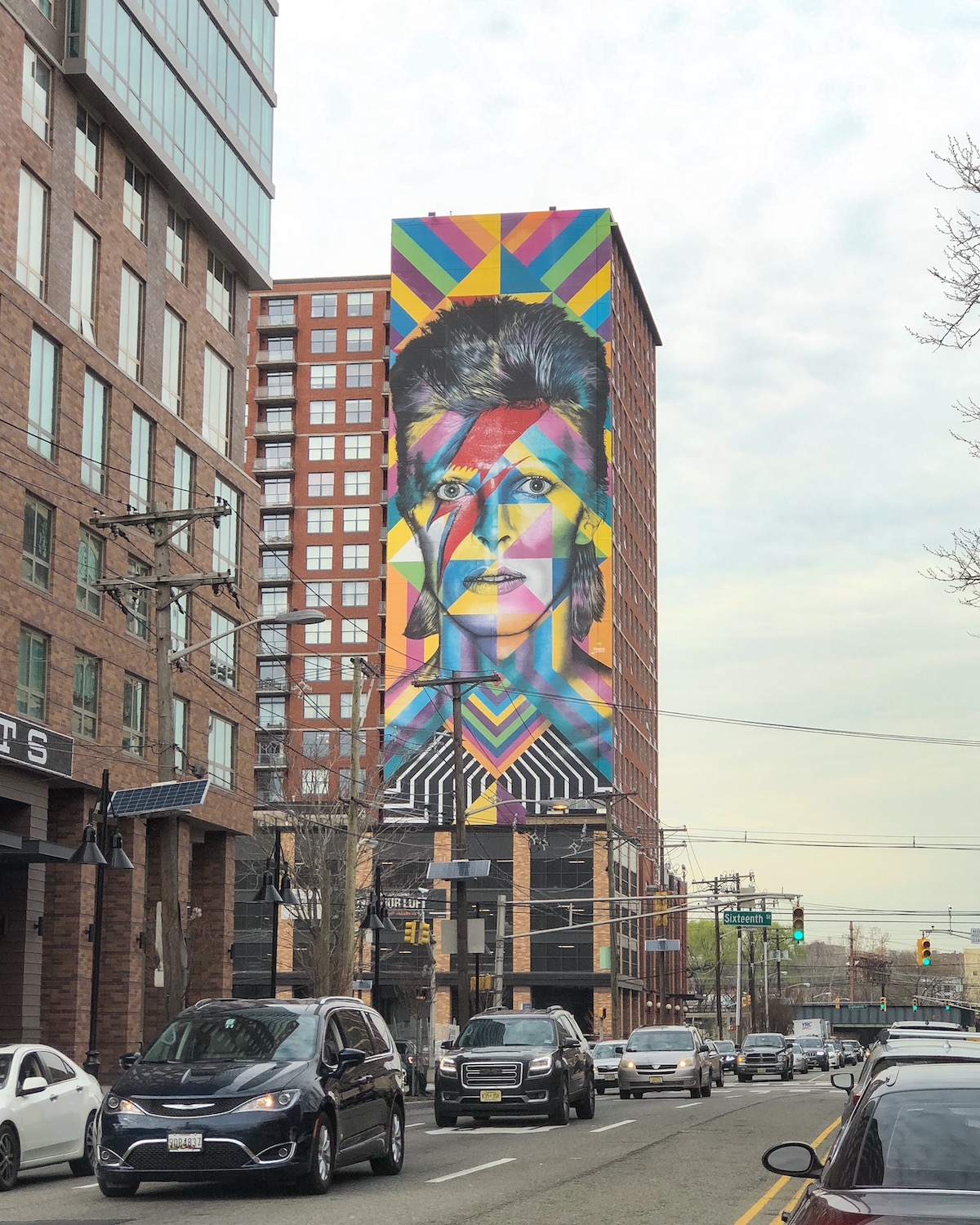 Why did you move to Jersey City and not one of the outer boroughs like Brooklyn?
Not-So-Fun-Fact: all residents of Manhattan and the outer boroughs (Brooklyn, Bronx, Queens, Staten Island) have to pay an additional 3-4% income tax to the city, ON TOP of state and federal taxes. Given I'm self employed and can work from anywhere, the decision to move to New Jersey was a no brainer once we calculated how much money we could save by living in New Jersey.
To give you some perspective, over the last two years my New York City income tax payments totaled more than my first full time yearly salary. Talk about a punch to the gut. Nick also no longer has New York City taxes deducted from his paycheck now that his home address is in New Jersey. Yes, simply by moving across the Hudson River you can completely avoid city taxes.
As much as we probably would've liked the vibes over in Brooklyn or Astoria, at the end of the day living somewhere where we could get a bigger apartment, have a car and still save money was most important to us. When we weighed all the pros and cons of New Jersey vs an outer borough, Jersey easilyyyyyy won.
Where are the best areas to live in Jersey City?
Again, this is totally subjective and dependent on your living preferences. Jersey City has a variety of housing options similar to what you'd find in any Manhattan neighborhood. There's a huge new development boom happening in Jersey City and there are luxury high-rise buildings popping up everywhere complete with 24 hour doormen and amenities. You can also find walk up-style apartments and townhouses too! Just like Manhattan these are some not-so-cute-areas that feel very industrial and run down, but then a block or two away you'll find charming tree-lined streets with cute shops and restaurants.
Assuming you are going to be commuting into Manhattan via the PATH, you'll likely want to look for an apartment that's walking distance to one of the train stops. There are four in Jersey City: Newport, Exchange Place, Grove Street and Journal Square. There are a plethora of apartment buildings around all of these stops, so it's really just a matter of finding the right apartment and deciding which area of Jersey City you like best.
+ Newport is essentially it's own community of high rise apartment buildings, many of which are managed by the same leasing company. It's nestled against the waterfront and is the closest stop to the city if you plan on riding in via the PATH on the 33rd street line. There are lots of restaurants, grocery stores and shops, plus you're walking distance to the Newport Mall.
+ Exchange Place is the PATH stop directly before the World Trade Center. If you work in Fidi or anywhere downtown your commute would be literally five minutes. The surrounding neighborhood is on the quieter side with a mix of townhomes on tree-lined streets, a couple of apartment buildings and a handful of local restaurants. I'd imagine folks who live here likely have to drive anytime they want to grocery shop, go out to eat, etc.
+ Grove Street is located between Exchange Place and Newport, a few blocks in from the waterfront. It's where you'll find most of Jersey City's restaurants and bars, plus familiar conveniences like Starbucks, Duane Reade, McDonald's, dry cleaners, nail salons, etc. In my opinion it's the most "lively" area of Jersey City and the vibes here remind me most of life living in Manhattan. Housing options of all varieties can be found nearby too.
+ Journal Square is a neighborhood located a bit deeper into Jersey City. I really haven't explored it much, but I know from when we were researching apartments there are tons of new condo-style apartment buildings and a cute park. It's the most suburban-feeling area of Jersey City.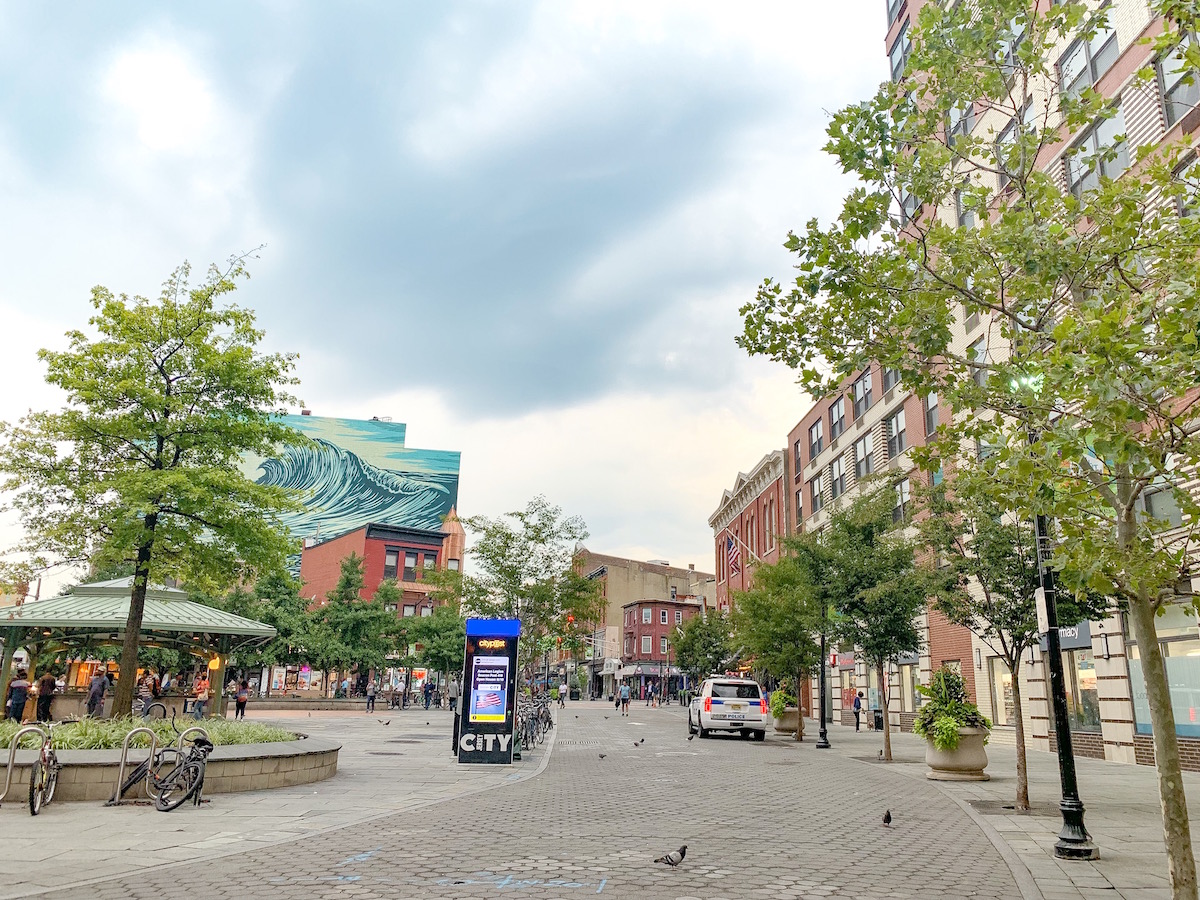 What are some of your Jersey City restaurant and bar recommendations? 
I'm probably going to get some side eye for revealing this, but I really haven't put a ton of effort into exploring Jersey City or Hoboken yet. Why? I honestly just love being home in my apartment. These last four months are the first time since my childhood I've lived somewhere with a sizable kitchen where it's not a complete headache to cook a real meal from scratch. Nick and I have worked so hard to decorate our dining room and make our living space super cozy that it's often hard to pull ourselves away from hanging at home.
It's also the first time in seven years we've owned a car. Since moving to Jersey City, we've gone out of town or done a day trip nearly every single weekend. Our new building also has some incredible amenities. The few days that we have been home on a weekend we've spent our time laying out by pool on our rooftop.
That said, I promise I haven't been a complete Jersey City hermit. There are a bunch of restaurants and bars I've been to that I really love! A few standouts are listed below.
+ Hudson Hall – Open air beer hall and bar with picnic tables and games. Awesome lively vibes and a fun casual night out spot. The food is great too!
+ Dullboy – Trendy cocktail bar and restaurant. Would be a good date spot!
+ Porta – Yummy multi-level pizza restaurant. It gets poppin' at night and there's a rooftop!
Do you need a car to live in Jersey City? How easy is it to get back and forth between Jersey City and Hoboken? 
No, absolutely not. We really only use our car on weekends for out of town trips and grocery shopping. Public transportation in Jersey City is very similar to Manhattan, but instead of the subway you ride the PATH. There is also an above ground light rail train that connects Jersey City, Hoboken and a few other areas in Hudson County, New Jersey. Ubers and Lyfts are abundant too. The times I've gone to Hoboken I've either driven myself or taken an Uber– super easy!
I'd imagine the reason so many people in Jersey City have cars is because the parking is cheaper. Right now we pay $200 for a monthly spot in the garage connected to our apartment building. To park in Manhattan it would've cost us $400+ a month and our car insurance would've been significantly more expensive. Yeahhhh hard pass.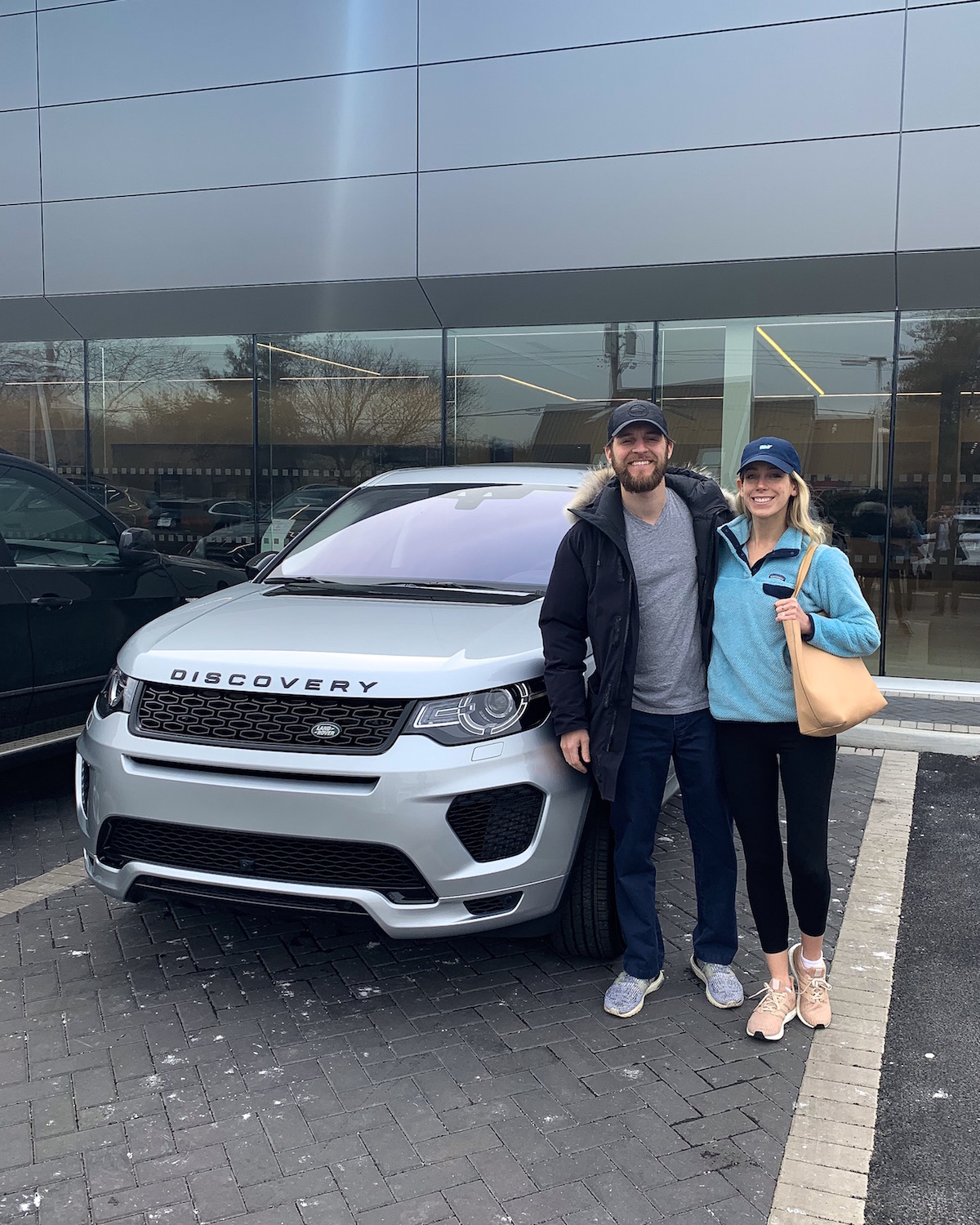 Are you saving a lot of money by living in Jersey City?
Not yet because I have a wedding to pay for in two months LOL. But hopefully, yes! In addition to having no city taxes, Jersey City in general is much cheaper than Manhattan. You can get so much more for your money over here. More square footage, luxury amenities, parking and incredible views are all possible to have in Jersey City without spending a small fortune.
Before deciding to move to Jersey we considered moving to a 2 bedroom 1 bath apartment in our old building in Kips Bay. Want to know the rent? $6,000– and it didn't even have an in-unit washer/dryer! I can tell ya that we don't pay anywhere close to that for our 2 bed, 2 bath apartment in Jersey City. It's actually scary to think that if our current place was located in a Manhattan building the rent would likely be $7k-$8k PER MONTH. Absolute insanity.
You also aren't going to go out to a bar or restaurant here and see $15+ cocktails or $30+ entrees. Food and everyday services like dry cleaners, nail salons, coffee shop is priced a bit cheaper once you hop across the Hudson.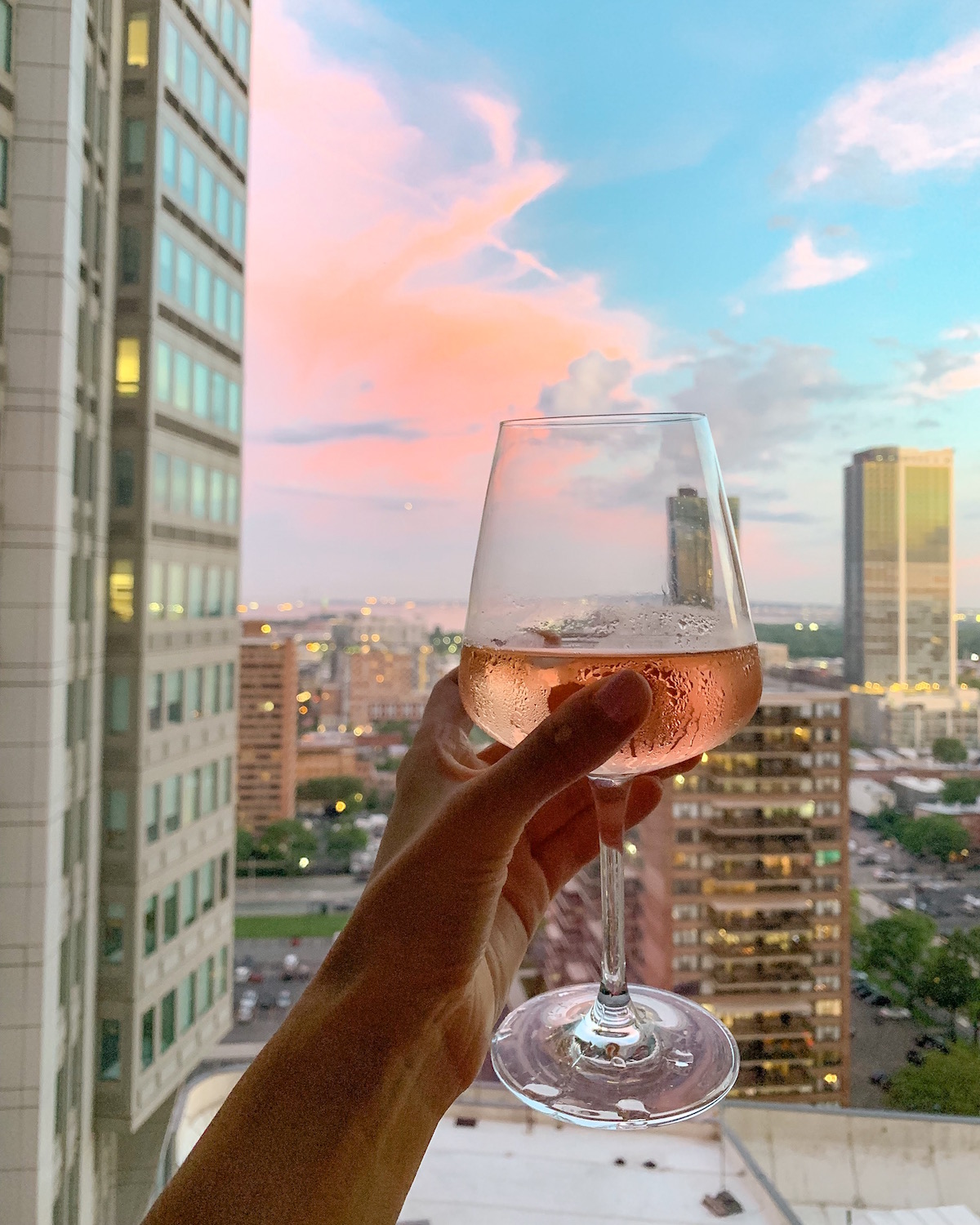 So to conclude… Nick and I love living in Jersey City and could not be happier that we decided to leave the city! We're at a stage in life where our physical home is much more important than it's location. Our new apartment checks all our boxes and having a car has been life-changing! Do we miss the city? Of course. But in our case, the pros of moving vastly outweighed any cons.
- Katie